Escape to a Verdant Gem Off in the Pacific
TEXT / SIMON FOSTER
PHOTOS / VISION
Thirty-three kilometers off the southeast coast, yet worlds away, this former political-prison island is the perfect escape from mainland Taiwan. The island is circled by a 17km road that packs in dramatic volcanic coastal scenery, beautiful beaches, and even hot springs right at oceanside, and then offshore there's excellent diving and snorkeling.
I still remember my first visit to Green Island, arriving on a wet and windy winter's morning nearly 20 years ago. We were supposed to be going whale-watching from a mainland launch-point, but the whales weren't around, so instead we boarded the ferry from Fugang Fishing Harbor to Green Island's Nanliao Fishing Harbor. An hour's rollercoaster ride through the choppy swell delivered us to the angular features of the island set against gunmetal gray skies. We rented a scooter and then hit the road. I had a Top Gun moment as we sped alongside a section of the tiny airport's runway, and in a moment we reached Green Island Lighthouse in the island's northwest corner. At 33m tall, the lighthouse is one of the island's most prominent landmarks and a great spot to watch the sunset. Originally constructed in 1938, the year after US cruise liner SS President Hoover ran aground on a reef offshore, the lighthouse was rebuilt following serious damage during World War II.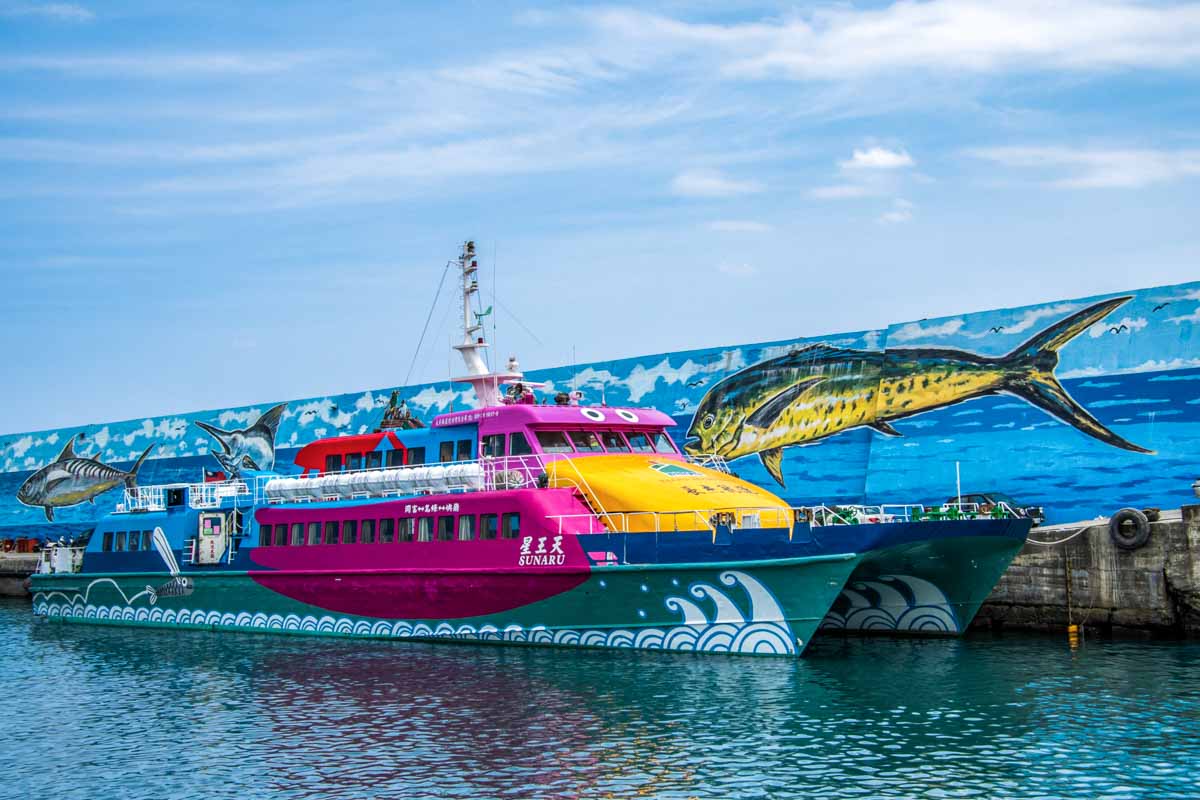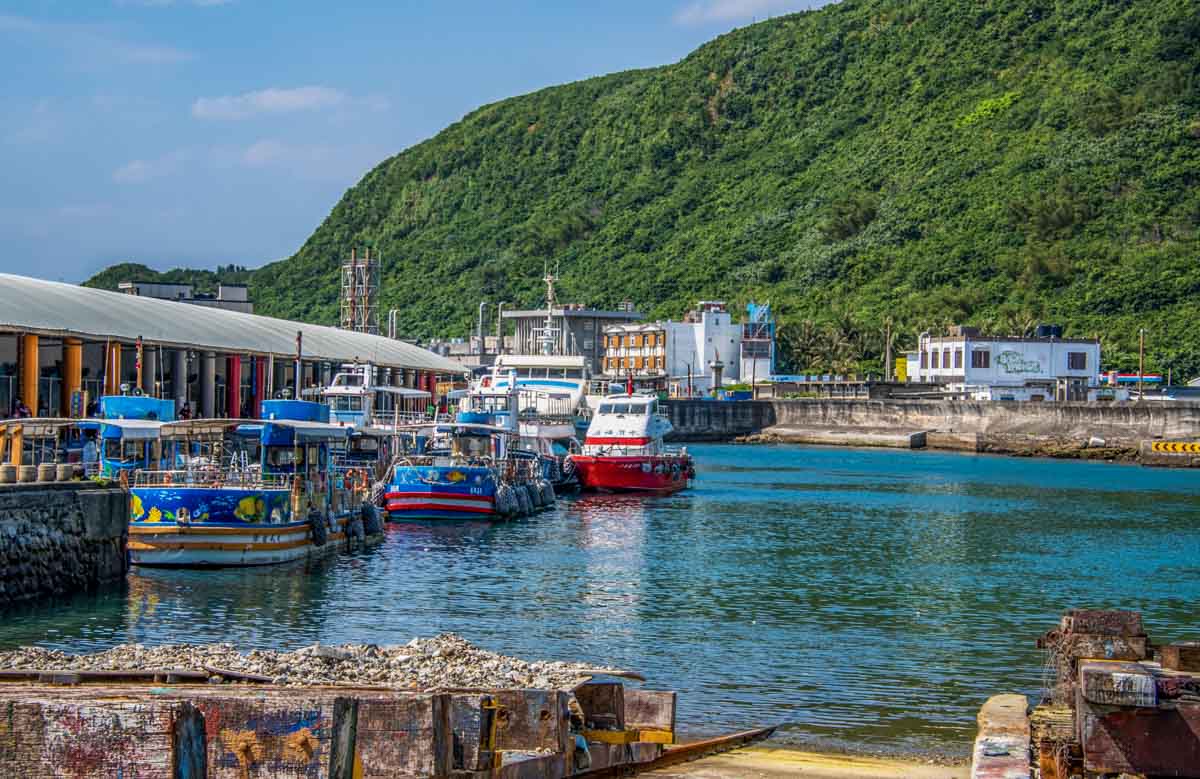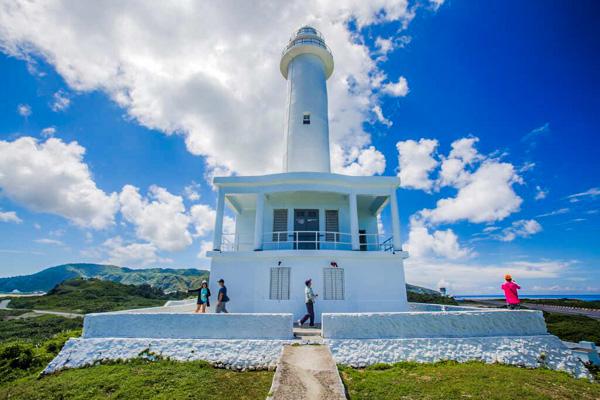 Continuing east along the north coast from the lighthouse, we passed through a couple of villages and then arrived at the Green Island White Terror Memorial Park (www.nhrm.gov.tw), a sobering reminder that not so long ago this Pacific paradise was home to a political prison. Looking out over imposing General Rock, one of Green Island's many dramatic shoreline rock formations, the memorial's walls are inscribed with the names of those who were persecuted here during the White Terror period. Across the road, the "Ludao Lodge" gives some insight into life in prison, and touring the cells is an eerie experience. To the east, the New Life Correction Center houses an exhibition detailing the history of the site. Continuing east on the road leads you up a hill from where there are great views over the prison to the ocean.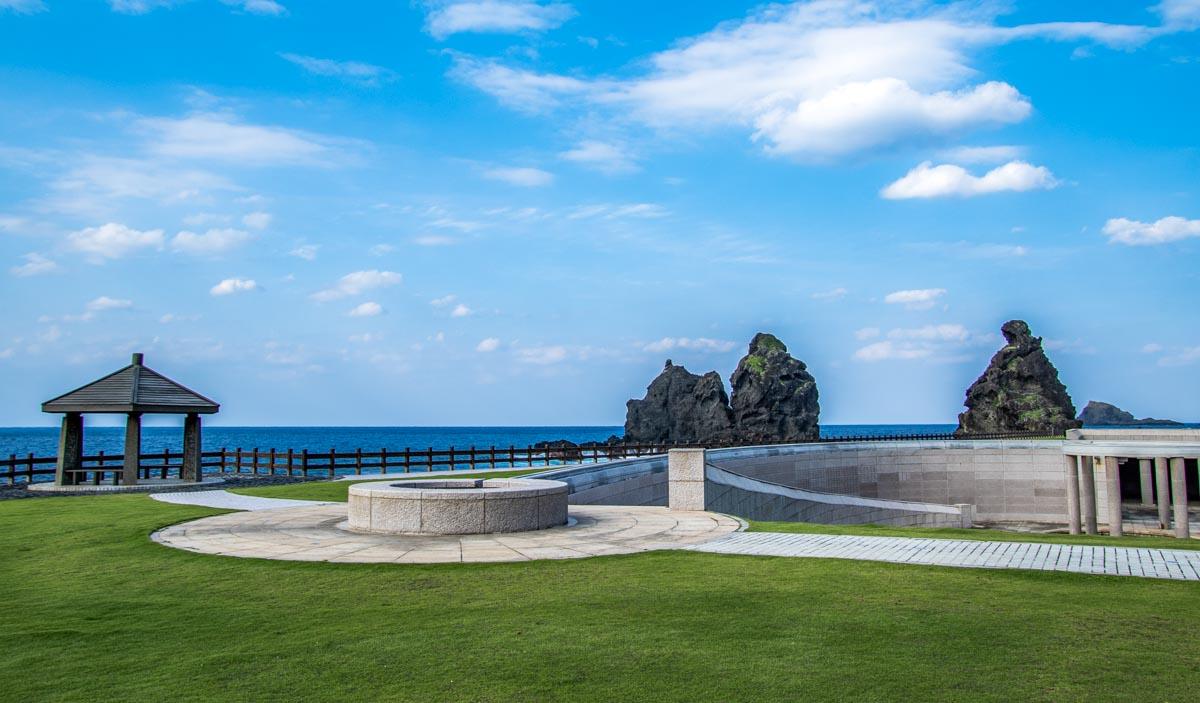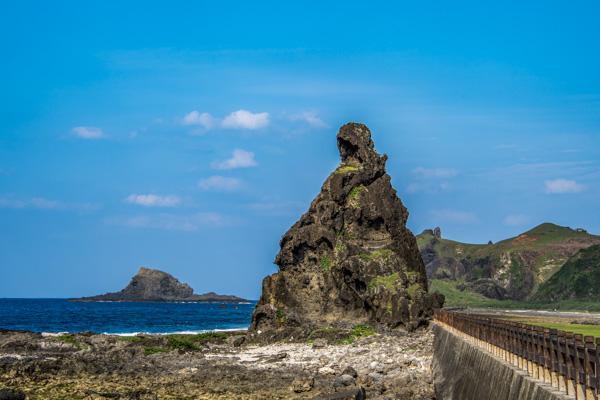 Atop the hill we bypassed Guanyin Cave, and then as we began moving south along the west coast we entered a steep side road winding down to the left. A series of hairpin bends later we emerged onto a stunning stretch of coastline, framed by towering crags. Nestled into a sheltered, grassy area just inland off the shore, a collection of abandoned houses added a sense of mystery. We later discovered there used to be a small indigenous village here, known as Youzihu (Pomelo Lake). In the middle of the beach there's a narrow passage through the coral, exposed at low tide, presumably cut by the villagers to launch their boats. In the right conditions you can swim through this passage to reach the edge of a reef where there is vivid coral and marine life. Nearby, the impressive Wangong Arch, a naturally formed massive stone arch, has become popular with the IG crowd in recent years.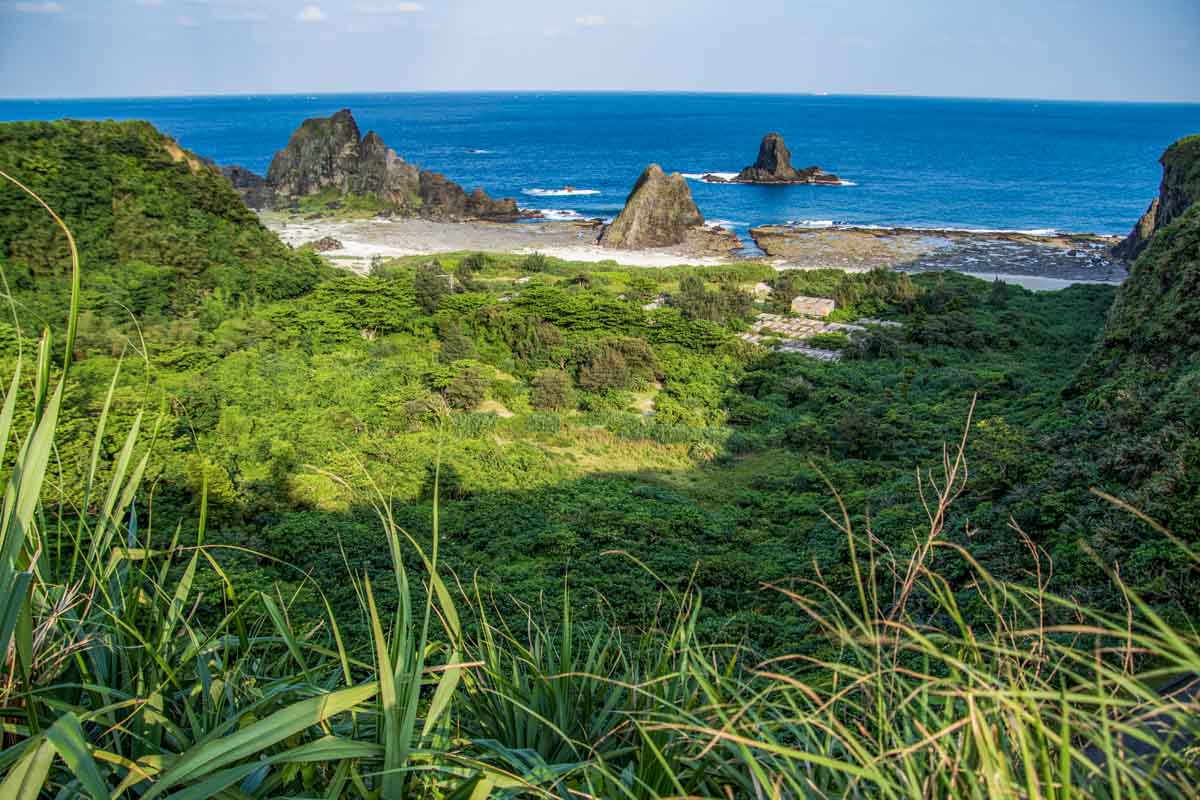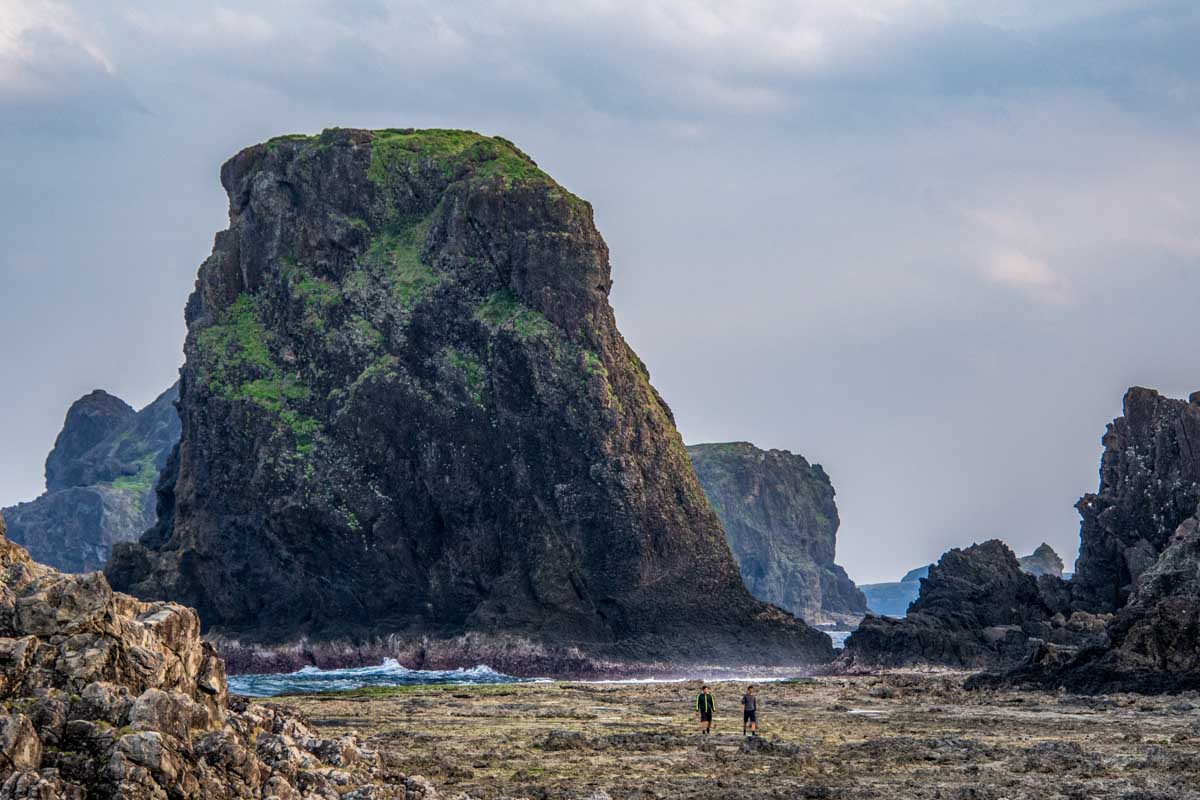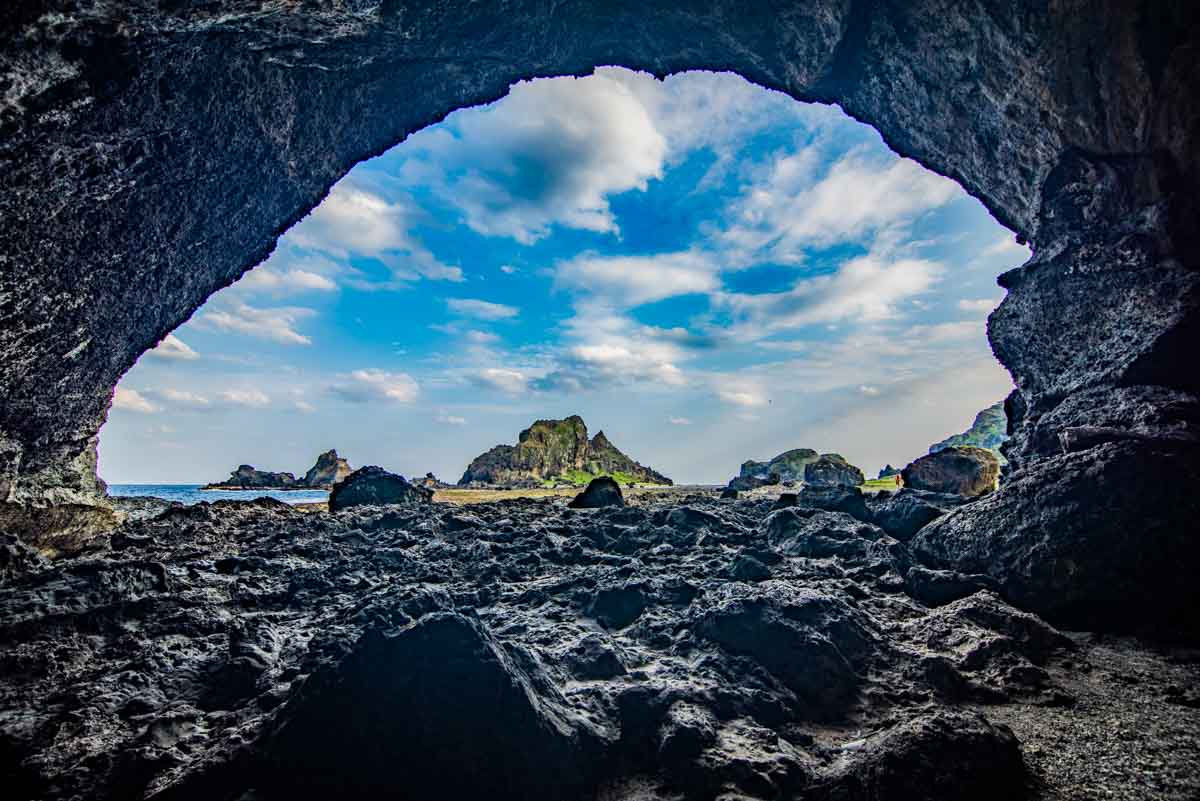 Back up on the main road, as we rambled along Green Island seemed more like Iceland than Taiwan. The vivid green of the striated uplands tumbled down to craggy black volcanic rocks as waves cascaded against the shoreline. Leaving the scooter, we ambled along a snaking flagstone-paved path known as the Little Great Wall to a perfectly perched pair of promontory-tip pavilions. From here we could see the dramatic Sleeping Beauty Rock headland and, offshore just off its tip, Pekingese Dog Rock.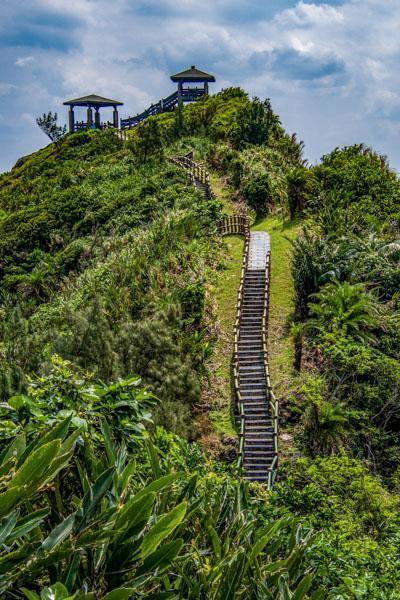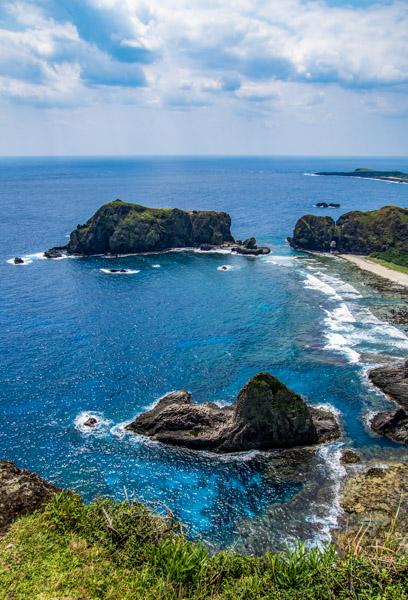 Further down the road, we came to the Zhaori Hot Springs at the island's southeast tip, where for just NT$250 you can soothe your aching muscles in hot sulfur springs right on the shoreline whilst looking out over the Pacific. The three pools are cooled by the tide, and there's also an indoor area about 100m inland with hydrotherapy jets. On this wet blustery day, however, the real pleasure was hiding in the ocean pools and emerging every now and then to cool off in the sea spray-laden wind.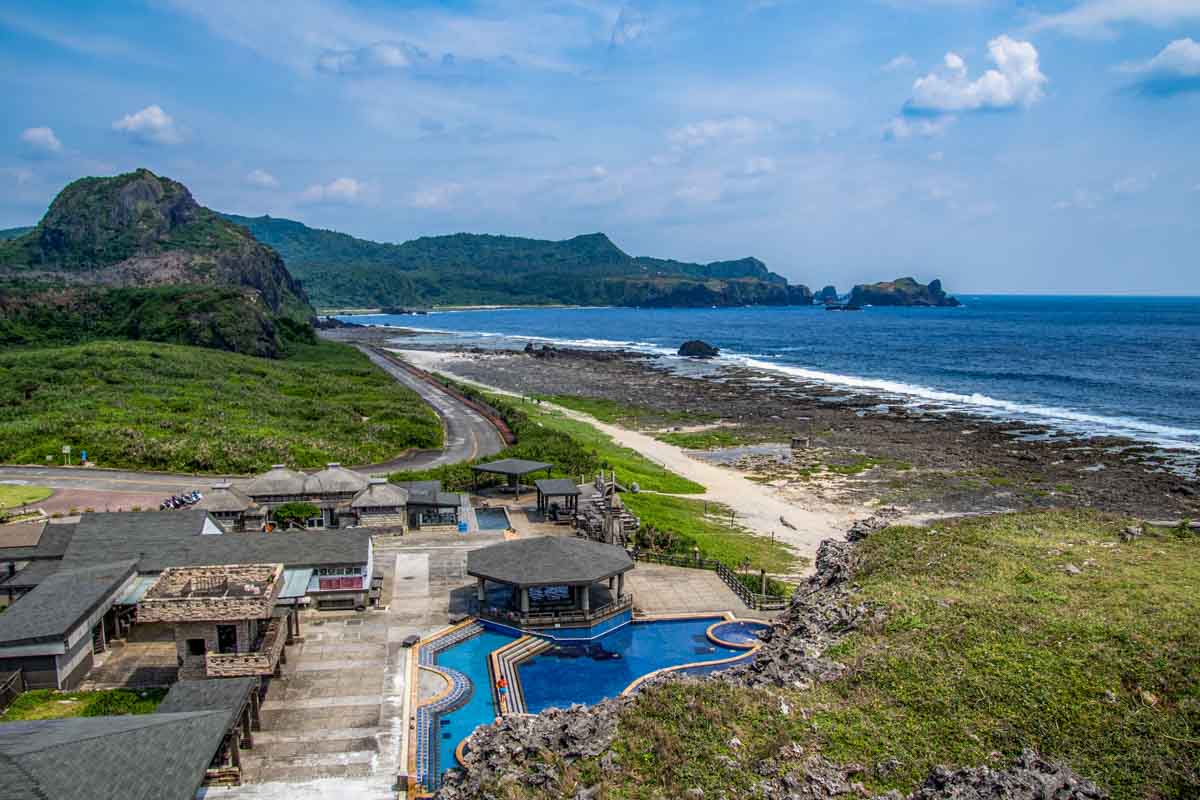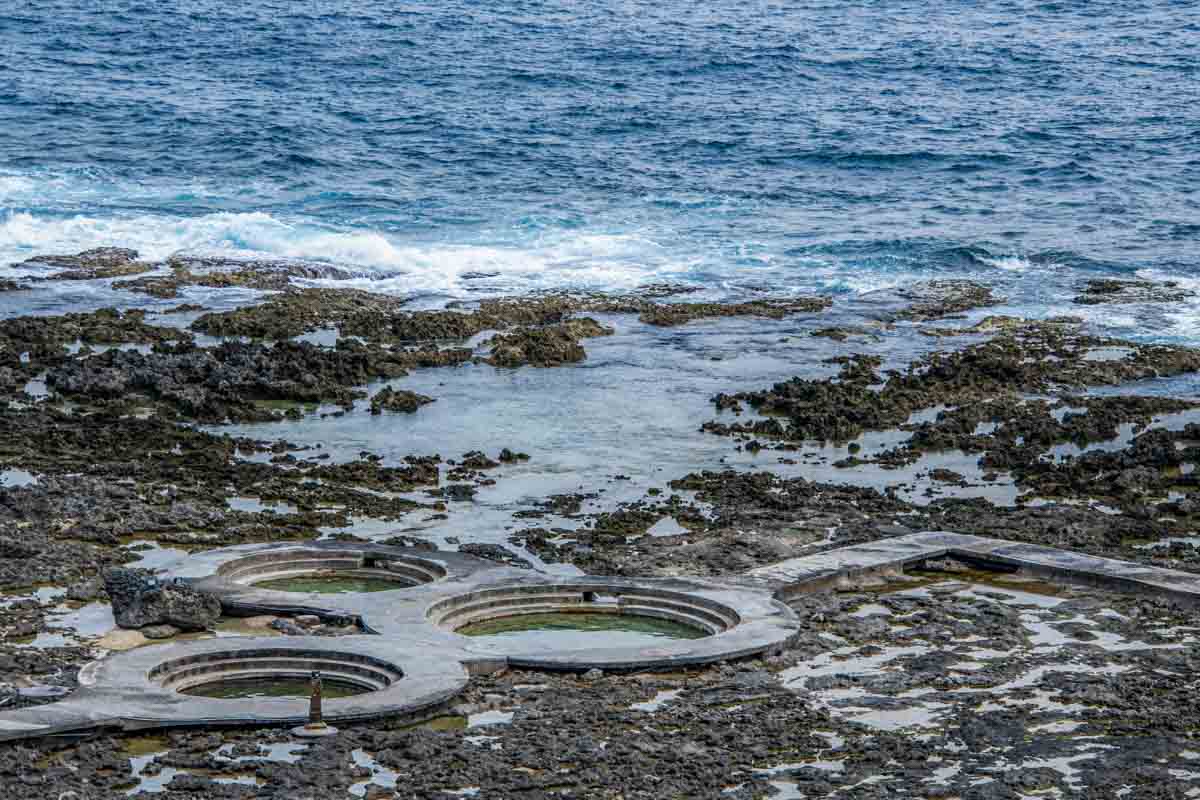 After a spell, refreshed and revitalized, it was time to move on. We rounded the southeastern tip to traverse the warm and calm leeward side of the island, passing the stunning white-coral Dabaisha ("Great White Sand") beach. At the Shilang Diving Area on the west coast we saw divers and snorkelers emerging from the water onto a picturesque walkway, and then before we knew it we were back in Nanliao and ready for something to eat.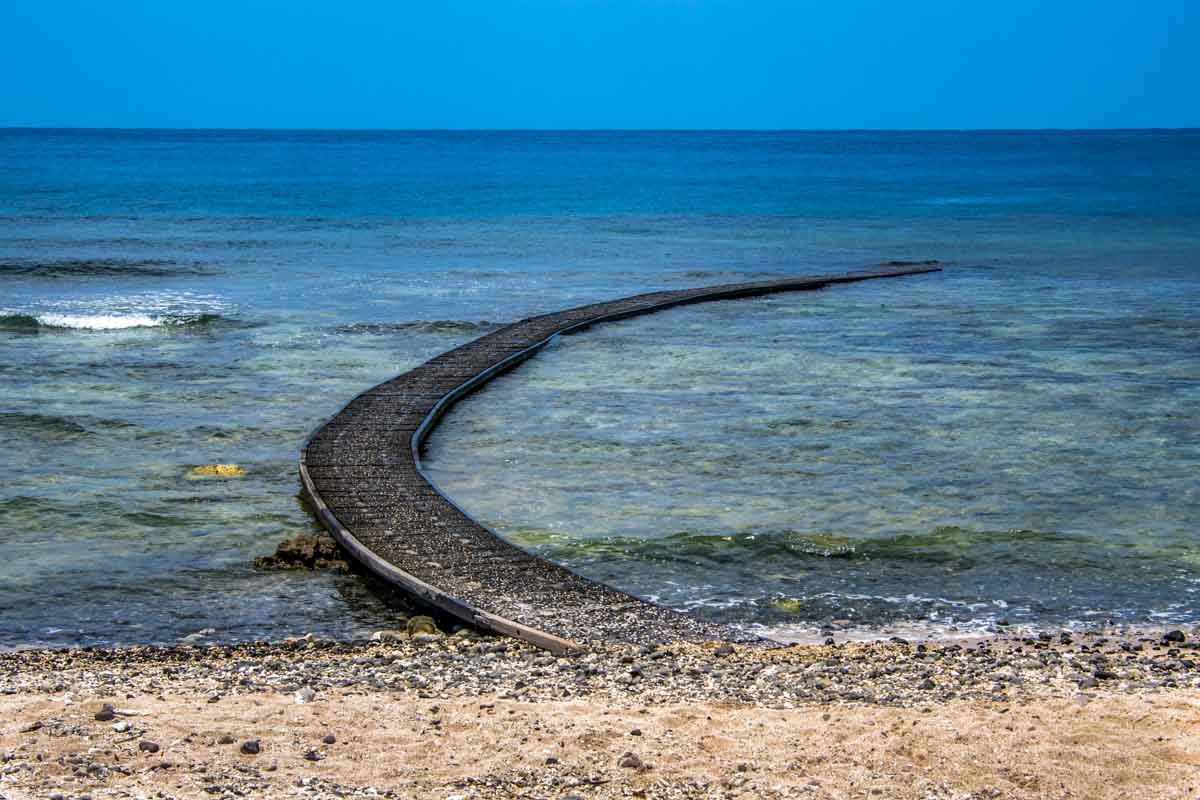 The island's biggest selection of dining options is to be found in Nanliao. Longstanding favorite Mr. Hot Dog is an American-themed restaurant serving its namesake, tasty burgers, quesadillas, pastas, and pizzas, and is equipped with a full bar.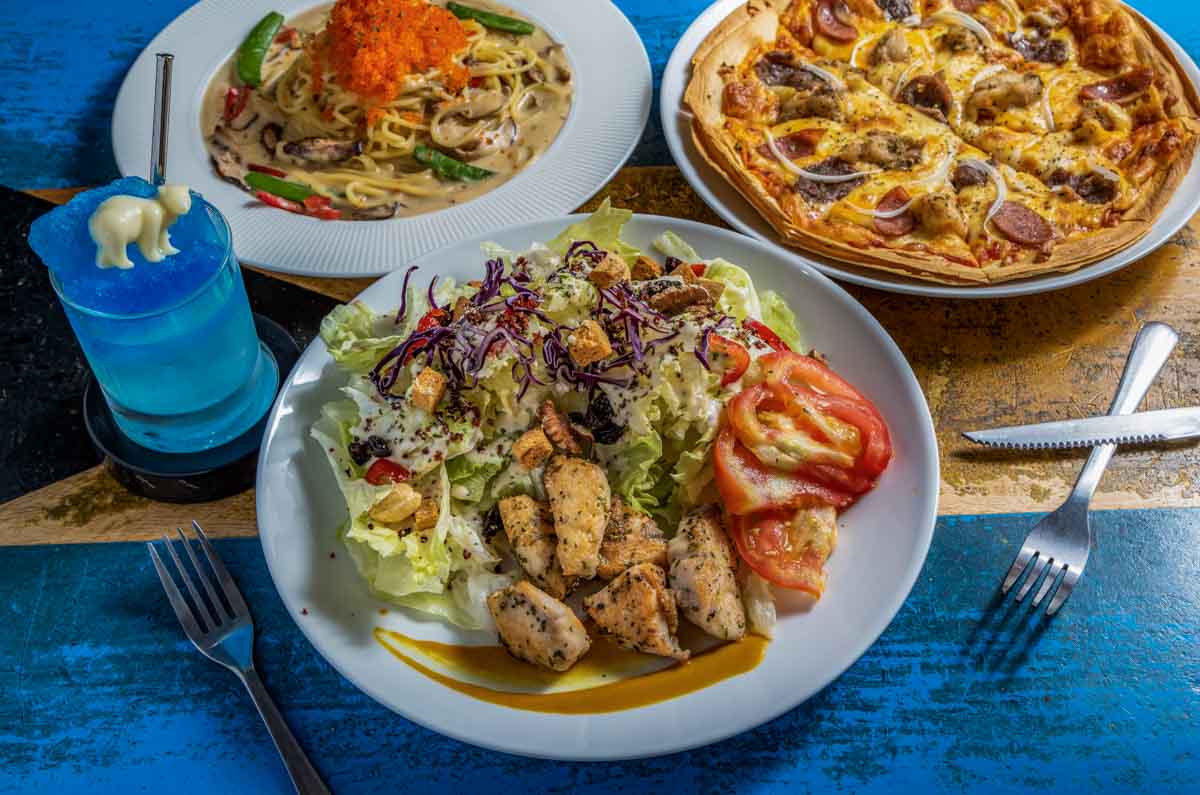 Mr. Hot Dog
(哈狗店)
Add: No. 103, Nanliao Village, Ludao Township, Taitung County
(台東縣綠島鄉南寮村103號)
FB: www.facebook.com/gimrhotdog
Ice Jail taps into the island's reputation for once housing Taiwan's most notorious criminals. The interior is outfitted with mock-up jail cells, and the shop serves traditional Taiwanese shaved-ice treats with some unique toppings including seaweed, fresh pineapple, and mochi balls.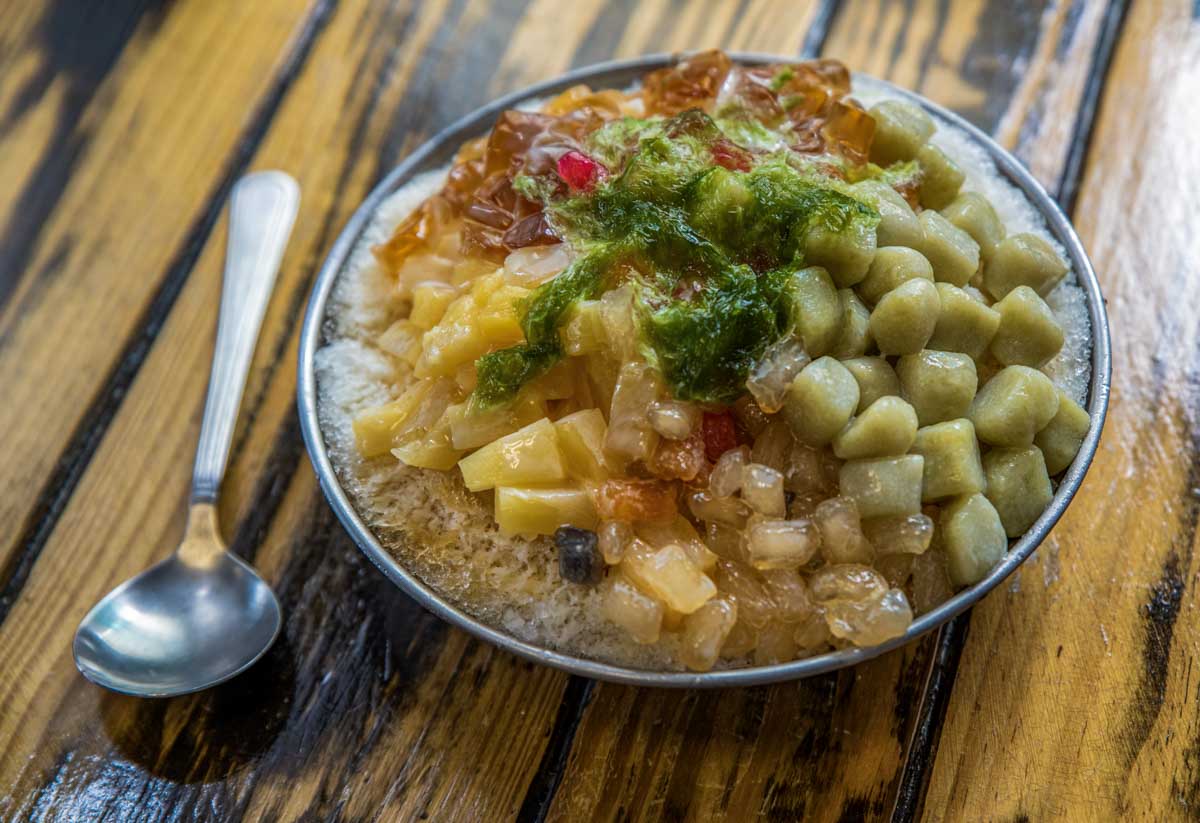 Ice Jail
(冰獄)
Add: No. 48, Yugang, Nanliao Village, Ludao Township, Taitung County
(台東縣綠島鄉南寮村漁港48號)
FB: www.facebook.com/icejail1020
If you want to pick up a unique souvenir, a visit to the charming Green Island Sika Deer Store near the airport is a fun diversion. The store sells a host of sika deer-themed items including hand-painted postcards, magnets, stuffed animals, and deer-shaped cakes. Sika deer were brought to the island in the 1970s to be raised for their antlers, but they are now protected and there is a government-operated Sika Deer Ecological Park in the hills south of the White Terror Memorial Park.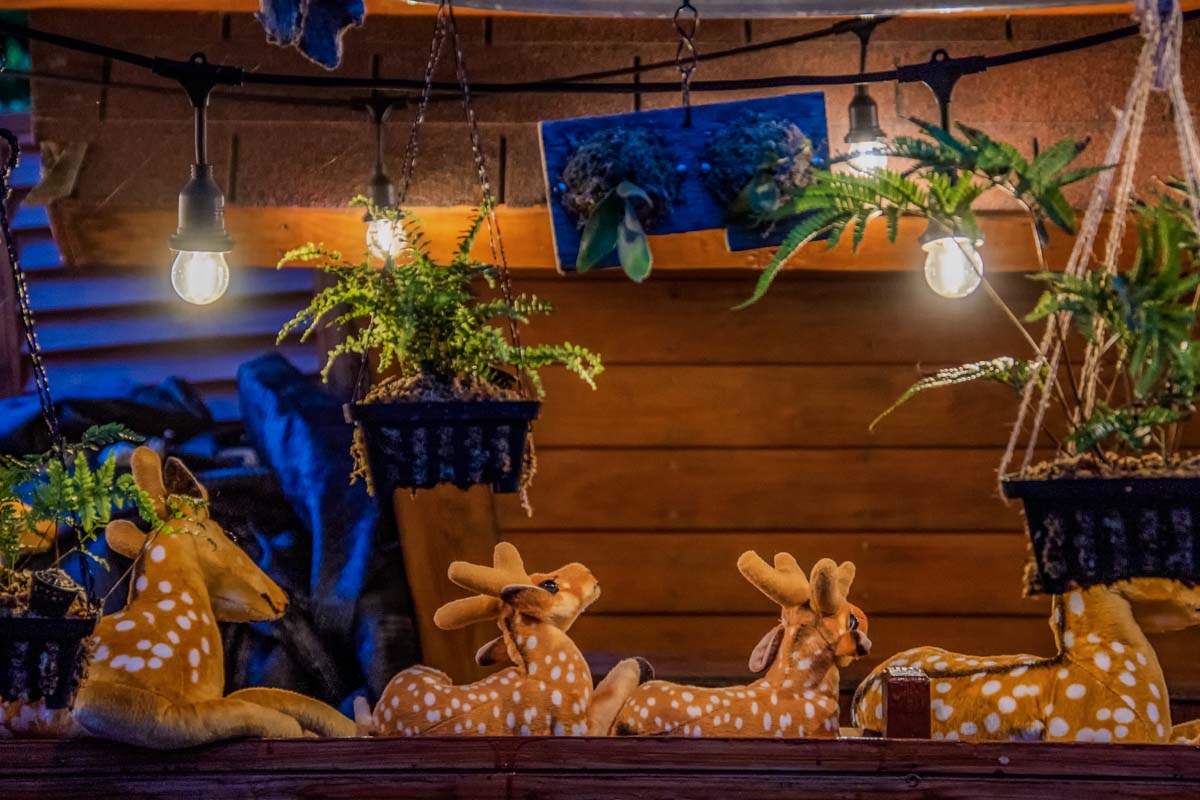 Green Island Sika Deer Store
(梅花鹿專賣店)
Add: No. 205-1, Nanliao Village, Ludao Township, Taitung County
(台東縣綠島鄉南寮村205-1號)
FB: www.facebook.com/SikaDeerStore
Improved transport connections from the rest of Taiwan to the East Coast, and the lack of other options to leave Taiwan without quarantine during the Covid period, have meant that Green Island has become an even more popular holiday destination. This has both positives and negatives: there are now far more people on scooters buzzing around the island (albeit some are electric), and more people inevitably means more pollution, but at the same time this has prompted local environmental initiatives (like the Taitung County-based Taiwanderful; www.taiwanderful.org), and for visitors there are far more accommodation, dining, and activity options.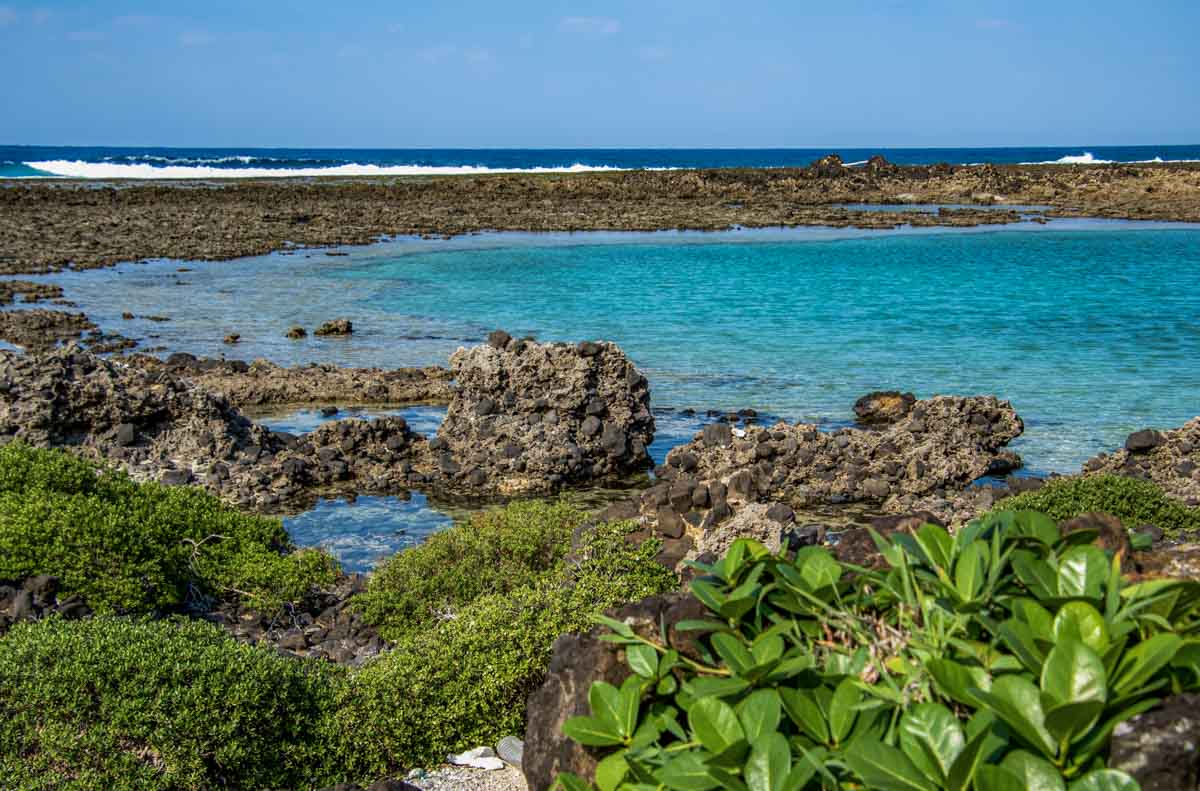 I now live on the edge of coastal Chenggong town in Taitung County, and look out at far-off Green Island from my house and garden every day, and yet it remains as alluring as ever! Whilst there have certainly been lots of changes since my first visit, for now the stunning natural beauty of this remote Pacific outpost remains reassuringly familiar, near enough to reach yet far enough away to escape "reality."
Practical Information
Ferry tickets are typically NT$1,100 return; services from Fugang (5km north of Taitung City) are frequent and most ferries arrive at Nanliao Fishing Harbor. Each day there are several flights from Taitung (NT$1,070 one-way) to the island. Flight tickets are hard to come by in the summer, and both flights and ferries are often cancelled in the winter. Scooters can be rented from the harbor or through many hotels/homestays (usual price NT$400-$500 for a full day). Other options for getting around the island include the local round-the-island bus service, taxi, or if you have time, by bicycle.