Old Villages, Breathtaking Sunsets, Traditional Culture, and Friendly People
Pack your bags! We're taking you on a multi-day excursion to a region of oyster farms, fish farms, old temples and old-time religion, and distinctive ecology. The plan: a leisurely "drive of discovery" from Tainan City's coastal Anping District, perhaps Taiwan's richest historical neighborhood, north to the rustic old fishing-port towns of Beimen and Budai, and on to the Hukou Wetlands in Yunlin County. Don't forget your camera … or your appetite, for adventure and for seafood.
Text: Rick Charette; Photos: Chen Cheng-kuo (published in Travel in Taiwan, November 2014)
The Setting
Along much of its length, the southwest coast is flat, flat, almost mesmerizingly flat. From far inland you see ships far out in the Taiwan Strait that seem to hover on the horizon, inching nigh imperceptibly forward, with nothing in between to block your view. It's often near impossible to discern where land ends and saltwater begins. This is a region formed over the eons by a sea of sediment washed down from the soaring north-south central mountains, in clear view not far further inland, still growing at a rapid clip and providing ever more coast-expanding material. Along the coast dry land gently eases into vast intertidal flats, the flats at low tide slipping under the water's surface far, far from dry shoreline. Boats of any appreciable size and displacement head straight out into the strait from harbors, keeping to ever-shifting silt-free channels. Coast-hugging north-south travel is impossible.
Man lives everywhere, and over recent centuries this region, long only grudgingly hospitable to humans, has been sculpted into a tapestry of fish farms, heritage salt pans, and tidal-flat oyster farms. This region was among the earliest in Taiwan to be developed by settlers from mainland China. In recent decades Mother Nature the artist has been allowed to retake previously farmed areas where land subsidence has occurred, washing over waterlogged farmland to form "new" wetlands, adding to the beauty of the wetlands, lagoons, and estuary areas, large and small, never tamed.
Note: The majority of sites in this article are in the Southwest Coast National Scenic Area (www.swcoast-nasa-gov.tw) and Taijiang National Park (www.tjnp.gov.tw).
Day 1 — Anping
Your Travel in Taiwan crew rolled into Tainan and went straight for Anping. This is ground zero for Taiwan's modern history. The Dutch staked a claim as Taiwan overlords in 1624, seeking to control regional trade and being unable to force a base on the mainland China coast. The dream ended in 1662 when they were invited to leave, at the point of many a sword and spear and the muzzle of many an arquebus, by the Chinese, led by the celebrated Ming Dynasty general Koxinga.
Their grand bastion, Fort Zeelandia, was here. It stood at the north tip of a great sandbar that, with others, formed a calm harbor ships could enter. Said "inner sea" is now history, mostly silted over, and the fort's ruins reside in a site simply called Anping Gubao – "Anping Ancient Fortress." There's not much left, but the site is impressive nonetheless, with good English signage explaining the ruins and on-site digs, plus a small museum in a hilltop maritime-customs building built by the Japanese when they staked their own claim to Taiwan (1895~1945).
We next meandered the narrow, winding streets of the adjacent Anping Old Street neighborhood, centered on Yanping Old Street. The brick- and stone-paved arteries are crowded with tourist-focused eateries and sellers of handicrafts, many handmade. I enjoyed a tingle of excitement, for I am an avid reader of Taiwan history, this is the site of the first Dutch settlement, and Yanping is called "Taiwan's 1st Street" – the first-ever commercial street to form.
Also in the neighborhood is the Old Tait & Company Merchant House, built by a British trading firm after the Second Opium War forced the opening of Tainan and other Chinese ports in 1858. The firm eventually abandoned the attractive colonial-style arcaded structure as the Japanese systematically took over the lucrative opium and camphor trades. The structure was later used by a salt company, and today houses a museum on the Dutch through the Han Chinese pioneer periods. Behind is the Anping Treehouse, originally a company warehouse, abandoned after WW II when the Japanese went home. It is completely overrun by massive banyan trees, creating a fairytale maze. A display center introduces the facility and local ecology.
Place to Stay in Anping
The Crowne Plaza Tainan — Great views and easy access to historic sites!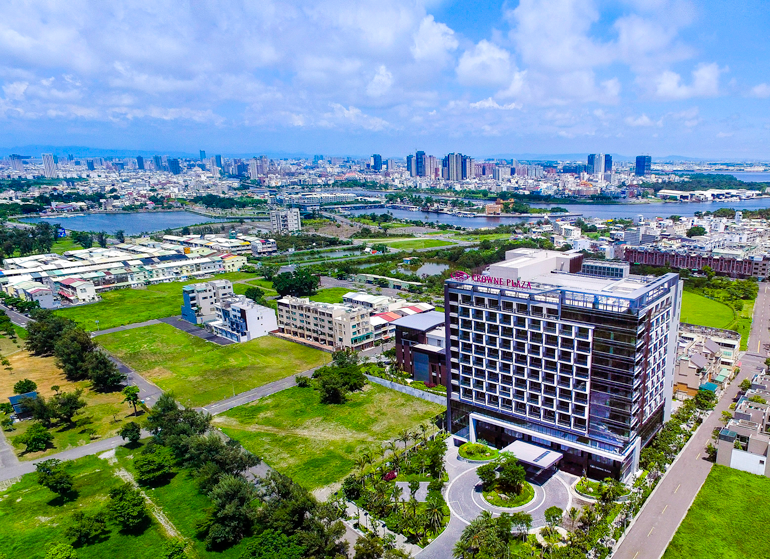 Day 2 — Sicao, Taijiang
Next morn, more thrills were in store when we picked up just northwest of where we'd left off the day previous, in the Sicao area. This is a place of estuaries, alluvial terrain, old irrigation canals and small-craft shipping channels, mangrove swamp, and wetlands. Much of today's land was once open water – the great sandbar-created inner sea of Dutch days. Our two biggest thrills were guided-tour boat excursions (in Chinese) out on the local waters. In the first, we raft-plied the narrow Mangrove Green Tunnel (NT$150 per person), a long-disused section of Taiwan's first canal, built in the 1870s, used to transport sugar and salt from local farms. In the second, we headed out into the larger local canal/river channels on a much larger craft on the Taijiang Boat Tour (NT$250), passing by fishermen on rafts, oyster farmers, and myriad photogenic waterfowl.
Dazhong Temple & Sicao Battery
History buffs, also visit the ornate Dazhong Temple and Sicao Battery ruins, near the boat-tour ticket office. The temple, on the site of the first Dutch/Koxinga battlefield clash, was built in 1701 (rebuilt 1987) to soothe the spirits of the Dutch, who fell to earth so far from home. An ossuary behind contains their bones, gathered in the 1960s. Sicao Battery was built in 1840 to protect against British attack during the First Opium War; one 118.6m stone wall remains, graced with ten large cannon holes, today used as a most unusual elementary-school perimeter wall.
Just north is the grandiose Luermen Tianhou Temple, which stands on the spot where Koxinga is said to have landed his army. According to one legend, he himself had this temple's forerunner built, in honor of Mazu, Goddess of the Sea, for the safe passage of his ships across the often treacherous Taiwan Strait.
We spent the next while rambling the Qigu area. The pyramid-shaped Taiwan Salt Museum has stellar displays on Taiwan's 300-plus years of saltwater-evaporation salt production (ceased in 2001), and on salt harvesting around the world. The next-door Qigu Salt Mountain is surely the largest pile of salt you'll ever find yourself standing atop. The giant Qigu Lagoon is home to Black-faced Spoonbill Reserve, a major physical node in the recovery of the magnificent Black-faced Spoonbill, a critically endangered species.
Tip: Time your sunset for the boardwalk-style Seaview Pavilion, overlooking Qigu Lagoon. I'll wager you'll never see so many oyster racks in one place, extending "to the ends of the Earth" left to right and off to the horizon, bathed in glowing light.
Day 3 — Beimen, Salt Fields, Budai
The attractions of Beimen, a sleepy, laid-back fishing village, are well worth an hour or two of your time – notably the Beimen Visitor Center, Qianlaiye Shop, Taiwan Black Foot Disease Memorial Hall, and Yonglong Canal, all within easy walking distance of each other. The center, in a converted salt warehouse that was part of a large refining plant, has extensive displays (with English) on the region's history, culture, and ecology. The shop building, originally housing a company-run grocery for salt-industry workers, now houses a handicraft gift shop. The memorial hall is housed in the area's oldest clinic for black-foot disease treatment; the disease prevailed along the southwest coast in the 1950s/60s, caused by arsenic seeping into deep drinking-water wells.
Mashagou Salt and Sand Sculpture Arts Festival
The Mashagou Coastal Recreation Area, just to the north of Jiangjun Fishing Harbor, is a popular destination to beat the summer heat, with swimming, jet-skiing, and banana boating on offer. The annual summertime sculpture-arts festival features displays of ingenious works of art sculpted from the local salt and sand, sightseeing tours highlighting the best that the region has to offer, musical performances, bike and ATV rentals, and much else. (Note that the various salt-sculpture activities are at Qigu Salt Mountain.)
To Beimen's south are the Jingzaijiao Tile-paved Salt Fields, the oldest salt fields still existing in Taiwan, set up in 1818. These are a good example of how the bottom of evaporation ponds were paved with pottery shards, producing cleaner salt and making harvesting easier. Demonstration workers show you how everything is done.
Plague Gods
Just north of Beimen is Nankunshen Daitian Temple, just south of it, at Sanliaowan, is Donglong Temple. Temples dedicated to "plague gods" are a phenomenon unique to southern coastal China and to southwest Taiwan. In imperial days, to rid settlements of pestilence, junks would be loaded with effigies of the gods and sacrificial offerings, put to sea, and set on fire. Most would sink, but some would drift ashore elsewhere, and temples would often be built on such spots in appeasement. Daitian Temple, founded in 1662, is Taiwan's oldest and largest plague-god temple. At Donglong Temple, founded in 1665, you'll find an intriguing plague-god display in the adjoining cultural center, and even better, a full-size mock-up of a plague-god boat. Such temples still carry out ritual boat burnings every few years, drawing many tourists.
From here we moved up to the Budai area, first visiting the bustling, expansive Budai Fish Market, a tourist favorite, then it was on to the Hukou Wetlands, to Budai's north. The subsidence that has occurred in these wetlands is clearly in evidence, with a small slope all along its length leading up to the still-farmed land on its east. An old double-track farmers' trail takes you straight through at the base, the former farms still clearly demarcated by raised-earth perimeters and windbreaks. You disturb flock after flock of little egrets, cattle egrets, and black-crowned night herons as you move along. (Note: This is also a great place for sunset shots.)
Tip: Two other area eco-touring destinations well worth exploring are the Haomeiliao Nature Preserve and Aogu Wetlands. The first features an offshore sandbar, lagoon, coastal windbreak forest, and mangrove forest, attracting many foraging birds. The second features still-farmed paddy and farm fields, fallow fields, and grassy swamplands. Over 120 bird species have been recorded here, many protected.
And that was it! Last spots on our well-stuffed itinerary, done! Without further ado, we hustled back to the Budai Fish Market, loaded up on fresh-catch seafood purchases, and struck out north for Taipei and home, well-satisfied.
Getting There and Around
Sights are spread out, so driving a car is recommended. Scooter-driving is perhaps a bit ambitious, unless you tackle only those sights in a selected area or two, or give yourself more time, adopting a "half the fun is getting there" approach. Reputable scooter-rental shops are found outside both Tainan and Chiayi railway stations (NT$600 for 24H; international driver's license needed). Another option is the Taiwan Tourist Shuttle hop-on, hop-off bus service, which has three routes – Southwest Coast Route, 88 Anping Route, and 99 Taijiang Route – that cover various locations introduced in this article. Visit www.taiwantrip.com.tw.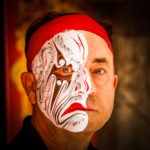 A Canadian, Rick has been resident in Taiwan almost continually since 1988. His book, article, and other writings, on Asian and North American destinations and subjects—encompassing travel, culture, history, business/economics—have been published widely overseas and in Taiwan. He has worked with National Geographic, Michelin, APA Insight Guides, and other Western groups internationally, and with many local publishers and central/city/county government bodies in Taiwan. Rick also handles a wide range of editorial and translation (from Mandarin Chinese) projects.