E-Wang Community — Exploring an Yilan Green-Living Hub
 E-Wang Community is a lush hideaway in Yilan City brimming with history that is told through eye–catching public–art installations.
Text: Dana Ter; Photos: Nick Chiu
There's something about exploring an old town or neighborhood that never loses its appeal. For me, the experience is like walking through the pages illustrated with farms, cobblestone streets, and little brick houses in one of the bedtime books I read as a child.
Taiwan has no shortage of charming old towns and neighborhoods in larger urban areas to explore. Though tourists flock to the many officially designated "Old Streets," or "laojie" as they are affectionately called – the main commercial streets in old areas – there are other options as well that are less crowded and touristy and offer more immersive local-culture experiences. One such place is E-Wang Community in Yilan City.
A 50-minute bus ride brings me, along with two friends, from Taipei City Hall Bus Station to Yilan City's bus transfer station, which is close to Yilan Railway Station. From there the community is a 20-minute walk or a 5-minute taxi ride. Despite its proximity to the city center, E-Wang has a rustic, almost rural, atmosphere. Ferns grow between the cracks along stone pathways, vines creep up to the second floor of buildings, and backyard vegetable patches brim with herbs and spices.
Like the histories of many local places, this one begins by a river. The Yilan River was a key transportation artery in the late Qing and early Japanese eras, and consistent with the background of Yilan as a regional hub, E-Wang is home to numerous artists and artisans, including woodcutters, seamstresses, and tile painters. In an earlier time, such craftspeople built and decorated the colorful temples of the community that remain standing today.
Our taxi drops us off in front of a shop where two men are carving wood coffins. This trade survives, for now, amid Yilan County's aging population.
Yang Shi-fang Memorial Park
Opposite the coffin shop is our first destination, Yang Shi-fang Memorial Park, named after a Qing dynasty writer (1826-1903) who wrote about life in Yilan and in E-Wang specifically. We peruse tie-dye works in the park's center, where art exhibits are rotated every other month, and wander the well-manicured gardens as we wait for the arrival of E-Wang Community Borough Chief, Lin Ming-xin, who will show us around the community.
Bixia Temple
Nearby is Bixia Temple, which Yang Shi-fang helped construct in 1897. A colorful and compact single-story structure, it is dedicated to the deified Song dynasty general Yue Fei. Yang hoped that the temple would motivate citizens to resist Taiwan's Japanese colonial rulers, who had taken control in 1895, and although resistance ultimately proved unsuccessful the temple is a distinctive reminder of Taiwan's turbulent past.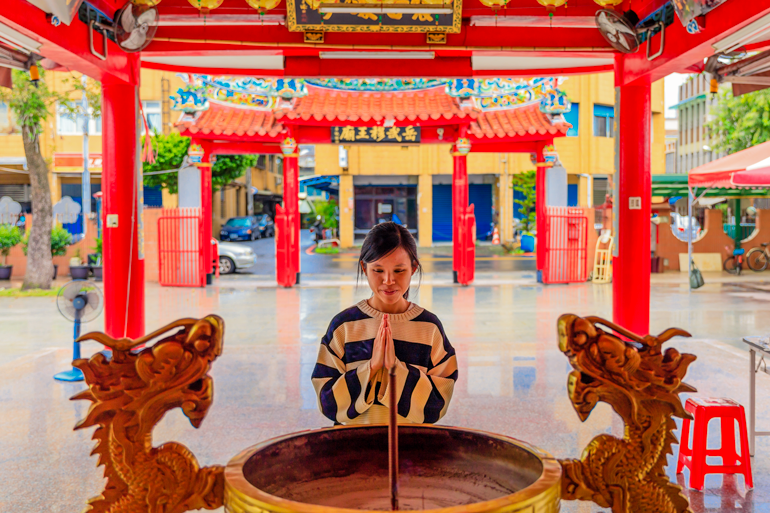 "One good thing that the Japanese did was that they tidied up the place," Lin jokes. "For a while it was clean, then it got messy again."
Lin makes his appearance, dressed down in jeans and a white t-shirt though it is a chilly day. He explains how a few decades ago E-Wang had become one of the most rundown areas in Yilan. By the late 1990s, it was common for residents to throw trash on the streets and dump household garbage around the town's 200-year-old well.
Lin became borough chief in 2003, and began the slow process of restoring E-Wang's beautiful past. He taught residents the importance of civic consciousness, green living, and public art.
"It was truly a grassroots effort," Lin tells us. "We had a number of meetings and came up with a plan to revitalize this place that we all call 'home.'"
Guangda Lane
In one of the neighborhood meetings, an elderly resident suggested that Lin contact artist and former resident Chen Shih-chiang, an expert on outdoor installation art, for suggestions on public-art displays. Lin shows us the result: engravings on old barrier walls lining Guangda Lane. He explains that the walls were preserved because of the odd circular shape that they form around the community, which he says makes E-Wang one of the most circular-shaped communities in Taiwan.
The artwork, which depicts E-Wang's history from its founding to the present day, was a joint effort between Chen and the community's residents.
"We initially thought it would be a fun way to get locals involved and to share the history of our community with visitors," Lin recalls. "We were surprised to find out that there were so many talented artists among the residents!"
Humorous portrayals on one wall catch my attention. The art was done by Li Jun-jin, a tombstone engraver by profession. Lee put his carving skills to use on each tile, depicting vendors selling local delicacies such as fried squid and "cat-ear-shaped" dumplings, as well as characters performing trades such as lacquerware making and woodcarving. Lin tells us that the wall displays "stone carvings of a hundred professions," and that most remain actively practiced in E-Wang today, passed down from elders to the next generation.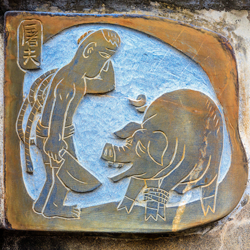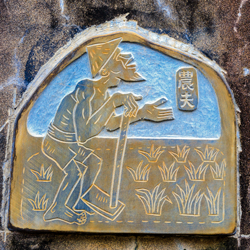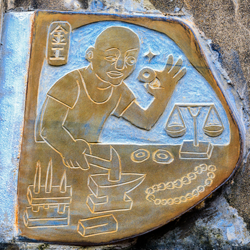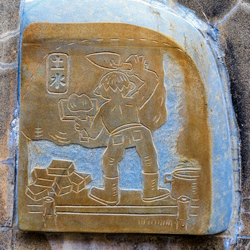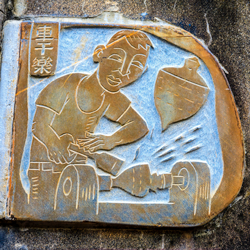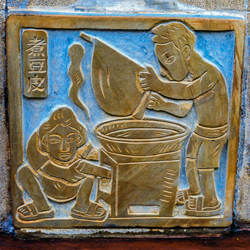 As we walk further down Guangda Lane, we come across a red-brick wall engraved by five local artists showing a life-sized image of people collecting water from the community's well. Lin explains that before the days of indoor plumbing, residents would not only go to the well to collect water, but also to gather and chat.
Pan Residence
Locating the actual well involves navigating narrow alleys passing vegetable plots and rows of flower pots with sprouting chili, aloe plants, and mother-in-law's tongue. Ferns surround the small brick-wall well, which residents have recently started to use again.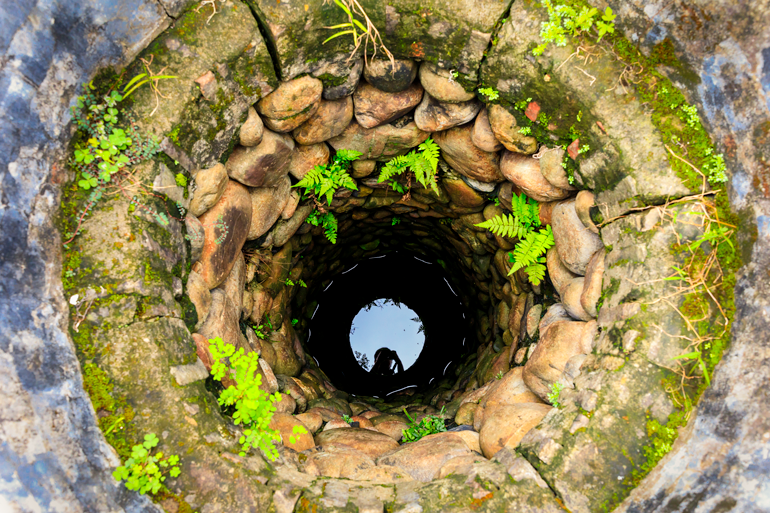 Next to it is the Pan Residence, an old single-story house converted for use in an initiative to promote green living through eco-friendly farming methods. As we chat, an elderly resident cycles by and nods "hello" to Lin.
Before he leaves us to tend to "village matters," Lin shows us one more wall.
Local children made these," he says, pointing to a wall with ceramic sculptures of village folk singing and dancing affixed to it. "It's my wish to pass down these trades to the next generation. I hope that the next generation will continue to find creative, artistic ways to record our history."
After a quick meal of noodles at a mom-and-pop eatery, and waiting out passing clouds that bring along a torrential downpour, my friends and I continue exploring E-Wang – but now with a post-rain lighter, luxurious green reflecting off the fields of rice.
Shefu Public Welfare Building
Our next stop is the Shefu Public Welfare Building. This six-story part-cement, part-brick building didn't always look presentable. A century ago, the area was used as a place to slaughter pigs. There are no remnants of this today, just ample skywalks and open windows allowing breezes to enter. We are visiting on a quiet day, but are told that activities such as folk dance and taichi classes are often organized for E-Wang's elderly residents.
We take an elevator to the rooftop and enter a lush, expansive garden overlooking the Yilan River and Qinghe Bridge, which crosses it. The rain has caused some mist to accumulate in the mountains across the river to the west. We also spot our next destination, Yilan Riverside Park.
Completed in 2003, the park is an inviting stretch of greenery in which a 15km bike route running along the riverbank has its beginning. We're more interested in the swings underneath a river-crossing bridge, though. Swinging back and forth with the mist-covered mountains as backdrop, I feel like I'm in one of my childhood storybooks again.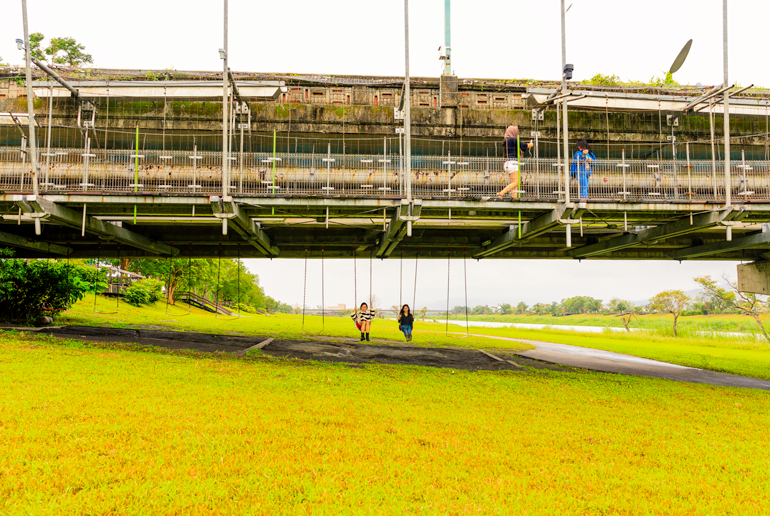 Jinhai Boardwalk
Our next mission – crossing Jinhai Boardwalk – is a little more daunting. Although it's called a "boardwalk," this is a pedestrian path constructed a few feet below the road level of Qinghe Bridge, so pedestrians can enjoy the scenery while crossing the river without having to worry about oncoming traffic. A catch, however, is that the pedestrian path features liberal use of grilles, so when looking down you can see the gushing river, and the walkway rocks slightly whenever a car above drives by above. Despite my nervousness, we made it "safely" to the other side.
Yilan Brick Kiln Museum
After cutting through rice fields and banana-tree orchards for about ten minutes, we arrive at our final destination, the Yilan Brick Kiln Museum. After the discovery of high-quality clay in Yilan in the 1830s, rows of individual kilns were built here to make bricks. In the 1980s, when brick-making operations were moved to nearby modern factories, plans were drawn up to demolish the kilns and construct residential buildings. Area residents protested, and the kilns were converted into a museum instead.
Stepping inside one of the small, dome-shaped kilns, the smell of clay and earth is overpowering, yet at the same time a reminder of how important it is to preserve history – through the preservation of sites, artwork, and even smells.
With nightfall approaching and the clouds moving down closer to the pastures around us, it is easy to imagine what this community must have been like 200 years ago. Birds chirping, farmers gathering vegetables from their plots to bring home for dinner, children fetching water from the well. In other words, a storybook ending.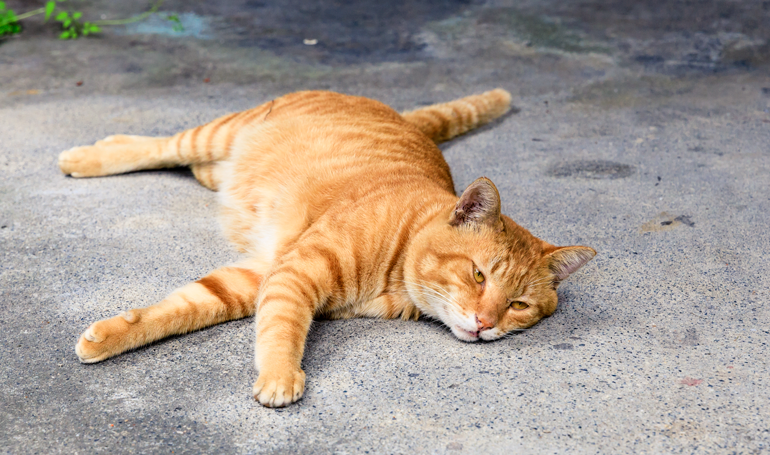 More information in Chinese: https://ewang2009.wordpress.com/
Also read
YILAN Biking — Fun along the Dongshan River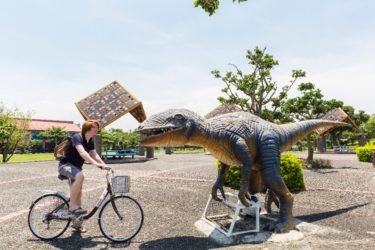 taiwaneverything.cc/2016/09/07/yilan-biking/
The BEAUTIFUL COAST of southern YILAN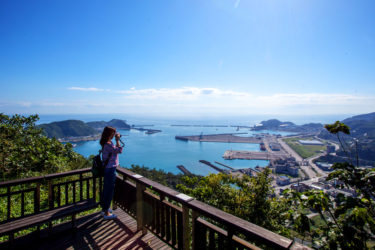 Further reading on other sites
– The Great Sage Purple Cloud Temple of Yilan, Taiwan: A Photo Essay
– Yilan's Confucius Temple

OVER THE CITY: WHAT'S IN YILAN CITY? PART ON