Riding Back in Time by Train on the Neiwan Branch Line
Text: Steven Crook, Photos: Vision
Neiwan is one of four popular branch–railway lines in Taiwan, the others being the Pingxi, Jiji, and Alishan lines. A slow train on this route takes you from the modern yet traditional city of Hsinchu deep into the hilly countryside to the tourist-popular village of Neiwan, on the way passing intriguing cultural and historical sites.
The first time I experienced the Neiwan Branch Line was on another assignment for Travel in Taiwan, nearly twenty years ago. I thereafter rode the train to Neiwan once more, but that was long before the line's closure, renovation, and reopening in late 2011. So when the magazine recently asked me if I'd like to go back, my eagerness to see if the area has changed spurred immediate acceptance.
Even better, the editor wanted me to write something about downtown Hsinchu, one of my favorite cities in Taiwan. Hsinchu is usually thought of as a citadel of high-tech industry, which it is. But it also has some of the island's finest traditional architecture, as well as a wide range of tasty local delicacies every bit as good as those of Tainan, the recognized capital for old-style snack treats on the island.
On a glorious sunny day, with an unusual spring in my step, I walked from the Hsinchu high-speed railway station to the adjacent Liujia Railway Station, which serves conventional trains operated by the Taiwan Railways Administration (TRA). The construction of the Liujia station and 3.1km of new tracks was a key part in overhauling the Neiwan line. Commuters can now get from the high-speed rail station stop to the heart of Hsinchu in just 19 minutes.
Before boarding the dianche ("electric car") – i.e., local commuter train – to downtown Hsinchu, I bought a one-day jump-on/jump-off ticket valid for both the Neiwan and Liujia lines. This pass (NT$95 for adults, NT$50 for kids and senior citizens) can also be purchased at Hsinchu Railway Station and some other TRA stations, including Taipei Main Station.
Sightseers heading straight to Neiwan should get off at the next station after Liujia, Zhuzhong, and make sure they wait on the right platform. If you're heading into the city, as I was, there's no need to change trains.
Assuming you've come via the High Speed Rail (HSR) service from Taipei (no more than 35 minutes) or Taichung (even quicker), and the Neiwan Branch Line is your main objective, you'll probably not want to spend more than a couple of hours in downtown Hsinchu. Fortunately, a bunch of interesting sights are within 15 minutes on foot from the city's main railway station.
Hsinchu City
I made a beeline for the City God Temple (aka Chenghuang Temple). The obvious route to this perpetually bustling place of worship takes you right past the Yingxi Old East Gate. The gate is all that remains of the protective wall that once surrounded Hsinchu, but it is lovingly preserved.
For those intrigued by Taiwanese folk religion, the abode of the City God is a fascinating place. For everyone else, it's a great place to enjoy Hsinchu specialties like rice vermicelli and pork meatballs. The former often comes fried, while the latter are usually served in a soup with chopped scallions. Around two dozen food vendors, a couple of which have air-conditioned seating areas, are clustered tightly around the temple's forecourt. You won't see a word of English, but many of these eateries have picture menus. Few dishes cost more than NT$50 per serving.
Across the road from the temple is a tall building bearing Chinese characters which mean "hundred-year-old (i.e., 'heritage') shop." This is the flagship store of Hsin Fu Jean, a maker of traditional Chinese-style cakes that has been in business since 1898. Step inside, pick up an English-language leaflet, and accept the staff's offer of a free sample or two before making your purchase selection.
Hsin Fu Jean's signature product is a flaky pastry called a Chu-chan cake. Chu-chan is the old name of Hsinchu ("Zhuqian" would be the standard Hanyu Pinyin spelling for this). The filling is mostly ground pork, but it's the zesty green onion that makes this baked delight especially memorable. The company also sells walnut cakes, mochi, and rice puffs.
Hsin Fu Jean (新復珍)
Add: No. 6, Beimen St., Hsinchu City
(新竹市北門街6號)
Hours: 8am to 10:30pm
Website: www.hfj.com.tw (Chinese)
If you've the time and energy, consider straying a bit further from the railway station, along Beimen Street, Chengbei Street, or Aiwen Street. All three have retained a great deal of pre-World War II character.
Hsinchu Hotel
Miramar Hotel Hsinchu (新竹美麗信酒店)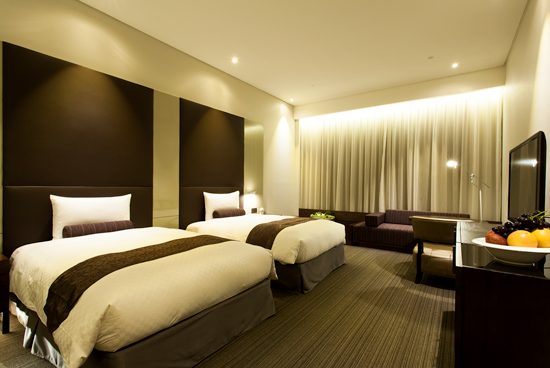 Add: No. 111, Sec. 2, Gongdao 5th Rd., Taipei City
(新竹市公道五路二段111號)
Tel: (03) 623-1188
Website: www.miramar-hsinchu.com
[/one_half_last]
Just six trains per day go all the way from Hsinchu to Neiwan (and four of these depart before 8am), so you'll likely change at Zhuzhong Railway Station, just east of the city limits in Hsinchu County, from which there's an hourly service between 8:46am and 9:52pm.
As part of the revamping of the Neiwan line, stations such as Shangyuan and Ronghua were modernized for the convenience of commuters. But many other features were not changed. For much of its 27.9km length, the branch line remains single track. And while almost all of Taiwan's railway network has now been electrified, the Hsinchu County stretch of the Neiwan Branch Line continues to be an exception. At Zhuzhong you'll find yourself boarding a short diesel-electric train. By comparison with HSR and TRA expresses, these look like toy trains!
Zhudong
The journey time from Zhuzhong to Neiwan is 42 minutes, but there's a host of good reasons to get off before the terminal stop. For my first digression, I chose Zhudong, the only sizable town along the branch line.
Comic-book and animation fans come to this town to visit Zhudong Anime Park (admission NT$100 for adults; open 9:30am to 6pm Wednesday to Monday). The entrance is on the right as soon as you leave the railway station.
Being more interested in history and industrial heritage, however, I bypassed the anime park and walked 200m to the Zhudong Timber Industry Exhibition Hall (admission free; open 9am to 12noon and 1pm to 5pm Wednesday to Sunday). Throughout the Japanese colonial period (1895-1945) and for some years after, the hills and mountains inland of Zhudong were heavily logged. The exhibition hall, an attractive wooden structure built in 1943, contains old equipment, photos of great interest, and quite a bit of English-language information.
Whether you make Zhudong a stop on the way to or back from Neiwan, do walk a bit further, as far as the Ren'ai Road/Donglin Road intersection. The first thing to see here is a Roman Catholic church. In Taiwan, Catholic houses of worship tend to be either European-style edifices with spires or inspired by classical Chinese architecture. This one isn't either, although the cross on the roof and the dove emblems make its allegiance obvious.
From dawn to almost lunchtime, the traditional food market that occupies the lanes and alleyways across from the church on the other side of Donglin Road buzzes with activity. Starting well before dusk, the neighborhood then becomes a good place to find dinner.
The flat river-valley land between Hsinchu and Zhudong has seen a lot of development over the past two decades. But when I got back on the train after my Zhudong interval, I noticed that inland of Zhudong the landscape remains ruggedly rural.
It's the kind of scenery that rewards careful observation. Amid the preponderance of bland, cheaply constructed postwar housing, you'll spot the occasional traditional brick-and-tile abode built long ago for a member of the local gentry; lovingly tended vegetable patches; and egrets standing in paddy fields. At Jiuzantou, a tiny station no longer manned, grass grows across the roof and foliage is beginning to obscure the walls.
Hexing
I made one more stop before Neiwan, stepping off at Hexing station. The area around the station has been remade and dubbed Love Plaza, enhanced by public art and tasteful redecoration of the original Japanese-style buildings. Two retired passenger carriages have been converted into shops where you can enjoy juices, ice cream, and other refreshments. The chances of you coming here and not taking a photo (or a dozen) are infinitesimal.
Neiwan
The best is saved for last on the Neiwan Branch Line. Neiwan is, in this writer's humble opinion, the most interesting stop along the railway. One reason for this is the area's history.
If you visited Neiwan at the end of the 19th century, you would have found a tiny hamlet dependent on the camphor trade. At that time Taiwan was the world's No.1 source of camphor, a key ingredient in mothballs, smokeless gunpowder, and celluloid film. Later on, timber and then coal were extracted from the surrounding hills and mountains.
By 1934 a narrow-gauge railway linked Neiwan to the lowlands. This was upgraded to regular gauge (which in Taiwan means 1,067mm) in 1951. By that time, Neiwan was a bustling place with its own movie theater and other places of entertainment.
The handsome old theater still stands and deserves a look, even if you've no desire to watch a movie while enjoying a meal inside. Finding it – and everything else in Neiwan – is a cinch. Almost everything stands between the station and the two bridges (one for cars, one for people) that cross the Youluo River, so just follow the crowd. That said, note that two worthwhile sights are located on the uphill side of the tracks. The police station is one, New Hakka Cultural Park (open 10am to 5pm Wednesday to Monday) the other.
The police station was built during the Japanese era, and is a typical Japanese single-story wooden structure. Unlike many other buildings from that era, it hasn't been renovated. If you want to take photographs of trains as they leave or enter the station, just in front of the station is the best (and safest) place to be.
New Hakka Cultural Park has a spacious café where hot/cold drinks and snacks are sold, as well as on-site handicraft production. Admission is NT$50 per person, redeemable if you spend money inside.
Neiwan Old Street is the nickname given to part of Guangfu Road, but in a place this compact there's really no need to pay attention to street names. Simply go where your eyes, your nose, or your stomach leads you.
Even on weekdays, there's an excellent selection of snacks to sample. My favorites include the bite-sized sticky-rice dumplings at "Aunty Zhan's Zongzi." Just walk down the stairs from the railway station and you'll immediately see the dumplings, wrapped in bamboo leaves and tied together with string.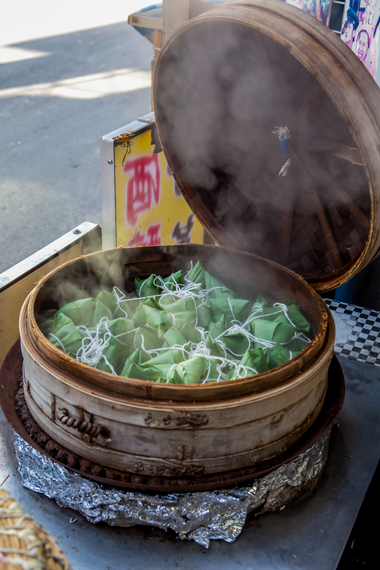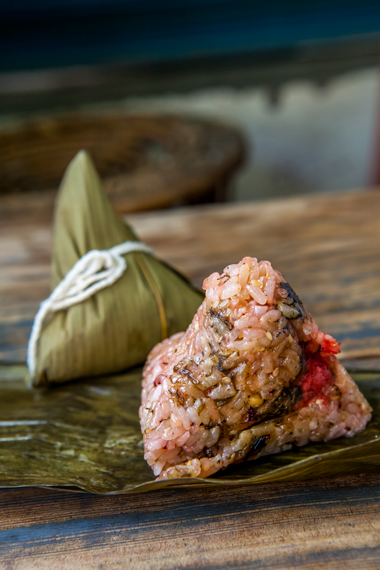 If it's coffee and cake you crave, a good bet is the very characterful Migration Café and B&B, down a quiet side street at No. 18, Heping Street. Three rooms are available for overnighters.
If you should find you still have a bit of time before your train departs, pop in to the Neiwan Forest Industry Exhibition Hall (admission free; open 9am to 5pm Wednesday to Sunday). There's no English inside, but the black-and-white photos, taken more than 60 years ago, need little explanation.
These engrossing images make it clear that, despite the use of ropeways, narrow-gauge trains, trucks, and what was called the "wooden horse track" (a slide along which bundles of logs were dragged and pushed), in the old days getting timber out of the forest and down to the lowlands required a great deal of muscle and sweat. Makes you glad to be a tourist in 2017, doesn't it?
Also read:
The PINGXI LINE — Through the Verdant Valley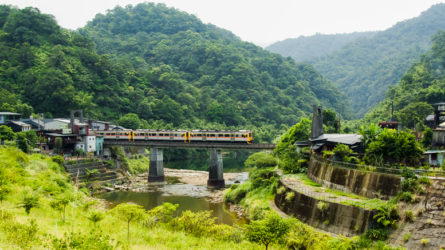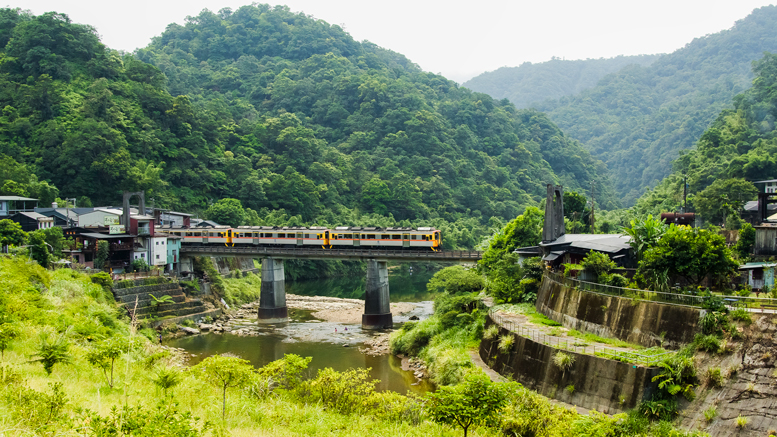 taiwaneverything.cc/2017/07/14/pingxi-line/
Let's Ride the JIJI LINE in Central Taiwan!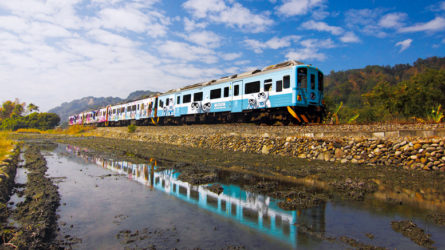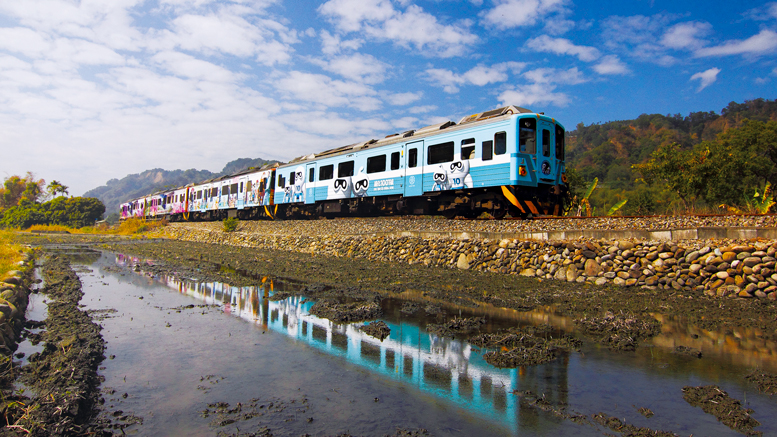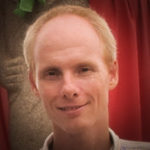 Steven Crook, who grew up in England, first arrived in Taiwan in 1991. Since 1996, he's been writing about Taiwan's natural and cultural attractions for newspapers and magazines, including CNN Traveler Asia-Pacific, Christian Science Monitor, and various inflight magazines. He's the author of four books about the country: Keeping Up With The War God (2001), Dos And Don'ts In Taiwan (2010), Taiwan: The Bradt Travel Guide (2010), and A Culinary History of Taipei: Beyond Pork and Ponlai (2018)
http://crooksteven.blogspot.com
http://bradttaiwan.blogspot.com