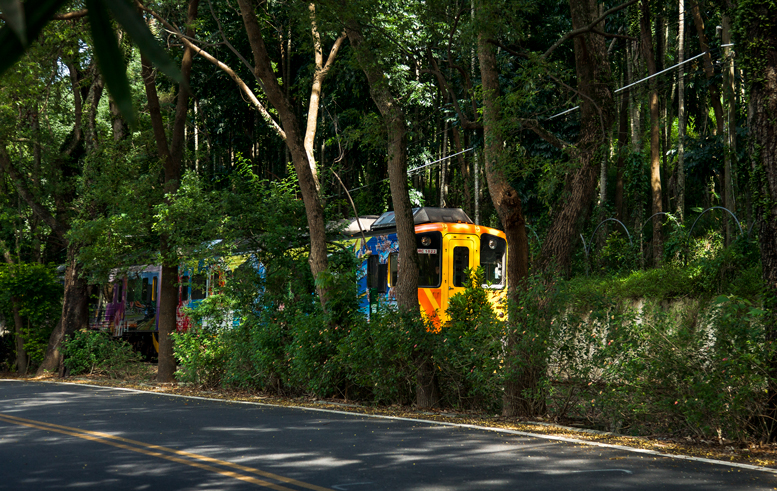 Taking a Jiji Line train brings you to the base of Taiwan's soaring central mountains and close to its geographical center. It allows you to get a glimpse of days gone by with stops at old railway stations, in a former logging town, and near a large heritage "snake" kiln.
Text: Joe Henley, Photos: Maggie Song
There's something almost indescribably alluring about traveling by rail. The slow lurch of the cars as they are coaxed into motion by the pull of the engine. The clickety-clackety sound of the wheels running over the small gaps between rails. The changing landscapes seen from the comfort of your carriage.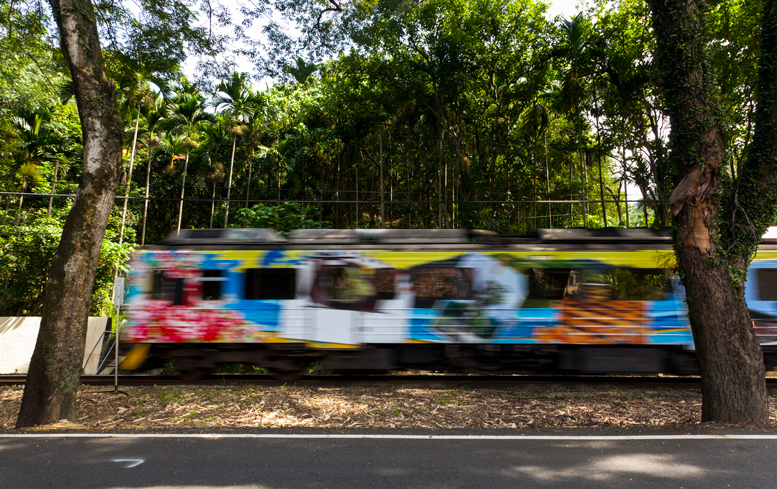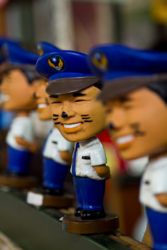 In Taiwan a number of different railway services are available, each catering to different kinds of travelers. Business travelers on trips between major cities on the island's west side, for example, might prefer the faster and more expensive High Speed Rail system, a bullet-train service that connects the city of Taipei in the north with Kaohsiung in the south. The fastest trains take just 90-plus minutes to travel between these two major metropolitan areas.
Travelers who aren't in so much of a hurry and want to save a bit on ticket cost might board a train of the Taiwan Railways Administration (TRA) service. TRA operates the regular rail service, with its lines forming a loop around the island. The Puyuma Express and Taroko Express trains are its fastest and most modern. Other train types are Ziqiang, Juguang, Fuxing, and EMU (Commuter), the last of which is the slowest and most inexpensive, with stops at every station along its routes.
Most TRA trains ply the main lines on the western plains and along the coasts, allowing travelers to circumnavigate the whole island. There are, however, also a number of branch lines that connect to places further inland, notably the towns of Pingxi and Neiwan in the north, Jiji in central Taiwan, and the Alishan region in the central-south. Today popular with tourists, these lines where originally built for industries such as logging and mining. The old sawmills and mining operations are mostly gone or closed down now, with many of those remaining having fallen into neglect or disrepair. Some have been preserved, however, providing visitors with a clearer glimpse of life in times gone by.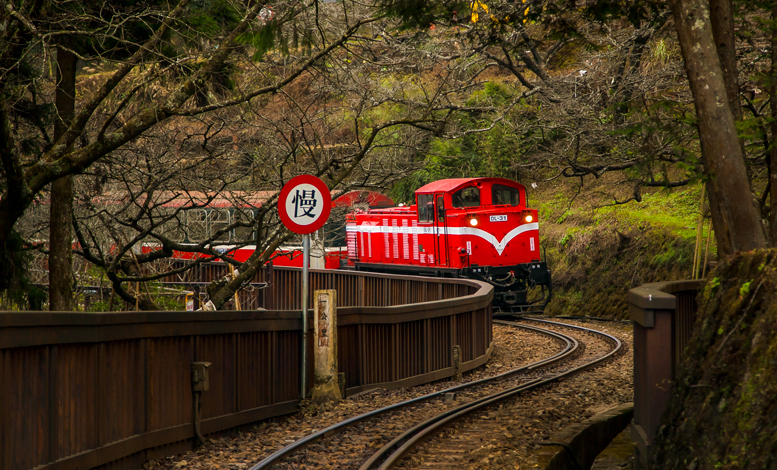 Recently I went on a trip to explore one of the branch lines – the Jiji Line in central Taiwan's Changhua and Nantou counties. This line has been in near constant operation for almost a century. Since construction was completed in 1921, service between some stations has only been halted twice, for a three-year period from 1999 to 2002 due to damage caused by the devastating Jiji Earthquake, and due to repair work on several tunnels in 2010. Other than those instances, trains have rolled smoothly, taking travelers through the peaceful and scenic countryside of this part of central Taiwan.
Trains on the line, which is just under 30 kilometers long, start in the west at the town of Ershui in Changhua County before crossing over into Nantou County, making stops at the Yuanquan, Zhuoshui, Longquan, Jiji, Shuili, and Checheng stations. The trains consist of just a few cars; the railway itself is a single-track narrow-gauge line. Tourists will often get off at stations along the way, explore the surroundings, and hop on the next train to continue their rides (there are services about every 80 minutes; a single ticket from Ershui to Checheng is NT$45, a day ticket NT$90). The full trip, one way, takes just a little over 40 minutes, but if getting on and off at the various stations, plan to spend the whole day.
[the_ad id='7373′]
Jiji Line from East to West
Checheng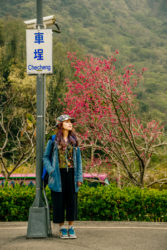 As I so often do, I went about things backwards, starting at the eastern end of the line in Checheng, just south of the towering Mingtan Reservoir dam, and working my way back. The reservoir is fed by the waters of Sun Moon Lake, located up in the hills east of the village.
The rustic logging-village charm has been preserved well in Checheng. Attractions include an old sawmill that has been turned into the Checheng Wood Museum, and the well-maintained railway station from the Japanese era (built in 1922).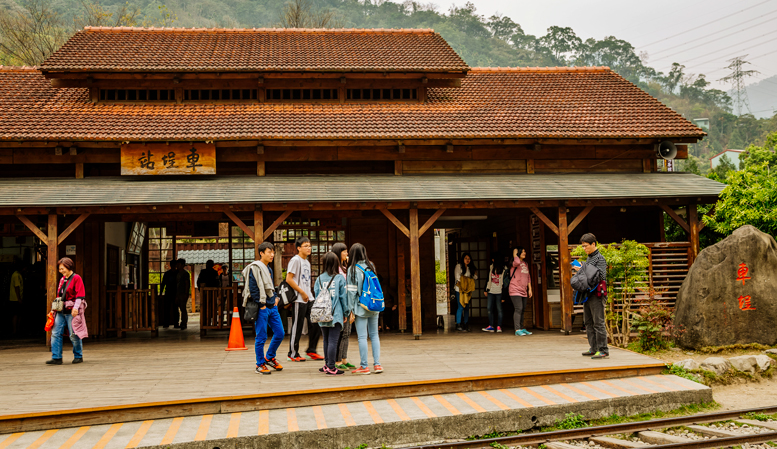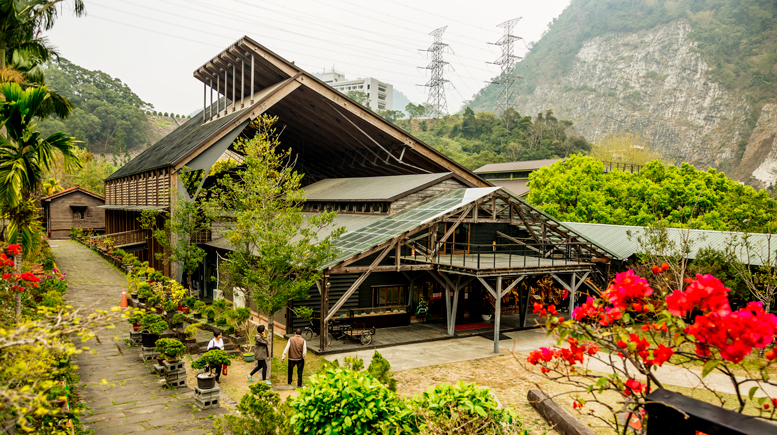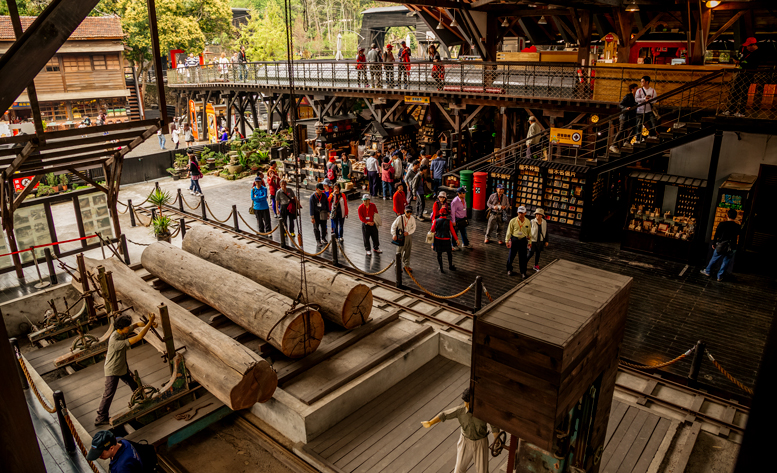 Checheng's railway history dates back to 1911, when a line was constructed connecting Puli, north of Sun Moon Lake, to Checheng and Ershui. It was used to transport sugar produced at the Puli Sugar Factory (the Puli-Checheng section does not exist anymore). Later, when the Daguan Power Station was being constructed upriver from Checheng in the 1930s, a large number of engineers and workers poured into the settlement. The railway line was used to transport people and building materials to the construction site.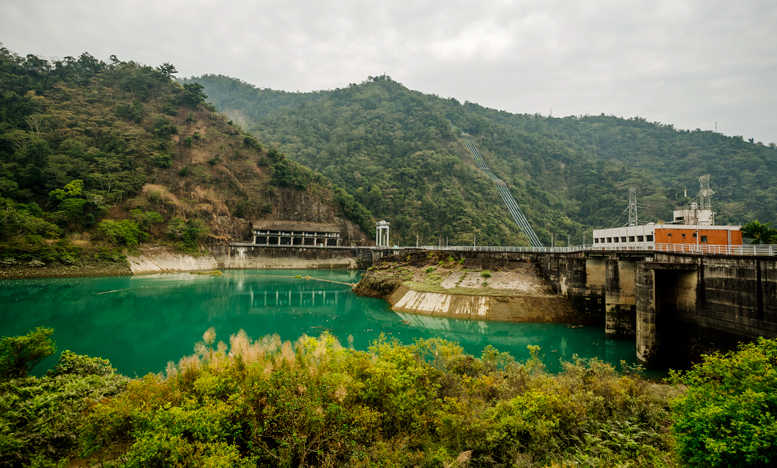 After the completion of the plant, however, there was an exodus, and the village remained quiet until 1959 when a major logging corporation chose it as base for processing timber from the Danda Forest Area in the Central Mountain Range. Remains from this logging period, which lasted until 1971, are a scenic log-storage pond, nowadays teeming with koi fish rather than timber, and a wooden structure that originally housed a crane used to hoist the large trunks from the water to be milled for shipment.
The area between the pond and the railway station, once bustling with shops catering to the workers and their families, is now a popular tourist area with restaurants, small mom-and-pop eateries, and stores selling snacks and souvenirs. Steam, a restaurant with floor-to-ceiling windows overlooking the former log pond, offers tranquil views of the pond and the reservoir dam along with its moderately priced set meals and drinks.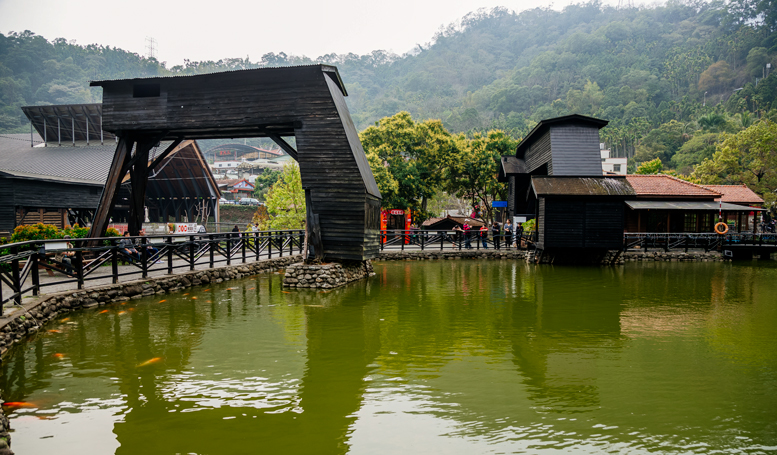 Steam (隱茶)
Add: No. 101-3, Minquan Lane, Checheng Village, Shuili Township, Nantou County
(南投縣水里鄉車埕村民權巷101-3號)
Tel: (049) 277-6471
Located near Checheng Railway Station is the Shuili Farmers' Association Plum Hall, where you can find Shuili Township produce and processed goodies. To sample a local drink with a nice kick, try the Checheng Chateau plum-wine brewery, where the potent alcoholic beverage, closer in taste and alcohol content to something like vodka than to wine, is distilled on-site.
[Watch footage of Checheng from the 29 min. mark]
Shuili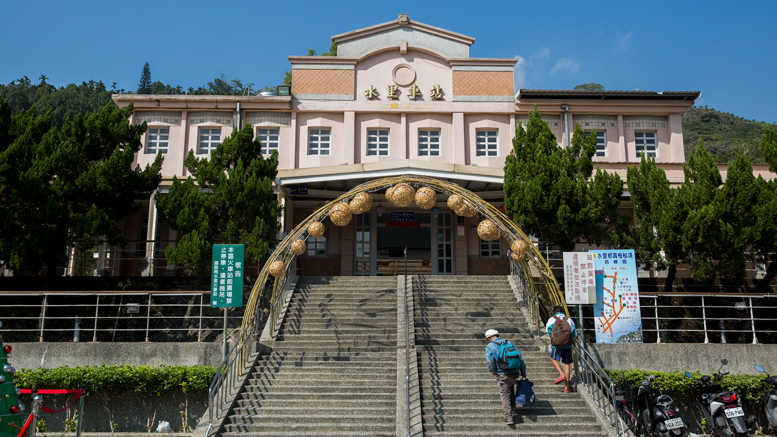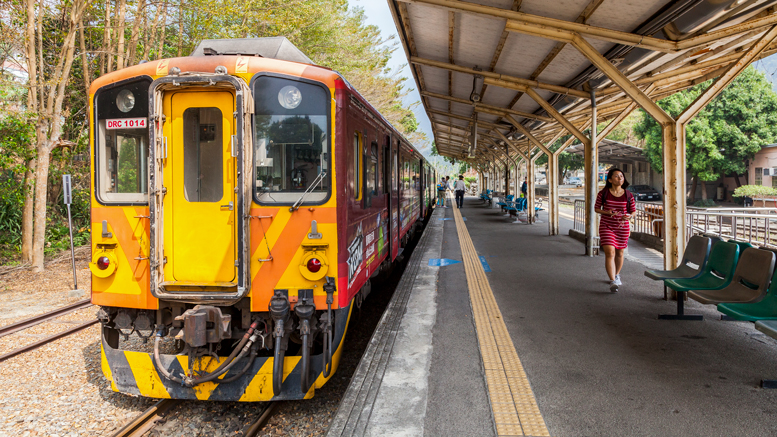 From Checheng the Jiji Line runs parallel to County Route 131, snaking its way down to Shuili, a town that sits next to the Zhuoshui River, the longest river in Taiwan. Shuili is home to the Shuili Snake Kiln, established in 1927, one of Taiwan's last remaining "snake" kilns (an elongated kiln with a snakelike form). The Shuili area's abundant timber was gathered to fire the kiln up to temperatures of 1,200 degrees Celsius, with all manner of pottery produced. Among the products were "self-defense vats," man-sized vats designed during WWII to be buried along beaches so that Japanese soldiers might conceal themselves as the first line of defense against enemy encroachment from the sea.
Visitors can actually walk through the kiln, from a side entrance all the way to its rear/top. Workers once donned flame-retardant clothing to enter the kiln, when the temperature was still as high as 300 degrees Celsius, to retrieve newly fired wares, holding their breath so as to avoid irrevocably damaging their windpipe and lungs.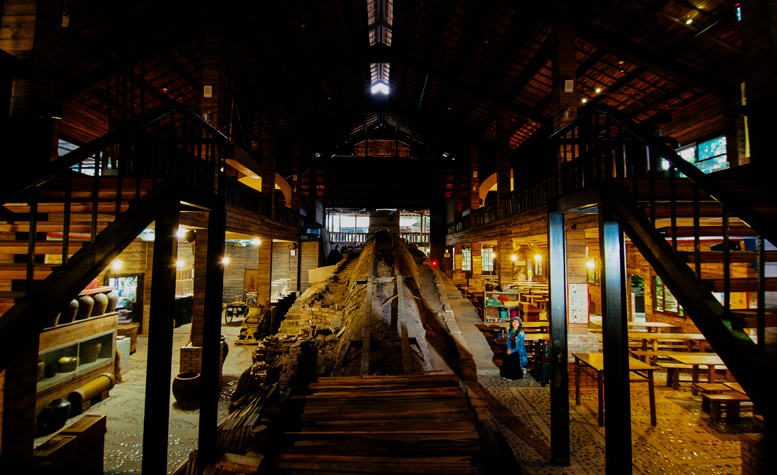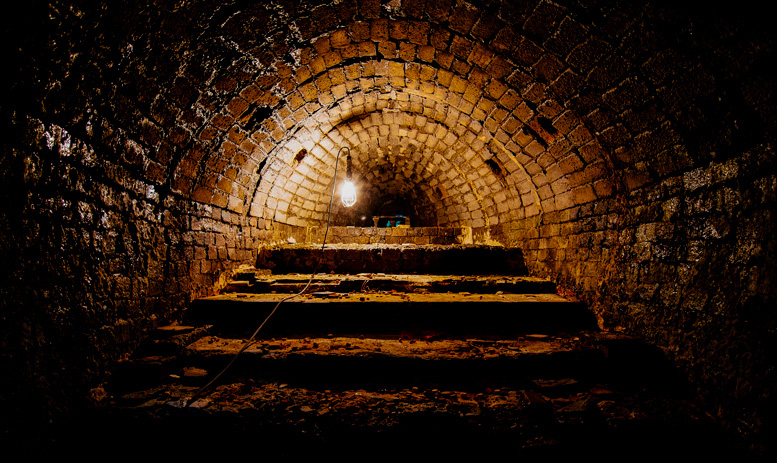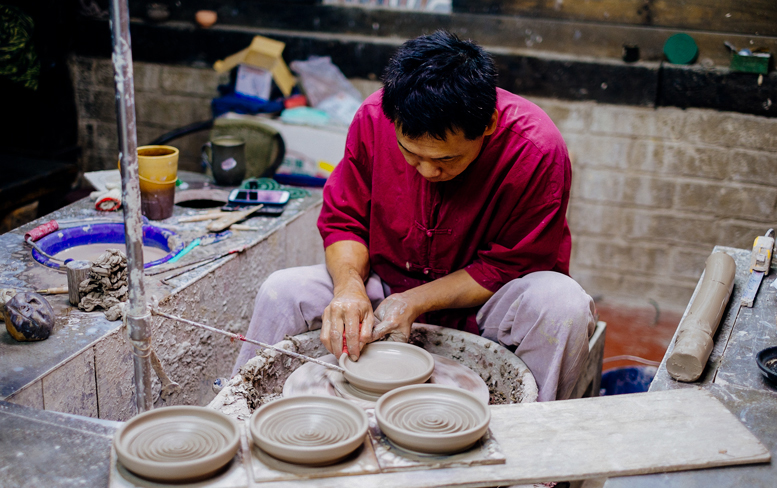 Shuili Snake Kiln is located about 2km south of Shuili Railway Station along Prov. Hwy 16. Entrance to the large kiln complex, which is full of interesting tidbits of information in English, is NT$150. The site is open daily from 8am to 5:30pm.
Shuili Snake Kiln (水里蛇窯)
Add: No. 21, Ln. 512, Shuixin Rd., Dingkan Village, Shuili Township, Nantou County
(南投縣水里鄉頂崁村水信路一段512巷21號)
Tel: (049) 277-0967
Jiji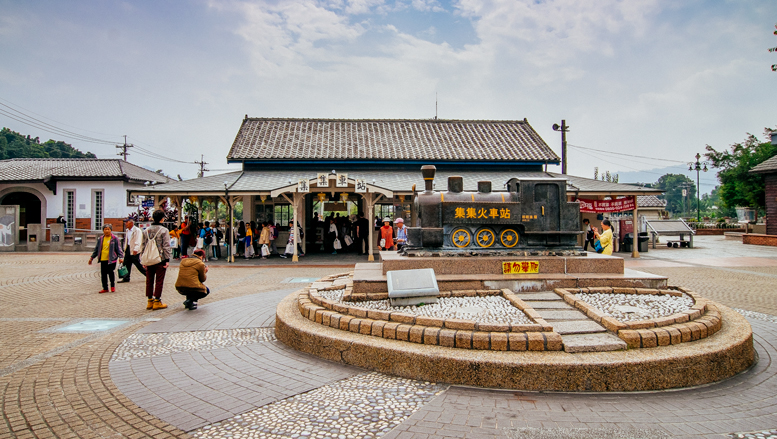 The next station on my tour of the Jiji Line was Jiji. There, I visited the Mingxin Academy, a place of learning and culture dating back to the late 19th century – a time when Jiji was a thriving center for the island's camphor industry.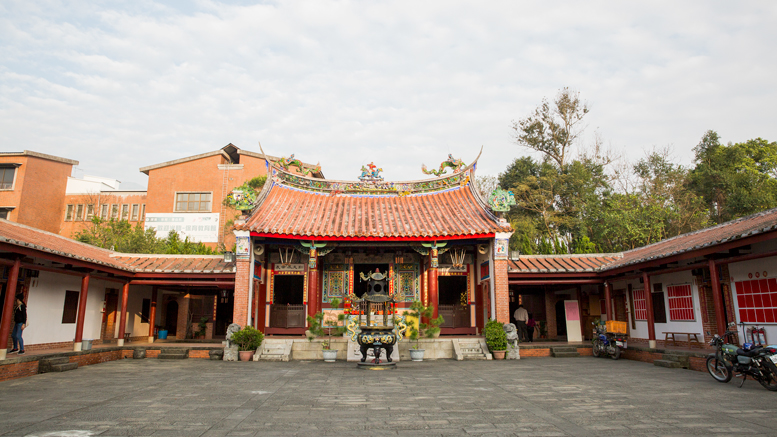 A short distance away (by bike if you prefer, as the town has a dedicated bike path running between points of interest, and cheap bike rentals available at the railway station), is the Jiji Military History Park, featuring decommissioned relics of the ROC Armed Forces, including M18, M41, and M48 tanks, a C-119 bomber, and an old TF-104G fighter jet. West of Jiji is also the locally famed Green Tunnel, a 4.5-km stretch of leafy canopy covering County Route 152, a great place to go for a bicycle ride.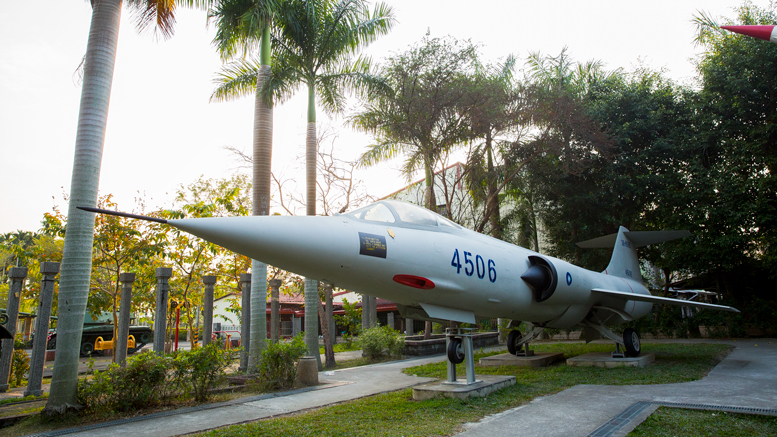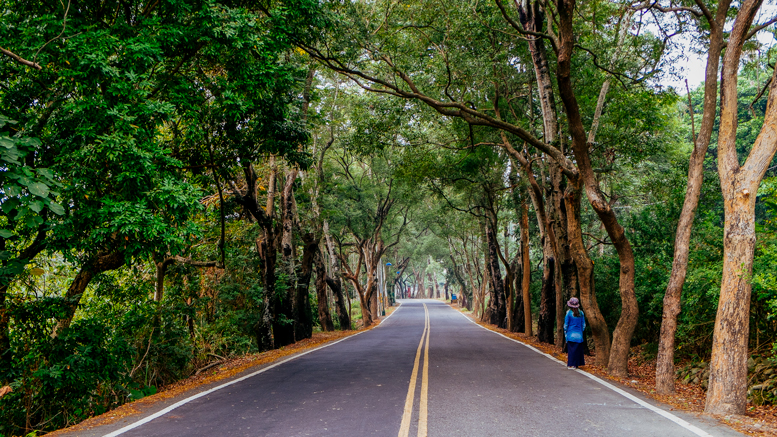 Zhuoshui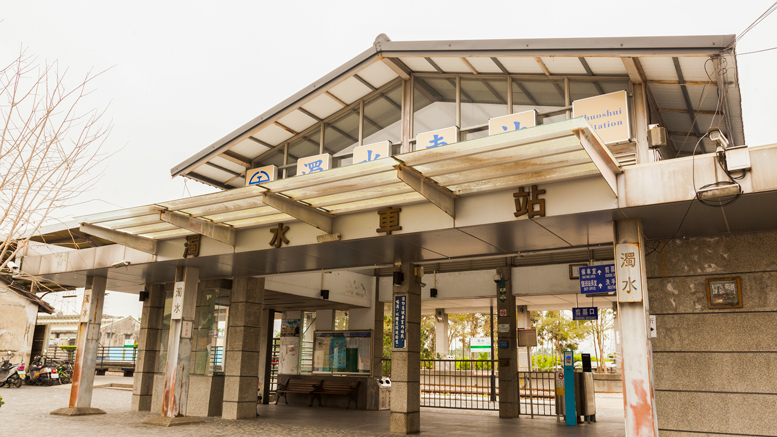 Next on my tour was the town of Zhuoshui. Just down the road leading out of the main exit of the railway station is Sun Yee Tea, where for the past 63 years three generations of the Wu family have provided some of the finest tea in the country. The owner, who introduced himself humbly as Mr. Wu, is a soft-spoken gentleman of 78 who is as eager to show off pictures of his grandchildren as he is to talk about his business. During my visit he treated me to an oolong variety from Lishan, a Taiwan high-mountain area famous for its apples, peaches, and pears. As I drank the tea, he shared with me his secret to good health and longevity: "When people ask me what I've been eating to stay so healthy, I tell them all I need is tea."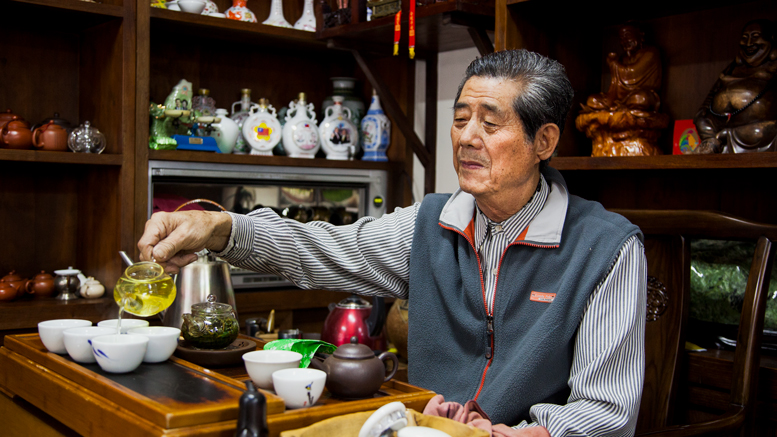 Sun Yee Tea (三億茶行)
Add: No. 65, Yuanji Rd., Mingjian Township, Nantou County
(南投縣名間鄉員集路65號)
Tel: (049) 273-4567
Ershui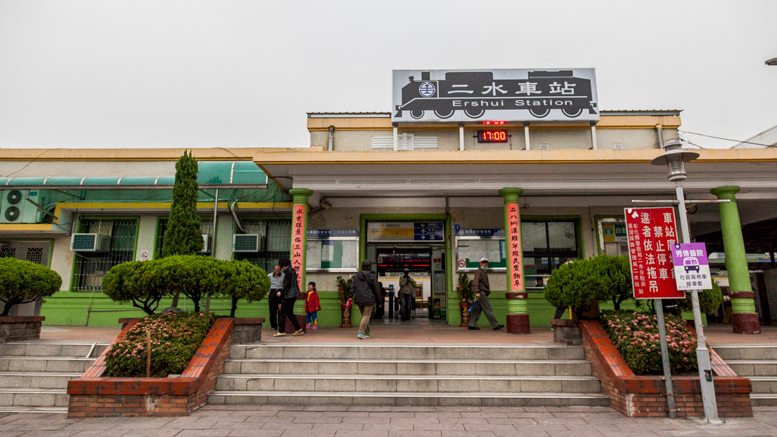 The western terminus of the line, and its only stop in Changhua County, is the town of Ershui, which is known for the hiking trails of nearby Songboling, where hikers might come across Formosan macaques, the Ershui Bikepath, which follows alongside the Jiji Line railway tracks, and the Old Residence of Hsieh Tung-min, who was the governor of Taiwan Province (1972-1978) and Vice President of the Republic of China (1978-1984) under President Chiang Ching-kuo. His old family home has been preserved as a heritage site.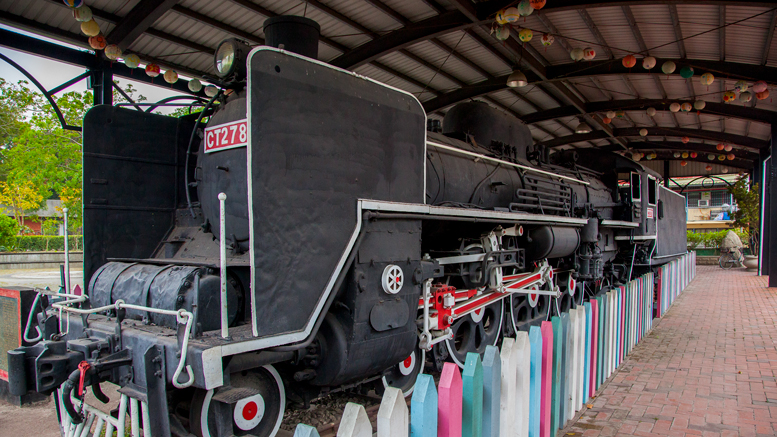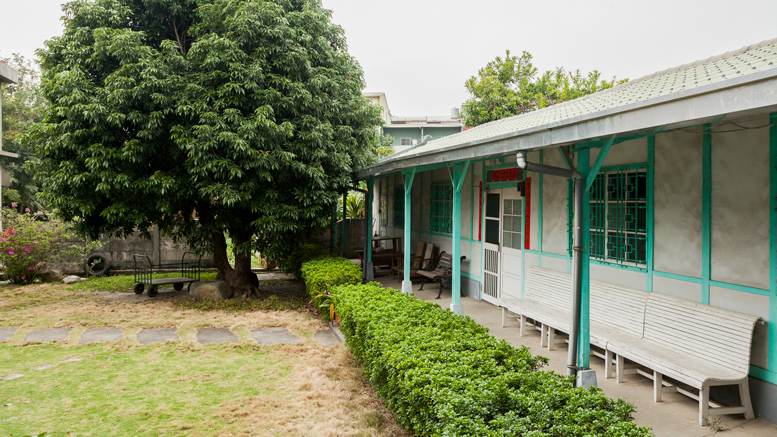 It may be trite to say, but a trip along the Jiji Line is indeed like taking a trip through time, visiting a version of Taiwan that might be long gone for the island as a whole, but which those who have worked to preserve the history in this small corner of the country have ensured will not soon be forgotten.
Evolution 1001
The Jiji Line is a major tourist attraction in central Taiwan. As part of efforts to make the railway-travel experience even more attractive, the trains running are often painted with colorful imagery, depicting Nantou tourist attractions, popular cartoon figures, and so on. At present one train, dubbed Evolution 1001, sports a futuristic theme, with images of two cute alien characters, Miss One and Mr. Ten, created by local artist Akibo Lee. The train is painted light blue throughout, with images of the characters painted on the outside and figures found inside the cars.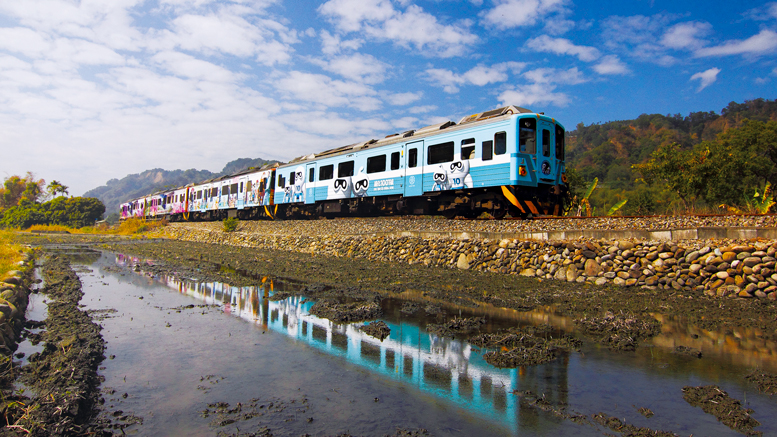 KLOOK:
Jiji Township and Sky Bridge Visit
Other railway-related articles:
"Cruise Style" RAILWAY TRIPS
Railway Travel: The SOUTH LINK LINE (Pingtung-Taitung)
TAICHUNG RAILWAY Travel — Along the Coast
YILAN-HUALIEN Railway Trip — From Su'ao to Xincheng
RAILWAY Travel: CHANGHUA and YUNLIN
HUALIEN Railway Trip — Through the EAST RIFT VALLEY
MIAOLI COAST Railway Trip — Quiet and Peaceful
Also read
Spectral Codex: Jiji Wuchang Temple 集集武昌宫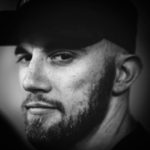 Joe Henley is a Taipei-based freelance writer, journalist, author, and musician. Originally from Saskatoon, Saskatchewan, he moved to Taiwan fresh out of journalism school in 2005. After a seven-year stint as an editor at a Taipei publishing firm, he decided to dedicate himself to freelancing full-time in 2012.