Miaoli, a somewhat sleepy county with a distinct rural character, situated between two quickly developing urban centers – Hsinchu and Taichung – is often overlooked by travelers zipping between the north and central/southern areas of Taiwan. The Miaoli Coast, especially, is unknown to many tourists. Let's find out more by taking the coastal railway line!
Text: Steven Crook, Photos: Maggie Song
Taiwan is an island, but it's easy to ignore the sea which surrounds it. Many visitors fly into Taiwan Taoyuan International Airport and head first for Taipei. Then, if they travel down the western side of the island, visiting major tourist draws such as Sun Moon Lake, Alishan, and Tainan, they may not even get a glimpse of the sea before they reach the city of Kaohsiung's Qijin Island. A good number make sure their itinerary includes Kenting National Park at the island's southern tip, and/or Taiwan's gorgeous east coast, but most will skip the west coast altogether.
Visiting the west coast is easily done, however, and thanks to the trains of the Taiwan Railways Administration (TRA), there's no need to rent a car or scooter. For over 100 years, the TRA has provided essential and inexpensive transportation throughout the island. The High Speed Rail (HSR) service, launched in 2007, now handles a lot of the north-south traffic, but tourists often use TRA services to get to smaller places in between the major cities on the west side. Not all of the TRA trains that zip north to south follow the same route; just outside the town of Zhunan in Miaoli County – an hour and a half down-island from Taipei – the main line bifurcates.
The main set of tracks takes a more direct southward route, through the center of the booming metropolis of Taichung. Another, less-traveled, railroad follows Miaoli County's coastline – before it reaches the Taichung coastal area and then rejoins the main line southwest of the city center – and it's to this area I was sent recently by Travel in Taiwan.
Whether you tour coastal Miaoli from north to south or the other way around may depend on what you have planned for the end of the day. In this article, we're going south to north – from the town of Yuanli to Zhunan – because we like to begin with a full stomach.
STOPS ALONG THE MIAOLI COAST
YUANLI
Yuanli is an excellent place to enjoy the morning markets which are still a key feature in urban areas on this island. Less than 100m from Yuanli Railway Station, the block bordered by Weigong, Tianxia, Datong, and Jianguo roads is crammed full of vendors.
Some sell vegetables, others fabrics, others prepared food. The range of hot and cold snacks is enticing. One especially popular option is the glutinous pork-filled disks at Jinguang Meatballs (open daily 8am to 9:30pm).
Jinguang Meatballs (金光肉圓)
Add: No. 80, Tianxia Rd., Yuanli Township, Miaoli County
(苗栗縣苑裡鎮天下路80號)
In days of yore, triangle-rush weaving underpinned Yuanli's economy. The industry is celebrated at the Triangle Rush Exhibition Hall, 5.5km southeast of the railway station (take a taxi from the station).
TONGXIAO
One stop and six minutes north of Yuanli is Tongxiao. Stopping here is recommended, as both fresh-air lovers and history buffs can indulge their passions at Hutoushan Park.
Hutoushan isn't the only place in Taiwan literally called "tiger's head mountain." There are others in Taoyuan City, Nantou County, and Tainan City – perhaps surprising when you consider that the saber-toothed tigers which once roamed Taiwan were extinct long before humans settled the island, though of course the tiger is a familiar image in traditional Chinese culture. The reward/exertion ratio at the park is very much in your favor. The top is just 700m from the railway station, and even if the weather isn't absolutely clear, you'll be able to see up and down the coast, and inland across foothills as far as the majestic peaks of Shei-Pa National Park.
First, you'll come to the remains of a Shinto shrine built in 1937 by the Japanese authorities then ruling Taiwan. After World War II it was preserved by the Chinese Nationalist government, which had reclaimed Taiwan in 1945, but rededicated to heroes of the Republic of China (ROC). Despite post-earthquake modifications since carried out, which reflect postwar political correctness (among them a Nationalist "white sun" emblem on the roof), the site retains considerable elegance.
A little further up, what was once a military lookout post is now shaded by an immense concrete lotus. The lotus flower is a Buddhist symbol of purity, so this is perhaps an attempt to counter the site's military atmosphere with peaceful sentiments. At the very top of the hill is a monument that since 1945 has served as a celebration of Taiwan's return to the Chinese fold, but which was originally erected by the Japanese to mark a crucial moment in the Russo-Japanese War of 1904-05.
XINPU
Some might think there's nothing to see at Xinpu but the station itself, a quaint 1922 wooden structure. But they'd be wrong.
Known to rail enthusiasts on the island as the location of one of the stations closest to the sea, Xinpu is a splendid place to stop if you want to feel sea breezes. Here, as at several other spots along Miaoli's coastline, there are boardwalks and bicycle paths.
There's also a rather odd park called Qiumao Garden, 350m south of the station. Its garish yet cutesy statues – among them are representations of ROC founder Dr. Sun Yat-sen, Daoist deity Guan Gong, and the entire cast of Journey to the West – are clearly visible from passing trains. Kids will enjoy the slides and concrete animals.
Quirky Qiumao Park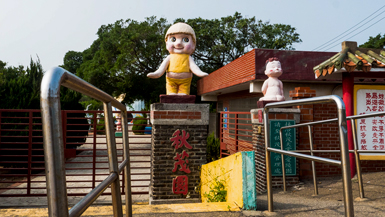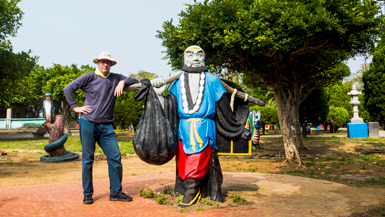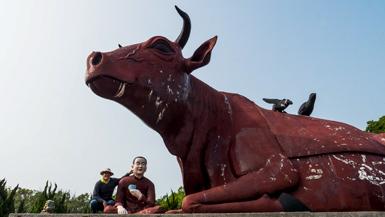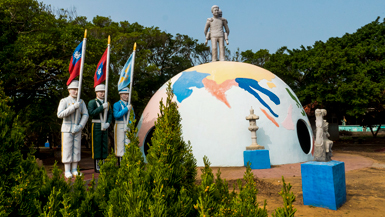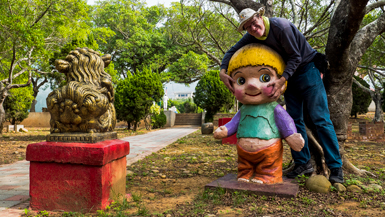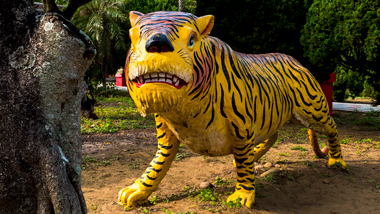 Renting bicycles isn't easy hereabouts, which is a great shame as the area's flat and generally empty roads call out to be explored by bike. As in other parts of the country, finding sustenance or refreshment is never difficult, whether it's a bowl of noodles or a hot latte you crave. If this region does have a disadvantage as far as cyclists are concerned – beyond the dearth of bicycle rentals, of course – it's the wind. There's a good reason so many electricity-generating wind turbines have been situated along the Miaoli coast.
BAISHATUN
Continuing northward, the next stop is Baishatun. This village is divided about equally between families which sort fish and cultivate vegetables in their front yard and long-abandoned dwellings that are in semi-ruined yet intensely picturesque condition. The latter are primarily made of mud brick, bamboo, and other traditional building materials.
Baishatun enjoys island-wide fame of sorts, thanks to Gongtian Temple and the annual pilgrimage that begins and ends here. Like the better-known festival that kicks off down the coast at Dajia Zhenlan Temple, it's an expression of the Taiwanese people's adoration of Mazu, the Goddess of the Sea. In 2011, this pilgrimage was declared a national intangible cultural asset by the central government.
The popularity of Mazu, and the language usually heard in Baishatun, highlight something many people don't know about Miaoli County. The county is usually thought of as a bedrock of Hakka culture, and while it's true that the majority of residents are Hakka, the coastal strip is dominated by Hoklo/Holo folk who speak the tongue variously known as Hoklo/Holo, Taiwanese, or Minnanhua ("Minnanhua" literally means "language from south of the Min River," i.e., China's south Fujian Province area.)
Crabs on beach near Baishatun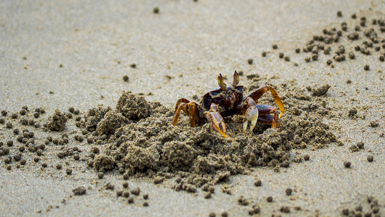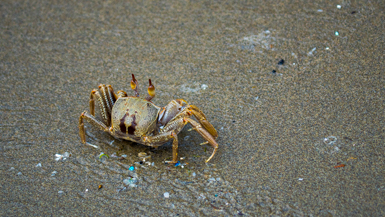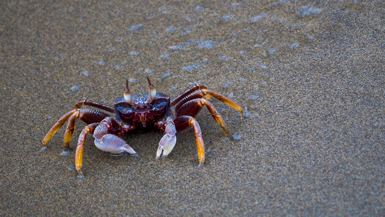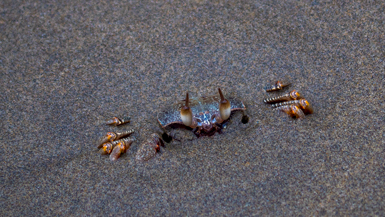 Gongtian Temple is very much the focal point of Baishatun, and the street right in front is your best bet for food this side of Houlong (11 minutes' further north; there's no compelling reason to stop at the next station, Longgang).
HOULONG
If you decide to skip Zhunan, the last stop on my trip, you can take a taxi from Houlong (there are not many tourist attractions in the town itself) to THSR (Taiwan High Speed Rail) Miaoli Station (about NT$200). If time allows, en route you can pop in to the Yingcai Academy (admission NT$50) and/or the Hakka Roundhouse (admission NT$30). Both are recreations of buildings which existed in the China of old, and in some parts of Fujian still exist, and both are open Tuesday to Sunday, 9am to 5pm.
The former, also known as the Academy of Excellence, houses shrines to both Confucius and Wenchang Dijun, a specialist deity whose blessing is often sought by students ahead of important examinations.
Yingcai Academy (英才書院)
Add: No. 700, Xingang 3rd Rd., Houlong Township, Miaoli County
(苗栗縣後龍鎮新港三路700號)
Tel: 037-727-072
The latter is in the shape of the famous Hakka tulou (lit. "earthen buildings," made of rammed-earth walls) in mainland China's Fujian Province. Displays inside illustrate Hakka agricultural practices and cuisine. If you can read Chinese, you can learn how to make fucai, the pickled mustard greens which are a distinctive feature of Hakka dishes in Taiwan.
Hakka Roundhouse (客家圓樓)
Add: No. 295, Xingang 3rd Rd., Houlong Township, Miaoli County
(苗栗縣後龍鎮新港三路295號)
Tel: (037) 732-940
Website: hakkaroundhouse.mlc.gov.tw
DASHAN/TANWEN
If you liked small and old Xinpu Railway Station, consider breaking your rail journey north of Houlong at either the Dashan or Tanwen stations. Like the Xinpu station, both are relics from the Japanese colonial period, much loved by photographers, and occasionally used as film sets.
ZHUNAN
Zhunan has grown in recent years thanks to the high-tech firms clustered around Hsinchu, just north of Miaoli. It now has around 85,000 inhabitants, and may well overtake the county's capital (also called Miaoli) within a few years.
The authorities have positioned some major public facilities in Zhunan, such as the Northern Miaoli Art Center. The center often hosts concerts and dance performances, and has exhibitions on local crafts and arts. If you're traveling with kids who need to let off some steam, take them to Zhunan Sports Park, just across the street from the art center.
Northern Miaoli Art Center (苗北藝文中心)
Add: No. 206, Gongyuan Rd., Zhunan Township, Miaoli County
(苗栗縣竹南鎮公園路206號)
Website: www.nmac.com.tw (Chinese)
To reach the art center and the park, leave Zhunan Railway Station by its east exit. If you want to pick up some maps or have questions about local attractions, drop by the helpful Visitor Information Center (open daily 8:30am to 5pm) in the station's ticketing hall.
Between the station and the art center, it's impossible not to notice the immense statue of a stern-looking, burgundy-skinned man, naked from the waist up. His head is 156m above street level, making this representation of Shennong, the Chinese God of Agriculture and putative inventor of herbal medicine, the largest religious icon in the region.
The statue sits atop Wugu Temple, inside which you'll find other effigies of Shennong. He's easy to recognize, because he's invariably depicted holding sprigs of millet in his right hand. Another of his names, Wugushen, means God of the Five Grains.
If you're looking for good food, leave the station by its west exit. Within 200m of the station are several enticing options, among them Xiang Xiang Noodles (open daily 5:30am to 2pm).
Xiang Xiang Noodles (香香意麵)
Add: No. 90, Minzu St., Zhunan Township, Miaoli County
(苗栗縣竹南鎮民族街90號)
Getting There
Taking a train from Taichung Railway Station to Yuanli takes about 70 minutes (NT$79); from Yuanli to Zhunan takes about 45 minutes (NT$61). If you want to get from Zhunan to Miaoli THSR Station, take a train to Fengfu Railway Station (10 min.; NT$16), which is next to the THSR station. The stations between Yuanli and Zhunan are not far apart from each other, but as the gap between services on this stretch of railroad often exceeds an hour, do carry a schedule of train times. This information can be found on the TRA's bilingual website, www.railway.gov.tw.
[google_maps id="7440″]
Also read
TAITUNG Train Ride — Lovely Countryside!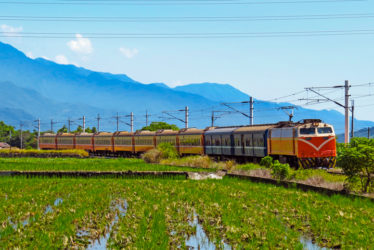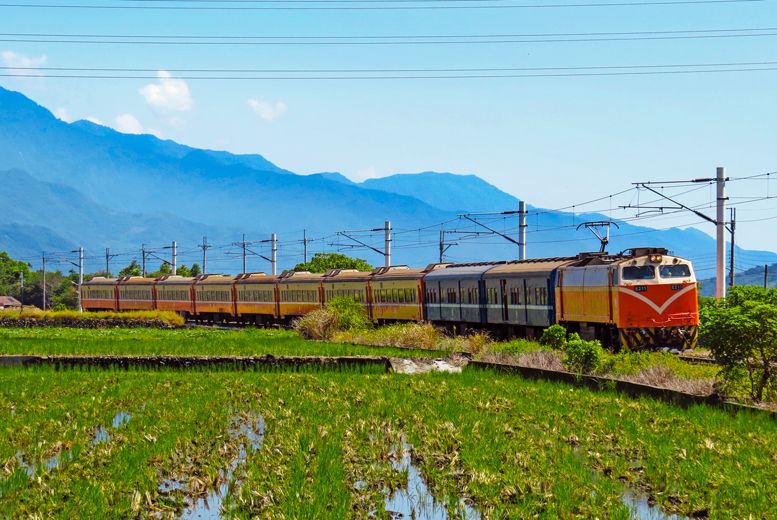 taiwaneverything.cc/2017/06/27/taitung-train/
Let's Ride the JIJI LINE in Central Taiwan!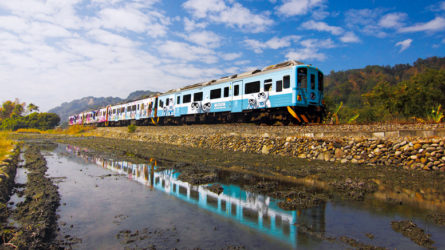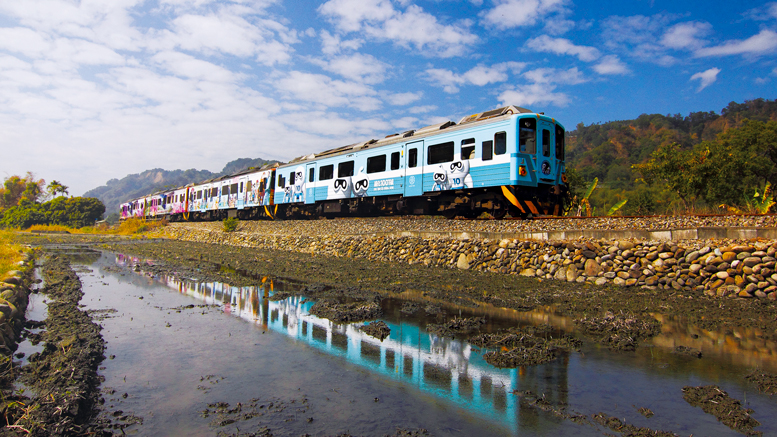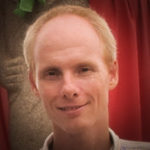 Steven Crook, who grew up in England, first arrived in Taiwan in 1991. Since 1996, he's been writing about Taiwan's natural and cultural attractions for newspapers and magazines, including CNN Traveler Asia-Pacific, Christian Science Monitor, and various inflight magazines. He's the author of four books about the country: Keeping Up With The War God (2001), Dos And Don'ts In Taiwan (2010), Taiwan: The Bradt Travel Guide (2010), and A Culinary History of Taipei: Beyond Pork and Ponlai (2018)
http://crooksteven.blogspot.com
http://bradttaiwan.blogspot.com