The Sound of Music Under the Open Sky
Text: Vision
Music can be enjoyed in numerous ways. One is through a headset attached to an iPod. (iPod? Are those still around?) Correction. Through a headset attached to a smartphone, on a sofa in the comfort of your living room, in a concert hall, in a church, or … outdoors!
There is something special about sitting under the open sky listening to whatever music you prefer, rock, pop, choir, metal, classical, folk … be it in a spacious park, in a sports stadium, on a sandy beach, or any other place you prefer.
While outdoor music events in Taiwan are not as large in scale or as well known internationally as the biggest happenings abroad – Coachella in California, Splendour in the Grass in Australia, or Fuji Rock in Japan, for example – there are in fact a number of music festivals staged in close-to-nature surroundings that music lovers visiting the island should mark in their calendars. Following are short introductions to a few of them.
Alishan Sunrise Impression Concert
(阿里山日出印象音樂會)
The Alishan National Forest Recreation Area, in the high mountains of south-central Taiwan, is well known for its breathtaking sunrises, the glowing orb appearing suddenly from behind the towering peaks of the Yushan Mountain Range. While the sunrise can be enjoyed every day of the year (weather permitting), each January 1 the spectacle is especially endearing. To warm up the visitors braving the early-morning low temperatures (the sun rises at around 7am this time of the year), a rich mix of classical, pop, and folk music is performed live on a stage at the Zhushan Sunrise Viewing Platform.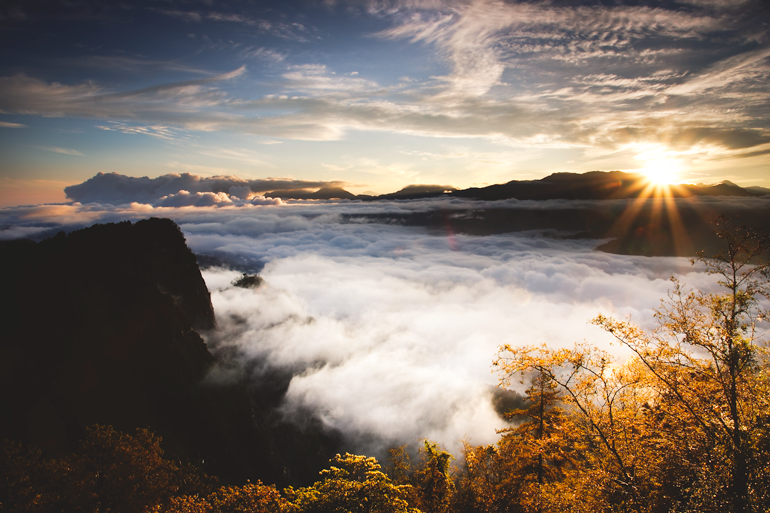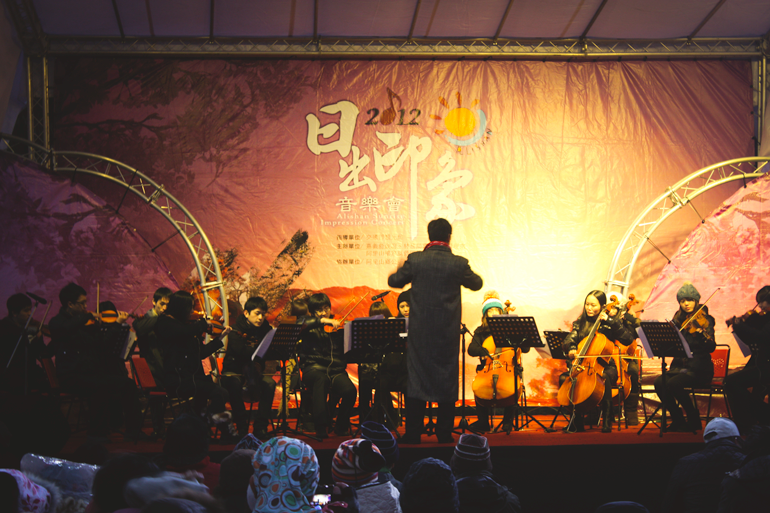 Info
Date: January 1
Venue: Alishan National Forest Recreation Area, Alishan Township, Chiayi County
(嘉義縣阿里山鄉阿里山國家森林遊樂區)
Types of Music: Classical, pop, folk
Website: www.ali-nsa.net
East Coast Moonlit Sea Concert
(東海岸月光音樂會)
Located on the scenic East Coast of Taiwan, the township of Chenggong is the venue for this small-scale music and art festival featuring performers from local indigenous tribes. Focused on a small stage at the center of a grassy park area overlooking the ocean, the festival is an intimate affair that brings musicians, artists, and visitors close together in a celebration of indigenous music, art, and the wonderful East Coast scenery.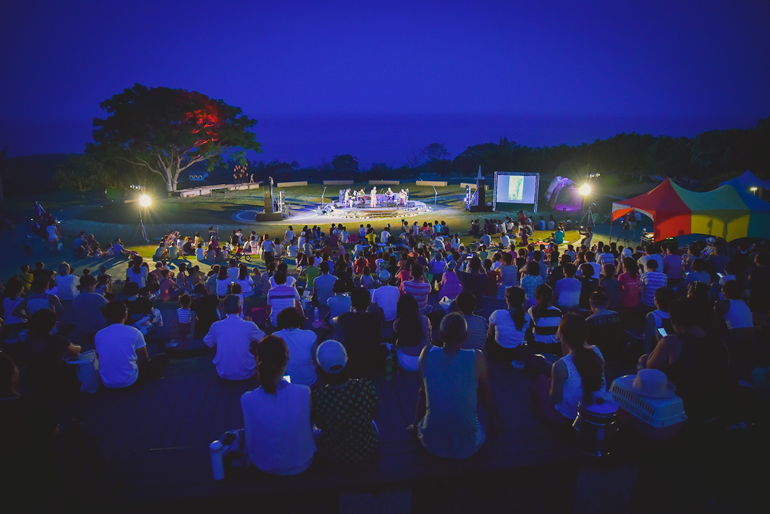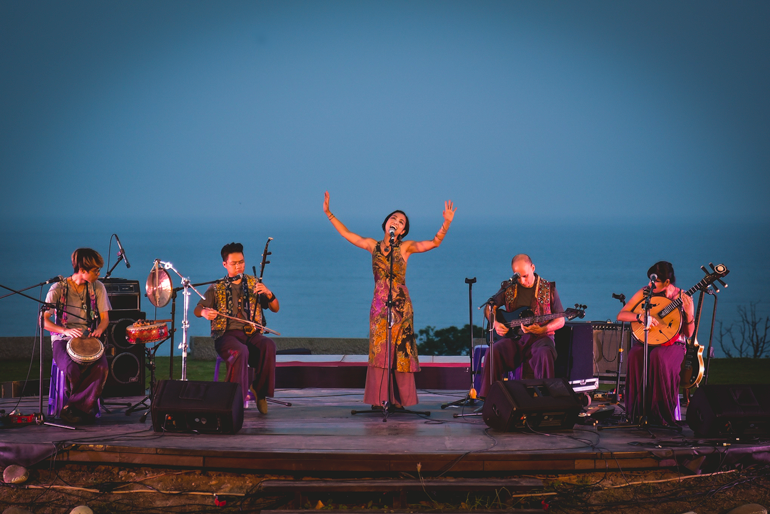 Photos courtesy of Tainan City Government Tourism Bureau
Info
Time: July
Venue: Duli Visitor Center, Chenggong Township, Taitung County
(台東縣成功鎮都歷遊客中心)
Type of Music: Folk
Website: www.teclandart.tw
Ho-Hai-Yan Gongliao Rock Festival
(貢寮海洋音樂祭)
This open-air music festival, being held for the 18th time this year, is one of the largest and best-known in Taiwan. The venue is Fulong Beach on the Northeast Coast, a golden-sand beach that draws many visitors during the hot summer months. With a large stage right on the beach, revelers can listen to the performances of some of Taiwan's foremost rock and pop stars, along with notable international acts, while sitting in the sand and playing by and in the water.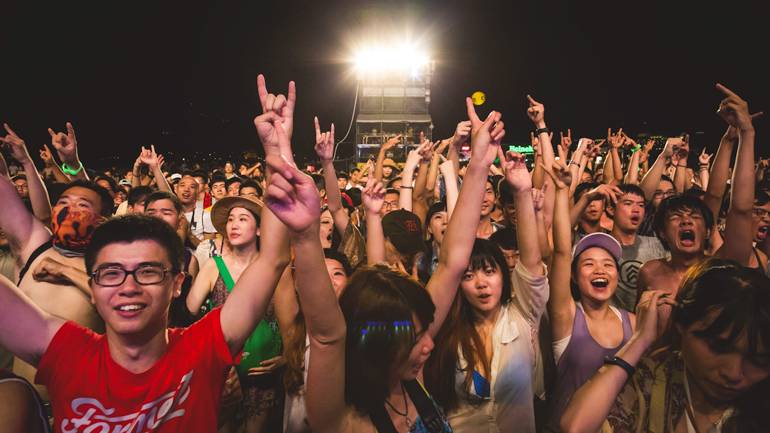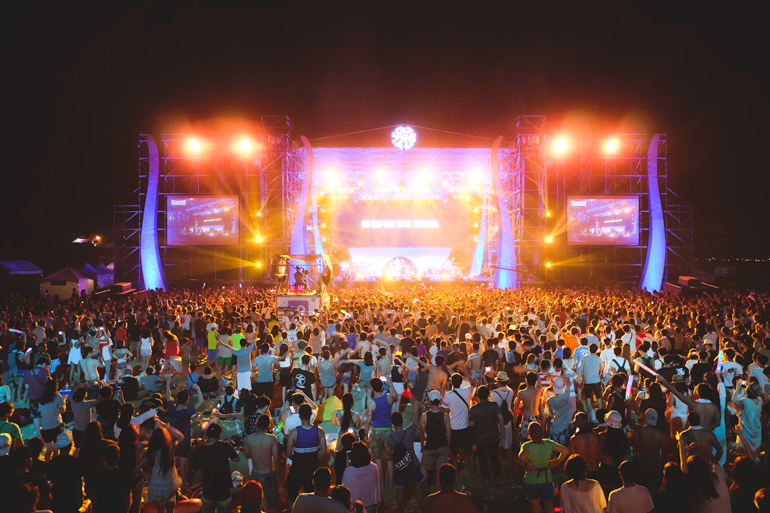 Photos courtesy of Tourism and Travel Department, New Taipei City Government
Info
Time: July
Venue: Fulong Beach, Gongliao Dist., New Taipei City
(新北市貢寮區福隆海水浴場)
Types of Music: Rock, pop
Website: tour.ntpc.gov.tw/en-us/ (click "Festivals")
Tainan Summer Music Festival
(台南夏日音樂節)
Once a year, sleepy Jiangjun Fishing Harbor in southern Taiwan comes to life with youthful rock, pop, and rap music. This event's stage is set up in a parking lot right by the harbor. The festival gives you the chance to get to know lesser-known local performing artists in a lesser-visited part of Taiwan. Combine your visit with time playing at Mashagou Beach, just to the north of the harbor, and make sure to taste the ultra-fresh seafood the coastal area of the south is known for.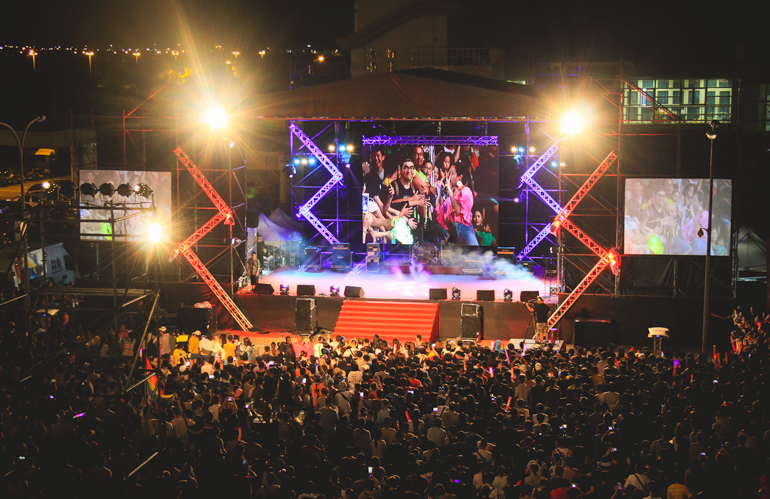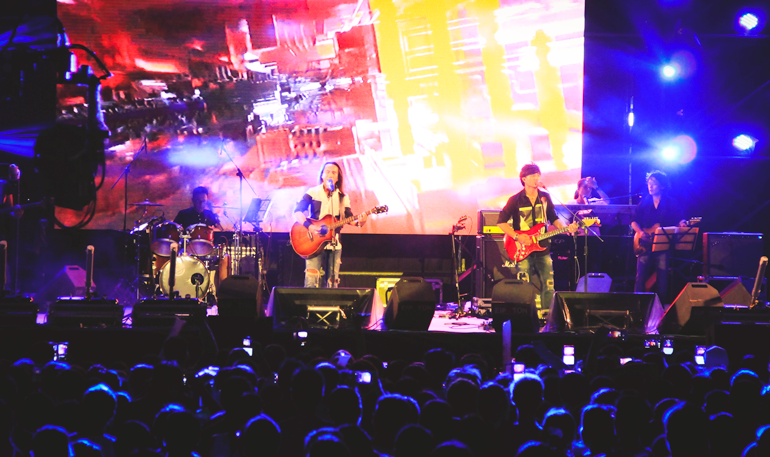 Photos courtesy of Tainan City Government Tourism Bureau
Info
Time: August
Venue: Jiangjun Fishing Harbor, Jiangjun Dist., Tainan City
(台南市將軍區將軍漁港)
Types of Music: Pop, rock, rap
Website: www.tainanmusic.org.tw (Chinese)
Picnic and Music Festival
(池上稻穗藝術節)
Among the most alluring scenes in the long and narrow East Rift Valley, on the east side of Taiwan, are golden-brown rice fields with ready-for-harvest rice stalks swaying in the breeze. The organizers of this festival take full advantage of the enchanting tableaux that exists before the year's second rice harvest, in November. Performers entertain the crowds on a stage set up on the edge of a vast carpet of paddy fields in Taitung's Chishang Township. Since 2009, some of Taiwan's biggest acts, including Wu Bai & China Blue, Cloud Gate Dance Theatre, and A-mei (Kulilay Amit) have graced the stage.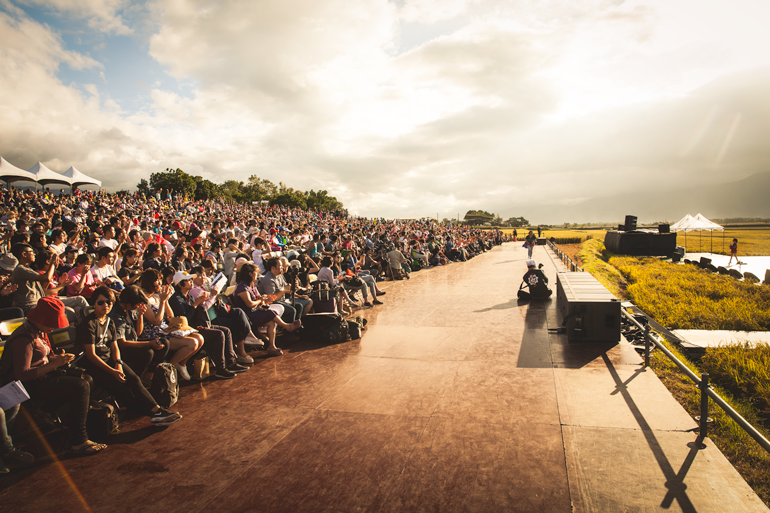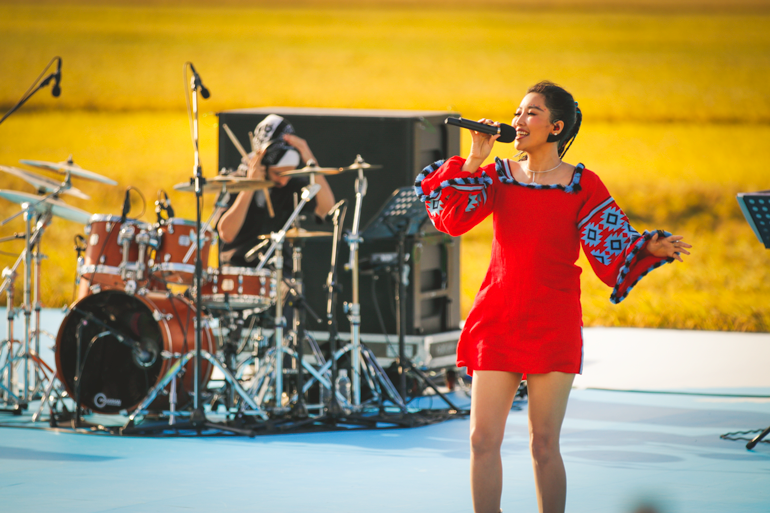 Photos courtesy of Lovely Taiwan Foundation
Taichung Jazz Festival
(台中爵士音樂節)
First held in 2003, this annual happening has grown significantly over the years, now attracting over one million visitors each time it takes place. The event, which in 2017 lasted nine days with concerts at five different Taichung venues, features leading jazz musicians from Taiwan and overseas. The festival is a cornerstone of the city's ambitious drive to become one of the leading cultural hotspots in Asia.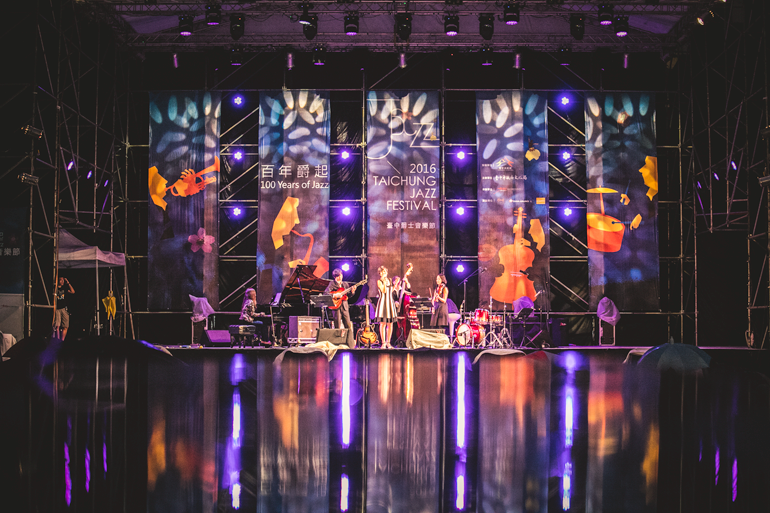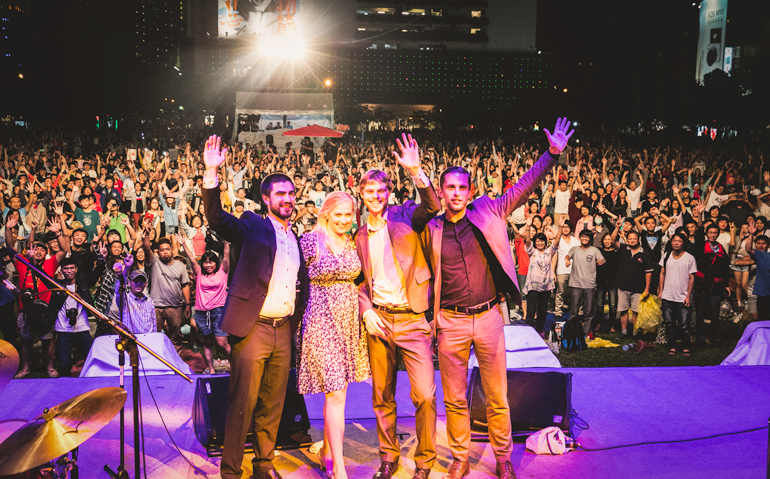 Taroko Music Festival
(太魯閣峽谷音樂節)
First held in 2002, this festival's organizers wanted to combine the visual splendor of Taroko Gorge, arguably Taiwan's most attractive scenic and natural wonder, with the beauty of music. Over the years, different locations have been chosen for the music performances, including the grassy area beside the Taroko National Park Visitor Center, the bed of the Liwu River near the Eternal Spring Shrine, the grassy terraces at Buluowan, and even a beach near the coastal Qingshui Cliff (outside Taroko Gorge, but not far from its eastern entrance).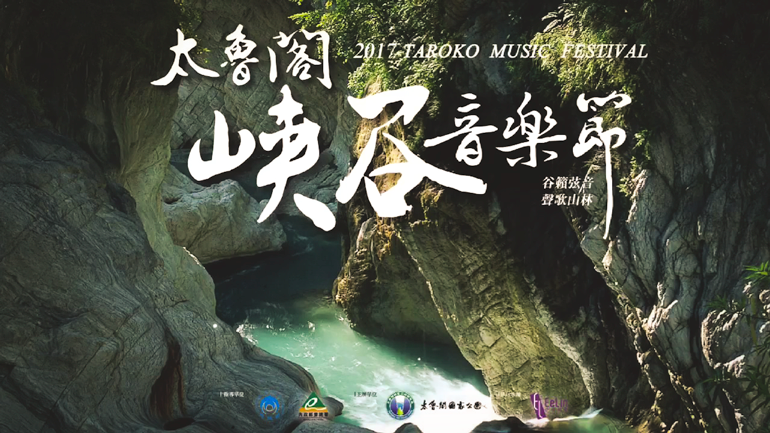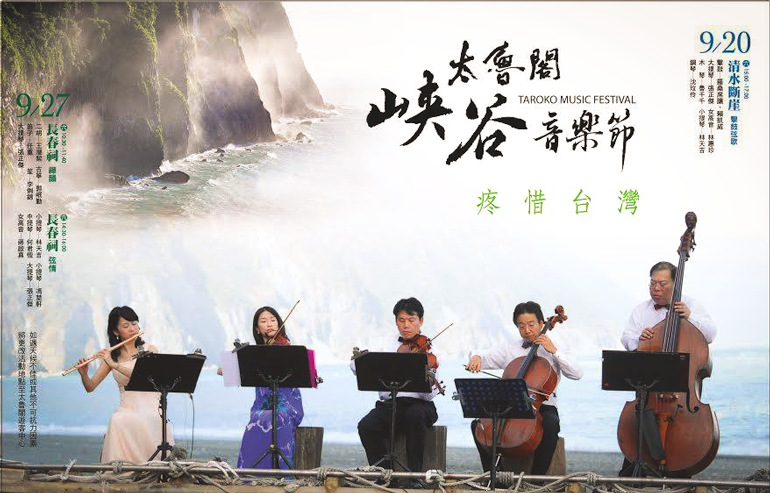 Info
Time: October
Venues: Taroko National Park, Hualien County
(花蓮縣太魯閣國家公園)
Types of Music: Folk, pop, classical
Website: www.facebook.com/tarokomusic/
Sun Moon Lake Cycling, Music & Fireworks Festival
(日月潭騎響花火音樂嘉年華)
This multi-day festival each year features a number of exciting events, including a challenging bicycle race (from the lake to Tataka in Yushan National Park), a more relaxed round-the-lake bicycle ride, a lake-circling marathon run, a cross-country orienteering run, and a tea-culture festival, among others. The music portion of the festival includes a classical concert featuring the Taiwan Symphony Orchestra, a show that is complemented by a spectacular fireworks display.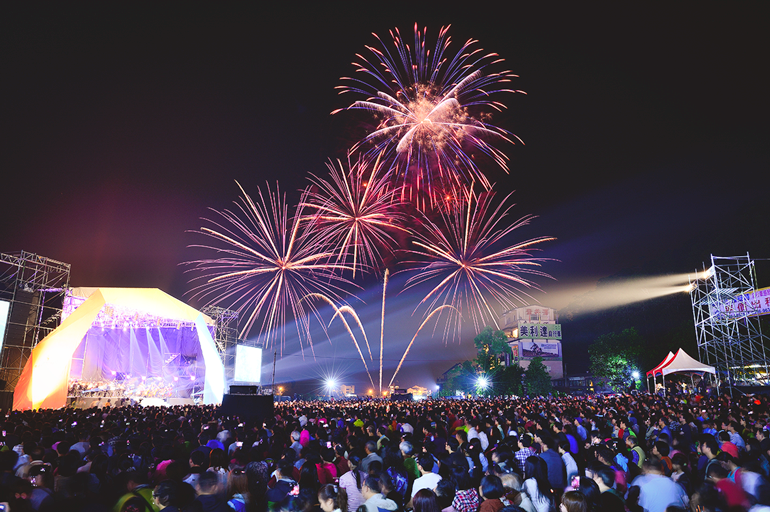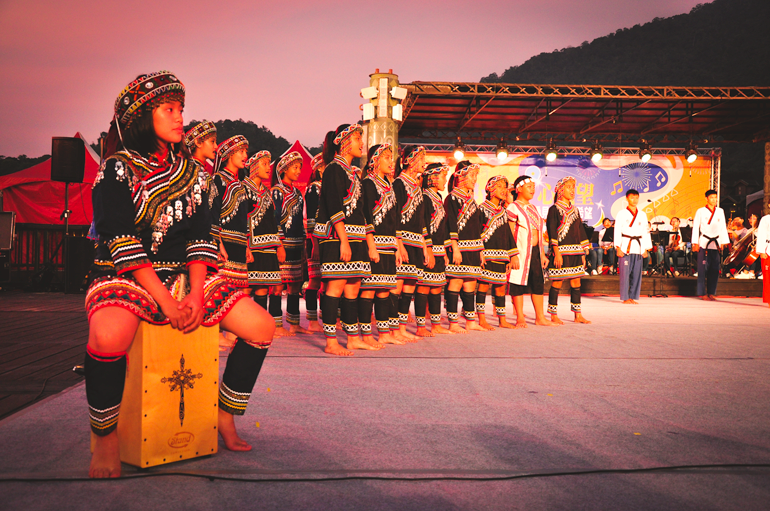 Photos courtesy of Sun Moon Lake National Scenic Area Administration
Info
Time: October/November
Venue: Shuishe Zhongxing Car Park, Yuchi Township, Nantou County
(南投縣魚池鄉水社中興停車場)
Types of Music: Pop, classical