[The below text and most of the photos are from a pamphlet we recently produced for the North Coast and Guanyinshan National Scenic Area; all copyright belongs to the NSA]
Text: Vision; Photos: Ray Chang
Guanyinshan (Mt. Guanyin)
Natural Ecology
Located west of the Tamsui River, Guanyinshan (Mt. Guanyin) was formerly home to the indigenous settlement Parrigon. It is therefore also sometimes referred to as Parrigon Mountain. According to legend over 200 years ago a Guanyin (Bodhisattva of Compassion) temple was built on the mountain, after which people began to call it Guanyin Mountain. It is also said that the mountain was so named because its shape resembles a reclining Guanyin. With a height of 616 meters Guanyinshan is Taiwan's youngest dormant volcano. It was formed by volcanic eruptions 600,000 years ago. The mountain mass was built over time through various eruptions and the accumulation of magma and volcanic debris, creating today's mountain landscape.
There are six hiking trails on Guanyinshan, namely, Fulongshan, Niugangling, Yinghanling, Jianshan, Fengguidouhu, and Niuliaopu trails, that take visitors deep into the forest and allow them to enjoy the natural landscape and abundant ecology. Atop the highest peak, Yinghanling, an expansive view can be enjoyed, taking in scenery that includes Taipei 101, Taipei Grand Hotel, Guandu Bridge, and the mouth of the Tamsui River.
As Guanyinshan is the highest point in northwestern Taiwan and lies where river and land meet, it has diverse flora and fauna. It is the habitat of many species of bird of prey and is also on the route of migratory birds that pass through Taiwan in different seasons. All year round, the Crested Serpent Eagle and Crested Goshawk can be seen, while migratory birds of prey such as the Gray-faced Buzzard Eagle, and the Chinese Goshawk appear April-May. Guanyinshan is a popular location to watch rare birds.
Human Landscape
As well as the precious natural ecology, the Guanyinshan area has been the site of human activity since ancient times and is an important base for researching prehistoric culture. The mountain also has various old temples that are local belief centers. The beautiful mountain scenery has also inspired many literati.
The gentle slope from the southern bank of the Tamsui River to the northwestern foot of Guanyinshan is the site of the Neolithic Period Dabenkeng Culture. As the traces of the lives of people 1,000-6,000 years ago have been excavated here and the area was also one of the places of origin of agriculture in Taiwan, it is protected by the government. The Guanyinshan Visitor Center provides information about the mountain and also displays artifacts and prehistoric pottery that were unearthed in the area.
Located on the mountainside of the main peak, Lingyun Temple was built in 1739 and is the oldest local temple in the area, enshrining Guanyin Bodhisattva. The main hall was built with locally-quarried stone and traditional red roof tiles. Inside, the temple houses quite a few old plaques, steles, and other cultural relics. Built in 1909 and standing behind Lingyun Temple, Lingyun Zen Temple is also a well-known place of worship dedicated to Guanyin. The large statue of the Thousand-Hand Thousand-Eye Guanyin Bodhisattva inside the temple is a rare sight in northern Taiwan. Adjacent Longyan Pavilion and Kaishan Building, where monks and believers pray, date back to the Japanese Colonial Period and were also built using Guanyinshan stone. The buildings' design was influenced by the Western architectural style of the time and they have an unusual appearance that is a mix of Southern Fujian, Indian, and Western styles. The buildings are not open to visitors but can be viewed from outside.
Local Special Produce
Green Bamboo Shoot, Pomelo, Wax Apples
Favorably positioned with mountain at the back and sea in front, volcanic rock geology and moist climate, Guanyinshan is very suited to growing bamboo and is the main bamboo shoot production area of northern Taiwan, the season each year lasting from May to October. The locally-grown bamboo shoots have fine fibers and are sweet and juicy with a crispy texture. They can be eaten in various ways at local restaurants, including cold, stir-fried or in soup.
Guanyinshan is also an important fruit-growing area in northern Taiwan producing mainly pomelos, wax apples, and peaches. Pomelos are in season around the time of the Mid-Autumn Festival and the skin is thin, the flesh plump, juicy, and sweet. Pomelo processed products such as essential oil and moisturizing lotion have been developed by local businesses. The local wax apples, sweet with an appealing crispy texture, are in season July-September annually. In summer, wax apple farms appear especially pretty when the wax apple trees bloom.
Places to Visit
Guanyinshan Visitor Center
Located on Section 3 of Lingyun Road, the visitor center is surrounded by lush green mountain slopes and has a tranquil and relaxing air. The center has displays on Guanyinshan's travel resources, mountain trail system, and the activities of Guanyinshan's prehistoric inhabitants.
Guanyinshan Visitor Center (觀音山遊客中心)
Add: No. 130, Sec. 3, Lingyun Rd., Wugu Dist., New Taipei City
(新北市五股區凌雲路三段130 號)
Tel: (02) 2292-8888
Hours: 09:00 ~ 17:00
Website: www.northguan-nsa.gov.tw
Niugangling Trail
Length of Trail: 753m
Trailhead: Behind stone-sculpture park
Destination: Niugangling Mountain
Torch Signal
When Japan occupied Taiwan in 1895 anti-Japanese fighters in the Taipei area planned to attack the then walled city of Taipei and arranged for a torch to be lit on top of a mountain to signal the launch of the assault. As Niugangling Mountain in the Guanyinshan system is high and enjoys good views, it was chosen as the spot to send the signal and was thus named "Torch Signal."
Air Disaster Monument
In the 1950s, when the Taiwan Strait was still a battleground, the ROC Air Force held a training exercise over Niugangling Mountain. When conducting parachute jump training, thick mist over Guanyinshan caused a transport plane to crash into the mountain, killing many servicemen. After the disaster, a monument was erected by local people in memory of the dead.
Tree House
Suspended in the air, the tree house isn't very large, but it enjoys all-round ventilation, good natural light, and the canopy covers the roof like a hat, protecting it from the sun. The north coast, the greater Taipei basin and the beautiful mountain scenery can be viewed from the tree house.
Eagle-watching Platform
Guanyinshan has a rich bird-of-prey ecology and is the best place to do birdwatching in northern Taiwan. Every spring, various migrating raptors can be viewed including the Grey-faced Buzzard and the Crested Serpent Eagle. April-May, when the Chinese Goshawk passes through, large groups of birdwatchers from all across Taiwan gather to watch and record the birds. The Scenic Area Administration holds annual raptor-watching activities.
Shizi (Lion) Park
Located near Guanyinshan Visitor Center, this park is a leisure spot popular with locals. Surrounded by dense woodland, quite a few families enjoy picnics here. The park is equipped with exercise facilities that visitors can use as they wish.
Fengguidouhu Dengshan Trail
Length of Trail: 788m
Trailhead: Behind Shizi Park
Destination: 940m marker of Yinghanling Trail
Fengguidouhu Dengshan Trail
This is the shortest of the Guanyinshan trails. Its steepness makes it still very challenging and a stiff test for the leg strength of hikers. The trail passes through dense bamboo forest, with lush green trees forming a green tunnel. Although quite strenuous, it is very pleasant to walk. The viewing deck on the trail offers fetching views of the Tamsui River and Taipei Harbor far below.
Earth God Temple
This temple is situated next to a house on Fengguidouhu Trail and enshrines the Earth God. Erected by private individuals, it is a local belief center, where people pray for good fortune, safety, and good harvest. It is also a popular rest stop for hikers.
Linshao Trail
Length of Trail: 800m
Guanyinshan Ecological Park
Using a landscape preservation concept, Guanyinshan's distinctive volcanic terrain, bird ecology, and other natural resources have been turned into an ecological park with ecological education and conservation functions. There is an ecological pond, an area with Guanyinshan stone, a bird-watching deck, a forest trail, and other recreational facilities. It is an outdoor experience park where migratory birds of prey can be seen.
Kaishan Building
Located between the visitor center and Lingyun Zen Temple, this building offers a tranquil and secluded environment. Built in 1925, the simple two-story stone building is now a place where monks quietly pray and Buddhism is taught. It was built using Guanyinshan stone and has an architectural style that merges China's Southern Fujian and Western styles. The building is part of the temple and is not open to the public.
Lengyan Pavilion
Adjacent to the Kaishan Building, Lengyan Pavilion is used by young novices of Lingyun Zen Temple for prayer sessions. The two-story stone building was constructed in 1926 and is a mix of various Eastern and Western styles with a temple style rarely seen in Taiwan.
Lingyun Temple
Located in Wugu District's Guanyin Village, this is the oldest temple in Wugu, dating back to 1739. It is also known as the "Inner Temple." It was burned down in the late 1800s after troops were sent to suppress the bandits that occupied it, and was later rebuilt on the same site. The temple houses many old plaques and steles.
Lingyun Zen Temple
Built by the venerable Buddhist master Bao Hai of Sanchong in 1909, the temple enshrines the Thousand-Hand Guanyin, worshipped at the time by one of the big four Buddhist schools of Taiwan. Built on the mountain slope, the building's magnificent architectural style mixes Western and Chinese elements. The temple has a lofty old tree at the side, the dense leaves of which make it popular spot for hikers to shelter from the sun. The volcanic terrain at the rear of the temple is very distinctive and is one of the best-known scenic spots of Guanyinshan, called "monk's head" by locals.
Yinghanling Trail
Length of Trail: 1,563m
Trailhead: Near Lingyun Zen Temple
Destination: Yinghanling
Yinghanling
Rising to an elevation of 616 meters, Yinghanling (lit. "Tough Guy Peak") is the highest peak of Guanyinshan. The peak was given the name because it was where military police once trained for "tough guy spirit." The peak offers stunning views of the Greater Taipei area as well as the beautiful 18 peaks around it. Yinghanling is a popular hiking spot. Located atop Guanyinshan's peak, you will find the Yinghan Stele and a stone arch. The viewing deck offers an expansive 270-degree view over the mouth of the Tamsui River. The beautiful scenery visible from this renowned scenic spot includes the river mouth, Guandu Bridge, Taipei Basin, and the Datun mountain range.
Jianshan Trail
Length of Trail: 1,620m
Trailhead: Behind Lingyun Zen Temple
Destination: Jianshan
Jianshan Trail Viewing Deck
As Jianshan Trail connects various peaks the area is also called the "Jianshan Peaks." The viewing deck on the top of the mountain offers beautiful views of the Tamsui River, and mist-shrouded Datun Mountain and Qixing Mountain can also be seen in the distance beyond the river.
Niuliaopu Trail
Length of Trail: 907m
Trailhead: Behind Wuji Temple
Destination: Yinghanling
Niuliaopu Tourist Orchard
Covering an area of 45 hectares, the orchard is open from mid-May to mid-October and is a great spot to pick fruit, camp, and spend some leisure time. Its best-known agricultural products are fragrant, sweet, and delicious wax apples, followed by juicy and tasty peaches that are an enticing bright red when ripe.
Ivory Rock
Located near the trail's observation deck, the rock was so named due to its resemblance to ivory. Covered with small trees and grass and sticking straight up into the sky, it attracts quite a few visitors. From here, views of Bali Wharf and Fort San Domingo in Tamsui can be enjoyed.
Fulongshan Trail
Length of Trail: 1,315m
Trailhead: Near No. 41, Sec. 3, Lingyun Temple
Destination: Lingyun Zen Temple
Be You Shan Zhuang Restaurant
Adjacent to Lingyun Temple, the main building of this garden restaurant is an earth-walled old house dating back over a century. In its grounds, wooden pavilions and towering old trees can be seen all around, forming a dining environment with a natural landscape. A bamboo shoot feast and creative rustic cooking can be enjoyed here. In the courtyard, old-time whipping tops, big wheels, and other interactive amusements are provided to keep kids occupied, allowing adults to eat without worry.
How to get there
From MRT Luzhou Station take San Chung bus O20 to the Guanyinshan Visitor Center.

From north of Taipei Main Station take San Chung bus No. 785 (Beimen – Guanyinshan) to Lingyun Zen Temple. From there it's a 20-min. walk to the visitor center.
Also read
Taipei Biking: GUANDU / BALI / TAMSUI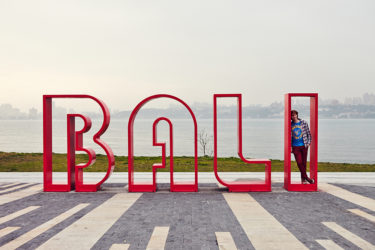 taiwaneverything.cc/2016/07/19/biking-taipei-guandu-bali-tamsui/