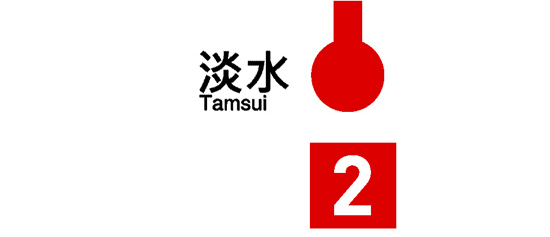 [This post will be updated if new information about places around the station comes available. 🙂 ]
After arriving at the terminal station of the Tamsui-Xiny Line, head to the Tamsui Old Street, visit Fort San Domingo and other heritage sites and watch the sunset other from the river bank close the old street or at Fishermen's Wharf at the mouth of the river. To get there, take a bus or a ferry from the Tamsui Wharf. You can also take the ferry to the opposite side of the river and check out the small settlement of Bali.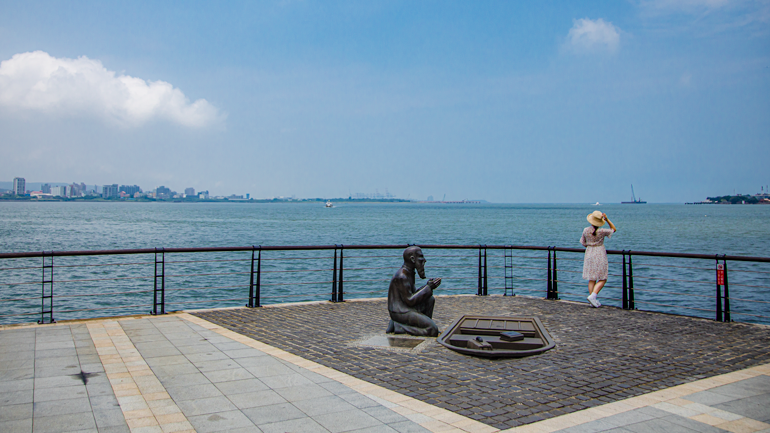 Liang Le
Info added on July 14, 2021
The port town of Tamsui, one of greater Taipei's most popular tourist destinations, is home to one of the best peanut ice wraps I've tried in Taiwan: Liang Le, a tiny shop in one of the narrow lanes of the town's Old Street area. Just a few minutes' walk from MRT Tamsui Station, the shop packs a big punch with its flavorful wraps, and is the perfect place to stop after a day of exploring Tamsui on foot or bike.
Peanut ice, wrapped in a crepe skin and topped with ice cream and coriander, is a common sight in Taiwan during the summer months. Go to a place popular with tourists (such as Jiufen Old Street on the Northeast Coast) and chances are there's at least one stand selling the treat. Peanut ice wraps are made by starting with a crepe wrap, which is then filled with peanut powder shaved off from a large brick. Scoops of ice cream in varying flavors are added, and coriander is sprinkled on top. The resulting wrap is something that looks a bit like a Western burrito, with a taste all its own.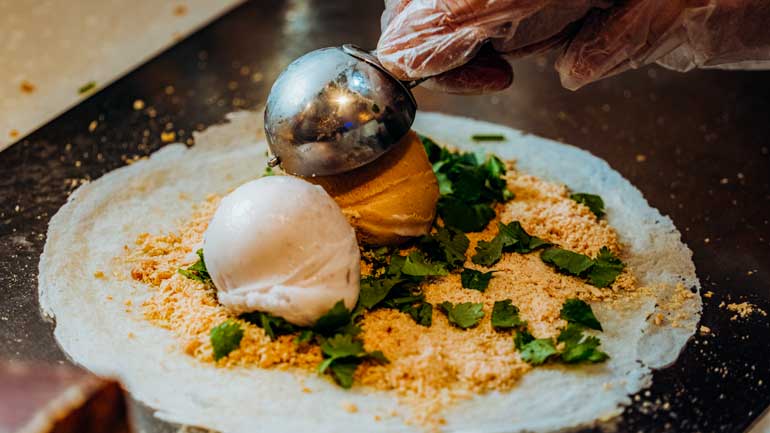 On the daily-changed menu of this simple-design shop, the ice cream offerings include guava, mango, taro, strawberry, and matcha. Liang Le also offers Taiwanese craft beer to go alongside the ice cream. The shop sources its fresh fruit from small farmers, and no artificial flavors, colors, or preservatives are used in its ice cream, peanut brick, or crepe wraps. Visitors can choose to add coriander or not, but for an extra shot of flavor, be sure to add it. In addition to the wraps, cones are also available, if you like your ice cream in a more Western style.
Liang Le
(倆樂)
Tel: 0920-097-763
Add: No. 11, Ln. 11, Zhongzheng Rd., Tamsui District, New Taipei City
(新北市淡水區中正路11巷11號)
Facebook
Tamsui Old Street (淡水老街)
You could easily spend a whole day exploring the delights of Tamsui. Tamsui Old Street is the place to load up on the town's renowned iron eggs (quails' eggs stewed in spices and dried until chewy), and of course visit the surreal Believe It Or NotMuseum, with its assortment of pickled oddities and some live ones too – a two-headed, six-legged turtle for one. Along the riverbank you can take in herons fishing in the Tamsui estuary, blow all your change on fairground-style games, and try another Tamsui specialty, ah-gei (fried beancurd stuffed with vermicelli noodles) at the Original Ah-Gei Store (No. 4, Alley 11, Zhongzheng Rd.).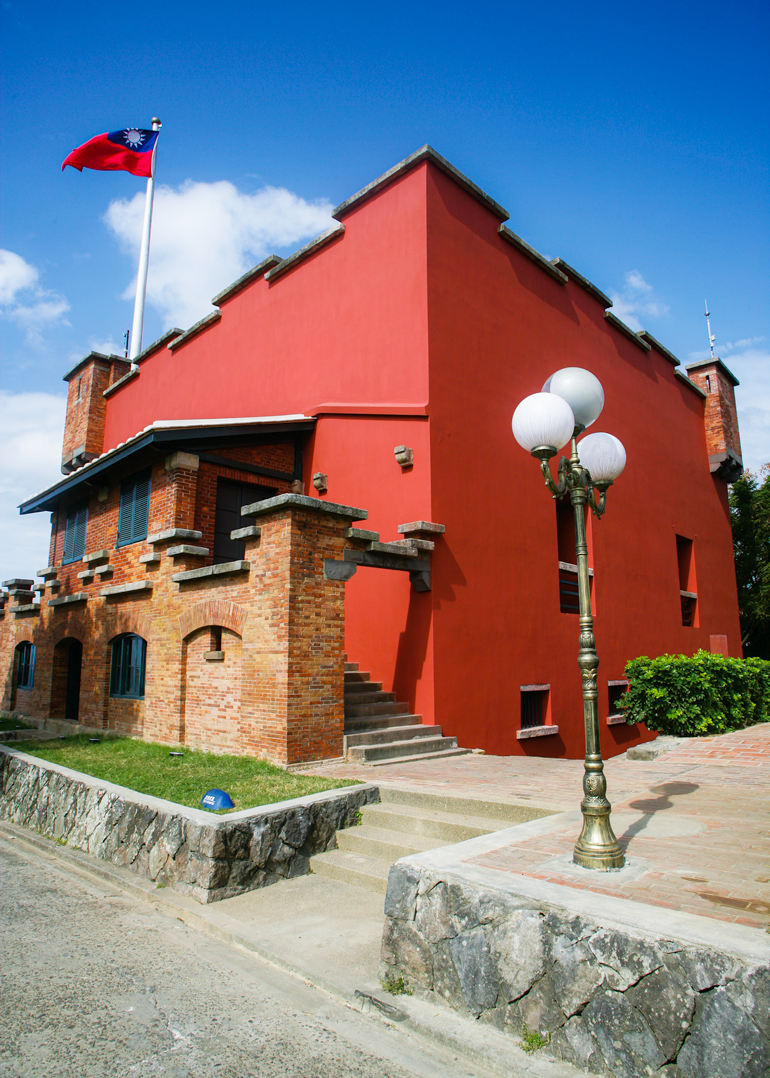 Up the narrow set of stone stairs that make up Alley 14 of Zhongzheng Rd. is the Red Castle – a 19th-century mansion built in the Victorian style, now home to a high-end restaurant and terrace bar with wonderful views from the café on the 3rd floor. Follow the river downstream and you'll come to the "Old Dutch Fort," Fort Antonio (better known as Fort San Domingo) and the Former British Consular Residence. From the fort, head uphill on Zhenli Street and you'll arrive at the former Tamsui Customs Officer's Residence, also known as the Little White House – a beautiful white colonial-style building with vaulted arcades, fronting a meticulously tended garden.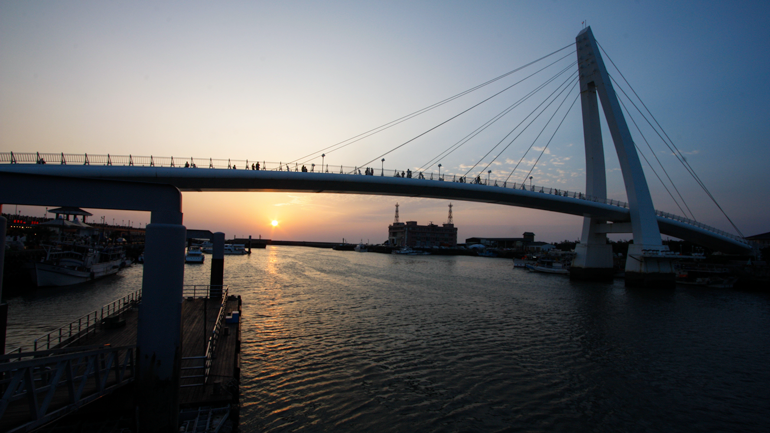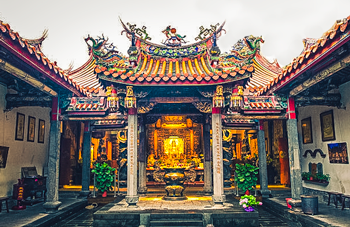 Tamsui Longshan Temple
This is a fine small temple, somewhat hidden, surrounded by a dark narrow-lane day market.
Read about the temple at:
Josh Ellis Photography
FAB Green Village
(滬尾藝文休閒園區)
Opened recently, the FAB Green Village is a new tourist attraction in New Taipei City's Tamsui District, a popular day-trip destination on the North Coast. Located between Tamsui's Old Street and the Fisherman's Wharf, close to Fort San Domingo and the Cloud Gate Theater, the modern and luxurious complex includes a shopping mall, an Ambassador movie theater, an art museum, and the Golden Tulip Fab Hotel New Taipei. The stylish snow-white building, which overlooks the Tamsui River, is not just pleasing to the eye, but is also a "green" building, constructed with the natural environment in mind and harmoniously integrated into the surrounding spacious park area.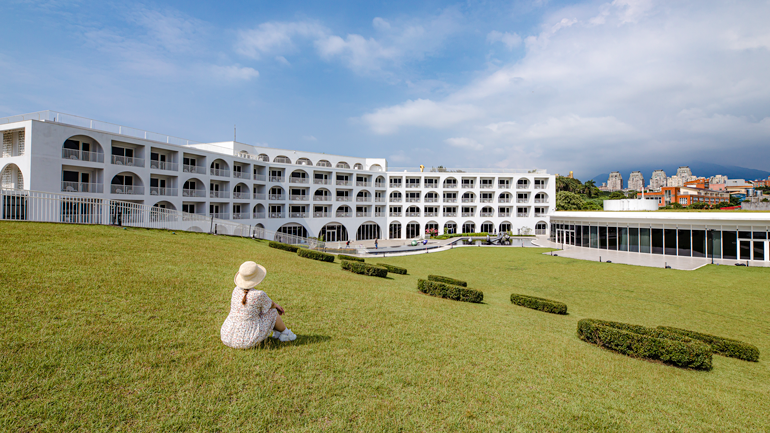 Add: No. 2, Sec. 1, Zhongzheng Rd., Tamsui District, New Taipei City
(新北市淡水區中正路一段2號)
Website: www.fabmall.com.tw
Bali Old Street
(八里老街)
Across the river from Tamsui, just a few meters from where you step off the ferry, Bali Old Street is a slightly shorter, slightly more laid-back version of Tamsui Old Street. The pace here is a little slower, a little less frantic than its counterpart on the other side of the river. Food choices include more roasted corn, fried squid, corn dogs, barbequed tofu, and fried birds'-eggs-on-a-stick than you can shake a stick at. The most popular vendor though is undoubtedly the donut shop at the top of the street. Three snacks are on sale here – your classic donut, a two-pronged crispy bun called "twins," and taro cookies, which consist of taro paste sandwiched between two deep-fried cream crackers.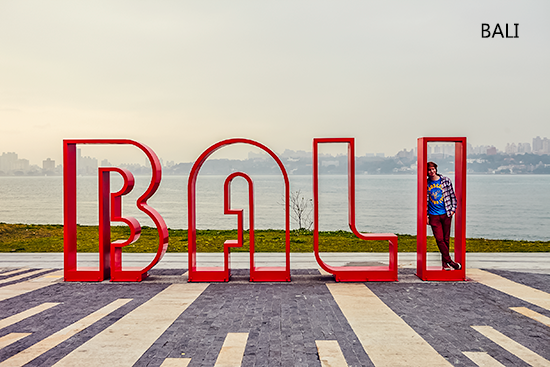 Bali Left Bank Park
(八里左岸)
A fairly similar experience to Tamsui's riverside boardwalk, Bali Left Bank Park is, as well, somewhat more easy-going than its cousin across the water. A slew of interesting shops selling Western '50s-style toys line the bank – think cup-and-ball and rubber-band rifles (though you'll also find that some are distinctly Taiwanese – child-sized versions of the war god Guan Gong's Green Dragon Crescent Blade, for example). There are also some expansive green spaces and sheltering trees where you can sit awhile in the shade and enjoy your ice-cream tower. Follow the path downriver and you'll come to the Wazihwei Conservation Area (挖子尾自然保留區) – an old village and a peaceful mangrove park, which few tourists visit, even on weekends, with soft muddy earth that is home to fiddler crabs and mudskippers galore, as well as several species of waterfowl.
Shihsanhang Museum of Archaeology
(十三行博物館)
The archaeological site at Shihsanhang, discovered in the 1950s, offered up a rich trove of archaeological treasures that shed considerable light on the history of one of Taiwan's northern lowland tribes. The site threw up pottery, beads, bronze utensils, silver, copperware, gold jewelry, and coins, as well as human and animal remains, some dating back almost 2,000 years, and, moreover, provided evidence that the Shihsanhang people were the earliest in Taiwan to have possessed iron-smelting technology. The museum, opened in 2003 to exhibit the finds, provides a fascinating look both into the lives of this early Taiwan indigenous people and into the archaeological process itself. Good English signage throughout, and lots of hands-on activities for youngsters, makes this a fun place to visit as a family.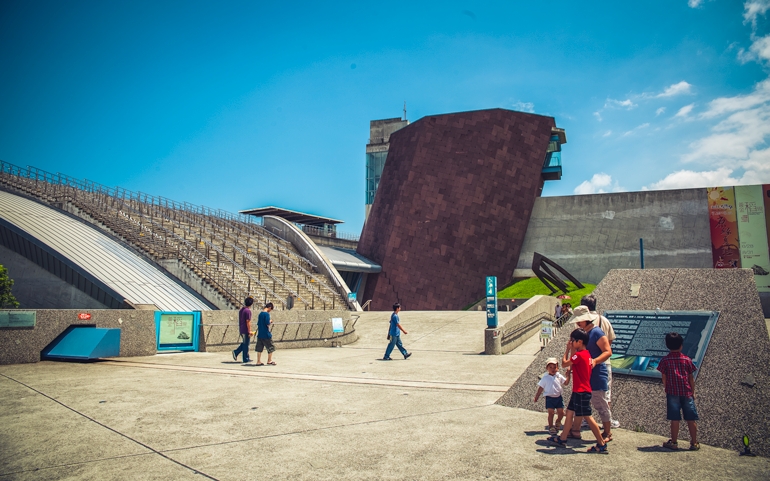 Fullon Tamsui Fishermen's Wharf
(福容大飯店淡水漁人碼頭)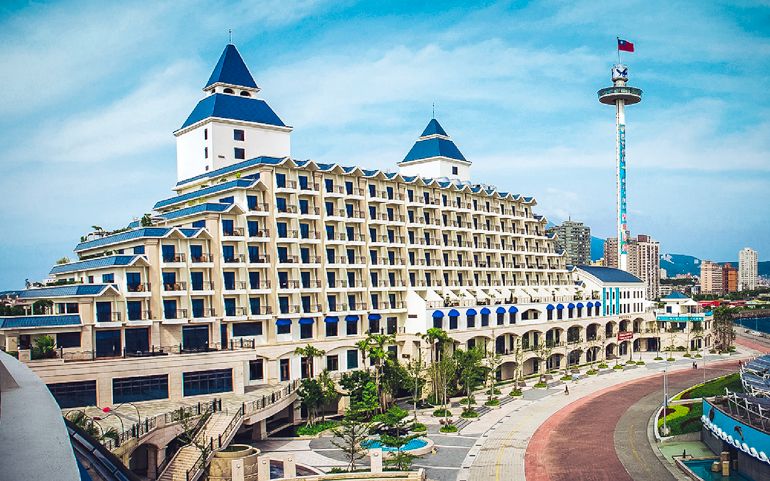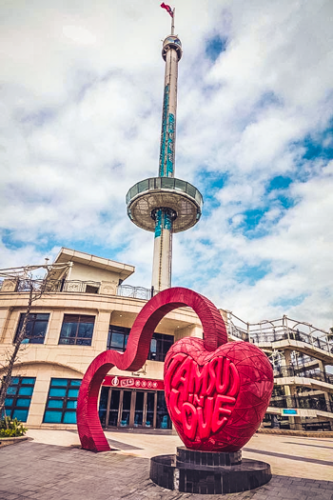 Fullon Hotel Tamsui Fisherman's Wharf is located in the Fisherman's Wharf scenic area in New Taipei City's Tamsui District, just 30 minutes by car from downtown Taipei. Easily accessible by taking the MRT Tamsui Line, this is the vacation resort closest to the city of Taipei. The hotel has a striking cruise-ship-style exterior, offering stunning mountain and sea views. The sunset view is reputed to be one of the top 10 sunsets in the world. Next to the hotel is one of the best-known landmarks in New Taipei City, the 100-meter, 360-degree revolving observation tower, the only one of its kind in Taiwan.
Add: No. 83, Guanhai Rd., Tamsui Dist., New Taipei City
(新北市淡水區觀海路8 3 號)
Tel: (02) 2628-7777
Website:www.fullon-hotels.com.tw/fw/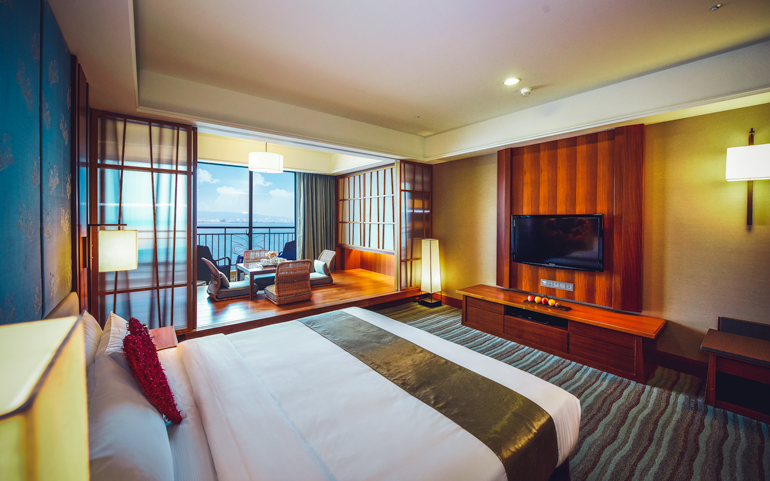 Tamsui is a great starting point for trips along the North Coast.
Read more about the North Coast here:
The North Coast of Taiwan — from Guanyinshan to Keelung
Across the Tamsui River from Tamsui you can see Guanyinshan (Mt. Guanyin), a great place to go for hikes and enjoy marvelous views.
Read more about Guanyinshan here:
GUANYINSHAN (Mt. Guanyin) Travel Guide
Also read:
Tamsui (Hobe) – Connecting Peoples Story
Go with the Flow – Cast Off on a Ride Through Historic Tamsui