Cast Off on a Ride Through Historic Tamsui
TEXT / AMI BARNES
PHOTOS / VISION

A day trip to Tamsui is often part of the itinerary for both foreign and domestic tourists visiting northern Taiwan. And for good reason – this coastal community has much to offer. Travelers who venture beyond the waterfront stalls selling tasty treats will find traces of historic Tamsui at every turn – each opening a window into a chapter of Taiwan's past. And if neither food nor history floats your boat, well then perhaps you can be tempted by the simple pleasure of a gentle exploratory bike ride followed by the timeless delight of watching the sun sink into the sea.
Situated on the right bank at the mouth of the Tamsui River, modern-day Tamsui has carved out a niche for itself as a weekend seaside town to which Taipei's families come to rinse off the stresses of city living. The port town's fortunes have risen and dipped with the changing geopolitical and economic currents of the day – from humble beginnings as a fishing village, Tamsui saw a long flourishing period of international significance punctuated by long decades in the 20th century during which north Taiwan's center of maritime commerce was tugged east to Keelung, and in recent decades it has enjoyed a tourism renaissance. It has been a long time since ships bound for foreign shores moored here, but the centuries of maritime trade have left their mark on this seaward community in the form of architecture, infrastructure, and even battle scars. Exploring these remnants could not be easier – simply ride the Tamsui-Xinyi Line of the Taipei Metro (MRT) to its northern terminal station, then head to the nearby YouBike public rental-bike station to get started.
Going on a Bike Ride
Stepping out of MRT Tamsui Station on a warm midweek morning, I found myself caught up amongst the tide of locals making the most of the pleasant weather. One group was practicing coordinated aerobics, another salsa dancing. Benches along the whole length of the riverside esplanade section here were occupied by retirees staring out across the Tamsui River, some listening to handheld radios.
The faint scent of sea salt in the air was an immediate tonic, triggering childhood recollections of carefree days in the sun eating ice cream and the relaxation that comes from not having anything important to do. However, on this occasion ice cream would have to wait, for we had a day's worth of sightseeing to do first.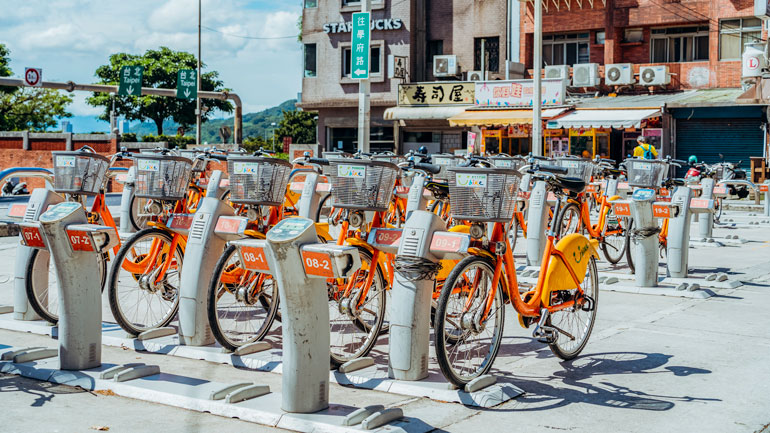 Our plan was to meander along the waterfront promenade and through the narrow lanes adjacent, stopping at spots of cultural and historic interest, before setting course north for Tamsui Fisherman's Wharf, located right where river meets sea. To make the journey between destinations speedier we rented YouBikes from outside the MRT station. It is also possible to start off on foot and switch to two wheels later on, after you have seen your fill of sights in the central area of the town. Multiple rental stations along the way make it convenient to drop off and pick up bikes if you plan to stay in one place for a bit longer. (If you bring your own bike, note that you have to get off your train at MRT Hongshulin Station, one stop before Tamsui, and start pedaling from there, since bicycles are not allowed in the terminal station.)
It's an easy 4.5km from Tamsui station to the wharf, but with all of our diversions and dallyings, the journey took the better part of five hours. Even at this unhurried pace, I felt there was much that we had skimmed over. We didn't visit such popular sites as Hobe Fort, New Taipei City Martyrs' Shrine, and Cloud Gate Theater, so there are a number of attractions remaining that warrant a return trip. Following are the many interesting spots we did check out.
Cultural Spaces in the Tamsui Old Street Area
Douglas Lapraik & Co.
As one of the top Western trading companies of its day, Douglas Lapraik & Co. was both beneficiary and driver of Tamsui's growing prosperity during the 1800s. Located on Zhongzheng Road just a few minutes from the MRT station, the company's old warehouse is now home to a permanent exhibition detailing the factors that precipitated and resulted from the Sino-French War of the mid-1880s. This potentially dry subject has been deftly dealt with – interactive installations intersperse historical facts with personal accounts, all presented with excellent bilingual texts – leaving me far more informed than when I had arrived.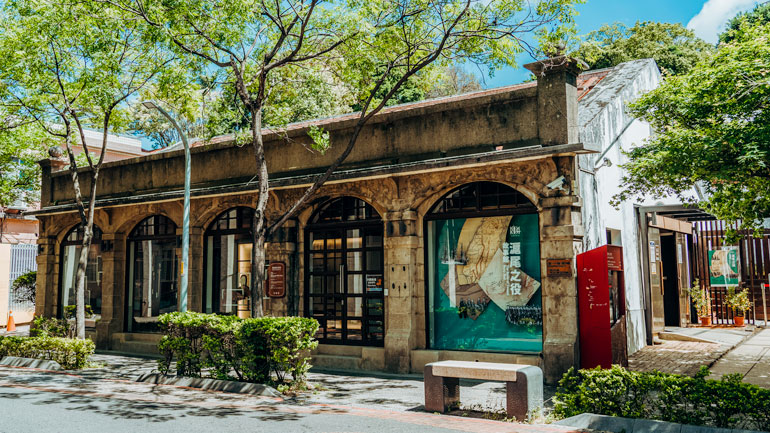 Douglas Lapraik & Co.
(得忌利士洋行)
Tel: (02) 2629-9522
Add: No. 316, Zhongzheng Rd., Tamsui District, New Taipei City
(新北市淡水區中正路316號)
Website (Tamsui Historical Museum)
Chi Po-lin Museum
Just next door is a relatively recent addition to the cultural landscape of Tamsui: the Chi Po-lin Museum. Occupying a renovated historic building, this gallery is dedicated to preserving, sharing, and perpetuating the work of celebrated aerial photographer and documentary maker Chi Po-lin. Chi, who died in a helicopter crash in 2017, was a civil servant turned filmmaker best known for Beyond Beauty: Taiwan from Above. This heartbreakingly beautiful film was shot entirely from the skies, and is a biting polemic against the misuse and abuse done to the land by us humans, its reckless custodians.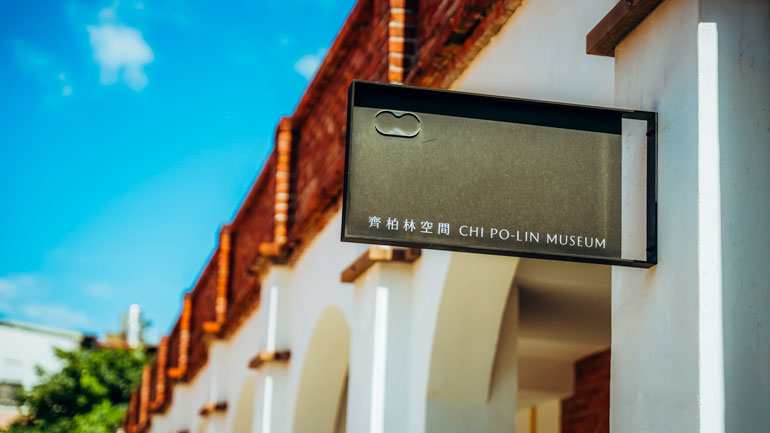 The museum is currently hosting its second exhibition, Above the Coast, focusing specifically on Taiwan's littoral environments. Upon entry we were presented with a floor-to-ceiling projection of footage shot by Chi – a 30-minute round-island trip that is as dizzying as it is awe-inspiring. Beyond this, striking photographic enlargements document a litany of harm: crumbling concrete-wall abalone farms, illegally dumped wastewater, coastal erosion, liquids from landfill sites spilling directly into the waves. It is a sharp slap in the face. But thankfully the exhibition doesn't end there. The final room is given over to interviews with experts who work in fields related to environmental restoration, and the message is one of hope. Visitors who book one of the exhibition tours (thrice daily on weekends) are also guided to think about steps we can take in our own lives. It's a fitting tribute to Chi's memory.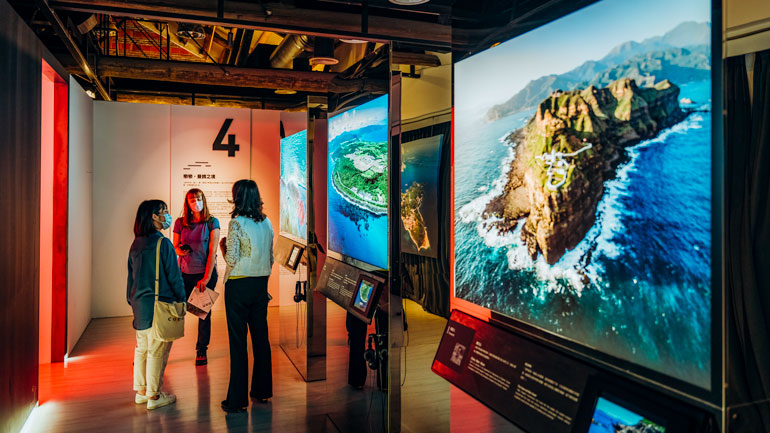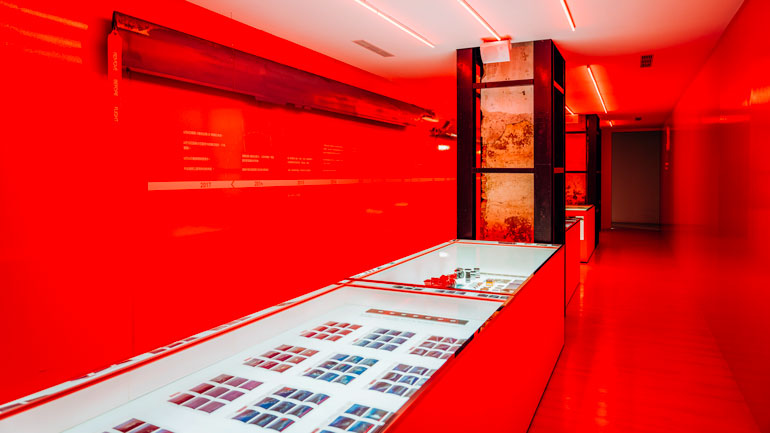 Chi Po-lin Museum
(齊柏林空間)
Tel: (02) 2629-1996
Add: No. 316-1, Zhongzheng Rd., Tamsui District, New Taipei City
(新北市淡水區中正路316-1號)
Website (Chinese)
Historic Residences
Former Residence of Tada Eikichi
Best accessed on foot, the Former Residence of Tada Eikichi sits on a narrow wedge of land slightly inland and uphill. It's an elegant 1930s traditional Japanese wood-built structure constructed at the behest of businessman Tada Eikichi, a merchant who arrived on Taiwan's shores as part of the wave of entrepreneurial sorts settling here in the early years of Japanese rule (1895~1945). Over the course of the following decade he parlayed his business successes into a position as Tamsui's mayor.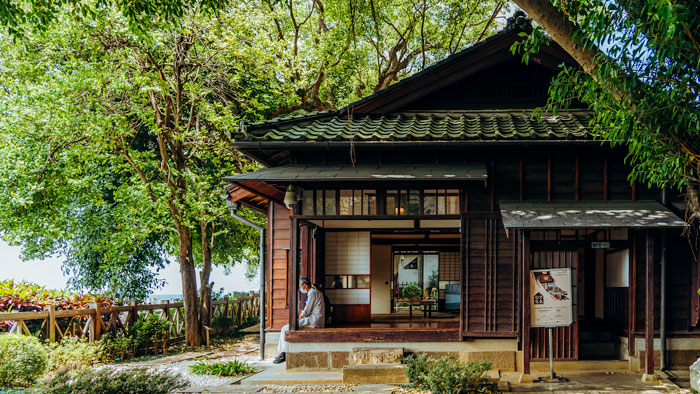 Guests are required to swap their outdoor shoes for slippers upon entry, then you're free to explore the rooms. On fine days staff throw open the sliding doors that lead out onto porches, giving the whole space an airy, breezy feel. I was envious of the couple who'd bagged the perfect spot out on the front porch to sit and gaze contentedly across the river to where clouds were scudding over Mt. Guanyin.
Former Residence of Tada Eikichi
(多田榮吉故居)
Tel: (02) 2629-5092
Add: No. 19, Maxie St., Tamsui District, New Taipei City
(新北市淡水區馬偕街19號)
Website (Tamsui Historical Museum)
Little White House
Follow the lane that curves snugly along the rear of the Tada Eikichi house for 150m and you'll arrive at the entrance of the Little White House. If the Tada Eikichi residence is the epitome of Japanese grace and simplicity, then the Little White House is its European cousin, a stately colonial-style work of architecture. Built in 1870 as accommodation for the Tamsui Port customs officer, the Little White House's understated ivory arches, trimmed lawn, and topiaried hedges exude a distinctly British flavor.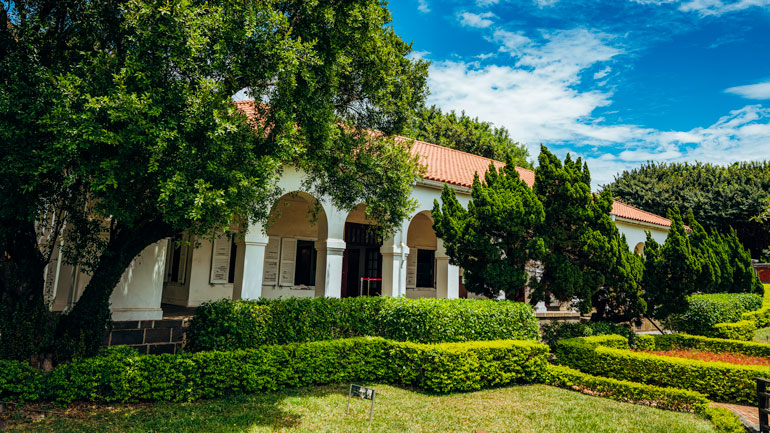 Displays detail the building's history, but it's the gardens that I most enjoyed. Surveying the river from the veranda with frangipani trees framing the view, it was almost possible to imagine that you'd slipped back in time. Before you go, check out the rear garden, where several car-sized depressions mar the otherwise neatly manicured lawn. This is no oversight by the conservators. The hollows are in fact craters left by artillery shells during the attempt by French forces to capture Tamsui. Or perhaps they were caused by US bombs dropped in World War II. It seems the truth has been swept away by the waters of time, but that doesn't diminish the visual impact.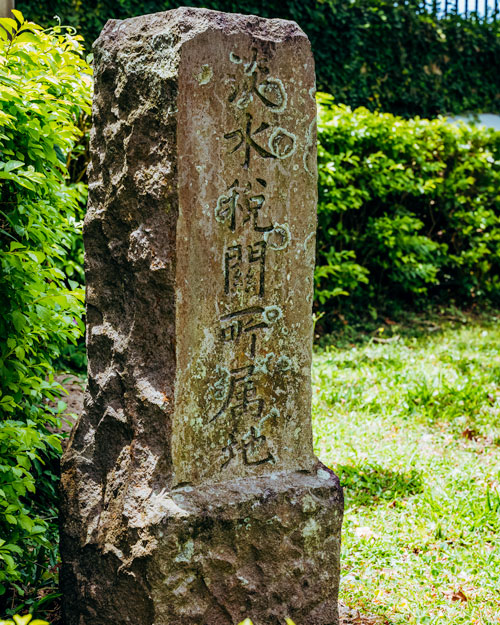 Little White House
(小白宮)
Tel: (02) 2628-2865
Add: No. 15, Zhenli St., Tamsui District, New Taipei City
(新北市淡水區真理街15號)
Website (Tamsui Historical Museum)
Mackay-Related Sites
No trip to Tamsui would be complete without crossing paths with the late Reverend Mackay. Dr. George Leslie Mackay was an unconventional Canadian missionary who – through services in education, medicine, and religion – earned the moniker "son-in-law of Taiwan." His legacy casts ripples throughout Taiwan to this day, and what better place to encounter him than Aletheia University – the direct descendant of an educational institute he founded more than a century ago. When it opened in 1882 the establishment was named Oxford College. It is Taiwan's oldest institute of tertiary education.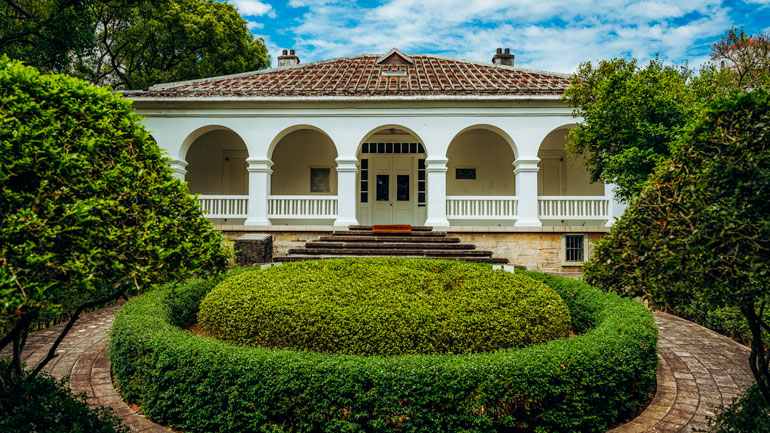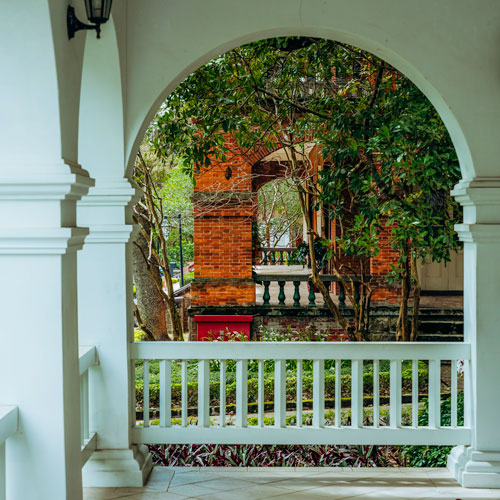 The campus spans both sides of Zhenli Street, with the original classroom facilities to the north and residential buildings to the south. Of note in the northern section is the historic Oxford College building, whilst the southern buildings include the twin red-brick House of the Reverends (aka Bok Su Lao in Taiwanese) and House of the Maidens. Both built in 1906, the former served as the residence for various pastors who taught and preached here over the years, and its neighbor housed the female missionaries who taught at Tamsui Girls' School.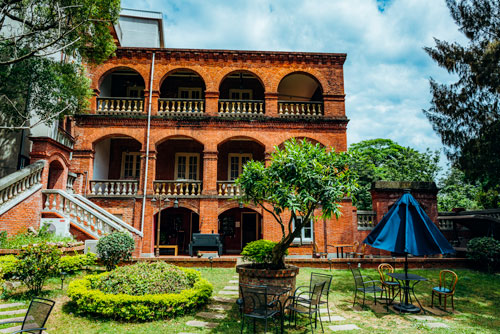 Indeed, this little corner of Tamsui deserves wider acknowledgement for its pioneering role in advancing women's education in Taiwan. Tamsui Girls' School was the first educational facility for girls when it opened in 1884, and one of the six teachers at Oxford College was female. Minnie Mackay (born Tiu Chhang-mia), was a local Hoklo woman and Christian convert who married Dr. Mackay and went on to become a preacher and educator in her own right. The whitewashed villa once occupied by Minnie, her husband, and their children sits next to the House of the Maidens. The pair is buried side-by-side on the nearby grounds of Tamkang Senior High School.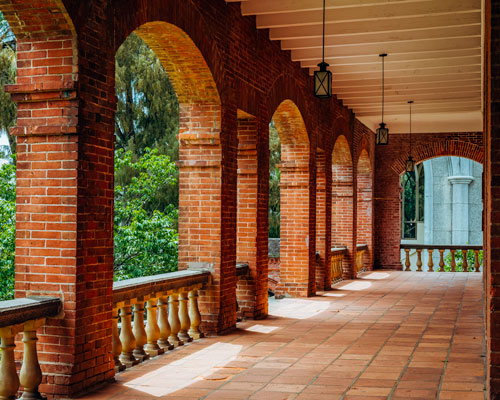 In normal times guests can wander the campus, but because of the ongoing pandemic the university is temporarily closed to visitors – although you can still visit the café which is run out of the western corner of Bok Su Lao.
Bok Su Lao Café
(牧師樓古蹟庭園咖啡)
Tel: (02) 2628-1212
Add: No. 32, Zhenli St., Tamsui District, New Taipei City
(新北市淡水區真理街32號)
Facebook (café)
Website (Aletheia University)
Fisherman's Wharf and Scenic Sunset
At the waterfront promenade's northern extremity is Tamsui Customs Wharf. In its heyday this was a major trade hub, seeing constant streams of tea, camphor, and sugar flowing in from areas around Taipei, then out to the world across the ocean. The old wharfside warehouses have now been converted into galleries, with displays detailing various aspects of Tamsui's illustrious history.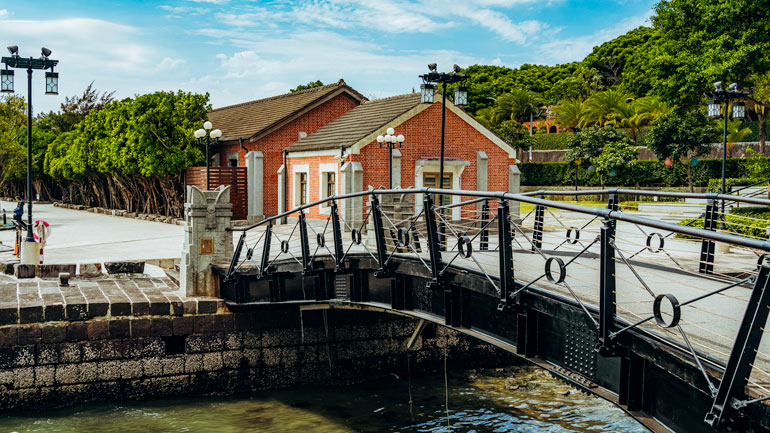 Tamsui Customs Wharf
(淡水海關碼頭)
Tel: (02) 2623-1001
Add: No. 259, Zhongzheng Rd., Tamsui District, New Taipei City
(新北市淡水區中正路259號)
Website (Tamsui Historical Museum)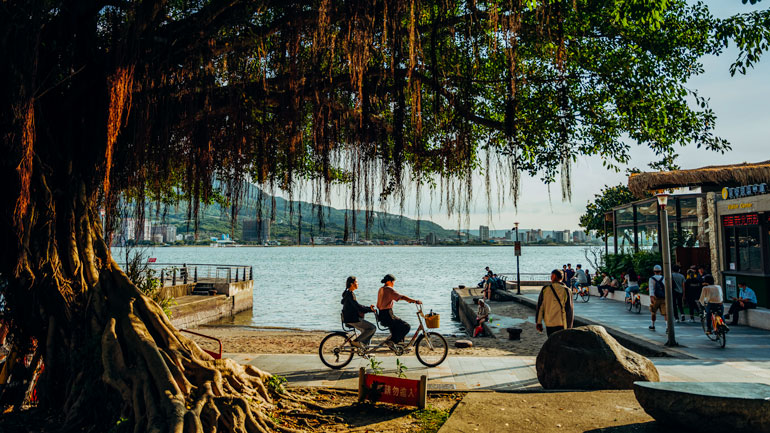 Fisherman's Wharf
Between the Customs Wharf and Fisherman's Wharf is a section of bikeway where we could finally make good headway. For a brief while it tracks the shore, before diving inland for the final kilometer or so. At Fisherman's Wharf fishing boats and pleasure vessels line multiple jetties, and the water's edge is ringed with precisely the kind of seafood-heavy eateries that you'd expect to find around a working fishing harbor. We walked along the breakwater where building work for the new Danjiang Bridge (road and light rail) caught my attention; soon Tamsui's residents will have a faster option than taking the ferry, or first driving upriver to Guandu Bridge, to reach Bali on the other side of the river.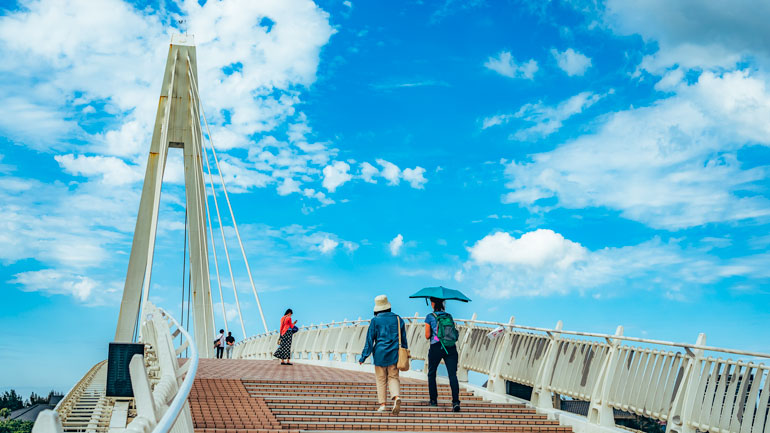 The ride back to MRT Tamsui Station took a mere 25 minutes, and by late afternoon the promenade there had transformed – the dancers were gone, replaced by dog walkers and dating couples. Even on a weekday, buskers and popular vendors were drawing crowds. At this point my companions and I parted ways, the MRT whisking them swiftly back to the city, while I lingered, passing the time until the sun went down. On good days, sunset in Tamsui is a splendid natural light show, setting the river, and the sea beyond, ablaze with a wash of orange, and on this occasion the sun had lined up perfectly with the middle of the waterway's mouth. I watched along with an admiring crowd as it was doused in the waves of the Taiwan Strait.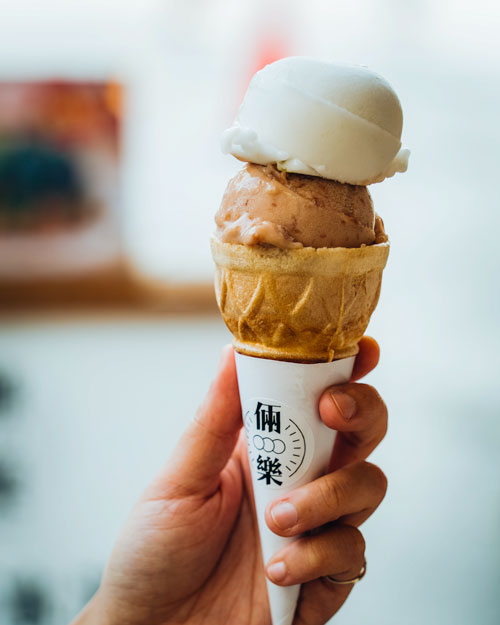 And did I get to enjoy that ice cream? I did. (Although childhood me would have questioned my choice of flavor: peanut with a coriander garnish.)