[The below text and most of the photos are from pamphlets we recently produced for the North Coast and Guanyinshan National Scenic Area; all copyright belongs to the NSA]
Guanyinshan
Guanyinshan (Mt. Guanyin) has a height of more than 600 meters, offering bird's eye views of Taipei Basin, Bali, the Tamsui River, the volcanic Datun Mountain Range, and the Linkou area. It is also the home and on the migration route of many birds of prey. There are quite a few well-known temples on the mountain, including Lingyun Temple, Lingyun Zen Temple, and Kaishan Building, which hold many old plaques and steles and exude a cultural air.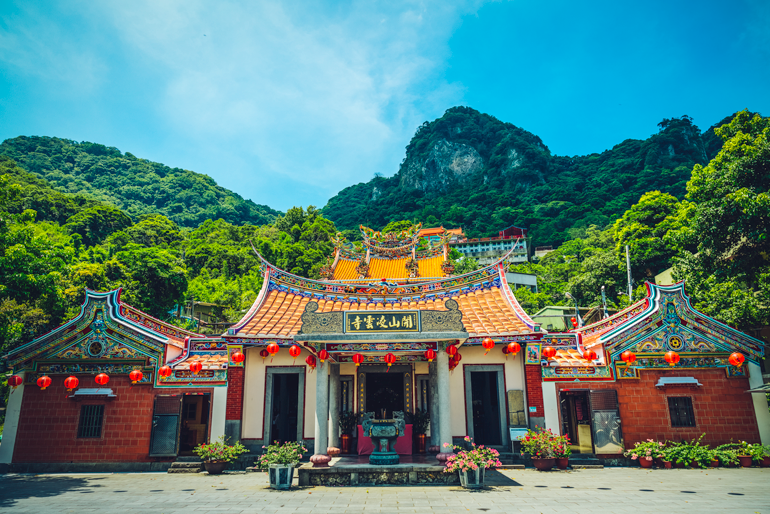 Guanyinshan Trails
Guanyinshan has seven hiking trails, forming a complete trail system with signs. The trails are named Fulong Mountain, Niugangling, Yinghanling, Jianshan, Fengguidouhu, and Niuliaopu, as well as Linshao next to the Ecological Park. Each trail has its own character and some, offering views out over the Taipei Basin, are very popular with hikers.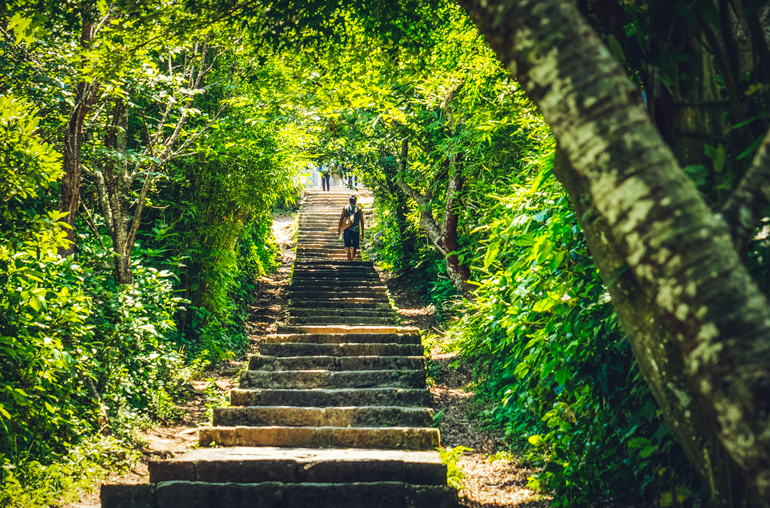 Yinghanling
At 616 meters above sea level Yinghanling is the highest peak of Guanyinshan. It is named "tough guy peak" because the military police once trained here for "tough guy spirit." From atop the peak, beautiful views out over Greater Taipei and the surrounding 18 joined peaks can be enjoyed, making the trail a very popular one. Guanyinshan is part of the volcanic Datun Mountain Range along with Mt. Qixing and Mt. Datun, making it a great outdoor geology classroom in northern Taiwan.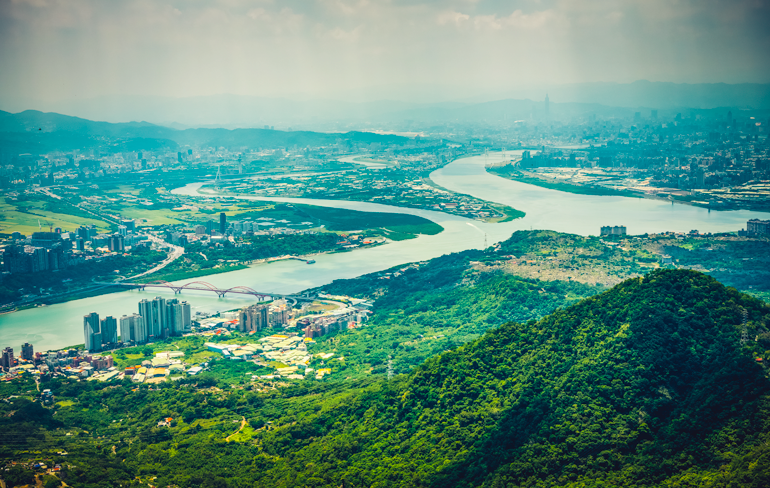 Guanyinshan Ecological Park / Guanyinshan Visitor Center
With functions of education and natural environment conservation, this park has an ecological pond, raptor-viewing platform, forest trails, and other facilities. It is an outdoor experiential park where migratory birds can be seen heading back north every year. Located next to the ecological park, Guanyinshan Visitor Center has displays introducing Guanyinshan and its trail system, provides leaflets to be picked up by visitors, and has staff that can answer questions about the area.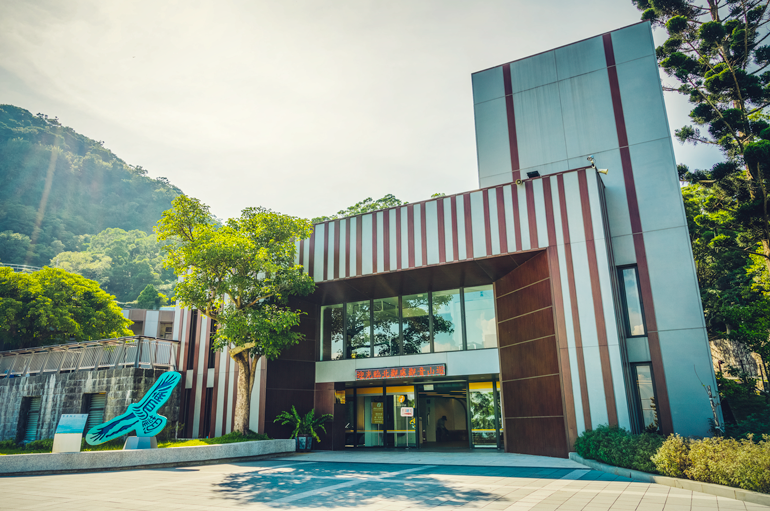 Guanyinshan Bird Watching
More than a dozen species of raptors can be seen on Guanyinshan in April and May each year, with Crested Serpent Eagle, Gray-faced Buzzard Eagle, Chinese Goshawk, and Crested Goshawk grabbing most attention. The four are known as "the four raptors of Guanyin." The scenic area administration holds raptor viewing events every year, inviting bird lovers from all over to come to record and pay homage to the magnificent birds.
Guanyinshan Visitor Center (觀音山遊客中心)
Add: No. 130, Sec. 3, Lingyun Rd., Wugu Dist., New Taipei City (新北市五股區凌雲路三段130號)
Tel: (02) 2292-8888
Hours: 09:00 ~ 17:00
Transportation
From MRT Luzhou Station take Sanchong Bus O20 to the Guanyinshan Visitor Center
From close to Taipei Main Station take San Chung bus No. 785 (Beimen – Guanyinshan) to Lingyun Zen Temple. From there it's a 20-min. walk.
Also read
GUANYINSHAN (Mt. Guanyin) Travel Guide
Sanzhi
Surrounded by mountains on three sides, Sanzhi offers unspoiled country scenery, tranquil peaks, and verdant waters. In Sanzhi visitors can stroll along the beach while watching the sun go down over the Taiwan Strait. Attracted by this fine scenery, an artists' settlement has formed in Sanzhi. In spring cherry blossoms can be viewed, in summer visitors can play in the sea, in autumn maple trees can be viewed, and in winter fine food can be enjoyed. Sanzhi is a recreation heaven offering tourist and leisure resources as well as humanistic charm.
Qianshui Bay
Blessed with a beautiful coast where sea meets the sky and a flat beach, this bay is suitable for strolling, doing water sports, and watching the sun go down. The characterful cafés and restaurants nearby are also good places to relax and watch the sea. The sea view trail and car park next to the beach are great locations for watching the sunset.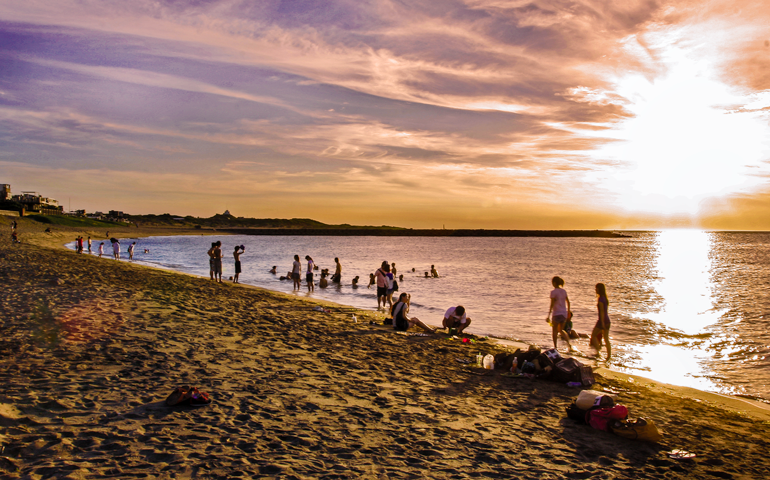 Shuangwan Bike Path
Lovely coastal scenery can be enjoyed on the eight-kilometer bicycle path from Qianshui Bay in Sanzhi District to Baisha Bay in Shimen District, including Qianshui Bay, Mingzhu Gongwang Temple, and Linshanbi where beach scenery, tidal zone ecology and windkanter can be enjoyed.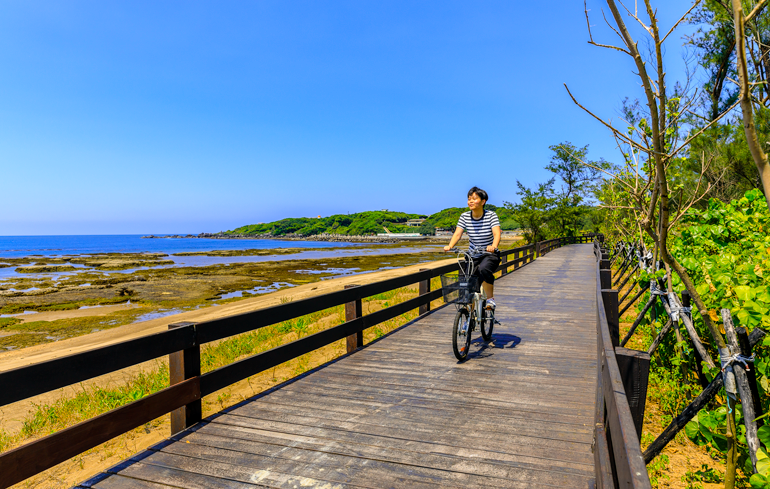 Cherry Road
Around 70 kilometers long, this scenic road is lined with more than 15,000 cherry trees. The trees bloom in late winter and early spring, creating a colorful and beautiful scene. In earlier times, native Taiwan Cherry trees could be seen in the Sanzhi area. Starting in 1996, many Taiwan cherry, Yaezakura cherry, and Yoshino cherry trees have been planted. In early spring every year, carpets of blossoms line the Sansheng Trail at No. 17 Bridge on the old Provincial Highway 2, creating a beautiful scene.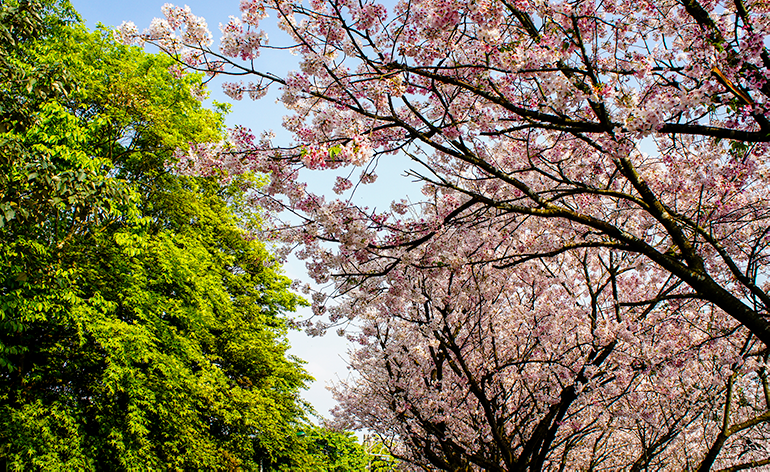 Sanzhi Water Bamboo Shoots
End of September until mid-November is the peak season for water bamboo shoots. The clear, sweet water used for irrigation makes the shoots delicate in texture, crispy and refreshing. Local restaurants have developed various water bamboo shoot dishes that taste delicious and should not be missed.
Sanzhi Cherry Blossom Festival
Date: Feb. ~ Mar.
Tel: (02) 2428-7664
Location: Sansheng Trail
Sanzhi Visitor Center
Located on a hill and surrounded by mountains, Sanzhi Visitor Center's main building has a Tang dynasty architectural style in simple but elegant colors. Inside, as well as information for visitors, leaflets and a leisure space, there is also The Gallery of Four Famous Sons of Sanzhi.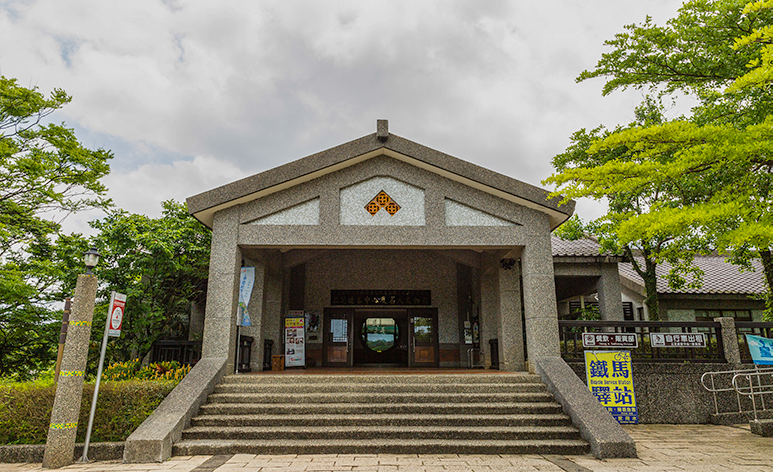 Add: No. 164-2, Putoukeng, Puping Borough, Sanzhi Dist., New Taipei City
(新北市三芝區埔坪里埔頭坑164-2號)
Tel: (02) 8635-5143
Hours: 09:00-17:00 (May ~ Sept. until 18:00)

Yuanxing House
Situated behind Sanzhi Visitor Center, this is the old residence of former President Lee Teng-hui. This traditional southern Fujian courtyard building has the black tile and brick wall charm of Taiwanese old houses.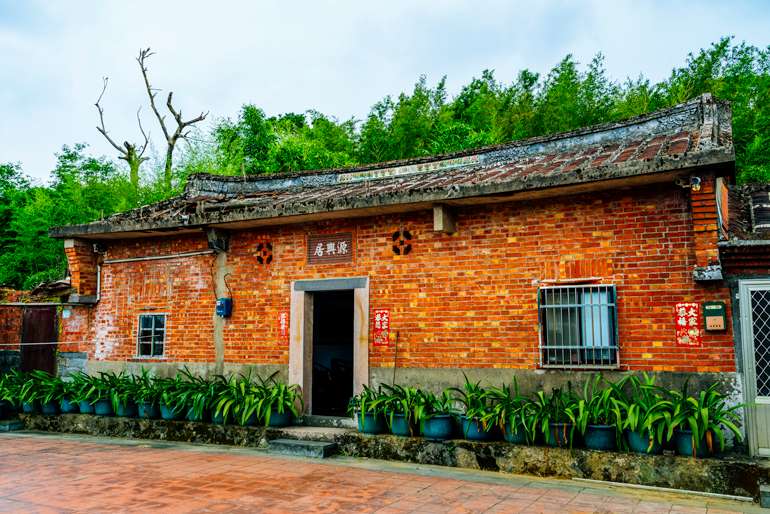 Add: No. 164-2, Putoukeng, Puping Borough, Sanzhi Dist., New Taipei City
(新北市三芝區埔坪里埔頭坑164-2號)
Fude Water Wheel Park
Located opposite Sanzhi Visitor Center, this park offers a landscape decorated with various water wheels and a variety of plants and flowers that compete for attention in different seasons. Cross over the red scenic bridge to enjoy the scenery on both banks of Balian Creek.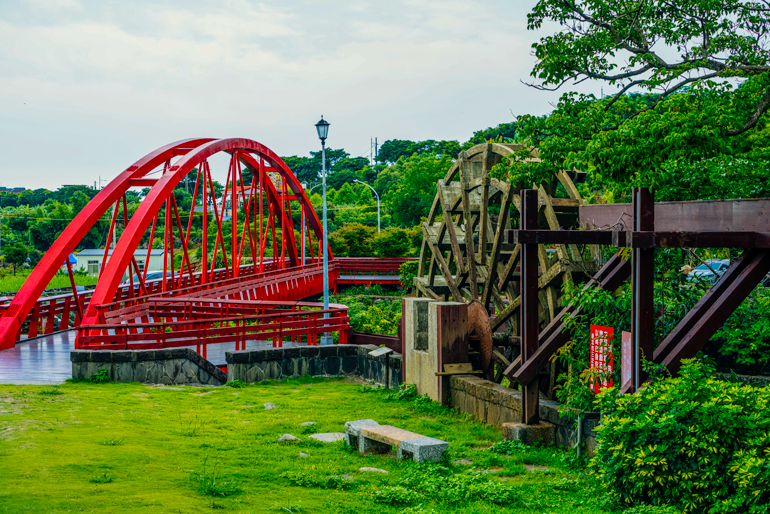 Zhibo Art Village
After quite a few artists took up residence in this large community in Sanzhi over the last few years, art studios, cafés, and restaurants successively opened, giving the whole community a pronounced cultural air. This is an art settlement with diverse characteristics.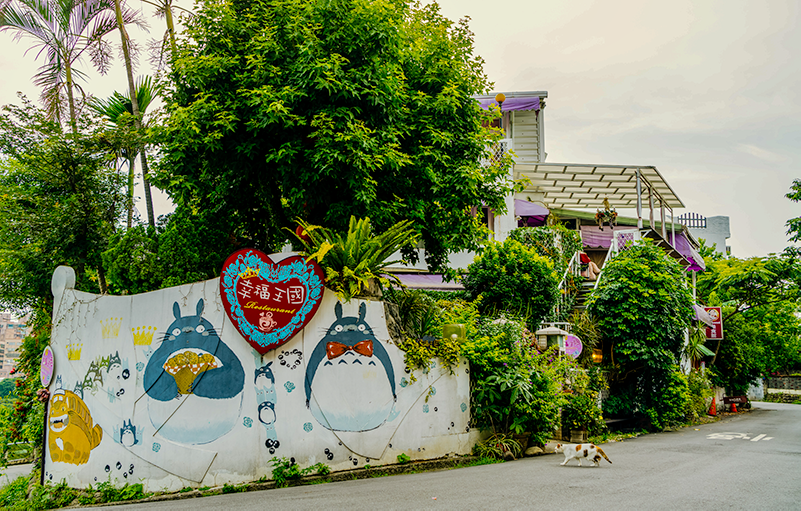 Li Tien-lu Hand Puppet Historical Museum
The museum was established by late puppet master Li Tien-lu to preserve and pass on glove puppetry. It displays various puppet masks, costumes, musical instruments used in shows, and precious scripts, and also has an experiential area and sensor-controlled audio-visual guide.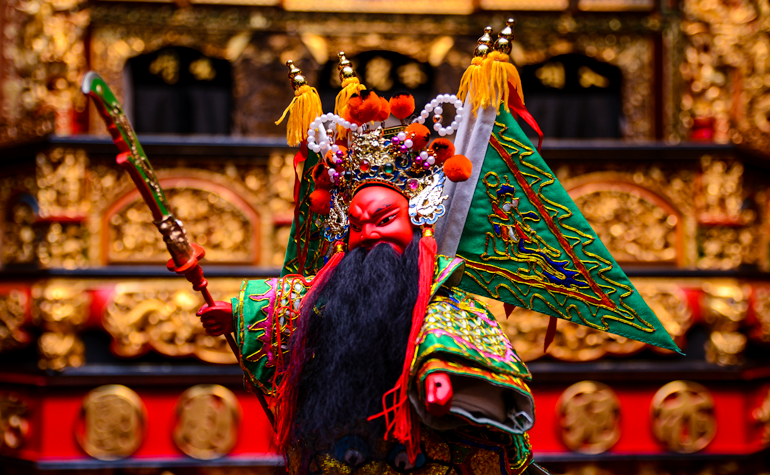 Add: No. 26, Zhibo Rd., Sanzhi Dist., New Taipei City
(新北市三芝區芝柏路 26 號)
Tel: (02) 2636-9174
Hours: Weekends and holidays: 10:00 ~ 17:00 (at other times a reservation is required)
Sanzhi Water Bamboo Shoot Festival
Date: Sept. ~ Oct.
Location: Sanzhi District
Shimen
Shimen, blessed with sea scenery, gorgeous sunsets, abundant coastal flora and fauna, and a beautiful natural environment is the most popular ecological classroom on the North Coast. There is an abundance of local tourism resources such as Linshanbi, Baisha Bay Beach, Fugui Cape Park, and Laomei Green Reef, all very popular with visitors.
Wanta Bike Path
Connecting to Shuangwan Bike Path that ends at Baisha Bay and extending to Fugui Cape Lighthouse, the Wanta Bike Path is around three kilometers long, passing Shimen Wedding Plaza, Fugui Cape Lighthouse, Laomei Green Reef, and Wind Art Army Camp, allowing visitors to explore the culture and natural charm of Shimen in depth.
Linshanbi Recreation Area
Linshanbi Recreation Area, close to Baisha Bay, has a walking trail and plank walkway, with luxuriant woodland, rich natural ecology, and pleasant scenery. It also has a windkanter landscape created by the piling up of andesite volcanic rock, and is a great place to watch the sunset.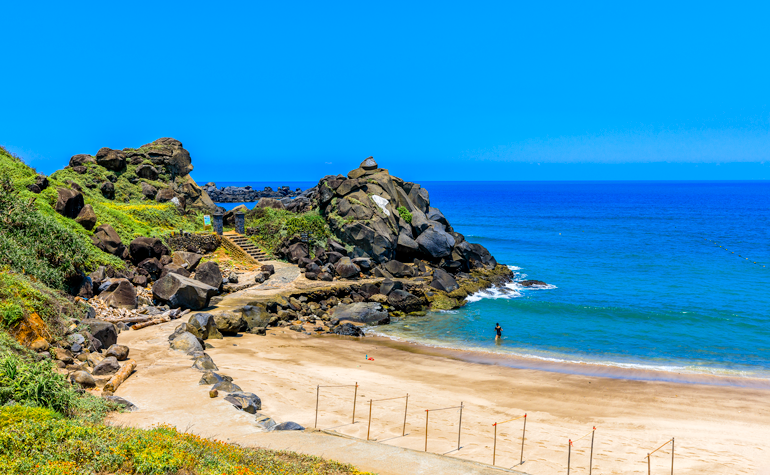 Baisha Bay
This crescent-shaped one-kilometer long bay between Linshanbi and Fugui Cape Park boasts pure white sand and clear water. Offering various water activities, it is a popular place to play in the water during the summer.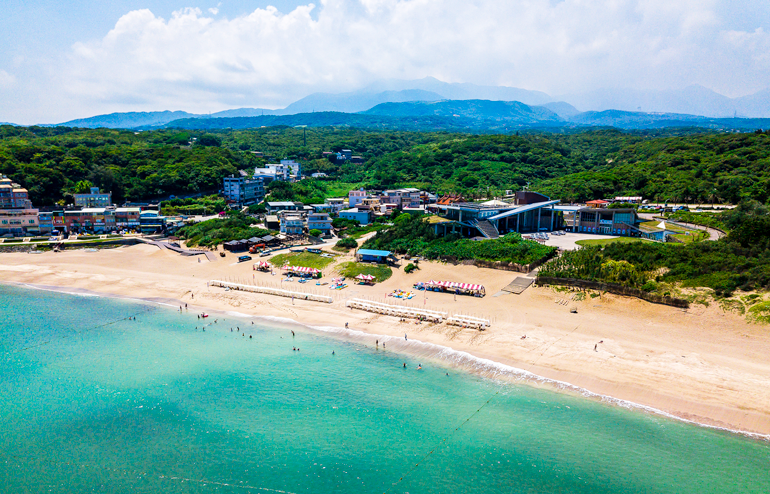 Baisha Visitor Center/North Coast Exploratorium
Designed for exploration and education, the North Coast Exploratorium's dynamic exhibits allow visitors to learn about the humanistic and ecological aspects of the North Coast. It is suitable for the whole family.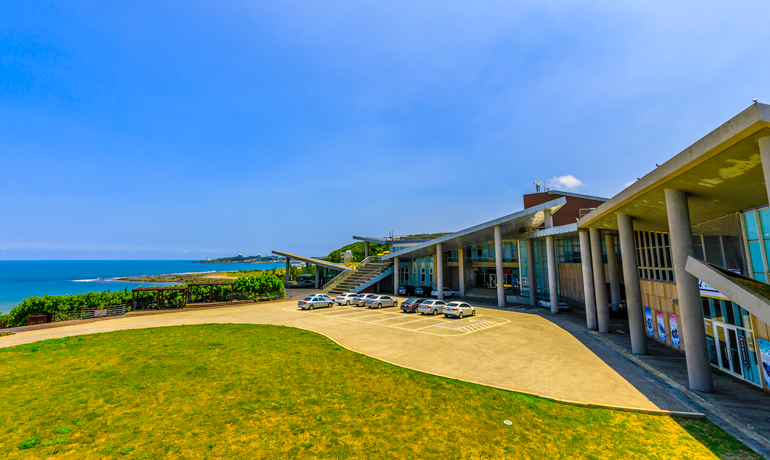 Add: No. 33-6, Xiayuankeng, Demao Borough, Shimen Dist., New Taipei City
(新北市石門區德茂里下員坑33-6 號)
Hours: Tue ~ Sun 09:00 ~ 17:00
Closed on Monday; open on public holidays
Mystic Lake Trail
Located behind the car park of Baisha Bay Visitor Center, this natural trail is 1.2 kilometers long. It is surrounded by trees and passes a small natural lake, which was formed by rainfall. From the highest point of the trail, the visitor center and coastal scenery can be viewed, while enjoying the tranquility of the surroundings.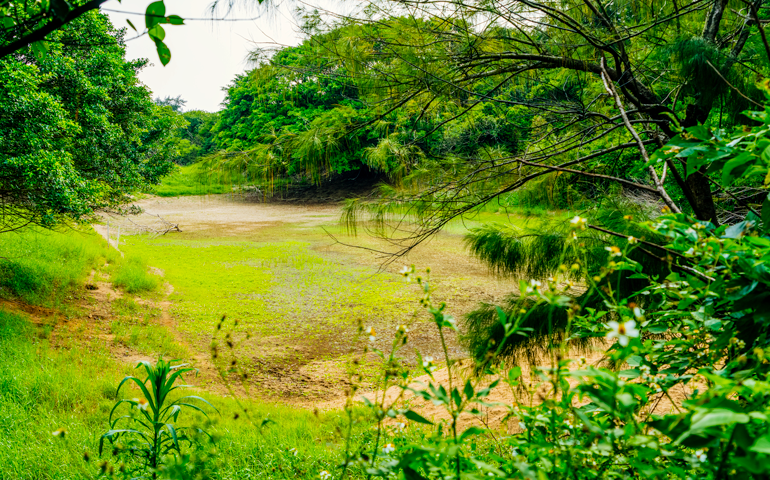 Shimen Wedding Plaza
This white Mediterranean style building with clocktower and corridor and complemented by the blue sea and sky of the North Coast gives people the feeling of being on the coast in Greece, exuding a romantic air. This is a popular place for pre-wedding photos to be taken or for lovers to take commemorative pics.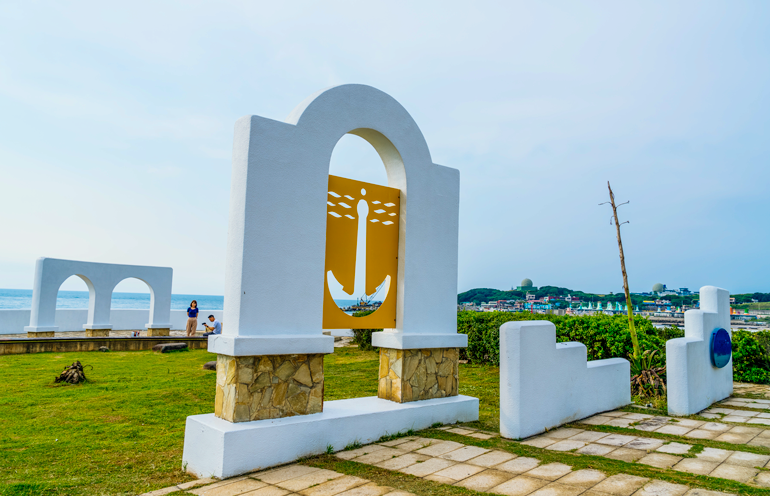 Fugui Cape Park/Fugui Lighthouse
Fugui Cape Park has a diverse geological landscape featuring windkanter, trenches and sand dunes etc. The main landmark in the park is the lighthouse, which was completed in 1897. The northernmost lighthouse in mainland Taiwan it is octagonal in shape and has black and white stripes, which is quite unique.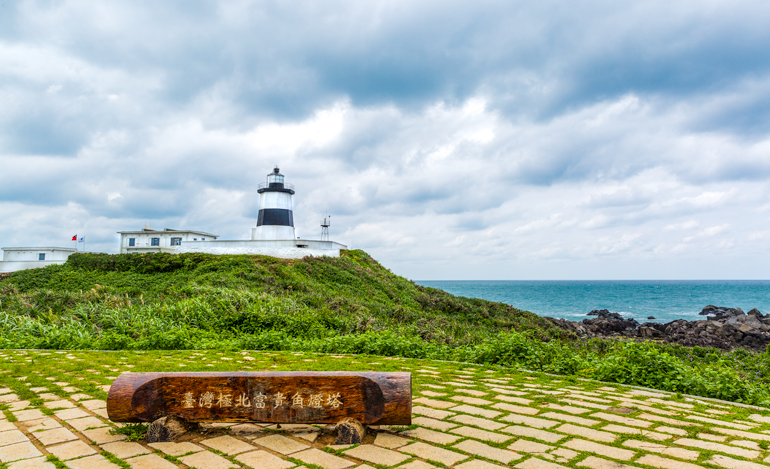 Wind Art Army Camp
Originally a coastguard camp, kite elements were added after renovation. The camp has a kite-themed hall, an art exhibition area, a kite-making hall, and a snack area. It's a popular spot in the Fugui Cape area as well as an art base where kite-making by hand can be experienced.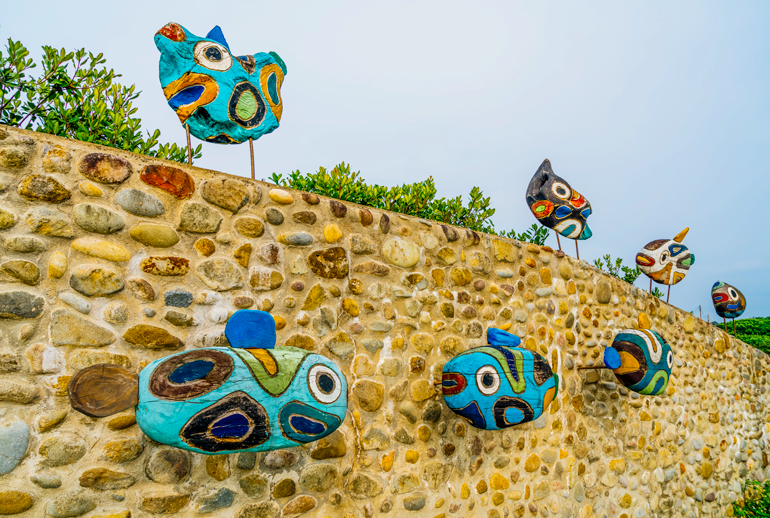 Laomei Green Reef
The reef originally was a coastal volcanic reef that was subject to scouring by waves over a long period of time, washing away the softer rock and leaving behind the hard rock in the form of troughs. In April and May the reef is covered in green sea algae, creating a unique scene. Visitors asked to stay well away from the reef to protect the natural environment.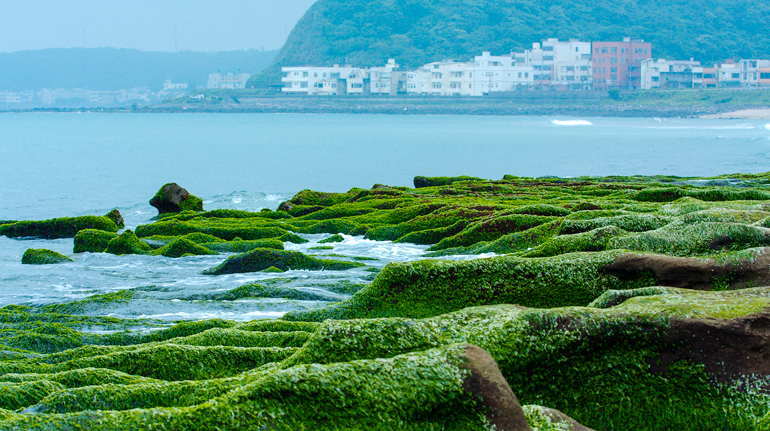 Also read:
QINGSHAN WATERFALL: A TAIPEI WATERFALL YOU CANNOT MISS
Kite Park
Covering six hectares, this park originated from the annual Shimen Kite Festival. It is a well-known place for kite flying and international kite competitions. The scenery of the Laomei coast can be viewed from the park and the white spray produced by the waves hitting Laomei Reef can be seen.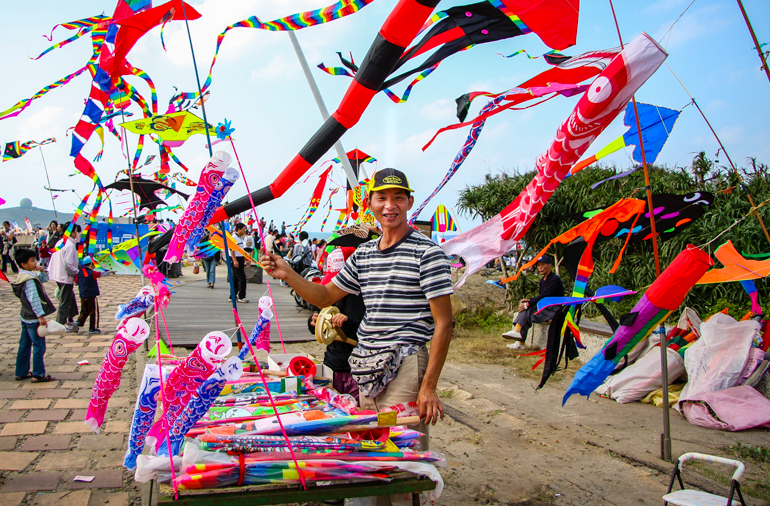 New Taipei City North Coast International Kite Festival
Date: Sept. ~ Oct.
Location: Kite Park
Shimen (Stone Arch)
Shimen District is well known for the Stone Arch, a natural sea-eroded cave shaped like an arch and standing about 10 meters high. It was created by the impact of the waves and uplifting of the terrain over many years. There are viewing platforms and pavilions along the coastal trail and tidal zone creatures can also be viewed at low tide.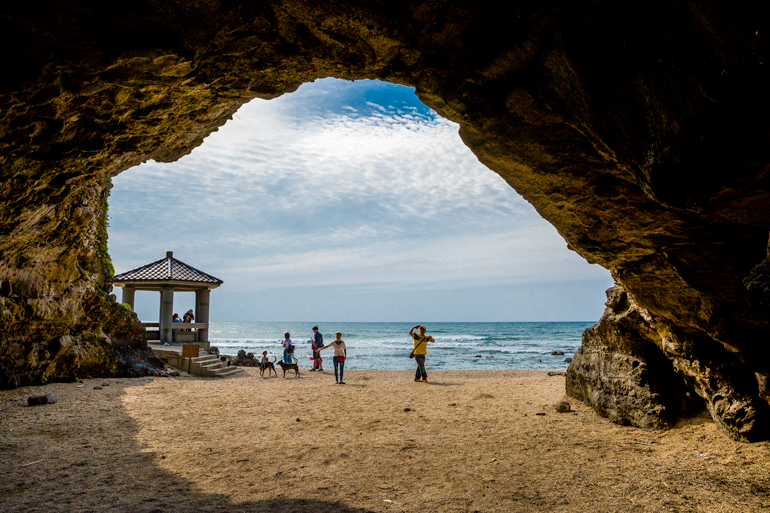 Temple of Eighteen Deities
This temple was built to commemorate sailors who perished in a shipwreck and their faithful dog. Due to the large number of worshippers, in 1994 a new Qian Hua Temple of Eighteen Deities was built on a hillside nearby. It is famed for its huge statue of the Faithful Dog Black Dragon.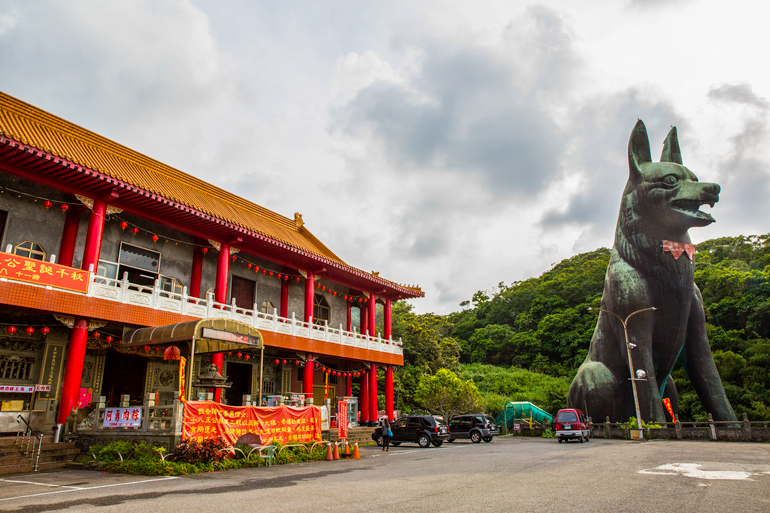 Add: No. 52, Pinglin, Maolin Village, Shimen Dist., New Taipei City (新北市石門區茂林村坪林52號)
Food
Shimen Tieguanyin
The main tea grown in the Shimen area is tieguanyin (Iron Buddha). Cooled by the sea breeze, the climate here is pleasant and good for growing tea. Adding the excellent quality of the water that flows from Mt. Datun, the tea grown here is sweet and has a distinctive taste.

Shimen Rouzong
Shimen is famed for its rouzong (pork glutinous rice dumplings). They originated from the rouzong stalls in front of the Temple of the Eighteen Deities. As the worshipers would often buy rouzong as sacrificial offerings, the number of vendors grew and fillings became more diverse and select over time. Today, Shimen's rouzong is a popular local special product.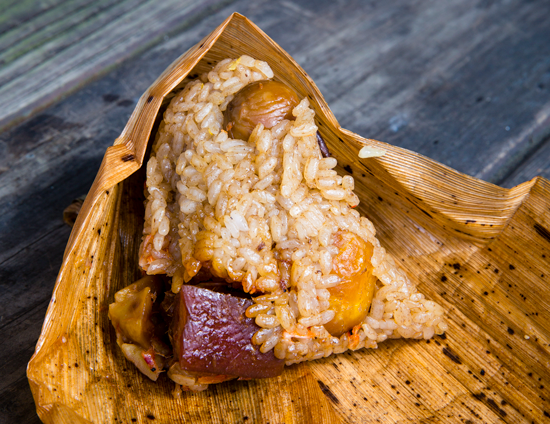 Jinshan
Formerly called "Jinbaoli," Jinshan District has natural scenery including Shitoushan Park, the Twin Candlestick Islets, and Zhongjiao Shazhu Bay, as well as Jinbaoli Old Street, Ju Ming Museum, Dharma Drum Mountain, and other art and cultural spots. The Jinshan hot-spring area was developed by the Japanese during the Japanese Colonial Period. With delicious local foods such as Jinshan sweet potato adding to its appeal, Jinshan is a popular travel destination in northern Taiwan.
Jinbaoli Road (Yulu Historic Trail)
Before WWII, fish sellers and merchants opened up this four-kilometer long mountain trail to transport fish to Taipei. Lined by endless grassland and forest, it is a great route for hiking.
Yun Garden
This is the eternal resting place of Taiwanese diva Teresa Teng who was a big star all over Asia in the 1970s and 1980s. The "Yun" in Yun Garden comes from the "yun" character in Teng's real name. Items connected to her are displayed and 10 of her best-known songs are played all day and night. Fans can visit Yun Garden to mourn this eternal shining star.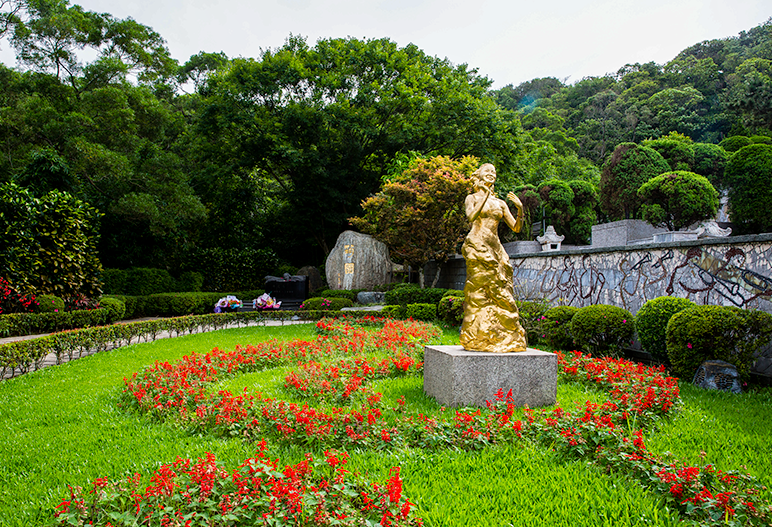 Add: No. 18, Xishihu, Jinshan Dist., New Taipei City
(新北市金山區西勢湖18號)
Tel: (02) 2498-5900
Hours: 08:00-17:00
Juming Museum
Opened in 1999 by sculptor Ju Ming, it took 12 years to design and build the museum. Covering 12 hectares, it has outdoor and indoor exhibitions where the master's important works from different periods are displayed. The outdoor sculptures are separated into three areas, Tai Chi Square, Living World Square, and Sports Square.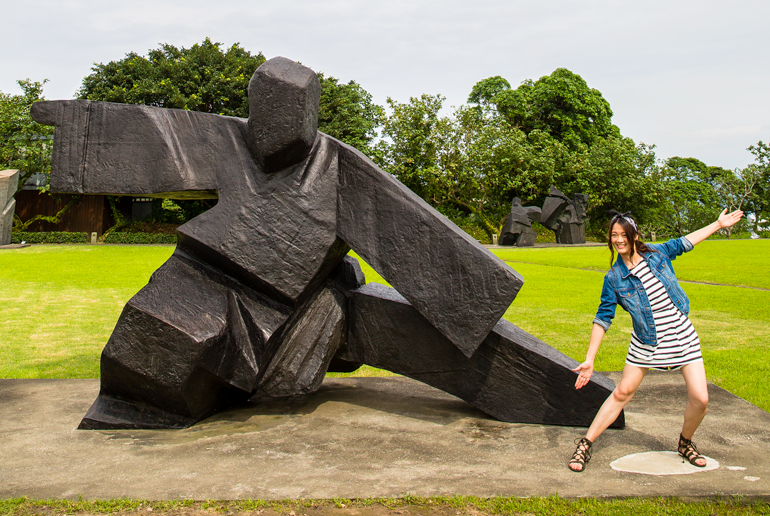 Add: No. 2, Xishihu, Jinshan Dist., New Taipei City
(新北市金山區西勢湖2號)
Tel: (02) 2498-9940
Hours: May ~ Oct. 10:00 ~ 18:00, Nov. ~ Apr. 10:00 ~ 17:00 (closed on Monday)
Website: www.juming.org.tw
Dharma Drum Mountain
Established by Master Sheng Yen, Dharma Drum Mountain is a Buddhist education park that combines education, Buddhist practice, and culture. One of the four main Buddhist monasteries of Taiwan, it has a collection of over 300 Buddhist relics. Dharma Drum Mountain has the mission of passing on Buddhism and nurturing Buddhist talent.
Add: No. 555, Fagu Rd., Neighborhood 7, Sanjie Borough, Jinshan Dist., New Taipei City
(新北市金山區三界里7鄰法鼓路555號)
Tel: (02) 2498-7171
Hours: 09:00 ~ 16:00
Website: www.dharmadrum.org
Tiaoshi Coast
Gravel spat out from Mt. Datun during volcanic activity tens of thousands of years ago and rocks from land collapses were formed into a stretch of coast with a unique appearance by the rolling action of the waves. In earlier times, locals had to wait for low tide before jumping across the gravel, therefore, this stretch of coast was named "Tiaoshi Coast" (jump-stone coast).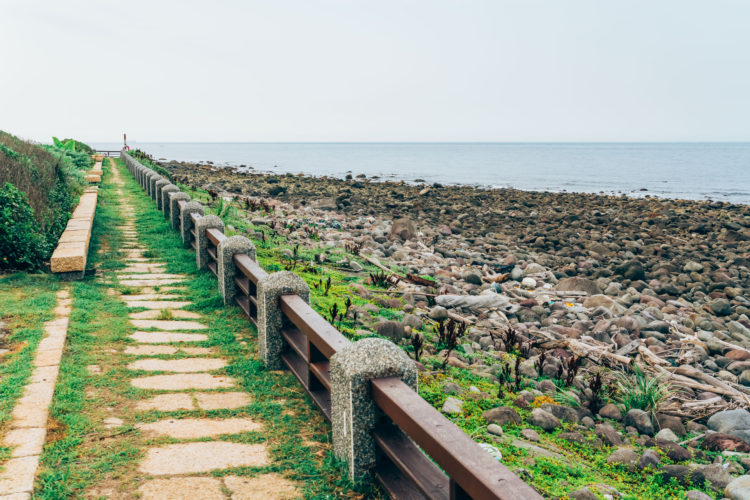 Shazhu Bay, Zhongjiao
Located at the 39-kilometer point on Provincial Highway 2, this crescent-shaped bay is tranquil and lovely on ordinary days but is packed with visitors who come to play in the water on weekends and holidays. It attracts many families and couples and is also one of the most popular surfing spots in northern Taiwan.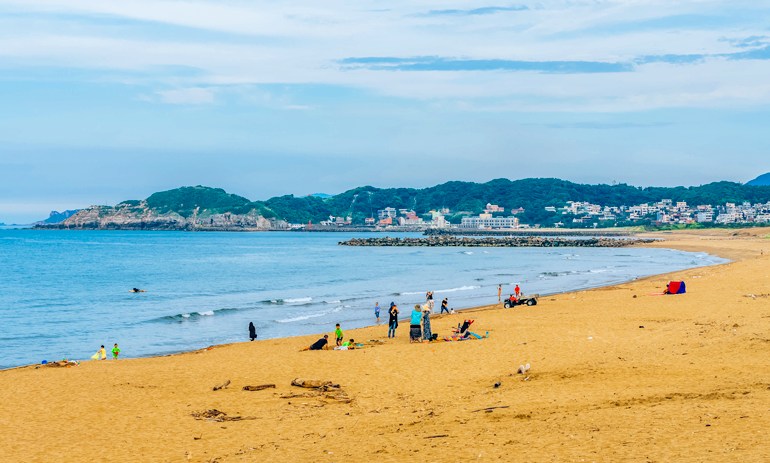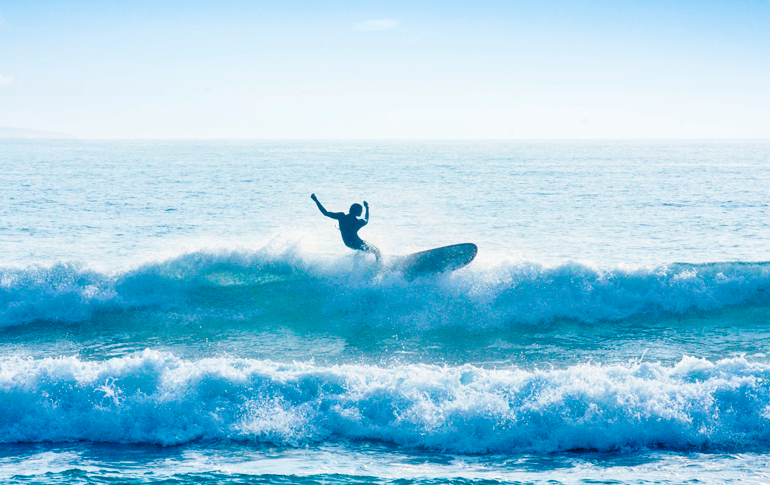 Jinshan Old Street
Originally called Jinbaoli Old Street, this is the only commercial old street on the North Coast to have developed from the Qing dynasty to the present. The few surviving old buildings on the street show marks of time. Various well-known and tasty snacks are available, such as duck meat, Jinshan taro cake, sweet potato, rice crispy, and egg roles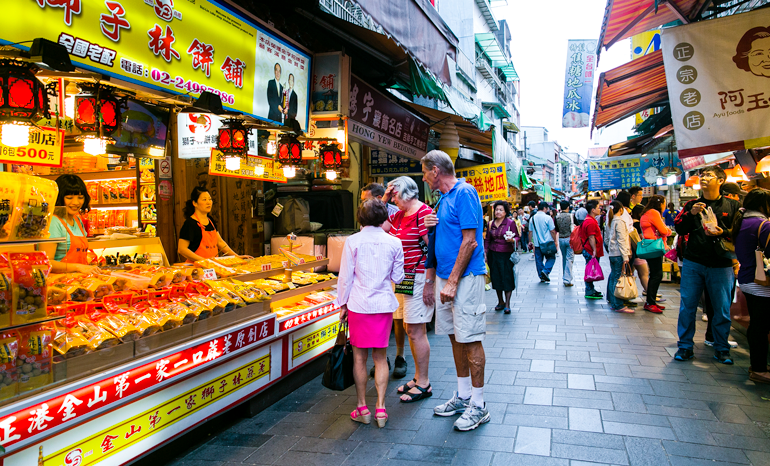 Jinshan-Wanli Hot-Spring Area
Part of the Mt. Datun geothermal zone, the hot springs here were developed during the Japanese Colonial Period. The area is naturally blessed with four types of springs: undersea hot spring, sulfur spring, carbonated spring, and iron spring. Enjoying a soak in a hot-spring pool while enjoying the sea views is a highly pleasurable experience.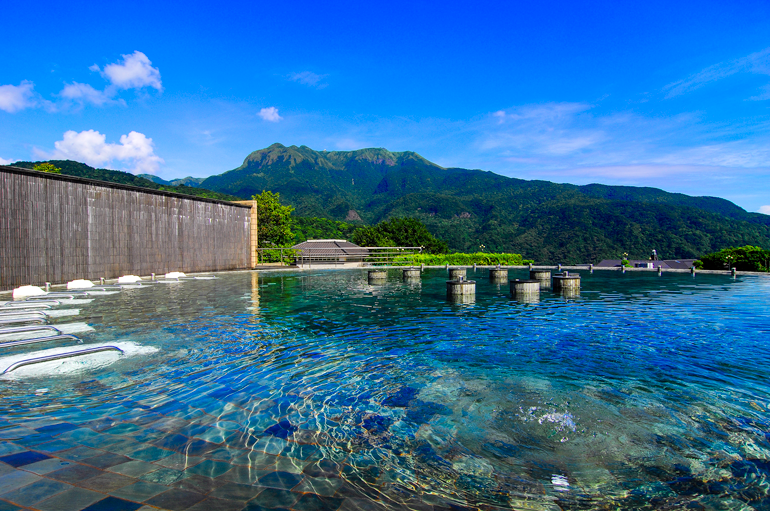 Shitoushan Park
Shitoushan has a geological landscape and abundant natural ecology. It stands on Jinshan Cape which juts out into the sea and is 70 meters high. To the east, Yehliu Cape can be seen, to the west are Huanggang Fishing Harbor and Zhongjiao Mountain sea view. There is a traditional-style red pavilion on the trail from where the famous Jinshan landmark, the Twin Candlestick Islets, can be clearly seen.
Jinshan Visitor Center
Add: No. 171-2, Huanggang Rd., Jinshan Dist., New Taipei City (新北市金山區磺港路171-2號)
Tel: (02) 2498-8980
Hours: 09:00 ~ 17:00 (May ~ Sept. until 18:00)

Food
Jinshan Duck Meat (金山鴨肉)
Jinshan Duck Meat has been in business for almost 60 years on Jinbaoli Old Street and is synonymous with the street. The duck meat restaurant is self-service and offers freshly-cut duck meat and stir-fried dishes. Every day, a large number of customers flock here, attracted by its excellent reputation.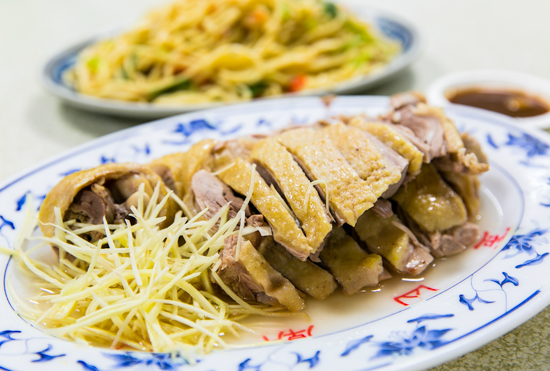 Food
Jinshan Malao (金山蔴荖)
Jishan malao rice crispy is famed far and wide. It is made by steaming rice powder or taro powder, coating it in glutinous rice powder and then deep frying. The delicious balls, crispy on the outside, hollow on the inside, are then coated with maltose, peanut, and sesame.

Jinshan Sweet Potato (金山甘藷)
Jinshan produces excellent sweet potatoes. The peak season is July-September, when the Jinshan Sweet Potato Festival is held. Local businesses join in promoting sweet potato cuisine and visitors are welcome to have farm fun digging their own sweet potatoes.
Events
New Taipei City Wan Jin Shi Marathon (萬金石國際馬拉松)
Date: March
Locations: Shimen District, Jinshan District, Wanli District

Jinshan Benghuo Concert (金山沙灘蹦火音樂季)
Date: July
Location: Jinshan District

Jinshan Wanli Sweet Potato Festival (金山萬里甘藷節)
Date: July/August
Location: Jinshan District

Jinshan-Wanli Hot Spring Festival ( 金山萬里溫泉 )
Date: Oct. ~ Dec.
Locations: Jinshan District, Wanli District
Jinshan-Wanli Bike Path
Jinshan-Wanli Bike Path is around 7.5 kilometers long and stretches from Jinshan's Zhongjiao Shazhu Bay to Wanli's Dingliao Beach. It offers views of the beach, sea, and charming fishing village.
Transportation
From Taipei Bus Station take Kuo Kuang Motor Co. Bus 1815 or Royal Bus No. 1717 (via Jiantan and Yangmingshan) to Jinshan.
From near Keelung Railway Station or from MRT Tamsui Station take a Keelung or Tamsui bus and get off at places of interest along the route (follow signs to tourist attractions).
Also read: STANDUP PADDLEBOARDING (SUP) on Taiwan's North Coast
Wanli
With mountains on three sides and the sea on the other, a varied landscape characterized by strange rocks created by the effect of sea waves and volcanic activities can be seen all along the coast in Wanli. This is where the famed Yehliu Geopark is located, well known for eroded rocks, honeycomb rocks, and candle rocks. The nearby ocean park, cycling path, and Wanli hot-spring area are all well worth visiting.
Guihou Venus Coast
Located at Yehliu, the Guihou Venus Coast is a scenic road around three kilometers long. It was once voted the most beautiful of the top 10 stretches of coast in Taiwan. Due to the special geology, the seashore rocks here display beautiful weathering lines, making this area a great location for taking wedding photos.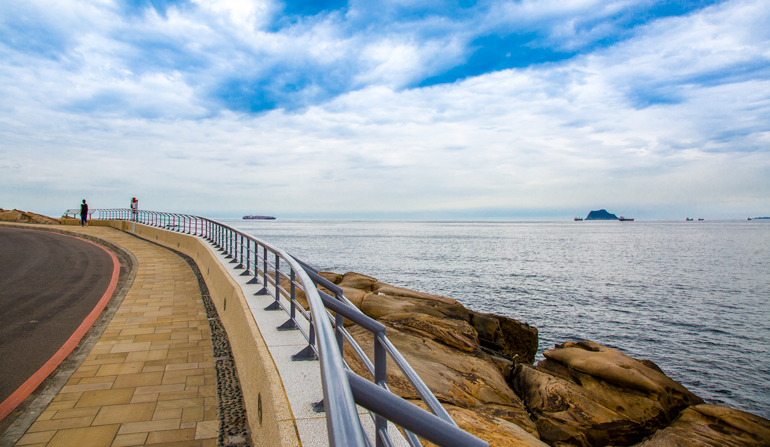 Yehliu Geopark
Yehliu Geopark is famed for its strange natural rocks and is a must-see place for visitors to Wanli. Sea erosion and weathering over many years have formed strange rock formations, wind-eroded ditches, wind-eroded cliffs, wind-eroded holes etc., making Yehliu a geology classroom and fun park to visit. The most famous rock is the Queen's Head. Wander around the park and there is a surprise at every turn.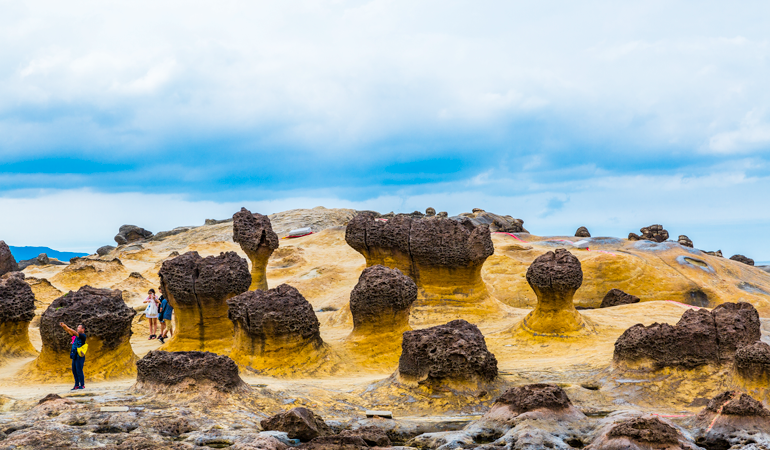 Add: No. 167-1, Gangdong Rd., Yeliu Borough, Wanli Dist., New Taipei City (新北市萬里區野柳里港東路167-1號)
Tel: (02) 2492-2016
Hours: 08:00-17:00
Event
Yehliu Night Tours – See the Queen's Head Illuminated at Night (野柳石光-夜訪女王)
Date: April
Location: Yehliu Geopark
Yehliu Ocean World
The sea lions and dolphins of Ocean World are lively animal stars that not only jump out of the water, head a ball and play with hula-hoops, they also shake hands and kiss visitors' cheeks. There is an undersea tunnel around 100 meters long, which makes you feel like being in a blue crystal dragon palace of myth. Various sea creature specimens are on display that visitors can observe in detail to uncover the secrets of the ocean. Yehliu Ocean Park combines fun and learning and is well-worth a visit.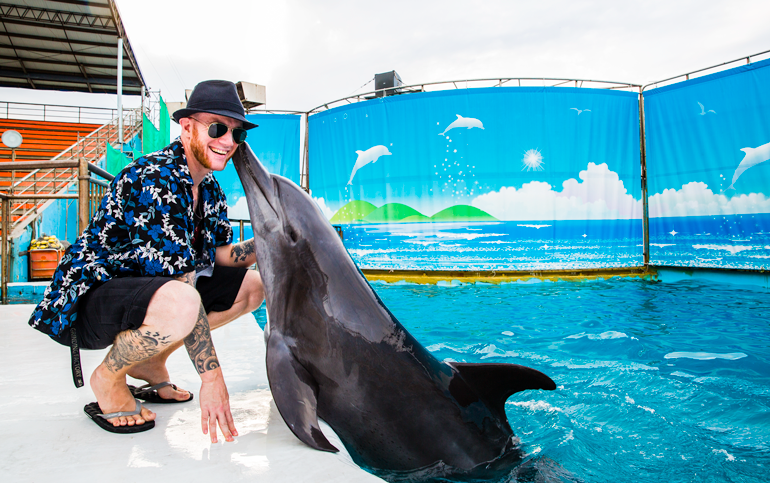 Add: No. 167-3, Gangdong Rd., Yeliu Borough, Wanli Dist., New Taipei City (新北市萬里區野柳里港東路167-3號)
Tel: (02) 2492-1111
Hours: Mon. ~ Fri. 09:00 ~ 17:00, Sat. & Sun. 09:00 ~ 17:30
Website: www.oceanworld.com.tw (Chinese)
Event
Yeliu Harbor Purification Festival (野柳神明淨港文化季)
Date: 15th of 1st lunar month
Location: Bao'an Temple, Wanli District

Transportation
From MRT Tamsui Station take Taiwan Tourist Shuttle – Crown Northern Coastline Route bus to Yeliu.
From Keelung Railway Station (visitor center) take a Taiwan Tourist Shuttle – Dragon Palace Treasure Hunt Route bus to Yeliu.
Also read: YEHLIU GEOPARK and YEHLIU OCEAN WORLD
Guihou Fishing Harbor
This pretty little fishing village on the North Coast has become well-known in recent years due to "Wanli crabs" and is one of the most popular fishing harbors in the region. The fishermen's catch is auctioned off directly soon after it is landed, so visitors can enjoy the freshest taste of the sea.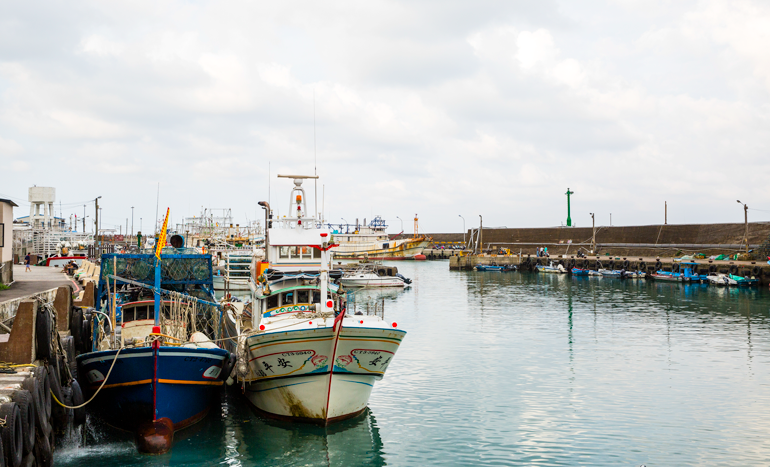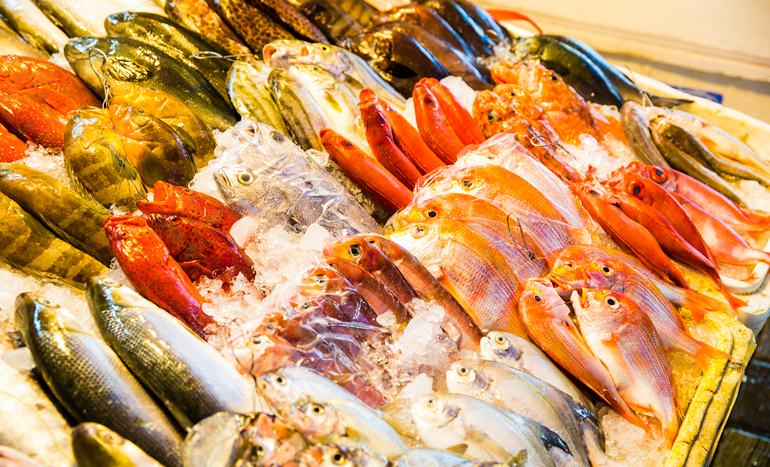 Food
Wanli Crabs
"Wanli Crabs" refers to the Blue, Three-spotted and Swimming crabs caught in the waters off Wanli that are used to supply almost 80% of the crab market in Taiwan. A Wanli crab promotion event is held every autumn at Guihou Fishing Harbor and should not be missed by crab connoisseurs.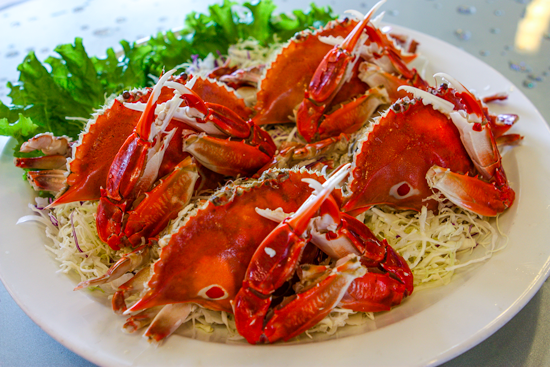 Event
Wanli Crab Festival (萬里蟹季)
Date: Sept. ~ Oct.
Location: Guihou Fishing Harbor
Green Bay
The most complete recreation area on the North Coast, Green Bay offers various water-based activities such as jet skiing, wind surfing, speedboating, sailing, and paragliding. It also has an accommodation area and sea bathing area. Visitors can have fun here amidst the beautiful north coast scenery.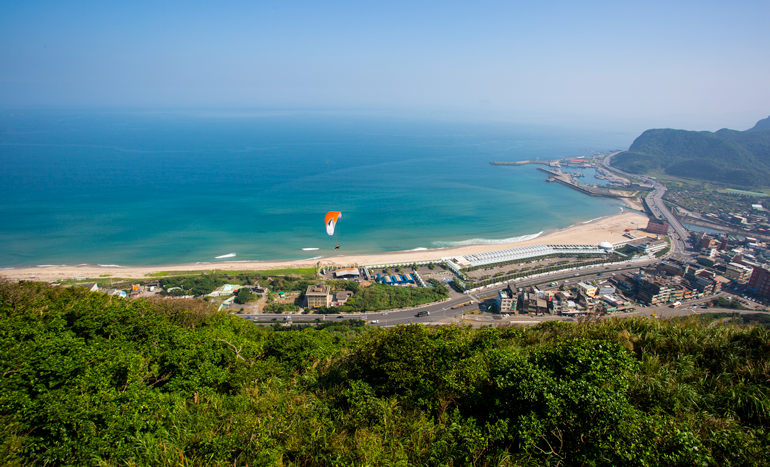 Also read: PARAGLIDING at Wanli on the North Coast
Keelung
Situated in the northeast of Taiwan, Keelung Harbor is an important shipping hub of northern Taiwan, giving Keelung the nickname "the northern hallway of Taiwan." Keelung has a rich culture nurtured over more than a century, diverse harbor cuisine, and rich natural ecology. The hard and soft sides of its coast are sure to make visitors want to stay longer.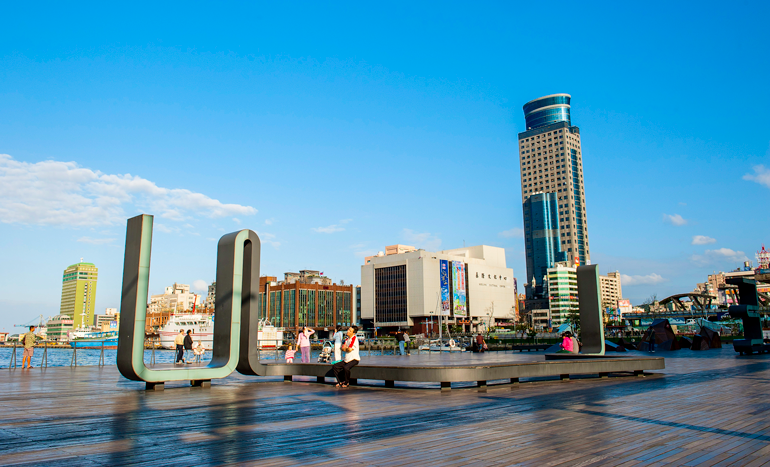 Dawulun Aodi Beach / Huhai Bay
Dawulun Aodi Beach is Keelung's only beach. Offering tranquility and beautiful views, although the beach is small, the fine pure white sand exudes enhancing seaside charm. Huhai Bay, not far away, offers unusually shaped coastal reefs and is a good spot to watch the waves.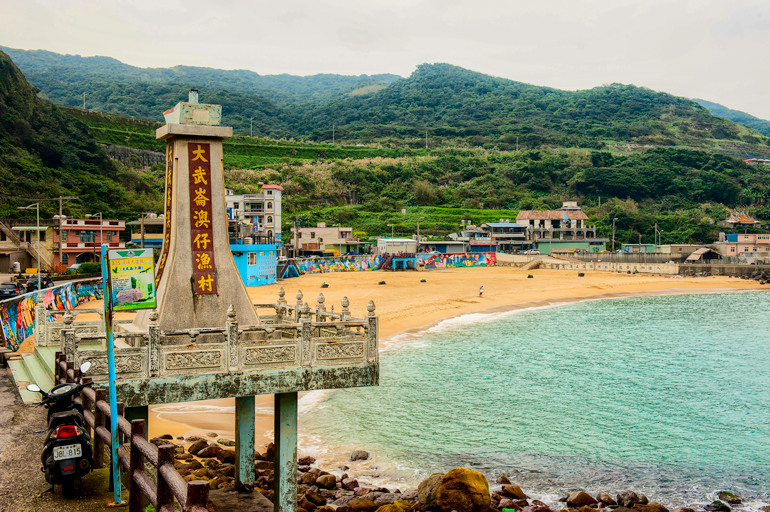 Lovers Lake Park
Located on Mt. Dawulun, the lake is formed by a number of mountain streams and is Keelung's only highland lake. The park area has a lake trail, a mountain trail, the Lovers Suspension Bridge, a windmill, and a viewing deck. Visitors can stroll around the lake breathing in the fresh forest air. As the name suggest, Lovers' Lake is a romantic place for loving couples to go.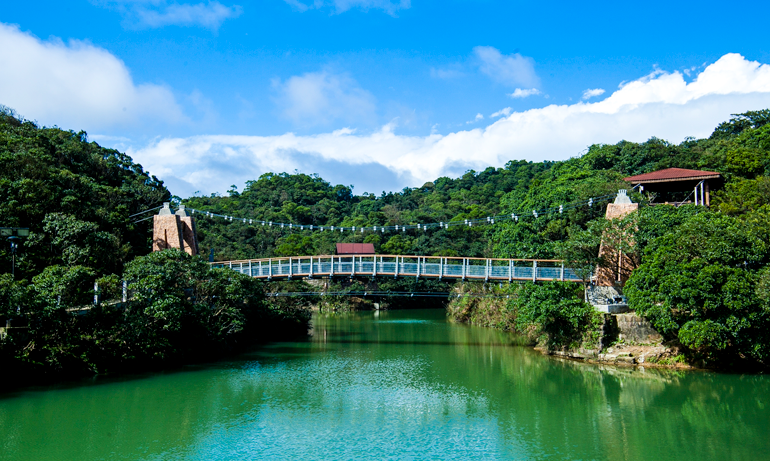 Dawulun Fort
Dawulun Fort is not far from Lovers Lake and was once an important national defense fortification defending the western side of Keelung. It has quite a few military remains and is one of the top 10 forts of Keelung.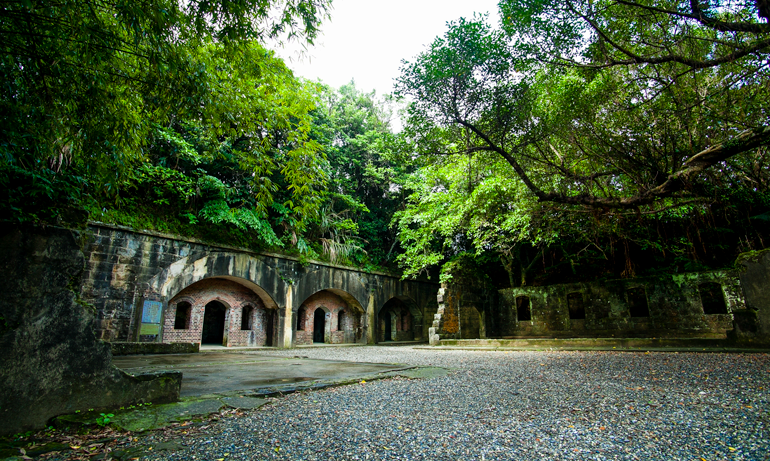 Waimushan Lovers Lake Seaside Boulevard
Five kilometer long, this is the longest stretch of natural coast in Keelung with a scenery that is always changing. It has precipices and also flat coastline. Suitable for long swims, windsurfing, and sand sculpting etc. it is also a good place for a seaside walk to enjoy the scenery.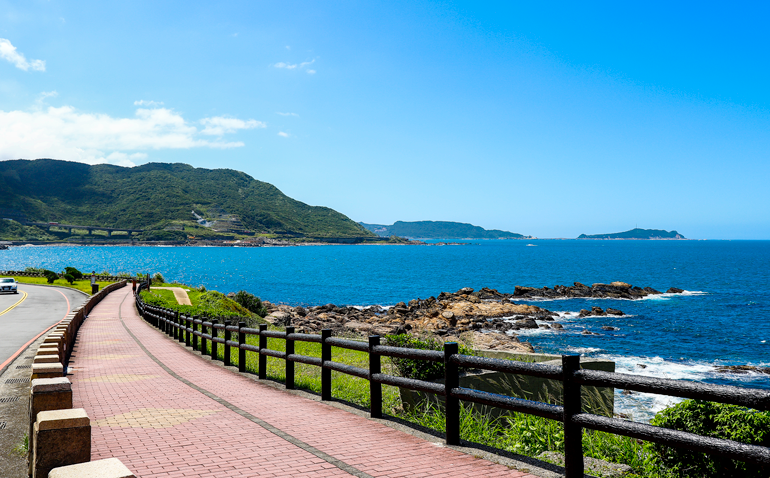 Miaokou Commercial Area
Miaokou, located in Keelung's Ren'ai District, is centered on Dianji Temple on Ren 3rd Road. It is open 24 hours a day, but is busiest in the evening. Also known as Miaokou Night Market it is one of the best-known night markets in Taiwan.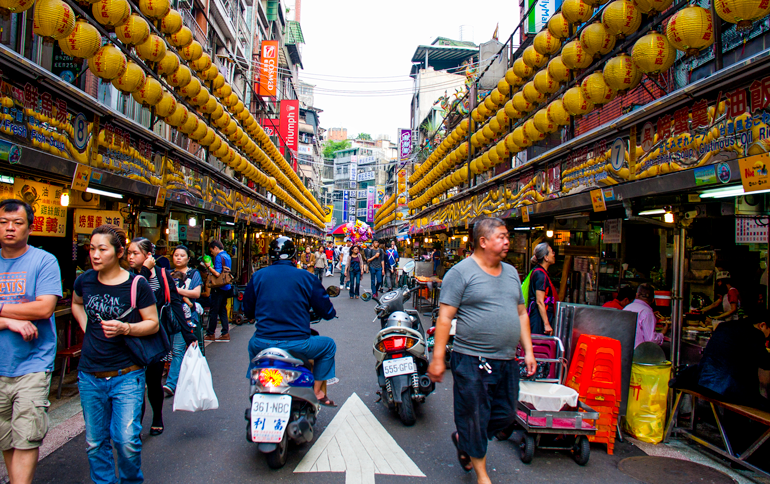 Heping Island Park
Heping Island is located on the eastern side of Keelung Harbor. Over time the northeastern monsoon and waves have created numerous strange rock formations here. There is a diverse sea-eroded landscape with tofu rocks, sea-eroded trenches, sea-eroded caves, and mushroom rocks. The park only has minimal artificial facilities to reduce the negative effect on nature and protect this original natural treasure trove. Heping Island Park is a major scenic spot of northern Taiwan and is also an excellent outdoor classroom.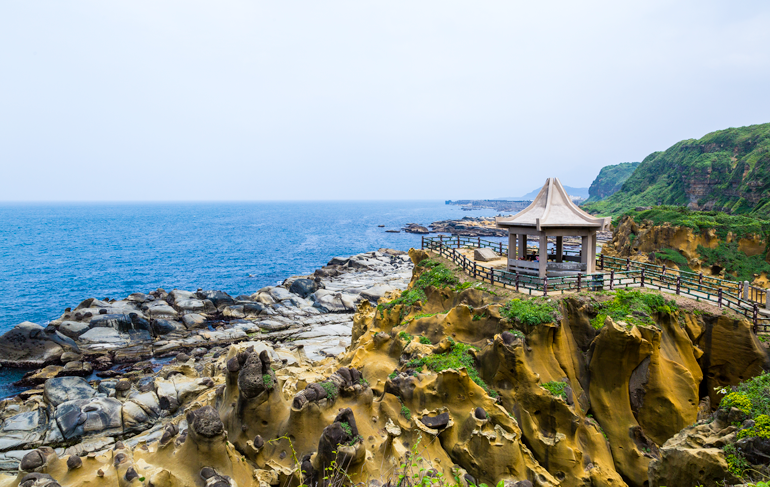 Heping Island Visitor Center (和平島遊客中心)
Add: No. 360, Ping 1st Rd., Zhongzheng Dist., Keelung City
(基隆市中正區平一路360號)
Tel: (02) 2463-5452
Hours: 08:00 ~ 18:00 (May ~ Oct. until 19:00)
Events
Keelung Mid-Summer Ghost Festival (鷄籠中元祭)
Date: 7th lunar month
Location: No. 181, Xin 1st Rd., Zhongzheng Dist., Keelung City
Heping Island Music Festival (和平島大地音樂祭)
Date: Aug.
Location: Heping Island Park, Keelung City
National Museum of Marine Science & Technology / Chaojing Park
This marine-themed museum displays the connection between ocean and life. It is a museum where visitors are introduced to sustainable development of the ocean and learn various ocean knowledge supporting school ocean education. Nearby Chaojing Park has various sculptures and is a fine spot form which to enjoy the sea views and Mt. Jilong and Jiufen in the distance.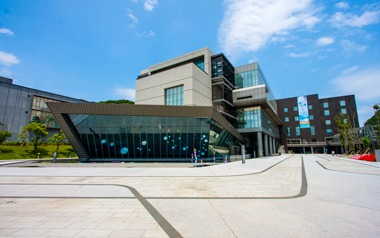 Tel: (02) 2469-6000
Add: No. 367, Beining Rd., Zhongzheng Dist., Keelung City
(基隆市中正區北寧路367號)
Hours: Weekdays 09:00 ~ 17:00, weekends and holidays 09:00 ~ 18:00
Website: www.nmmst.gov.tw
Also read: Keelung Travel Guide
UNSEEQ: TAIWAN'S ABANDONED UFO VILLAGE: WANLI DISTRICT
Transportation

Keelung City Area
From Keelung Railway Station (visitor center) take a Taiwan Tourist Shuttle – Dragon Palace Treasure Hunt Route bus to Lovers Lake Park and Dawulun.

From Keelung Railway Station take Keelung city bus No. 509 to Lovers Lake Park or bus No. 505 to the Lovers Lake road entrance and Dawulun; take Keelung city bus No. 101 to Heping Island Park.

Taiwan Tourist Shuttle Bus Routes

Crown Northern Coastline Route
MRT Tamsui Station (Exit 2) – Qianshui Bay – Sanzhi Visitor Center – North Coast & Guanyinshan National Scenic Area (Baisha Bay) – Shimen Wedding Plaza – Cape Fugui Lighthouse (Laomei Green Rock Troughs) – Shimen Arch – Yun Garden – Juming Museum – Jinshan (Old Street) – Jinshan Visitor Center (Shitoushan Park) Jiaotouli (hot-spring area) – Yehliu Geopark – Guihou Fishing Harbor

Dragon Palace Treasure Hunt Route – West Coast
Keelung Railway Station (Visitor Center) – Guihou Fishing Harbor – Yehliu Geopark

Tickets: Swipe your EasyCard or buy a one-day ticket when boarding the bus (for unlimited rides on the same day)

North Coast Route
From near Keelung Railway Station take Keelung Bus or Tamsui Bus No. 862; from MRT Tamsui (Exit 2) take Keelung Bus or Tamsui Bus 860, 861, 862, or 863, and get off at places along the way.