[This post will be updated if new information about places around the station comes available. 🙂 ]
Greater Guanghua Commercial District – "Go 3C" Market Browsing
This district encompasses a number of discrete elements: Huashan 1914 Creative Park, Syntrend Creative Park, Guanghua Digital Plaza, Bade Commercial District, and Taipei Brewery. The attractions are multifarious and rewarding, from cultural-creative innovativeness and cultural-arts performances to information gathering to 3C (Computer, Communication, and Consumer electronics) shopping, and much beyond.
Huashan 1914 Creative Park
(華山1914文化創意產業園區)
Taking up the former Taipei Winery complex, built during the Japanese era and later long abandoned, Huashan began to take shape in 1999, and has since become Taipei's best-known hybrid cultural-arts venue. There are irregular exhibitions of all types, fine restaurants, cultural-creative shops, an art gallery and cinema, musical performances, and such other draws as DIY-handicraft experiences and pop-up shops, popular with visitors of all ages. The Huashan grassland, perfect for picnics and scenery enjoyment, is popular with families for play, strolls, and walking the dog.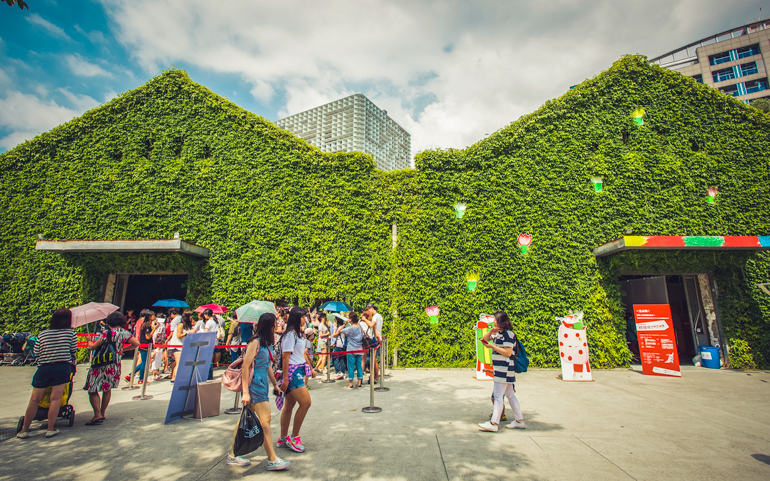 Add: No. 1, Sec. 1, Bade Rd., Taipei City
(台北市中正區八德路一段1號)
Tel: (02) 2358-1914
Website: www.huashan1914.com
Syntrend Creative Park
(三創數位生活園區)
A department store for 3C products, this complex has many shops selling mobile phones, computers, cameras, audio equipment, and more stationed within. There is also popular 3D printing, an anime base, a family-interactive area, eateries, and exhibits of wide diversity, guaranteeing lots of fun!
Add: No. 2, Sec. 3, Civic Blvd., Taipei City
(台北市中正區市民大道三段2號)
Tel: 0809-093-300
Website: www.syntrend.com.tw
GEESAA Café
Technology in the food and drink industry is developing rapidly worldwide, and Taiwan is no exception. The power of modern machinery is on full display at GEESAA Café, a hotspot for coffee lovers with an interest in modern technology. The "smart" coffee machines, aided by talented baristas, brew up a piping-hot cup of java that suits your taste. Paired with an app, the machines calculate variables such as water temperature, flow rate, and brewing method to concoct the perfect cup for you.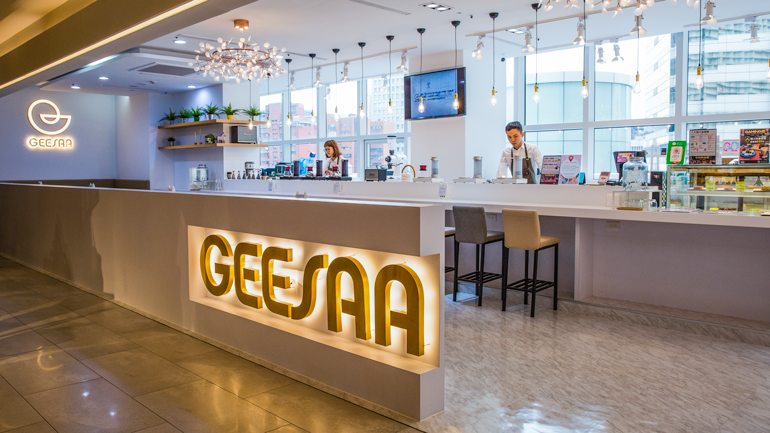 GEESAA Café (三創概念店)
Add: 5F, No. 2, Sec. 3, Civic Blvd., Zhongzheng Dist., Taipei City
(台北市中正區市民大道三段2號5樓)
Tel: (02) 2395-1386
Website: www.facebook.com/geesaa.tpe/
Guanghua Digital Plaza (光華商場)
This is a grand emporium of shops selling computers, electronics, cameras, CDs, video games – Taipei's first choice for everything 3C-related. The sixth floor also has a computer assembly and maintenance center.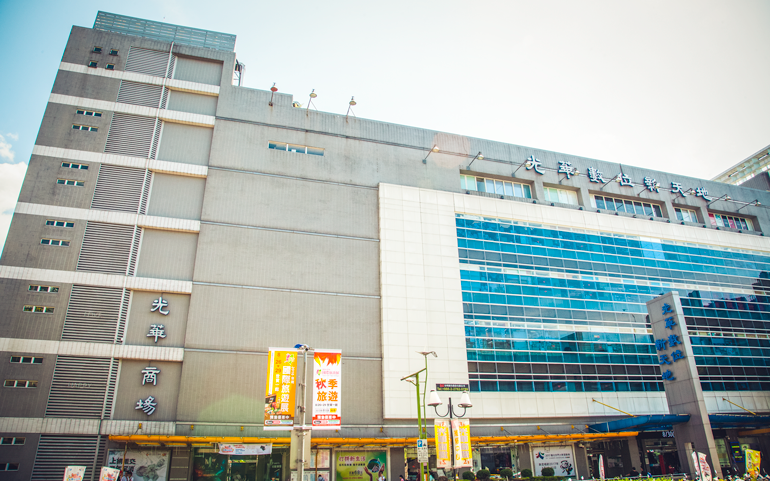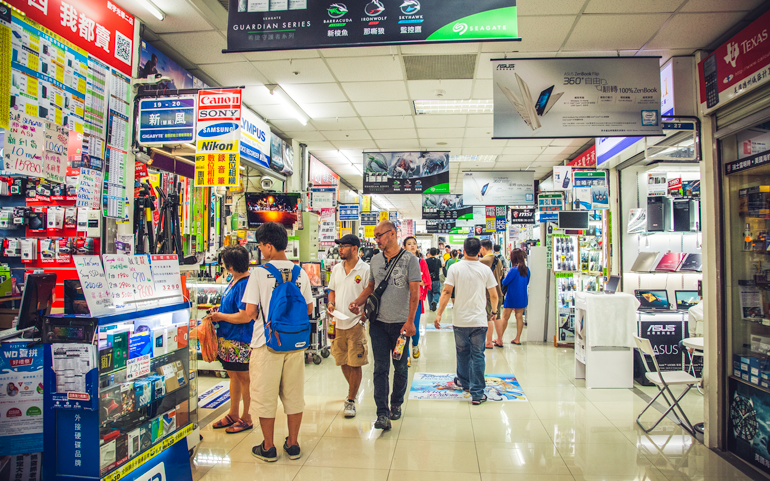 Add: No. 8, Sec. 3, Civic Blvd. Taipei City
(台北市中正區市民大道三段8號)
Tel: (02) 2391-7105
Website: www.gh3c.com.tw
Taipei Brewery (建國啤酒廠)
At this brewery, where beer is the theme, dining, entertainment, and cultural attractions are on offer. The historical development of alcohol production in Taiwan is explained through the plant's equipment and architecture. At the site's Super 346 Live House and 1919 Art Center, enjoy great food, cultural-arts exhibits, and live bands.
Add: No. 85, Sec. 2, Bade Rd., Taipei City
(台北市中山區八德路二段85號)
Tel: (02) 2771-9131 ext. 513
(Closed on Sat. and Sun.; group reservation required for plant visits)
Website: www.ttl.com.tw
Chapter (文房)
This cultural space, in a Japanese-style wood-built work of architecture, combines reading with exhibits. The comfortable, elegant space has a rich book collection. Visitor registration is online, entry is free, and each person is limited to two hours. Beyond the reading, gratis snacks and drinks are offered, plus guided tours.
Add: No. 1, Ln. 27, Linyi St., Taipei City
(台北市中正區臨沂街27巷1號)
Tel: (02) 2341-9662 (Closed on Monday)
Website: www.chapter.com.tw
EP – Books (益品書屋)
This spacious bookshop, opened in July this year, has 150 seats for patrons and 2,500 books on myriad topics. They are for in-house reading only, not for sale. Each patron pays NT$100 for full access to the sea of knowledge, plus free coffee, tea, smoothies, and other drinks.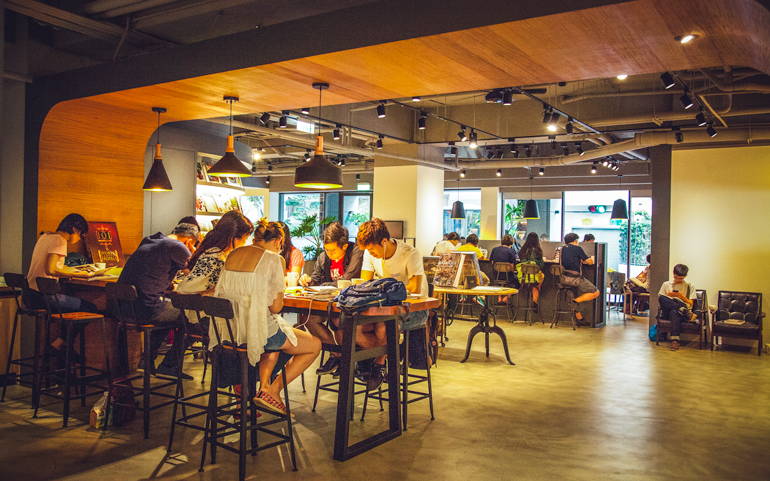 Add: No. 69, Sec. 2, Ren'ai Rd., Taipei City
(台北市中正區仁愛路二段69號)
Tel: (02) 2397-2998
Website: epbooks.com.tw
Qidong Poetry Salon (齊東詩舍)
This Japanese-era work of hybrid Japanese-style architecture, built as residential quarters for civic officials, today houses a display of hand-written manuscripts by contemporary poets. Periodic lectures and displays/sales of poetry books are also staged, with well-known poets sharing their stories of creation, and you can also register for poet-guided mini-tours.
Add: No. 25, Sec. 2, Jinan Rd., Taipei City
(台北市中正區濟南路二段25號)
Tel: (02) 2327-9657 (closed on Monday)
Website: poeticleap.moc.gov.tw
Ciao Ciao Scones
(悄悄好食)
Add: No. 4, Lane 11, Section 1, Hangzhou South Road, Zhongzheng District, Taipei City
( 台北市中正區杭州南路一段11巷4號)
Tel: (02) 2341-5218
More info here:
A Style Alike: Ciao Ciao Scones
JellyJelly
(慢工烘焙)
Add: No. 31-1, Linyi Street, Zhongzheng Dist., Taipei City
( 台北市中正區臨沂街31-1號)
Tel: (02) 2321-8391
More info here:
A Style Alike: JellyJelly