A Helpful Lonely Planet Guide for Travelers Who Don't Want to Use Animal Products
TEXT AND PHOTOS / TWELLI
*
Traveling when you have special needs can be a daunting task and who does not have special needs? The good thing is, however, that we are living in a world that grows closer together with every day, thanks to the Internet, thanks to the convenience of moving about with modern means of transport.
{During this year, 2020, this might not be the case, obviously, but hopefully we'll get back to a more normal life worldwide in the not so distance future. Please all stay safe and in good spirits out there!}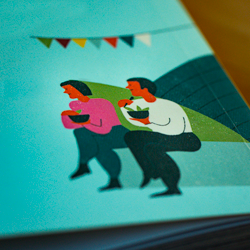 Food is not only essential for survival, but it is also essential for having a good time while traveling. For some, exploring the cuisine found in foreign countries and cultures might even be the main purpose of going abroad. If you have special dietary needs or preferences, it is likely that you have to make some compromises when leaving your own country. A little bit more planning might be needed to make sure that you are not going to your hotel room with an empty stomach or having to rely on crackers and instant noodles.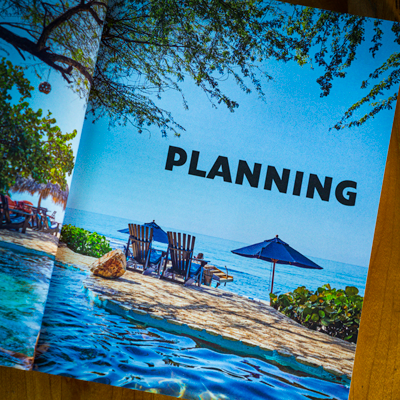 When it comes to veganism, there is a wide range of situations you might encounter. In some countries, a diet without meat can be less common, in other places vegetarian cuisine can be a central part of culinary culture.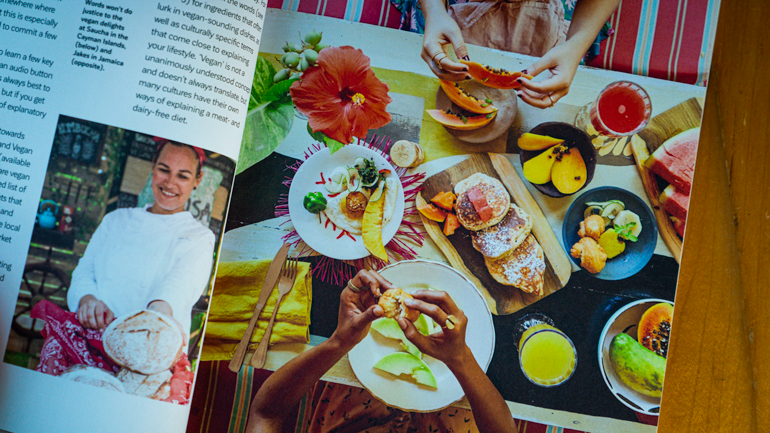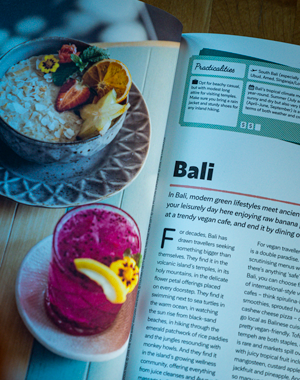 If one thing becomes clear when reading Lonely Planet's THE VEGAN TRAVEL HANDBOOK, it is that as a vegan chances that you will go hungry are low no matter where you decide to travel. This 168-page book does not provide a comprehensive list of places to eat vegan fare in every tourist destination there is, but it points you in the right directions and gives you excellent pointers for preparing your trip and prepping you for what to expect in different countries, from beef-loving Argentina to the vegan foodie paradise that is India.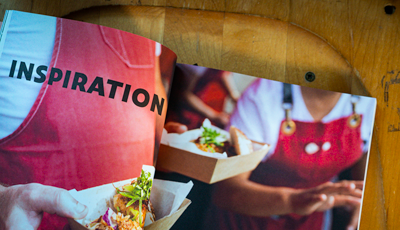 On the first 45 pages you will find a lot of general information about vegan travel, including info on planning your trip, how to save money, the best times to visit different countries, what to bring along, how to compromise when traveling with non-vegans, helpful phrases in major foreign languages, where to find further information, top cities, top tours, top vegan trucks, and top vegan festivals.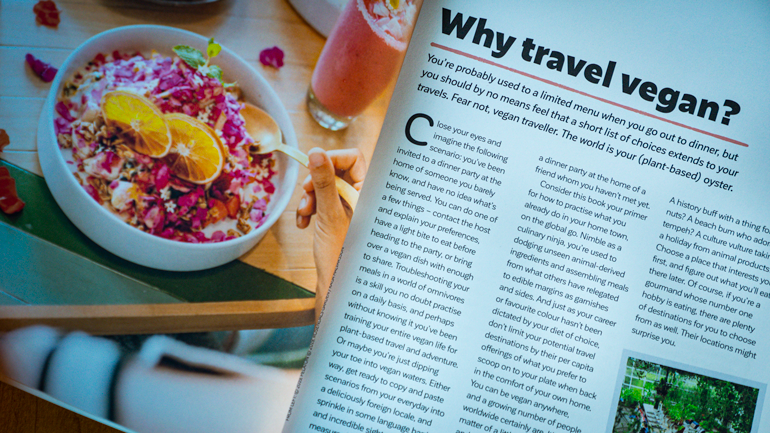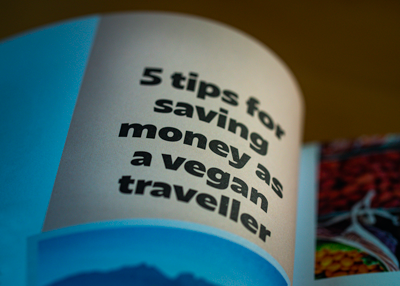 In the main part of the guide book, countries are introduced individually, each given four pages. Again, with space limited and 24 countries selected, the info provided is general. The idea is to give you a good idea what to expect in terms of vegan cuisine when choosing to visit one of these countries.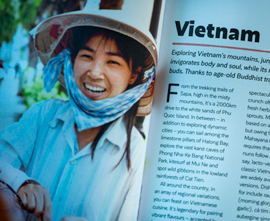 The countries are put in six categories, Adventure, Relaxation, Culture, Wildlife & Nature, Tropical, and Road Trip, and they range from highly developed Western nations, such as Switzerland to exotic destinations, such as Ethiopia.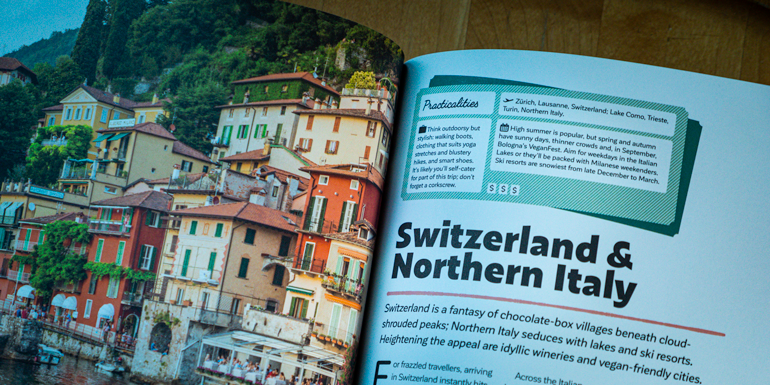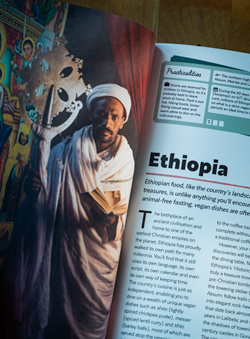 Taiwan, placed under Adventure, is listed as a place where the people love their tofu and where it's easy to find tropical fruit and buffet-style vegetarian restaurants. Among the recommendations named are taking a cooking class, meditate in the mountains, do some adventures (also in the mountains), and search for culinary treats in the ubiquitous night markets on the island.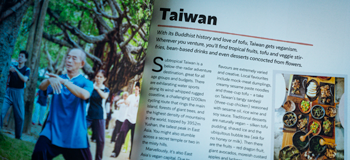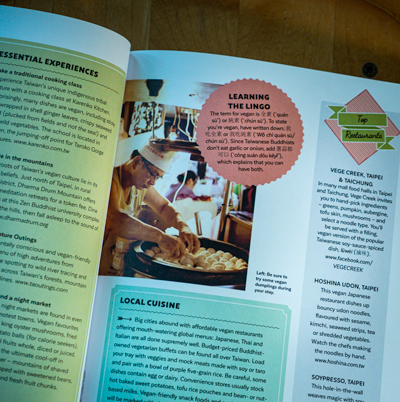 Here's a list of all destinations covered in the book:
Argentina — "Veganism is still a fairly new concept in Argentina"
Austria & Germany — "Cities with good vegan scenes"
Bali — "Modern green lifestyles meet ancient Indonesian culture"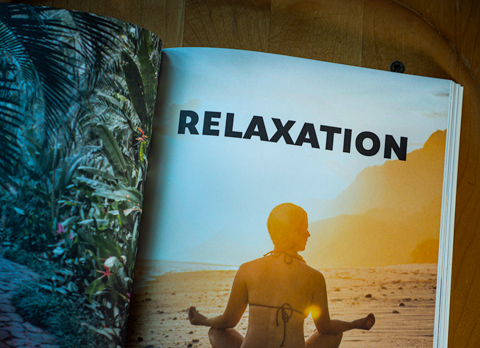 Brazil — "Markets overflow with fresh fruit"
British Columbia — "Plant-based diets are on the up"
Cambodia — "Plant-based meals and luscious tropical fruit"
Cayman Islands — "Ample choice for vegans in search of sun-drenched idyll"
East Coast Australia — "Good coffee and world-class restaurants"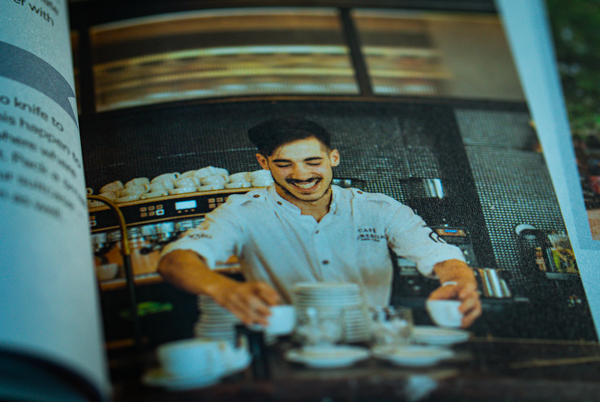 Eastern Europe — "Plant-based backlash against traditionally meaty dishes"
Ethiopia — "Ethiopian food […] is unlike anything you'll encounter elsewhere"
India — "India is a foodie paradise for vegetarians"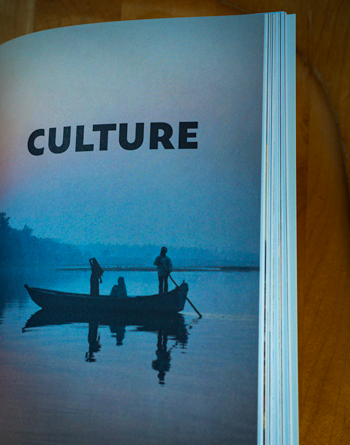 Israel — "The country has recently experienced a vegan boom"
Jamaica — "An easy destination for vegans"
Japan — "Everything is done with lavish care"
Malaysia –"A country that rewards exploration"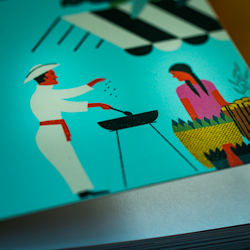 New Zealand — "Valleys bursting with fruits and veggies"
Nordic nations — "There's a vegan revolution brewing in the cities"
South Africa — "Perfect for celebrating the diversity of African wildlife"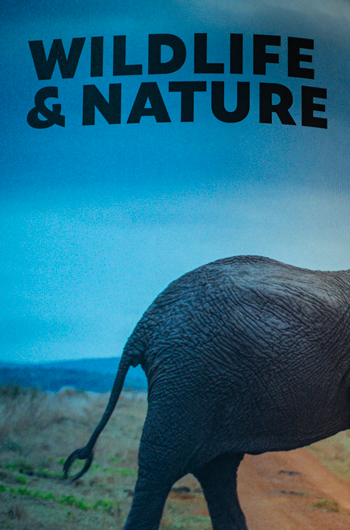 Spain — "A rewarding destination for vegan travelers"
Switzerland & Northern Italy — "Idyllic wineries and vegan-friendly cities"
Taiwan — "Taiwan get veganism"
UK — "Diversity of experience is the main draw for vegan visitors"
West Coast USA — "Some of the world's best vegan food"
Vietnam — "Its refined cuisine thrills the taste buds"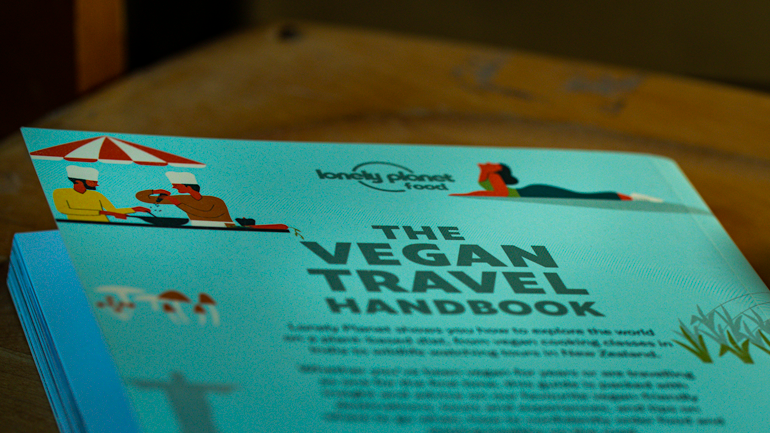 THE VEGAN TRAVEL HANDBOOK is available in the Lonely Planet Shop for USD17.99 (at time of writing)