Things to Get Up to in the Mid-Altitude Range Along Highway 18
TEXT / RICK CHARETTE
PHOTOS / RAY CHANG

The sprawling Alishan National Scenic Area, one of Taiwan's best-loved and most iconic tourist attractions, is spread out in the central mountains just below the island's mid-section. In this article we spend time slowly savoring three key elements in the Alishan brand mosaic: its high-mountain tea production, its burgeoning coffee production, and the cultural lives past and present of the resident Tsou tribal people. We'll also hit some of the trails in the superb Alishan trail system.
The Ascent
The main access road to Alishan is Provincial Highway 18, which starts near Chiayi City, on the southwest plains. The Highway 18 transition point where plains suddenly meet the central mountains is dramatic, to say the least. At the mountain-base village of Chukou is a deep gorge overlooked by a large temple of intricate artistry backdropped by a high-flying gorge-shooting pedestrian bridge. From here your vehicle's nose tips upward and, after 40-plus minutes of skyward-thrusting twisting and turning, you switch from rugged views requiring craning of necks to ethereal eye-level vistas in a mountaintop world of sculpted narrow terraces lined with tea and coffee bushes.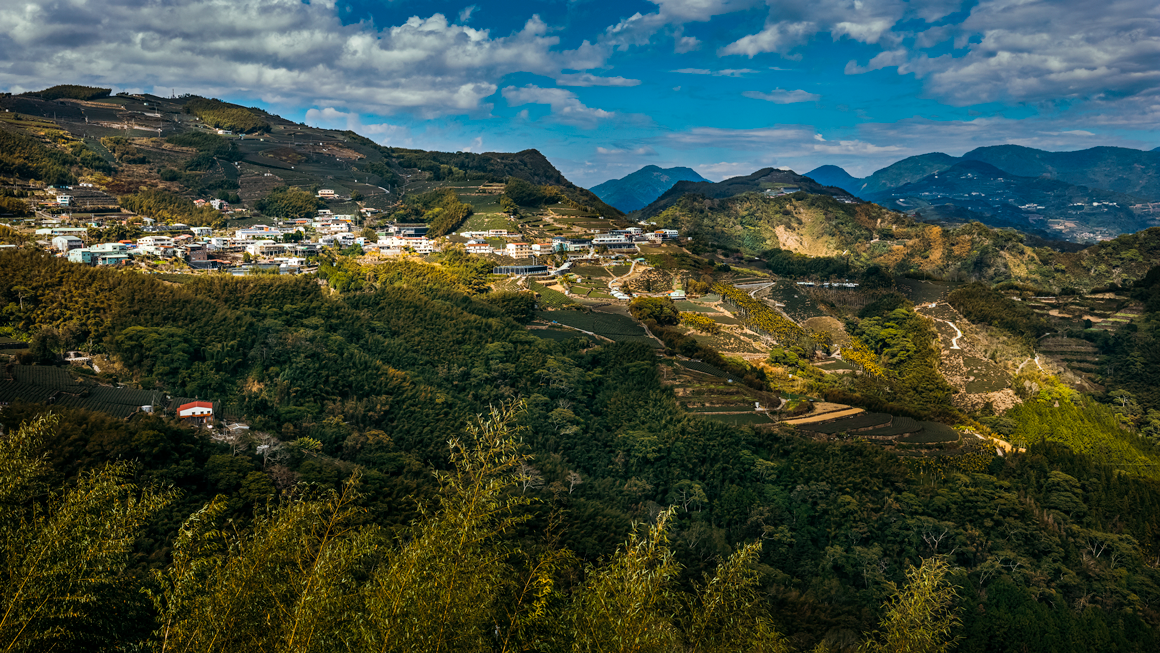 The main settlement on the highway in this region, which encompasses farm plots from about 1,000m to 1,500m above sea level, is Shizhuo (also spelled "Shizhao" in local signage). Far beyond along Highway 18 is the most celebrated jewel in the Alishan pantheon of tourist treasures, the Alishan National Forest Recreation Area, at about 2,200m.
Commercial tea production was launched in the Alishan region in the mid-1970s. Commercial coffee production was introduced in 2008 by the founder of YuYuPas (see below), who had previous experience in Taiwan's well-known Gukeng coffee-farm district. The Alishan Tsou tribal people, whose ancestors migrated up from the plains, settled this region sometime before the 1600s.
The Shizhuo Trails
A good way to get to know the Shizhuo area is by tackling all five members of the Shizhuo Trails system, a network of comparatively short footpaths, each of distinctive character, laid out on the steep slopes above Highway 18 (1,400m~1,700m in elevation). All have good signage, with English, and there is a small information center beside one, the Sakura Trail. The easiest way to reach the trails is by heading up the narrow road located at the 63.6km mark of Highway 18. This takes you first past the Mist Trail trailhead, then up to the Shizhuo Information Station and Sakura Trail entrance. We'll tackle three of the hikes here.
Mist Trail
The steep, stepped Mist Trail, which heads straight uphill through terraced tea fields, is 800m long. This was originally opened by local farm folk as a pathway, in pre-motor vehicle and pre-tea cultivation days, to transport sweet potato, Chinese fan palm, bamboo shoots, and other crops down to Shizhuo. The vista to the east is unfettered, with a long stretch of the Yushan Mountain Range in awesome view. The tea fields on the lower section are dotted with farmhouses, a number of which are homestays; Alishan's homestays are almost invariably run by local denizens. The tableaux on sunny and wet days are a world apart, with thick mists often rolling in. The trail's upper section is through dense bamboo, along a farm road and then wood-plank stairs, offering cool shade and rich bird and insect music.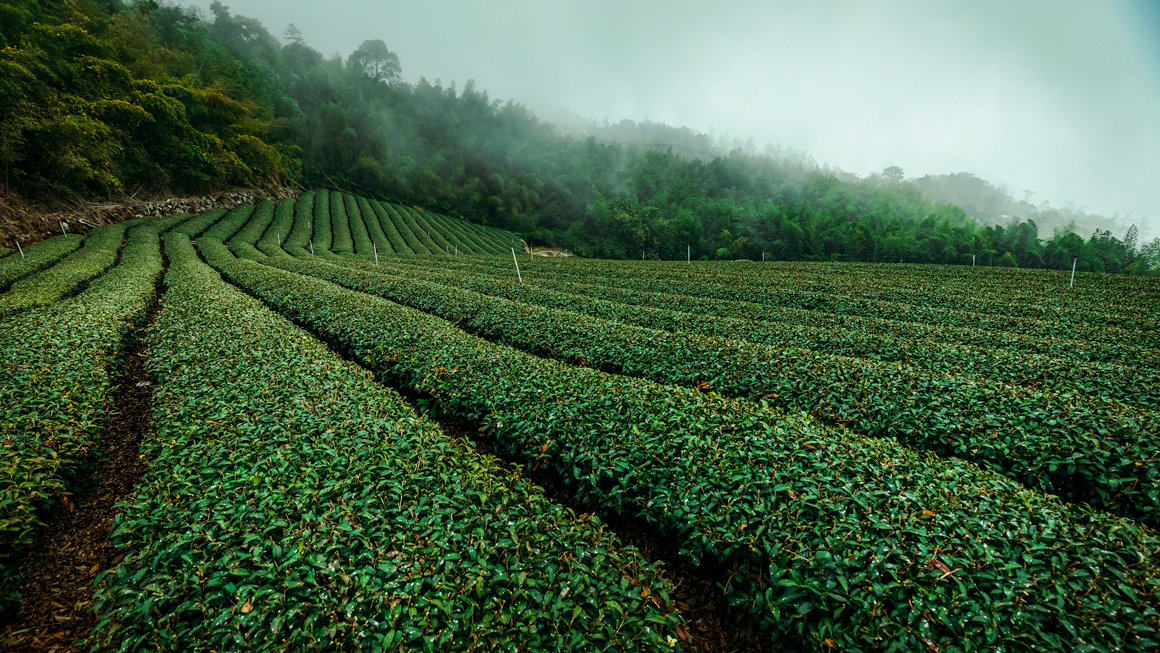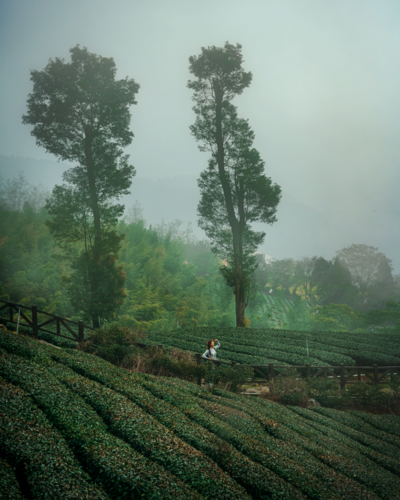 Tea Trail
The Mist Trail ends in tall secondary coniferous forest and connects directly with the Tea Trail, which continues up the mountainside. Here you are beyond the highest-placed farmhouses. The first section is through dense bamboo forest, with the wide dirt pathway soft-carpeted with fallen bamboo leaves. You then emerge among tea fields that are close-surrounded on three sides by either walls of bamboo or, higher, coniferous trees. The fourth side is open, the mountainside here falling away to the northeast, with views down to the highway area beyond Shizhuo and to the close mountains beyond. The Mist/Tea trail combo takes about an hour to conquer, one way.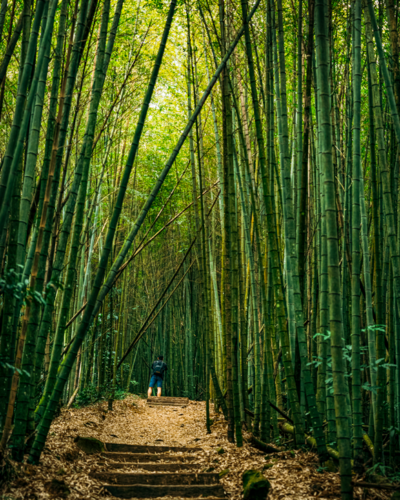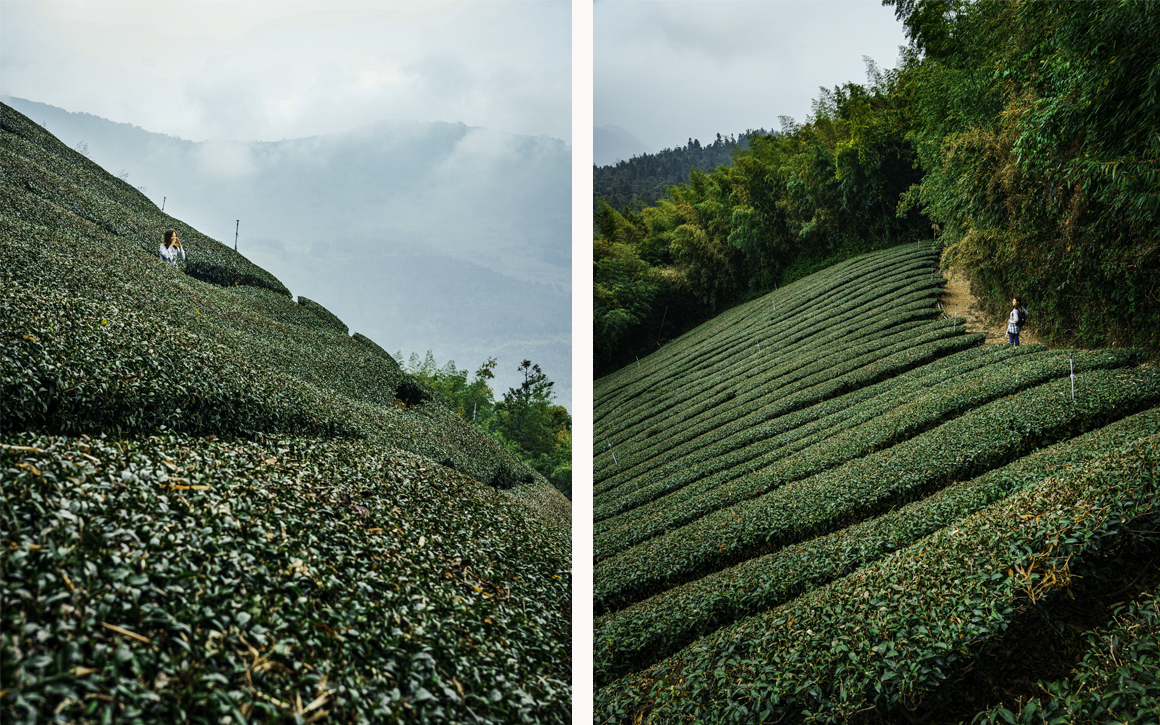 Taiwan's coveted gaoshan oolong cha, or high-mountain oolong tea, was developed in the Alishan region, which when experimentation commenced was colder and higher than the island's established tea-cultivation areas. Today the term High Mountain Tea refers to leaf grown at 1,000m or higher. Such altitudes produce hardier teas that possess a greater concentration of flavor-producing elements.
Sakura Trail
The Sakura Trail, which moves along the lower slopes just above the highway, starts right beside the Shizhuo Information Station. The trail is 905m long, is of moderate grade, and will take a leisurely 15 minutes or so to complete. It is lined with Showa Cherry and Taiwan Cherry trees, which when in bloom rival the prettiness of the sakura gardens of Japan. It was the Japanese, lonely for their homeland while stationed here during their 1895-1945 period of colonial rule, who introduced the aesthetic planting of cherry trees in Alishan. The trail traverses a firefly-habitat restoration area, and each year as spring turns to summer many an evening here is filled with twinkling, darting lights.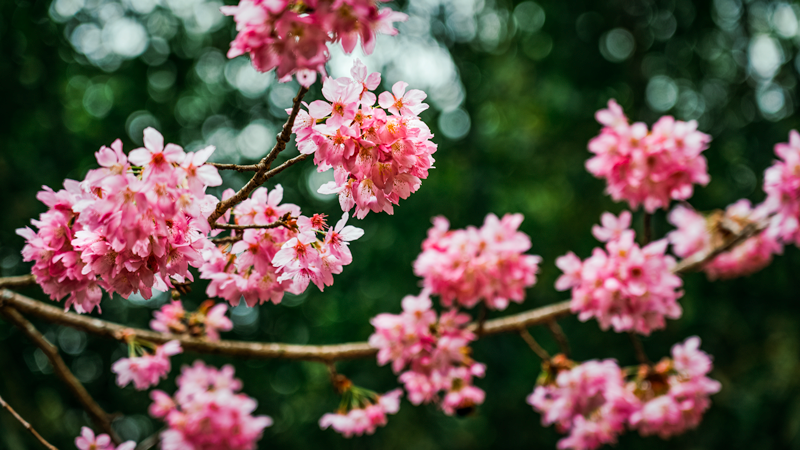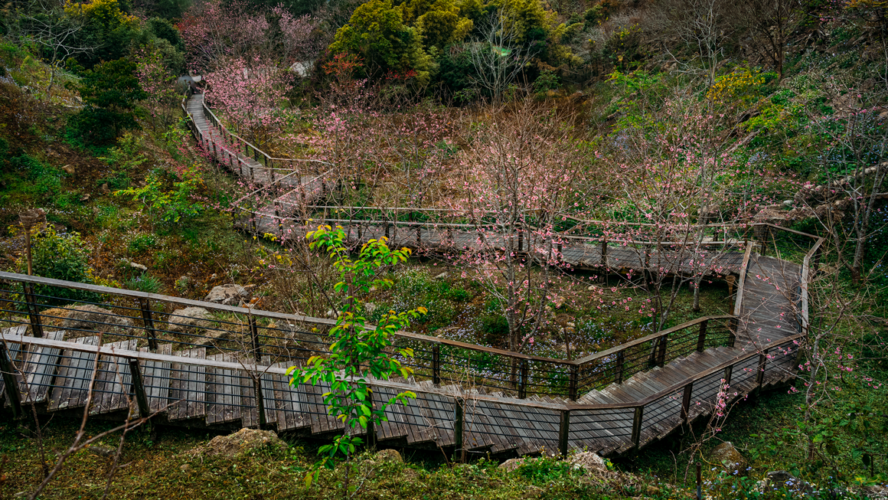 Eryanping Trail
Another recommended area trail, not part of the Shizhuo group, is the Eryanping Trail, which is informally called the Tea Fragrance Trail. It starts beside Highway 18 at the 53.5km mark in the Xiding village area, a few kilometers below Shizhuo. "Xiding" means "top of the crevice," indicating the pass/crevice used by early settlers when heading to Mt. Eryanping. The trail is a 1,500m jaunt up the side of the mountain, and takes about 45 minutes one way. There are steep grades in sections, with many rail-tie steps and wood-built staircases to ensure good footing. The pathway winds through bamboo stands and tea fields, with viewing decks along the way. The tea-terrace walls are made of stones dug from the fields; have a close look and you'll spot shellfish and other fossils.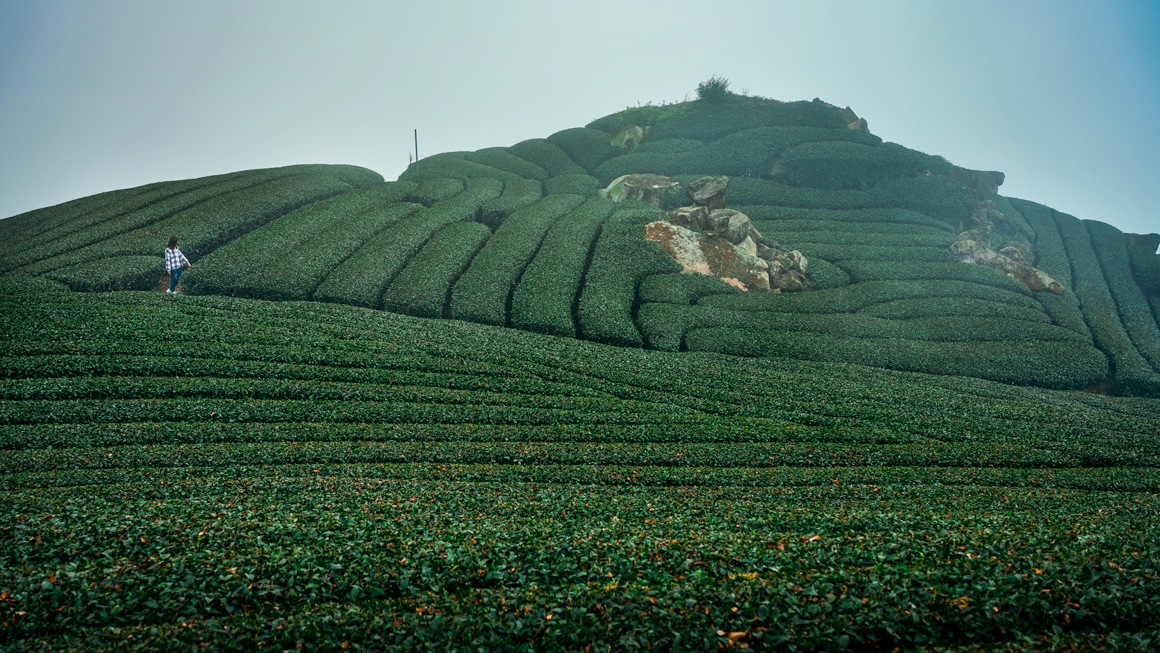 The multiple adjoining viewing decks at the very top of the trail are busy most every day, assuming good weather, because of the terrific views of the Jianan Plain far off to the west, the often riveting sunsets, and the prime positioning over a deep valley for viewing of two other natural phenomena that are intrinsic elements in the Alishan brand mosaic, "seas of clouds" and "cloud falls." Note that both of these are more prevalent on winter mornings and evenings, dependent on propitious combinations of cool nights and bright, clear days (or vice versa).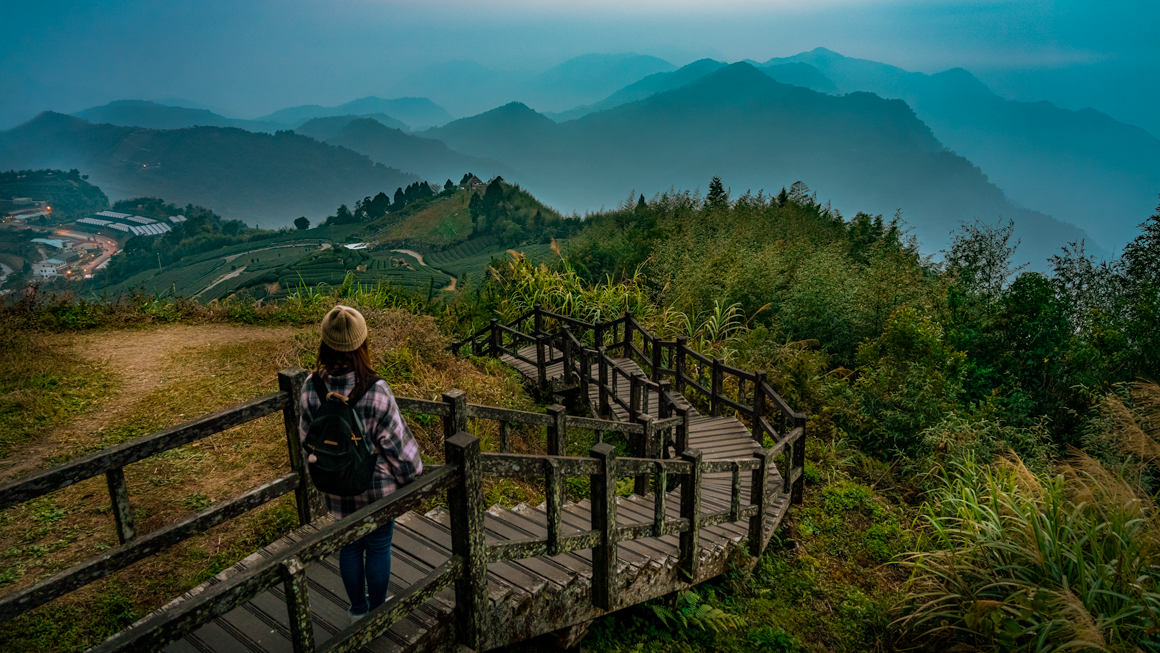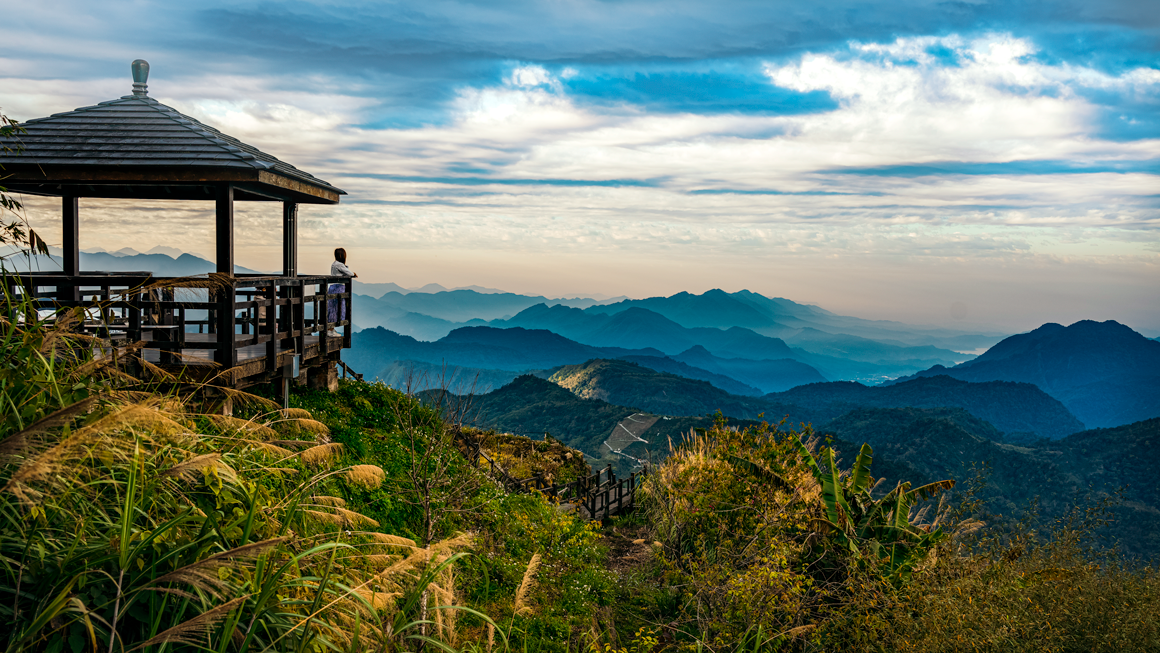 YuYuPas
YuYuPas is a cultural park, opened in 2010, dedicated to the preservation and promotion of Tsou Tribe culture. On the slopes of spread-out Leye village below Shizhuo, it seems to hover above deep, magnificent Rainbow Valley, which is oft adorned with rainbows on misty days and after rains. It's easy to spend a whole day here, taking in the stupendous mountain landscape while: enjoying a Tsou song-and-dance show; exploring the Tsou-culture museum; sitting down to café and teahouse experiences mulling YuYuPas self-produced coffees and teas; dining on traditional indigenous fare and dishes inspired by traditional Alishan foods and ingredients; and joining group DIY coffee-production fun.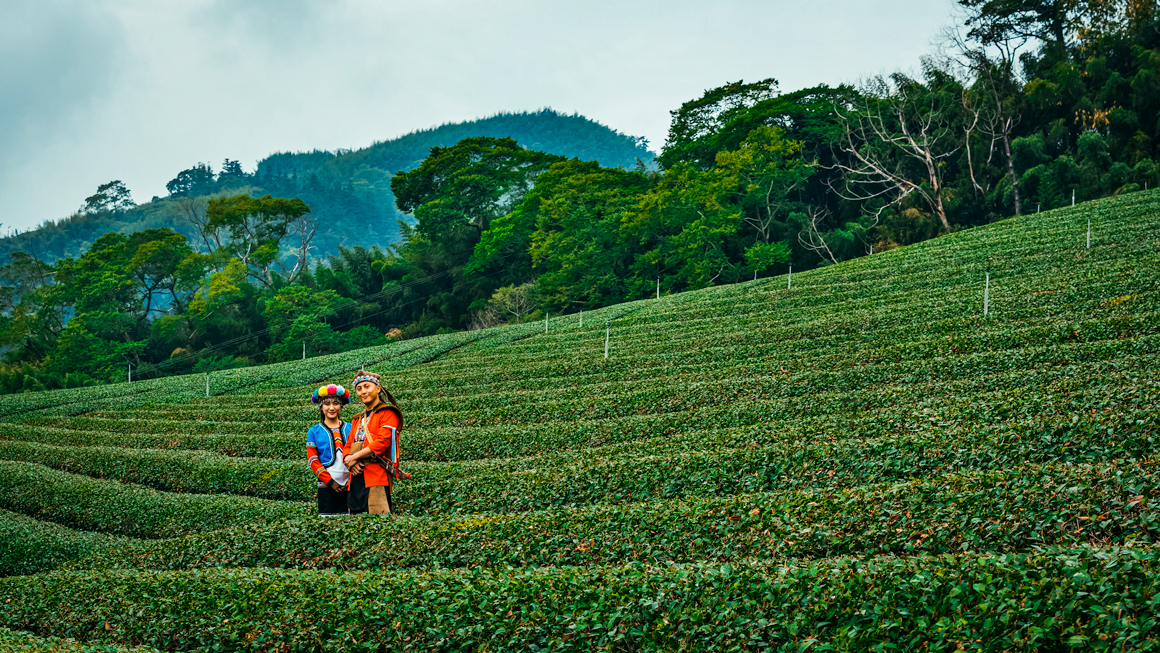 The park is set up like a tribal village, with a central cluster of large thatched-roof buildings running downhill, surrounded by walkways lined with richly flowering plants that attract butterflies of exquisite design. Plots of coffee bushes are found between some, and running up the slope above the cluster is a large swathe of neat tiered-row tea bushes. The thatched-roof buildings are modern interpretations of traditional Tsou meeting halls, with steel-pillar frames and glass walls.
The two main structures in the central cluster are an attractive café and teahouse. At the café, which has a breezy outdoor deck with seating that directly overlooks coffee bushes, staff explain the different methods used in YuYuPas coffee production. Many different selections are also on rack display for sale. Groups can advance-book guided DIY-experience sessions at the coffee-processing facility directly behind the café, introducing the process from bean-sorting to roasting to packaging.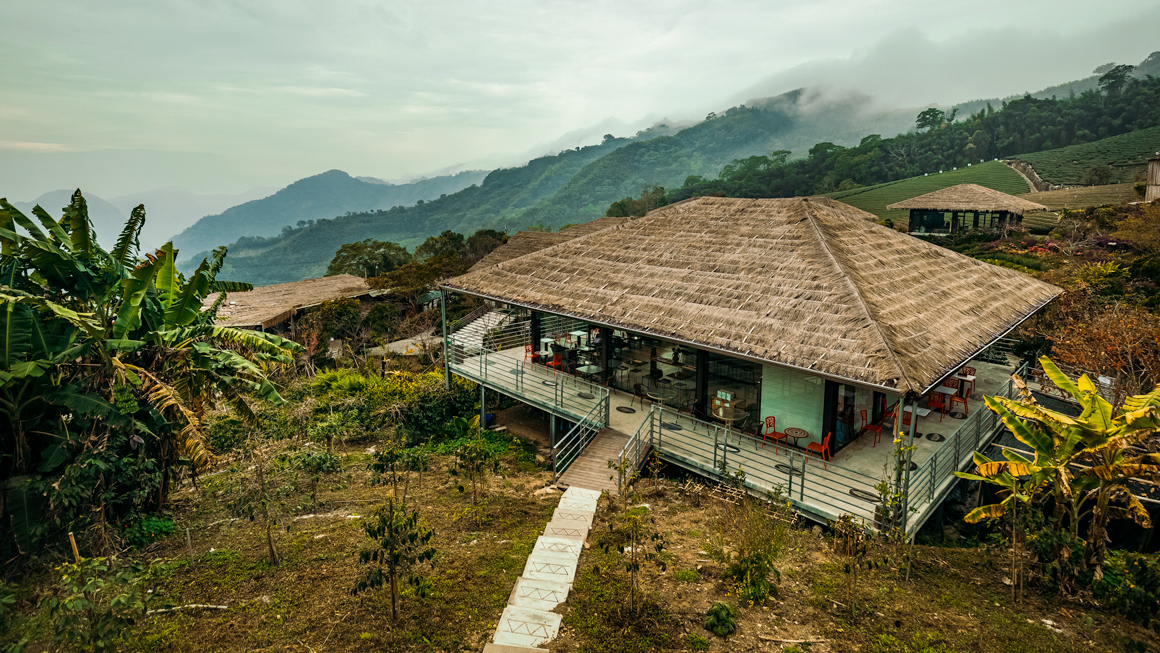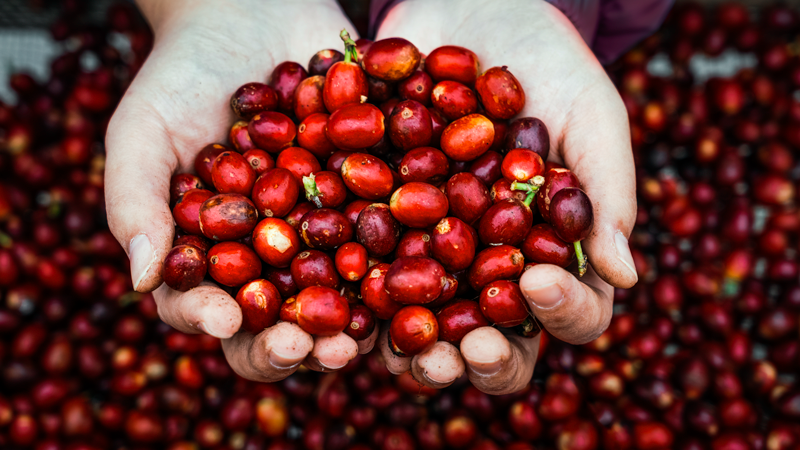 At the teahouse, staff also explain the different YuYuPas Oolong teas available and how they are produced. Visitors can sample four different types of tea for just NT$50, helping them decide which leaf products to take home.
The song-and-dance program is staged in a wood-built complex that overlooks the central cluster. It has one high open side, which faces Rainbow Valley and the Yushan Mountain Range off in the distance. Shows are put on daily, featuring traditional Tsou songs and dances as well as modern pop songs with indigenous themes. Taiwan's indigenous peoples are famed for their melodic singing, and have had a big impact on the modern pop scene. One of the park founder's goals is to give young Tsou good employment opportunities and a reason not to move to flatland cities; all the warriors and maidens you'll see in the program, and almost all other staff, are from the Alishan Tsou community.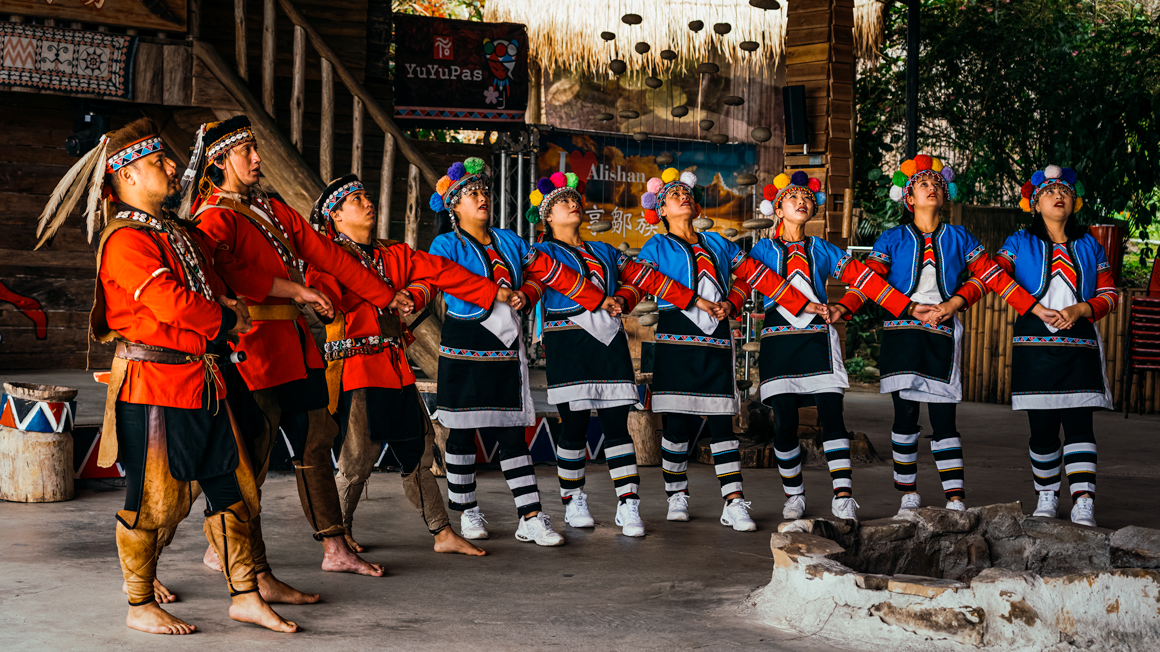 Among the many delectable gems that are rolled out of the large dining hall's kitchen are tea-oil chicken, an Alishan specialty, roast mountain boar, boar smoked with black tea, bamboo-tube rice (rice dipped traditional-style in homemade honey), and fiddleheads with coffee sauce.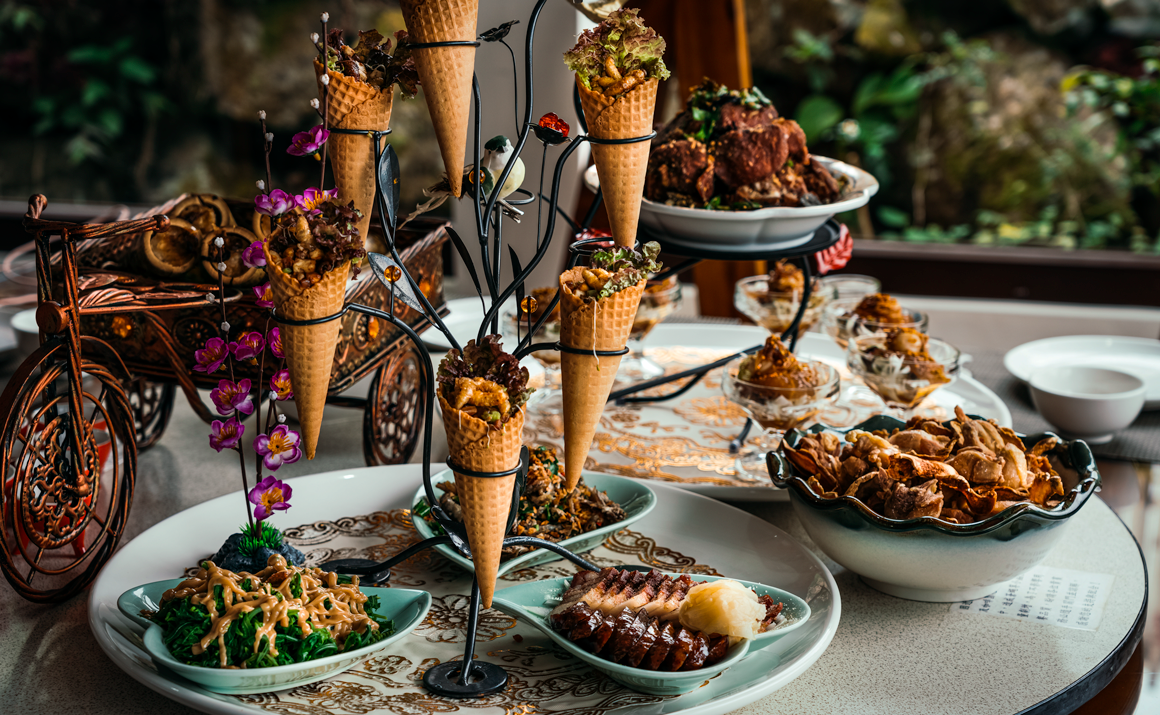 YuYuPas (優遊巴斯鄒族文化部落)
Add: No. 127-2, Neighborhood 4, Leye Village, Alishan Township, Chiayi County
(嘉義縣阿里山鄉樂野村4鄰127-2號)
Tel: (05) 256-2788
Website: yuyupas.com (Chinese)
Alishan Tea Experiences – Ruei Ming Shiang
In recent years the Alishan National Scenic Area Administration has been working closely with local enterprises to develop eco-tourism and sustainable tourism experiences that bring visitors even deeper into the local culture. One of the best of these awaits at the Ruei Ming Shiang tea farm, in the national scenic area's north sector (the Highway 18 corridor is the central sector). The north region is the original place of High Mountain Oolong cultivation. In the Ruei Ming Shiang tea-picking and bamboo forest tea-ceremony experience, you first hit the fields in traditional tea-picker garb – protective bright-color clothing, conical woven hat, and woven storage basket. Your guide teaches you all about the leaf, and how to pick. Then it's back to the tea-processing factory to learn about sorting, kneading, roasting, and so on, with DIY opportunity.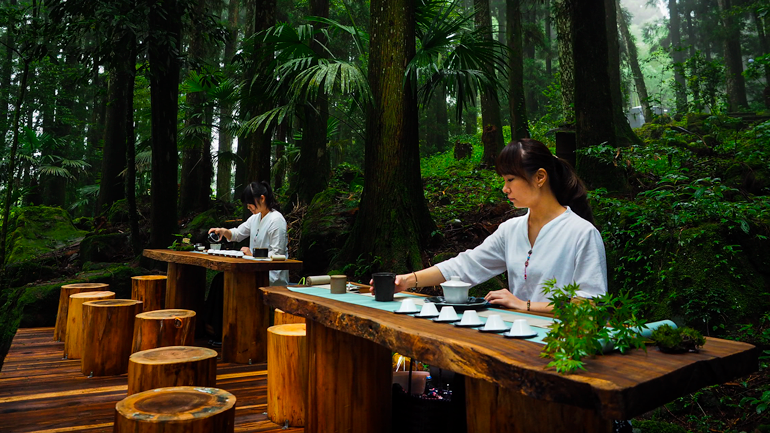 After this comes a walk into dense bamboo forest, and a dreamy sit-down on stone stools at a low-slung table for a tea ceremony session with a tea master, who'll teach you the intricacies of properly savoring Alishan oolong and black tea (Alishan's black is made from oolong rather than Assam leaf). Advance booking for these outings, which are conducted in Chinese, is requisite.
Website: alishan.welcome.com
FKUO Tea
This welcoming tea-retail and indigenous-cuisine operation is just before the Highway 18 65.5km mark, a little beyond Shizhuo. It's the pride and joy of a Tsou Tribe warrior on a mission – to demonstrate to young Tsou members that they can succeed if they believe in themselves and show entrepreneurial spirit; that they can be the masters of their own destiny.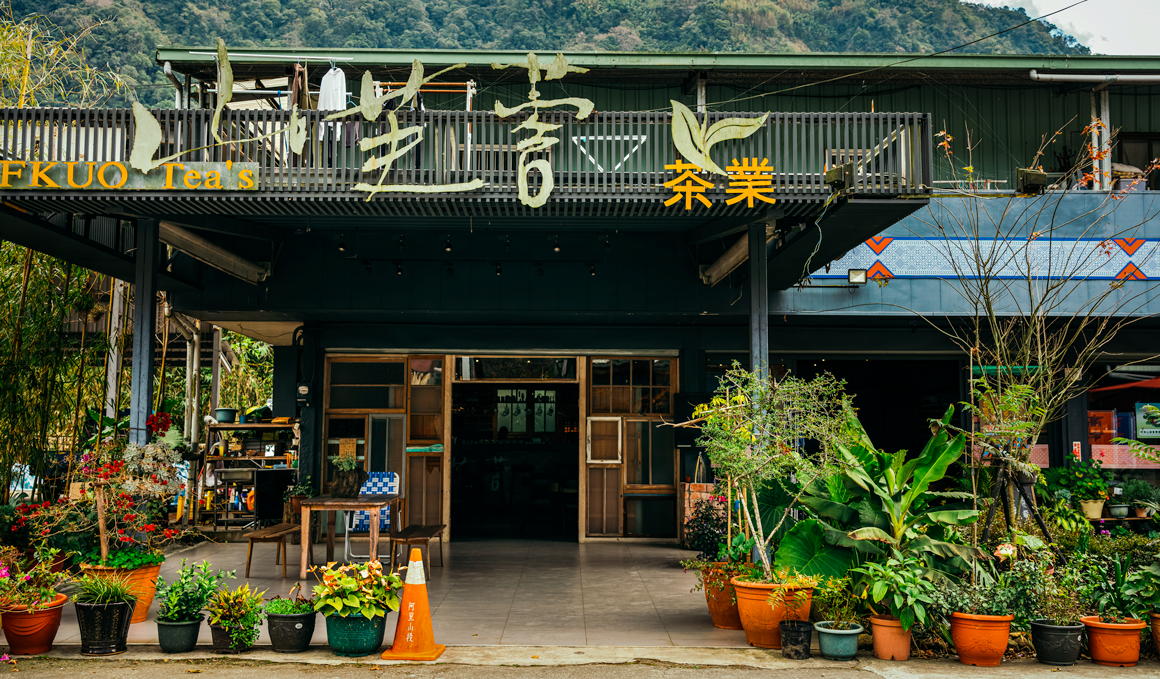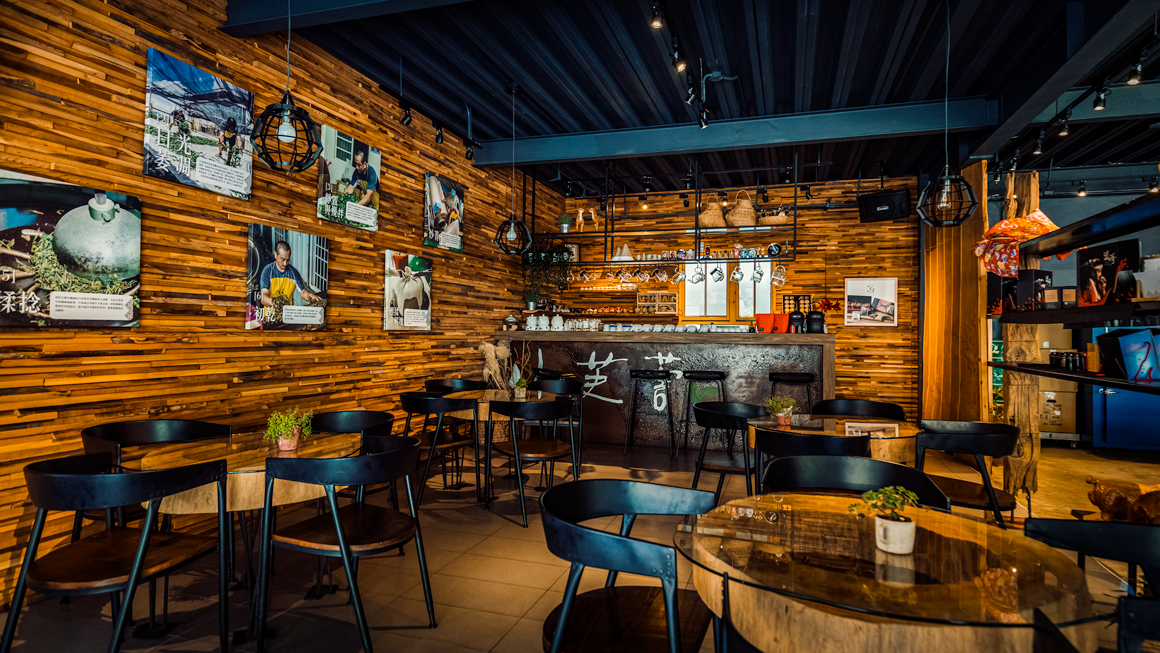 Directly across the highway from the open-front facility is his tea farm, spread out on high slopes. His, he proudly proclaims, is the only Tsou-owned tea farm/business operation along Highway 18. The Tsou have a special affinity for hibiscus flowers, he says, which bloom in abundance in this area, so he used the Tsou word for hibiscus – "fkuo" – as his enterprise name.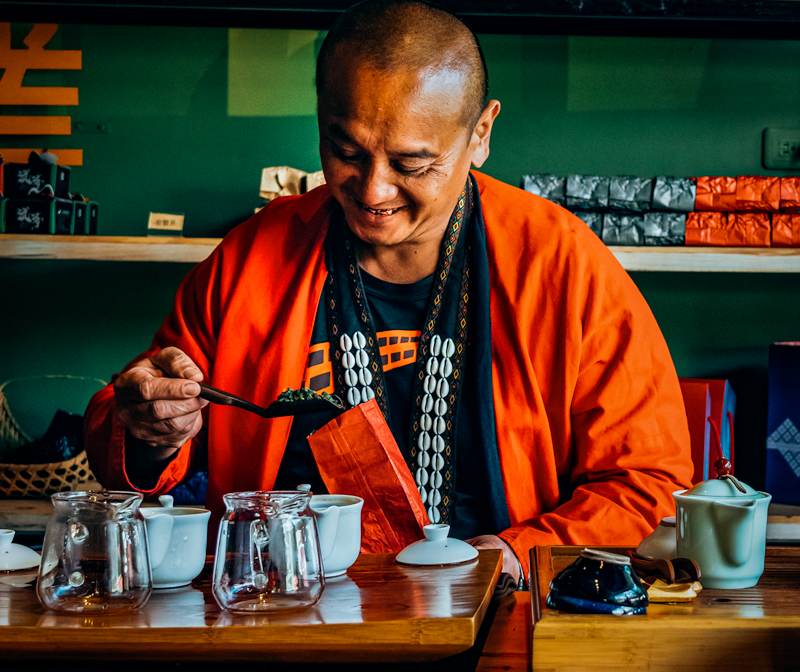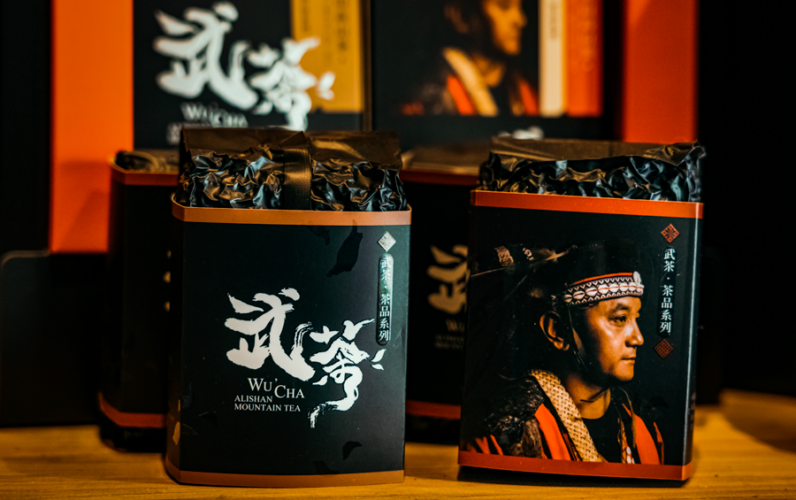 He loves to lead tea samplings in the retail area. The restaurant is run by his wife, a member of the Paiwan Tribe, most of whom live in the southern central mountains. The menu thus features a delicious Alishan/Paiwan mix. The entrée stars in the two set-meal options, which are the most popular selections, are Alishan tea-oil chicken and indigenous-cuisine roast mountain boar. The featured Paiwan classic is jinafu, a type of tamale/dumpling made with fermented millet and pork wrapped in edible leaf.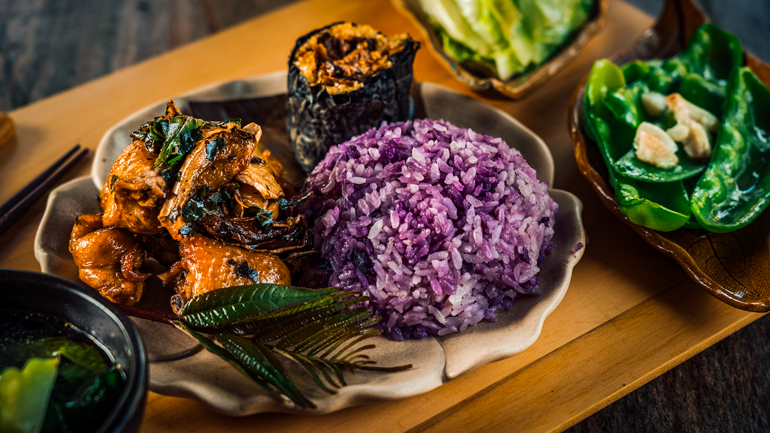 FKUO Tea (山芙蓉茶業)
Add: No. 280, Neighborhood 9, Leye Village, Alishan Township, Chiayi County
(嘉義縣阿里山鄉樂野村9鄰280號)
Tel: (05) 256-1483
Website: www.facebook.com/fkuoo
ZENGIN Café
This business, beside Highway 18 before Shizhuo just past the 61km mark, has the look of a big-city operation somehow mistakenly plunked down in highland country. Whereas most enterprises selling tea and/or coffee in the Alishan region have a rustic décor, the façade and interior design here is industrial chic. The façade walls on the two floors are almost all glass, the panes framed by steel girders. Inside on the main level, concrete walls dominate the senses, the ceiling is exposed, and the stylish coffee bar area is defined by cool blonde-wood slats and a girder-frame overhang decorated with visually soothing leafy plants.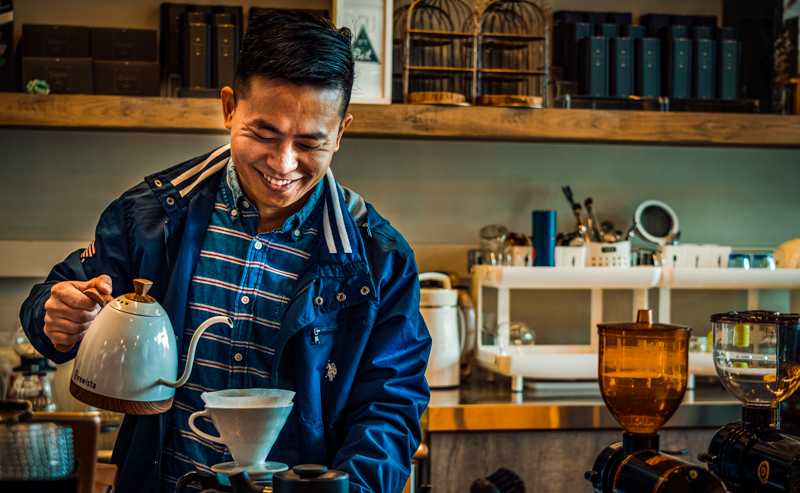 The young owner is a local fellow, an aesthete at heart who is a refugee from the Taipei world of finance. The premises were, until not long ago – ZENGIN opened in May 2019 – the tea-retail outlet and home for his parents, who have been growing tea for 40 years now and took up coffee cultivation in the past decade. Their fields are further along the highway, past Shizhuo, near FKUO Tea. The coffees and teas brewed and sold at ZENGIN all come from the family farm. The owner created ZENGIN for his parents to operate in their senior years, giving them a new path, then decided he wanted Alishan living again full-time for himself. Parents and son run the enterprise as a trio. The ZENGIN design was decided on after a family "café exploration" trip to the western United States.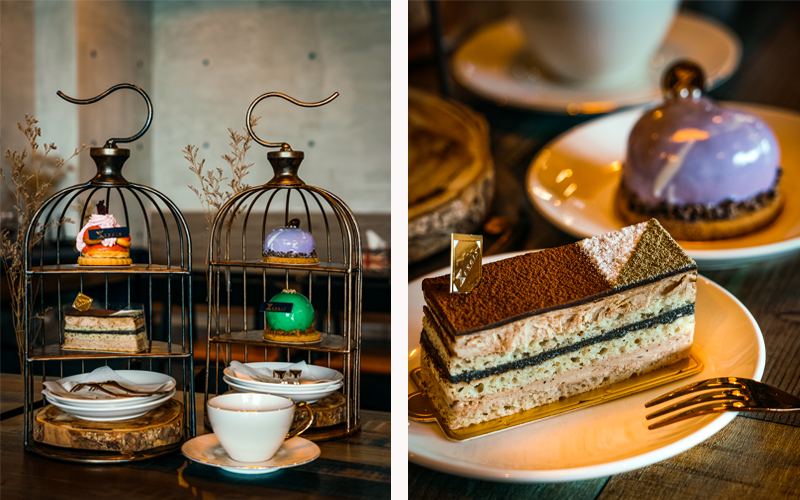 Two types of hand-drip coffees are on the menu: Natural Process and Washed Process. The former has a clear hint of tea, because the beans are grown in terroir long used for tea cultivation. The latter has a distinctive silky, wine-like taste and texture.
The owner also has a passion for things culinary, expressed in sweet form with ZENGIN's pastel-color array of confection treats, all made in-house. Most delectable among the many ambrosial artworks is the Alishan Oolong Mousse Cake, the Tie Guanyin Tea Opera Cake, a tiramisu featuring Taiwan Tie Guanyin tea and sesame paste, and the Matcha Planet, made with premium-quality Japanese matcha.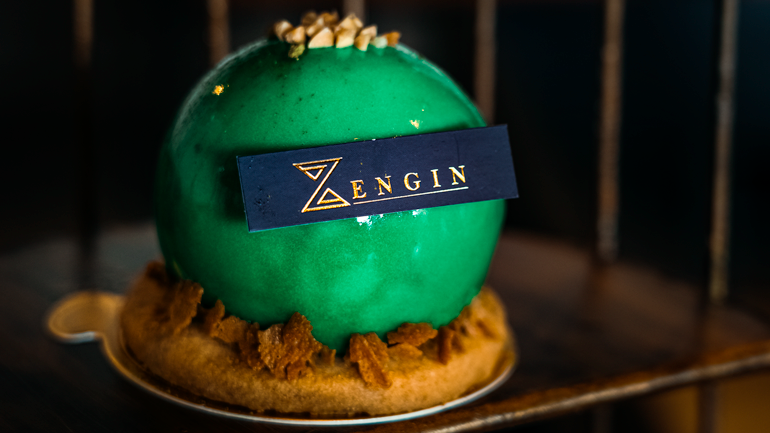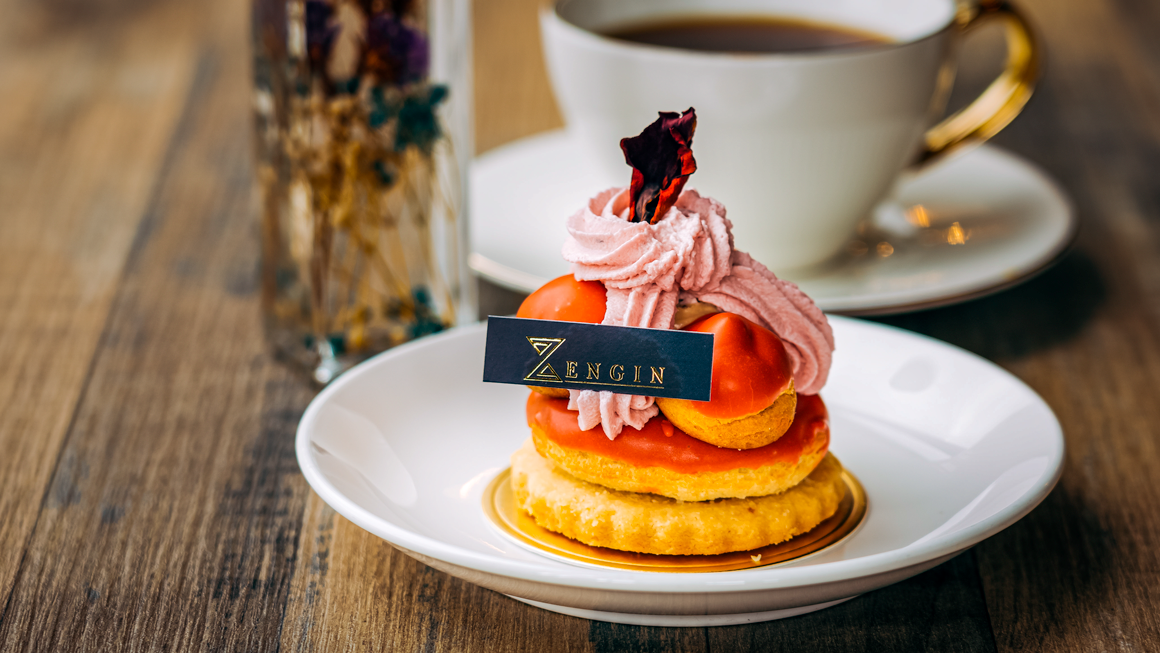 ZENGIN Café (然井茗露)
Add: No. 123-18, Neighborhood 4, Leye Village, Alishan Township, Chiayi County
(嘉義縣阿里山鄉樂野村4鄰123-18號)
Tel: (05) 256-2257
Website: zengin.mmweb.tw (Chinese)
Ajang Home
This magical "village" is on the slopes directly below YuYuPas. On entry through the archway portal, to the Western eye it looks like a Hobbit House village. But no – this is the realized dream of Ajang, a member of the Tsou Tribe who wanted to recreate the look of the traditional-architecture Tsou village of his childhood. The buildings and other structures are made of a combination of stone, wood, and thatch.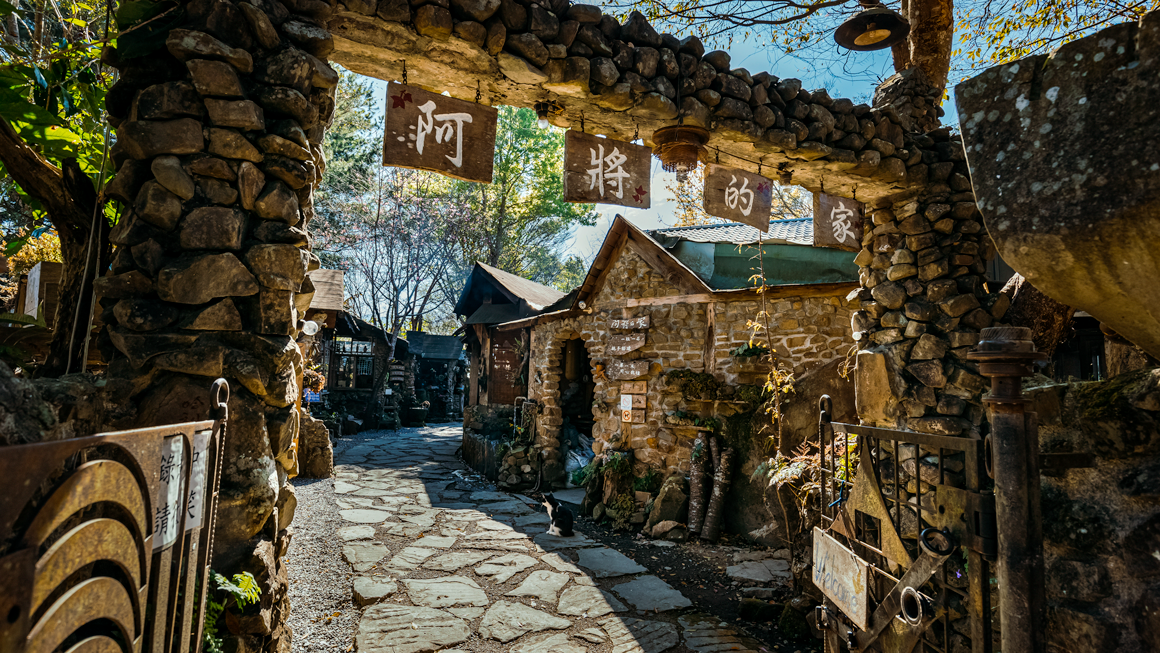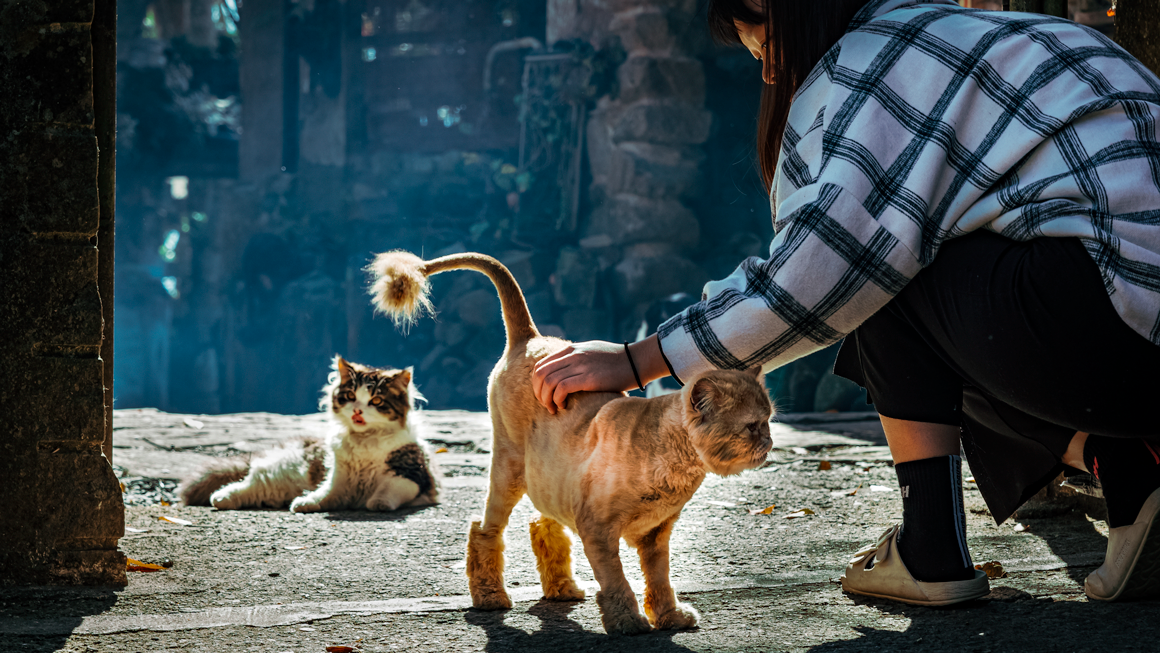 It's quite likely that calm, congenial Ajang himself will greet you as you pass through the gate. Visitors are immediately struck by his features – he very much looks like a transplanted European, and has a red tint to his hair. In the 1600s the Tsou had extensive contact with the colonial Dutch, who ruled over much of Taiwan between 1624 and 1662. When the Dutch were driven from Taiwan in 1662, a group evaded the attacking Ming Dynasty forces by escaping to Alishan. A number of YuYuPas staff members also clearly have Dutch blood in them.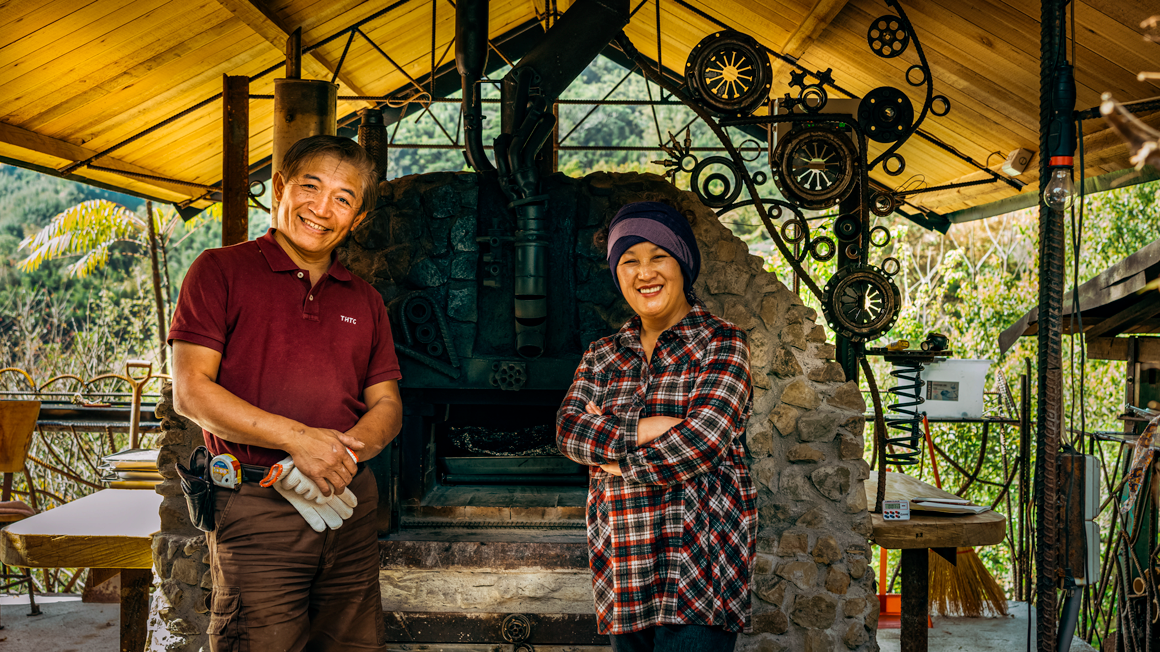 This is a family-run business, and Ajang, a man good with his hands who worked in the shipbuilding industry in the Taipei area for decades, has crafted everything himself, from buildings to chair and table sets to the whimsical industrial-parts robot-statue artworks that adorn the complex. His self-declared masterworks are the Tsou "warrior prince" and "princess" that stand outside the 23 Coffee house.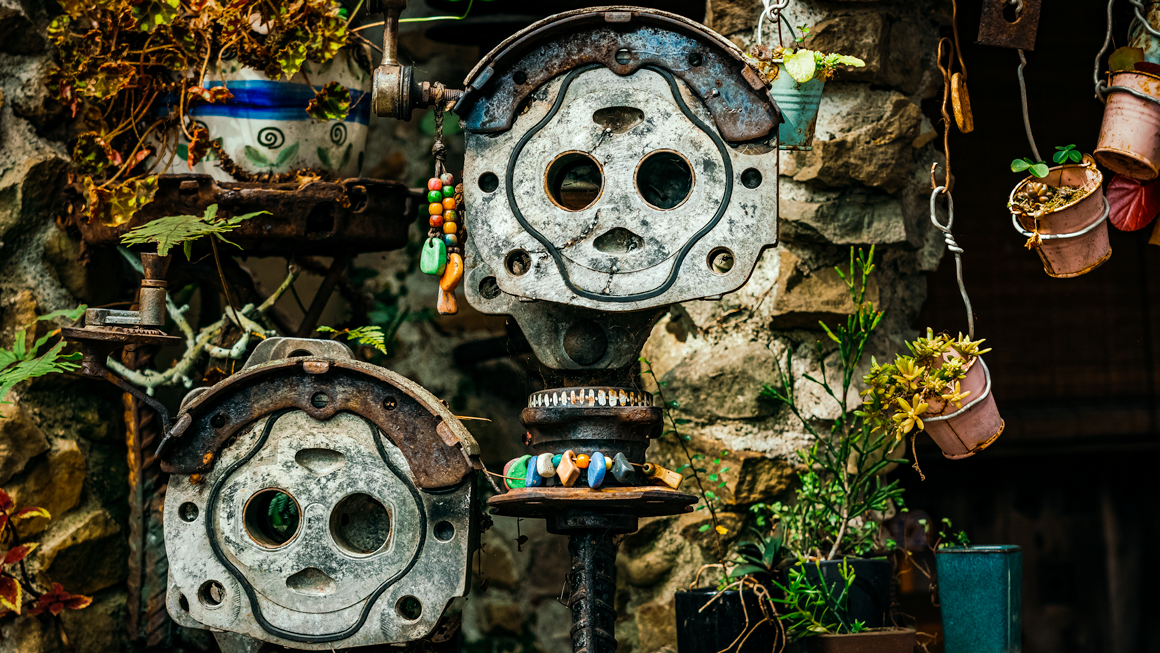 Ajang's wife serves up superb hand-drip coffee, using Alishan beans she sources and roasts on-site herself. The "23" in "23 Coffee" refers to the year Ajang finished the coffee-bar mini-house – the 23rd year of their marriage. His wife fell in love with coffee over three decades ago, long before hand-made coffee became a Taiwan craze, teaching herself about beans, roasting, etc.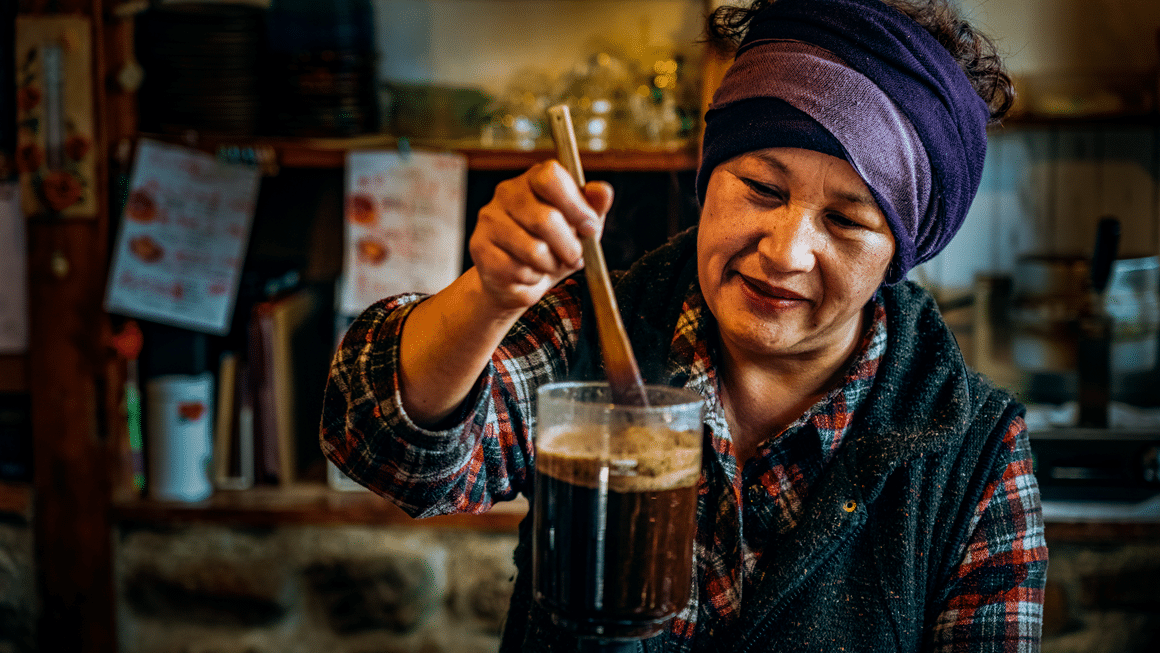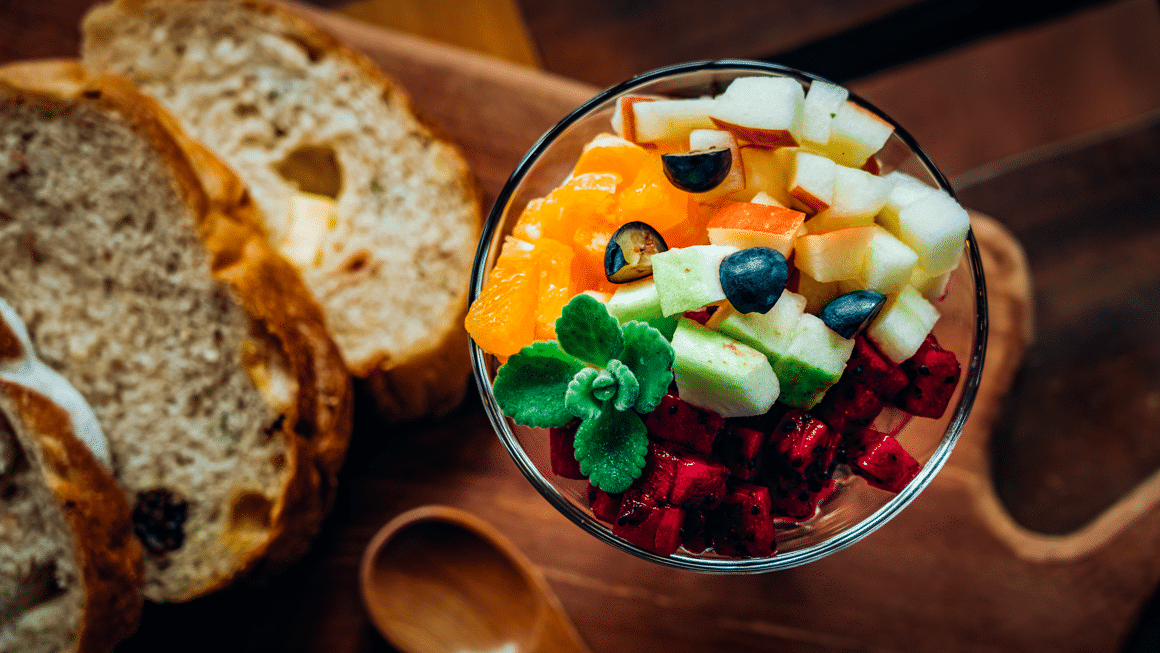 She also makes dense, toothsome oven-baked breads, in a large European-style stone oven Ajang built for her. Her most unusual selection features magao ("mountain pepper," a traditional indigenous spice) and Tsou-style roast pork chunks. Bread-sampling platters are served, and whole loaves sold. DIY experiences are also available, with advance notice, including sessions on making mochi and glutinous-rice muffins.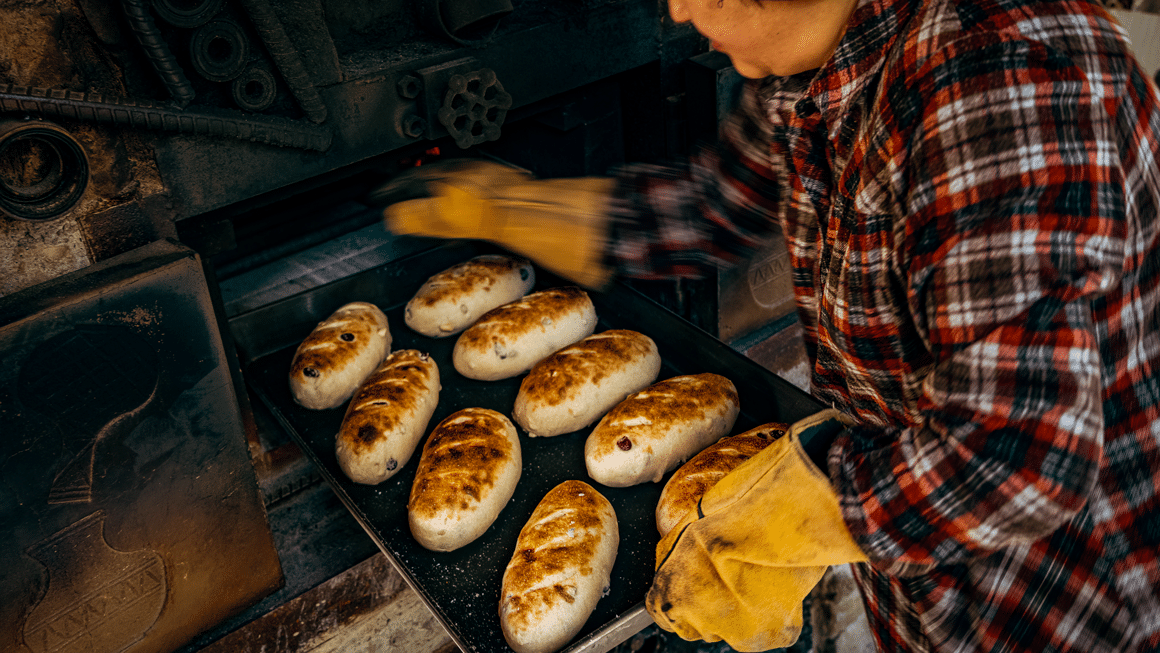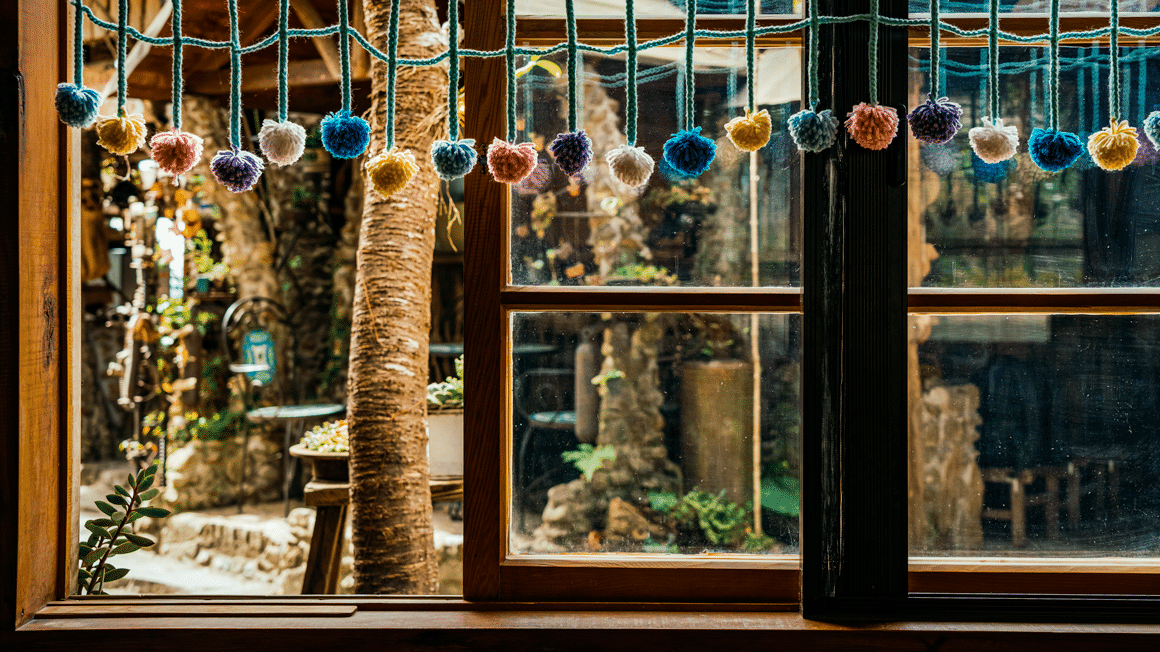 Ajang Home (阿將的家)
Add: No. 129-6, Neighborhood 4, Leye Village, Alishan Township, Chiayi County
(阿里山鄉樂野村四鄰一二九號之6)
Tel: (05) 256-1930
Website: facebook.com/ajanghome (Chinese)
More Info / Getting There
For more information, visit the main Alishan National Scenic Area website (ali-nsa.net) and the Alishan EASY GO website (alishan.welcometw.com). Taiwan Tourist Shuttle (www.taiwantrip.com.tw) buses depart from both Chiayi's high-speed rail station and regular-rail station. All ply Highway 18, and stop at Shizhuo as well as other highway locations, with the Alishan National Forest Recreation Area the terminus.
More about Alishan
Southern ALISHAN — Shanmei, Xinmei, and Chashan
Beautiful Scenery in Northern ALISHAN
ALISHAN Trip: Cool Forests and Mountains

Foreigners in Taiwan: Alishan Forest Railway Guide 阿里山森林鐵路指南

Places to Stay
SunSweetHouse (十方山水民宿)
Tea Garden Homestay (茶香花園民宿)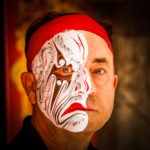 A Canadian, Rick has been resident in Taiwan almost continually since 1988. His book, article, and other writings, on Asian and North American destinations and subjects—encompassing travel, culture, history, business/economics—have been published widely overseas and in Taiwan. He has worked with National Geographic, Michelin, APA Insight Guides, and other Western groups internationally, and with many local publishers and central/city/county government bodies in Taiwan. Rick also handles a wide range of editorial and translation (from Mandarin Chinese) projects.