Magnificent Ice and Fruit Combinations to Keep You Cool
TEXT / KIM WEINERS
PHOTOS / VISION

Taiwan's famously hot and humid weather starts in early May, with the dog days of the warm season lasting well into November in some years. While you may be tempted to hide inside to avoid the heat, and when venturing out run from air-conditioned convenience store to air-conditioned MRT station, the "real" way to cool down during the summer lies in Taiwan's astounding variety of frozen treats. From classics like shaved ice topped with a mountain of mango and other delectables to more Western-style treats like sorbet, spend the summer reveling in Taiwan's delectable icy sweets.
With its subtropical and tropical climate zones, it's no wonder Taiwan does iced treats extremely well. Arriving in July from America my first year here, and quickly missing the usual ice cream cones, gelatos, sorbets, and slushies from back home, I set about finding out exactly what was available. In convenience stores it's easy to spot familiar items, including the ones mentioned above, as well as other imported treats from Southeast Asia, Europe, and elsewhere. However, that wasn't quite enough for me. I was curious about the huge piles of shaved ice with yummy goodies loaded atop that I'd seen online, and having my first mango ice was definitely an eye-opening experience. I then moved on to trying more unusual options ("People eat ice with red beans as a dessert?!" "It's true – and it's delicious!"), and soon found out that Taiwan's native icy treats are able to compete with any ice cream cone – and oftentimes surpass them in flavor.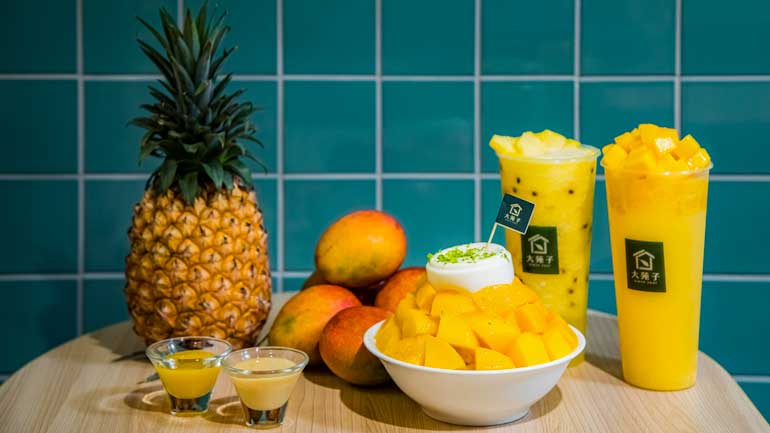 Ice with Fruit | Dayung's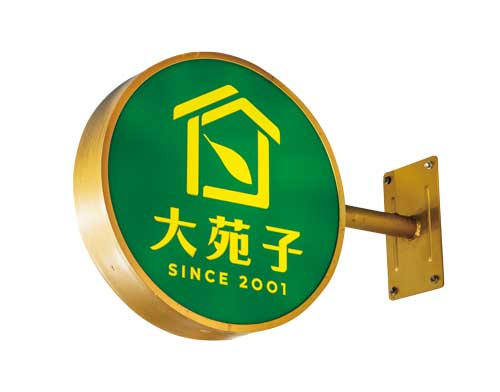 A business that was started in Changhua way back in 2001, Dayung's celebrates its 20th anniversary this year. Having grown from a small fruit stand on the streets of this central Taiwan city into a multinational company with locations in mainland China, the United States, Cambodia, and island-wide in Taiwan, Dayung's is the quintessential success story. Founded by the children of fruit farmers, the company firmly sticks to its roots, using only locally grown fruits from small farms. To ensure the best quality of its products, Dayung's also implements strict quality control to ensure that only healthful produce that has been naturally grown is used.
Its multilevel Taipei flagship branch, located just a short walk from MRT Taipei City Hall Station (Exit 4), is impeccably decorated in retro fashion, with bright-green tiles and comfortable wooden seats. The smell of egg cakes hits you as soon as you enter the shop, and it only gets more delicious from there. The egg cakes are stuffed with chocolate or sesame, making them the perfect accompaniment to Dayung's wide range of freshly-made fruit concoctions.
Like mad scientists, the artisans at Dayung's have managed to make some of the most interesting combinations of fruits and desserts I've ever had. Their Frozen Yoghurt with Plum Tomato has a unique, tart taste, plum and tomato unexpectedly working perfectly together. The Mango Smoothie Double Double, the shop's specialty, is a rich and thick mango slush topped with chunks of sweet and juicy mango. Mangoes are in season during the summer, and there's no better way to enjoy them than in the form of mango shaved ice, topped with panna cotta and dripping with a sweet condensed sauce. End your visit with some refreshing Pineapple Green Tea, the perfect takeout for when you're on the go exploring the city's lively East District.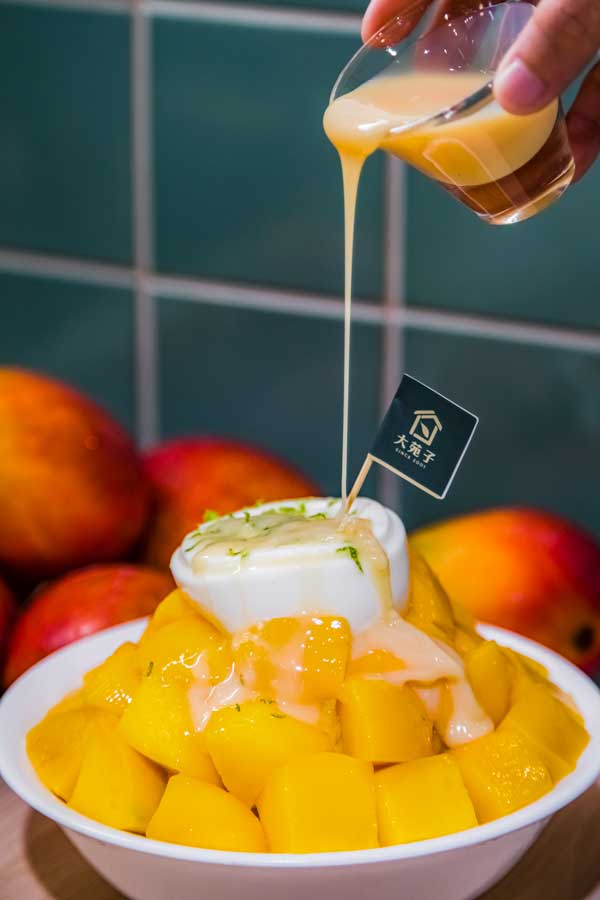 Dayung's
(大苑子)
Tel: (02) 2768-0900
Add: No. 139, Sec. 5, Zhongxiao E. Rd., Xinyi District, Taipei City (City Hall Dream Branch)
(台北市信義區忠孝東路五段139號) (市府夢想店)
Website (Chinese)
Traditional Flavors | Liang Le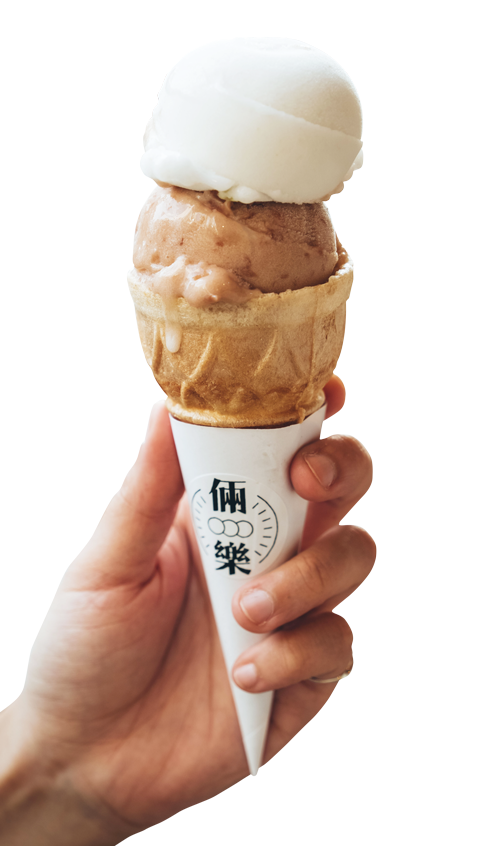 The port town of Tamsui, one of greater Taipei's most popular tourist destinations, is home to one of the best peanut ice wraps I've tried in Taiwan: Liang Le, a tiny shop in one of the narrow lanes of the town's Old Street area. Just a few minutes' walk from MRT Tamsui Station, the shop packs a big punch with its flavorful wraps, and is the perfect place to stop after a day of exploring Tamsui on foot or bike.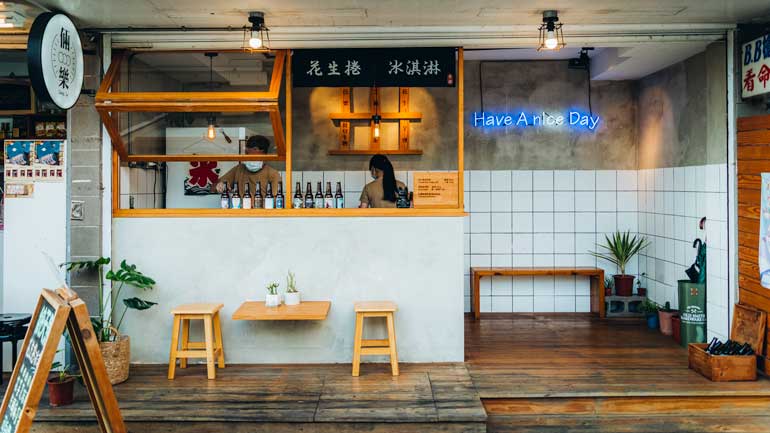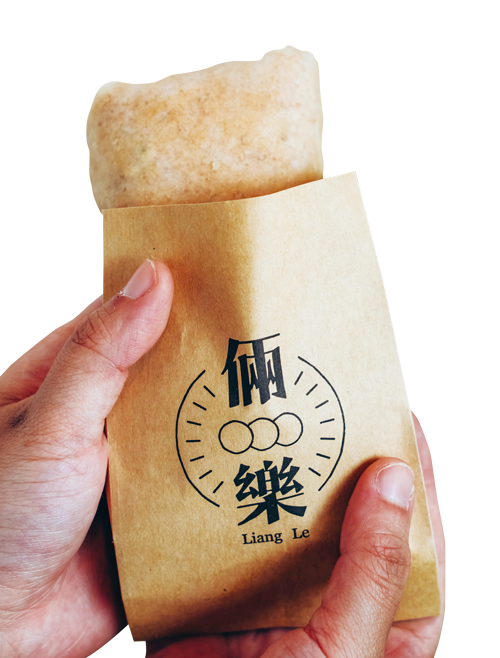 Peanut ice, wrapped in a crepe skin and topped with ice cream and coriander, is a common sight in Taiwan during the summer months. Go to a place popular with tourists (such as Jiufen Old Street on the Northeast Coast) and chances are there's at least one stand selling the treat. Peanut ice wraps are made by starting with a crepe wrap, which is then filled with peanut powder shaved off from a large brick. Scoops of ice cream in varying flavors are added, and coriander is sprinkled on top. The resulting wrap is something that looks a bit like a Western burrito, with a taste all its own.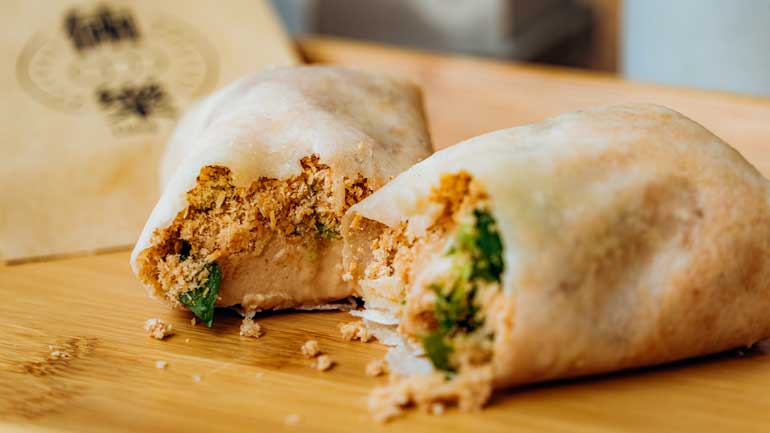 On the daily-changed menu of this simple-design shop, the ice cream offerings include guava, mango, taro, strawberry, and matcha. Liang Le also offers Taiwanese craft beer to go alongside the ice cream. The shop sources its fresh fruit from small farmers, and no artificial flavors, colors, or preservatives are used in its ice cream, peanut brick, or crepe wraps. Visitors can choose to add coriander or not, but for an extra shot of flavor, be sure to add it. In addition to the wraps, cones are also available, if you like your ice cream in a more Western style.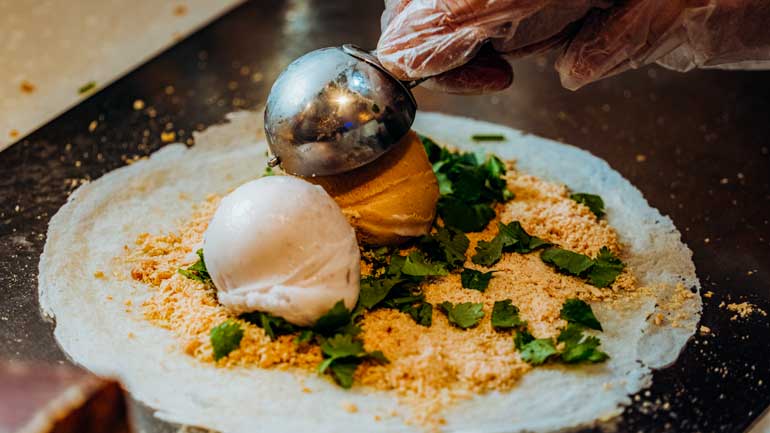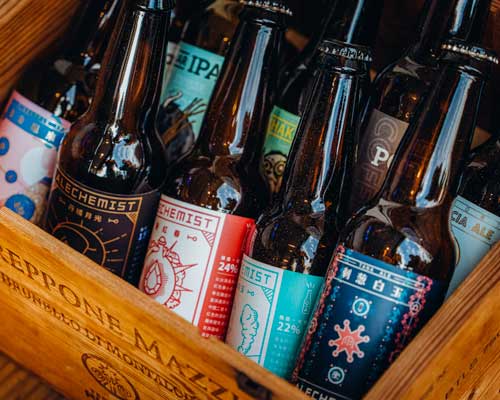 Liang Le
(倆樂)
Tel: 0920-097-763
Add: No. 11, Ln. 11, Zhongzheng Rd., Tamsui District, New Taipei City
(新北市淡水區中正路11巷11號)
Facebook
Traditional Flavors | Right ice cream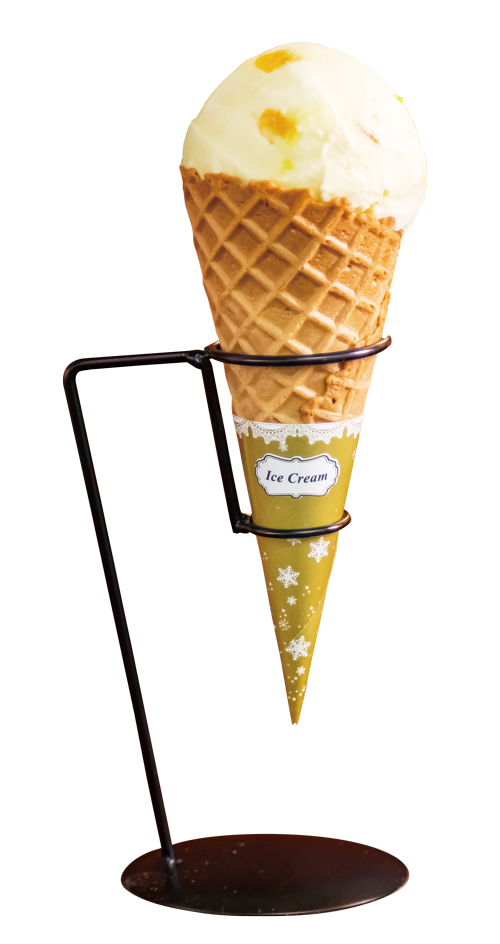 Just steps away from downtown Taipei's Songshan Cultural and Creative Park and the soon-to-open Taipei Dome is a shop named Right ice cream. Packed with trinkets and homey retro-style decorations, this shop brings to mind the small neighborhood ice cream scoop shops of days gone by. The extensive menu boasts both local and exotic favorites, including a rarely seen sight in Taiwan: ice cream cake. The owner is a self-taught ice cream connoisseur, using local ingredients to create some of the most interesting and unique flavors you'll see in a local shop.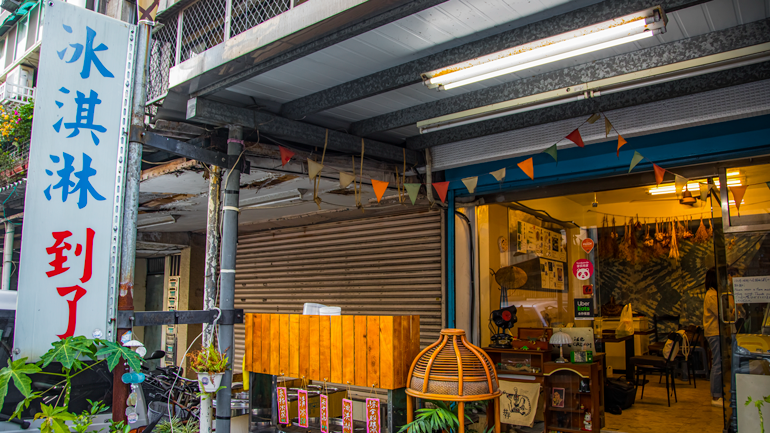 This is a place that caters to the tastes of both foreigners and locals. On a recent visit I was treated to several trial scoops of some of these flavors, including honey sourced from Yunlin County and banana from Taichung. The ice cream is rich and smooth and has a taste and texture with which foreign visitors will be very familiar. Other options, including grape, strawberry, mango, pineapple, passion fruit, and osmanthus, are equally flavorful.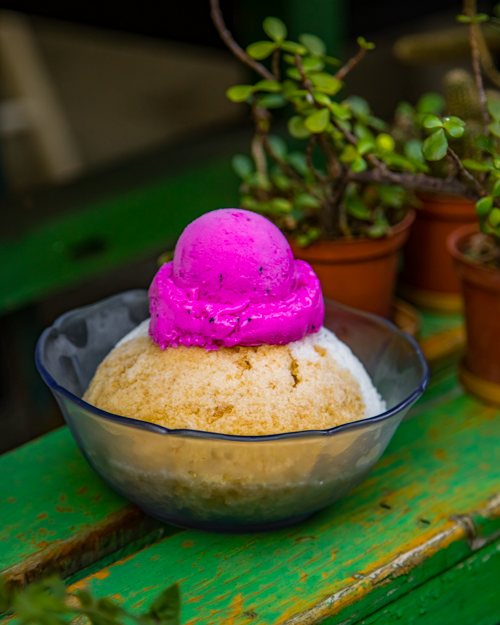 Right ice cream's more Taiwanese-style offerings have their own interesting twists as well. The shaved ice is infused with either lemon or brown sugar flavoring, a delightful change from the usual mound of plain shaved ice. Lemons sourced from the southern county of Pingtung are tangy enough to provide some extra flavor, but don't overwhelm the dish as a whole. Throw some konjac jelly, sweetened adzuki beans, or even sorbet on top, and you've got an interesting take on a familiar dish. The sorbet, another familiar Western-style ice treat, is bursting with berry taste and is by far, in my opinion, the best item the shop sells.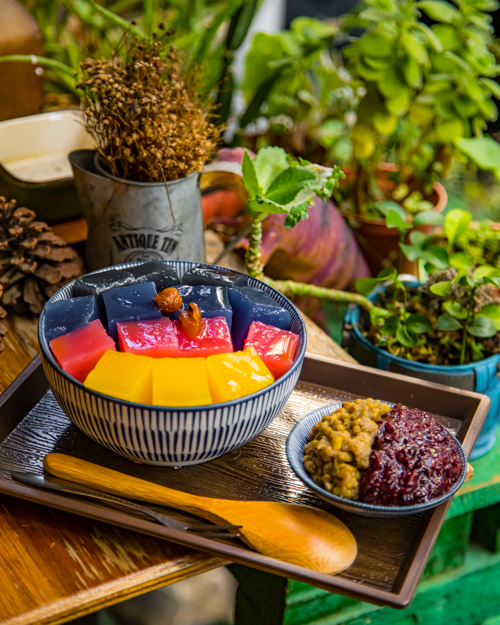 If you've taken a liking to a certain flavor (and it's hard not to!), note that Right ice cream sells 500ml containers of its ice cream for just $180, so you can take home the deliciousness.
Right ice cream
(來特冰淇淋)
Tel: (02) 2762-2008
Add: No. 54, Ln. 36, Sec. 4, Bade Rd., Songshan District, Taipei City
(台北市松山區八德路四段36巷54號)
Facebook
Other Types of Ice Treats Common in Taiwan
Sugarcane Ice
Sugarcane juice is very popular in Taiwan, with nearly every night market having at least one kiosk selling this sweet and refreshing drink. One ice shop has decided to take things a step further, making this year-round favorite extra enjoyable in the summer. Located just outside Shoufeng Railway Station in Hualien County, Fengchun Ice Shop offers sugarcane ice with an array of traditional Taiwanese shaved-ice toppings, including taro, pineapple, mesona (herbal jelly), adzuki beans and more. The ice itself is made using the traditional method – the shop boasts one of only a few traditional ice machines left in Taiwan. Dating back to pre-1960, the machine makes the sugarcane ice served here all the more unique. Visitors can choose two generous helpings of toppings from a long list.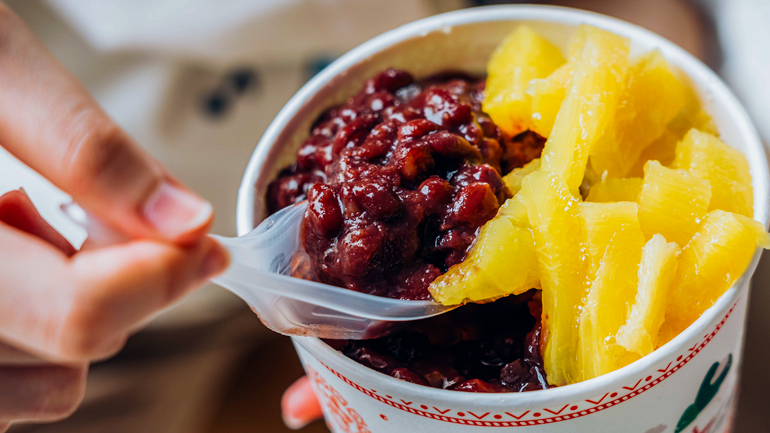 Fengchun Ice Shop
(豐春冰菓店)
Tel: (03) 865-1530
Add: No. 79, Sec. 1, Shoufeng Rd., Shoufeng Township, Hualien County
(花蓮縣壽豐鄉壽豐路一段79號)
Tangyuan Ice
Whether it's in soup or over ice, tangyuan, or glutinous-rice balls, are popular during the cold and hot seasons alike. Both options are available at Taipei's Yupinyuan Ice Fire Tangyuan, located in the Tonghua Street Night Market, not far from Taipei 101. Offering both sweet and savory renditions of tangyuan, the variety of soups will have you coming back on repeat visits. The specialty here, however, is the Ice Fire Tangyuan. Peanut or sesame tangyuan are served piping hot on top of ice, which then hardens the balls. You can eat the tangyuan while still hot – revealing the tasty peanut- or sesame-paste centers – or wait until they harden. The shop and the night market, one of Taipei's most popular, can be easily reached from MRT Xinyi Anhe Station.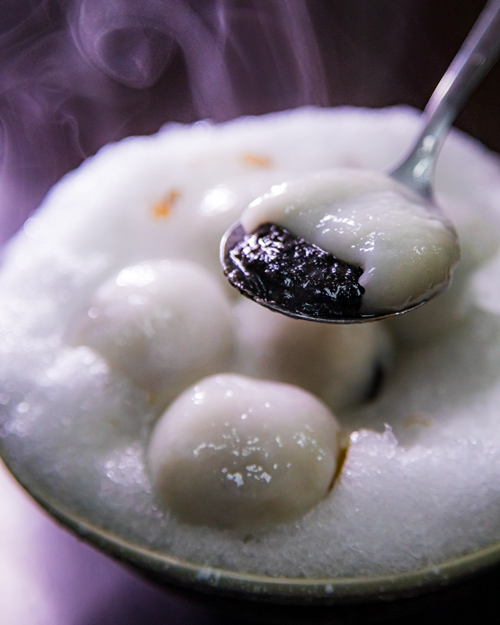 Yupinyuan Ice Fire Tangyuan
(御品元冰火湯圓)
Tel: 0955-861-816
Add: No. 31, Alley 50, Ln. 39, Tonghua St., Da'an District, Taipei City
(台北市大安區通化街39巷50弄31號)
Facebook
Eight Treasure Ice
To get a well-rounded taste of traditional Taiwanese ice snacks, look no further than Zhengjiang Traditional Ice Shop, located near the foodie's paradise that is the streets surrounding MRT Dongmen Station in Taipei. After sampling the wide variety of foods in the area, a stop at Zhengjiang is a great opportunity to try a version of the aptly-named Eight Treasure Ice. Enjoy a heaping helping of the "eight treasures," which include adzuki beans, mung beans, taro balls, peanuts, chestnuts, kidney beans, sweet potato balls, and tapioca pearls atop a mountain of shaved ice. In addition to its ice treats, the shop offers warming tangyuan soup, which is a must-try during the colder months, as well as douhua (soft tofu pudding), seasonal fruit juices, and a range of soups, including peanut and adzuki bean.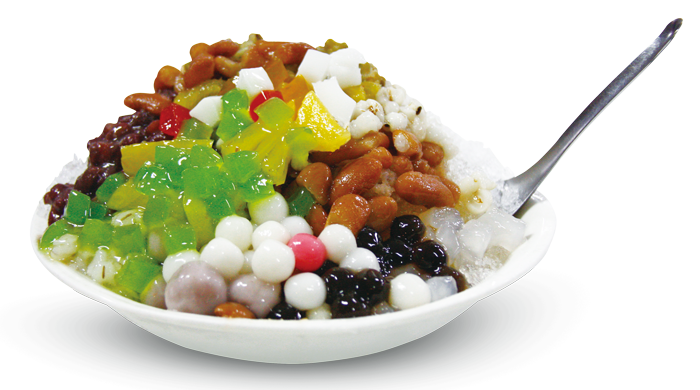 Zhengjiang Traditional Ice Shop
(政江號)
Tel: (02) 2395-2109
Add: No. 109, Sec. 2, Jinshan S. Rd., Da'an District, Taipei City
(台北市大安區金山南路二段109號)
Facebook
Fruit Popsicles
Originating from the East Rift Valley in eastern Taiwan, Ice Spring was founded in 2008 by Li Ming-huang when he encountered the problem of fruit overproduction. Farmers in Taitung County's Luye Township would offer him fruit they could not sell at market prices and that would otherwise be discarded. Unhappy with the amount of food being wasted, Li began thinking of a way to help the struggling fruit farmers, and decided to use the fruit for handcrafted popsicles. Ice Spring, which was started as a non-profit organization, has grown into a thriving business since. The company uses a wide array of exclusively locally grown fruits such as mango, watermelon, pineapple, dragon fruit, and passion fruit – just to name a few – to create fresh and delicious versions of a classic summer treat. The popsicles can be conveniently ordered online at its website. They are also sold in stores around the island, including a dedicated Ice Spring outlet not far from MRT Yongchun Station in Taipei.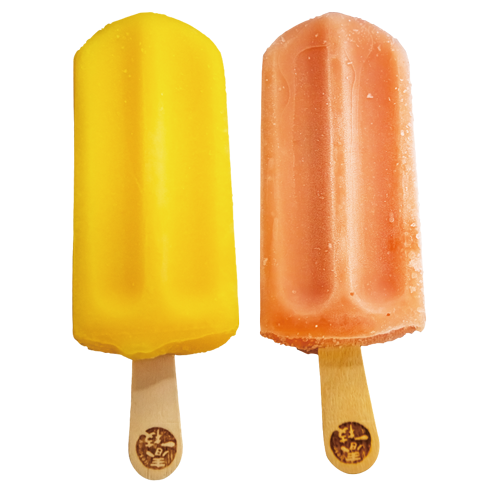 Ice Spring
(春一枝)
Tel: (02) 2345-6617
Add: No. 3, Alley 28, Ln. 372, Sec. 5, Zhongxiao E. Rd., Xinyi District, Taipei City
(台北市信義區忠孝東路五段372巷28弄3號)
Website (Chinese)