Glory Days in High-Mountain Country
TEXT / RICK CHARETTE
PHOTOS / RAY CHANG
Lalashan is a popular tourist destination in the high-mountain region of north Taiwan. It's in Taoyuan City's far south, a region populated by rugged, brawny mountain giants. Both indigenous Atayal tribesfolk and Han Chinese live on the mountain. Its big tourist draws are massive "divine trees," high-slopeland farms producing delicious fruits, guesthouses with heavenly views, eateries crafting toothsome hearty fare, and edifying indigenous-culture experiences.
Lalashan (Mt. Lala) is officially named Daguanshan or Mt. Daguan, though few use this title. Both terms, lala and daguan, convey the idea of a mountain of beautiful scenery. The road to the mountain's base is Provincial Highway 7, the Northern Cross-Island Highway, which starts on the island's west side in the town of Daxi. It delivers up tremendous scenery. The first stretch near Daxi is high hills. Then come low mountains starting around Cihu (see our accompanying article on day trips in Taoyuan City's rural Longtan and Daxi districts on page 22). Then, after passing through the Atayal village of Luofu, the road starts to rise, the Dahan River valley deepens, the peaks climb thrillingly higher, and you'll be constantly straining your neck to take everything in as the highway cuts back and forth along the mountainsides. On Lalashan itself are four settlements: Xia (Lower) Baling, Zhong (Middle) Baling, Shang (Upper) Baling, and Kala; the first three have a mixed Han/Atayal population; the last is home to only members of the Atayal. Xia Baling is at the base; Shang Baling (elevation about 1,500m) sits right atop a long ridge that runs up to the main peak (2,031m), providing views into two deep valleys, north and south, at once.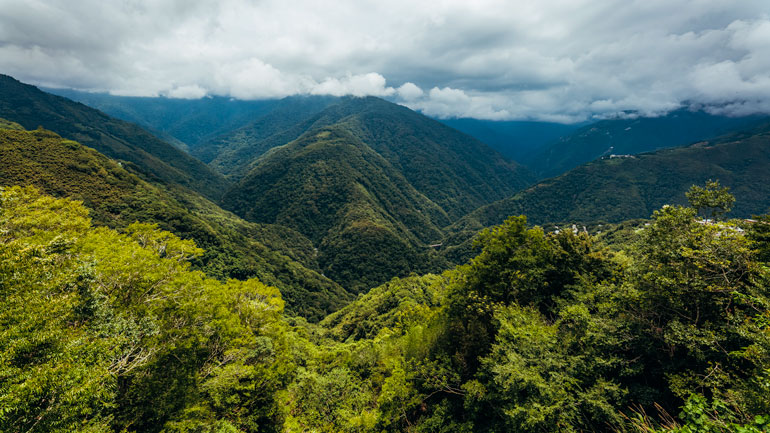 Lalashan
Eco-Walks
The Baling Road (Taoyuan County Road 116) takes you up the mountain, twisting its way up the south side to Shang Baling, then running along below the ridgeline on the north side all the way to the divine trees attraction.
Not far up the road, on a tiny plateau, is the attractive Lalashan Visitor Information Center with a grand sweeping view west, north, and south.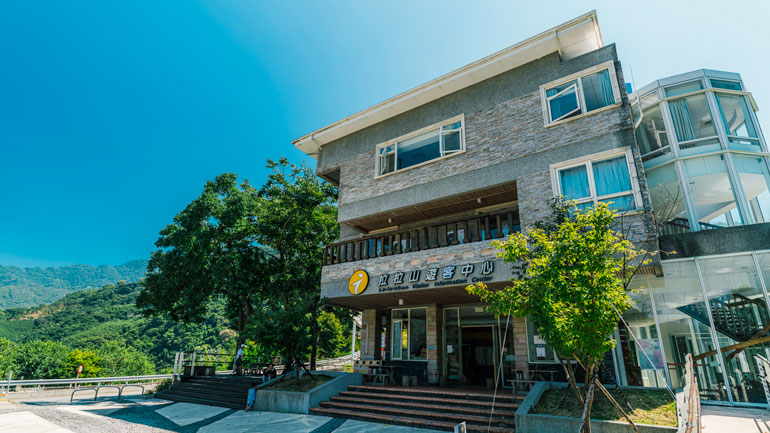 Across the road is the entrance to the Baling Historic Trail and Ecological Area. This trail was part of the original trail blazed long ago by the Atayal for descent off the mountain to access other Atayal settlements in the area. It follows the descent line of the aforementioned ridgeline to the valley bottom. Long abandoned after the road was punched through, it has now been rejuvenated, with boardwalk sections and short suspension footbridges enjoyed along the traverse through the broadleaf forest.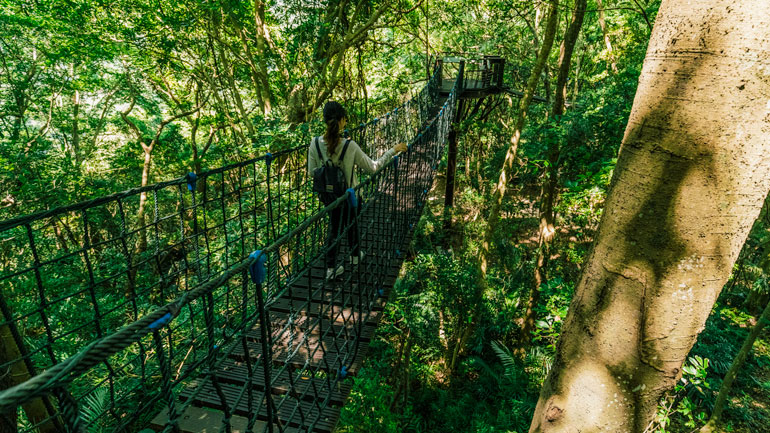 As you make your way along, there are stops at a number of welcoming, well-designed micro-museums "hidden" in the trees, in which the area's geology and the local forest, butterfly, and beetle life are explained.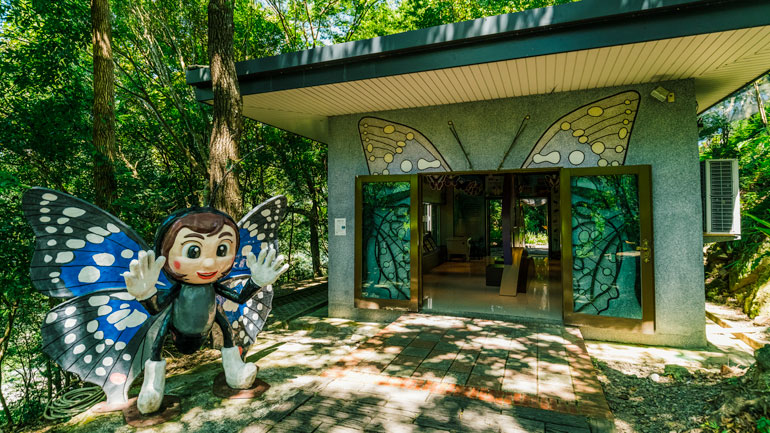 The trail ends down by Highway 7, before a rock tunnel that leads to the long Baling Old Bridge, which leaps a chasm high across the Dahan River. This is an old section of highway now limited to foot traffic. The bridge is just 4.5m wide; the narrow tunnel was hewn by hand when the cross-island highway was built in the early 1960s. The tunnel now serves as an Atayal-culture gallery, with displays of traditional clothing and agri-products as well as paintings.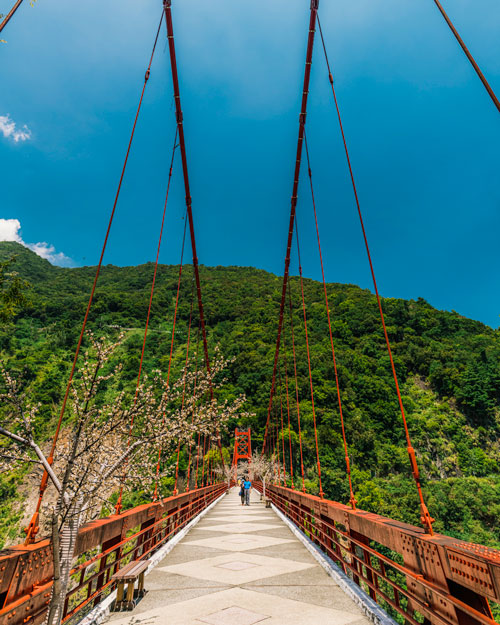 Shansu De Guxiang
Traveling along the Baling Road, on the east edge of Shang Baling is the Kala Road opening. This narrow roadway takes you snaking down the steep north face to the valley-bottom Kala River. Right beside the slender waterway, gushing with power during Travel in Taiwan's recent visit because of steady rains, is Shansu De Guxiang, a camping/accommodation/café/eatery operation owned by Atayal tribe members that offers a relaxing and very informative guided indigenous-experience eco-tour (fee) along a long riverside woodland trail. On the Kala Road descent you pass through Kala, a tiny Atayal village of about 20 households.
"Shansu De Guxiang" translates as "Bird's Nest Fern Country." Mountain-grown bird's nest fern features strongly in Taiwan indigenous cuisine, and has become popular with the general population. It has a slightly bitter taste and a pleasant crisp crunch.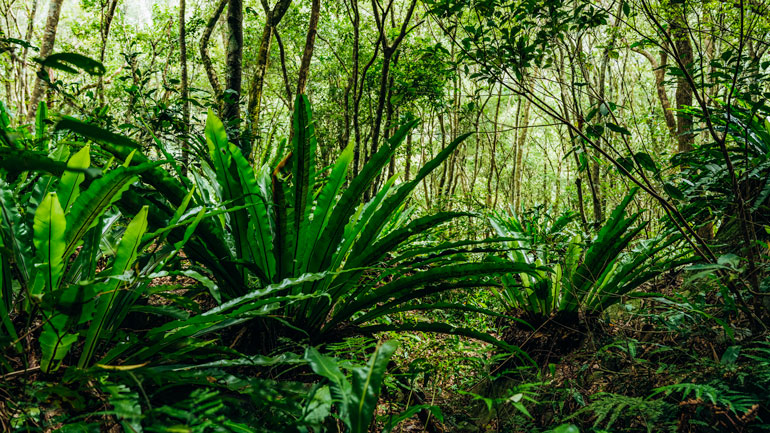 Your Chinese-speaking eco-guide will provide a steady stream of info-nuggets on Atayal life and the local flora and fauna. You'll also have the chance to test your archery skills, enjoy a rope-walking experience, have a short cooling soak in a waist-deep natural pool downstream from a loud pounding waterfall (if you've prepared the necessary attire), and stroll through both a natural bamboo grove and natural bird's nest fern "garden."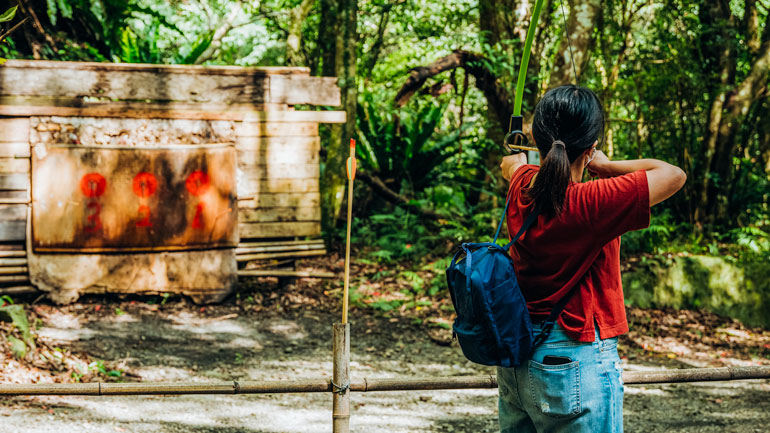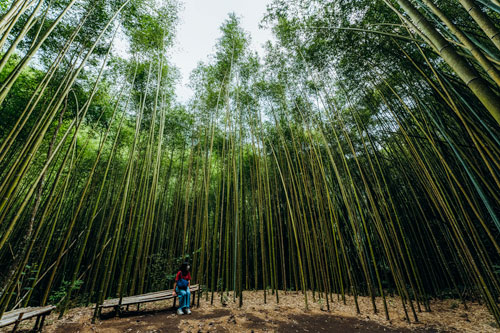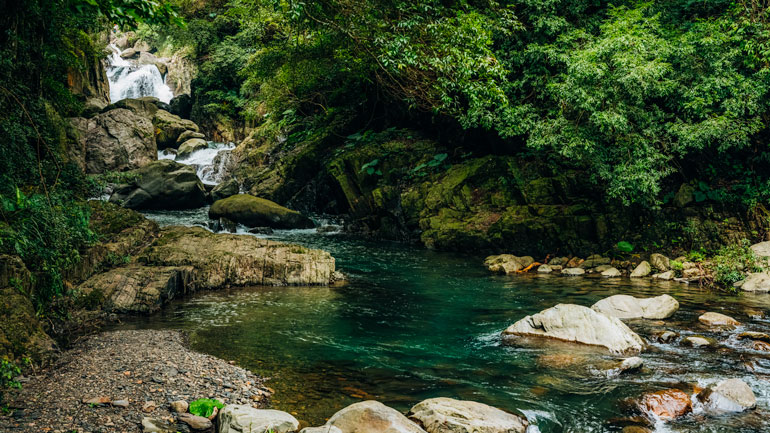 You'll also visit "Grandpa's Stone House," a "room" under a huge riverside boulder filled with the accouterments needed for long stays. It's said that about a hundred years back an old Kala hunter would stay hidden here for days waiting for large animals such as bear or deer to pass by, then share the meat with all Kala residents.
Shansu De Guxiang (山蘇的故鄉)
Tel: 0927-396-620
Add: No.180-10, Neighborhood 11, Hualing Village, Fuxing District, Taoyuan City
(桃園市復興區華陵里11鄰180-10號)
Website: sunsu.okgo.tw (Chinese)
Divine Trees of Lalashan
You've heard the word baling used a number of times to this point. Time now to inform you that in the Atayal language this word means "giant trees" – and that is exactly where we are heading now, to Lalashan's most famous attraction, the 75ha Lalashan (Daguanshan) Forest Reserve, entered at the end of the Baling Road. Not far past Upper Baling the road dips down below the rising ridgeline on the mountain's north face, riding along the face all the way to the high upper limits of the Kala River valley. The reserve's giant "divine trees" are concentrated around the just-born Kala River as it slices along, ever-deepening the crook between Lalashan and its mountain neighbor on the north.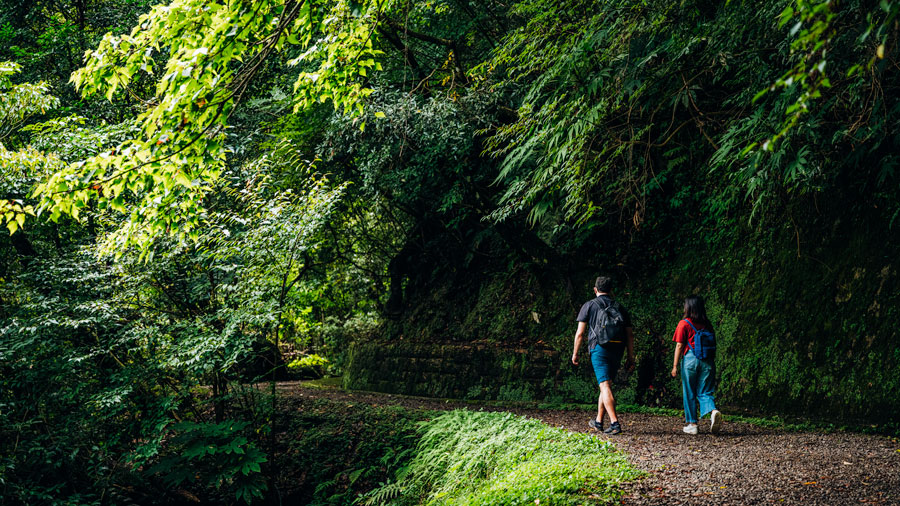 The paved road ends about 700m before the crook, morphing into a wide unpaved path that takes you to the giant trees. Before the trailhead is a nature center providing information on the reserve's trailways, biology, and geology.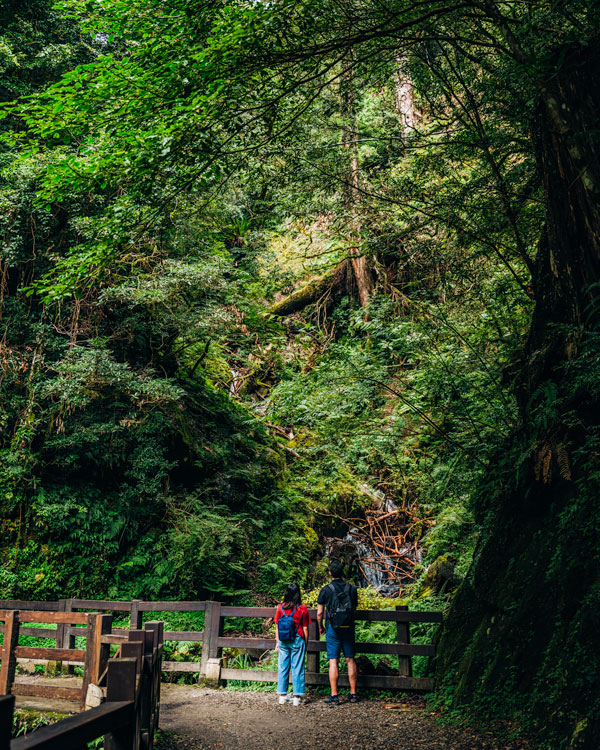 Enter the trail and you enter a world apart, a magisterial "living museum" of nature's power and artistic ability. The reserve's trail network totals 3.7km, with a mix of smooth road-like sections, rough and narrower sections with exposed roots and rocks, boardwalks, and wood-staircase sections. In this magical ancient-cypress cluster are about 120 trees more than 500 years old, with 22 marked out for public viewing and explanatory signboards with good English provided. The grandpa of the tribe was a sapling 2,800 years ago. The tallest of the tribe soars 55m high.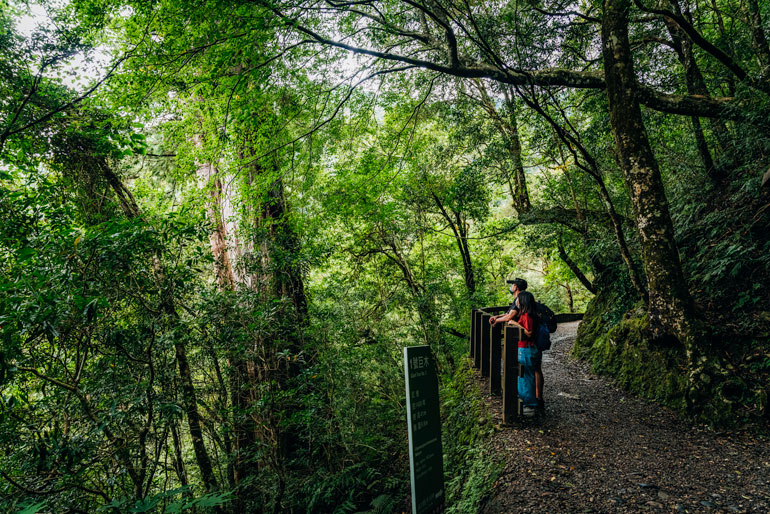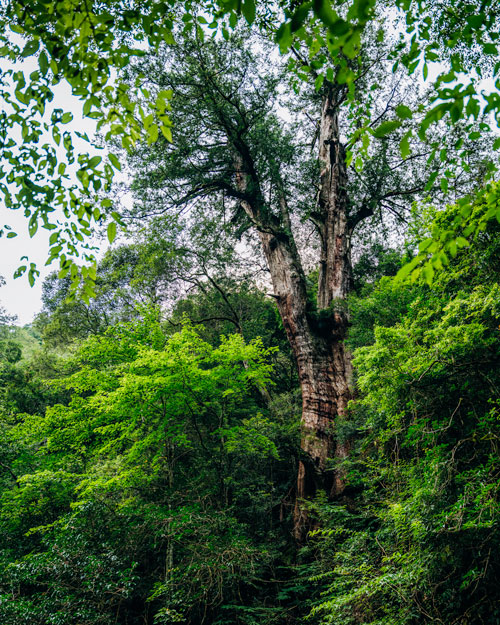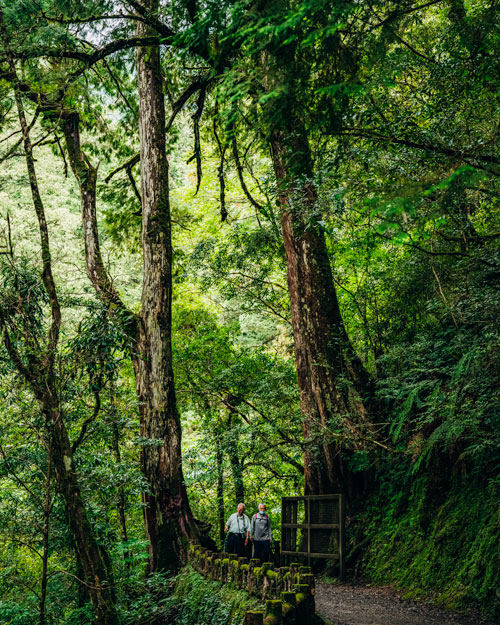 The trail from the nature center to the river – here best called a wide rushing stream (when rains are aplenty) – takes about 20 minutes. The trail network spreads out at the waterway, providing a number of loop options. There are also washroom facilities at this point. Many covered shelters and other rest stops at trailside are provided around the network.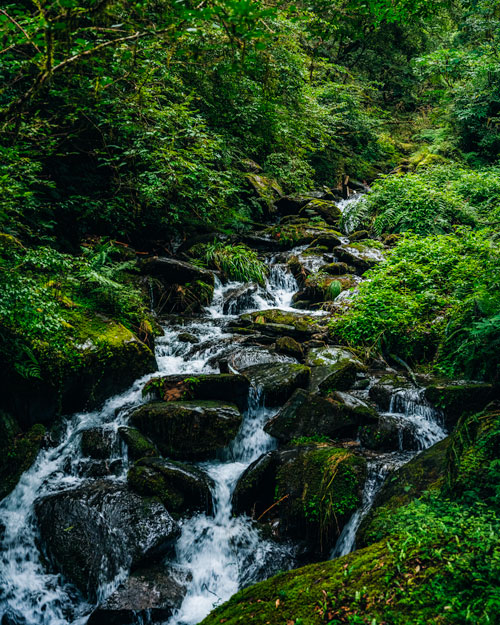 The wooden boardwalk/step sections have been constructed for two reasons, to prevent erosion and to keep visitors from the tree bases. This is an area of peaty soil, the uppermost roots of the red cypress lie close or above the ground's surface, and too-close tourist access risks serious damage.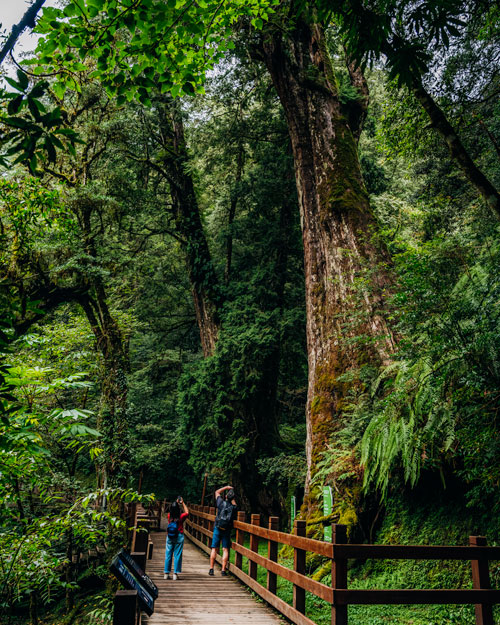 The Taiwan red cypress is a cousin to the giant cypress trees that only grow elsewhere on our planet on the North American Pacific Coast and in Japan. The finest-quality wood is provided by Taiwan's own, however, which is why the Taiwan government now actively protects local forest resources, in the past systematically over-exploited.
Many visitors find the giants that grow on the steepest inclines the most photogenic, because of their fantastical base shapes. These magnificent trees have anchored themselves by bizarrely distorting their trunks, up to 10 meters in total width, each outshoot trunk section just one or two meters thick.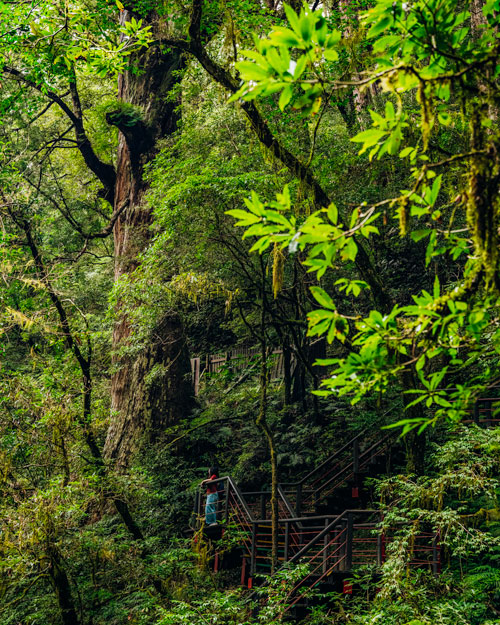 All visitors wish to know which is the oldest of the sacred trees. The answer is no. 5, which has a naturally-formed hole at its base well demonstrating how giant trees deny nutrients to their innards yet remain perfectly viable.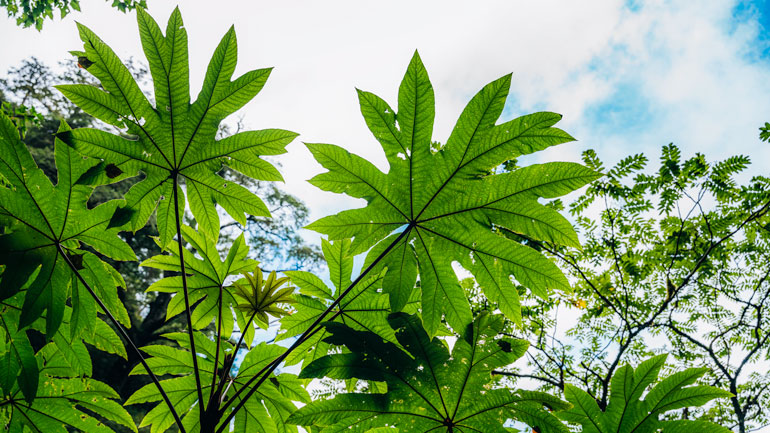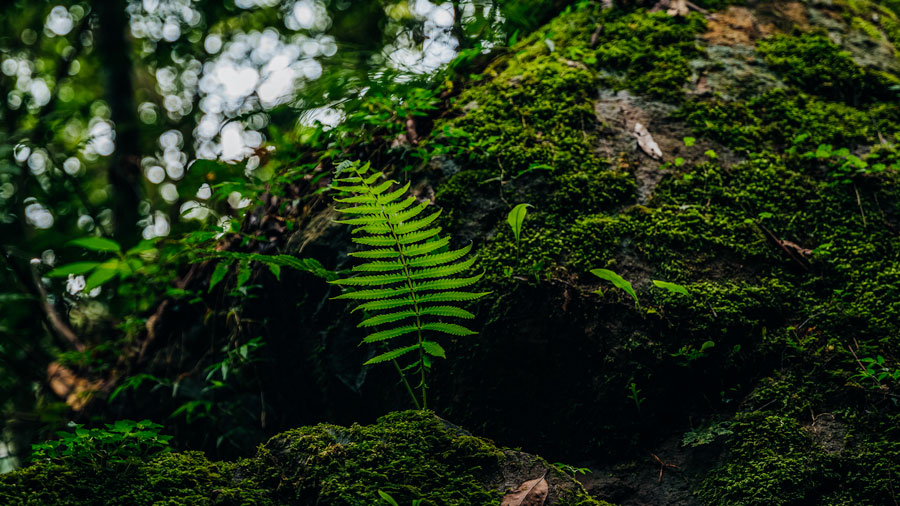 Lalashan Food Options
In addition to its divine trees and divine views, Lalashan is renowned for its fruit production, and especially for its delicious juicy honey peaches, pears, and persimmons. You'll see steep-slope orchards all over the mountainsides in the middle and upper reaches.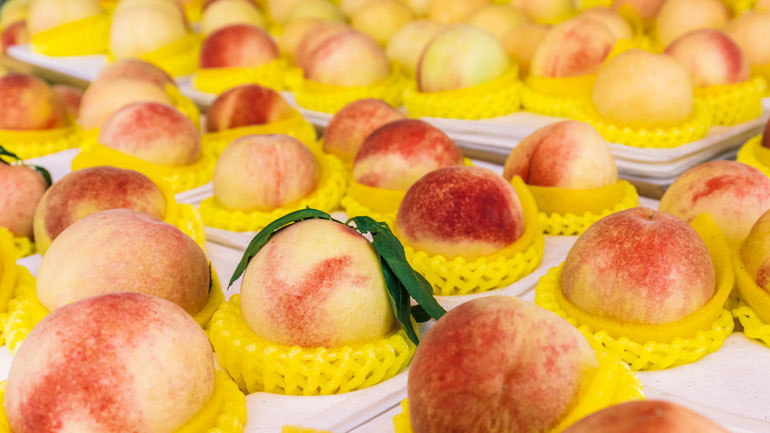 Many of the numerous guesthouse operators on the mountain have their own on-site fruit orchards, adding to the scenic splendor of your stay. You'll also find the fruits for sale roadside at a number of stands and shops along Baling Road. Demand for the honey peaches is especially intense; harvest-time for these is mid-July to mid-August.
"Lala Renjia Fine Food Restaurant"
The "Lala Renjia Fine Food Restaurant" is on Baling Road just 30 or so meters before it reaches the ridgeline in Upper Baling. This is one of Lalashan's most popular eateries, consistently rated as one of the top culinary choices in online voting.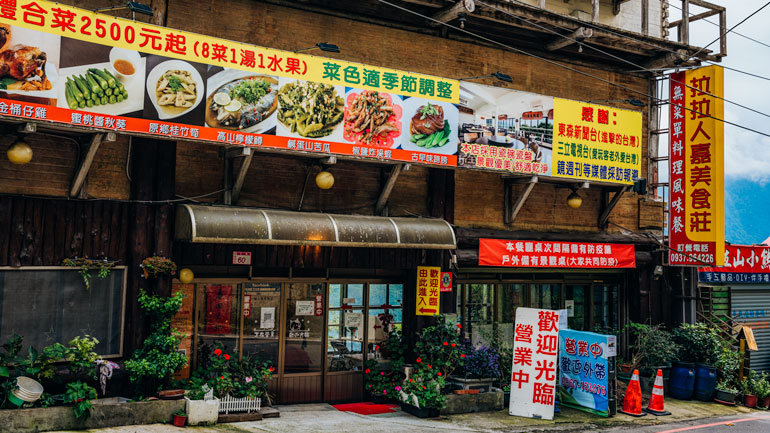 The staff is country-warm friendly, and the views across the valley to the south do wonders for the appetite. The back valley-facing wall in the spacious dining area is an almost solid bank of glass, and an unobstructed sweeping panorama is available to even the furthest-away tables in the room's middle.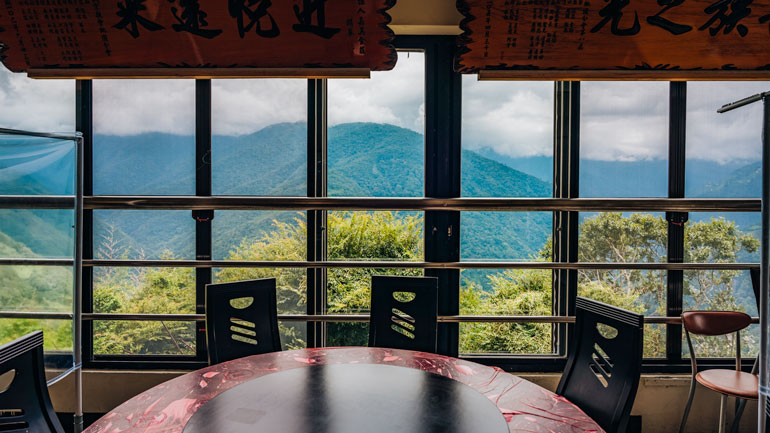 Whole free-range chicken roasted in a wood-fired oven is the house specialty. This is also served at a number of other local restaurants, and online voting declares Lala Renjia's to be among the best. It is seasoned with a south European-style mix of herbs and spices. The crispy outer layer wonderfully matches the succulent meat; the chicken is so tender that it pulls away using the hand (in plastic glove provided), no knife required. The chicken's rich drippings are used as the base for the savory accompanying sauce.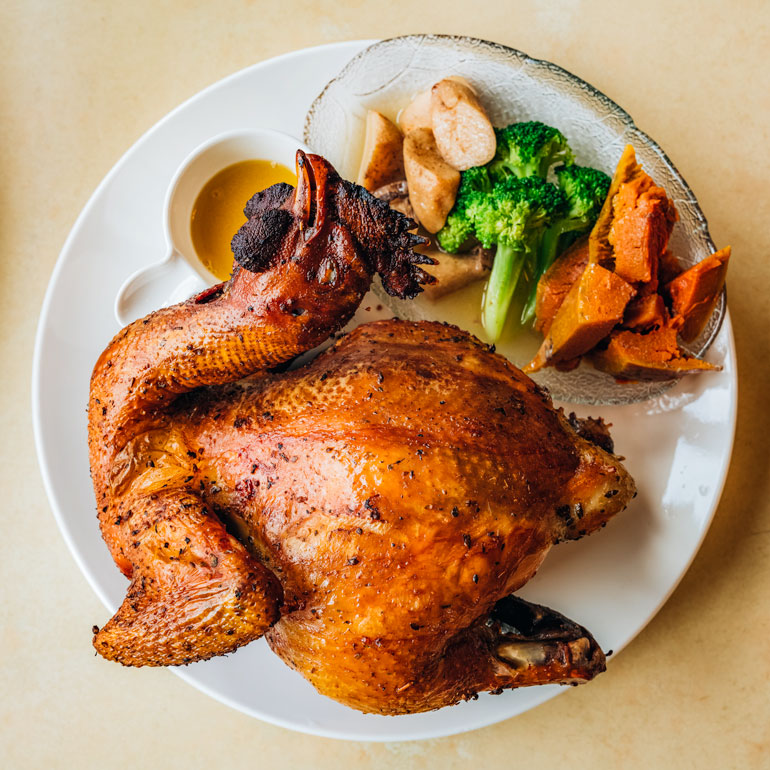 Among the other first-rate meat-centered choices is the trout prepared with lemongrass and lemon, the roasted pork slices served with scallion slivers atop and a sesame-seed sauce, and the liang ban with smoked-pork slivers. Liang ban, literally "cold mix," is a general term for a salad-type dish featuring different item assortments, meat not always used. This particular dish also features slivers of cucumber, carrot, scallion, potato, and bamboo shoot.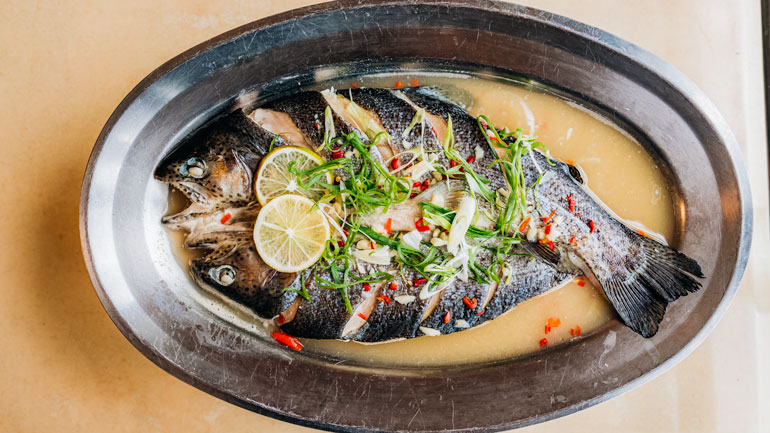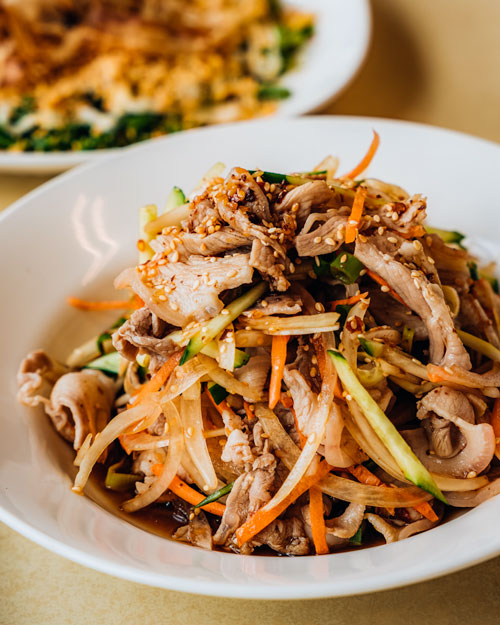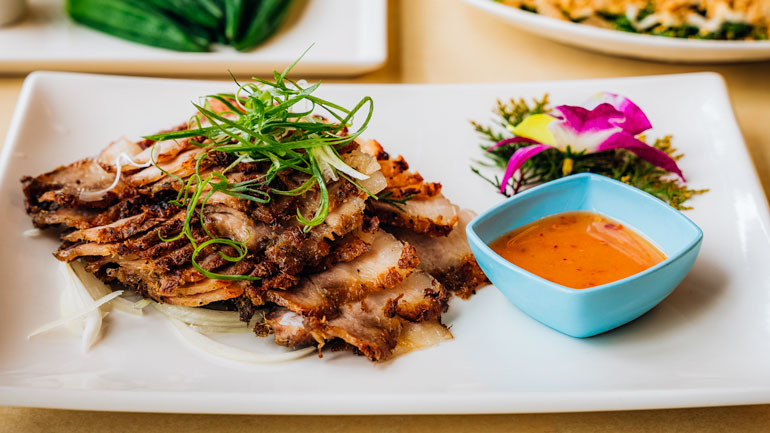 Three vegetable dishes are also specially recommended. One is the mountain-vegetable platter, featuring oven-roasted mushroom, broccoli, and squash. The squash is delectable, softened so much it has the texture of pudding. The steamed okra comes with a delish house-recipe sauce made with honey peaches. This sauce is also for sale, packaged gift-style in little glass jars.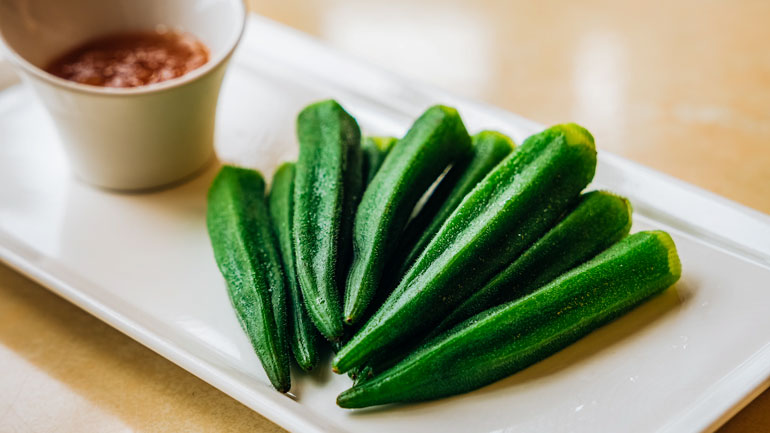 Fiddlehead greens, another now-generally-popular indigenous vegetable, is here served with smoked bonito flakes atop.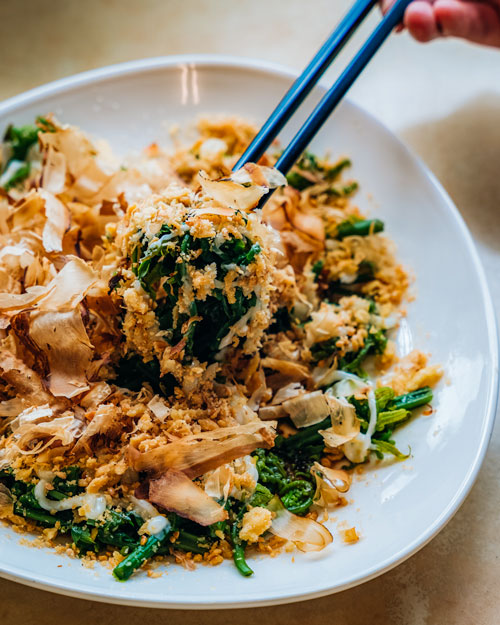 "Lala Renjia Fine Food Restaurant"
(拉拉人嘉美食莊)
Tel: 0967-153-876
Add: No. 60-1, Baling, Fuxing District, Taoyuan City
(桃園市復興區巴崚60-1號)
Facebook: facebook.com/lalafmaily
Guangming Farm
The other top contender for Lalashan's finest free-range roast chicken is Guangming Farm. This simple wooden-cottage-style eatery is on the upper reaches of the main road through Upper Baling not far from the forest reserve, looking into the Kala River valley. You can't miss it – the huge red-brick kiln-style oven is in the open-faced front area, right by the road, with a large pile of firewood beside it. The whole chickens here are seasoned with garlic and magao. Magao is a staple indigenous seasoning (in Chinese called shan hujiao or "mountain peppercorn"). It's peppery with hints of lemongrass and ginger.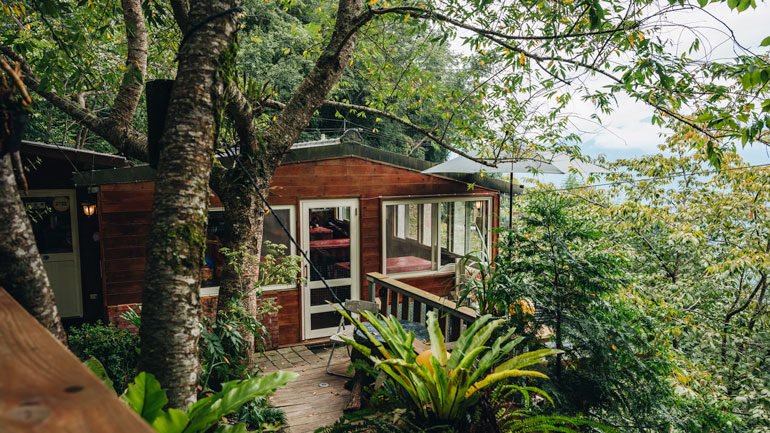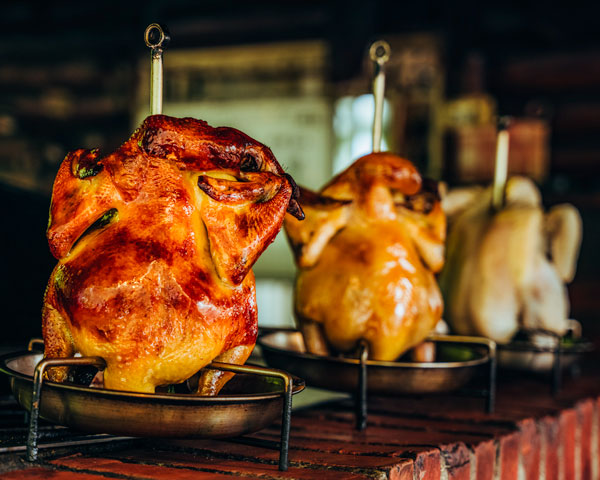 Guangming Farm
(光明農場)
Tel: 0913-566-218
Add: No. 192-8, Shenmu Rd., Fuxing District, Taoyuan City
(桃園市復興區神木路192之8號)
Facebook: facebook.com/a033912555
Guesthouses with a View
Yun Xiang Zhan
As one might expect, the guesthouses on Lalashan supply superlative views and deep quiet. And also as one might expect, they are concentrated in the middle and upper areas. The greatest concentration is along the ridgeline past and above Shang Baling, reached via Zhongxin Road – appropriately, "Central Heart" road – which heads upward right on the ridgeline. The road starts in Shang Baling.
Yun Xiang Zhan ("Cloud Enjoyment Inn") is found at the end of a steep driveway off Zhongxin Road, on the mountain's south face. This is a chalet-style two-story guesthouse set amidst fruit trees and a long line of tall wind-protection coniferous trees on the down-slope side.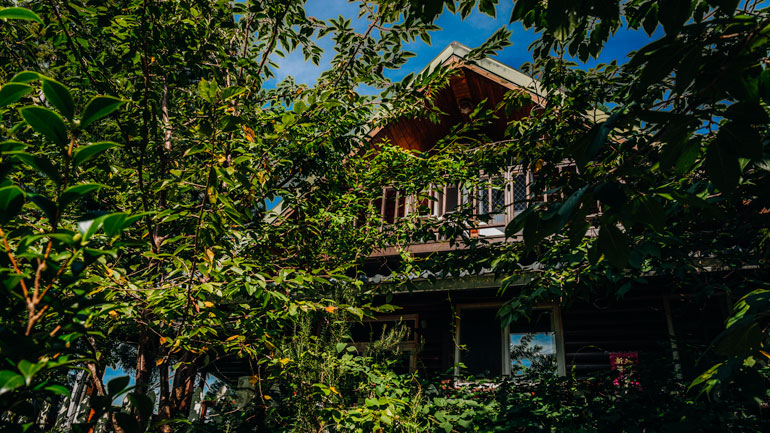 Your stay will be the ultimate getaway from city distractions. The wood-theme guestrooms, central shared living room, and large roof-covered, slope-overhanging decked patio are the ultimate in simplicity.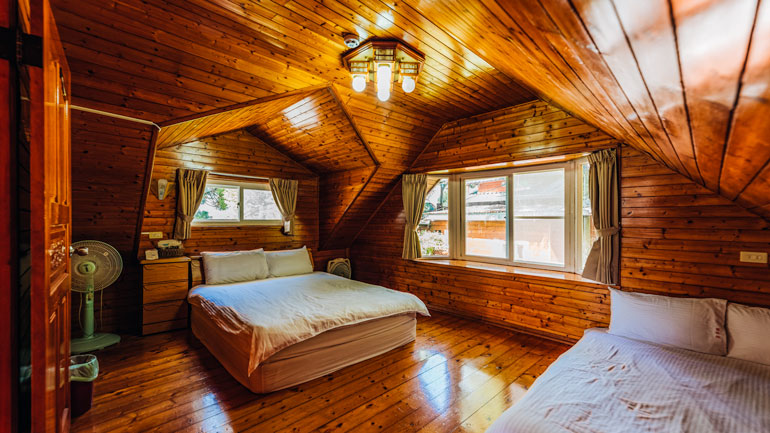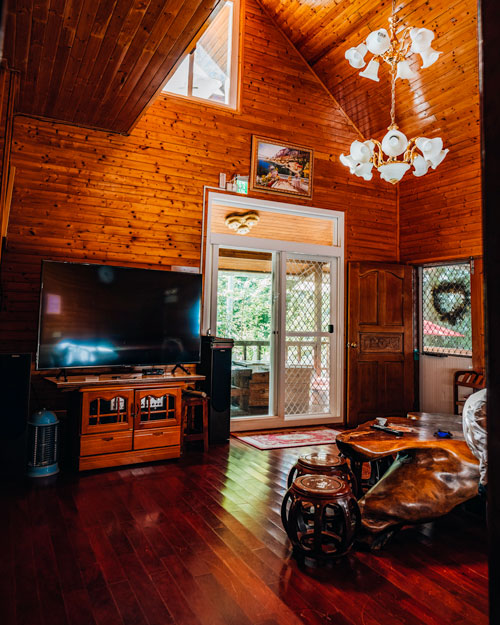 Nevertheless, giving way to modern demands, large wall-mounted TVs are provided in the guestrooms and WiFi is available on the patio. The latter ensures that the patio is busy mornings and evenings with guests dividing time between electronic-gadget fascination and big-vista appreciation. The friendly host gives his guests mountain-cultivated Oolong tea leaf to brew using the patio's set of tea equipment.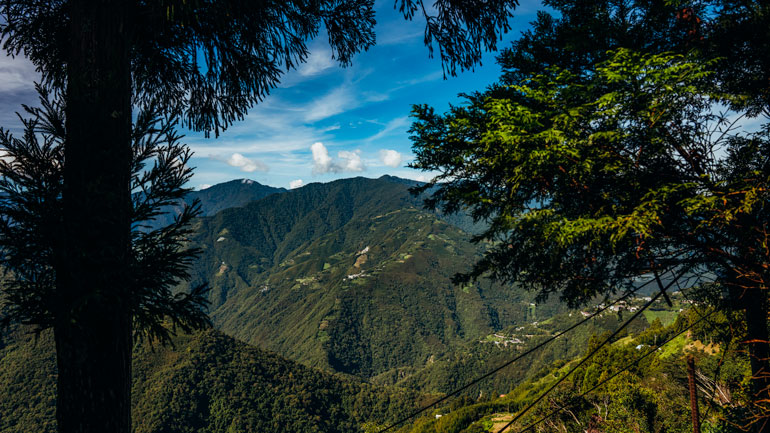 Yun Xiang Zhan does not provide food service. However, there is a tiny kitchen just off the decked patio with a refrigerator, gas stove, steamer, and wok.
A special thing to look for: Directly below the patio you'll see the monorail track the guesthouse-owner uses to work his steep farm plots. These are a common sight in Taiwan's high-mountain farm areas.
Another item to note: Immediately upslope from Yun Xiang Zhan you'll see cottage-style facilities. These are called Taoshan ("Peach Mountain"), and have the same type of set-up as Yun Xiang Zhan. Taoshan is in fact part of the Yun Xiang Zhan operation; the different name arose simply for business-registration reasons.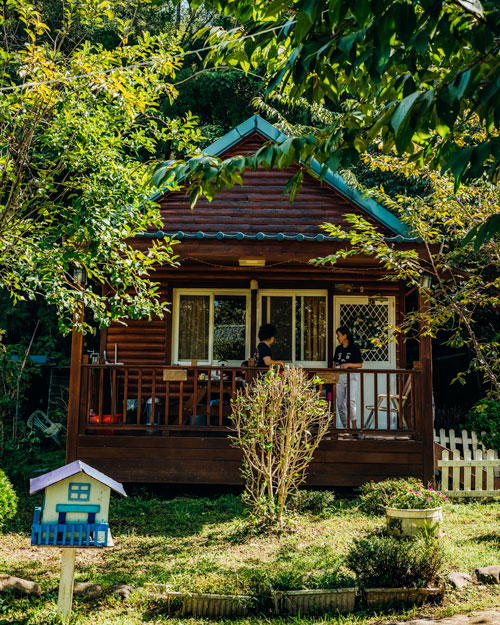 Yun Xiang Zhan/Taoshan
(雲享棧/桃山)
Tel: (03) 391-2045
Add: No. 156-5, Baling, Neighborhood 14, Hualing Village, Fuxing District, Taoyuan City
(桃園市復興區華陵里14鄰巴崚156-5號)
Website: ysz.ego.tw (Chinese)
No. 36 Farm
No. 36 Farm, run by an amicable young couple, is located right on the Baling Road in Zhong Baling.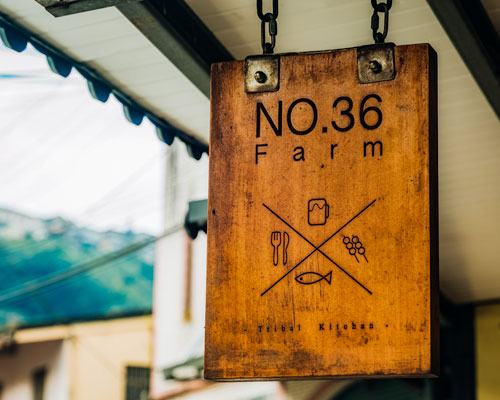 It has three buildings with accommodations. The main building has modern exposed-concrete styling. The single second-floor guestroom, which faces southeast, is accessed in the rear via a long balcony.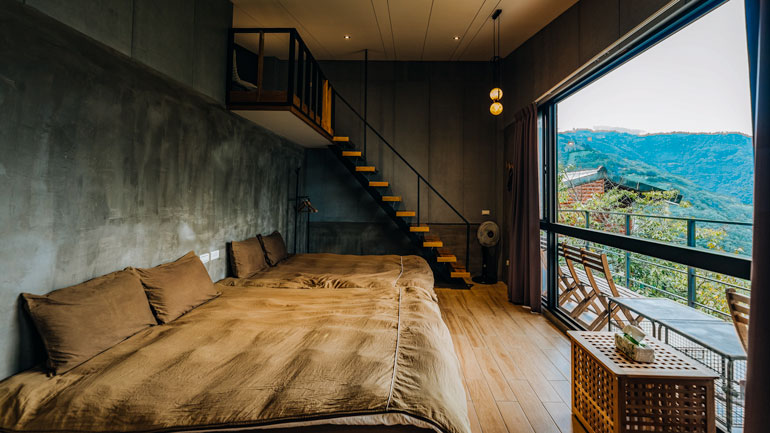 On the first floor is a hip restaurant/café/bar.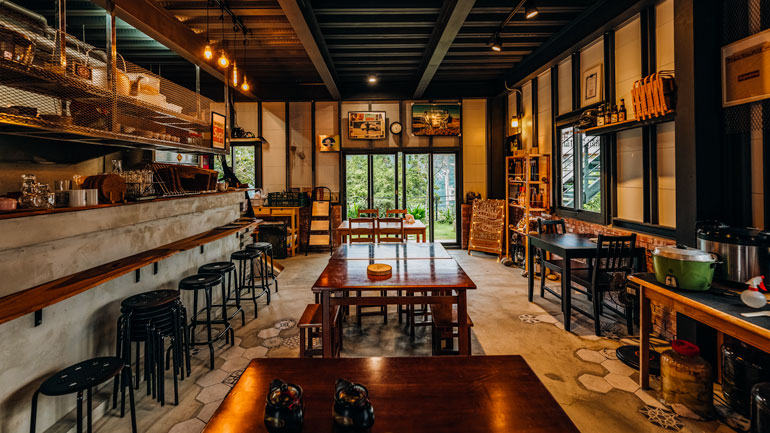 One of the other buildings is right next door. This has a cottage-style wood theme. There are two rooms, with a shared living room between making this perfect for families.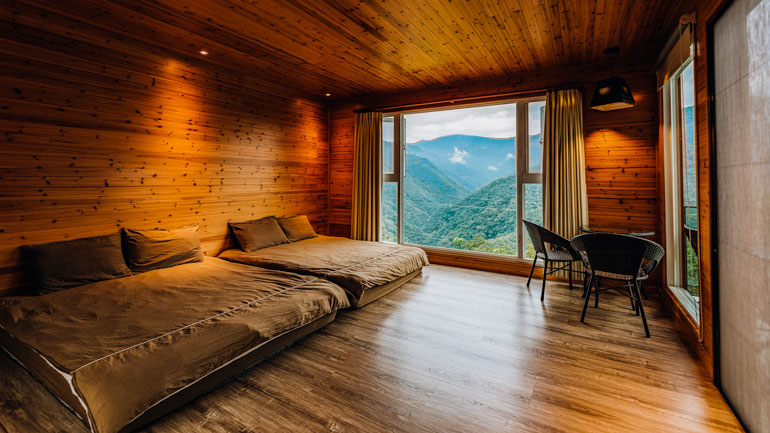 The third facility, which faces southwest, is located 100 meters downhill just off Baling Road. Hidden downslope in trees are two handsome side-by-side wood-built cabins.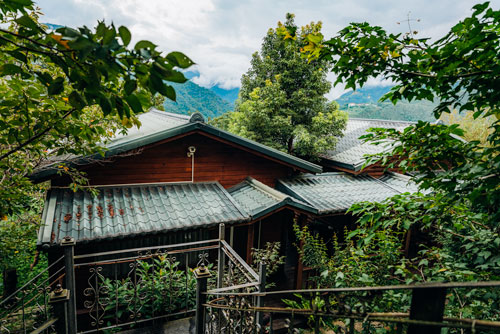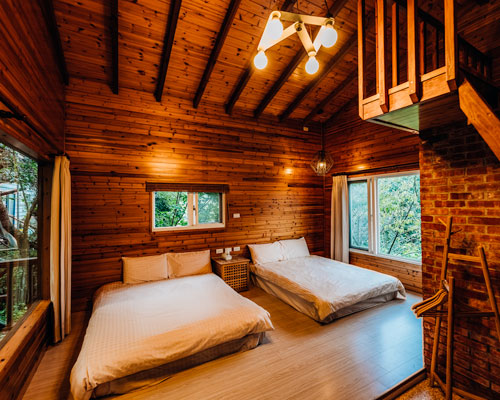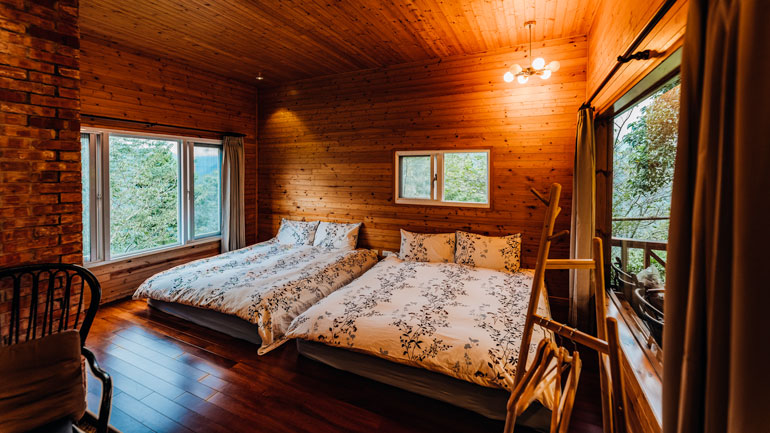 Note that the second and third accommodation structures are Japanese-style, with mattresses right on the floor.
No. 36 Farm
(36號農場)
Tel: (03) 391-2585
Add: No. 36, Neighborhood 8, Hualing Village, Fuxing District, Taoyuan City
(桃園市復興區華陵里8鄰36號)
Website: 36farm.okgo.tw (Chinese)

Goodian Coffee, Bed & Breakfast
Goodian Coffee, Bed & Breakfast is located beside the Baling Road not far below Zhong Baling. It faces south, low enough that the rushing waters of the Dahan River tributary below provide constant aural soothing. This is a large operation, with an expansive slope-overhang observation deck, fruit orchard, fish pond, cherry-blossom trail, etc. On the food menu, which is focused on Chinese dishes, are free-range chicken and organic vegetables cultivated on-site. The pride of the beverage menu is coffees made using beans specialty-baked in Italy as well as elite coffee-brewing equipment from Italy.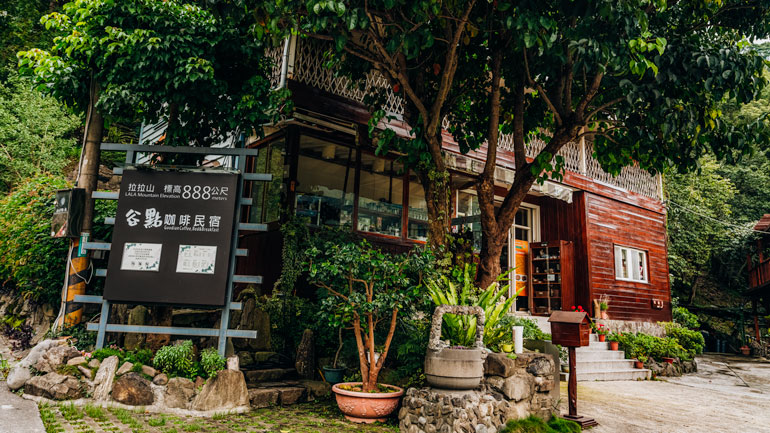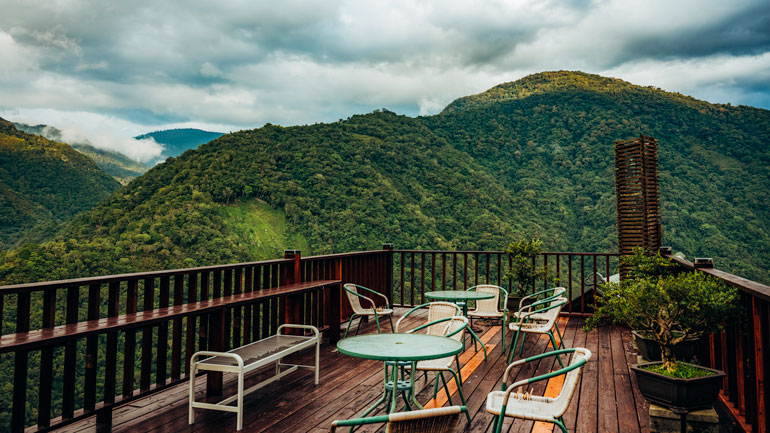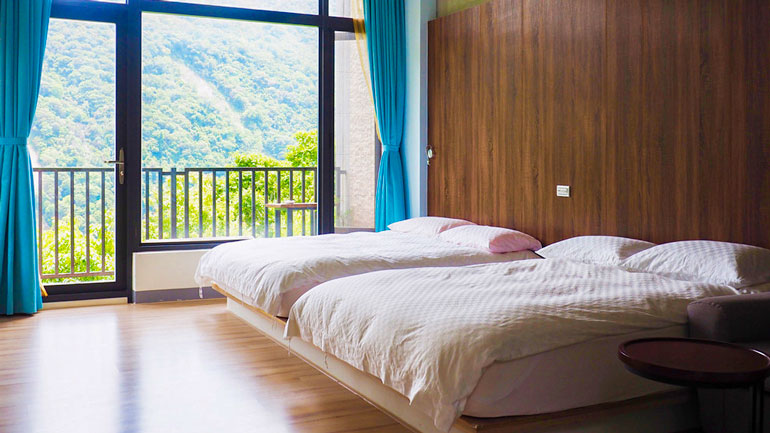 Goodian Coffee, Bed & Breakfast
(谷點咖啡民宿)
Tel: (03) 391-2415
Add: No. 30, Neighborhood 8, Hualing Village, Fuxing District, Taoyuan City
(桃園市復興區華陵村巴崚8鄰30號)
Website: www.goodian.com.tw (Chinese)
On the Way/In the Area
Jiaobanshan Park
In our accompanying article on Taoyuan's Daxi and Longtan districts a number of Highway 7 tourist spots closer to its Daxi town starting-point were presented. Below we introduce two other popular tourist attractions east of these further along the highway, located close to each other, where the big mountains of the island's center loom into view.
Heading east, first encountered is the landscaped, tall-tree-shaded Jiaobanshan Park (free entry), a quick drive off the highway along County Route 117. It sits on a high plateau looking deep down at the Dahan River. Far across the valley, up on the mountainside opposite at eye level, is an Atayal settlement. Far to the right (west), the writhingly serpentine Dahan is seen flowing into the tail end of the mighty Shimen Reservoir.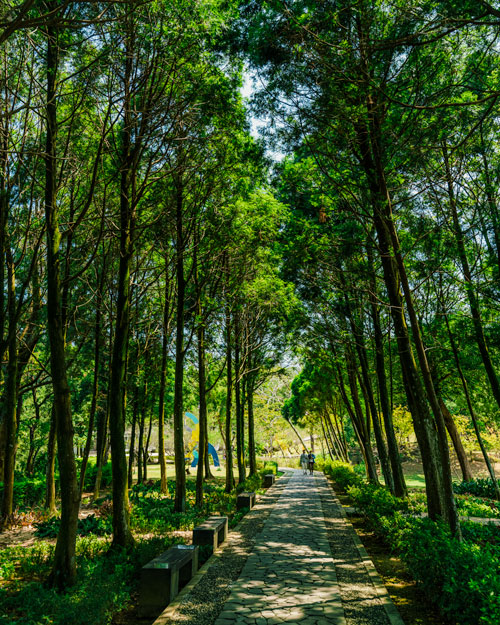 The park's central attraction is a villa once owned by President Chiang Kai-shek, now a museum filled with photos of events past. Like Cihu along Highway 7, visited in the just-mentioned Daxi/Longtan article, this presidential retreat also did double-duty as a designated government retreat should Communist China attack – first Cihu, then Jiaobanshan if needed, moving up the Dahan.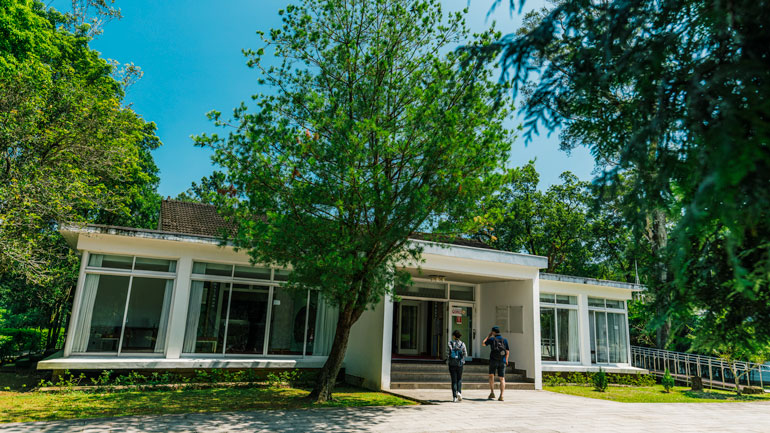 Tour the underground command-post bunker complex inside the plateau, and take the well-maintained evacuation trail down to the new, elegant 303m river-crossing suspension footbridge. (Chiang was also to be secretly whisked downriver if Highway 7 was cut off; a speedboat commando team was always at the ready).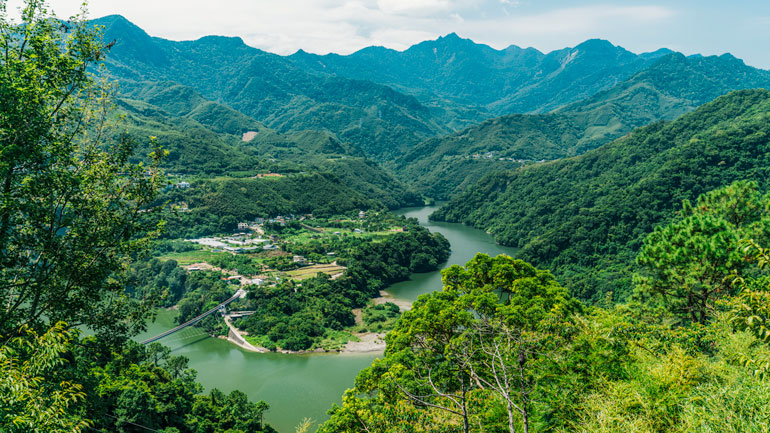 Other buildings on the plateau house displays on the regin's logging and camphor-production days. Before the early 1900s when synthetic-camphor production began, Taiwan was a leading camphor producer. Beyond trading, first contact between Han Chinese and island mountain tribes often came with Han camphor-extraction incursions.
Little Wulai Scenic Area
The Little Wulai Scenic Area is a short drive off the highway along County Route 115. The turnoff is not far before the Atayal village of Luofu, mentioned in the introduction. It should here be mentioned that a number of other Atayal villages will also be passed on the way to Lalashan – a few right through the middle. Look for the telltale church steeple in each.
The celebrities of the scenic area are a picturesque rugged gorge along a Dahan tributary, and the high, thundering waterfall that exclaims the gorge's end. From the parking lot (vehicle entry fee), a gorge-side walkway takes you a few hundred meters to the glass-floor Little Wulai Skywalk (entry fee; closed noon-1pm). The skywalk dramatically shoots out right over the 50m-high falls. This is a hanging-valley waterfall; the cliffs directly below you are above-ground evidence of an active fault line.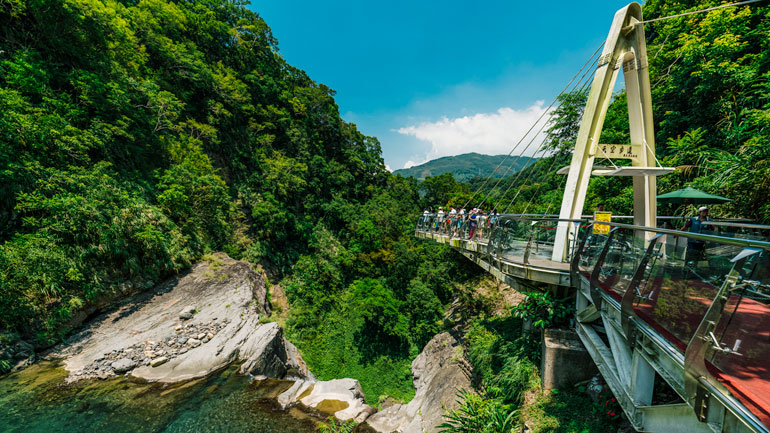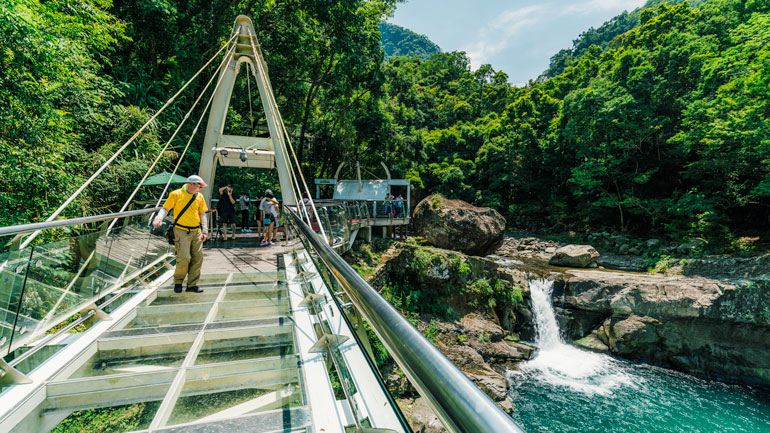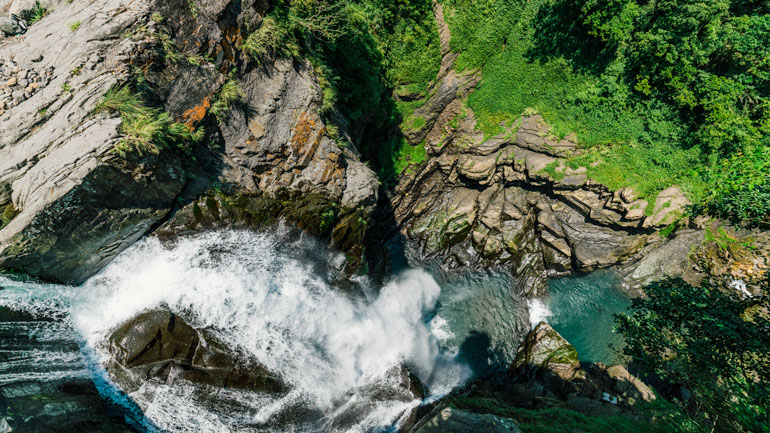 Thrilling falls-bottom views also await those who are willing to sweat a workout. The trailhead to the steep 750m Fall Base walk, clearly signposted in English, starts at an observation deck right beside County Route 115 about a half-kilometer before the parking lot.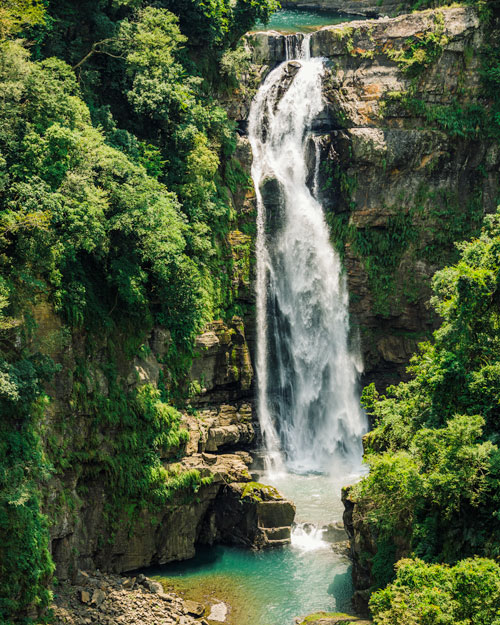 Why "little" Wulai? The word wulai means "hot springs" in Atayal. Not far northeast, at least as far as the crow flies, is the tourist-popular Wulai village and hot-springs resort in New Taipei City, home to abundant spring waters and an even more spectacular 80m waterfall.
Practical Info
For further information on Lalashan and the other sightseeing spots introduced here, plus info on accommodations, bus service, etc., visit taiwan.net.tw (Taiwan Tourism Bureau) and travel.tycg.gov.tw (Taoyuan City).
As well, check out the Taiwan Tourist Shuttle hop-on/hop-off bus service website (taiwantrip.com.tw). One of its routes gets you to Jiaobanshan and Little Wulai. Its route network covers the whole island, so check out the site for the destinations covered in our other articles as well.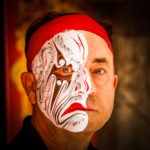 A Canadian, Rick has been resident in Taiwan almost continually since 1988. His book, article, and other writings, on Asian and North American destinations and subjects—encompassing travel, culture, history, business/economics—have been published widely overseas and in Taiwan. He has worked with National Geographic, Michelin, APA Insight Guides, and other Western groups internationally, and with many local publishers and central/city/county government bodies in Taiwan. Rick also handles a wide range of editorial and translation (from Mandarin Chinese) projects.