Premium Downtown Hotels, Plus Tourist Draws Nearby
TEXT / RICK CHARETTE
PHOTOS / RAY CHANG, ALAN WEN
You travel to Taiwan, you travel to our far south, you want to treat yourself to the top accommodations with Kaohsiung's most iconic city center views – i.e., a grand Kaohsiung Port sweep. Just for you, a Travel in Taiwan team recently tested some of the premier places to stay and visited a number of tourist attractions close by.
TAI Urban Resort
The sumptuous, just-opened Tai Urban Resort, Kaohsiung's newest big 5-star hotel complex, stands overlooking Kaohsiung Port with a number of the city's most striking architectural statements as its district neighbors: the even taller 85 Sky Tower, which looks like a giant spaceship set to launch; the massive wave-roof Kaohsiung Exhibition Center; the Kaohsiung Port Cruise Terminal, which from the hotel's perspective looks like an approaching baleen whale; and next-door (connected by skybridge) the Kaohsiung Main Public Library, a celebrated green-sustainability showcase.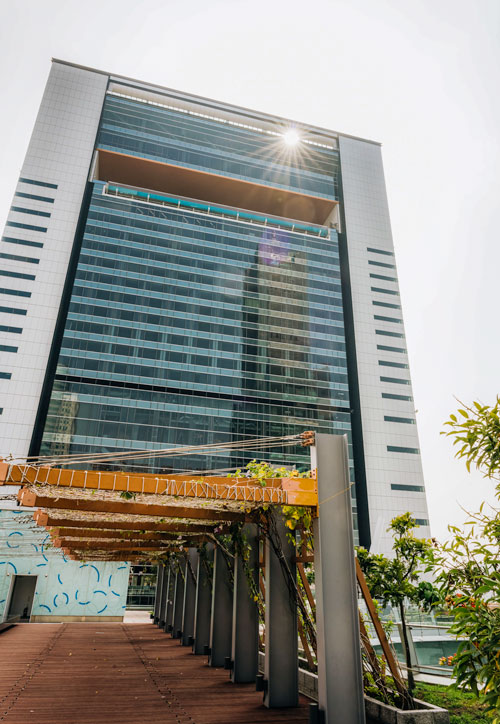 The Kaohsiung Exhibition Center Station on the city metro's Kaohsiung Light Rail line is just 1.5 blocks away, and the Sanduo Shopping District Station on the Red Line about three blocks.
The best way to imagine this hotel is as a "castle in the sky." As you enter the deep, sunlight-drenched two-story-high lobby on the 25th floor, you're met with tremendous views streaming in from around the city through floor-to-ceiling windows. This brings the sensation that the hotel has been built atop a cloud.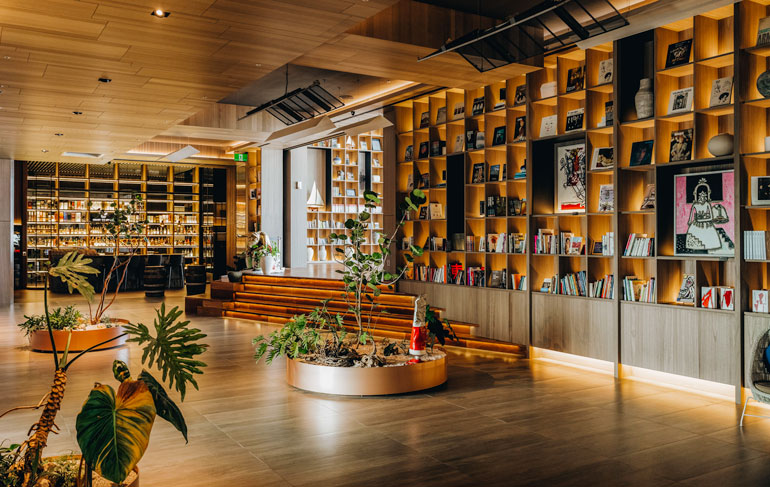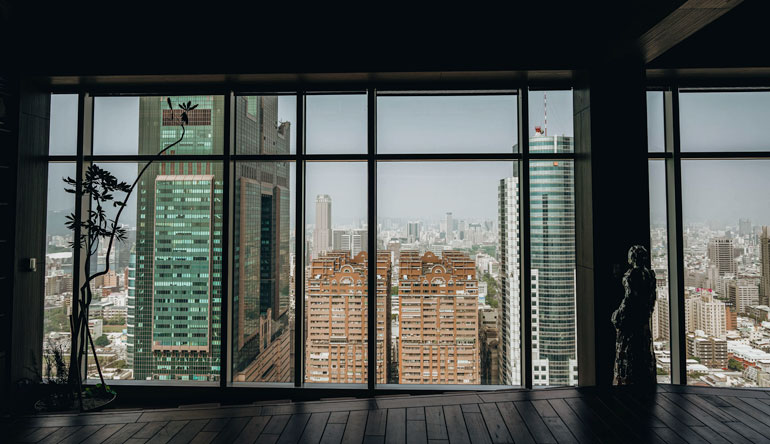 TAI Urban Resort is the latest and largest hotel project undertaken by Taiwan's Chan Yee Group, whose goal in the accommodation realm is to make each of its facilities a travel destination, with each a celebration of the unique cultural characteristics of its location. It has operations around the island, both transforming existing hotel/office buildings and building all-new facilities. TAI is in the latter category; in the former is the lovely lakeside Hotel Day+ Sun Moon Lake, opened in late 2021, which Travel in Taiwan visited late last spring (travelintaiwan.net/2022/06/02/sun-moon-lake-accommodation).
There are 208 cultivated, spacious rooms in six categories, which can be described as Scandinavian modernist in styling, sporting a harmonious combination of quiet and soothing earth tones – white, grays/beiges, browns, blacks, and blonde woods. Because the rooms are all up so high, views in all directions are first-class, though of course rooms with port views are most in demand.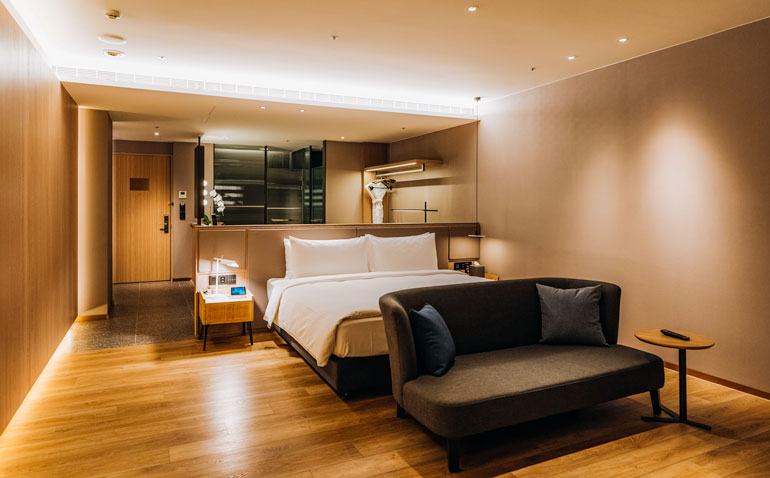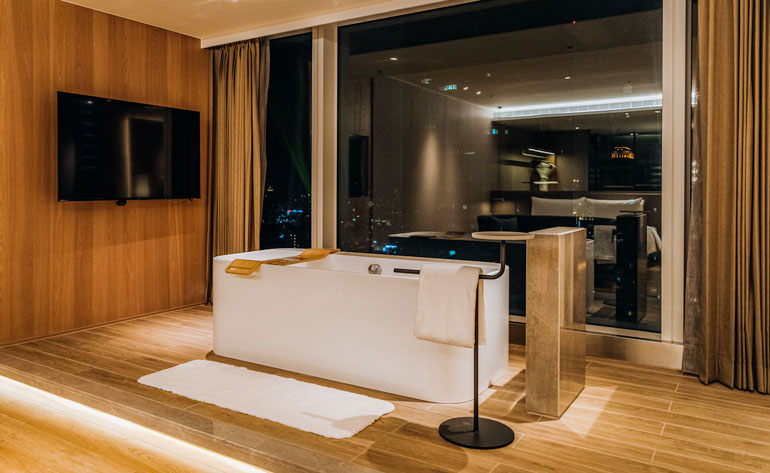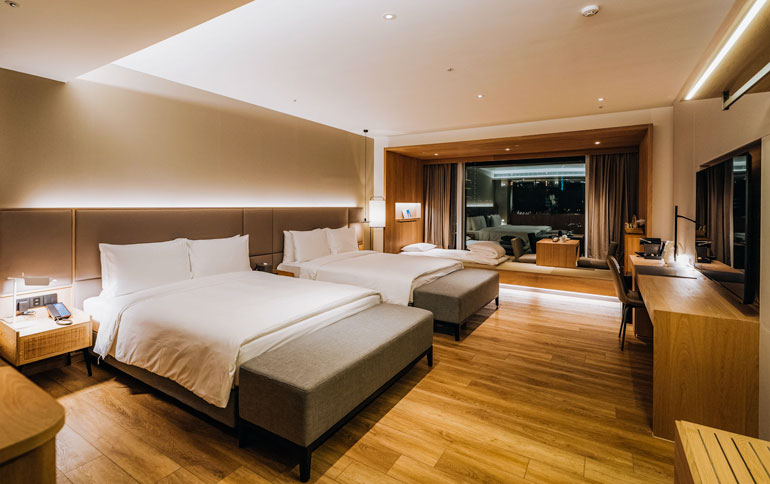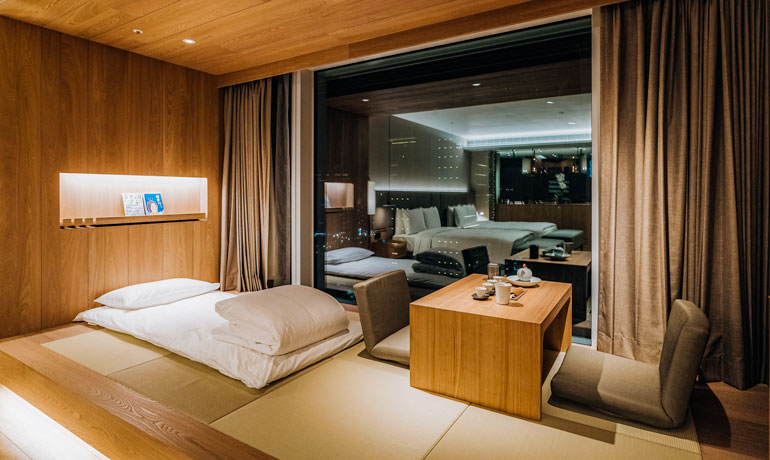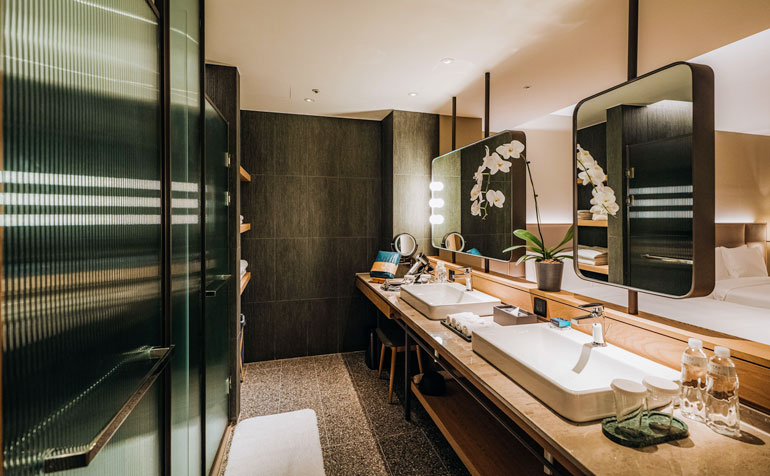 The restaurant/bar and other amenities provided are far too extensive to fully list here. Some of the key ones:
On the lobby level is a "tea saloon," a large reading area, a cigar lounge, and a branch of a local Kaohsiung bakery.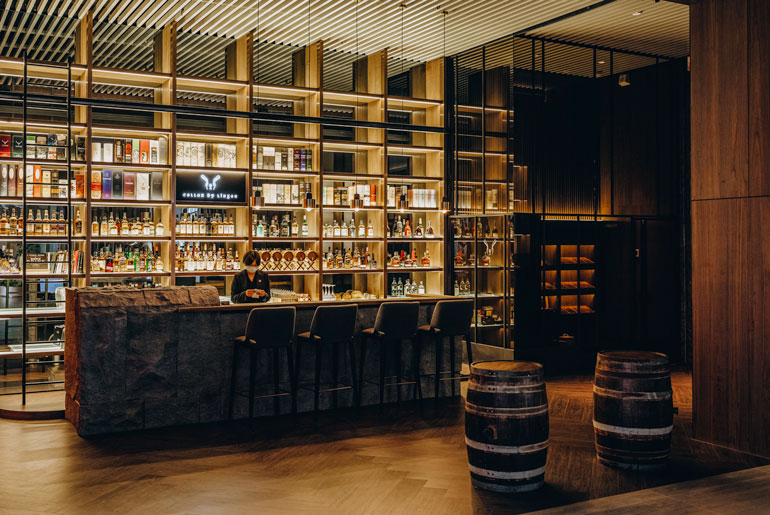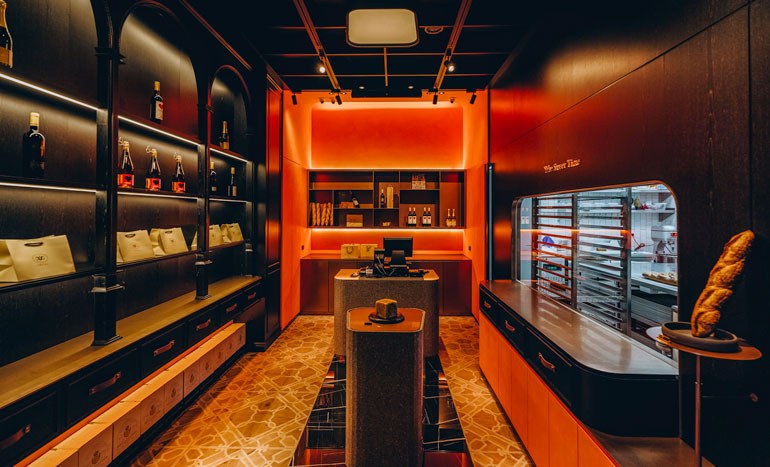 The 26F main restaurant is open three meals a day. Your complimentary breakfast is taken here. Lunch and dinner are semi-buffet. The cuisine is international.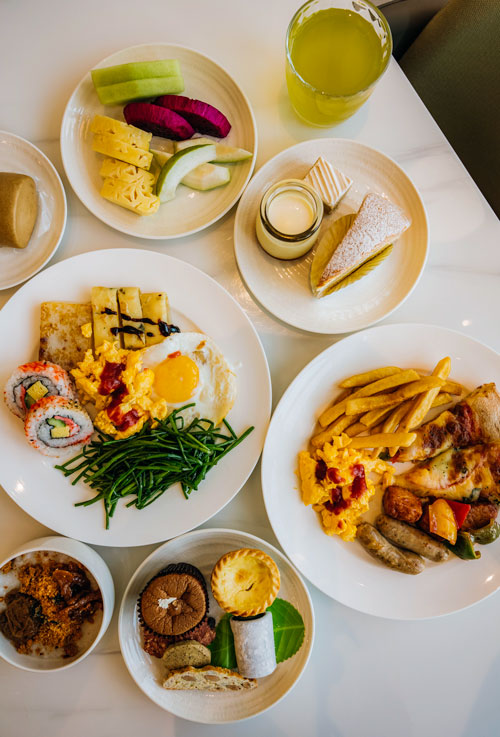 On the 24F is an infinity pool (looking at 85 Sky Tower and the north section of Kaohsiung Port). The outermost section has a transparent bottom. Expansive deck-style seating is available. Opening onto this is a stylish bar, "the only cyberpunk bar in a Taiwan 5-star hotel."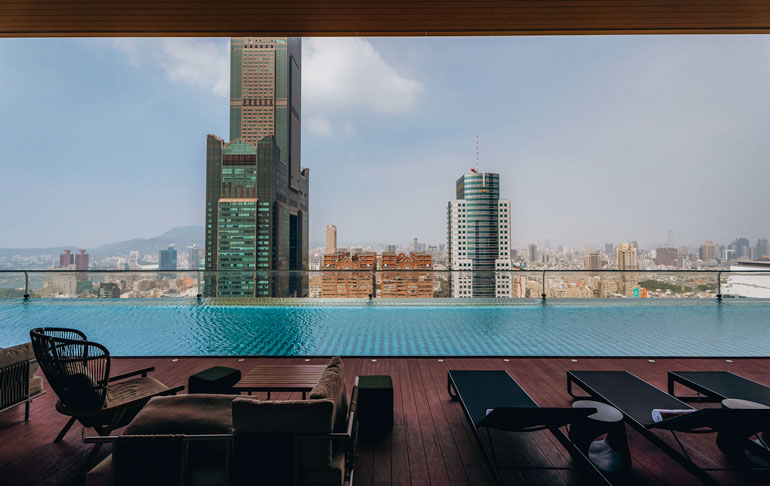 Way back down, the building can be described as standing on two outer legs; the center area has been left open a few stories high to form a large covered plaza. At ground-level in one leg is the hotel's ritzy glass-walled café, facing the plaza. On the B1 level is a shopping complex showcasing Kaohsiung businesses (such as the aforementioned bakery group) and cultural-creative talent.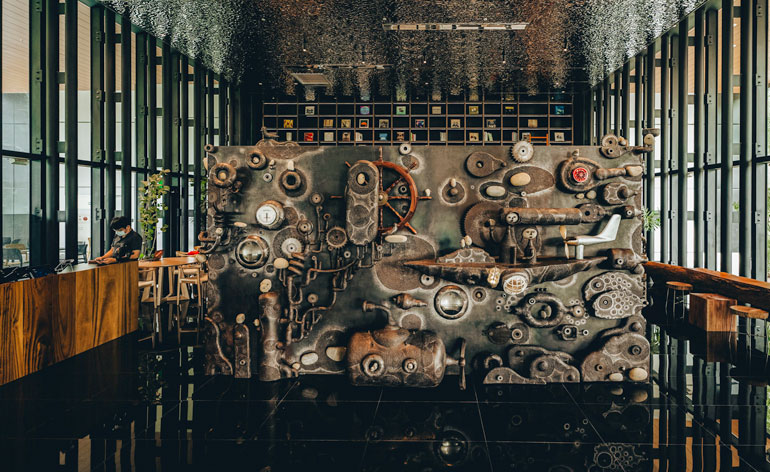 TAI Urban Resort
(高雄承億酒店)
Tel: (07) 333-3999
Add: No. 189, Senlin 4th Rd., Qianzhen District, Kaohsiung City
(高雄市前鎮區林森四路189號)
Website: www.taiurbanresort.com.tw
Fullon Hotel Kaohsiung
Fullon Hotels & Resorts is a Taiwan-owned chain launched in 2002. It runs many facilities around the main island, including the Fullon Hotel Tamsui Fisherman's Wharf, where the Tamsui River empties into the ocean north of Taipei at famed Fisherman's Wharf, and the Fullon Hotel Fulong, on the northeast coast at the famed beach resort of Fulong.
The Fullon Hotel Kaohsiung is just off another tourist-oriented port area in one of the city's oldest and most heritage-rich residential/commercial neighborhoods (Yancheng District), and just one block from the Love River's lower section. It's about three blocks from the metro's Yanchengpu Station (Orange Line), two blocks from the Dayi Pier-2 Station (Kaohsiung Light Rail line).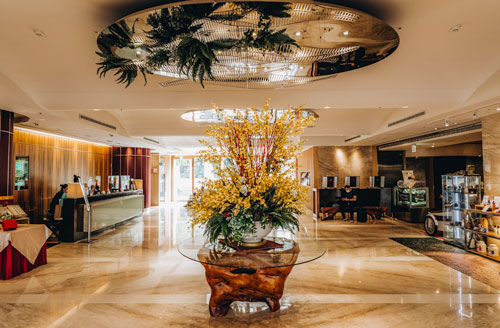 Book a rear-facing room – i.e., overlooking the port. In close you'll enjoy an unfettered overview of the Great Harbor Bridge and, off its far (west) end, the four renovated warehouses of the cultural-creative hub Port Depot 410 (both visited in this issue's main article). Beyond you'll see the full north end of the port laid out before you, including the exceedingly narrow north-end mouth and the protecting Kaohsiung Lighthouse at the tip of long Qijin (Cijin) Island, which forms the port's protective sea-side perimeter.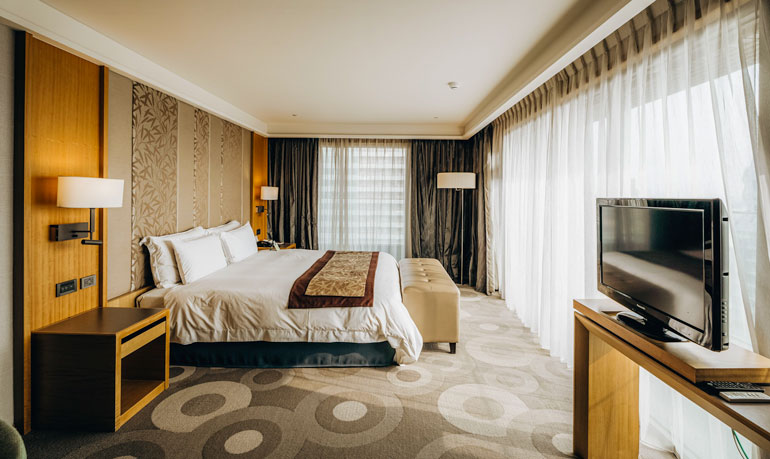 The hotel has 250 good-sized guestrooms, in eight categories. The interior design is European contemporary, with a genteel, understated color scheme – generally white, browns/beiges, and occasionally sea-blue (for carpeting).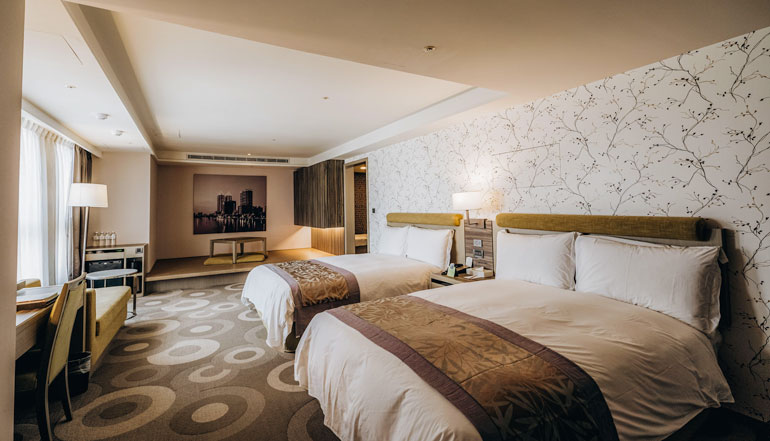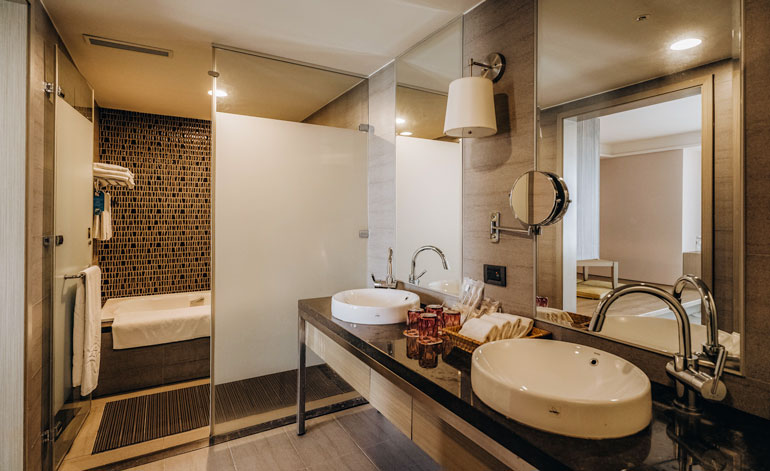 There are three dining options. Take your gratis wide-selection Chinese buffet-style breakfast in the 2F Happy Garden Chinese restaurant.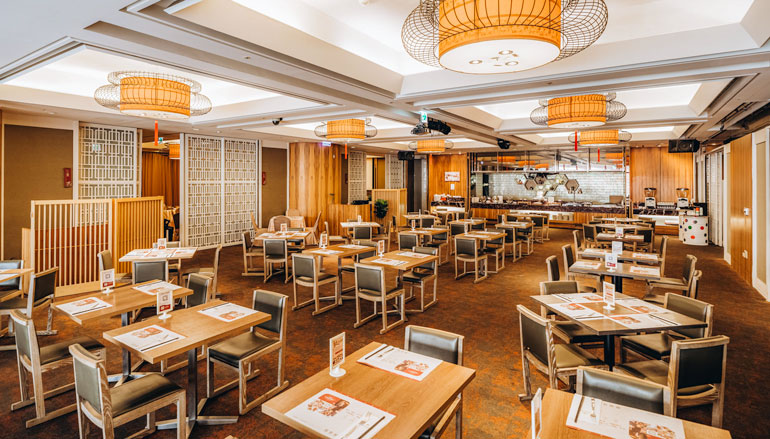 The 1F lobby-area Arcadia Café, colorful with wall-mounted 1950s/1960s-style Americana, has coffees, teas, juices, bagel sandwiches, waffles, Western-style desserts, and a number of appetizing, iconic Chinese hot dishes: Braised Beef Rice, Braised Beef Noodles, Taiwanese-style Chicken Rice, Milkfish Rice with Ginger & Spring Onion Sauce.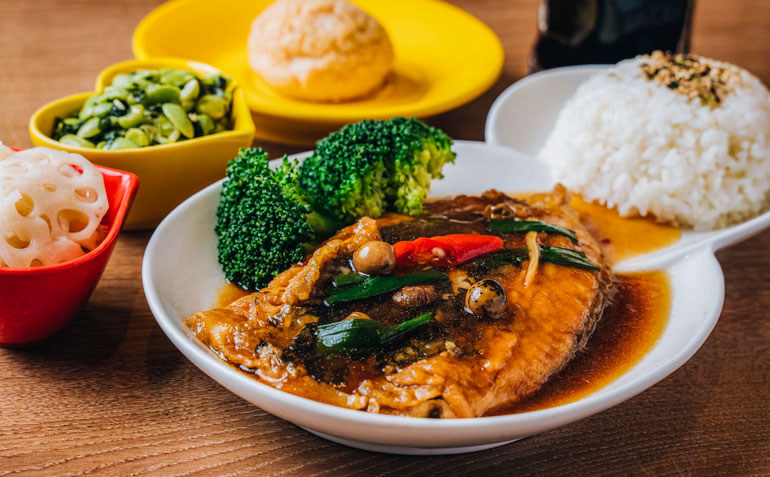 As one would expect, the by-reservation-only 25F Premier Lounge, open for lunch and dinner, has a 5-star 360-degree view; the restaurant serves à-la-carte Chinese classics.
Among the hotel's other high-quality amenities are an outdoor Bali-theme pool area, sauna complex, and gym.
Fullon Hotel Kaohsiung
(福容大飯店 高雄)
Tel: (07) 551-1188
Add: No. 45, Wufu 4th Rd., Yancheng District, Kaohsiung City
(高雄市鹽埕區五福四路45號)
Website: www.fullon-hotels.com.tw/kh
Brio Hotel
The spanking-new Brio Hotel, one of the city's top boutique hotels, is steps from Central Park and about a block from the metro's Central Park Station (Red Line). The park, opened in 1976, completely changed character in the 1990s when most of the built-up areas were removed and replaced with grassy and wooded landscapes.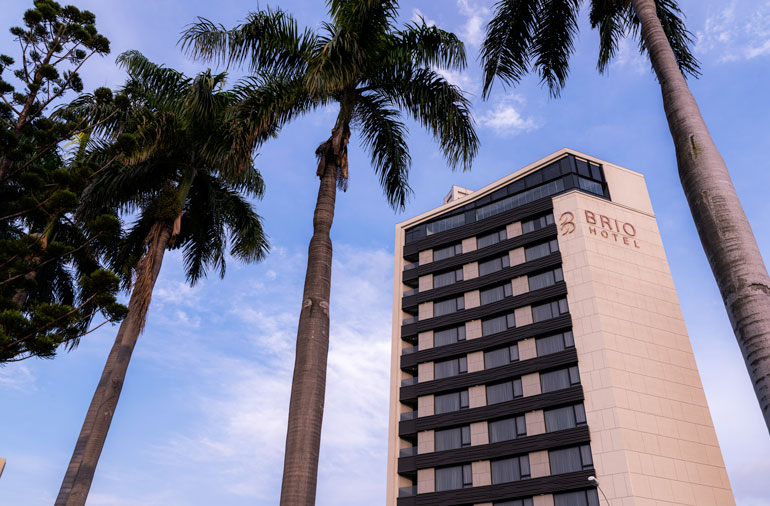 Brio is an artsy designer hotel with contemporary-chic artistic flourishes everywhere you look, in the public spaces and in each guestroom, each of the latter designed as in individual work of art. Artists from around Taiwan were brought in to craft the highly eclectic decorative works.
The rooms come in six categories. All feature modern-décor, aesthetically bold designs, with such artistic splashes as a school of pastel-blue/green stingray sculptures swimming up a wall, a horned goat-like creature mosaic-created with ceramic pieces flying across a blue-wall sky, and a wall serving as canvas for a dynamic black-and-white Chinese ink wash painting.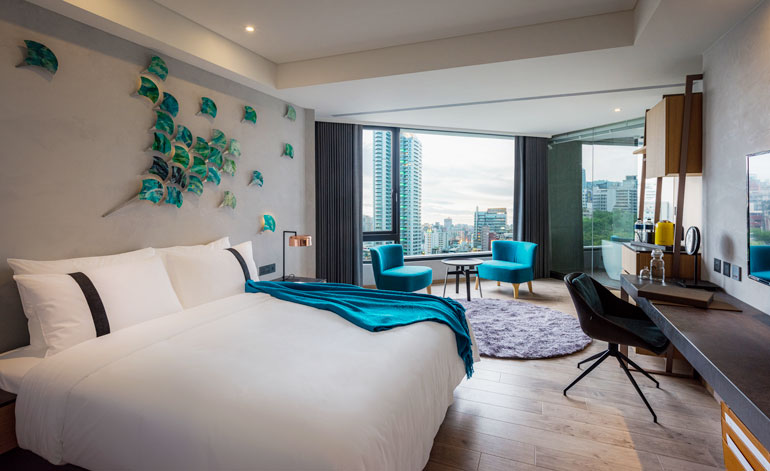 The Lookout Bistro and Bar, which provides excellent views across the city in different directions, is open for breakfast, for dinner, and from 10pm to midnight for bar service only, with hot snack foods served. The breakfast menu features Western, Asian, and vegetarian set-meal choices. The dinner menu is Western a la carte, with a pasta/risotto section and main course section with straw-smoked lamb and duck breast among the chef's recommendations.
Brio Hotel
(比歐緻居)
Tel: (07) 281-7900
Add: No. 14-26, Zhongshan 1st Rd., Xinxing District, Kaohsiung City
(高雄市新興區中山一路14-26號)
Website: www.briohotel.com
Cultural Places of Interest
Kaohsiung Museum of History
The Kaohsiung Museum of History (free entry), beside the Love River's lower section, is about a block-and-a-half from the Yanchengpu Station (Orange Line) and about three blocks along the Love River from the Fullon Hotel.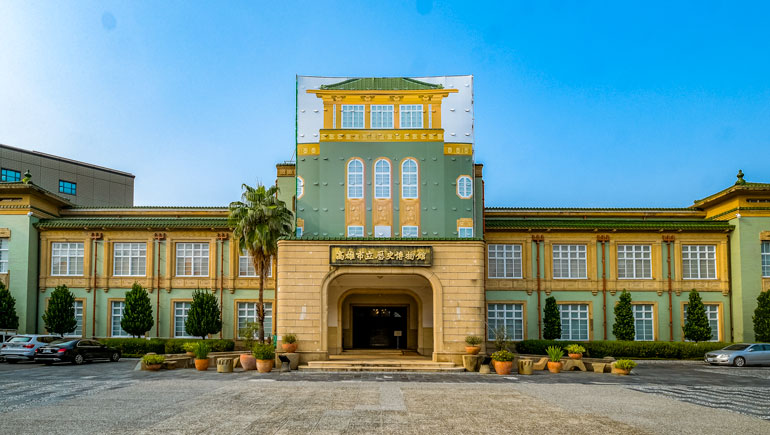 Its home is a striking colonial-architecture building from Taiwan's Japanese occupation period, built in 1938, purpose-constructed to house the city administration. It continued in this role after WWII, the municipal government moving out in 1992, the museum opening in 1998. The structure was built in what is called the Japanese Imperial Crown style, meaning Japanese-style roofing atop Neoclassical-style buildings, often with a centrally elevated structure capped with a pyramidal dome.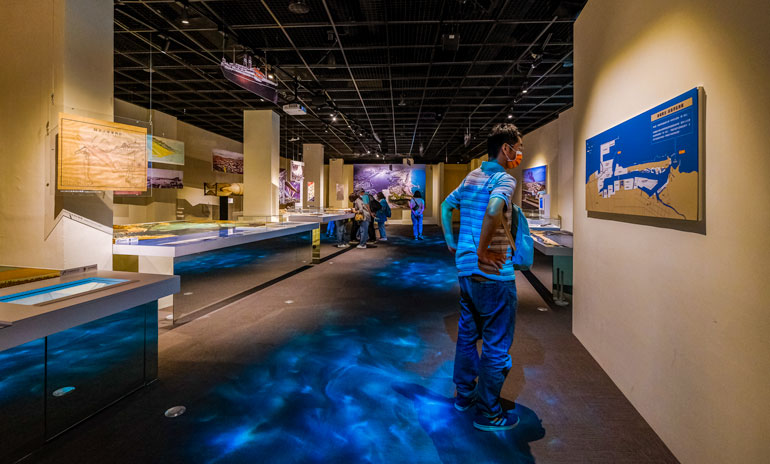 Its exhibits cover a varied range of topics, from the national, including the infamous 228 Incident of 1947 and educational development in Taiwan, to the local, including Kaohsiung's Han Chinese pioneer settlement and its port development.
Kaohsiung Museum of History
(高雄歷史博物館)
Tel: (07) 531-2560
Add: No. 99, Hexi Rd., Yancheng District, Kaohsiung City
(高雄市鹽埕區河西路99號)
Website: khm.org.tw
Alien Art Centre
The Alien Art Centre (entry fee) is one block from the Shoushan Park Station (Kaohsiung Light Rail line).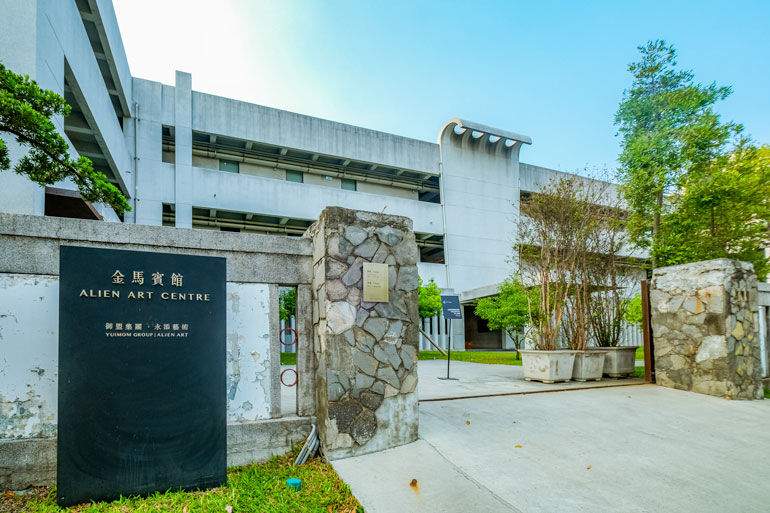 Dedicated to the display of contemporary art by both Taiwanese and overseas talent, the home of the museum is a former military hostel built in 1967 to handle navy/army personnel transitioning to and from the Kinmen and Matsu archipelagoes just off the China coast, held by the Republic of China (Taiwan) since the end of the Chinese Civil War. The complex had been abandoned for a time before Alien Art, a multi-discipline art team dedicated to integrating artistic experiences with unique works of architecture, was entrusted with renovation and operation of the space. The museum was opened in 2018. There is also a special display on the building's unusual history, with period photos and military vets' oral histories.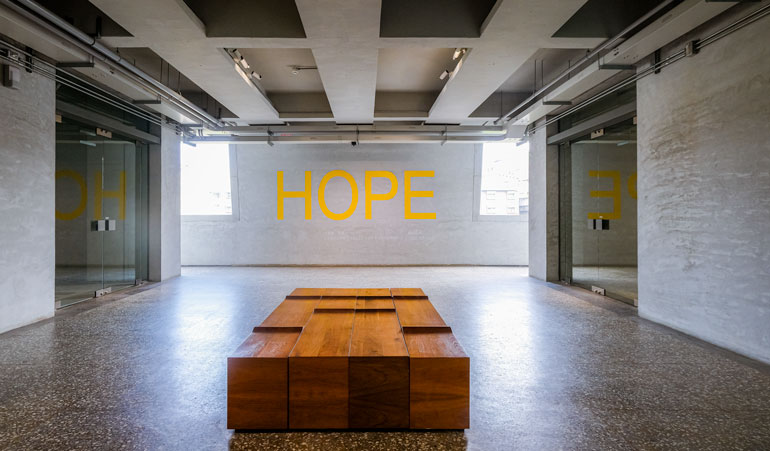 Alien Art Centre
(金馬賓館當代美術館)
Tel: (07) 286-5858
Add: No. 111, Gushan 1st Rd., Gushan District, Kaohsiung City
(高雄市鼓山區鼓山一路111號)
Website: www.alien.com.tw
Kaohsiung Museum of Fine Arts
Kaohsiung Museum of Fine Arts (entry fee) is four blocks from the Aozihdi Station (Red Line).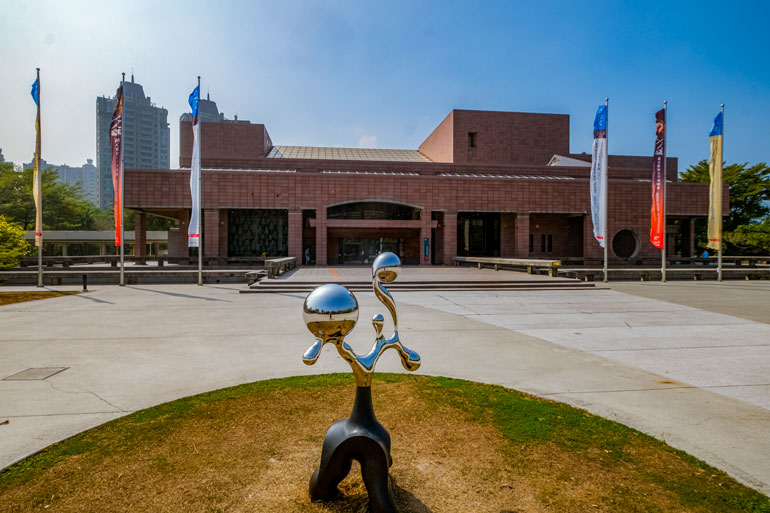 This facility is in the 40ha Neiwipi Cultural Park, once the site of a large wetland and irrigation ponds. Among the park's other attractions are the Children's Art Museum, Sculpture Park, Ecology Park, and Austronesian Cultural Area. Walk the beautifully landscaped grounds, along the large, tranquil lake and pathways lined with Madagascar Almond trees, inspecting some of the 37 large-scale installation sculptures, which have English introductions.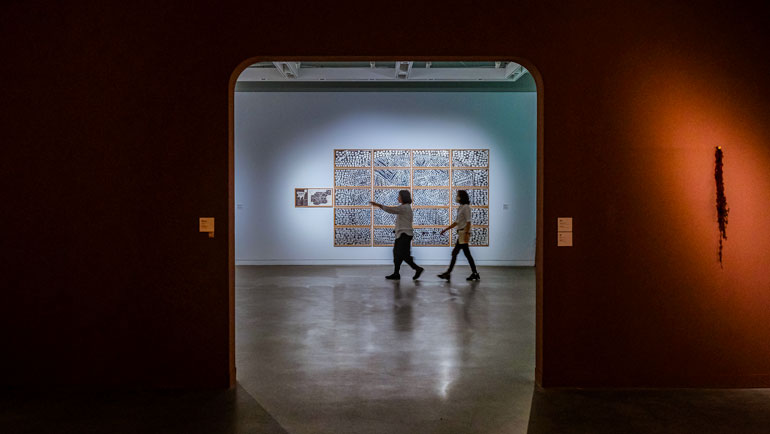 The large four-story museum primarily showcases contemporary works by Taiwanese artists, with a strong focus on creations by talents from the south, including indigenous artists. At the museum's core is the Sculpture Hall, entered from the spacious first-floor lobby, which soars four stories high and is topped with a large skylight, draping the artworks in natural lighting.
Kaohsiung Museum of Fine Arts
(高雄市立美術館)
Tel: (07) 555-0331
Add: No. 80, Meishuguan Rd., Gushan District, Kaohsiung City
(高雄市鼓山區美術館路80號)
Website: www.kmfa.gov.tw
Shoyoen Japanese Garden
Shoyoen Japanese Garden (free entry) is a block-plus from the Sinyi Elementary School Station (Orange Line).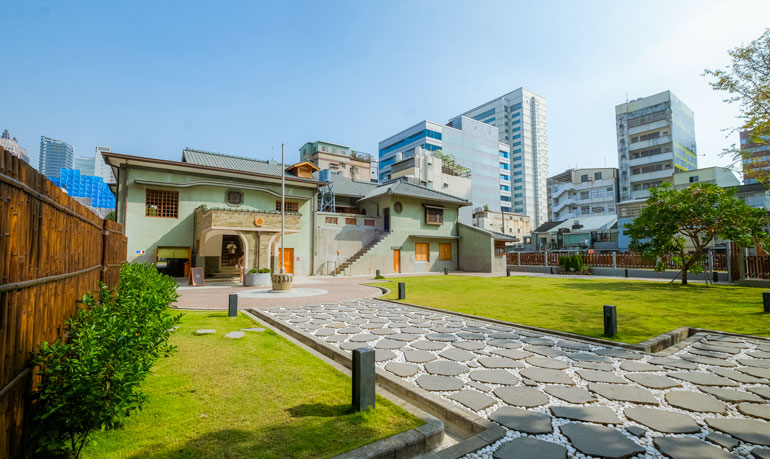 The complex dates to 1940, built as a villa residence and grounds for a patriarch of Japanese Buddhism's Jodo Shinshu branch who called Taiwan a jewel of the Japanese empire and decided to resettle here. He used the site as an education base for Taiwan agricultural development. The complex survived the intense Allied bombing of Kaohsiung in WWII and in 2017 was launched on a 3-year historical renovation project by the city government, opened again to the public in 2020.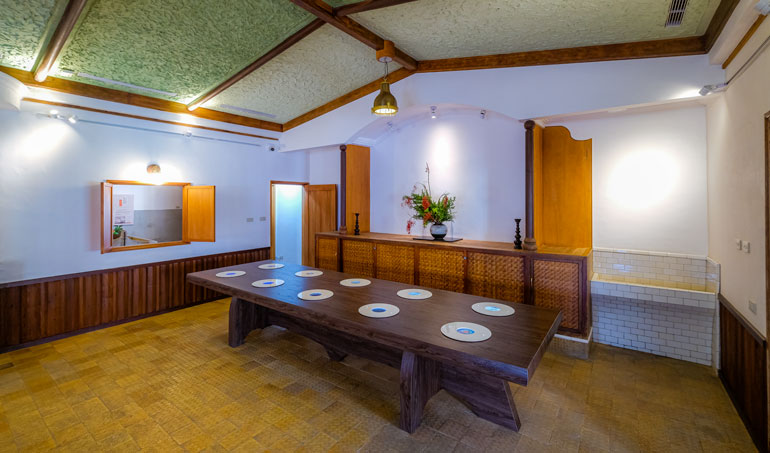 The villa itself is a two-story structure with an appealing harmonious blend of classical Mediterranean- and Japanese-style architectural and interior design elements. The gardens are among the most noteworthy traditional landscaped Japanese gardens dating to the Japanese colonial period in Taiwan. Guided tours in Chinese are available.
Shoyoen
(逍遙園)
Tel: (07) 222-5136
Add: No. 15, Lane 55, Liuhe 1st Rd., Xinxing District, Kaohsiung City
(高雄市新興區六合一路55巷15號)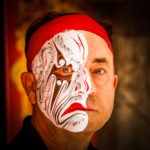 A Canadian, Rick has been resident in Taiwan almost continually since 1988. His book, article, and other writings, on Asian and North American destinations and subjects—encompassing travel, culture, history, business/economics—have been published widely overseas and in Taiwan. He has worked with National Geographic, Michelin, APA Insight Guides, and other Western groups internationally, and with many local publishers and central/city/county government bodies in Taiwan. Rick also handles a wide range of editorial and translation (from Mandarin Chinese) projects.