Shoushan and the Tengjhih National Forest Recreation Area
TEXT / STEVEN CROOK
PHOTOS / RAY CHANG
Flying into Kaohsiung, it's the city's vast harbor and the glitzy buildings adorning the waterfront that'll catch your eye. Yet, on the west and north sides of the urban core, there are rugged green hills equally deserving of attention.
These tree- and bamboo-covered ridges are but a teaser for the topographic glories that lie in the city's hinterland. Far from Kaohsiung's airport, beyond quaint towns like Meinong, long rivers run between steep mountains. In fact, the northeasternmost point of Kaohsiung abuts Mt. Jade, the highest peak in Northeast Asia.
Over the past century, the upland that separates the north section of Kaohsiung's urban core from the Taiwan Strait has had various names attached to it, the most often used being Shoushan ("Longevity Mountain") and Chaishan ("Firewood Mountain"). It's a midget compared to the mountains that dominate the interior of Taiwan – the highest point is a mere 349m above sea level – but it's possible to explore here from morning to dusk without retracing your steps.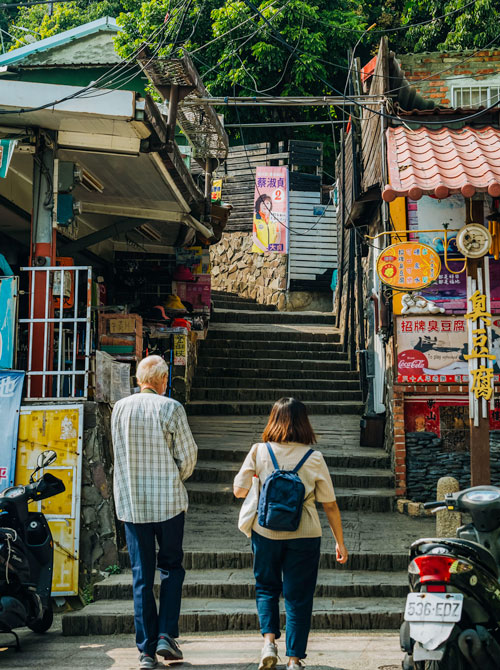 Visitors should come prepared for a serious hike. That means proper footwear, water, and snacks, and, from March through October, protection against the sun. There's no need to carry a map, as all major trail junctions have bilingual signs or mapboards.
Some trails are stretches of boardwalk with lots of steps. In other places, you'll be walking on an uneven mix of stone and dirt. There are several pavilions where you can sit down and, even on weekdays, be sure to meet amiable local hikers.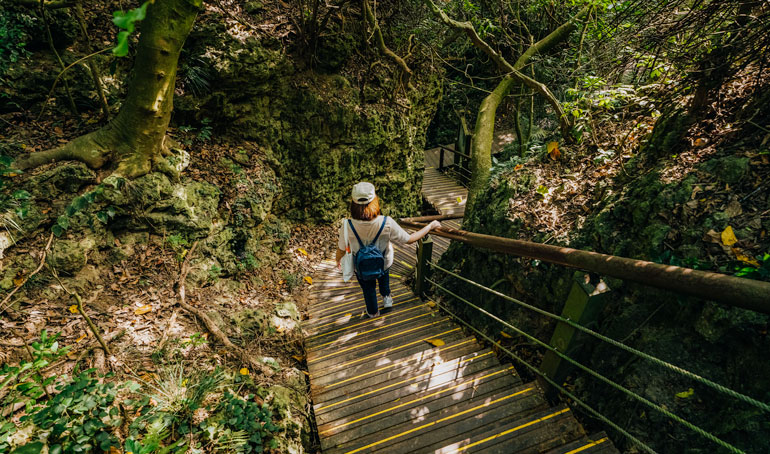 Wherever you start, you'll soon find yourself amid soothing stands of bamboo and the beguilingly ornate branch and root systems of banyan trees. Highlights include the sudden cliffs and deep defiles around Taiguo (Thailand) Valley and the view over the city as you approach Xiaoping Pavilion. But it's the strangely pitted rocks that lend Shoushan its special character, as well as its distinctive natural history.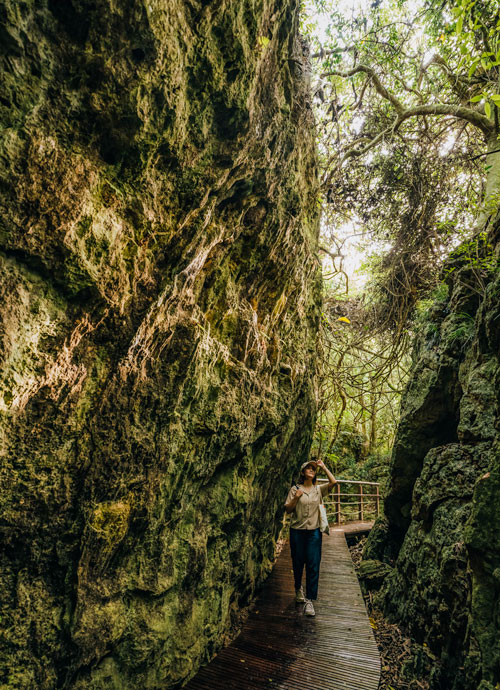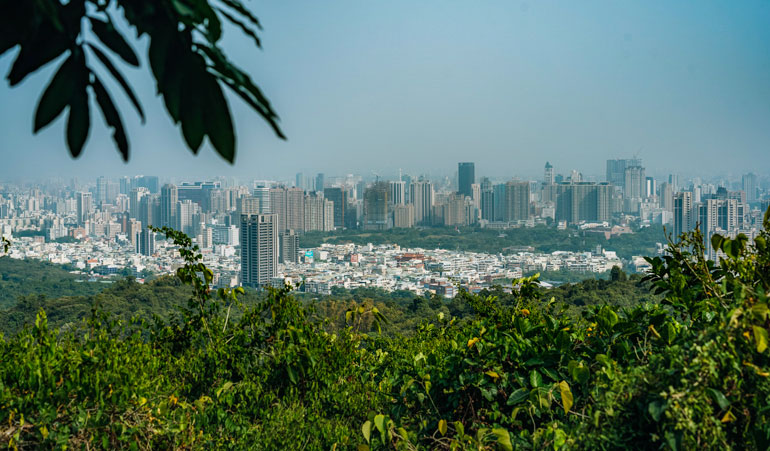 Like nearby Banpingshan and Qijin Island's Qihoushan – both of which are part of Shoushan National Nature Park – Shoushan came into being when tectonic activity pushed layers of coral limestone above sea level. The 485ha park was established in 2011 to preserve the area's environment and develop it as a leisure destination. Admission is free, and no permits are required for the main trails.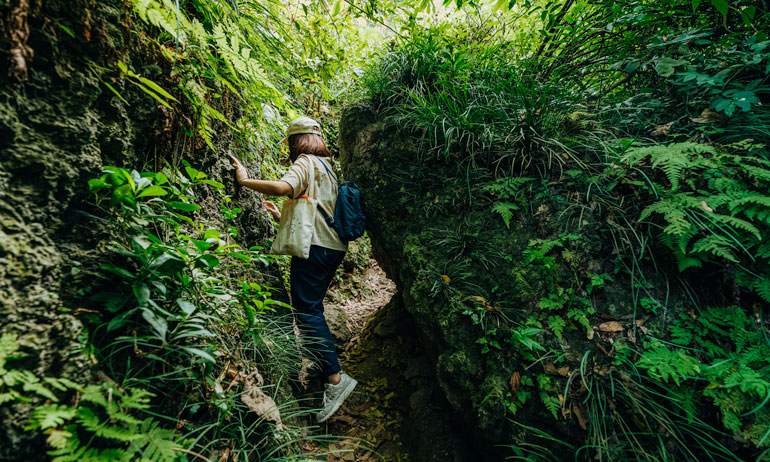 The way in which coral limestone weathers and breaks apart, influencing soil depth and chemistry, is key to the park's biodiversity. Including trees and ferns, 917 plant species thrive here, along with 137 bird species. Information panels beside the trails tell visitors to look out for freshwater crabs and Reeves's muntjacs. The latter are about the size of a dog. Thanks to their canine yap, they're nicknamed "barking deer."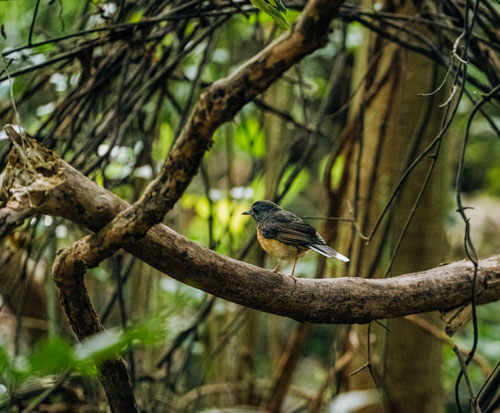 And, of course, there are lots of monkeys. Shoushan is synonymous with Formosan rock macaques, so much so that English-speaking Kaohsiung residents often refer to the area as "Monkey Mountain." Some of Shoushan's macaques have gained a reputation for snatching food out of visitors' hands or otherwise behaving aggressively. Bilingual signs near the trailheads advise visitors how to avoid trouble. In short, don't tempt them, and stay calm if one tries to open your backpack.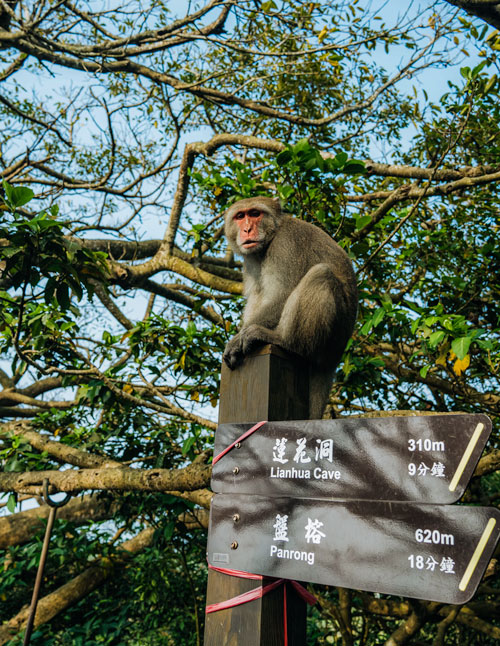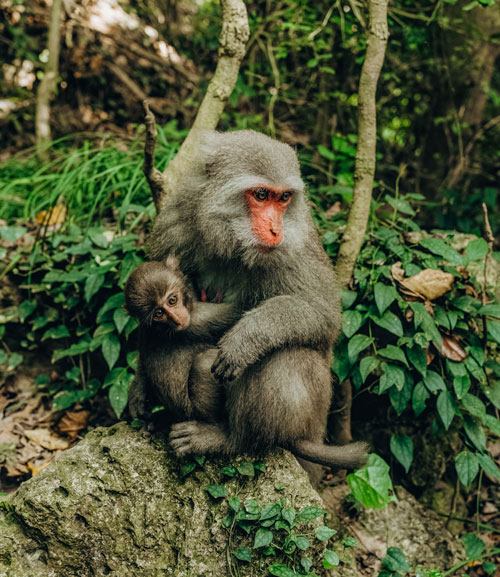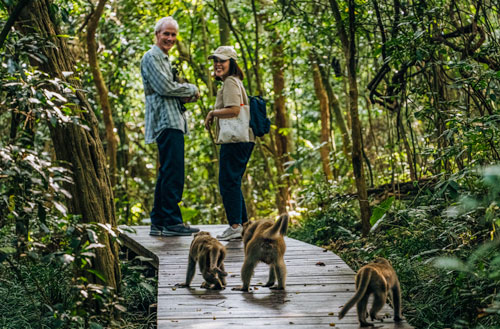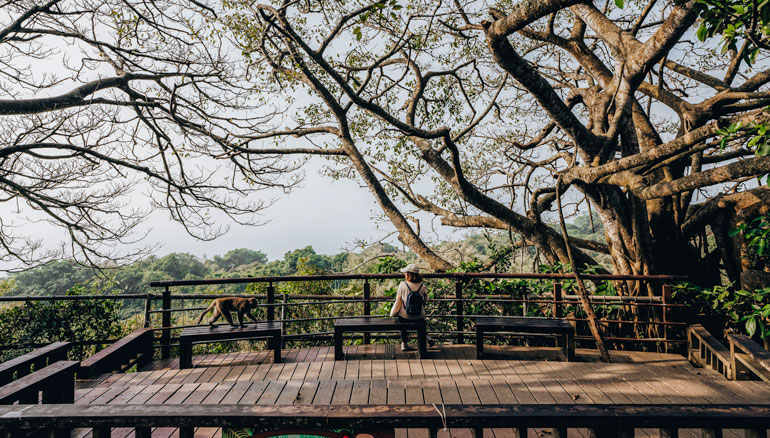 Among Shoushan's biggest fans is Mark Roche, who's lived in Kaohsiung for 31 years. "Even on a short visit to the city, it'd be a mistake to bypass it. For outdoor types, it's an adventure playground, such is the variety of activities that can be done there," says the Irishman, who – when he's not leading bicycle tours or high-mountain treks – visits the area at least three times a week for triathlon training.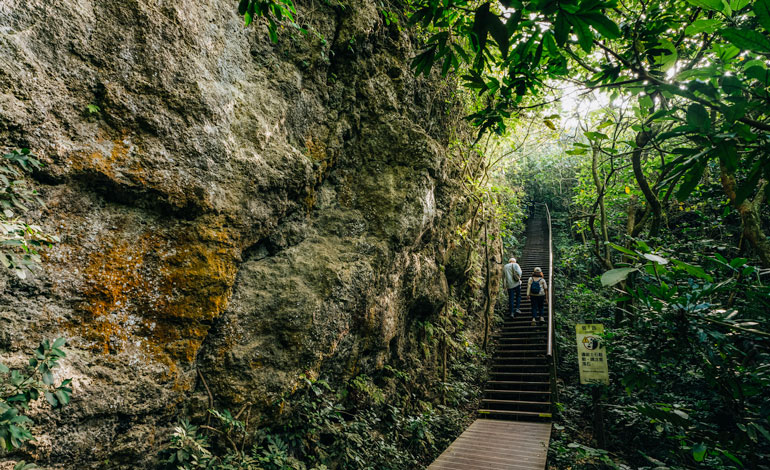 In addition to hiking and mountain biking, it's now possible to go caving in the area as well. Four of Shoushan's 150-plus caves can be visited if arrangements are made in advance through the National Nature Park website (nnp.cpami.gov.tw; Chinese).
The trailhead behind Longquan Temple provides around-the-clock access to what's probably the most unspoiled part of the national nature park. Buses plying a couple of routes will get you within 200m of the temple, including the frequent #R32 service from Aozihdi Station on the Kaohsiung Metro's Red Line. Near the stone steps at the start of the trail you'll find vendors selling drinks, snacks, hats, and hiking poles.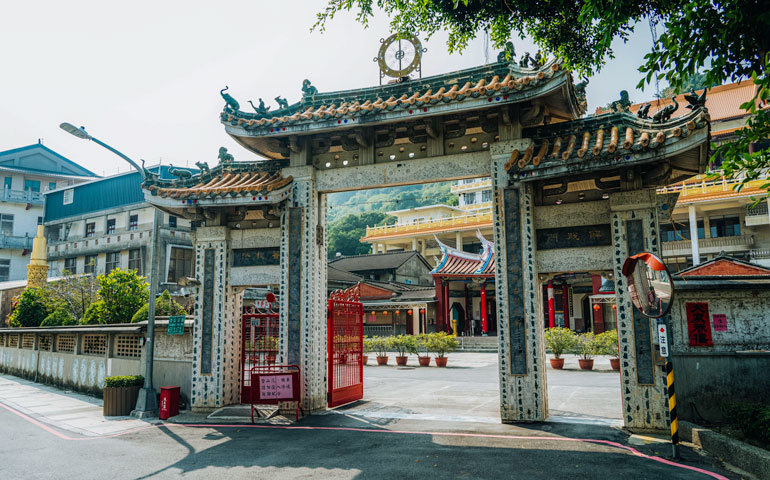 If you're driving a car, Qianguang Temple, about 500m further south, may be a more convenient starting point. It has a sizable parking lot, as well as bathrooms.
There's also the Shoushan Hiking Area South Entrance, which is closer to major urban-core tourist attractions such as Pier-2 Art Center. From the final stop on the #56 bus route (hourly from Kaohsiung Main Station), it's a short walk through 228 Peace Memorial Park to the entrance.
On the same side of the ridge, Kaohsiung Martyrs' Shrine commemorates those who died fighting for the Chinese Nationalist (Kuomintang) cause. However, most people come here for a different reason: In clear weather, the superb view fully justifies the 20min walk from Sizihwan Station on the Kaohsiung Metro's Yellow Line or Hamasen Station on the Circular Light Rail. Posing by the "LOVE" sign on the viewing platform in front of the shrine is a must-do for both young couples and those who've just graduated from college.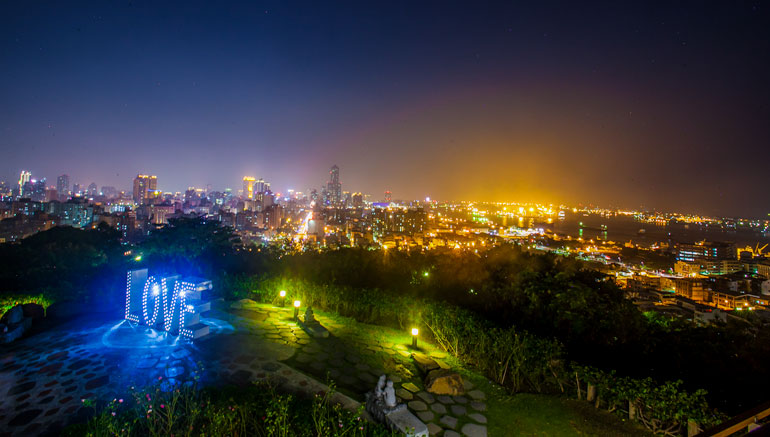 Rather than chilling out at the Martyrs' Shrine, travelers with young children might prefer to spend a couple of hours at the recently reopened Shoushan Zoo. Taiwan's very own Formosan black bears and Formosan sambars, plus many other animals, can be seen here.
Kaohsiung's taxi drivers are intimately familiar with all of these urban-core places. However, to get to our next destination, your best option is to rent a car.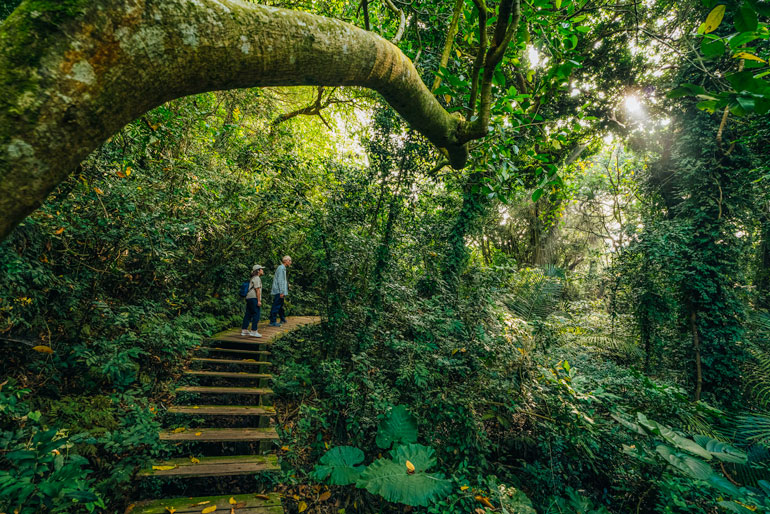 Tengjhih National Forest Recreation Area
The Tengjhih National Forest Recreation Area (admission NT$120 per person) is a two-hour drive from central Kaohsiung. Located around 1,500m above sea level, it lies within the territory of the indigenous Bunun tribe.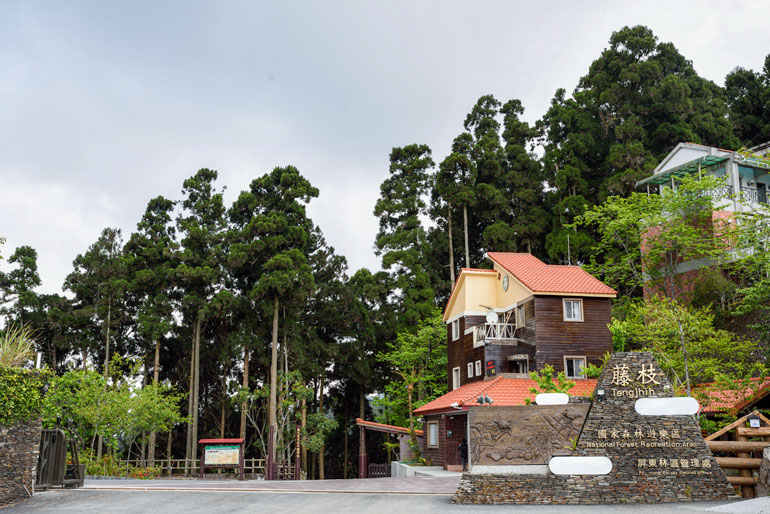 To protect the pristine environment, the number of outsiders allowed into the forest area each day is strictly limited. It's possible to book visitor slots up to 14 days in advance through tj.forest.gov.tw (Chinese). Applications for weekdays have a much higher chance of success than those for a Saturday, Sunday, or public holiday.
In recent years, Tengjhih – or, rather, the road that links it to the lowlands – has suffered severe and repeated typhoon damage. For this reason, before setting out, tourists are advised to check if their visit can go ahead, and to have a backup plan ready.
Fortunately, the mountainous northeastern half of Kaohsiung is jam-packed with scenic alternatives, among them the tribal villages of mountainous Maolin District and the multiethnic mountain valley known as Namasia.
It's worth getting to Tengjhih National Forest Recreation Area early in the day (opening times are 8am to 5pm), as there's a lot to see. In addition to expanses of old-growth forest and impressive stands of conifer and broadleaf trees, there are giant ferns and rhododendrons which bloom in springtime.
Tengjhih's marked trails total 7.25km in length – more than enough for a good workout, if that's what you've come for. Those who prefer flat saunters to uphill marches can aim for the Cryptomeria Observation Deck and its picnic tables. Cryptomeria (Japanese cedar) were planted in Tengjhih during the 1895-1945 period of Japanese rule for their economic value. These days, they're cherished for their beauty.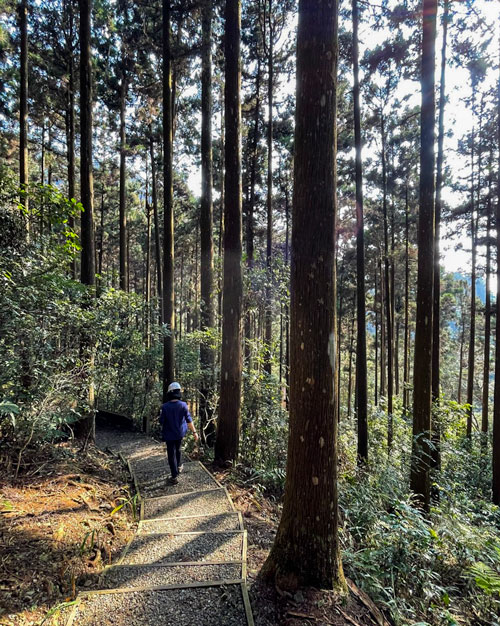 History buffs will also find something to their liking. The forest area preserves remnants of the trails and police stations that were established by the colonial authorities as they tried to exert control over the highland forests and Taiwan's recalcitrant indigenous tribes.
If you get to Tengjhih, or another high-altitude spot nearby, and find yourself enjoying moments of utter serenity, you'll understand this: The people who told you Kaohsiung City is an industrial hub were only half right, and that Kaohsiung's other half is awash with wondrous nature.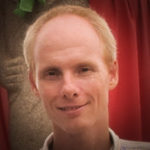 Steven Crook, who grew up in England, first arrived in Taiwan in 1991. Since 1996, he's been writing about Taiwan's natural and cultural attractions for newspapers and magazines, including CNN Traveler Asia-Pacific, Christian Science Monitor, and various inflight magazines. He's the author of four books about the country: Keeping Up With The War God (2001), Dos And Don'ts In Taiwan (2010), Taiwan: The Bradt Travel Guide (2010), and A Culinary History of Taipei: Beyond Pork and Ponlai (2018)
http://crooksteven.blogspot.com
http://bradttaiwan.blogspot.com