Three Recommendations for Staying in the City
TEXT / RICK CHARETTE
PHOTOS / RAY CHANG
Each time Travel in Taiwan reports on Taichung, we talk about how the pell-mell opening of new tourist places continues, either brand-new spots or in converted existing architectural works. This has been going on for almost two decades now. The phenomenon decidedly continues in the accommodations sector. Here we intro four facilities, the first two target-designed for hipsters.
28shuxiang Hotel
This young boutique facility is a few blocks from Wenxin Yinghua Station on Taichung Metro's (TMRT) Green Line (the city's first and currently only line), in the urban core's northwest.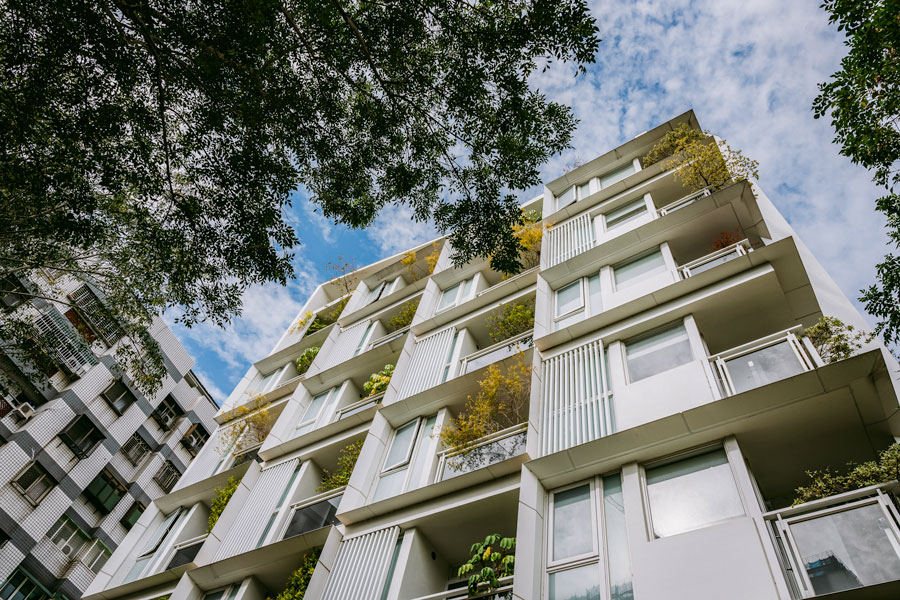 The small seven-story structure sits right on the edge of a small neighborhood park in a quiet residential area. On one's first look it can easily be mistaken for a local residential building itself, though sporting an unusually sleek gleaming-white exterior. This is deliberate – the owner/builder, an interior designer, wanted it to blend in seamlessly with the surrounding residential structures, all about the same height, with the goal of bringing guests right in to experience "true" Taichung neighborhood life.
Behind the compact reception counter, located immediately inside the narrow, homey front entrance, is a seating area with retro 1960s-style furnishings. Tall, wide windows provide a broad look into the park. A plethora of kid's toys is found here, which youngsters can take into the park while parents "supervise" in comfort from inside. The park – a children's park – also has many of its own tot-fun facilities. There's also a 24h free mini-bar with snack foods and drinks in this area.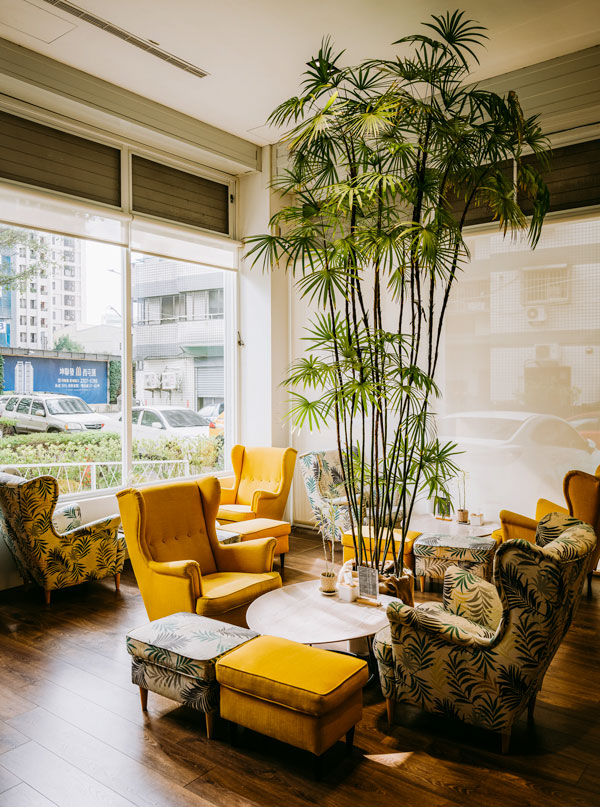 The guestrooms (for 2 to 5) are chic minimalist, and each is a unique artwork. Tatami-flooring areas are available in some. The hotel's everything, from façade to room shapes and interior set-up right down to the bathroom accessories and cute gratis miniature perfume bottles, have been owner-designed. Prominent is the liberal use of Taiwan-sourced real woods of different grains and colors (faux wood flooring excluded). A simple gratis breakfast is delivered to rooms each day – local-style sandwiches, sweet-potato fries, and drinks – in rustic recyclable cardboard boxes designed by you know who.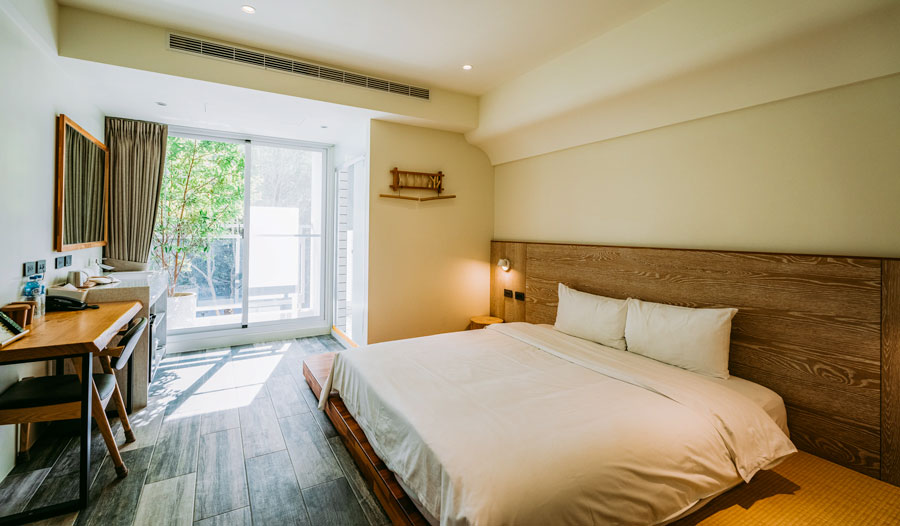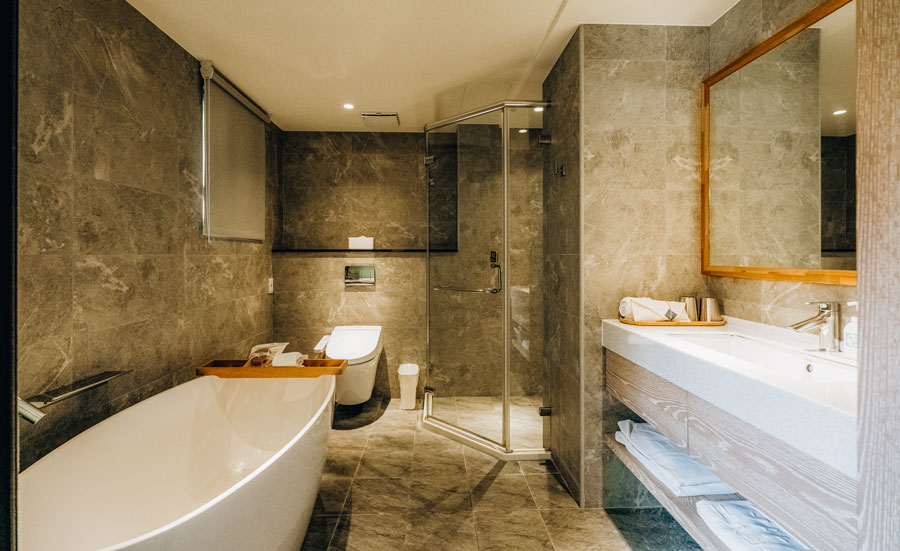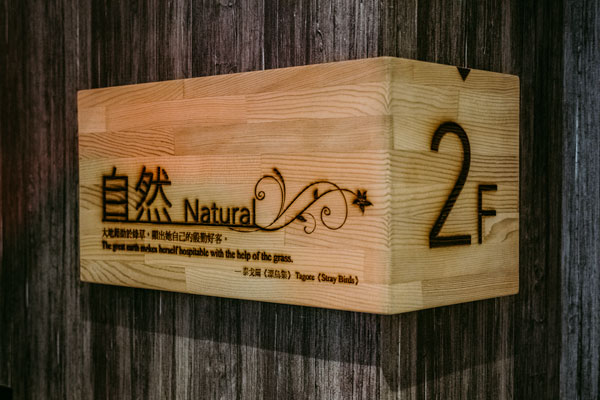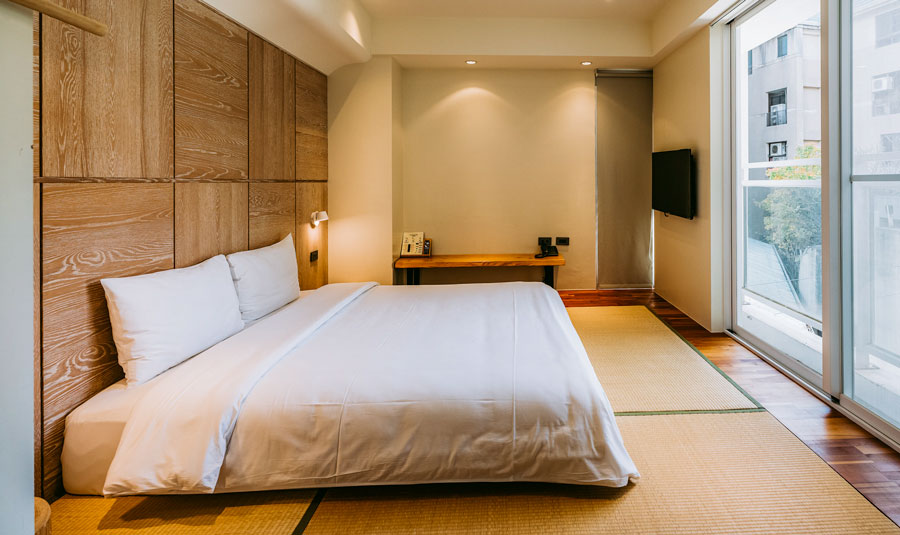 28shuxiang Hotel
(二八樹巷旅宿)
Tel: (04) 2314-2288
Add: No. 85, Yingcheng 1st St., Xitun District, Taichung City
(台中市西屯區櫻城一街85號)
Website: www.28shuxiang.com
Facebook: www.facebook.com/28shuxiang
Moxy Taichung
Moxy Taichung is in the urban core's southwest, near TMRT Feng-le Park Station. The young Moxy Hotels brand is part of the Marriott group. These hipster hotels target millennials. Opened in 2020, this was the Chinese-speaking world's first Moxy. The concept is communal hostel-style living, in much-enlarged and far-more-stylish cosmopolitan facilities.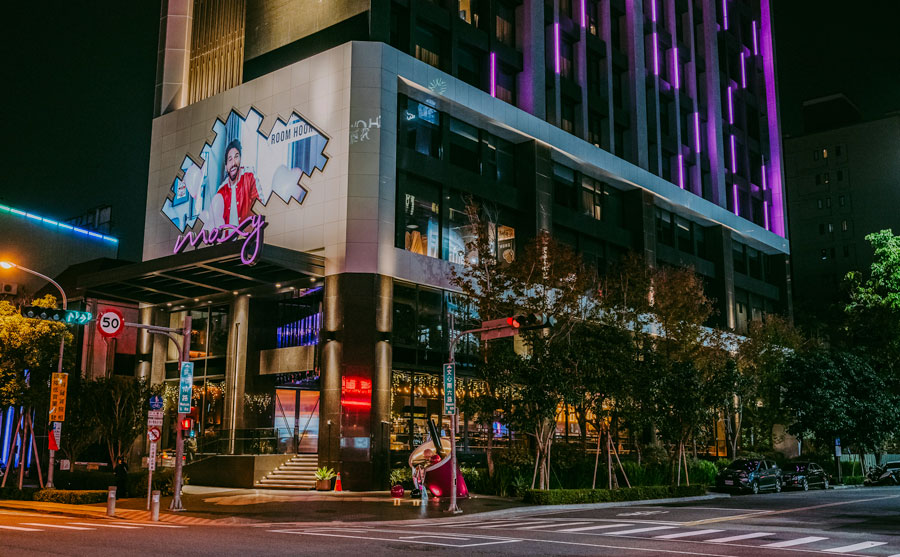 Moxy Taichung's heart is the ground-floor Moxy Bar, the long counter directly connected to the check-in counter. To get you rolling, on check-in you're served a complimentary cocktail. To one side of the bar in the open-concept ground floor, by the entrance, is a games area. To the other, deeper within, is the Grab n' Go, serving light foods 24/7; you take your buffet-style American/continental breakfast here as well. Beyond, looking down on all, is the open-front The Den lounge, reached via staircase. Hip music plays loudly on the ground level at all times.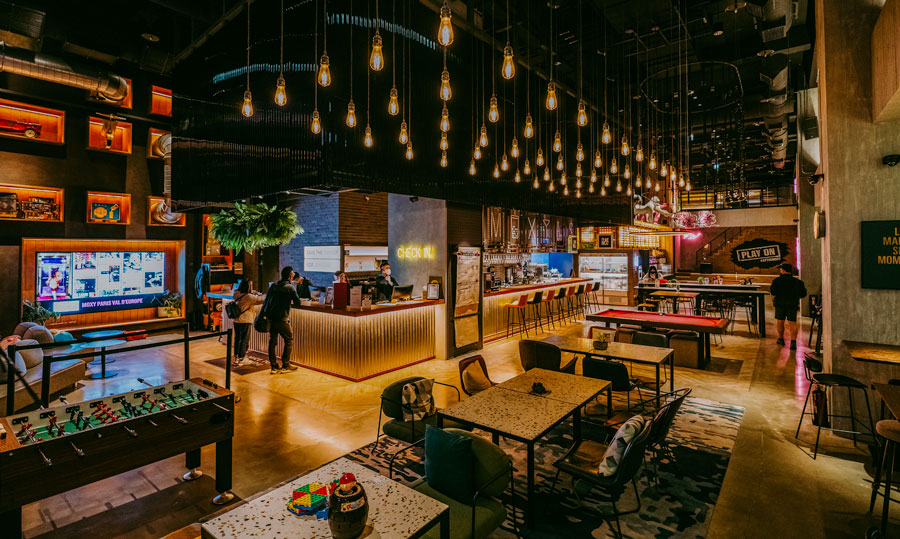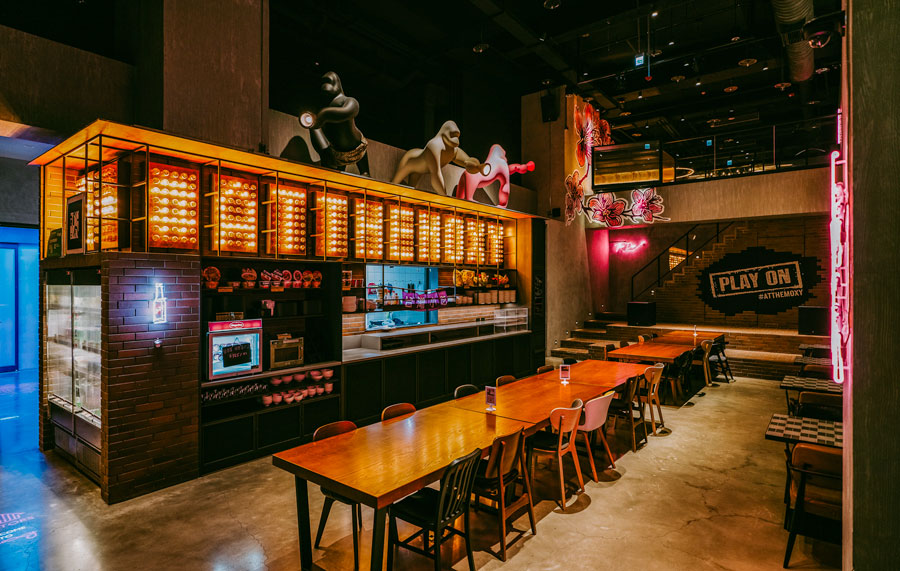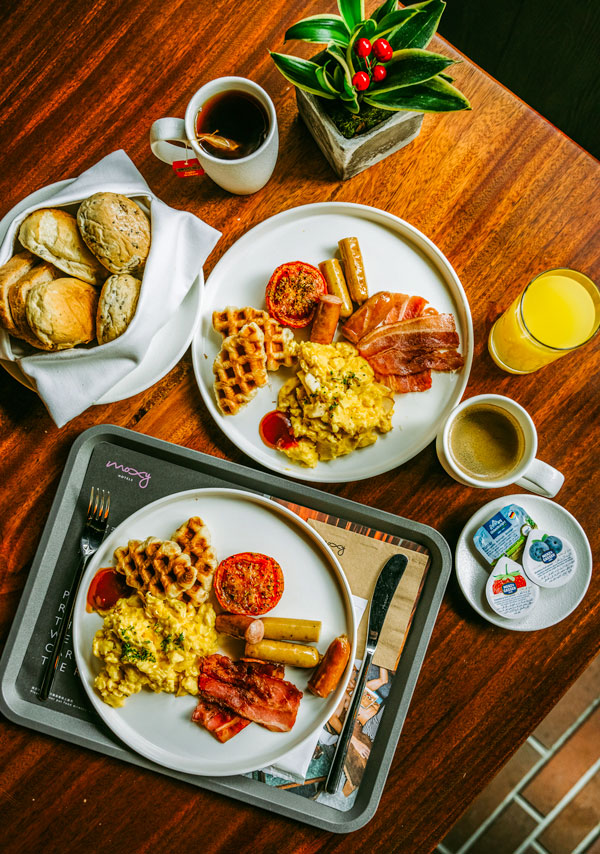 The simple, contemporary-style guestrooms are purposely made smaller-than-hotel-norm to get you out into the communal areas. To save space, a foldable chair and table are hung up on wall pegs.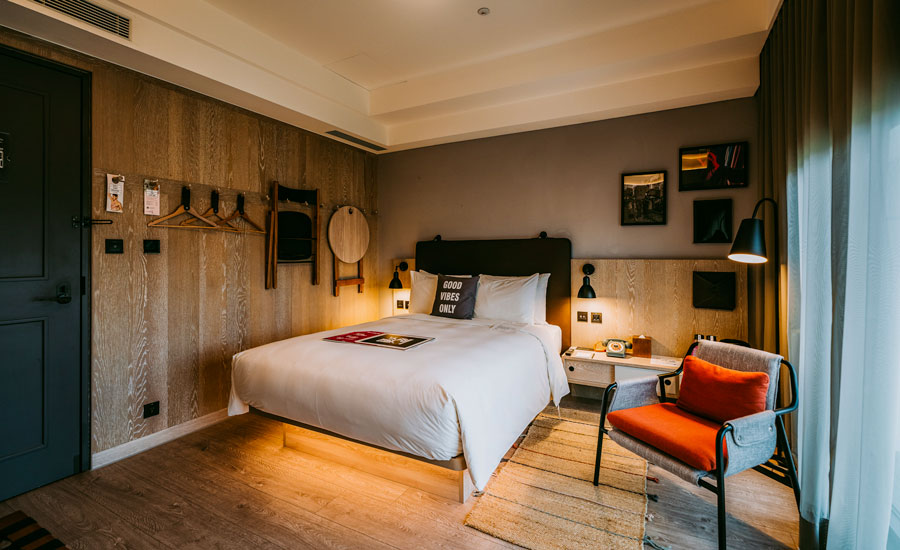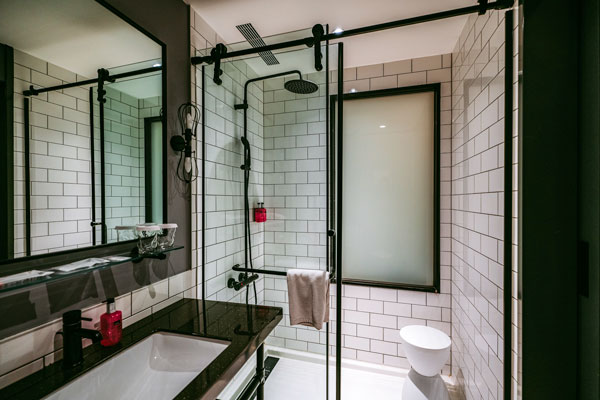 The hotel is filled with artistic flourishes, both contemporary hipster and retro hipster. Many of these are celebrations of Taichung/Taiwan cultural icons. Examples: On the street-corner sidewalk outside the entrance is a giant pearl milk tea mockup; Taichung is the birthplace of this silky delectable. A full wall before the check-in counter is made of wood casings filled with such cultural-reference items as the front half of a vintage Vespa scooter (once ubiquitous in Taiwan), and a robot sculpture made of machine parts (a nod to the importance of light industry in Taichung's economy).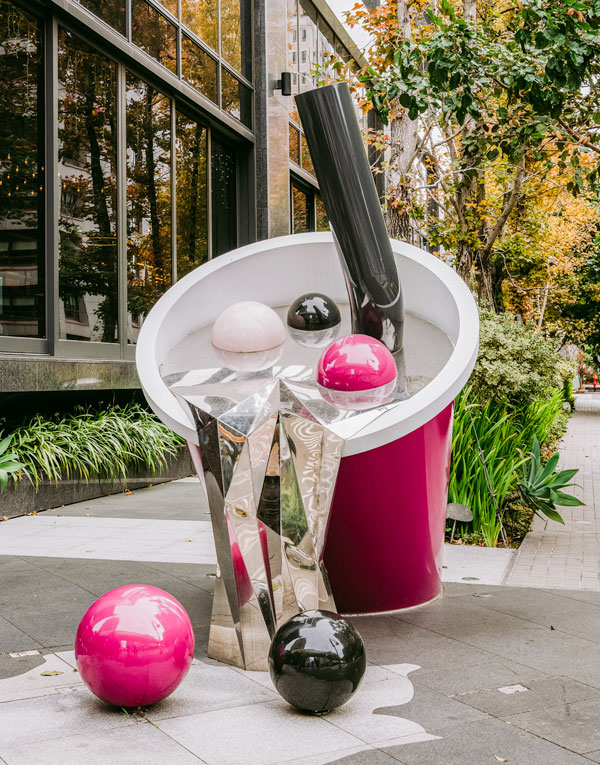 Other amenities include the terrific large rooftop open-deck bar XOXO, fitness center, meeting room, lockers/laundry room, and parking facility. The bar specializes in cocktails. Most popular – the Formosan Potion (Taiwanese red wine, gin, ginseng, berries) and Binlang Beauty (Taiwan Kaoliang [sorghum] liquor, betel leaf, lime, magao [mountain peppercorn]).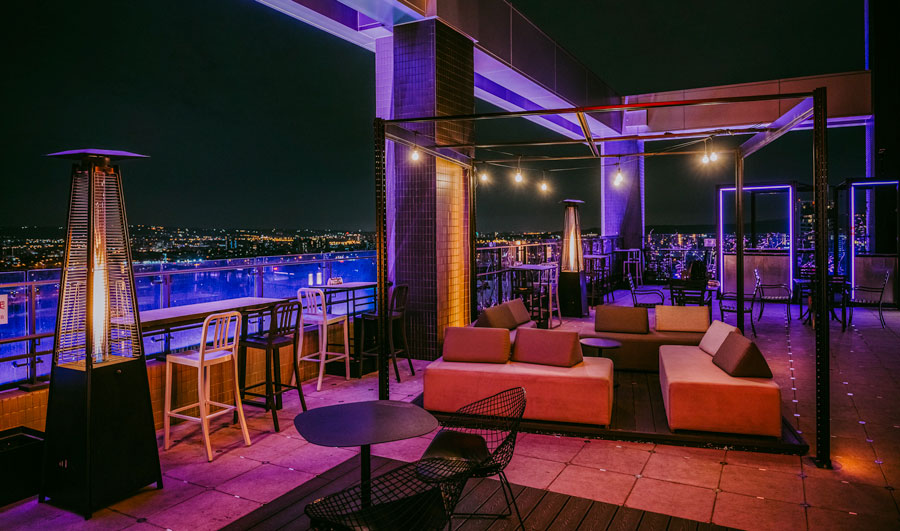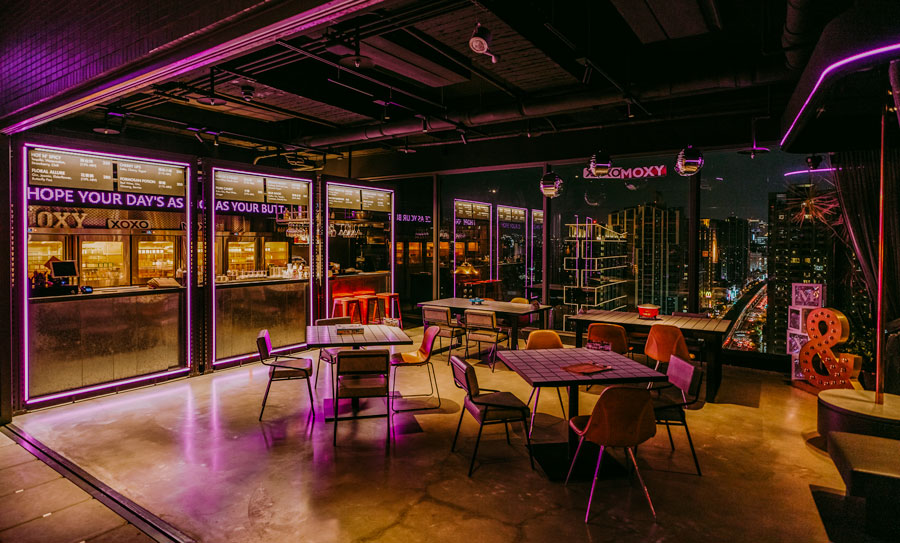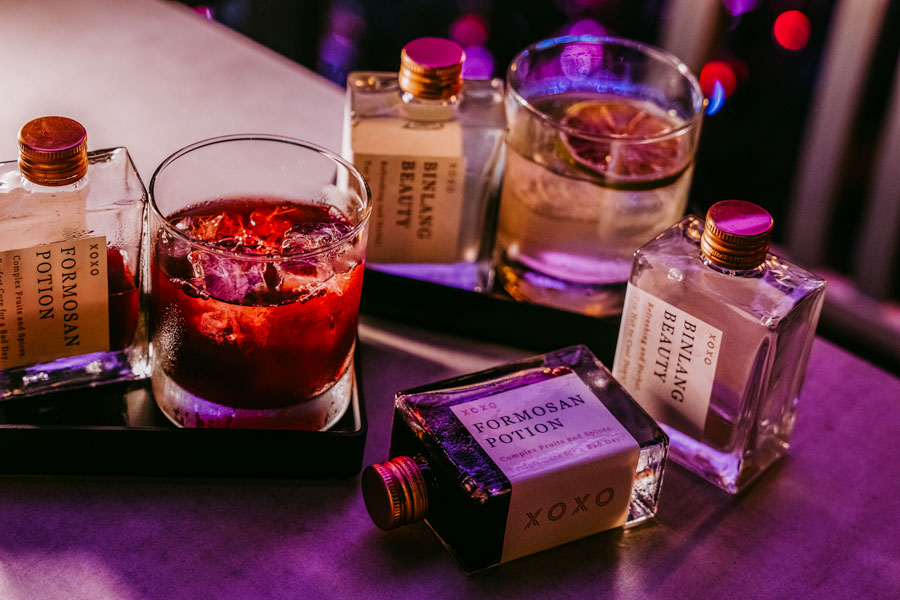 La Vida Hotel
This is another young boutique facility, run by the same folks who opened Moxy Taichung, located about four blocks from TMRT Wenxin Yinghua Station. It's on a busy, narrow commercial street with many old shops, very close to Feng Chia Night Market (see article's last section).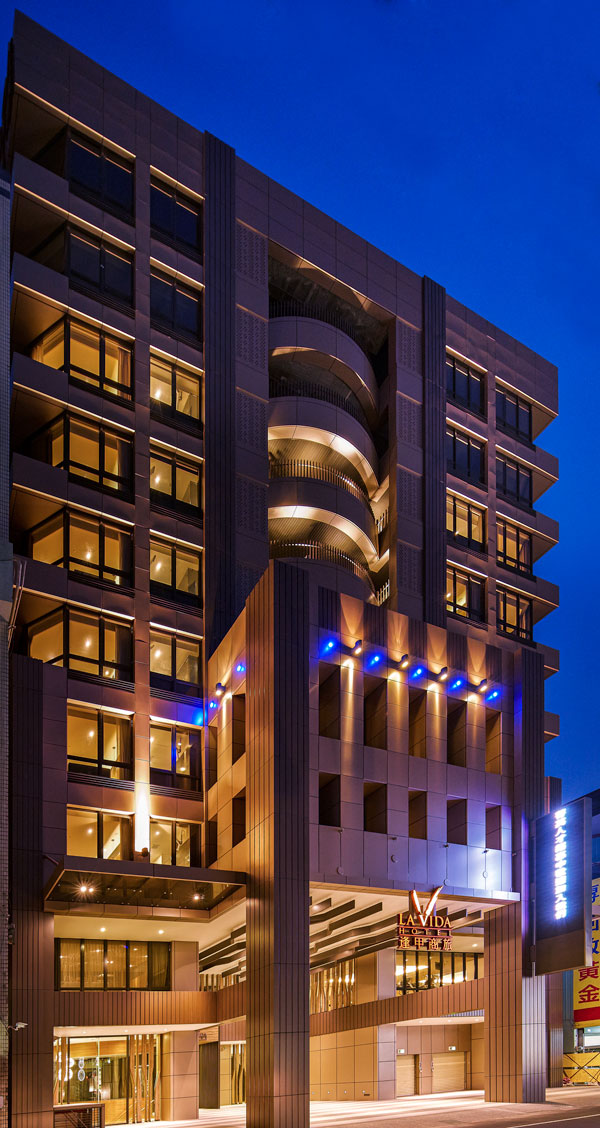 The artistic-décor guestrooms are done in low-profile yet elegant Nordic style, and feature Nordic-style woods, New York-style iron-art crafts, and Spanish-style premium stone materials.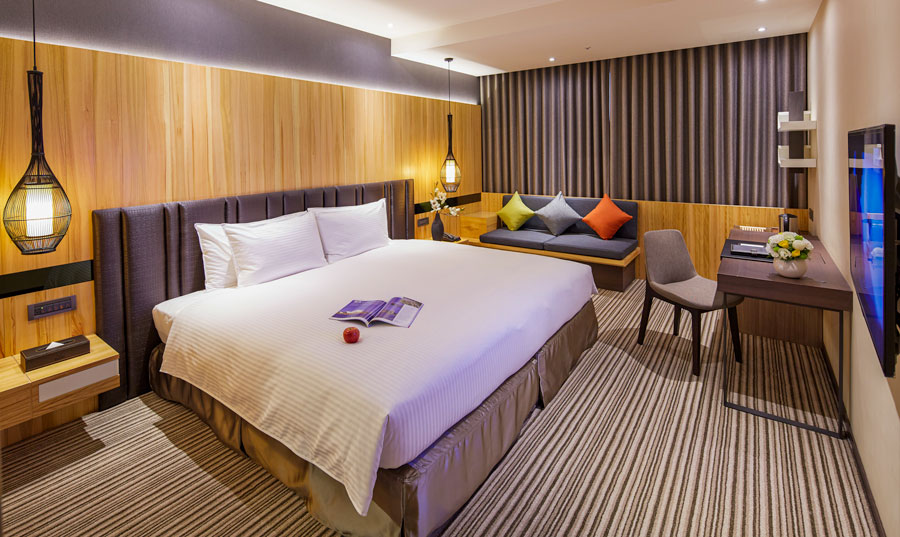 Facilities include a restaurant, business center, meeting room, gym, events space, garden area, and parking facility. The VIVA Restaurant, where chefs perform in front of guests, provides your gratis buffet Chinese/Western/Japanese breakfast, and dinner on Saturdays – Italian cuisine and salad bar.
Zhong Ke Hotel
This hotel is in the urban core's north area. It is located very close to TMRT Wenxin Chongde Station, and right beside the Taiwan Folklore Park (see this article's last section).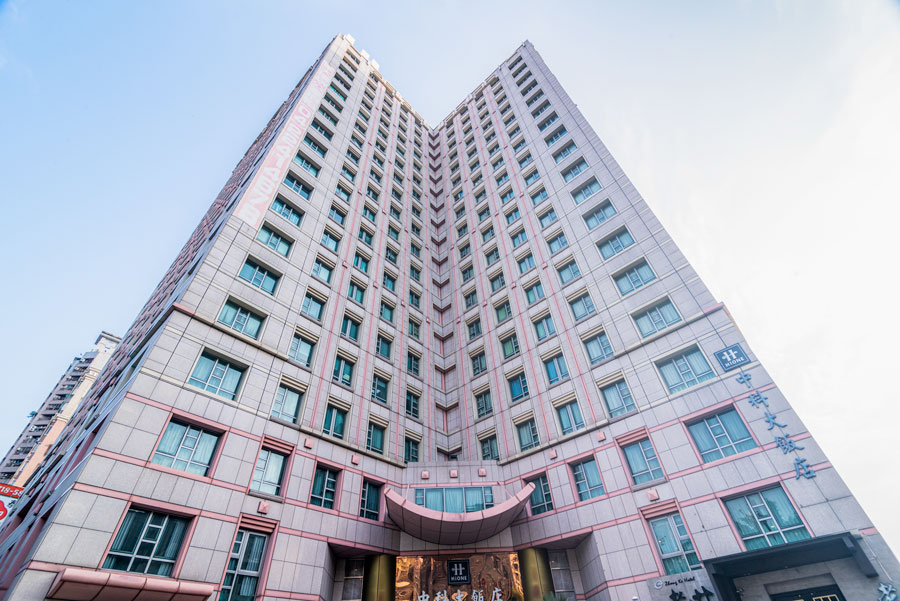 On approach, your first impression of this tall-building hotel is that you are looking at an office building. You won't be wrong – the owner group has transformed what was originally an office building into a Japanese-style business hotel that is at the same time family friendly. Indication is given on entry into the lobby; the no-nonsense curving reception desk sports Scandinavian minimalist facing featuring blonde wood, silver-steel trim, and leather paneling, yet to either side are wall sections painted with cheery pastel-color flowers and bright-painted merry-go-round horses mounted on poles.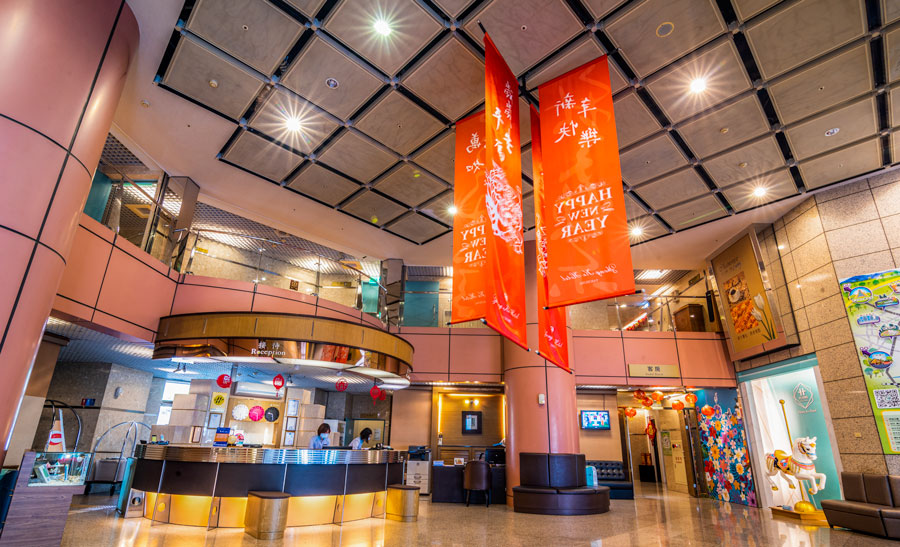 The large guestrooms are divided into 18 categories, meeting travelers' very specific needs, with the website helpfully dividing these into rooms for 1~2 people, 3~4 people, and 5~6 people. There are Western modern décor rooms, Japanese-style rooms, and combined Western/Japanese rooms. The Japanese elements are tatami-floor bedrooms with Japanese-style floor mattresses along with Japanese-style bathing/showering facilities (wood bucket, low stool for sitting, etc.); all tubs are regular style, not traditional Japanese. Among the guestroom categories are varied designated family rooms, which will have such kid-joy amenities as big stuffed animals, circus-theme mini-tents, toys and games, and bright-color cribs.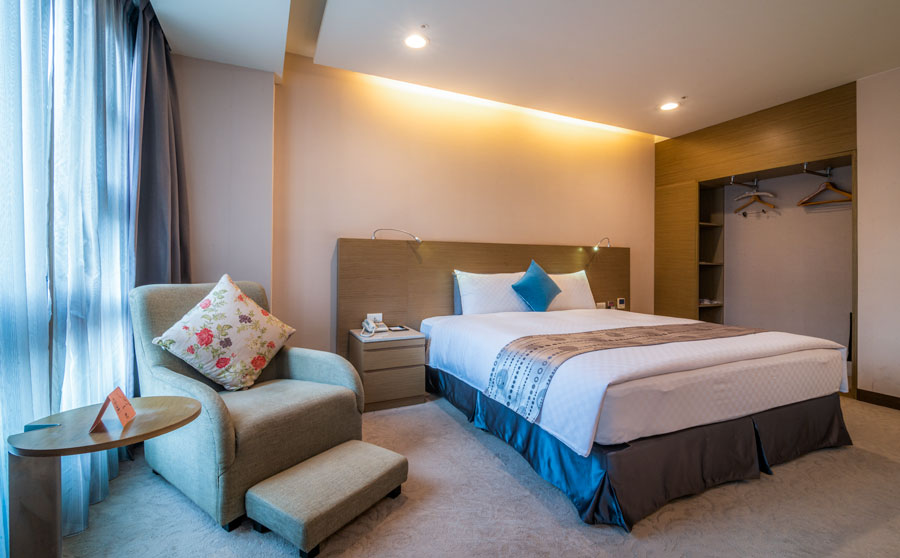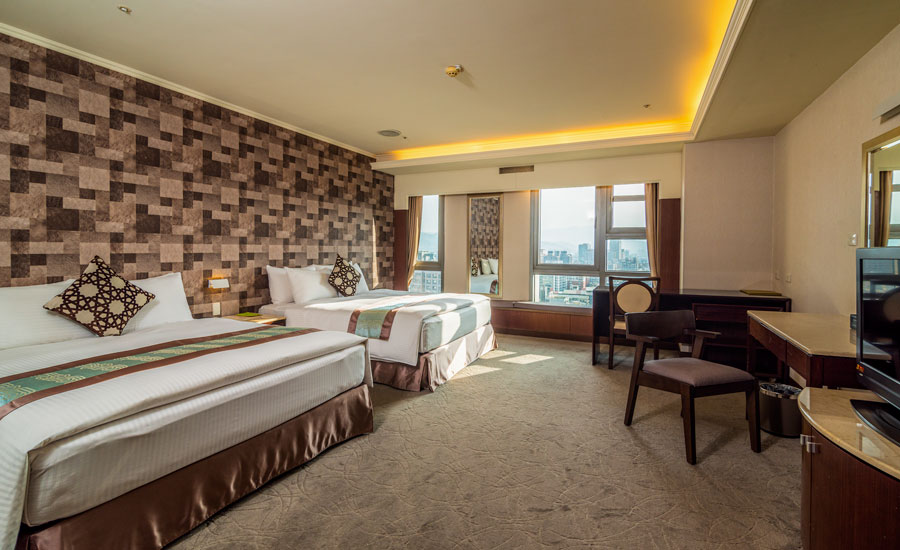 Facilities include two restaurants, a conference hall, business center, recreation room, self-service laundry, and indoor parking. The Breakfast Restaurant, on the second floor, presents a Chinese/Japanese/Western buffet built around seasonal ingredients. The other restaurant, Gokujo Yakiniku, crafts Japanese fare; its signature offering, as seen in its name, is yakiniku, tin cuts of meat self-grilled Japanese style. The Recreation Center is equipped with Nintento Switch, a mini-arcade, air hockey table, hand football table (American football), and other game equipment.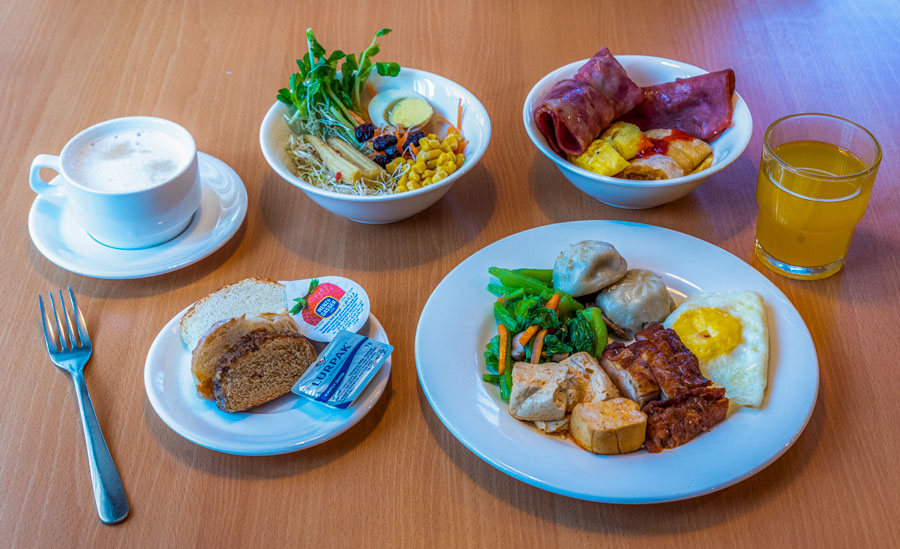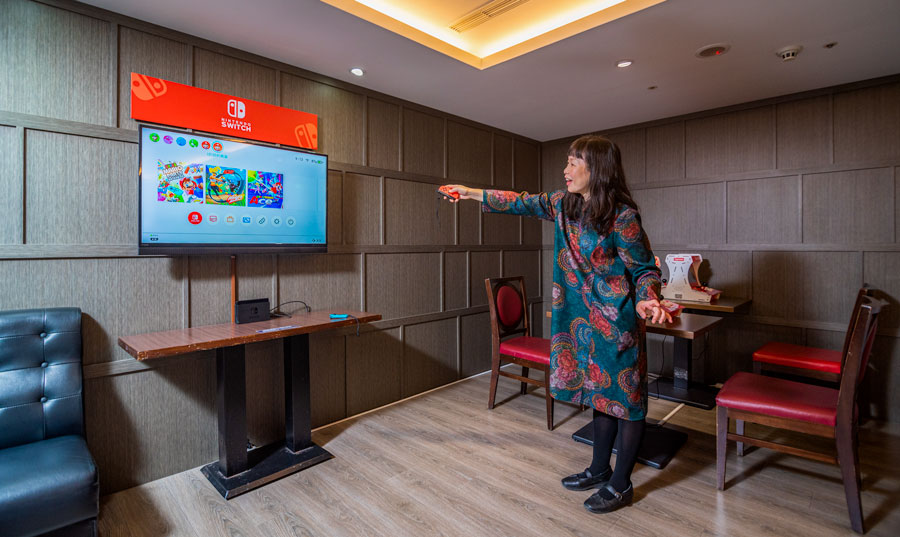 Zhong Ke Hotel
(中科大飯店)
Tel: (04) 2246-5599
Add: No. 256, Sec. 2, Chongde Rd., Beitun District, Taichung City
(台中市北屯區崇德路二段256號)
Website: www.zkhotel.com.tw
Places of Interest along the Taichung Metro Line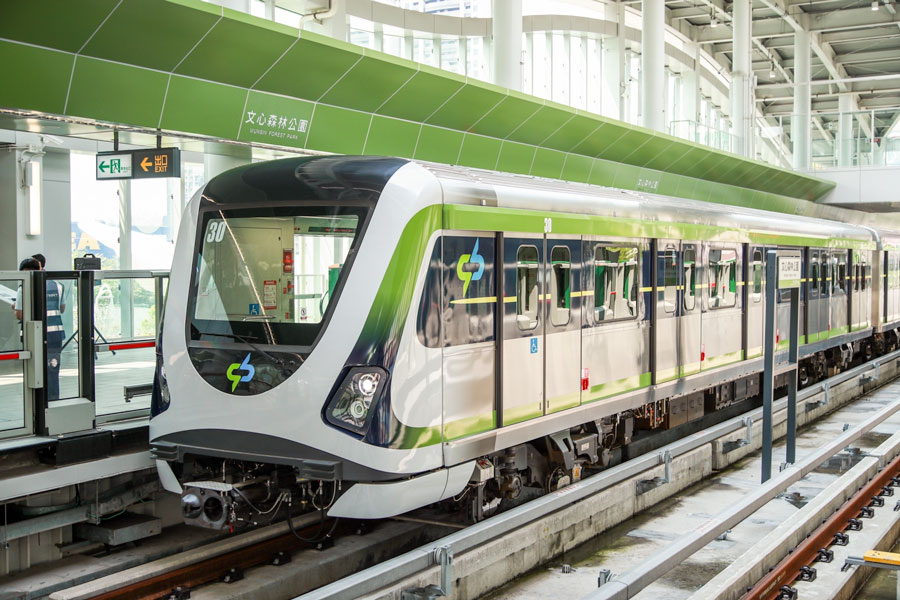 The National Taichung Theater (NTT), two-plus blocks from TMRT Taichung City Hall Station, is a transcendent architectural work that has been described as "central Taiwan's growth garden for world-class stage arts." Opened in 2016, this very large and ostentatious complex is a bold design statement that visually dominates its surrounding environment while simultaneously seamlessly blending with it. The NTT's designated societal role is just as bold – to serve as central Taiwan's international-class showcase stage for the stage arts. The architect was Toyo Ito, Pritzker Architecture Prize winner.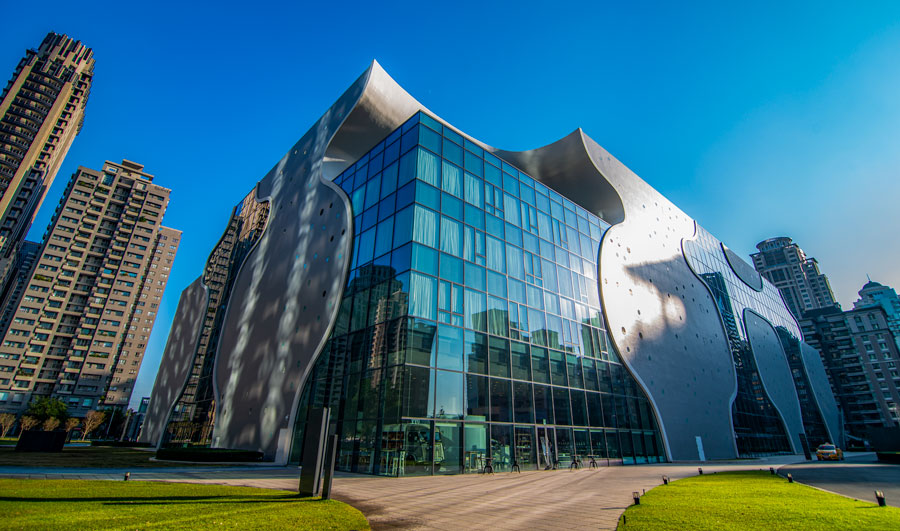 National Taichung Theater
(台中國家歌劇院)
Tel: (04) 2251-1777
Add: No. 101, Sec. 2, Huilai Rd., Xitun District, Taichung City
(台中市西屯區惠來路二段101號)
Website: www.npac-ntt.org
Wu Wei Tsao Tang Teahouse is about two blocks from TMRT Shui-an Temple Station. Opened in 1983, an ultra-tranquil oasis hidden away behind high walls from the busy city streets, this is a two-story copy of a classical Chinese teahouse, built around a carp-filled fish pond. Both regular tables/chairs and Japanese-style tatami seating is available. Light foods are served, including dim sum and spring rolls.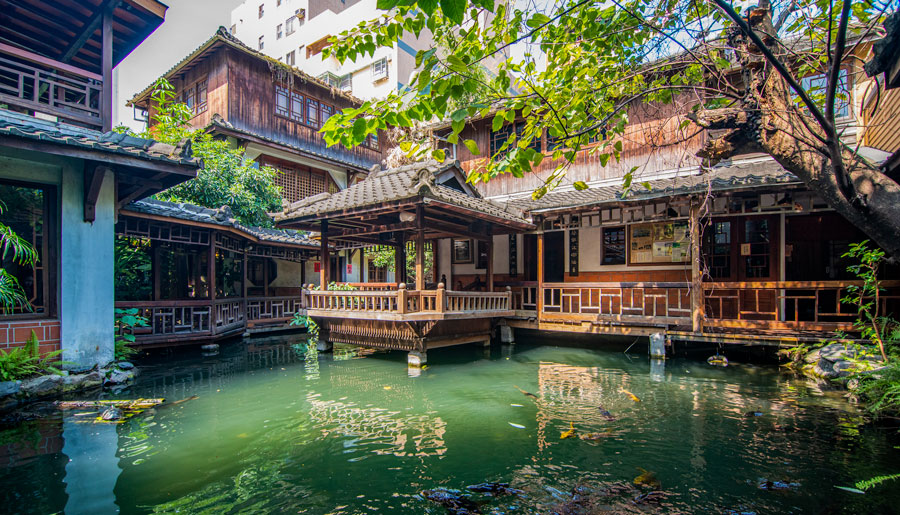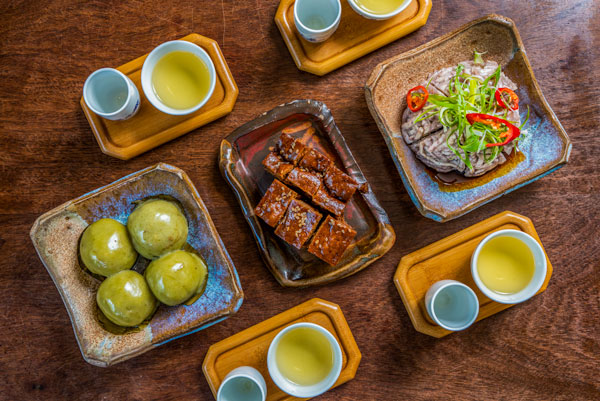 The south end of long north-south Central Park is two-plus blocks from TMRT Wenhua Senior High School Station. This 67ha greenspace is on the site of the former Shuinan Park, built by the Japanese (Taiwan rulers 1895~1945) for military/civilian use. The new park, designed by celebrated French landscape architect Catherine Mosbach and Swiss architect Philippe Rahm, is festooned with clever, compelling public artworks, and has different areas for sports, relaxation, and family activities. Building started in 2014, and the official opening was held in 2020.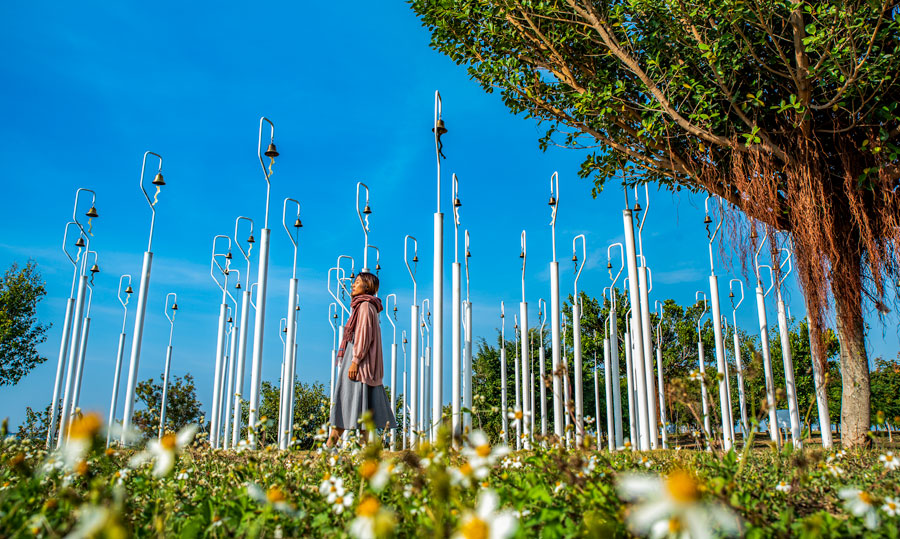 Feng Chia Night Market is one of Taichung's two most popular night markets, said to be Taiwan's largest night market, and to have over a thousand vendors. It's about four blocks from TMRT Wenxin Yinghua Station, three from 28shuxiang Hotel. Spread out before Feng Chia University, it attracts students in droves, plus families and adult couples and groups. It's especially good for inexpensive, youth-oriented fashions and accessories. The snacking choices are almost endless; specially recommended are the hot soy-braised snacks called luwei.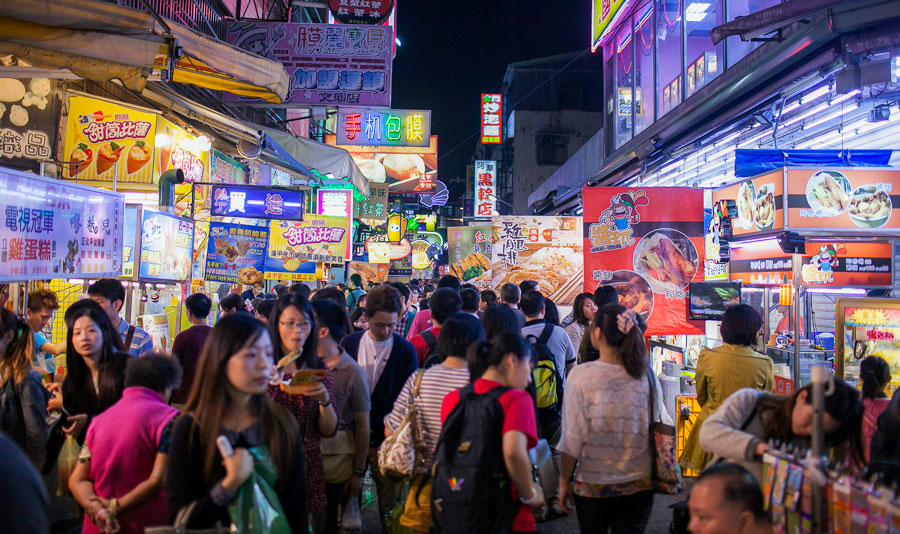 The 1.6ha Taiwan Folk Museum is located near TMRT Wenxin Chongde Station, as stated earlier right beside Zhong Ke Hotel. Opened in 1990, Taiwan's first folklore park, the buildings are a showcase of traditional Minnan-style architecture from the end of the Qing Dynasty and the early years of the Republic of China on Taiwan. There are museum facilities, plus a folk-arts area where traditional performance arts, foods, crafts, toys, etc. are celebrated.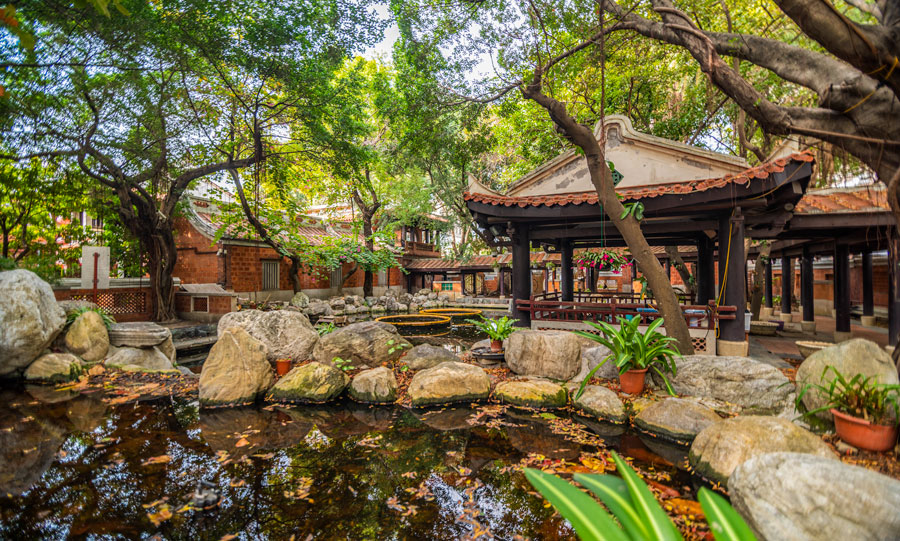 Yide Mansion is about four blocks from TMRT Sihwei Elementary School Station. This is a restored complex of grand architectural works built by a wealthy Taichung merchant 1924~1928. One work is an unusually large Minnan-style sanheyuan (three-sided courtyard residence) with pronounced Western elements. Right beside this is a Mediterranean-style manor with obvious art deco influences. Within the two edifices are period furnishing and tools, as well as a bookshop and bakery.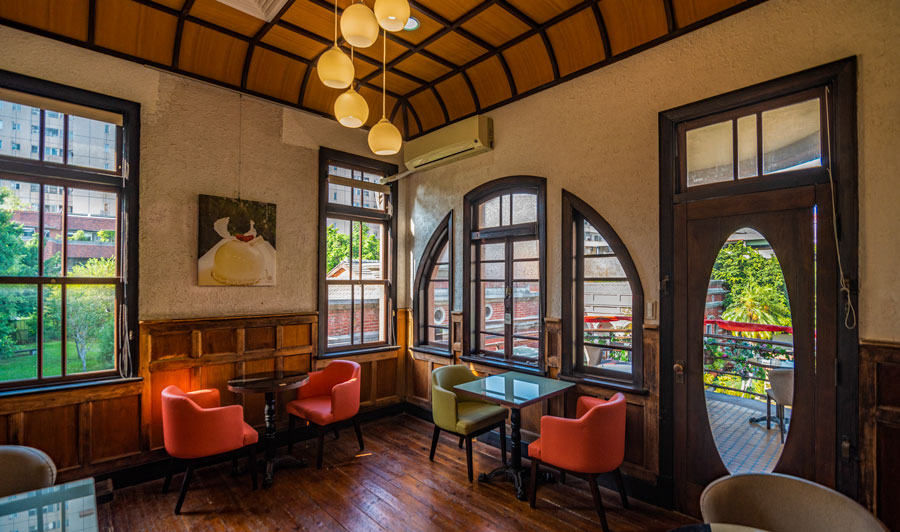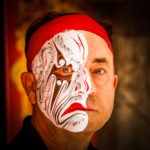 A Canadian, Rick has been resident in Taiwan almost continually since 1988. His book, article, and other writings, on Asian and North American destinations and subjects—encompassing travel, culture, history, business/economics—have been published widely overseas and in Taiwan. He has worked with National Geographic, Michelin, APA Insight Guides, and other Western groups internationally, and with many local publishers and central/city/county government bodies in Taiwan. Rick also handles a wide range of editorial and translation (from Mandarin Chinese) projects.