Quick-Access Trails from Taichung Downtown
TEXT / RICK CHARETTE
PHOTOS / RAY CHANG
You've no doubt heard the old-timey American expression "You can't get there from here." Well, if you're in the busy Taichung urban core and suddenly feel compelled to visit your Mother Nature, no logistics-heavy mountain trip is needed. There are numerous great hikes a short hop nearby, on the city's foothills doorstep.
Taichung is a very big city. Not necessarily as population goes – the metro area population is just 1.37 million. We mean big in land size – its expansive boundaries extend from the Taiwan Strait way up into the highest central mountains, well over 3,000m.
This means vast differences in topography, and this means a deep map of quality hikes, with whatever degree of difficulty gets your heart and mind racing.
Our focus this day is on gratifying hikes with trailheads you can get to quickly and with minimum fuss from Taichung's urban core. Look down on the city using Google Maps' satellite view option. You'll see that the core fills up a sea-level basin just off the coast surrounded by green-clad higher-terrain topographical features. Most prominent, and deepest-green, are the central mountain foothills that press in hard against the core's east side, just a short drive from downtown. That's where we're going.
Dakeng Scenic Area
In Beitun District, this is the default choice for quick-and-easy-access hikes with metro-area Taichung locals, a darling nature-escape gem dear to the population's heart – as the city's tourism authority calls it, central Taichung's "hiking playground." It's an area of steep hills on the urban core's northeast edge.
"Dakeng" literally means "big pit/hole/cavity." This refers to a narrow valley that penetrates deep into the hills from the Taichung Basin, running northeast uphill. The valley's floor is built-up; the scenic area's 12 hiking trails traverse the heavily forested hills on either side (10 major trails, two offshoot trails). They differ in degree of difficulty – generally speaking, trails 6~10, closer to the urban core, are flatter and more suitable for beginners, while 1~5, deeper in the hills, have steeper sections and are more challenging. These have such features as sections of steep, long wooden stairs and log steps with handrails/rope support.
Dakeng Trail No. 2
Trails 1~4 are spread out on different, roughly parallel ridges, from the trailheads running west to east. They bring you up about 400 meters in altitude from your starting point (approximately 400m~800m above sea level). Trail No. 5, traveling along another long mountain ridge perpendicular, connects the tops of these four.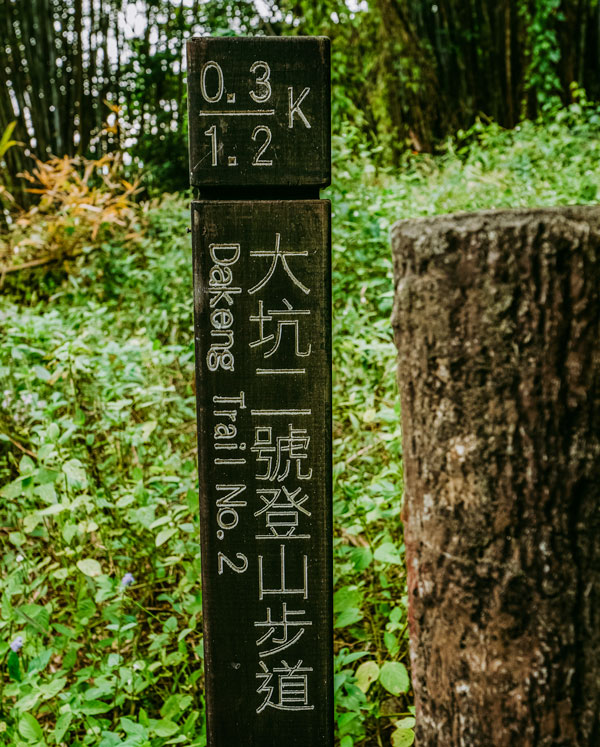 The Trail No. 2 trailhead is at the intersection of Qingshui Lane and Liankeng Lane; the former connects with Dongshan Road, Section 2, the main road running from the core up through the valley. There's a parking lot across from the trailhead, beside it a public-washroom building and beverage-vending machines (i.e., no other service facilities around, bring all needed food/liquids).
The trail, about 1.2km, rises from an altitude of 425m to 775m. There are long and steep stair and log-path sections, with rope assists. At times the climbing approaches 60 degrees. Magnificent tree specimens are encountered along the way. Once atop the ridge the views open up, and you can see for long distances over forest cover in all directions and take in a partial cityscape view. A simple paved-surface rest area awaits at the top.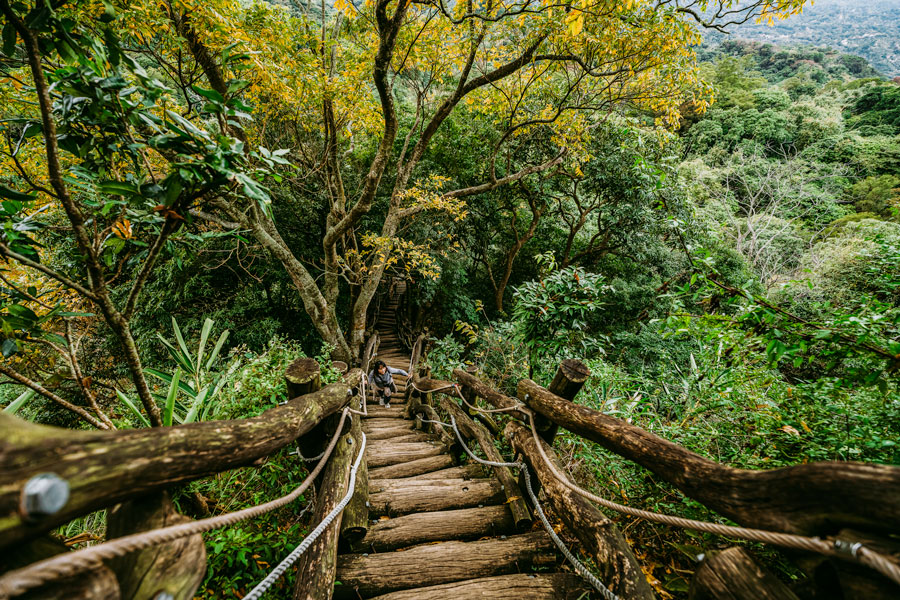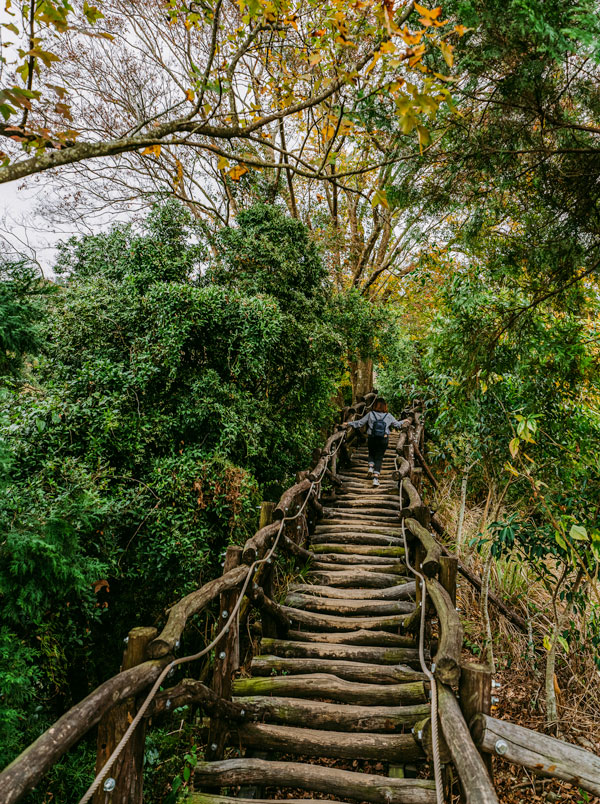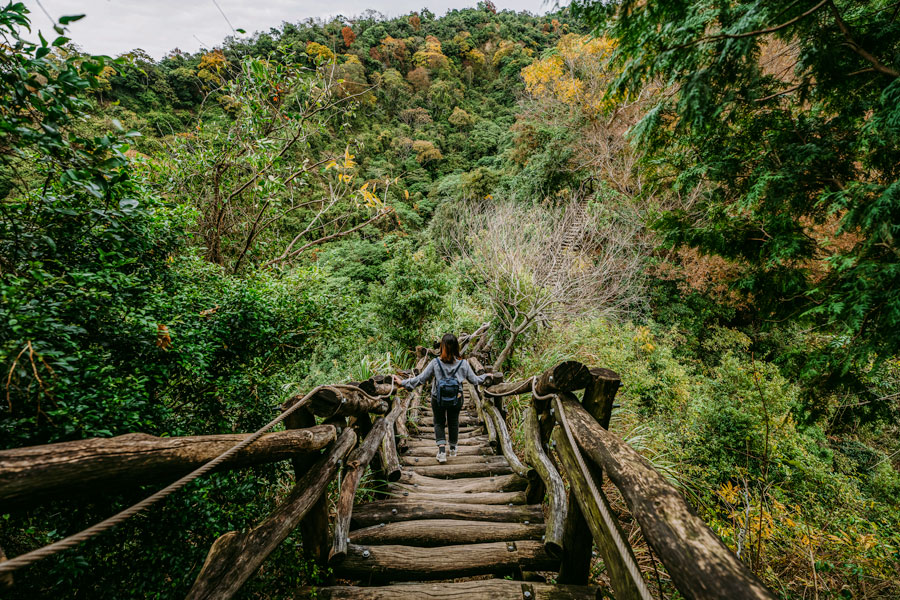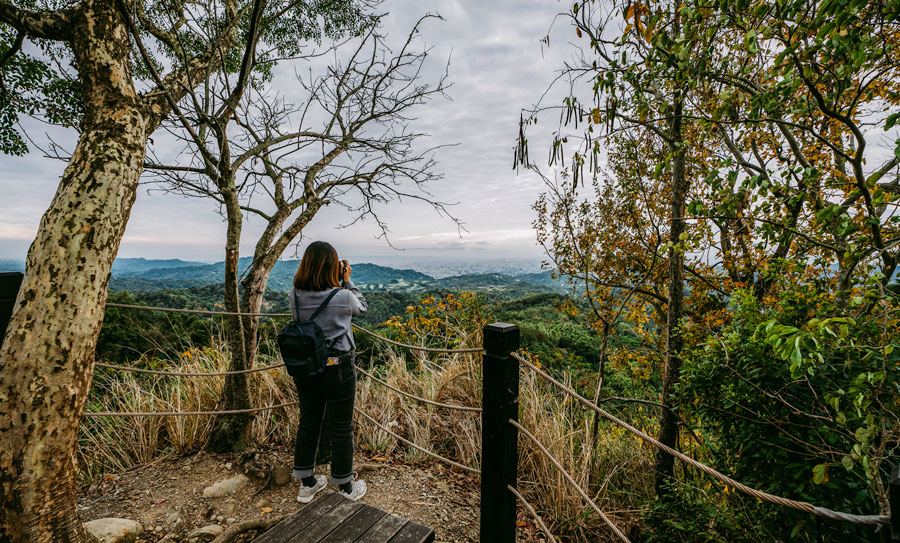 Note that in the log sections there are significant gaps between the ties, so be sure to have sturdy footwear and tread carefully.
If not self-driving, to get to the No. 2 trailhead, take bus no. 66 from the Taipower Dongshan Service Center stop mentioned in the Trail No. 9 entry below. The no. 66 is a local-area service that heads up through the scenic area's higher-elevation region, also stopping at the Nos. 1 and 3 trailheads (No. 4 requires self-drive or taxi).
Uncle Guo Macaque Park
We're off on our Trail No. 9 perambulation momentarily, but before this, a relishable edu-tational change of pace at this small popular attraction (entry fee) at Beikeng Lane, No. 116, very close to the Trail No. 4 trailhead.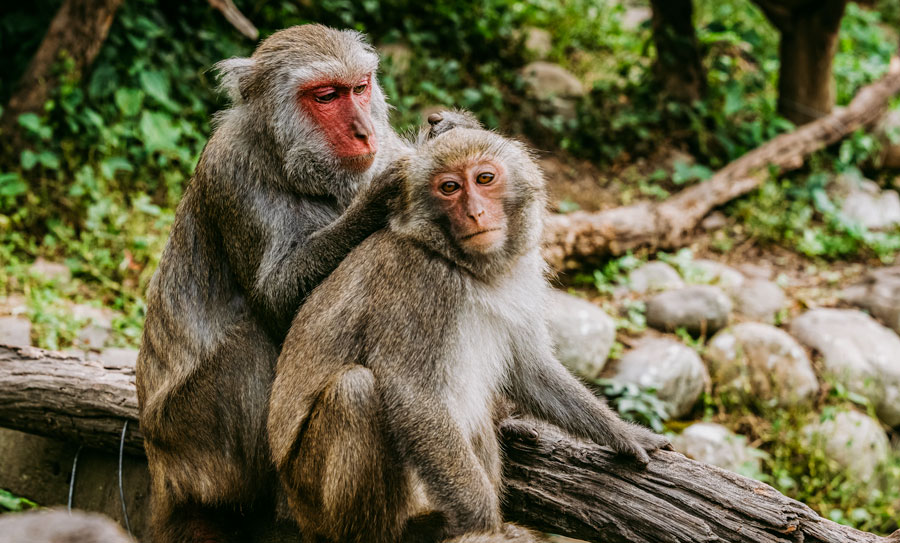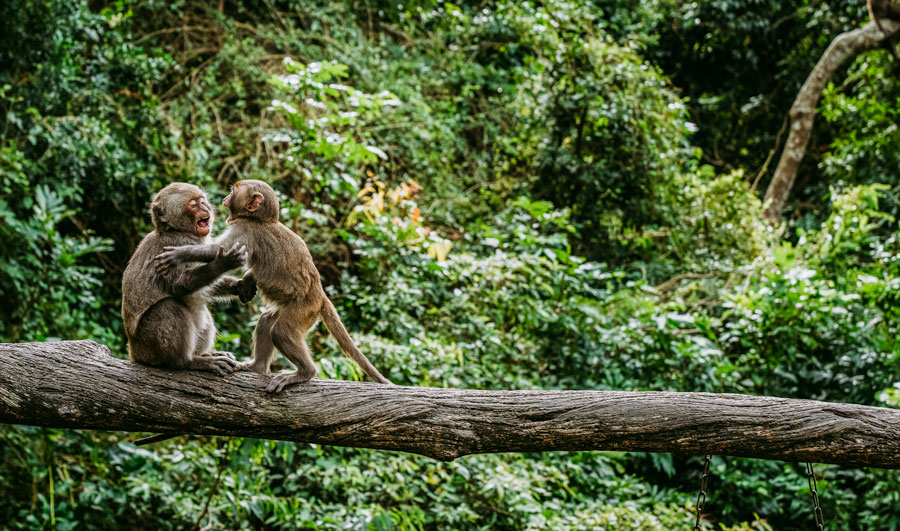 This is a conservation zone that sits in forest against a dense-wooded steep-slope base. The attraction was opened in the mid-2000s by "Uncle Guo," a local farmer. As a child taught to chase Taiwanese macaques away from his family's fields, he later had a change of heart one year after seeing adult monkeys struggling to feed their young.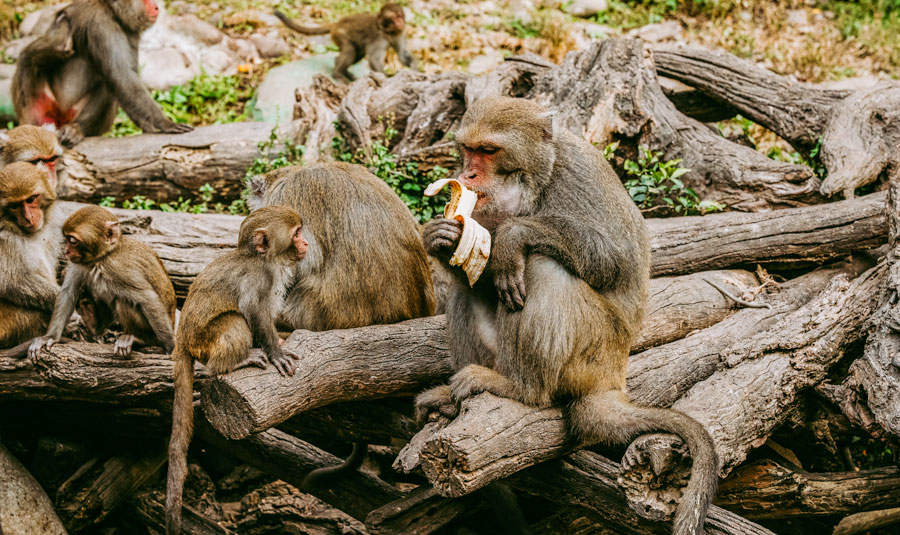 There are educational 30min shows here each day at 11am, 2pm, and 4pm, during which the large, wild resident troop gathers in the park and instructors provide great detail on macaque life (in Chinese). The park has parking, a snack stand, and an agri-product/craft sales area.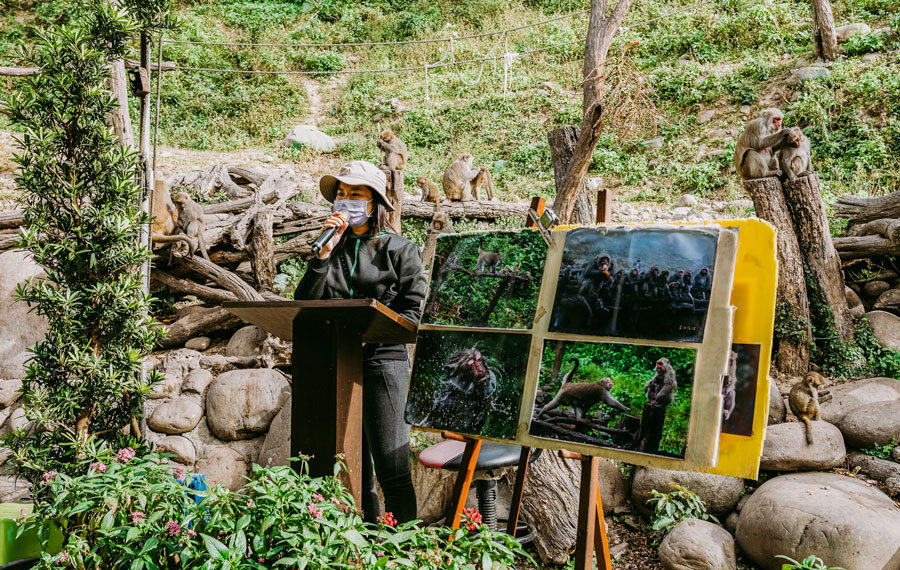 Dakeng Trail No. 9
This easy, well-shaded 1.6km trail (mostly paved narrow farmers' road) starts just inside the Dakeng valley mouth, on the north side, partway up a tiny valley running north. Start at the intersection of Dongshan Road, Section 1 and Lane 383. There is vehicle parking on the road's south side, scooter/motorcycle parking just up the lane. You walk a gauntlet of vendor stands the 200m up to the trailhead; then you turn left (west) and head up the hill, the vendor gauntlet continuing with you up and onto the hill's top. You'll find a cornucopia of goodies on offer, from fresh farm produce to processed agri-products such as honey to sit-down spots for coffee and even grilled steaks.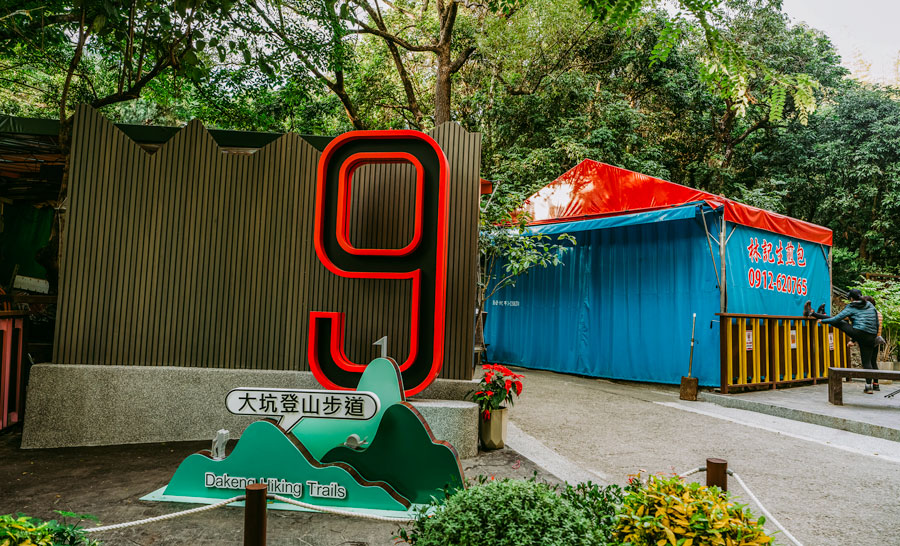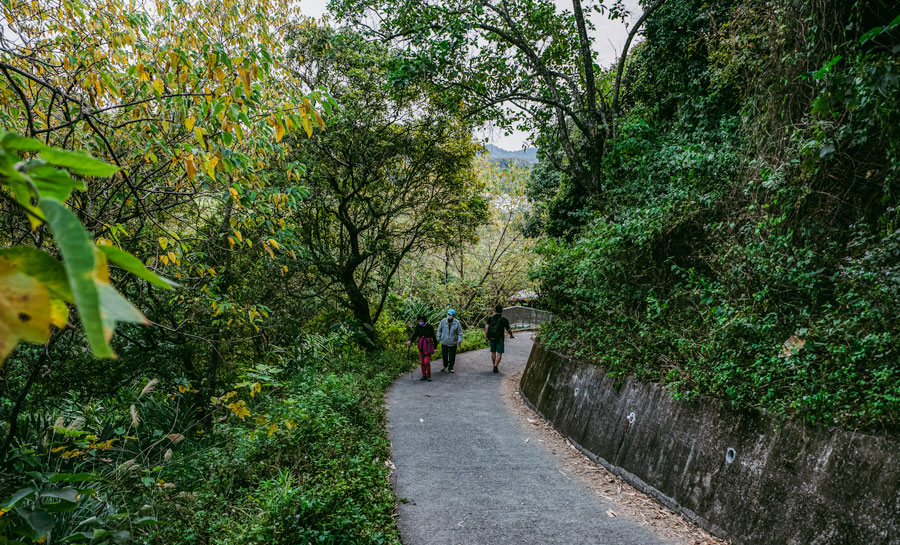 It takes about 500m to reach the top. From here (the gauntlet quickly ends) the trail follows a ridge, ending at the top of the aforementioned valley. Here it connects with Trail No. 10, which brings you down the valley's other side. Its trailhead is right across Lane 383 from the No. 9 trailhead. Note that many hikers linger along the ridge to take in the oft-glorious sunsets over the city.
Along the ridge, near the vendors are viewing platforms providing a dramatic overlook across the city core. The last section is wood steps/boardwalk, ending at a viewing platform looking into the deeper Dakeng area.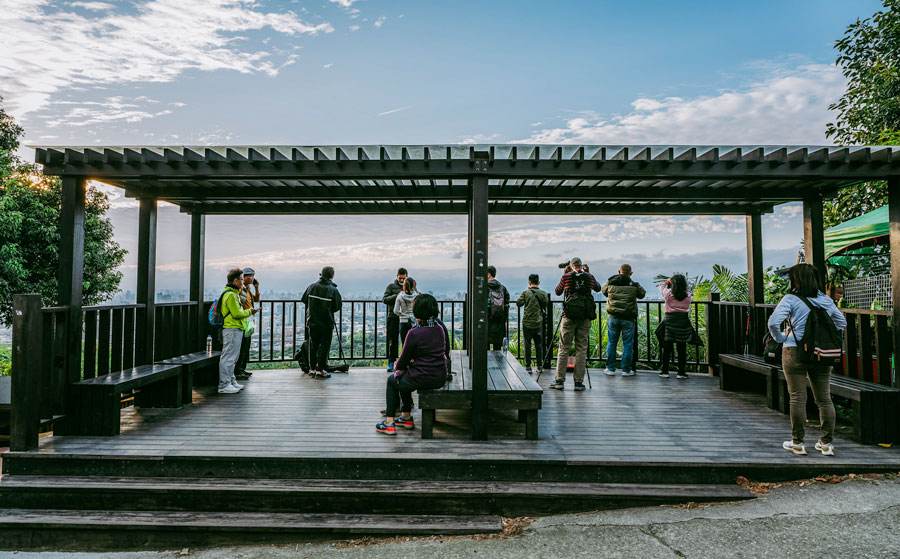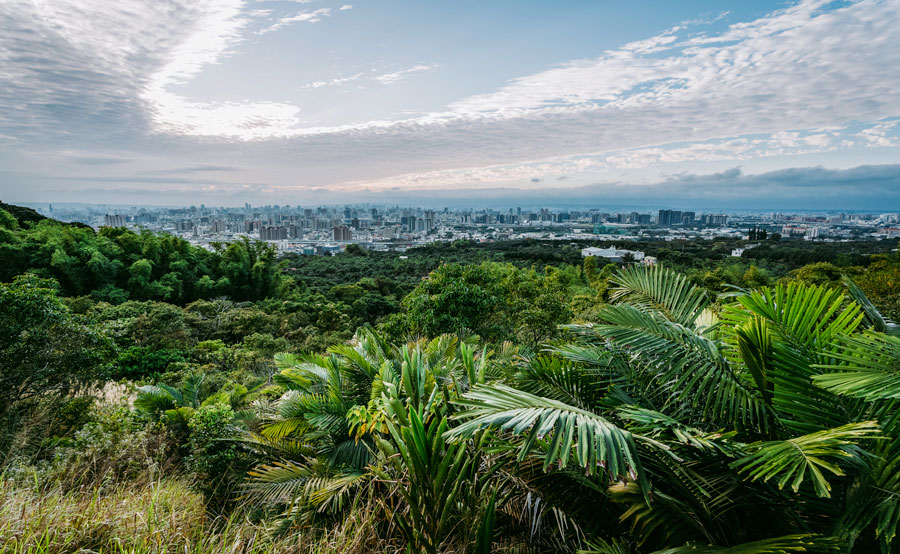 At your hike's denouement, and assuming you've not gorged yourself at the stands on the way up/down, reward yourself with a delicious Taiwanese egg pancake (danbing) or two at "Minglun Egg Pancake," launched in 1978, a cheery stand with a bright-white exterior and striking red awning just before the Dongshan Road/Lane 383 intersection. Lip-smacking-good home-made sauces here (soy sauce, pepper, spicy).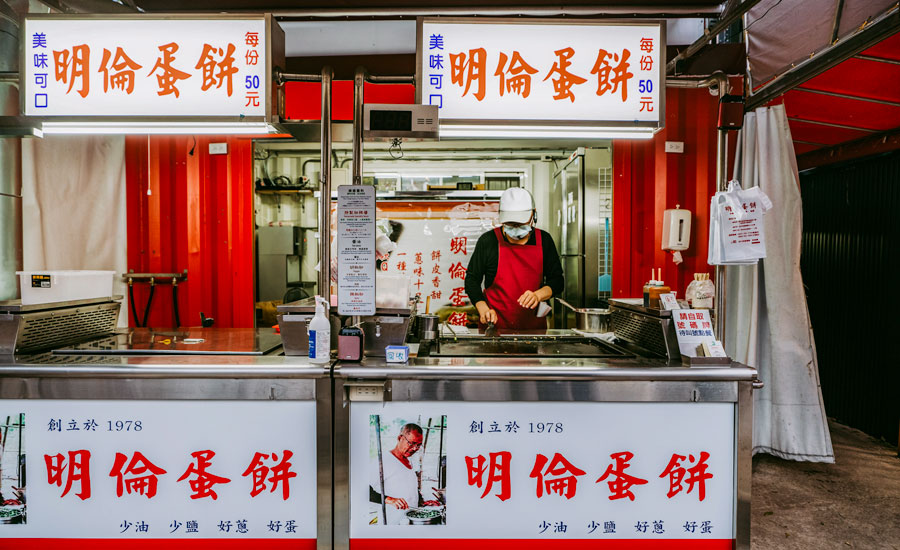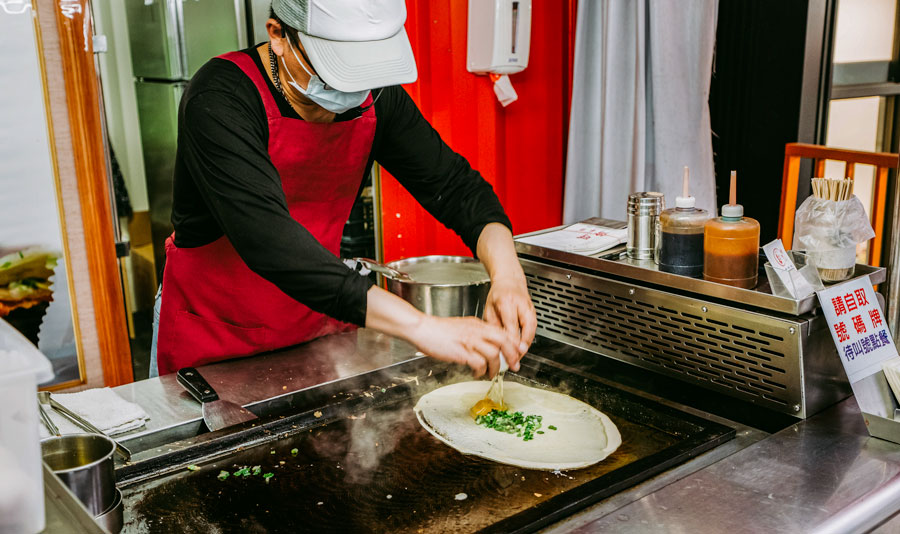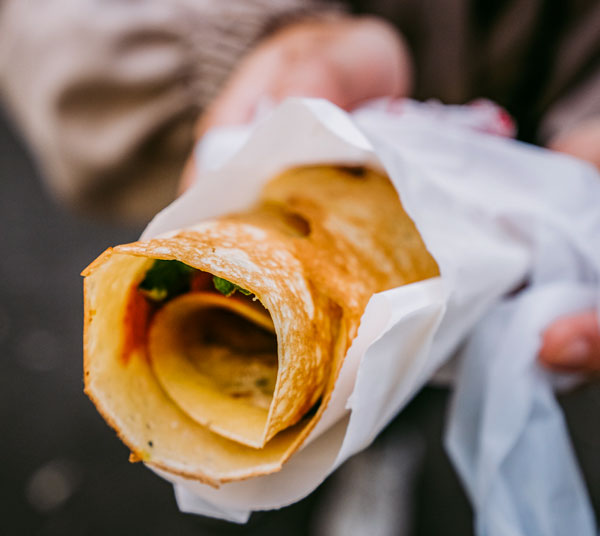 If not self-driving, to get to the Nos. 9 and 10 trailheads, many public bus options are available: Nos. 1, 15, 16, 20, 21, 31, 51, 66, 68, 85 (from Taichung high-speed rail station), 270, 271, 276. Get off at the Taipei Dongshan Service Center stop on Dongshan Road.
Two Tips
– If tackling the No. 2 or other harder trails, consider bringing cloth work gloves, for the rope sections.
– Bring insect repellent. The mosquitoes are not bad; it's a type of biting midge found in Dakeng and elsewhere in Taiwan's lower areas that can infringe on your nature-immersion high spirits.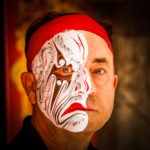 A Canadian, Rick has been resident in Taiwan almost continually since 1988. His book, article, and other writings, on Asian and North American destinations and subjects—encompassing travel, culture, history, business/economics—have been published widely overseas and in Taiwan. He has worked with National Geographic, Michelin, APA Insight Guides, and other Western groups internationally, and with many local publishers and central/city/county government bodies in Taiwan. Rick also handles a wide range of editorial and translation (from Mandarin Chinese) projects.