A Pristine Outdoor-Adventure Playground, with Mountains, Farms, Hot Springs, and Hiking Trails
Text | Rick Charette
Photos | Chen Kuo-cheng
The east coast is often described as "isolated," kept locked away from the rest of the island by the soaring, rugged, thick central mountains. But this is meant in a decidedly positive sense, and in a relative sense – the west and north are busy and densely populated, the east coast virginal and unspoiled, sparsely populated, laid-back, even sleepy.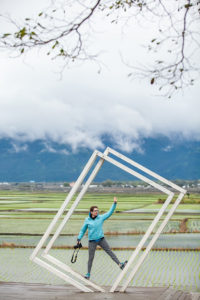 And it's easy to get to. Hop on a plane at downtown Taipei Songshan Airport and you're there in about 35 minutes (Hualien) or one hour (Taitung). And on a sunny day a few weeks back I met up with the usual members in my rat-pack Travel in Taiwan gang at downtown Taipei Railway Station at 9:30am, before 10 was on a sleek Puyuma Express train smelling sweetly of spanking-newness, and was sitting in a car rented right outside Hualien Railway Station at 12:15. We were in the lyrical East Rift Valley less than 30 minutes later.
The valley is long and narrow, about 150 kilometers in length, framed by the north-south Central Mountain Range and the Coastal Mountain Range, with the city of Hualien just beyond its north end and Taitung just beyond its south. Since the establishment of the East Rift Valley National Scenic Area (www.erv-nsa.gov.tw) in 1997, which encompasses the entire valley and a little bit more, there has been systematic tourism-facility development.
The valley is one of my favorite Taiwan playgrounds, and is certainly one of the quietest on the main island, along with the parallel East Coast National Scenic Area just over the coastal mountains. I have three days of all-day fun to tell you about, so let's not tarry.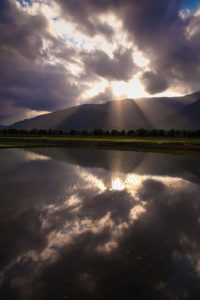 Geology Classroom – The War of the Plates
Here's how it all went down. Er, IS going down, for the tectonic show is still very much "live," with continuing – geologically speaking – high drama.
The Eurasian Plate and the Philippine Sea Plate have been in the midst of a mighty slow-motion car crash for some time now – 15 million years. Stand in the East Rift Valley, look west, and you see the great Central Mountain Range wall. That's the visible edge of the Eurasian Plate, thrown up from the sea bottom. Look east, at the lower, more rounded Coastal Mountain Range. That's the visible edge of the Philippine Sea Plate, a former spaced-out necklace of volcanoes far out at sea that has come crashing into Taiwan.
The deep seawater-filled trench that once existed between the two has been filled with the materials from mountain collapses and mountain-valley erosion, creating a gently undulating, extremely fertile plain. Each year the Philippine plate encroaches 8cm on its enemy, and each year island Taiwan is thrust 0.5cm higher.
Day 1
Liyu Lake
First stop of the day, Liyu (Carp) Lake). In the foothills of the central range just southwest of Hualien City, crowded on weekends/holidays, the place comes into its own at other times – our Day 1 was a Monday – when the birds find it quiet enough to come out and sing for you. About 104 hectares in area, this is the east's largest lake. Among the well-developed tourist facilities are a visitor center; pedal-boat, canoe, and motorboat-with-driver rentals; bicycle rentals; a 4km ring road offering pleasant walking/cycling; camping/picnic areas; easy-challenge trails that take you into the hills; and open-air local-style restaurants, where lake shrimp is the big hit. When we visited the lake's aesthetics were being augmented, inventively, by a giant black rubber duck, in cartoon-style à la Dutch artist Florentijn Hofman's world-touring giant yellow ducks. Hualien is known for its black duck denizens.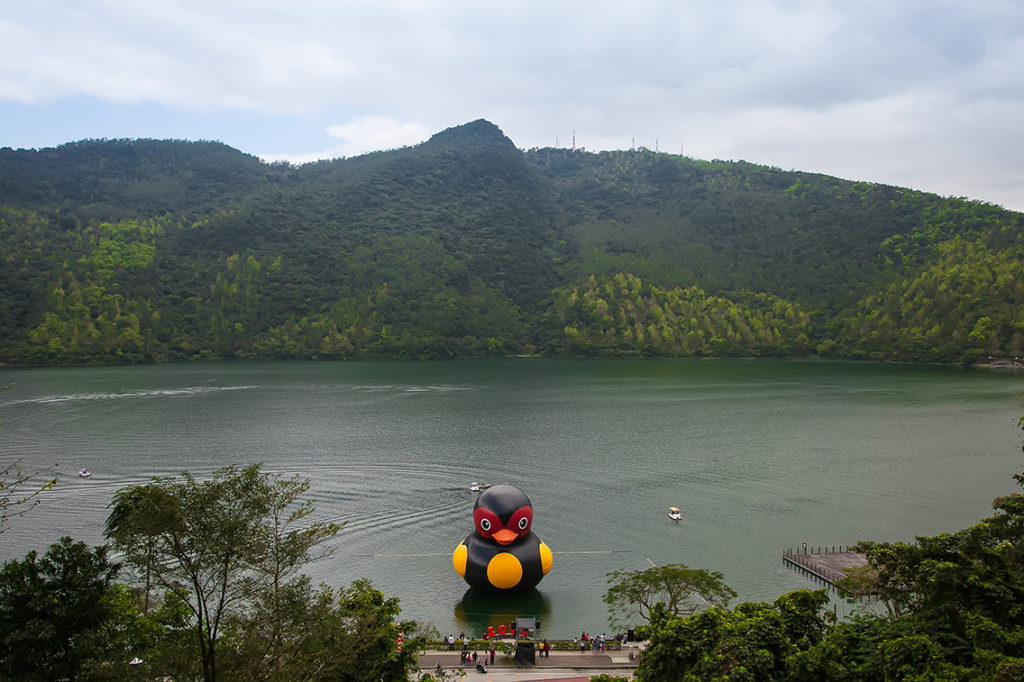 When the Japanese controlled Taiwan from 1895 to 1945, they set up 10 immigrant villages in the East Rift Valley. One of the areas of settlement is on Fenglin town's north/northeast side. A cash-crop tobacco industry was launched to help the Japanese immigrants support themselves, and among the best-preserved historical sites are two lovely traditional Japanese-style tobacco buildings, on Darong 2nd Road, used for storage and smoke-roasting. These were actually built later, after the immigrants had gone back home post-WWII, by local families who had learned the trade. Fenglin has the most concentrated, and best-preserved, collection of tobacco barns in Taiwan.
Lintian Mountain Forestry Center
History buffs will find even richer reward at Lintian Mountain Forestry Center, southwest of Fenglin town. The center is a former timber-industry village established by the Japanese – my favorite destination in the valley. Located at the mouth of a central-mountain side valley, this was once Taiwan's fourth-largest logging operation, with 2,000 residents at its height, and many of the buildings, built with Chinese cypress, have been beautifully restored. There is a history center, remnants of the extensive railway and cableway systems that ran high into the hills, train, machinery, and other displays, plus many informative English signboards.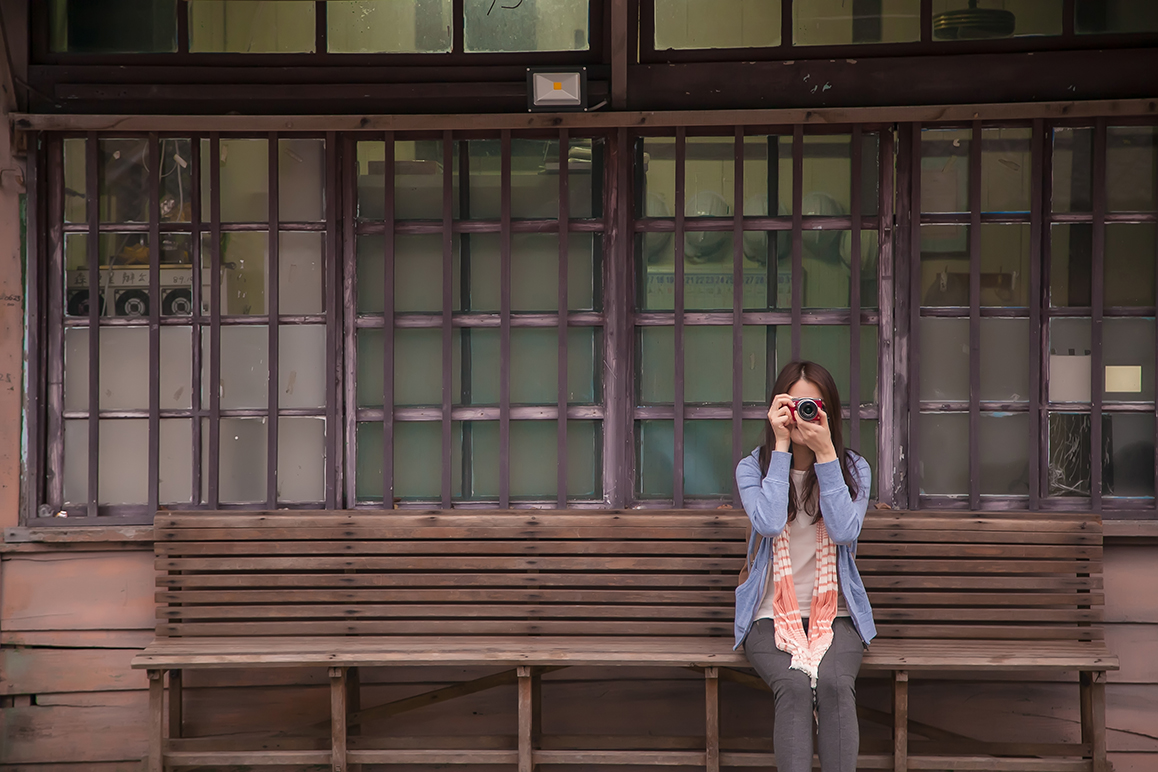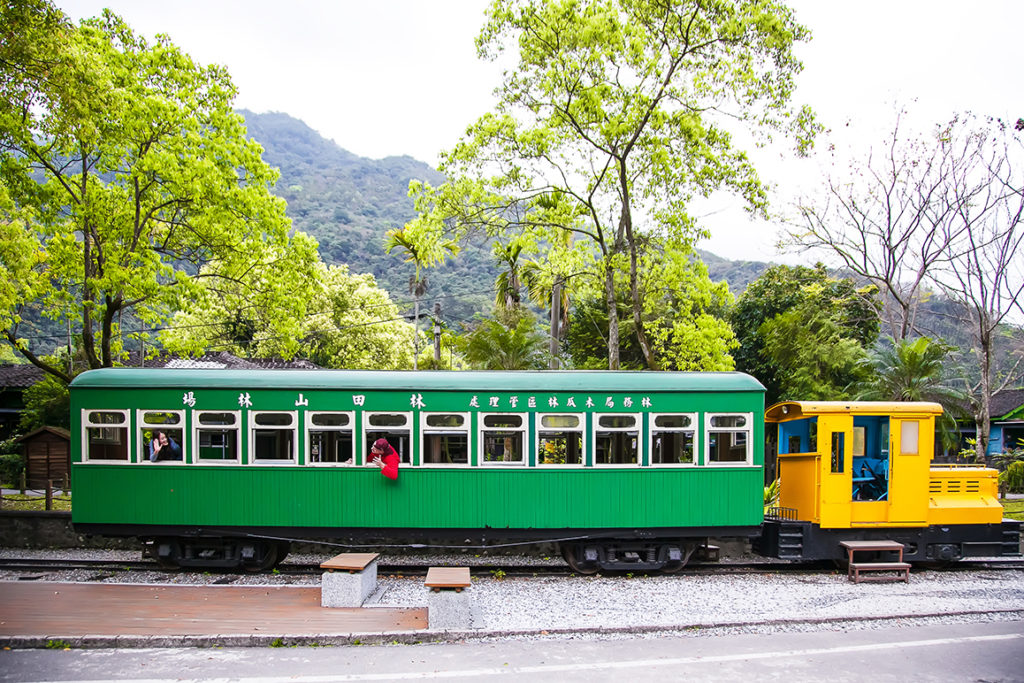 Day 2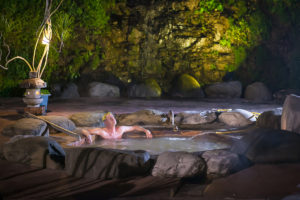 The people of Taiwan love hot-spring soaking, a deep-rooted cultural element picked up from the Japanese. The dynamic local geotectonic activity has given rise to a string of hot-spring pearls down the east coast, with a number of locations developed as resorts by the Japanese.

The waters of the Ruisui Hot Springs – Taiwan's only carbonate hot springs – have a metallic quality, with a murky yellowish-orange look from the abundant iron. Locals believe they are notably good for the spawning of baby boys; many just-married couples come. The resort's oldest hotel, the venerable predominantly wood-built Ruisui Hot Springs Villa, was built by the Japanese. There are both open-air and private facilities.
A few kilometers higher in the central-mountain foothills are the Hongye Hot Springs. "Hongye" means "red leaf," referring to the area's maple trees and their mild seasonal color changes. The springs, long used by the local indigenous residents before the arrival of the Japanese, have clear, odorless sodium-bicarbonate and calcium waters suitable for both bathing and drinking. The oldest hotel here, Japanese-built as a police sanatorium, has been preserved largely unchanged.

The Ruisui Rafting Tourist Center is the launch point for 4-hour-long whitewater-rafting trips on the Xiuguluan River (23 rapids, 21km, Class III), through a magnificent canyon the river has sculpted through the coastal mountains to the sea. The river performs a rare trick, running down from one mountain range (the Central), crossing a valley, and slicing through another mountain range. How? The coastal range is both softer and younger, rising slowly enough to give the river time to erode everything placed in its path.
J.J. Valley Farm
Those who've been denied the joys of time spent around farm animals will relish J.J. Valley Farm (www.jjfarm.com.tw; Chinese), located behind the rafting center. This is a dairy farm where you can feed the cows and view the milking process. You can also get up close to water buffalo, horses, goats – even ostriches. The farm's and surrounding roads are long, quiet (on weekdays), and scenic, and bicycles can be rented at the big service center, where there are also milk-theme treats such as milk hotpot, candies, etc.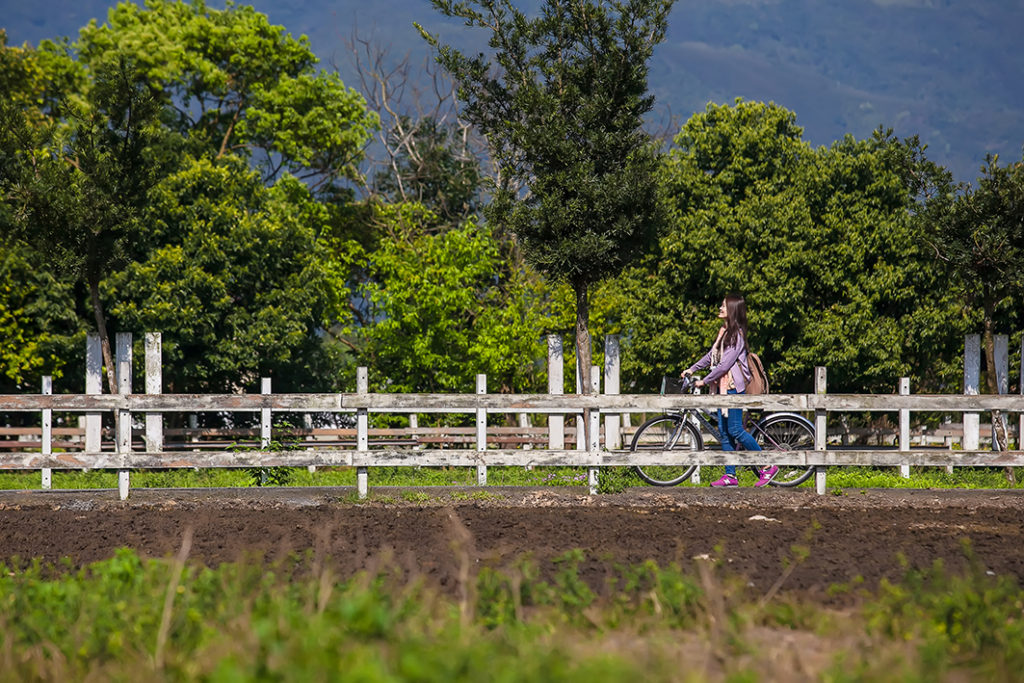 County Road 193
The rift valley has many scenic drives, on roads major and minor, but perhaps one of the best is County Road 193 between Ruisui and Yuli, which hugs the contours of the coastal mountains at their foot, generally five to 10 meters above the plain – perfect for photos. Vehicles are few, settlements few and small, and often all you see below and beyond is a vast expanse of paddy fields. The road's easy grades and gentle curves make it a bike-rider favorite.
Day 3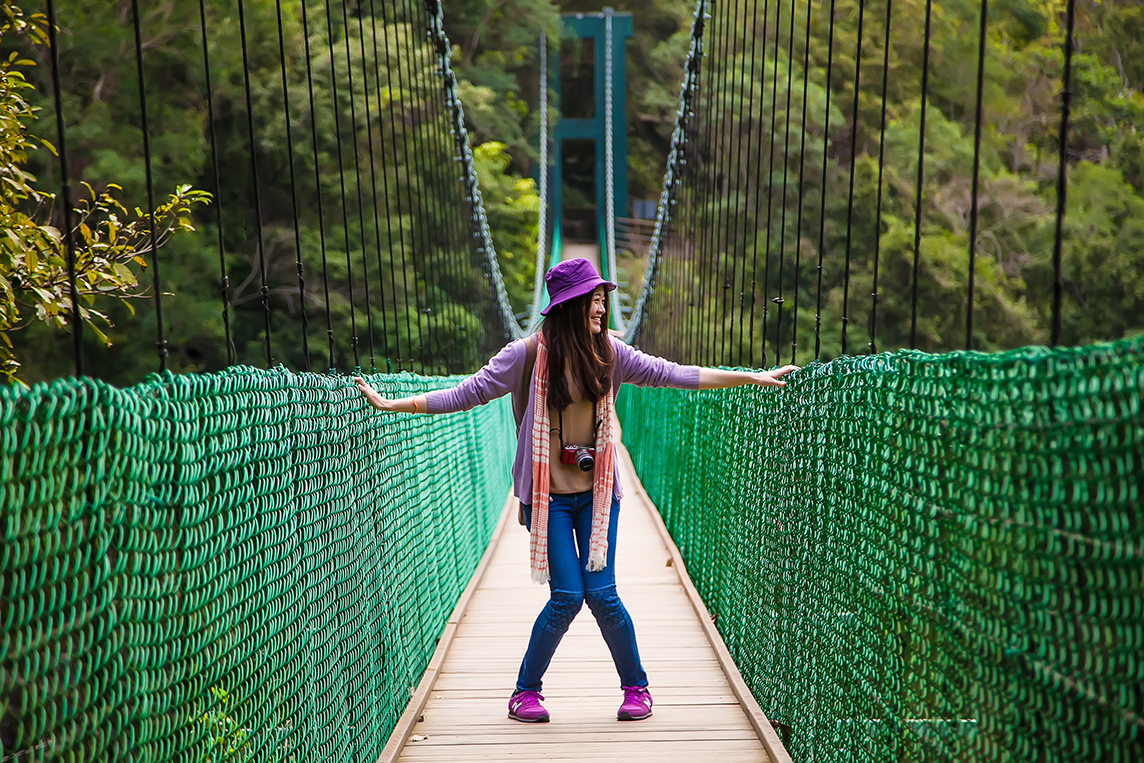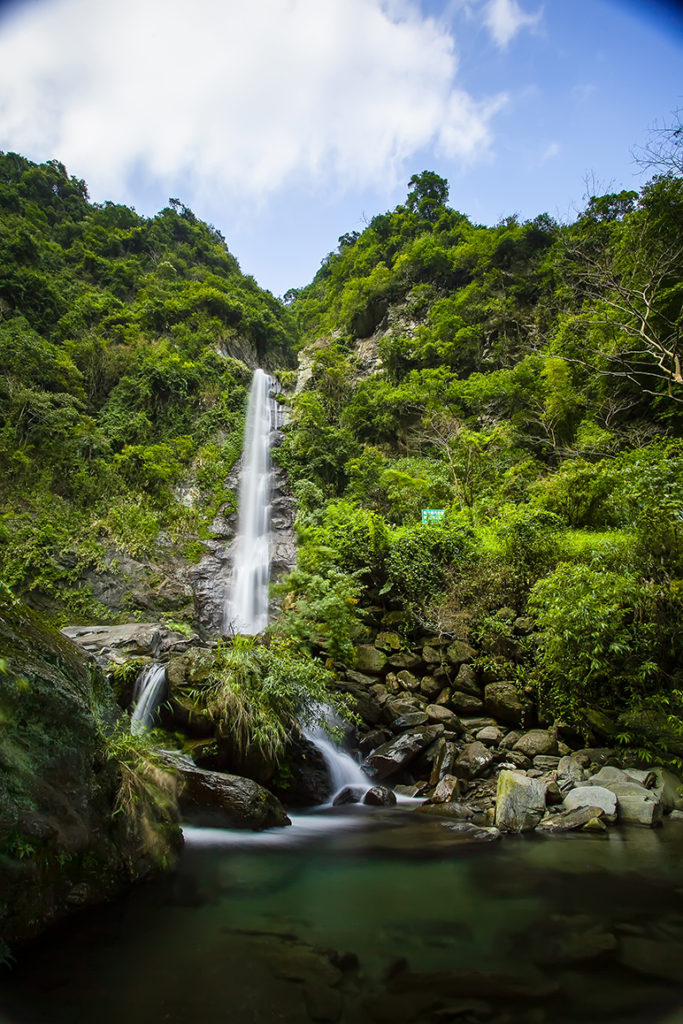 Southwest of Yuli town on Provincial Highway 30 is the welcoming garden-style Nan'an Visitor Center, gateway to Yushan National Park's eastern section. Further up the highway is lofty, photogenic Nan'an Waterfall, and at the dead-end highway's stop is the Walami Trail trailhead. This trail, specially targeted by hike-lovers from overseas, is part of the cross-central-mountain Batongguan Japanese Era Crossing Trail, opened to facilitate Japanese east-west communication and control of indigenous groups in the area. It's 14km from the trailhead to Walami; the return trip takes about 12 hours. The high-mountain scenery is striking, with soaring waterfalls, deep gorges, flying-high suspension bridges, and cliff-face traverses. Many choose the shorter, easier hike to Shanfeng Waterfall, which takes three hours and does not require permits. For details, visit the national park website (www.ysnp.gov.tw).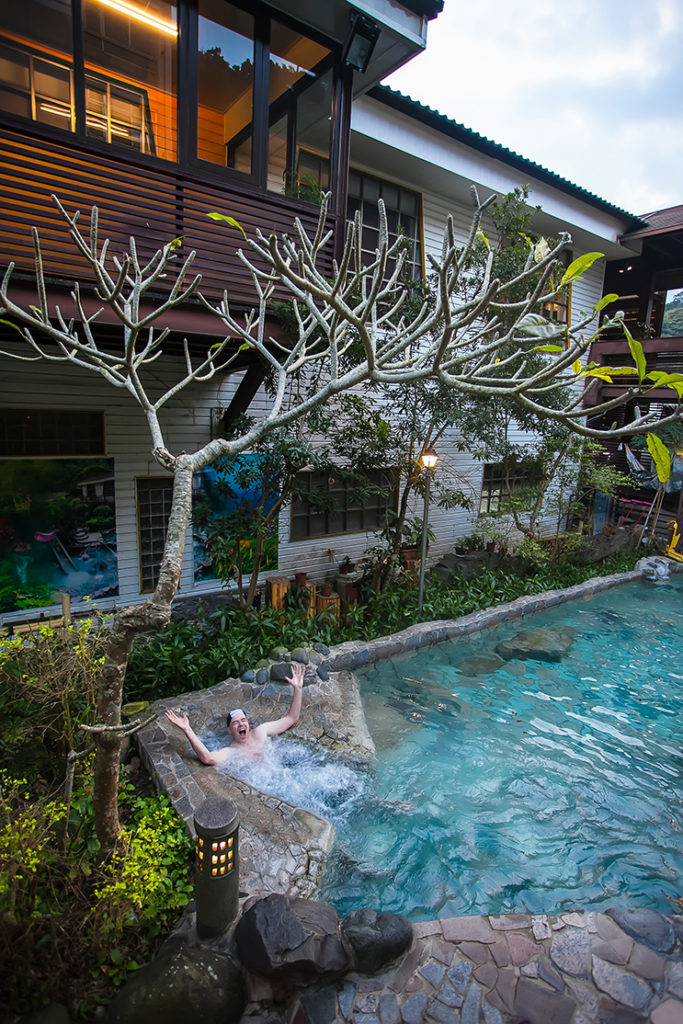 Southeast of Yuli town on Highway 30, in another deep, clear-cut side valley, are the Antong Hot Springs. The waters are rich in hydrogen-sulfide, meaning the famous "rotten egg" smell dedicated soakers love. Local lore has it that a "Japanese gentleman" stumbled upon the springs way back when while on an exploratory hike. The Japanese systematically mapped their new colony's exploitable assets after taking control. Visit the An-Tong Hot Spring Hotel (www.an-tong.com.tw), which has both indoor and outdoor soaking, where in the rear you'll find the well-preserved original Japanese-built spa inn (display only), built with dark wood. Like the bigger places in Ruisui and Hongye, the hotel is a 2/3-star facility.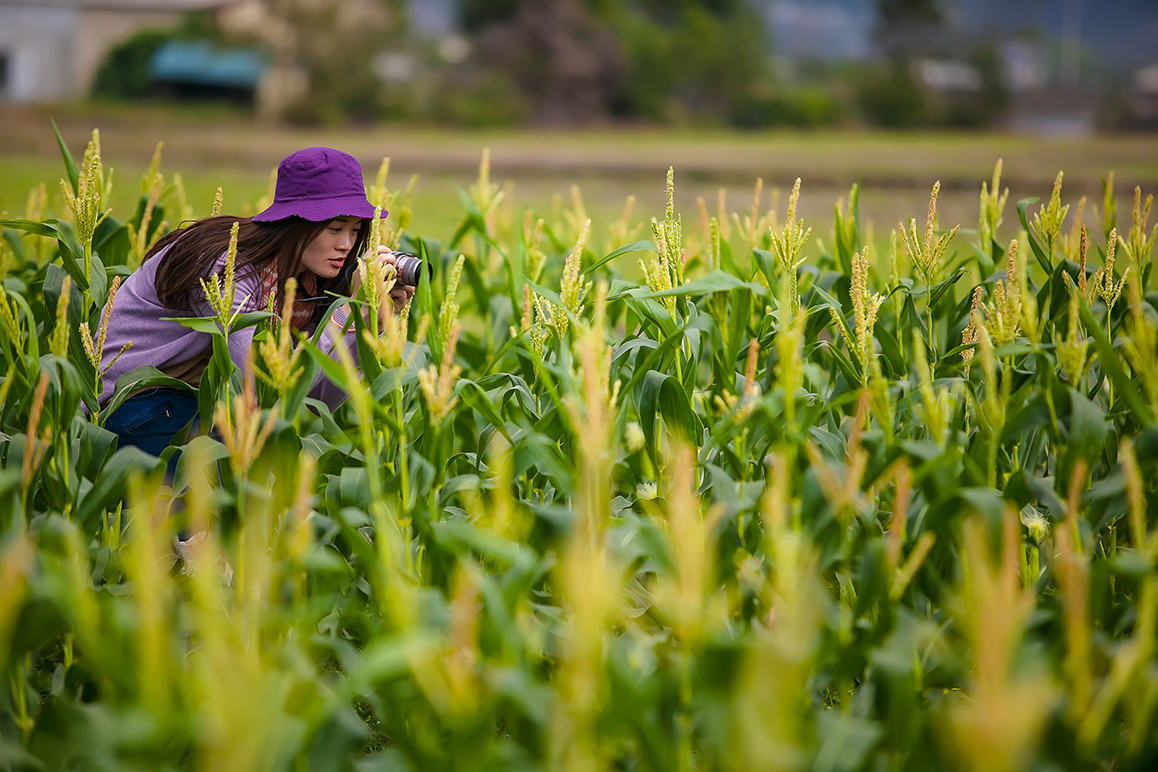 South of the springs, Sixty Stone (Liushidan) Mountain overlooks the rift-valley floor, its peak about 800 meters above sea level. A 300/400-hectare tableland of daylilies carpets its top, blooming in spectacular fashion August~September, with the paddy-grid far below a unique backdrop. I've been on the mountain when the big orange show is on, and it really is a thrill; on this trip, however, we found ourselves wrapped up in thick, rolling mists, which though not what we'd come for was nevertheless wonderfully rewarding aesthetically, creating myriad artistic shanshui-painting-style canvases for eye and camera.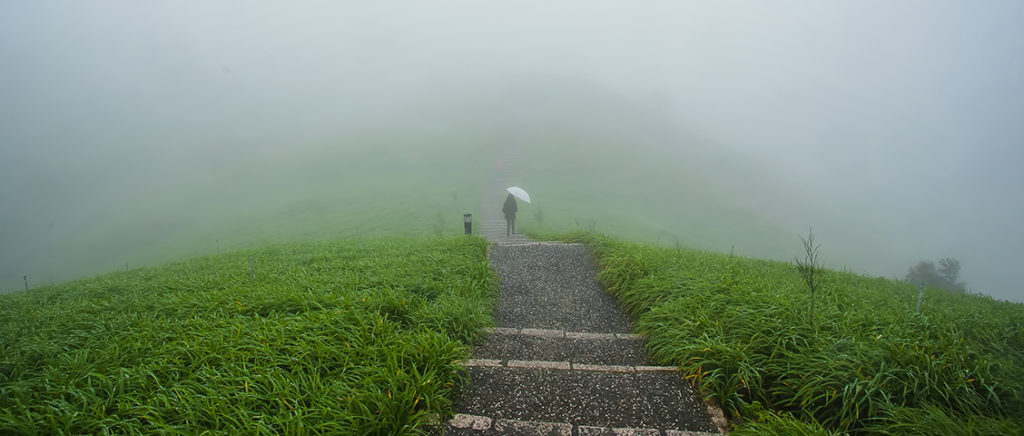 The East Rift Valley's flat terrain and alluring pastoral scenery makes it a very popular bicycling destination, with many routes to choose from. I am especially fond of the loop routes around the townships of Chishang and Guanshan, which bring you through picturesque paddy-field tapestries and to many sites of historical/cultural interest. In Chishang is one of the valley's most photographed roads, Bolang Dadao ("Brown Avenue"), made famous in a Mr. Brown Coffee commercial and an EVA Air commercial starring Japanese-Taiwanese pop-idol heartthrob Takeshi Kaneshiro.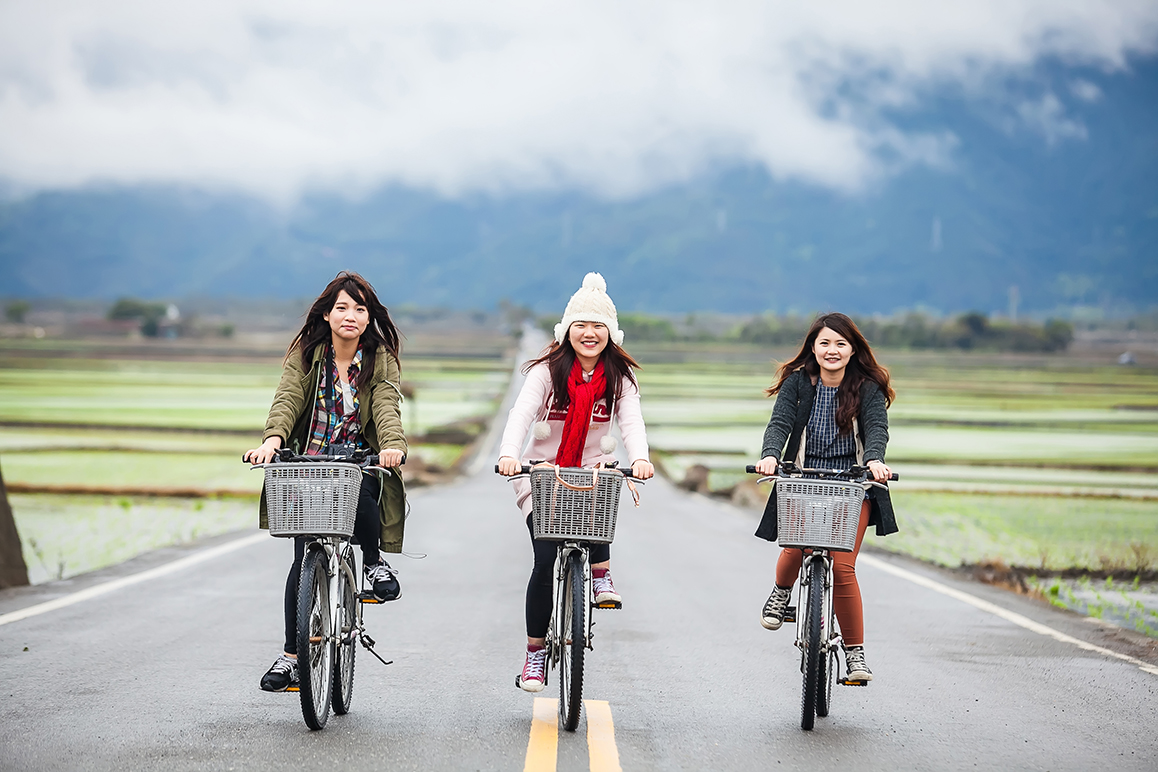 Rift Valley Cycling
For good information on routes, bike-rental locations, and more, visit the East Rift Valley National Scenic Area website (www.erv-nsa.gov.tw). The Taiwan Tourism Bureau also has a detailed, clearly formatted booklet – Traveling on Two Wheels: Guide to Bikeways in Eastern Taiwan – which though published in 2010 remains invaluable.
Getting There and Getting Around
For the full Taiwan train schedule and prices, visit www.railway.gov.tw.
There are good car-rental agencies right outside both the Hualien and Taitung railway stations. The majors, such as Hotai Leasing Corp. (www.easyrent.com.tw), allow you to pick up in one city and drop off in the other. Both railway stations have nearby scooter-rental outlets, Hualien's has bicycle rentals, and there are scooter/bike-rental shops elsewhere throughout the region outside smaller stations and in major tourist areas. Check with the Tourism Bureau or East Rift Valley National Scenic Area authorities for the latest info.
If you don't feel like transporting yourself around the region, check out the Taiwan Tour Bus service (www.taiwantourbus.com.tw).
Hualien Activities on Klook
Hualien Scarecrow Paragliding Experience Camp Pengbin Pacific Paragliding Experience
Hualien: Zipline Experience at Wild Monkey Adventure Jungle
Hualien: Rift Valley Secret Ecological Trekking Experience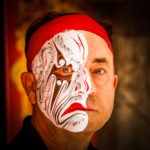 A Canadian, Rick has been resident in Taiwan almost continually since 1988. His book, article, and other writings, on Asian and North American destinations and subjects—encompassing travel, culture, history, business/economics—have been published widely overseas and in Taiwan. He has worked with National Geographic, Michelin, APA Insight Guides, and other Western groups internationally, and with many local publishers and central/city/county government bodies in Taiwan. Rick also handles a wide range of editorial and translation (from Mandarin Chinese) projects.