Happy Soaking in Mineral-Rich Waters
TEXT & PHOTOS / VISION
After a typical travel day involving walks from tourist attraction to tourist attraction, your feet – if not your whole body – have most likely earned the right to some prolonged pampering. Immersing yourself in water with the perfect temperature – not too hot, not too cool, 39 degrees Celsius perhaps – is one of the simplest and most enjoyable pleasures. Experience how your stress, fatigue, and strains magically disperse with a soak in soothing hot-spring water.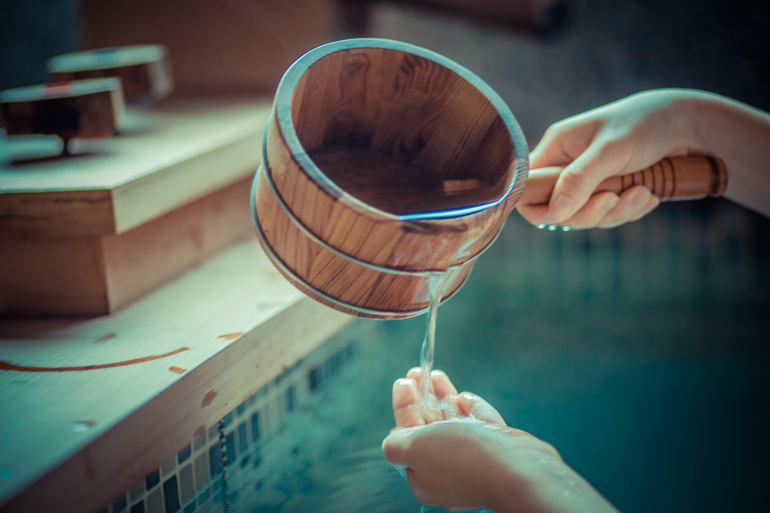 Being a land located on the infamous Ring of Fire that surrounds the Pacific Ocean, Taiwan is prone to receiving jolts from the depths of the Earth, sometimes with devastating results. But where earthquakes occur, mineral hot springs are likely to be present, and Taiwan is blessed with an abundance of them. From north to south, from coastal regions up into the mountains, are hot springs found in a wide variety of often strikingly scenic natural settings. Hot-spring bathing in Taiwan can be as simple as creating your own makeshift pool in or beside a mountain stream at a spot where hot-spring water emerges from the ground, and as elaborate as taking advantage of a fully equipped spa facility inside a luxurious hotel.
Taiwan's hot springs are not all of the same type. The water temperature at the source, for example, can differ significantly, from cooler to boiling hot, and the water at each location can contain a range of different minerals, a number of which have therapeutic properties.
With so much choice available, it's helpful to have some guidance – a ranking, perhaps, that can help you decide where to go next for a relaxing soak. Luckily, earlier this year the Taiwan Tourism Bureau compiled a list of the best hot-spring areas on the island after conducting a survey, supplemented with evaluation by a team of experts. Following are short descriptions of the top 10 hot-spring areas on that list.
Guanziling (Tainan City)
Named the very best of the lot, the hot-spring resort village of Guanziling, in the mountains of southern Taiwan, is a worthy representative of all hot-spring locations around the island. It combines many of the elements that make hot-spring bathing so popular and attractive here. The location and setting are ideal. The village is close enough to a city (Chiayi) and major transportation hubs (the city's high-speed rail and regular rail stations) to be conveniently reached. At the same time, it is far enough from the hustle and bustle of a city so that you can enjoy quiet relaxation, immersed in the embrace of eye-pleasing verdant mountains.
KLOOK: Guanziling Hot Spring and Togo Art Museum Package
Guanziling's hot-spring establishments range from simple to luxurious, and quality food can be enjoyed at hotel restaurants as well as at other village eateries. What makes the hot springs of Guanziling especially popular is the mud, which gives the waters a distinct gray color and is said to be effective in treating ailments such as skin allergies, rheumatism, and arthritis. Spa operators often provide buckets of mud by their pools so that bathers can cover themselves with the smooth substance from head to toe, adding fun to the hot-spring experience. One of the premier hot-spring resort hotels at Guanziling is the European-style The King's Garden Villa.
Related article
Charming Siraya National Scenic Area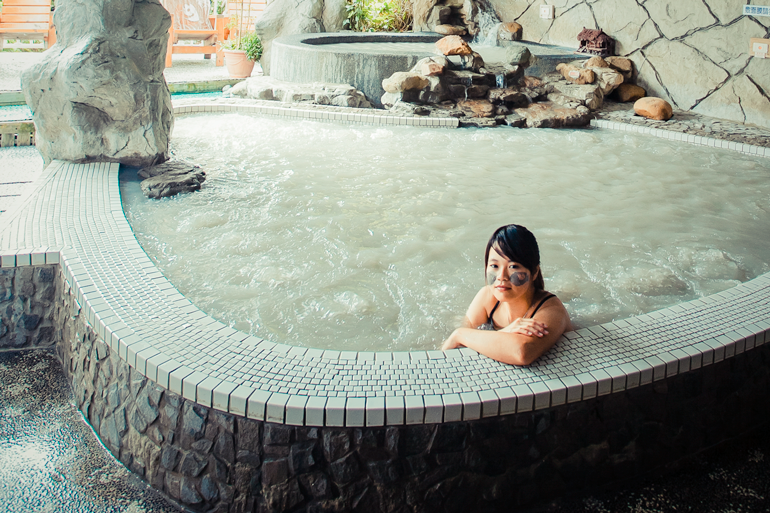 The King's Garden Villa
This is a complex, not a stand-alone hotel building – a configuration of wood cottages and two-floor wood-façade buildings. In the latter you walk directly into your room from the outside, and the second-floor units are set up like walk-up apartments. The complex has the look and ambience of a small, densely-knit European mountain village, everything is painted bright white, and the facades and cozy park-like walkways between buildings are spic and span.
The management shows obvious pride in every detail, which guests in turn obviously notice and appreciate. Each unit has hot-spring tubs in a room partially exposed to the outside, though designed to ensure privacy. The resort is at the top of Guanziling, with only forest, ridge, and peaks behind, though not all units have views in this direction. There is also a large and airy spa facility, with an attractive outdoor pool with a partial mountain view, sauna facilities, mineral pools of various temperatures, and other amenities. Guanziling's famous health-enhancing mineral mud is available here. Note that there are public facilities as well as separate men's/women's facilities.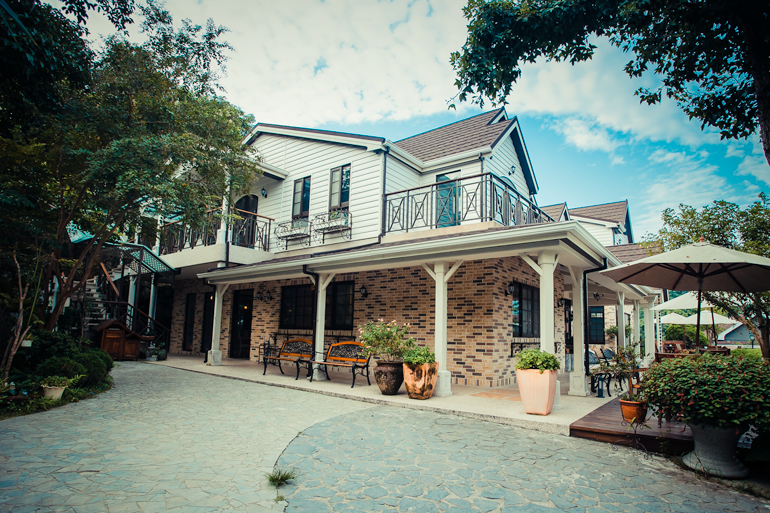 The King's Garden Villa
(景大渡假莊園)
Add: No. 56, Guanziling, Baihe District, Tainan City
(台南市白河區關子嶺56號)
Tel: (06) 682-2500
Website: www.myspa.com.tw
Guan-Zih-Ling Toong Mao Spa Resort
The Guan-Zih-Ling Toong Mao Spa Resort is right on Guanziling's main thoroughfare, and guests are constantly walking in and out, heading off to or coming back from a round of town shopping and/or eating. The hotel is built on a slight slope, and the basement area opens up to the large outdoor swimming pool, hidden from street view. People lounge around on the wide ceramic-tile deck area, reading and relaxing. The pool is in full view of a roomy basement café where guests lounge about in bathrobes, reading and chatting.
People, in pairs and small groups, head past café and swimming pool to the hot-spring pools beyond, which have a tree-shaded, partial mountain view. On one side of the basement café is the indoor spa complex, which has private rooms, and on the other side is the well-equipped – and well-soundproofed – games arcade. Up on the ground-floor level are large VIP rooms from which boisterous karaoke singing will emanate at night. All guestrooms are in the back section of the hotel, ensuring overnight guests' quiet and mountain views. Not all these rooms have hot-spring tubs; the tubs are on the balcony in those that do, providing soothing green-covered mountain views.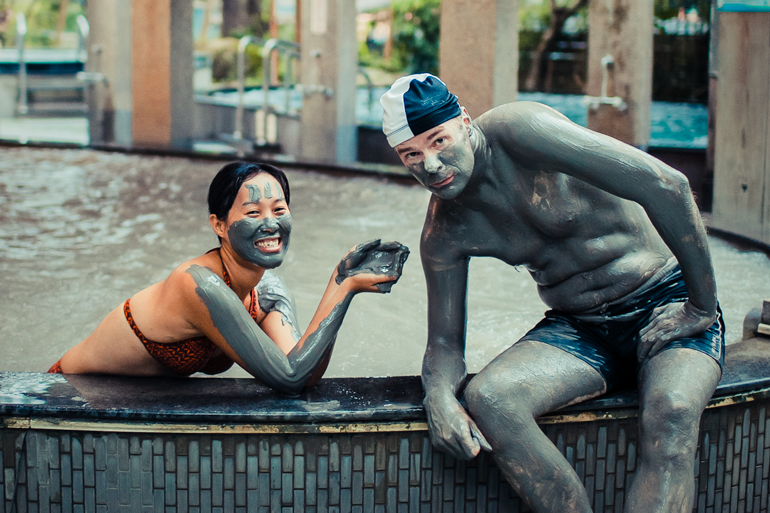 Guan-Zih-Ling Toong Mao Spa Resort
(關子嶺統茂溫泉會館)
Add: No. 28, Guanziling, Baihe District, Tainan City
(台南市白河區關子嶺28號)
Tel: (06) 682-3456
Book a room here.
Info
Hot-spring type: Alkaline carbonate sulfur mud-spring water Water temperature (at source): About 75 degrees Celsius
Public transport: Take a bus from either the Chiayi or Xinying railway stations (conventional trains) or THSR Chiayi Station (high-speed trains)
More information: www.siraya-nsa.gov.tw (Siraya National Scenic Area)
Places of interest
Water and Fire Crevice
A short drive from Guanziling is the Water and Fire Crevice. Methane and boiling-hot mineral water – and mud – pour forth from a cliff-face fissure here, and the methane has been ignited. Water and flame seem to magically mix together, in a paradoxical phenomenon locals long ago dubbed "fire in water and water in fire." The flames, today about a meter high, once shot out about three meters, and have licked the grotto black.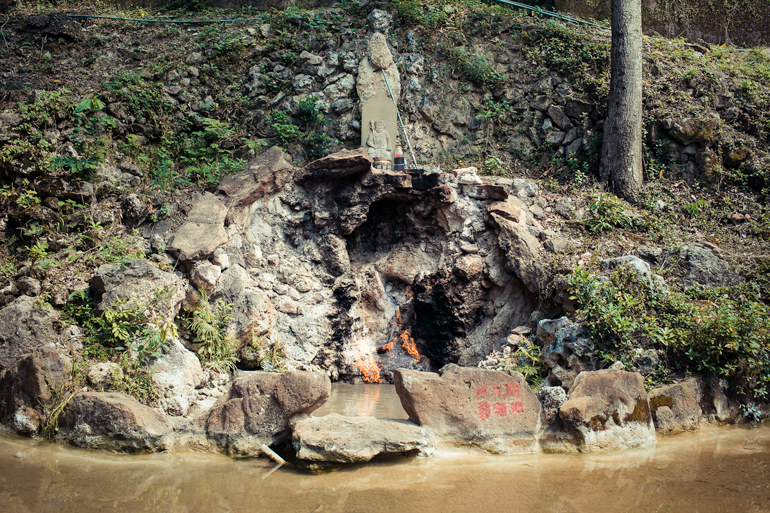 Biyun Temple
Ornate Biyun Temple, the "Temple of Azure Clouds," is close by. The temple is by roadside, and the temple complex climbs up a soaring, steep mountainside. The Jianan Plain is spread out far left to far right before you, as though you're sitting in a theater watching a widescreen movie. You'll see many monks on-site, and unusual practices such as exorcisms are common. In the temple's rear is a dragon sculpture on a cliff-side wall from which sacred, drinkable mineral water trickles, eagerly bottled by local tourists.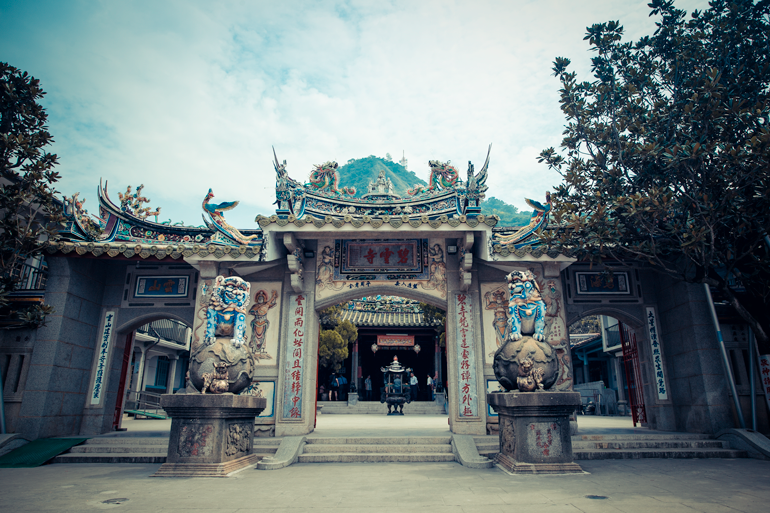 Beitou (Taipei City)
Beitou is a district of Taipei City, and as such by far the most conveniently reached hot-spring resort area in Taiwan. It takes just half an hour or so by MRT (Taipei Metro) to get from Taipei Main Station to Beitou's hot-spring hotel area (just beyond MRT Xinbeitou Station). This is a fine place not just to go for a hot-spring soak, but also to learn about the history of hot-spring bathing in Beitou and Taiwan. Be sure to visit the Beitou Hot Spring Museum and Beitou Museum. Another must-visit tourist attraction is Thermal Valley, a mist-covered hot-spring pond, which is one of the area's main hot-spring sources. Beitou has a wide range of hot-spring bathing options, from the Beitou Park Outdoor Hot Spring Bathing Pool complex to modern upscale resort operations such as the Grand View Resort Beitou.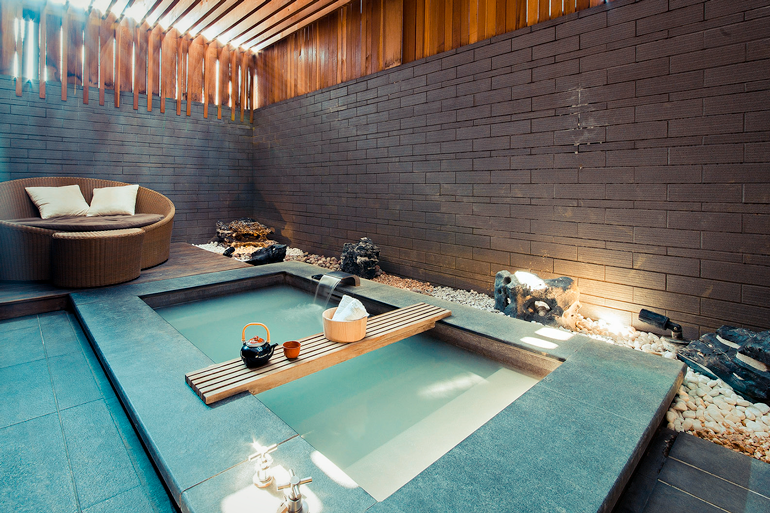 Grand View Resort Beitou Hotel
(北投麗禧溫泉酒店)
Add: No. 30, Youya Rd., Beitou Dist., Taipei City
(台北市北投區幽雅路 30 號)
Tel: (02) 2898-8888
Book a room here.
Atami Hotel
(北投熱海溫泉大飯店)
Tel: (02) 2891-5161
Add: No. 258, Guangming Rd., Beitou District, Taipei City
(台北市北投區光明路258號)
Book a room here.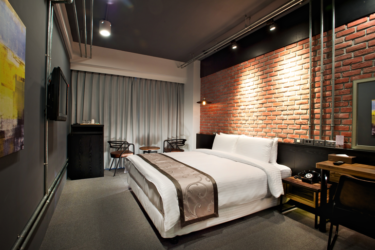 Asia Pacific Hotel Beitou
(北投亞太飯店)
Add: No. 31, Youya Rd., Beitou District, Taipei City
(台北市北投區幽雅路31號)
Tel: (02) 2898-3088
Book a room here.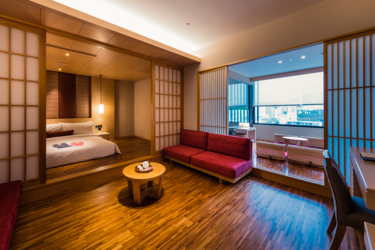 Info
Hot-spring type: White sulfur and green sulfur springs
Water temperature (at source): 40~99 degrees Celsius
Public transport: Take the Taipei MRT Tamsui-Xinyi Line to Beitou Station, transfer to the Xinbeitou Line, and get off at Xinbeitou Station.
KLOOK:
Beitou Private Hot Spring at Kagaya in Taipei
Spring City Resort Beitou Hot Spring Spa
The Gaia Hotel Hot Spring Experience in Beitou
Beitou Gorgeous Hot Spring Resort Hotel Experience in Taipei
Beitou Hot Spring Experience at Marshal Zen Garden in Taipei
Places to Visit
Thermal Valley
At the far, upper end of the hot-spring park, look left and you'll spot the entrance to Thermal Valley, the source of the park area's sulfurous hot-spring water. Surrounded by trees, this deep, rock-strewn depression was created long ago by a volcanic burst. The sulfurous waters in the depression's large pool bubble and spit, the steam sometimes filling the entire little valley on cool days. The Ketagalan people who once lived in the area called the valley "Patauw," meaning "witch" or "sorceress." "Beitou" is a bastardization of this original name.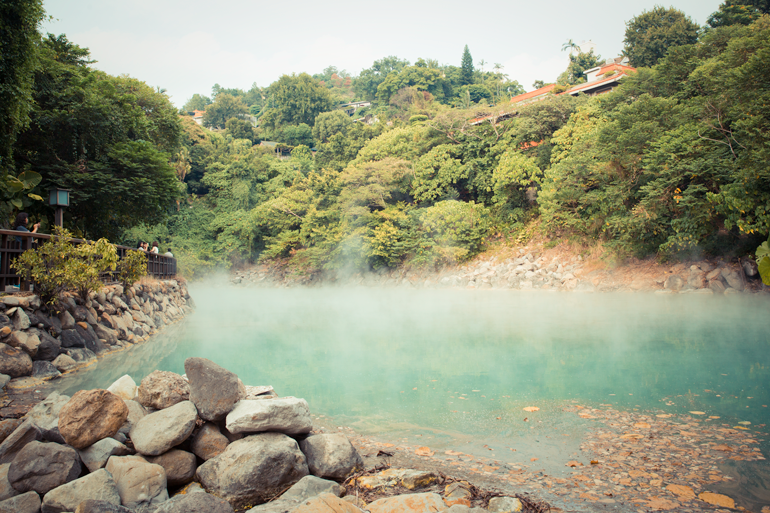 Beitou Museum
Further uphill from the hot-spring park and the thermal-spring valley, on Youya Road, is the Beitou Museum, an excellent place to learn more about Beitou's history, indigenous culture, and the Japanese colonial era – the museum building was original constructed in 1921 as a fancy hot-spring hotel for the Japanese elite – and also to taste fine cuisine (Kaiseki-style) and take in irregular cultural performances (in a spacious tatami room).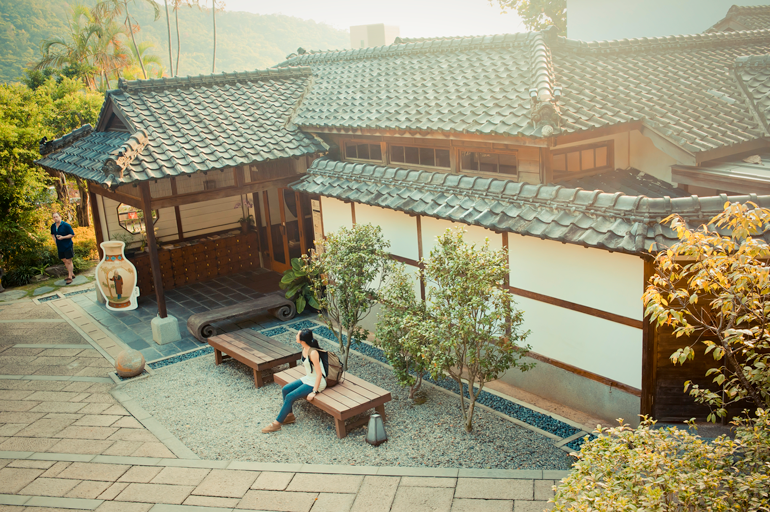 KLOOK: Taipei City Beitou and Yangmingshan Day Tour
Jiaoxi (Yilan County)
It takes only about an hour by intercity bus to get from downtown Taipei to Jiaoxi, a small hot-spring town in Yilan County, northeastern Taiwan. From Jiaoxi's bus or railway station it's a short walk to Tangweigou Park, where you'll find simple public hot-spring bath facilities, including pavilions with hot-spring foot-bath pools. If you want to go soaking in a more luxurious environment, there is no shortage of stylish resort hotels in and around town, including the elegant Hotel Royal Chiao Hsi. Besides soaking in the soothing mineral waters, when spending time in Jiaoxi you'll also want to go for an easy hike to the beautiful Wufengqi Waterfall.
Klook: Hotel Royal Chiaohsi Open-Air Hot Spring Experience in Yilan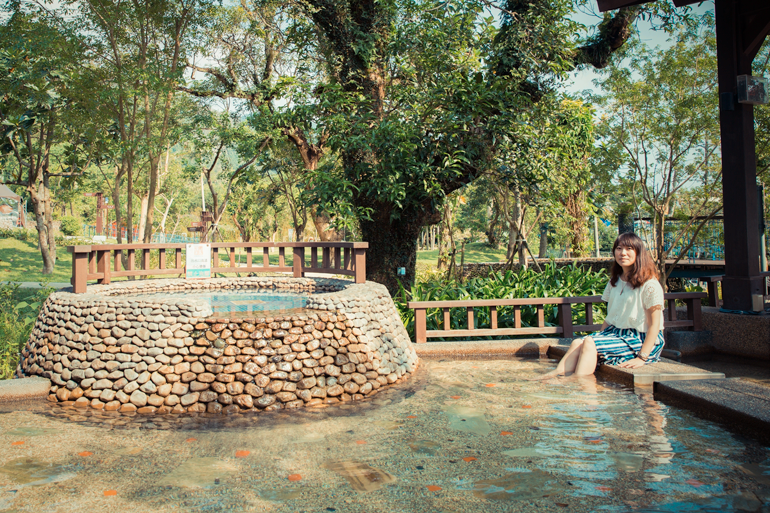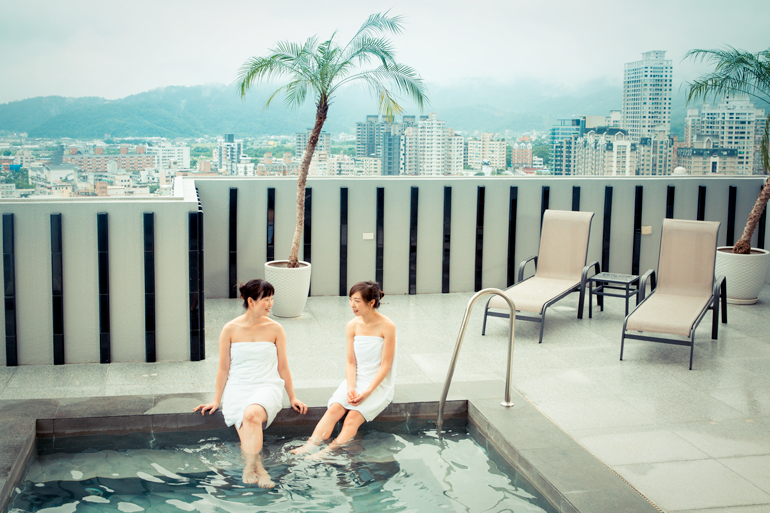 Kilin Jiaoxi
(礁溪麒麟)
Add: No. 116, Sec. 5, Jiaoxi Rd., Jiaoxi Township, Yilan County
(宜蘭縣礁溪鄉礁溪路五段116號)
Tel: (03) 988-8570
Book a room here.
Guan Xiang Century Resort Hotel
(冠翔世紀溫泉會館)
Add: No. 6, Ln. 66, Ren'ai Rd., Jiaoxi Township, Yilan County City
(宜蘭縣礁溪鄉仁愛路66巷6號)
Tel: (03) 987-5599
Website: www.hotspring-hotel.com.tw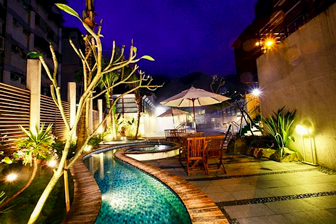 Art Spa Hotel
(中冠礁溪大飯店)
Add: No. 6, Deyang Rd., Jiaoxi Township, Yilan County City
(宜蘭縣礁溪鄉德陽路6號)
Tel: (03) 988-2011
Book a room here.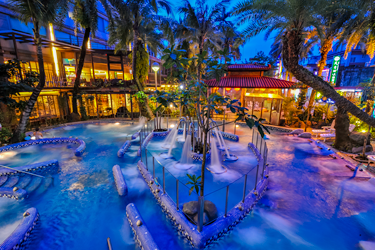 Info
Hot-spring type: Neutral sodium bicarbonate spring
Water temperature (at source): About 64 degrees Celsius
Public transport: From Taipei, take an intercity bus from either Taipei Bus Station or Taipei City Hall Bus Station, or take an eastbound train that stops at Jiaoxi.
More information: travel.yilan.tw (Yilan Tourism)
Place to Visit
Wufengqi Waterfall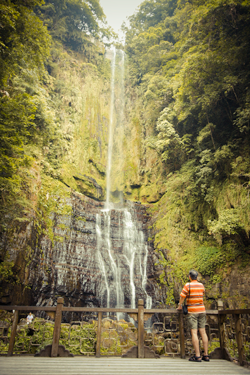 Of all the attractions in the Jiaoxi area, however, perhaps none are more popular than the three-tier Wufengqi Waterfall a couple of kilometers west of the town, which is not only spectacular but also very easy to visit. Visitors without their own transport are in luck, thanks to the Taiwan Tourist Shuttle Bus service (www.taiwantrip.com.tw), the Jiaoxi Route of which connects the waterfall area with Jiaoxi Railway Station.
From the Wufengqi Scenic Area stop, in a large car park beside a wide stream, follow the waterside path upstream for a few minutes to a set of steps that takes you up to a rest area with a cluster of snack vendors and washroom facilities. Just beyond this point a wide stone path leads, in just a couple of minutes, to the first of the three beautiful waterfalls. Climb the steps through the gorge past the small but pretty cascade, and just above it is the second fall, a higher and more impressive leap. From here it's another 10-minute climb up steps to the third and last fall, along a path cut into the rocky, sheer-sided gorge. It's a steep push in parts, but the reward is a view of the highest and most impressive of the three waterfalls. Unfortunately, the path to this waterfall is sometimes closed due to the risk of falling rocks; but if open, it's well worth the climb to see the spectacular 40-meter-high plunge.
Related articles:
What's Hot in YILAN COUNTY
Hiking to SHENGMU PEAK near Jiaoxi
Slippery, Cold, and Wet… RIVER TRACING in JIAOXI
Zhiben (Taitung County)
Located a short drive south of Taitung City in southeastern Taiwan, the Zhiben hot-spring resort area is located in the scenic Zhiben River valley. Like many hot-spring areas in Taiwan, Zhiben was developed during the Japanese colonial area, and eventually became one of the biggest tourist draws in eastern Taiwan. Apart from enjoyment of the hot-spring hotel facilities, notably those at the grand Hotel Royal Chihpen, be sure to tackle the pathways in the Zhiben National Forest Recreation Area, where you will be surrounded by lush forest, singing birds, and roaming macaques. Especially impressive here are the magnificent white-bark banyan trees.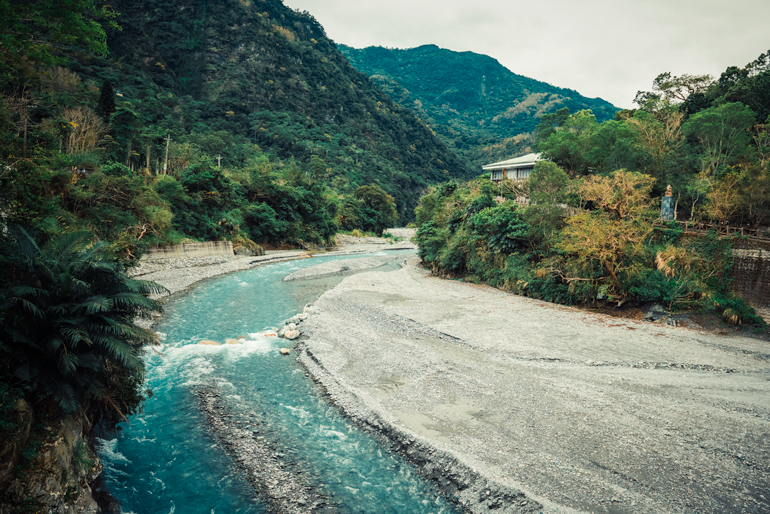 Hotel Royal Chihpen
The Hotel Royal Chihpen is Zhiben's No. 1 accommodation selection. Up on a hillside, it is hidden away in the forest, invisible from the main hot-spring resort area. Among its many first-rate facilities is an array of open-air spa-soak choices and swimming pool tucked away in an oasis-like setting between the hotel building and mountain slope behind, beautifully lit up at night. Guests can also enjoy a recreation center with table tennis, e-games, gym, private karaoke rooms, putting green, archery range, badminton court, sand playground, children's library, and menu of special activities that includes indigenous song-and-dance performances and indigenous outdoor cooking. As you can see, ennui is not an option here. Guestroom styling is contemporary Western and Japanese.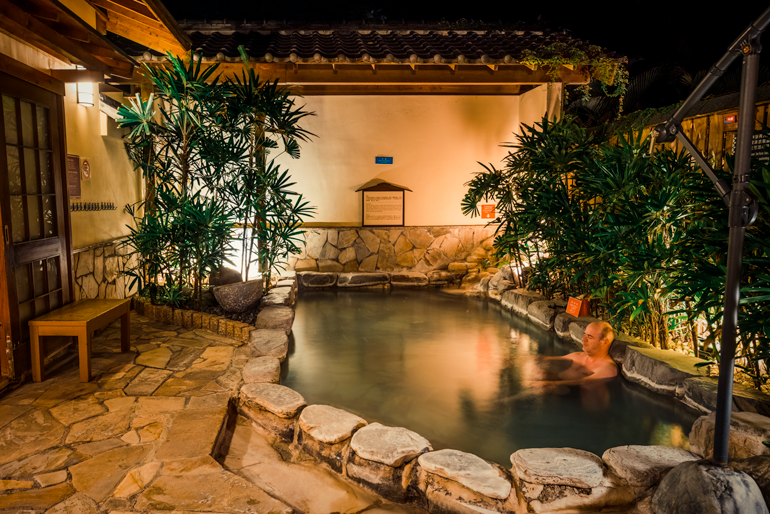 Hotel Royal Chihpen (知本老爺酒店)
Add: No. 23, Ln. 113, Wenquan Village, Beinan Township, Taitung County
(台東縣卑南鄉溫泉村龍泉路113巷23號)
Tel: (089) 510-666
Book a room here.
Info
Hot-spring type: Colorless and odorless carbonic acid alkaline spring water
Water temperature (at source): Up to 100 degrees Celsius
Public transport: Take a train to Zhiben Railway Station and transfer to bus No. 8129, or take a taxi from the station.
More information: tour.taitung.gov.tw (Taitung Travel)
Place to Visit
Zhiben National Forest Recreation Area
The scores of inns and hotels are strung out along riverside County Road 194. At this road's head you'll find the entrance to the 110-hectare Zhiben National Forest Recreation Area. Cross a bright-red 80-meter-long bridge, buy your ticket, and head uphill to the visitor center, which has displays on the local geology and flora/fauna. From there, explore the web of mountain-slope trails between the riverside cliffs and a boundary ridge. If you have the better part of the day you can consider tackling them all, but be sure to conquer the staircase Brave Man's Slope Trail – steep, 320 meters long, rising 150 meters, 792 steps – which leads you past magnificent white-bark banyan trees. The roots of the giant Thousand Root Banyan create a fairyland setting you'll expect to see forest spirits flitting through. There are fine views toward the ocean from the highest trail-points.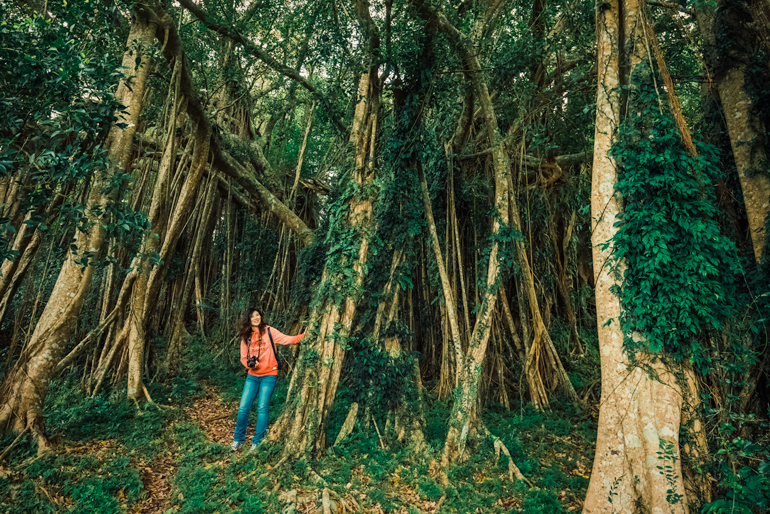 Related articles:
Hot-Spring Cuisine in ZHIBEN, TAITUNG City
Scenic Route 9 in TAITUNG COUNTY
"Cruise Style" RAILWAY TRIPS
Railway Travel: The SOUTH LINK LINE (Pingtung-Taitung)
KLOOK: Taitung Hot Air Balloon Tour
Guguan (Taichung City)
In a mountainous area of greater Taichung City, Guguan is a small settlement surrounded by high peaks, and an ideal place for escaping the big city. Guguan is quite popular with hot-spring bathing aficionados, however, and can become busy during the peak season in the winter and on weekends/holidays. The hot-spring water has a murky white color, feels smooth to the touch, and, because it contains sulfide, has a slightly pungent smell. There are a number of fine trails in the area around the village, which are great for short hikes and taking in the marvelous mountain scenery.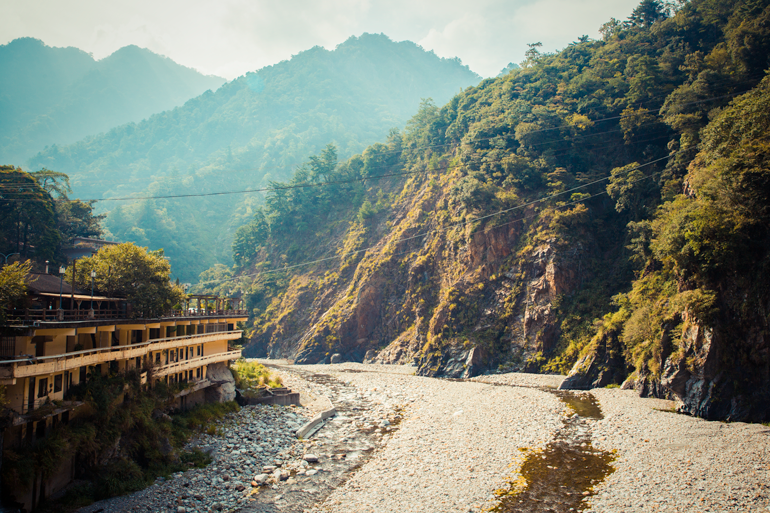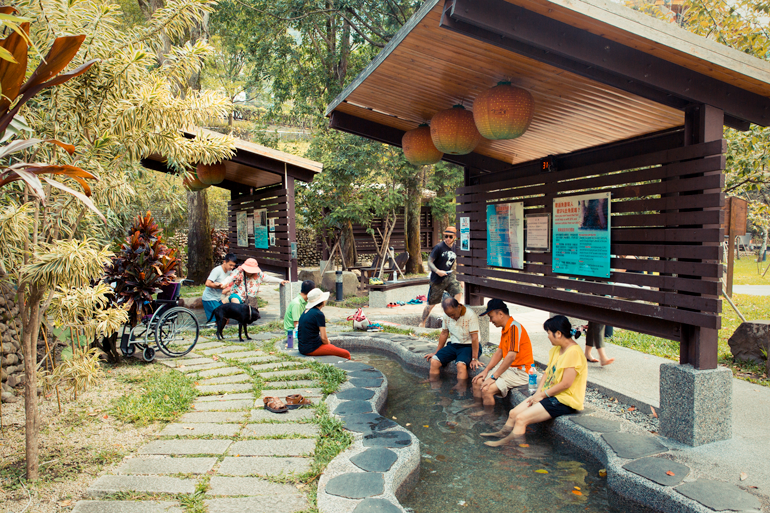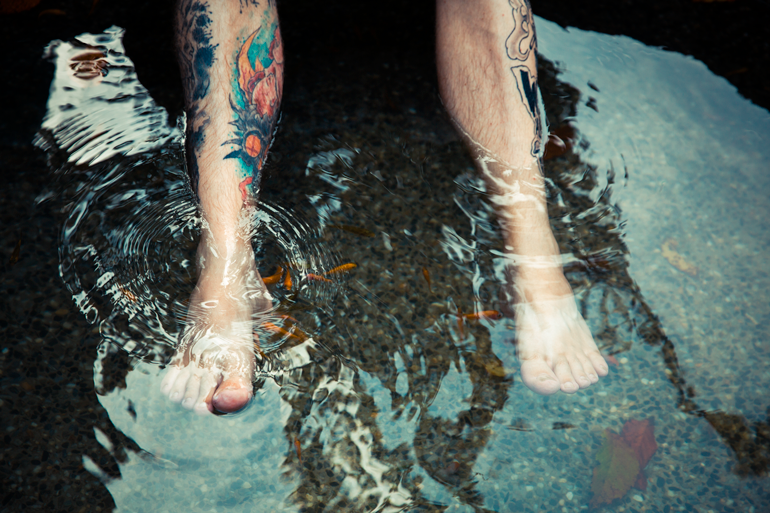 Bali Nature Spa Resort
(惠來谷關溫泉會館)
Add: No. 10, Wenquan Lane, Sec. 1, Dongguan Rd., Heping Dist., Taichung City
(台中市和平區東關路一段溫泉巷10號)
Tel: (04) 2595-1998
Website: www.villa-spa.com.tw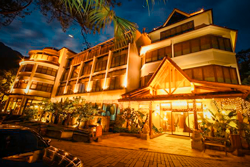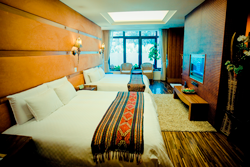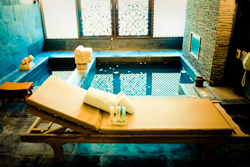 Info
Hot-springs type: Slightly alkaline carbonic acid spring water
Water temperature (at source): About 60 degrees Celsius
Public transport: There are a number of bus services to Guguan from the central Taichung area, including Fengyuan Bus No. 153 from THSR Taichung Station, No. 207 from Fengyuan District, No. 266 from Dongshi District, and No. 850 from Taichung Railway Station
More information: travel.taichung.gov.tw (Taichung Travel Net)
Related articles
HOSHINOYA Guguan (虹夕諾雅)
Countryside Districts of TAICHUNG CITY
Further reading on other sites:
EIT: The 7 Heroes of Guguan hikes near Taichung City 谷關七雄
KLOOK: Cingjing Farm and Puli Day Tour
Tai'an (Miaoli County)
The Tai'an hot-spring area is located along the Wenshui River in Miaoli County's Tai'an Township. Apart from a number of fine hot-spring hotels along the main road through the river valley the area is mostly undeveloped, with enchanting scenery and unspoiled nature awaiting you. Among the best Tai'an hot-spring establishments is Onsen Papawaqa, a hotel of excellent hot-spring facilities that is a very distinctive work of modern architecture.
Related article:
A Slow Tour of Southern Miaoli County.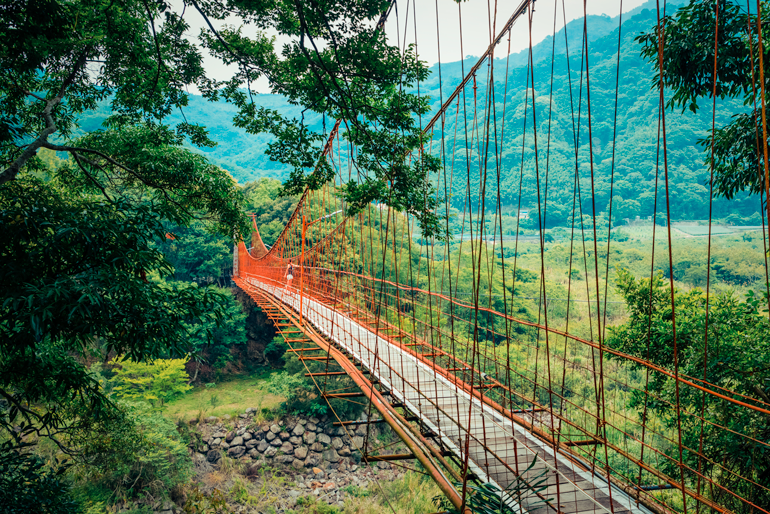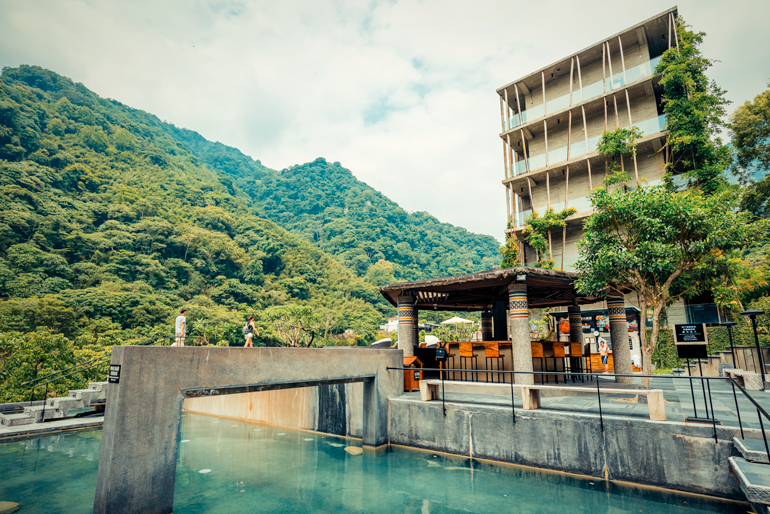 Onsen Papawaqa hot-spring hotel
Book a room here.
KLOOK: Onsen Papawaqa Public Hot Spring Bath in Miaoli
Taian Tangyue Resort (湯悅溫泉會館)
Add: No. 45, Henglongshan, Jinshui Village, Tai'an Township, Miaoli County
(苗栗縣泰安鄉錦水村橫龍山45號)
Tel: (037) 941-941
Book a room here.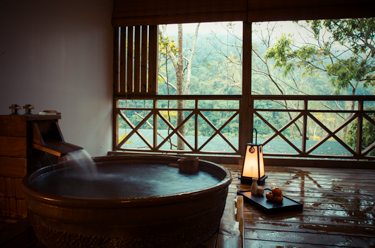 KLOOK: Tangyue Resort Public Hot Spring Spa
Atayal Cultural Museum
The original residents of the Wenshui River region were the Atayal, and a number of tribal villages are located along, or just off, Highway 62. Qing'an village is half Atayal/half Hakka. The best local place to learn about Atayal culture is the Atayal Cultural Museum, a large two-story facility close to the Onsen Papawaqa. Displays cover the tribe's history, its traditional customs, totems, weaving, attire, weapons, implements and utensils, and much else. The highlight is a winding, darkened corridor with dioramas depicting various Atayal-life environments, including a nighttime setting with a swirling world of fireflies.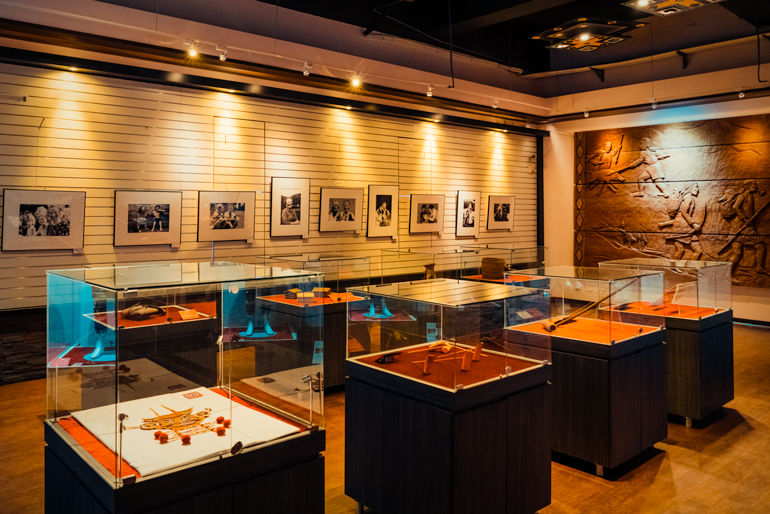 Jinshan (New Taipei City)
The northernmost hot springs in Taiwan are found in the district of Jinshan on the North Coast. Some of the hot-spring establishments there, such as the Sakura Bay Hotel, are so close to the coast that you can enjoy splendid up-close views of the sea while sitting in a hot-spring pool. There are numerous tourist attractions along the North Coast, including the remarkable rock formations of Yehliu Geopark, the Shimen Stone Arch and Fugui Cape Lighthouse (at the northernmost tip of the island), and the sandy beaches of Feicuiwan (Green Bay), Baishawan (White Sand Bay), and Qianshuiwan (Shallow Water Bay).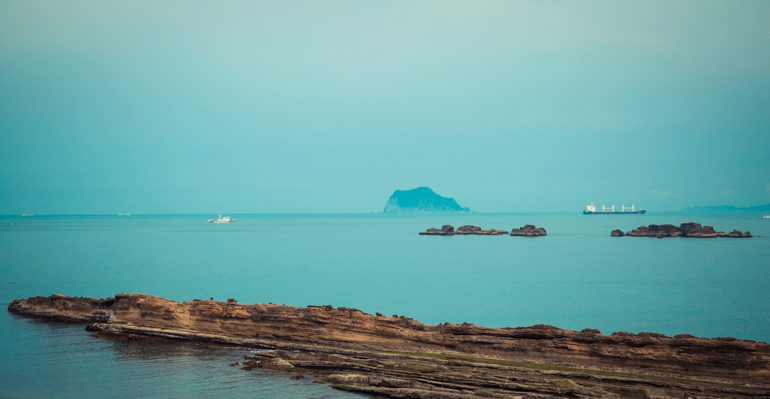 Jin Yong Quan Spa Hotspring Resort (金湧泉溫泉會館)
Add: No. 213-3, Wanli Jiatou, Wanli Dist., New Taipei City
(新北市萬里區萬里加投213-3號)
Tel: (02) 2498-3588
Website: www.villa-spa.com.tw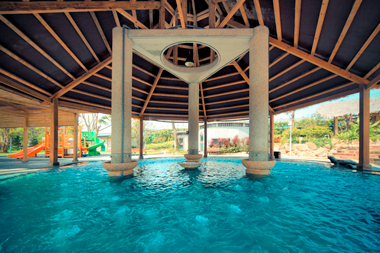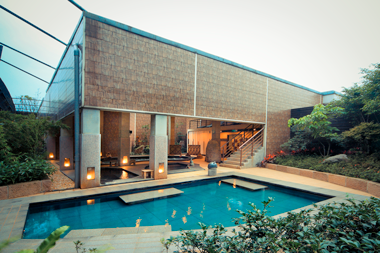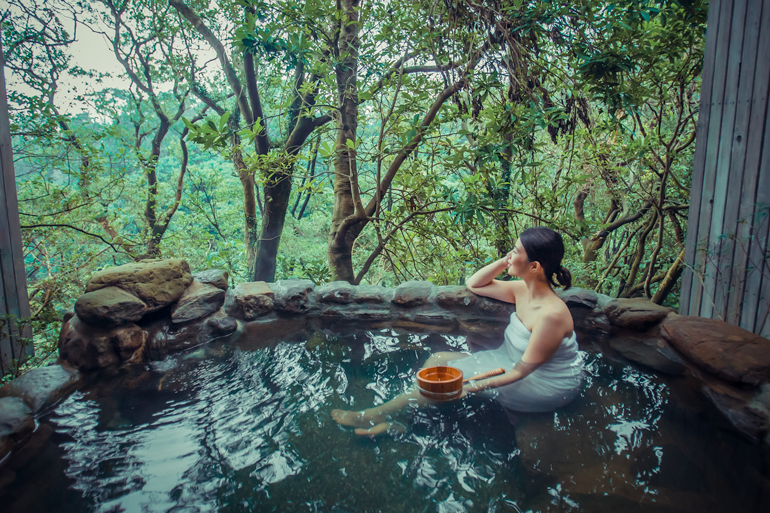 Tsuwu Hot Spring
(陽明山出霧溫泉)
Add: No. 82-3, Shancheng Rd., Jinshan Dist., New Taipei City
(新北市金山區山城路82-3號)
Tel: (02) 2408-0666
Website: www.tsuwu.com.tw
Other hotels in Wanli District
KLOOK: Governor General Hot Spring Experience in Taipei
Related articles:
NORTH COAST Hot Springs
Taiwan TOURIST SHUTTLE Bus: NORTH COAST
STANDUP PADDLEBOARDING (SUP) on Taiwan's North Coast
FLYBOARDING on the North Coast
PARAGLIDING at Wanli on the North Coast
Wulai (New Taipei City)
Wulai is one of the best places in the greater Taipei region to escape the big city. Small hot-spring hotels are found close to Wulai Old Street. If you go down to the banks of the Nanshi River and dip your feet into the waterway, at certain spots you can actually feel the hot-spring water emanating from the ground and mixing with the cold river water. On any "must-do" Wulai list is a ride on the Log Cart mini-train from the Wulai Old Street area to the Wulai Waterfall area. From there, take a cable car up to the Yun Hsien Resort, from where you can enjoy breathtaking views of the valley in which Wulai is located.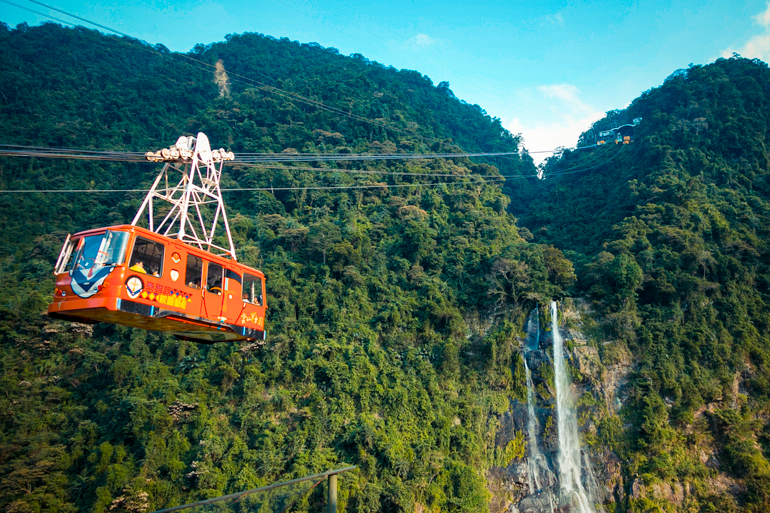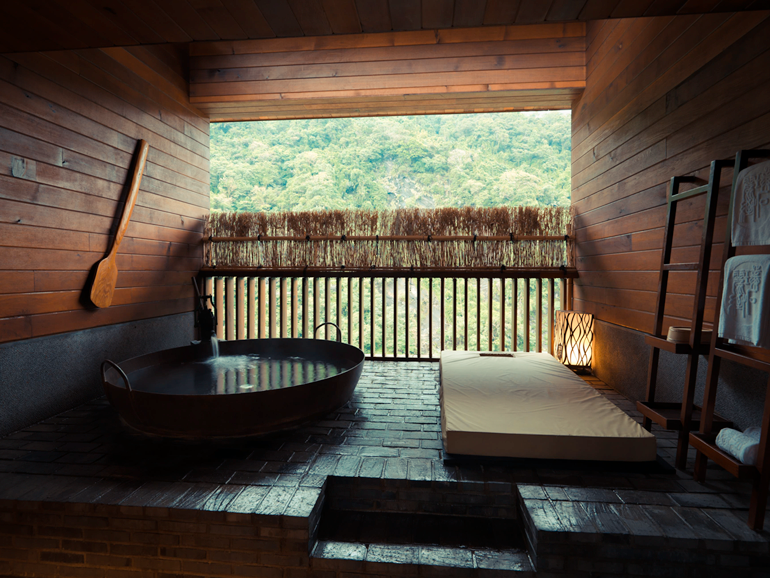 Pause Landis Resort Wulai
(烏來璞石麗緻溫泉會館)
Add: No. 88, Sec. 5, Xinwu Rd., Zhongzhi Borough, Wulai Dist., New Taipei City
(新北市烏來區忠治里新烏路五段88號)
Tel: (02) 2661-8080
Website: www.pauselandis.com.tw
Info
Hot-spring type: Alkaline sodium bicarbonate-rich water
Water temperature (at source): About 80 degrees Celsius
Public transport: From MRT Xindian Station, take bus No. 849 to the last stop, which is close to the Wulai Old Street area.
More information: tour.ntpc.gov.tw (New Taipei City Travel)
KLOOK:
Volando Urai Grand View Hot Spring Experience
Wulai Beauty Garden Hotel Hot Spring Experience
Wulai Dailei Resort Hot Spring Experience from Taipei
Ruisui
Ruisui is a small town in eastern Taiwan, about half-way between Hualien City in the north and Taitung City in the south. The small Ruisui hot-spring area is located west of the town. There are just a few hot-spring establishments in what is a quiet indigenous community. Ruisui is well known as the starting point for whitewater-rafting trips down the Xiuguluan River, and the area is also home to a number of tourist-friendly dairy farms. A must-try Ruisui specialty is hotpot made with fresh locally produced milk.
KLOOK: Hsiukuluan River Rafting
Related articles
One of Taiwan's Best Attractions: The East Rift Valley
East Rift Valley: RUISUI and YULI
GRAND COSMOS RESORT Ruisui, Hualien
HUALIEN County — Places to Visit
HUALIEN Railway Trip — Through the EAST RIFT VALLEY
One of Taiwan's Best Attractions: The EAST RIFT VALLEY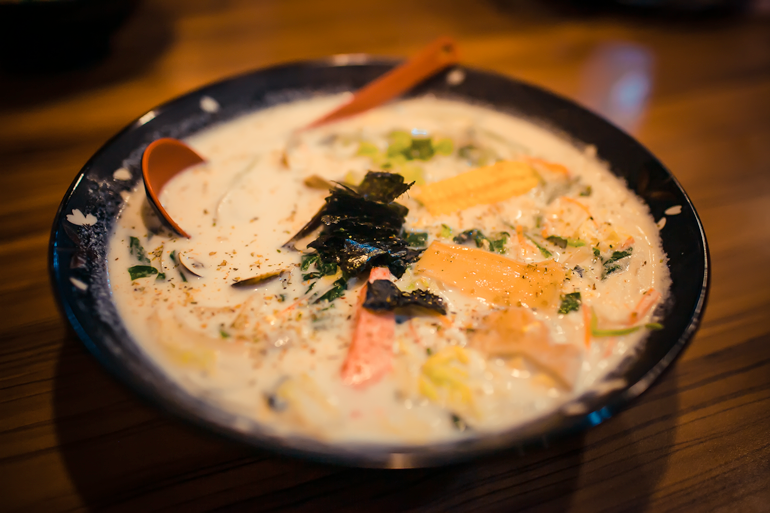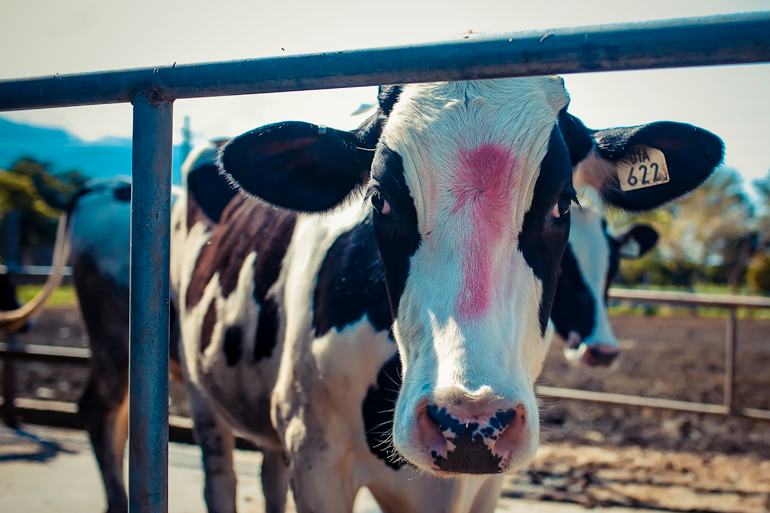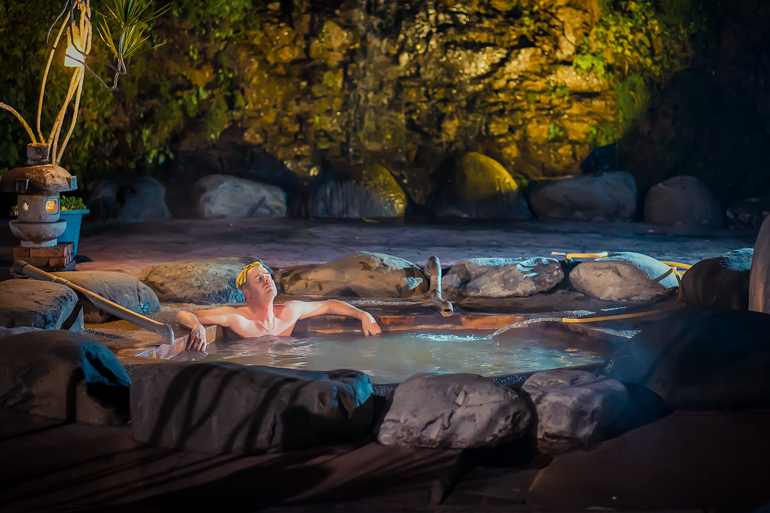 Sunshine Hot Spring B&B
Family-run Sunshine Hot Spring B&B is on the main road leading through the Ruisui hot-springs area, 10 minutes by taxi from Ruisui Railway Station. The "B&B" is misleading; rooms are in purpose-built cabins and a small two-story building. A farm was here before the Sunshine operation, and the attractive original Hakka-style farmhouse has been converted into the open, breezy reception and breakfast areas. The friendly operators make great coffee, using local beans. Rooms range from Japanese-style tatami dorm rooms to a suite done in European chalet-style with aromatic cypress wood, red-earth ceramic floor tiling, and in-suite spa tub. A waterfall springs from a cliff at the back of the site, and directly before this are small open-air hot-spring pools and a number of private-stall hot-spring tubs, the latter overlooking a creek. Pickup at Ruisui Railway Station can be arranged.
Sunshine Hot Spring B&B
(山下的厝)
Add: No. 137, Sec. 3, Wenquan Rd., Ruisui Township, Hualien County
(花蓮縣瑞穗鄉溫泉路三段137號)
Tel: (03) 887-0203, 0937-468-021
Website: www.sunshinehotspring.com
Book a room here.
Info
Hot-spring type: Colorless and odorless sodium bicarbonate and iron-rich carbonate spring water
Water temperature (at source): About 80 degrees Celsius
Public transport: Take a train to Ruisui Railway Station, and from there take a taxi to the hot-spring area.
More information: www.erv-nsa.gov.tw (East Rift Valley National Scenic Area)
Like Guguan in Taichung, Baolai is a small hot-spring settlement that is formally part of a big city, but has nothing in common with the central urban area. Framed by towering mountains, Baolai sits on the banks of the Laonong River (like the aforementioned Xiuguluan, a river suitable for whitewater rafting), and is known for its beautiful surroundings. Among the things to do at Baolai is going for a walk on the Pulaixitou Tribe Historic Battle Trail, which is especially appealing during the plum-blossom season in late winter.
Related articles
The Maolin National Scenic Area in Southern Taiwan
GUANZILING and BAOLAI — Hot-Spring Cuisine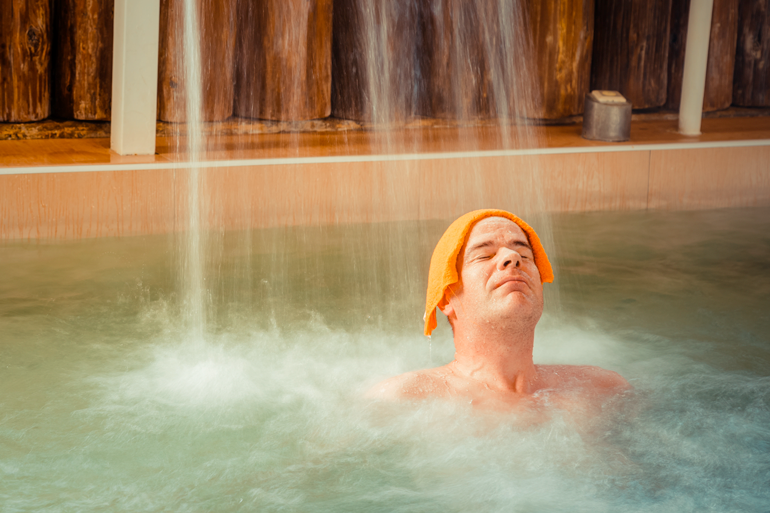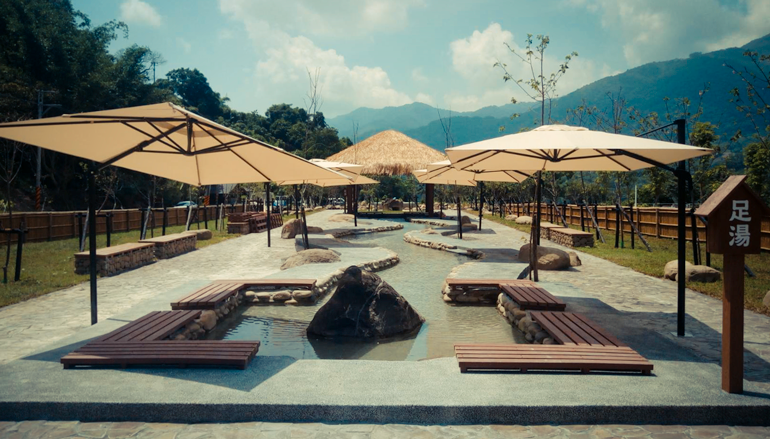 Pu-Lao Hot Spring Hotel
The Pu-Lao Hot Spring Hotel is in a majestic setting, looking across at a low line of mountains over the sometimes roaring, generally water-thirsty Laonong River. In the shape of a squared "U," the hotel has a pretty, welcoming landscaped courtyard with an attractive topiary, a mini-windmill, and a faux-rookery waterfall. The area's weak carbonic-acid mineral waters are piped into each room's Japanese-style soaking tub, and into the covered outdoor courtyard-side communal bathing pools with a cross-valley view (there's also a swimming pool).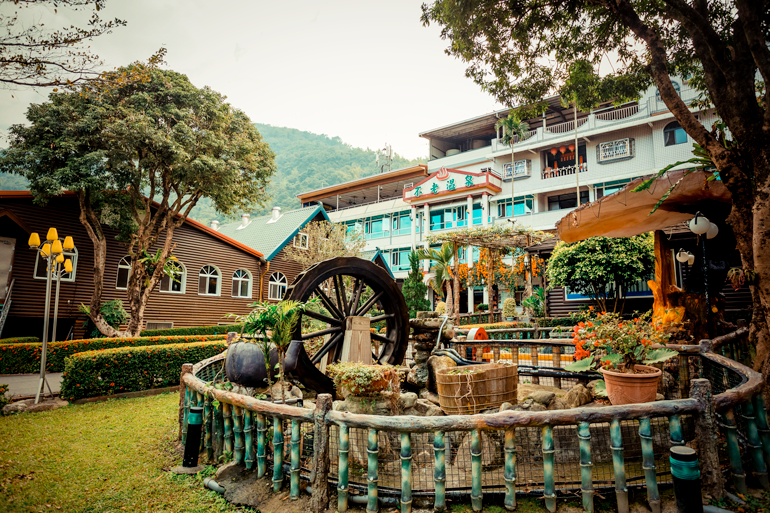 Add: 82, Xinkai Rd., Xinfa Borough, Liugui District, Kaohsiung City
(高雄市六龜區新發里新開路82號)
Tel: (07) 679-1888
Website: www.pu-lao.com.tw (Chinese)
Info
Hot-spring type: Slightly alkaline sodium bicarbonate spring water
Water temperature (at source): 40~50 degrees Celsius
Public transport: From Kaohsiung Railway Station, take bus No. 8025 to Liugui town. From there take bus No. H11 (five services a day) or a taxi to Baolai
More information: khh.travel (Kaohsiung Travel)
Place to Visit
Pulaixitou Tribe Historic Battle Trail
This trail is just outside Baolai. About 1.5km long one-way you walk past a plum-tree orchard (blooming snow-white in winter), a thick-cluster bamboo forest, and into a clearing atop a mountain-spur ridge with picture-perfect river-valley views.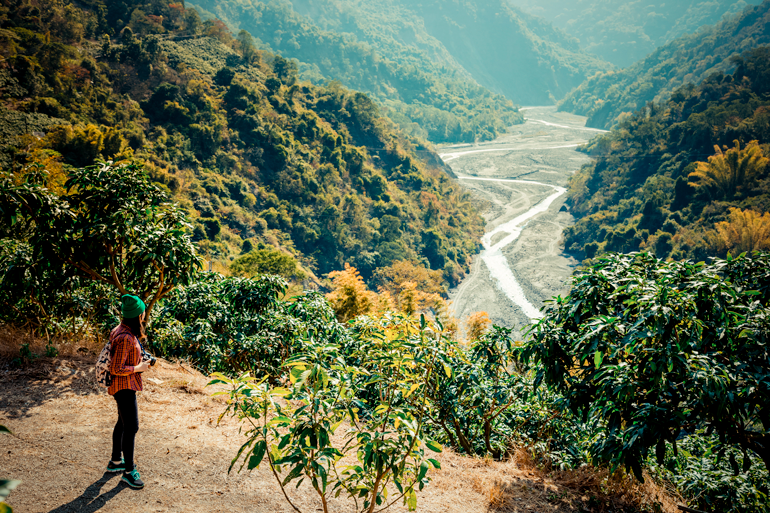 For more info about hot-spring bathing in Taiwan, visit taiwanhotspring.net.
KLOOK: Kaohsiung Classic Attractions Day Tour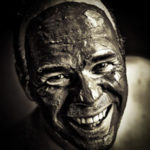 Long-time resident of Taiwan, Twelli likes to go on trips around Taiwan and make videos.