Visiting Qingjing Farm and Exploring Mt. Hehuan
Text | Rick Charette
Photos | Chen Cheng-kuo
On a three-day adventure along the Central Cross-Island Highway in the Nantou County section of the soaring Central Mountain Range, I visit Wushe, an indigenous town best known for being at the center of the last great uprising against the Japanese during the 1895-1945 Japanese colonial period; enjoy the eagle-view scenery and ranch experience at mountainside-hugging Qingjing Farm; revel in the grand experience of being at eye level with scores of peaks above 3,000 meters at Wuling, Taiwan's highest paved-road point; hike and walk high-mountain trails; lose myself in a sunrise perched on a spot over 3,200 meters up; feast on the culinary inventions of mainland China's Baiyi people; visit a Baiyi settlement; watch Taiwan's Sediq tribe members weave cloth the traditional way; watch thrilling horse-riding acrobatics performed by an outer Mongolian troupe; visit local museums, … Let's be off, you say? OK, time to launch.
Day One — Wushe
We're self-driving. My four-person adventure group takes National Freeway No. 3 from Taipei to just past central Taichung, then switches to picturesque National Freeway No. 6 to enter the mountains, reaching its end at Puli town. The much-tunneled No. 6 is, in sections, raised dramatically high above valley floors. We leave pretty Puli Basin to start the steep ascent into the central mountains along Provincial Highway No. 14, reaching Wushe town in 25 minutes. The full trip has taken less than three hours.
Wushe is a Sediq-tribe community. Long lumped together with the Atayal tribe, the Sediq were officially recognized as an independent group in 2008. Though "Wushe" means "foggy community," it is known for crystal-clear alpine air, along with a grand bloom of wild cherry and plum blossoms in early spring. On the town's lower edge, beside the highway, is Mona Rudao Memorial Park. Towards the end of the Sediq uprising against the Japanese in 1930, leader Mona Rudao committed suicide while hiding in a cave, refusing to be taken prisoner. In 1981 this memorial park was created and his remains transferred here. It is a quiet place of tall, shady coniferous trees, entered via an elegant white gateway.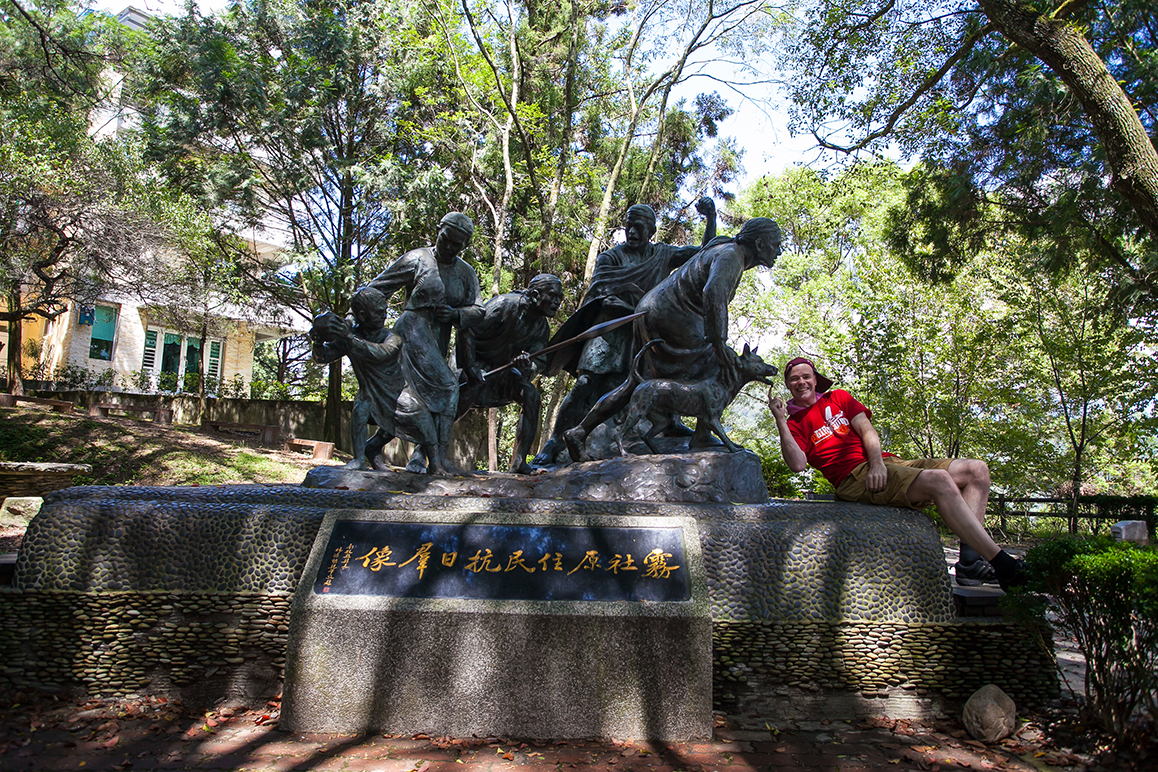 The Wushe Incident
On October 27, 1930, Mona Rudao, the son of a local chieftain, and over 300 Sediq warriors ambushed Japanese officials and family members attending a sports meet at the local elementary school. The attack was in retaliation for ongoing language and cultural repression, demands for forced labor, and recent insults. After days of fighting, with Japanese reinforcements expected from the lowlands, the rebels retreated to the higher mountains and fought on for two months, hiding in caves to escape air bombing. The Japanese eventually resorted to poison gas, and many tribal members, sick and on the point of starvation, chose suicide over surrender. Approximately 2,000 Sediq died in the fighting, 200 Japanese. Warriors of the Rainbow: Seediq Bale (2011), Taiwan's first epic film about local indigenous history, is centered on the Wushe Incident.
Directly across the highway from the memorial park is the entrance to stained-timber stairs set amidst tall, aromatic coniferous trees that bring you to and – literally – through Wushe Elementary School, to the Nantou County Museum of Natural History (Tues ~ Sun, 9 am ~ 5 pm) on the far side, down more steps beyond the playground. On the way we stopped for posed shots with a bust of Chiang Kai-shek that, whimsically, has the generalissimo sporting Sediq facial tattoos and bright-red warrior garb.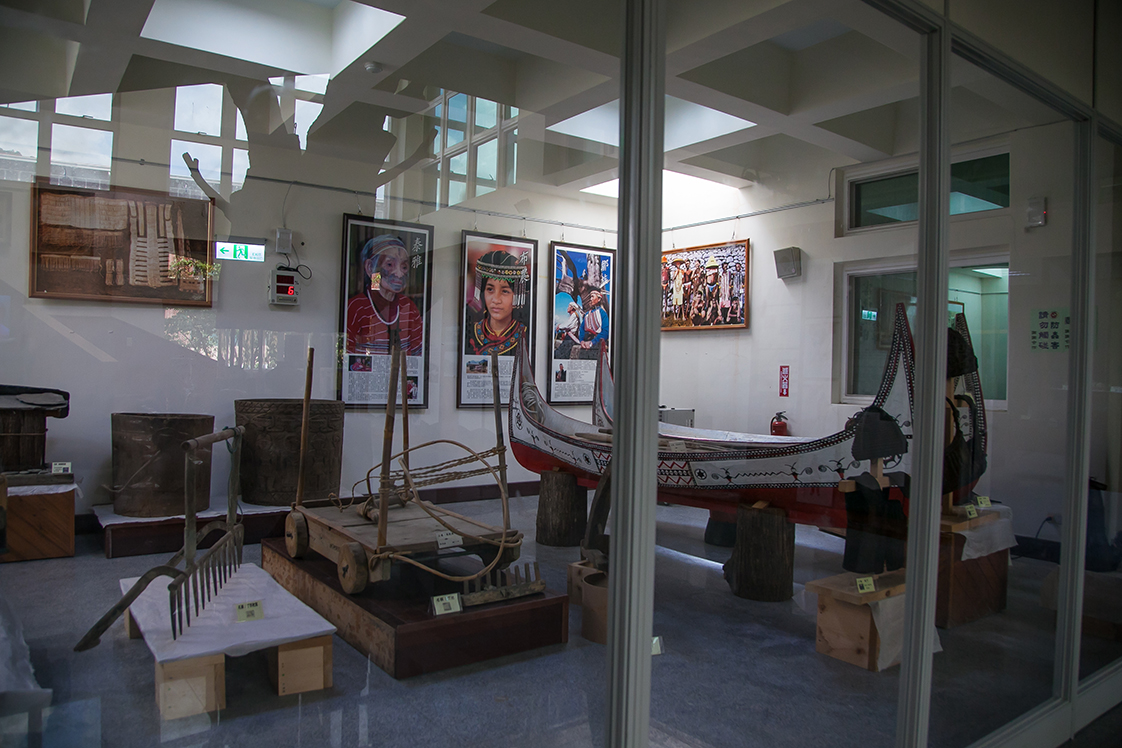 The simple museum has rotating exhibits on the first level (on Taiwan's butterflies when we visited), and a permanent exhibit on Taiwan's indigenous peoples on the basement level, including a display on the 1930 uprising. We much enjoyed a multimedia installation that magically puts you in old photographs in Sediq warrior or maiden costume, and I particularly enjoyed a display on the ingenious traditional traps and nets used to catch small game and fish. There is English information on both levels, and an English-speaking guide can be arranged.
Nantou County Museum of Natural History (仁愛高農自然史教育館)
Add: 27, Shannong Lane, Datong Village, Ren'ai Township, Nantou County
(南投縣仁愛鄉大同村山農巷27號)
Tel: (049) 280-1103
Wushe is perched high above pretty Wanda Reservoir, which is surrounded by abrupt mountain escarpments and has the reflectiveness of an emerald-green mirror. Your photos will have the look of a lyrical Chinese shanshui landscape painting, especially with the rustic awning-covered fishing rafts that dot the surface. One and all can fish from the shore, but only natives are allowed fishing on the water.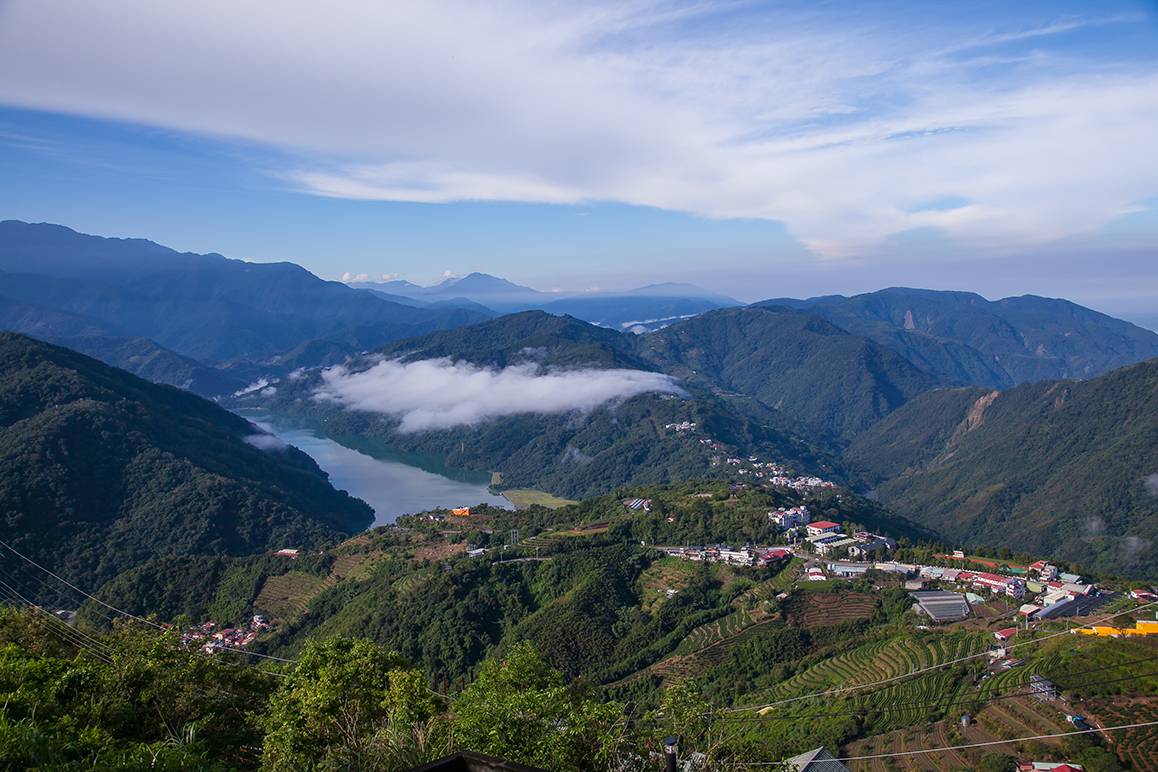 From Wushe (elevation 1,150m), we drove up, up, up to Qingjing Farm (1,750m). The twisting highway – there is a split at Wushe, and we were now on the 14A – moves along the long, steep ridge of a massive mountain spur that goes all the way to the Wuling Pass (3,275 meters) at Mt. Hehuan. The views are, as you have already imagined, quite dramatic, and at numerous points you look down into deep valleys.
Day Two — Qingjing Farm
Qingjing Farm bills itself as "Little Switzerland." The reasons are clear. The major attraction is the Green Green Grassland (NT$160 for adults, NT$200 on weekends and holidays; 8 am to 4 pm, 5 pm on weekend and holidays), where sheep munch on rolling mountaintop pastureland. All about are tall-peak alpine panoramas. The sheep and the skills needed to tend them were introduced decades back by government-hired Australian ranchers. You can buy feed to give the animals, and there are regular sheep-shearing and sheep-dog shows. Note that pet dogs are not allowed in this area, because they might disturb the sheep; there are pet-care services at both the north and south gates.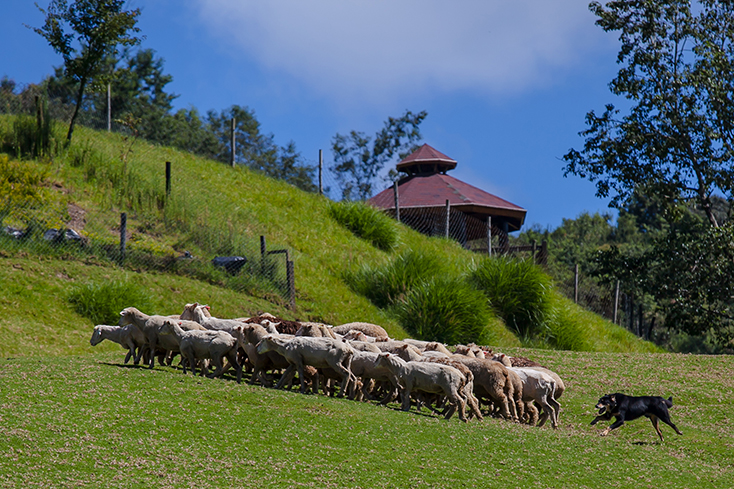 A highlight when we visited this section of Qingjing Farm was the horse-acrobatics show put on by a very talented, colorfully dressed troupe from Mongolia. Most amazing of many amazing feats was one rider shooting arrows at a target with deadly accuracy, sometimes turned to face backwards, as he galloped headlong in circles. Onlookers nearest the target leaned away instinctively, but he never came close to missing. Seeing the demonstration, I could well imagine the power of the attacks in days of yore by his ancestors, on horseback and in the hundreds and thousands.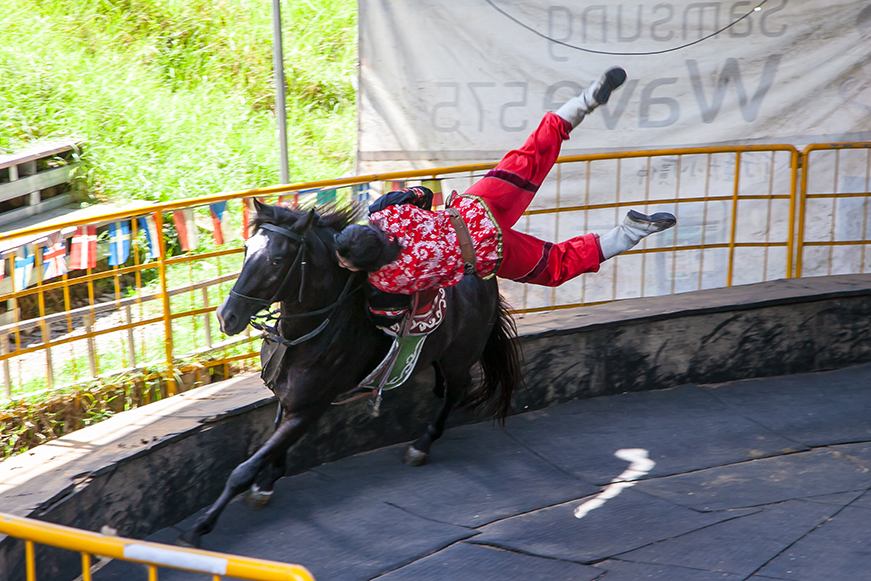 The second big draw at the farm is the Small Swiss Garden (NT$120; 9 am to 9 pm), a landscaped area tucked away amidst tall coniferous trees which overflows with bright alpine flowers and is dotted with small replicas of windmills and other European touches. Ducks, geese, and turtles swim in the large pond in the middle. There are periodic water-fountain displays, and a romantic – and popular – water-and-light show at night.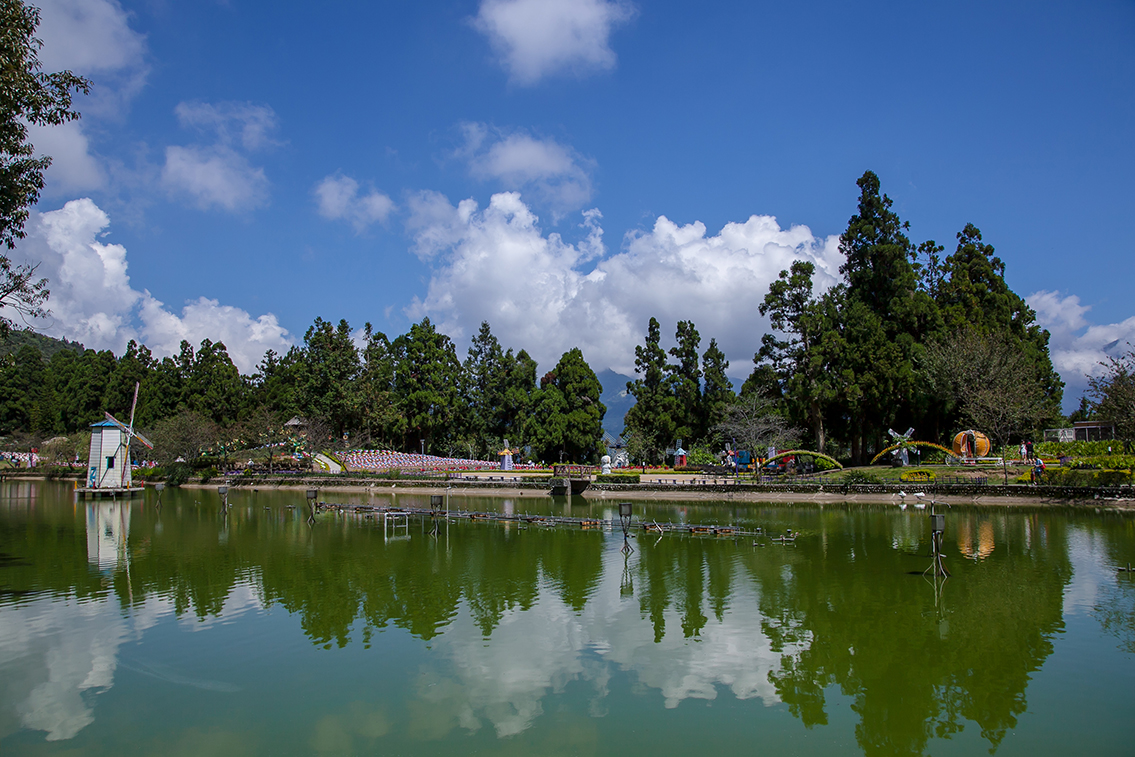 Qingjing Farm's administrators have set up a number of for-the-most-part short and easy trails that let you experience the facility from different angles. On this day we tackled three: the 499 Steps Trail, 1,800 meters long, featuring the 499 steps of a long, attractive tree-shaded wooden staircase stretched along some of the farm's cash-crop orchards; the Cryptomeria Trail, 750 meters, which takes you through a mature, pleasantly fragrant stand of the evergreens planted long ago by the Japanese and around behind the Small Swiss Garden; and the Tea Garden Trail, 800 meters, which takes you into the slope-hugging tea fields behind the Qingjing Guest House.
Qingjing Farm (清境農場)
Add: 170, Renhe Rd., Datong Village, Ren'ai Township, Nantou County (南投縣仁愛鄉大同村仁和路170號)
Tel: (049) 280-2748
Website: www.cingjing.gov.tw
Qingjing's Baiyi Community
Beyond its superb mountain vistas and bucolic alpine farmland experience, Qingjing Farm is also known for its vibrant Baiyi community. The Baiyi or Dai people are from China's Yunnan Province. When the Chinese Civil War ended in 1949 and the ROC government evacuated to Taiwan, many Kuomintang soldiers were left behind in border districts in China's southwest. In 1961 a group from Yunnan was airlifted to Taiwan; the majority of their wives were from various Yunnan minorities, the greatest number Baiyi. In light of the rugged high-mountain conditions, most couples settling around Qingjing Farm were childless. Many second-generation community members, many of these in their 50s, now run restaurants and homestays/inns that give tourists a look into their lives. Second-generation member Ms. Li Cong-xiu took us on a tour of small, colorful, single-street Bowang New Village, one of the original 1961 settlements, which welcomes all visitors and has an intriguing collection of old photos and info (Chinese) in the Qingjing Community Development Association hall. If interested in a tour, call her at 0952-218-966 (she speaks Mandarin Chinese, Taiwanese, and Baiyi).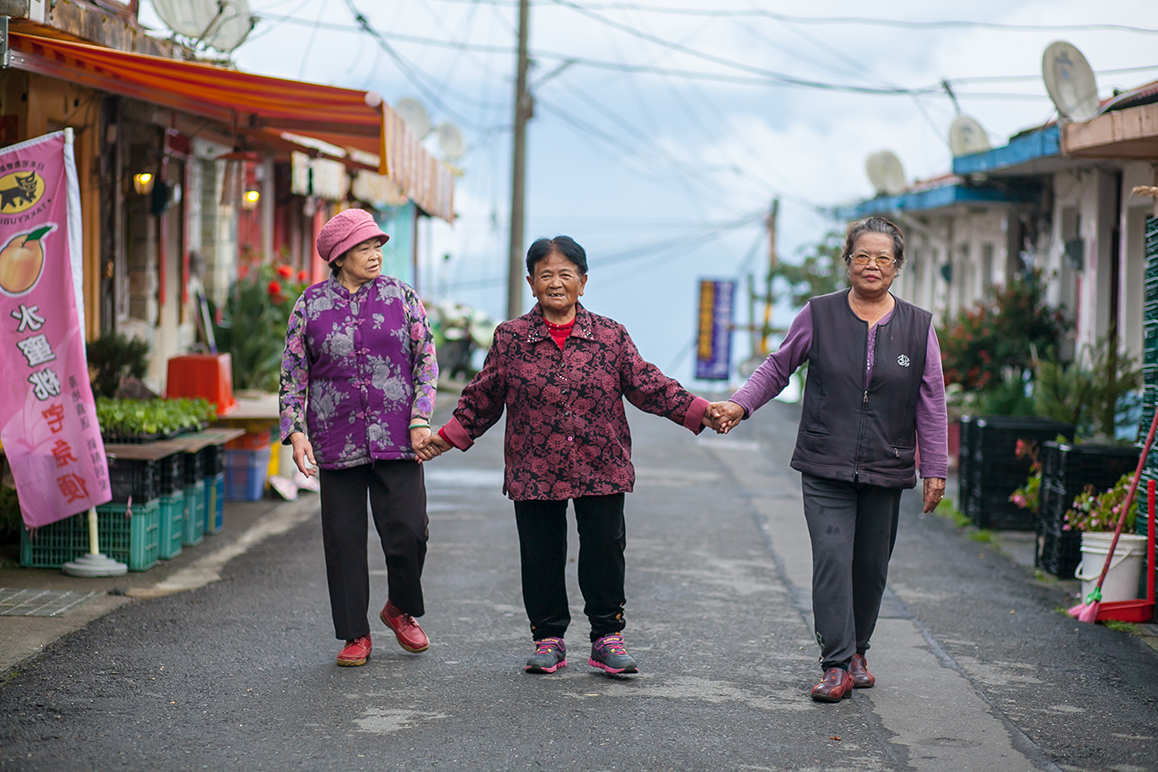 Day Three — Mt. Hehuan
The climb from Qingjing Farm to Highway 14A's highest point, at Wuling, takes about an hour. You leave almost all manmade structures behind; all permanent dwellings seem to be far below you. There are a number of scenic places to stop, with good English posted telling you what you're seeing.
At Wuling Pass (3,275 m), you've cleared forest cover and are amongst a sea of waving high-mountain bamboo sprinkled with pine and, in winter, the occasional dusting of snow. Just above, not more than a few hundred feet, is a world of bare rock. Mt. Hehuan's east peak is right on top of you, the road running over its neck and down its back toward Taroko Gorge on the east coast. Laid out to the right of the east peak is what seems like a scale model of ridges and peaks running far toward the island's south, a who's who of topographical stars lined up – Qilai Ridge, Mt. Nenggao, Mt. Jade in miniature far at the end. All are now at eye-level, and you feel you can reach out and touch them all.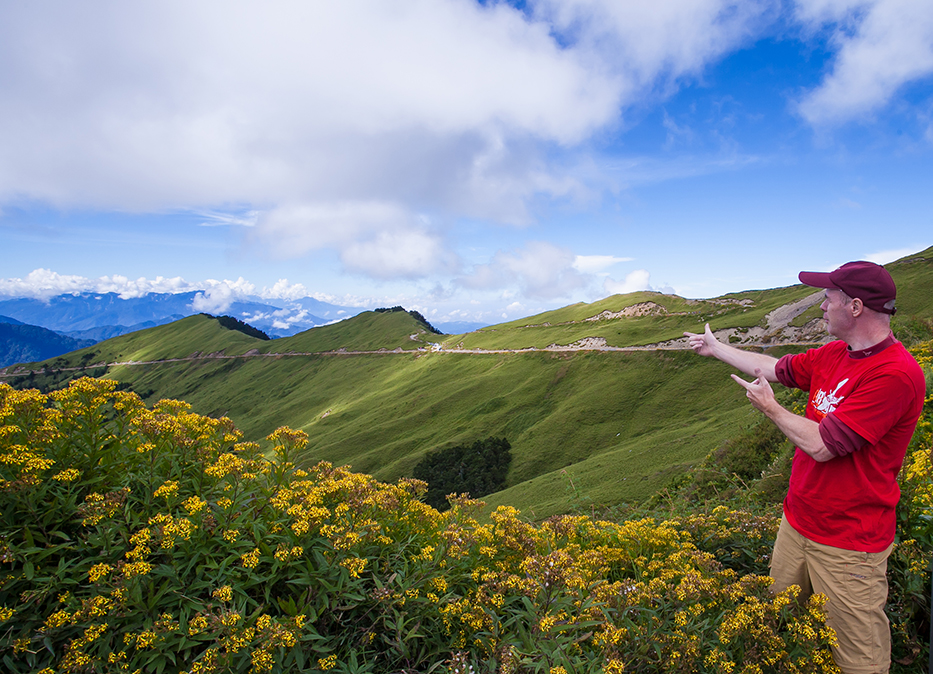 You make the drive in the dead of night to catch the sunrise. You won't be alone. People park along the highway around Wuling, or head up along the Mt. Hehuan area's many popular trails – to the east peak, the main peak, etc. Before the big show, the number of stars in the clear skies is incredible, and the many shooting stars provide thrills. We went past Wuling Pass, descending down the other side of the Hehuanshan massif about 10 minutes to Kenanguan. This is a highway pass blown right out of the mountains by the Japanese and then later expanded by the ROC government; "Kenanguan" means "Conquering Difficulty Pass." You stare down into a deep, dark valley, and off over soaring peaks. This is also one of many great area spots to watch ethereal "seas of clouds" roll into valleys below you like slow tsunamis.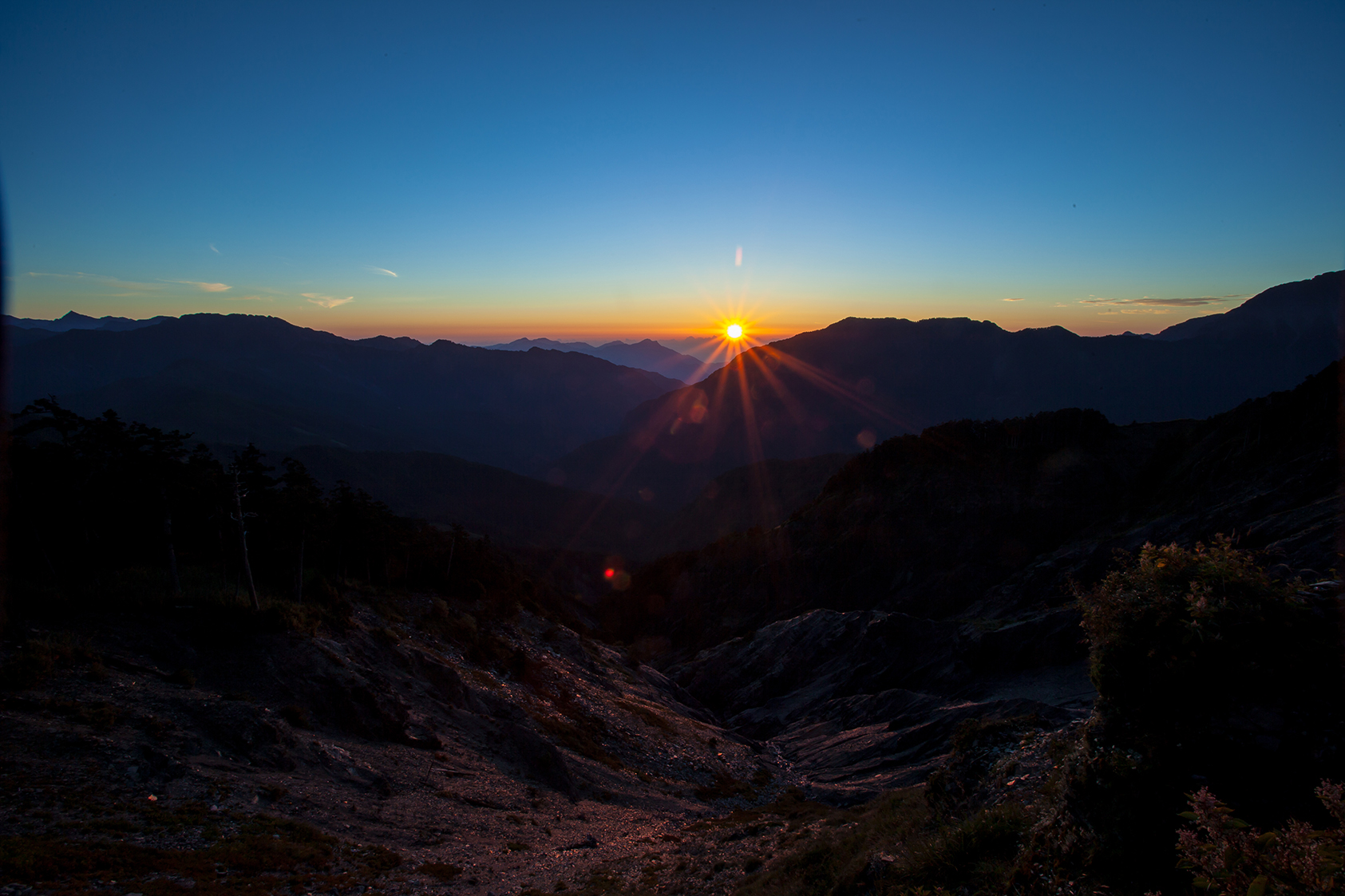 After the sunrise, we headed a short distance back west along the highway, toward Wuling Pass, and parked in the small lot across from the easy 800-meter Mt. Shimen Trail. Though our hike was just 30 minutes or so, we ended up atop one of Taiwan's 100 famous peaks above 3,000 meters high, at 3,237 meters, surrounded by low, slope-hugging juniper, prickly high-mountain bamboo and abundant Yushan azalea and red hairy azalea, and colorful birds such as Formosan laughing thrush and vinaceus rosefinch.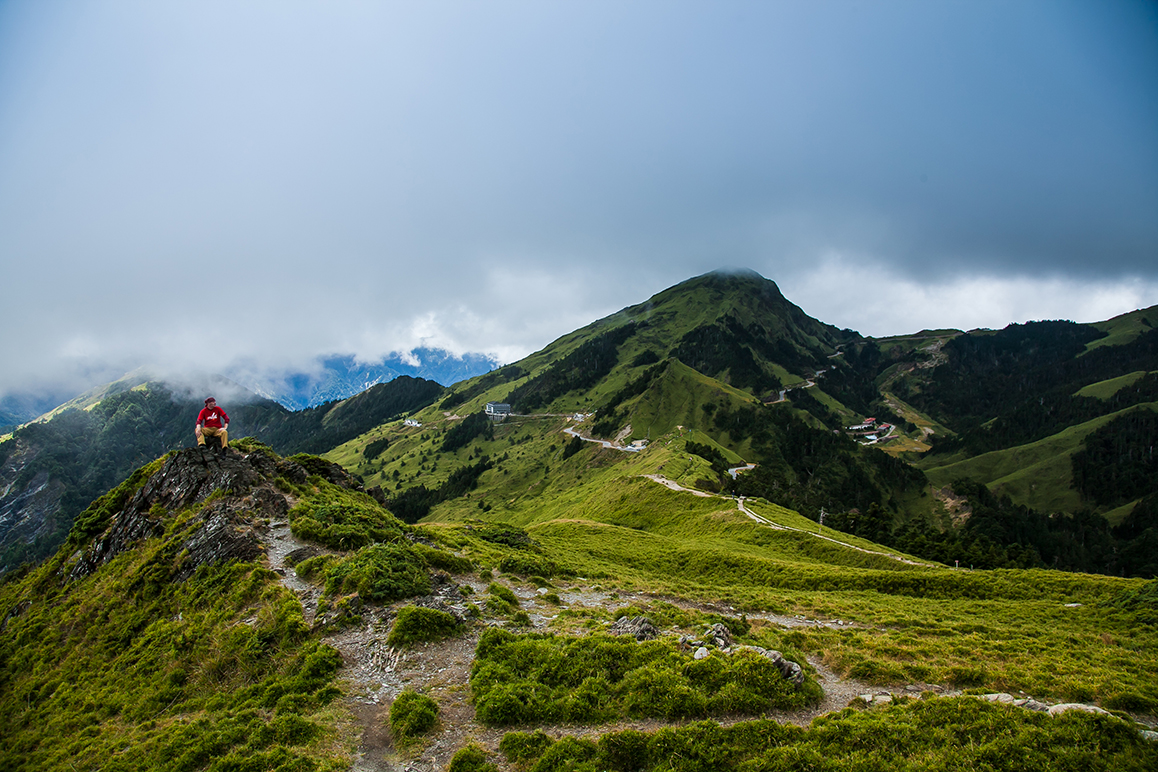 The weather in Hehuanshan National Forest Recreation Area (recreation.forest.gov.tw) is highly variable, so bring both warm clothing and raingear. Heavy fogs often roll in in the afternoon. Check the Central Weather Bureau website (www.cwb.gov.tw) ahead of time. Note also that information on guided tours is available from the newly opened Hehuanshan Villa Visitor Center, located highway-side near the Mt. Shimen Trail trailhead.
Getting There & Getting Around
The E-Go tourist-bus company (www.e-go.com.tw; Chinese) has daily departures from Taipei Railway Station and other points on Taiwan's west side to Wushe and on to Qingjing. From there you can choose from their tour-bus outings to Wushe, around Qingjing Farm, to Mt. Hehuan, and other area spots. There are sunrise and sunset Mt. Hehuan outings.
Also read:
QINGJING FARM and HEHUANSHAN
Qingjing and Hehuanshan Activities on Klook
Qingjing Farm Day Tour from Taichung with hotel pick up
Sun Moon Lake and Qingjing Day Trip from Taichung
Nantou Qingjing Farm and Hehuan Mountain One-Day Tour from Taichung
2-Day Qingjing & Hehuan Mountain Tour from Taipei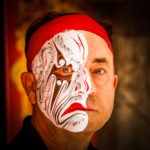 A Canadian, Rick has been resident in Taiwan almost continually since 1988. His book, article, and other writings, on Asian and North American destinations and subjects—encompassing travel, culture, history, business/economics—have been published widely overseas and in Taiwan. He has worked with National Geographic, Michelin, APA Insight Guides, and other Western groups internationally, and with many local publishers and central/city/county government bodies in Taiwan. Rick also handles a wide range of editorial and translation (from Mandarin Chinese) projects.