A Guide to Some of the Best Places, the Best Sights, and Latest Attractions in Taichung City
Text | Rick Charette
Photos | Chen Cheng-kuo
Long a city with an unusual hybrid blue-collar/academic character, serving the factories that powered Taiwan's famed economic miracle and home to numerous universities, Taichung is fast reinventing itself as a city of dynamic cultural sophistication. Everywhere you look, it seems, you see cranes and crews putting up new buildings or fixing and prettying up old ones.
Taichung city, which absorbed surrounding Taichung County in 2010, has a total population of over 2.6 million, with just over 1 million in the urban core. This core is known for its roominess. There is park space aplenty, and big museums, spacious restaurants, and sprawling teahouses. In numerous locations broad meridians separate parallel road sections lined with restaurants, cafés, boutiques, and galleries. Known for having Taiwan's most pleasant weather – drier than Taipei in the far north and cooler than Kaohsiung, Taiwan's second city, in the far south – Taichung's pace is noticeably laid back.
To give you a taste of what the city has to offer, following we present samplers of three major districts of distinctive character.
Taichung Park and Yizhong Area
Taichung Park
Taichung City was founded in 1721 by immigrants from mainland China. The original settlement was called Datun, or "Big Mound." Today, tranquil 20-hectare Taichung Park occupies the hillock and surrounding area upon which the original settlement was built. Designed and opened in 1903 by the Japanese when they controlled Taiwan, it is a key city landmark and a designated heritage site. Its best-known structure is the lovely Lake Heart Pavilion, which hovers over the waters of small Sun Moon Pond. The lake was formed from the original wetlands here, and the pavilion was built by the Japanese in 1908 to serve as a rest area for a Japanese prince in attendance at a ceremony celebrating the arrival of the railway in Taichung. Other park attractions are Taiwan's only remaining Chinese watchtower, built in the 1880s, classical-style arch bridges, the magnificent old Japanese-planted banyan trees, and rowboating on the pond. The park and nearby Japanese-built Taichung Railway Station, an attractive Renaissance-style structure opened in 1917, are the hubs of the city's old district.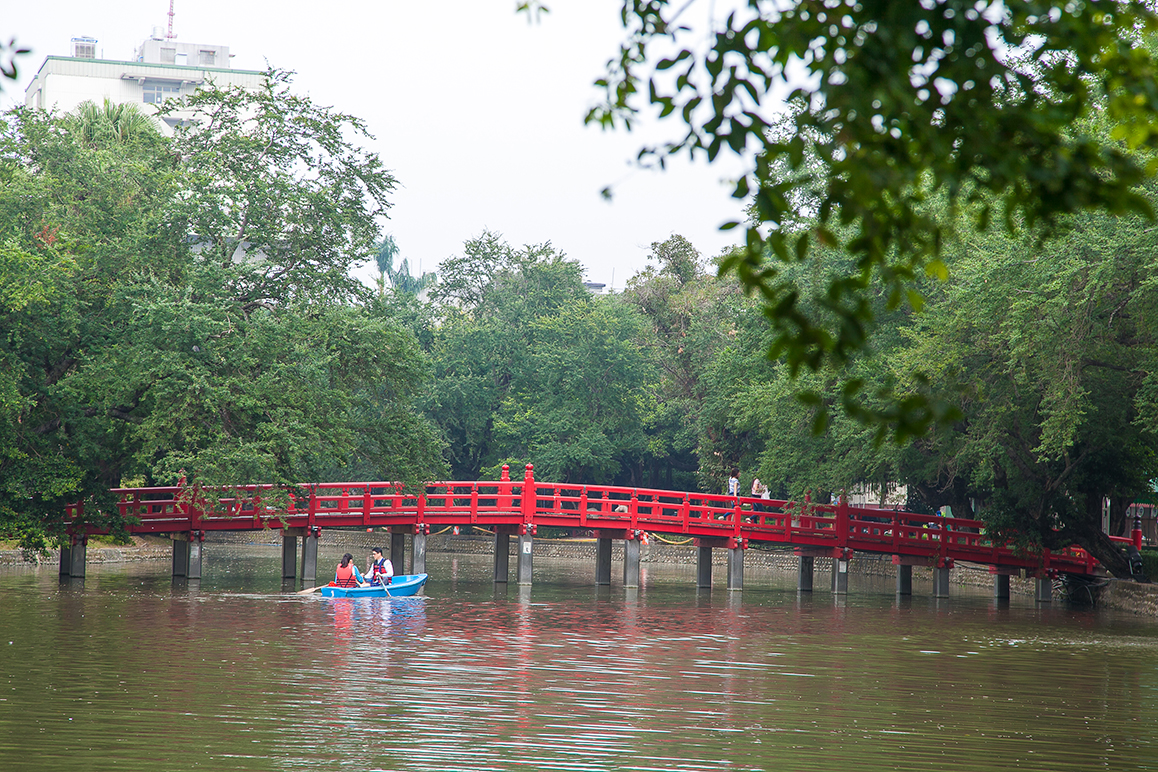 Miyahara
During the famed Taiwan Economic Miracle of the 20th century's second half, when the local economy expanded at breakneck pace, islanders knocked down old buildings at equal pace to make way for the new. Today there is equal passion for preserving the country's architectural heritage, and Taichung City boasts many fine showcase projects. Miyahara (www.miyahara.com.tw), a maker of confections, has saved and renovated a Japanese-era eye-clinic building at 20 Zhongshan Road and a 1960's credit-cooperative building at 72 Zhongshan. At both, modern glass-and-steel additions are fused splendidly with the original exteriors.
Both Miyahara outlets have a delicious array of fresh-made ice creams for sale. Specially recommended are those made with in-season Taiwan fruits, notably Hami melon, mango, lychee, passionfruit, and banana. Both also have an upscale Chinese-cuisine restaurant on the second level. In addition, 20 Zhongshan has a large library-theme display area for Miyahara gift and souvenir packages – pineapple cakes, sun cakes, soft candies, and more.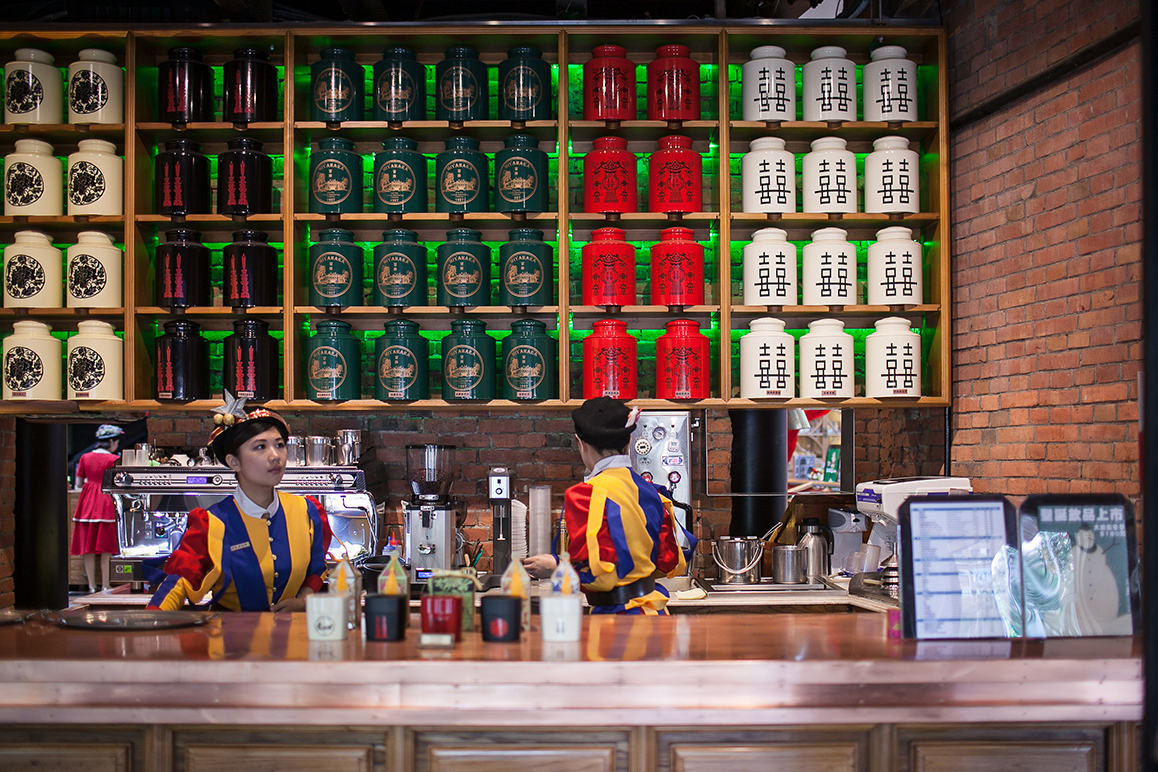 Sun Cakes
The sun cake and pearl milk tea (bubble tea) are Taichung's most famous contributions to the snack-treat world. The first sun cakes saw the light of day in 1954 at what is today called Tai Yang Tang Lao Dian (www.sunbooth.com.tw; Chinese) at 25 Ziyou Street, now operated by the second generation. The round, flat pastry has a shell of flaky, paper-thin layers created with phyllo dough and a maltose filling that is neither greasy nor too sweet. Originally made with pig lard, today vegetable oil is used. The cakes are a popular gift choice.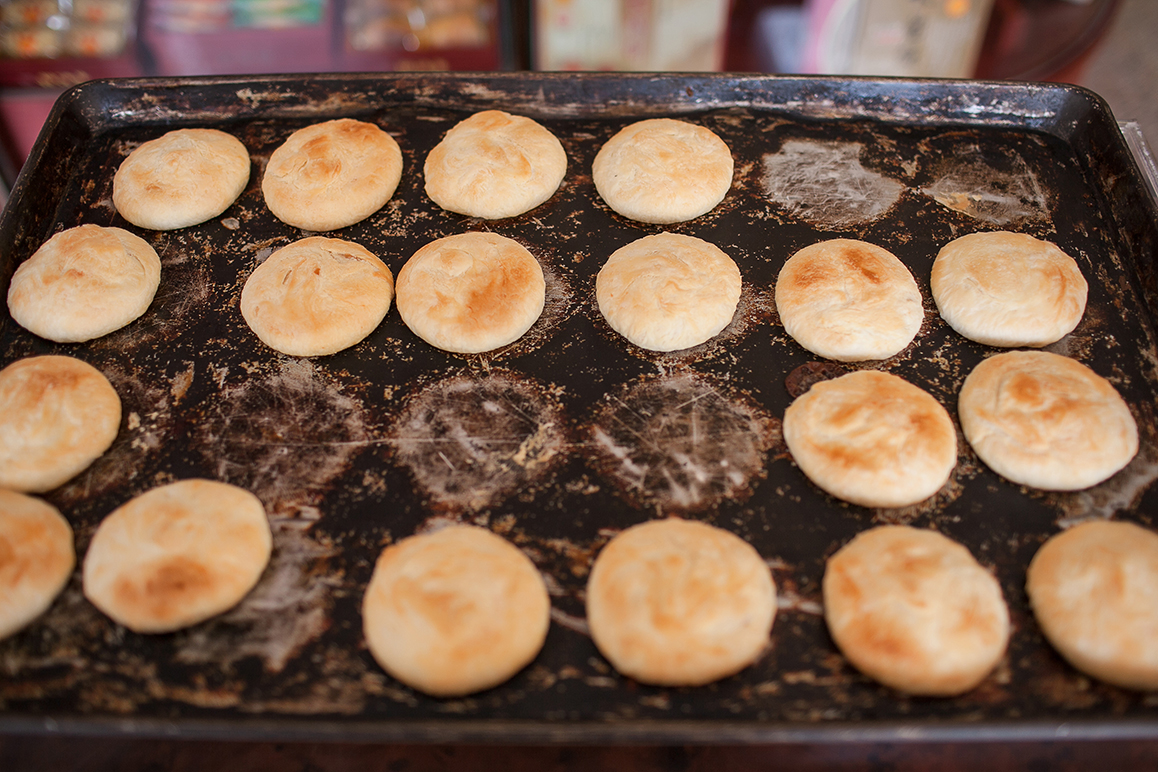 Yizhong Street
With numerous secondary, post-secondary, and what are called "cram" schools in the area, Yizhong Street Commercial District, home to one of Taichung City's most popular night markets, is like a giant kitchen for students. Because of its primary clientele, prices are low, low, low, though the food is terrific and the quality of the youth-fashion clothing and adornments good. All night-market snacking classics are here – stinky tofu, oyster omelets, bubble tea – but among the most iconic Yizhong Street comestibles are giant fried chicken steaks, with Yizhong Hao Da Jipai the go-to stand, and the shaved-ice desserts, especially at Yizhong Fengren Bing, its signature treat a tangy shaved-ice concoction with sweetened kidney beans, condensed milk, plum juice, and ice creams made with fresh local fruit.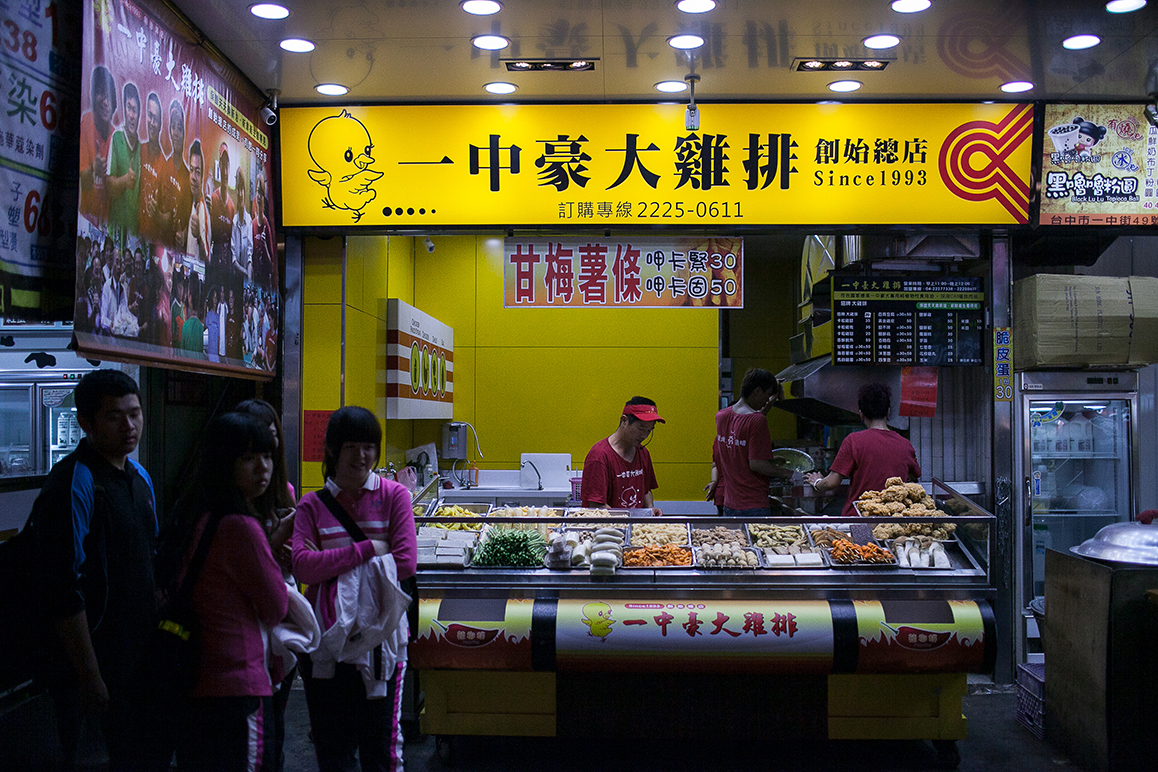 Science Museum and Art Museum Area
National Museum of Natural Science
The large National Museum of Natural Science (www.nmns.edu.tw) was Taiwan's first science museum. The world-class facility has halls with exhibits, primarily targeting young minds and those young-at-heart, with space, science, the life sciences, human cultures, and the global environment as themes. Perhaps of greatest interest to foreign visitors is the Human Cultures Hall, with sections on Chinese culture, agriculture, spiritual life, and grand scientific achievements, as well as on Taiwan's indigenous peoples.
Beside the museum is an attractive and expansive botanical garden. The major attraction at this facility is a tall glass and steel structure which houses a simulated tropical rainforest complete with intermittent rain. Outside are areas of vegetation showcasing Taiwan's different regions.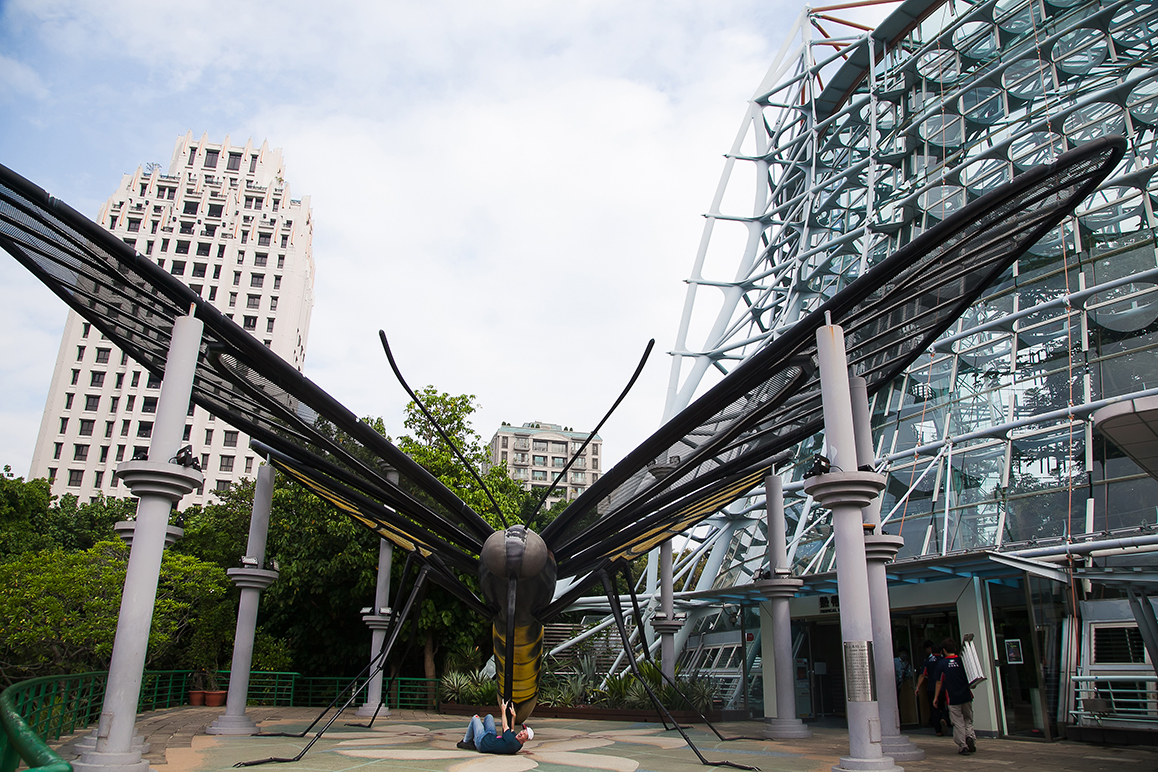 Calligraphy Greenway
The artwork-decorated Calligraphy Greenway is a green belt that stretches from the science museum all the way to large Civic Square and then on to include the Art Museum Parkway (see below). Around Civic Square the greenway runs along Zhongxing Street, in a trendy neighborhood defined by upscale retail outlets, restaurants, and cafes, art galleries and other art attractions, and cultural-creative boutiques. Civic Square, site of the much-loved annual Taichung Jazz Festival, is always busy on weekends with buskers and other entertainment. On the corner where the greenway and square meet is the swank CMP Block shopping complex, which has Taiwan's iconic Eslite Bookstore as its main tenant. The greenway-facing sidewalk seating outside the block's street-level outlets, such as Starbucks and Dunkin' Donuts and, most delectably, Le Blé d'Or, a home-grown Taiwan microbrewer, is a big draw. Beside block and greenway is the CMP Block Museum of Arts, an open-air museum in a well-manicured park-like setting brimming with public artworks and 11 small covered facilities choc-a-bloc with the imaginings-made-real of young creative artists.

National Taiwan Museum of Fine Arts
The magnificent National Taiwan Museum of Fine Arts (www.ntmofa.gov.tw) went through five years of renovations after being damaged in the great earthquake that struck Taiwan in 1999, emerging larger and with an even more visually dynamic interior and exterior. The emphasis here is on works by Taiwanese artists, and exploration of the unique characteristics of modern Taiwanese visual arts. The facility is set amidst a large and well-manicured grassy park dotted with striking public artworks that invites visitors to lay down for a good read or a snooze.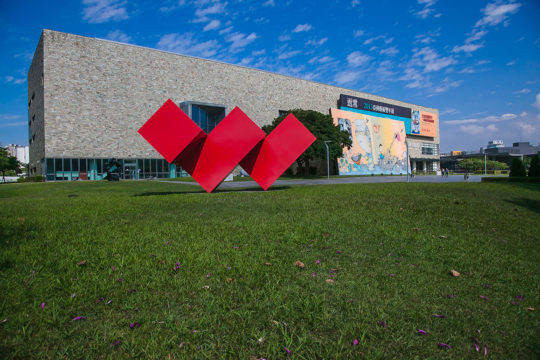 Art Museum Parkway
Across from and perpendicular to the museum's entrance is the multi-block Art Museum Parkway, a green belt lined with restaurants, cafés, boutiques, cultural-creative bookstores, art galleries, and other tourist draws. A pedestrian/bicycle pathway traverses the middle, bringing visitors past dozens of compelling public artworks. At night the area is bathed in soft, romantic lighting. A global buffet is offered; among the culinary choices are Taiwanese, Taiwan indigenous, Shanghainese, Indian, Tex-Mex, Italian, and Greek.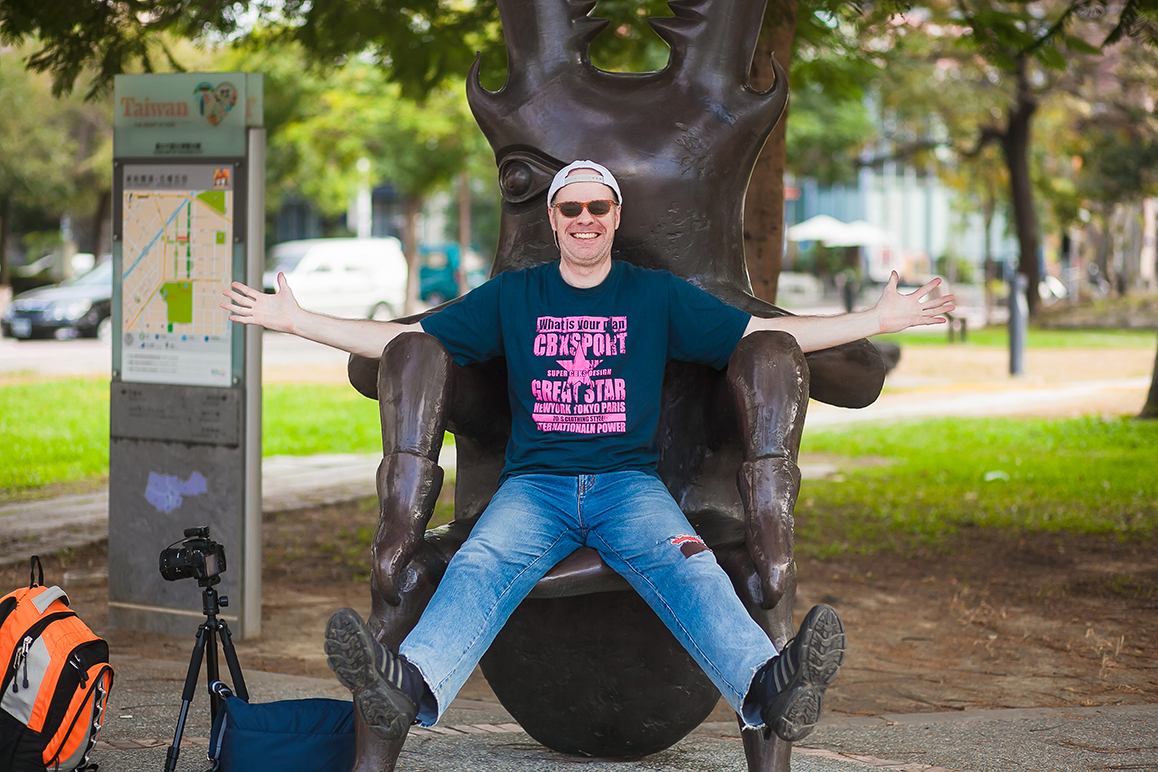 Angel LaLa
Close to the art museum and parkway, Angel LaLa (www.facebook.com/puregarden) looks outside and inside like a small white rabbit-hutch-style cottage in a Western forest. It is filled with bright pastel colors and stuffed with cute items featuring teddy bears, rabbits, and other cuddly figures. The majority are imported, but an ever-increasing range of the offerings are one-of-a-kind designs created by the owner.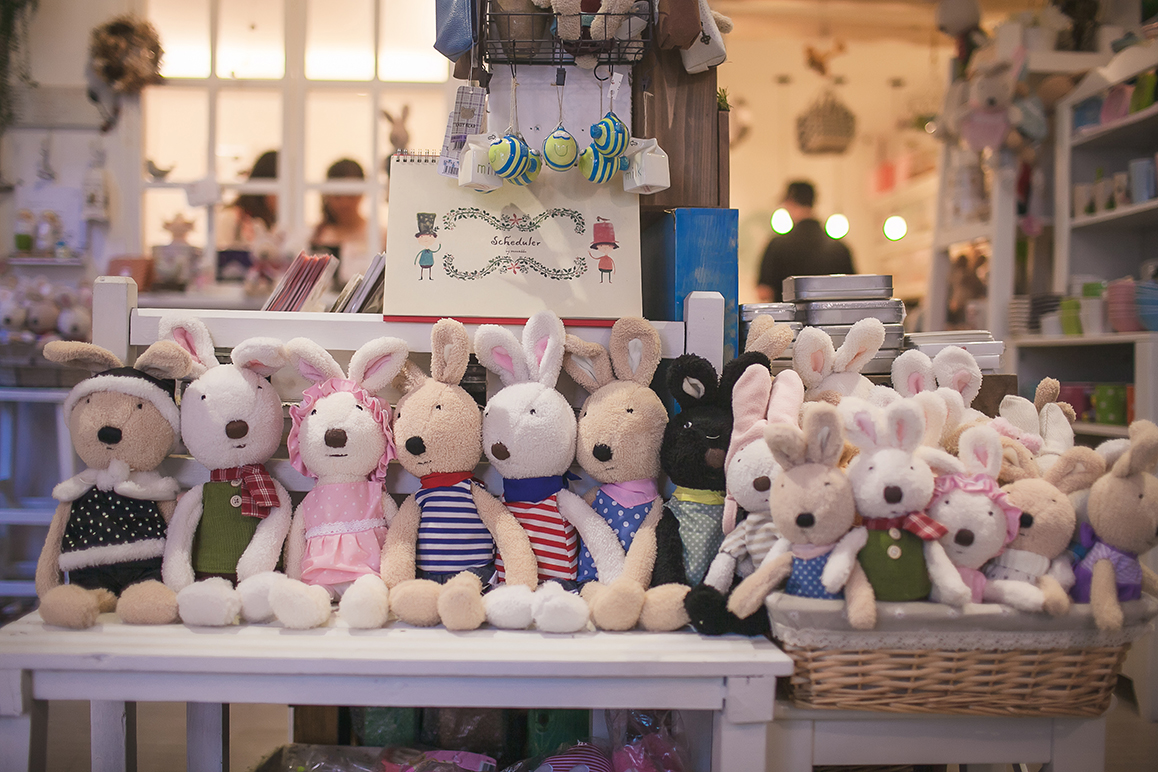 Fantasy Story
Fantasy Story is a Taichung group dedicated to saving and giving new life to old buildings down the city's alleys, primarily old residential structures in the Civic Square district. Facilities are fixed and spruced up, and any existing tenants can stay on, at reasonable rents. The group serves as an incubator for small, independent cultural-creative businesses, providing quality spaces at attractive rates. One of its projects is a row of two-story working-class flats on Lane 117, Meicun Road (some families still resident). Among the cluster of intriguing microshops here is Why Not? (www.facebook.com/whynot.wack), which can be reached via a narrow outside stairway made of colorful kid-style building blocks. A splendid world of clever kitsch awaits inside, including small robot-typewriter hanging decorations, cartoon-animal pouch purses – even panties-shaped coin pouches and a cross on which Santa has replaced Jesus.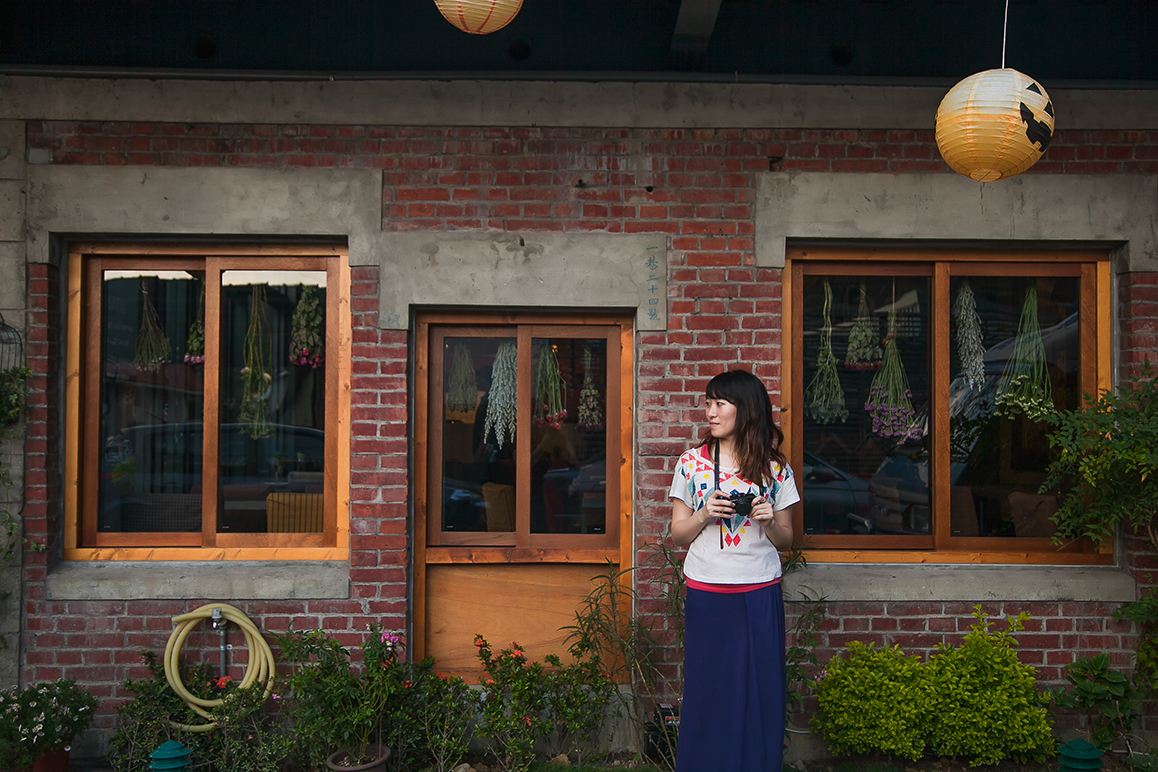 1924 Shanghai Restaurant
Located on the Art Museum Parkway, 1924 Shanghai Restaurant is fitted out with plush touches that evoke the sumptuous elegance of the Bund and Nanjing Road – the retro furniture, chandeliers, poetic couplets, waitresses in cheongsams, vintage photos, and old-time music evoking the glamour of decadent, bewitching old Shanghai. Regional Jiangzhe cuisine is featured, lighter and less sweet to satisfy Taiwan diners' palates. Among the best choices are such classics as Dongpo pork, "drunken chicken," stir-fried eel with leek, and braised carp with scallion.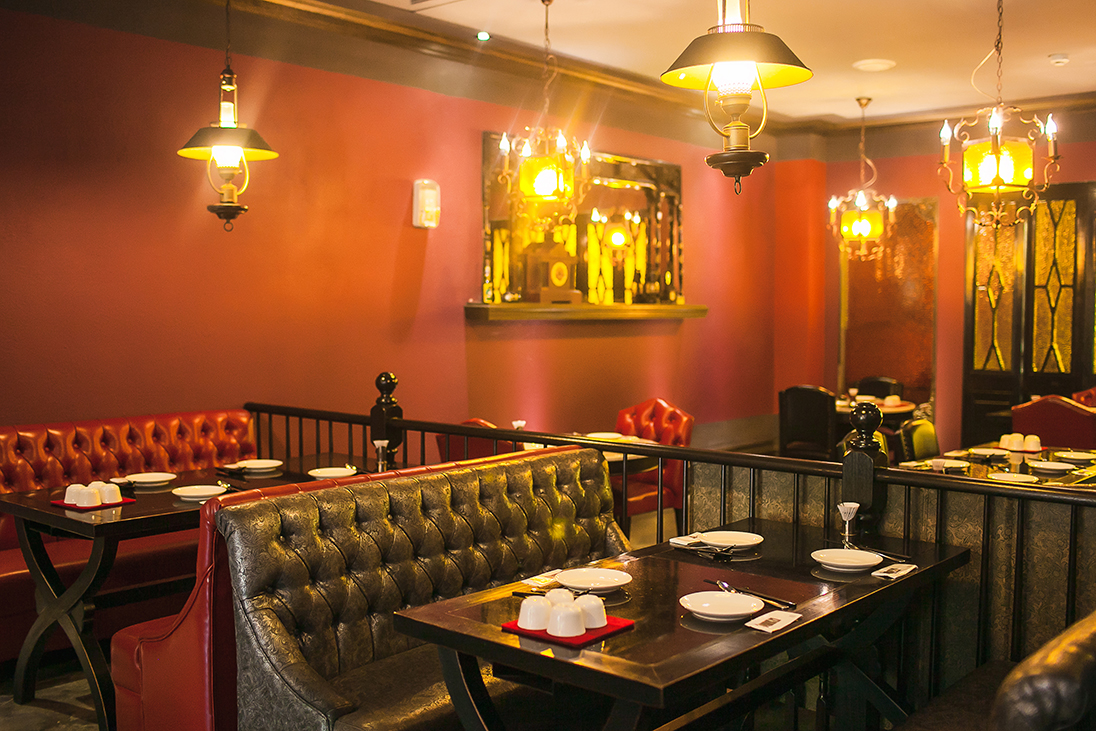 Retro/mojo coffee
Popular Retro/mojo coffee (www.mojocoffee.com.tw), close to the art museum and parkway, is one of a pair of indie cafés run by a local with a passionate aversion to chain outlets. Like its sister, Retro/mojo is not spacious or luxuriously decorated, but it is bright, open, and comfortable, dressed up in Nordic style, with a look akin to the welcoming corner area of a big library. All coffee-making equipment is specially imported. Costs are kept low, and quality high, by importing and house-preparing all beans – fully one-third of Taichung's cafés/coffeeshops purchase the house mojo blends. All coffee is fair trade and/or eco-friendly; among the café's charity endeavors are fund-raising live-band performances on Saturday nights (cover charge), generally jazz, blues, and folk.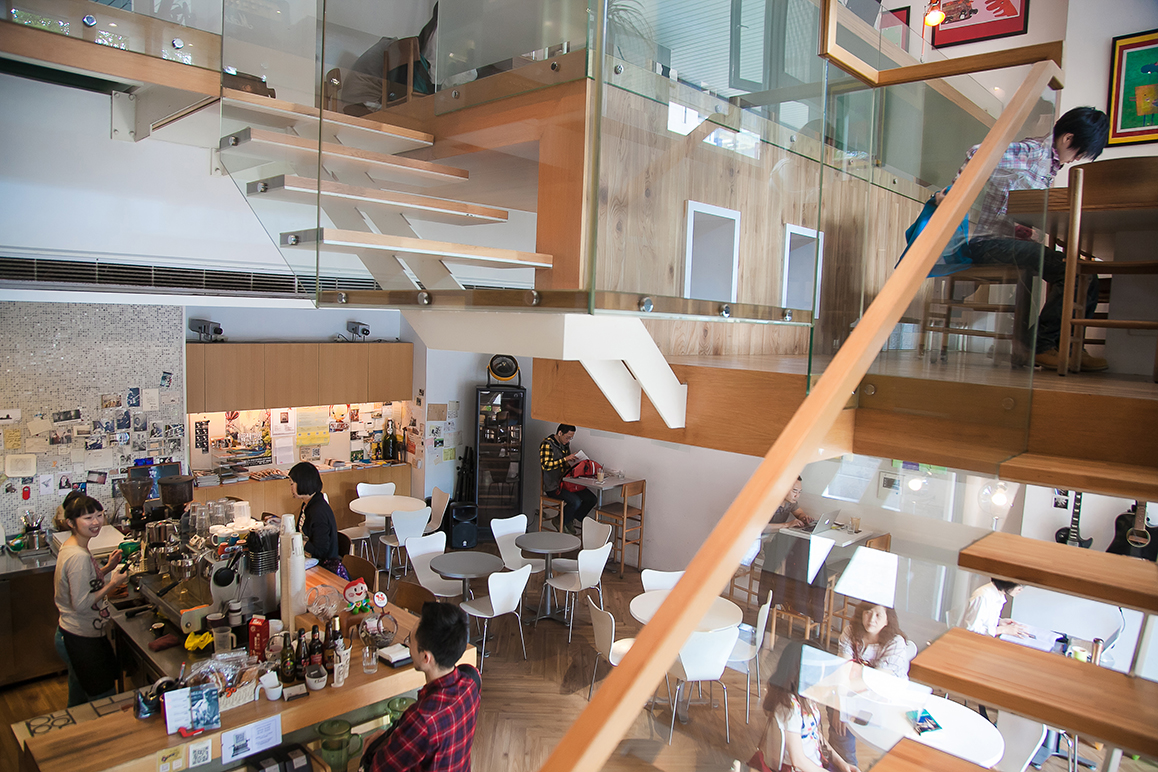 Robot Station
A short walk from Civic Square is the café Robot Station (www.facebook.com/robot.station), a place of pleasant whimsy. In a converted two-story Western-style home, as you walk through the shaded outdoor seating area a life-size warrior robot gazes down at you from above the entrance. Scores of toy robots inhabit the window space, and scores of old licence plates from all over North America adorn the walls. In the bathroom, the washstand stands in the original bathtub, now an aquarium with little fish swimming about. The menu is Western diner-style – the sandwiches, baked pocket sandwiches, and quesadillas especially tasty.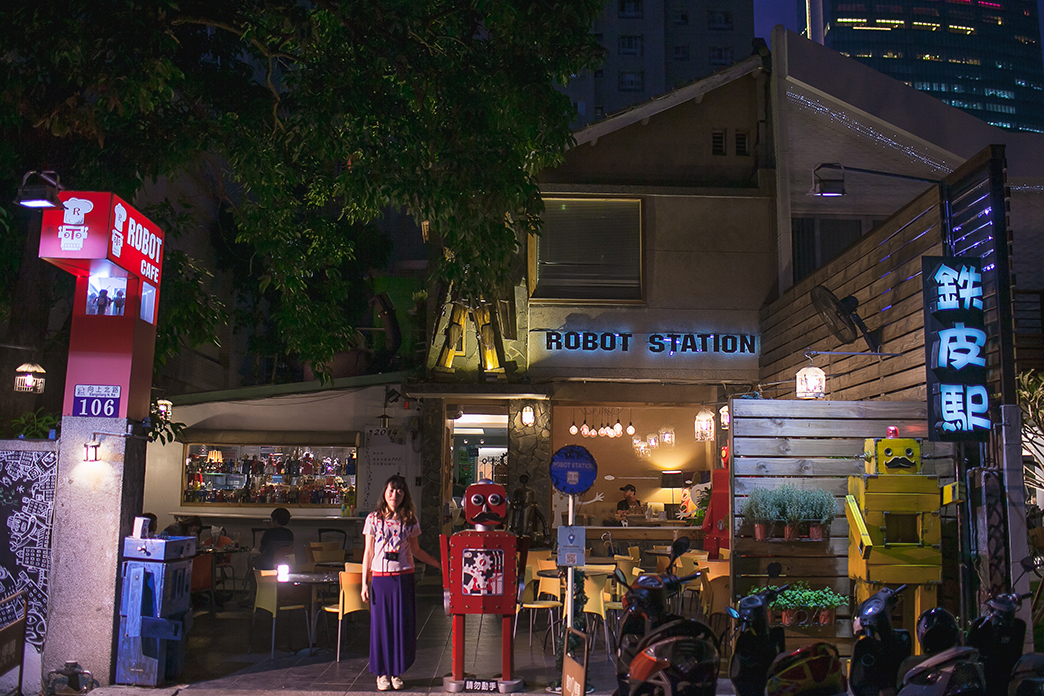 Fantasy Story Green Ray
The Fantasy Story Green Ray facility is near Civic Square on Zhongxing 1st Lane. Here, glass walls and exposed steel frames have been dynamically introduced to a long-abandoned line of traditional-style Chinese houses of red brick and ceramic-tile roofs built over 60 years ago. Inviting, homey Isabella's (www.facebook.com/isabellaxcafe), a café/restaurant at one end, is decked out with Western country-style handmade decorations created by the owner during her many years living in British Columbia. Isabella's dishes range from Taiwanese and Korean to Asian fusion and sandwiches.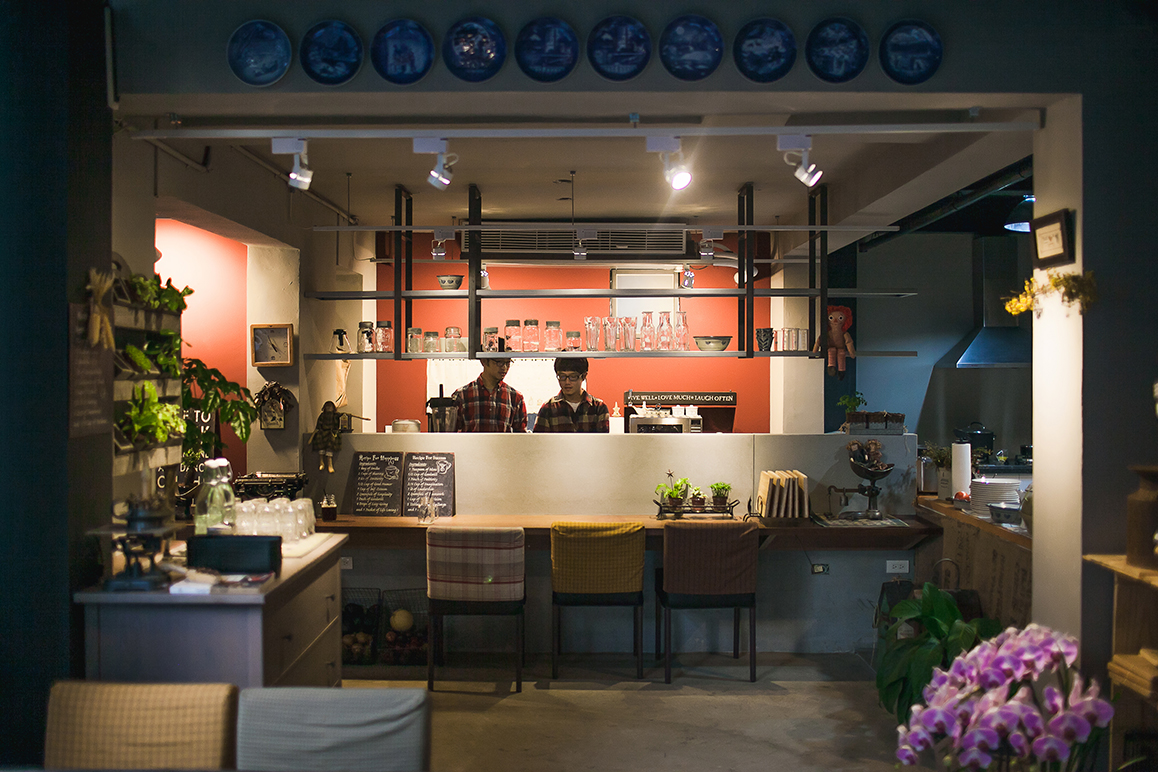 Accommodation
The newly opened boutique Hotel Day+ Taichung (www.hotelday.com.tw/Birds/index.html) is on a broad, curving, leafy boulevard in a quiet, upscale neighborhood not far off busy Taiwan Boulevard, a key city thoroughfare. The neighborhood, with many stand-alone two-story homes, has many expatriate residents. The hotel, in a renovated office building, has been given a modern, stylish exterior. Inside, the styling is minimalist chic. The rooms, which start at NT$5,000, are bright, the white bedding, carpeting, and ceilings, white-paint and light-wood walls, and glass-wall washrooms and shower stalls creating a sense of space. There is a fine bar/café, restaurant with Italian, French, and Chinese flavors, and compact yet airy glass-wall game and exercise rooms.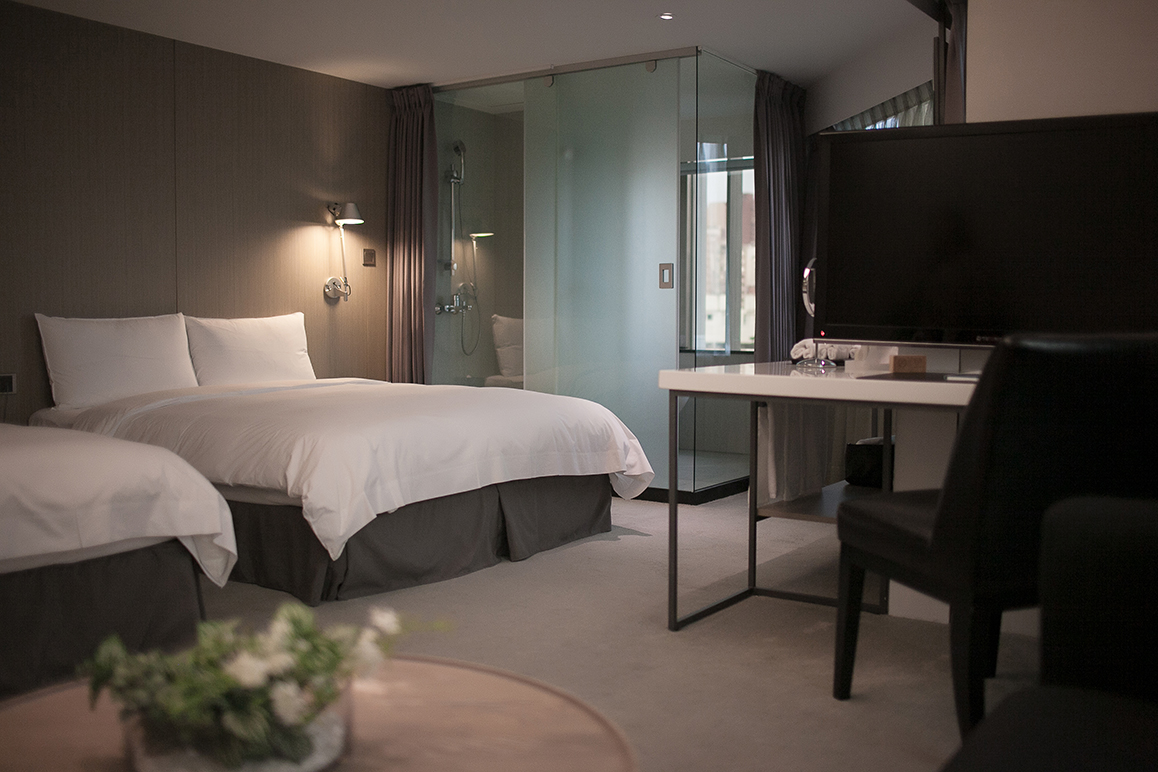 Tunghai University and Fengjia Area
Tunghai University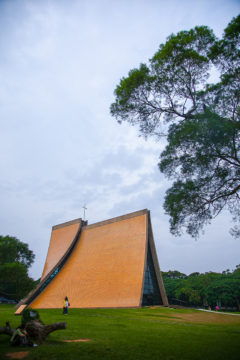 It's not common that the campus of a school is a tourist attraction, but that of Tunghai University (www.thu.edu.tw) is. Busy Taichung city has grown past and enveloped it, but within the perimeter walls you'll find a sprawling, tree-shaded oasis of calm. A great many buildings in the wooded 139-hectare grounds are in the style of the Tang Dynasty, China's golden age of arts and culture – square, squat, and colonnaded. The style is markedly subdued and elegant in comparison to the ebullient and sometimes garish styling of the Ming and Qing periods. Amidst this setting, a modern contrast is provided by the abstract Luce Memorial Chapel, built in 1963, designed by a renowned Sino-American architect to look like a pair of hands touching in prayer. Be sure to visit the Tunghai Dairy, a cottage-style shop where milk and delicious treats – the ice cream is delectably creamy – made with milk from the school's on-campus experimental farm are sold.
Tunghai Art Street
Despite its name, Tunghai Art Street in fact takes up a number of streets and alleys in an enclave filled with creative types of non-mainstream personality. There are cultural-creative outlets of myriad character, their collective defining character individuality of spirit (and independence of ownership). The owner of Li Yun Fengqing Fang, at 8, Lane 8, Yishu (Art) Street, creates exquisite one-of-a-kind jewelry art that compellingly captures the spirit of ancient Chinese culture. At Deer Wood, located at 2-55 Zhongzhe Road, browse the eclectic collection of wood furniture and household decorations, some imported, some handcrafted by local artists. Hukurou (www.hukurou.com.tw; Chinese), at 3-4, Lane 39, Yishu (Art) Street, is a little corner of nirvana for young ladies who love cute little trinkets; the lines of owl-shaped essential-oil dispensers and owl-theme jewelry are a hoot. At Master Liu's Eyeglasses, at 25 Yishu Nan (Art South) Street, Liu crafts stylish glasses tailored to the individual customer using a self-invented hook design (i.e., no screws) and materials that gives eyewear almost unlimited elasticity.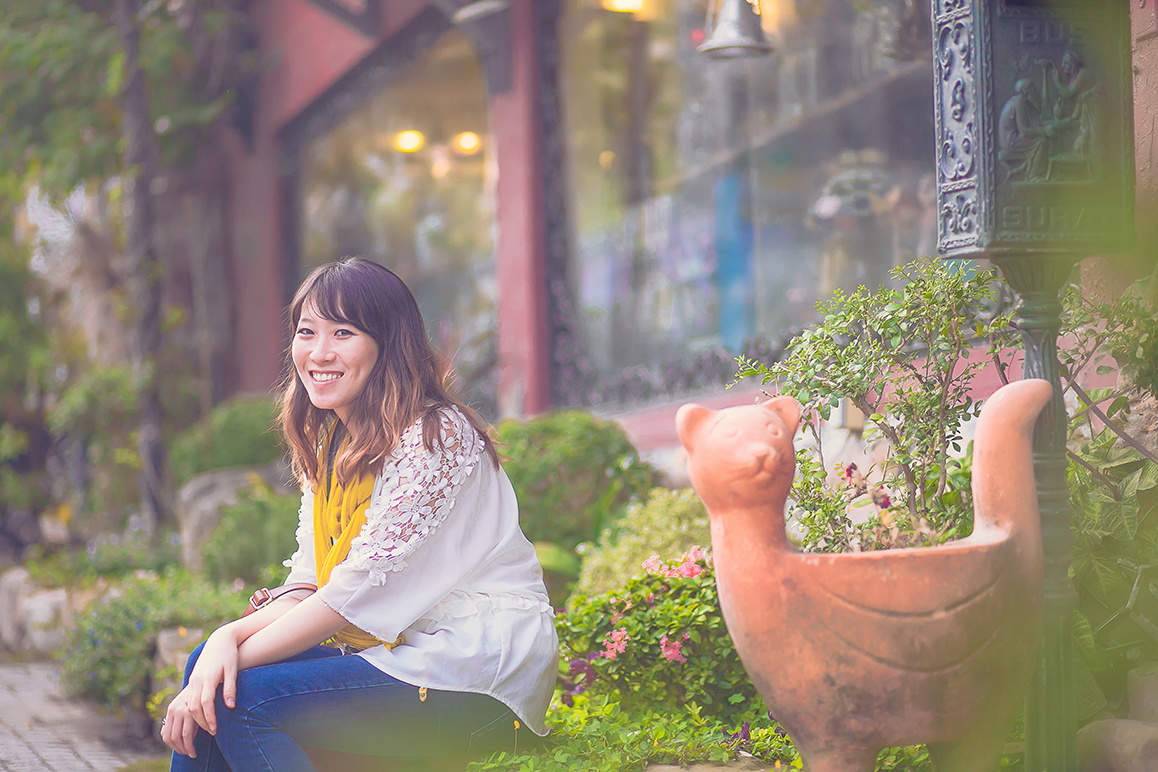 Fengjia Night Market
Along with the earlier-mentioned Yizhong area, Fengjia Night Market is one of Taichung City's two most popular night markets. A sprawling, pulsating place of excitement with over a thousand vendors, this is said to be Taiwan's largest night market. The market is spread out before Feng Chia University and takes its name from the school, but in addition to students you'll see many families and adult couples and groups mixed within the streaming lines of people. Whether the source of or there in response to the clientele, the shops and street vendors here are a little more upscale compared to Yizhong, though prices are still pleasantly low.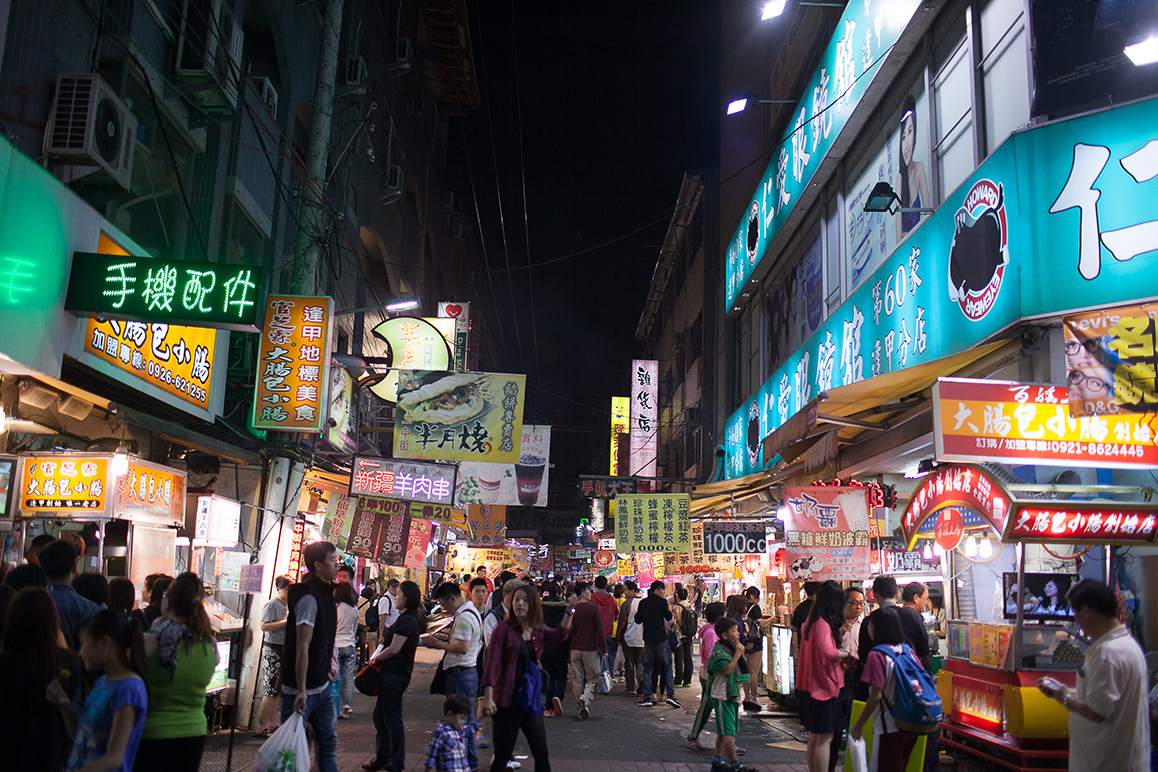 It is possible to buy just about anything here, from clothes and accessories to pets, glasses, music CDs, cellphones, and handicrafts. But the main attraction is the food snacks. Two of the most popular stands – look for the unusually long line-ups – are almost side by side in the market's wide entrance area before the gates of Feng Chia University. Both make wonderfully delicious and filling concoctions that would without doubt qualify as soul food if served up in North America. Guan Zhi Lin Dachang Bao Xiaochang offers what is often translated directly as "big sausage wraps little sausage," though there is only one actual sausage involved. Pork sausage is griddled until the skin caramelizes, placed in a "bun" of fried sticky rice (the other "sausage"), and savory condiments including sweet and spicy chili sauces, pickled Chinese cabbage, and crunchy dried radish bits are added. Ban Yue Shao serves a crispy-skin pancake of sweet-potato starch, created on a griddle, folded like a sandwich, and stuffed with fried egg, your choice of marinated meat, cheese if desired, and stir-fried basil, green onion, and other yummies.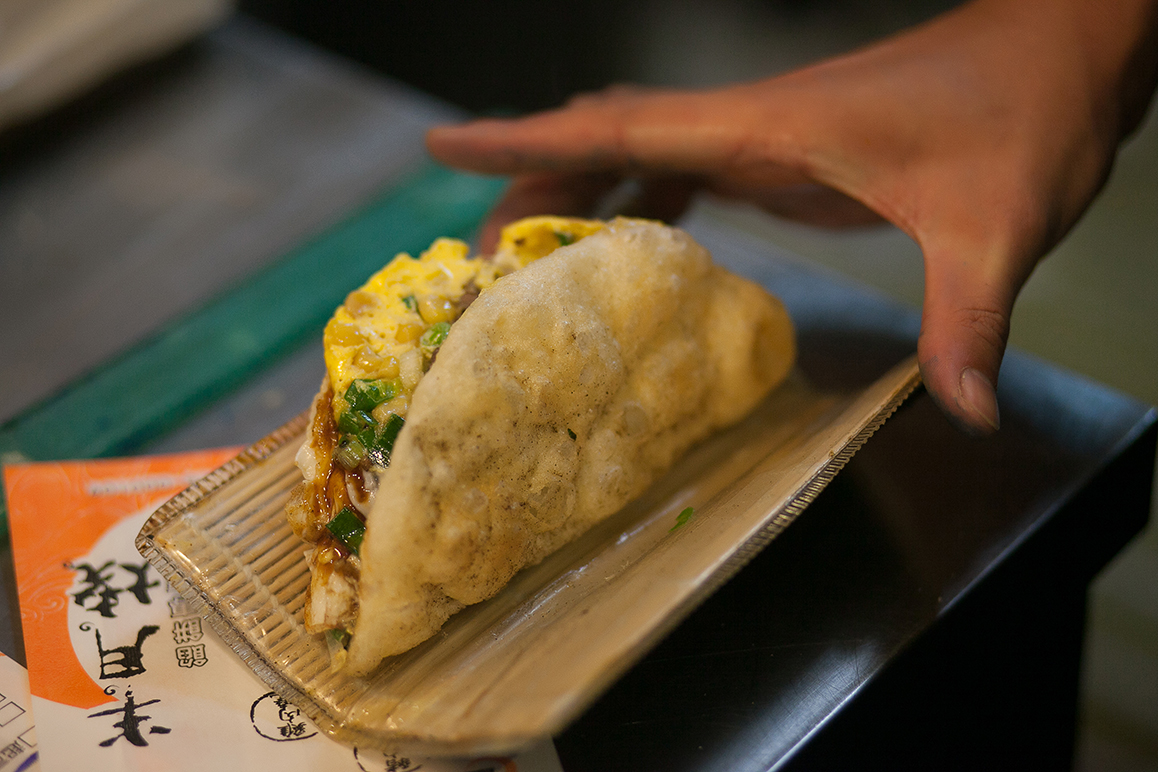 Getting Around
Taichung City's bus system has improved immeasurably in recent years. Since 2010 the number of routes in greater Taichung has more than doubled, per-month ridership has also almost doubled, and measured public satisfaction was second only to Taipei in 2012. Use an EasyCard and ride free for your first 8 km. Check out the city's Dynamic Bus Info & Transit System site at citybus.taichung.gov.tw. The Taichung High Speed Rail Station and Taichung Railway Station are hubs for bus routes; for information on visitor information centers that can help you with route information, visit eng.taiwan.net.tw and travel.taichung.gov.tw. The 24H International Community Service Hotline is 0800-024-111.
Taichung Tours and Activities on KLOOK
Gaomei Wetland, Rainbow Village and Miyahara Day Tour from Taichung
Lihpao Land Day Tour in Taichung
Taichung Instagram Day Tour from Taipei
Further reading on other sites:
SPIRITUAL TRAVELS: 20 Unique Things to Do in Taichung: A Detailed Guide
TRICKY TAIPEI: Tips for an Easy Weekend in Taichung
Taichung Hotels on Booking.com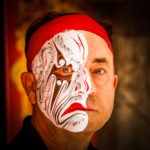 A Canadian, Rick has been resident in Taiwan almost continually since 1988. His book, article, and other writings, on Asian and North American destinations and subjects—encompassing travel, culture, history, business/economics—have been published widely overseas and in Taiwan. He has worked with National Geographic, Michelin, APA Insight Guides, and other Western groups internationally, and with many local publishers and central/city/county government bodies in Taiwan. Rick also handles a wide range of editorial and translation (from Mandarin Chinese) projects.