Two High-Mountain Destinations Beloved by Tourists
TEXT / RICK CHARETTE
PHOTOS / RAY CHANG

Let's go on a multi-day trip into the deep central mountains along staggeringly scenic Provincial Highway 14/14a. Soak in the cool alpine vistas and ranch experience at mountainside-hugging Qingjing Farm, one of Taiwan's most popular recreational farms. Revel in the soaring experience of being almost at eye level with the 3,000m-plus peaks of Hehuanshan at the Wuling pass, Taiwan's highest public-road point. Tackle beauteous hikes from the easy-access roadside trailhead points.
Island Taiwan's defining geological characteristic is its towering mountain ranges. Young and still growing rapidly, they've been sculpted by the behemoth wrestling of two almighty tectonic-plate players in the great Pacific Rim of Fire drama. Over 250 peaks soar past 3,000 meters.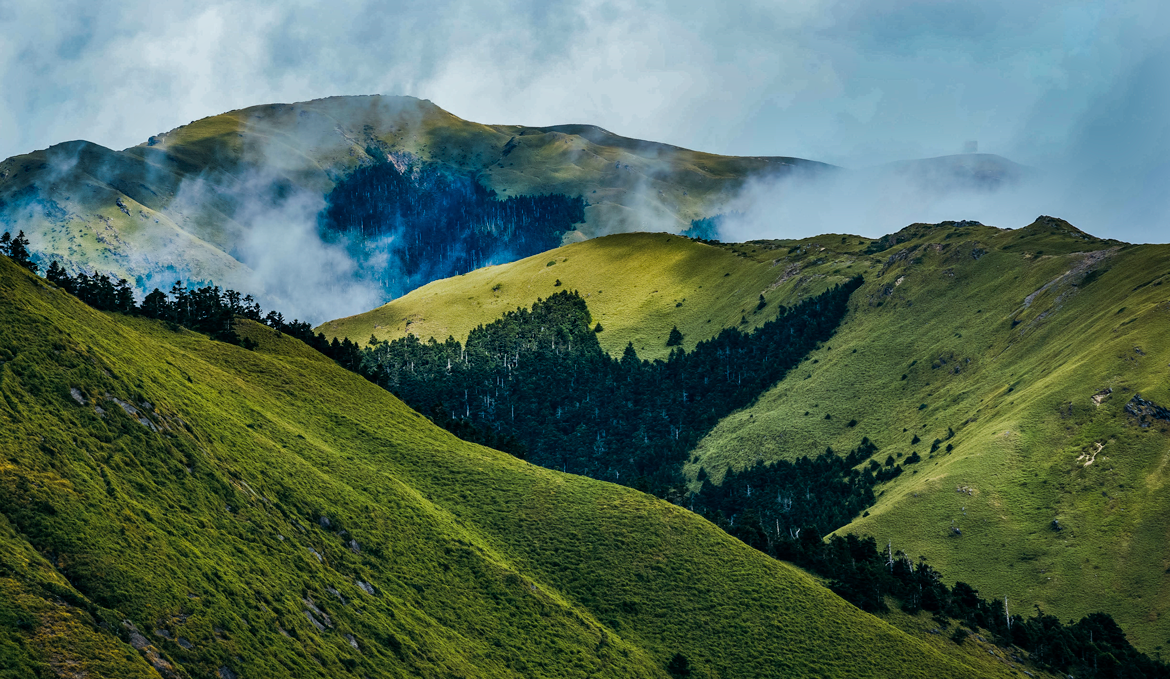 The Taiwan Tourism Bureau has proclaimed this the "Taiwan Year of Mountain Tourism 2020," and launched a major campaign to brand the island as an international mountaineering tourism destination. The focus is on sustainable mountain tourism, and a series of mountain-trail routes has been designed highlighting Taiwan's unique ecological and cultural features.
The island's superb road network delivers smooth access to easy and moderate hikes even up among the higher peaks. There is even public transport – inexpensive and high-quality – from lowland areas to many favorite alpine tourist destinations. In this Feature we ride the magisterially panoramic New Central Cross-Island Highway to two of these: Qingjing Farm and, beyond and skyward, Hehuanshan (Mt. Hehuan).
Qingjing Farm
The tourist-oriented farm (altitude around 1,750m) is renowned for its superb mountain vistas, bucolic alpine farmland experience, and great surrounding mountainside-hugging cluster of large, eclectic homestays and inns. And one more thing – its vibrant Baiyi community. The Baiyi or Dai people are from China's Yunnan Province. When the Chinese Civil War ended in 1949 and the ROC government evacuated to Taiwan, many Kuomintang soldiers were left behind in southwest border areas. In 1961 a group was airlifted from Yunnan to Taiwan; the majority of their wives were from Yunnan minorities, the greatest number Baiyi. One group opened up Qingjing, and today many second-generation community members run restaurants and homestays/inns that give tourists a look into their distinctive Yunnan/Taiwan-mix culture.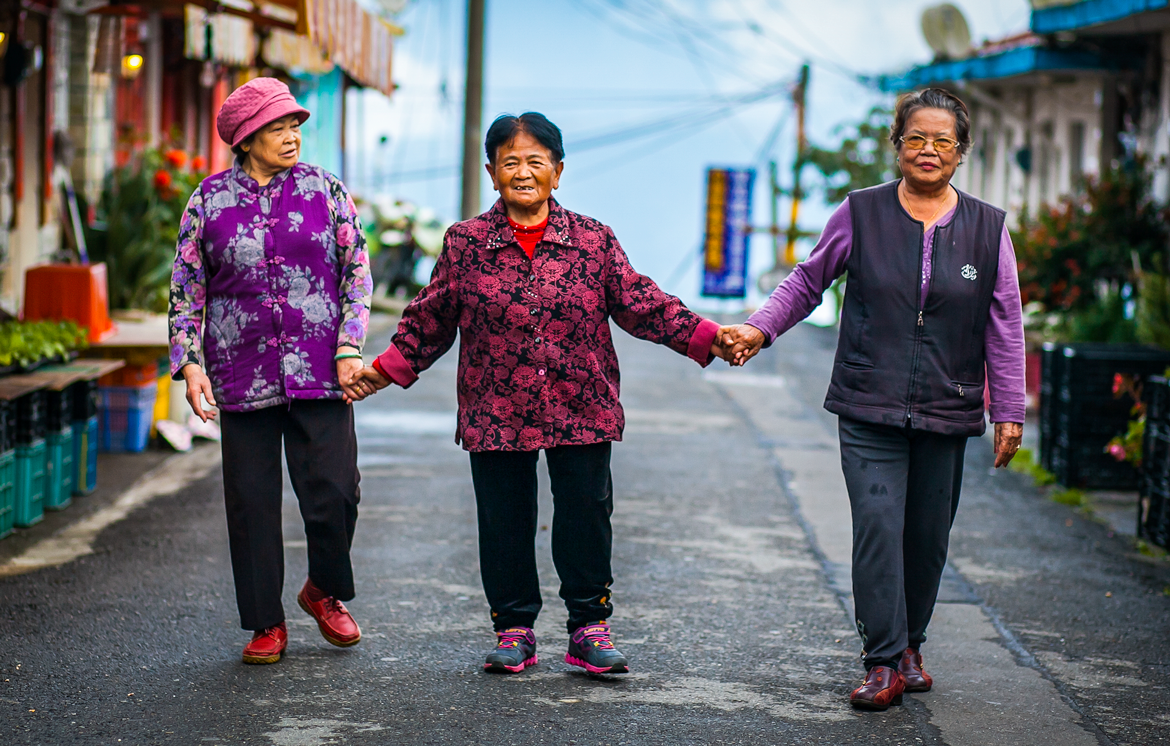 The climb from Qingjing to the Wuling pass (3,275m) takes about an hour. Almost all manmade structures are left behind; all permanent dwellings seem to be far below you. At the pass itself, close by all about at just above eye level are Hehuanshan's peaks, their highest slopes free of forest cover, some bare rock. All are accessible via trails, most requiring only moderate fitness. Many visitors are content, however, with simple "park-and-shoot" visits. The pristine area is also highly popular with sunrisers, sunsetters, and stargazers.
Qingjing Skywalk
In recent decades, artistically designed skywalks and suspension bridges have become popular tourist draws in mountainous Taiwan, and Qingjing Farm is home to the island's highest-elevation skywalk, the Qingjing Skywalk (NT$50/adults), opened in 2017. This wide, gleaming-white elevated pathway, dotted with lookouts, flows uphill through the farm for 1.68km, parallel to Highway 14a.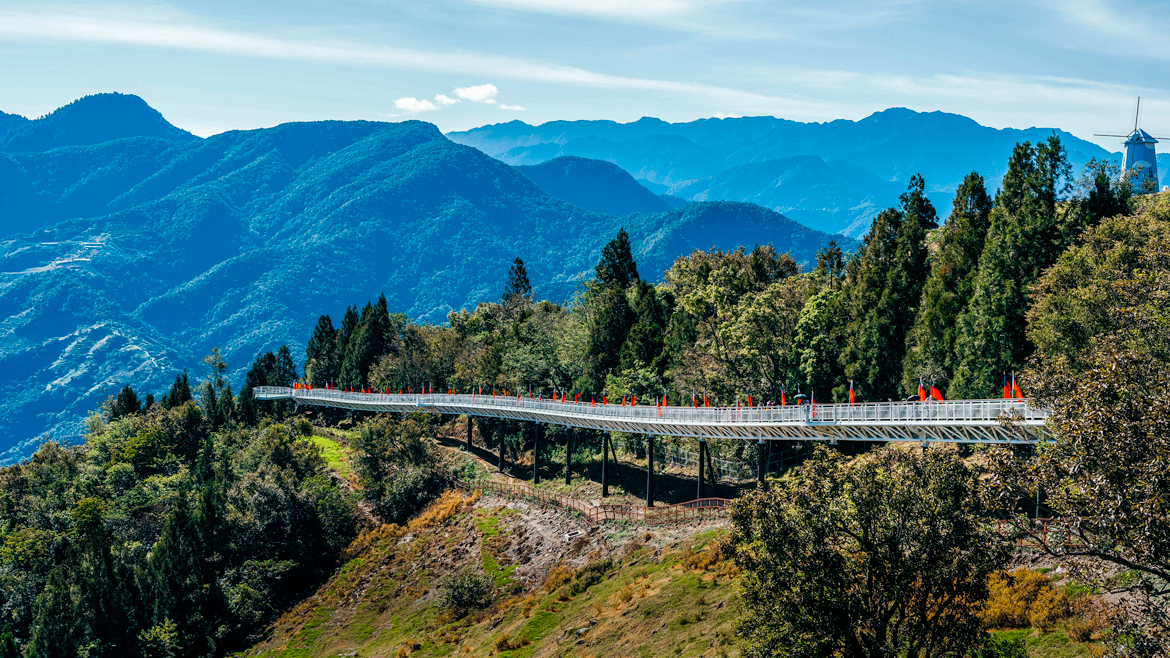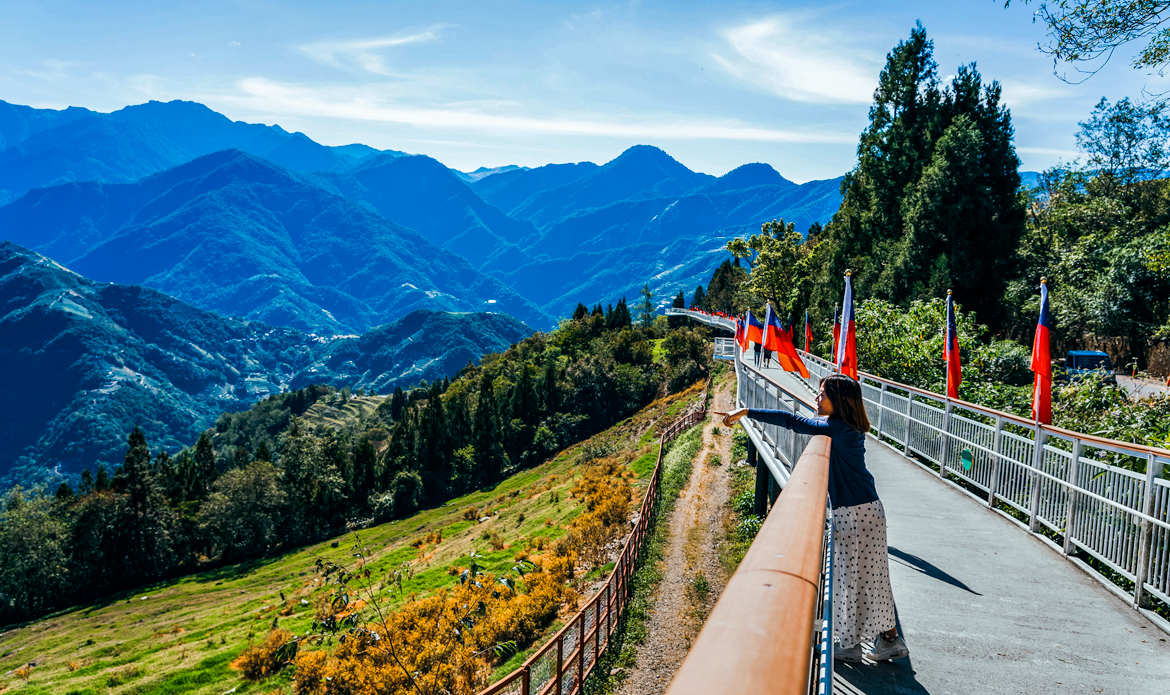 The skywalk overlooks a deep valley, with the hot-spring village of Lushan in view far down below and the immortal-dwelling Qilai Ridge laid out in parallel across in the distance, making for the proudest of "Me the Globe-Trekker" panoptic photos and videos to show off back home. Sheep and the farm's working horses graze on the steep pastureland underneath, and birds of dazzling color flit about at eye level in the walkway-side treetops. On this trip's skywalk meander, the star alpine avians sighted were the Collared finchbill, Taiwan hwamei, Formosan laughing thrush, and Vinaceus rosefinch.
Green Green Grassland
The farm's other highlight attraction is the Green Green Grassland (NT$160/adults), where sheep and cattle (the latter seen less often) munch on rolling mountaintop pastureland. All about are tall-peak panoramas. The sheep and the human skills required to tend them were introduced decades back by government-hired Australian ranchers. Visitors can buy feed for the animals, and there are daily sheep-shearing/sheep-dog shows and horse-riding shows. Horses are also brought out for display, and kids thrill at the chance to take rides on Shetland ponies.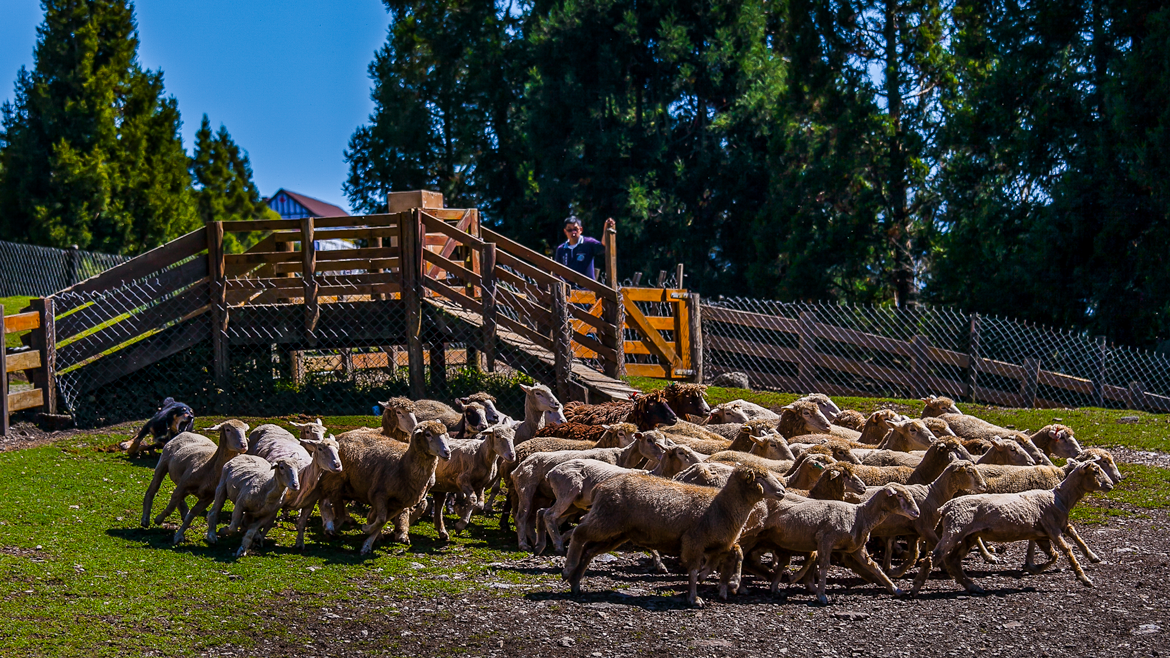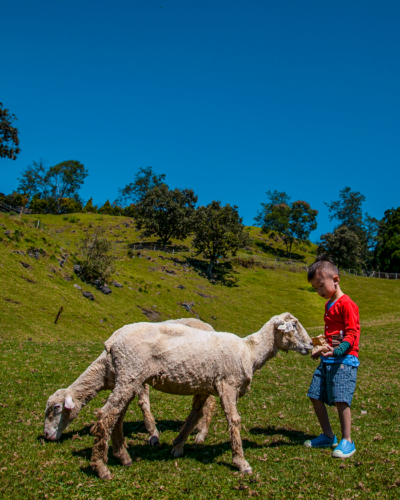 The shearing demonstrations are put on by Australian pros. The horse-acrobatics show, by a brilliantly garbed, deftly talented Mongolian troupe, happens in a circular semi-outdoor theater and is at times little short of death-defying. The most breathtaking of many dangerous feats features a muscular rider launching arrows at a target with deadly accuracy, sometimes facing backwards, as he gallops headlong in tight circles.
The main Qingjing center for food and gift/souvenir shopping is the sizable two-level highway-side Mist Plaza, which has 7-ELEVEN, MOS Café, and Starbucks outlets. Among its gift & souvenir operations are boutiques selling essential oils and scented soaps as well as delicious handmade mochi and nougat candy crafted with locally-sourced ingredients.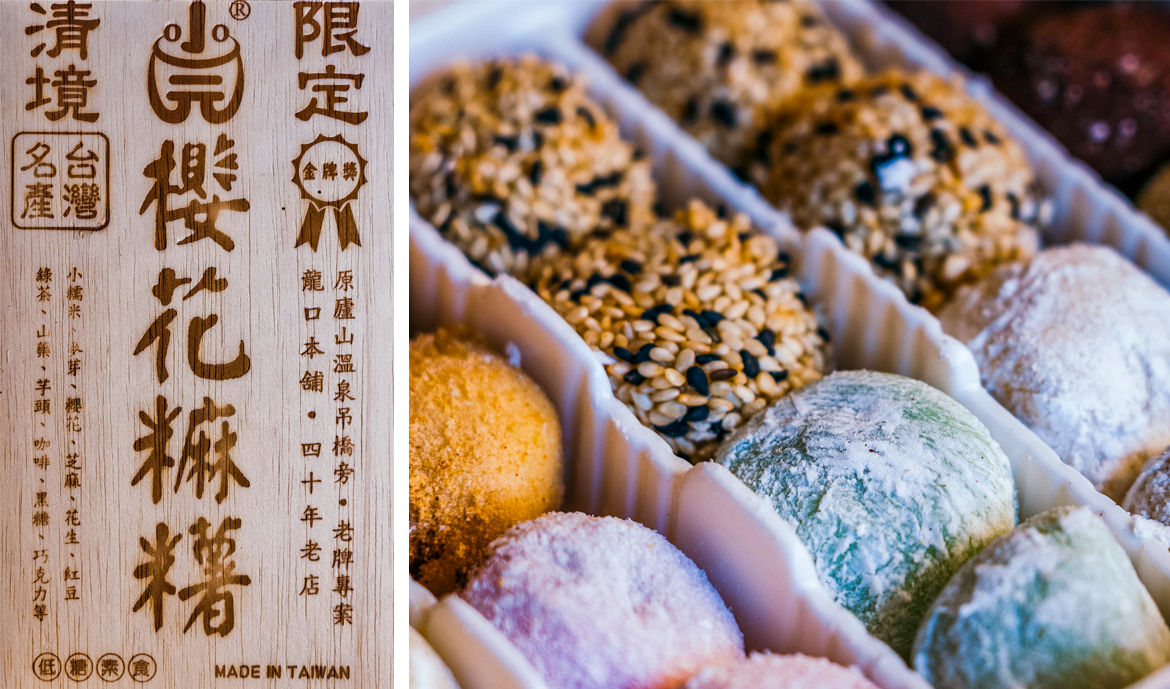 Qingjing Farm (清境農場)
Add: No. 170, Renhe Rd., Datong Village, Ren'ai Township, Nantou County
(南投縣仁愛鄉大同村仁和路170號)
Tel: (049) 280-2748
Website: www.cingjing.gov.tw
Hehuanshan (Mt. Hehuan)
The Wuling pass is the one place that almost every Hehuanshan visitor checks off. There's a cliffside parking lot on one highway side and a large lookout deck (public bathrooms beside it) on the other, looking out at the East Peak on the left (east), Main Peak on the right (west/northwest), and deep, empty space in front. Stretching off southwards toward the horizon from beyond the East Peak is the titanic Qilai Ridge, its ridge-top trail passage a rite of passage for serious island hikers. Abundant signage with good English at Hehuanshan vehicle-stop points and along trails explains what you're looking at.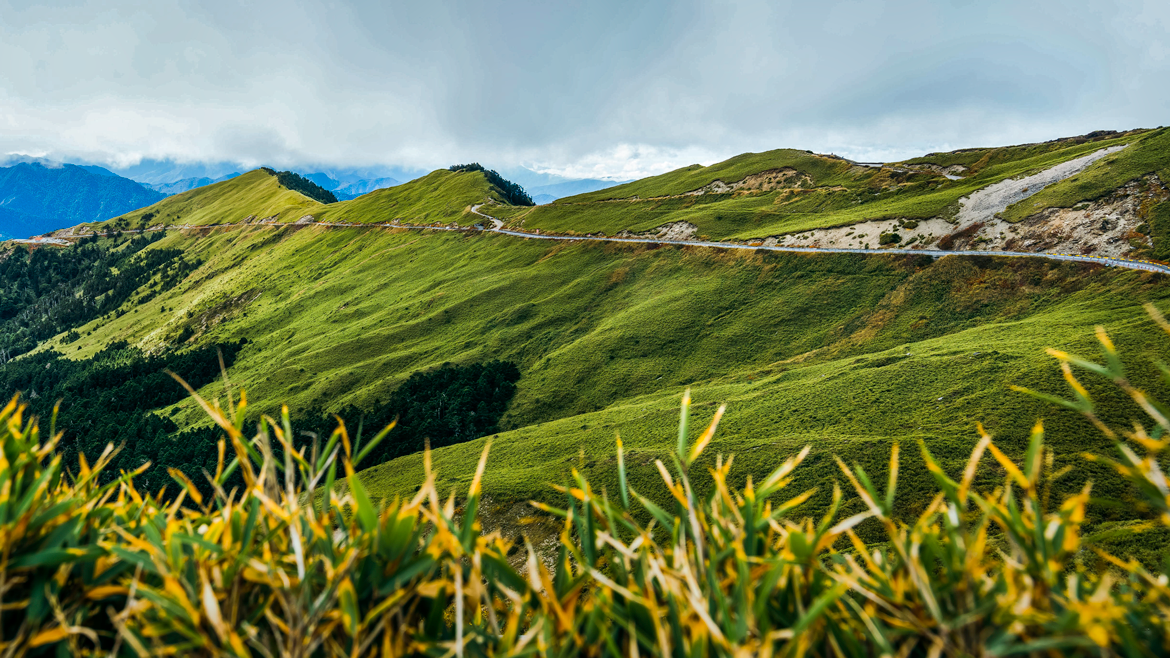 Hehuanshan's peaks are among Taiwan's "Top 100 Mountains," a list of summits above 3,000m selected by local hiking experts based on their uniqueness, visual allure, and prominence. Few have climbed all 100. Hehuanshan's are among the most accessible, with the Main Peak among the easiest to conquer.
Hehuanshan Main Peak Trail
The 1.8km (one way) Hehuanshan Main Peak Trail, which has a few sections of moderate steepness, starts right at highway-side about a kilometer down-road from the Wuling pass, back toward Qingjing. There's no parking here, nor a bus stop; find these at the Wuling pass facility. Save for a section at the very top – the Main Peak is 3,417m high – where wooden stairs and a wooden lookout have been erected (washroom facilities also available), the "trail" is an old, narrow, now-crumbling paved roadway created by the military. Soldiers withdrew from Hehuanshan in 2000, with the formerly off-limits areas opened to the public. On the Main Peak ascent you'll see old camouflaged pillboxes built right into the slate cliffs, and an abandoned, wind-protected barracks camp in a basin down the east slope that's also in full view from the Wuling parking lot.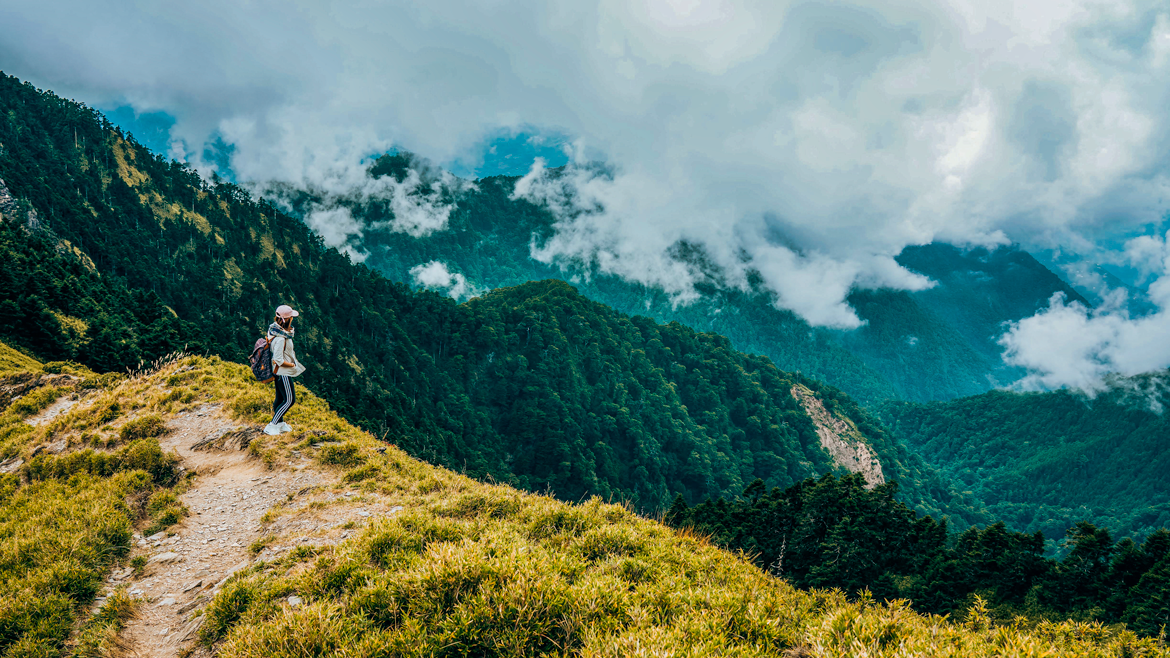 Only minimal forest cover is encountered. This is a place of low-growing alpine vegetation, decorated with the pastel-blossom beauties of such tough gems as the Yushan rhododendron, Yushan rose, high-mountain juniper, and hawkweed oxtongue. The peak was largely denuded during its military-service years, and much of what you see is thanks to a major erosion-prevention phytoremediation campaign, with 36 species of native alpine plants introduced/reintroduced.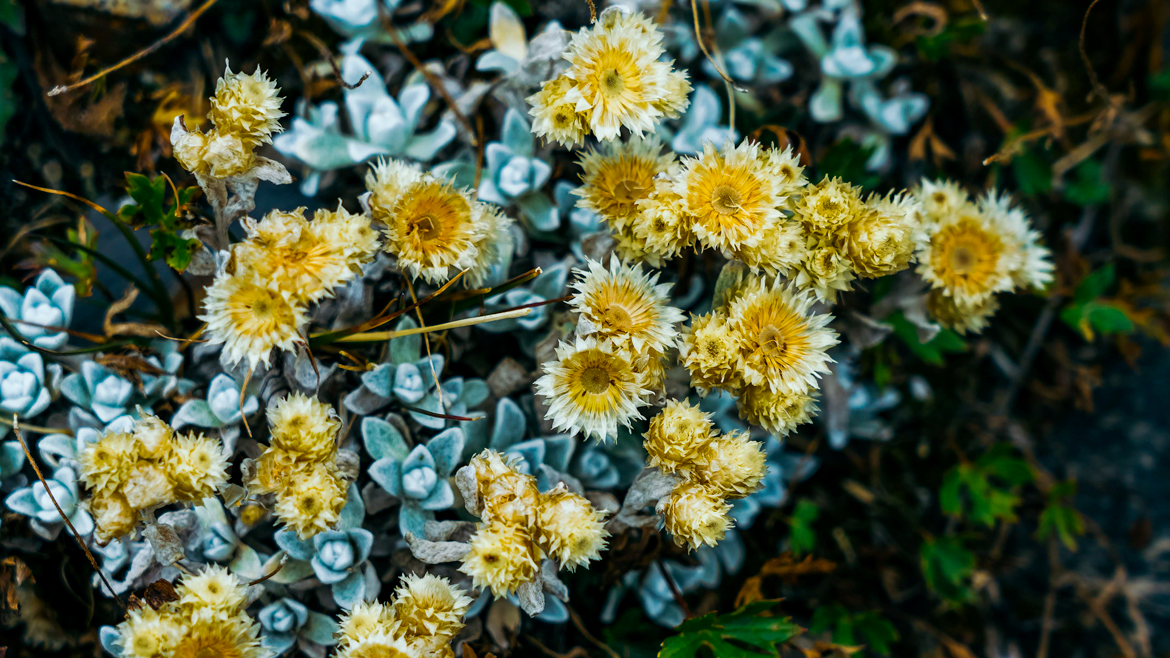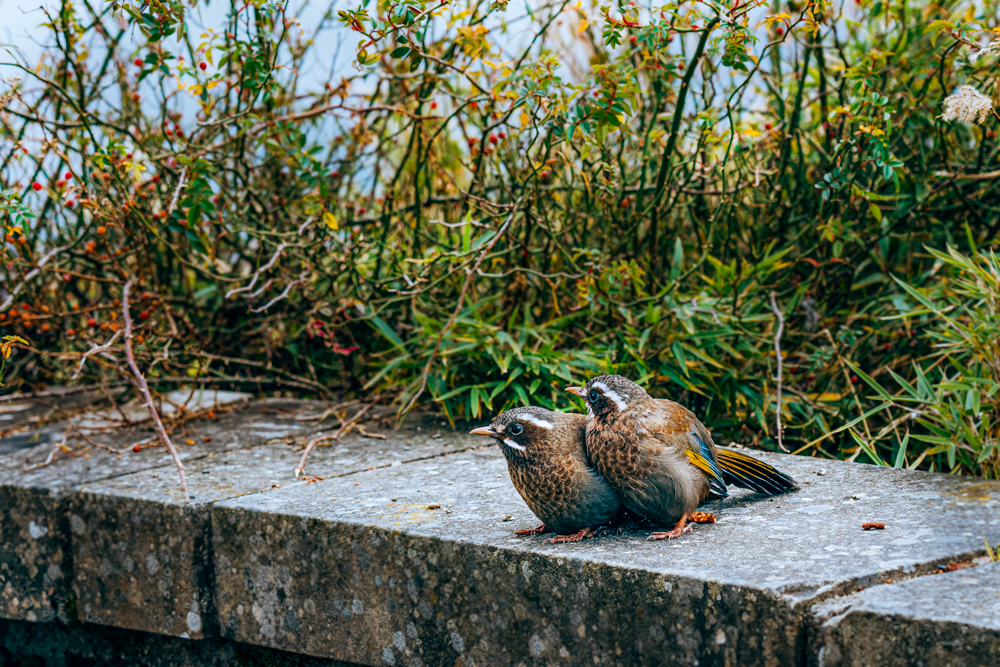 Hehuanshan is the headwater source for two important Taiwan rivers: the Zhuoshui, which flows west to the Taiwan Strait, and the Liwu, which flows east and, on its way, has carved out the celebrated Taroko Gorge. On clear days the Liwu point-of-empty into the Pacific can be espied from the Main Peak. The stream that becomes the muddy Zhuoshui can clearly be seen forming on the almost vertical East Peak's west face. To the south, far beyond the Qilai Ridge, iconic titans such as Yushan (Mt. Jade) and Nenggaoshan (Mt. Nenggao) make appearances.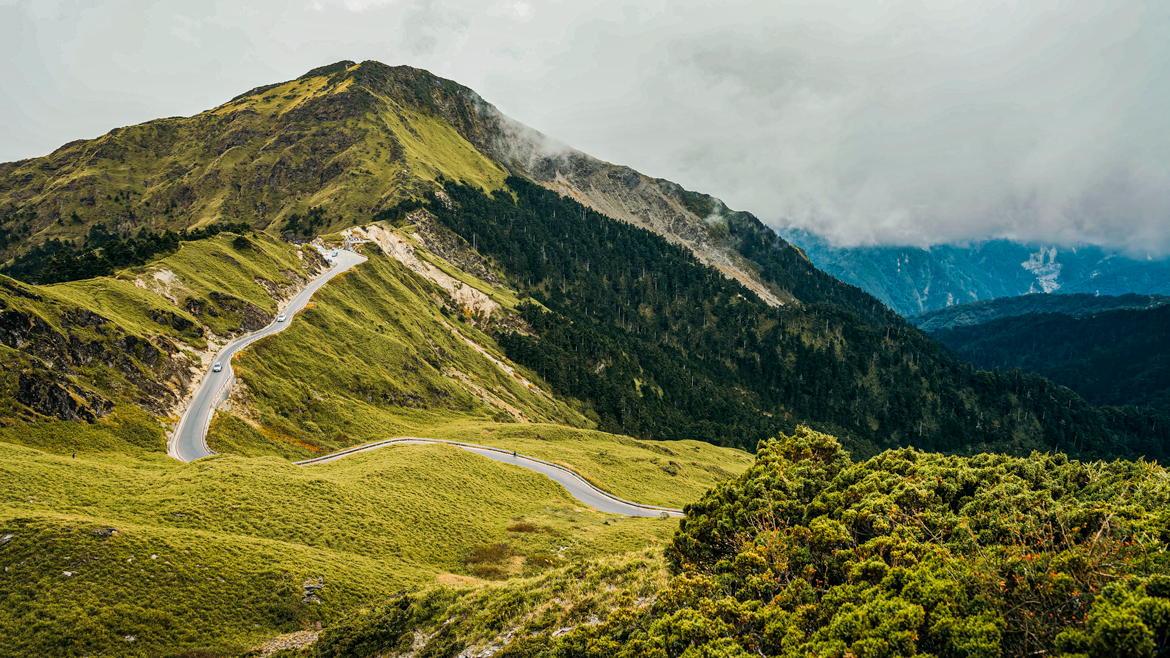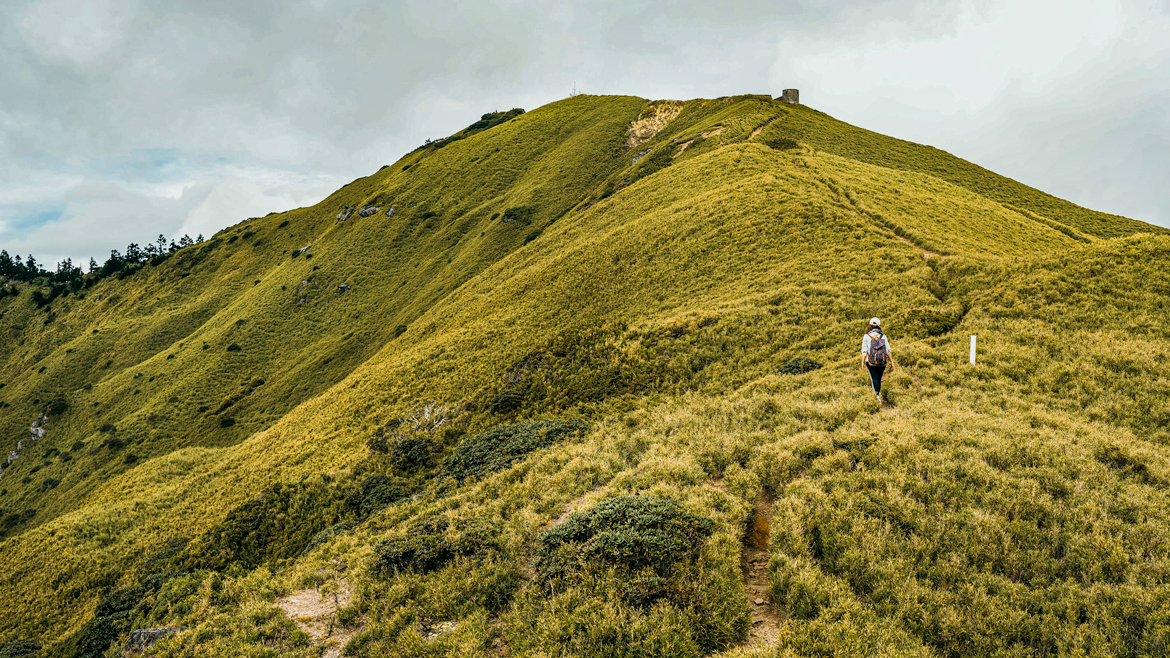 3158 Café
After your first Hehuanshan hike, a good mug of fresh-brew coffee will go down like liquid manna, and said mug and java is close at hand at the 3158 Café, just east of the Wuling pass at the roadside trailhead for the short, steep Hehuan Horn Peak ascent. The coffee is high-altitude flavorsome, and since this is billed as Taiwan's highest coffee joint – the "3158" refers to the location's altitude – what better take-home souvenir than the mug you drink from? Your coffee is NT$150; NT$100 is returned if mug is returned. Hot snacks such as zongzi (rice dumplings wrapped in bamboo leaves) and baozi (steamed buns) are also available.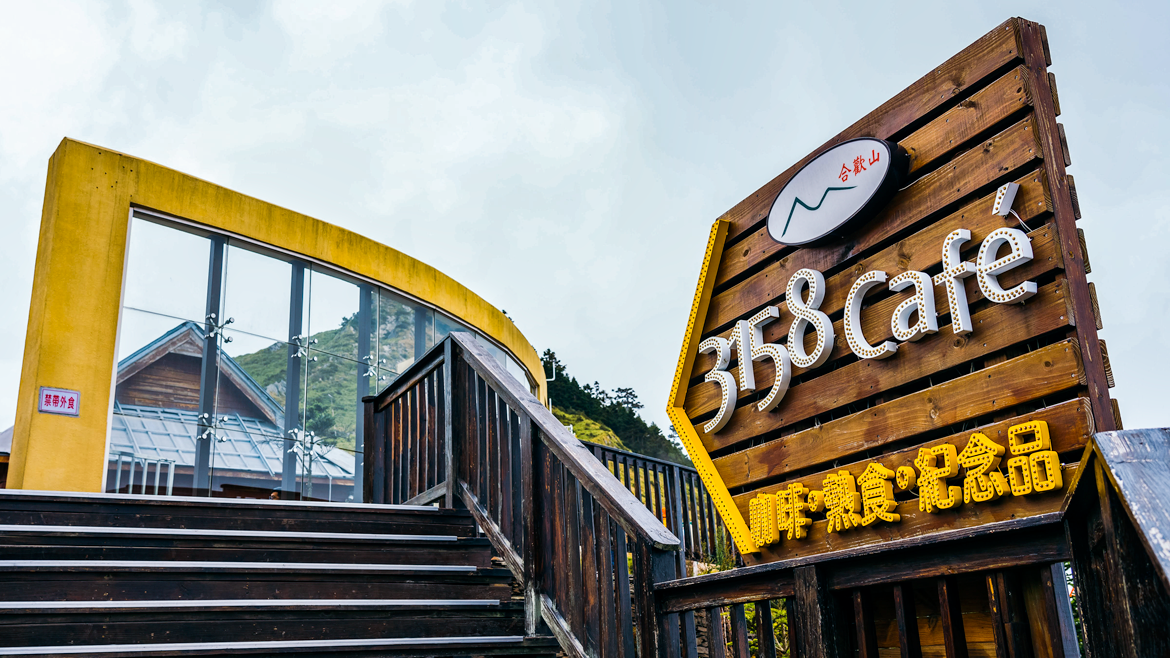 The café is perched on Hehuanshan's east-facing side, looking out toward the Taroko Gorge and Pacific Ocean. Warm air swooping up from the coast often create heavy, roiling romantic mist on this face. Also hugging the high slope here, diagonally across the highway from the café, is the famed Songxue Lodge, Taiwan's highest place of accommodation.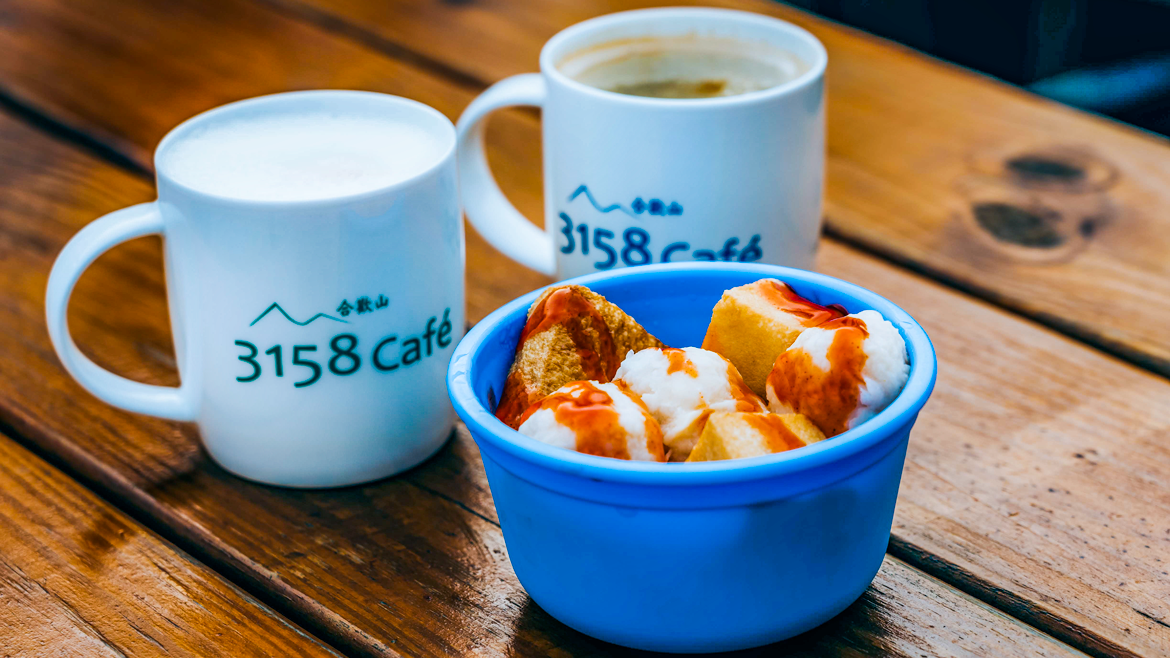 Xiaoqilai Trail
Just behind it is the start-point of the 1.4km (one way) Xiaoqilai Trail, which traverses the east face in a southerly direction searching for the minor peak called Xiaoqilai, "Little Qilai." This is just beyond the Mt. Hehuan massif, on its southeast. Also behind the lodge is the Hehuanshan East Peak trailhead.
Before starting the Xiaoqilai hike, look up toward the East Peak. You'll see the rusted tower-and-cable remains of a 400m-long ski run once used for special forces training in the days when the Kuomintang government had dreams of retaking the China mainland.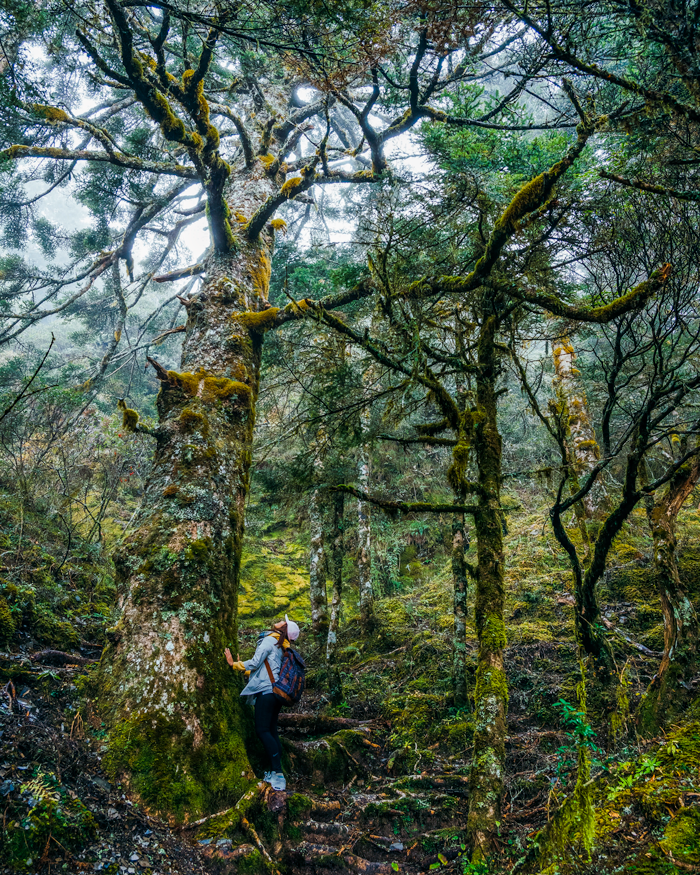 The Xiaoqilai Trail's initial section is open, dominated by Yushan cane, which grows 2~3m high, and bright alpine flowers. The landscape then transitions, and you enter a dark forest of tall Taiwan white fir characterized by rimrod-straight trunks, the path undulating uphill and downhill. The Hehuanshan area's high-altitude ecosystem is far simpler than those found at lower elevations. The patchy coniferous black forest, with Taiwan white fir the predominant species, fights for turf with Yushan cane. Their border zones are abrupt, creating a dramatic two-tone visual canvas, especially when viewed from afar. The bands seen in this area demarcate the forest line – i.e., they are the upper limit for Taiwan white fir.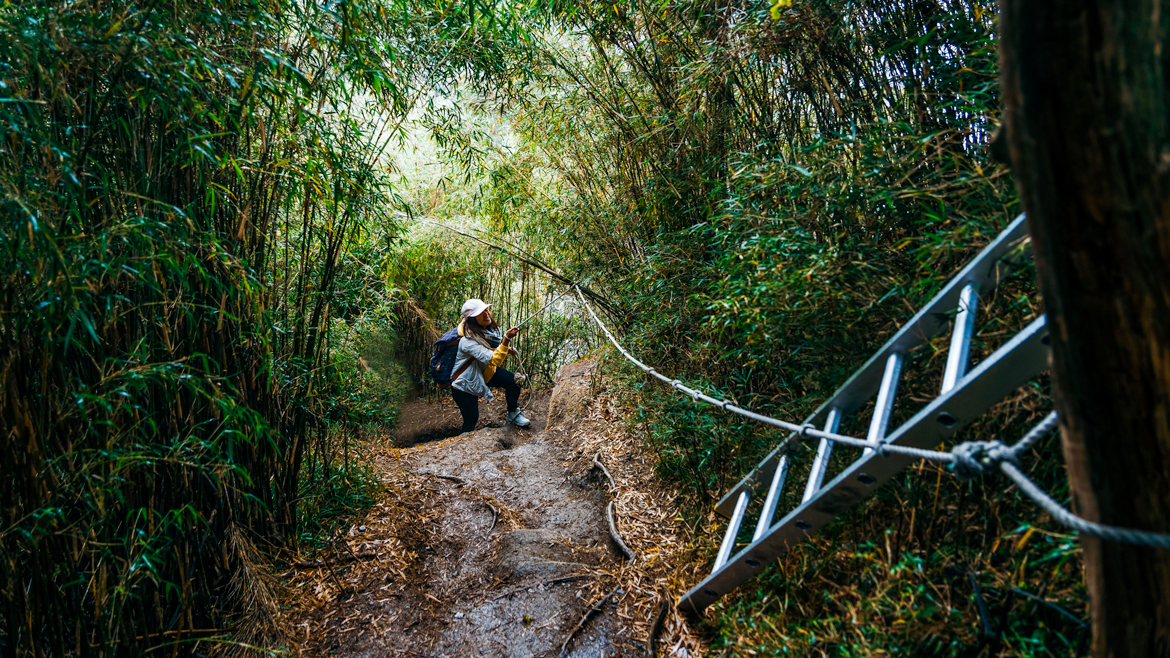 The final forest section is rugged, requiring short, steep ascents via wooden ladders and holding on to thick knotted ropes while looking for exposed-root footholds. Then, immediately after your last ascent, you pop out into an open-vista world of Yushan cane covering a flattish section of eroded mountainside that resembles undulating waves, the top of Xiaoqilai just a few score meters above you on the right, razor-edge Mt. Qilai laid out in all its glory directly before you. The end of the Xiaoqilai Trail is the beginning of the supremely more challenging Qilai Ridge trail system.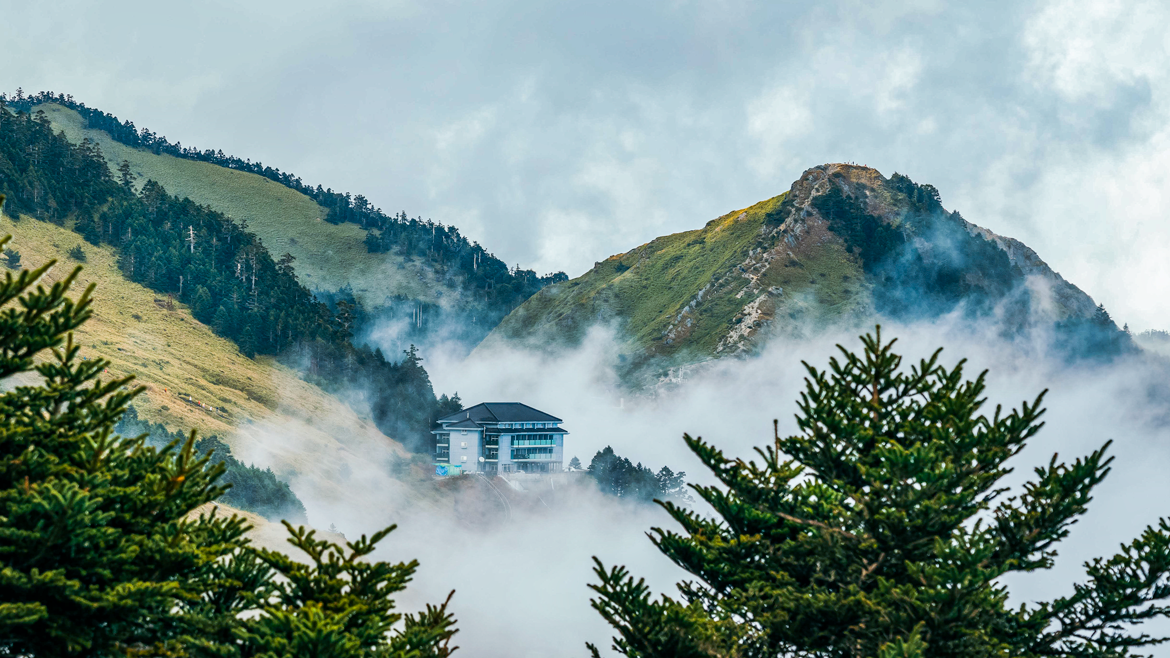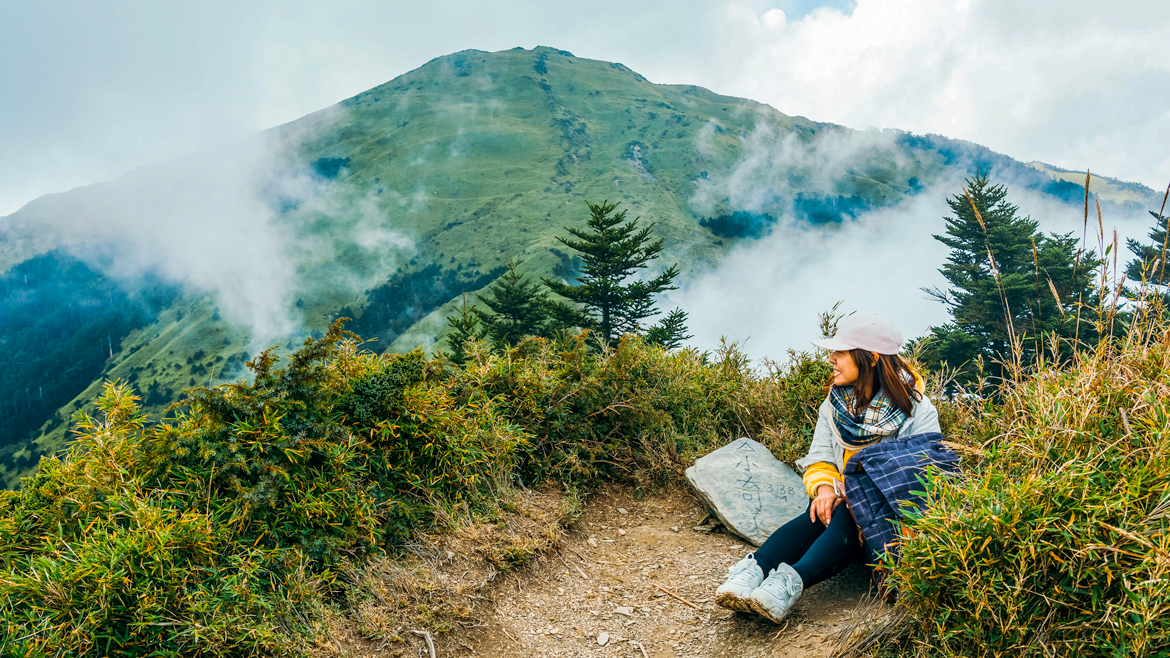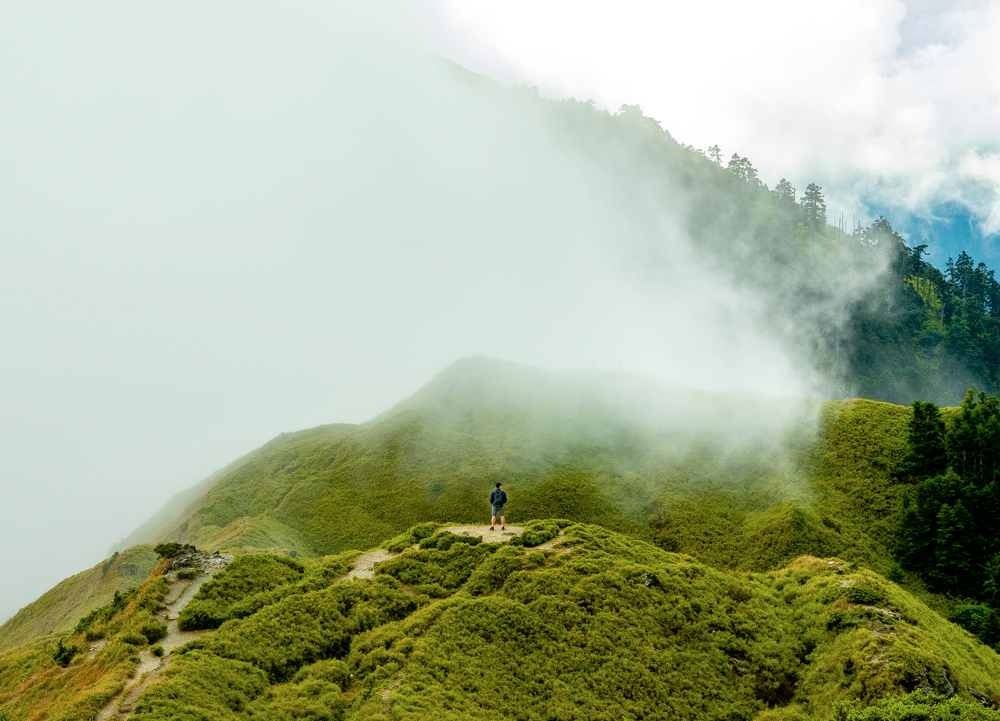 International Dark Sky Park
Hehuanshan is among Taiwan's best and easily accessible locations to watch the sparkling night sky. Just last year the International Dark-Sky Association (IDA) declared the mountain Taiwan's first International Dark Sky Park, joining only two others in Asia, in South Korea and Japan. The Hehuan Mountain Dark Sky Park honor was bestowed after concerted effort by the Taiwan Dark Sky Protection Alliance, Nantou County Government, and Taroko National Park and Forestry Bureau administrations to minimize area light pollution and meet IDA requisites. Special pre-dawn stargazing bus tours are available from Qingjing (visit www.travelbus.tw).
Afternoon Tea, Anyone?
Qingjing has been dubbed "Foggy Eden," and its ambience has also given rise to another moniker that has taken deeper hold with the general public, "Little Switzerland." As you approach the mountaintop-hugging enclave from the lowlands you'll notice that the architecture, with the multistory homestays/inns prominent, has a distinctive European-manor flavor.
The Old England
This movement was kickstarted with the building, and instant island-wide renown, of a large inn called The Old England in 2009. In the years since then, the enjoyment of afternoon tea has become a Taiwan fad, and The Old England and other Qingjing establishments add sublime "up-in-the-heavens" tableaux to the experience.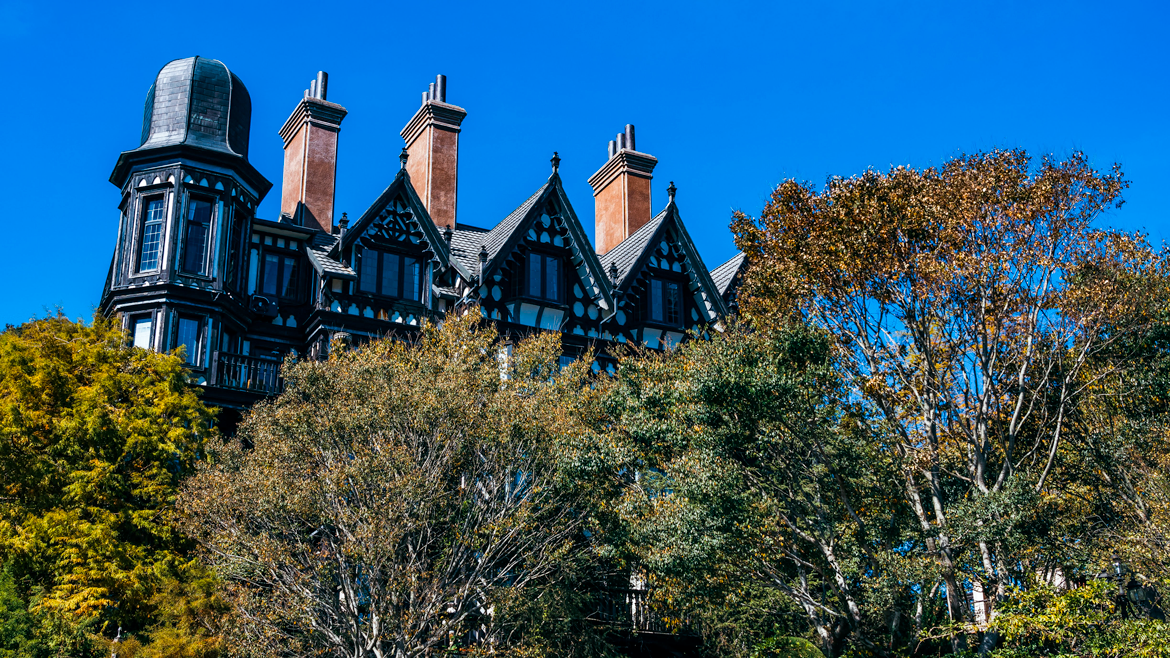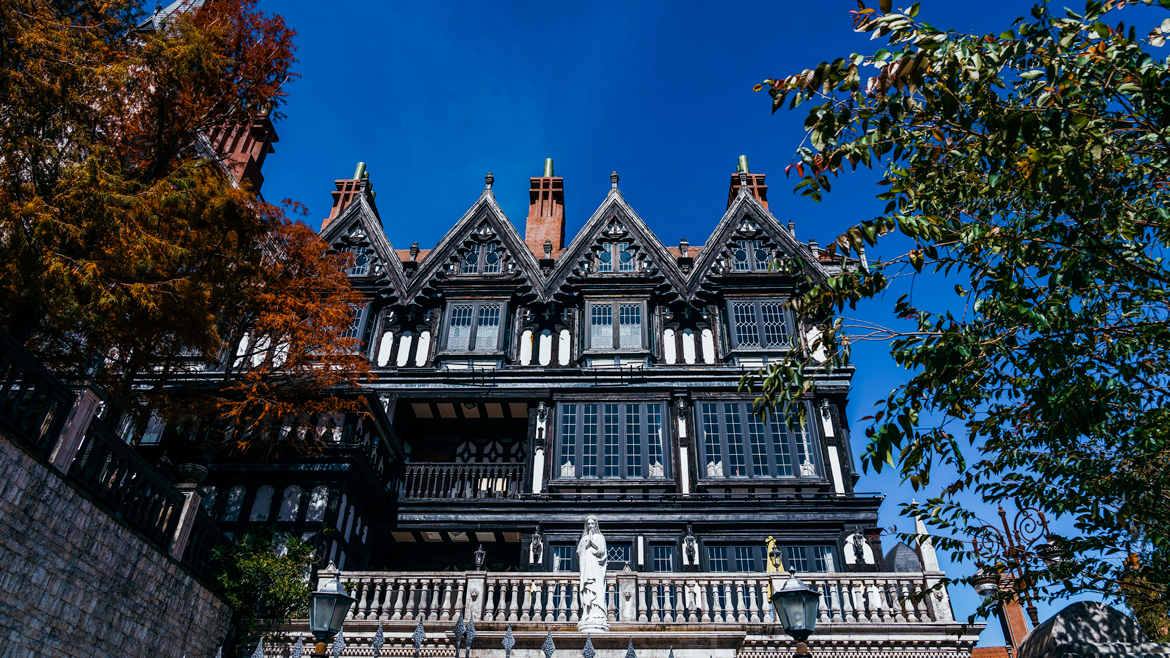 The impressive Tudor manor-style complex is the realized dream of a Taiwan flatlander who fell in love with old English-style architecture while resident in the small anglophile Canadian city of Victoria. At the same time harboring a love for Qingjing's transcendental surroundings, he wanted to encourage a more genteel demeanor for the community, which to that point was dominated by accommodations and eateries of a more rustic nature.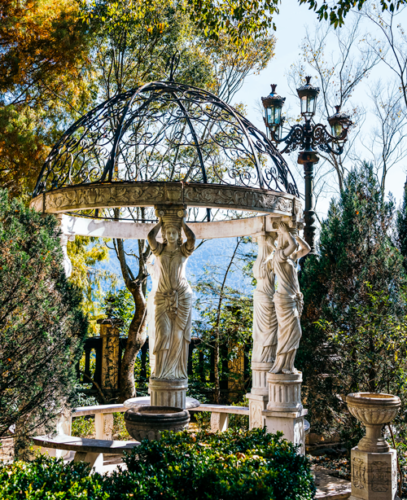 The Old England introduced the afternoon tea tradition to Qingjing, and its service remains the most popular. Served 11:30am~4pm (NT$500 per serving) in its plush chandeliered restaurant, its English-style tea features Earl Grey Tea and a merry-go-round of delicacies, created by a dessert master, served on a three-tiered tray. Changed seasonally, the treats go from savory at bottom to sweet at top, ranging from (on this Travel in Taiwan trip) a schweinshaxe mini-kebab and bacon scallion Danish pastry to a canelé and macaron.
The Old England (老英格蘭)
Add: No. 20-3, Shouting Lane, Datong Village, Ren'ai Township, Nantou County
(南投縣仁愛鄉大同村壽亭巷20-3號)
Tel: (049) 280-2166
Website: theoldengland.com
Impression Nordic Manor Club
While The Old England faces the mighty Qilai Ridge to the east, the Impression Nordic Manor Club faces southwest toward the indigenous village of Wushe, the deep Wushe Reservoir below, and the mountain-basin town of Puli far beyond, back down along the river-valley route that brought you up from the western plains. The façade of this inn is modernistic with Tudor-style flourishes; inside and on the large outdoor deck with infinity pool, the lines are Scandinavian-clean. While The Old England immerses you in sumptuous, quiet-inspiring Victorian-style trappings, the Impression Nordic has a congenial party atmosphere – captured in the use of "club" in the name – with a putting-green facility, a slide hill, and a large gym joining the deck/infinity pool.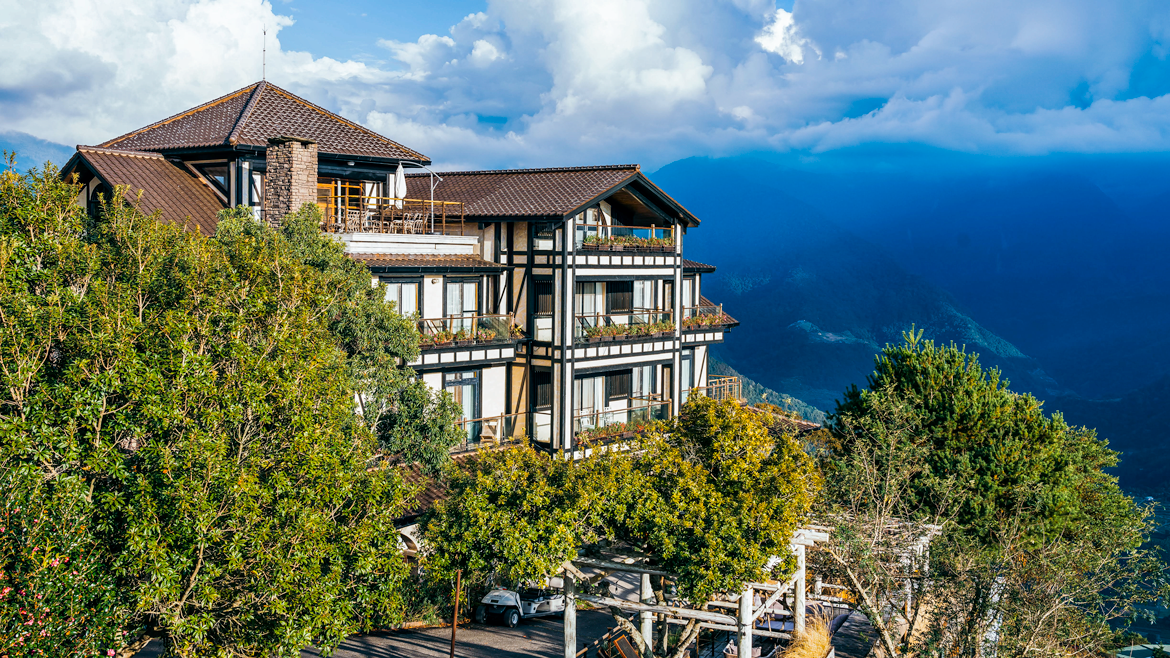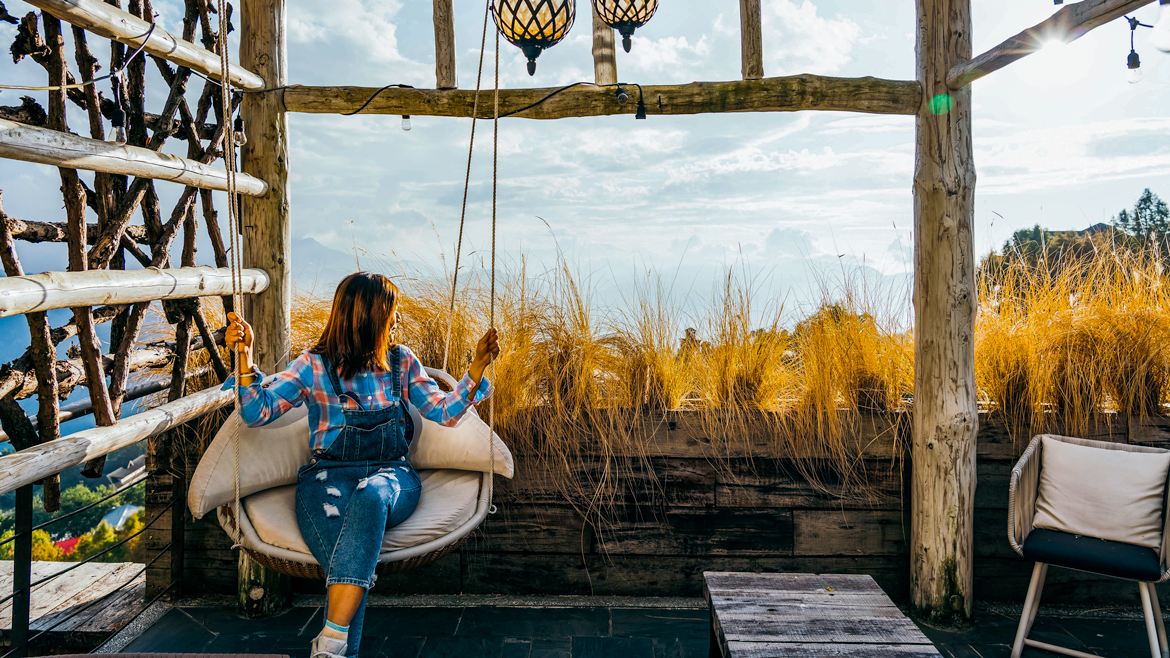 The bright, sunny first-floor restaurant looks out directly over the deck/pool area. Afternoon tea, which features a full buffet set-up, is served 3~5pm (NT$900 per person). The panoply of delectables includes tangerine smoked duck mini-toast, smoked salmon rolls, yogurt shrimp mini-toast, spaghetti marinara (and alfredo), ham and cheese finger sandwiches, European-style cookies, fresh fruit and juices, and numerous other selections. And as at The Old England, fresh-brew premium coffee is available. As well, imported wine and whisky are displayed in chiller buckets on the buffet bar for diners' gratis enjoyment. This generous "party club" spirit is also in evidence in the evening, when gratis wines and spirits are made available to guests in the deck/pool area.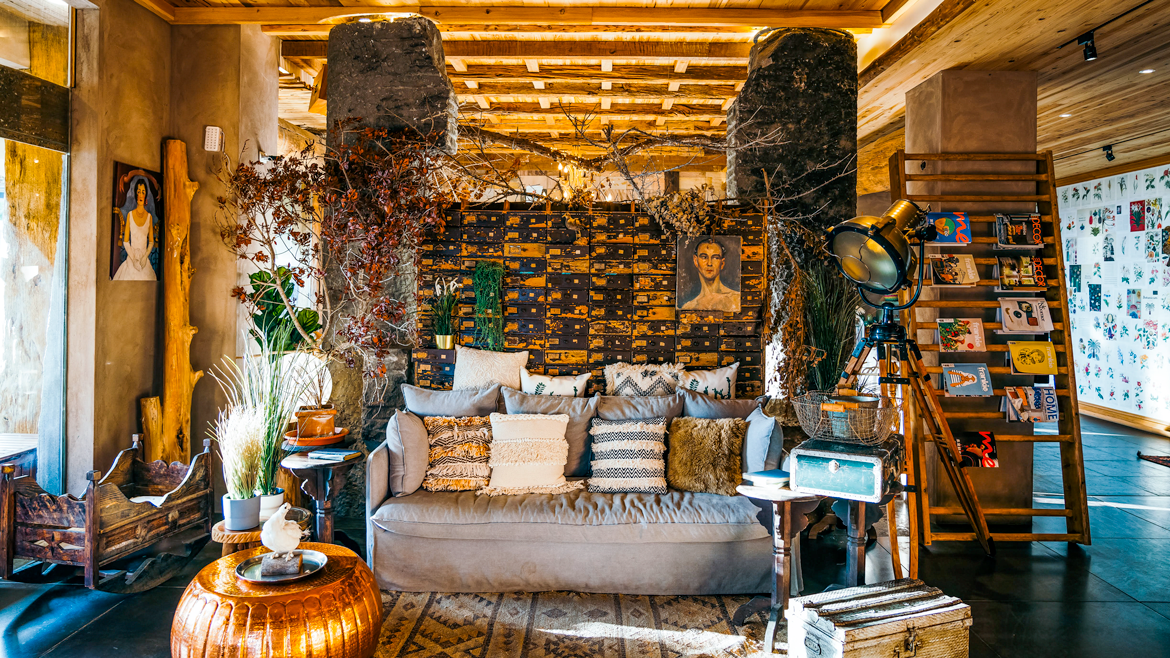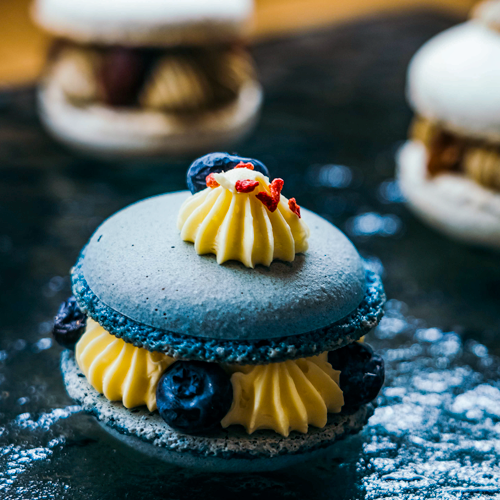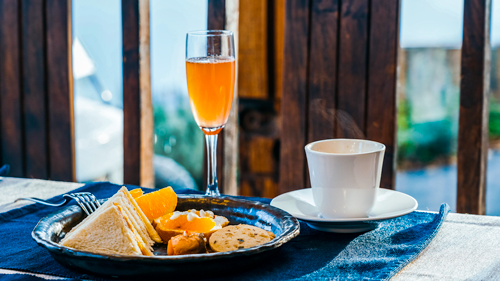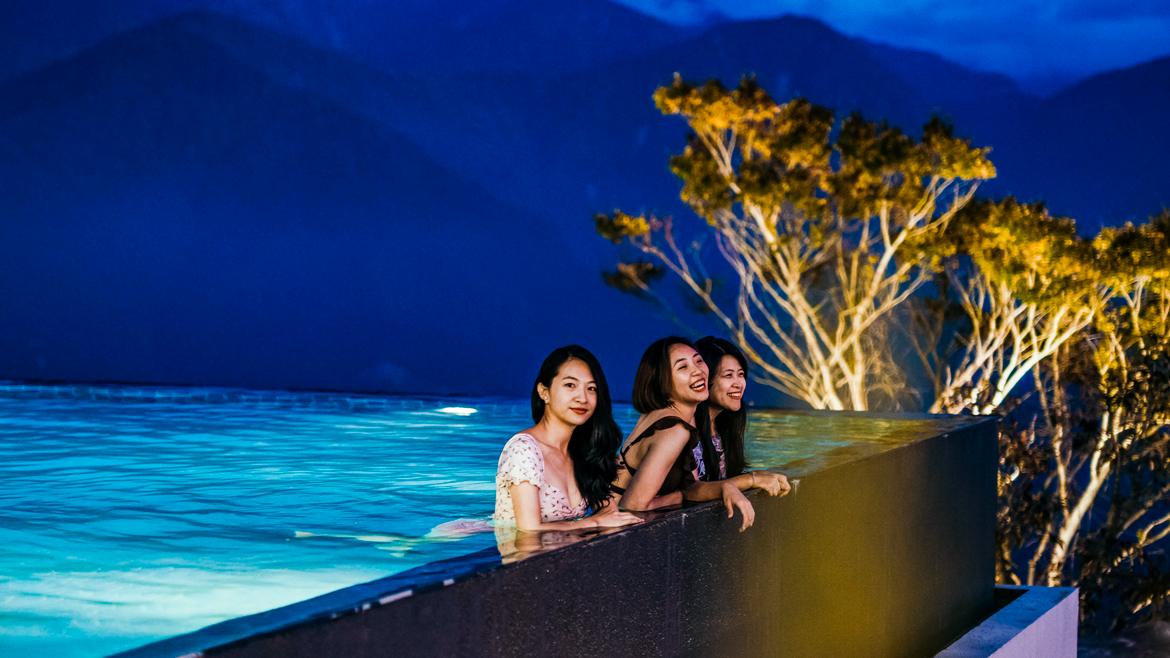 Impression Nordic Manor Club (印象北歐)
Add: No. 9-9, Rongguang Lane, Datong Village, Ren'ai Township, Nantou County
(南投縣仁愛鄉大同村榮光巷9-9號)
Tel: (049) 280-3982
Website: impression-nordic.com.tw
Note: Reservations are advised at both inns for afternoon tea on weekends/holidays.
A Bonus Recommendation Duo
Travel in Taiwan research teams never overnight or eat at the same establishment twice, to maximize our sample base. Adding to those places already mentioned above, here are two bonus recommendations that extra-tickled our team's collective fancy on the trip for this article.
Le Retour Du Printemps Villa
Le Retour Du Printemps Villa, located down the mountainside from the Impression Nordic, is more in the traditional Qingjing "homestay" style. Rooms are clean, large, and spartan, and amenities limited. There is no restaurant; a Chinese-style breakfast (congee, baozi, etc.) is served in the lobby area, where there is a TV/living room corner that owner-family members also use. The young building's shape and façade echo Qingjing's English-manor theme in highly simplified form, and guests love the unusually large outdoor deck directly before it, with a footprint almost as large as the building itself, decked out with such inviting amenities as a rest canopied couch nook and a canopied outdoor bed, perfect for big-view mountain and starlight viewing.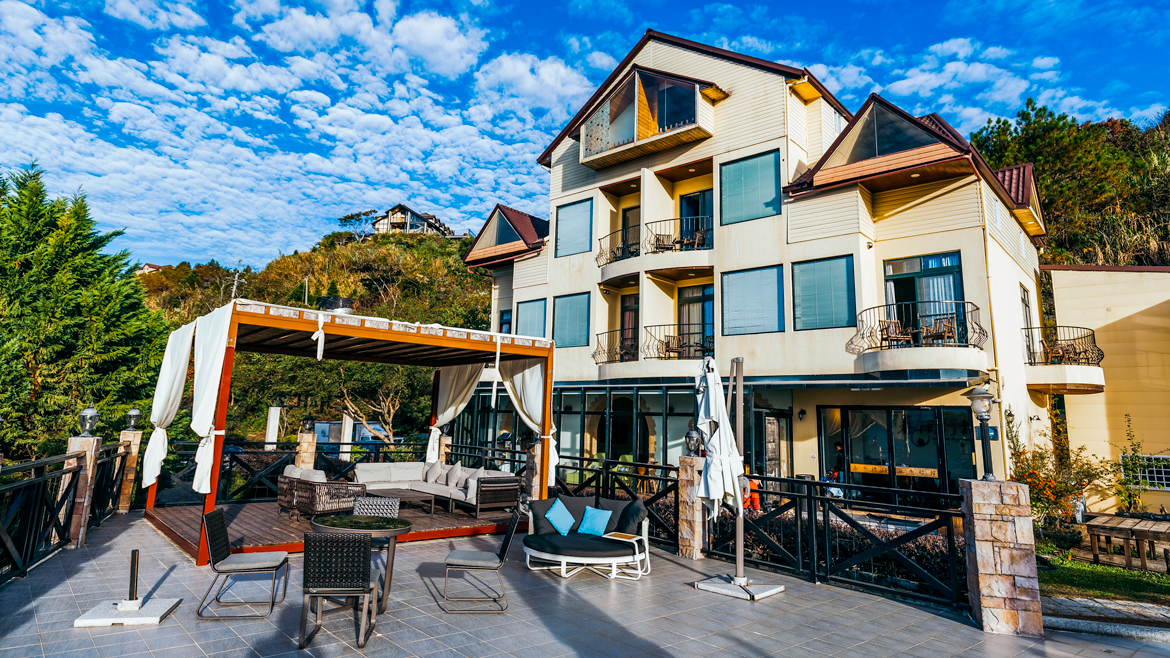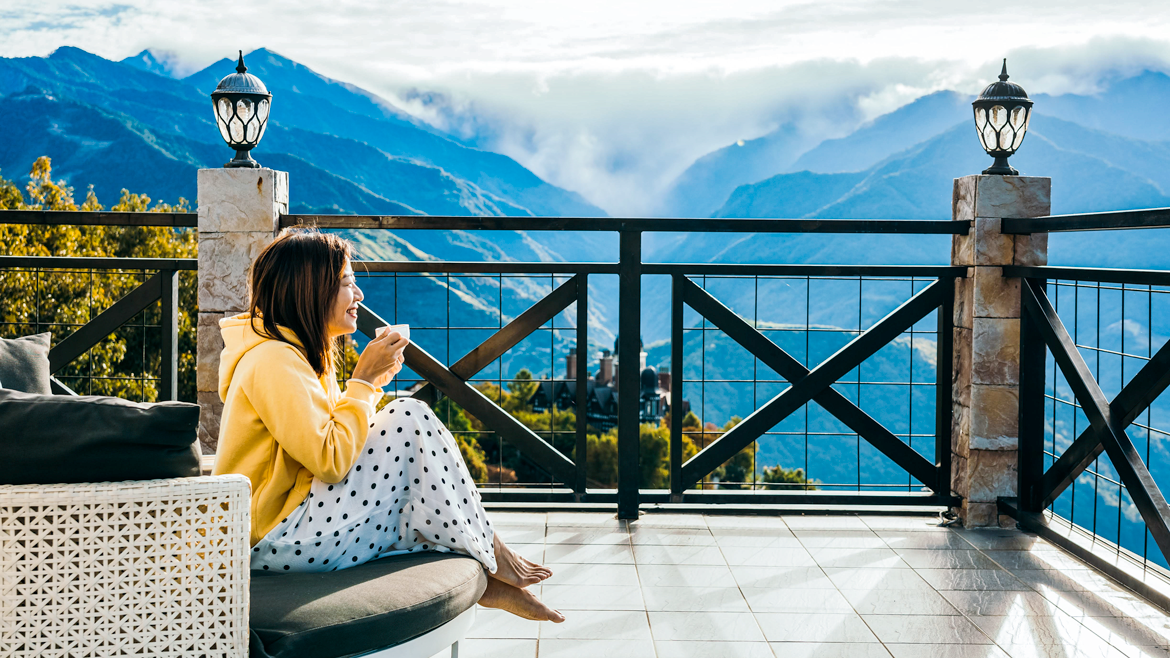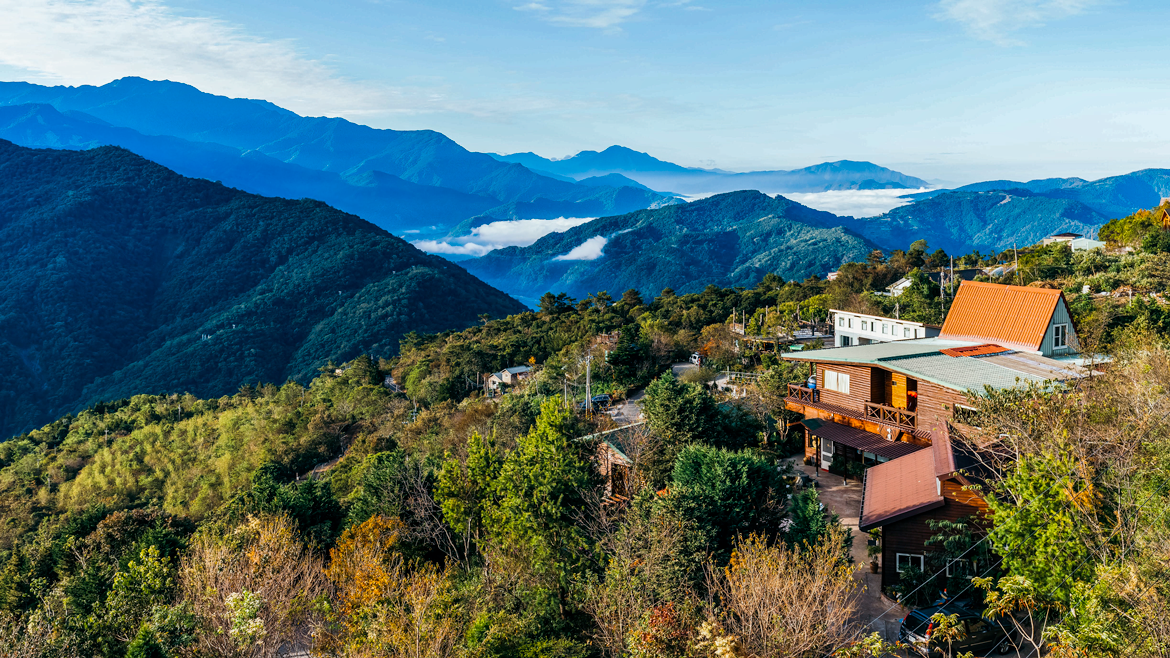 Le Retour Du Printemps Villa (春雨行館)
Add: No. 46-2, Rongguang Lane, Datong Village, Ren'ai Township, Nantou County
(南投縣仁愛鄉大同村榮光巷46-2號)
Tel: (049) 280-3789
Website: lrdp.com.tw
Chicken King
Chicken King, which serves inexpensive, hearty country-style fare, is a more traditional Taiwanese banquet-hall-style restaurant that extends out on a platform over a Qilai Ridge-facing high slope. Its signature dish is whole charcoal-roast range chicken. Our most liked among its many others were the medicinal pork-rib soup and spicy pickled cabbage.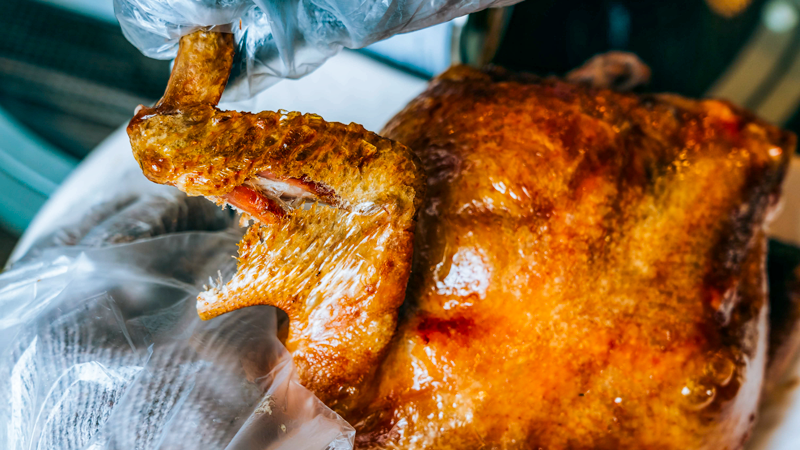 Chicken King (雞大王)
Add: No. 224, Renhe Rd., Datong Village, Ren'ai Township, Nantou County
(南投縣仁愛鄉大同村仁和路224號)
Tel: (049) 280-2688
Website: www.chickenking.tw (Chinese)
Practical Information
If self-driving, Qingjing is about 3.5hrs from Taipei, 1.5hrs from central Taichung. A 2~3-day trip is recommended to properly enjoy what Qingjing/Hehuanshan have to offer, the 2-day option more realistic if flatlands Taichung is your base.
If using public transportation, from Taipei the E-Go tourist-bus company (e-go.com.tw; Chinese) has daily departures from Taipei Railway Station to Qingjing. From there, choose from their tour-bus outings around Qingjing Farm and to Hehuanshan and other area spots. Also check out the Chingjing-Hehuan Sightseeing Commentary Limousine service (travelbus.com.tw; Chinese), which operates sunrise, sunset, and starlight-viewing Hehuanshan outings operating bright-red imported European sightseeing buses that resemble streetcars.
From Taichung, take Nantou Bus (www.ntbus.com.tw; Chinese) bus no. 6670 from the Taichung regular-rail or high-speed rail station to the major foothills town of Puli, then transfer to Nantou Bus no. 6659, 6658, or 6664 to Qingjing Farm. A direct bus from flatlands to Hehuanshan is also available; Fengyuan Bus (fybus.com.tw; Chinese) bus no. 6506 runs once a day between Fengyuan Railway Station in Fengyuan District (northeast of central Taichung) and the fruit-growing alpine town of Lishan, crossing the Wuling Pass along the way.
Another bus-travel option is the Taiwan Tour Bus (taiwantourbus.com.tw) service, vetted by the Taiwan Tourism Bureau.

Also read:
QINGJING FARM & MT. HEHUAN — High Mountains, Great Views
Scenic Attractions in Central Taiwan's NANTOU County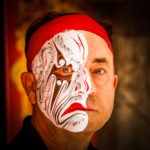 A Canadian, Rick has been resident in Taiwan almost continually since 1988. His book, article, and other writings, on Asian and North American destinations and subjects—encompassing travel, culture, history, business/economics—have been published widely overseas and in Taiwan. He has worked with National Geographic, Michelin, APA Insight Guides, and other Western groups internationally, and with many local publishers and central/city/county government bodies in Taiwan. Rick also handles a wide range of editorial and translation (from Mandarin Chinese) projects.