Snack-Food Heaven
TEXT / OWAIN MCKIMM, VISION
PHOTOS / MAGGIE SONG, VISION

Taiwan is well known for the phenomenal foods served in its many fine upscale restaurants. It's the simple street fare found in Taiwan night markets, however, that attracts myriad visitors in search of gastronomic revelations. For many, the first culinary port of call is Shilin Night Market in Taipei.
If New York is the city that never sleeps, Taiwan is surely the island that never sleeps. By the time people in other countries would be winding down after dinner, or even preparing for bed, the Taiwanese are just getting ready to eat their late-evening meals, in Chinese known as xiaoye.
In a culture where office workers often do overtime until late at night, and students study until well past nine in cram schools, it's no wonder that, for many, dinnertime has migrated from the customary early evening to nearer the witching hour.
The places that draw the majority of these ravenous night owls are the island's many night markets. Often crowded, crackling with energy, and reverberating with chatter, Taiwan's night markets come in all shapes and sizes. Some, like the trendy Shida Night Market, are known as much for their fashionable boutiques opened by hip young entrepreneurs as they are for their late-night snacks; others, like the long-established Huaxi Street Night Market, also known as Snake Alley after the prize ingredient in some of the dishes served there, have the reputation of being especially exotic; while still others, like Miaokou Night Market in Keelung, which largely dismisses the selling of clothes and trinkets in favor of stall upon stall of top-notch grub, are a gastronomist's paradise.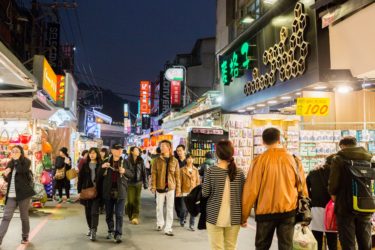 As varied as the food selections at each night market may be, there are of course some constants. Stinky tofu – a pungent Taiwan signature dish – is certainly one of them, proudly announcing its presence to any passerby with its "distinctive" odor. Other dishes such as crispy-fried chicken cutlets, small-sausage-in-large-sausage (Taiwanese pork sausage wrapped in a larger sticky-rice sausage), oyster omelets, various meats on a stick, barbecued squid, glazed strawberries and other fruits, shaved ice, and pearl milk tea have all become known and loved as staple night-market fare, without which a night market would not be a "real" night market.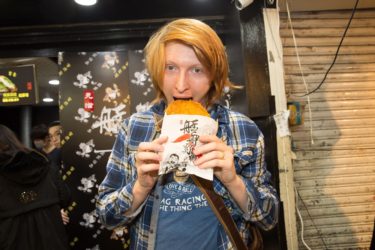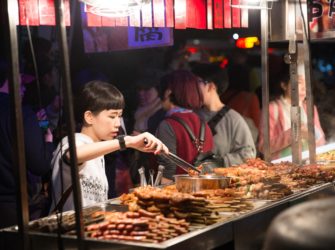 Such snacks are known in Taiwan as xiaochi ("little eats") – the general idea being that you spend the evening wandering the market sampling these innocuous-looking tidbits until you suddenly find yourself full-to-bursting. All are cheap (usually NT$30~70 per serving), and you'll certainly be full before you spend more than NT$300.
With so many night markets to choose from (there are well over twenty in Taipei alone), which one should you visit? Undoubtedly the daddy of all night markets is Shilin Night Market, in northern Taipei. Around for well over a century, this is the night market that every visitor to the city has to visit, at least once, containing as it does more good eating (and good shopping) than you can shake your meat-on-a-stick at.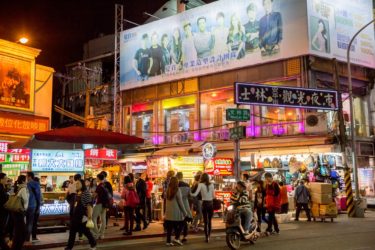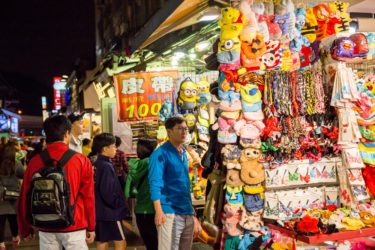 Shilin Night Market
On a recent visit to Shilin District, primed and ready with elastic waistbands, we sampled some classics as well as some newer additions to the night-market scene.
Serving both as a pre-dinner whistle-wetter and a chewy appetizer is Taiwan's de-facto national night-market beverage, pearl milk tea. The strange, contrasting dynamic between the sweet milk tea and the chewy tapioca "pearls" (which you suck up through a thick straw) is something of an acquired taste, but once you're hooked, you're hooked.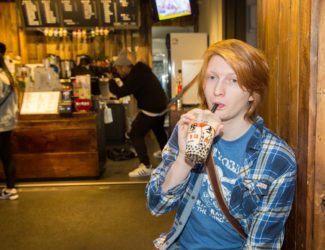 We get our tea from Zhen Zhu Dan – a well-respected tea-vendor on Dabei Road, to the north of the night market's main area. The shop specializes in using brown sugar – a type of unrefined sugar high in molasses, common in Asian cuisine. The tapioca-starch balls that hunker down at the bottom of the cup are cooked up fresh every day and steeped before serving in a thick, sweet brown-sugar syrup. The shop also exclusively uses fresh milk from Tainan in southern Taiwan, as opposed to the powdered milk or creamers that are used by most vendors, giving the tea a richer, mouth-coating creaminess that makes for a truly "moreish" beverage.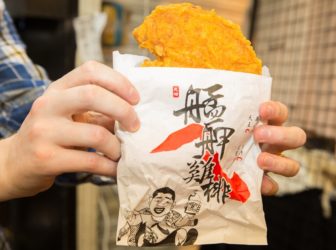 After the sweetness of the tea, we need something savory to balance the palate, so it's off to get another night-market classic, the zha jipai – or fried-chicken cutlet – at "Monga Jipai." The sign above the shop displays an image of a typical taike – a term that describes the betel-nut-chewing, blue-flip-flop-wearing, Taiwan Beer-swilling gentleman that one might find strutting the streets of Monga (or Manka, or Banka – the old district of Taipei where Huaxi Street Night Market is located). The implication, of course, is that zha jipai is a no-frills, no-nonsense foodstuff, something to sate at least one of your many manly appetites.
Though not a huge fan of jipai – I sometimes find them a little thin and dry – Monga Jipai's cutlet is a real surprise. The meat is juicy and plump, the cutlets sliced at least 2cm thick and marinated in honey and soy sauce – which not only gives the meat flavor but also keeps it tender – and fried twice, once on a low heat and once on a high heat, to lock in the moisture. The batter is a bombastic barrage of spices that gives my taste buds a right good kicking. Very satisfying indeed.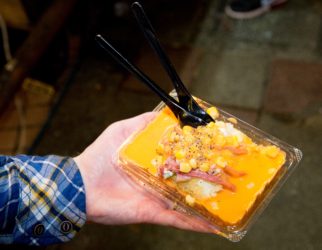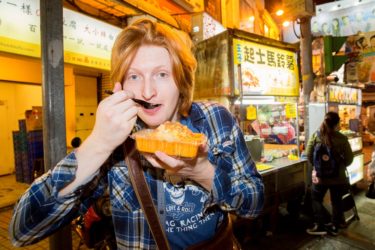 The next dish we try is a contentious one: Taiwanese-style baked potato. Though you can get quite delicious genuine baked potatoes in many of Taiwan's night markets, the variation on offer at Shilin's Prince Cheese Potatoes is a bizarre replica of the real thing, made of mashed potato fashioned into a ball, covered in flour, and then deep-fried. There are many toppings to choose from, though the particularly adventurous might be tempted to go for the Club & Cheese, an unholy mix of all the toppings presenting you with a crispy-skinned ovoid of mashed potato submerged in cheese sauce and topped with broccoli, bacon, boiled egg, pineapple, ham, tuna, and sweetcorn. Interesting? Certainly. Delicious? Not so sure, though it is difficult to be too harsh about these local takes on Western dishes. After all, one can only imagine what the mortified residents of Frankfurt must have thought when they first saw their beloved sausage slapped in a bun and drowned under mustard, ketchup, relish, onions, and/or cheese. So who knows – it may be a classic in the making.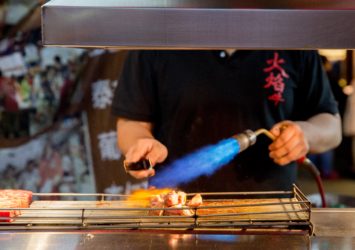 We finish off our evening meal with some flame-grilled beef cubes, a rather recent addition to Taiwan's night-market scene, appearing only in the last couple of years or so. Put simply, they're succulent cubes of beef steak cooked over a grill and occasionally blasted with a blowtorch to give them some extra caramelization. On the chef's recommendation, we choose rose rock salt as our seasoning – an option that gives a subtle mineral quality to the meat – though other seasonings such as Italian spices, Xinjiang cumin, and Japanese teriyaki are also available. All in all, it's the perfect final course, juicy and tender (the cubes are cooked to about medium), and the fat – oh the fat! – it melts in the mouth like butter.
Waistbands stretched to breaking point, we wave our white flag, knowing, regretfully, that we have only sampled a tiny fraction of what Shilin has to offer.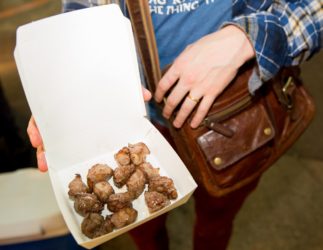 Getting Three
Take the MRT Tamsui-Xinyi Line to Jiantan Station, leave the station via Exit 1, and just follow the crowds for immediate arrival.
Miaokou Night Market in Keelung
Miaokou Night Market, in the northern port city of Keelung, is possibly the most food-focused of Taiwan's night markets (don't expect any frivolities such as fairground-style games or cheap clothes here). Situated near the harbor, the market offers a cornucopia of seafood as well as the traditional night-market nosh. In addition, it's located within quick walking distance of Keelung Railway Station, making it a wonderful place to spend an evening after a day of taking in the sights elsewhere in Taiwan's north or northeast coast. It's also one of the best-organized markets around – each vendor's stall is numbered, and its purveyed dish(es) are written in both English and Chinese on the stainless-steel plate above. Be prepared to loosen your belt.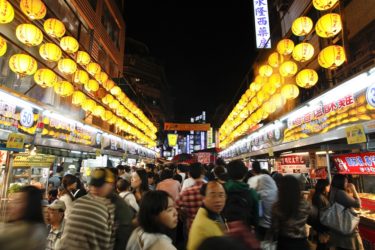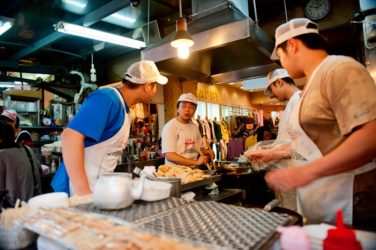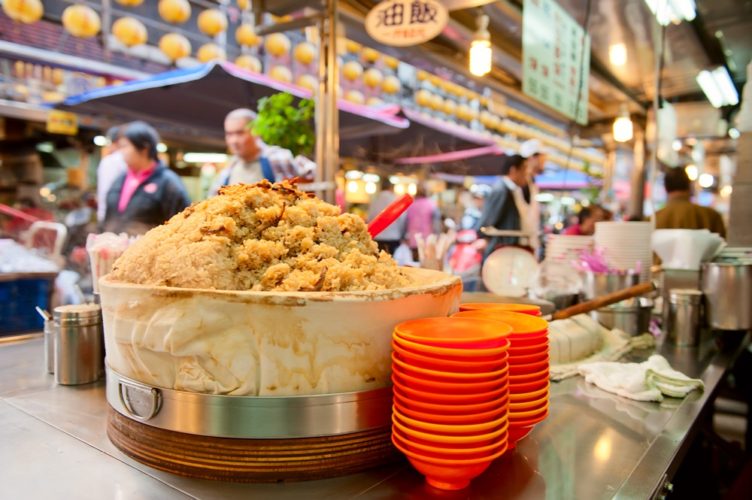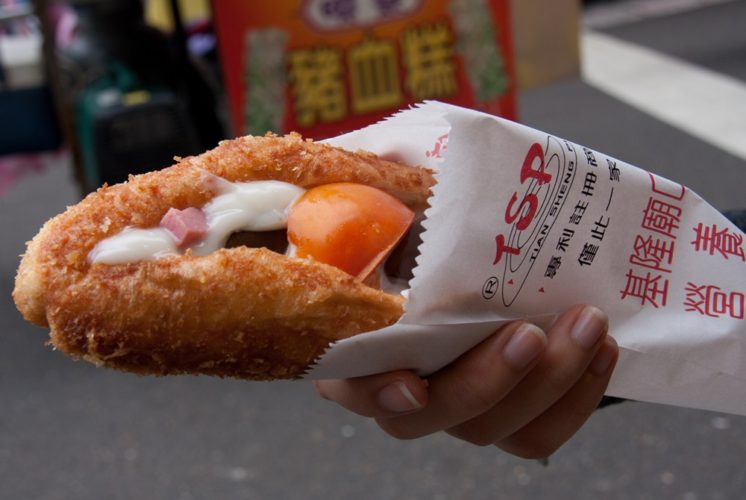 Getting There
Trains to Keelung leave regularly from Taipei. The night market begins on the intersection of Ren 3rd Road and Ai 4th Road, and is marked by three rows of yellow lanterns.
Ruifeng Night Market in Kaohsiung
A more grassroots night-market experience can be found at Ruifeng Night Market in the southern city of Kaohsiung. Far less flashy than the night markets in the capital, the whole place, set up on a vacant lot under rows of green awnings, has something of a fairground feel to it. This carnival-esque atmosphere is further heightened by the many mini games that can be found here (and indeed, you'll find that the further south you go, the more the line between market and funfair is blurred). Ruifeng's offerings are simple: cheap food, cheap clothes, and games galore; a splendid time is guaranteed for all! Note: The market is closed on Mondays and Wednesdays.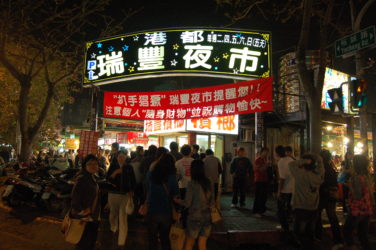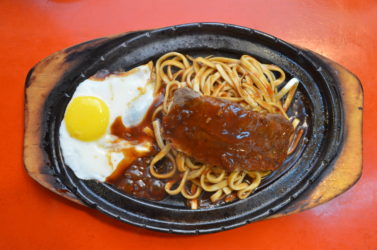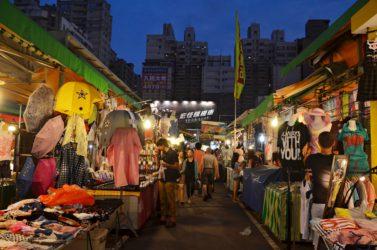 Getting There
Ruifeng Night Market is a short walk from MRT Kaohsiung Arena Station on the Red Line. Leave the station by Exit 1 and walk straight for about 300 meters.
Hualien City
Dongdamen Night Market
東大門夜市
This is Hualien City's largest night market. Its floor was laid using local black and white granite, giving it a distinct local flavor. There are over 400 stalls, providing everything from food to to games. Street artists can be seen as well in this bustling market. Some of the snacks are so popular that you have to wait in line, including roast chicken, ice made with local seasonal fruit, rolls with sausage and salty pork filling, as well as freshly roasted clams flavored with Taiwan mountain litsea. Locals and visitors alike flock to Dongdamen Night Market to taste its myriad snacks and experience its bustling atmosphere.
Location: Zhongshan Rd., Hualien City
(花蓮市中山路)
Further reading on other sites
10 BRILLIANT THINGS TO DO IN TAIPEI ALONE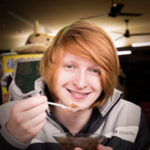 Owain McKimm is a freelance writer who has been living in Taiwan since 2009 and has written about everything from Taiwanese foot massages to flower cuisine.
E-mail: owain [dot] mckimm [at] googlemail [dot] com