The Old Capital of Taiwan
TEXT & PHOTOS / VISION
Located on the Jianan Plain in southwestern Taiwan, Tainan was the island's first city. The tradition, history, and deep-rooted culture found along the lanes and alleys of this proud old city give it a unique charm. Below, we present some of Tainan City's most famous historic sites and old-time tastes to help you in planning a one-day trip of pleasant eating, drinking, and other fun, ensuring you have a great time in Taiwan's former capital.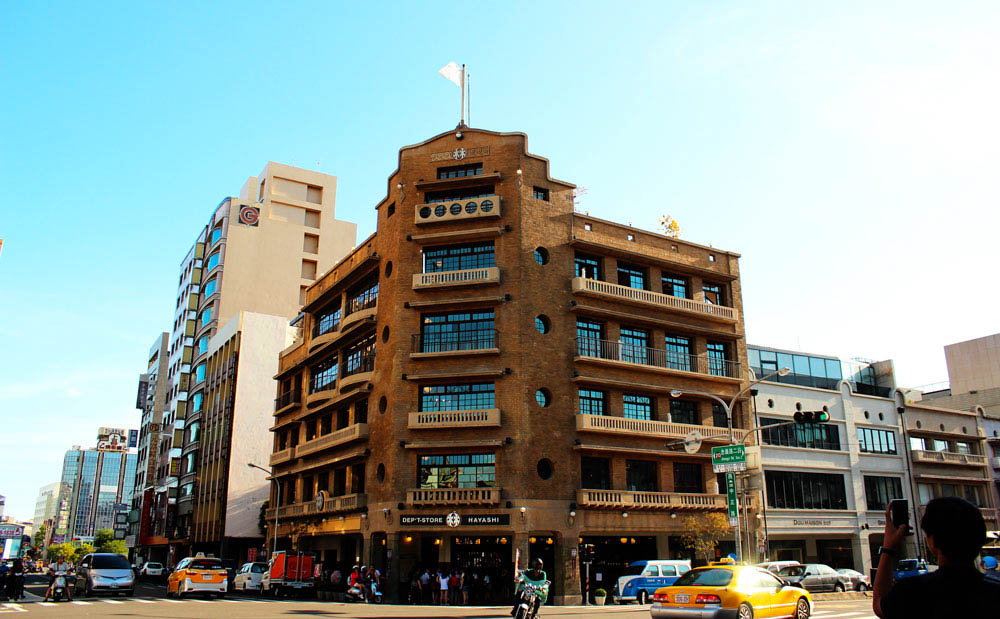 Hayashi Department Store
Established by a Japanese merchant surnamed Hayashi in 1932, this is the oldest surviving department store in Taiwan. It also was the first to have an elevator. The design theme of the department store today is "Tainan Life," each floor taking the charm of Tainan as its inspiration and giving visitors a feeling of life and culture in the city more than 80 years ago.
Add: No. 63, Sec. 2, Zhongyi Rd., Zhongxi Dist., Tainan City
(台南市中西區忠義路二段63號)
Tel: (06) 221-3000
Hours: 11am ~ 10pm
Website: www.hayashi.com.tw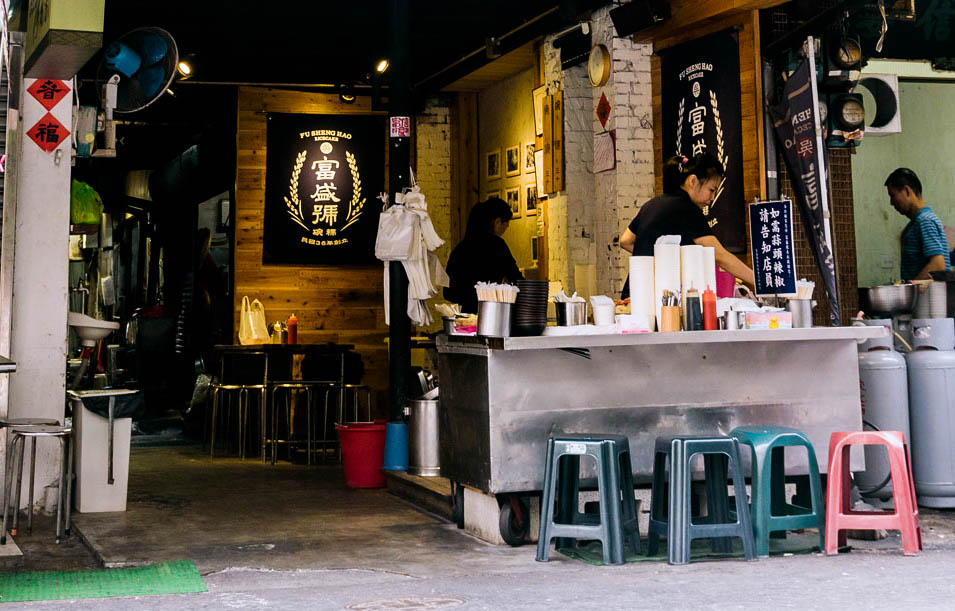 Fusheng Savory Rice Pudding Restaurant
Wa gui (Taiwanese pronunciation), a savory rice pudding, is a true-blue authentic food of the common people in Taiwan. In the agricultural society of the past, it was often eaten as a between-meals snack by hungry workers. Wa gui is pleasantly chewy and, when cut open, reveals a hearty filling of shiitake mushroom, shrimp, soy-braised pork, and egg yolk. This hot snack is usually eaten with thick fish soup.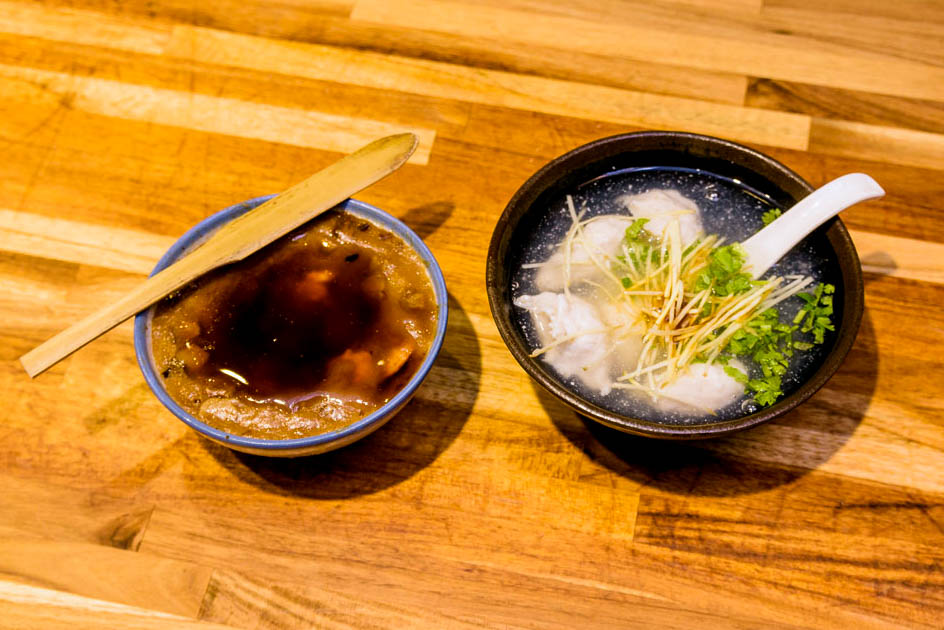 Add: No. 8, Ln. 333, Sec. 2, Ximen Rd., Zhongxi Dist., Tainan City
(台南市中西區西門路2段333巷8號)
Tel: (06) 227-4101
Hours: 7am ~ 5pm (closed on Thursday)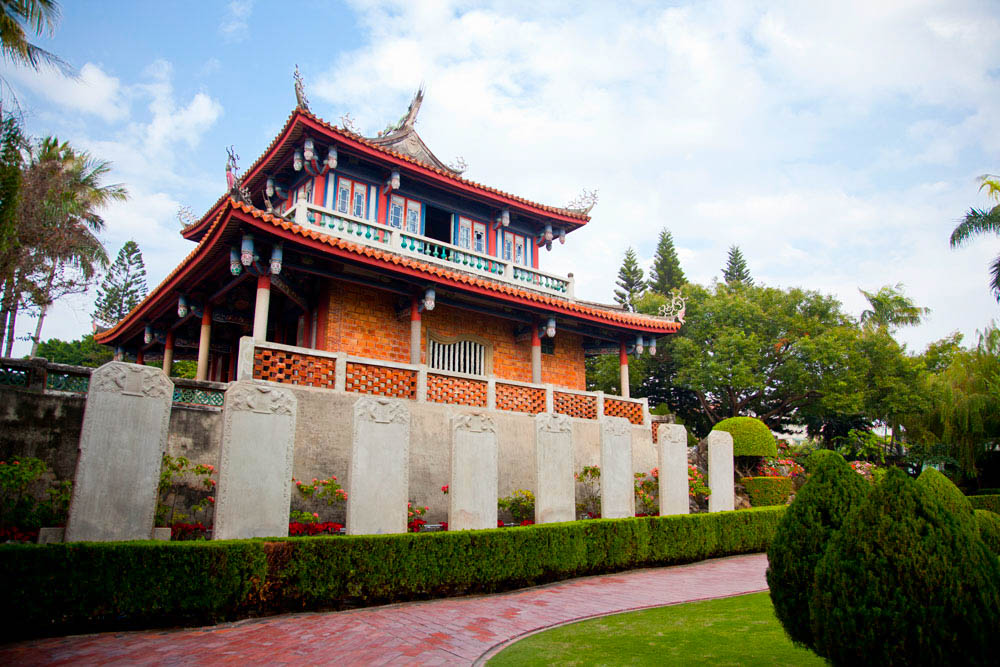 Chikan Tower
The Chinese imperial-style towers on this site were built over the ruins of a fort constructed by the Dutch in 1652, Fort Provintia. In the 350-plus years since the fort was built – it was destroyed in an earthquake in the 19th century – this has always been an iconic Tainan location. In front of the tower you can see nine stone turtles, imperial steles on their backs, which were originally located beside the city's Great South Gate. They were presented by Emperor Qianlong in 1788 in recognition of the meritorious service of imperial officials involved in the suppression of the great Lin Shuang-wen rebellion.
Add: No. 212, Sec. 2, Minzu Rd., Zhongxi Dist., Tainan City
(臺南市中西區民族路二段212號)
Tel: (06) 220-5647
Hours: Sun. ~ Fri. 8:30am ~ 5:30pm (Sat. until 9:30pm)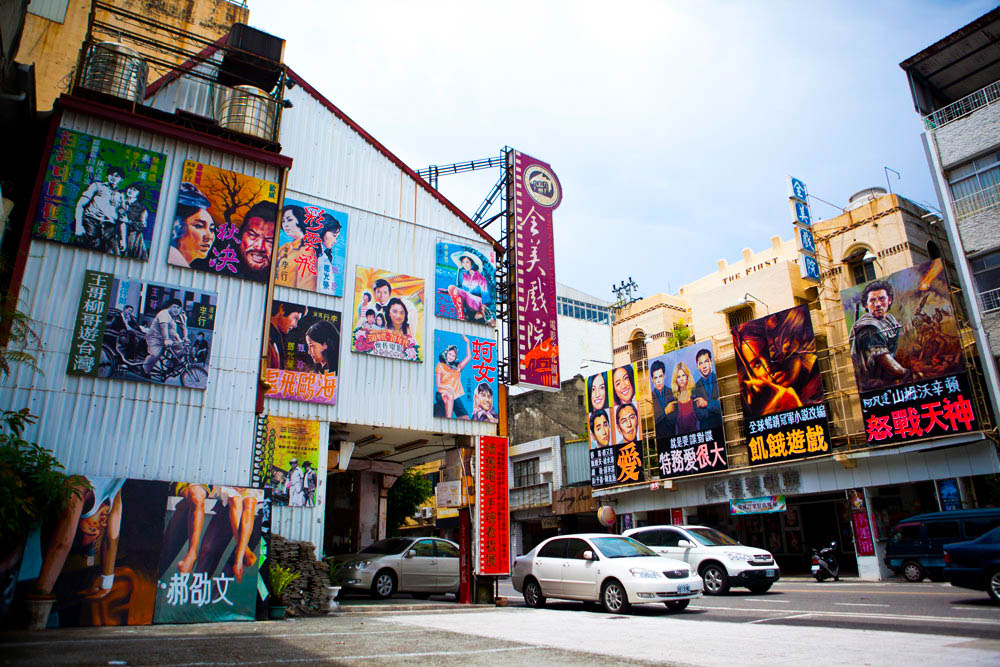 Chin Men Theater
The Chin Men* Theater was opened for business in 1950. Apart from the architecture of the 60-year-old Baroque-style building, the theater's most striking features are the old-style hand-painted movie billboards that are still used, the nostalgia-inducing concession stand, and the old-time tickets. Internationally acclaimed film director Ang Lee once said, "I grew up watching films at the Chin Men Theater." This heritage attraction is an intrinsic part of the collective memory of the people of Tainan.
(*correct Hanyu Pinyin romanization of the name would be "Quan Mei")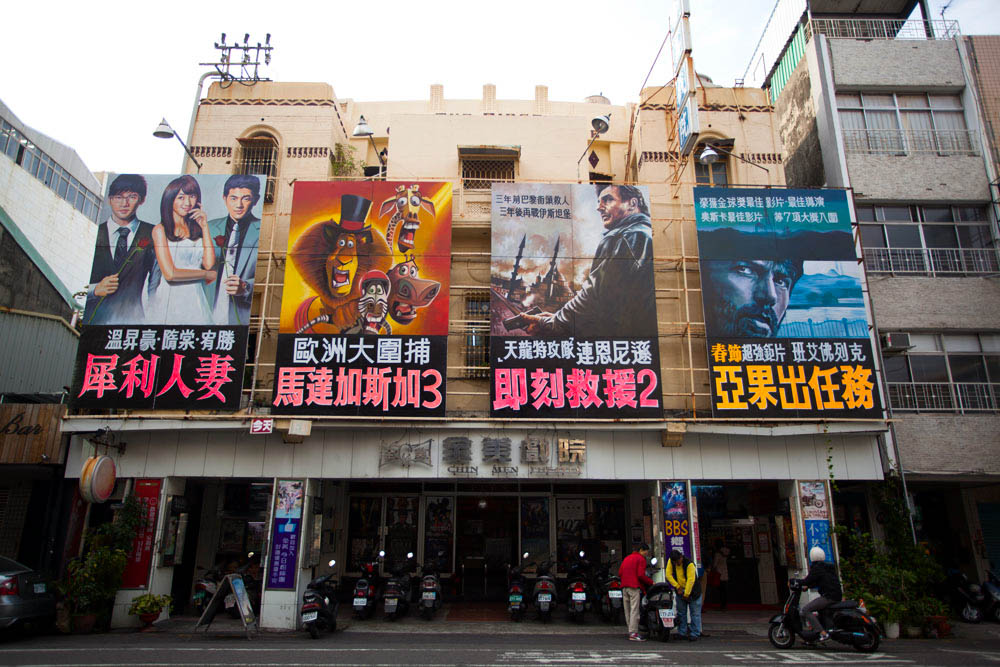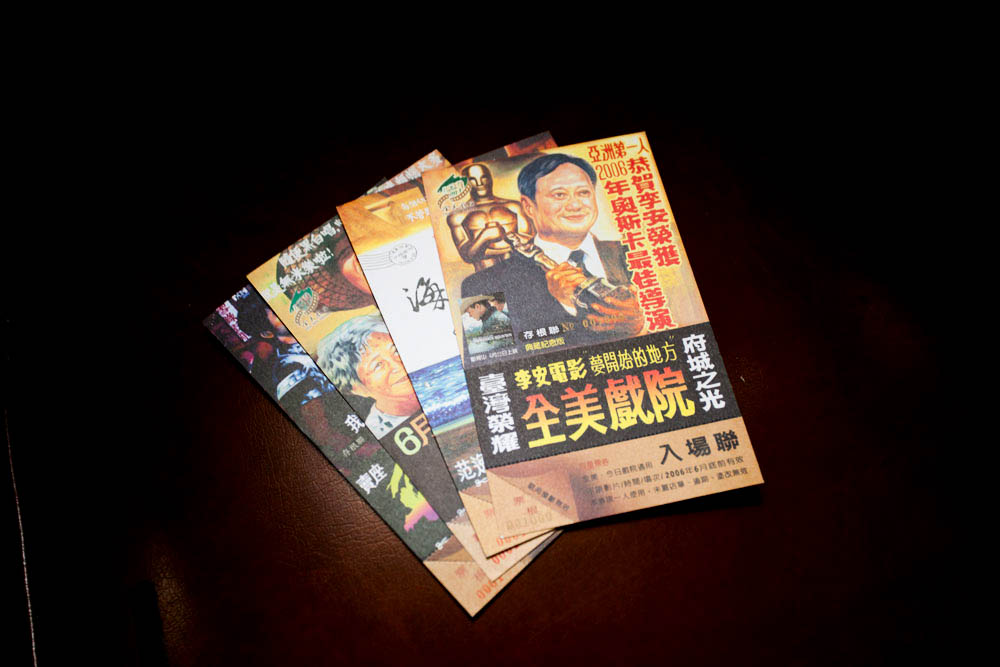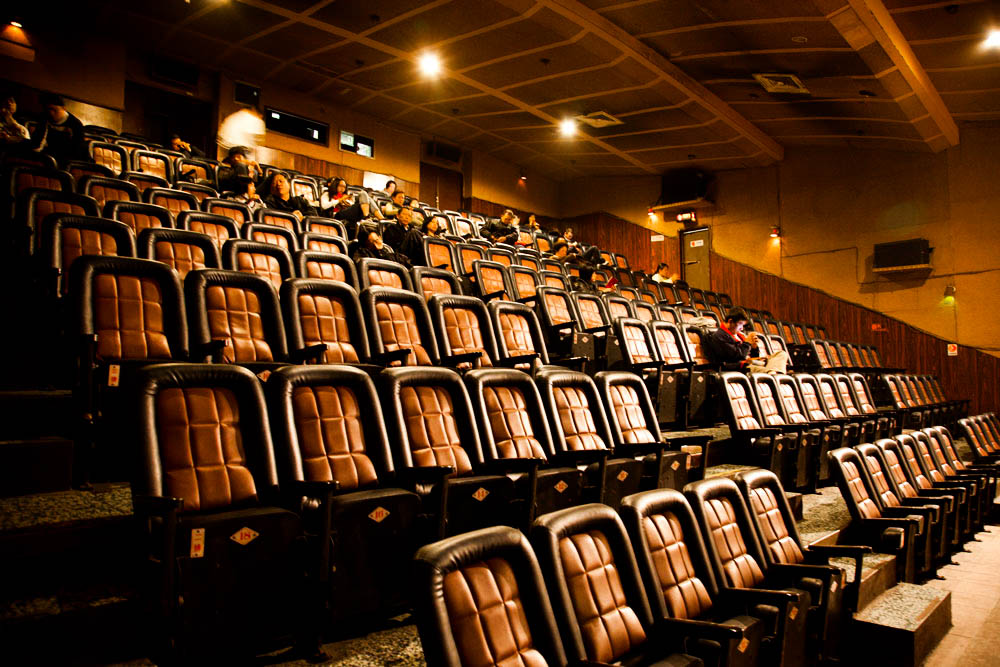 Add: No. 187, Sec. 2, Yongfu Rd., Zhongxi Dist., Tainan City
(台南市中西區永福路二段187號)
Tel: (06) 222-4726
Hours: Mon. ~ Fri. 12:30pm ~ 11pm, Sat. & Sun. 10:30am ~ 11pm
Website: www.cm-movie.com.tw (Chinese)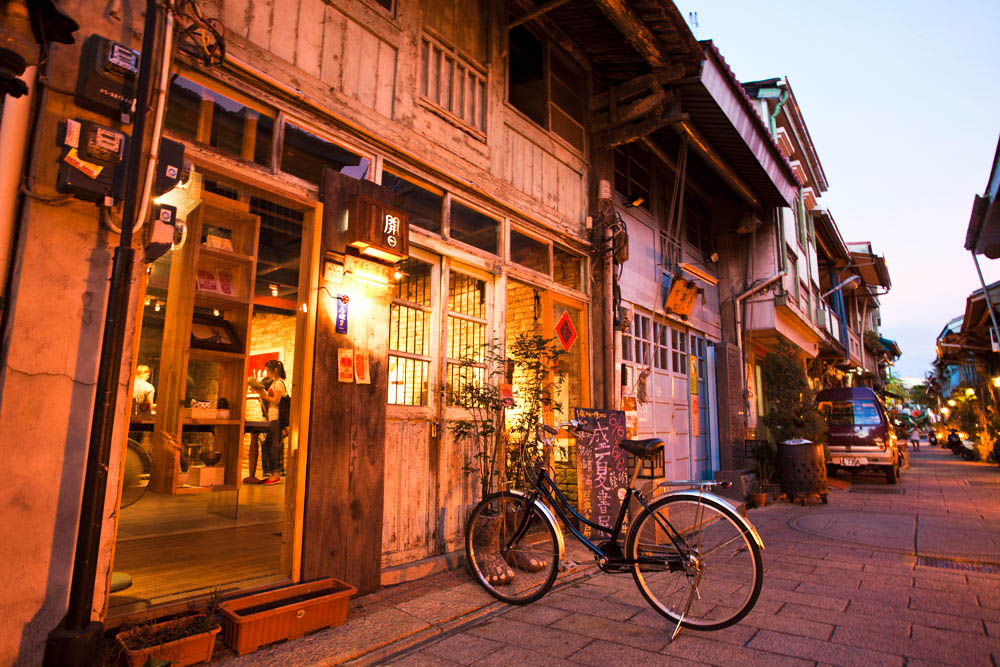 Shennong Street
Over 300 years old, this street is so narrow that rebuilding the houses lining it is difficult. As a result, it has become the best-preserved old street in Tainan. Many old buildings here retain their Qing dynasty and Japanese colonial period facades. The street is also home to various historic sites, temples, and stores where goods are handmade the traditional way. Shennong Street is especially beautiful just after dusk, when it is illuminated by old-fashioned street lights.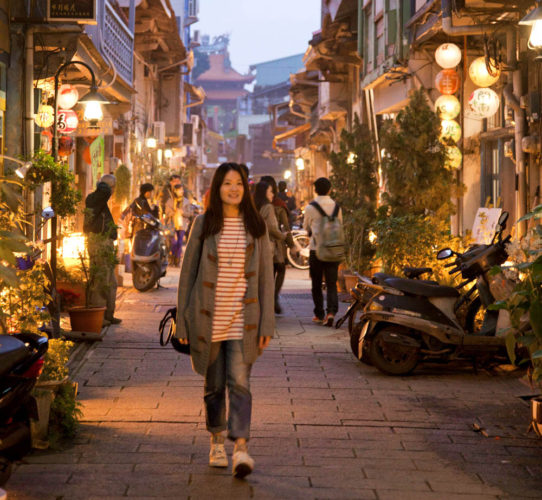 Location: Shennong St., Zhongxi Dist., Tainan City
(台南市中西區神農街)
Website: bcp.culture.tainan.gov.tw (Chinese)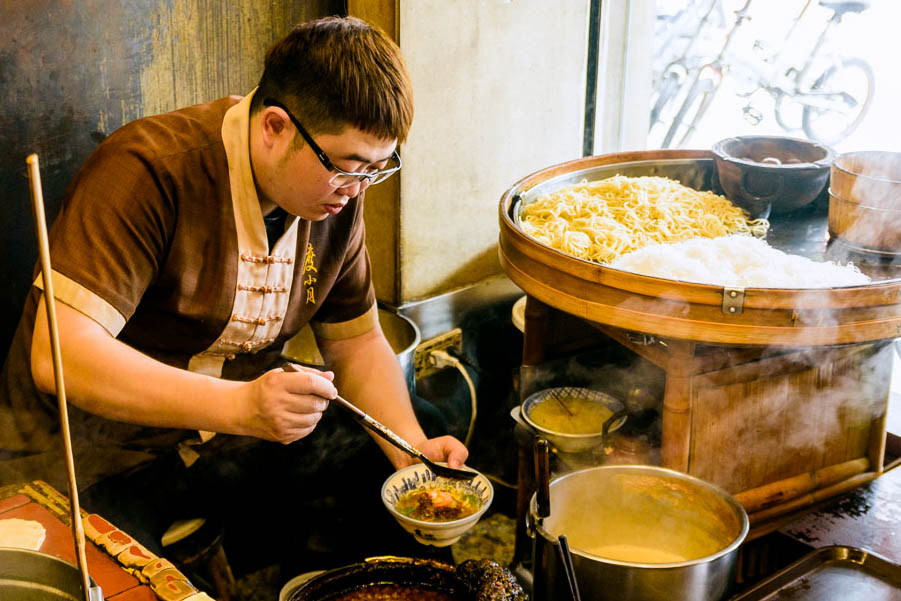 Du Hsiao Yueh Restaurant
Established in 1895, this eatery is renowned for its danzai noodles, a famous local dish. In the Qing dynasty, during the slack season fishermen would carry noodles on poles (danzai) to temple squares. The noodle dish they sold thus came to be called danzai noodles. The noodles are served with a broth made with boiled sweet shrimp heads, together with bean sprouts, coriander, lean soy-braised pork, garlic paste, black vinegar, and shrimp. The relatively small portion makes danzai noodles ideal for a snack or light dinner.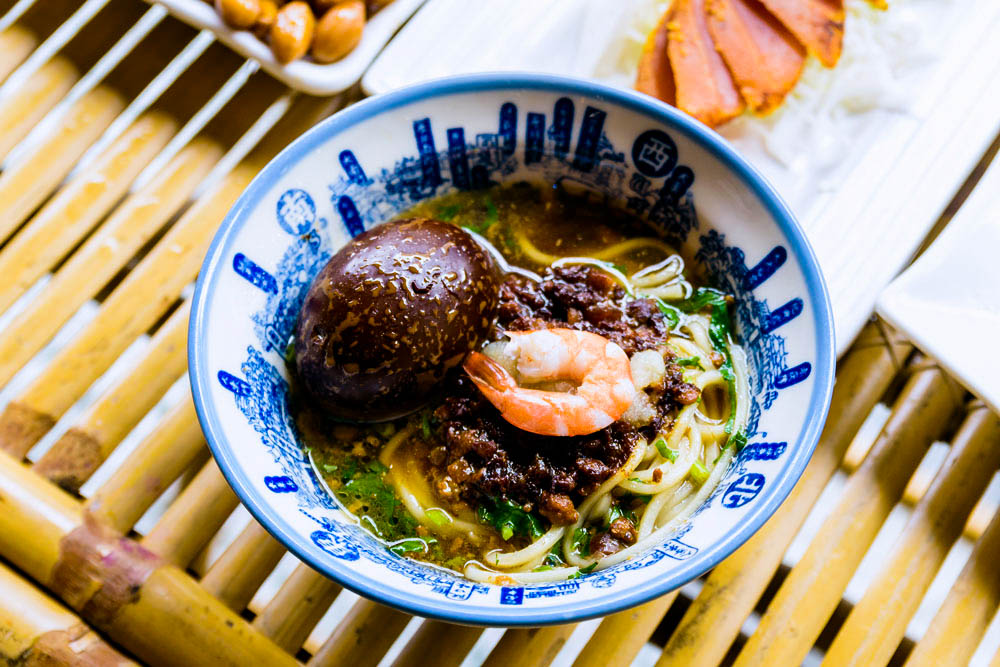 Add: No. 16, Zhongzheng Rd., Zhongxi Dist., Tainan City
(台南市中西區中正路16號)
Tel: (06) 223-1744
Hours: 11am ~ 0am
Website: noodle1895.com (Chinese)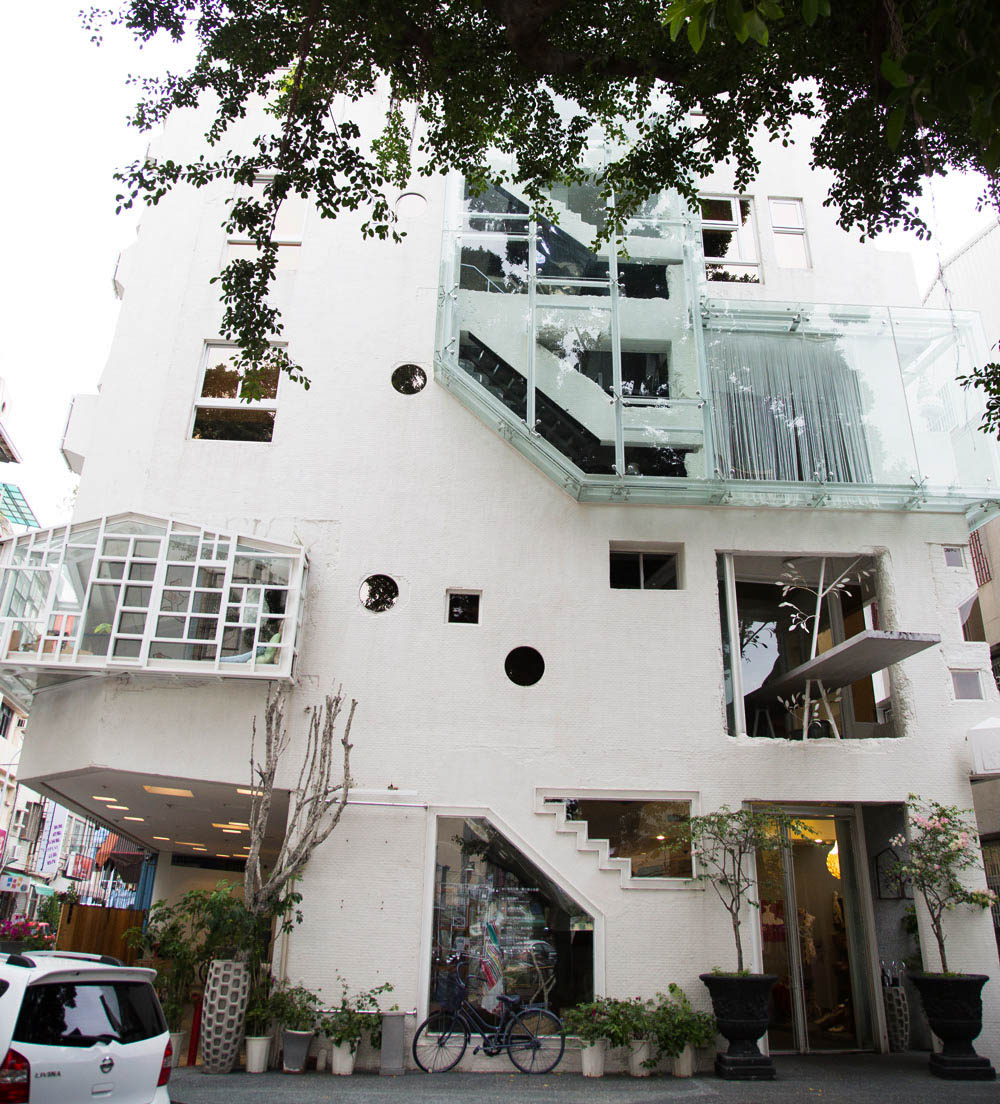 Jia-Jia-at West Market Hotel
The forerunner of this hotel was the Jiajia Hotel, designed by Taiwan's first female architect, Wang Xiu-lian. It was left in a run-down condition for some time, but after being renovated through the joint effort of designers, architects, and a hotel operator, it has come back to life in style. Rooms are being re-themed and re-styled periodically by artists and designers so guests can have a new experience when they stay in the same room again after some time has passed.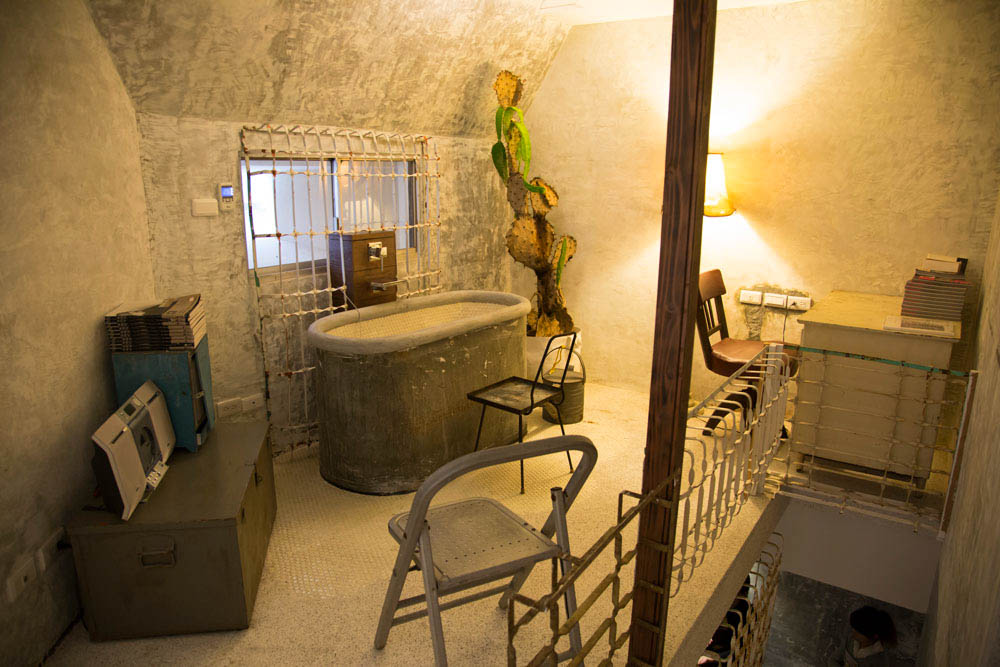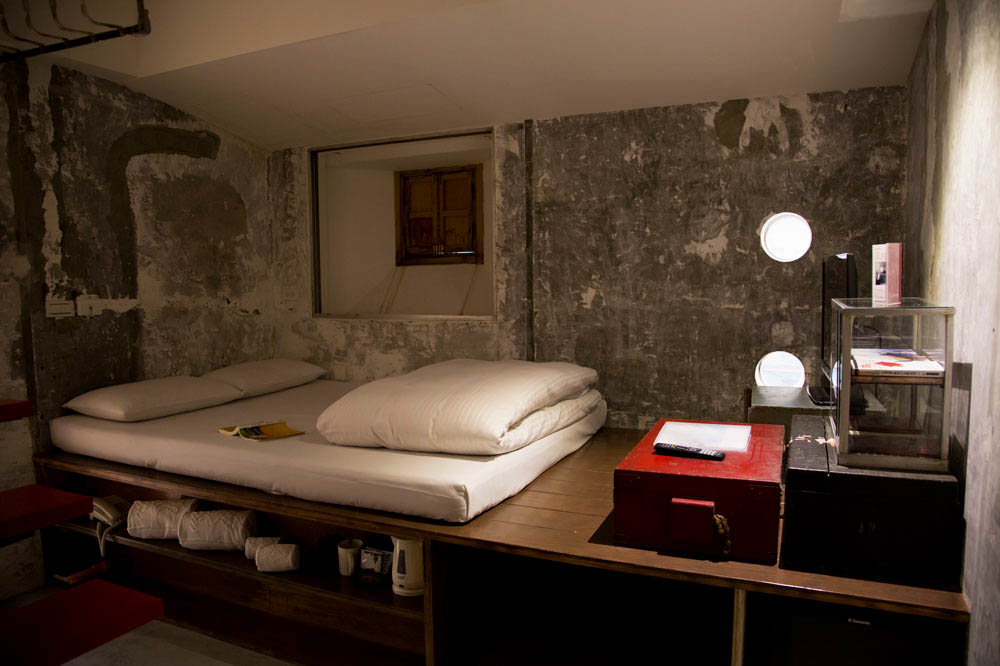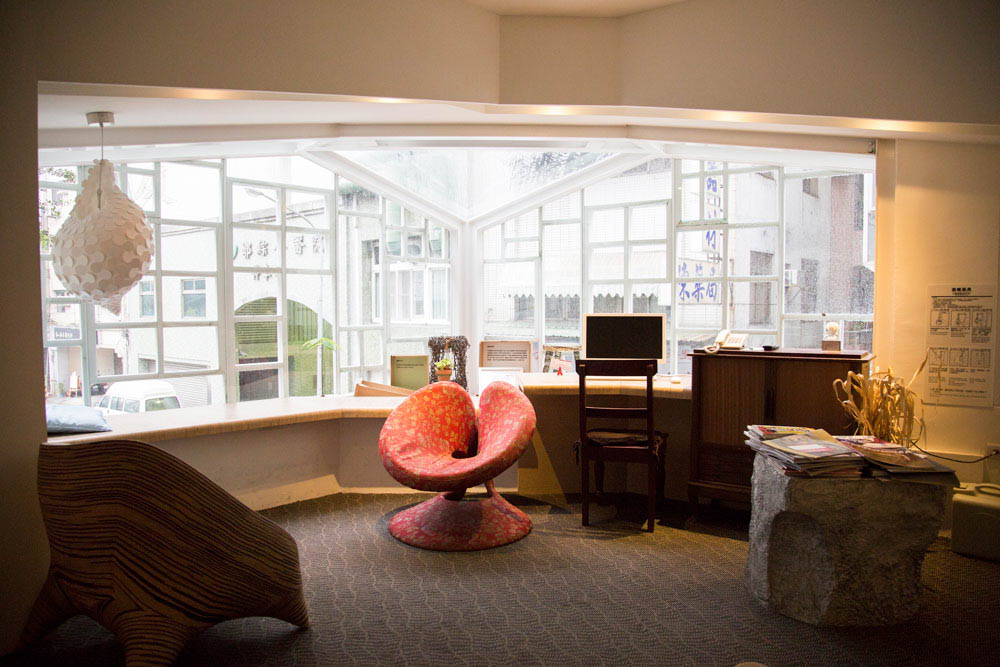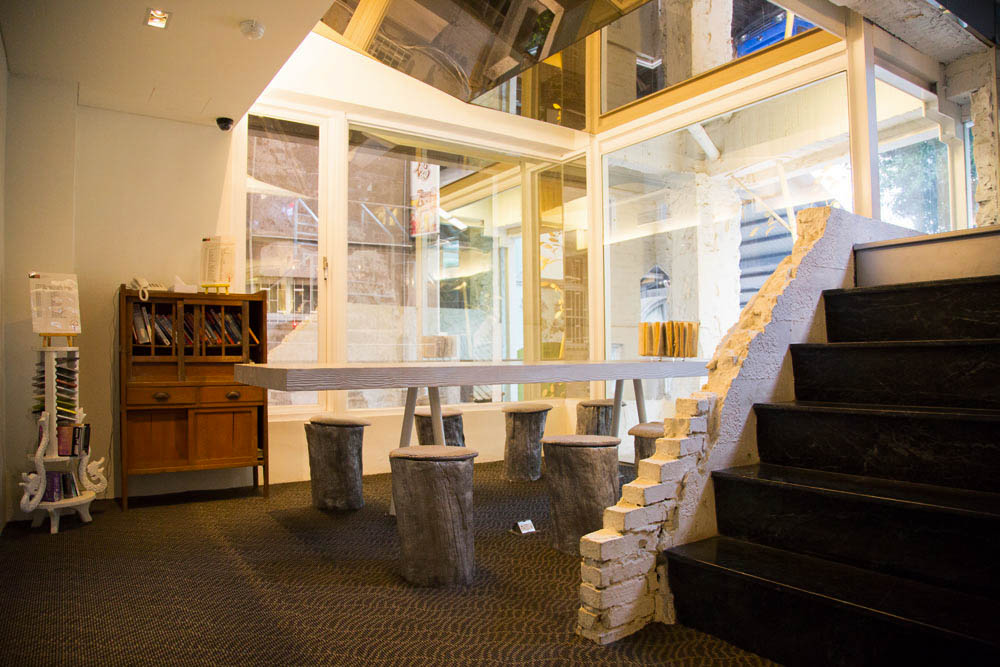 Add: No. 11, Zhengxing St., Zhongxi Dist., Tainan City
(台南市中西區正興街11號)
Tel: (06) 220-9866
Website: www.jj-whotel.com.tw
Also read:
Fun Trip to TAINAN CITY
Spending Time in the OLD CITY of TAINAN
TAINAN by the Sea, Tainan in the Hills
YANSHUI Township in TAINAN CITY
Old Neighborhood in TAINAN: 321 Art Alley Settlement
Tainan Biking — Lovely BAIHE Township
Tainan Streets and Alleys — Culture, Eating, Shopping
Friendly Multi-lingual Reception Service in Tainan City — Introduction to Various Businesses
Chimei Museum
Friendly-Reception Service: Multi-lingual official website, audio guides in Chinese, English, Japanese, and Korean
Chimei Museum was established by the founder of Taiwan's Chimei Group, industrialist Hsu Wen-long. The largest private museum in Taiwan, its collection mainly includes Western art, musical instruments, arms and armaments, and items related to natural history. The museum's aim is to resonate with people of all ages and be a place for aesthetic nourishment and spiritual shelter.
Western art is the main focus of the museum. It is divided into three themes: Fine Art Gallery, Sculpture Avenue, and Rodin Gallery, giving visitors an idea of the timeframe of the development of Western art. The Musical Instruments Gallery shows a large collection of fine violins, the largest in the world. The Arms and Armaments Gallery contains ancient weapons and armor from around the world and the Natural History and Fossils Gallery holds animal specimens and fossils from five continents. The museum has more than 4,000 exhibits, around one third of its collection.
Chimei Museum is located in Tainan's Metropolitan Park. Echoing the Western art character of the collection, overall the buildings have a Western classical architectural style and provide a diverse scenic and barrier-free leisure space. It is one of the most beautiful landmarks in Taiwan.
Chimei Museum (奇美博物館)
Add: No. 66, Sec. 2, Wenhua Rd., Rende Dist., Tainan City
(台南市仁德區文華路二段66號)
Ten Drum Cultural Village
Friendly-Reception Service: Text guides in Chinese, English, Japanese, and Korean
Ten Drum Culture Village is a must-visit century-old sugar factory with a new look. The old sugar factory space has been activated and given a new appearance centered on the unique drum music of Ten Drum Band, becoming the world's first drum music art village. Various extreme-sports facilities challenge the nerve of visitors, including bungee jump, zip line, extreme slide, and pole climb experiences.
By night, the site becomes a veritable dream sugar factory; illuminated the entire village taking on a magical quality that is loved by visitors. Cross the outer grass area and climb through level after level of white frames resembling a time tunnel to the top of "Sweet Hill" from where you can enjoy views of the whole area. A bird's eye view of Chimei Museum can also be enjoyed from the "Paradise Path."
Ten Drum Cultural Village (十鼓仁糖文創園區)
Add: No. 326, Sec. 2, Wenhua Rd., Rende Dist., Tainan City
(台南市仁德區文華路二段326號)
Nan Yi Golf Country Club
Friendly Reception Service: GOLFACE smart golf instruction service in Chinese, English, Japanese, and Korean
Nan Yi Golf Country Club has an international standard 18-hole golf course that is designed for both competition and leisure play. Apart from the golf course, driving range, and golf tuition, the club also offers a clubhouse with a restaurant serving Chinese and Western dishes, international-class meeting facilities, and business exhibition space. The space is suitable for business activities and family meals alike.
The five core characteristics of the club are enthusiasm, quality, sustainability, professionalism, and growth. The club is operated by the Tong Yang and Da Yi groups since 1998. The only lowland golf course in Southern Taiwan is an international-standard 18-hole course designed by renowned Japanese course designer Mr. Watanabe Hiroshi.
The course management uses the GOLFACE APP, with Chinese, English, Japanese, and Korean versions for smart golf services as well as autonomous Yamaha electromagnetic induction golf carts, allowing caddies to conveniently serve foreign visitors.
From the club to the Tainan High Speed Rail Station and Shalun Railway Station it's just a 10-min. drive. A drive to Tainan Airport takes just 3 min., to Kaohsiung International Airport about 1 hour.
Nan Yi Golf Country Clup (南一高爾夫球場)
Add: No. 500, Changrong St., Guanmiao Dist., Tainan City
(台南市關廟區長榮街500號)
Dakeng Leisure Farm
Friendly-Reception Service: Text guides in Chinese and English
Starting as a chicken raising operation, Dakeng Leisure Farm is now run with the spirit of sharing and gratitude. It has abundant natural resources, exudes human warmth, and upholds the ideas of LOHAS health and slow-paced travel. The aim is to give back to every visitor by running a sustainable operation.
The farm is a strong proponent of ecological conservation, leisure innovation, and its own unique creative healthy cuisine, the ingredients of which are 100% locally sourced. Grandpa and Grandma Tsai grow the crops and rear the animals with their own hands in a pesticide-free environment. Honesty and love are the main fertilizers. The hearty dishes with simple decoration display the truth, good, and beauty of local foodstuff.
It is hoped that every visitor has a relaxing and enjoyable time at Dakeng Leisure Farm.
Dakeng Leisure Farm (大坑休閒農場)
Add: No. 82, Dakeng Borough, Xinhua Dist., Tainan City
(台南市新化區大坑里82號)
Fairy Lake Leisure Farm
Friendly-Reception Service: Farm guide in Chinese, English, and Japanese, comic style guide
Fairy Lake Leisure Farm is an example of beautiful co-existence between people and mountains. Fairy Lake was so named by locals because at dawn and dusk and after rain the sea of clouds makes the mountain top seem like a small island. The guesthouse is built on a 227m high independent peak. From the paddling pool on the hilltop grassland you can take in the expansive hill and plain scenery. Small animals walk between the grass area and the forest.
Small mountain villages developed a traditional farming lifestyle and a way of life reliant on the mountains, which is the spirit of Fairy Lake Leisure Farm. Combining scenery, accommodation, food, and produce, a distinctive local lifestyle has developed. The owners humbly grow crops including longan nectar and fruit, lychees, ponkans, oranges, coffee, olives, and wild vegetables. The land gives flavor and all that makes life beautiful.
Fairy Lake Leisure Farm (仙湖農場)
Add: No. 6-2, Neighborhood 1, Dongshan Dist., Tainan City
(台南市東山區一鄰6-2號)
Hotel Tainan
Friendly-Reception Service: Hotel provides services in Chinese, English, and Japanese
In the winter of 1964, Hotel Tainan became the first international tourist hotel in southern Taiwan. Standing in front of Tainan Railway Station, the hotel has quietly provided shelter to returning local travelers and visitors from other areas for many years. It has witnessed the days of glory of the old capital of Taiwan and it is part of its history.
With 152 guestrooms, the hotel takes care of the need of every guests. The simple and uncomplicated business rooms, comfy and spacious deluxe rooms, and varied suite rooms meet different room style requirements. Hotel Tainan began serving Continental breakfast in 1982 and became the first hotel in Taiwan with an onsite teppanyaki restaurant. Cooking onsite continues to this day, a team of highly skilled chefs serving up delicious local and other dishes.
The hotel gives easy access to famous Chikan Tower and Confucius Temple; walk down the lanes and alleys to feel the human warmth that characterizes Tainan. Hotel Tainan is the ideal base from which to wander the streets of the city, experience culture, and savor local foods.
Hotel Tainan (台南大飯店)
Add: No. 1, Chenggong Rd., Central West Dist., Tainan City
(台南市中西區成功路一號)
Golden Tulip Glory Fine Hotel – Tainan
Friendly-Reception Service: Automated check-in machine with Chinese, English, and Japanese
The hotel is located on today's "Art Avenue," Hai'an Road, which is nicknamed "Firecracker Street," offering various memorable life experiences. Go left and pass through the bustling old Shuixian Temple market with the calls of vendors filling the air. Shennong Street is close by. Turn right and wander through Huayuan Night Market and taste the meeting of traditional and modern flavors. Tainan represents the accumulation of historical memory.
Golden Tulip Glory Fine Hotel – Tainan represents new life that combines modernity and the past. Facilities and services include buffet breakfast, 105 guestrooms of various styles, a standard meeting room accommodating 120 persons, a 24-hour leisure area, and a "lazybones" theater for lazy and slow living.
Golden Tulip Glory Fine Hotel – Tainan is the ideal place to rest for visitors exploring the city's rich culture and Tainan's gastronomic delights. The hotel is also where wishes come true in this capital of the gods.
Golden Tulip Glory Fine Hotel – Tainan (榮美金鬱金香酒店)
Add: No. 50, Sec. 3, Hai'an Rd., North Dist., Tainan City
(台南市北區海安路三段50號)
Golden Tulip RS Boutique Hotel
Friendly-Reception Service: Aiello intelligent voice housekeeper in Chinese, English, and Japanese
The Heliaogang stone tablet sits quietly at the street corner, telling of war and the past. Koxinga landed here with his troops 360 years ago and reclaimed Taiwan. The Golden Tulip RS Boutique Hotel – Tainan, part of the Louvre Hotels Group, opened here 360 years later, aiming to be the key to Tainan travel. With unadorned Renaissance style, the hotel exudes European aesthetics. It has a 360-degree Tiffany glass dome lobby, Keukenhof de Bistro, Glory Magic, Royal VIP Room, and 47 European style guestrooms. It feels like the meeting of da Vinci and JK Rowling, artistic and interesting.
The hotel is your starting point for exploring historic sites such as Chikan Tower, God of War Temple, Tianhou Temple. It is surrounded by department stores, shopping malls, and traditional markets. A key to Tainan travel, Golden Tulip RS Boutique Hotel – Tainan is a must-visit attraction in Tainan.
Golden Tulip RS Boutique Hotel (榮興金鬱金香酒店)
Add: No. 128, Sec. 2, Minzu Rd., Central West Dist., Tainan City
(台南市中西區民族路二段128號)
FX Hotel Tainan
Friendly-Reception Service: Free bike hire, facility guide in Chinese, English, and Japanese
Located in Tainan's Central West District, FX Hotel Tainan is the best choice for a city tour on foot, for its atmosphere and for architectural beauty. Many historic sites are within 10-15 min. walking distance and Guohua Food Street and the Hai'an and You'ai shopping areas are close by, with Shennong Old Street's Shuixian Market just 3 min. away on foot. To Tainan Railway Station it's about 10 min., and it's 35 min. by car to Tainan High Speed Rail Station. To the popular Huayuan and Wusheng night markets it's about 10 min. by car.
The hotel has 199 elegant, stylish, and fashionable guestrooms and continues the FX fashionable design style, while merging in Tainan cultural elements perfectly, giving guests a feeling of wandering in the everlasting stream of time and space. The well-appointed guestrooms are equipped with modern facilities and have large ceiling-to-floor windows through which bird's eye views of Tainan can be taken in, allowing visitors to enjoy a visual feast in a comfy and relaxing space.
Attaching importance to the sleep quality and health of each guest, guestrooms use "sleep in" separate tube mattresses and offer pillows with different functions for you to choose from, as well as ergonomic chairs, to provide an atmosphere as warm as home.
FX Hotel Tainan (富驛時尚酒店)
Add: No. 76, Sec. 2, Minsheng Rd., Central West Dist., Tainan City
(台南市中西區民生路二段76號)
Share House
Friendly-Reception Service: Home stay housekeeper speaking Chinese, English, and Japanese
Continuing the concept of home, Share House merges in Tainan's unique hospitality for its guests. Travelers can share their travel stories here as well as admire the skill and feel the passion of the craftsmen who constructed the building and the attention paid in materials selection and building design.
This fine example of modern street house aesthetics stands in historic Anping. The warmth of the building lets people feel the warmth of travel. The homestay also arranges trips, designs festival events, and also offers fluent home stay housekeeping services in Chinese, English, and Japanese, letting guests fully enjoy the happiness and sincerity of a trip to Tainan.
Share House (南岸山.綺 民宿)
Add: No. 35, Ln 10, Shiping 5th St., Anping Dist., Tainan City
(台南市安平區世平五街10巷35號)