The 321 Art Alley Settlement is one of the most recent additions to the growing list of refurbished architectural relics across Taiwan serving as artist enclaves open to the general public. Half of the 18 Japanese-era residential units at this site have been magnificently restored by their caretakers, artists and performance groups carefully chosen by the Cultural Affairs Bureau of the Tainan City Government. Come here to mingle with local artists, snap fetching photos, and appreciate the elegance of these nearly century-old historical treasures.
Text: Nick Kembel; Photos: Maggie Song
Imagine it is the mid-1930s and you live in Tainan, southern Taiwan's most cosmopolitan city. You are a high-ranking Japanese officer in the occupying army. You live in a house virtually identical to one from back home. On your days off you go shopping at the upscale Hayashi Department Store, in the tallest building on the island and the first with an elevator. It is located at the heart of Suehirocho, an upmarket district that is THE place to be seen for the city's wealthy elite, and is only a 15-minute walk from your home. If you're having trouble imagining all this, maybe it would be easier from inside one of these homes, which is exactly what you can do at the 321 Art Alley Settlement today.
These houses were built in the '20s and early '30s, in the latter half of Japan's 50-year occupation of Taiwan. The colonial administration was at the time focused on developing Taiwan's infrastructure, seeking to make it a model colony to showcase to the world. In 1935, Tainan City had more than 100,000 residents, and while the capital had already been moved to Taipei just prior to the Japanese arrival, Tainan remained the capital of a large prefecture that encompassed modern-day Chiayi and Yunlin counties.
The land occupied by the houses had been part of a military base going well back into the Qing Dynasty. The houses were constructed as dormitories for high-ranking officials in the second regiment of the Japanese infantry. After the Japanese departed in 1945, the Chinese Nationalist military built a top-secret factory on the site for the manufacture of military-vehicle parts that remained until 1992.
Most of the Japanese-built residences were given to professors from National Cheng Kung University, who occupied them until 1995, when the Ministry of Defense took full control. However, after the houses were left to be reclaimed by nature, the Ministry of Culture intervened and made major renovations.
On March 23, 2013, seven groups of artists moved in, assuming responsibility as the official caretakers of the buildings, and the 321 Art Alley Settlement was born. Besides maintaining the structures, the occupants use the space to display their artwork, some of which spills out into the lanes or is integrated into the lane walls and structures themselves, and to host exhibitions and other events.
321 Art Alley Settlement
Let's check out the community a bit closer. From Tainan Railway Station, itself a Japanese-era relic, I walk with a couple of friends along the southern and then western border of refreshingly lush Tainan Park, worth an hour or two of your time, admiring its lily ponds, pagodas, and Zhongdao Chongwen Archway, moved here from a location near Tainan Confucius Temple by the Japanese. The park dates to the late 1600s, and during Japanese rule it was used as a testing ground for tropical plant species.
The 321 Art Alley Settlement is sandwiched between Gongyuan North and South roads in Tainan City's North District, a short walk from the cluster of historical attractions in West Central District for which the city is today best known. The mini-village is spread over four lanes running east to west, including Lane 321.
We approach the settlement via Lane 295, which angles off from Tainan Park. Before entering, we pop into Café Ichi on the settlement's eastern periphery. Passion-fruit vines hang from the three-story café's exterior, forming a canopy over the narrow entrance area. We enjoy breakfast seated on tatami mats in a lovely alcove on the second floor, through windows overlooking the settlement.
Next, we step through an opening in the red-brick wall that separates the alley from the settlement, and begin our explorations. All of the houses in the settlement are numbered, and around 10 are usually open for public visit on weekends from 10am to 6pm, with a smaller number open on weekdays.
If wondering what makes traditional Japanese houses different from Taiwanese ones, this is a great place to see for yourself. First, note that the roof tiles are black, not red or orange. Second, wood is the material of choice. Third, all the doors, and even some of the interior wall-sections, are sliding. Fourth, nothing resembling the traditional Chinese-style three-sided courtyard house design is used. Besides these major differences, the houses at 321 are also distinctive in that they are raised a few feet off the ground (as protection against flooding), and most of them come in connected pairs.
Yet another unique feature here is that the homes of officials with higher rank were indicated by multi-layered roofs, which can best be seen at the Old Residence of Kuo Po-Chuan (#27). Cheng Kung University Professor Kuo was one of the most prominent figures in the art world in southern Taiwan. When you're inside his former residence, check out the ingenious floor-level screen windows that help to cool the home.
In the lane behind the Kuo residence, we come upon a building-sized art installation, a skeletal structure consisting of white bars that typically cover windows and balconies in Taiwan.
At #19, we walk amid the ruins of a structure that was too decayed to renovate (with evidence of fire as well) – perhaps for the better, because it makes for an awe-inspiring experience today.
The artists of 321SSUE, at #38, which is at the opposite end of the settlement, have set up a display of pre-renovation photographs of the settlement that show the sheer scale of the restoration work undertaken. #19-2 is home to Film, 321 Action, a charming café where you can make your own salad using locally sourced veggies; you can also choose from a variety of ready-made seasonings stored in vials, perfect for picnics.
A group of art-loving professors runs South Pottery House (#40), which features an enormous banyan tree in its yard. The main room is well lit by sliding panels of south-facing windows, and is painted in aquamarine, giving it a 1970s retro feel. An exquisite collection of pottery is on display here.
Together Workshop (#33) boasts a gorgeous interior and an antique toy display. On sale are postcards, jewelry, miniature sculpted models, and T-shirts emblazoned with the Chinese character for "pure," once displayed outside the barbershop found here to indicate that none of the naughty services available in another type of enterprise euphemistically also called a "barbershop" were on offer.
After touring the area, we stop in to have a chat with Hsieh Hsin-Ye, interior designer and main caretaker of One House (#35). He shares the story of how he first put together a team to apply to run a settlement enterprise, inviting all of his friends to go camping and then secretly scrutinizing them to determine which would be the most responsible candidates.
The One House team of six, which originally included a chemist and an architect, was surprised when it actually got the gig. With this team now down to just four, Hsieh admits that it's no easy task to maintain the venerable structure. The house was mostly empty when the members took over, but with their shared love of antiques they have decorated the site with an array of intriguing collectibles, including an old-time postbox and bicycle vending cart.
It is their hope that One House will be a place where artists and visitors can hang out and make new friends. Some paintings currently on display were created by a young woman who used to come around every day to work on her art.
Hsieh also recalls how two years ago a neighborhood cat scratched a hole in one of the house's window screens, ultimately leading to him finding an unusual artifact under the floorboards – the head from a statue of Kodama Gentaro, the 4th Japanese governor-general of Taiwan. Dating to 1907, it is now a recognized historical relic.
As Hsieh talks, Lucky, an aptly named cat that Hsieh found nearly dead last year which is now the only full-time inhabitant of this heritage residence, plops down on my notepad and starts purring. The artists at 321 have clearly taken note of the large number of cats that seem to enjoy lounging on and around the houses, for you'll find at least a few pieces of art on display featuring cats. It's easy to see why they like it here, and while the occupants of these buildings may come and go, the cats don't seem to be going anywhere anytime soon.
Further reading on other sites
Also Read
Old Neighborhood in TAICHUNG: Wufeng's Guangfu New Village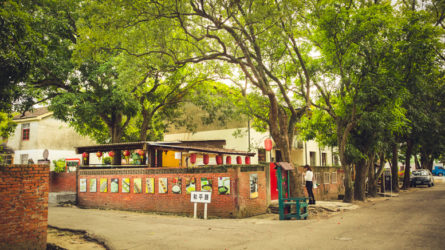 taiwaneverything.cc/2017/07/26/guangfu-new-village/
Old Neighborhoods in CHIAYI CITY: Culture and History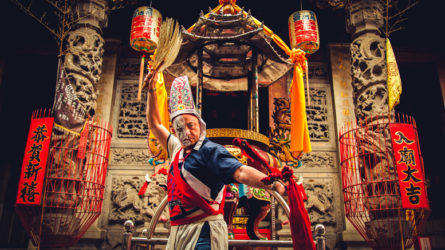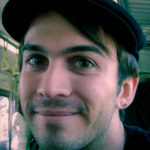 Kembel is passionate about tea, spending time with his kids, and all things travel. He has been to nearly 50 countries but called Taiwan home for the last decade. In 2011 he authored Taiwan in the Eyes of a Foreigner.