Tastes of the Earth at Farm-to-Table Restaurants in the Capital
The term "farm-to-table" has chic connotations these days; yet unbeknown to many, Taipei's numerous healthful-cuisine-oriented restaurants began espousing this ethos long before it became a culinary catchphrase.
Text: Dana Ter; Photos: Maggie Song
For a chef seeking to open a farm-to-table restaurant serving dishes made with fresh local produce, Taiwan is a dream come true: high mountains, clean waters, and fertile soil. Taipei's close proximity to farmland and ports makes it easy to transport the freshest meat, vegetables, and seafood to the city. Today, trendy fine-dining restaurants in the city such as RAW (www.raw.com.tw) and Tairroir (www.tairroir.com) are drawing international media attention, re-fashioning the farm-to-table label and giving Taiwanese cuisine the recognition it deserves.
Though the farm-to-table ethos has been around for a while, eateries opened and operated by part-time farmers and "green warriors" have swooped right under the radar for most travelers. Two such establishments are Farmer's Table and I Love You Food Market. Though lacking the sleek, minimalist interiors, artful presentation, and English menus commonly found at the city's high-end eateries, they more than make up for these "deficiencies" in food that is incredibly flavorful and "home-made." While meals are not as costly as those at fine-dining establishments, prices are steeper than at a mom-and-pop eatery – an entrée is typically NT$300 to NT$700. But with this comes assurance of high quality control in the kitchens.
Moreover, these eateries, where communal tables are the norm, generally cater to families, in keeping with a mission to impart healthful eating to the little ones. The result is a jovial atmosphere akin to extended-family gatherings – in other words, a truly Taiwanese experience.
Farmer's Table
Farmer's Table is, incongruously, in the basement of an unassuming office building near Chiang Kai-shek Memorial Hall in downtown Taipei. Wandering in, it feels like discovering Narnia to me and my dinner companions. The whir scooters quickly fades as patrons are welcomed with thoughtfully arranged potted plants and dried flowers set against a white-brick and dark-wood interior. Pots, pans, and other cooking utensils hanging on the walls recreate the experience of visiting a friend in a countryside setting. A transparent glass ceiling allows sunlight to seep in and diners to peek out at a small street-level garden. While waiting for their food, children can don red-striped aprons and busy themselves flipping toy pancakes and whisking eggs.
"The idea of parent-child restaurants has existed in Taiwan for a long time," says restaurant manager Peggy Chang, referring to establishments that specifically cater to families with children. She attributes this to Taiwan's familial culture and the habit of eating out. "We have done something a little different," she explains. "Usually, these types of places are over-the-top cute, but we wanted to introduce healthful eating to children in a setting that adults could enjoy as well."
Farmer's Table is one of many restaurants owned by Yuen Foong Yu, a biotech-enterprise group that uses scientific knowledge to improve farming and encourage green living. A few years ago the group entered the F&B industry by selling organic ready-made meals with online delivery, following up with the launch of the organic-grocery chain Green & Safe (www.green-n-safe.com; Chinese). Farmer's Table diners can shop for groceries at a Green & Safe outlet next door.
"There's high quality control," says Chang, gesturing to the large selection of fish brought in from the waters around Penghu, an island group in the Taiwan Strait. "It's good to see that parents are willing to spend a bit more to ensure that their children are eating right."
In fact, most of the produce displayed in the grocery store and utilized in the restaurant kitchen is transported straight from farms each morning. Chang frequently visits the countryside, meeting with farmers and fishermen on pig farms in Changhua County, on chicken farms in Yunlin County, and in fishing villages on the Northeast Coast and on the Penghu Islands. She especially enjoys visiting Fengyuan Farm in Nan'ao, a coastal township in southern Yilan County that is hugged by mountains.
"I feel invigorated and relaxed once I see the mountains," she says. "It's a feeling we hope to translate to patrons at the restaurant."
I sit down with my friends at a brightly lit table and pick up an illustrated menu. A family of five is depicted on the cover, including grandparents, parents, and a little boy, everyone with smiling, cherubic faces eating dinner together. Illustrations of happy farmers and animals by artist Chen Chu-li are displayed throughout the restaurant.
The menu is seasonal. We order steamed eggs with sweet corn and baked baby corn with quinoa as starters (starters cost around NT$90). The steamed eggs have a silken texture and a mildly sweet taste. The baby corn reminds me of something home-cooked, though the quinoa adds a touch of sophistication. There is a surprising amount of crunch, making it exceedingly refreshing.
Main courses cost NT$320 to NT$450. I immediately fall in love with the fried pork chops with garlic mushroom sauce. The meat is chewy and peppery, with tiny chopped-up pieces of garlic giving it much zest. The accompanying broccoli is beautifully grilled, not too charred, while the potato wedges are soft inside and crispy outside. We also split a beef burger. The patty is soft and melts in the mouth while the bun is pleasantly light. Who knew a burger could taste so healthful?
Just as I finish my last potato wedge, a family occupies the table next to ours. As the grandfather says something to his grandson, I notice how they resemble the family on the menu. Chang catches me watching, and chuckles.
"This is exactly the type of crowd we attract," she says.
Farmer's Table (農人餐桌親子餐廳)
I Love You Food Market / Buffalo Books
Located on a quiet street opposite a small park near MRT Daan Station, the organic farm-to-table restaurant I Love You Food Market attracts a crowd similar to that found at Farmer's Table. Children gather in the first-floor bookstore to quietly read books while adults chat in the dining area, enjoying spare ribs and red wine.
The restaurant is owned by former Democratic Progressive Party (DPP) politician Luo Wen-jia who served as former President Chen Shui-bian's assistant. Luo, who is from the rural area of Taoyuan City, has always been passionate about farming and literature. In 2012, after retiring from politics, he bought the extant Buffalo Books outlet and restocked it with books about topics that interested him, including agriculture, philosophy, and cross-strait relations.
Since the purchase, Luo has held a farmer's market outside the bookstore on weekends, selling organic vegetables cultivated on his Taoyuan farm. The market eventually became so popular that he decided to expand the bookstore by adding a restaurant.
"It's hard to separate the bookstore and the restaurant," head chef Su Yan-zhang explains. "It's the same concept," he says, referring to nourishment of both mind and body.
Inside the establishment, crates of onions, broccoli, tomatoes, and various herbs and roots transported from farms around Taiwan are displayed prominently for sale next to bookshelves that contain illustrated children's novels and textbooks about politics and philosophy. The dining space is separated into two areas – a spacious area at the back of the bookstore and a cozy second-floor space furnished with colorful plush sofas and cheerful paintings. Wide windows present an unfettered view of the neighboring park and people walking their dogs.
"Luo is a romantic guy," Su jokes. "That's why he named the restaurant 'Wo ai ni' (I love you). He thinks 'I love you' is not expressed enough by people these days."
The characters xue tian (lit. "learning fields") follow wo ai ni in the full Chinese name of the bookstore/market/restaurant. This is a reference to Chinese imperial-era academies funded through land grants. Luo wants to give back to the community, and hosts regular book readings, English and music lessons, and other events for children.
Head chef Su, who trained in Paris, has been with Luo since the inception of the business and has seen the bookstore and restaurant grow into a thriving neighborhood hub. "There's been a global shift away from mass production and big-chain restaurants towards enterprises that are small-scale artisanal and community-focused," Su says. "We're glad to be a part of the latter."
Dishes start arriving in succession: a basket of bistro-style French fries cooked with duck-fat cooking oil, a bowl of colorful seasonal grilled vegetables, and a gigantic glistening fried squid soaked in lemon sauce topped with shallots and coriander (entrées range from NT$300-NT$900).
Su explains that the supersized portions and simple presentation replicate the experience of dining at home. "At home, people pass around big bowls of food and just dig in," he says. "It's loud, it's messy, it's wonderful."
I tuck into the grilled vegetables, a crunchy and refreshing assortment of sweet potato, water bamboo, loofah, pumpkin, carrot, and other Taiwan-sourced goodies cooked in white truffle oil and topped with coriander. The taste of the vegetables is "earthy" – pleasing, as if just plucked from the ground. The nuttiness in the white truffle oil is strongly discernable, and adds nuance to the flavor. The fries, which are light, crisp, and covered in garlic and parsley, are the perfect complement to the vegetables. My favorite dish is the squid, which is nicely charred and chewy, the lemon sauce adding a buttery smoothness.
After mopping up every remnant of the delectable lemon sauce and finishing my meal, I randomly pick a Chinese-language book from one of the bookshelves. It turns out to be about Taiwan's future.
A former politician running a bookstore-turned-restaurant. A biotech company selling organic foods. While such pairings might seem puzzling, they nevertheless make for interesting – and the most palatable – dining experiences championing the notion of farm to table.
I Love You Food Market (我愛你學田市集)
Also read
Slow Food in Homey Settings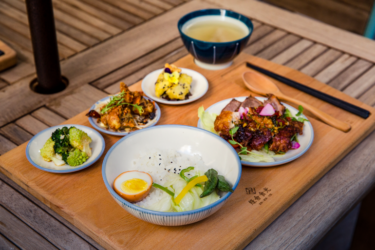 taiwaneverything.cc/2018/03/22/slow-food/
TAIWANESE FOOD at Taipei Alley Restaurants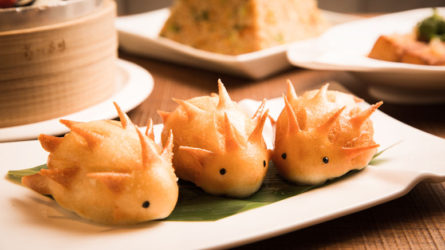 Further reading on other sites:
A Style Alike: Check out great posts about food in Taipei!