The great variety of Taiwanese food options in Taipei can seem overwhelming. Where to start, what to eat first? What are the must-eats? Once you have done the Taipei tourist favorites – beef noodles, steamed dumplings, mango ice, etc. – dig down a bit deeper and venture into the nooks and crannies of this always-full-of-surprises culinary hotspot city!
Text: Owain Mckimm; Photos: Maggie Song
What to do when you're hungry on an evening in Taipei? For many visitors, the first instinct is to join the flock and head to one of the capital's many night markets to fill up grazing on Taiwanese xiaochi or "little eats." But what if you want to give your feet a rest, sit down to a good meal with a group of friends, perhaps share a few drinks?
The main streets of the city are chock-a-block with chain coffee shops, fast-food joints, and convenience stores, but where are the little local bolt-hole restaurants, the quirky little eateries that provide surprise and satiation in equal measure? More often than not they're tucked away, just behind a main drag, down one of Taipei's many lanes and alleys. Hungry travelers are well advised to leave the big roads and get lost in the city's labyrinthine back streets, with neighborhoods such as Gongguan, Minsheng Community, Yongkang Street, and even the more modern East District all boasting expansive tangles of alleys that, when explored, reveal mouthwatering culinary surprises.
---
Let's Try Some Good Taiwanese Food!
Sanhoyan
Along a lane off Zhongxiao East Road in Taipei's East District is Sanhoyan, a restaurant serving traditional Taiwanese cuisine, with a twist. That this is not your ordinary Taiwanese restaurant is obvious as soon as you walk in. While most local eateries content themselves with a minimalist jumble of stainless-steel tables and stools or, at the more upmarket places, round dark-wood banquet tables, the ground floor at Sanhoyan is instead decked out with crescent-shaped lounge chairs, a cocktail bar, and a large iron-frame mesh in a beehive design which climbs the walls and hangs down from the ceiling, giving the space a close-knit, cave-like vibe. If not for the duo of Taiwanese men sharing a plate of dongpo pork (braised pork belly) at one of the tables (at the time of a recent Travel in Taiwan visit), you would be forgiven for thinking that the place was a lounge bar and bar snacks the only food available.
Upstairs, things are a little more obviously culinary-themed. There is also a cocktail bar, and an area with comfy seating – sofas here – but near the windows to the right of the stairs are the familiar round banquet tables, while the windows themselves are decorated with wrought-iron latticework of the kind often seen down in Taiwan's southern cities.
The restaurant's name, Sanhoyan, is a transliteration of 三合院, the term for a traditional Chinese three-sided courtyard house, many of which can still be seen in the rural countryside of Taiwan. These houses consist of three long connected buildings surrounding a courtyard, and in the past typically housed an entire extended family. Kenny Chen, manager of Sanhoyan, informs us that like the three sides of those residences, the restaurant too has three main aspects: the food, the drink, and the atmosphere, which combine to bring people together.
The food, first, then. It, like the décor, is not your traditional Taiwanese affair. In fact, it might be more accurate to call it New Taiwanese Cuisine, an attempt to infuse traditional dishes with a bit of modern pizazz. On the menu – a swanky, colorful pictorial album with English translations (a far cry from the austere Chinese-text lists found in many other restaurants) – you can find dishes with Korean, Japanese, Thai, and Western influences. But that's not to say that this is fusion cuisine. Rather, it's an attempt to broaden the range of Taiwanese food, introduce some new ingredients, and reinterpret the old ones in fresh ways, all the while keeping the locals happy eating their beloved familiar dishes.
The first dish I try is the Five-Flavor Abalone, according to Kenny the restaurant's most popular dish and a must-order. It's an intriguing appetizer consisting of an ice-cream cone stuffed with mashed potato salad and topped off with fresh abalone and a hearty dollop of five-flavor sauce. The abalone, thanks to its freshness, is light and tender, and the flavor overwhelmingly comes from the five-flavor sauce, a pungent, tangy mixture of soy sauce, black vinegar, sesame oil, lemon juice, and tomato sauce. The mashed potato, infused with crunchy shreds of cabbage, makes for a hearty and palate-cleansing final few bites.
Next I try the Fried Rice with Mixed Seafood. The rice comes served in a pyramid shape (not for any mystical or ancient Egyptian reason, though – but purely for spectacle), is permeated with tiny dried shrimp, and is finished with a generous sprinkling of flying-fish roe. Flying fish are the traditional quarry of the Tao (Yami) tribe of Lanyu (Orchid Island), off the southeast coast of Taiwan, and here their roe is really the star of the dish. Beautiful briny capsules that burst amongst the rice grains when you chew, giving this normally heavy dish a fresh and unexpected kick.
From the rice, we move on to the Pan Fried Buckler with Curry, batter-fried soft-shell crab with a powerful curry sauce. You might recognize this as more of a Thai dish, but here it is served with guabao, a flat Taiwanese steamed bun traditionally used to wrap soy-stewed pork belly, and the two marry perfectly – the doughy guabao taking the sting out of the curry and providing a filling cladding to an otherwise light meat.
There is also, of course, the obligatory Crispy Deep-Fried Egg Tofu with Flying Fish Roe; this comes too with a topping of flying-fish roe (the more of this the better, in my humble opinion), and as a final savory treat, a Deep-Fried Barbecued Pork Bun in the shape of a hedgehog.
For dessert, I sample a selection of soft steamed buns with sweet fillings. Kenny tells us that the buns, which come in 20 variations, are modeled on things that the chef recollects from childhood – toadstools that look like they're from Super Mario, cute bunny rabbits, cartoon frogs and pandas – and have different and sometimes surprising fillings. We try a panda filled with a strong sesame paste; a red-and-white toadstool stuffed with sweet potato, cheese, and macadamia nuts; and my favorite, a mean-eyed purple orb packed with taro and mochi.
A glance at the drinks menu shows that the beverages here, as well, are something of a departure for a traditional Taiwanese restaurant. While most such restaurants will have a fridge full of the local lager, Taiwan Beer, the specialty of the house here is cocktails, with the menu even recommending pairings of cocktails and food. There's beer, too, a mixture of international brands and locally brewed craft beer, or for those abstaining, a selection of smoothies made with native fruit – guava, pineapple, and roselle.
As for the atmosphere, you might come to the conclusion that the restaurant is a lot like a high-end Taiwanese fast-fry joint. To say so is not a slight on the place at all. Fast-fry restaurants are absolute staples of the Taiwanese culinary scene and a fantastic place to spend an evening, drinking and eating copiously while generally being a bit loud and rowdy. Sanhoyan has captured that atmosphere and paired it with high-quality food and modern drinking trends, the result being a restaurant that has the best of both worlds.
Note: The portion sizes of the dishes at Sanhoyan serve 2-4 people, and so going with a medium-sized group of friends will allow you to order a wide range of dishes without breaking the bank.
Sanhoyan (叁和院)
Add: No. 14, Lane 101, Sec. 4, Zhongxiao E. Rd., Taipei City
(台北市忠孝東路四段101巷14號)
Tel: (02) 2731-3833
Website: www.sanhoyan.com.tw
Hours: Mon~Thurs & Sun: 11:30am~midnight; Fri & Sat: 11:30am~1am
Taiwan Bistro
Tucked away in a lane at the foot of Elephant Mountain in Taipei's east area is Taiwan Bistro, another excellent eatery selling traditional Taiwanese fare – this time soy-braised dishes. Stalls selling braised foods such as "small sausage in large sausage," spicy duck's-blood cakes, and Taiwanese-style bagels can be found in pretty much any night market or bustling food street. Taiwan Bistro, however, is fronted not by the customary bright sign but rather by an abstract piece of metal art.
Inside, the smartly-dressed owner serves up his soy-braised products alongside craft beer from the best of Taiwan's native craft-brewing scene, red wines, and whiskeys. Something akin to that of an izakaya (a type of informal Japanese gastropub), the atmosphere is a convivial mix of the traditional and modern, with lashings of hearty food and plenty of drinks to wash it down with. It's lively enough to be fun, with a somewhat hipsterish taste for the artisanal added in.
Taiwan Bistro (渣男 Taiwan Bistro)
Add: No. 12, Aly. 315, Ln. 150, Sec. 5, Xinyi Rd., Xinyi Dist., Taipei City
(台北市信義區信義路五段150巷315弄12號)
Tel: (02) 2720-9820
Hours: Daily, 5:30pm~1:30am
At Fujin Tree – Taiwanese Cuisine and Champagne
Taiwanese food and champagne are not things you usually associate with each other. But that's exactly what At Fujin Tree – Taiwanese Cuisine and Champagne, a fancy restaurant hidden in the tree-lined backstreets of the charming Minsheng Community, aims to combine.
The restaurant serves contemporary twists on classic Taiwanese dishes (such as stinky tofu with kimchi, Formosa vermicelli, and oysters with sliced dough sticks) paired with your choice of French bubbly. Pricier, quieter, and more deliberately upmarket than Sanhoyan or Taiwan Bistro, the restaurant is tastefully decorated with hanging plants and large floor-to-ceiling windows, which allow you to dine doused in natural sunlight. The perfect place for people who want to try local cuisine without the hustle, bustle, and noise associated with "grassroots" eating.
At Fujin Tree—Taiwanese Cuisine and Champagne (富錦樹台菜香檳)
Add: No. 17, Lane 199, Dunhua N. Rd., Songshan Dist., Taipei City
(台北市松山區敦化北路199巷17號)
Tel: (02) 8712-8770
Website: www.facebook.com/atFujinTree
Hours: Daily, 12pm~2pm; 6pm~10pm
[google_maps id="8058″]
Also read:
Taipei VEGETARIAN DINING — Three Great Places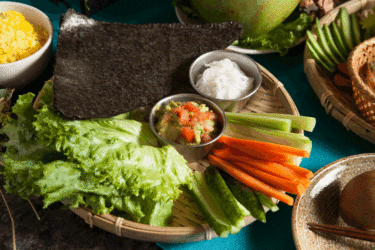 taiwaneverything.cc/2017/06/16/taipei-vegetarian-dining/
Turkish Specialties in Taipei — SAFRANBOLU RESTAURANT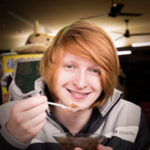 Owain McKimm is a freelance writer who has been living in Taiwan since 2009 and has written about everything from Taiwanese foot massages to flower cuisine.
E-mail: owain [dot] mckimm [at] googlemail [dot] com