Experiencing Stylish Slow Food Dining in Historical Buildings
If you are looking to sit down to a slow meal in a restaurant with pleasant ambience in Taipei, there is an increasing number of places in its lanes and alleys that can satisfy not just your longing for a good-tasting meal, but also your desire to relax and cherish the experience.
 Text: Owain Mckimm; Photos: Maggie Song
In a big, heavily populated city like Taipei, eating out might sometimes feel a little bit stressful. At peak hours, it's not uncommon to be squeezed into seating at a table with other hungry diners or have a long queue outside watching and guilt-tripping you into wolfing down your evening meal, while the agony of choice – especially when confronted with an all-Chinese menu – can make the simple act of ordering a complex and sweat-inducing affair.
In addition, those looking for a restaurant with a tangible sense of place or local history may often be disappointed, as for the majority of popular local eateries in Taiwan setting and décor is not a priority. Aesthetically speaking, many eateries renowned for their fantastic food are nevertheless strangely anonymous, making do with simple tables and stools, the only decoration perhaps being the images of local celebrity patrons on the walls.
There is, however, a modern movement in Taiwanese restaurateurship to provide alternatives to this fast-paced style of eating by opening restaurants that emphasize slow food (cooked using fresh, seasonal Taiwanese ingredients), a homey atmosphere, and an appreciation of the setting itself.
Greenhouse Space
Travel in Taiwan recently visited one such venture – Greenhouse Space – in an alley off the northern section of Taipei's Xinsheng North Road, nestled in a small open area between high-end apartment buildings. Constructed in 1949, the two-story building – clapboard with double-hung windows and a garden bordered with banyan trees, a rare sight in concrete-block-dominated Taipei – was once the residence of the chairman of the Central Bank of the Republic of China, but is now home to a restaurant serving traditional Taiwanese cuisine.
We enter the premises and are greeted by a minimalist interior with simple wooden tables and chairs, the only signs of extravagance being two small nooks – one upstairs, one down – with tastefully selected leather furniture. A temptation for many business owners who run a restaurant or café in a historical building is to deck it out with period memorabilia; not here, however. Here, the work of historical eye-candy has been left to exposed structural elements of the old house itself. Low-hanging wooden beams crisscross above us; sections of wall have been removed and covered with transparent material to show the inner workings; more unusual architectural features, such as an oculus window and the artisanal gratings, are subtly highlighted with small triangular plaques that give the keen observer extra tidbits of historical information.
But the feature that most sets the house apart is its very own air-raid shelter, a relic of the 1950s that now doubles as the kitchen (generally, gas burners are not allowed in wooden houses of historical importance; because the shelter is made of concrete, the proprietor has been granted an exemption).
The setting, however, is not the only great thing about Greenhouse Space. The restaurant's minimalist decor is reflected in its minimalist menu. There are only two options – a set meal with meat and a vegetarian set, each priced at NT$380. What you get is entirely up to the chef, and depends on what ingredients are available on the day. Generally speaking, you'll get six or seven dishes (with the meat-based set, a mix of vegetable and meat offerings), a bowl of rice, and a soup. This allows the restaurant the flexibility to choose the freshest seasonal ingredients each day – which include year-round staples such as baby corn, pumpkin, radish, broccoli, and Chinese cabbage but also allows for season-specific wild-cards such as areca flowers in summer or sweetfish in fall – and, of course, gives diners the opportunity to be surprised and delighted with each new visit.
"We wanted to make the restaurant feel like a second home," says Angela Huang, the restaurant's director. "At home, you don't order from a menu. And the food your mother cooks is always fresh from the market and cooked with love."
Eager to sample the fare, I order the set with meat – which arrives presently on an elegant bamboo-wood tray. I start with the soup, boiled daikon in a pickled watermelon broth. According to Huang, during Taiwan's watermelon season smaller fruits are harvested early to make space for their other, larger siblings to grow. These early harvests are then shredded and preserved, and the result is now flavoring my soup. It's a captivating flavor, piquant and mildly pungent, and pairs surprisingly well with the earthiness of the daikon (which just happens to be a favorite ingredient in my own Taiwanese mother-in-law's creations).
Moving on to the meat dishes, there's succulent, crispy-skinned chicken glazed with chili sauce, along with several tender cuts of pork cheek, a common side dish in Taiwanese eateries. The seafood course is delicious soft-shell crab, accompanied by okra, broccoli, and perhaps most bizarrely, candied bitter melon – an experimental dish in which an attempt is made to offset the melon's bitterness with a crisp sweet crust (surprisingly palatable, considering that I count bitter melon as one of my culinary nemeses).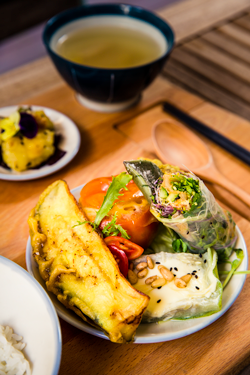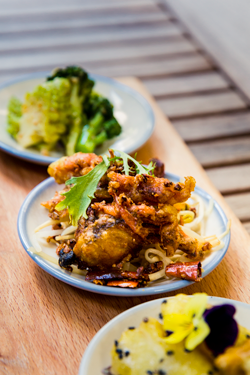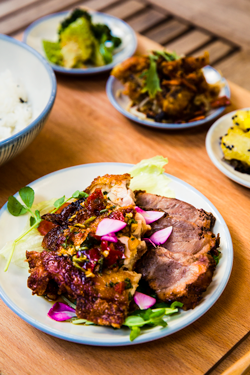 I would be remiss to not mention the tableware, which is itself a testament to how much care Greenhouse Space puts into its finer details. Each plate is handmade in Yingge – Taiwan's pottery capital – and features a unique painted design – pomelos, pineapples, bamboo shoots, shrimp – which according to Huang is a throwback to early 20th-century Taiwan, when images of mouth-watering foods would be painted on plates and bowls in order to sate hunger (psychologically at least) in times of frugality.
It's these small particulars, as well as the delicious food, that makes Greenhouse Space an intriguing place to eat indeed.
Greenhouse Space (綠舍食光)
Add: No. 24, Lane 62, Sec. 3, Xinsheng N. Rd., Zhongshan Dist., Taipei City
(台北市中山區新生北路三段62巷24號)
Tel: (02) 2597-2885
Foodie
Continuing the theme of restaurants in historical buildings, we also visited Foodie, located in the high-end modern-bohemian bolthole that is Taipei's Minsheng Community. The restaurant is housed in a two-story former private home, façade done in red brick, which has been around since the 1950s and once belonged to a naval officer whose old initialed suitcases can still be seen dotted about the restaurant. The furnishings are eclectic, vintage, and verging on grand, with Persian rugs, Damask wallpaper, and stained-glass lamps decorating the private dining areas in each of the three ground-floor rooms. In fact, Foodie reminds me more of an upper-class drawing room than it does a restaurant, an impression cultivated by Ken Hsu, who co-owns the restaurant with the grandson of the aforementioned navy captain.
"Taiwanese dining tends to be fast-paced, a rushed affair," says Hsu. "With Foodie, I wanted to create something more akin to a European dining experience, create a place where you can sit for as long as you want, enjoy the space, feel completely at home and at ease."
Such comforts, however, don't come cheap – the standard set menu costs NT$2,000 per person and includes a starter, a soup, a fish course, a main, an après-main, and a dessert. Dining time is not limited, nor does the restaurant have any set opening hours – the key word here is, after all, flexibility. Parties of two or under needn't book ahead, but for larger groups, reservations are advised.
In contrast to Greenhouse Space, where the focus is on making Taiwanese cuisine with fresh local ingredients, Foodie's culinary scope is somewhat wider.
"You could say that the food we cook here is Western-style," Hsu says, "but with Taiwanese and Japanese influences."
The head chef, Adam Hsieh, who as well as having worked in several Western restaurants also ran a Taiwanese restaurant in Japan with his father for many years, is, according to Hsu, fond of incorporating local Taiwanese ingredients and typically Asian sauces and spices into otherwise Western dishes.
Service is à la russe, and we start off with a seasonal avocado salad, sprinkled with blueberries, jujubes, pickled radish, sweet potato, and smoked salmon – the impressive range of flavors dancing over the smooth, creamy low-notes of the avocado.
For our main we get a perfectly seared pork shoulder, laid on a bed of shredded swede and accompanied by classic Taiwanese vegetables – baby corn, plum radishes, pumpkin, broccoli, and water bamboo.
Our après-main is a bolognaise risotto – the "rice" actually being chopped noodles made from durum wheat, and the meat sauce of beef and pork having a mysterious hint of Chinese medicinal herbs about it, all topped with a crisp wonton-wrapper halo – and for dessert, a phyllo pastry sandwich with a chocolate ganache filling, passionfruit pudding, and handmade cookies.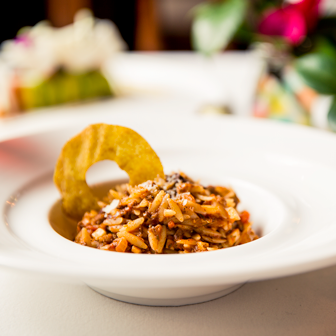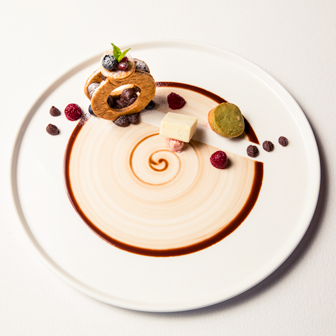 The food is in every way quite excellent, beautifully cooked and lavishly presented.
"Every day is a surprise," Hsieh says. "It's a challenge, to cook so spontaneously each day, but it's a good challenge. As a chef, it keeps me on my toes; this way, neither I nor our diners get tired of the food here."
Foodie (福邸)
Add: 1F, No. 4, Alley 2, Lane 359, Fujin St., Songshan Dist., Taipei City
(台北市松山區富錦街359巷2弄4號1樓)
Tel: (02) 2765-4898
Also read
TAIWANESE CUISINE — TUA Restaurant in Taipei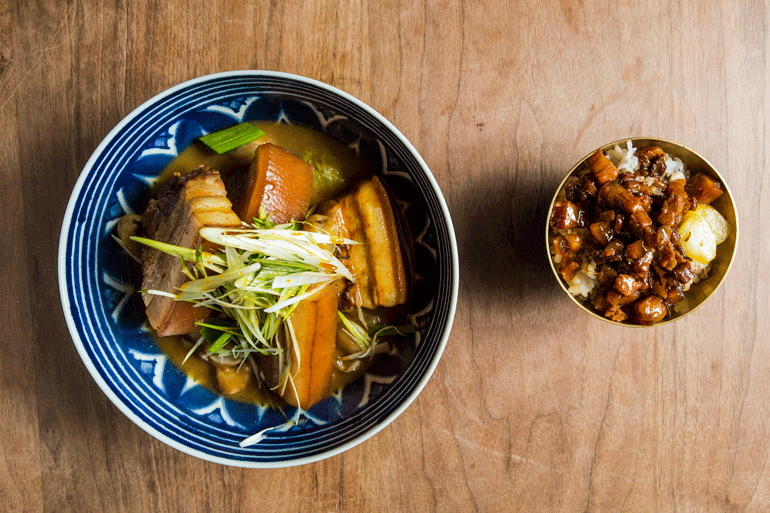 taiwaneverything.cc/2017/10/19/taiwanese-cuisine/
Taipei VEGETARIAN DINING — Three Great Places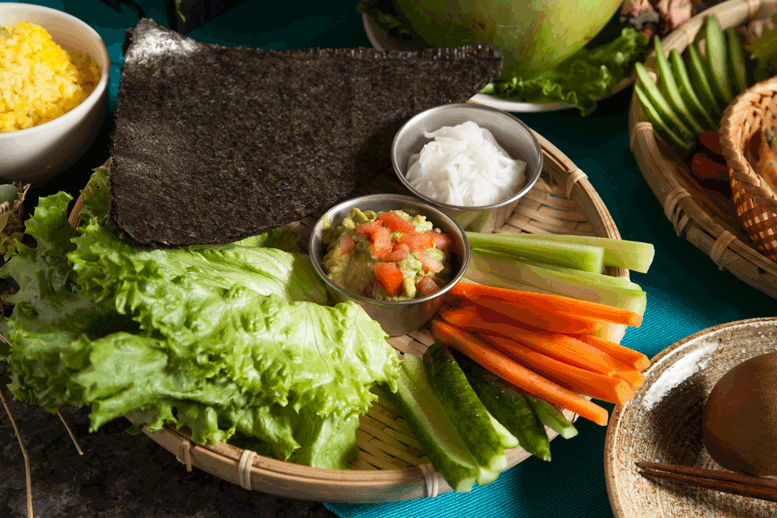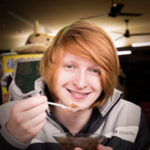 Owain McKimm is a freelance writer who has been living in Taiwan since 2009 and has written about everything from Taiwanese foot massages to flower cuisine.
E-mail: owain [dot] mckimm [at] googlemail [dot] com