A First-Time Flyboarding Experience on the North Coast
Text: Francesca Chang; Photos: Nick Chiu
Flyboarding is a new trending watersport that requires good balance and an adventurous mindset. Surrounded by the sea and blessed with a subtropical/tropical climate, Taiwan is an excellent place for all types of watersports, flyboarding now one of them!
The island of Taiwan, when first spotted by Portuguese sailors in the 16th century, was dubbed "Ilha Formosa," meaning "Beautiful Island." Thereafter the island was long known internationally as "Formosa," and while outdated now, this remains its nickname, showing that the beauty of Taiwan has withstood the test of time. Among the scenic beauties that impress foreign visitors most is the island's varying coastline, including its North Coast and Northeast Coast, both characterized by bays and capes, enchanting rock formations, rugged cliffs, rolling green hills and mountains beyond, as well as pristine beaches. Places of warm waters and lush, mountainous backdrops, these two areas, conveniently reached from central Taipei, are ideal playgrounds for adventurous types who love watersports.
On a recent trip to the North Coast I had the chance to learn more about and experience flyboarding for the first time. An unforgettable day!
Watersports in Taiwan
At numerous seaside beaches around Taiwan you can rent surfboards, kayaks, and other watersport gear. Private and group outings for snorkeling, scuba diving, paragliding, and windsurfing are also offered by reputable enterprises at many locations. The many options for outdoor pursuits have been attracting more and more tourists from overseas in recent years, with ever more businesses popping up to meet the increasing demand.
One outfit that stands out is Taipei-based LeBay Company. It organizes many exciting watersports activities such as dragon-boat paddling, kiteboarding, paddle boarding, jet-skiing, and hoverboarding. Flyboarding classes are now included among their very popular offerings.
Flyboarding: A Short History
Inspired by the fictional superhero and pop-culture film Iron Man, the flyboard was invented in 2012 by Franky Zapata, a renowned French watercraft rider. The new watersport it spawned quickly gained international traction, developing a small yet fiercely dedicated group of enthusiasts, and with a Flyboard World Cup first taking place in Doha, Qatar in 2013, Dubai in 2014 and 2015, Naples in 2016, and Cavalaire-sur-Mer in France in 2017.
A flyboard rider stands on the flyboard – a hydroflighting device – with his/her feet secured in a pair of boots attached to the board. The device is connected by a long hose to a jet-ski, and water is forced under pressure through jet nozzles underneath the boots. The pressure provides enough thrust for riders to fly up to 15m (49ft) into the air and dive headlong through the water down to 2.5m (8ft).
Improvements have been made to the original device, and the LeBay Company currently uses the 2016 Flyboard Pro Series, which is 35% lighter than the original flyboard and has an improved hydrodynamic efficiency of 32%, the enhancements making the board significantly easier to control.
Taiwan's New Iron Man
The LeBay Company was founded in 2016 by Kasa Liu, who was drawn to the sport by its novelty, and "because it was cool." Before formally opening the company for business, he and his fellow colleagues traveled all the way to Paris, where they were properly trained on the usage of the flyboard, spending two full weeks learning about operation and safety.
For two years now, Kasa and his five staff members have been introducing this recreational activity to both locals and foreigners at Wanli Beach on Taiwan's North Coast, located just to the south of Yehliu Geopark, a very popular tourist attraction.
Flyboarding has been well received in Taiwan; LeBay has given both public and private demonstrations throughout the island, and the outfit's customer numbers have increased significantly. The firm's head coach even gave a performance at a private pool party in Taipei once, where he showed off acrobatic moves to entertain the guests. Taiwan's first flyboard competition was recently held at the Dapeng Bay National Scenic Area, Pingtung County, as part of the annual Dapeng Bay Yacht & Regatta Festival.
My Debut as an Iron Woman
As I had never done flyboarding before, on my recent North Coast trip I was a little intimidated by the new device and the concept of being "suspended" high in the air by a powerful force underneath my feet. Fortunately, however, the coaches at LeBay each have at least two years of instruction experience and do a wonderful job indeed of making customers feel at ease.
After a brief general introduction to the sport, a hop, skip, and jump took us to the area where I would be flyboarding. A rest area with a cabana is set up on the beach, where guests can prepare or rest before going out into the water. Several staff members are always at hand to provide assistance.
Safety is a priority at LeBay, and I was suited up with a life jacket and helmet before entering the water. I kicked off my sandals and walked into the water with my coach, toward a jet-ski rider waiting for us. After riding out to open water, away from the shallows, my coach and the jet-ski rider helped me get onto the flyboard, strapping my feet tight into the boots.
Professional flyboarders use a Bluetooth device to control the pressure of the water sent to their flyboard. At LeBay, however, for beginners the pressure is controlled by the trained staff on the jet-ski. You start in the water floating, facing downward with back arched and head out of the water, then right before taking off you straighten your legs with knees slightly bent so that your body is positioned upright. It takes a beginner a few times to get used to this procedure. A bit of balance and coordination is required to successfully get up above the water.
On my first few tries I was unsuccessful in standing up, falling back into the water immediately each time. Thanks to my patient coach's instructions and support, however, I then managed to stand up and launch into the air after a further five minutes of practice, achieving a total of three flights in a row. There are no words to describe the rush I felt once suspended high up above the water. The feeling was similar to balancing on a snowboard or a skateboard, but the thrill was so much bigger.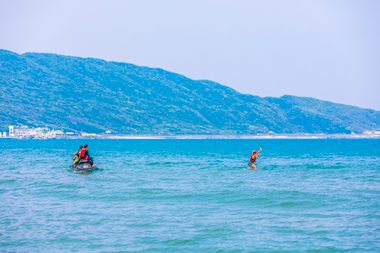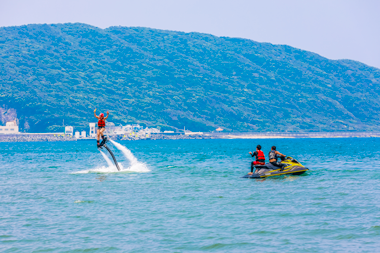 Thereafter, the more comfortable I got, the more pressure the coach released and the higher I flew! When I was young, I always wished to have the superpower ability to fly. Standing weightless on a flyboard, suspended high in the air, is the closest feeling I've ever had to attaining this superhero dream. It was even better than zip-lining.
During the 30min session I had signed up for I did not master a smooth landing; I came crashing down each time. The instructors had told me beforehand to try to land on my arms and protect my face during such falls. Luckily, wearing a helmet and life jacket made my failures to do what I had been told less unpleasant than they might otherwise have been, and I was always completely safe. Being able to hover high in the air above the water, enjoying great views of the coast, made this experience absolutely worth the failed landings.
Exploring Taiwan's beautiful coastal areas, with their fine beaches and warm waters, through innovative watersports like this is a must-do – especially when you can feel like a superhero doing so! Regardless of your experience, fitness level, or even your ability to swim, flyboarding is sure to take you to new heights on the beautiful island of Taiwan!
Info
LeBay Company (樂趣灣)
Tel: 0966-579790
Website: lebay.co/booking/flyboard/
Getting There
Self-drive: Take National Freeway 3 to Jijin Interchange; turn left onto Provincial Highway 2, and drive to New Taipei City district of Wanli.
Public transport: Take a commuter train to the city of Keelung; transfer to bus 789, 790, or 862 at the bus stop near the blue pedestrian overpass to the right of the station; get off at Wanli Beach bus stop.
Take Kuo-Kuang Motor Transport bus 1815 from Taipei City Hall Bus Station or Taipei Bus Station to Wanli Beach.
Pricing
LeBay offers a 30min flyboarding experience for NT$2,000, including 10min of offshore training. For an additional NT$500, you get a drone recording of your experience. If more adventurous and experienced, you can opt for an NT$6,000 course, including 10min of offshore training, a 20min basic-trick session, a 40min session on "fancy" tricks, plus drone footage of your entire experience.
Session availability: Daily 10am~6pm; booking at least 3 days in advance is recommended.
What to Bring
Females should wear a conservative bathing suit, or cover up with a pair of shorts and a T-shirt (as the water pressure and crashing will alter the fit of your bathing suit). All partakers should bring sunscreen, flip flops, a towel, and a change of clothes; hot showers are available.
Also read
PARAGLIDING at Wanli on the North Coast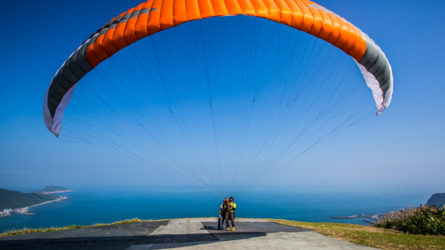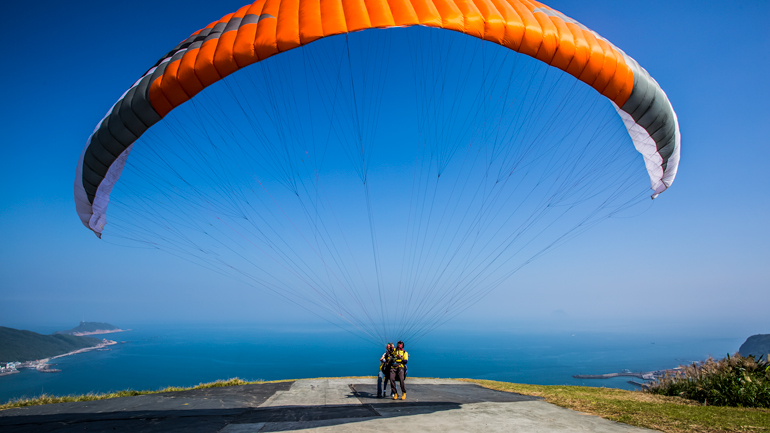 taiwaneverything.cc/2017/08/30/paragliding-wanli/
KAYAKING at Fulong on the NORTHEAST COAST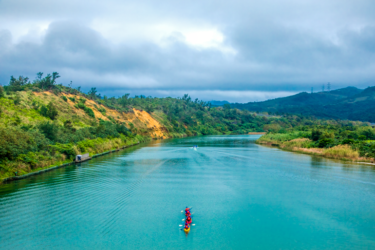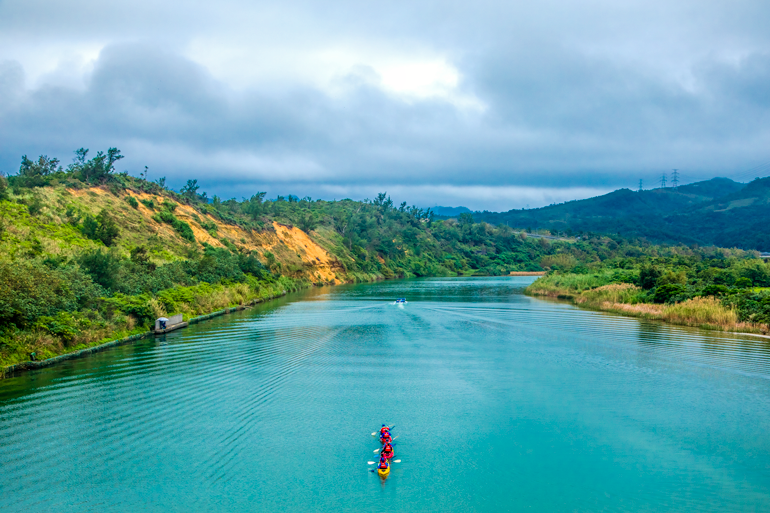 taiwaneverything.cc/2018/01/31/kayaking-fulong/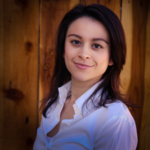 Francesca is an attorney from California who left a life of pushing papers behind a desk to travel the world. Currently, she combines her passion for travel and community service at her base in Taipei, Taiwan, where she is a regular volunteer at a local homeless shelter and elderly assistance organization. Still an activist at heart, she is committed to eco-tourism and giving back to whatever community surrounds her. She has volunteered with rescue elephants in Thailand, taught English to orphans, and fed the homeless in Asia. Follow her "active" lifestyle on IG!