Taiwan Balloon Festival in Taitung — Flying High at One of Taiwan's Hottest Tourist Attractions
The Taiwan International Balloon Festival has become one of Taiwan's most popular annual festivals in recent years. The Travel Channel, a US-based cable channel, has described it as one of "12 Amazing Hot Air Balloon Festivals Around the World," alongside such major international hot-air-balloon events as the Albuquerque International Balloon Fiesta and Saga International Balloon Fiesta. The Taiwan festival is staged each summer at Taitung County's Luye Highland. Weather permitting, the hot-air balloons also fly throughout the rest of the year, as we found out on a recent trip to southeastern Taiwan.
Text: Francesca Chang; Photos: Maggie Song, Taitung Dream Flight Academy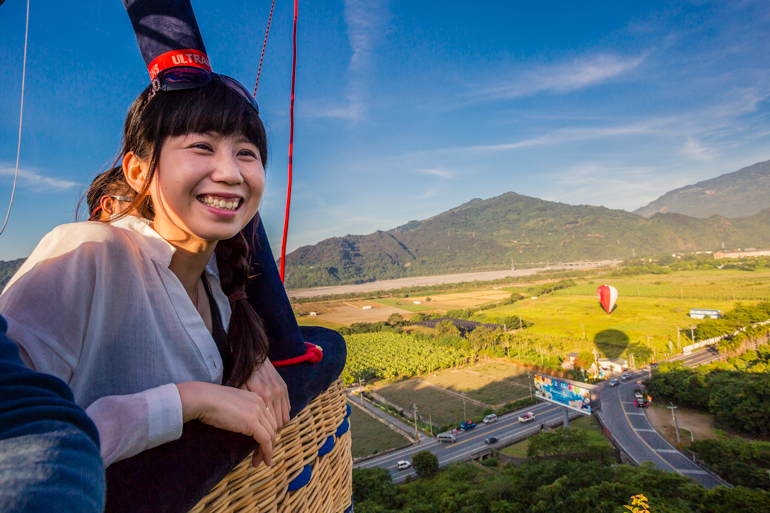 The Beginnings of Festival
Taitung County is known for its picturesque mountains, dramatic coastline, lush greenery, clean air, and consistently pleasant weather conditions. One of its geological wonders is the East Rift Valley, which runs between the Central and Coastal mountain ranges from south of Hualien City to north of Taitung City.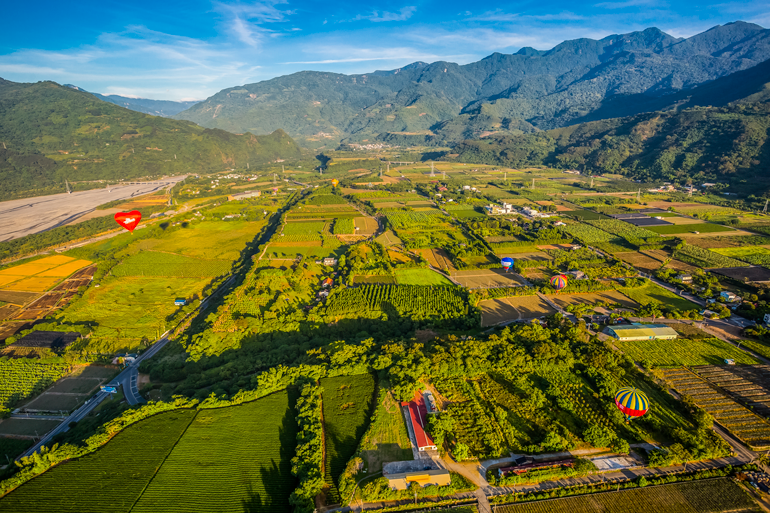 Until 2011, you could only witness the scenic beauty of Taitung County from above while high up upon one of the region's flatlands-overlooking mountains, sitting in an airplane, or perhaps while teamed with a paraglider guide and taking to the sky during the summer months. This has changed significantly since the determined Taitung County government launched the Taiwan International Balloon Festival (balloontaiwan.taitung.gov.tw) seven years ago. On July 2, 2011, 13 balloons from Thailand, New Zealand, Dubai, the U.S., Canada, India, and Switzerland embarked on their maiden voyage in Taitung, launching from the Luye Highland in Luye Township. The festival was an immediate success, the first edition attracting 350,000 visitors from Taiwan and around the world. Since then this international attraction has drawn more visitors each year, and has also become the world's longest hot-air balloon event (lasting over a month).
In the Air and On the Ground
The festival kicks off with a night-glow concert at Luye Highland during which stationary hot air-balloons are lit up and floated upward, illuminating the festival grounds to synchronized music. During the rest of the festival six more night-glow concerts take place, each at a different venue in Taitung County.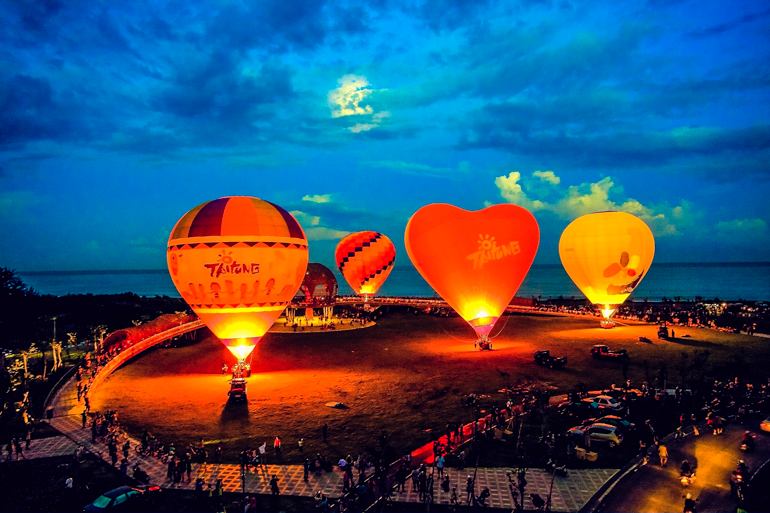 The Luye Highland, with an average altitude of 350 meters, offers spectacular views of the East Rift Valley and the two mountain ranges framing it. The plateau grassland covers more than 66,000 square meters, making it an ideal launching pad for both hot-air balloons (in the morning and evening, when the wind is calm and temperatures are not too high) and paragliders (in the afternoon, when the wind picks up). The 2017 festival featured 30 balloons hailing from 11 different countries around the world. One of the most notable characteristics of this event is the creative designs and unique shapes of the balloons – last year, the opening ceremony featured a Darth Vader-shaped balloon from Belgium, a Yoda-shaped balloon from the U.K., a flying-pink-pig-shaped balloon and a parrot-shaped balloon from the U.S., and a seahorse-shaped balloon from Brazil, to mention just a few.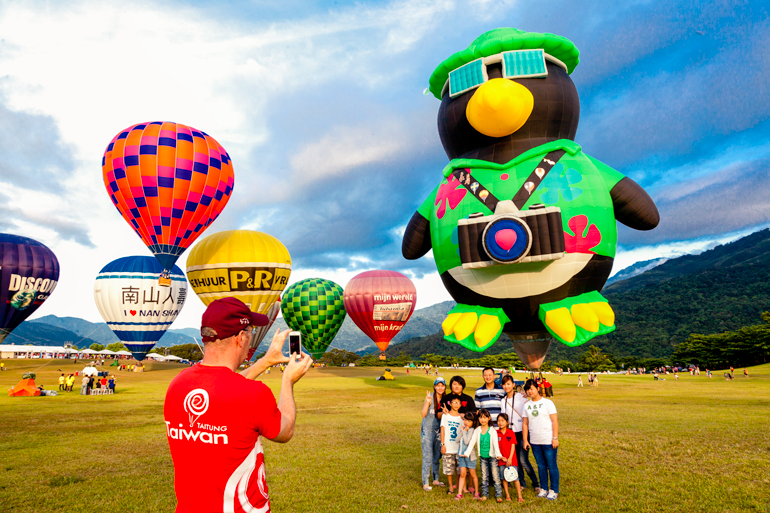 During the festival, both kids and adults can partake in a number of activities. The most popular is going on a tethered balloon ride. For NT$500, you can enjoy a 5~7-minute "flight" with your balloon remaining tied to the ground. Untethered flights lasting about 30 minutes are also offered – but are significantly more expensive, costing NT$9,000. Tickets can be purchased onsite starting as early as 5am. In the morning, balloons take to the sky 5:30am–7:30am; in the evening, 5pm–7pm. Flying in a balloon is a unique experience for passengers and a tough task for the balloon crews. A well-trained team is required to simultaneously blow an open flame into the balloon's central hole and handle ropes to keep the balloon in place once in the air.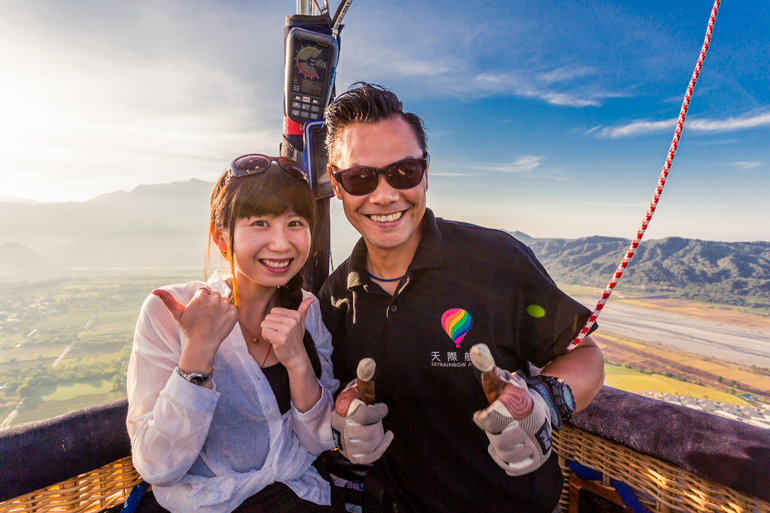 Other activities visitors can partake in include a paper-airplane competition for kids, dancing lessons with members of indigenous tribes from the Taitung area, and wedding photography for couples who want to take professional photos with hot-air balloons as props. The balloons provide a colorful and memorable backdrop for everyone.
My Own Aerial Adventure
As written in the opening, the summer festival is not the only time during which hot-air balloons fly over Luye. Private tethered flights and free flights are available to the general public at other times as well. I had the privilege of experiencing a longer flight one fine recent day.
My balloon adventure started at 4am in the morning, when I received a call from one of the pilots at Sky Rainbow Airlines, a company that organizes balloon flights at Luye, confirming that weather conditions were prime for flying. I was staying at a B&B in central Luye Township, less than 10 minutes away, and by 4:30am a staff member had picked me up at my door and transported me to the highland.
When I arrived at the launch pad, a team of four crew members was already hard at work setting up the balloon. Together with the pilot, it took more than 30 minutes for the team to inflate the balloon, using a burner and a fan to properly circulate the hot air. Once the basket was placed upright and the 7-floor-high balloon fully inflated, I carefully climbed over and into the basket, using two carved holes on one side of the basket that function as a ladder. The pilot began to pull the burner to release more hot air from the open flame, and before I knew it we were flying over the long and narrow East Rift Valley.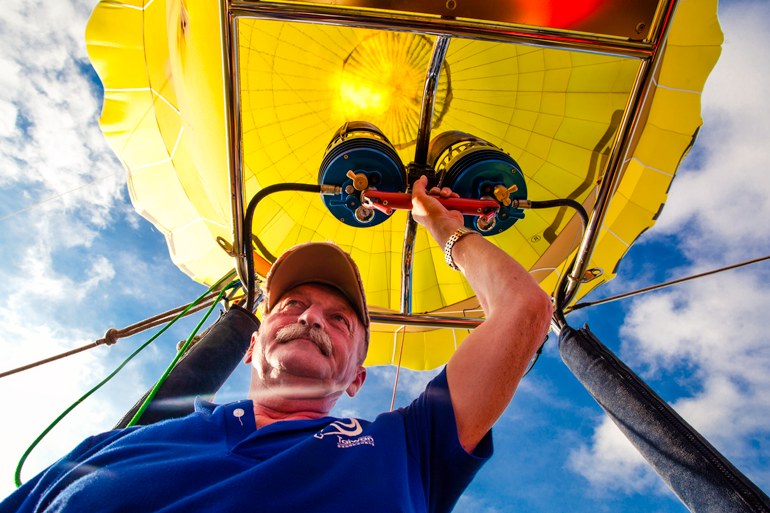 The balloon broke through scattered clouds hovering over the valley, and I had a clear view of the mountain ranges on either side of me. I could also spot indigenous villages nestled on mountain slopes, vivid green-and-yellow pineapple fields and banana groves, and even tea plantations. At about 500 meters above ground, I saw the city of Taitung to the south. As we traveled along at a calm pace of 15~20 kilometers per hour, I breathed in the fresh air and found myself wishing that I could stay floating through the skies like this forever. Sky Rainbow Airlines provides a video recording for all 30-minute flights, preserving a memory that I will cherish forever.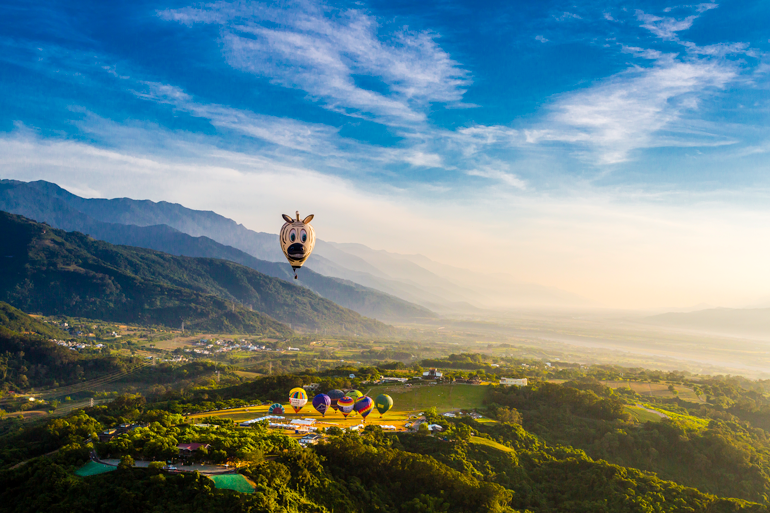 We began our descent as a sleepy sun peeked over the mountains under a clear blue sky. After we hit the ground the landing crew, which had tracked us from the ground during the duration of the flight, welcomed us back with a celebratory bottle of champagne. True to this long-lived ballooning tradition, we raised a glass with a toast to the skilled pilots and the unforgettable experience.
Training and Preparation for the 2018 Festival
Hot-air balloon pilots licensed in Taiwan are held to the most stringent of international flying standards. To become a hot-air balloon pilot in Taiwan, one must first undergo training abroad to receive a license from either the U.S. or select European countries. Upon returning to Taiwan, another 35 hours of training is required before one can fly hot-air balloons on the island. The Taitung Dream Flight Academy was established in 2014 to provide such training. Currently a private organization, the academy hopes to become a formally certified school providing training and resources for Taiwanese hot-air balloon pilots in the future. There are now ten local pilots in Taiwan who are in charge of administering private hot-air balloon rides at Luye, as well as rides at the international festival.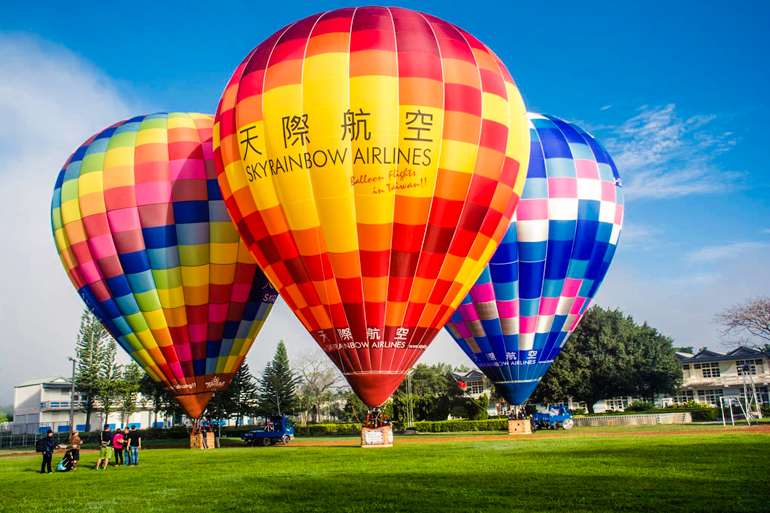 The 2018 International Balloon Festival will take place from June 30 to August 6. In conjunction with the Taitung County Government, the pilots from Sky Rainbow Airlines start preparing for the festival as early as December the previous year, personally inviting hot-air balloon pilots from around the world and assisting with accommodations. A celebration of international collaboration and local culture, this year's international balloon festival is sure to scale new heights for the beautiful country of Taiwan!
Other things to do in Taitung (Klook)
Taitung East Rift Valley Half Day Guided Tour
Taitung East Coast Guided Nature Tour
River Tracing Experience in Taitung
Hotels in Taitung (booking.com)
Articles about Taitung
TAITUNG — Chenggong and Changbin Townships
Scenic Route 9 in TAITUNG COUNTY
TAITUNG Train Ride — Lovely Countryside!
Info
Getting There
Take a train to Luye Railway Station; shuttle buses are available at the station during the festival period; alternatively, take a taxi to the Luye Highland.
Costs
During the festival, 5~7-minute tethered hot-air balloon rides cost NT$500 per person. At other times of the year these rides are NT$1,000. Free (untethered) flights (during the festival and at other times) lasting about 30 minutes are priced NT$$9,000 (video footage and champagne toast at the end included). Entrance to the festival is free. Advance booking is required outside the festival period; groups of 20 or more are required for the tethered flights, just 2 or more for the free flights.
Sky Rainbow Airlines (天際航空)
Tel: (089) 552-233
Add: No. 399, Sec. 3, Zhonghua Rd., Luye Township, Taitung County
(台東縣鹿野鄉中華路三段399號)
Website: www.skyrainbow.com.tw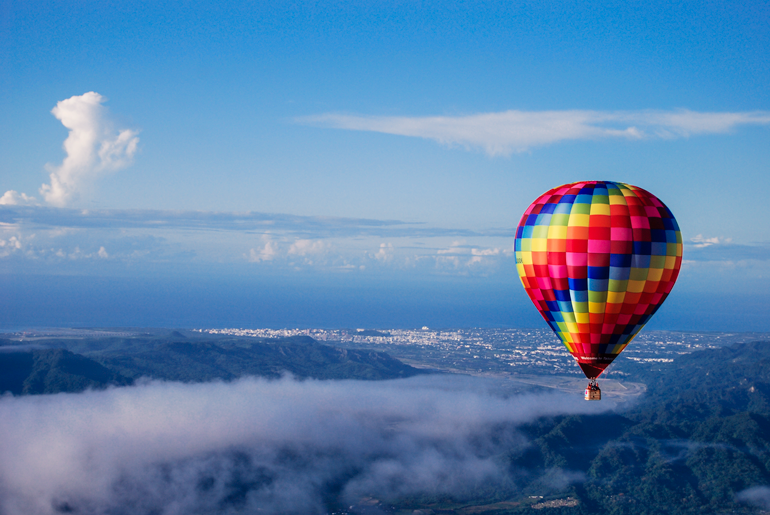 Also read
Sun, Sea, and Scenery along TAITUNG'S Coast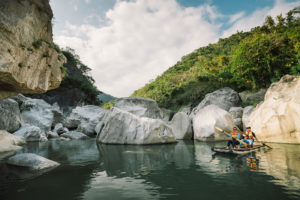 taiwaneverything.cc/2016/05/15/taitung-coast/
TAITUNG Train Ride — Lovely Countryside!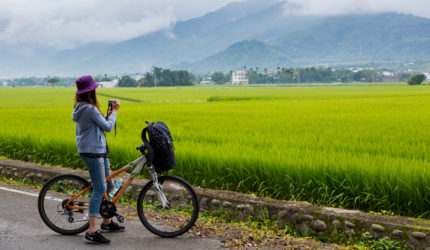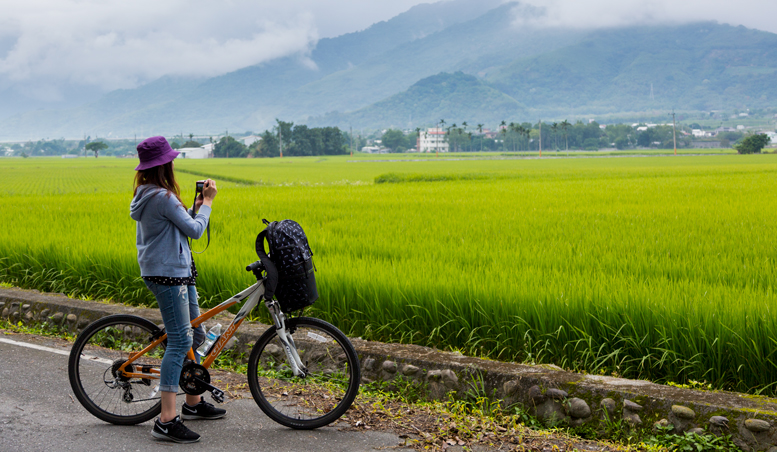 Further reading on other site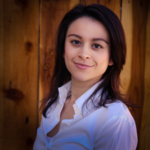 Francesca is an attorney from California who left a life of pushing papers behind a desk to travel the world. Currently, she combines her passion for travel and community service at her base in Taipei, Taiwan, where she is a regular volunteer at a local homeless shelter and elderly assistance organization. Still an activist at heart, she is committed to eco-tourism and giving back to whatever community surrounds her. She has volunteered with rescue elephants in Thailand, taught English to orphans, and fed the homeless in Asia. Follow her "active" lifestyle on IG!