Getting to Know This Land by Sleeping Close to Its Earth
TEXT / RICK CHARETTE
PHOTOS / CHEN CHENG-KUO



North, south, east, west, up in the high mountains, down by the deep blue sea, big island, small island, roughing it in a simple pup tent, sleeping on a plush bed in a large yurt-style tent.… The Taiwan camping scene can match all the widely varying preferences of the international traveler, from scenic location to amenities to price range.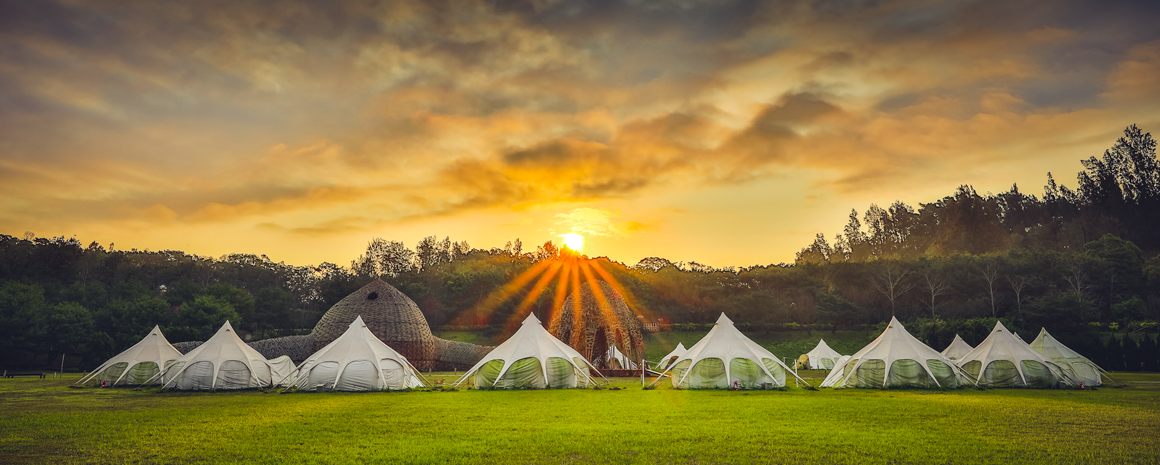 There are few better ways to rest, relax, and reinvigorate yourself than to get back to nature for a dose of the inimitable joys the great outdoors offers. And among the best ways to do this is camping. Over the past decade or so interest in camping has surged in Taiwan, especially as a form of family outing. Taiwan's main island and many offshore islands possess all requisite ingredients for high-quality experiences: a moderate climate, natural splendors in singular abundance and diversity considering the island's comparatively small size – something which amazes many international visitors who get out of the cities – and easy access to quality sites.
Tent-loving outdoor enthusiasts are spoiled for choice. According to the Taiwan Tourism Bureau, there are over 1,700 campsites spread across the land. These range from the basic to the upscale, and from sites with easy vehicle access to deep-mountain sites where you may well find yourself all alone if you haven't brought your own companionship.
Following we'll explore spots in Taiwan's national scenic areas, national parks, and other areas. We'll specially introduce the upper end of the scale with a visit to two facilities that provide full-package camping experiences, eating experiences beyond that of the normal camping outing, and guided activities on edu-tational themes (ecology and traditional culture).
A Few Tips
Whatever your scenic preferences, selections are available guaranteeing satisfaction – days by the sea, days by a lake, days high up on a mountainside, days down inside the magnificent Taroko Gorge … the possibilities are startlingly wide-ranging. Almost always, a campsite gives quick access to some other form of recreational pursuit, such as hot-spring soaking, hiking, cycling, surfing, rock climbing, or river tracing.
Camping Taiwan-style differs in a few key ways from what foreigners, especially Westerners, might be used to. Locals often camp in larger groups, set their tents up close together, eat communally, and bring along more creature comforts, with families especially liking to set up their sites as a little "home away from home."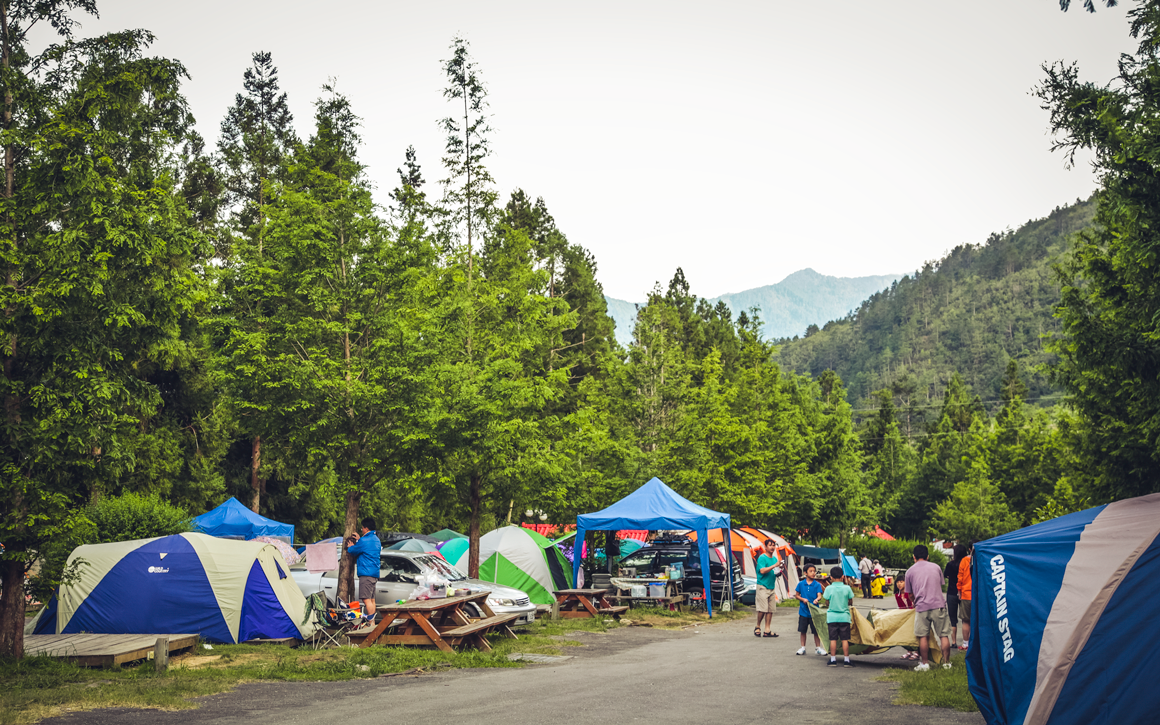 October to April is the optimal camping time, as the summers can be very hot and steamy everywhere but in the high mountains. Note that many popular campsites are fully booked on weekends, often well in advance. Prices at the most well-equipped and popular sites can reach NT$1,500 per tent space nightly in peak periods, though the norm is generally significantly lower. Prices at the higher end will be at privately run sites; public sites, the majority of which are in central government-run national scenic areas and national parks, are much lower and are kept steady. Many campsites rent out essential equipment.
Camping in National Scenic Areas
Taiwan's national scenic areas are overseen by the Taiwan Tourism Bureau. In comparison to the national parks, these areas are more tourism-oriented, with a broader range of leisure and recreational facilities. This difference is reflected in the campgrounds.
Northeast Coast
Longmen Riverside Camping Resort, located within the Northeast and Yilan Coast National Scenic Area, is among Taiwan's most popular campgrounds. It sits west of Fulong village on the Northeast Coast just off Provincial Highway 2. To get there, many campers opt for the convenient train travel to the Fulong Railway Station.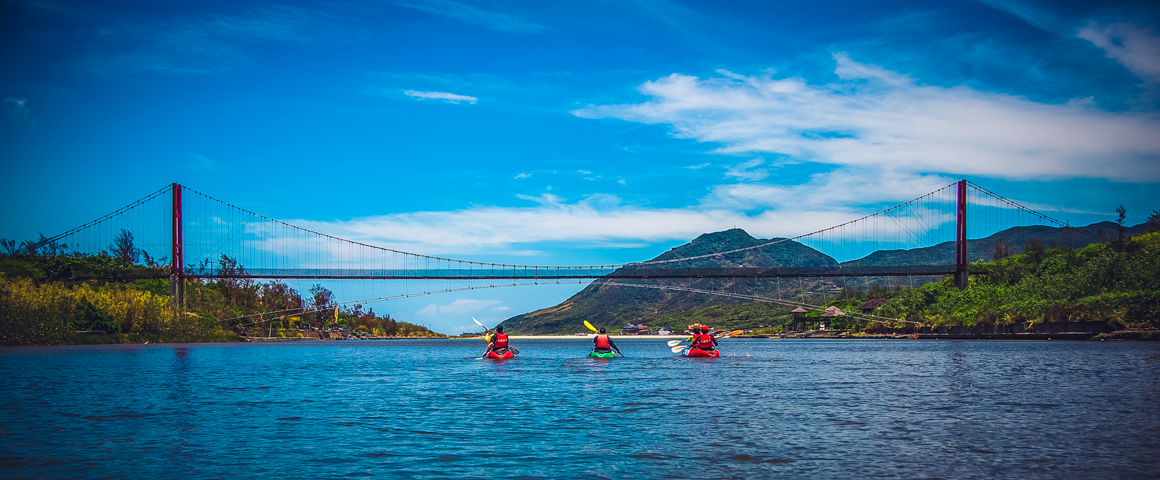 "Longmen" means "dragon gate," referring to the debouche of the campground-side Shuangxi River, the northeast's largest waterway. The campground was opened in 1991 on the revamped site of a massive sand-mining operation, and hosted the FICC International Camping Rally in that same year, with participants coming from around the world. Where there was once a giant open pit, today you find rest and relaxation amidst an oasis of tall trees.
This is very much a place for families and student groups on weekends/holidays. There is a superb range of accommodation facilities, with 231 campsites (grass, wooden platforms, roofed wooden platforms, and automobile campsites) and spacious, comfortable wood cabins available, plus myriad recreational facilities that include a swimming pool, wading pool, sand pool, bike rentals, bikeway, basketball court, and watersport-fun rentals, such as a kayaking center that provides all needed equipment and, if desired, beginner classes. Food is also sold on-site, and if you arrive with zero in the way of camping gear, no problem – everything from tents and sleeping bags to barbecue units and towels can be rented.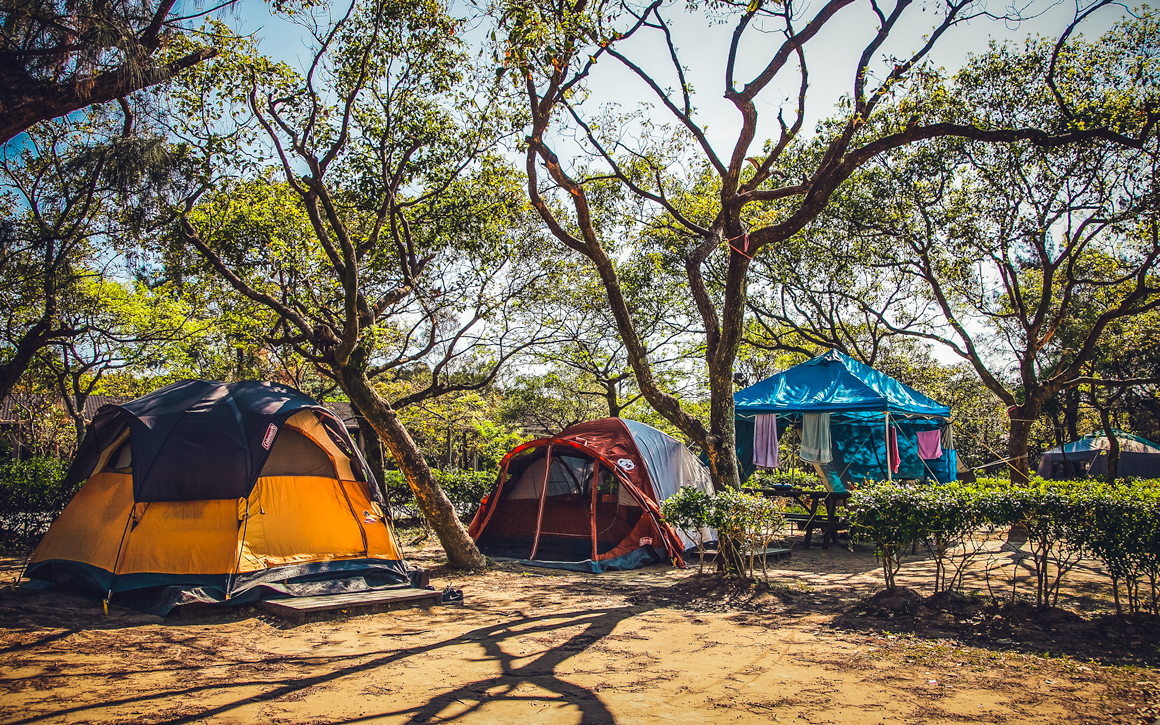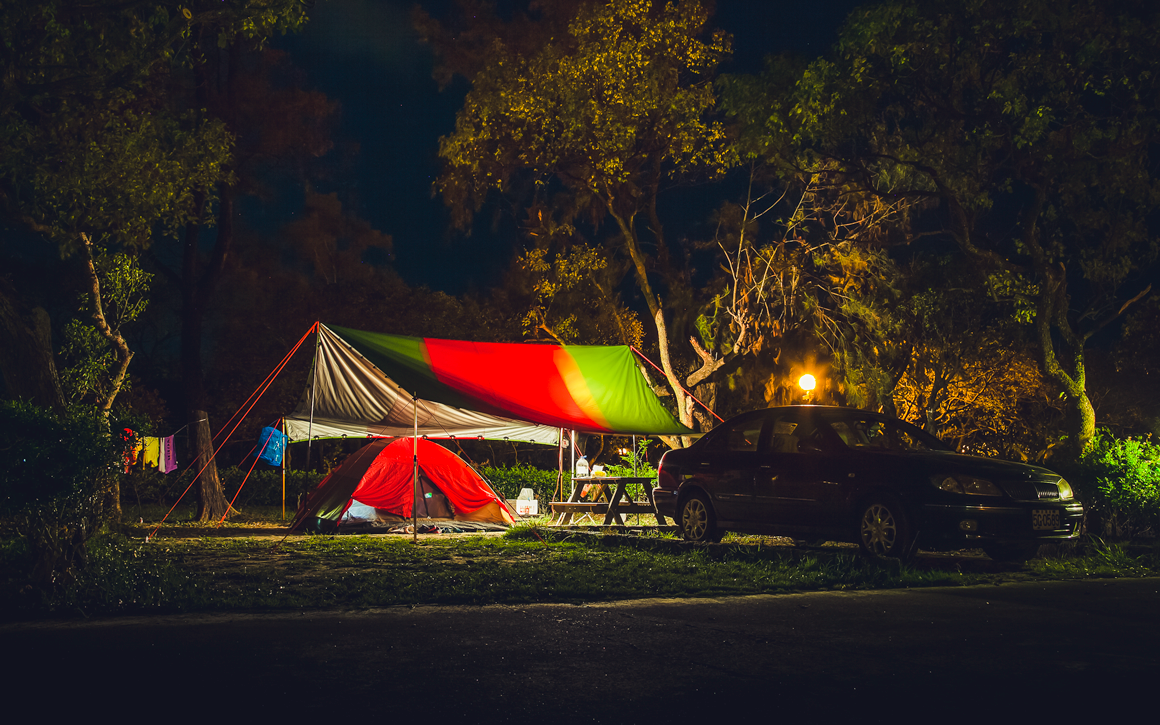 KLOOK:
Kayaking at Fulong Beach
Northeast Coast Scenic Day Tour
Northeast Coast articles
NORTHEAST COAST Train Ride — from Fulong to Toucheng
KAYAKING at Fulong on the NORTHEAST COAST
Taiwan NORTHEAST COAST Trip
East Coast
Another national-scenic-area favorite among foreign camping enthusiasts is the Shitiping Campground in the East Coast National Scenic Area. Shitiping is one of the major tourist attractions along the east coast. The word itself means "stone steps." The ocean's great erosive powers are in dramatic evidence in this wild place of dramatic terraced volcanic rock, surging tide pools, and teeming marine life.
Set up on level ground directly behind the rugged coastal geological features, the campground has open grassy areas with shade trees and pleasant landscaping. Individual campsites are primarily large or medium-sized wooden A-frame platform structures. All are close to a clean, well-supplied washroom/shower facility, with hot water available. Area tours and barbecues are organized for campers in the summer.
East Coast articles
Along the Amazing Pacific Coast of HUALIEN
TAITUNG — Chenggong and Changbin Townships
Camping in National Parks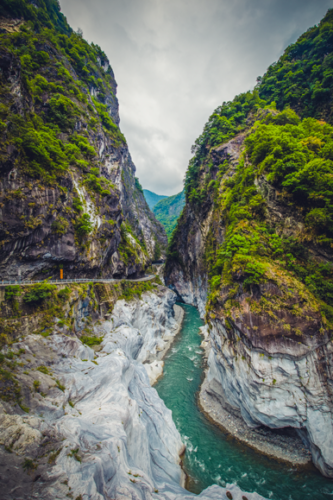 Taiwan's national parks are overseen by the Ministry of the Interior. Each is a protected space for the unique set of natural and historical attractions within its jurisdiction, and there is a concomitant strong eco-protection theme. The result is campgrounds that are generally more basic than those in national scenic areas, with the emphasis on nature appreciation, hiking, etc., rather than on more commercial types of recreational fun.
Taroko Gorge
Amongst visiting foreign travelers and foreign expatriates with a love of camping, it can safely be posited that Taroko National Park (www.taroko.gov.tw), on the east coast, is seen as the premier must-stay destination. The magnificent Taroko Gorge is a magisterial river-cut slice right through solid mountain that starts far inland and opens directly onto the Pacific – 19km of unremitting wonder. Visitors move through the gorge along the twisting Central Cross-Island Highway just above the river, marveling at the towering cliffs thickly laced with marble.
The best and most popular campground within the gorge is the Heliu Campground. There are 12 wooden-platform tent spaces (uncovered), the daily fee per space just NT$300. Drinkable water is provided, and there are washrooms with cold-water showers, washstands, BBQ pits with grates, and night lighting. There is no provision of equipment rentals. The campground is located at a narrow point in the gorge, by the head of the popular, easy-hike Lushui-Heliu Trail and the Lushui Geological Exhibition Center, which has displays explaining the natural forces that created the Taroko Gorge area.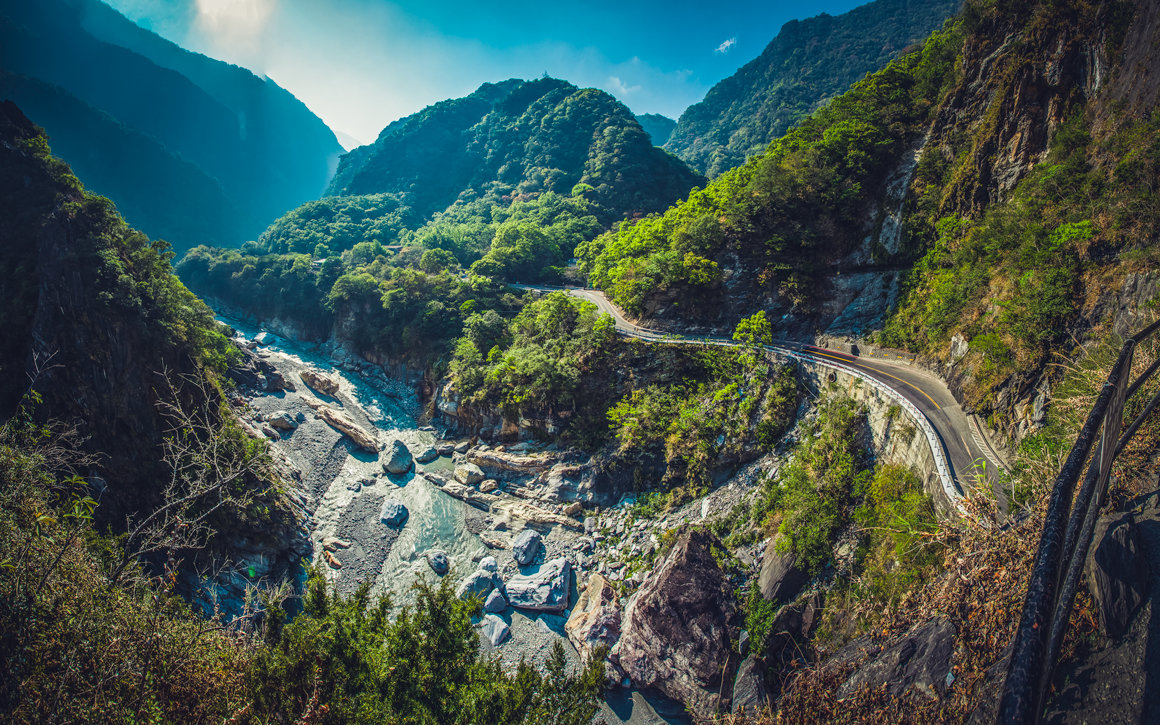 Taroko Gorge articles
TAROKO GORGE: A Truly Scenic Wonder
HUALIEN — Taroko Gorge, East Rift Valley, Pacific Coast
KLOOK:
Hualien Taroko National Park Private Car Charter

UNIQUEFUN:
Taroko Zhuilu Old Trail – Guided Tour
Other Types of Campgrounds
These run the gamut, from private basic campgrounds all the way up to the plush-experience facilities visited in the next section.
Lishan
In one recent online poll conducted by pk.yam.com, a local online-polling enterprise, the campground at Wuling Farm (www2.wuling-farm.com.tw) was voted best and most popular in Taiwan. Where is it? High up in the central mountains, about 20km from the town of Lishan. Wuling Farm and Fushoushan Farm, renowned for high-mountain fruit production, were cleared and settled long ago by retired servicemen who had come over to Taiwan with the Republic of China military after the Chinese Civil War ended in the late 1940s. Over the past few decades the main Wuling money-making focus has shifted to tourism.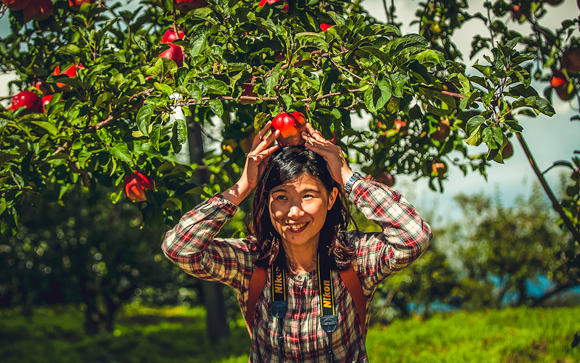 The farm fills up a breathtakingly radiant narrow mountain valley, with views all around at central-mountain giants in view all around, high slopes covered with the deep greens of coniferous forest. Beyond the campers who spend their whole time in the valley, many hikers overnight here before starting off on a long, popular trail that leads from the farm's boundary to Mt. Xue (Snow Mountain), Taiwan's second-tallest mountain.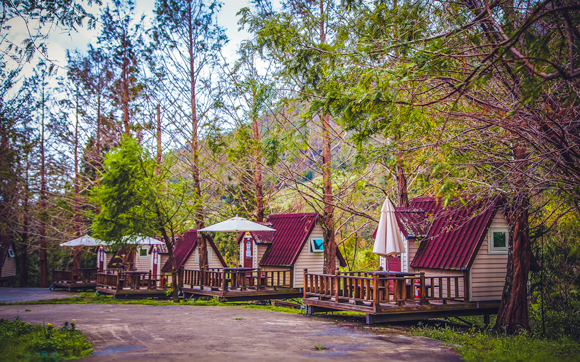 The campground is on a hillside-terrace area called the Alpine Botanical Garden, which among other attractions sports an eco-pond, water-plant pond, Chinese herb garden, shrub-display area, and "sea of flowers" area. A coffee bar stands at the campground's edge amidst a stand of soaring pines. Tents, sleeping mats, and other equipment are available for rent, and both picnic tables and barbecue pits are provided (no open flames are allowed), along with free shower facilities and hot water. The fee per campsite (with a reservation) without rentals is NT$1,000, with tent/mat rentals NT$1,300.
The farm as a whole offers a changing cascade of bright-colored botanical attractions throughout the year, with a variety of flowers blooming in spring, pleasant temperatures during summer, maple trees with color-changing leaves in the autumn, and cherry blossoms in the winter.
Lishan article
A Trip to High Mountain Farms (WULING, FUSHOUSHAN, LISHAN)
KLOOK:
Wuling Farm Day Tour from Taipei
Plush Theme-Package Camping
A newer type of camping now gaining traction in Taiwan is higher-end camping that includes more comfy-than-normal tent facilities, guided activities based on eco-promotion or cultural-promotion themes, and the provision of quality meals served at pleasant facilities. You purchase a package rather than picking things a la carte. Not surprisingly, this means the cost will be more than the high of around NT$1,500 quoted for individual traditional-style camping sites earlier. Travel in Taiwan has vetted a number of these operations, and we present two here as a sampler, one focused on eco-protection and one focused on promotion of distinctive local cultural traditions. We spend more time on the second, which is the newer and plusher of the two.
Southwest Coast
Vanaheim is an eco-theme camping resort located right off the Taiwan Strait immediately outside the north entrance of the Southwest Coast National Scenic Area, which is located at quaint Beimen, a small fishing-port town. You camp here in simple, sturdy, permanent structures that resemble yurts, which are big enough inside for two small beds sleeping two adults each as well as a small toilet and shower.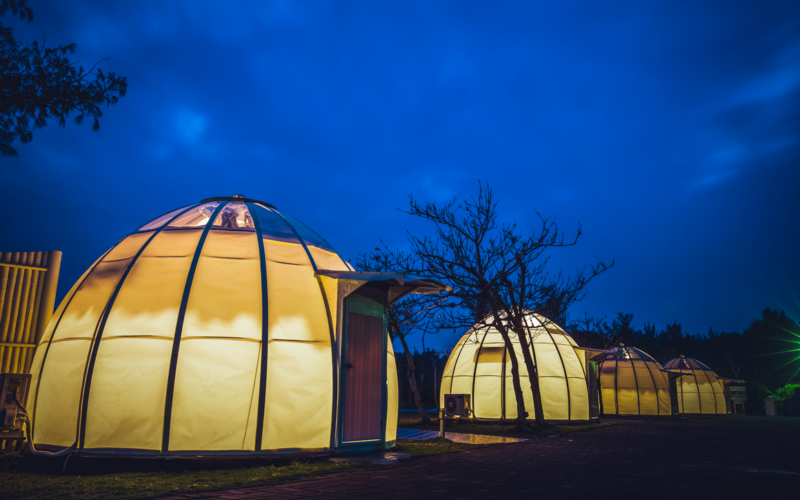 The accommodations sit on the edge of a large, wildlife-busy mangrove forest that is separated from the Taiwan Strait by a wide, high sandy beach and tidal flat. Tectonic activity has caused some coastal land in this region to subside, and mangroves have been encouraged to once again take root where saltwater aqua farms long flourished. Included in a visitor's stay package is a Chinese-language guided mangrove-channel boat tour, an eco-tour along a long forest-wending raised boardwalk, and meals at the Vanaheim eatery.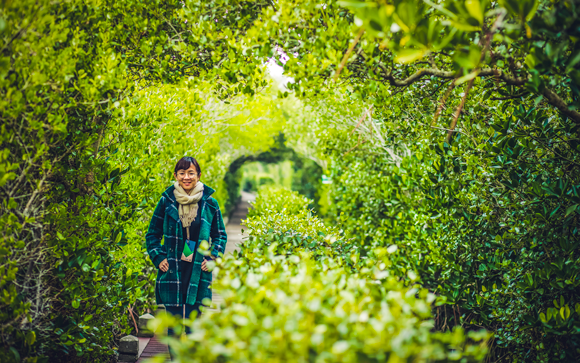 Southwest Coast article
Taiwan's Charming SOUTHWEST COAST
Miaoli County
The 40ha Shangrila Camping Area (www.shangrila.com.tw; cmpvillage.tw; both Chinese only) is located in the hills of Miaoli County, not far from the THSR (Taiwan High Speed Rail) Miaoli Station, just 10 minutes away by taxi. When you camp here you camp on the forest-surrounded grounds of the former Shangrila Paradise theme park, one of Taiwan's original such parks. The campground for purchasers of the upscale camping package, called the CMP Village, is located in a large, shallow basin in the center of the grounds.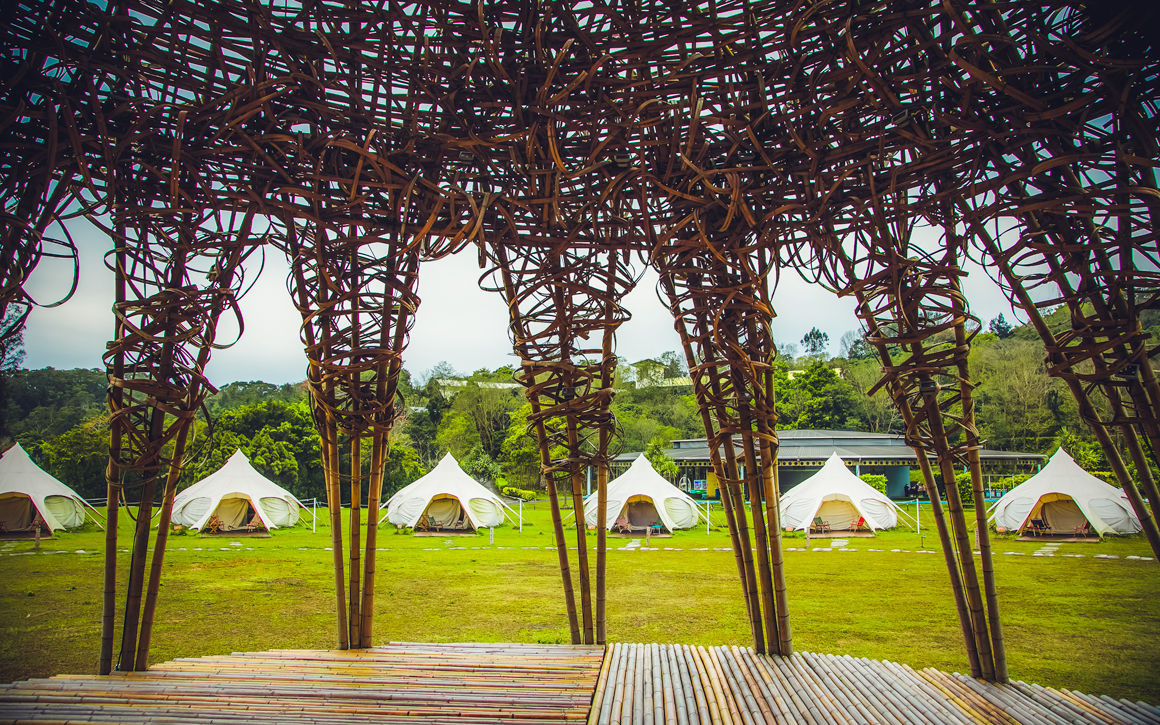 The itinerary spans two days and one night, starting at 2:30pm on one day and ending at 11am the next. Packages are offered starting on Friday, Saturday, Sunday, and Wednesday (NT$5,000 per person; online registration necessary); student camping/education experiences are offered the other days, using adjacent campgrounds outside the basin.
CMP Village Itinerary
Day 1:

2:30pm – Guided tour of the grounds and DIY experience
4:30pm – Free time to explore the grounds
6:00pm – Gourmet lamplight meal under the stars
7:30pm – Guided night tour
8:00pm – Free time


Day 2

07:30am – Alfresco traditional-style buffet breakfast
08:30am – Check-out from tents
09:00am – DIY artisan workshop
11:00am – End of package itinerary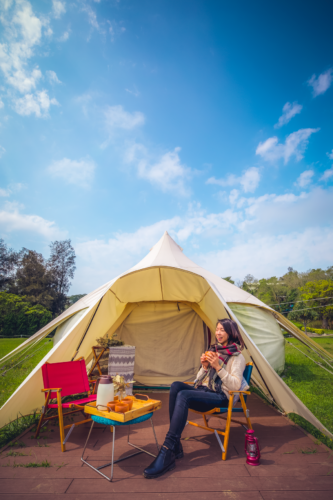 On Day 1, CMP Village campers gather at the main entrance. This is the original Shangrila Paradise entrance, a large covered arcade with a big souvenir shop selling traditional-style Miaoli County foodstuffs and handicrafts and a restaurant serving quality Hakka-culture food. They are then taken on a guided tour, following a path that leads down into the basin and to CMP Village, a collection of 15 large canvas yurt-like tents that provide sumptuous comfort. Each accommodates four people, with either one or two large, comfy beds plus soft pillows and quilts, and has air-conditioning in summer and heating in winter. Outside each is a wooden platform with seats, perfect for late-night stargazing.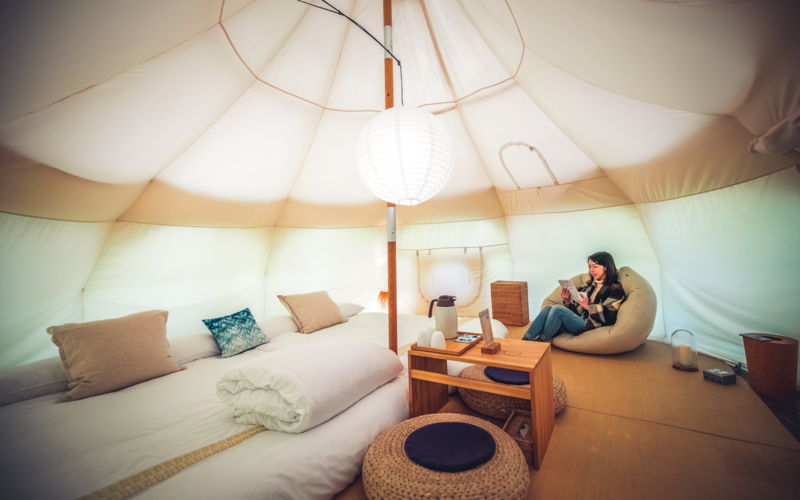 On the walk in, while stopping many times to explain the local plant and animal life, your guide will also explain the culture of the Hakka people of Miaoli. The Hakka are a Han Chinese ethnic minority that makes up about 15% of Taiwan's population, and constitutes two-thirds of the Miaoli County population. Shangrila teaches visitors about the Miaoli Hakka – their daily lives, how they have integrated with the Miaoli natural world, and how the Shangrila facility itself is being returned from life as a theme park to a place that exists in the time-honored Hakka way in harmony with nature. The natural world is being invited back in and protected.
Before setting out on an excursion driven in golf-cart-style carts to the first DIY-experience location, in a large roundhouse made of dark-color netting set deep in the woods, the CMP Village facilities are introduced: your tents; a large roundhouse-style washroom/shower facility with washcloths, towels, and shower slippers supplied, which is open and staffed 24H; beside it, a kiosk selling beverages, snacks, and Miaoli specialty products; a recreation area for youngsters; and beside it a coffee/tea counter. The Day 2 buffet breakfast is enjoyed at picnic tables in the recreation area – a traditional Chinese-style meal of tea, pork congee, a mantou (steamed bread), and an assortment of locally grown vegetables.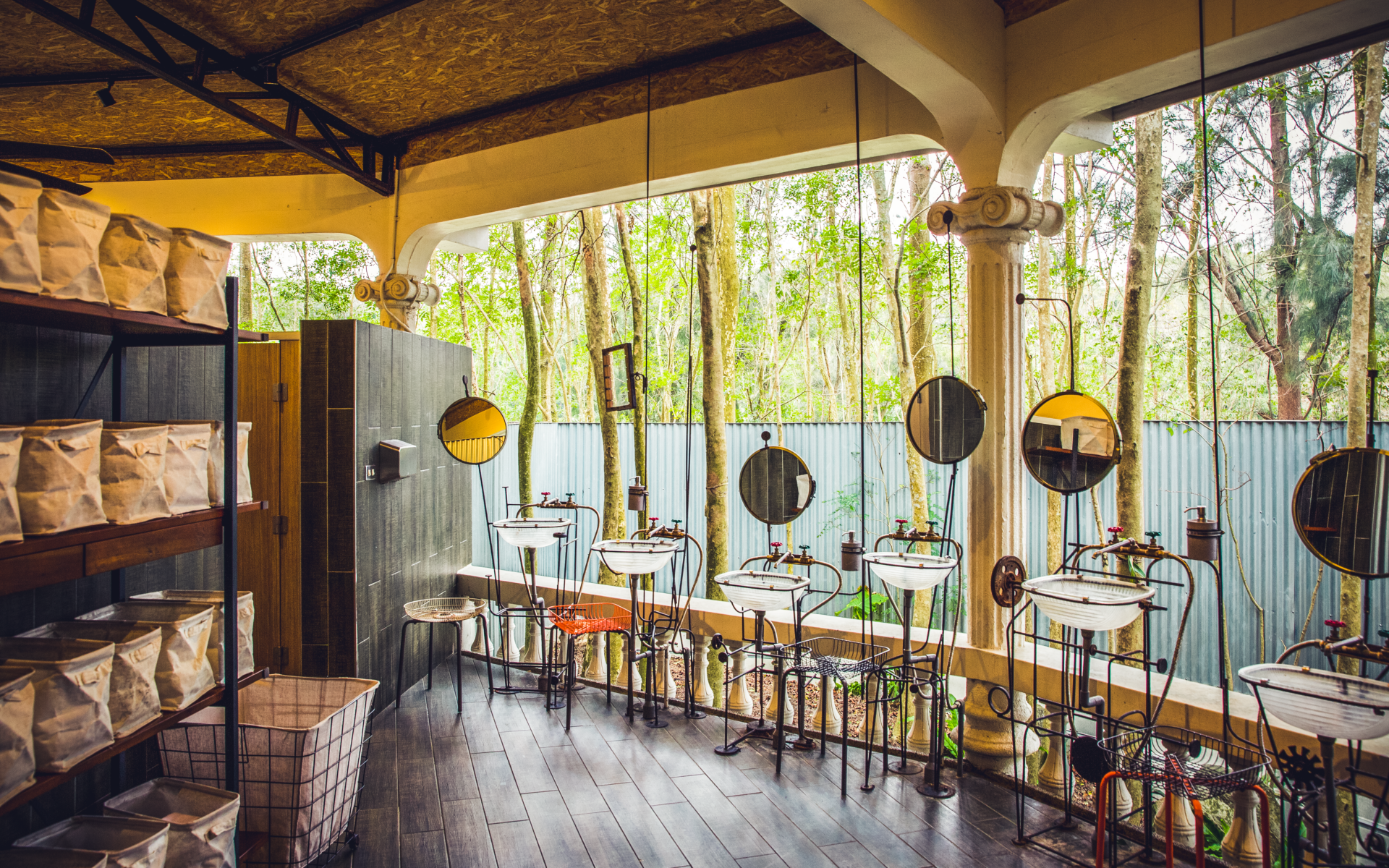 Both the Day 1 and Day 2 DIY experiences are changed seasonally, as is the Day 1 gourmet dinner. This reflects the changes in Miaoli produce availability, as well as the resulting changes to the daily lives of Miaoli's Hakka folk, and this also encourages visitors to make return visits. On our most recent visit (we've camped there twice), the Day 1 activity involved baked sweet potatoes, warmed orange juice given very different flavor personalities through the addition of dried roselle, ginger, or orange peels, and the making of old-time-style fragrance sachets containing mint, Taiwan native cinnamon, and other Shangrila-grown aromatic ingredients.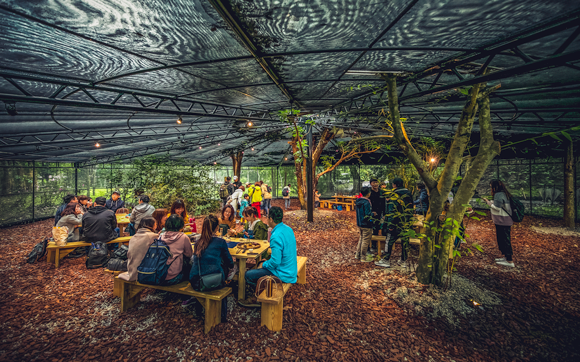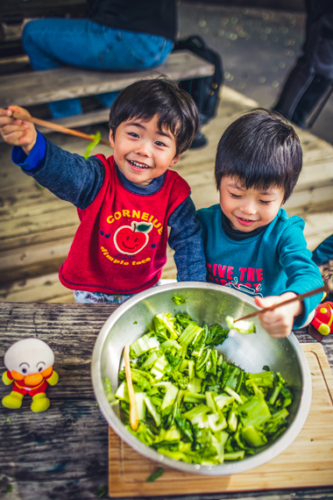 The Day 2 activity, held on a slope-side wooden-platform area overlooking the basin, was centered on the making of suancai. The Hakka have traditionally made much use of preserved vegetables, using them in iconic Hakka dishes. One is suancai (lit. "pickled vegetable"), made with leaf mustard. Campers also feasted on DIY guabao, a Taiwanese snack treat made with soy-stewed pork belly, suancai, peanut powder, and coriander in a steamed bun.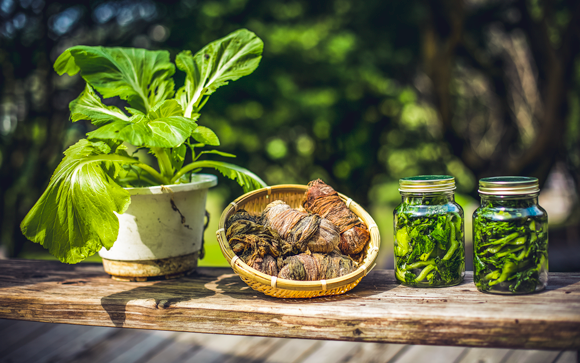 The Day 1 night ends with a night tour up through the tree area and back down into the basin. In days past, the basin was filled with the theme park's European garden attractions. Today's spacious shower facility is in what was formerly a beverage bar. The night tour ends with a walk through the visually monumental artwork named Qing Tian Mu (roughly, "cover [through which to] love the sky") at the basin center before the tents, a bamboo-woven dome reached through long bamboo-woven walkway tunnels that has large roof holes for stargazing. The artwork is beautifully lit up at night, lending an ethereal glow to the placid setting.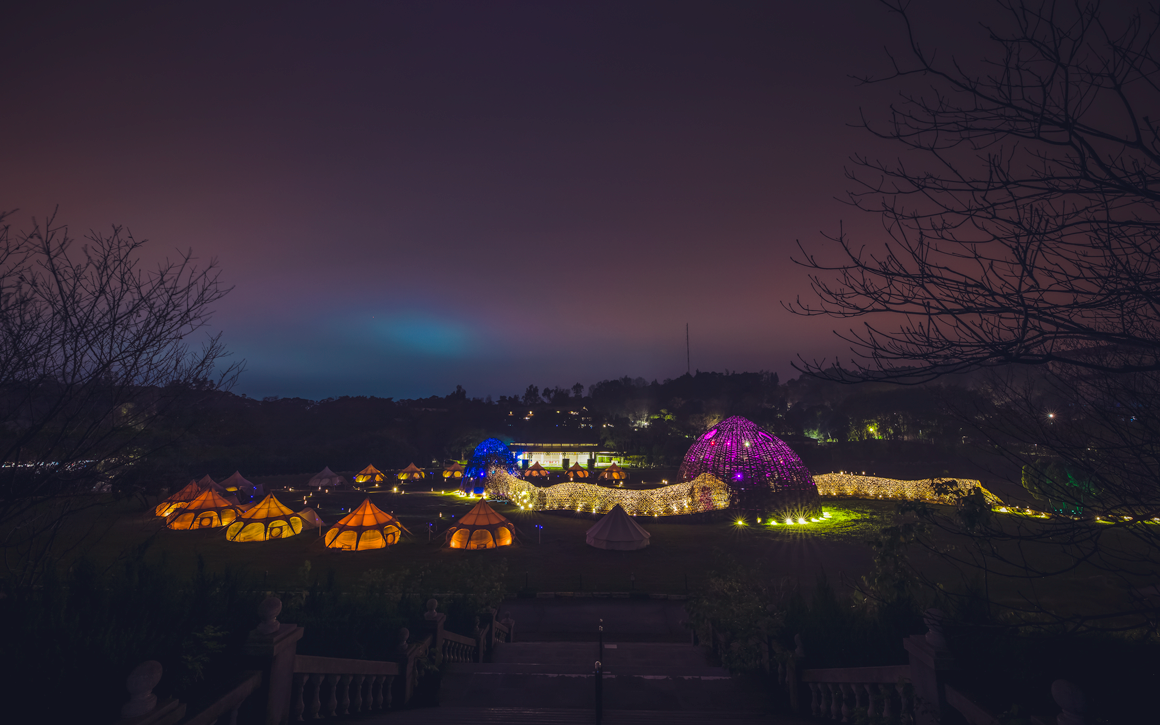 A final note: Be sure to use your free time, including the time after the official program ends, during which campers are encouraged to roam the grounds freely, to search out the many treasures in the forest outside the basin. These include a section of the old theme park with rides still in place, a traditional Hakka courtyard residence that now serves as a mini-museum, a large herb garden with goodies used in Miaoli cuisine (and your CMP Village foods), and forest paths, one with a nifty installation-artwork treehouse open to climbers.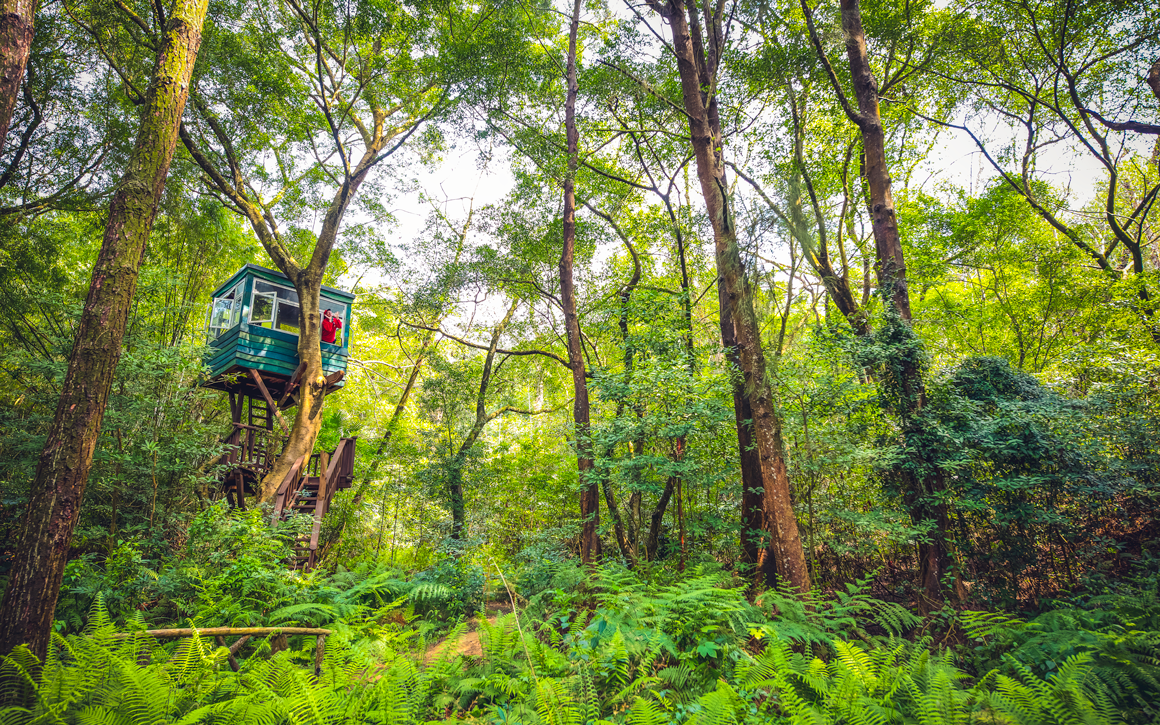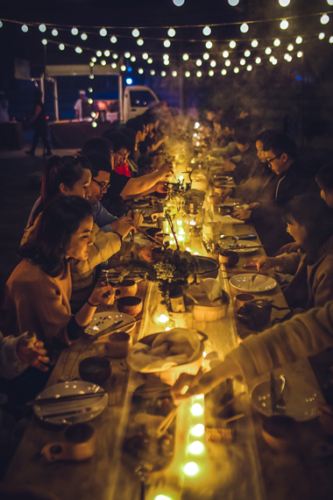 The communal gourmet dinner, featuring mood lighting provided by table lamps, overhead lines of hanging lightbulbs, and a roaring campfire, is usually taken under the stars in front of the tents (and the bamboo-woven dome introduced below). On this night it was raining lightly, however, so the repast was taken in a performance roundhouse outside the basin. The many-course feast is a hearty medley of dishes prepared with regional produce highlighted, the cooks performing true magic using nothing more than simple gas stoves and grills.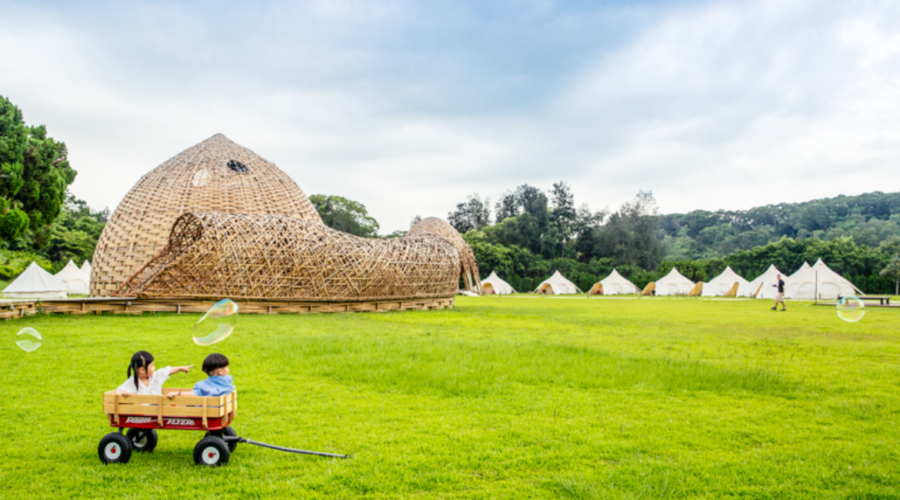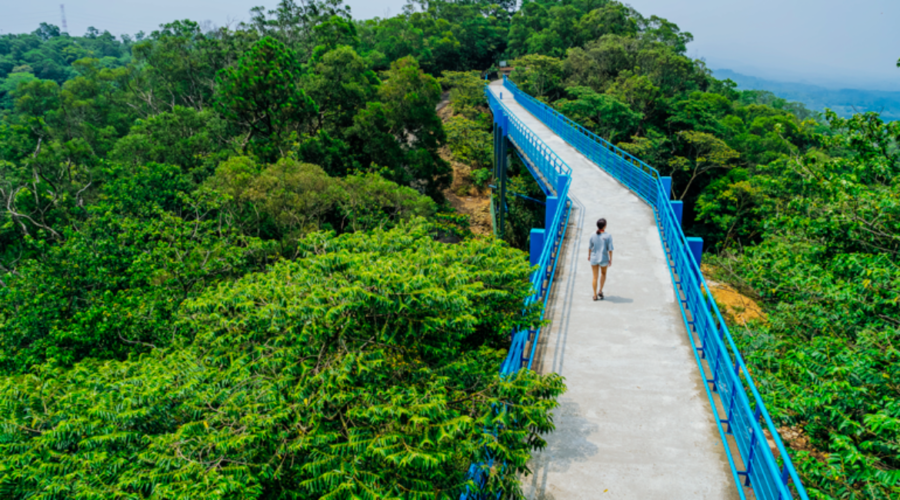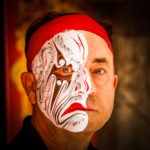 A Canadian, Rick has been resident in Taiwan almost continually since 1988. His book, article, and other writings, on Asian and North American destinations and subjects—encompassing travel, culture, history, business/economics—have been published widely overseas and in Taiwan. He has worked with National Geographic, Michelin, APA Insight Guides, and other Western groups internationally, and with many local publishers and central/city/county government bodies in Taiwan. Rick also handles a wide range of editorial and translation (from Mandarin Chinese) projects.