The Joys of Eclecticism
TEXT / RICK CHARETTE
PHOTOS / ASKA CHI
Spend any time partaking of central Taichung's theme-design cafés and restaurants and we're sure you'll come to agree with this Travel in Taiwan opinion: The Taichung core's collective of zestfully design-quirky cafés and restaurants is the design-quirkiest in all the land. We make our case with a limited-edition catwalk parade of some of our fave spots below.
A sizable corps of Taichung café and restaurant owners possessing unusual esprit seem to revel in the joys of bursting forth, chrysalis-like, from the straitjacket of conformity. They reject any traditional-cum-mainstream views on what the personality of a café or an eatery should be. As with the city's creators of stylish boutique hotels (see our second Taichung article in this issue), they are birthing destinations where the premises themselves are a form of aesthetic entertainment.
Taichung is growing quickly, and many of these operations are in posh new architecture. Another, inspired approach is to target heritage buildings for do-overs and rebirth with brand-new, off-the-wall personalities. During the last century's famed Taiwan Economic Miracle the island's economy expanded at breakneck pace, and locals knocked down old buildings at equal pace to make way for the new. Today there is equal passion for preserving this land's architectural heritage, and Taichung boasts many fine showcase projects.
for Farm Burger
It has to be said – for Farm Burger has done everything backwards.
No, wait. That's a great thing. Trust me.
The owners have taken a heritage shophouse and reversed it, to dramatic effect. The front is now the back, and the back the front. The simple act of restaurant entry is thus quite an adventure. First, locate the tiny-mouth "back alley" entranceway amidst a line of busy shops and restaurants. It's then up to the original shophouse rear, on the second floor, via narrow wooden stairs and an iron-railing catwalk. Here you find the service counter.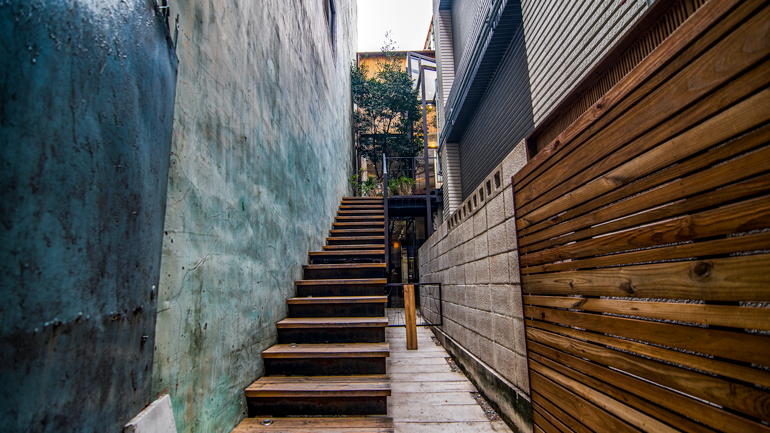 Directly below, on the first floor, is the original kitchen space, now a cozy dining area. The original flooring of Majolica tiles, for which the region was once renowned, remains in place, as does an original back door and, as seen elsewhere throughout, original-brick wall sections. Back upstairs, past the counter, is a narrow passageway leading past the original sky well, now glassed in and tall-tree-beautified. The main dining area then opens up – once the shophouse front, now the eatery rear. Original terrazzo flooring is showcased, and eye-catching additional "floor space" is available along another catwalk attached high on one wall.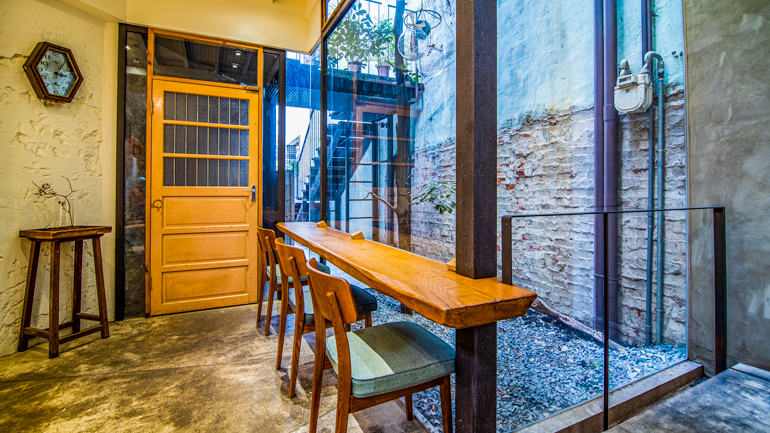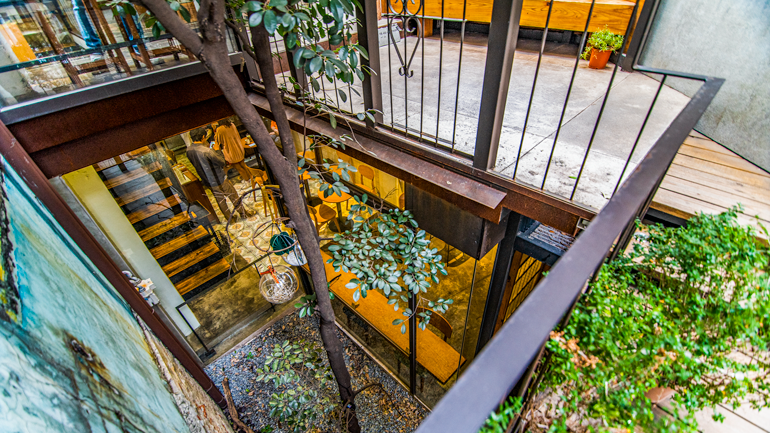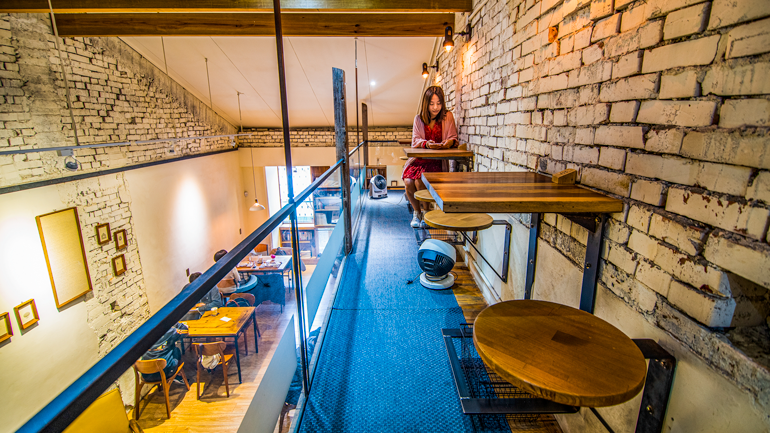 The signature culinary lure at for Farm Burger is – yes, you guessed it. The owner-operator couple offers Japanese-theme burgers using self-created recipes. In Taiwan, they say, burgers are too often overwhelmed with ketchup or BBQ, black pepper, and mushroom sauce. Their "Japanese" approach emphasizes lighter, subtler flavor combinations. Use of "for Farm" references their preferred use of highest-quality ingredients from individual regional farms, preferably organic. They specially recommend two burger selections: the (Australian) beef burger with sunny-side-up egg and Japanese teriyaki sauce, and the tofu burger with Japanese miso sauce. Their tofu comes from a Taichung maker, 90 years in the business, that uses classical Chinese methods. Also available are pork-chop, shrimp, and mackerel burgers.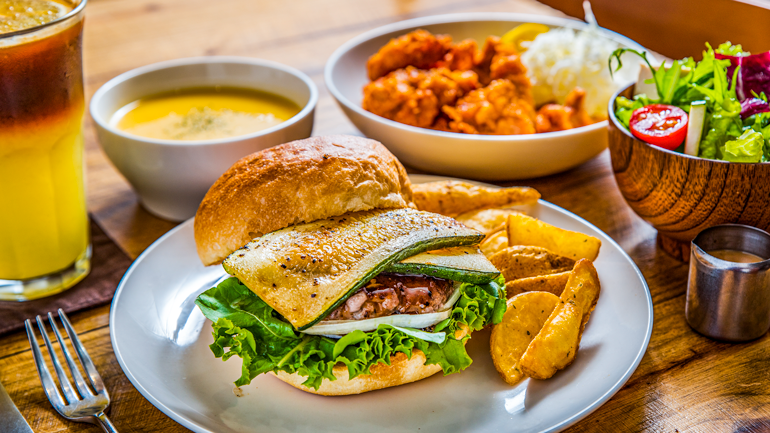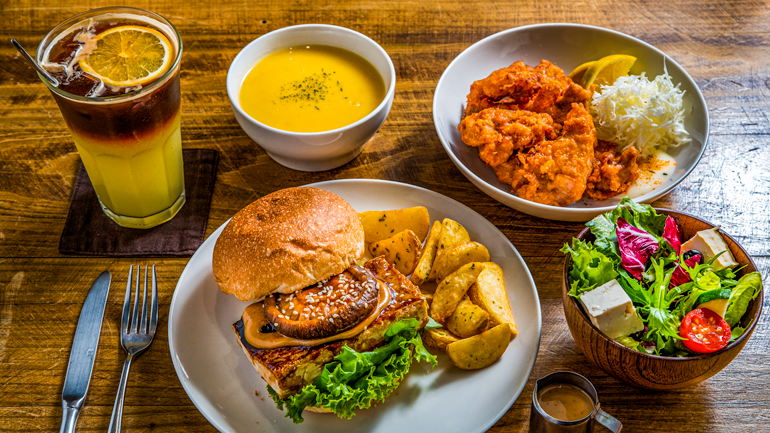 for Farm Burger (田楽漢堡公正小巷店)
Add: No. 128, Gongzheng Rd., West District, Taichung City
(台中市西區公正路128號)
Tel: (04) 2305-0507
Website: forfarmburger.blogspot.com (Chinese)
T&R Plaza
Located steps from the linear park that faces the National Taichung Theater (see our first Taichung article), the gorgeous T&R Plaza has been called Taiwan's most attractive commercial plaza. Like the NTT, the architecture itself is masterly art, and follows a "theater space" design concept. The complex tapers away from the street as it rises, with second-level attractions accessed via a broad stairway leading up to a terrace, eliminating the oppressive feeling that block-style high-rises hovering above the street give to pedestrians. The judicious liberal use of earth-tone woods and green foliage to beautify the exterior, along with use of wide, tall windows allowing clear viewing of the aesthetic attractions and people action inside, also send strong signals of invitation to passersby.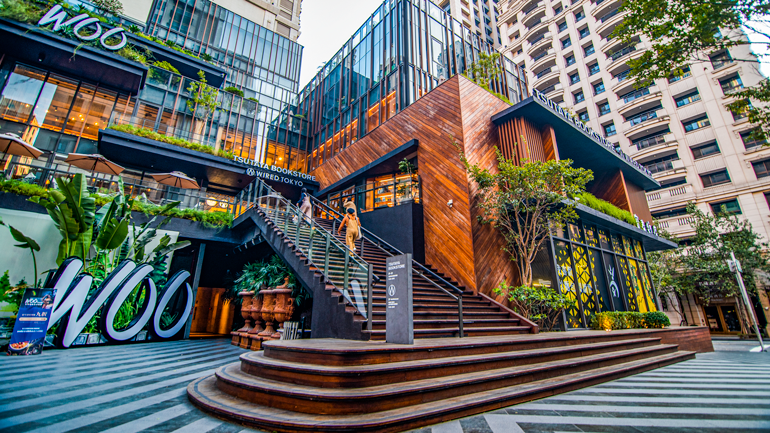 The overall impression of the tiering and bright compartmentalized spaces is of a warm and welcoming forest community spread up a hillside. The staircase splays out to either side at the bottom, giving it the stylized look of a stream running down through the hamlet. This imagery is dramatically heightened at night with the theatrical indoor/outdoor lighting fusion.
The commercial tenants also form a collective that has special aesthetic appeal. The main tenant, entered via the aforementioned broad wood-plank staircase, is the two-floor Tsutaya Bookstore. Japan's Tsutaya chain, which sells art-related titles, is known for sleek store décor, and this outlet is an exhibit on Japanese modern-design sensibilities.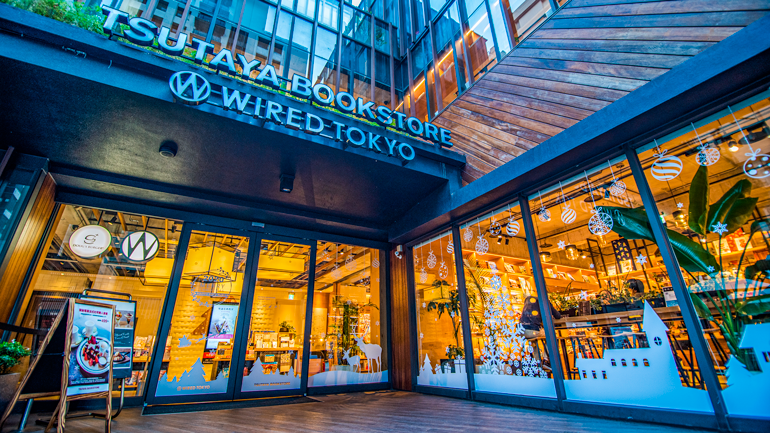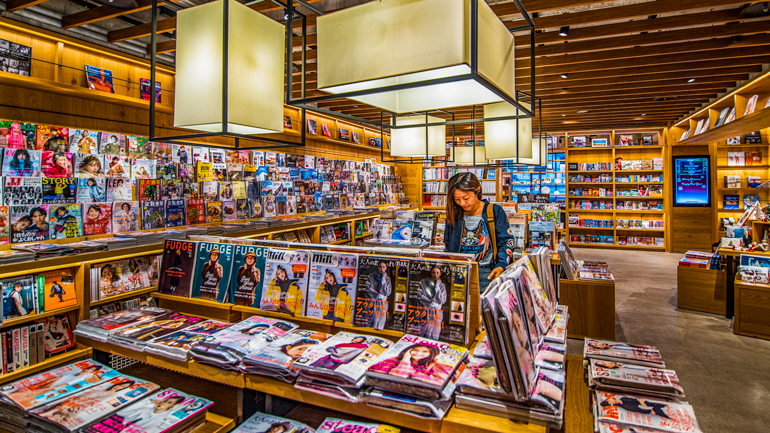 The bookstore has many community-welcoming touches; here are a few of the most prominent. It shares the second floor, seamlessly, with the Wired Tokyo café/restaurant. Visually separating bookstore and restaurant is a long semi-circular café counter with barstool seating. The restaurant serves Western fare such as burger and pasta creations "with Japanese characteristics." In the bookstore, the second floor has a large reading area, again barstool-style, replete with hanging plants and recharging stations. The third floor has a kiddie-play corner with parent-reader seating.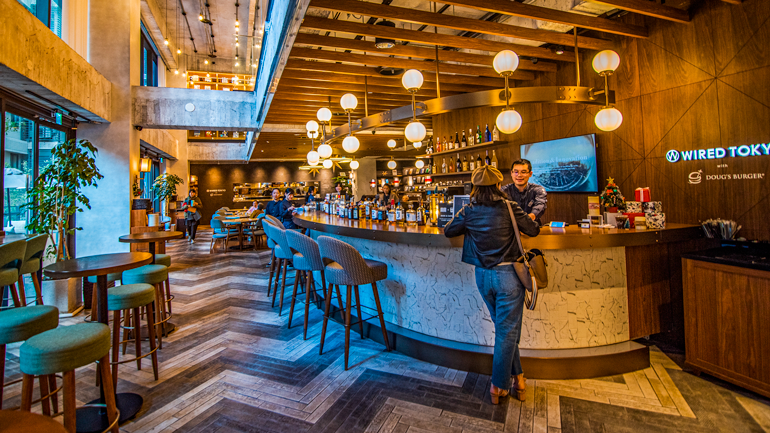 Wu Pao Chun Bakery, on the first level, fashions high-quality European-style breads, many possessing a distinctive Taiwanese character, made with quintessential island-produced ingredients. This chain outlet also crafts many treats available exclusively in Taichung. High-quality imported-bean coffees are also sold at the service counter, which doubles as a beverage/snack counter. Baker Wu Pao-chun shot to island prominence in 2010 when he won the Master Baker title for bread at the Bakery Masters competition in Paris, for which he created his most famous bread, starring Taiwanese millet wine, dried lychee, and rose petal.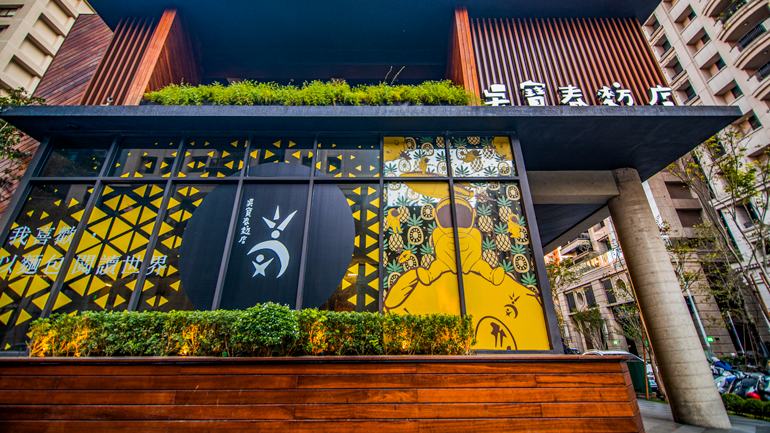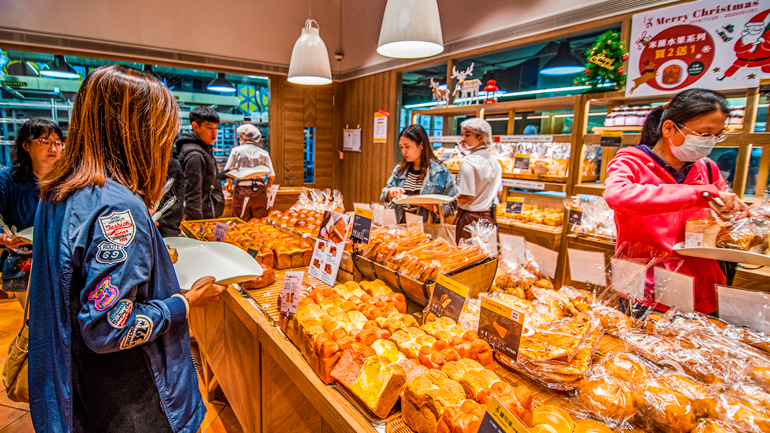 T&R Plaza (T&R廣場)
Add: No. 18-1, Shizheng 2nd Rd., Xitun District, Taichung City
(台中市西屯區市政北二路18-1號)
Tel: (04) 2320-3037
Website: www.i-ry.com.tw/tr.php (Chinese)
DAS kafeD
How in the world to describe what this café looks like from roadside? Here we go. Imagine a land allotment long and very narrow heading away from the curb, something familiar to those of you who've explored the region's shophouse architecture. Here, however, the lot's front half is "empty" – lawn, trees, bushes, and a straight walkway instead of the usual up-to-sidewalk building. The purpose-built café-dwelling structure in the rear half has, to this writer's eye, the look of some future-time plastic-façade shrine graced with minimalist arched "holy" portal.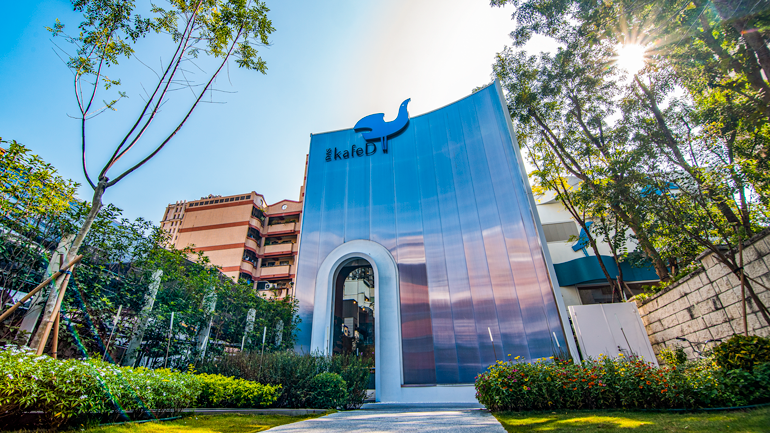 With that, we head within.
The church-like demeanor is reinforced by the open interior concept, high vaulted ceiling, and 5m-high windows filling walls, through which golden sunlight streams in. A curving staircase leads up to a second-level "inside terrace" that has the look of a church balcony. The affecting façade just spoken of is in fact not the true façade, but a translucent white screen, which softens incoming light.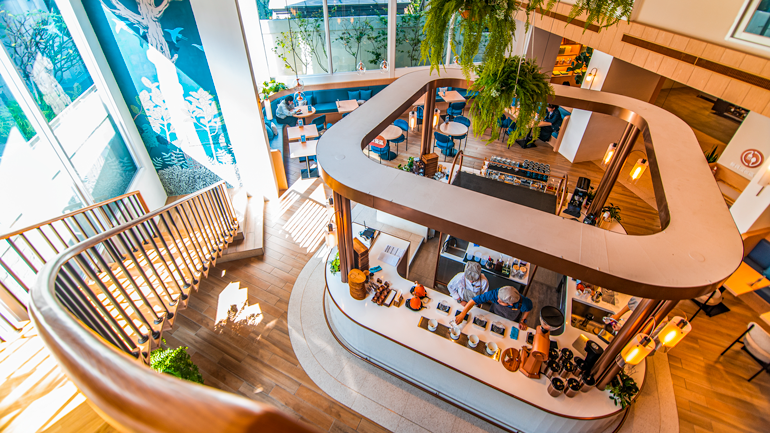 The official theme here is "a little piece of Germany." The "D" in "kafeD" stands for "Dresden," which the owner states means "people of the riverside forest." The flooring, ceiling, terrace, and much else is made of light-tone woods. The arboreal theme continues with full-wall forest-scene mural artwork and, seen through windows, living trees wherever you look.
The café's international import coffees are prepared using both German single-serving brewing technique and imported German equipment, prepared at the central island-style coffee bar. Non-coffee drinks include German-style fruit teas, sodas, and caramel milks. The signature dessert is baumkuchen, which translates literally as "tree cake" – reference to its characteristic tree-like rings. Light meal selections include baumkuchen sandwich creations such as "triple chocolate," "matcha macadamia," and "rum raisin," and ciabatta sandwiches such as "tomato avocado" and "Margarita."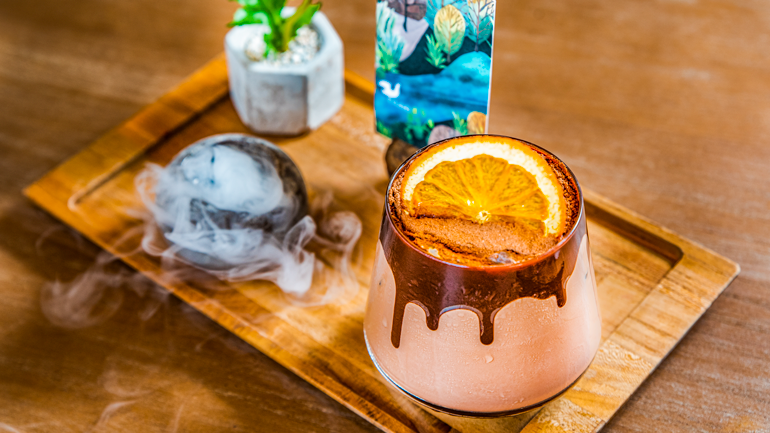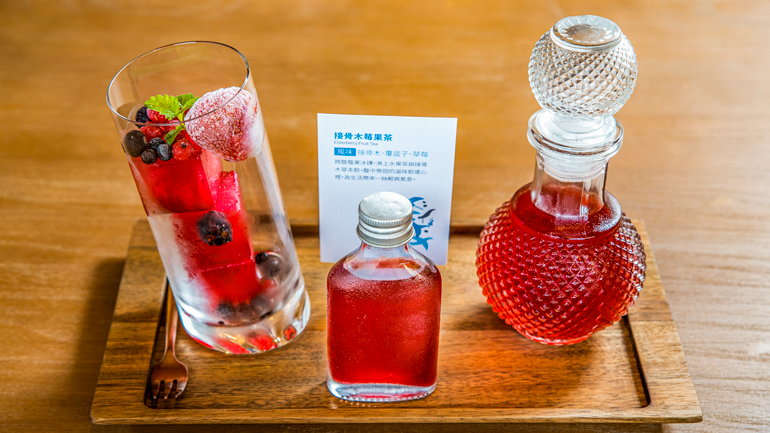 All items are presented with eye-seducing, palate-whetting artistry. Patrons can also savor the pastry-kitchen action through a special viewing window.
DAS kafeD (德勒斯登河岸咖啡)
Add: No. 382, Dajin St., Nantun District, Taichung City
(台中市南屯區大進街382號)
Tel: (04) 2322-2689
Website: www.facebook.com/DasKafeD
Molecure Pharmacy
In a swank residential building facing the National Taichung Theater, entered directly from the street, this is a working pharmacy that is also a work of abstract art. White beach cobbles, symbolizing molecules, cover the towering walls on left and right. Medicines in colorful containers, again representing molecular aggregation, are displayed on shelves of transparent lightweight glass and pastel-color acrylic panels. A visually mesmerizing corkscrew staircase made of glowing-burnish copper represents the DNA double-helix structure. The open dispensary area, called the "green laboratory," features a long wood-built counter on a base made from a century-old tree trunk.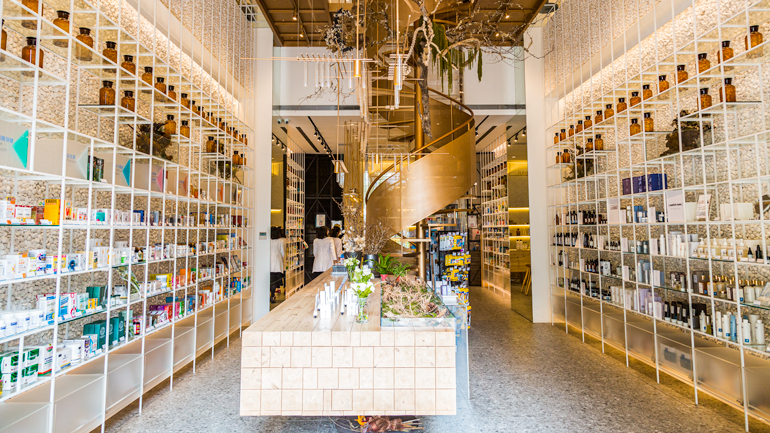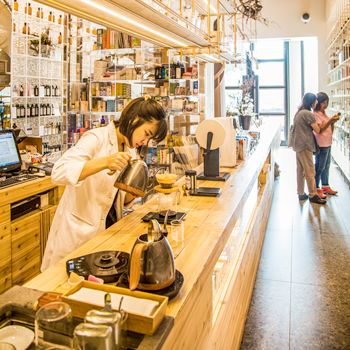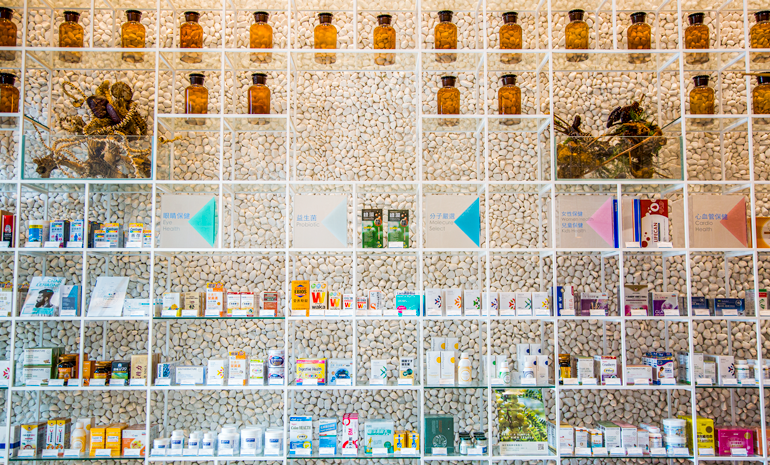 "Molecure" captures the essence of pharmacology – medications are crafted by aggregating molecules, of natural and synthetic creation, to cure ailments. Embracing the concept that health stems from a holistic, aesthetic lifestyle, the owners have also made this a café. Your pharmacists are also baristas, deftly aggregating molecules in premium hand-drip coffees and healthy juices. Mood music permeates the premises, soothing the spirit.
Molecure Pharmacy (分子藥局)
Add: No. 236-1, Sec. 2, Huilai Rd., Xitun District, Taichung City
(台中市西屯區惠來路二段236-1號)
Tel: (04) 2251-5065
Website: www.facebook.com/pg/MolecureTAIWAN
THE FACTORY – mojocoffee
In Taichung's core are a number of small neighborhood enclaves filled with fetching two/three-story stand-alone homes, many dating back to when US military personnel were stationed on the island. This quiet, bright-interior café, designed as a reading space, is in one such (refurbished and now "former") residence. Frequently proclaimed in online reviews to serve Taichung's best coffee, it sells single-origin coffees from around the globe, and brews each cup individually.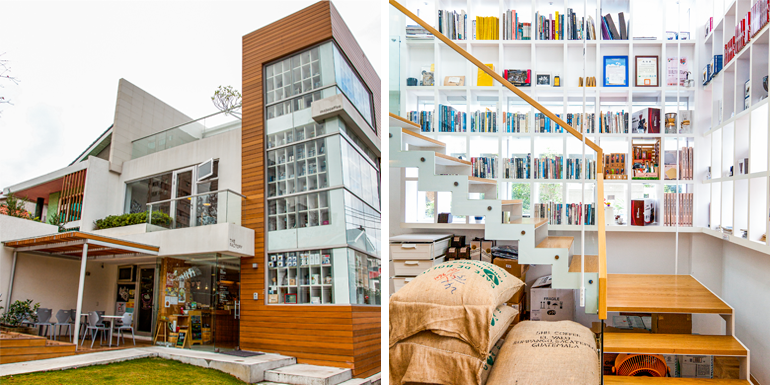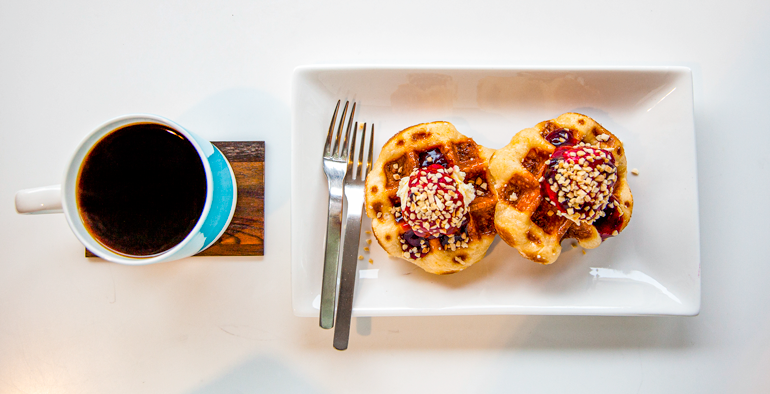 Architecturally, its most unusual feature is a tower on one corner of the façade that resembles a church steeple. The tower's small-pane windows send sunlight streaming into the open-concept interior spaces. Outdoor seating is available on a covered wooden patio beside the small lawn. The interior has a simple cafeteria-like set-up. On both floors are walls of books for patron use, and on the second level staff artisan-roast beans and package some for sale – hence "THE FACTORY." Among the most popular menu items are the Bruleecino, Affogato al Caffè, and Waffle with Chocolate.
THE FACTORY/ mojocoffee
Add: No. 22, Jingcheng 6th St., West District, Taichung City
(台中市西區精誠六街22號)
Tel: (04) 2328-9448
Website: www.mojocoffee.com.tw
Fourth Credit Union
This combination ice-cream parlor and café is run by the same group that operates Taichung's famed Miyahara, breathing new life into city heritage buildings (more on the Miyahara outlet below). The group is a maker of high-end confections most loved for its ice creams, chocolates, and milk teas. The opulent Fourth Credit Union outlet is in a rejuvenated credit-cooperative building built in 1966, with modern glass-and-steel façade additions dynamically fused with the original exterior. "Fourth Credit Union," the title of the original tenant, remains emblazoned in Chinese on the facade. Inside, the décor is ostentatious retro, with perhaps the most visually compelling elements such facilities from the original bank operations as the vault doors and both clerk-service and standing counters.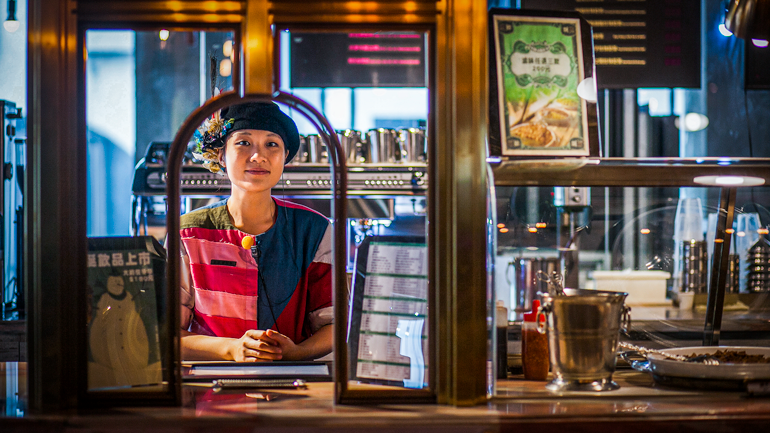 The first floor is a delectable ice-cream parlor, with the staff decked out in vintage-day confectionery outfits. A heaven-on-earth 72-flavor array of fresh-batch ice creams is for sale, enticingly presented in the manner of a painter's palette of intense color splashes. Specially recommended are those made with in-season Taiwan fruits, notably Hami melon, mango, lychee, passionfruit, and banana. There is also an interesting range of tea, coffee, and chocolate flavors, plus a wide range of toppings, sweet through savory, perhaps the most iconic Taiwanese the chunks of traditional Taiwanese wedding cake and pineapple cake.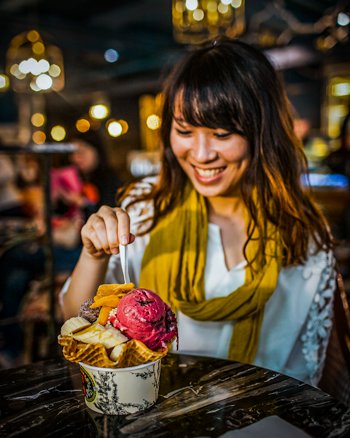 A tranquil, upscale café takes up the second level, offering more decadent house-made goodies such as syrup waffles with little mountains of sweet-thing toppings and traditional Taiwanese savory snacks such as tea eggs and duck wings. There is also a specialty – and very popular – shaved-ice counter.
Miyahara, a short walk away on the same street, is in a revivified multistory eye-clinic building constructed during the Japanese colonial era (1927) that was later home to the Taichung Health Bureau.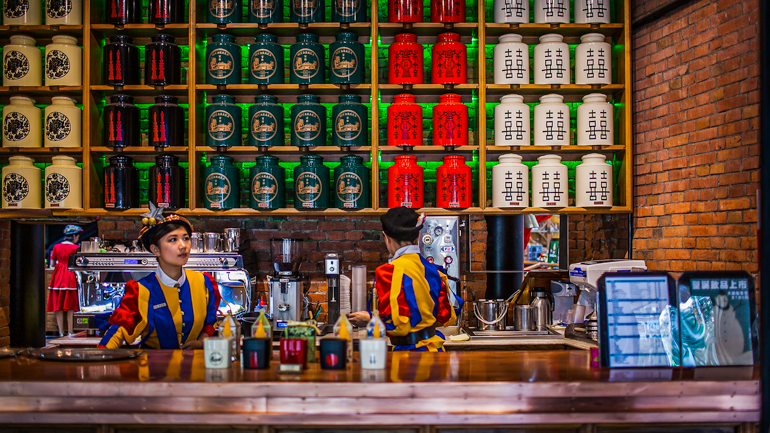 Fourth Credit Union (台中市第四信用合作社)
Add: No. 72, Zhongshan Rd., Central District, Taichung City
(台中市中區中山路72號)
Tel: (04) 2227-1966
Website: www.facebook.com/tc4cbank
Miyahara (宮原眼科)
Add: No. 20, Zhongshan Rd., Central District, Taichung City
(台中市中區中山路20號)
Tel: (04) 2227-1927
Website: www.miyahara.com.tw
Also read:
THE PERFECT TAICHUNG ITINERARY FOR 1-3 DAYS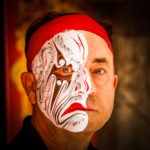 A Canadian, Rick has been resident in Taiwan almost continually since 1988. His book, article, and other writings, on Asian and North American destinations and subjects—encompassing travel, culture, history, business/economics—have been published widely overseas and in Taiwan. He has worked with National Geographic, Michelin, APA Insight Guides, and other Western groups internationally, and with many local publishers and central/city/county government bodies in Taiwan. Rick also handles a wide range of editorial and translation (from Mandarin Chinese) projects.