Mushroom and Mountain Country
TEXT / OWAIN MCKIMM
PHOTOS / ASKA CHI

Far from the bustle of downtown, Taichung City's eastern districts of Fengyuan, Shigang, Dongshi, Xinshe, and Heping provide a semi-rural mountainous retreat ripe for exploration. Following the course of the Dajia River, which flows down from the soaring heights of the Snow Mountain Range, you'll find some fantastic cycling, agricultural abundance, hot springs, and pockets of both Hakka and indigenous Taiwanese culture – ample entertainment for a two- or three-day trip.
Dongfeng Bicycle Green Way
The Dongfeng Bicycle Green Way stretches for 12.4 kilometers through leafy, gently undulating avenues from Dongshi District in the east to Fengyuan District in the west, running parallel to the Dajia River. The bikeway follows what was once the route of the Dongshi Line, a railway built in 1958 to transport timber from the rich cypress, cedar, and fir forests of the Dongshi area (home to the biggest lumber operation in East Asia in the 1960s) to the town of Fengyuan, at the time one of Taiwan's busiest economic centers due to its convenient location on the island's west coast trunk line. The railway line was decommissioned in 1991. The bikeway, following the original line, was opened in 2000; this was Taiwan's first railway-to-bikeway conversion.
Tian Yuan Bike Rental (田原租車)
Add: No. 1166, Fengshi Rd., Shigang Dist., Taichung City
(台中市石岡區豐勢路1166號)
Website: bike.mmmtravel.com.tw (Chinese)
Tel: 0912-975-061, 0955-861-286
Hours: 9am~5pm (weekdays); 8am~6pm (weekends)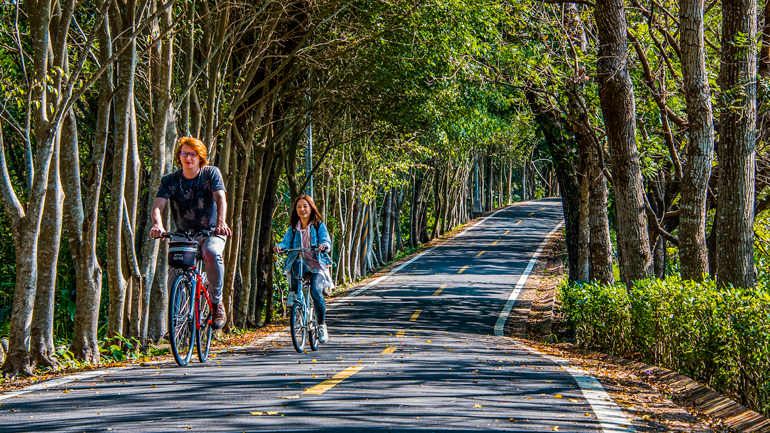 Zooming along the well-kept asphalt under a cooling canopy of tree branches, you'll pass several of the decommissioned stations, now renovated and transformed into pleasant rest stops, and other relics of the old railway days – including warped and twisted sections of track (a result of the devastating earthquake that hit this area in 1999).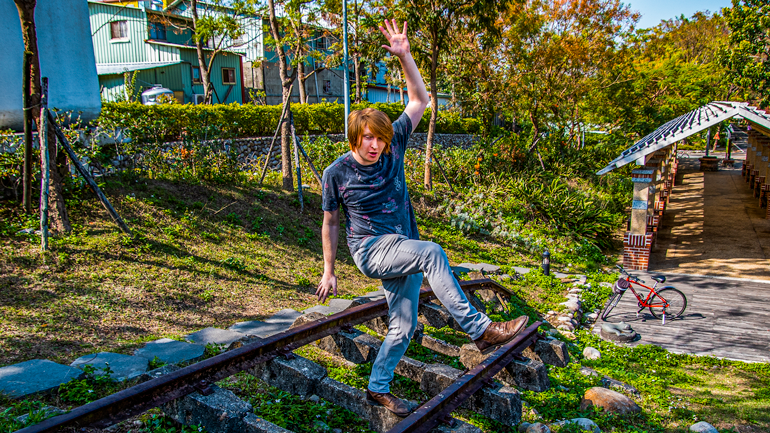 At the Zero Egg Platform you come across two abandoned-but-intact train carriages. The platform's unusual name comes from the fact that after nearby Shigang Station was abandoned, this platform became a temporary gathering place for vendors. The word for this kind of makeshift market in Taiwanese is a homophone for the phrase "zero egg" in Mandarin, which due to its quirkiness appears to have stuck.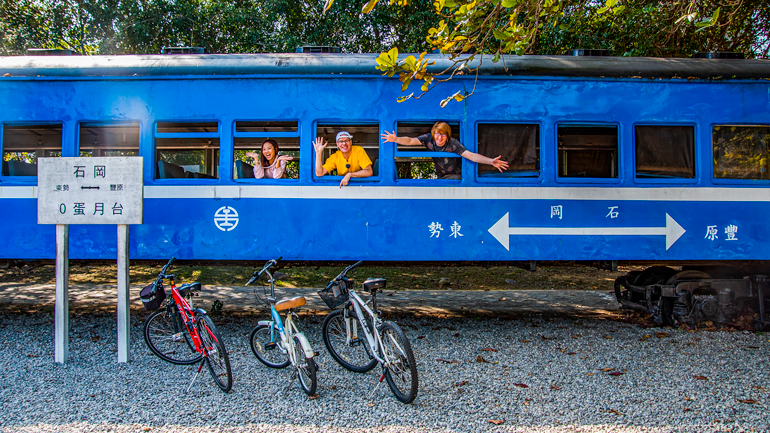 One of the most charming attractions along the bikeway, the Lovers' Bridge, requires a slight detour from the main path over an imposing steel overpass adorned with bas-relief scenes from the Garden of Eden. The Lovers' Bridge itself is a quaint wooden structure that crosses a tributary of the Dajia River and brings you to a romantic small plaza and park, lovingly landscaped with flowers, lemon trees, and heart-shaped sculptures draped in wisteria.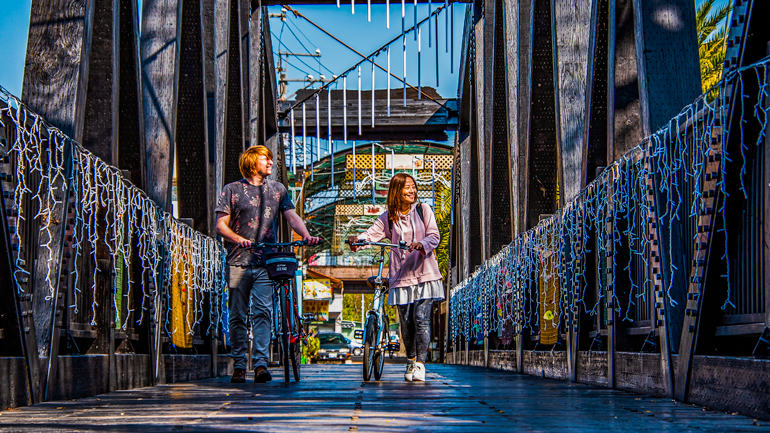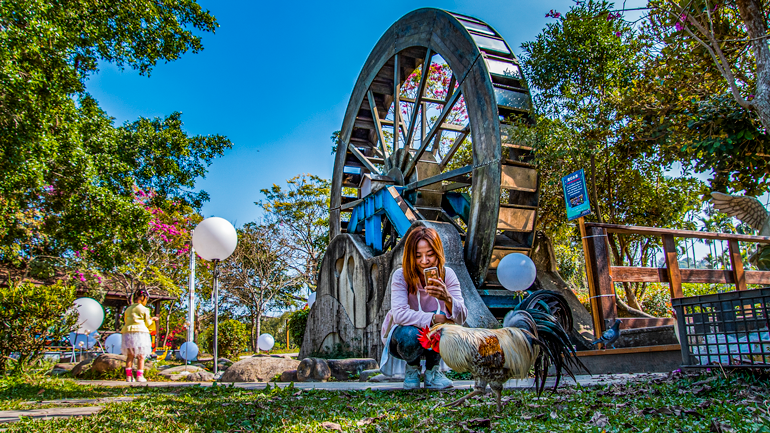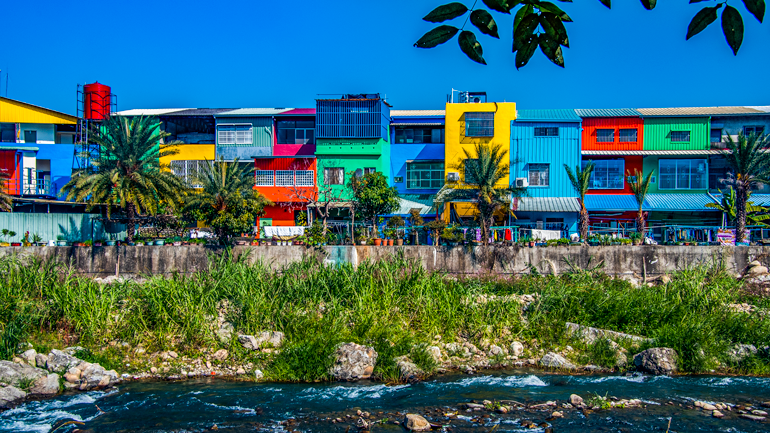 At the western end of the bikeway, the adjoining Houfeng Bikeway (4.5km) takes you north towards Houli Horse Ranch, at one time a stud farm for military horses but nowadays more focused on recreational equestrian activities. Taiwan's top horse-riding training center, around 100 horses are stabled on-site at the ranch (ranging from purebred stallions to cutesy mini steeds) for both breeding and educational activities. Visitors can take a riding lesson or wander the grounds, meeting and greeting one of the many gamboling horses out at pasture.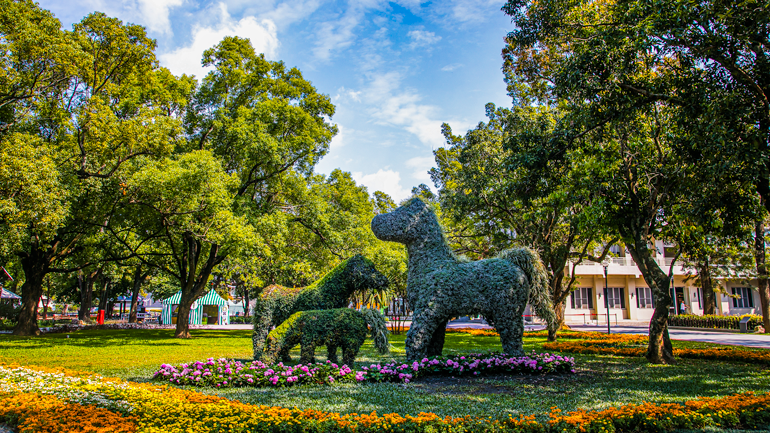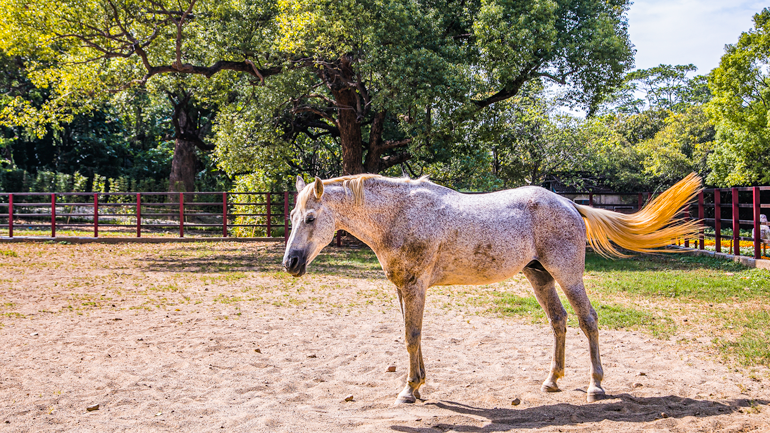 Houli Horse Ranch (后里馬場)
Add: No. 41, Sishan Rd., Houli District, Taichung City
(台中市后里區寺山路41號)
Tel: (04) 2515-2588
Tuniu Hakka Cultural Museum
Leaving the bike paths and moving further upriver, you can make a brief stop to soak up some of the local culture at the Tuniu Hakka Cultural Museum – a stately collection of buildings that provides both serene garden surroundings and an insight into the bygone lives of Taichung's Hakka population.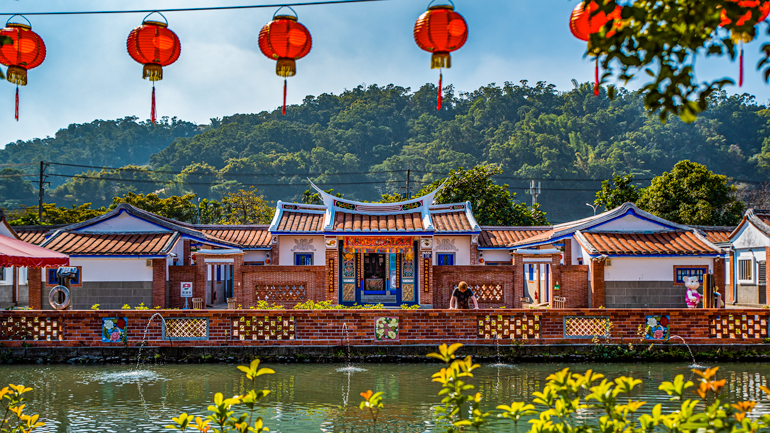 The Hakka people (the word "Hakka" literally means "guest families") are a diasporic group that comprise around 20% of Taiwan's population and form the second-largest ethnic group on the island. Culturally distinct from Taiwan's dominant Hokkien population (whose ancestors came from China's Fujian Province), the Hakka originated in northern China and migrated southwards over the centuries, first crossing the Taiwan Strait in large number in the mid-17th century.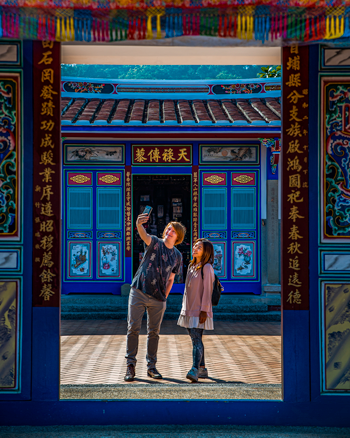 The Tuniu Hakka Cultural Hall originally served as the residence of the Shigang area's prosperous Liu family, but was ruined during the 1999 earthquake and later rebuilt and repurposed as a cultural museum. The stories of the area's villages and their Hakka settlers are told on the museum's highly detailed information boards, unfortunately in Chinese only. Nonetheless, the half-moon pond, ancient well, living halls, ancestral altars, and objects central to Hakka culture still make for interesting viewing. (Particularly impressive are two giant sticky-rice cake molds, one in the shape of a turtle, the other a leaf, both as big as a writing desk and requiring two people to maneuver.)
Tuniu Hakka Cultural Hall (土牛客家文化館)
Add: No.10, Decheng L., Fengshi R., Tuniu Bor., Shigang Dist., Taichung City
(台中市石岡區土牛里豐勢路德成巷10號)
Tel: (04) 2582-5312
Hours: 9am~5pm (closed on Monday)
Xinshe
Xinshe District, which borders the Dajia River where it is forced northward by the hills of the Dakeng Scenic Area, is affectionately known as Taichung's back garden. Rising high above the river in two stepped plateaus and with year-round balmy days and cool nights, the district provides excellent growing conditions for citrus fruits, grapes, loquats and, most importantly, mushrooms. Bordering the hills that enclose the highland's southwestern side is Xiezhong Street, also known as "Mushroom Street" due to the high concentration of mushroom nurseries and specialty restaurants that do business on the strip. Driving along, you'll see signs that boast "The Master of Mushrooms" and "The Mushroom God." Instead of stopping at these more boastful purveyors, visiting A-Liang Mushroom Garden is highly recommended.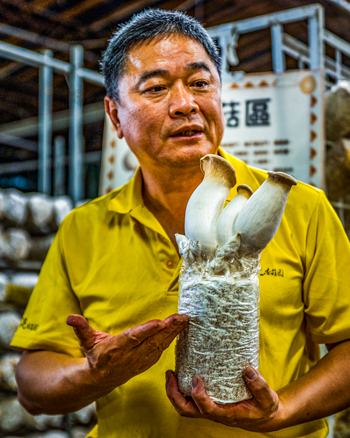 A-Liang's establishment is divided into two parts: A shop and eatery, where all sorts of dried-mushroom products and freshly prepared mushroom cuisine is available, and a mushroom nursery, a vast cavern at the back of the shop where guests can pick shiitake, wood ear, and several species of oyster mushrooms for just NT$110 per jin (500g). Here, bags of impregnated sawdust are laid out in beds and stacked on shelves, each one erupting with fungal fruit, saturating the air with that earthy, umami aroma of a damp forest floor.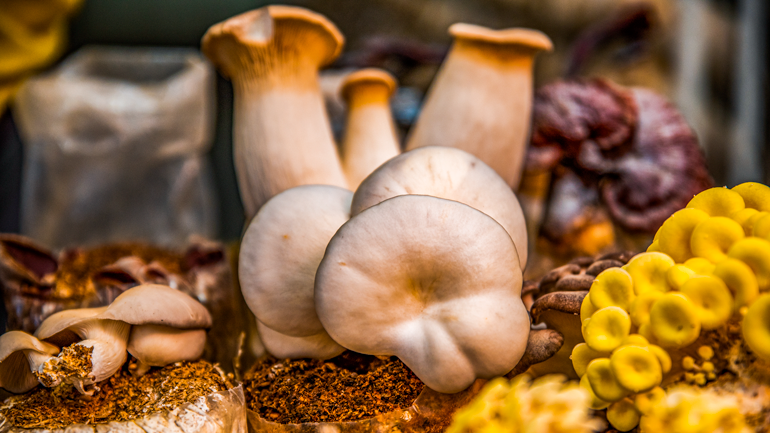 The infectiously passionate A-Liang shows visitors around the mushroom nursery and happily shares his knowledge on optimum cultivation practices. Among the food options he recommends are barbecued and deep-fried shiitake, braised mushroom rice, and mixed mushroom soup, thickened with wood ear broth. This is hearty, honest food, not to mention extremely delicious.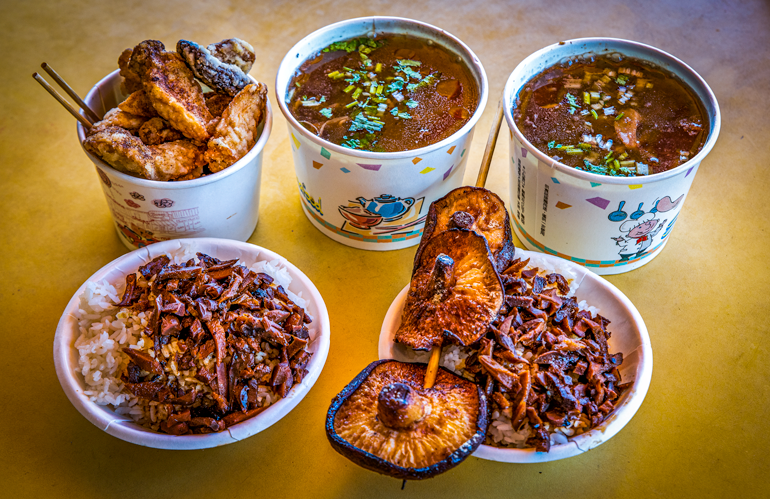 A-Liang Mushroom Garden (阿亮香菇園)
Add: No. 131, Xiezhong St., Xinshe Dist., Taichung City
(台中市新社區協中街131號)
Website: 0425810893.emmm.tw (Chinese)
Tel: (04) 2581-0893
Hours: 9:30am~5pm daily
The Pines
For a more up-market meal with a view, head to The Pines, located in the hilly northern end of the district and overlooking a picturesque lake. The owner, Steven Chang, explains that his intent in developing the restaurant was to create something with a beauty that would last and, indeed, increase over time (as opposed to aging poorly). To achieve this, Chang took what had once been undeveloped wilderness and landscaped it by planting a wood of bald cypress trees, which unlike many other conifers are deciduous, their needles changing from lush green in summer to russet in winter. The restaurant, which commands a front-seat view of the cypress wood, serves seasonal French-inspired cuisine made using Xinshe's abundant fresh produce. Prices are moderate to high.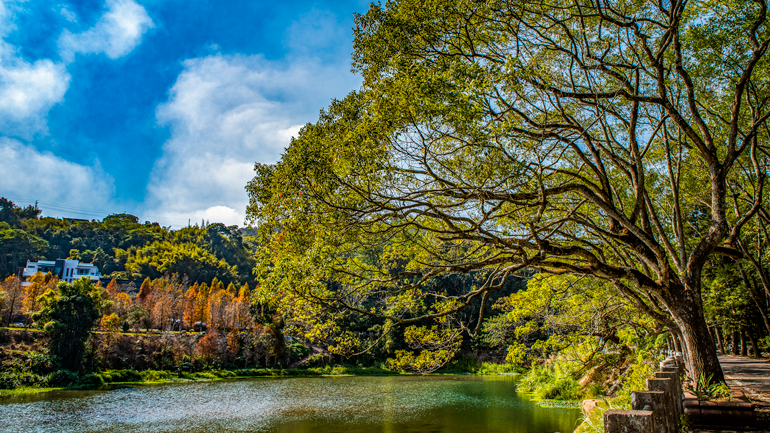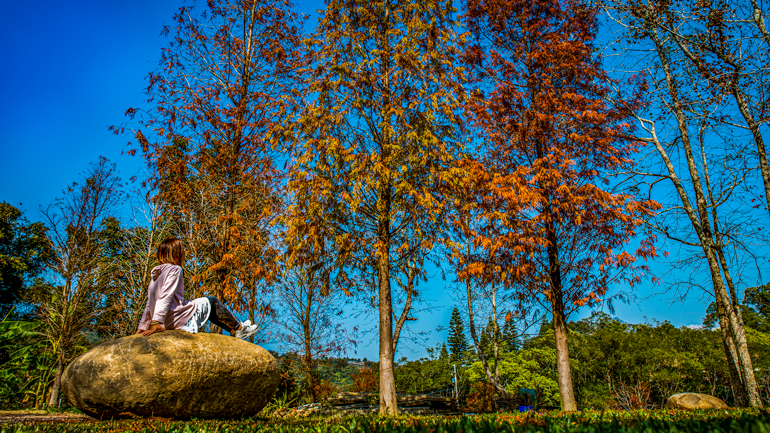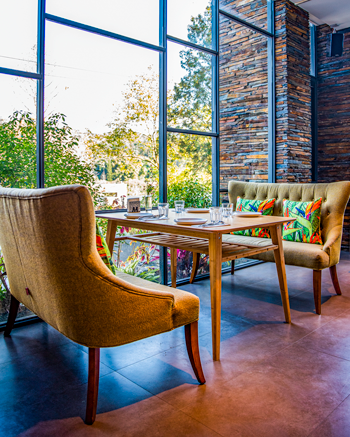 The Pines (松之戀)
Add: No. 6-7, Shishuike, Xinshe Dist., Taichung City
(台中市新社區食水嵙6-7號)
Website: www.facebook.com/tpl988
Tel: (04) 2581-4888
Hours: 11am~8pm daily
Guguan
Following Provincial Highway 8 from Xinshe up the Dajia River valley brings you in less than an hour to the village of Guguan. In 1907 hot springs were discovered in the area by local natives (the area is home to members of Taiwan's indigenous Atayal tribe), and Guguan has been a popular recreation area ever since. The sodium bicarbonate hot springs effuse a mildly alkaline, murky-white water that is smooth to the touch, with a strong aroma of sulfur, at an average temperature of 48 degrees Celsius.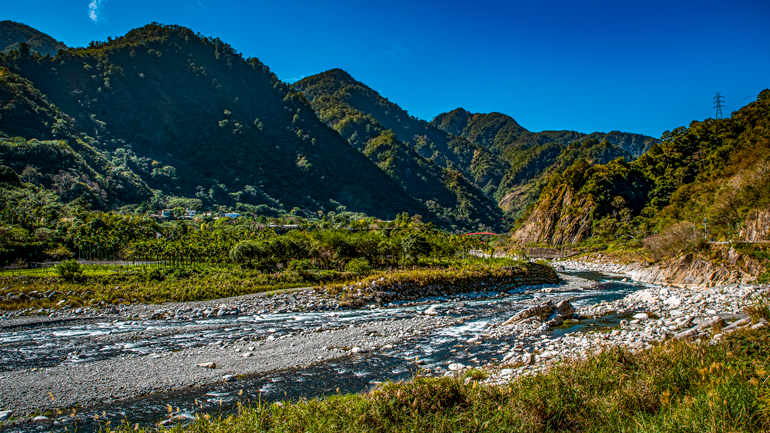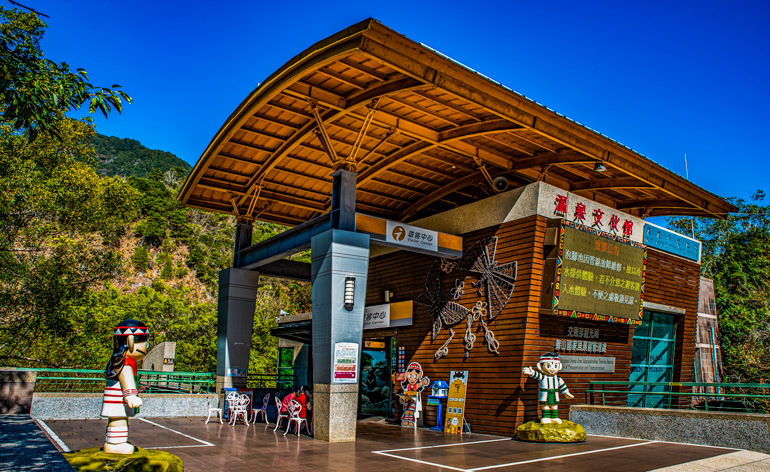 Forming the center of the main visitor area is the Guguan Hot Springs Park – a pleasant garden dotted with cherry trees, at the far end of which you can experience a free foot spa (skin-nibbling fish included) at the publicly accessible footbaths.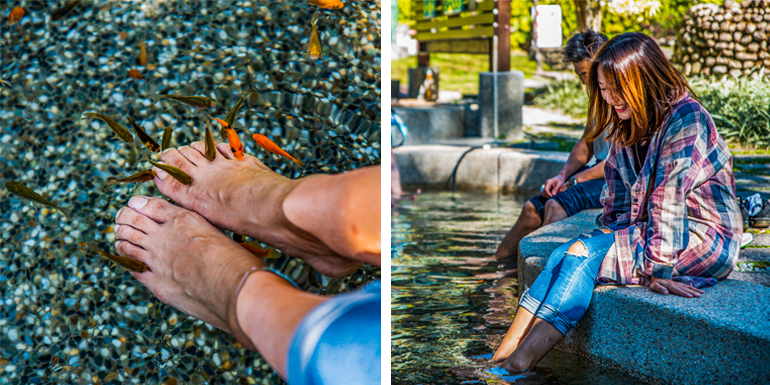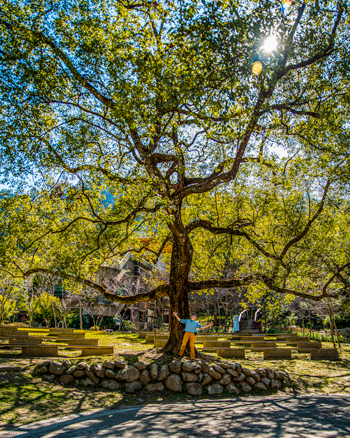 The park once served as a garden for a Taiwan Power Company employee dormitory (where workers could bed down when posted to this remote area). The dormitory building still exists, but is now home to an iced-desserts shop, its specialty being pine-flavored popsicles, a curious delicacy made by extracting the essence from the needles of Japanese white pines.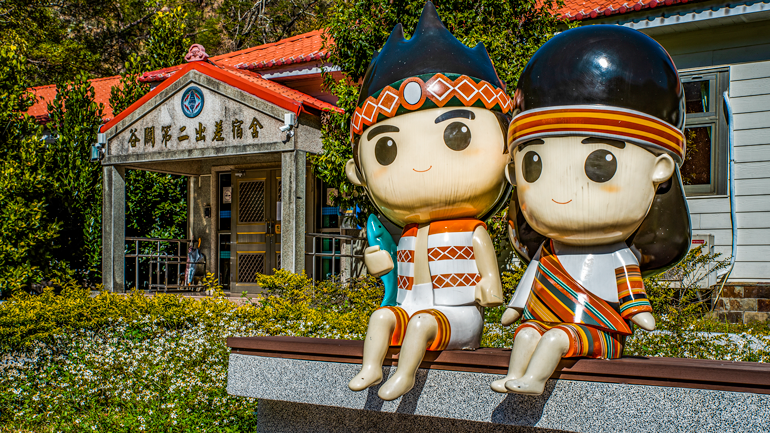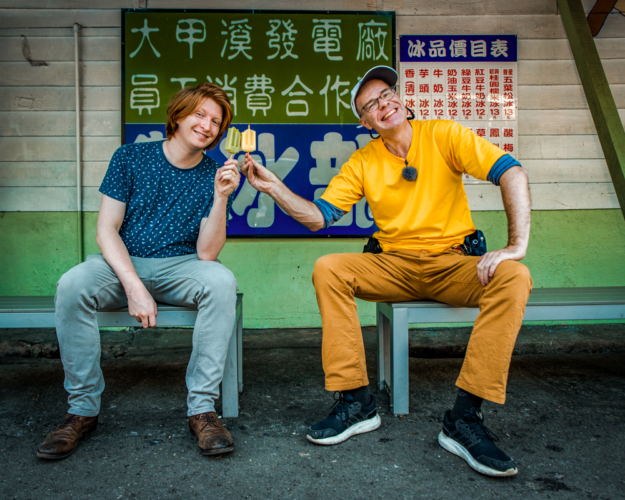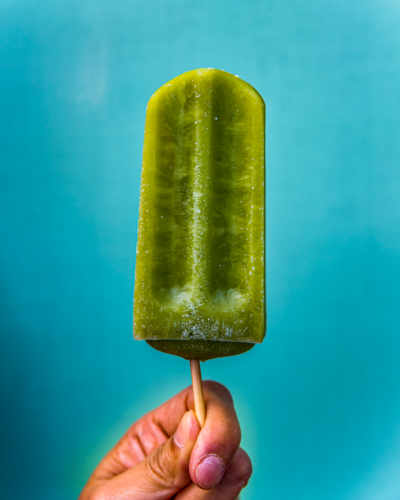 At the northwest end of the park, the Shaolai Suspension Bridge (one of three gorge-spanning suspension bridges in Guguan) provides access to the opposite side of the river and the Shaolai Trail, a trail that takes you up through copses of camphor, pine, and cinnamon trees, then down again, emerging at the far end of the village (about one hour). A longer and more challenging hike up Mt. Bojinjia branches off from the Shaolai Trail and is part of the Seven Heroes of Guguan – a collection of seven day-hikes in the area.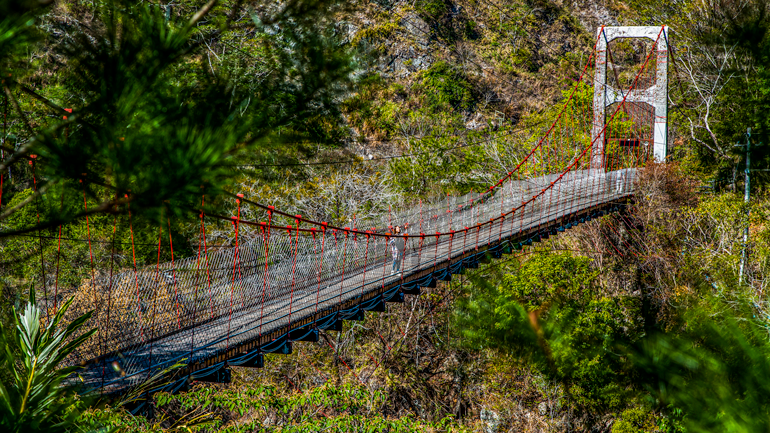 The eastern end of the village, where many of the hot-spring resort hotels are located, can be reached on foot via the Guguan Suspension Bridge, from which you get a fine view of the hot-spring hotels jostling for position on the steep riverbank.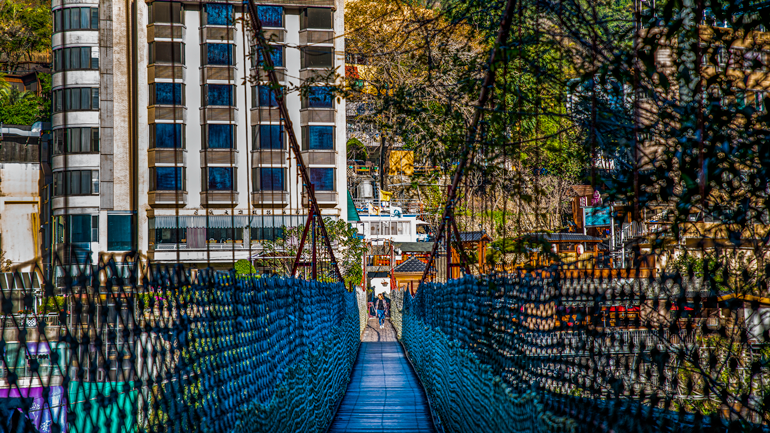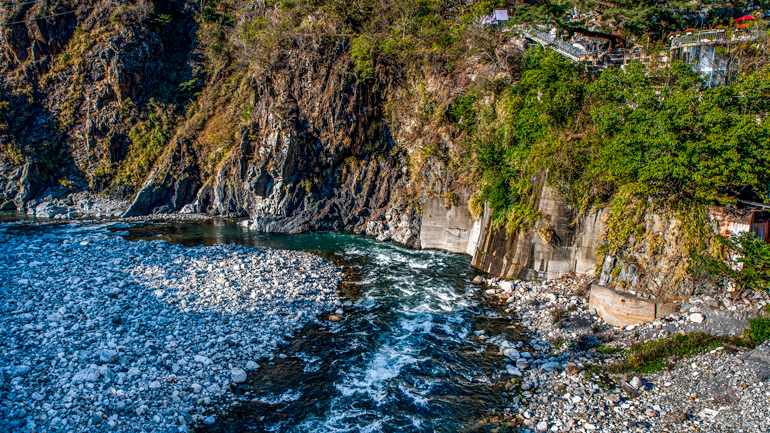 Place to stay: HOSHINOYA Guguan (虹夕諾雅)
Getting There and Around
By Public Transport: Taichung-based Fengyuan Bus Company runs regular buses from the THSR Taichung Station (high-speed rail), Taichung Railway Station, and Fengyuan Railway Station to the city's eastern districts. For detailed stops and timetables, visit www.fybus.com.tw (Chinese). For Guguan, take Fengyuan Bus No. 153 from THSR Taichung Station, No. 850 from Taichung Railway Station, No. 207 from Fengyuan District, or No. 266 from Dongshi District.
By Car: From Taipei, take National Highway 1 to Taichung and then National Highway 4 east to Fengyuan District. Continue east on Provincial Highway 3 for Shigang and Dongshi districts. At Dongshi, turn right onto County Road 129 for Xinshe, or continue onwards on Provincial Highway 8 for Guguan.
Also read
TAICHUNG / ART & ARCHITECTURE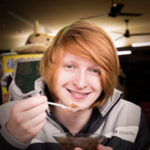 Owain McKimm is a freelance writer who has been living in Taiwan since 2009 and has written about everything from Taiwanese foot massages to flower cuisine.
E-mail: owain [dot] mckimm [at] googlemail [dot] com