Wonderful Forest Recreation Areas and a Charming City
TEXT / OWAIN MCKIMM
PHOTOS / ASKA CHI

The county of Yilan, located in Taiwan's northeast corner, is a place of very varied character indeed. Facing the Pacific Ocean, it has surf beaches and fishing harbors. Further inland you'll find flat plain land with rice paddies and history-rich settlements. Head to the girding mountains and you'll enter a wonder world of coniferous forest, home to centuries-old tree giants.
Most visitors to Yilan spend their time in the characterful towns that speckle the large, triangular Lanyang Plain, which dominates the county's northeastern corner. They enjoy the hot-spring hotels at Jiaoxi, the night market at Luodong, the cycling routes of Dongshan, and the cultural heritage of Yilan City, before heading home stuffed with such iconic local snack treats as scallion pancakes and ox-tongue cookies.
But there's more to Yilan than just what that plain has to offer, and following the Lanyang River up into the mountains brings you to a vastly different environment. Moisture-laden sea breezes that condense as they rise among the mountainous terrain and a rapid elevation that quickly reaches almost 2,500m above sea level create the perfect conditions for temperate tree species, resulting in a vast primeval forest of cypress, pine, maple, and cedar – many of them centuries old – that cover the mist-shrouded slopes.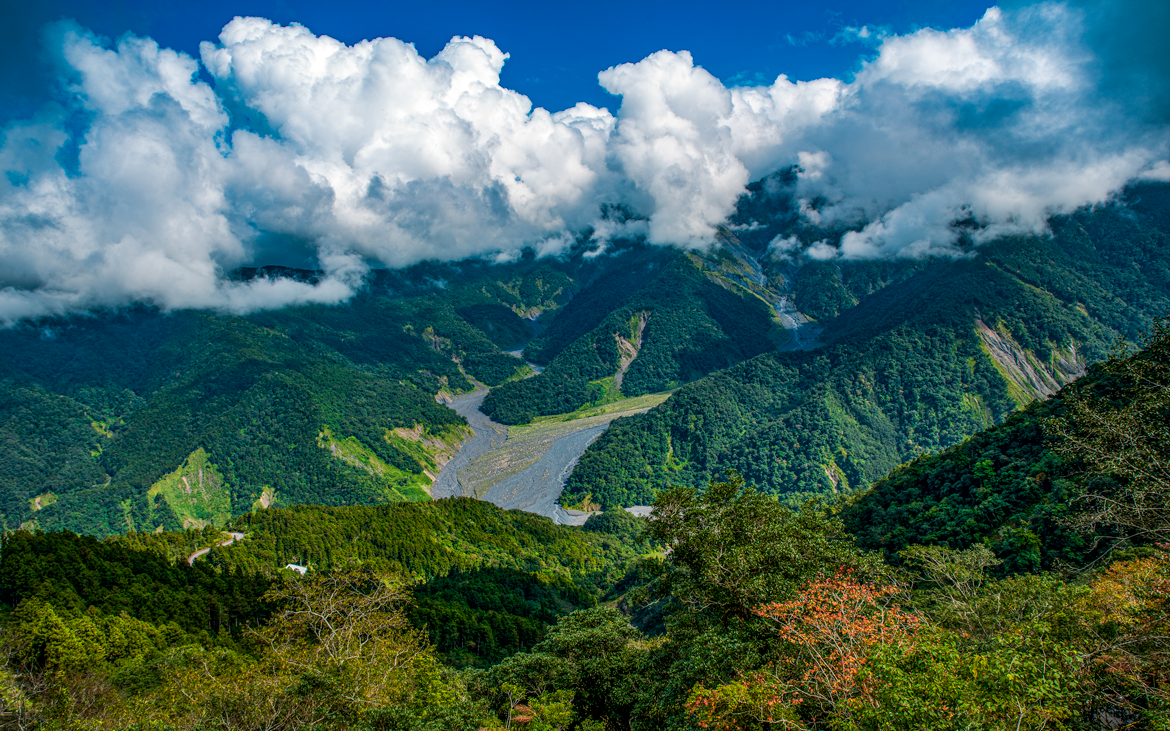 The Taipingshan National Forest Recreation Area, to the south of the river, and the Qilan Forest Recreation Area, to the north, offer access to this stunning topographical and ecological smorgasbord via an abundance of trails, walks, hot springs, and lakes – enough to easily fill a two- or three-day itinerary, with a leisurely day of winding down in Yilan City to pleasantly round off the trip.
Taipingshan National Forest Recreation Area
The Taipingshan National Forest Recreation Area (tps.forest.gov.tw; entrance fee: NT$150 Mon-Fri; NT$200 weekends/holidays) is the more bounteous of the two recreation areas in terms of the sheer number of nature trails, hikes, and opportunities for exploring and nature-watching.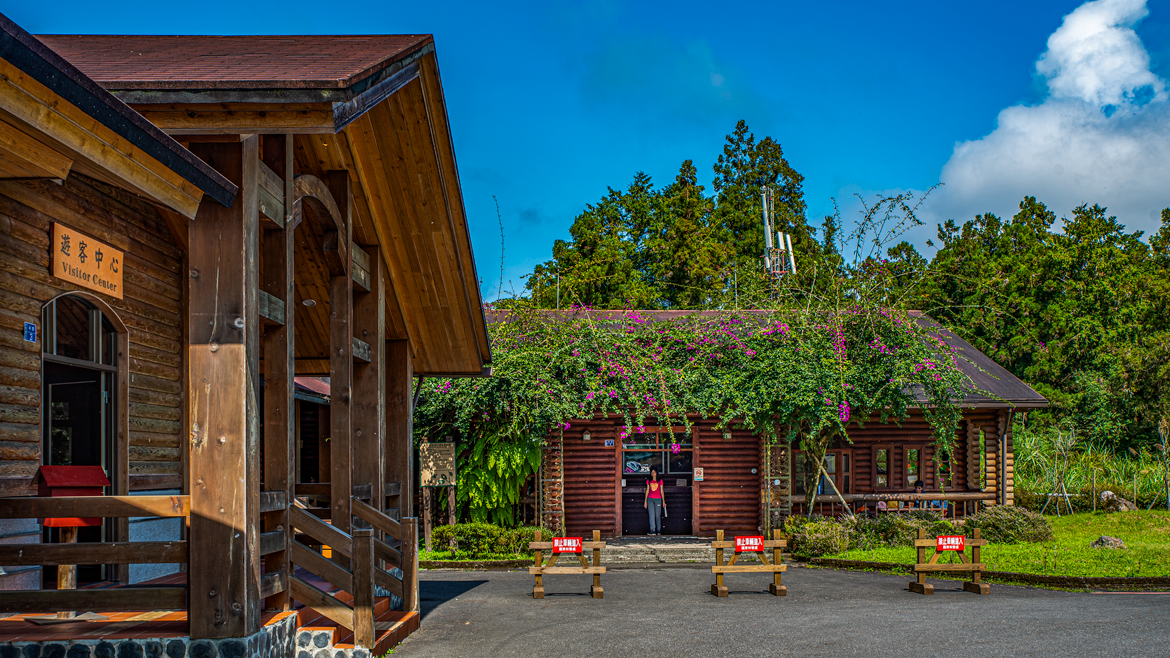 In the not-too-distant past, Taipingshan – a 12,000ha expanse of dense forest, much of which is located between 1,500m and 2,500m above sea level – was best known as a logging area. In 1914, the Japanese (who controlled Taiwan as a colony from 1895 to 1945) began operations to harvest the centuries- and sometimes millennia-old cypress trees that grew here. Logging was finally banned in 1982, and you can learn about some of the industry's history at the Taipingshan Visitor Service Station in the recreation area's main facilities sector.
Climbing the stone stairs to the right of the station brings you to the Yunhai Café and a restaurant, the latter serving seven-dish set meals made with fresh local produce for NT$250 per head.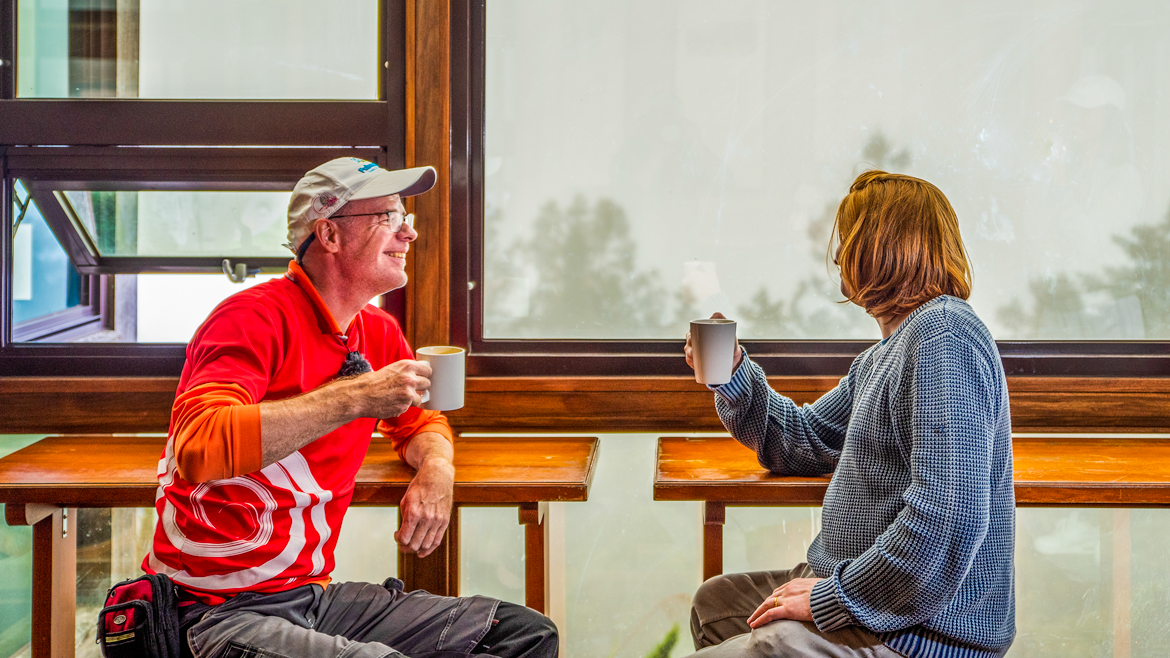 At the top of the stairs (lined with Japanese maple trees, whose leaves turn a rich burgundy-red in autumn), you'll find one of the recreation area's many trails – the Primitive Cypress Forest Trail, an easy 30-minute walk taking you through the intertwining canopies and twisting roots of members of Taiwan's two endemic cypress species (C. obtuse var. formosana and C. formosensis). Beyond this trail is the Chinese Hemlock Nature Trail, a longer and more challenging walk through largely coniferous forest which also contains several broadleaf species such as the Formosan rhododendron, with the viewing platform at the trail's tail-end providing beautiful views of Taipingshan's breathtaking sea of clouds phenomenon.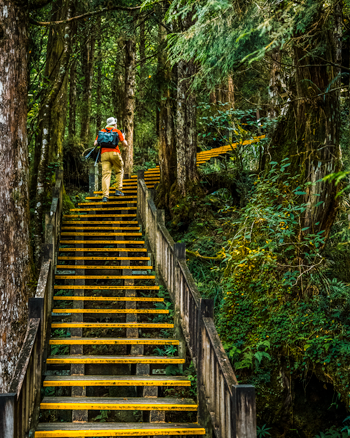 Bong-Bong Train
Aside from hiking, one of the most popular activities at this recreation area is taking a ride on the Bong-Bong Train – a working relic from the old logging days. Its onomatopoeic name derives from the sound it made as it trundled log-laden along the snaking narrow-gauge rail track to nearby Maoxing Station, a bit higher in the mountains. The trains, now carrying tourists, run hourly from 7:30am until 2:30pm, and tickets cost NT$180 for a return trip. The journey to Maoxing takes roughly 20 minutes, the train twisting and turning along the mountainside through, on many days, dense mist that reveals only ghostly impressions of the forested ridges and slopes that lie beyond.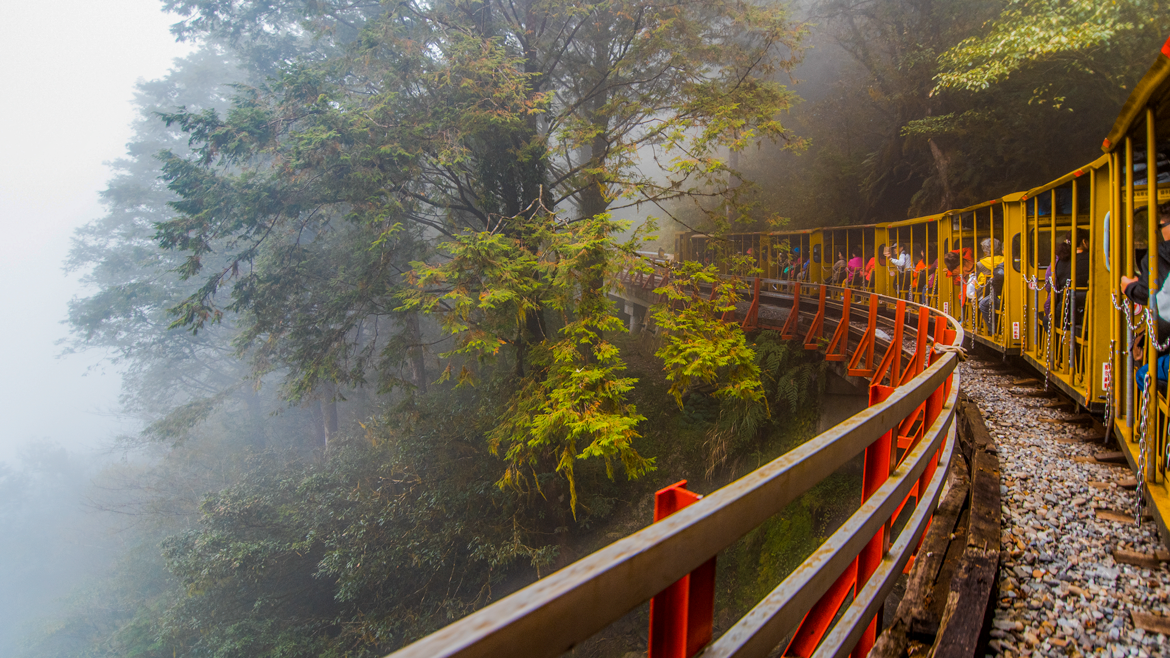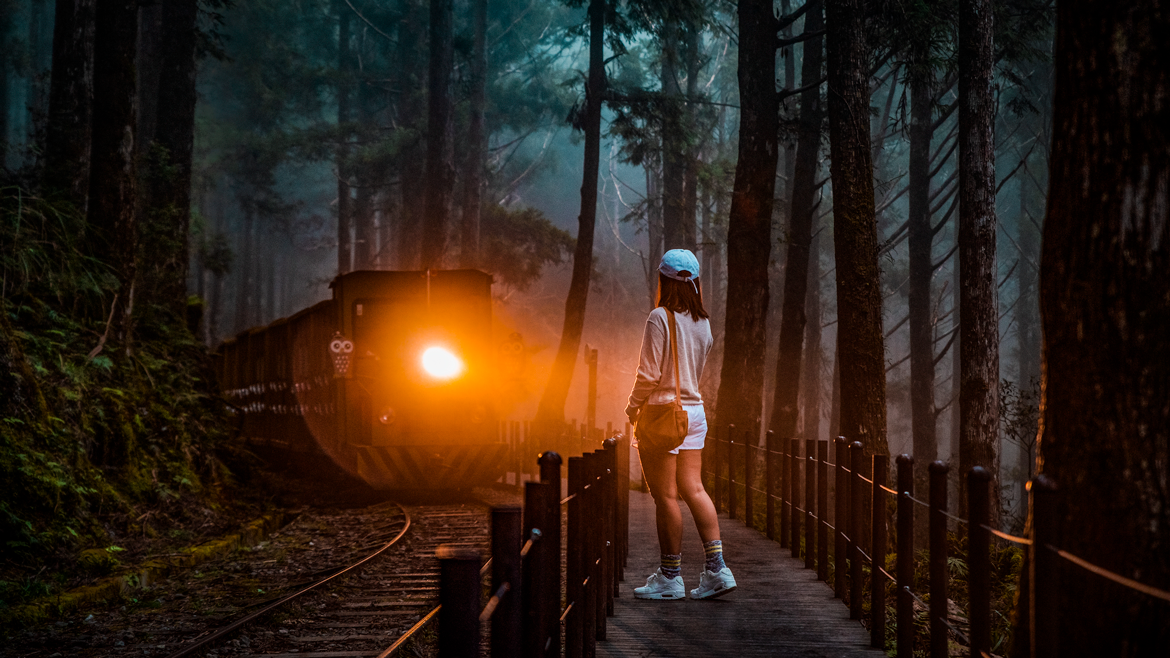 Arriving at Maoxing Station, you'll have around an hour to explore before the return train, which is plenty of time to make a thorough exploration of the area by walking the Maoxing Reminiscent Trail – a 900m path that follows and encircles the old train tracks. The forest around here once yielded around 3,000 cubic meters of wood per hectare. Today, a dense forest of new-growth cypresses, cedars, and firs exists in place of those felled ancients, whose gigantic stumps loom from within the mist like the ruined towers of some long-lost city.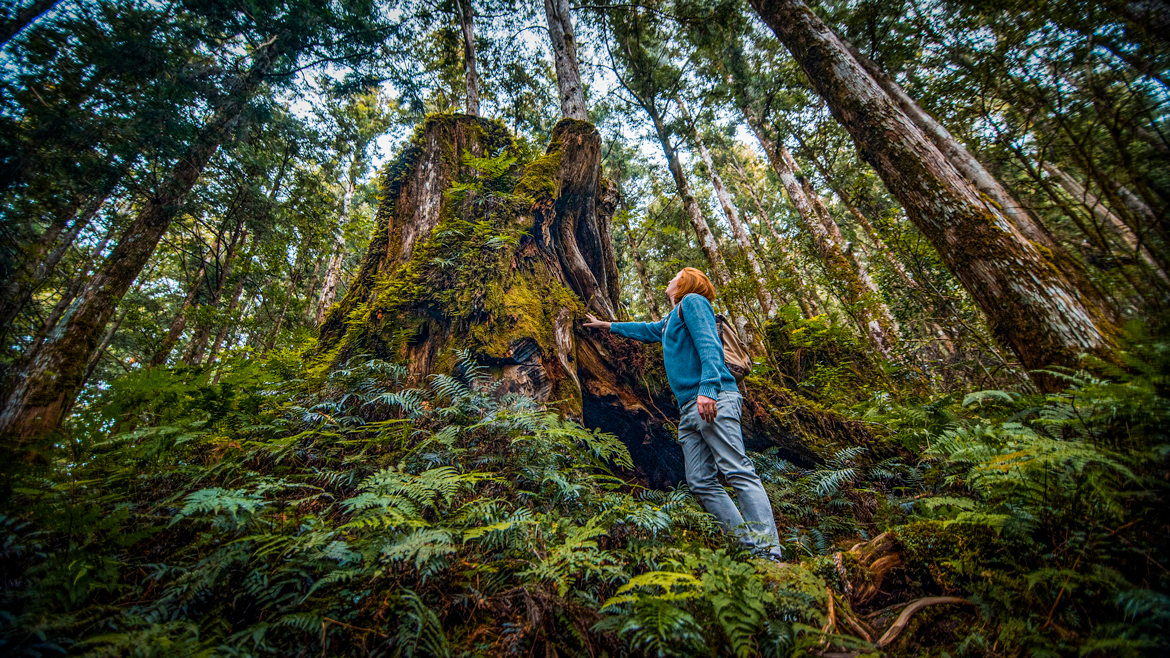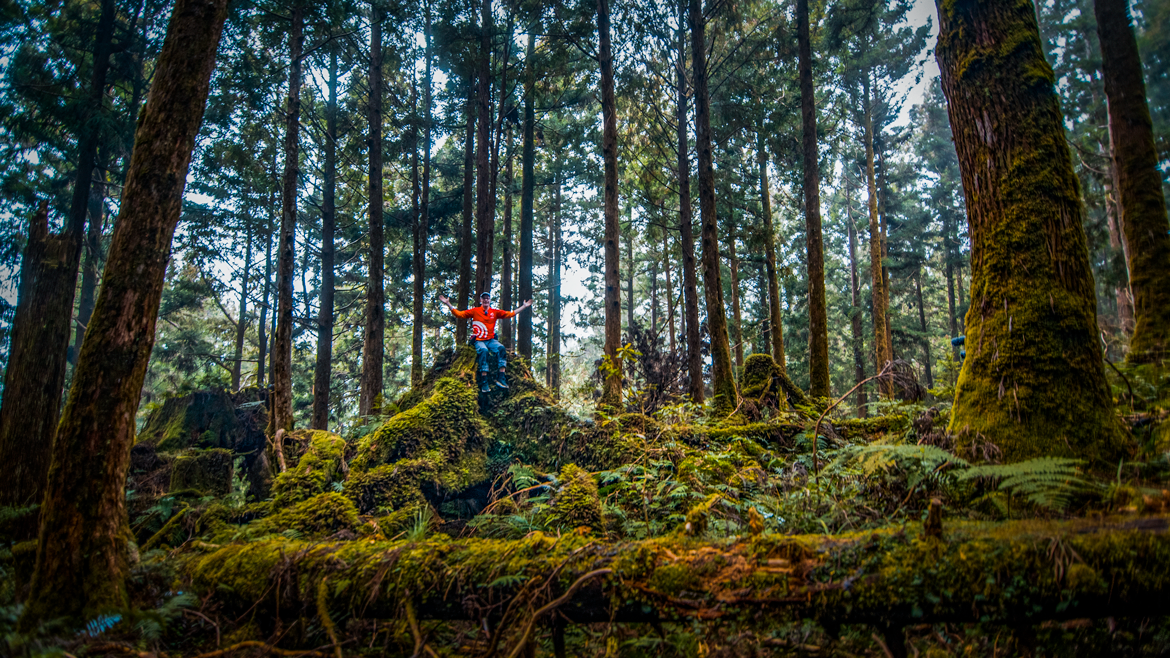 Cuifeng Lake
Having thoroughly explored the main area, you can extend your exploration to Taipingshan's further reaches by driving an additional 17km up the mountain towards Cuifeng Lake – Taiwan's largest alpine lake, which when swollen by the runoff from the surrounding mountains covers 25ha and plunges 7m deep. A 3.9km trail circles the water, allowing you to take in the Japanese cedar, Taiwanese red pine, and Taiwania on its western, northern, and southeastern sides. The nearby 3.8km Taiwan Beech Trail traces a path through a pure forest area of rare Taiwan beech, the leaves of which turn from a bright pea-green in summer to a vibrant canary-yellow in autumn.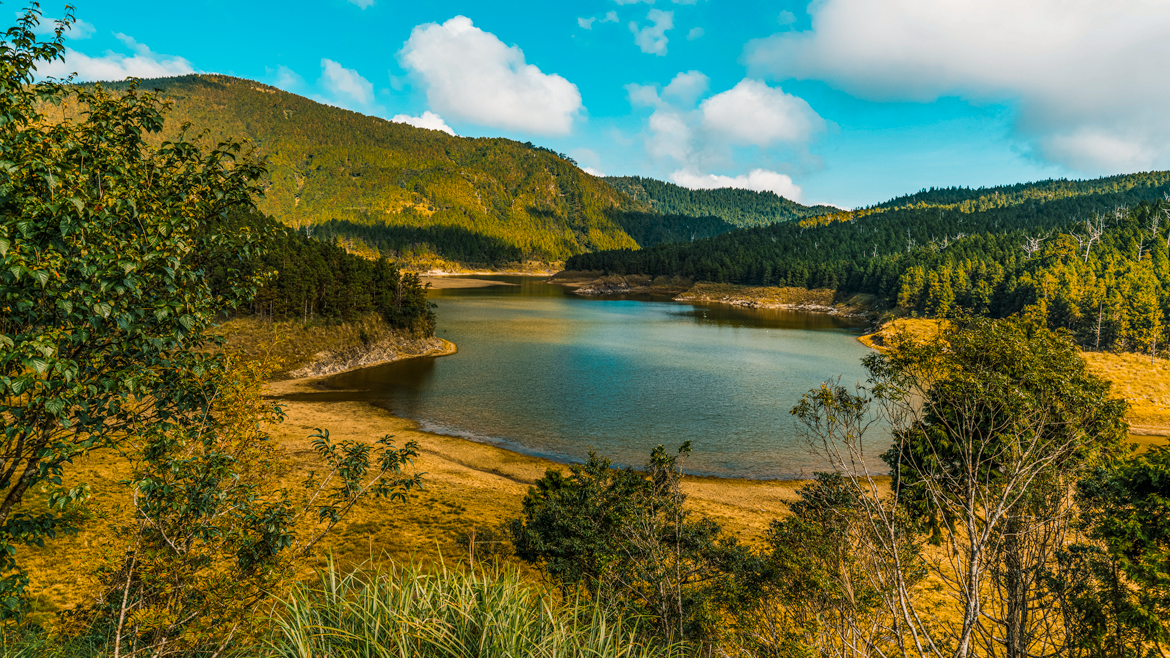 Jianqing Historic Trail
If your appetite for trails is still not sated, another popular trail – the Jianqing Historic Trail, built over old sections of Japanese-constructed forest railroad – can be found by heading 2km down the mountain from the main recreation area. The "Jianqing" in the trail's name literally means "clear sky," and refers to the spontaneous breaks in cloud that occur along the trail's length, letting you take in the vivid oscillating outline of the Xueshan (Snow Mountain) Range to the west.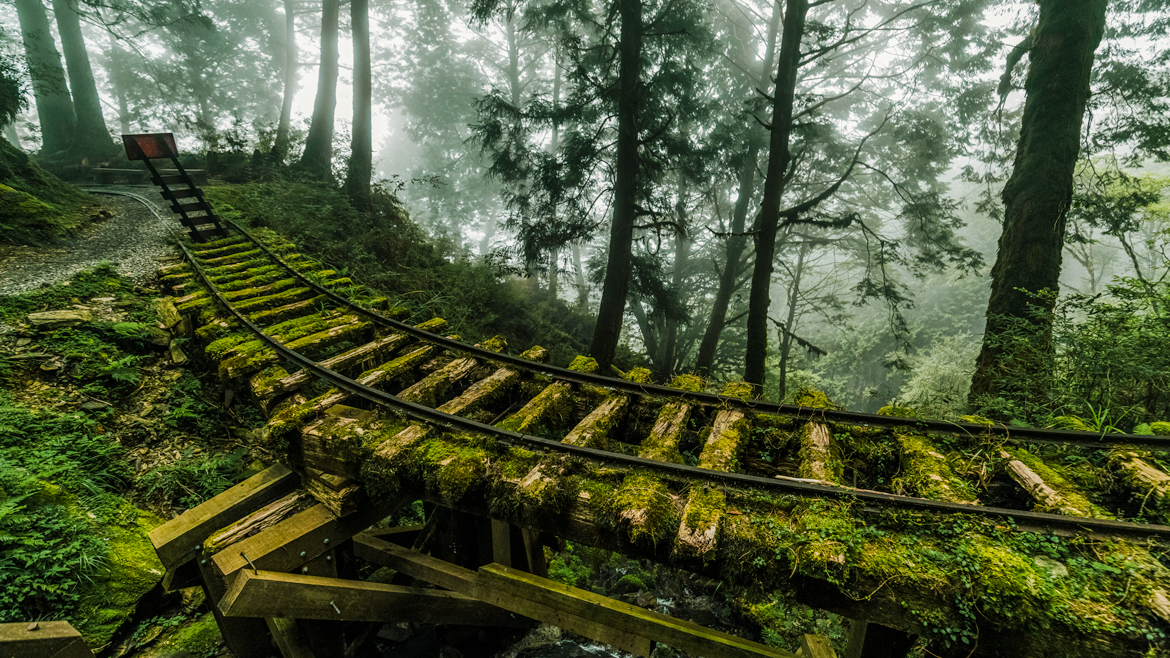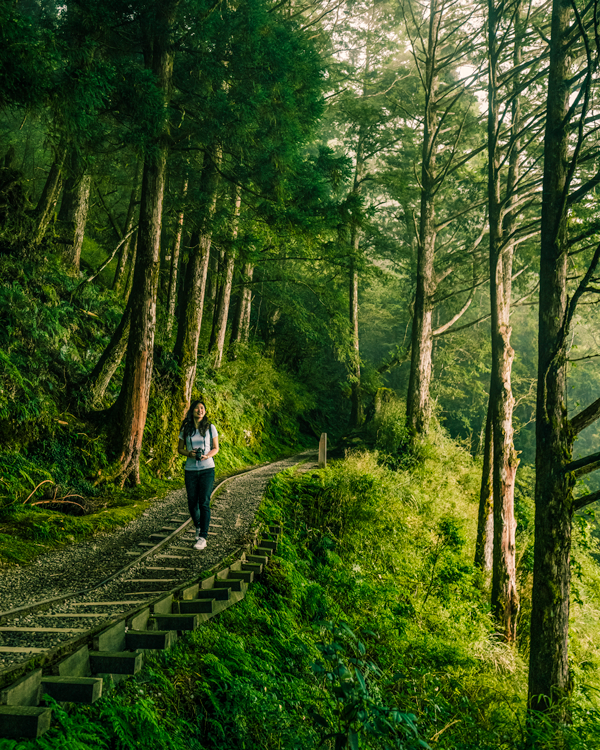 Jiuzhize Hot Springs
To soothe your aching legs and tired feet, a highly recommended final stop is the Jiuzhize Hot Springs, situated further down-mountain near the recreation area's ticket booth. Here, pale-blue alkaline sodium bicarbonate water bubbles from deep beneath the earth at temperatures of up to 140°C, its steam rising in giant white plumes from the boiling wells. The spa has both outdoor pools and private bathhouses, and prices range from NT$150 for access to the outdoor pool in summer to NT$700 for a private two-person bathhouse during winter.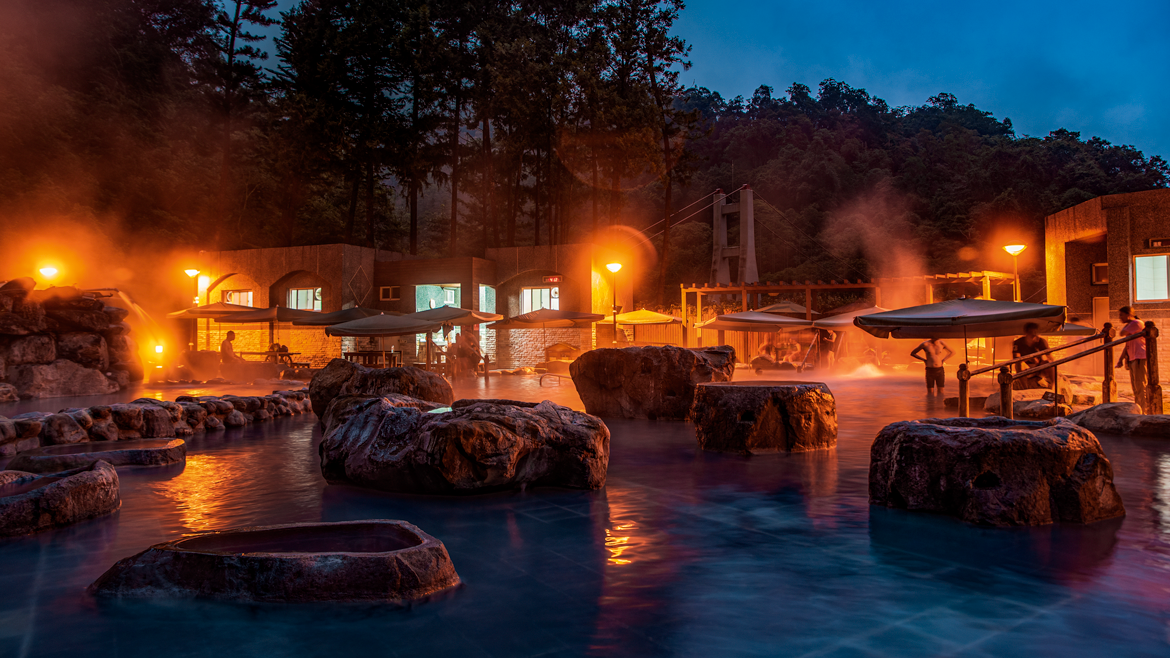 If you're peckish, you can rustle up some grub in the cooking area, where eggs and corn purchased in the visitor center shop can be boiled in specially designated springs.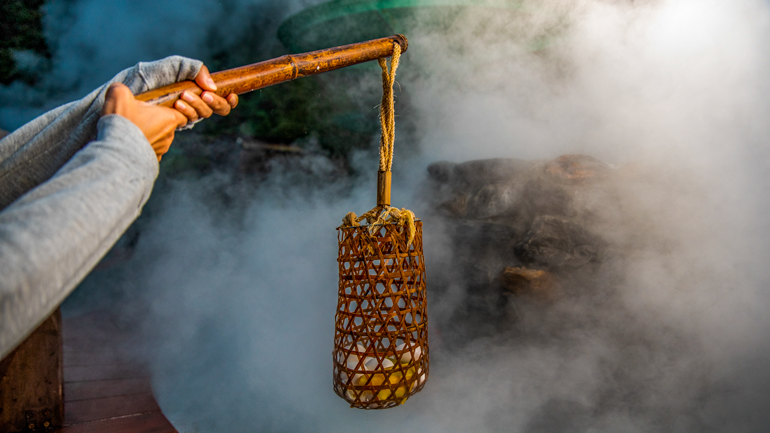 Accommodation
Overnight accommodation is available in the Taipingshan Villa (in the main recreation area) or in a separate villa near Cuifeng Lake. Prices range from NT$3,900 for a double to NT$9,800 for an eight-person room. Rooms can be booked via the recreation area's website https://tpsr.forest.gov.tw. Since rooms are in high demand, booking weeks before visiting is strongly recommended.
Accommodation in Yilan (booking.com)
KLOOK:
Yilan Taipingshan National Forest Tour
Qilan Forest Recreation Area
A few kilometers from the entrance to the Taipingshan National Forest Recreation Area, on the north side of the Lanyang River where the Tiangou and Tuchang tributaries empty into it at the base of Taipingshan, lies Qilan (also written "Cilan;" entrance fee: NT$80 Mon-Fri; NT$150 weekends/holidays). This is another forest recreation area, which marks the southern point of the Makau Ecological Park, a largely restricted area of natural beauty only accessible via the Qilan Forest Recreation Area and the Mingchi Forest Recreation Area further north on Provincial Highway 7 (the Northern Cross-Island Highway).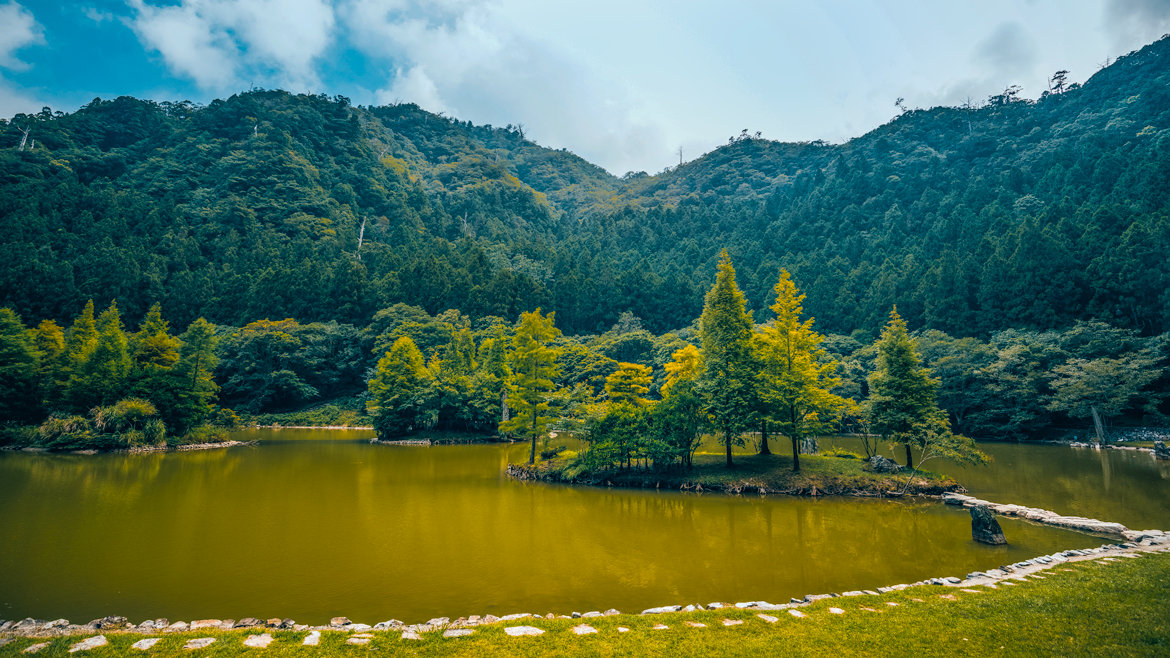 In the recreation area, the Qilan Resort is comprised of a European-style villa and wood cabins where visitors can stay the night, a hot-spring spa that's free for these guests, several gardens and flower-viewing walks, and a restaurant serving a Chinese-style buffet for breakfast and set menus featuring dishes such as stir-fried crab, mapo tofu, and scrambled eggs with spring onion for lunch and dinner.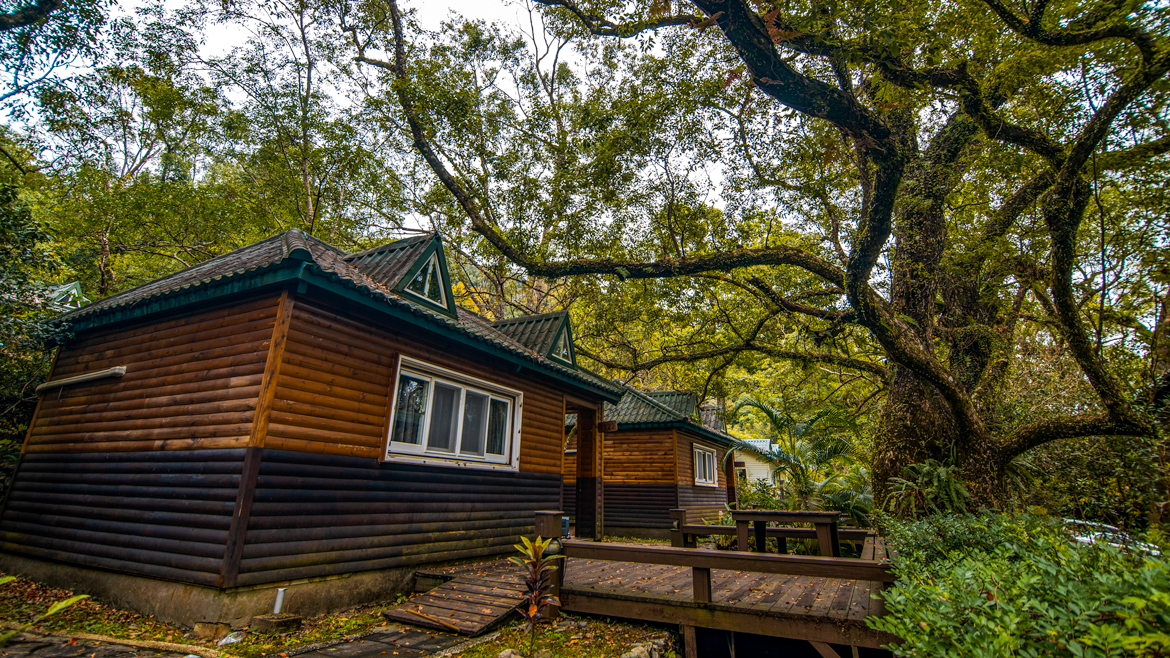 Chiang Kai-shek's Chateau
The centerpiece of the recreation area is Chiang Kai-shek's Chateau – a former holiday residence of the late ROC president and his wife. The meticulously preserved rooms, large framed family photos, and eclectic relics (such as CKS's high-school geometry homework) allow for a small but uniquely domestic glimpse into the life of this historic figure.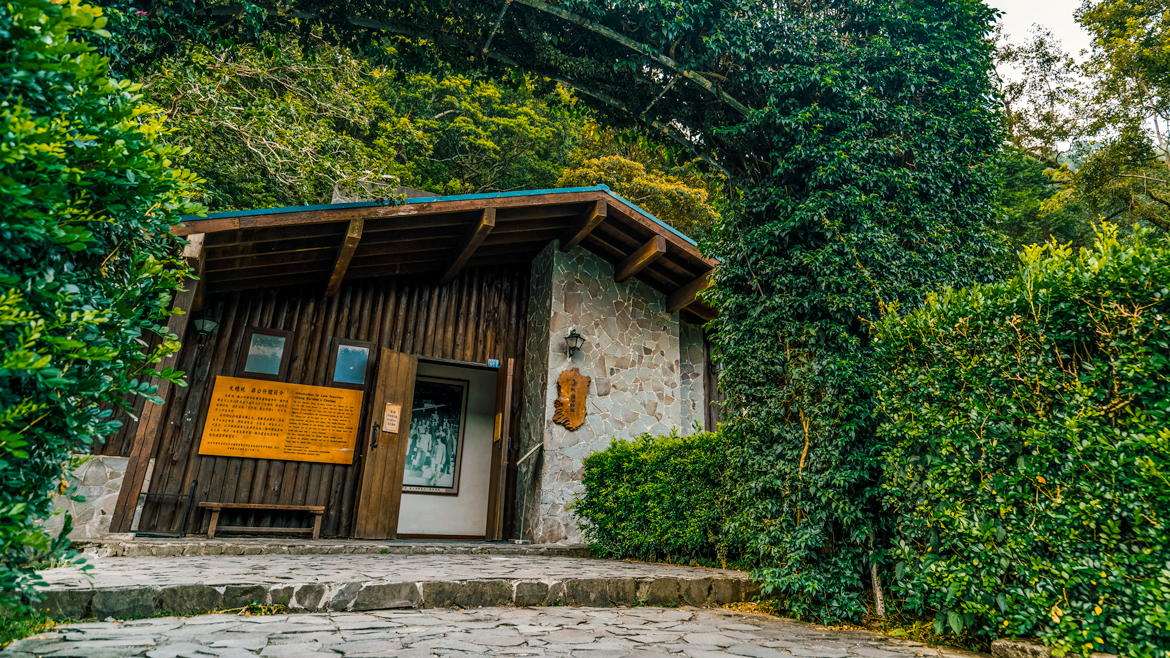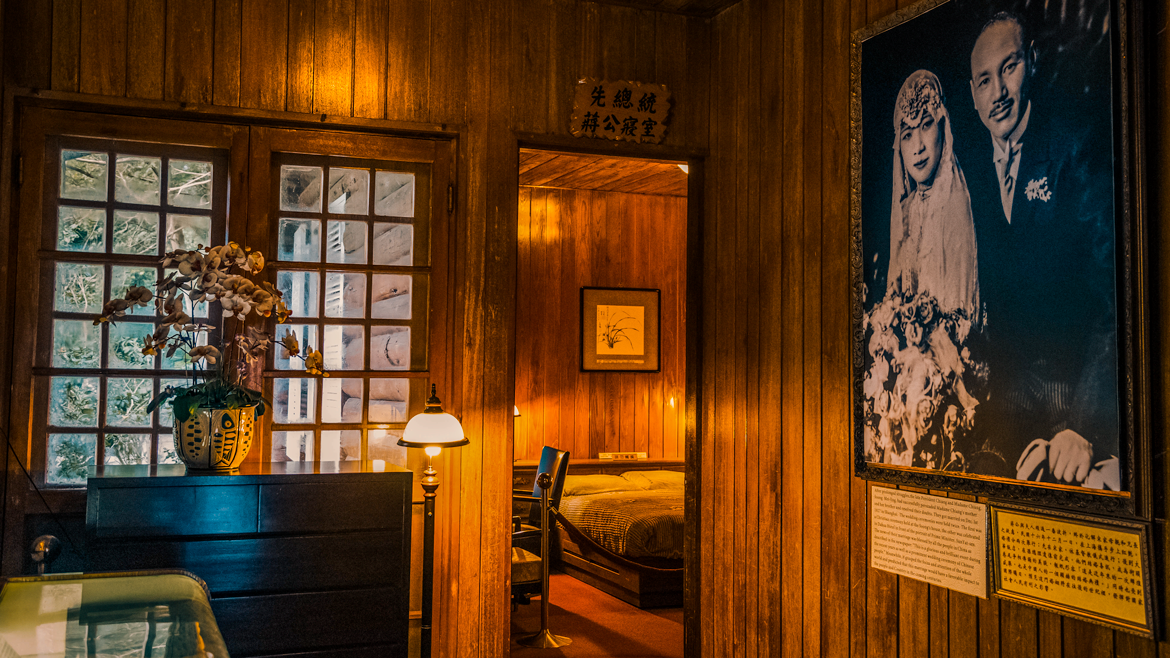 Behind the villa lies a 2.1km loop trail through fern-rich subtropical forest that ends in the Historic Area of Veteran's Forestry, where several examples of logging-era machinery are preserved. You are free to explore the recreation area yourself; however, a free Chinese-language guided tour is also available, starting daily at 8am and 2:30pm at the reception office.
Divine Trees Garden
Undoubtedly, though, the highlight of a visit to Qilan is the opportunity to visit the Divine Trees Garden area of the Makau Ecological Park. "Divine" or "sacred" is the honorific given in Taiwan to trees over 1,000 years old (whereas those between 500 and 1,000 are called jumu – "giant trees"). The garden in question contains nearly 100 giant and sacred endemic cypress trees, 51 of which have been named after figures in Chinese history who share their birthyear. The oldest, Confucius, is a 40.8-meter-tall Taiwan red cypress "born" in 551BC, while Guanyu – a famous general whose exploits are recorded in the Chinese classic The Romance of the Three Kingdoms – is a 29.5-meter-tall Formosan hinoki cypress that erupted from the ground in 162AD.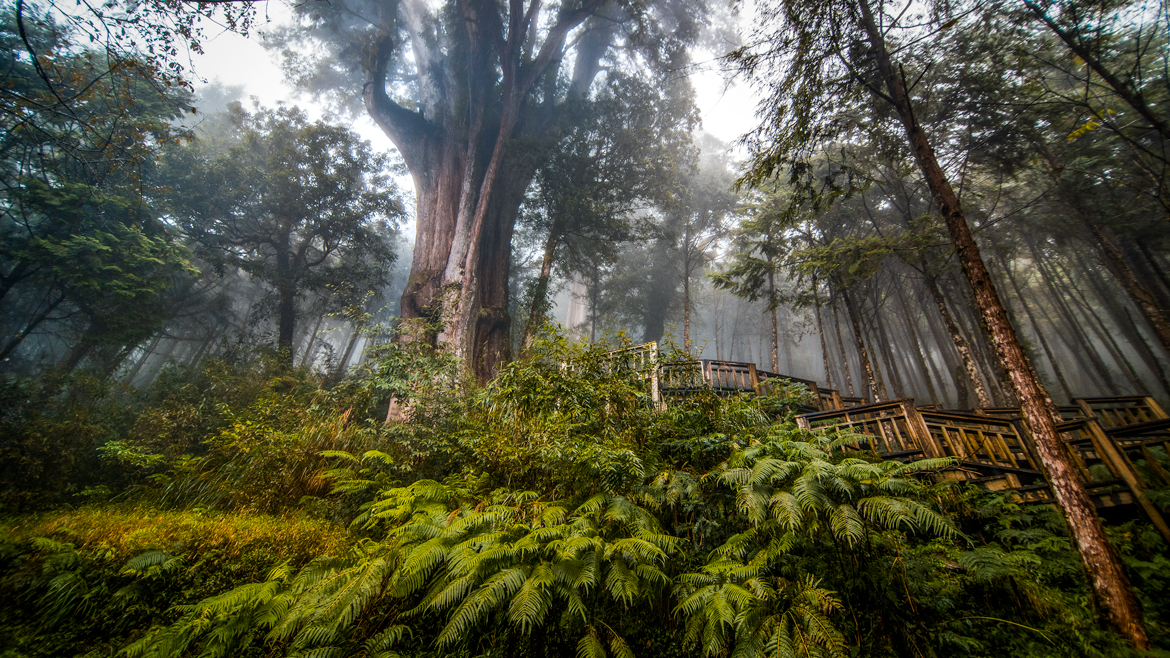 The Divine Trees Garden is a controlled area deep into the mountains, and access is only permitted as part of a tour from either the Qilan or Mingchi resort. Three shuttle buses are scheduled each day from Qilan, at 7:50am, 10:30am, and 1:20am, with tickets costing NT$570 for overnight guests and NT$770 for independent visitors. The entire circuit, accompanied by a Chinese-language guide, takes around two hours, though you can explore the route by yourself if you prefer. The area sees rain 250 days per year, so bring an umbrella or raincoat. However, don't be put off by any inclement weather; the wispy tendrils of mist that permeate the garden bestows the environs with a dream-like quality that if anything enhances the experience.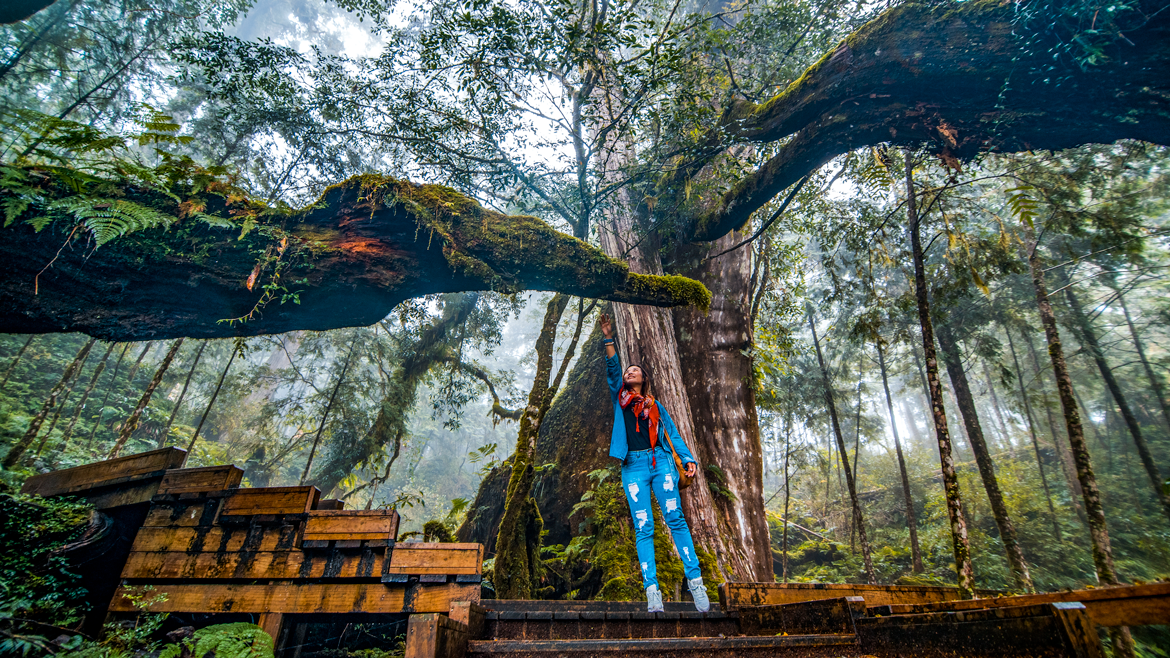 Accommodation
Staying the night in the recreation area's villa or one of its cabins costs from NT$4,400 for a twin/double villa room to NT$11,100 for an eight-person cabin. Rooms are large and comfortable, with a rustic, log-cabin feel. For more information about both the Qilan and Mingchi resorts, and to make bookings, visit makauy.lealeahotel.com.
Yilan City
Yilan Literary Museum
Heading into Yilan City after two days of strenuous walking, the overwhelming temptation is to take it easy and enjoy a leisurely tea or coffee in one of its charming cafés. A refined, cultured ambiance can be found at the Yilan Literary Museum, which despite its name is not in fact a museum but a Japanese-style teahouse, replete with low tables, sliding panel doors, and a tatami-covered floor for sitting.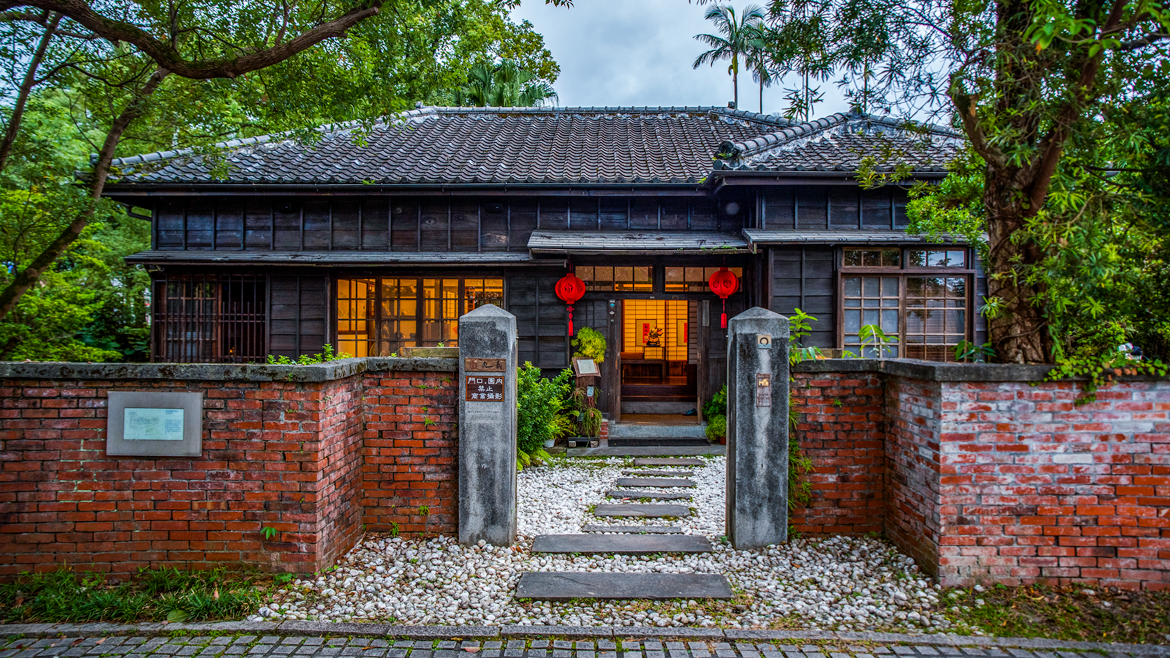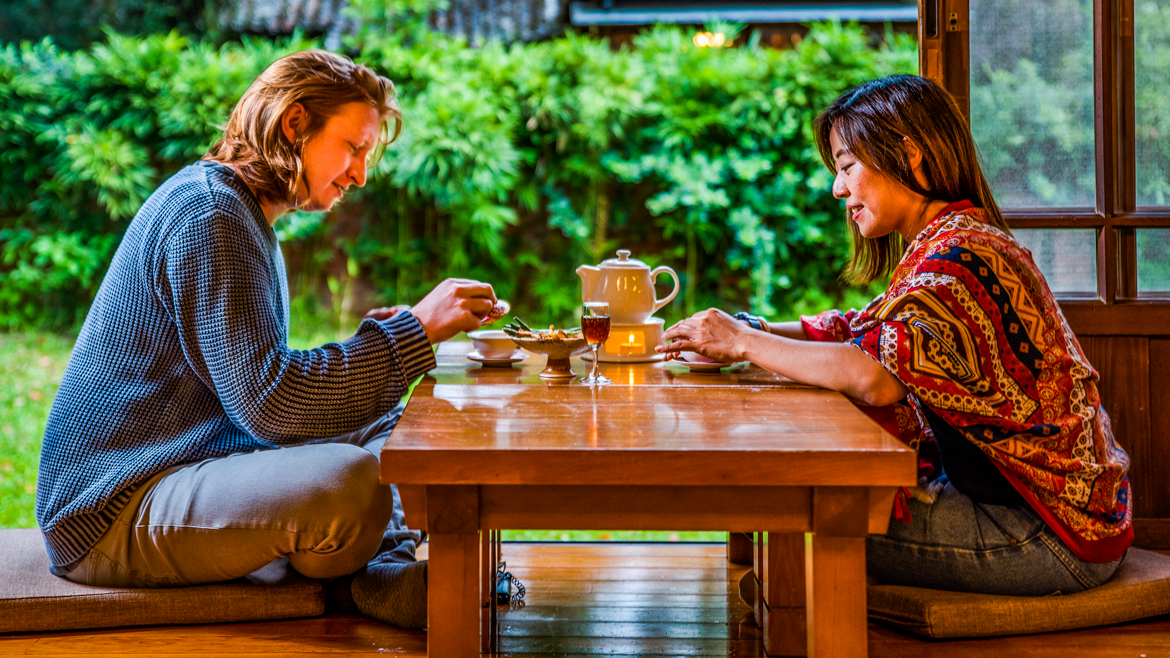 The building itself, built in 1926, originally served as a residence for the former headmaster of the local agricultural school. But after being designated a historical building and restored to its former glory, in 2011 it was opened as a space where the aspiring literati of Yilan City – which has a tradition of producing some of Taiwan's finest authors – can read, sip fragrant tea, muse, and produce creative work in a peaceful, elegant walled-courtyard setting away from the busy streets and sounds of roaring scooters.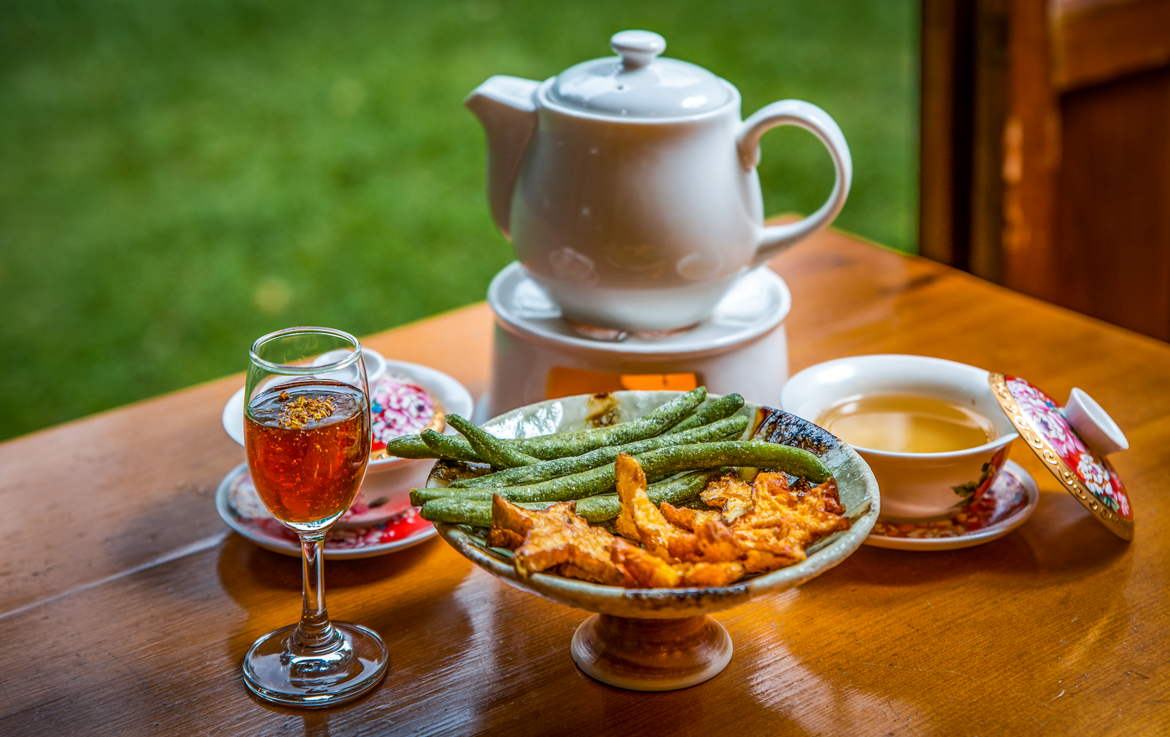 Relaxing on the soft straw tatami and soaking in the literary atmosphere, you can sample a delicious tea of fragrant osmanthus honey dissolved in hot water and a plate of finger snacks consisting of crisp dried broad beans and tangy, dehydrated starfruit.
Yilan Literary Museum (宜蘭文學舘)
Add: No. 19, Xianfu 2nd Ln., Jiucheng S. Rd., Yilan City, Yilan County
(宜蘭縣宜蘭市舊城南路縣府二巷19號)
Tel: (03) 932-4349
Hours: 9am-5pm, closed on Mondays
Eno Café
If, on the other hand, sipping artisanal coffee is more your thing, Eno Café, tucked into an alley in the city's south-side university district, is a thoroughly pleasant place to spend an afternoon. Spanning two floors in a renovated old house, the café specializes in serving single-origin coffees from growing regions around the world. Though the menu is extensive, the best thing to do on arrival is to chat with the barista, as new bean varieties (which often don't make it onto the menu) are regularly imported to satisfy its customers' demands for unusual and exciting brews. The coffee is served in an aesthetically varied selection of cups, picked up on the owner's global travels, and come with a full glass tumbler on the side, from which you can refill your own glass or pour some out for your friends to sample.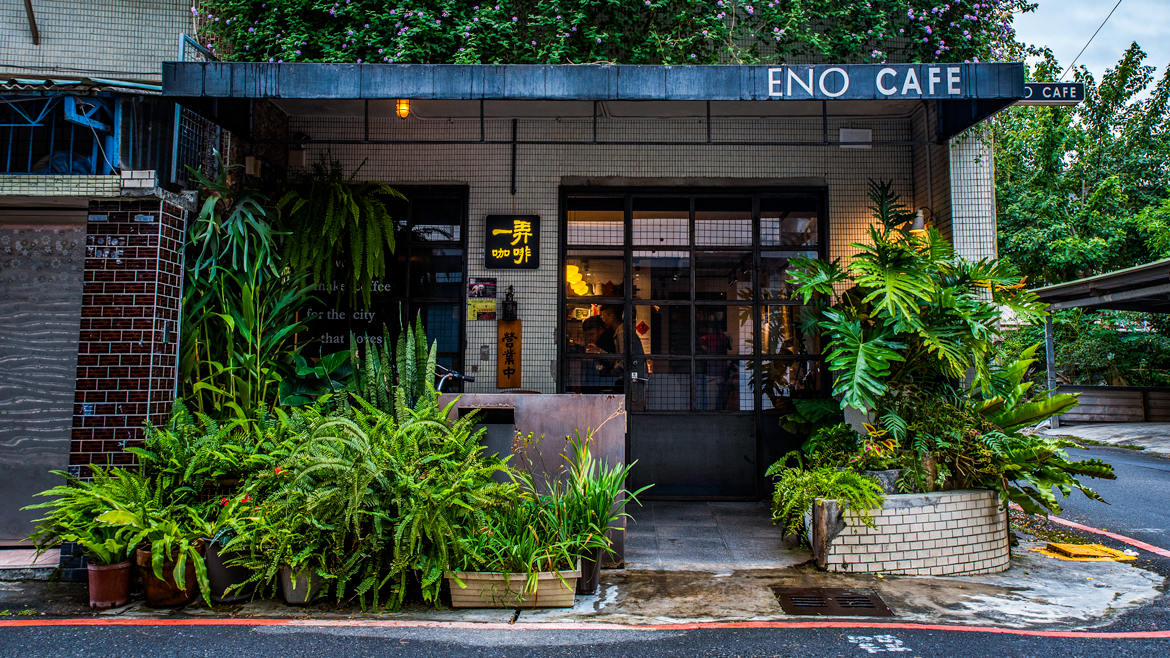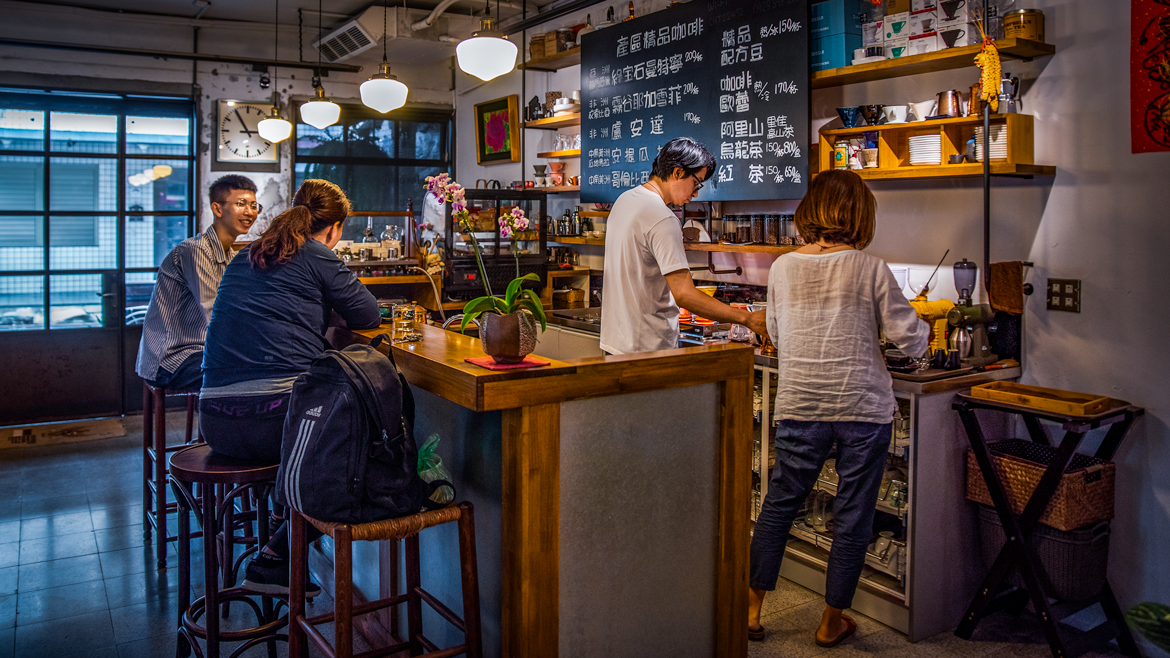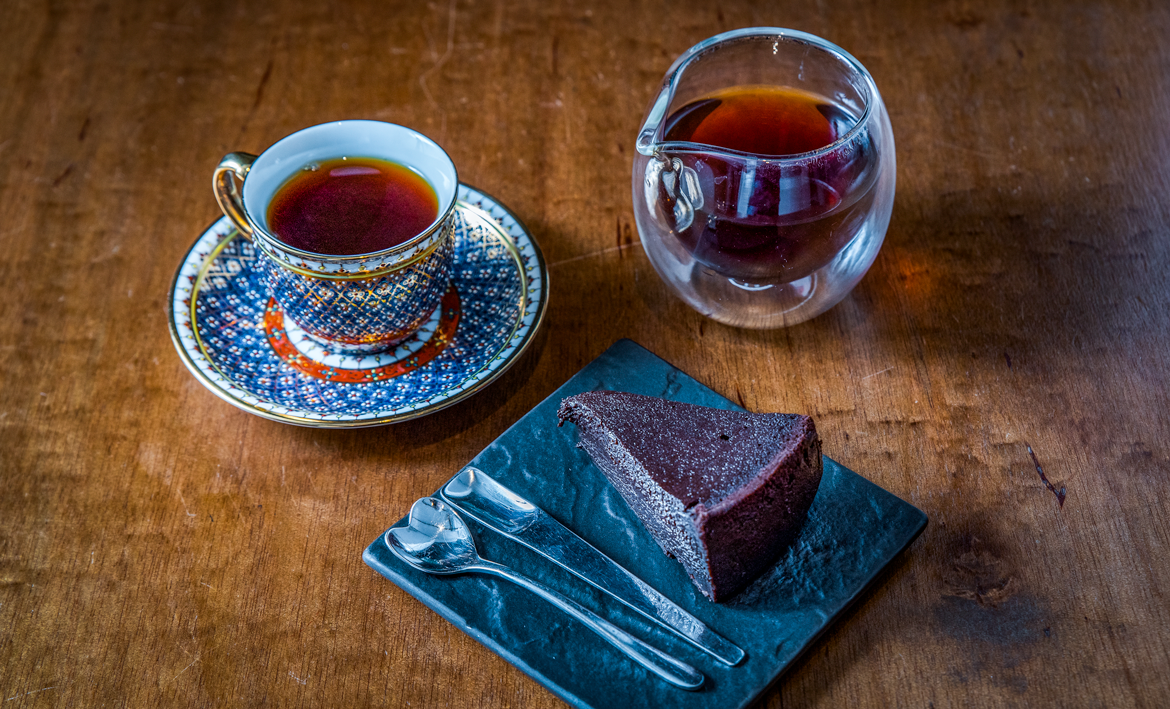 Eno Café (一弄咖啡)
Add: No. 2, Aly. 1, Ln. 151, Jinshi Rd., Yilan City, Yilan County
(宜蘭縣宜蘭市進士路151巷1弄2號)
Tel: (03) 935-2589
Hours: 11am-8pm, closed on Wednesdays
Jimmy Square
After finishing your afternoon pick-me-up, you can spend the rest of the day wandering the city's old neighborhoods and parks until the Dongmen Night Market comes alive around dusk. A pleasant stroll not too far from the market can be taken at Jimmy Square – once an old railway-staff dormitory complex, now transformed into a roadside plaza dedicated to the art of Jimmy Liao, probably Taiwan's most famous illustrator and picture book creator. An Yilan native, Jimmy's wistful, dreamlike artwork, in which his young round-faced characters often embark on strange, fabulistic journeys, can be seen all over Taiwan. Here, life-sized models, large murals, and suspended installations allow you to immerse yourself in the world of Jimmy's imagination.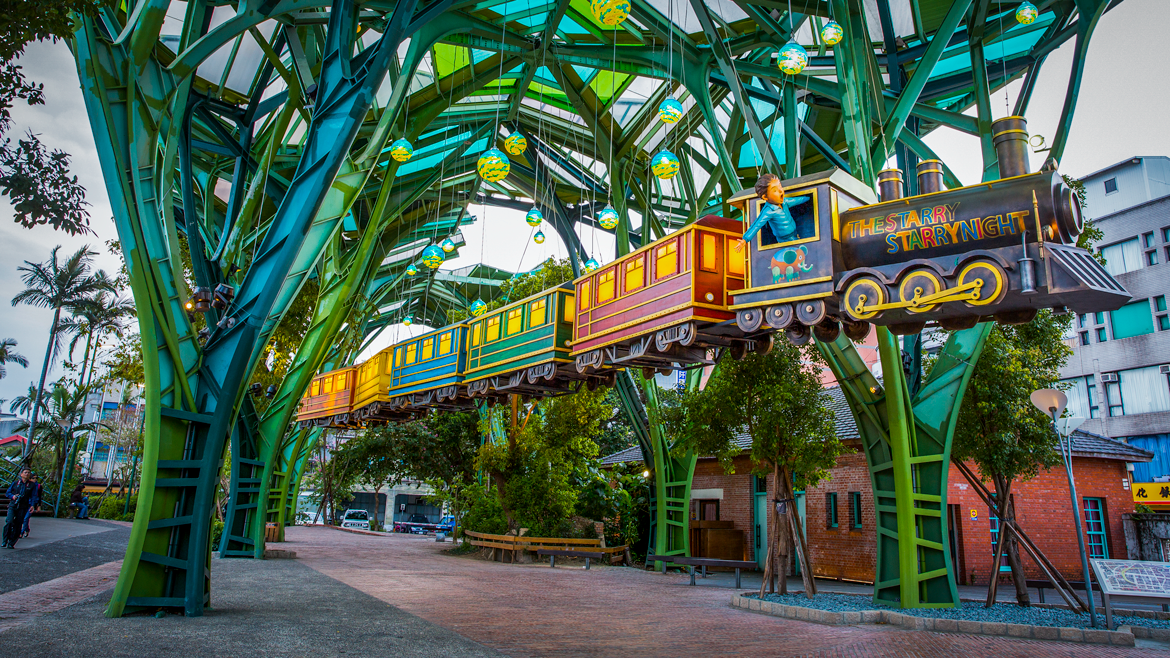 Accommodation
Though Yilan County is famous for the quirky guesthouses that punctuate the farmland surrounding its main city and nearby towns, there are also excellent options for overnight accommodation in Yilan City itself.
Shen Nong Village
Shen Nong Village, a 10-minute walk from Yilan Railway Station, was once a dormitory for the staff of the local grain bureau. The building now houses a youth hostel, bistro, and several indie shops, all with a distinctly Bohemian vibe. The hostel offers beds in four-person segregated dorms as well as private double rooms for NT$650 and NT$1,500 per night, respectively.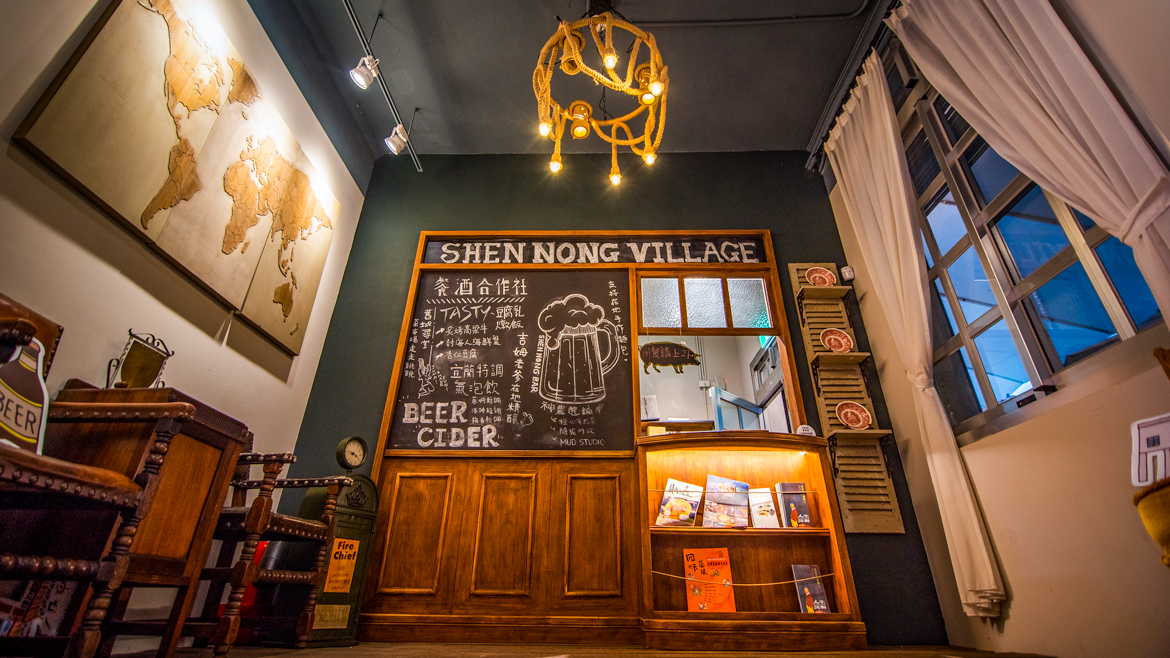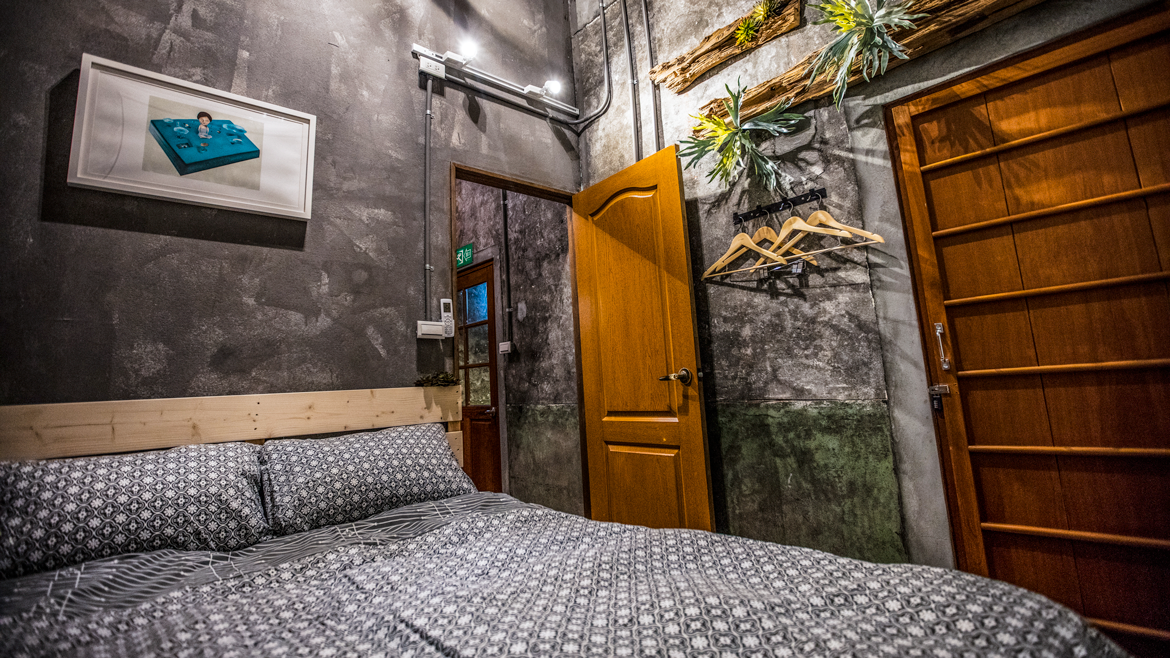 Shen Nong Village (神農青舍)
Add: No. 96, Sec. 2 Shennong Rd., Yilan City, Yilan County
(宜蘭縣宜蘭市神農路二段96號)
Tel: (03) 935-2770
Website: www.shennongvillage.com
Book a Room
Hang Khao Hotel
Situated a short distance down a street that starts just opposite the station, in what was once an old warehouse district, the Hang Khau Hotel, too, has an interesting history. During the 1960s it was one of the most striking hotels in all of Yilan, towering over the neighboring buildings and providing high-end accommodation for logging magnates and wood traders. In 2014, the by-then derelict building was repurchased and renovated, and a few years later was reopened as a modern hotel and café. Rooms on offer include a 10-person mixed dorm, standard doubles, and family rooms with prices ranging from NT$660 to NT$3,600 per night.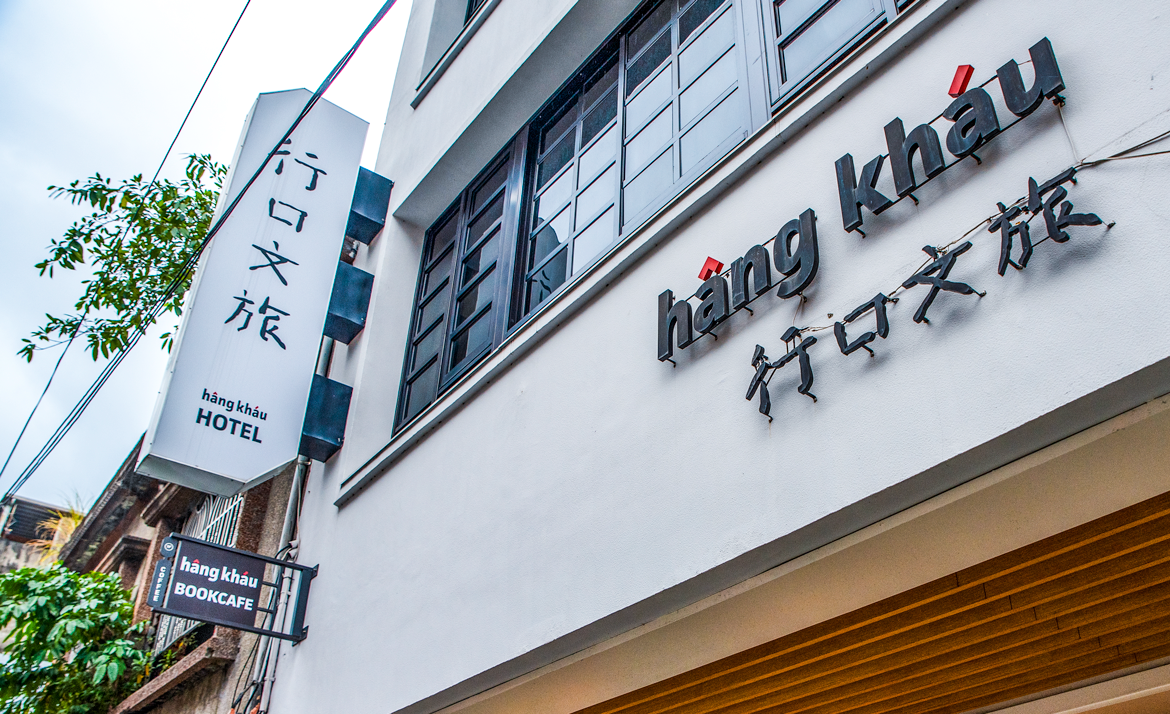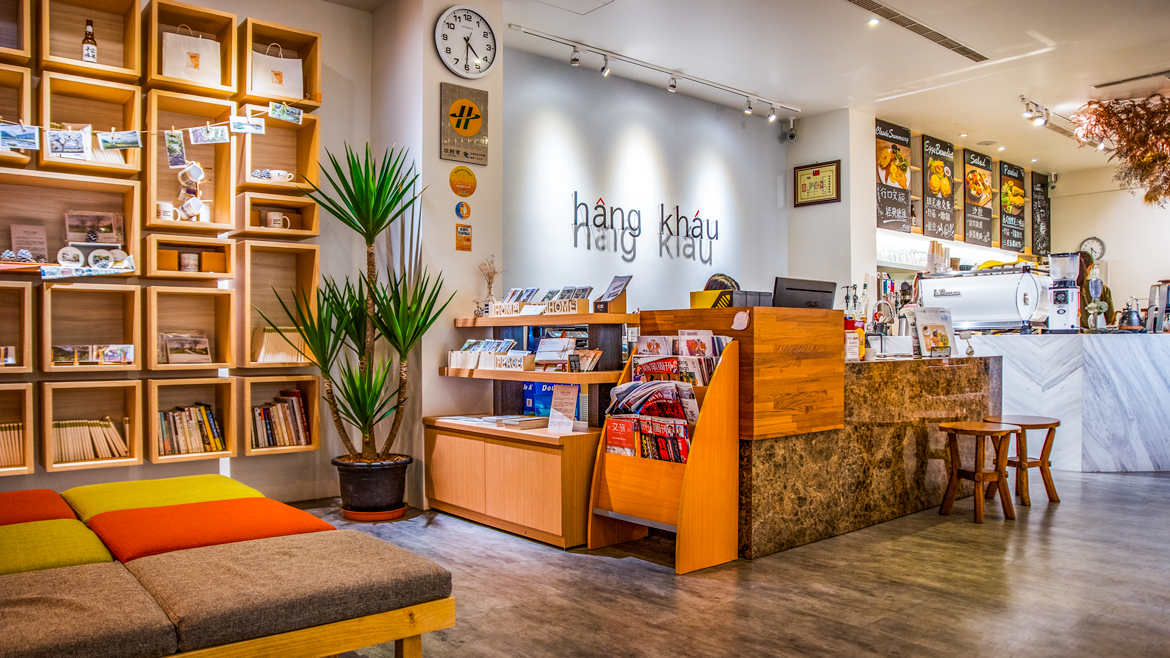 Hang Khau Hotel (行口文旅)
Add: No. 14, Kangle Rd., Yilan City, Yilan County
(宜蘭縣宜蘭市康樂路14號)
Tel: (03) 936-3610
Website: www.hangkhauhotel.com
Book a Room
Getting There & Around
Self-Drive
From Taipei, take National Highway 5 to Yilan County. Then take Provincial Highway 7 and 7A (7甲) to the Qilan Forest Recreation Area; for Taipingshan, go past Qilan, turn right after the Jiayuan Bridge (which crosses the Lanyang River), and follow the road up the mountain to the Taipingshan area.
By Shuttle
The Qilan Resort offers a daily shuttle bus from Taipei Main Station (9am, from East Exit 3) and Yilan Railway Station (10:30am), arriving in Qilan at 11:50am and departing back to Taipei at 4pm and 6pm. (Fare from Taipei: NT$400 for guests; NT$500 for independent visitors; reservations must be made in advance by calling (02) 2515-2128.)
By Bus
Kuo-Kuang Motor Transport (www.kingbus.com.tw) offers one bus per day between Yilan City and Taipingshan (No. 1750; 7:40am from Yilan City; 2:30pm from Taipingshan; NT$243 one way). The bus also stops at Qilan. Other Kuo-Kuang buses from Yilan City to Qilan are No. 1744 (3pm), 1745 (3:15pm), and 1751 (7:30am and 12:40pm).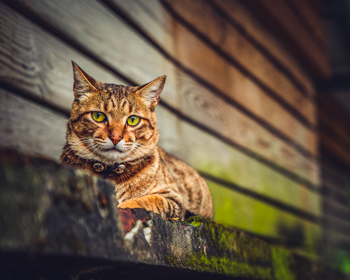 Also read:
Northern Cross-Island Highway + TAIPINGSHAN
LUODONG Forestry Culture Park in YILAN

Spiritual Travels by Nick Kembel:
40 Fun Things to Do in Yilan, Taiwan: A Detailed Guide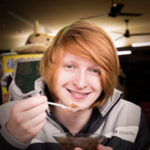 Owain McKimm is a freelance writer who has been living in Taiwan since 2009 and has written about everything from Taiwanese foot massages to flower cuisine.
E-mail: owain [dot] mckimm [at] googlemail [dot] com