Three Michelin-Starred Culinary Stars
TEXT / RICK CHARETTE
PHOTOS / VISION
"'Delicious food' has always been one of the main attractions for international tourists coming to Taiwan. Taiwan's rich and diverse local ingredients and cooking skills have shaped our colorful food culture. The different venues, from night markets and simple shops to the finest restaurants, offer exquisite meals with diverse flavors and unforgettable gourmet life experiences."
Wang Kwo-tsai, Minister, Ministry of Transportation and Communications (at Michelin Guide Taipei & Taichung 2021 Star Revelation)
Michelin's famed Red Guide, listing the best places to dine in a systematically reviewed locality, is the recognized culinary bible for globe-trekking foodies. Taiwan's gastronomic prowess, and its rightful place on the global culinary stage, was recognized with the unveiling of the Michelin Guide Taipei in 2018. Taipei was the eighth Asian city/region to be honored with a dedicated Red Guide, following Tokyo, Hong Kong & Macau, Osaka & Kyoto, Singapore, Shanghai, Seoul, and Bangkok.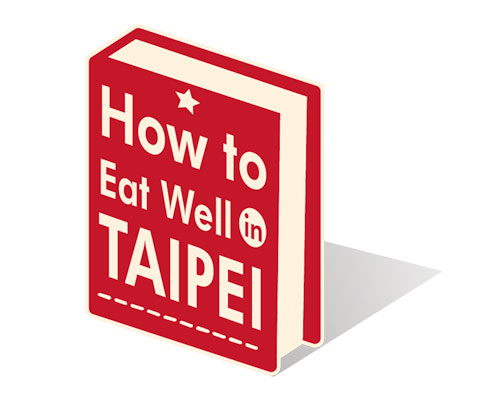 Recognizing the clear gastronomic differentiation in Taiwan's various regions, Michelin began reviewing eateries in the central city of Taichung in 2020, and the island's Red Guide is now titled the MICHELIN Guide Taipei & Taichung. Michelin now also recognizes the importance of night markets and street foods in Asia, providing special recommendations in these categories for Taipei/Taichung, and with the 2021 edition has a new category, the Michelin Green Star, for restaurants that "embody and embrace sustainability in their day-to-day operations."
Le Palais, bestowed with the coveted Michelin three-star judgment, is the country's highest-rated restaurant. Travel in Taiwan now takes you on a Taipei gastronomic mini-tour – three dining dates. You'll be sitting down at the three-star Le Palais, the two-star The Guest House, and the one-star Mountain & Sea House.
Bon appetit!
★ One-Star Restaurant — Mountain & Sea House ★
Mountain & Sea House, which serves Taiwanese cuisine, was one of two inaugural Michelin Green Star recipients for the 2021 edition. It is located in Zhongzheng District. The nearest Taipei Metro stops are MRT Dongmen Station and MRT Zhongxiao Xinsheng Station.
High quality cooking, worth a stop!
"Complete with a courtyard and a high-ceilinged foyer, this luxurious mansion evokes the glamorous days of the 1930s in both its décor and its food. The must-try roast suckling pig uses only 21-day-old hogs, slow-cooked for 12 hours and roasted until crisp and golden. Another speciality, deboned chicken braised in pork tripe, takes six hours to prepare. Both the pig and chicken need pre-ordering. Fried rice with mullet roe is also unmissable."
Michelin Guide's Point of View
This restaurant's stunning façade, in a recessed street-level section of an otherwise gleaming-white modern high-rise building, is a gorgeous mock-up of an old-time local rich man's manor.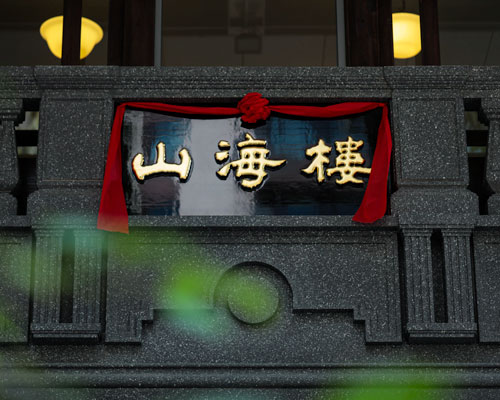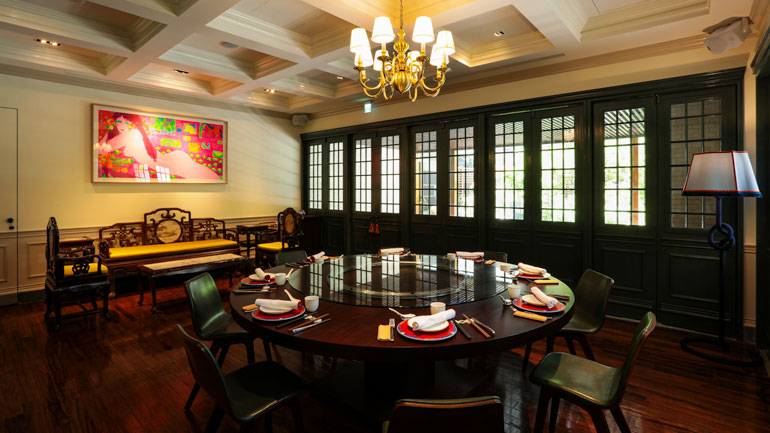 In the eyes of many, "Taiwanese cuisine" is equated with the wide world of eats in the lively local night market and street food scene. Mountain & Sea House is reviving the fare of the haute cuisine banquet-style Taiwanese restaurants that thrived from the early 20th century until fading away in the '60s and '70s, conducting meticulous recipe research and recreating "traditional dishes with a contemporary flair."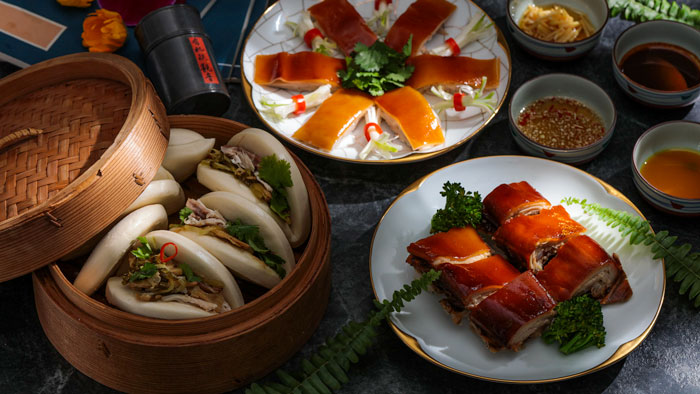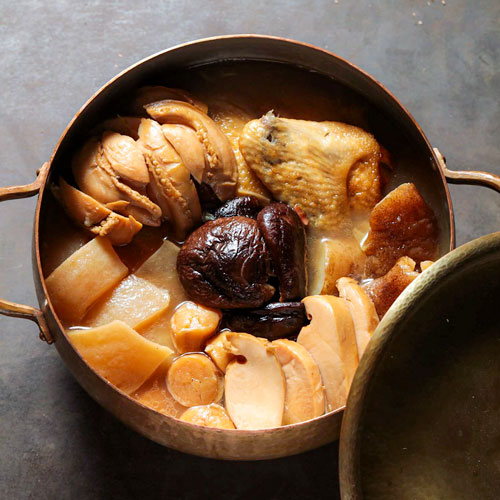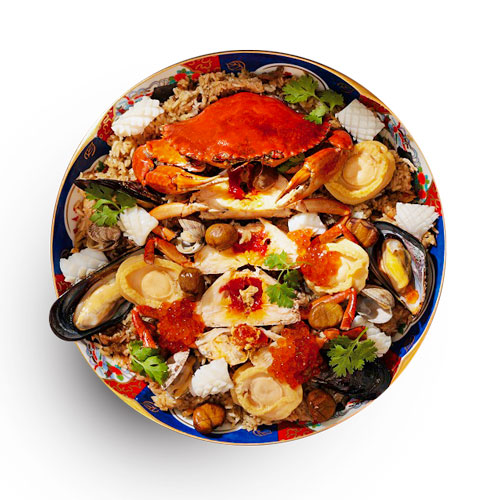 A must-savor classic not mentioned above is the Scallop and Winter Melon Stew, a specialty of Penglai Pavilion, one of the leading-light Taiwanese haute cuisine restaurants of the earlier era, imparted to the Mountain & Sea team by a former Penglai chef.
"In Mountain and Sea House, "farm-to-table" is the restaurant's core concept. Its acumen revolves around the belief that heirloom local produce is the key to making delicious dishes. In addition to growing vegetables organically, the high-quality meat and seafood served are obtained only from farmers and fishermen who practice sustainable production methods."
Michelin article on "First Green Stars Awarded"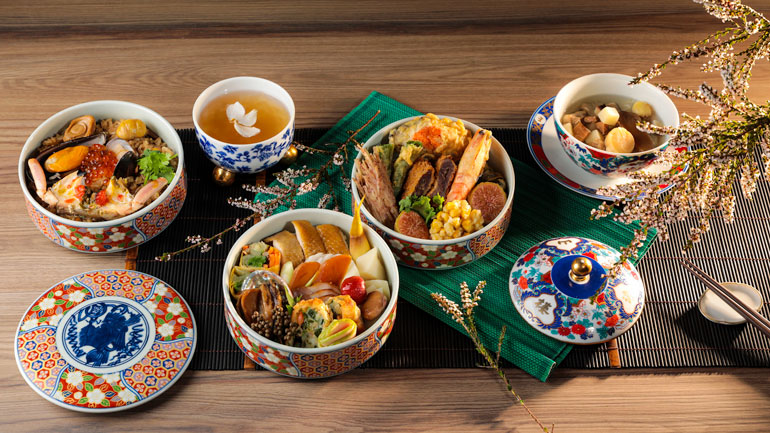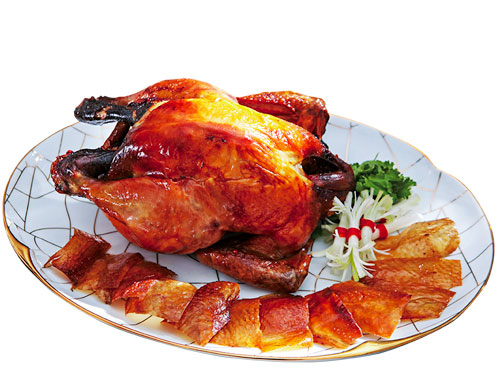 Mountain & Sea House
(山海樓)
Tel: (02) 2351-3345
(台北市中正區仁愛路二段94號)
Website: www.mountain-n-seahouse.com
Michelin Guide Entry:
guide.michelin.com/tw/en/taipei-region/taipei/restaurant/mountain-and-sea-house
★★ Two-Star Restaurant — The Guesthouse
The Guest House serves Huaiyang and Sichuanese cuisine, with selections from other regional Chinese cuisines. It is located in Zhongzheng District, inside the Sheraton Grand Taipei Hotel. The nearest Taipei Metro stop is MRT Shandao Temple Station.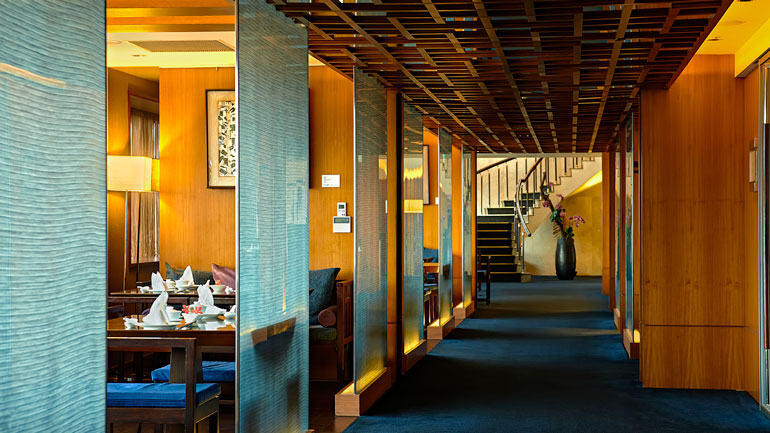 Excellent cuisine, worth a detour!
"Formerly a members-only dining club, it excites not with its décor, but with its food. Impressive skills transform seemingly simple dishes into tasteful presentations revealing great textures and taste. The menu is largely Huai Yang and Sichuan in origin, but with a Taiwanese twist. Signature dishes include double-boiled soups, chicken rice with sesame oil, pork tail braised in red yeast rice, and millefeuille tofu skin."
Michelin Guide's Point of View
Huaiyang and Sichuanese are two of what are called the Four Great Traditions of Chinese cuisine. The other two are Cantonese (see Le Palais entry below) and the cuisine of Shandong. These cover the "four directions" – following the order presented here, East, West, South, North.
The Guest House is on the top floor of the hotel, providing good views over the city to the mountains beyond. The décor features wood-paneled walls and a mix of wood and carpeted flooring. Showcased prominently are black-and-white images of two scenic old places in China, Suzhou and Zhouzhuang, creating a scene of classic genteel waterside beauty. Both of these are in the Huaiyang-cuisine region.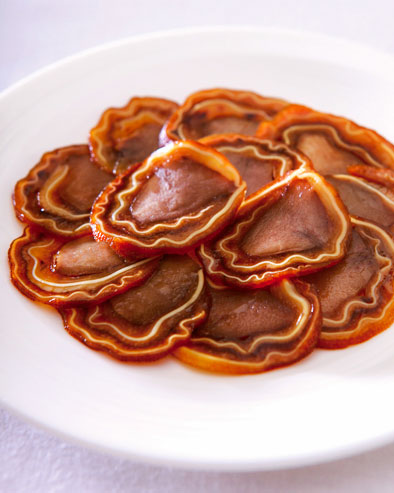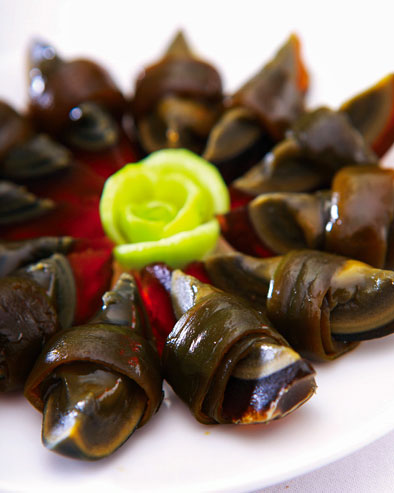 The restaurant is renowned for its specialty handmade noodles and tofu items. The tofu skin creation mentioned above, formally called the Shredded Hundred-Leaf Tofu, features a stack of shredded tofu skin that is springy and chewy. The sesame oil, rice wine, and ginger combination used with the hearty Chicken Rice with Black Sesame Oil, which is presented in a small ceramic pot, creates a deeply memorable aroma. The rice is rendered heartwarmingly flavorful, and the chicken is almost melt-in-your-mouth tender.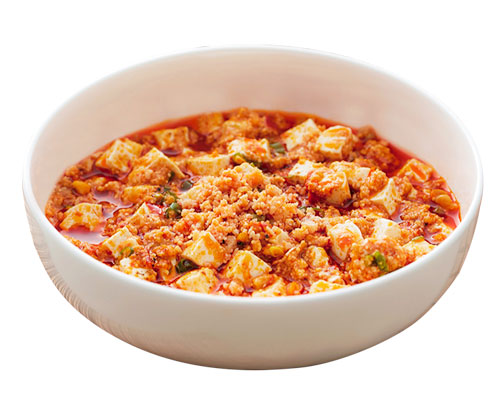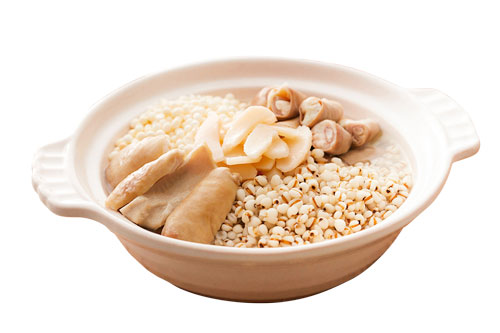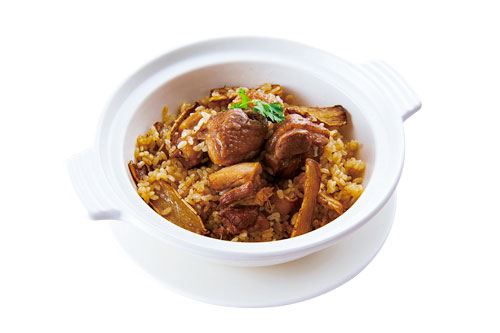 The Guesthouse
(請客樓)
Tel: (02) 2321-1818
Add: No. 12, Sec. 1, Zhongxiao E. Rd., Zhongzheng Dist., Taipei City
(台北市中正區忠孝東路一段12號)
Website: www.sheratongrandtaipei.com
Michelin Guide Entry:
guide.michelin.com/tw/en/taipei-region/taipei/restaurant/the-guest-house
★★★ Three-Star Restaurant — Le Palais
Le Palais specializes in Cantonese cuisine, with selections from other Chinese regional cuisines. It is located in Datong District, in the Palais de Chine Hotel. The nearest Taipei Metro stop is MRT Taipei Main Station.
Exceptional cuisine, worth a special journey!
"The longstanding Macanese chef never fails to wow with his exquisite cooking. His Cantonese-style crispy roast duck is especially impressive; consider pre-ordering it to avoid missing out. Chinese spinach and salted egg dumplings are the dim sum of choice with colourful filling enrobed in a translucent skin. White gourd stuffed with crab meat is another painstakingly-made specialty."
Michelin Guide's Point of View
Le Palais, which features a sumptuous décor synthesizing subdued Oriental and French aesthetics, is widely recognized as one of the premier restaurants in the greater China region. It is Taiwan's exclusive Michelin three-star selection, earning this accolade for each Red Guide edition to date. Located on the 17th floor of the top-tier luxury Palais de Chine Hotel, "bask in the warm morning sunshine or enjoy the magnificent city night view."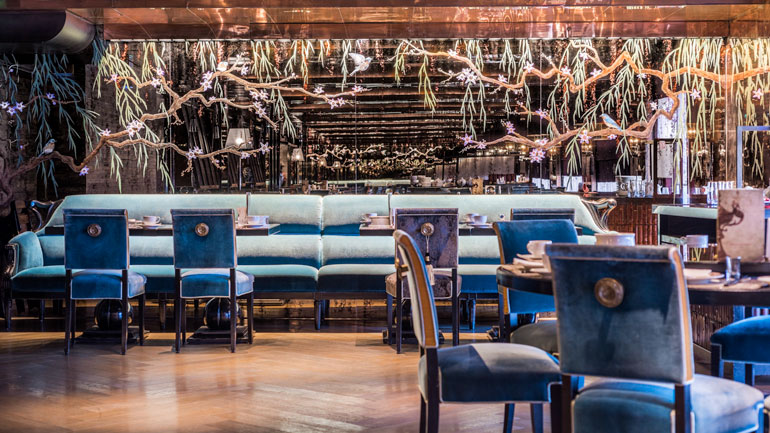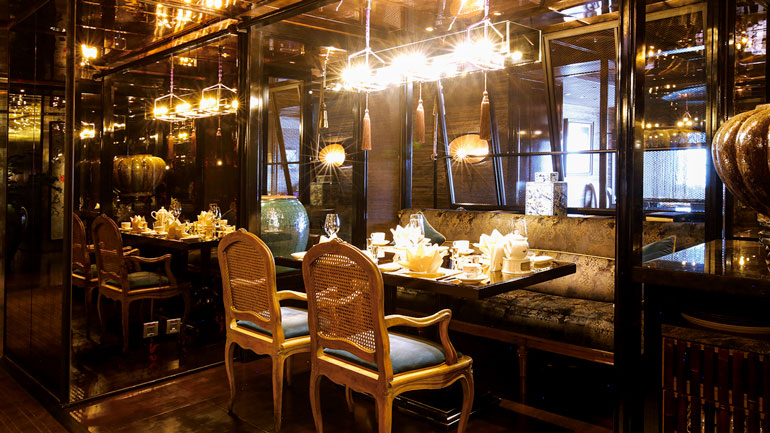 The restaurant serves Cantonese dim sum and banquet cuisine of the highest quality, with items and item ingredients changing in accordance with the availability of seasonal ingredients. Beyond the shrimp/crab white gourd offering and Cantonese Style Crispy Roast Duck mentioned above, other signature dishes that require pre-ordering are the Crispy Roast Baby Duck, Crispy Deep-Fried Chicken, and Barbecue Pork.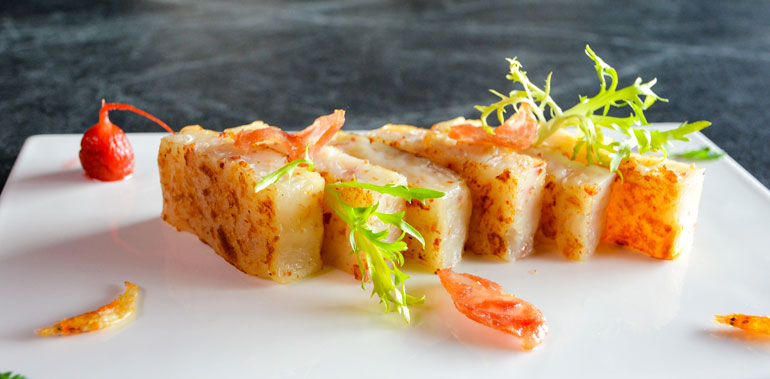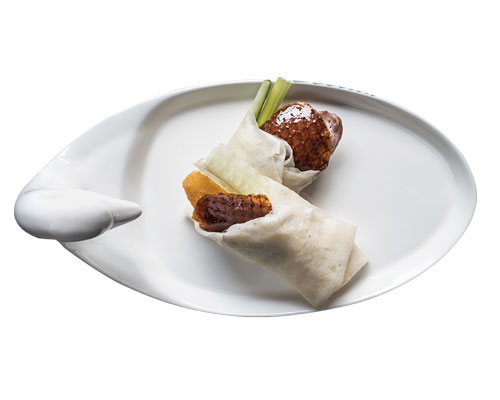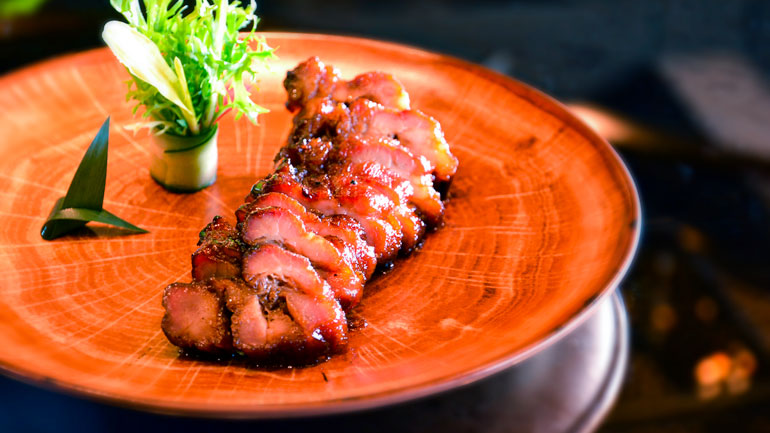 The Cantonese duck has an optimal meat-fat balance. Slices are wrapped inside a green onion pancake with a rich plum sauce. The pork creation features pork butt first marinated in a special house sauce, then roasted, and finally basted with maltose sauce.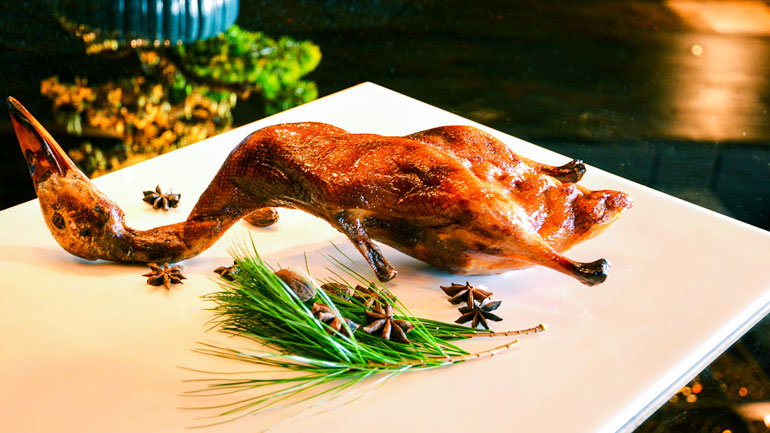 Le Palais
(頤宮)
Tel: (02) 2181-9985
Add: No. 3, Sec. 1, Chengde Rd., Datong Dist., Taipei City
(台北市大同區承德路一段3號)
Website: www.palaisdechinehotel.com
Michelin Guide Entry:
guide.michelin.com/tw/en/taipei-region/taipei/restaurant/le-palais
Editor's Note: Foodies rejoice! The Michelin Taiwan culinary map expands further in 2022, with the addition of Tainan and Kaohsiung cities.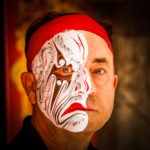 A Canadian, Rick has been resident in Taiwan almost continually since 1988. His book, article, and other writings, on Asian and North American destinations and subjects—encompassing travel, culture, history, business/economics—have been published widely overseas and in Taiwan. He has worked with National Geographic, Michelin, APA Insight Guides, and other Western groups internationally, and with many local publishers and central/city/county government bodies in Taiwan. Rick also handles a wide range of editorial and translation (from Mandarin Chinese) projects.