The bright-painted trains of the short Jiji Line are like buses on a convenient local route delivering tourists and locals between old settlements along the Zhuoshui River, from the edge of the western plains to the foot of the mighty central mountains. Let's go on a hop on/hop off ride sampling some of the many tourist attractions.
The lines of Taiwan's first-rate railway system form a network that circumnavigates the island along its outside. There are also a number of short branch lines that reach inland. Originally built for such industrial purposes as timber and mining resource extraction, today these are tourist lines.
The Jiji Line runs 29.7km from the western plains through foothills to the base of the central mountains along the Zhuoshui River, between the towns of Ershui and Checheng, the latter located below famed Sun Moon Lake. It was built by the Japanese colonial government in the 1920s to transport materials for Taiwan's first great hydroelectric-dam construction project at Sun Moon Lake/Checheng, and soon opened for passenger traffic. Today's air-conditioned trains (some of them colorfully painted) slide along past compact farm plots and thick green forest, with stops at quaint stations in a number of towns/villages. We here visit some of the main settlements and tourist enticements the railway delivers you to.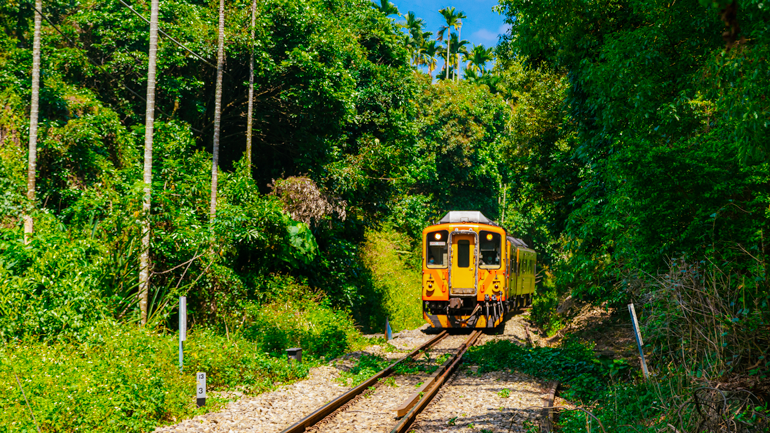 Checheng
Let's start at the line's eastern terminus, the village of Checheng, and work our way back out of the hills. Checheng's railway history dates to 1911, when a push-trolley railway was built to transport sugarcane from the fertile Puli Basins, north of Sun Moon Lake. Then came, as aforementioned, the grand 1920s Japanese hydroelectric/railway project. After this an economic lull, then in 1959 selection as base by a major logging enterprise for the processing of timber brought down from the central mountains. This era ended in the 1980s. Today the town bristles with photogenic wood-built heritage structures.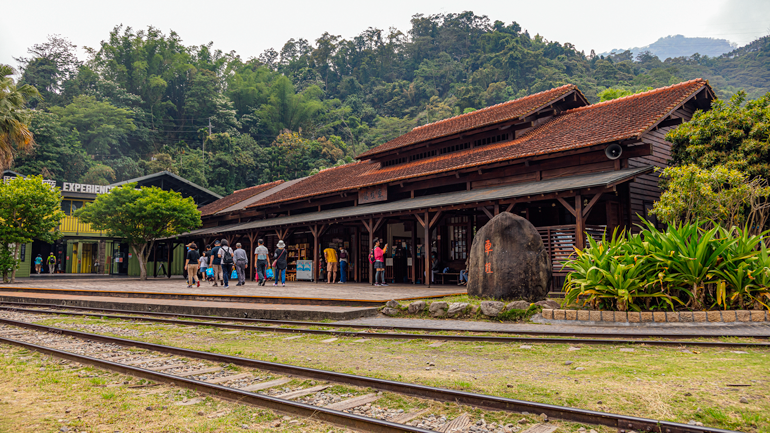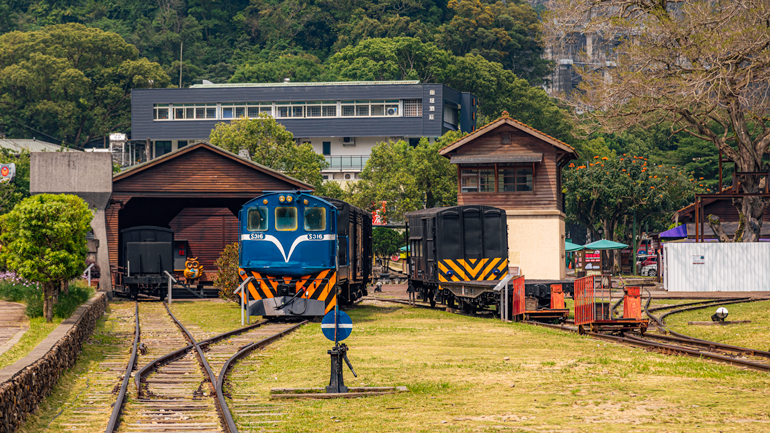 Checheng Wood Museum
Checheng's biggest draw – be sure to also visit the impressive/massive just-beyond-town hydroelectric facilities – is the sprawling open-facade Checheng Wood Museum, in the old timber mill, which has displays with good English on Checheng's past, different types of wood, and local flora and fauna. DIY wood-handicrafts sessions are also held, and there is a wide range of food and gift-shop facilities. The shops sell both practical-use and artful wood-handicraft products and regional agriproducts.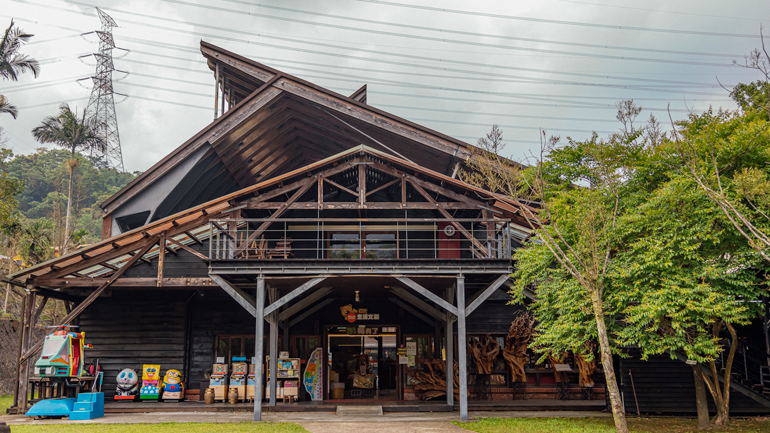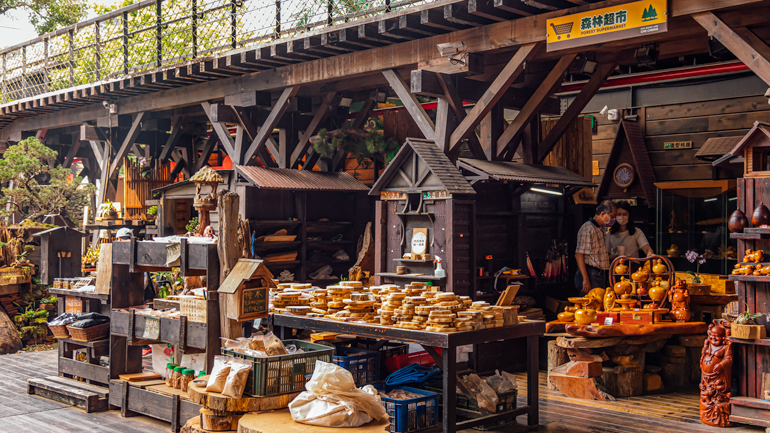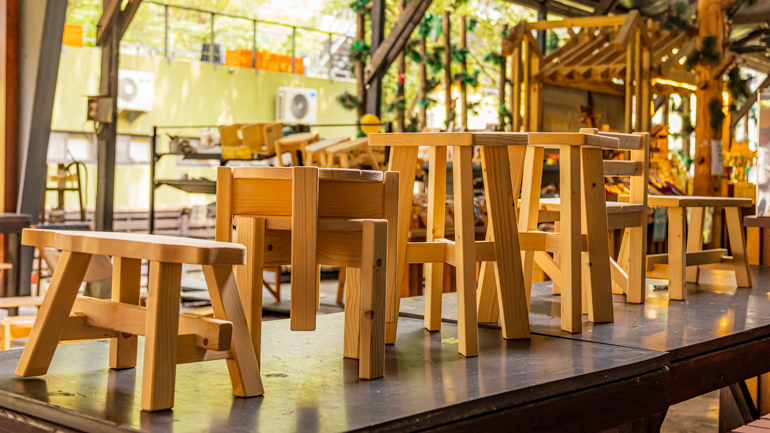 Highlights from among the display are life-sized mockups of workers handling the huge timber cuttings and explanation of the difficult and daring forestry road cut from Checheng deep into the central mountains – at over 80km, Taiwan's longest.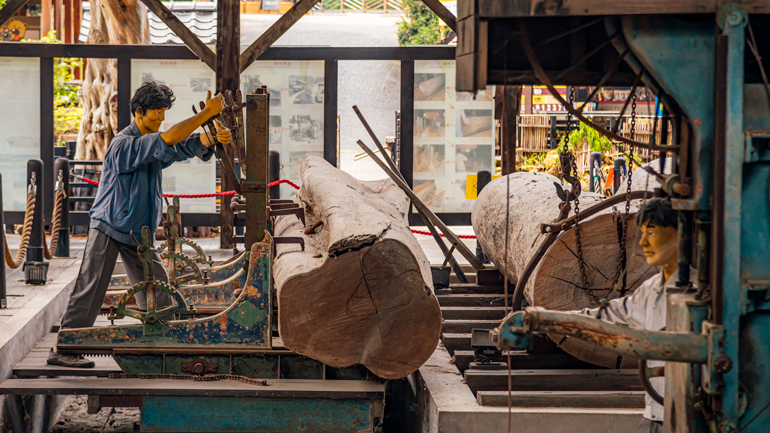 Checheng Wood Museum
(車埕木業展示館)
Tel: (049) 287-1791
Add: No. 110-2, Minquan Lane, Checheng Village, Shuili Township, Nantou County
(南投縣水里鄉車埕村民權巷110-2號)
Hours: 9:30am~5pm (weekends and holidays until 5:30pm)
Facebook: www.facebook.com/woodmuseum
Timber Storage Pond
The small-lake-sized Timber Storage Pond, right beside the museum complex, was created to store timber logs. Logs stored in water release resins faster, thus augmenting preservation; logs stacked on land slowly dry out, presenting a fire hazard; and water storage prevents dry-splitting and spoiling of the timber for milling.
Today the pond is a graceful boardwalk-rimmed body of water teeming with fish rather than timber treasure. Among the various pond-side photo opps are large wooden structures that once housed heavy cranes utilized to move timber to/from the storage pond, lifting up to 13 tons at a go.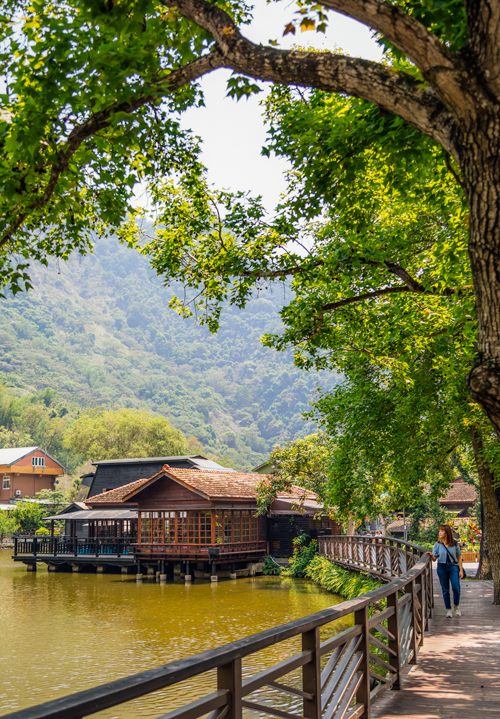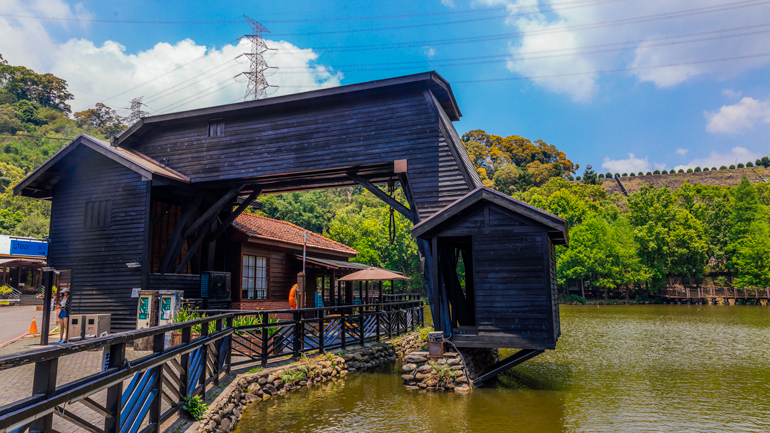 Cedar Tea House
The Cedar Tea House is a spacious restaurant with high exposed ceiling in a large, long cedar-constructed building stretched out beside the tree-shaded pond-side boardwalk. Large windows let the calming pond view and dappled sunlight stream in.
The extensive menu (which has English) features both Chinese and Western foods. The most popular choice is the takeaway Wooden Bucket Bento Meal, which is also served in-house with bucket optional. It's said such lunchbox buckets were used in the past both by railway workers and for rail-station sales to travelers. You get to keep your logo-stamped bucket as a souvenir. Takeaway entrée options: smoked chicken, grilled mackerel, dongpo pork (soy-braised pork belly), vegetarian (pumpkin/mushroom). Additional in-house options: stewed beef, pork cutlet, mushroom with noodles (no rice).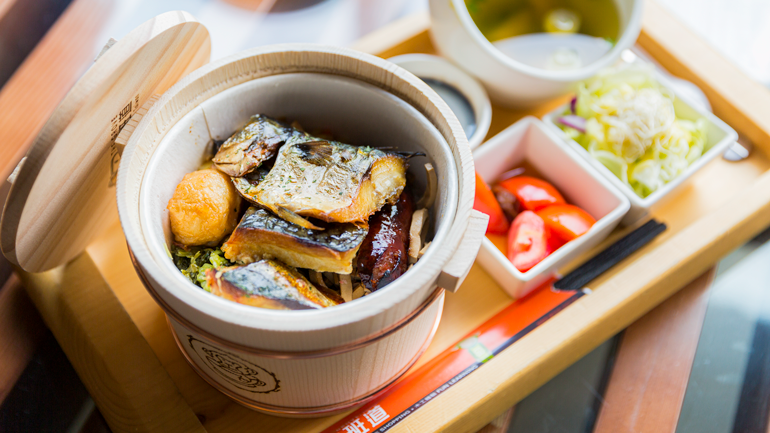 Other menu options include afternoon tea, waffles, pizzas, and a wide range of teas/coffees/fruit-based beverages. Showcased with the beverages are elite Taiwan teas and seasonal Taiwan fruits.
Cedar Tea House
(木茶房)
Tel: (049) 277-2873
Add: No. 105, Minquan Lane, Checheng Village, Shuili Township, Nantou County
(南投縣水里鄉車埕村民權巷105號)
Hours: 10am~6pm (weekends and holidays until 7pm)
Facebook: www.facebook.com/CedarTeaHouse
Steam
Half of the poetically charming Steam teahouse is built right out over the timber storage pond. It looks strikingly different from the village's other logging-era wood-built structures, built in traditional Japanese country cottage style. This was originally the materials management office and reception center for buyers, most from overseas, who were entertained with tea while selecting from the pond's high-grade timber for milling. The "Steam" name refers to the morning mists over pond and surrounding mountain forest.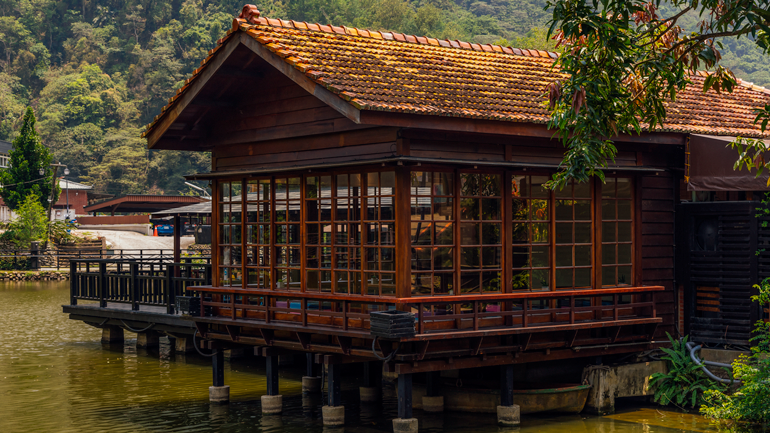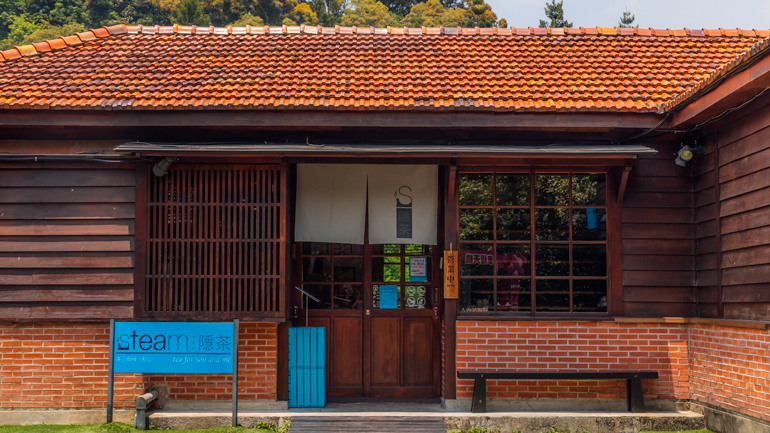 There are three types of dining area: inside, Japanese-style sections with low tables and floor cushions and a café-style section with small table/chair sets, and outside, a large partially covered deck with picnic-style tables/benches.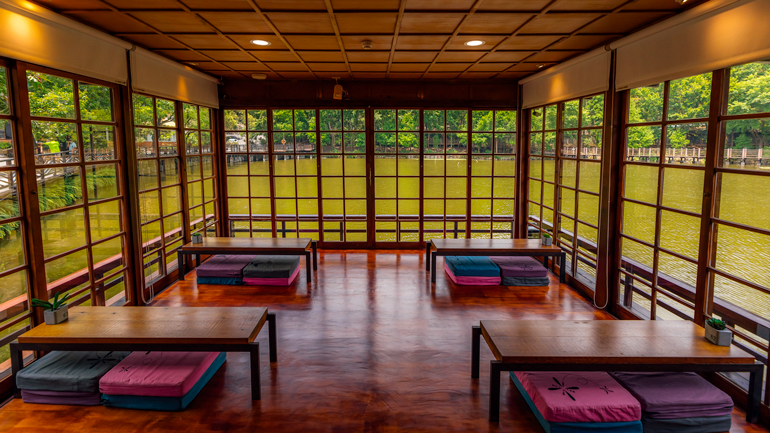 A menu with English is available. From Light Meals, recommended is the Braised Beef Noodles and Smoked Chicken and Bacon Spaghetti; from Tea Snacks, the Green Bean Paste Cakes, Brown Sugar Cookies, and Macaron Cookies. A wide range of hot/cold drinks is also available.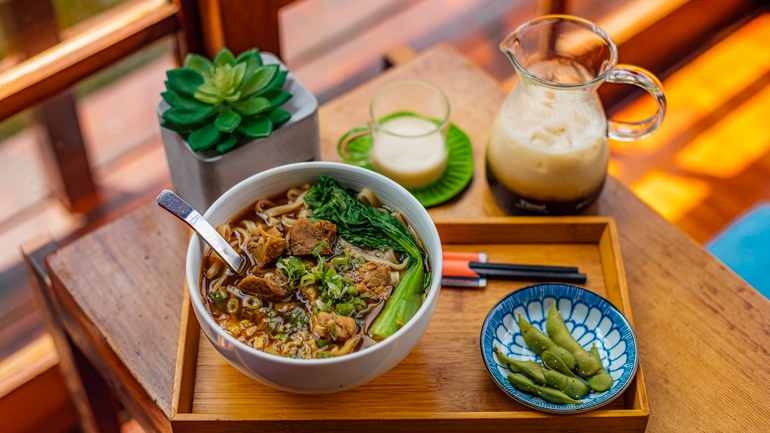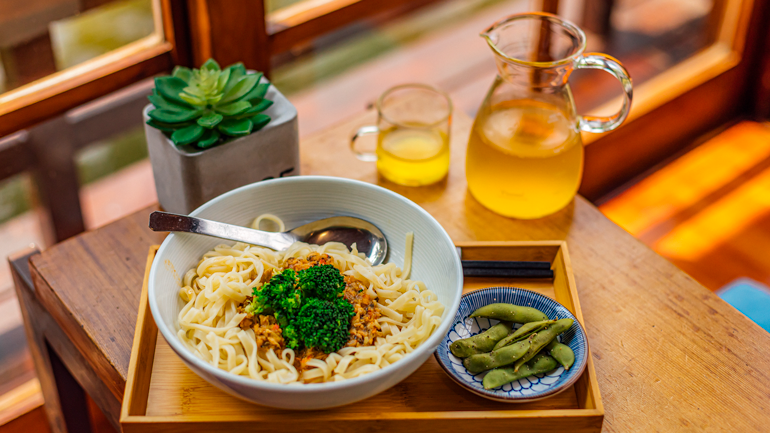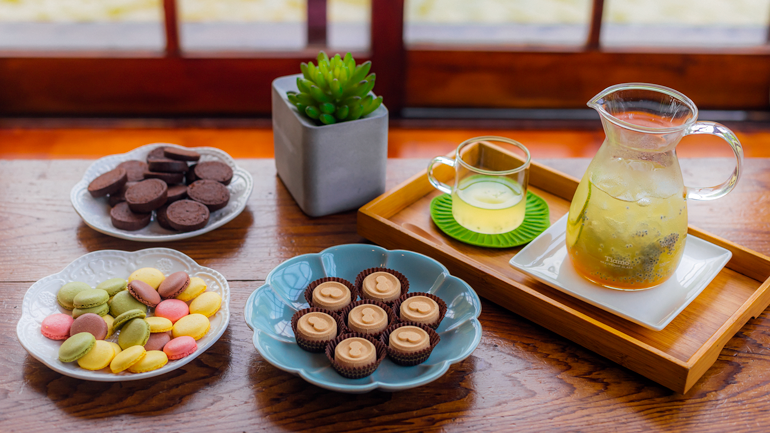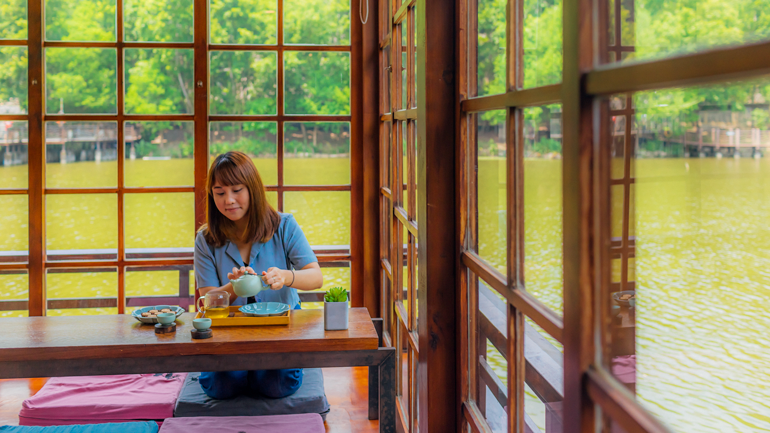 Steam
(隱茶)
Tel: (049) 277-6471
Add: No. 101-3, Minquan Lane, Checheng Village, Shuili Township, Nantou County
(南投縣水里鄉車埕村民權巷101-3號)
Hours: 10am~5pm (weekends and holidays until 6pm; closed on Tuesday)
Facebook: www.facebook.com/steam.grove
Shuili
Shuili Snake Kiln
The town of Shuili is immediately southwest of Checheng, just a few minutes away by motor vehicle. The heritage Shuili Snake Kiln, a big rambling complex, sits up on a dense-forest hillside beside Provincial Highway 16 just southeast of town. Nantou County was once a thriving ceramics-producing center, crafting products such as roof tiles, myriad household items, and large ceramic vessels for aging liquor. The local water was pure and the clay ideal, and the thick forest cover made the needed kiln-firing wood plentiful and inexpensive.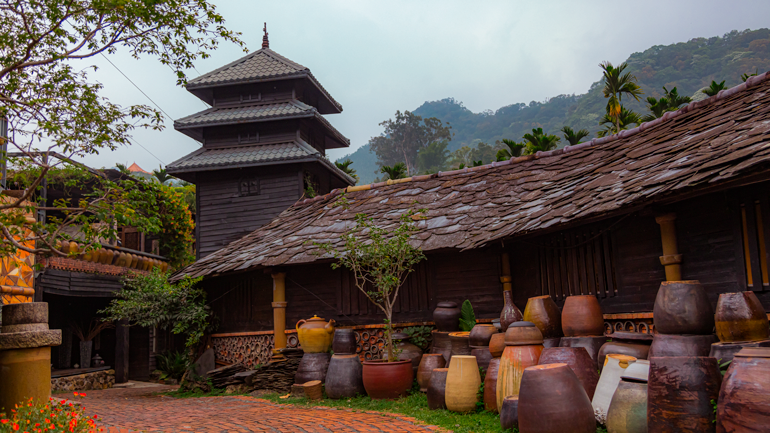 The site's facilities include the original kiln and a museum area, multimedia exhibition room, boutique, and breezy open-front coffee shop. Intimate contact with ceramics technique comes in the pottery demonstration area, DIY pottery classrooms, and Wish Pottery area, where you "write your wish on the pottery and your dream will come true."
Sitting slanted on a slope to move the interior heat move upward, firewood placed in the lower section, the huge brick kiln looks very much like a giant snake. A priceless historical relic, it's today only rarely fired. Copious wood is needed over 3~4 days to bring it up to and then maintain the desired 1,100 degrees Celsius. The ash created within comes to rest on the ceramic pieces, creating the inimitable wood-fired look. When not in operation you can walk through it.
Among the many intriguing site-created works on display is a water cistern that's not a water cistern. In WWII the Japanese in Taiwan realized they'd make great individualized air-raid bunkers, buried to their lip, each fitting one soldier and crafted with a lid and interior step for easy entry/exit. They were buried on beaches in the thousands in anticipation of Allied landings. Another compelling work is an ingenious teapot invented for the nobility with the access hole at bottom, not top, preventing easy poisoning.
Shuili Snake Kiln
(水里蛇窯)
Tel: (049) 277-0967
Add: No. 16, Huiyao Rd., Dingkan Village, Shuili Township, Nantou County
(南投縣水里鄉頂崁村回窯路16號)
Hours: 8:30am~5pm (closed on Wednesdays)
Website: www.snakekiln.com.tw (Chinese)
Facebook: www.facebook.com/sskshop
"Tutu Dessert Shop"
Not mentioned above is the newest Shuili Snake Kiln attraction, the "Tutu Dessert Shop," in the inner courtyard area. It's in a two-story sloped-roof, chalet-like building heavy with woods, exposed brick, and large windows. Light-wood Scandinavian-style furnishings predominate.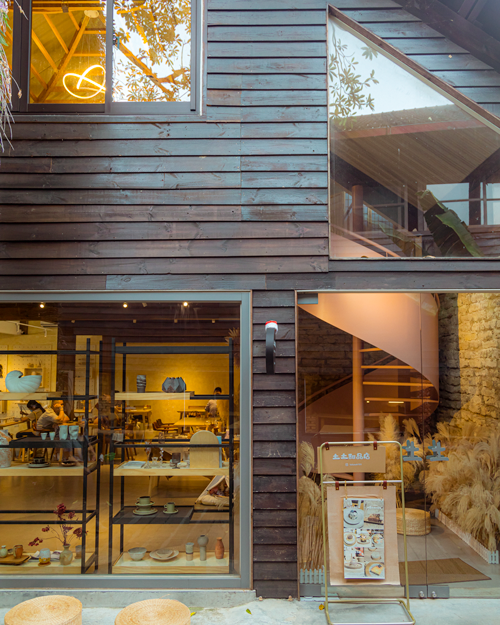 The shop specialty is French-style confections. These are made fresh daily, some on-site here, the others at two other shops. Especially good are their renditions of the Mont Blanc and Bûche de Noël (Yule Log). There's also an assortment of coffees, hot teas, and cold tea drinks available, the latter categories' fruit-flavoring options most popular.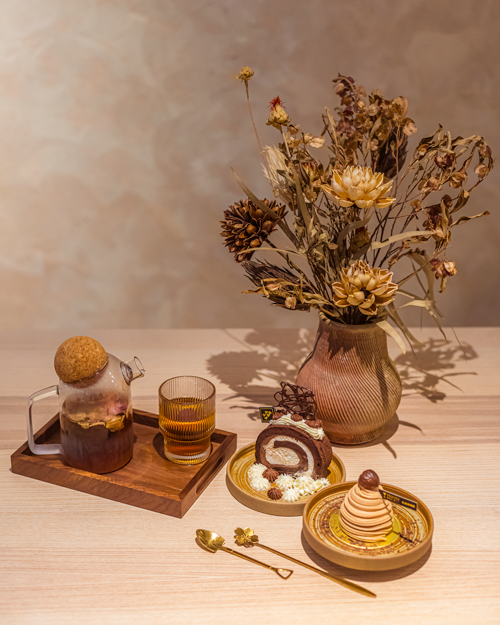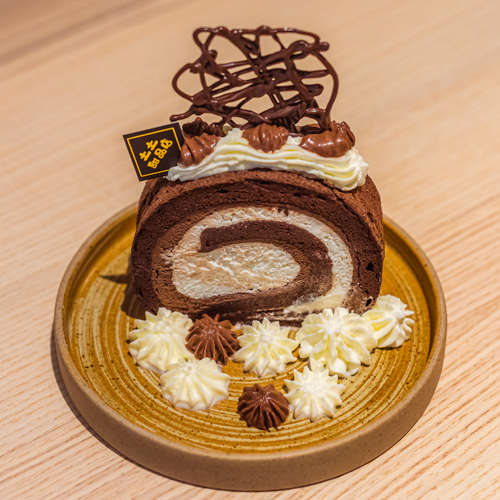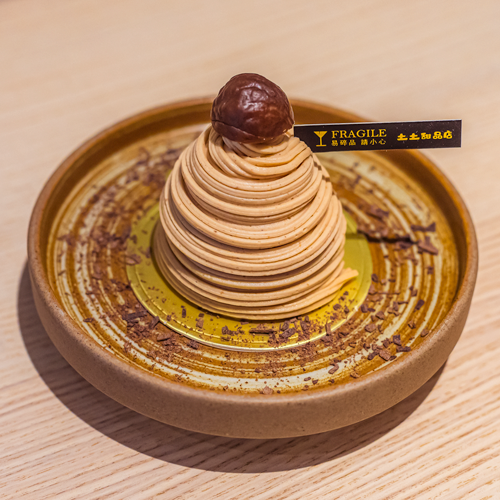 Note that a popular "yukata experience" service is provided on the second floor.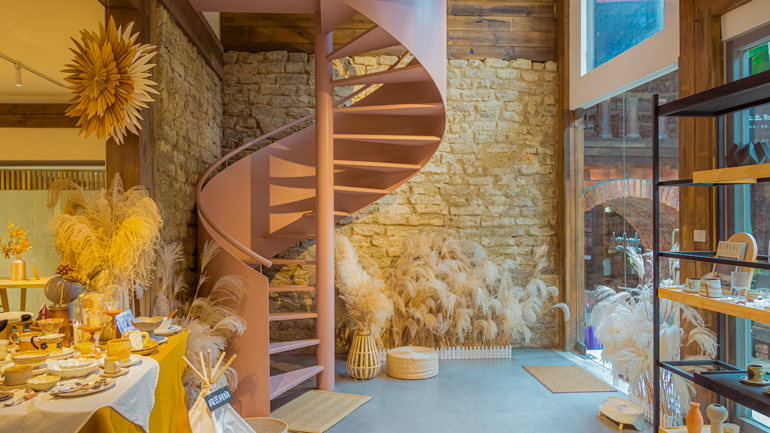 "Tutu Dessert Shop"
(土土甜品店)
Tel: (049) 277-0967
Add: No. 16, Huiyao Rd., Dingkan Village, Shuili Township, Nantou County
(南投縣水里鄉頂崁村回窯路16號)
Hours: 10:30am~5:30pm (closed on Wednesdays)
Instagram: www.instagram.com/tutussk101
Shueili Douhua
Compact, hole-in-the-wall Shueili Douhua is right in Shuili town. Douhua is tofu/beancurd pudding, a hugely popular Taiwan snack treat. Don't let this shop's diminutive size fool you – this is THE place to go for douhua along the Jiji Line.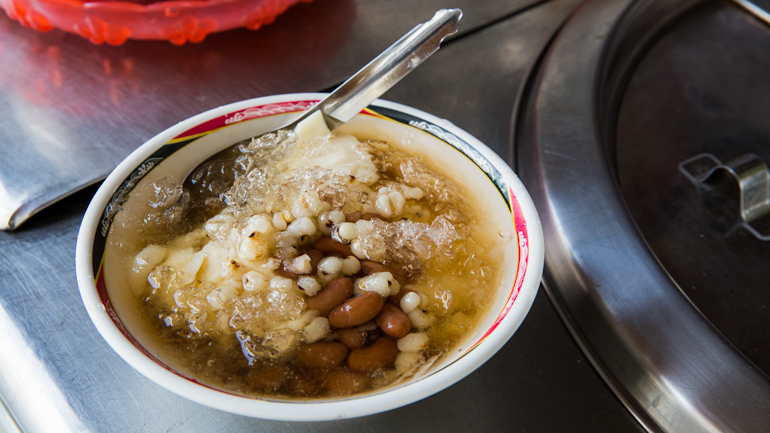 The "service counter," in classic old-time Taiwan style, is a wheeled night-market-style vendor stand out front. Two types of douhua are served – body-cooling cold in summer, body-warming hot in winter, each with three toppings. The tofu is made fresh daily. Traditional-style shaved-ice treats (four toppings) are also sold, along with two popular variants: four toppings with cold milk.
Shueili Douhua
(水里豆花松)
Tel: (049) 277-1048
Add: No. 232, Minzu Rd., Shuili Township, Nantou County
(南投縣水里鄉民族路232號)
Hours: 8am~5:30pm
Facebook: www.facebook.com/ShueiliDouhua
"Daguan Erping Ice Shop"
The long-in-place, forever busy "Daguan Erping Ice Shop" is in a community of residential buildings occupied by the families of Taiwan Power Company (Taipower) worker families located on a mountainside overlooking downtown Ershui. (Nearby Checheng and the aforementioned hydroelectric facilities are on a Zhuoshui River tributary.)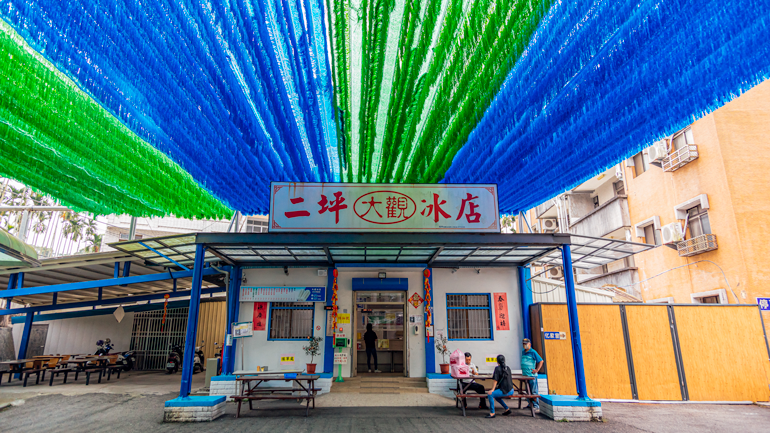 As in other locations, Taipower runs this iced-desserts shop-cum-mini-factory selling fresh-made ice creams and popsicles. The façade, fittingly, is ice-cream white. Picnic tables are provided out front, and there's a display of large hydro-plant machinery to one side.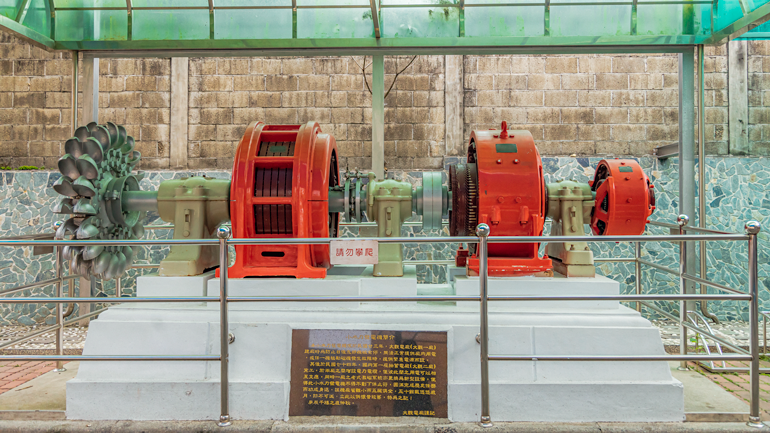 This being fertile-farm country, the range of distinctive local flavors is appealing, including passionfruit, plum, taro, peanut, and even salty egg yolk.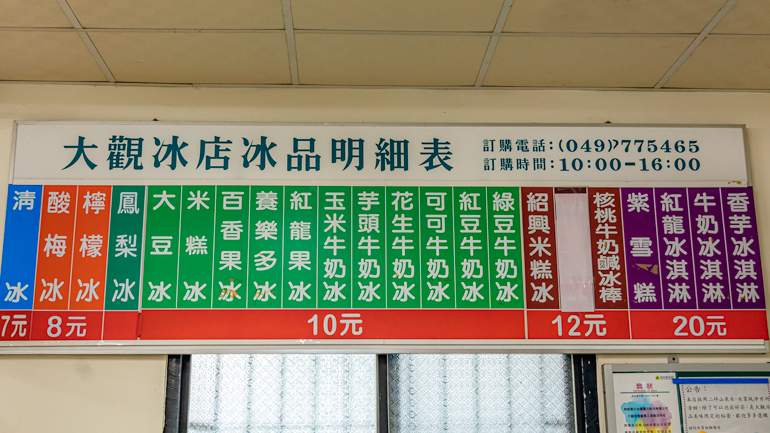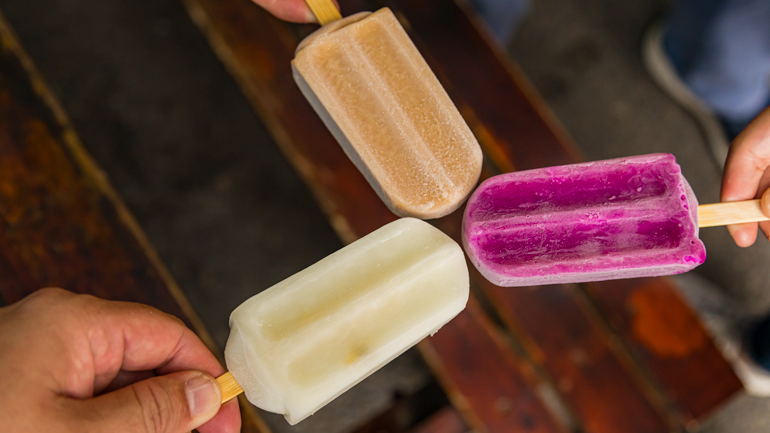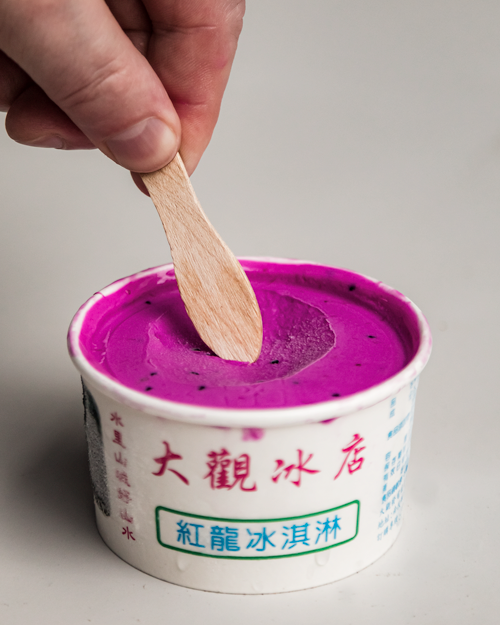 "Daguan Erping Ice Shop"
(大觀二坪冰)
Tel: (049) 277-5465
Add: No. 41, Erping Rd., Shuili Township, Nantou County
(南投縣水里鄉二坪路41號)
Hours: 9am~6pm
Facebook: www.facebook.com/takuanice
Website: bit.ly/3JXfIH5 (Chinese)
Jiji
Jiji Wuchang Temple
The dramatically photogenic ruins of the original Jiji Wuchang Temple are on the north edge of Jiji town. On September 21, 1999 the infamous 921 Earthquake struck Taiwan, killing over 2,400. It is also referred to as the Jiji Earthquake, for the epicenter was in Jiji Township.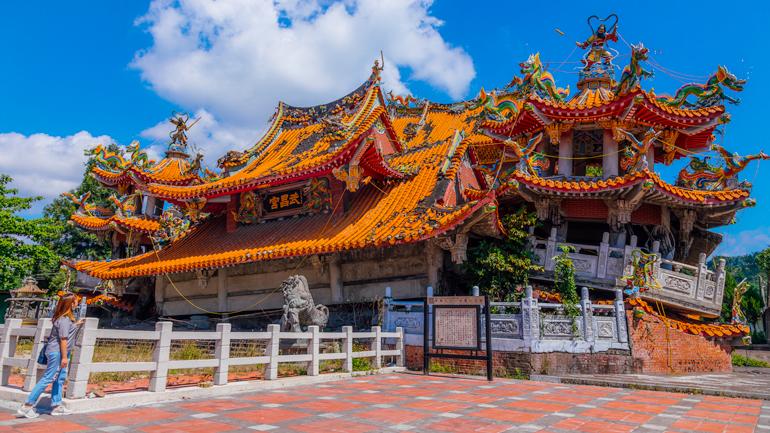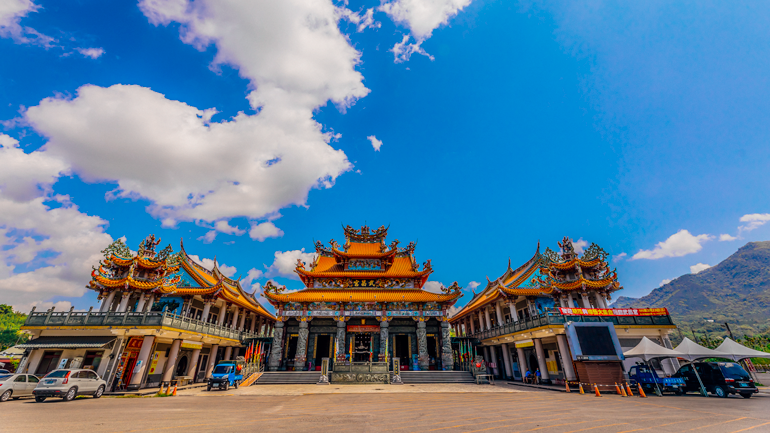 The temple collapsed in on itself, the imperial-yellow roof and upper section intact. Teams sent inside found that, miraculously, the main god and other gods within were unhurt, and it was said that the beards of some of the gods had even grown longer. This supernatural turn of events turned what would normally have been seen as a bad-omen phenomenon into something divinely inspiring, drawing donations from far and wide for a new temple. The copycat eponymous structure (larger and even more ornate) stands directly in front of the ruins, which have been left in place as an earthquake memorial, formally named the 921 Earthquake Museum.
Taishun Gallery Bridge
Nearby is another highly unusual attraction, the Taishun Gallery Bridge, built a few years ago, spanning the small river that runs before the temple complex. This is the only Chinese-style gallery bridge in Taiwan, a first-rate copy of one of the unique ancient wooden arched gallery bridges found in China.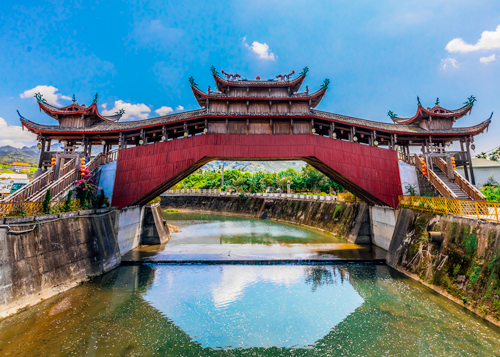 Mingxin Academy
Mingxin Academy is on the eastern edge of Jiji town. Located along a quiet lane, the large compound is protected by a low red-brick wall, and entry is via a classical-style small arch portal, auspicious ceramics-artworks atop. At the center of the complex is a temple dedicated to Wenchang Dijun, the God of Culture and Literature. Students regularly stream in to pray to this god for success in major exams.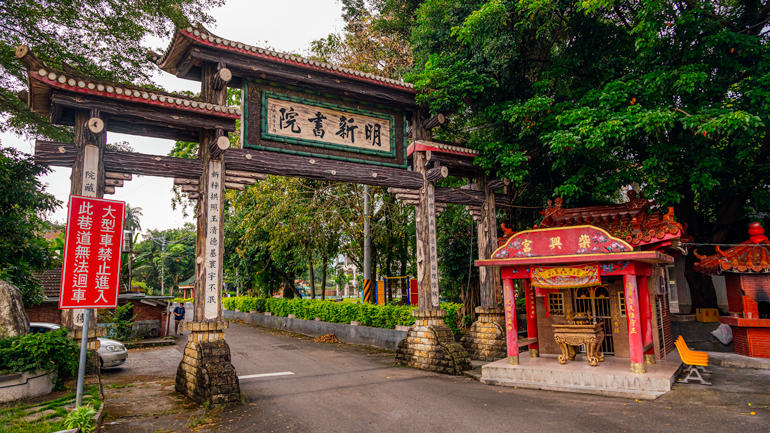 This was one of just three major academies set up in the mountainous, comparatively undeveloped Nantou County region in imperial times. Jiji was a thriving town with a vibrant cultural scene in the late Qing Dynasty, its wealth built on the camphor trade. To encourage literacy, successful local gentry-cum-merchants established the academy in 1878. Today's complex was built with donations from local leaders in 1908. Severely damaged in the 921 Earthquake, repairs were completed in 2002.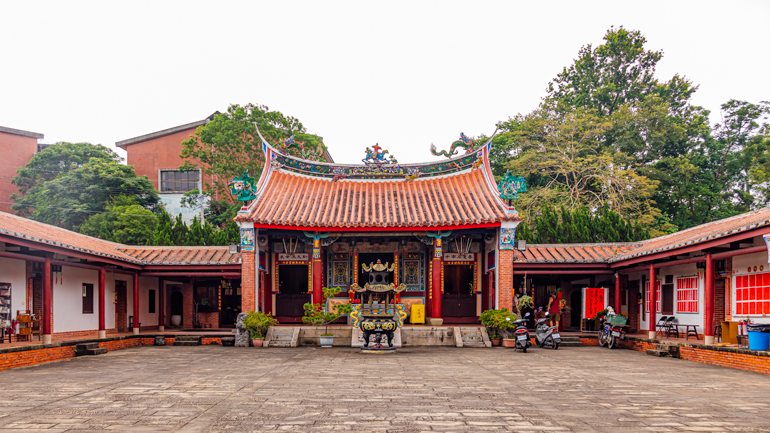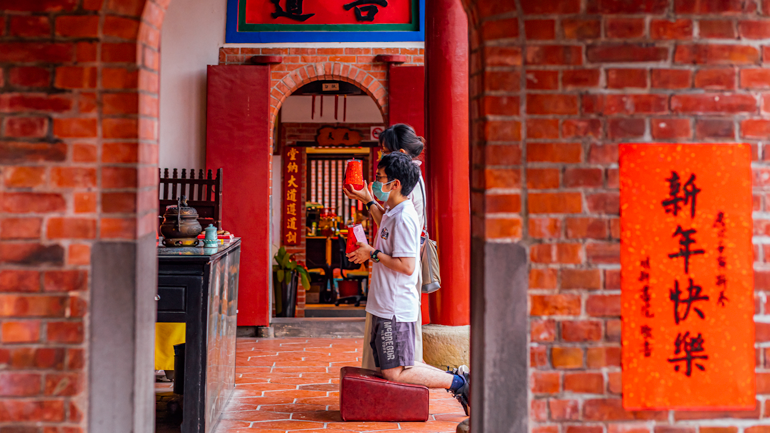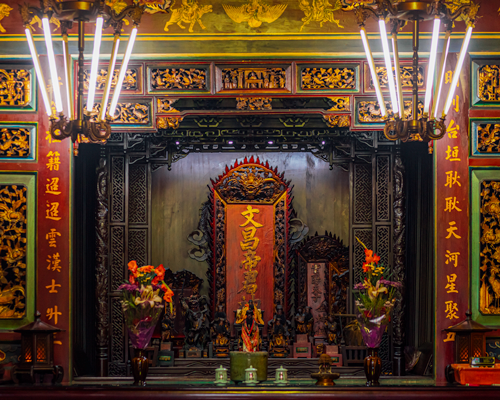 Adjoining the temple are two wings, housing offices and former classrooms, in a classic sanheyuan (three-sided courtyard residence) formation. On the rear wall of one wing is a wall section with interior clay bricks exposed; a Chinese/English signboard explains the traditional methods used for making bricks (clay, rice husks, short straw) and constructing walls.
"Yiyi Banana Ice Cream"
Across the street directly in front of the aesthetically graceful cottage-style Jiji Railway Station (a replica of the original Japanese-built wood station, too severely damaged to save in the 921 Earthquake), which sports a friendly cream-colored façade, is the can't-miss "Yiyi Banana Ice Cream" shop. Large photos of the shop's three homemade treasures are prominently displayed: banana ice cream, banana muffins, and banana egg rolls. You're visiting a key Taiwan farming area, guaranteeing freshness of ingredients and, here, rich banana flavor. No preservatives are used, so if buying the egg rolls/muffins for takeaway, eat them up within 2~3 days.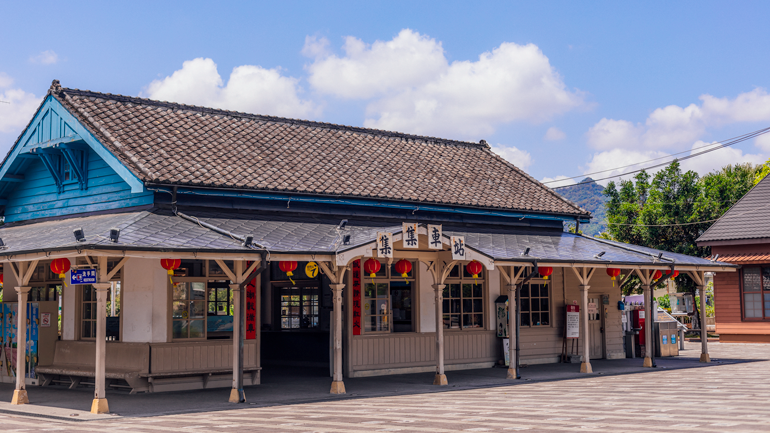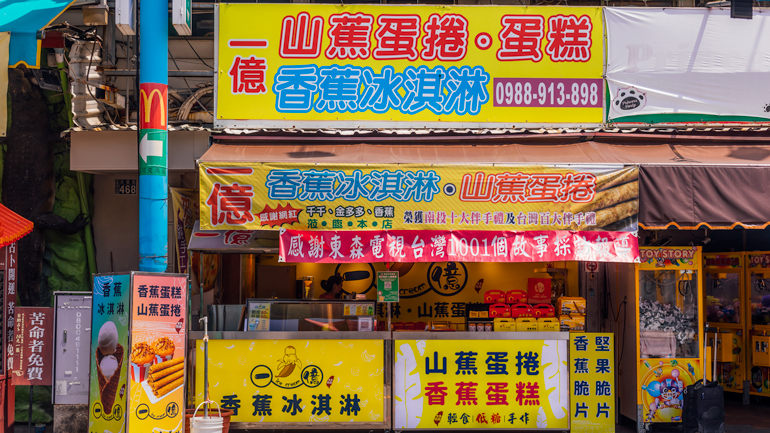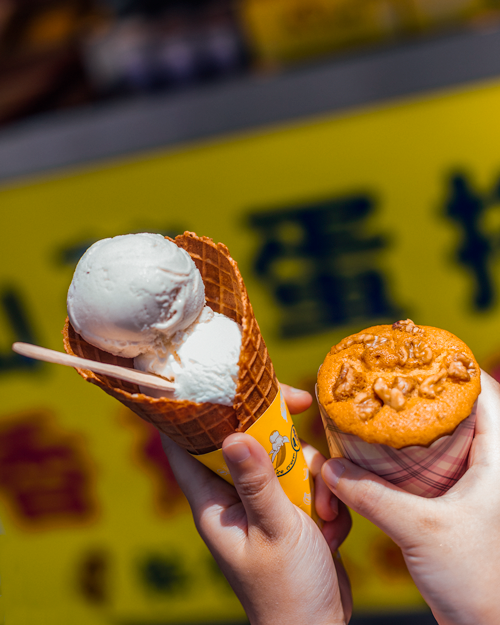 "Yiyi Banana Ice Cream"
(一億香蕉冰淇淋)
Tel: 0988-913-898, (049) 276-1018
Add: No. 468, Minquan Rd., Jiji Township, Nantou County
(南投縣集集鎮民權路468號)
Hours: 8:30am~6pm (until 7pm on weekends and holidays)
Facebook: www.facebook.com/yiyiicecream
Website: yiyi.okgo.tw (Chinese)
Jiji, Zhuoshui, and Longquan
Jiji Green Tunnel
The Jiji Green Tunnel is an intensely green tree-canopied section of County Route 152 stretching 4.5km from just west of Jiji town and past tiny Longquan village to where the 152 intersects with Provincial Highway 16. The Jiji Line tracks are right beside the roadway much of this length. A number of shaded wood-built rest facilities have been built between road and tracks, all good (and safe) vantage spots to await your photo-targets when in trainspotting mode.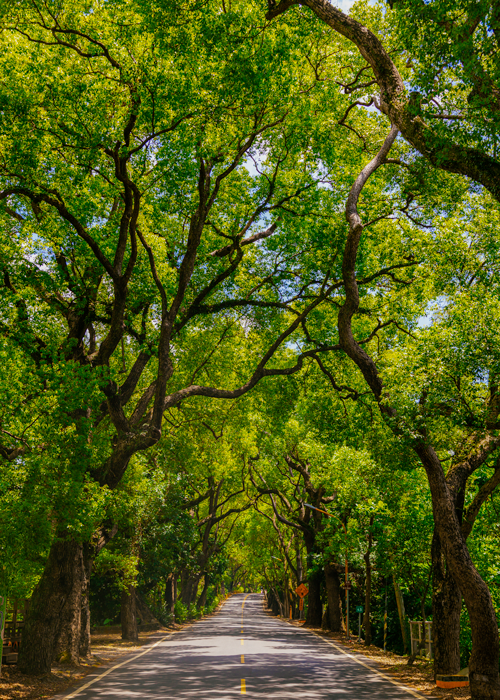 Bike rentals are available at government-vetted shops around Jiji Railway Station (scooters also available). Meander around the slow-living town, very bike-friendly, to the start of the Green Tunnel just beyond its western edge. Note that the Green Tunnel ride is not completely flat, and that motor-vehicle traffic picks up on weekends/holidays.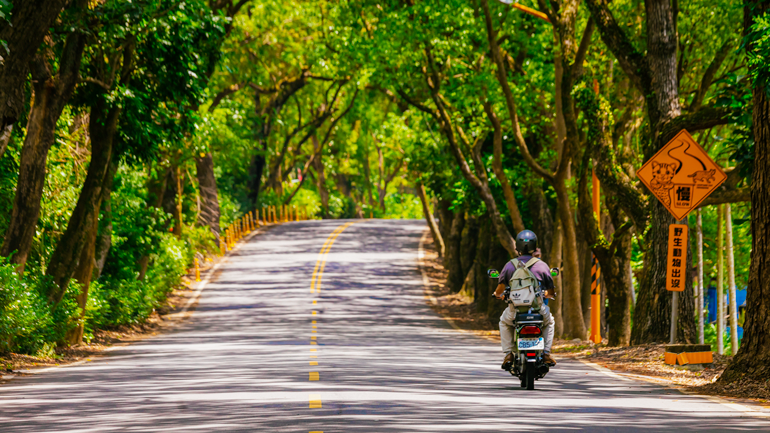 The year 1940 was the 2,600th anniversary of Japan's founding. To celebrate, Taiwan's Japanese colonial authorities ordered local residents to plant camphor trees highway-side. At that time this road was the main portal from the west into Jiji town (since supplanted by wider Provincial Highway 16, closer to the Zhuoshui River). Thereafter, each person was responsible for daily watering of the trees they had planted; discovery of failure in this duty first brought an admonition from police, then punishment.
Living Stone Kiln
The Living Stone Kiln complex sits in forest cover just south of the Jiji Green Tunnel, not far east of Longquan Railway Station. This tourist attraction was opened 24 years ago by a wonderfully congenial couple from the city of Taichung, trained in the ceramic arts, the two looking for the right place to spend their retirement years. After much searching they found this oasis in the woods, then a betel-nut plantation, and after clearing the land they built their simple farmhouse-style kiln complex and planted the new trees and bamboo that nowadays tower above the spacious grounds.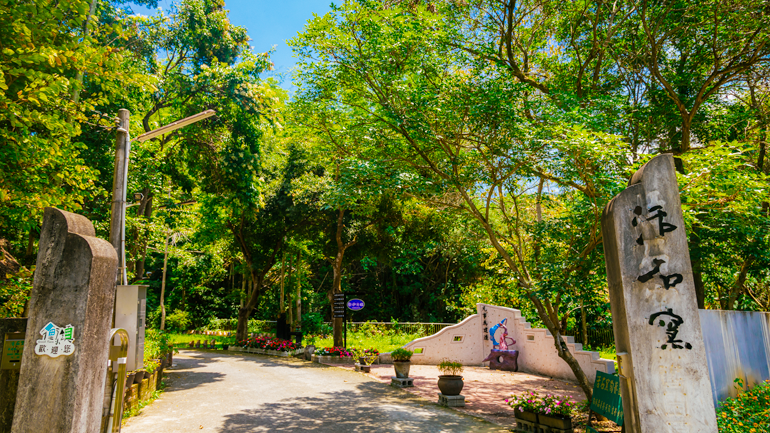 Inside are a large display area and workshop area. Outside is a "health park" area and BBQ area. There's also a beverage counter outside the workshop entrance, with outdoor shade-umbrella seating provided.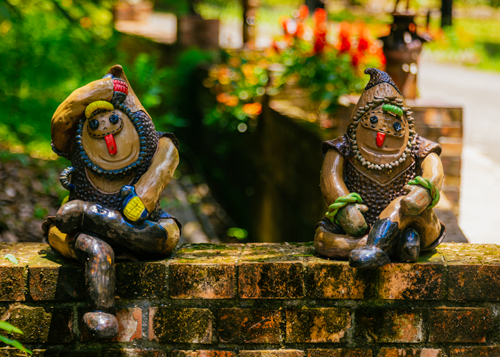 The works of the Living Stone artist team – mother, father, daughter, son – are on display inside and outside. Especially eye-catching are the many works of high whimsy, such as junkyard-parts robots and an oversized human palm with Chinese opera masks for fingertips, opera underway in the cupped palm.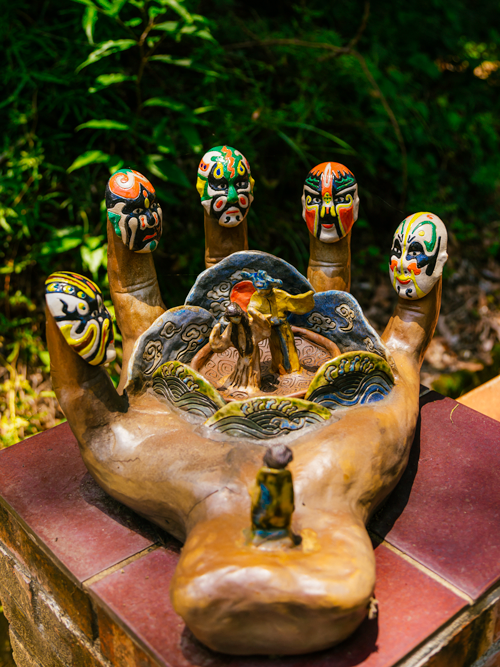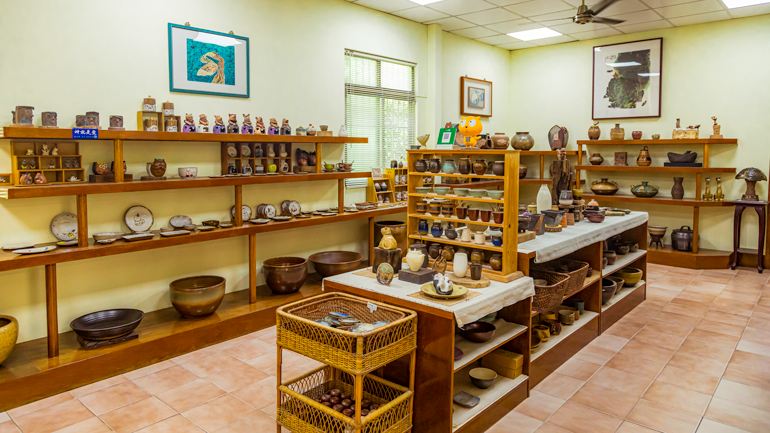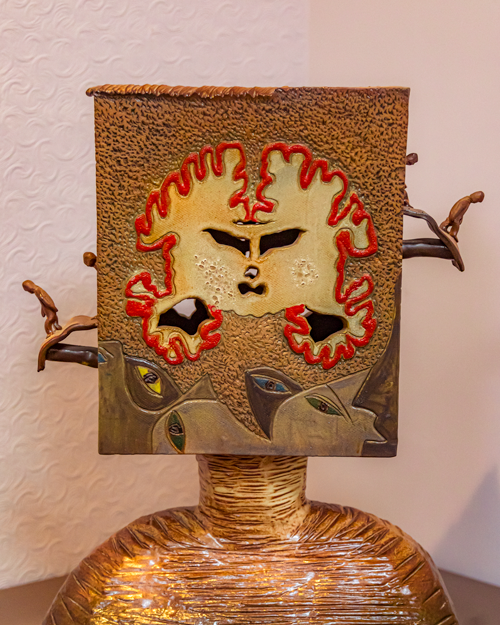 Various master-led DIY sessions are offered (individuals & parent-child teams), making easy items such as cups/mugs and plates or more ambitious items such as dinosaurs for kids.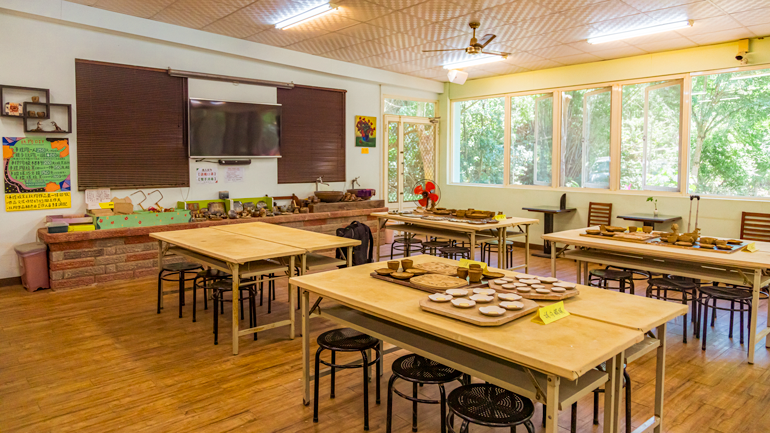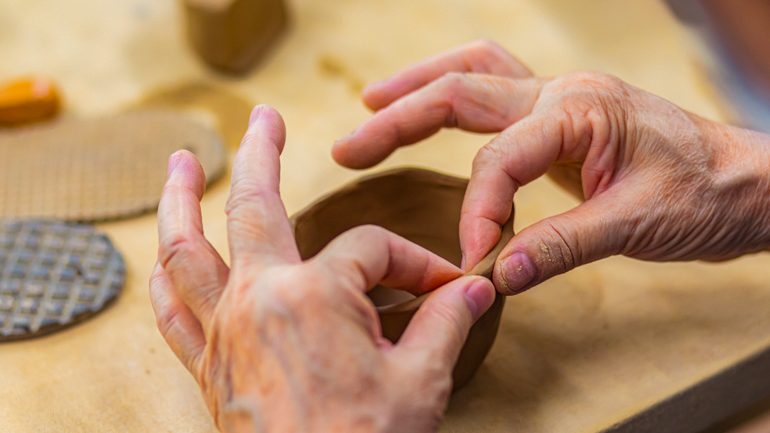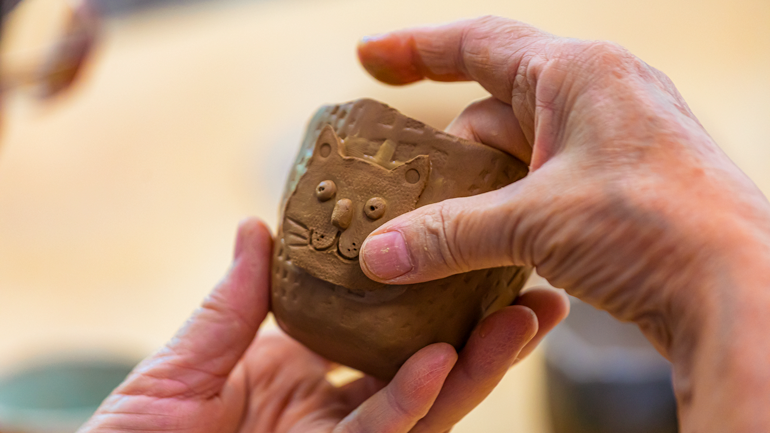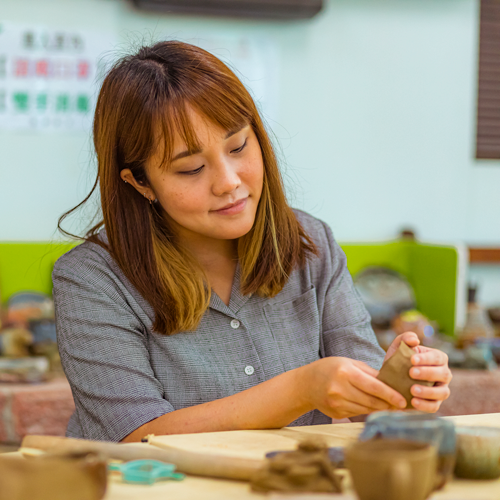 Living Stone Kiln
(活石窯陶藝園區)
Tel: (049) 278-1445
Add: No. 3-21, Caoling Lane, Jiji Township, Nantou County
(南投縣集集鎮草嶺巷3-21號)
Hours: 9am~5pm
Facebook: www.facebook.com/livingstonekiln
Happy Corner Café
Happy Corner Café is right beside the Green Tunnel, just a few hundred meters from its western end. Directly across the 152 is a long, thin wood-built lookout platform right beside the railway tracks of the Jiji Line. Great train views are also enjoyed while seated at the café's elegant forecourt table/chair sets.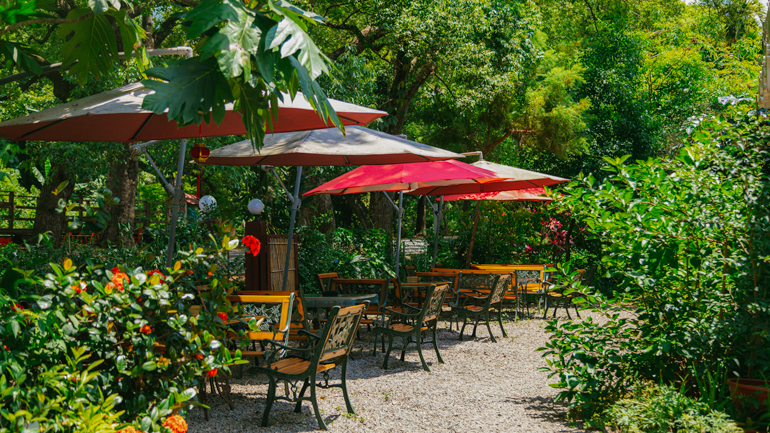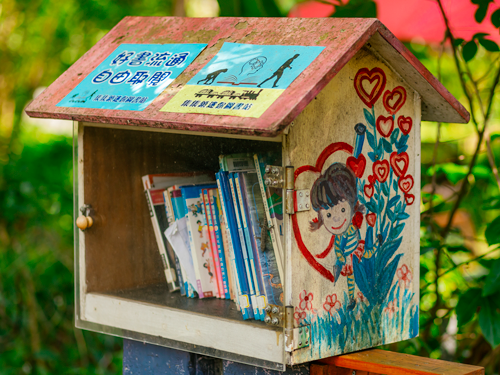 A delicious assemblage of sweet and savory things is prepared by the friendly proprietor, a retired teacher from Taichung who came here for a healthier living environment. The afternoon tea is especially popular. From the sweet side, try the cheesecake with black-goji-berry-flavored top layer, panna cotta with whipped cream, waffles with ice & whipped cream, and local fresh-fruit Assam tea.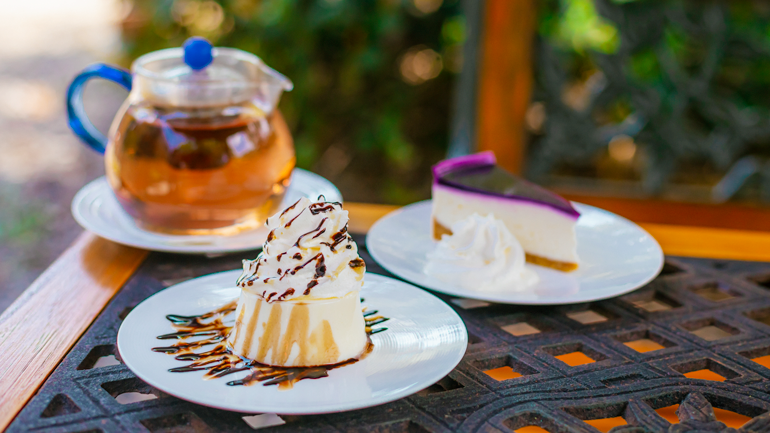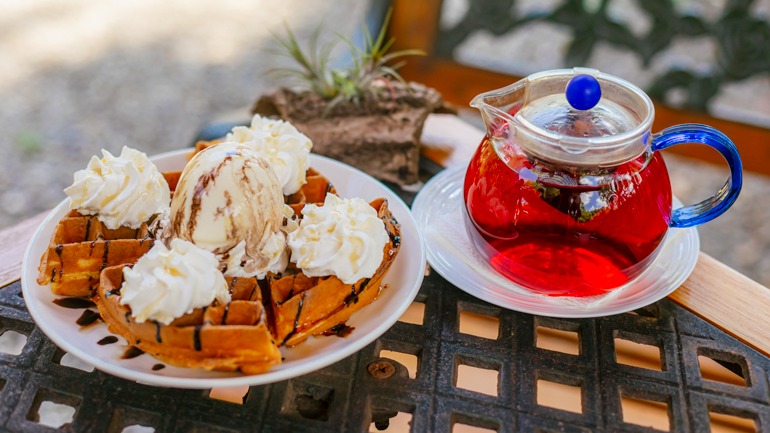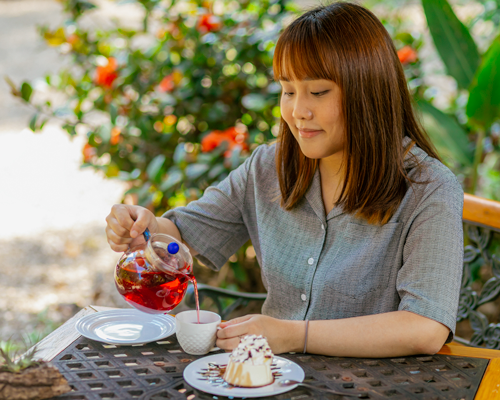 Happy Corner Café
(快樂角咖啡)
Tel: (049) 273-8027
Add: No. 268, Mokeng Lane, Zhuoshui Village, Mingjian Township, Nantou County
(南投縣名間鄉濁水村磨坑巷268號)
Hours: 11am~8pm (from 9am on weekends and holidays; closed on Tuesdays)
Facebook: bit.ly/3LwkFqq
Website: happycorner.mmweb.tw (Chinese)
Ershui & Yuanquan
On the County Route 152 approach to the town of Ershui is the farming village of Changhe. Leading into it, the 152 curves in a long, broad arc. Parallel to this is the Jiji Line, doing the same. And tucked tightly in between is the shaded, paved footpath, which stretches about a half-kilometer.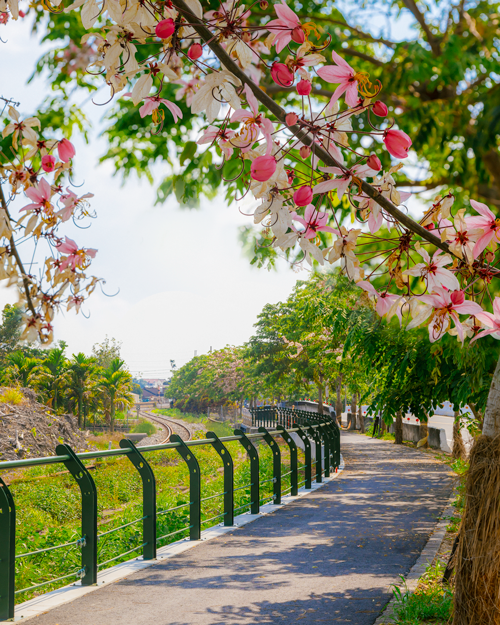 The elements of this setting create a multi-layered tableau that is nigh pastoral-perfect for pic-snapping enthusiasts, making this one of the hottest Jiji Line photo spots: pink/white blossoms of the young trees in front, next the approaching pastel-painted trains in ultra-revealing curvaceous pose, immediately behind neat-grid farm plots of guava trees, paddy rice, and tall palms, and beyond a backdrop line of low mountains.
The Pink Shower Tree, native to Southeast Asia, has become a popular ornamental tree in Taiwan in recent times, used as a cherry tree "substitute" because it loves lowland heat. It blooms profusely March~May.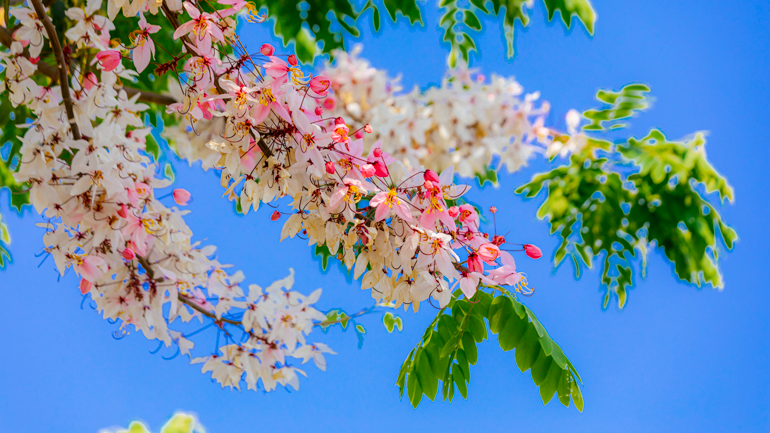 Mr. Lin Temple
The Mr. Lin Temple is closer to Ershui town right beside County Route 152 in tiny, somnambulant Yuanquan village. First check out the powerful waters running through the irrigation canals that meet beside the highway diagonally across from the temple. This is an important node in central Taiwan's famed heritage Babao Irrigation Canal system, constructed in the early 1700s.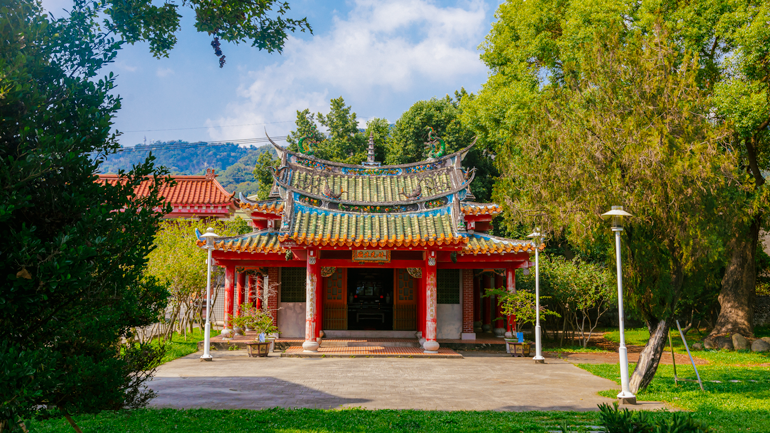 The temple was built to honor a man said to be key in ensuring the system's success. The story goes that when serious problems were encountered bringing water into the system, the mysterious old man simply known as "Mr. Lin" appeared and provided the solution needed (identifying an appropriate Zhuoshui River inlet with consistent water flow and apposite gradual slope). Lin thereafter disappeared without a trace, and the thankful builders and local residents built the temple in gratitude.
Jiji Line trains pass by directly behind (south of) the well-designed, tall-treed grounds.
"Ershui Turkey Rice"
Mere steps from the entrance of Ershui's attractive compact train station, "Ershui Turkey Rice" is a homey-feel hole-in-the-wall eatery that is a familiar stop for locals headed out/in by rail. The owner is a transplant from south Taiwan's Chiayi City, where turkey rice is the iconic culinary invention. This joint, say both online locals and tourists, provides this region's best "Chiayi turkey rice." Chewy sliced or shredded turkey (here sliced) is served on a steaming bed of rice seasoned with fried garlic, turkey/chicken fat, soy sauce, and cured radish. Other tasty selections from the short menu are pork ball soup, soy-braised pork with rice, and curry rice.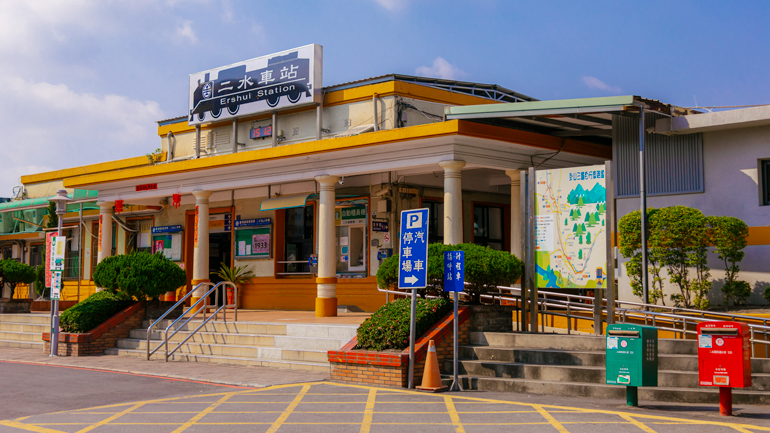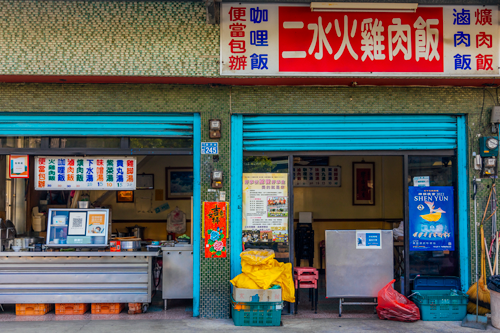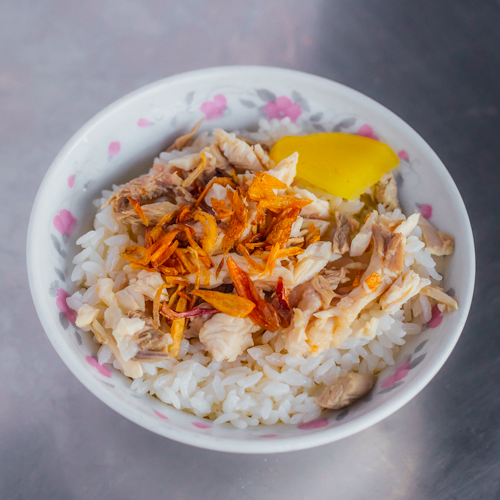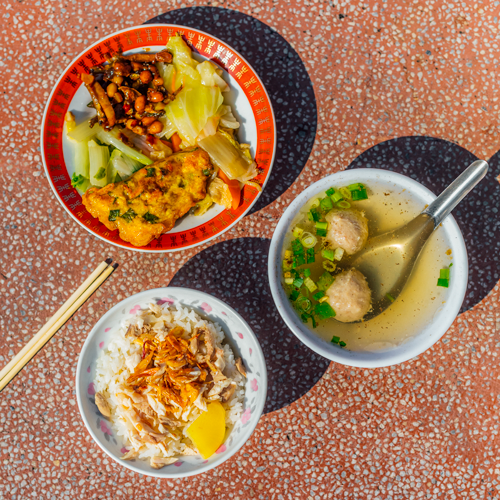 "Ershui Turkey Rice"
(二水火雞肉飯)
Tel: (04) 879-1732
Add: No. 245, Huimin Rd., Ershui Township, Changhua County
(彰化縣二水鄉惠民路245號)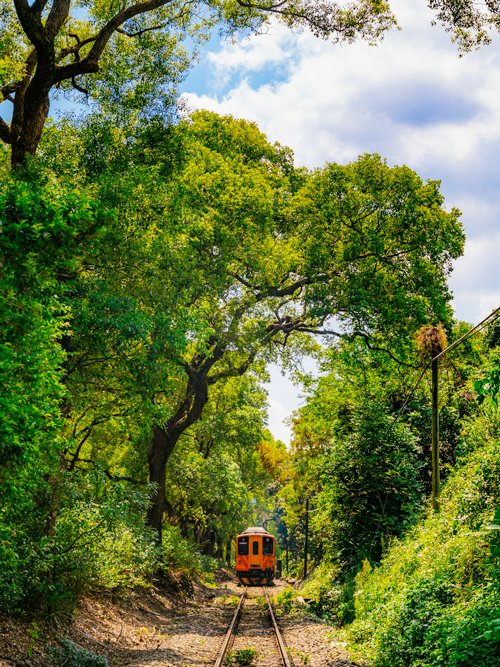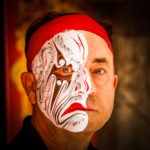 A Canadian, Rick has been resident in Taiwan almost continually since 1988. His book, article, and other writings, on Asian and North American destinations and subjects—encompassing travel, culture, history, business/economics—have been published widely overseas and in Taiwan. He has worked with National Geographic, Michelin, APA Insight Guides, and other Western groups internationally, and with many local publishers and central/city/county government bodies in Taiwan. Rick also handles a wide range of editorial and translation (from Mandarin Chinese) projects.