Taiwan Strait, Rugged Mountains, Pacific Ocean
TEXT / RICK CHARETTE
PHOTOS / VISION, LION TRAVEL
Breezy Blue excursions take bubbly tourists in old-timey railway carriages pulled by a once-upon-a-time diesel engine from Pingtung County's farm-stitched plains through the scenic central-mountains spine of the south to the mountain-crowded, deep valley-pierced coastline of southern Taitung County. All aboard! The trains travel the South Link Line – from Pingtung's Fangliao town to Taitung City.
Taiwan folk use their national rail network almost as casually as people use city buses or subway systems elsewhere. The first-rate rail system loops the island, joining up all major urban centers as well as scores of smaller stops in between them. You'll commonly see students in uniform, grandmas with shopping bags, office workers, etc.
The trains of the regular rail network and the Taiwan High Speed Rail system that was launched in 2007 (THSR trains ply the island's west side) are also commonly the first choice for fun-outing travelers, taking them either to final destinations or to jump-off points. In this article we travel the South Link Line, opened in 1991 to complete Taiwan's round-island loop, which whisks sightseers from Pingtung County and the azures of the Taiwan Strait to Taitung County and the inshore marble-green and offshore steel-blue waters of the Pacific side, on the way piercing through many tunnels in rugged, sparsely settled mid-height mountains.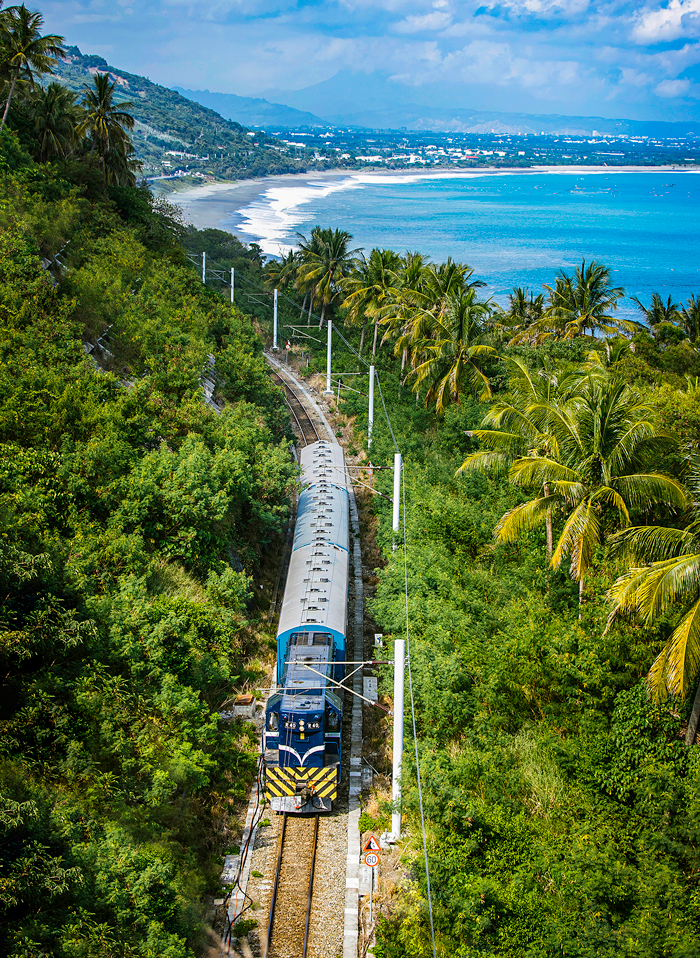 Fangliao
The South Link Line officially extends from the Pingtung coast-side farm/fish farm market town of Fangliao, south of Kaohsiung City, to Taitung City. Taiwan's bottomless legion of railway-experience gourmets and gourmands have had Fangliao as a key travel target since October 2021, when the Breezy Blue tourism train was launched on the South Link Line. One Fangliao-Taitung City round-trip service is offered daily.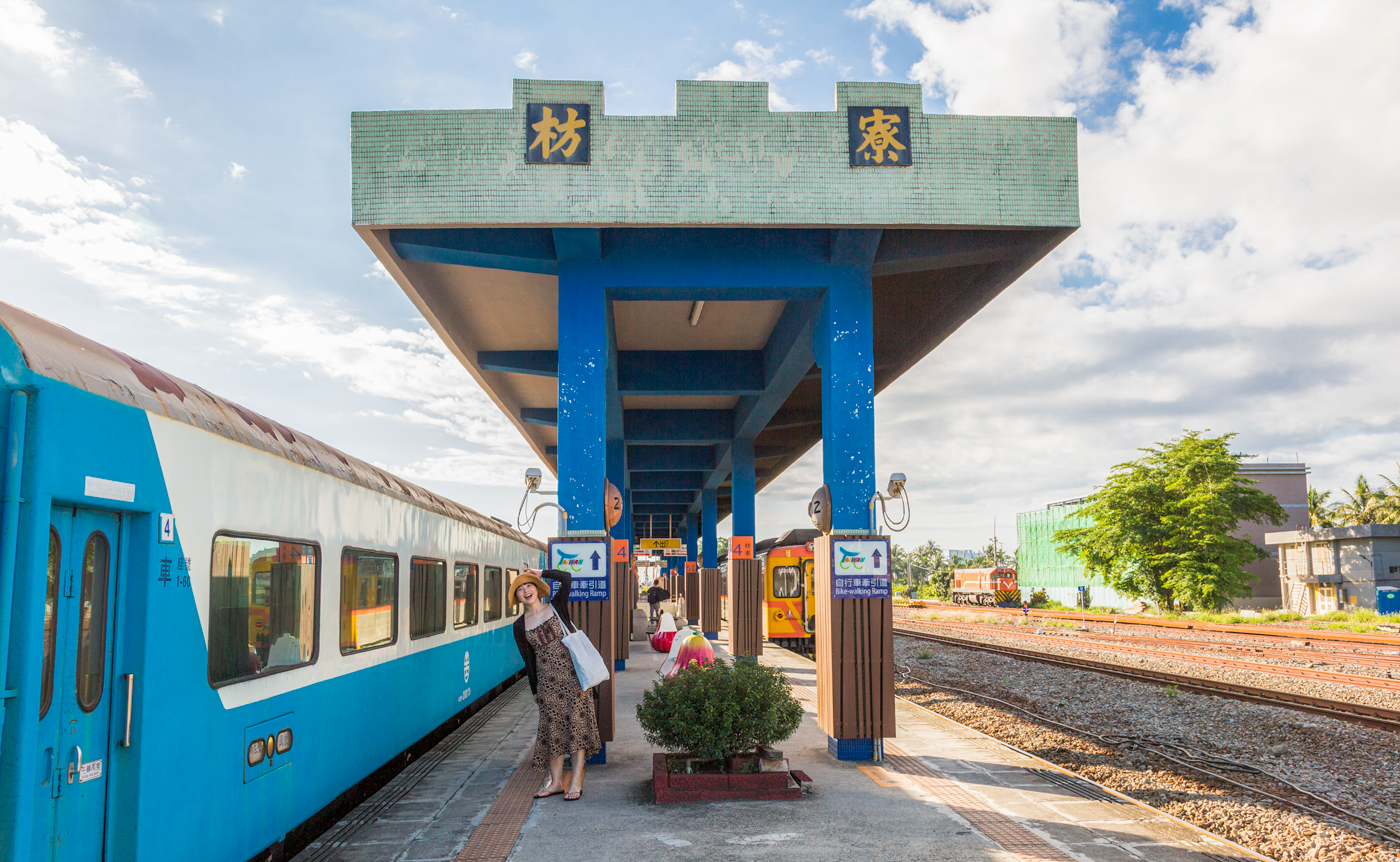 A full ten months was spent restoring the blue-façade diesel-powered engine and carriages used. Such blue trains were formerly a common sight around the island handling slow milk runs. Breezy Blue, from the 1950s, is currently Taiwan's oldest operating train. Note that this is an authentic yesteryear experience – no air-con, windows opened for breezes, and electric fans used.
The Taiwan Railways Administration (TRA) has outsourced the Breezy Blue service to the large and deeply experienced Lion Travel enterprise. You have your choice of multiple-day on/off tours visiting the various stations and nearby areas along the way, or single-day guided outings.
Steps away from Fangliao's railway station is the Breezy Blue Station, sporting a façade design mimicking a moving train. Inaugurated in summer 2022, this is a one-time dormitory for railway workers today doing service providing travel info and selling both themed souvenirs and drinks/snacks.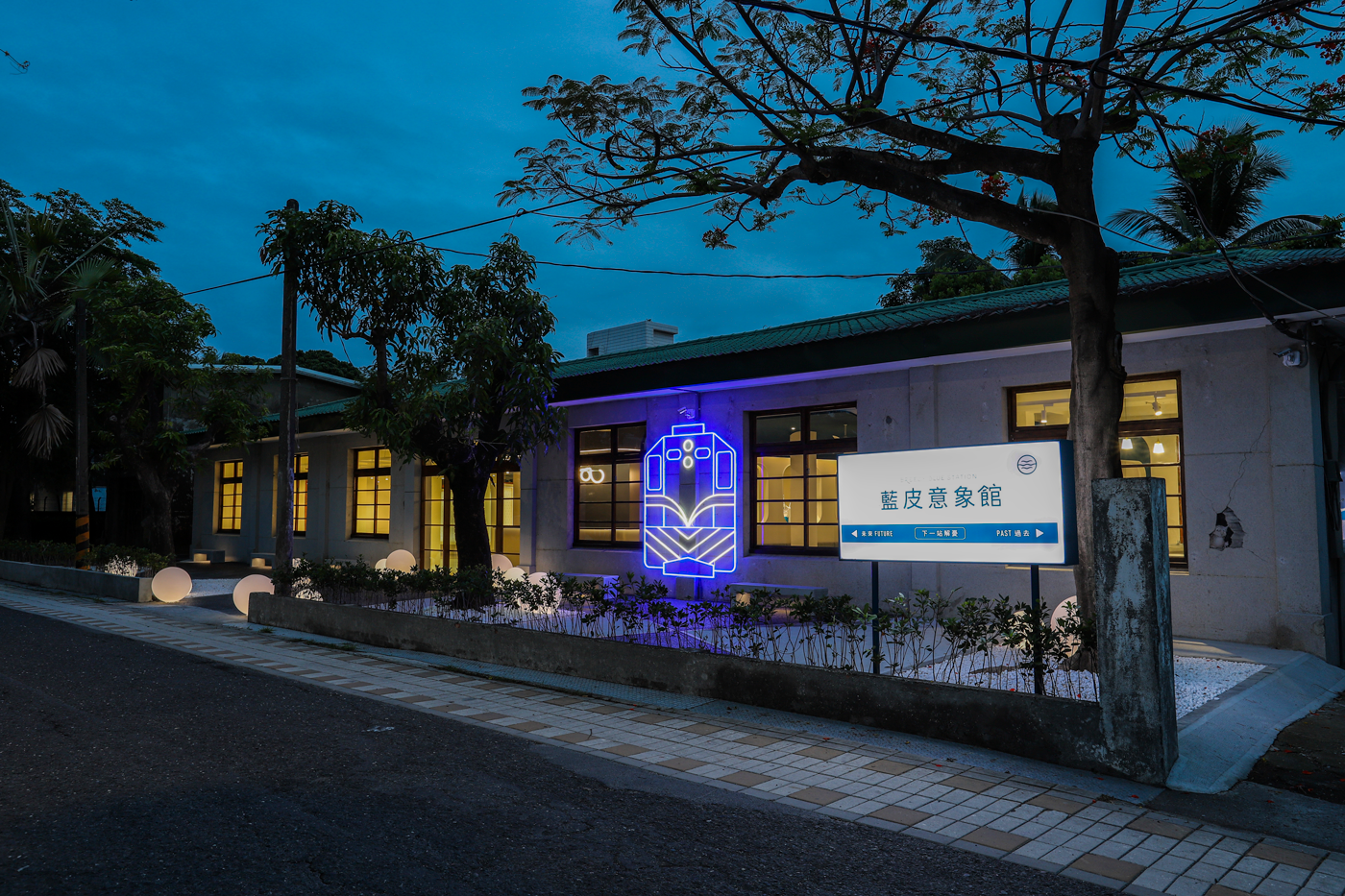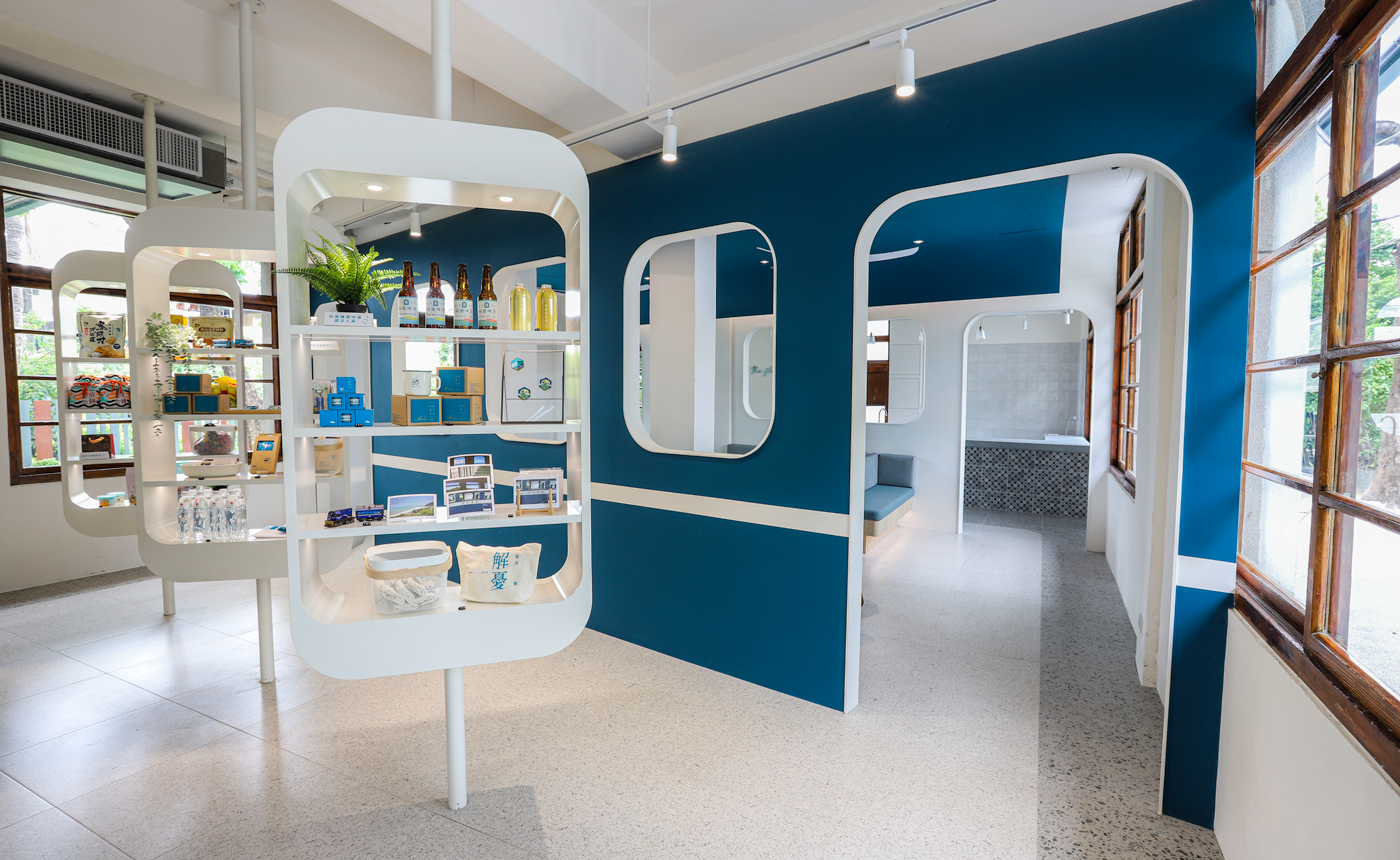 Breezy Blue (藍皮解憂號) + Breeze Blue Station (藍皮意象館)
Add: No. 15, Chuyun Rd., Fangliao Township, Pingtung County
(屏東縣枋寮鄉儲運路15號)
Tel: (08) 820-3520
Hours: 9am ~ 6:30pm (until 6pm on Mon. and Wed.; until 12pm on Tue.)
Facebook: www.facebook.com/breezybluetrain
Website: event.liontravel.com/zh-tw/railtour/breezyblue/products (Chinese)
A few steps further is the Fangliao Railway Art Village. Both this complex and Breezy Blue Station look out at Fangliao's train yards and mountain backing. The village is a grid of multi-story railway-employee dorms, offices, and other facilities given new missions as tourist-beckoning artist studios, cafés, and eateries.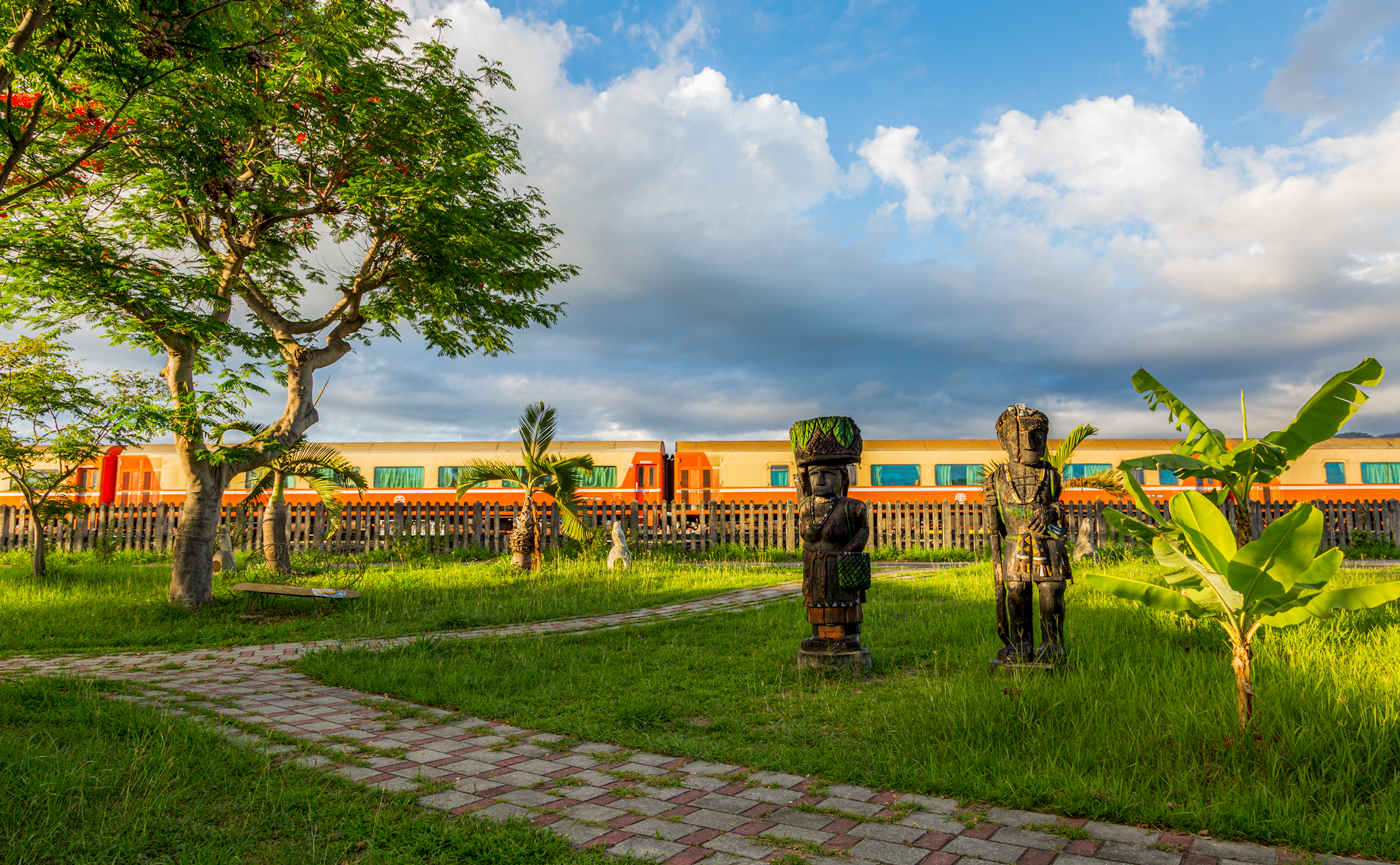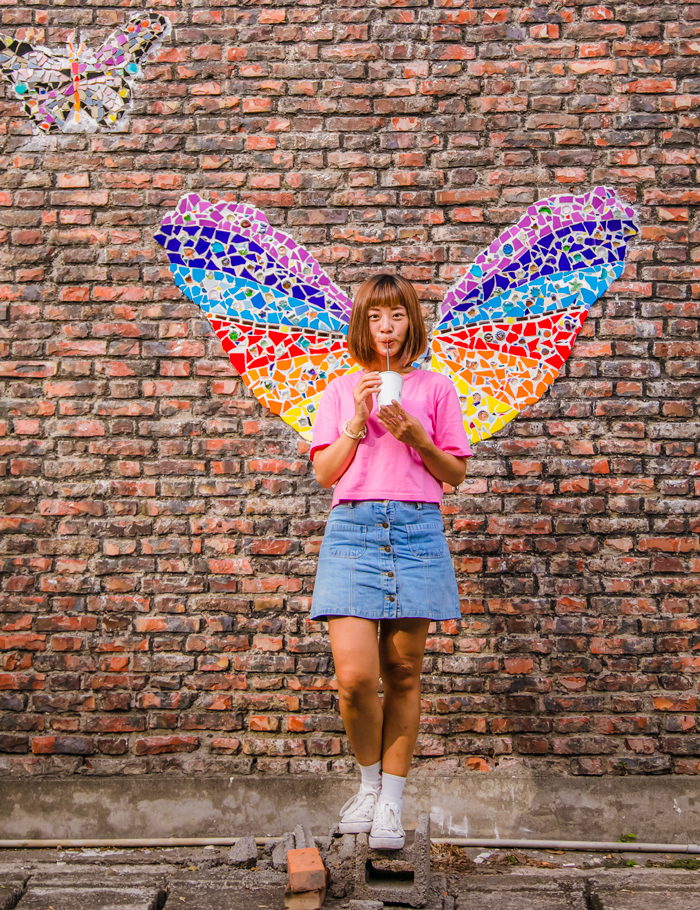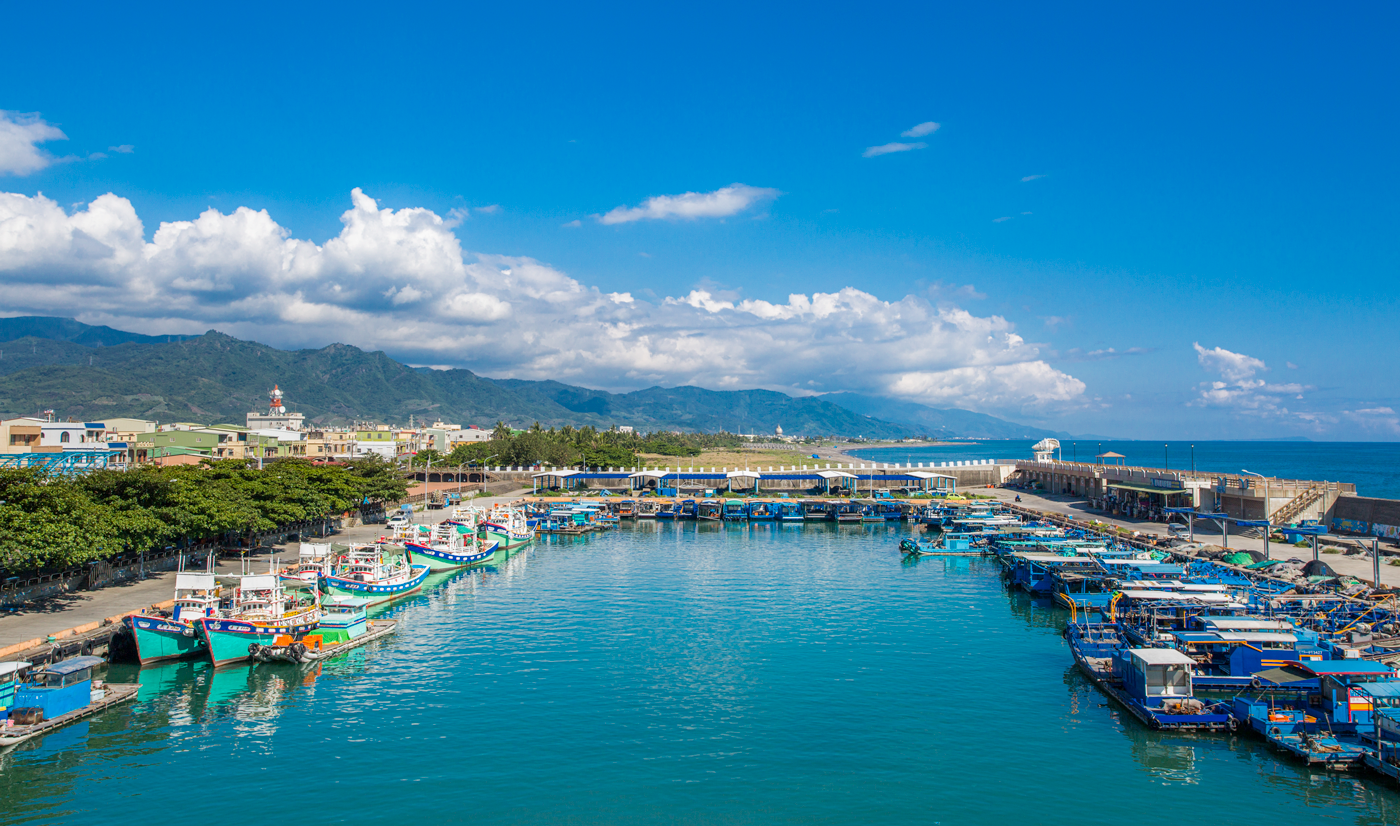 Fangshan
From Fangliao the tracks stay near the Taiwan Strait, then before Fangshan Station begin to climb and turn inland. Close to the station are the Fangshan Leisure Farm, producer of succulent Irwin mangoes along with lychees and longans, and the Fangshan Post Office, a place of sunny-color local-theme exterior artwork.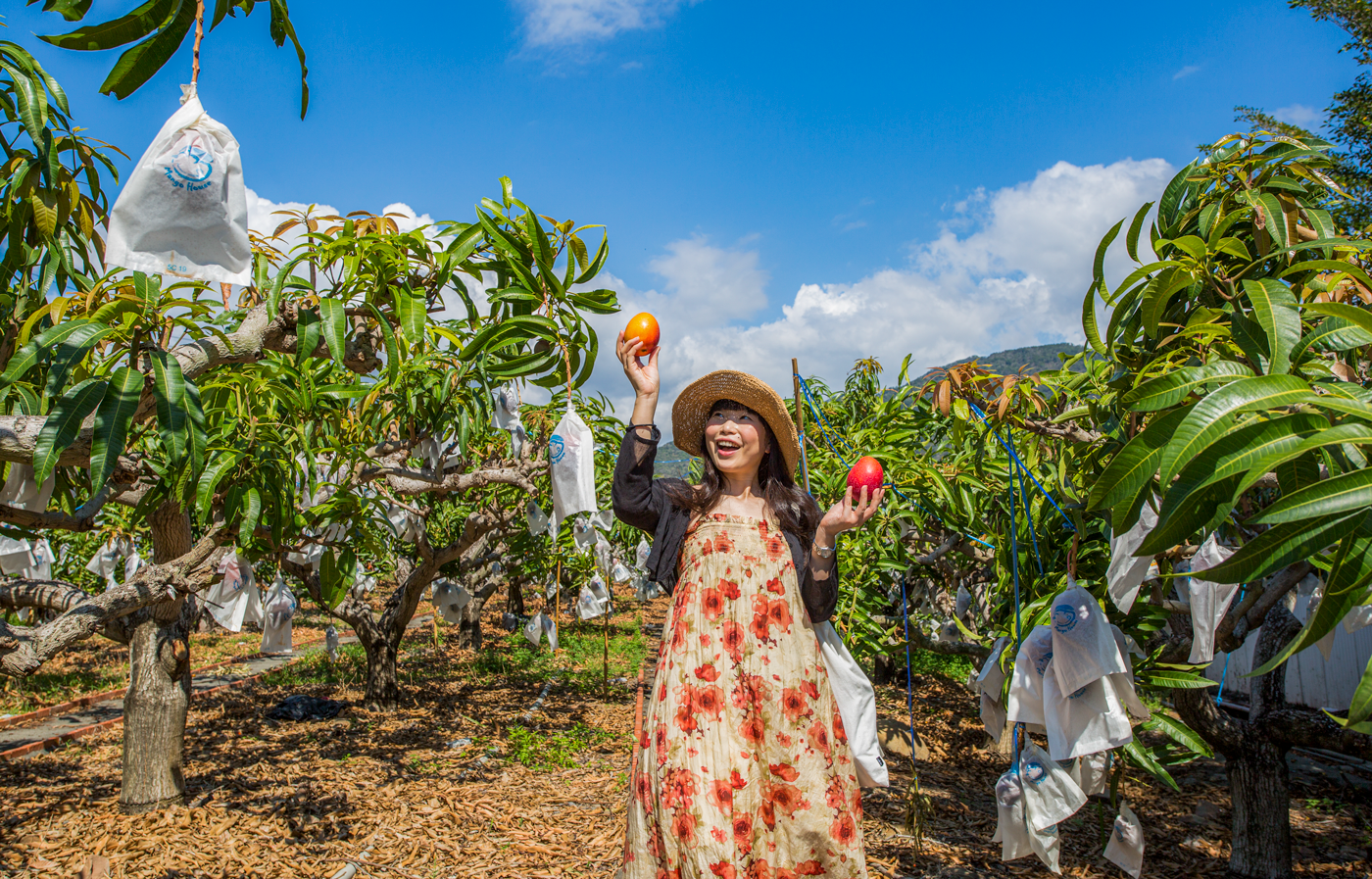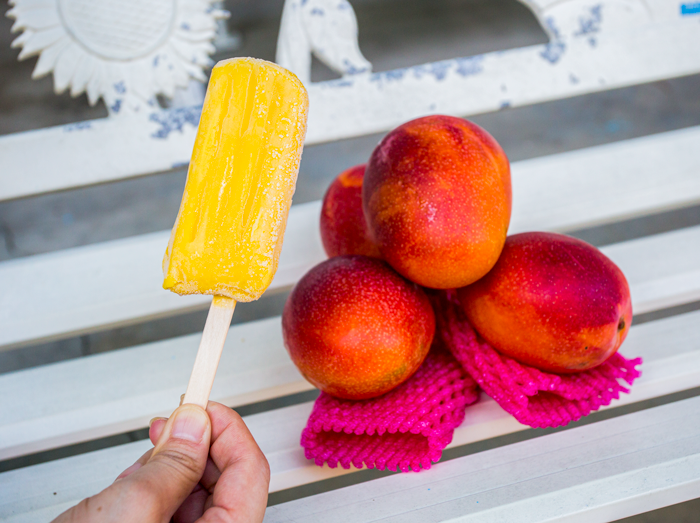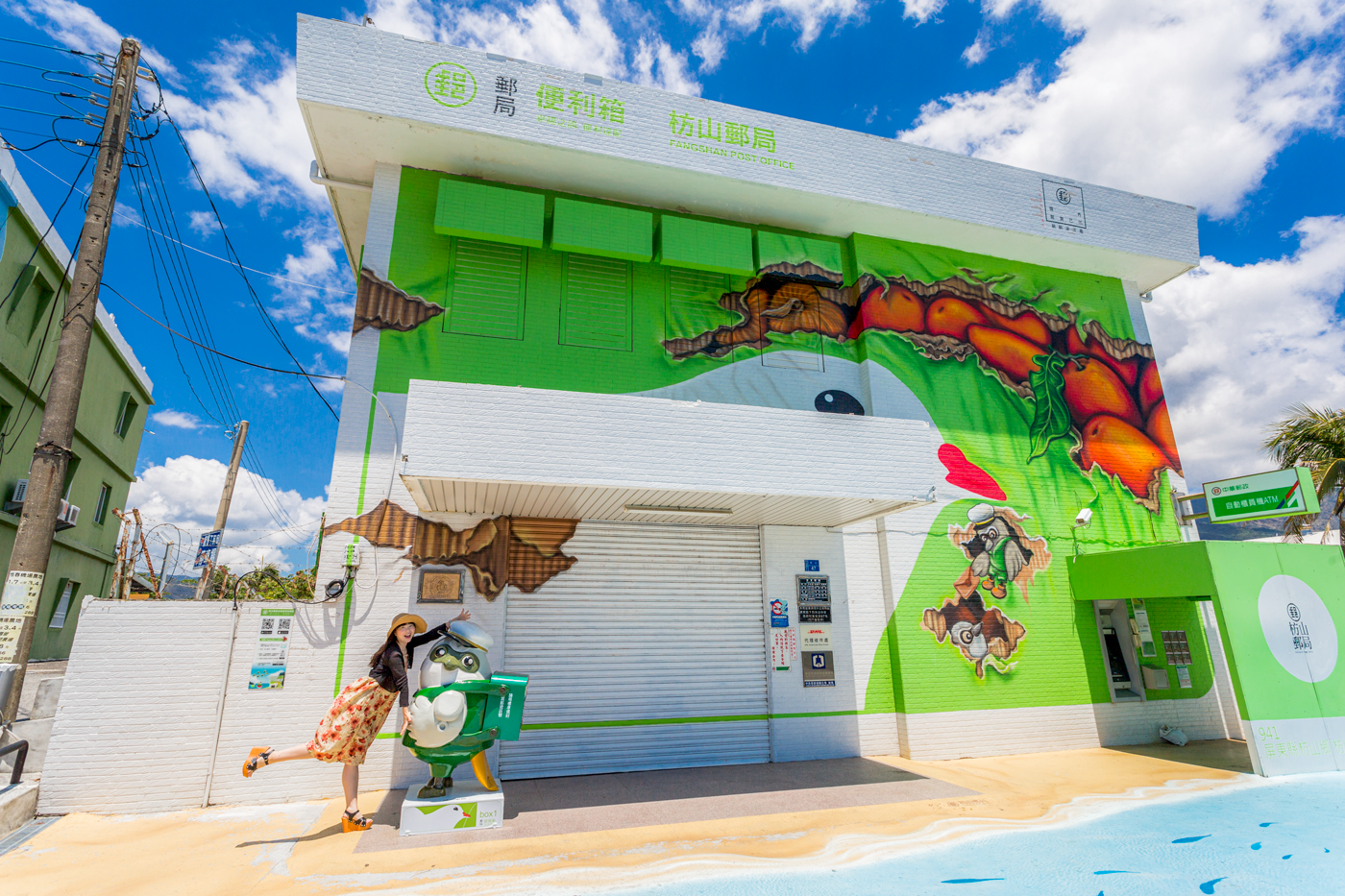 On to Taitung
After passing Fangliao you immediately begin the run of railway tunnels and bridges that bring you through the muscular mountains to the Pacific's edge; these then continue up-coast to the Zhiben area. In between the tunnels you're regaled with views of tight valleys and boulder-strewn waterway beds, compact fruit orchards and vegetable plots, plus a few majestic waterfalls, especially after rains.
The station areas on the Pacific side also abound with destinations popular with tourists. Duoliang Station is a destination in itself. Perched high above the parallel coastal highway up a steep switchback road, the station's roof sections serve as viewing platforms for terrific passing-train shots with ocean, highway, railway-tunnel entrance, and mountain as background.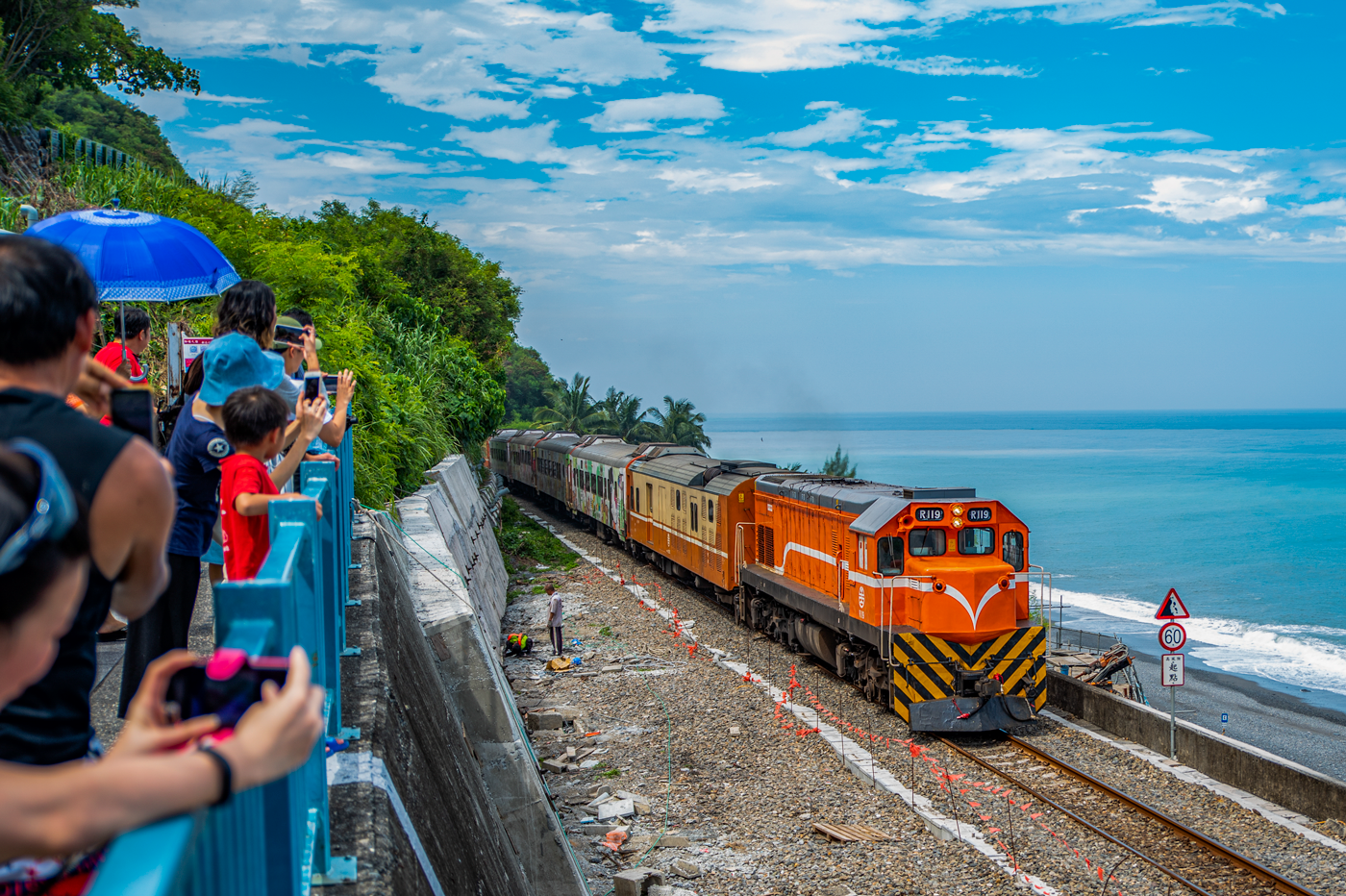 Further up the switchback road is the breeze-fanned Sunrise Driftwood Workshop, in a former elementary school repurposed for indigenous-tribe artists specializing in eco-friendly works concocted from driftwood and abandoned materials. Enjoy the mountain-herb-infused ice coffee and creative indigenous cuisine here, especially the unique dragon-fruit doughnuts, and the sweeping tree-shaded coastal view.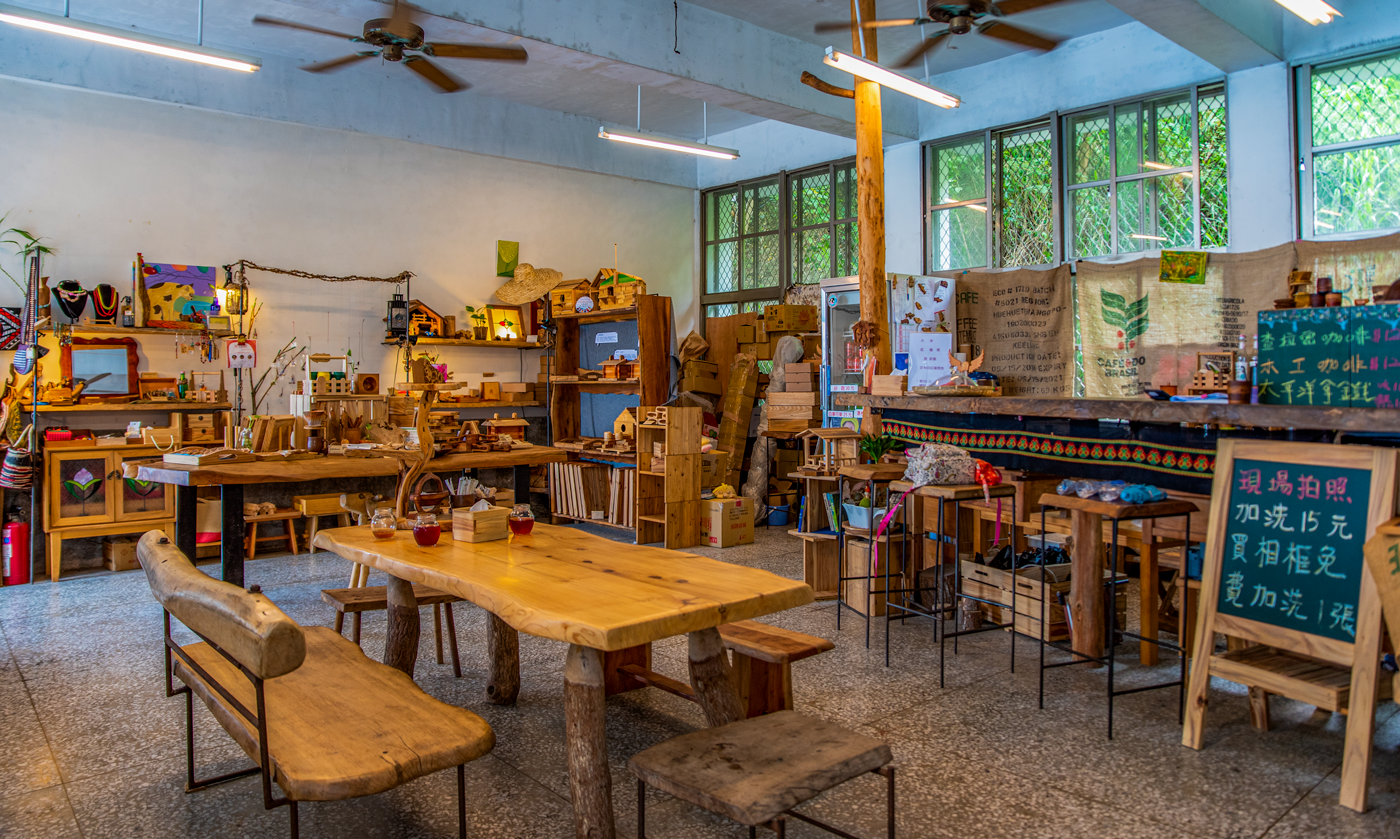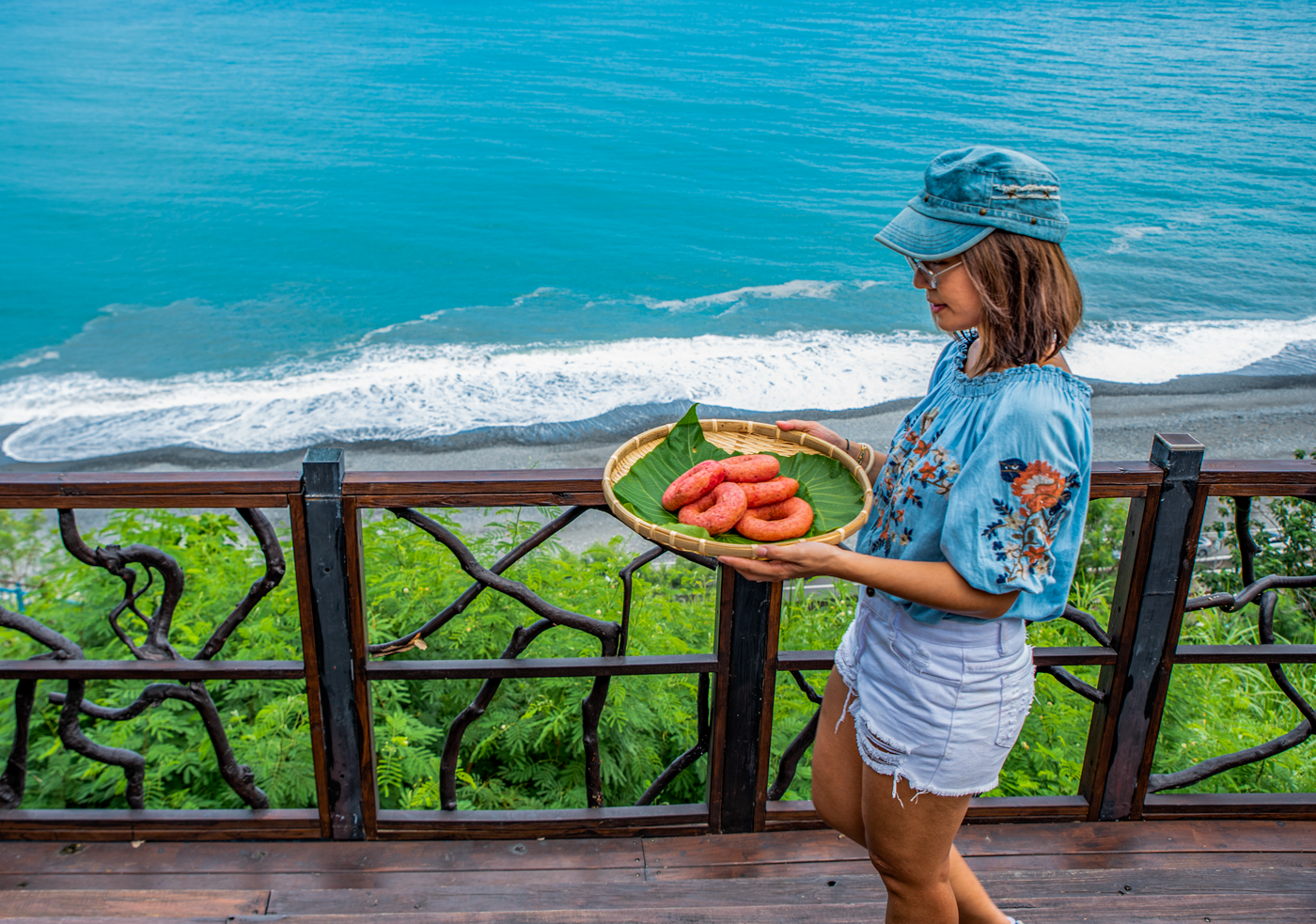 Continuing north, a few kilometers further on is Jinlun Station. A quick walk through small Jinlun town brings you to Kiokai Ni Santo Yosef; this title is the rendering of "Church of St. Joseph" in the language of the Paiwan tribe. This is a Roman Catholic place of worship built in the 1950s and renovated in detail in 2007. You'll find an intriguing combination of Western and indigenous visual motifs; for example, Crucifixion figures are adorned in traditional Paiwan attire, and images of snakes, revered as a tribal protector, abound.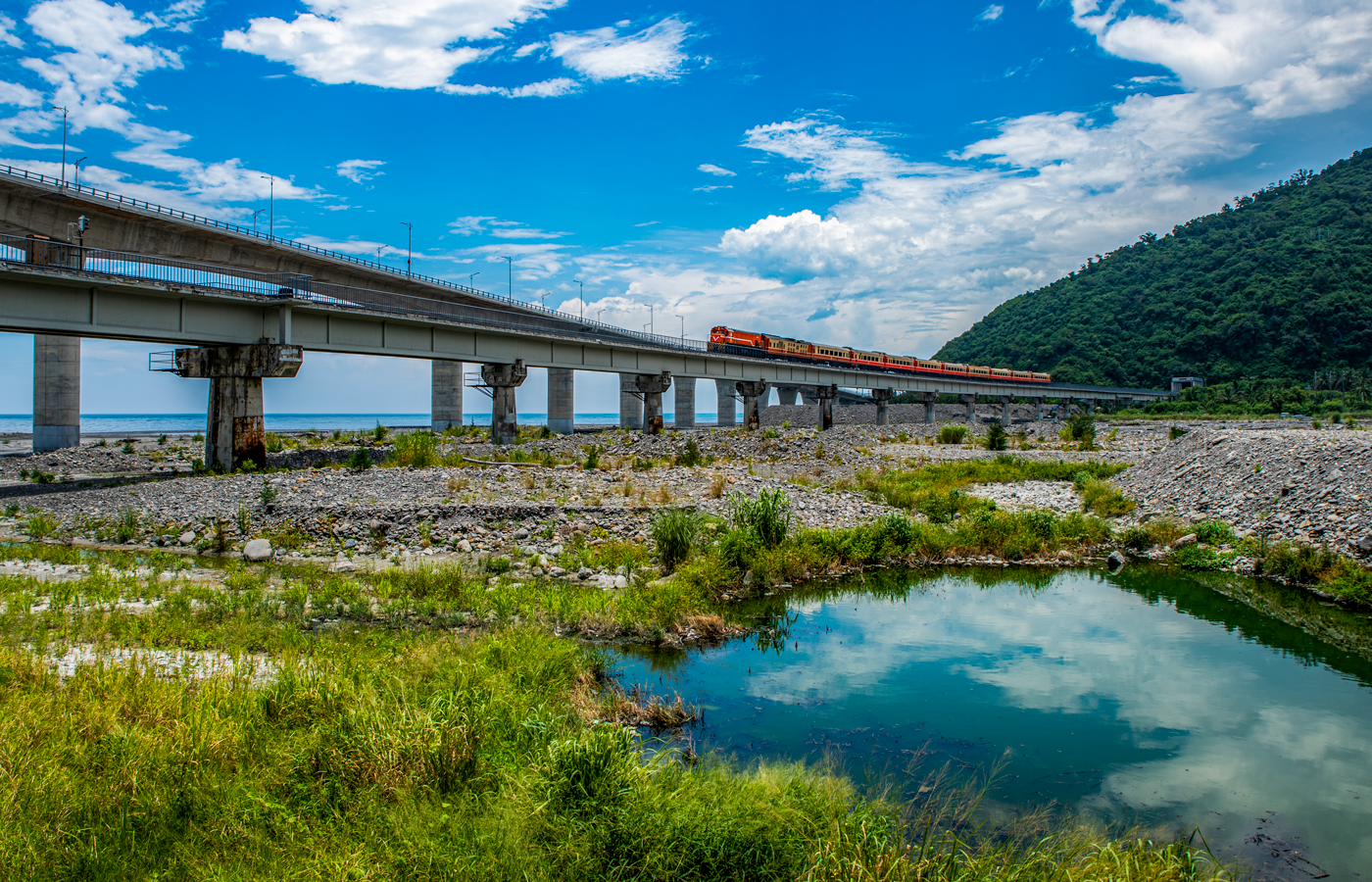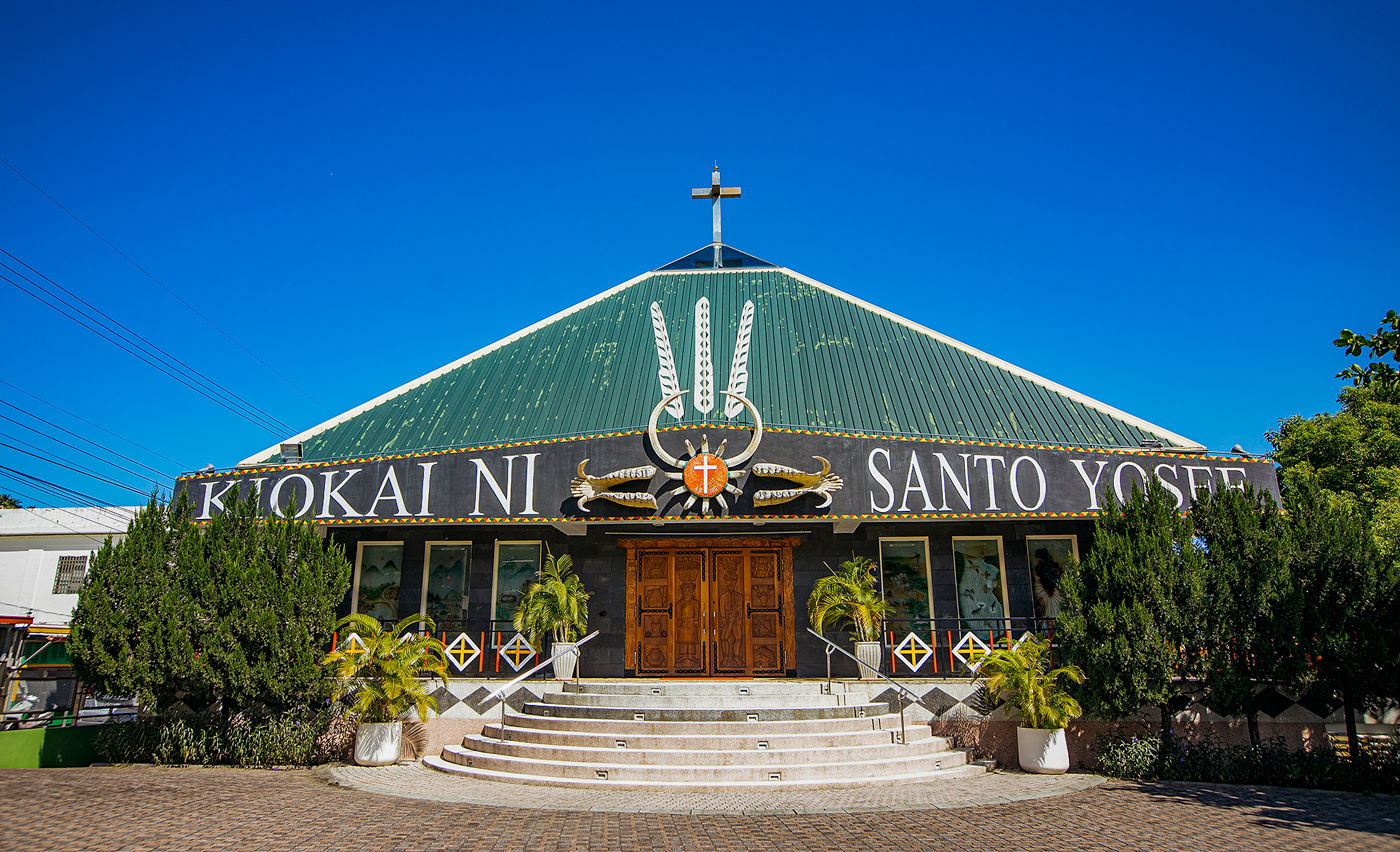 Immediately south of the railway station, a tunnel delivers you under the tracks onto attractive Jinlun Beach. The setting is dramatic. As you emerge, immediately above is a soaring coastal-highway bypass section. The beach is isolated, with steep hillsides coming right to the water at both ends. Along the back of the beach Taiwan's Forestry Bureau is nurturing a young woodland strip to maintain soil stability and capture carbon.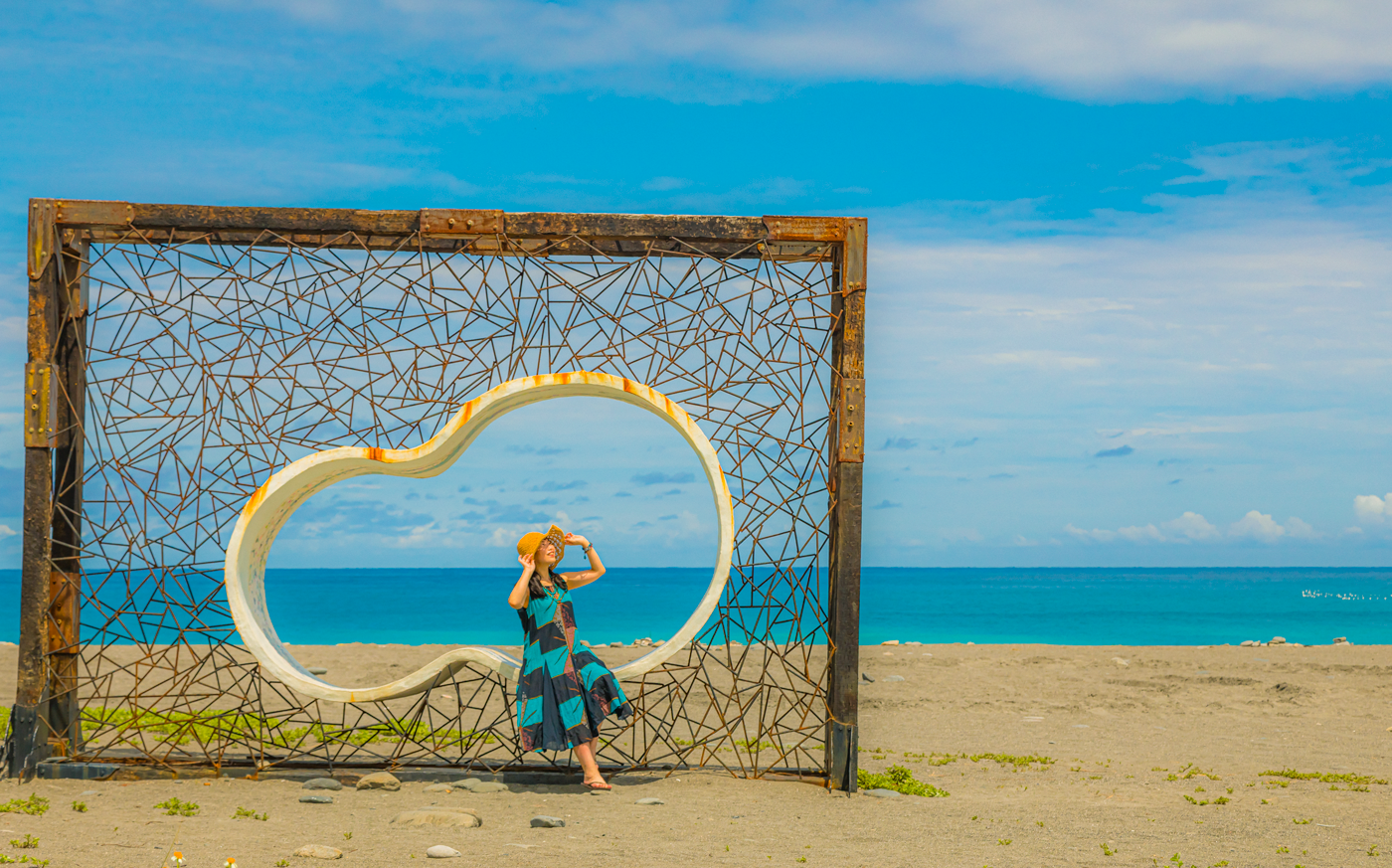 The population of Taimali Township, served by Taimali Station, is about one-third indigenous, Paiwan and Amis. The area gets especially busy in late summer when the picturesque annual daylily bloom takes flight in the local hill plantations. Their tasty orange buds are used in tourist-eatery cooking – battered and deep-fried, used in pork-rib soup, etc.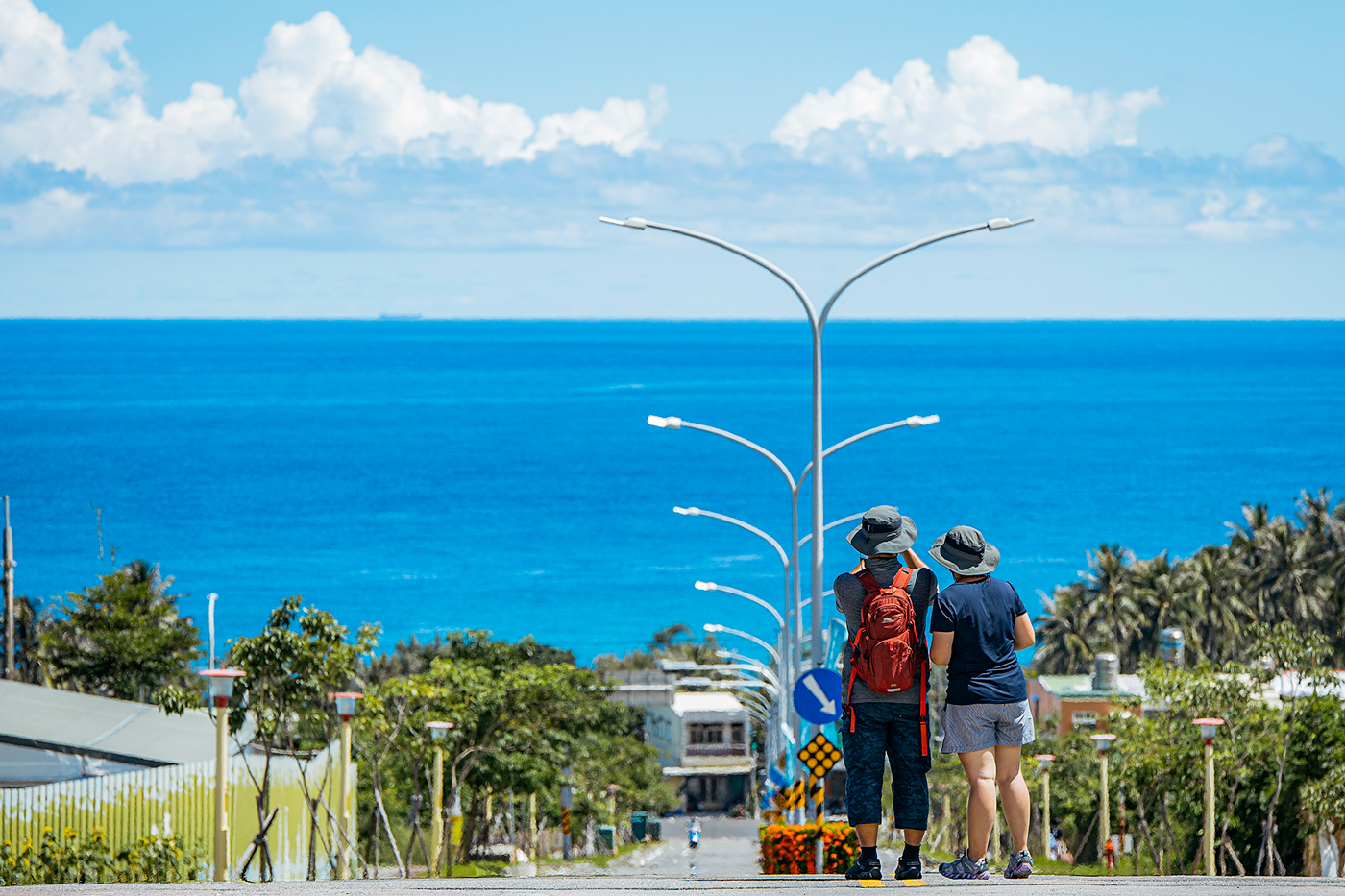 Hardly more than a strong stone's throw from the station is the long, gently arcing Huayuan Bay, a lovely sightseer stopping-point. A petite highway-side park along the bay's north section has winning public-art installations popular as photo props.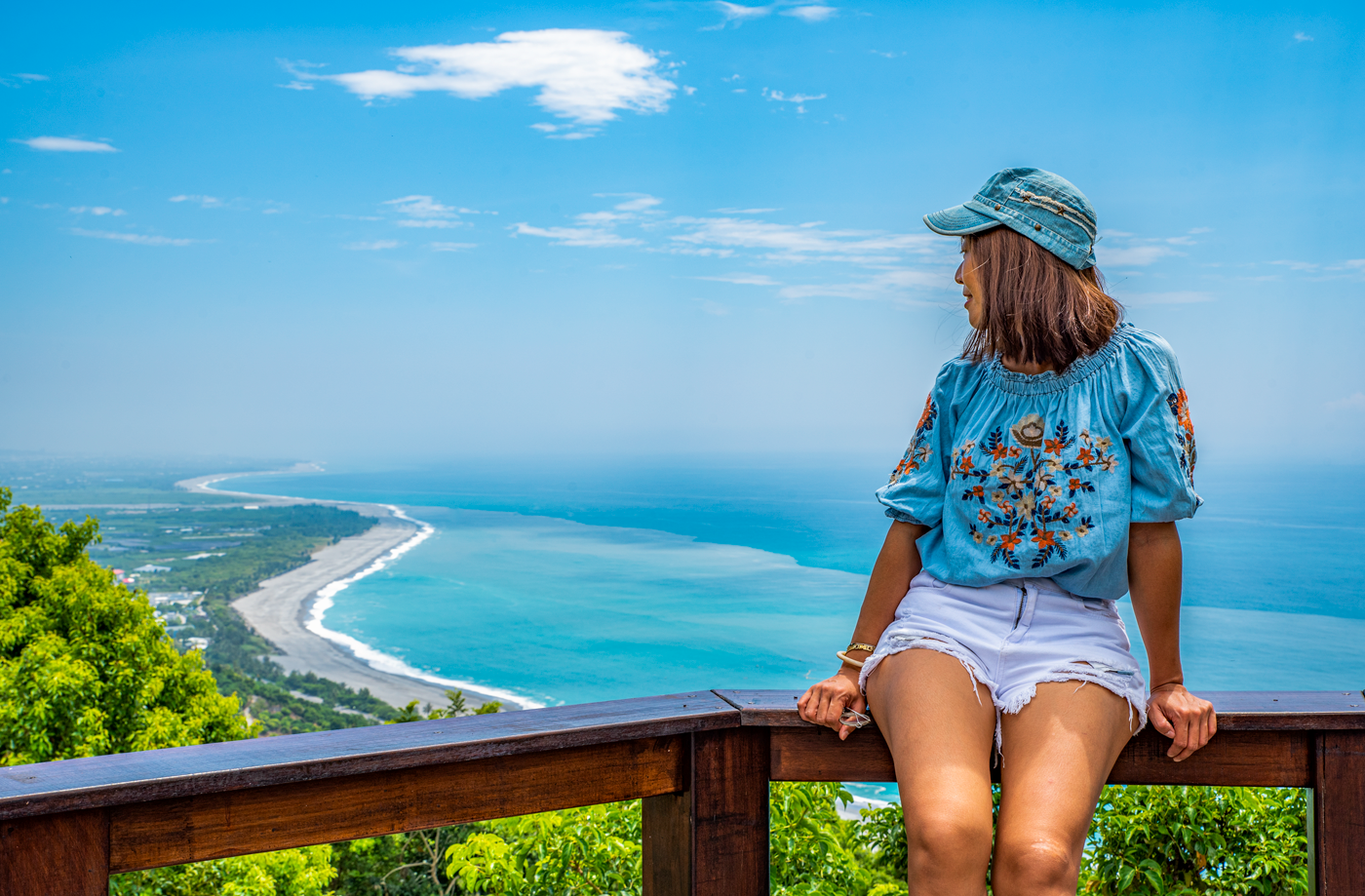 Inland from Zhiben Station up the Zhiben River valley, home to one of Taiwan's earliest-developed hot-spring resort areas, you'll also find the Zhiben National Forest Recreation Area (recreation.forest.gov.tw) and Zhiben Forest Road Waterfall. The lofty, thin 50m-high waterfallis found about a kilometer up-valley beyond the Yawan Spa Hotel along a well-maintained forestry road. Formosan rock macaque spottings are pretty much guaranteed along the shady route. The 110ha forest area has a trail-web that transports you high and low across a river-overlook mountain slope. Its stars are the steep Brave Man's Slope Trail (792 steps!) and magnificent centuries-old white-bark banyan trees.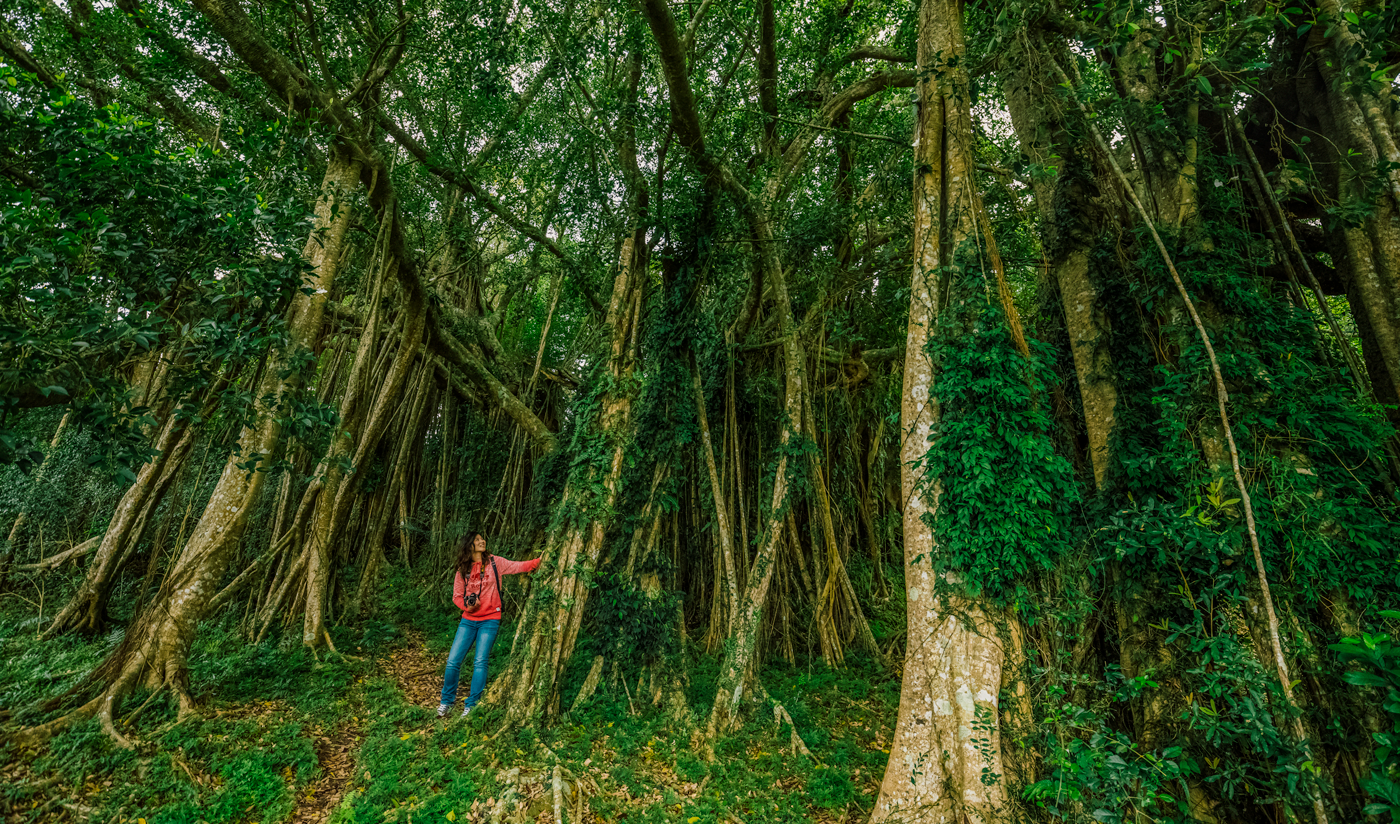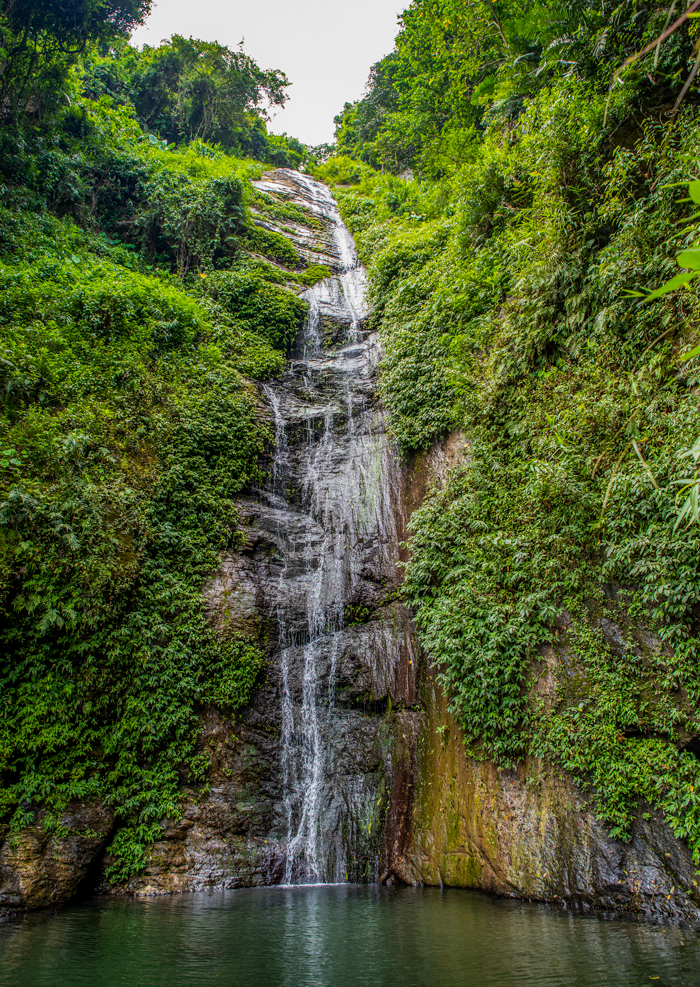 Taitung Station is on Taitung City's northwest edge. The 280ha Taitung Forest Park runs along much of the city's north side to the sea. The easygoing 21km Taitung Mountain-Ocean Bikeway wends its way through the forest (bike rentals available). In the east end are small, shallow, crystal-clear lakes fed by underground springs. Serene Pipa Lake is the most aesthetically engaging, sprinkled with wood-built lookouts and busy with fish and bird life. Flowing Lake, far larger, is a perfect rectangle that locals have merrily dubbed the "World's Largest Swimming Pool," with public swimming and water-fun facilities (fees for each).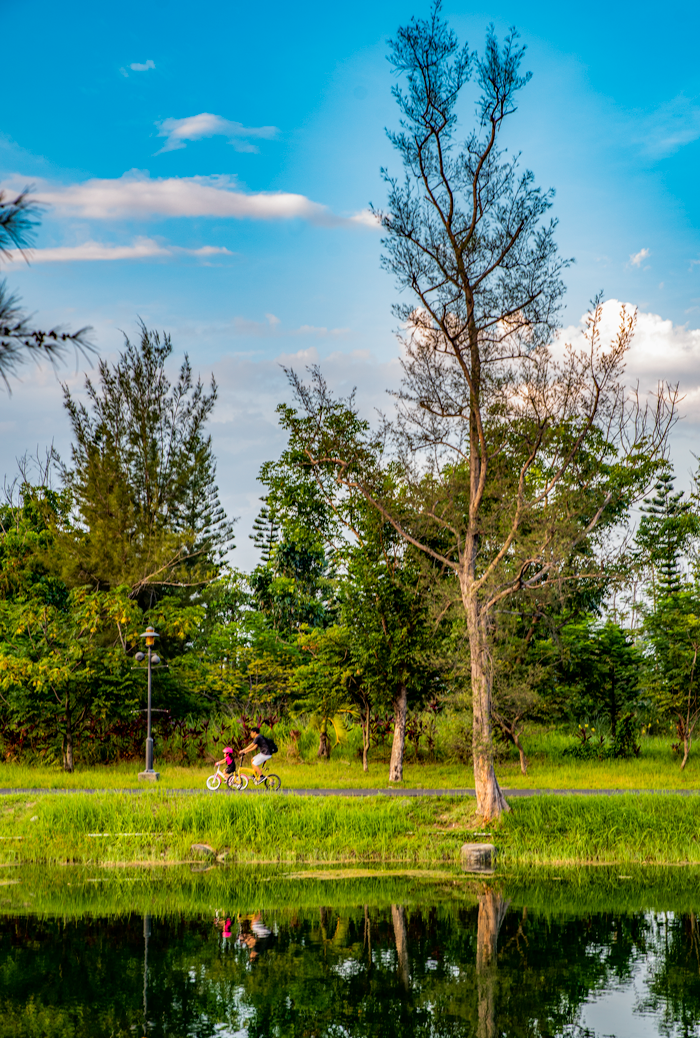 Z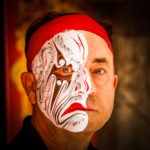 A Canadian, Rick has been resident in Taiwan almost continually since 1988. His book, article, and other writings, on Asian and North American destinations and subjects—encompassing travel, culture, history, business/economics—have been published widely overseas and in Taiwan. He has worked with National Geographic, Michelin, APA Insight Guides, and other Western groups internationally, and with many local publishers and central/city/county government bodies in Taiwan. Rick also handles a wide range of editorial and translation (from Mandarin Chinese) projects.