Road Trip in Taitung on Taiwan's Scenic East Coast
Long, narrow Taitung County, in Taiwan's southeast, is a land of good, slow living. The tropical coastal stretch above and below the small, relaxed city of Taitung has a bit of everything a traveler looking for a bohemian-style respite from big-city living might be looking for. Outdoor hot-spring soaking, forest walks, tribal-culture explorations, surfer-culture experiences, character-rich cultural-creative shops and eateries … get the colorful (pastel hues, of courses) picture?
Text: Rick Charette; Photos: Ray Chang
We're about to roll out on a 3-day drive-about designed as a picture-window showcase of lazy days lived the Taitung way, during which the rolling, crashing waves of the mighty blue Pacific are almost always in view, providing the soothing background music, akin to gentle rolling thunder, that invariably plays when returnees' roll back through their happy memories. All sites introduced are either right on the coastal highway (Provincial Highway 11) that runs the length of Taitung County along the narrow strip of more-or-less flat land between the ocean and north-south Coastal Mountain Range, or a short drive off it.
Zhiben Hot Springs
After picking up our rental car upon arrival from Taipei at Taitung Railway Station, we headed out along Highway 11 to the Zhiben Hot Springs resort area, not far south. Taitung City sits on the coast in the gap between the southern tip of the coastal mountains and the central mountains; the latter fan out and sprawl to the sea south of the city. The resort area lies close to the highway, just inside the mouth of a valley carved out by the Zhiben River. The Japanese developed the area as a healing resort during their 1895-1945 period of colonial rule, after systematically mapping the island's natural resources upon takeover, at the same time introducing the Taiwanese to hot-spring culture. However, the local indigenous natives had long been using the healing waters, digging soak pools in the rocky riverbed.
Zhiben National Forest Recreation Area
The scores of inns and hotels are strung out along riverside County Road 194. At this road's head you'll find the entrance to the 110-hectare Zhiben National Forest Recreation Area (http://recreation.forest.gov.tw/RA_E/RA_16.html). Cross a bright-red 80-meter-long bridge, buy your ticket, and head uphill to the visitor center, which has displays on the local geology and flora/fauna. From there, explore the web of mountain-slope trails between the riverside cliffs and a boundary ridge. If you have the better part of the day you can consider tackling them all, but be sure to conquer the staircase Brave Man's Slope Trail – steep, 320 meters long, rising 150 meters, 792 steps – which leads you past magnificent white-bark banyan trees. The roots of the giant Thousand Root Banyan create a fairyland setting you'll expect to see forest spirits flitting through. There are fine views toward the ocean from the highest trail-points.
Liji Badlands
Back to Highway 11, and up to the Liji Badlands, directly north of Taitung City. They constitute the coastal range's southern tip, on the Beinan River's north side, city on the south. What are they, and what makes them "bad"? What you'll see is a kilometers-long mountain wall riven with deep gullies. Enjoy them from viewing areas along County Road 45 that feature lookout pavilions, footpaths, and Chinese/English explanatory signage. You are in a grand outdoor geology museum: standing on this side of the river, you're on the Philippine Sea Plate; peering across at the other side's sedimentary hills, you're looking at the Eurasian Plate. These are the two key players in Taiwan's mighty, ongoing geotectonic drama, which among other things has given birth to the island's scores of hot-spring sites. The badlands are primarily made up of fine mudstone pellets, long at the sea's bottom, that are too light to go down under the Eurasian Plate with the rest of the Philippine Sea Plate. Now exposed, the unstable sediment suffers deep erosive scarring, creating a façade of ferocious, menacing demeanor. The forlorn, desolate landscape has also given rise to a nickname – Moon World.
Xiaoyeliu
Xiaoyeliu was our first stop inside the East Coast National Scenic Area (www.eastcoast-nsa.gov.tw), which stretches from just north of Taitung City to just south of Hualien City. Beyond its sheer beauty, this natural stone-sculpture scenic area is highly info-taining for those types – like your writer – thrilled with matters geology-related. Along the shore you'll find large rock formations – honeycomb rock, mushroom rock, tofu rock, cuestas – and in the visitor center well-crafted models and rock samples introducing the geological features of Xiaoyeliu and the coastal mountains.
Jialulan
A short distance north is Jialulan. This is a seaside art park – and an eco-engineering showcase, on a transformed waste-soil site created during construction of the adjoining air-force base – with works spread out over an expansive grassland. Most are of wood, and most of the wood is of coastline-gathered driftwood, a popular Taitung-artist medium. My favorite installation features a wood-weave shell stuffed full with the human-created detritus that washes ashore in monster storms – things you'd expect, like fishing gear, but also much that's bizarre. A stethoscope? A calculator?
Jiamuzi Bay
Another short drive north brings you to small Jiamuzi Bay, at the foot of Mt. Dulan. This is a place of stunning archetypal tropical scenery – the mountain sloping right down to the coast, coconut trees along the shore, attractive coral reefs just offshore, disappearing under frothy waves and then popping up again. This is a popular spot for surfing, snorkeling, and other watersports.
Water Running Upward
The Water Running Upward attraction, a must-visit spot for the tour-bus crowd, is just south of Dulan village. And just what is it? A long, narrow, shallow irrigation channel comes down from the hills, running through a small sculpted park. And for all the world, it looks as though the gurgling waters defy gravity along this 100m stretch. Real or illusion? We inspected the waterworks from every angle; the stream, counter-intuitively, seems not to slow down or pool up at all. Take the riddle on for yourself with a first-hand gander. (Nevertheless, I give you the answer at article's end.)
Dulan Sugar Factory
The sprawling, big-shouldered old Dulan Sugar Factory, in Dulan village, one of the coast's largest Amis-tribe settlements, makes sugar no more. The heritage complex, now protected, is today a place for local and expat artists and craftsmen. There are artist workshops, a cultural-creative boutique, a café, a craft brewery, Taiwanese and Japanese restaurants, a quick-food kiosk, a driftwood stage, and other attractions. The big action is on Saturday nights, when there is free live music, with both local and expatriate talent performing.
Dulan Site
On the slopes of Mt. Dulan just to Dulan's northwest, on a road that leads to the popular Moonlight Inn café, is the Dulan Site. The short paths to the spread-out finds on view, which include a sarcophagus and large stones from a long wall used in worship rites, start at roadside and have clear signage. They are from what is called the Qilin culture, and date to about 3,000 years ago. It is believed that the local tribal inhabitants likely moved up here after the coast was hit by a tsunami. Mt. Dulan is revered as a divine presence by the area's Amis and Bunun tribal groups.
Further reading on other site
Nick Kembel has a detailed introduction of Dulan on his site, Spiritual Travels:
Jinzun Recreation Area
On the third day we were up before the dawn to hit the Jinzun Recreation Area beach, just south of Donghe village, for a session of red-eyed sunrise enjoyment. Then after breakfast it was back again, to see what it all looked like with somewhat-less-bleary eyes and in full streaming sunlight. The lovely 2km-long bay, on Jinzun Fishing Harbor's south side, is reached from the highway-side parking lot via a well-built 200m-long wood staircase that takes you through tree cover home to foraging macaques, exotic lizards, and other wild things. At its top is the breezy Jinzun Café, an excellent spot, we proved with lazy, short-of-sleep hazy pleasure, for clifftop ocean viewing from a roofed deck complemented with refreshing fresh-made local-fruit juices and Western-style baked goodies.
Marongarong Donghe Tribe House
After this, an hour-long spell of river rafting. Highway 11 flies high over the Mawuku River atop a very camera-friendly bright-red bridge, off Donghe's north end. Heading north, take the last side road (ocean side) before the bridge, which leads to a popular surfing location. Half-way along you'll see the traditional-style thatch-hut buildings of the Amis-run Marongarong Donghe Tribe House (marogarog.tacocity.com.tw; Chinese). This center offers river-rafting outings (NT$250 per person; best book ahead), handicraft DIY, traditional-style feasts, song-and-dance and other performances, and guided deep-mountain 4WD excursions. The traditional-style bamboo rafts are in fact designed for the sea, which the Amis call their "refrigerator." You sit on stools, but yesteryear fishermen sat on a wood box with a hole, into which catch was stuffed. "Marongarong" – name of this location's Amis sub-group and their settlement – means "river rapidly flowing"; the massive jumble of river-boulder giants you'll raft to will reveal why.
The boulders and deep cliff-sided defile they sit in mark the mouth of the meandering Taiyuan Valley. Head inland down County Highway 23, which starts just off the north end of the aforementioned red bridge. A few kilometers in, the road leaps diagonally and dramatically across a close-walled, rugged gorge. You're in the Dengxian Bridge Recreation Area, a little bit of paradise for Formosan rock macaques. Comfortable with humans, they climb on parked cars, pull on pant legs, peer into bags, and mosey about, looking for handouts.
Taitung's Surfing Scene
You're sure to notice there is a pronounced surfer culture in the Donghe-Dulan area. Taiwan's north has had a strong surfing scene for a decade or so, but the big wave has just hit the east coast in recent years, building on a small corps of longtime local devotees. Taiwan's biggest surfing event, the
Taiwan Open of Surfing staged at Jinzun Fishing Harbor, attracts top-tier talent from around the globe. This competition is integrated with the elite Asian Surfing Championships Tour.
Sanxiantai
North of Chenggong town is one of the east coast's most iconic tourist sites, Sanxiantai, the Platform of the Three Immortals. We visited – but I'm not telling you about it. At least not here. I started by saying this Feature was a "three-day showcase," and that's true. But the Travel in Taiwan team was on the road a fourth day, visiting an Amis-tribe settlement just north of here for this issue's Tribal Experience file.
Baxian Caves
There's still Taitung coastline aplenty north of this point, with a number of well-known tourist draws – most notably the magical Baxian Caves (Caves of the Eight Immortals). We've wandered the coast in Taitung and adjoining Hualien County to the north a number of times in recent years, as well as the arcadian East Rift Valley on the other side of the coastal mountains, and our reports await you online at http://tit.com.tw/appdownload.html.
Water Running Upward: Answer
Illusion. It's said the tilt of the slope and road right beside fool the eyes as to the channel's angle. Even knowing the answer, the "truth" still escaped me.
Getting To/Around Taitung
There are numerous daily Taipei-Taitung flights (45 minutes one way), and regular rail service to/from Taipei, the fastest trains taking just 3.5 hours. Book seats on Puyuma Express trains, the fastest service, well in advance (two weeks). Arrange car rentals in advance so you'll be met at the airport/train station; the Taiwan Tourism Bureau website (
www.taiwan.net.tw
) provides information on vetted car-rental groups. For those not self-driving, note that the Taiwan Tourist Shuttle service will get you right to, or very close to, almost all of the places we've introduced (
www.taiwantrip.com.tw
).
Watch the videos of our trip!
Further reading on other site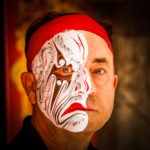 A Canadian, Rick has been resident in Taiwan almost continually since 1988. His book, article, and other writings, on Asian and North American destinations and subjects—encompassing travel, culture, history, business/economics—have been published widely overseas and in Taiwan. He has worked with National Geographic, Michelin, APA Insight Guides, and other Western groups internationally, and with many local publishers and central/city/county government bodies in Taiwan. Rick also handles a wide range of editorial and translation (from Mandarin Chinese) projects.