A few days spent exploring Siraya National Scenic Area, one of Taiwan's newest NSA creations, matched with a day in the quiet, history-rich city of Chiayi, is time wisely spent.
Text: Rick Charette; Photos: Chen Cheng-Kuo (published in Travel in Taiwan, November 2012)
Are there certain sounds that set off a wave of happiness in you? When I was a boy, two of my favorites were the jingles of the "chip man" and "ice-cream man" as they drove truck and bike, respectively, up the street where I lived. One of my favorite Taiwan sounds is the recorded chime you hear on High Speed Rail trains before stops are announced. To me this is the sound of adventure, and an HSR ride is a bit of a miracle: You hop on a train in a big, busy city (Taipei for me), and have just closed your eyes for a nap when the chime sounds, announcing arrival in a new land of adventure with a wholly different character.
One fine recent morning the chime was followed by an announcement letting me know Chiayi City and the Siraya NSA were close. We pulled in, I hopped off, hopped on a free shuttle bus, and in 20 minutes was at Chiayi Rear Station (i.e., the rear section of Chiayi Railway Station). The rest of my travel gang was waiting, having come in from elsewhere, we rented scooters at one of the tourist-friendly shops by the station, and off we went. I often self-drive when visiting areas with destinations spread a fair distance apart, and where bus/taxi service are not optimal options, but the weather was so fine we wanted to ride the breezes. (Crucially important: sunblock)
Siraya National Scenic Area
The Siraya NSA is best known for Siraya-tribe culture, farms and agricultural produce, hot springs, and large reservoirs and related recreation. It was named after the Siraya indigenous ethnic group, originally an exclusively plains-dwelling tribe closer to the coast, and among the first in contact with the Dutch when the latter controlled Taiwan (1624 ~ 1662). With the influx of Han Chinese over the next two centuries, the Siraya were pushed to the east side of the Jianan Plain and into the central-mountain foothills.
The NSA takes up much of this second homeland, covering 12 rural districts on Tainan City's east side and Dapu Township in Chiayi County. This is Taiwan's youngest NSA, established in late 2005 (there are 13 in total). It has an elongated shape and north-south orientation.
The Siraya village of Jibeishua, which has about 360 households, is just outside the NSA's north-end boundary. The residents' ancestors were moved here en masse in 1779 by the Qing Dynasty government. The crystal-clear waters of the important Jianan Plain irrigation system run beside the town, in which squatting local women wash their clothes. You'll also see family altars in shrines outside homes, dedicated to Alimu, the Great Ancestor, who is in charge of all life on Earth. The Siraya NSA Administration has close contact with the village, and will arrange tours.
The town of Guanziling is in the NSA's north, near Chiayi City, high up along a narrow valley that opens to the plains. Mention Guanziling to any Taiwan adult and the automatic response is "hot springs." Taiwan's only mud springs are here; you can visit the two sources at the town's bottom, emerging directly from the mountainside. The mineral-rich mud is highly prized, thought to be therapeutic, and limited in quantity. Hotels apply annually for their allotment.
This is one of Taiwan's major hot-spring resorts, opened up by the soak-loving Japanese when they controlled Taiwan (1895 ~ 1945). It was from the Japanese that Taiwan's people acquired their own love of the hot-spring culture. High, green-foliage slopes surround the town, and on a promontory above is the pretty, Japanese-designed Red Leaf Park. Filled with old-growth trees, purple-crow and other butterflies flit about in large number, feasting on the colorful flowers and blooming shrubs. A moderate-grade road takes you from town to park, the 25-minute walk done by many visitors, especially the elderly, hiking staffs in hand.
A short drive from Guanziling is the Water and Fire Crevice. Methane and boiling-hot mineral water – and mud – pour forth from a cliff-face fissure here, and the methane has been ignited. Water and flame seem to magically mix together, in a paradoxical phenomenon locals long ago dubbed "fire in water and water in fire." The flames, today about a meter high, once shot out about three meters, and have licked the grotto black.
Ornate Biyun Temple, the "Temple of Azure Clouds," is close by. The temple is by roadside, and the temple complex climbs up a soaring, steep mountainside. The Jianan Plain is spread out far left to far right before you, as though you're sitting in a theater watching a widescreen movie. You'll see many monks on-site, and unusual practices such as exorcisms are common. In the temple's rear is a dragon sculpture on a cliff-side wall from which sacred, drinkable mineral water trickles, eagerly bottled by local tourists.
Still near Guanziling, County Road No. 175 in Tainan's Dongshan (East Mountain) District is called the Dongshan Coffee Highway. There are about 20 plantations with dedicated cafés on one section, almost all on high slopeland, all with great views. Kuo Ya-cong, owner of Hoe vs Flowers, started it all in 1998. He knew the Japanese had tried coffee cultivation here, there was no local market then, he brought in Arabica bean to start things back up, and he and Dongshan have enjoyed great success. Dongshan Coffee is a boutique brand, only available locally, which makes it tastes all the better as you gaze out over mountain and plain.
Further south, nearing the NSA's middle, is Nan Yuan Resort Farm, a family/group-oriented oasis of lush plant life and artificial lakes, waterfalls, and tiny islands. The islands are inhabited by macaques and other monkeys, rabbits, and other animals – including, incongruously, one very big yellow cow. The surrounding water prevents waywardness. There's also an aviary with wonderfully costumed, healthy-looking birds, and a Formosan sika deer feeding area. You can stay in lakeside wooden chalets, and comfy cafes also overlook the waters.
Just south of this is the large, scenic Wushantou Reservoir. Its intricate, zigzagging shoreline inspired the old name "Coral Lake." Near the dam is the Yoichi Hatta Memorial Park. A Japanese civil engineer, Hatta designed/built the reservoir and Jianan Plain irrigation system from 1920 through 1930. In the park is his residence, other restored wooden Japanese buildings, and a museum. His gravesite overlooks the reservoir; Hatta was killed at sea in 1942 in an Allied attack, his body later found and brought here.
Practical Info
A free shuttle bus runs between HSR Chiayi Station and the downtown Chiayi Railway Station. Inexpensive scooter rentals are available at shops in front and in back of the latter. A taxi ride from HSR station to Guanziling is NT$800, from Chiayi Railway Station NT$750; agree in advance. The Chiayi-Guanziling bus, which departs from in front of the railway station, is NT$80.
Guanziling Hot-Spring Hotels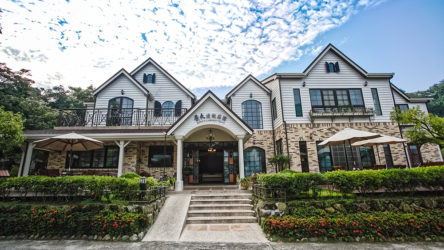 Read about two hots-spring hotels in Guanziling here:
https://taiwaneverything.cc/2016/11/24/guanziling-hot-spring-hotels/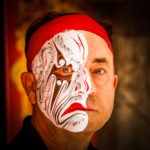 A Canadian, Rick has been resident in Taiwan almost continually since 1988. His book, article, and other writings, on Asian and North American destinations and subjects—encompassing travel, culture, history, business/economics—have been published widely overseas and in Taiwan. He has worked with National Geographic, Michelin, APA Insight Guides, and other Western groups internationally, and with many local publishers and central/city/county government bodies in Taiwan. Rick also handles a wide range of editorial and translation (from Mandarin Chinese) projects.