Dapeng Bay is a mainland/offshore island "water world" national scenic area, in Taiwan's deep southwest, is built around a massive lagoon, Taiwan's southernmost mangrove forest, a large upraised-coral island just a short ferry sprint across the sun-sparkled, brilliant-blue Taiwan Strait waters, and busy ports at the center of proud old fishing communities.
 Text:Rick Charette; Photos: Chen Cheng-kuo
"By the sea, by the sea   By the beautiful sea
You and I, you and I   Oh! How happy we'll be"
You're above it – high up on Taiwan's only drawbridge, upraised-coral cliffs, boardwalk trails over mangrove swamps…Water, saltwater, everywhere!
You're on it – windsurfing, kayaking, boat touring, zooming back and forth on ferries…
You're in it – on guided coastal eco-tours inspecting crabs, sea urchins, and other tidal-zone denizens, on guided coral-reef snorkeling outings…
It's in you – in the form of superb, inexpensive seafood delicacies at harborside-market eateries, harbor-town restaurants, souvenir retail outlets…
Oh! And you're by it – in ways unsurprising, such as long by-sea-and-lagoon jaunts to scenic spots on rented bicycles/scooters, and ways that will much surprise you, notably happy mad-spell, speed-demon dashes at a lagoon-side go-kart track and ear-splitting viewing of race cars screaming by on an international-class course (which you can conquer yourself if you bring qualified wheels and enough moolah).
The Dapeng Bay National Scenic Area (NSA) is a 30-minute drive south of Kaohsiung City's center. This is a region of palm trees and intensely bright sunlight. The mainland Dapeng Bay lagoon area is, of course, quite flat. Counterintuitively, Little Liuqiu, an upraised-coral island in clear view from the lagoon area, is quite hilly. Taiwan's central mountains are almost always in full, glorious backdrop view. A Travel in Taiwan research team recently spent three vividly sunny days in the NSA, on a sampler excursion for our readers.
Dapeng Bay
Dapeng Bay is southwest Taiwan's largest lagoon, totaling 532 hectares, measuring 3,500m east/west and 1,800 north/south, and with an average depth of 2~6 meters. On its northeast side is The PenBay National Leisure Zone, where a wide range of both water- and land-based activities is on offer, from kayaking, canoeing, windsurfing, pedal-boating, rowboating, and boat tours to bicycling, go-karting – and even watching Formula race cars (except F1) on an international-standard track.
The Leisure Zone is on the site of a one-time Japanese military base. The huge white seaplane-shaped observation deck by lagoon-side is reference to the seaplane squadron that was based here. The base was bombed a number of times during WW II; but numerous facilities are still extant, among them large barracks, fortified air-traffic control towers and, most impressive, a beautifully restored arcaded, Baroque colonial-style staff-office building now home to the Dapeng Bay Culture Museum (the ROC military moved in after the war), open by appointment for tour groups.
During our stay we tried the karting, biking, kayaking, and windsurfing. All involve reasonable fees, and experienced instructors are on hand. By far the most adrenaline-pumping and heart-thumping was the karting, each paid 8-minute session a hellbent-for-glory thrillfest. While I feel I drove like the new Michael Schumacher, oddly, my traitorous Travel in Taiwan mates opine that I drove like a possessed !@$%?! madman.
The bike-rental station is between the water-recreation site and Dapeng Bay Visitor Center. Your biking is not limited to the PenBay area. A 12km bikeway takes you right around the lagoon, passing through/by/over such attractions as the Qifeng Wetlands, Dapeng Bay Coastal Park, and Dapeng Bay Bridge.
A series of man-made mangrove wetlands sits off the lagoon's south end, one the Qifeng Wetlands. Fish farms are central in local economic life, formerly resulting in heavy pollution and silting in the bay. Numerous deserted ponds have been converted into wetlands that purify water from working farms and wastewater from surrounding communities before it enters the bay. We parked our bikes and happily meandered the boardwalks and lookouts of the 6.5-hectare Qifeng Wetlands, the health of the constructed eco-system attested to by steady sightings of fiddler crabs and mudskippers, egrets and wagtails, skinks and lizards, and other pretty things.
Donggang, Donglong Temple, and the King Boat Ceremony
Donggang, off the lagoon's north end, was an important Qing Dynasty port, and today is best-known for two things: as Taiwan's main center for highly-prized Bluefin tuna (along with mullet), and for the triennial Donggang King Boat Ceremony, staged by its religious heart, Donglong Temple, established in 1706. Climaxing this 8-day, 7-night sacrificial celebration is the burning of a large replica junk, called the King Boat, loaded with sacrificial offerings and effigies of the Plague Gods, important gods in south Taiwan and south coastal China. Traditionally, the boat took plague and disease to sea; today it is burned on land, devotees praying more generally for peace and good fortune.
The visually magnetic Dapeng Bay Bridge leaps like a rainbow across the narrow mouth of Dapeng Bay. Resembling a sail, it is a single-column, cable-stayed bridge – and Taiwan's sole drawbridge, accommodating large craft using the marina at Dapeng Bay Coastal Park, located south of the bridge, from where you can take lagoon boat tours to the iconic 7,150 sq.m. Oyster Shell Island, vestige of the oyster-farm industry that once thrived here (lagoon tours are offered from the PenBay area as well). Beside the bridge, on the sea side, is Qingzhou Seaside Recreation Area, a beach-fun zone with volleyball nets, sand dune go-kart course, jet-skiing, a café, change facilities, and such.
Little Liuqiu
Given a stellar 2-star rating in the Michelin Green Guide: Taiwan travel guide, Little Liuqiu is 25 minutes by ferry from Donggang. Just 6.8 sq. km., with just 13,000 inhabitants, it's made almost entirely of coral and is well known for its wondrous, imaginatively named coastal formations, such as Wild Boar Trench, Vase Rock, and Black Devil Cave.
There are few 4-wheel vehicles on the roads, the thin earth over the upraised coral means few farms, and you'll see no chimneyed factories. It feels empty in comparison with the Taiwan mainland. Your constant companions here will be the sounds of wind, wave, and birdsong. The island's income has long been predominantly hauled in from the sea, with an ever-bigger catch today hauled in from tourists.
As your ferry approaches Baisha, the main town, and enters Baisha Tourist Harbor, you'll see a large and lovely arcaded Western colonial-style building high on the slope to its right – the Little Liuqiu Visitor Center. Buy tickets for the island's boat and glass-bottom boat tour outings here, get practical help for snorkeling experiences, etc., and enjoy the sweeping vista from the wide outdoor scenic platform.
The center is right beside the top tier of the grand, ornate Lingshan Temple, which rides up the cliffside here in three tiers. One of two key deities in this sumptuous yet dignified complex is Lady Linshui ("Lady by the Water's Edge"), a goddess of fertility and protector of women and children. One of the resident Buddhist nuns explained to me that the goddess is important to islanders because "the men also worry so much about family when out on the sea."
You'll get that satisfying "Lonely Planet Globe Trekker" feeling sitting atop the front staircase, 7-Eleven coffee in hand, watching the sunrise over Taiwan's rugged central-mountain spine, Kaohsiung City and Donggang/Dapeng Bay in crystal-clear widescreen view, and fishing boats chugging back from a night's work below.
Vase Rock is right off the temple's foot on the rocky coast. This huge chunk of exposed coral has a thin base and oversized head topped with stubborn weeds and thistles. It is the island's most iconic coastal feature, and most photographed attraction. Many come here for the sunsets, the sun dropping down neatly between flowerpot and cliff. During daytime you'll also see many tourist-snorkelers here; snorkeling has become a big draw in the past few years. Liuqiu's waters offer 20 types of coral and 300 fish species.
After Vase Rock, the three most popular natural attractions are Beauty Cave, Wild Boar Trench, and Black Devil Cave, encountered in that order along the island's west side, all beside its coastal ring highway. These are the island's only three paid-entry tourist attractions; NT$120 gets you an all-inclusive ticket.
Beauty Cave is another forceful example of the sea's power to erode limestone and coral. Inside/outside this seaside cave, you're presented with an elaborate layout of side caves, grottoes, cliffs, and tidal platforms.
No, no pigs at Wild Boar Trench. What is here are narrow, twisting passageways through massive uplifted-coral crags strangled by gravity-defying cliff-hugging old banyans, and the lush jungle-like flora that thrives in Liuqiu's harsh nutrient-starved conditions.
There are many tales about the Black Devil Cave name. Most academically sound is that the Dutch, who controlled Taiwan 1624~1662, took revenge on the dark-skinned indigenous Siraya-tribe inhabitants for killing the crews of two Dutch shipwrecks, exterminating many who were hiding in the cave, using burning oil. Today's islanders, wary of angry spirits, still burn incense here.
The White Lighthouse, on the island's south summit, was built during the Japanese colonial era in 1929. As well, visit the impressive nearby Century Old Banyan, taking the short path behind it to a majestic clifftop eagle-view prospect. If here toward sunset, head to the close-at-hand ocean-clifftop Sunset Pavilion, where Liuqiu's premier sundowns are to be seen.
Liuqiu Eco-Tours
Tidal-zone eco-tours, especially nighttime ones, have become a big thing with island visitors. Liuqiu's visitor center will set you up with a qualified guide. Our night foray came as part of a homestay package. Most popular is the Shanfu Ecological Corridor, but our guide had special entry to a private-access zone just north, meaning far fewer people. In two wonderful hours of up-close encounters we met a teeming world of crabs, sea urchins, sea hares, sea cucumbers, starfish, bioluminescent plankton… a busy, mysterious foreign universe of ethereal artistry. Sadly, no arriving green sea turtles, though it was nesting season.
Getting There & Getting Around
To get to Dapeng Bay from Kaohsiung's Zuoying High-Speed Rail station, take the Taiwan Tourist Shuttle service's Kenting Express Line bus (www.taiwantrip.com.tw). The Dapeng Bay NSA website (www.dbnsa.gov.tw) also has details on this, and on other transport services, including the Donggang-Liuqiu ferry service, plus info on NSA accommodations, food, guide bookings for groups, PenBay bicycle rentals, etc. Almost all Liuqiu visitors get around by rented scooter; there are numerous shops at Baisha's harbor. For guidance on this and other options, contact Liuqiu's visitor center (see NSA website).
Further reading on other sites:
Travelleben: XIAO LIUQIU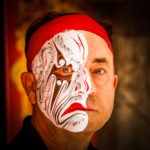 A Canadian, Rick has been resident in Taiwan almost continually since 1988. His book, article, and other writings, on Asian and North American destinations and subjects—encompassing travel, culture, history, business/economics—have been published widely overseas and in Taiwan. He has worked with National Geographic, Michelin, APA Insight Guides, and other Western groups internationally, and with many local publishers and central/city/county government bodies in Taiwan. Rick also handles a wide range of editorial and translation (from Mandarin Chinese) projects.