Yilan, while perhaps known more for its hot springs, vibrant night markets and festivals, and indigenous culture than for its bike routes, is nonetheless a county that's almost as perfect for cycling as one could ask for. Let's go on an Yilan biking tour!
While much of the county is taken up by mountains, in the northeast lies the Lanyang Plain – an alluvial delta stretched out in a triangle-shaped area of 300 square kilometers, formed as the Lanyang River squeezed its way between the Central Mountain Range on the south and Snow Mountain Range on the north to reach the Pacific.
Rivers and streams snake through the plain like the veins on the back of a hand, a natural state of affairs that provides kilometer upon kilometer of biking beside winding waterways, through fecund and (most importantly for cycling) flat countryside.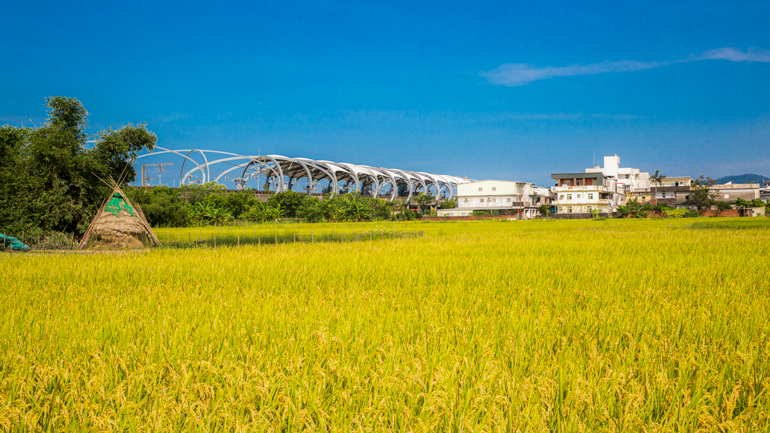 National Center for Traditional Arts
On a recent Yilan biking trip with friends, before picking up our bikes we make a stop at the National Center for Traditional Arts, which is, as its name suggests, a collection of all things traditional and artistic. The center boasts several large and well-curated exhibition halls, relocated historical buildings, outdoor and indoor theaters (where live performances are staged), and even a life-sized replica old street.
During our late-June visit, there are two special exhibitions on show: one on koji and cut-and-paste pottery (two thriving folk industries most notably responsible for the colorful figurines that decorate Taiwan's many ornate temples), and another on artworks inspired by the vast canons of Taiwanese puppet theater, traditional opera, and Chinese classical literature. Both exhibitions have information boards with excellent English, run until mid-September, and are well worth making the journey for.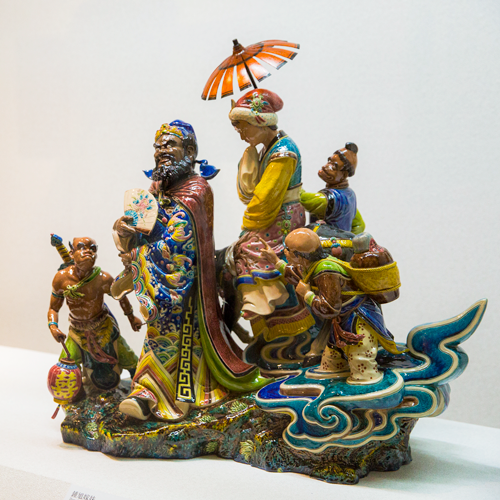 After spending some time in the exhibition halls, we decide to take a stroll down the center's Old Street. Taiwan is famous for its many historic, arcaded old streets (for example, those in the old settlements of Sanxia, Daxi, and Xiluo, to name but a few). Depending on when the structures were built, the architecture of these streets can be anything from Qing-dynasty Minnan (south Fujian, from mainland China's Fujian Province) to early-20th-century baroque revival to art deco to post-colonial modernism. To see the whole spectrum you'd have to, of course, visit a number of these streets; here at the center, however, you get them all in one. The old street has been constructed using 13 different architectural styles, creating a splendid visual mish-mash of red-brick arcades, roughcast columns, mosaicked cornices, and elaborate high-relief façades.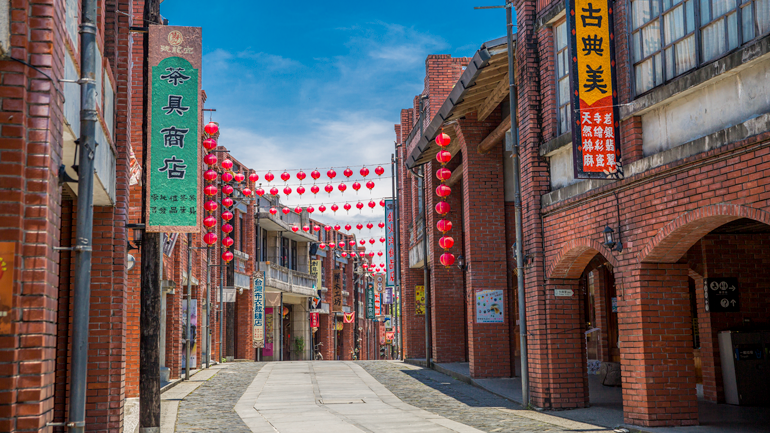 Twice daily, a 40-minute show is performed on the old street – a boisterous play involving the Monkey King, Sun Wu Kong (from the Chinese epic The Journey to the West), gatecrashing the birthday party of the underwater dragon king. There's raucous singing, bright costumes, and a lot of dancing and stage-fighting, making it a worthwhile visual spectacle even if you don't understand the dialogue.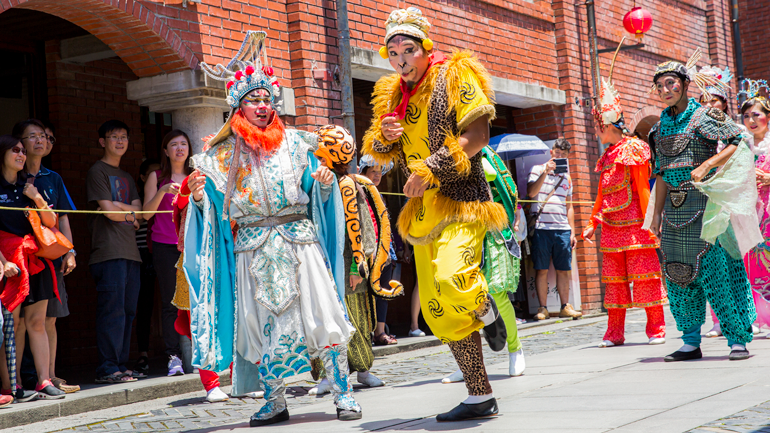 At the far end of the Old Street is a wharf, from which we take a boat a little ways down the placid Dongshan River to Dongshan River Water Park, where we pick up our bikes for the rest of the journey.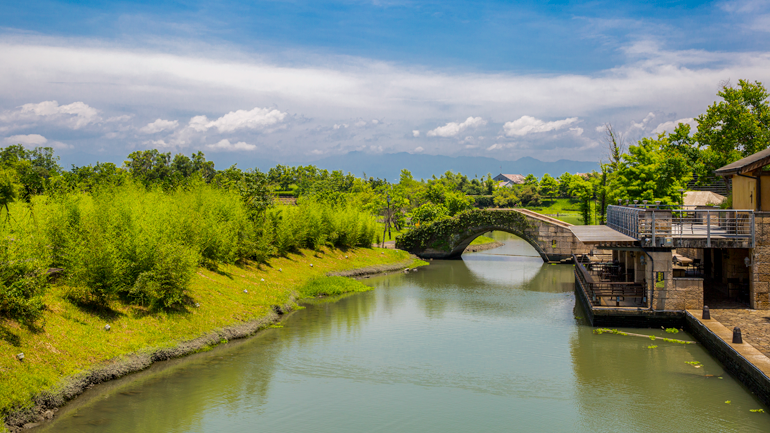 Add: No. 201, Sec. 2, Wubin Rd., Jixin Village, Wujie Township, Yilan County
(宜蘭縣五結鄉季新村五濱路二段201號)
Tel: (03) 950-7711
Website: www.ncfta.gov.tw
Hours: Daily 9am-6pm Entrance Fee: NT$150
Dongshan River Water Park
The boat trip from the National Center for Traditional Arts to Dongshan River Water Park costs NT$75. We disembark at the wharf in the center of the park. The northwesterly end of the park is thick with trees, providing welcome afternoon shade and pleasant strolling, while the southeasterly side has a large water-recreation area (feel free to take a dip if you have brought along your swimming trunks).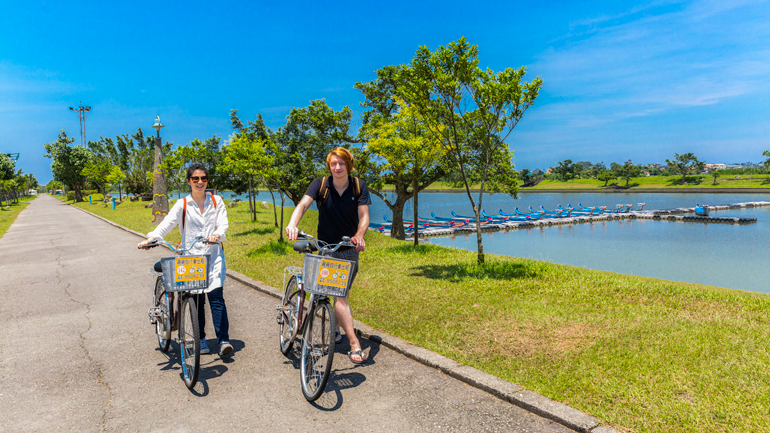 Though at first glance the park resembles many other riverside green spaces, take a closer look and you'll find that it is full of intriguing symbolism. The crescent-shaped wading area, which is dotted with white stones, is designed to resemble a traditional duck pen (the stones are ducks), a commonly seen element in a traditional Yilan household. Five cone-shaped rocks that hem in the wading area – and which resemble, perhaps, the backs of turtles? – call to mind, and point directly towards, Turtle Island (something of a spiritual landmark for Yilan), which on clear days is visible from the second-floor viewing area of the site's large red-roofed boat shed.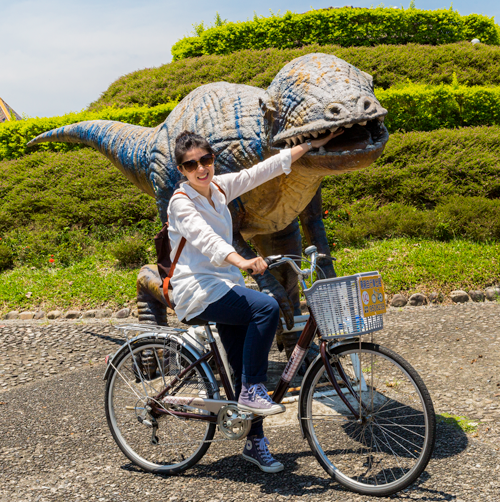 Approach the riverside here, however, and a dragon theme becomes apparent. The bridge crossing the channel that links the river to the wharf resembles a dragon's belly; the winding yellow-fringed platforms on the riverbank resemble a yellow water dragon, while on the opposite bank you'll find a winding blue dragon. These two dragons are said to protect the river, though they also have their own individual symbolism: the yellow dragon, the head of which faces the mountains, symbolizes the countryfolk who stay in Yilan to work; the blue dragon, which looks towards the sea, symbolizes the locals who have gone to seek their fortune abroad.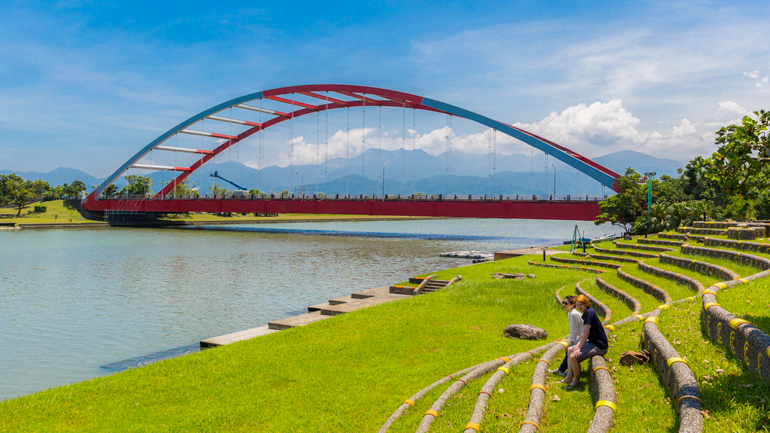 We rent our bikes in a shop near the park's southwestern entrance. Bike-rental service is also available in the park itself – on the riverbank next to the carpark.
Dongshan Railway Station
After a 4-kilometer ride southwest, we arrive at Dongshan Railway Station – where a section of elevated railway is encircled with enormous steel loops (in an apparent bid to resemble the arched pergolas used to grow gourds).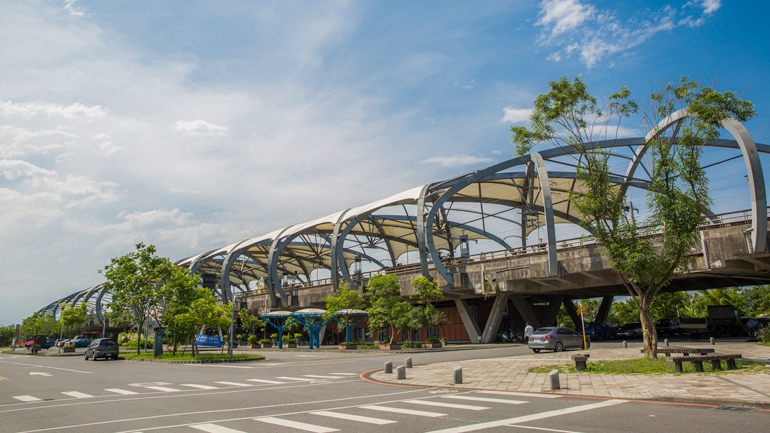 Little Kite Snowflake Ice
We're now hungry, and in need of a break. There are plenty of options around the station for a simple snack, light lunch, or even a full meal. If you feel particularly hot, a visit to Little Kite Snowflake Ice is a must. The shop serves delicious plates of shaved ice piled high, and in flavors ranging from fruity classics (passionfruit, strawberry, and lemon) to more acquired tastes like taro and Japanese green tea.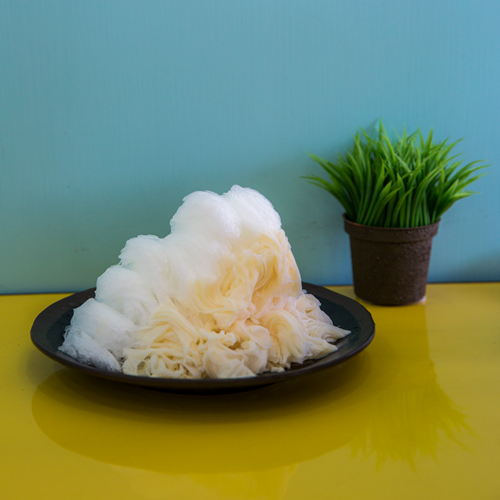 We try the lemon and Yakult shaved ice – a strange flavor combination for some (Yakult is a popular flavor in Taiwan, where the drink is more of a childhood treat than the digestive aid it seems to be in the West), which despite its strangeness is wonderfully refreshing.
Little Kite Snowflake Ice
(小風箏雪花冰)
Add: No. 17, Zhonghua Rd., Dongshan Township, Yilan County
(宜蘭縣冬山鄉中華路17號)
Tel: (03) 959-0875
Hours: Mon-Fri 10:30am-9:30pm, weekends 10am-10pm
Eternal Spring Beef Noodles
For something a tad more sumptuous, you might try Eternal Spring Beef Noodles, a restaurant serving delicious bowls of beef noodle soup – a Taiwanese classic – with both spicy and regular broths, and, best of all, great succulent melt-in-your-mouth chunks of beef.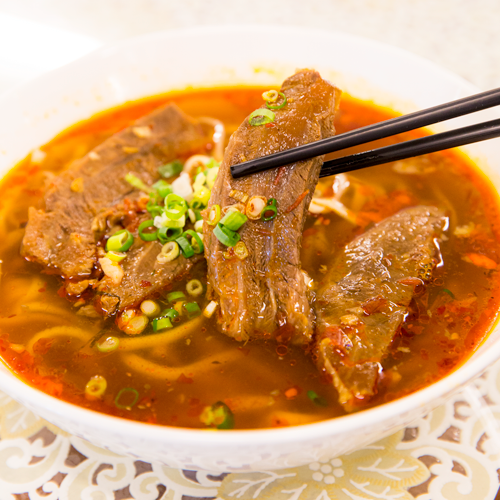 Eternal Spring Beef Noodles
(春不老牛肉麵)
Add: 2F, No. 186, Dongshan Rd., Dongshan Township, Yilan County
(宜蘭縣冬山鄉冬山路186號2樓)
Tel: (03) 959-0599
Hours: Daily 11am-2 pm, 5pm-8 pm (closed Mon)
Golden Pearl Scallion Pancake
Or, if in the mood for a convenient handheld snack, you must try one of the local scallion pancakes. Yilan, as it happens, is renowned for its scallions (or spring onions, if you prefer), which are grown in the township of Sanxing. At the Golden Pearl Scallion Pancake stand you can get one of these thick, crispy onion pancakes for a mere NT$35. A thick, puffy pancake is fried on a griddle until crisp and chewy, covered in a shower of spring onion and a fried egg, and finally folded over to create a mouthwateringly greasy sandwich.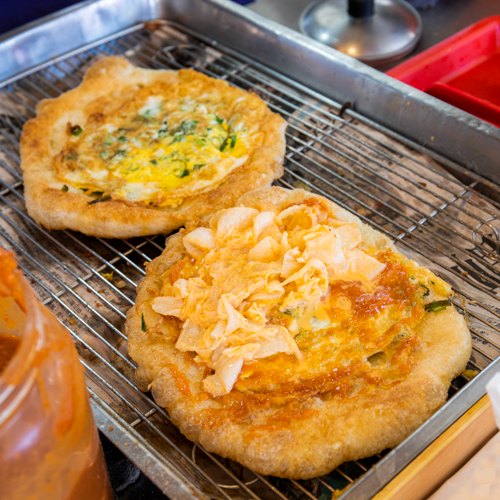 Golden Pearl Scallion Pancake
(金珠蔥油餅)
Location: At intersection of Sec. 1, Dongshan Rd. and Chengxing Rd., opposite the 7-Eleven
Tel: 0926-825-349
Hours: Mon-Fri 1:30pm-6:30pm, weekends 10:30am-6:30pm
Dongshan River EcoArk
Follow the elevated railway northwest, and before long you'll cross a stream and entry into the Dongshan River EcoArk. Centered on an area of converging waterways, this park is the culmination of a 20-year-long project to preserve and promote the area's natural ecosystem. Skirt around the outside of the park and you have a good chance to find paddy fields heavy and drooping with rice grains, while in the park itself you'll find meadows and forested trails, terraced fields, and wetlands thick with the splash and calls of wildlife.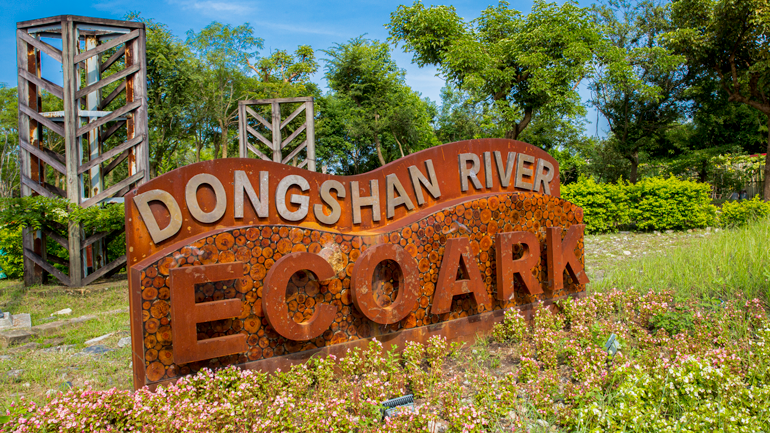 Throughout the year, white egrets, moorhens, and black drongos make their home here; in summer, yellow-crowned cattle egrets stalk the wetlands, while rhinoceros beetles swarm on the trees; during late autumn, orange-breasted redstarts twitter in the bare branches; winter brings majestic grey herons and flocks of thrushes over the meadows; and with spring, along with the fresh new foliage come barn swallows, zipping beneath the eaves of the park's exhibition buildings.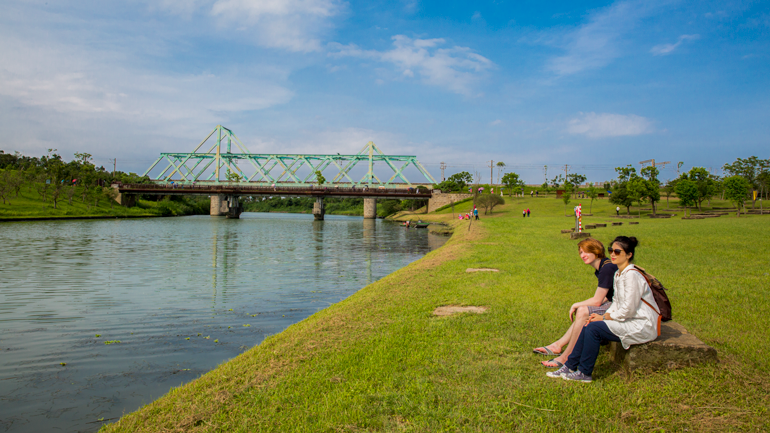 You can explore the park's innards by walking along one of the many winding nature trails. Or, to get a fuller impression of the area while simultaneously putting your feet up, cross the old railway bridge to the park's northern sector and you'll be able to take a guided river tour, which follows the waterways that weave through and around the park's forested north side.
Tree Nest Café
The day is winding down as we follow the Dongshan River further southwest, and it's almost time to head back and return our bikes. Before we do, however, a relaxing half-hour sipping some iced coffee seems like just the thing to give us some pep for the return journey.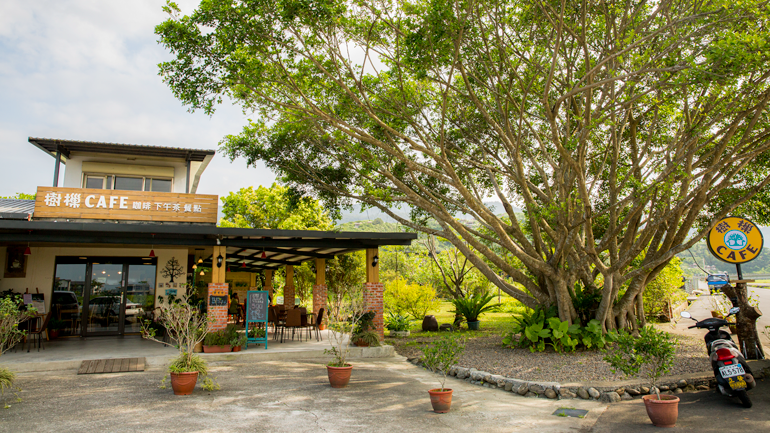 A little way down from the Eco-Ark along the eastern bank of the Dongshan River, we come across the Tree Nest Café, sheltering in the shade of a decades-old banyan tree. Opened last year by former teacher Qiu Shu-zhen and her husband, Chen Wen-jie, a former interior designer, the café provides a welcome and picturesque respite for anyone cycling along the river.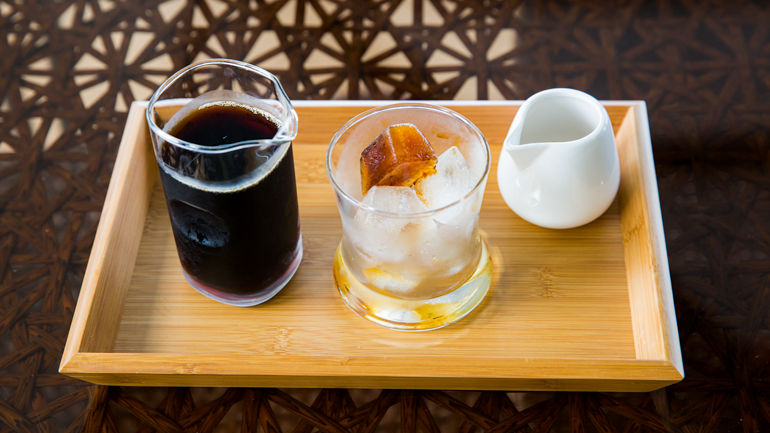 The café has snacks and drinks, but it's best known locally for its somewhat experimental pizzas, which boldly attempt to "Taiwaneseify" the classic Italian dish. The adventurous among you might try the pumpkin, walnut, and sesame rice dumpling pizza – which, though it sounds a little avant-garde – to say the least – is actually a surprisingly complementary fusion of flavors.
Qiu's special three-bean coffee blend, cold dripped for several hours and served with Baileys Irish Cream liqueur in place of milk, paired with a selection of homemade cakes, pastries, and tarts make for a splendid late-afternoon "tea break," too.
Tree Nest Café (樹樔Café)
Add: No. 36, Lane 176, Bajia Rd., Dongshan Township, Yilan County
(宜蘭縣冬山鄉八甲路176巷36號)
Tel: (03) 959-5813
Hours: Mon-Fri 11am- 7 pm, weekends 11am-9pm
Getting There & Around
Trains to Luodong Railway Station leave Taipei regularly (and take between 1 and 2 hours). From the station, take a taxi or a Taiwan Tourist Shuttle Bus (Dongshan River Route; en.taiwantrip.com.tw/line/2?x=1&y=1; 25 min.) to the National Center for Traditional Arts. Bikes can be rented at Dongshan River Water Park (a short boat ride from the center).
Qin Qin Bike Rental (親親自行車出租)
Add: No. 19, Sec. 2, Qinhe Road, Wujie Township, Yilan County
(宜蘭縣五結鄉親河路二段19號)
Tel: (03) 950-8239
Hours: Mon-Fri 9am-7 pm, weekends 6am-7pm
Rental Fees: Standard bike NT$100, full day; electric bike NT$300, full day; tandems and 4-person quadricycles are also available. To rent a bike you need to leave a form of ID as a deposit.
Yilan Hotel
The Westin Yilan Resort
(宜蘭力麗威斯汀度假酒店)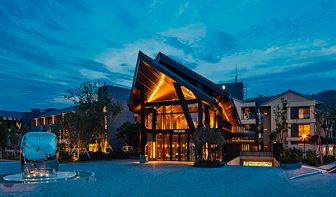 Add: No. 268, Yongtong Rd., Yuanshan Township, Yilan County

(宜蘭縣員山鄉永同路3段268號)
Tel: (03) 923-2111
Website: www.westin-yilan.com
Further reading on other sites:
A STYLE ALIKE: Just Stay | Yilan B&B (呆宅 )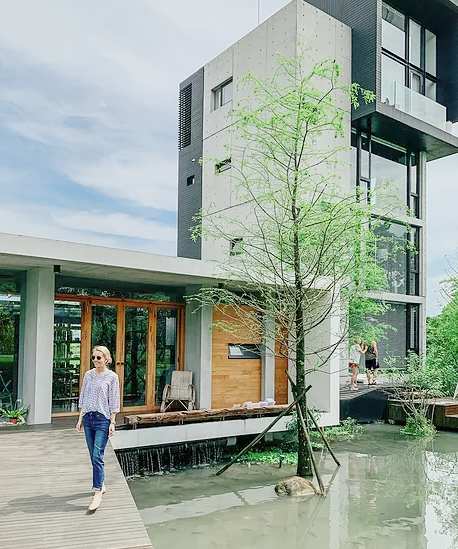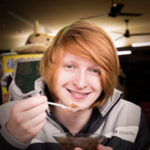 Owain McKimm is a freelance writer who has been living in Taiwan since 2009 and has written about everything from Taiwanese foot massages to flower cuisine.
E-mail: owain [dot] mckimm [at] googlemail [dot] com