If you want to stay in the hot-spring town of Guanziling you have a number of fine options. We visited two hot-spring hotels, The King's Garden Villa and Guan-Zih-Ling Toong Mao Spa Resort.
Text: Rick Charette; Photos: Chen Cheng-kuo
Guanziling has many hot-spring hotels, in different budget ranges, on and just off the main road. Said road also has a cluster of restaurants, and things get busy on weekends/holidays, everyone out for a good time and in a good mood. From Sunday night through Thursday night the ambience is much more subdued (except during the summer vacation period and the Chinese New Year holidays), with few parents with kids in evidence.
My wife is Taiwanese, from a tight-knit family that loves spa outings, and I've been on many a 3-generation clan-vacation excursion in my years here. I've been to the pretty Guanziling area on many an occasion, and I here recommend one high-end and one mid-range place for you to stay.
The King's Garden Villa
My first choice is The King's Garden Villa. It is a complex, not a stand-alone hotel building – a configuration of wood cottages and two-floor wood-façade buildings. In the latter you walk directly into your room from outside, and the second-floor units are set up like walk-up apartments. The complex has the look and ambience of a small, densely-knit European mountain village, everything is painted bright white, and the facades and cozy park-like walkways between buildings are spic and span. The management shows obvious pride in every detail, which guests in turn obviously notice and appreciate.
Each unit has hot-spring tubs in a room partially exposed to the outside, though designed to ensure privacy. The resort is at the top of Guanziling, with only forest, ridge, and peaks behind, though not all units have views in this direction.
There is also a large and airy spa facility, with an attractive outdoor pool with a partial mountain view, sauna facilities, mineral pools of various temperatures, and other amenities. Guanziling's famous health-enhancing mineral mud is available here. Note that there are public facilities as well as separate men's/women's facilities.
Though there is also much else to recommend at The King's Garden Villa, if I must choose just one more to highlight, it is the covered, open-side verandah dining area of the main (reception) building's restaurant. You dine along a railing at just under forest-treetop level, branches seeming to reach out at you in the breeze. The breakfast buffet is splendid, with both standard and creative local and international selections. (Rooms start at NT$5,000)
The King's Garden Villa (景大渡假莊園)
Add: No. 56, Guanziling, Baihe District, Tainan City
(台南市白河區關子嶺56號)
Tel: (06) 682-2500
Website: www.myspa.com.tw
Guan-Zih-Ling Toong Mao Spa Resort
Whereas The King's Garden Villa has a subdued, somewhat secluded, private air, Guan-Zih-Ling Toong Mao Spa Resort is a much more public place. It's right on the main thoroughfare, and guests are constantly walking in and out, heading off to or coming back from a round of town shopping and/or eating. The hotel is built on a slight slope, and the basement area opens up to the large outdoor swimming pool, hidden from street view. People lounge around on the wide ceramic-tile deck area, reading and relaxing. The pool is in full view of a roomy basement café where guests lounge about in bathrobes, reading and chatting. People, in pairs and small groups, head past café and swimming pool to the hot-spring pools beyond, which have a tree-shaded, partial mountain view.
On one side of the basement café is the indoor spa complex, which has private rooms, and on the other side is the well-equipped – and well-soundproofed – games arcade. Up on the ground-floor level are large VIP rooms from which boisterous karaoke singing will emanate at night. The hotel's front half has numerous large meeting rooms, which many companies/organizations make use of.
All guestrooms are in the back section of the hotel, ensuring overnight guests' quiet and mountain views. Not all these rooms have hot-spring tubs; the tubs are on the balcony in those that do, providing soothing green-covered mountain views. (Rooms start at NT$2,640 weekdays, NT$3,200 weekends/holidays)
Guan-Zih-Ling Toong Mao Spa Resort (關子嶺統茂溫泉會館)
Add: No. 28, Guanziling, Baihe District, Tainan City
(台南市白河區關子嶺56號)
Tel: (06) 682-3456
Website: www.toongmao.com.tw
Guanziling and Siraya National Scenic Area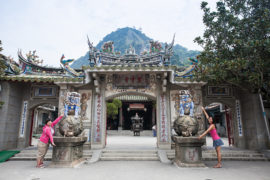 Read our Feature article about Guanziling and Siraya National Scenic Area here:
https://taiwaneverything.cc/2016/06/08/siraya-national-scenic-area/
About the author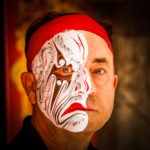 Rick Charette
A Canadian, Rick has been resident in Taiwan almost continually since 1988. His book, article, and other writings, on Asian and North American destinations and subjects—encompassing travel, culture, history, business/economics—have been published widely overseas and in Taiwan. He has worked with National Geographic, Michelin, APA Insight Guides, and other Western groups internationally, and with many local publishers and central/city/county government bodies in Taiwan. Rick also handles a wide range of editorial and translation (from Mandarin Chinese) projects.