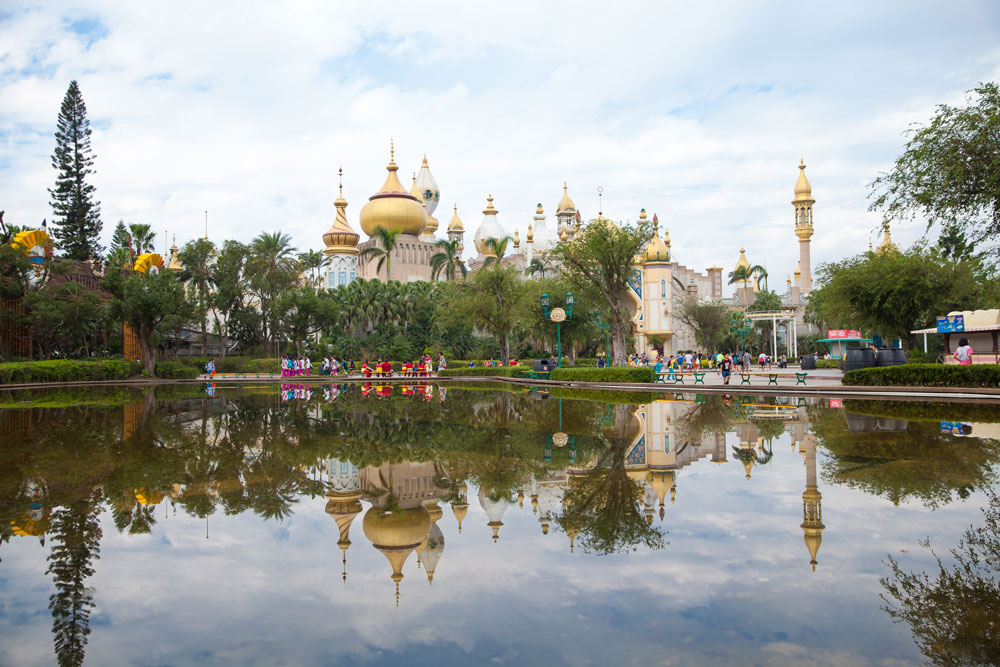 Unique souvenirs? Check. Exotic wildlife? Check. Parades and cabaret performances? Check. Dancing water fountains? Check. Diverse range of dining options? Check. A 53-meter plummet to the earth from the inside of a huge hollowed-out baboon skull? Check. A day at Leofoo Village Theme Park is like a holiday within a holiday, whisking you away on an otherworldly adventure of flying carpets, prehistoric creatures, jungle landscapes, and cowboy standoffs.
Text: Nick Kembel, Photos: Chen Cheng-kuo
With a Disneyland in Tokyo and Hong Kong and, recently opened, one in Shanghai, Taiwan is often overlooked as a theme-park destination. But the country boasts no less than 20, and Leofoo Village Theme Park is arguably the jewel in the crown. Even if you haven't visited a theme park since you were a kid, read on and we'll have you convinced to add this wonderland to your Taiwan itinerary. Forget about sightseeing for a day – enter this park and set your inner child free!
The theme park was created as the Leofoo Wildlife Park in 1979. Ten years later the park was expanded to include a multitude of entertainment facilities and reestablished as Leofoo Village Theme Park. It hasn't stopped growing since, thus ensuring its continued standing as one of the most popular theme parks in Taiwan. Ask just about any young adult in the northern half of the country and he/she will recall fond memories of school field trips to Leofoo Village.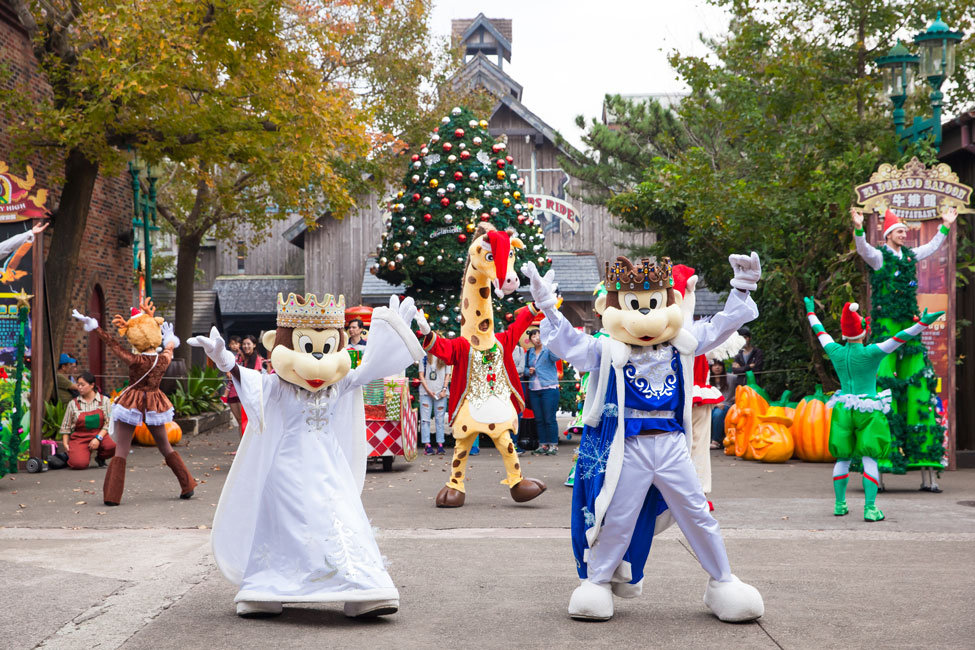 So what makes it one of the best? For starters, it is Taiwan's largest theme park – covering more than 100 hectares – and also the most accessible choice from the capital, Taipei.
Other theme parks in Taiwan:
Taroko Park
Window on China
Leofoo Village
Lihpao Land
Secondly, Leofoo Village is the most diverse of all theme parks in Taiwan, combining a multi-themed amusement park with 60+ rides and facilities, a waterpark, a safari area, and a safari-themed hotel.
When you arrive, don't be overwhelmed by the sheer number of tour buses in the parking lot and the groups of overly excited children running toward the entrance gate. The park is so large that the crowds are well distributed.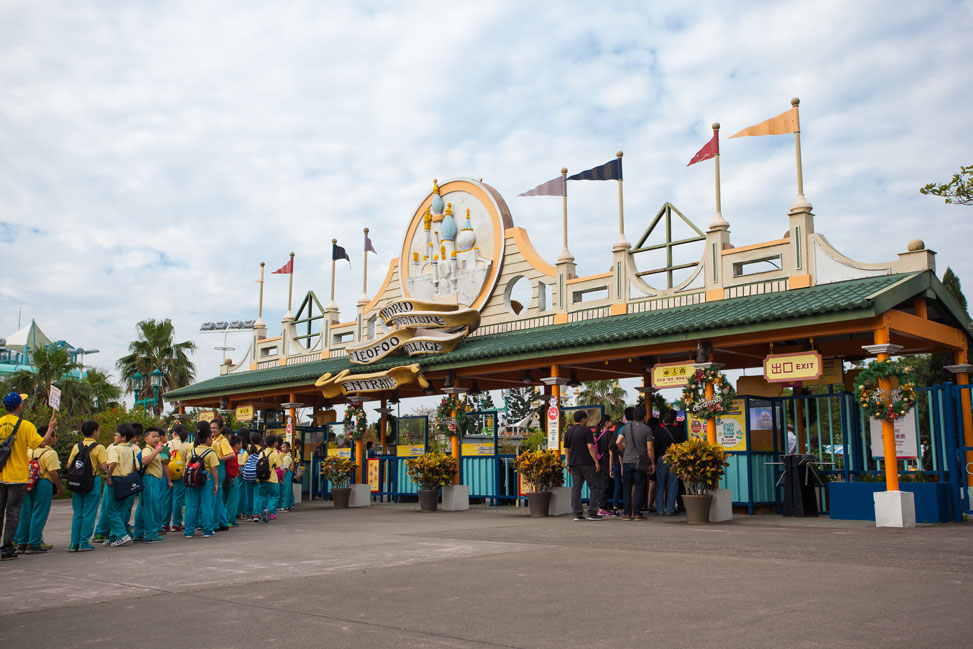 Smart Park
A popular theme park attracts a whole lot of visitors, meaning that even in a park as spacious as Leofoo Village, people often have to stand in long lines before getting on rides. To solve this problem Leofoo, in cooperation with the Taiwan Tourism Bureau, has come up with a smart solution, the Lineup app. The free app (iOS, Android) allows you to virtually line up at rides, permitting you to do something more meaningful with your time than waiting. The app will notify you shortly before your time has come to board a ride. To download the app (so far only available in Chinese), just search for "Lineup" in the App Store or in Google Play.
The park is at its busiest, as one would expect, on weekends and through the summer period, but these times might be best if you prefer to avoid the groups of schoolchildren on field trips. As well, you may not want to come on a Monday, when there is a break in many of the live performances. Having said that, of course, if you don't care about live shows Monday might be the best day of the week for you!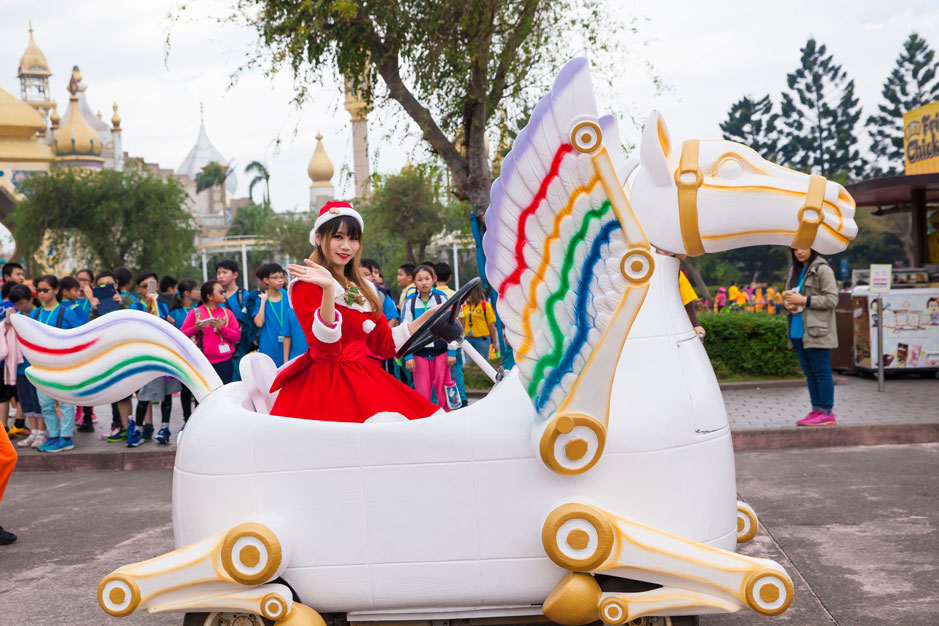 After passing through the entrance gate, drop into the visitor information center to the right to pick up a complimentary map, which will help you get oriented quickly. Despite the park's size it's easy to find your way around, and it is not so big that you can't cover all the main areas in one day.
The first thing you'll see, as you dive in, is the giant water ride to the left. The Leofoo Waterpark, which is open June through September, features a wave pool, slides reaching a height of 15 meters, water cannons, and a dancing water fountain, all decorated in the style of Greek islands. A combined adult ticket to the waterpark and the rest of Leofoo Village costs NT$1,299 (NT$999 with no access to the waterpark, NT$599 for access solely to the waterpark).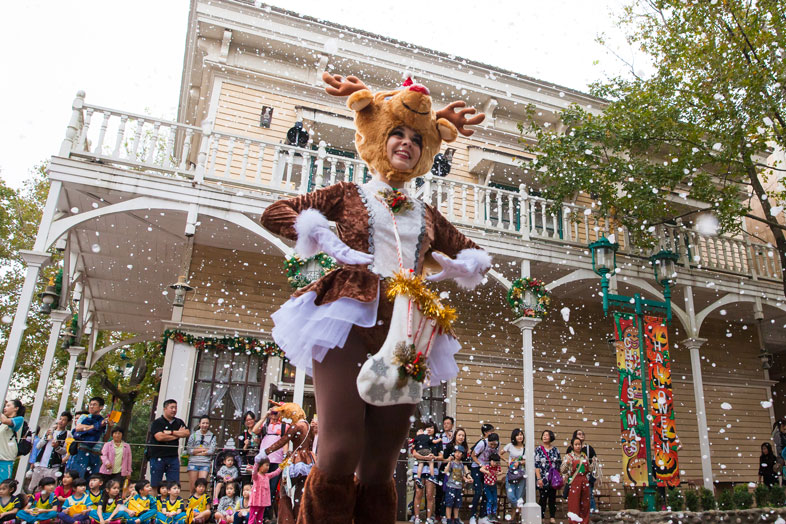 Following the main walkway past the waterpark, you reach a central circular plaza, and here you'll see that the park is shaped like a giant clock. At the center of the plaza is a ground-level water fountain that features a dreamy, 15-minute water-dance show each hour on the hour, best after dark when the waters are lit up in a kaleidoscope of colors. If you want to cool down, there's nothing stopping you from joining the kids prancing about under the fountain during the show!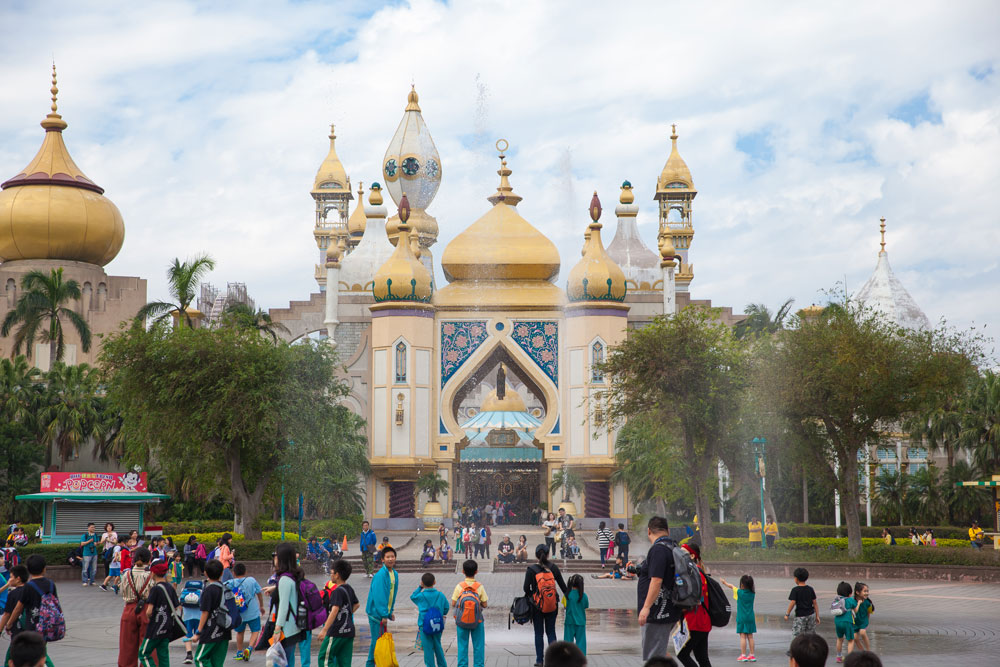 Facing the water fountain from the direction of the entrance artery, you can make out the park's four themed areas: the Wild West area at 9 o'clock, the South Pacific at 10:30, the dominating Arabian Kingdom at 12, and the African Safari at 3. Let's take a clockwise tour of these four enchanting fairylands, heading into the Wild West first!
Walking down the entrance avenue into the Wild West, you might just feel as though you've been transported to an American frontier town in the late 19th century. Swinging saloon doors, smoky steakhouses, and old-time general stores abound. You can even dress up like a cowboy in the Billy the Kid photo shop.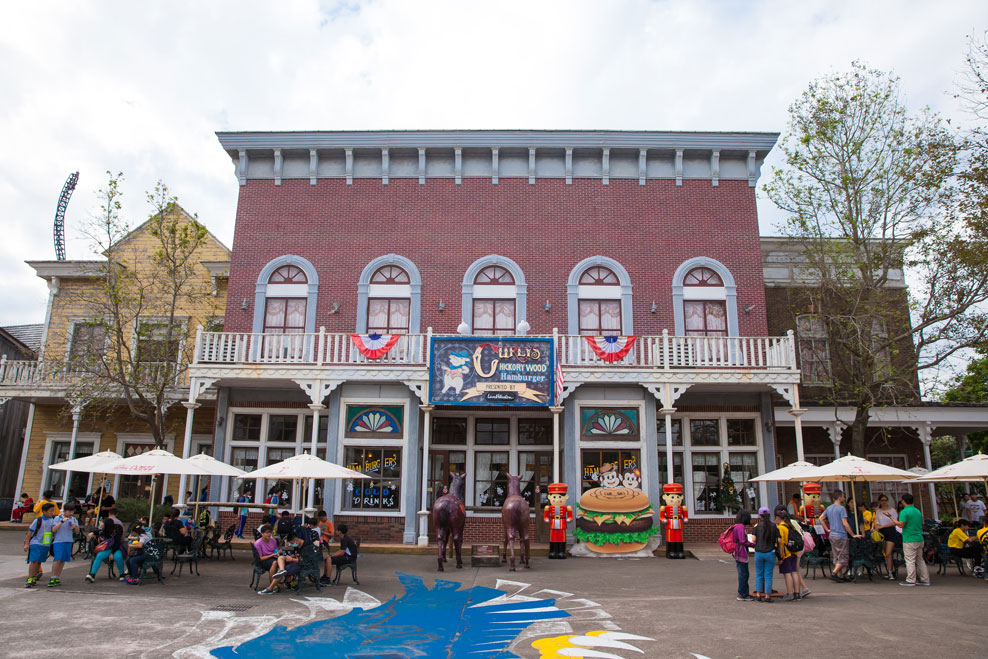 The Wild West also features what might just be the scariest ride in the entire park: the Screaming Condor. This "inverted shuttle coaster" is a rollercoaster with the rails on top, leaving your legs hanging as it rips at a speed of over 100 km/hr, taking you 54.9 meters into the air at one end of the track and then backwards to the same height at the other. The Wild West also includes the Big Canyon Rapids Ride, on which you float through raging rapids and get sprayed by surprise water cannons.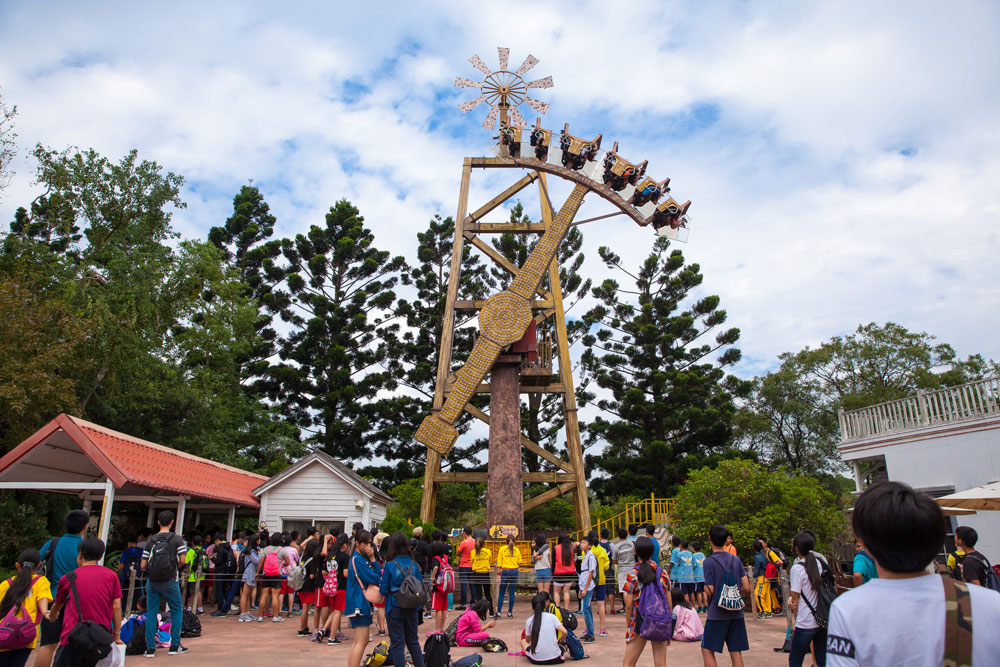 Follow the walkway behind the Little Rattler rollercoaster and you'll suddenly find yourself in another time and place. The South Pacific area combines Polynesian imagery with a volcanic landscape and dinosaurs. On the Mighty Mountain Flume Adventure take a canoe ride through a Jurassic world that culminates in a three-story watery plunge from a volcano, or experience zero gravity as you plunge 53 meters on Pagoda's Revenge.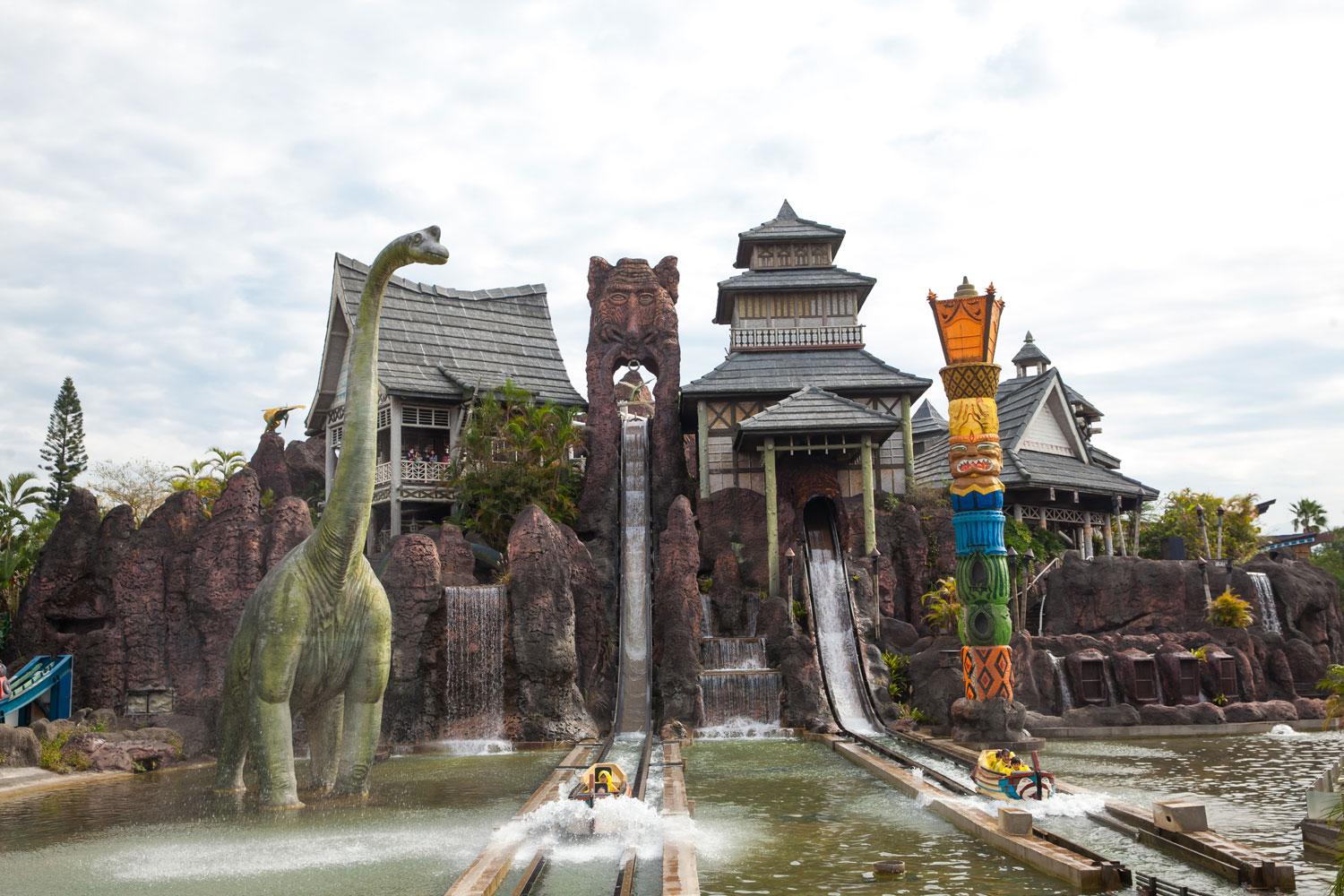 While you're lining up for the latter, why not try the virtual reality version first, which is perhaps about as terrifying as the real thing. You'd be better off waiting until after the ride to snack on some of the succulent deep-fried squid or teriyaki chicken offered at stalls in the park. If you need a breather, go for a stroll in the Tiki Garden and admire some live toucans.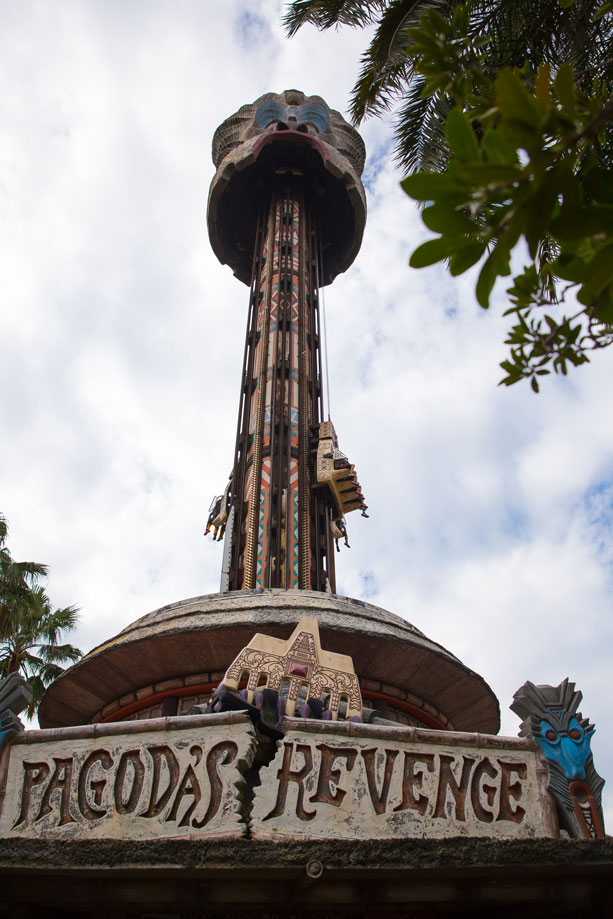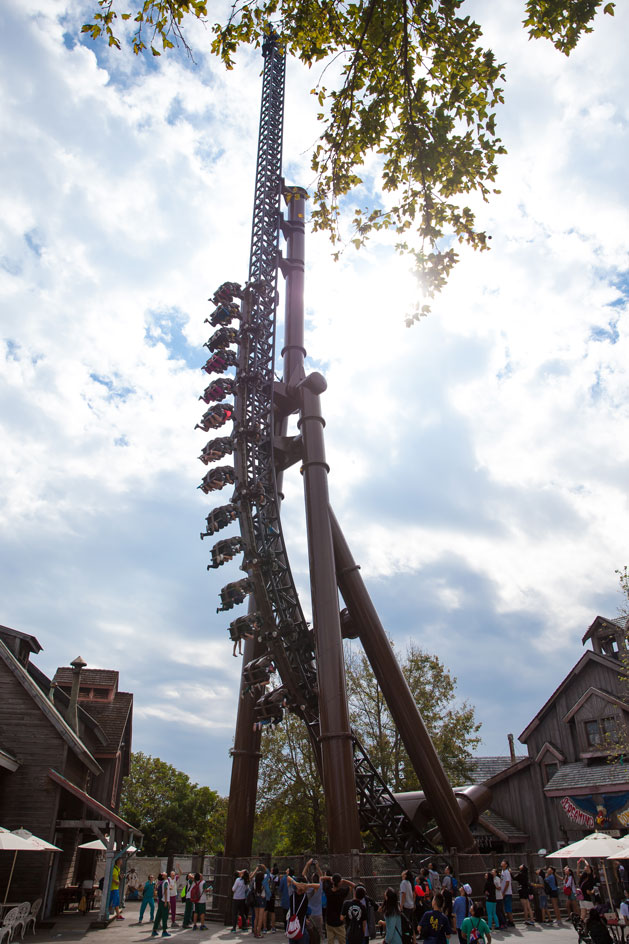 With its vertical architecture and golden spires, the Arabian Kingdom is like a scene out of One Thousand and One Nights. The Ring of Fire is a 360-degree roller coaster, while Sultan's Adventure takes you through a dark, haunted land of mummies and disgruntled crocodiles. For something different, team up with a few friends for the laser maze or throw fireballs at a three-headed dragon in the Happy and Honey's Adventure 5-D Theater.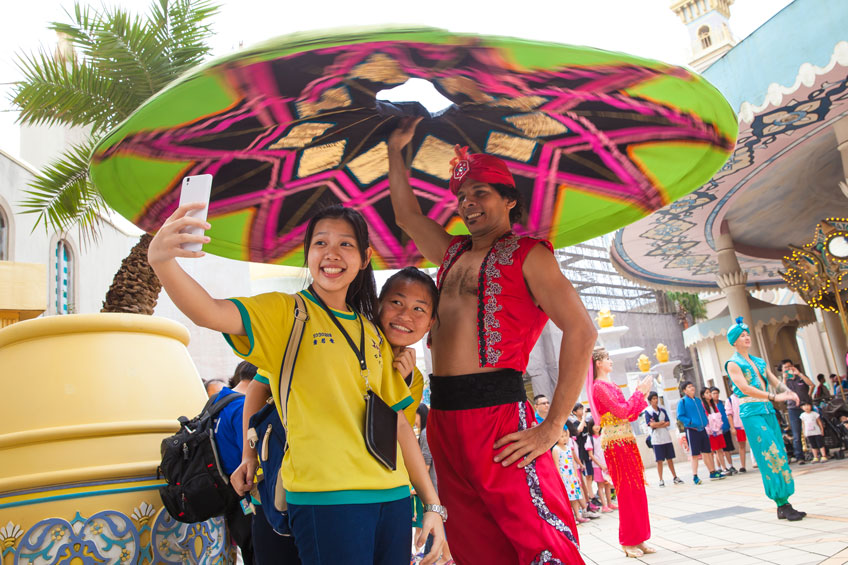 When you spot alpacas, pony rides, and a petting zoo, you've reached the African Safari area. Soon you'll come upon an enclosure in which you can enter a tiny tunnel and pop your head up in a transparent dome in the midst of a gang of meerkats.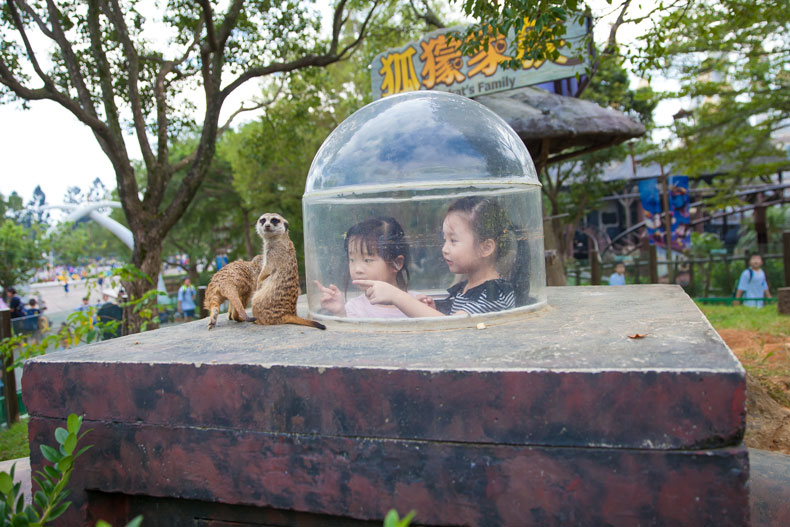 In a nearby enclosure you'll find the star of Leofoo Village, Mashisa, one of only 300 white tigers in the world. You may find it hard to tear yourself away from admiring her elegant beauty and radiant blue eyes. Come at 12:30 (weekdays) or 1:00 (weekends), when she comes out to meet visitors.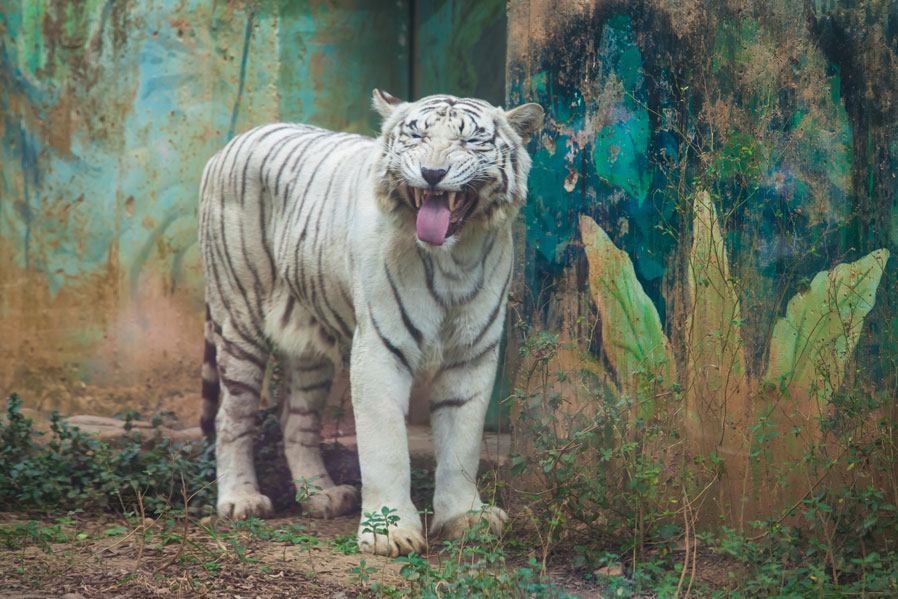 From the tiger enclosure, hang a sharp left and board the Nairobi Express, a vintage British steam train. This is the safari portion of the park, a 15-minute ride through a landscape populated with herbivores including hippos, rhinos, zebras, giraffes, warthogs, peacocks, bison, and more. Another highlight is the Primate Sanctuary, where you can walk among over a hundred monkeys, including capuchins, siamangs, red-tailed monkeys, and baboons. Alternatively, view them from above on the pedal-powered Monkey Trail ride.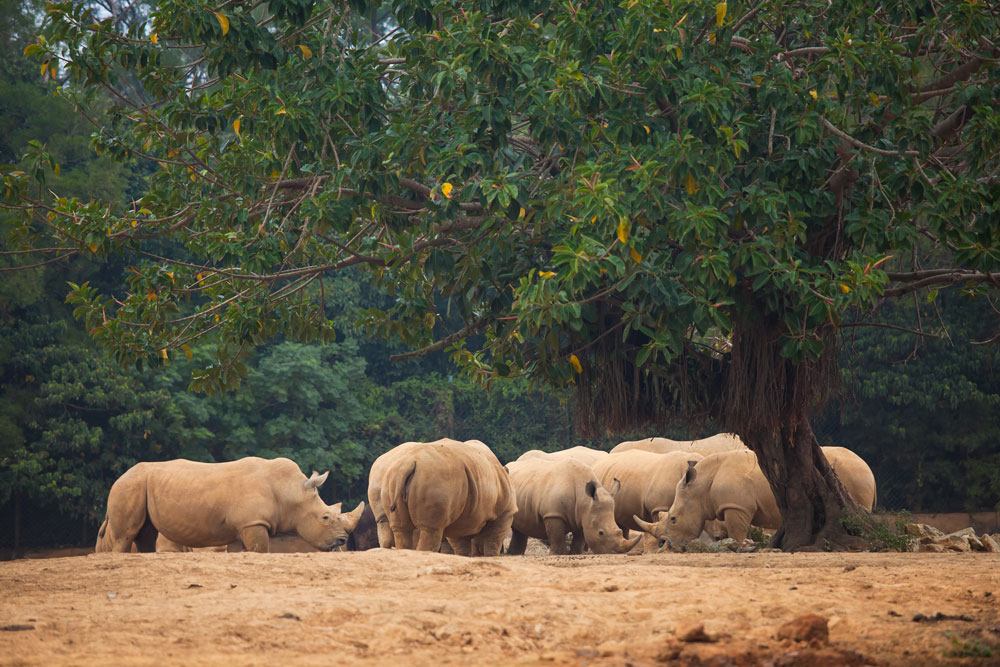 If you want to spend the night, the Leofoo Resort Guanshi offers luxury African safari-style accommodation, where guests can admire wildlife from the comfort of their own room. Kick your feet up on your balcony and watch giraffes and zebras grazing, flamingos wading, and giant tortoises crawling below. Don't be startled should you find ring-tailed lemurs hopping around the viewing terrace adjacent to the lobby; they are so tame you can touch them. Two meals and a guided wildlife safari are included in the price of your stay, and when we visited there was an African band performing in the entrance driveway.
Book a room in the hotel here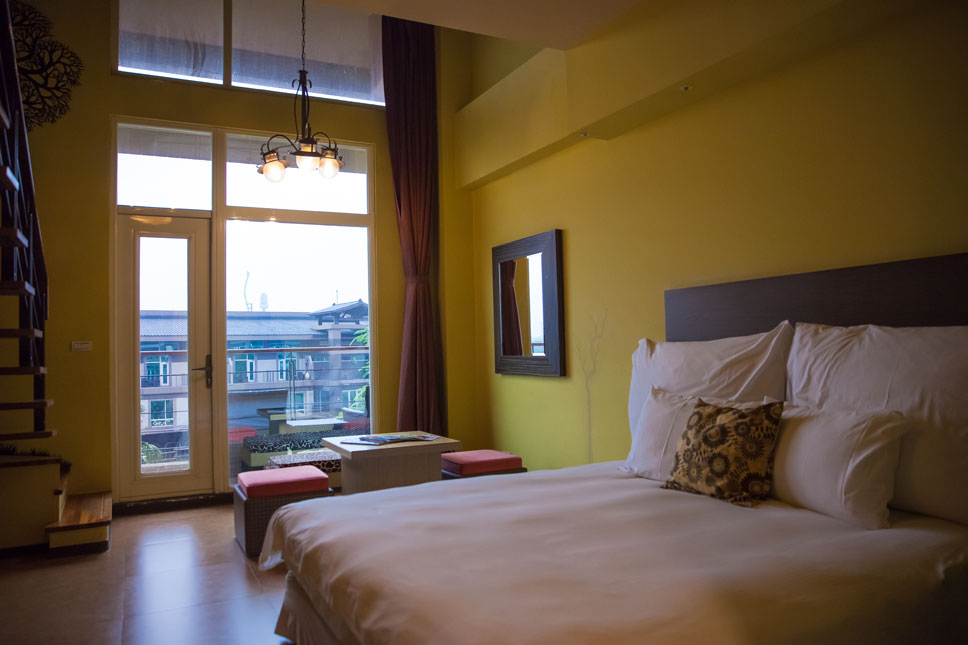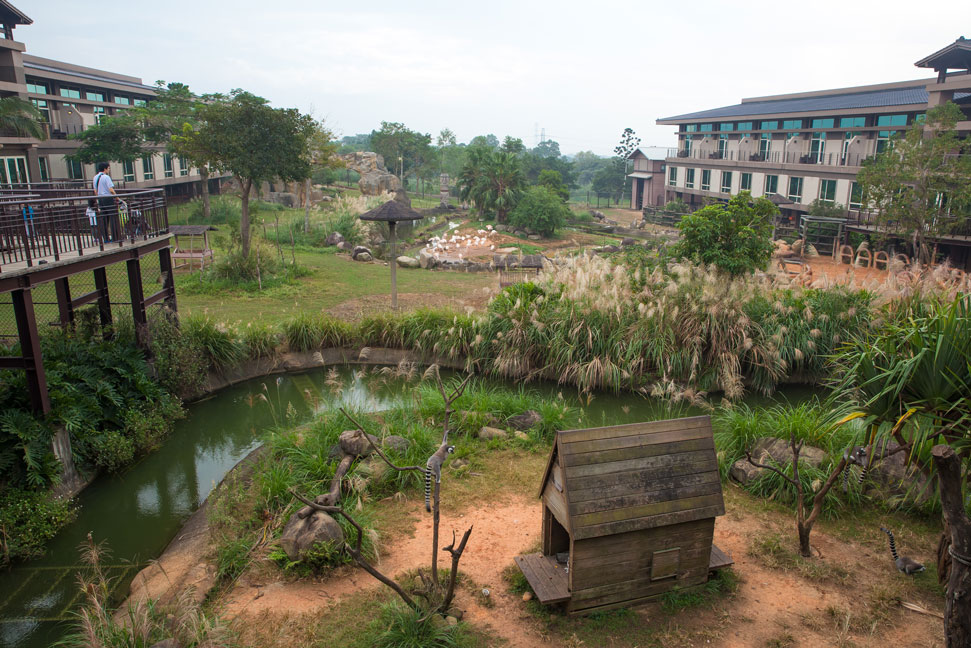 Leofoo Village Theme Park (六福村主題遊樂園)
Add: No. 60, Gongzigou, Ren'an Borough, Guanxi Township, Hsinchu County
(新竹縣關西鎮仁安里拱子溝60號)
Tel: (03) 547-5665
Website: www1.leofoo.com.tw
Leofoo Resort Guanshi (關西六福莊)
Add: No. 60, Gongzigou, Ren'an Borough, Guanxi Township, Hsinchu County (新竹縣關西鎮仁安里拱子溝60號)
Tel: (03) 547-5365
Website: www.leofooresort.com.tw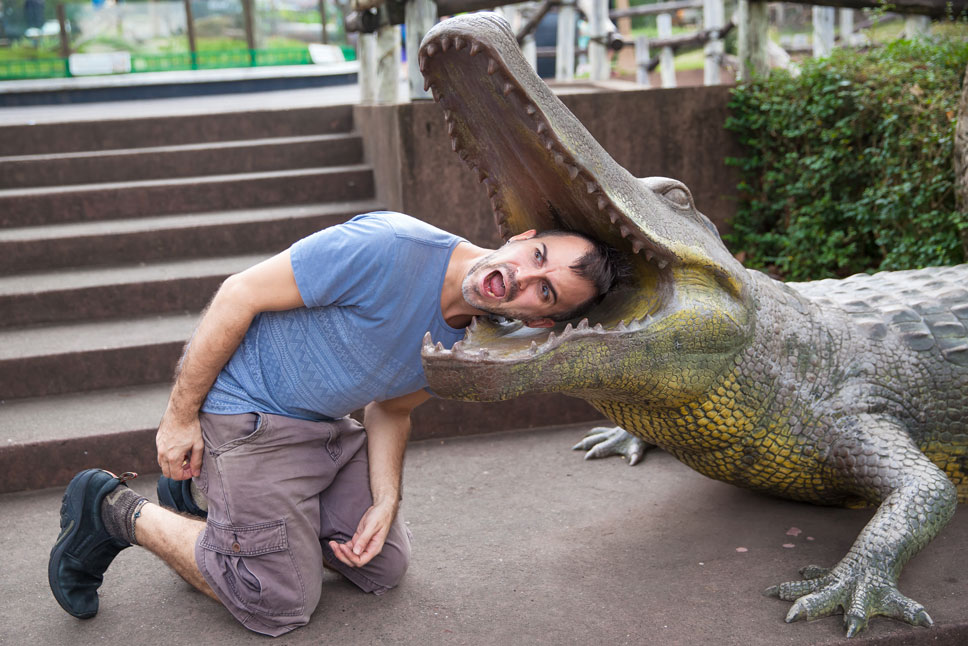 Getting There
Public transport: From Taipei, take Bus No. 5350, which leaves from Taipei Songshan Airport and passes Taipei Metro's Zhongxiao Dunhua, Gongguan, and Jingan stations before zipping to the park. The ride takes about one hour. Pick-up service: The park offers a pick-up service on weekends and public holidays from Hsinchu High-Speed Rail Station departing 8:45am and 10:20am (HSR Station) and 4pm and 5:30pm (Leofoo Village). Times are slightly different between July 17 and August 28 (9:15am and 11:15 am from HSR Station; 6pm and 8:15pm from Leofoo) Self drive: Take Freeway 3 to the Guanxi Exit, turn left and follow County Road 118 to central Guanxi, then turn left again onto Township Road 27 and follow the signs to the park.
KLOOK:
Leofoo Village Theme Park Ticket

Shared Jingan MRT Station/Zhongxiao Dunhua MRT Station/Taipei Songshan Airport (TSA) Transfers for Leofoo Village Theme Park with Admission Ticket

Leofoo Village Theme Park Ticket and Shared Attraction Transfers from Taipei Main Station and Ximending
Also read:
HSINCHU County — Places to Visit
The Old Town of GUANXI in Hsinchu County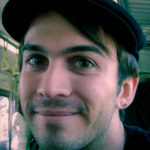 Kembel is passionate about tea, spending time with his kids, and all things travel. He has been to nearly 50 countries but called Taiwan home for the last decade. In 2011 he authored Taiwan in the Eyes of a Foreigner.