Showcasing the Past While Chasing a Cultural-Creative Future
Text: Rick Charette; Photos: Vision
Guanxi is an old town in Hsinchu County that looks forward into a long valley, which runs all the way to the sea, and is backed by the central mountains. A day in Guanxi is a day spent exploring the local Hakka culture and history, Japanese-built colonial architecture, cultural-creative ventures housed in renovated old Chinese shophouses, a heritage tea factory, and iconic eateries selling delicious local treats such as Hakka broad noodles, stinky tofu, and "grass jelly."
The hills of northwest Taiwan's Hsinchu and Miaoli counties are Hakka country. Between 15 and 20 percent of Taiwan's Han Chinese population is of Hakka descent, with the highest concentration in this region. Their pioneering forefathers primarily came from coastal regions of mainland China directly across the Taiwan Strait, beginning in the early 1600s.
Though for the most part indistinguishable from their Han Chinese majority brethren, the Hakka have their own distinct cultural traditions, dialect, and cuisine. Through China's imperial centuries they almost invariably lost in the struggles for the best of the fertile lowlands, and were driven to the edge of, and up into, safer mountainous areas. The Chinese term for the Hakka literally means "guest people," as in "outsiders." In Taiwan much of the Hakka population ended up living between the Han Chinese majority of the lowlands and the indigenous peoples of the central mountains, and commonly served as a cultural-economic bridge.
Guanxi is a Hakka hill town to the east of coastal Hsinchu City. The town is located at the head of a long, shallow valley from which the collected waters empty into the Taiwan Strait immediately north of the city. For both Taiwan citizens and foreign expatriates and tourists, "Guanxi" almost invariably means the larger Guanxi Township, home to the Leofoo Village Theme Park (www1.leofoo.com.tw), an important tourist attraction in northern Taiwan.
Leofoo Village Theme Park
Read about the theme park here:
I regularly ply the northern Taiwan section of National Freeway 3, which shoots you through Hsinchu County, allowing you to look down at towns and into valleys, and each time I descend at the Guanxi Interchange I feel as though I am "descending" back into time.
Guanxi Old Street
During the week the hoary settlement creaks along largely ignoring the pace of 21st-century time, but speeds up on weekends/holidays to accommodate the rushed needs of tourists. Its heart is short Guanxi Old Street (Zhongzheng Road), filled with an eclectic mix of enterprises homed in heritage buildings. More and more of these are catering to the newfangled cultural-creative needs of modern folk. The northern section, closer to the town center, features numerous two-story buildings with Western Baroque-style façades. Look for the art-decorated porcelain tiles embedded in the façades of some, a distinctive flourish on the residences and businesses of well-to-do Hakka people. The southern section has many venerable single-story Chinese-style shophouses (shop in front, family quarters in back), a number of which now house creative dreams-made-real concerns.
Shidianzi Ye Tea 49
The façade of Shidianzi Ye Tea 49, a Zen-ambiance teahouse, is approaching invisibility behind its thick curtain of vines. It's operated by a self-confessed eccentric ceramics artist who loves crafting teapots and other artworks (on-site) but resists selling, preferring to share their beauty with all who visit. Originally a smithy, this space was a ruin when he moved in. The "ye" in "Ye Tea" means "smelt (metal)," reference to the shop's smithy past. Another word pronounced "ye" means "wild," and the artist, who is also a cultivator, describes his tea as "wild." He allows Mother Nature to handle his tea fields naturally; no pesticides, no fertilizers, only weeding. Despite their "wild" origins, his tea is as smooth and mellow as good wine.
Shidianzi Ye Tea 49 (石店子冶茶49)
Add: No. 49, Zhongzheng Rd., Guanxi Dist., Hsinchu County
(新竹縣關西鎮中正路49)
Tel: (0928) 870-971
Dream Theatre 52
Dream Theatre 52 is in one of the classic Chinese-style shop buildings. The section of the Old Street where the building is located was once lined with them, on both sides. They're characterized by red-brick walls and ceramic-tile roofs, and have a pillared arcade out front to shade pedestrians from sun and rain. Dream Theatre 52 bills itself as a "theatre café," a combination of performance space, café, and art gallery. Its live performances are wide-ranging, from such things as piano and saxophone recitals to Peking Opera, Taiwanese Opera, and traditional-style puppet shows, and to such creative ventures as readings of Romeo and Juliet with the setting changed to old-time Guanxi.
Shidianzi 69 Organic Bookstore
Shidianzi 69 Organic Bookstore is housed in another of the Chinese-architecture shophouses that have been immaculately restored, all over a century old. This is a book exchange, not a retail space. The concept here is to promote the power of reading by "organically" planting seeds, giving birth to a "tree of knowledge" for the individual that will be ever-growing. The owner wants the enterprise to sink deep roots and become a quiet, intrinsic element in the town's cultural landscape, serving as a stress-free haven where a love of reading will sprout.
Shidianzi 69 Organic Bookstore (石店子69書店)
Add: No. 69, Zhongzheng Rd., Guanxi Dist., Hsinchu County
(新竹縣關西鎮中正路69)
Tel: 0921-743-789
Website: 69bookstore-com.webnode.tw (Chinese)
Guanxi Sacred Heart Catholic Church
A few blocks directly north of Guanxi Old Street is the Guanxi Sacred Heart Catholic Church, a conspicuous local landmark. The cross atop its steeple can be seen from a long distance away as you enter the town from the Guanxi Interchange. The parish was established in 1954 by Canadian missionaries, who quickly got to work learning Hakka to bolster their message, and the church was built from 1955~1956. It is an appealing work of Gothic architecture. Visitors are welcome. Over the years, the church interior and exterior have been used as shoot locations for a number of Taiwan television drama series, making it one of Guanxi's most popular day-tripper attractions.
Guanxi Sacred Heart Catholic Church (關西天主堂)
Add: No. 126, Zhengyi Rd., Guanxi Dist., Hsinchu County
(新竹縣關西鎮中正路正義路126)
Take Me to the River
King Tai Tea Company
Directly east of Guanxi Old Street is King Tai Tea Company. This is a tea-processing factory, founded in 1936, that has a gift-and-souvenir retail outlet. It produces regular black tea, green tea, and tea oil, but is best-known for its specialty teas. The company emulates ancient Tang and Song dynasty baking technique using charcoal and longyan wood and infuses leaf with the aroma of honey and bamboo. (Tours in Chinese are available for groups of 20 or more; book online.)
King Tai Tea Company (錦泰茶業)
Add: No. 336, Sec. 1, Zhongfeng Rd., Guanxi Dist., Hsinchu County
(新竹縣關西鎮中豐路一段336號)
Tel: (03) 587-2051
Website: www.kingtaitea.com (Chinese)
Dong'an Bridge
The tea factory looks east over the small Niulan River, which is crossed by the Dong'an Bridge on Zhongshan East Road. This visually melodious stone-arch bridge, which dates to 1933, was built by the Japanese, who ruled Taiwan as a colony from 1895 to 1945. It replaced a Japanese wood-built bridge demolished after just six years, weakened by Taiwan's heavy rains, humidity, typhoons, and earthquakes. The heavy-duty bridge greatly facilitated the conveyance of timber and other resources from the higher hills and mountains to the east. The bridge is the keystone attraction in pretty Niulanhe Riverside Park, which is popular with exercisers, picnicking families, and photo buffs. Art markets and live theatrical and musical performances are occasionally staged here on weekends.
What's to Eat?
If at any time your tummy gets to rumbling, the place to head is the neighborhood northeast of the Old Street, southeast of the church.
Ang Gu Noodles
The name Ang Gu Noodles is a long-familiar one in Guanxi. The clan in charge of this restaurant has been serving dry-noodle dishes to locals for three generations, and generation three has moved the business to these more centrally located premises. What you eat is what grandpa has been serving since the beginning, amidst a décor that is country-rustic in theme yet is stylishly contemporary in design and materials. Among the most popular dishes are the Hakka dry bantiao (a type of thick, broad noodle), "Ang Gu" dry wheat noodles, wonton noodles, and sesame-oil chicken.
Ang Gu Noodles (ㄤ咕麵)
Add: No. 35, Guangfu Rd., Guanxi Dist., Hsinchu County
(新竹縣關西鎮光復路35號)
Tel: (03) 587-5541
Website: www.anggu.com.tw (Chinese)
Guanxi Stinky Tofu
Stinky tofu, i.e. fermented beancurd – seems you either love it or you hate it. For the foreign tourist, you haven't really "done Taiwan" unless you've tried it. What Limburger is for those who like cheese is what stinky tofu is for those who like beancurd products. Guanxi Stinky Tofu is the township destination of gourmand choice to test your senses. Operated out of a roadside metal-siding shack, patrons dine alfresco on simple folding tables and plastic stools. The beancurd-accompanying pickled vegetables and chili sauce, both house-made, are also delectable.
Guangfu Stinky Tofu (關西臭豆腐)
Add: No. 4, Guangfu Rd., Guanxi Dist., Hsinchu County
(新竹縣關西鎮光復路4號)
Herbal Jelly Lane
Xiancao is a jelly-like dessert treat eaten throughout the China/Southeast Asia region. It is made from Chinese mesona, a medicinal-herb plant from the mint family. Commonly called "grass jelly" or "herbal jelly" in English, it is generally served chilled in summer and heated in winter.
Guanxi earned a reputation as Taiwan's "Hometown of Xiancao" during the Japanese colonial era, and today remains king, producing over 80% of Taiwan xiancao supply. Herbal Jelly Lane is a restaurant, not a lane. Why "lane"? You enter a long, narrow hallway right off the street that does indeed look like an alley from the outside. A small elevator then whisks you to the fifth floor. Enjoy both traditional-style xiancao treats as well as savory cultural-creative inventions, the bestsellers being xiancao chicken soup and xiancao with pork and noodles.
Herbal Jelly Lane (仙草巷)
Add: 5F, No. 14, Zhongxing Rd., Guanxi Dist., Hsinchu County
(新竹縣關西鎮中興路14號5樓)
Tel: (03) 587-4090
Getting There & Around
Self-Drive: The Guanxi Interchange of north-south National Freeway 3 is just northwest of the town. North-south Provincial Highway 3 passes along its east side.
Bus: If traveling from Taipei, catch one of the regular bus departures from Taipei Bus Station (Kuo-Kuang Motor Transport No. 1820; NT$113 one way)
In Guanxi: The sites introduced in this article are all close to each other, and easily tackled on foot in an afternoon.
Also read:
Rail Travel — Interesting Spots in HSINCHU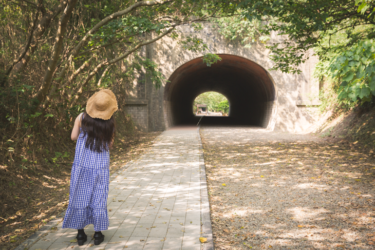 taiwaneverything.cc/2018/05/23/hsinchu-railway/
The NEIWAN Branch LINE in Hsinchu County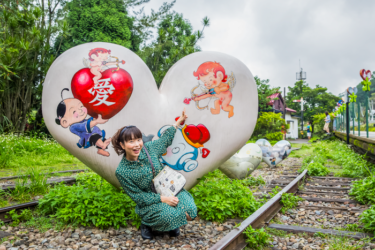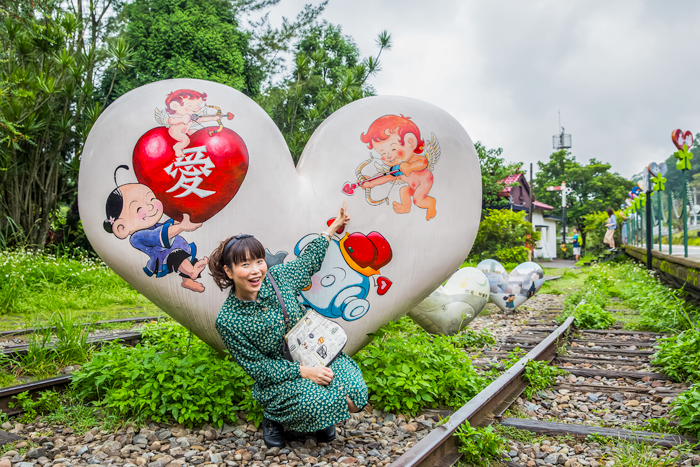 Further reading on other sites:
THE BEAUTIFUL ISLAND/POLISH GIRL IN TAIWAN:
TRADITION OF DRYING PERSIMMONS (IN XINPU)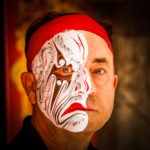 A Canadian, Rick has been resident in Taiwan almost continually since 1988. His book, article, and other writings, on Asian and North American destinations and subjects—encompassing travel, culture, history, business/economics—have been published widely overseas and in Taiwan. He has worked with National Geographic, Michelin, APA Insight Guides, and other Western groups internationally, and with many local publishers and central/city/county government bodies in Taiwan. Rick also handles a wide range of editorial and translation (from Mandarin Chinese) projects.