Mountain, ocean, rugged harbor life, traditional folk arts, heart-tingling coastal cliff views, seaside mountain trails, mile-long beaches, hot springs and cold springs – slow your pace with a few days in southern Yilan's fishing-harbor region.
Text: Rick Charette; Photos: Chen Cheng-kuo
A short flight from Taipei as the eagle flies Yilan County was long isolated from the Taipei Basin and other neighboring northern regions by the thick, high mountain ranges that bracket it. Look down on this northeast county from a Google Map satellite-view perch and you see the triangle-shaped Yilan Plain (also known as Lanyang Plain), framed by mountain ranges racing to the sea on its northern and southern sides, Pacific Ocean on its arc-shaped east.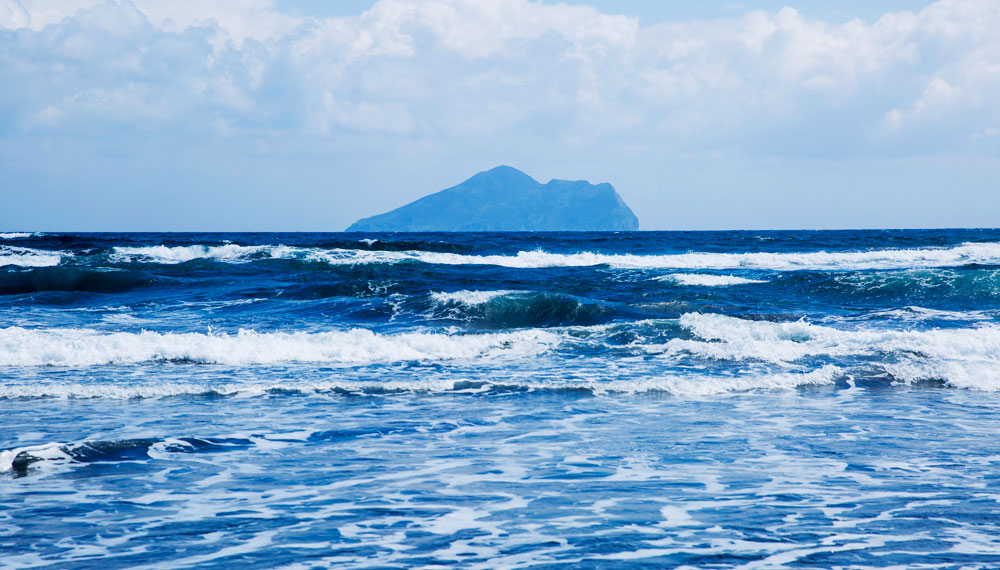 The county is known for the purity of its air, earth, and water. Tourism has shot to the forefront of its economic drivers since the opening of National Freeway 5 in 2006. The drive from Taipei to Yilan now takes just 25 minutes, on a road that brooks no mountain obstacles, piercing right through their bodies, including the 12.9km-long Xueshan Tunnel, Taiwan's longest and the world's ninth-longest road tunnel. Reaching the Yilan end, you shoot out above the plain on its northern side, almost the whole of Yilan laid out before you, the sparkling jade-hue Pacific in glorious view off in the distance. Stay on the raised freeway and it delivers you to the plain's southeastern region in another 20 minutes.
This is where you'll be spending this article – where verdant plain meets the south-edge mountains, and south of this where said mountains drop into the sea, forming deep natural harbors in places that are today the building blocks of some of Taiwan's oldest ports.
Tip: Many of the attractions introduced in this article lie within the Northeast and Yilan Coast National Scenic Area, run by the Taiwan Tourism Bureau. Find hotspot introductions and plentiful other information at www.necoast-nsa.gov.tw.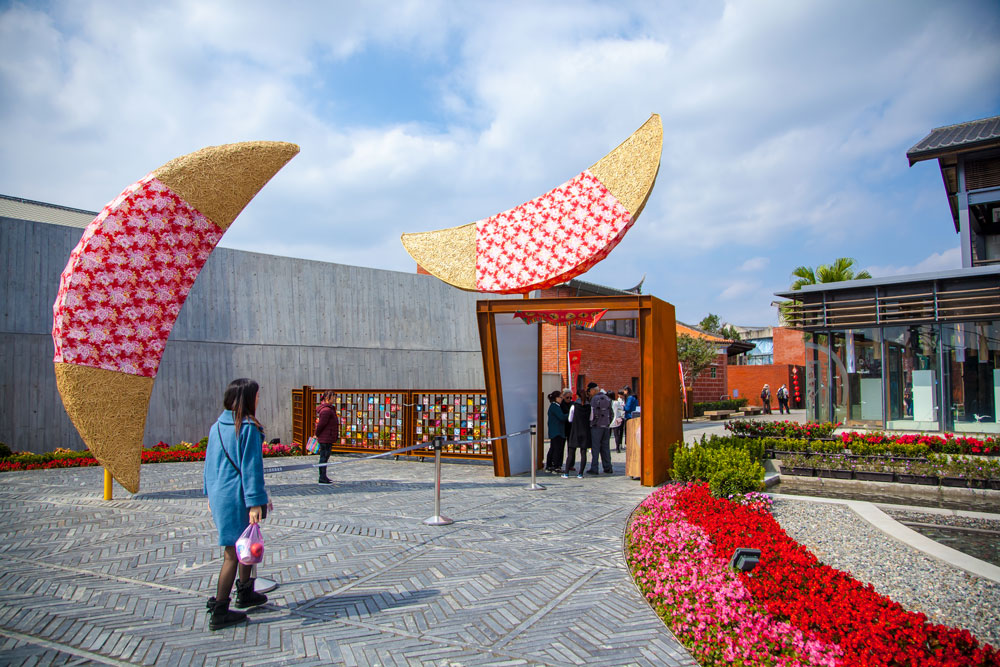 Historical Southern Yilan – National Center for Traditional Arts
It was only in 1796 that Han Chinese settlers began streaming into the Yilan Plain, coming over the mountains in force from the Taipei Basin. Yet the unique characteristics of this region gave rise to a unique Yilan culture. Travel back deep into Yilan time with a stroll through the National Center for Traditional Arts (NCTA; NT$150 entry; www.ncfta.gov.tw), beside Provincial Highway 2, not far north of the town of Su'ao, spending a day exploring Yilan traditional-style architecture, history, crafts, and performing arts.
This attraction, spread over 24 hectares, is focused on the culture of the common folk rather than the fine arts. It wears many hats: living museum, outdoor theater, demo and DIY workshop, food market.
The center of activity is the Old Street, a long, curving reproduction of an old-time Yilan commercial high street, lined with elegant-façade shop buildings constructed in the distinctive Yilan red-brick and white-stucco style. Scores of old-time businesses have set up branches on this and the adjoining alleys, the majority from Yilan.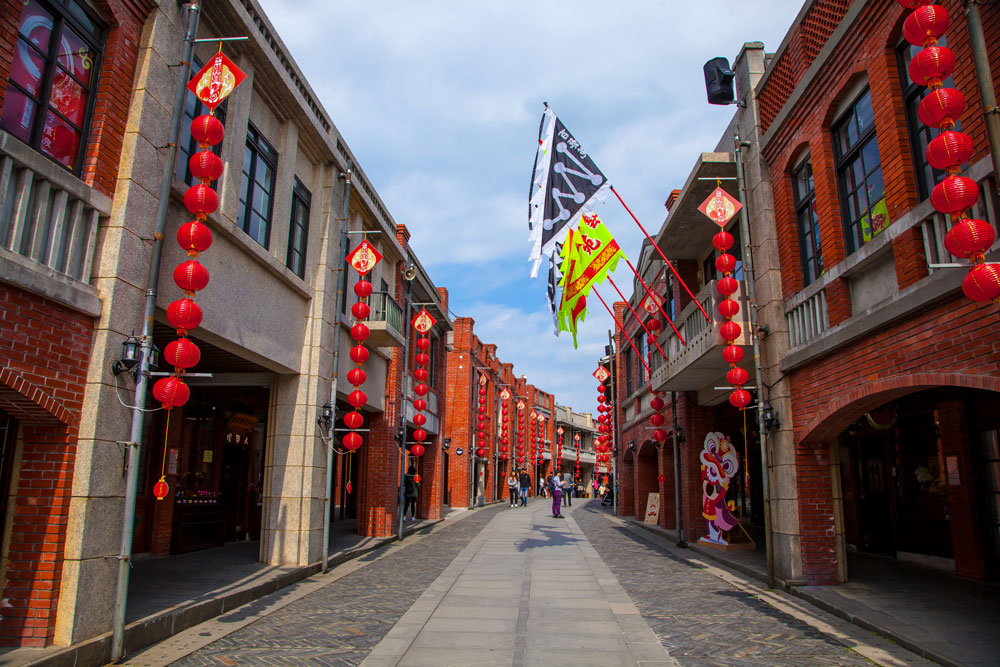 Watch master artisans create glass-art pieces, sculpt dough figurines, and spin "dragon beard" candy. Dress up in old-time costumes and have your photo taken with a backdrop transporting you into times gone by.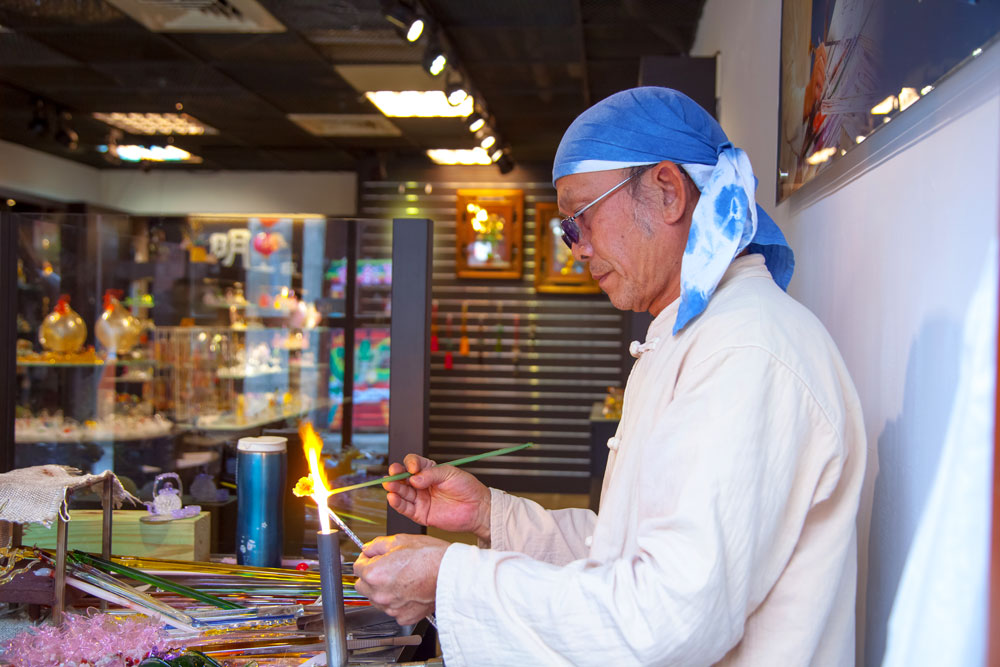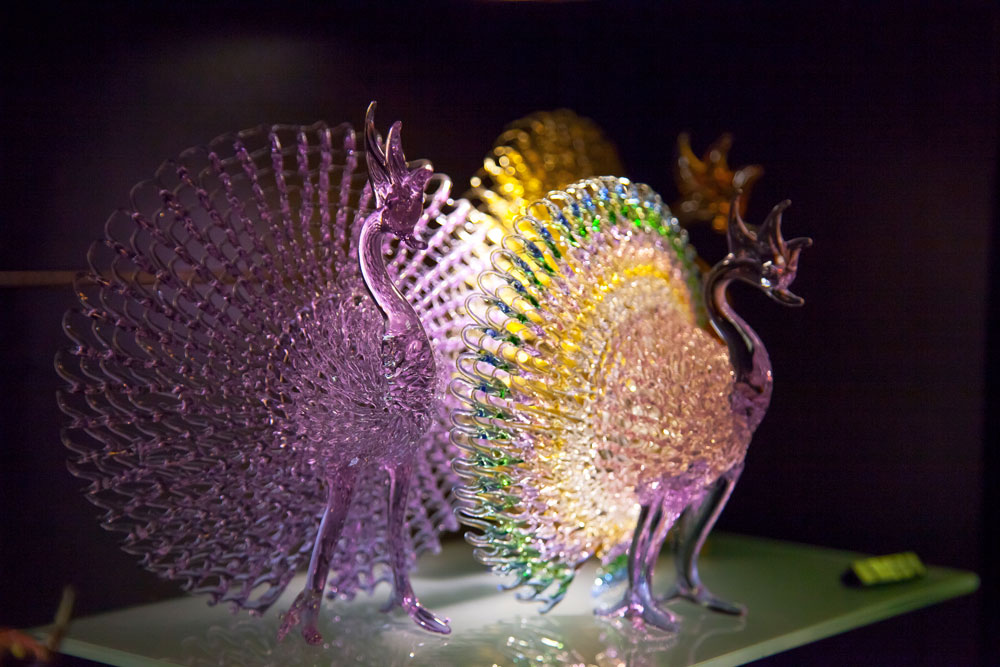 At the richly aromatic Han Tê shop, use old-time measuring instruments and packaging methods to create your own 7-item fragrance pouch (rose, mint, cogongrass, etc.), which can also be used for a soothing foot soak. At Zhuo Ye Indigo Dyeing House, don your artist hat to dye your own shop-crafted handkerchief, towel, pouch, or more expensive item. Zhuo Ye selects only traditional natural dyes, using indigo for blues, onion skin for oranges, etc., growing everything in its own fields. And your own precious-memory DIY silver ring awaits your arrival at the metalwork-jewelry studio Xiangcheng Jingong.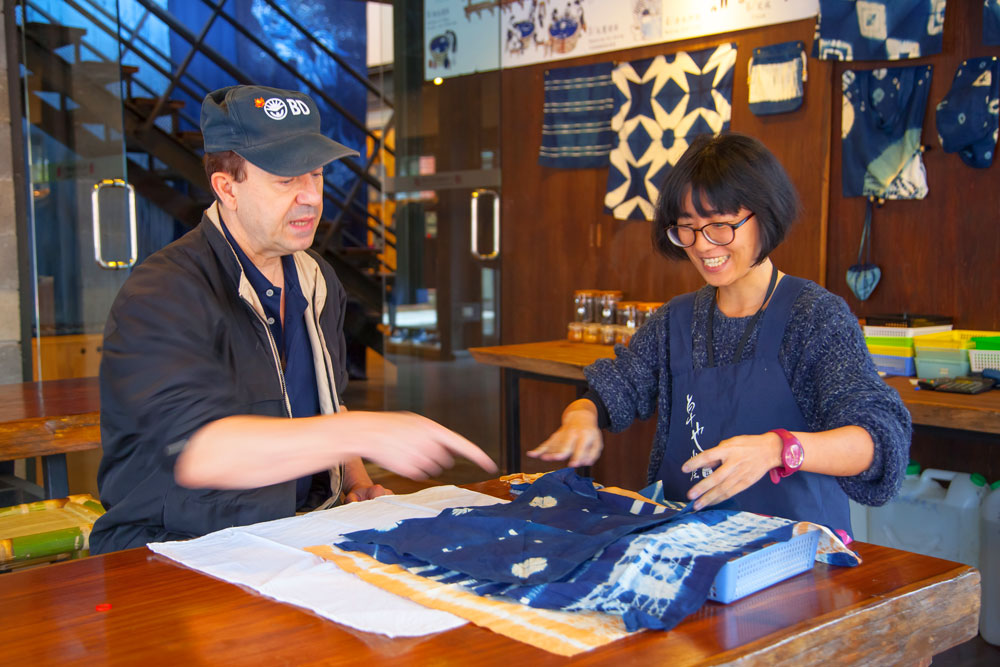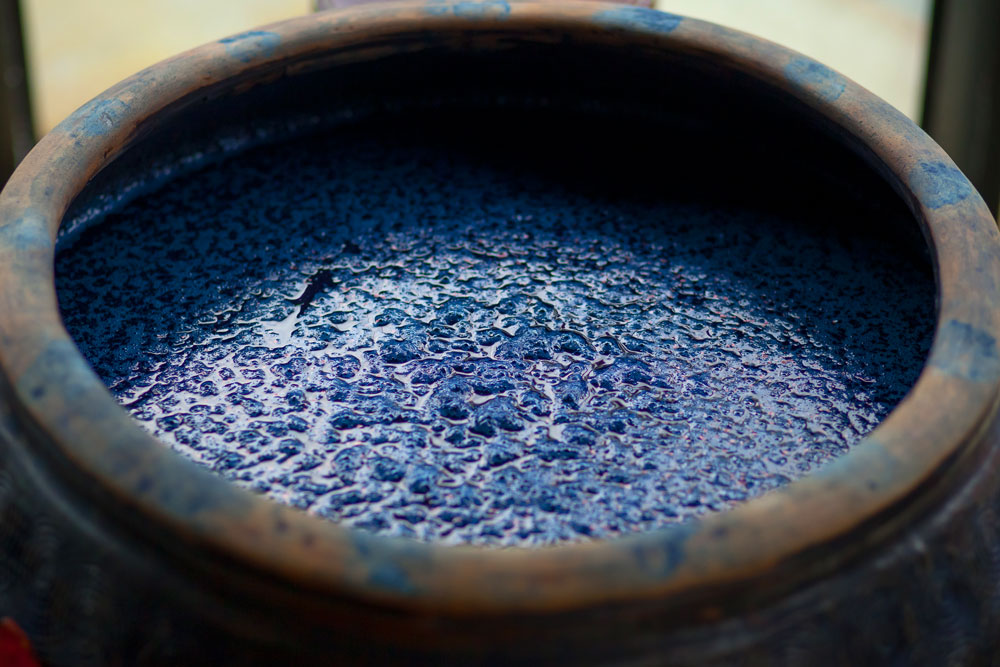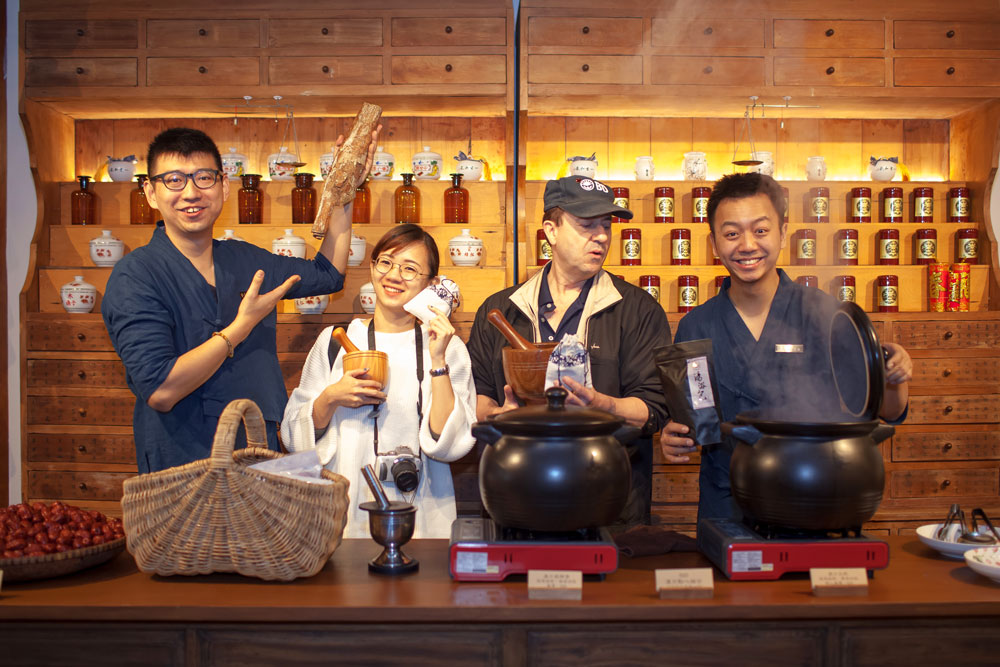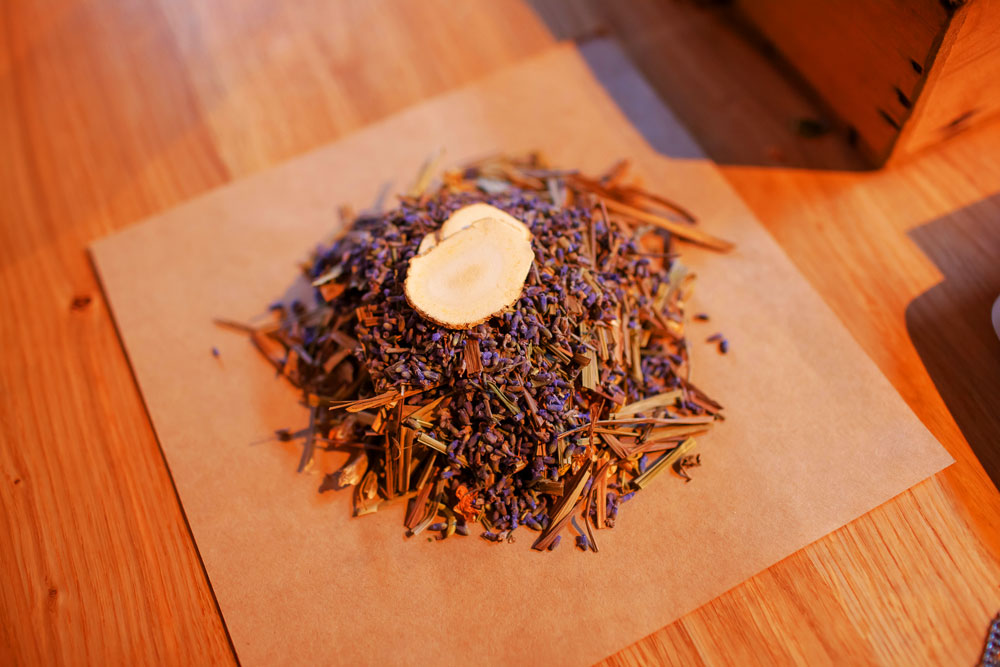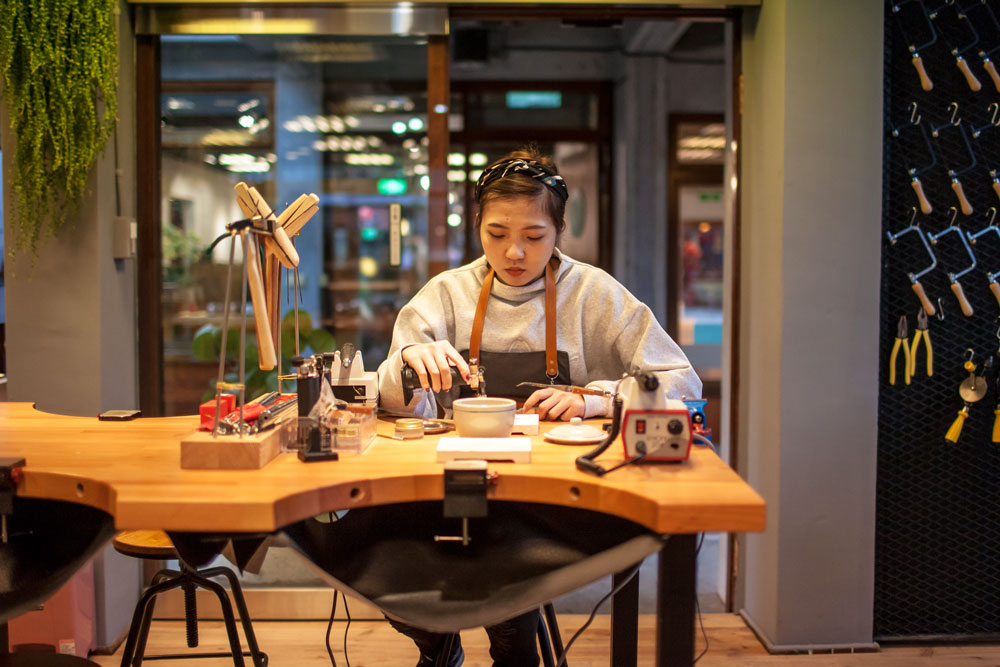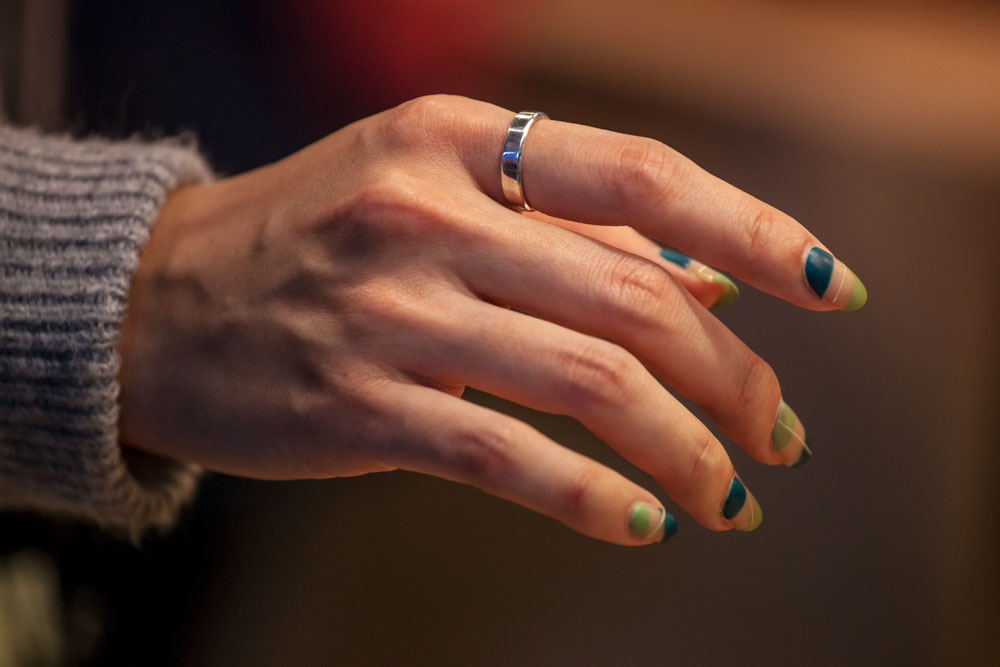 It hardly needs saying that this will surely be your best place for gift and souvenir buying on this trip.
The center is also a learning institute for young people pursuing careers in traditional Chinese theater and music, and there is a regular schedule of live performances provided for visitors, with students-in-training the stars. Check with the visitor center upon arrival. Perhaps the most satisfying and colorful shows are put on at the exquisitely aesthetic stage before the elaborately appointed Wenchang Temple; students pray to deity Wenchang Dijun for success in examinations. Enjoy ritual sword play, martial arts, dragon and lion dancing, glove puppetry, and many other old-style entertainment forms.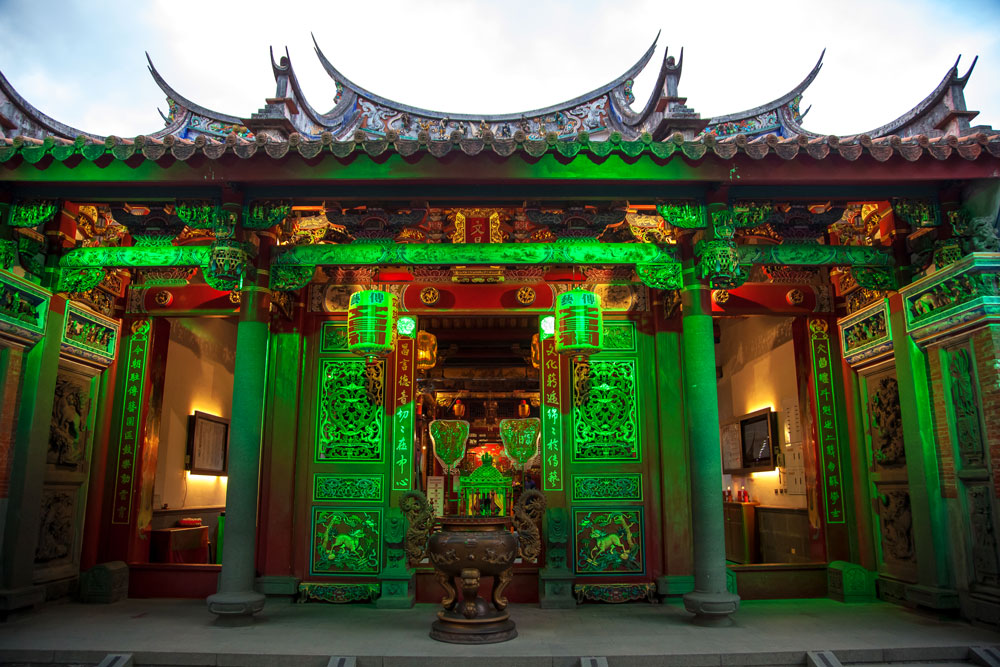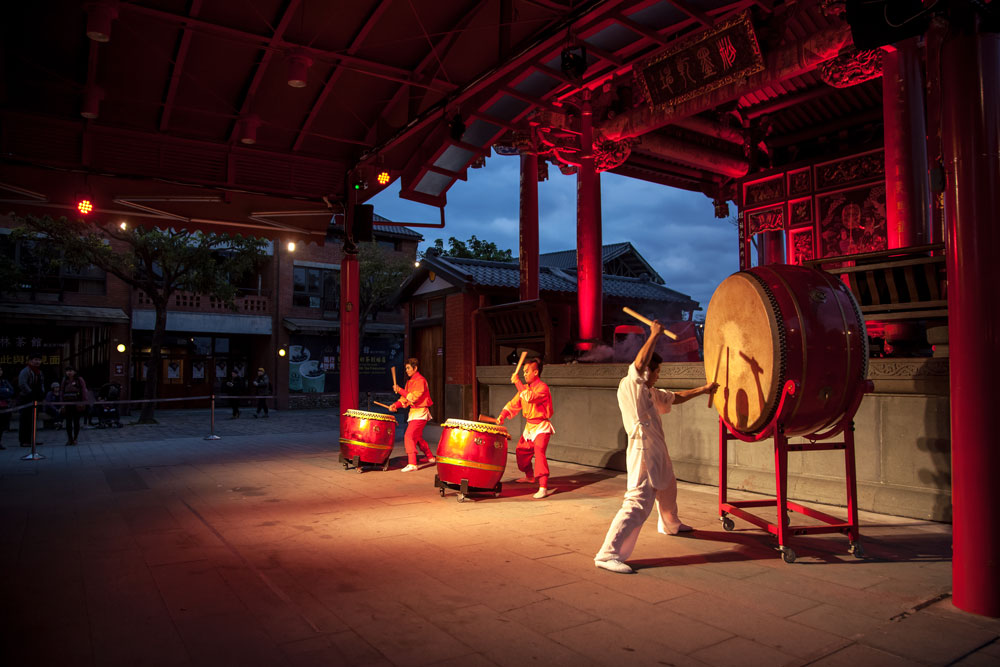 Among the other stimulations that make an NCFTA visit a full-day experience are boat rides on the waterway that winds through the grounds and on the Dongshan River running past outside, a visit to Scholar Huang's Residence, which is a traditional three-sided courtyard-style residence saved from demolition and meticulously reconstructed here, a colossal landscape-art fish made of red lanterns that casts a reflection of ethereal beauty on the inner lake at night, and the "Fog Forest," a mist-created enchanted forest of fogginess so thick that the people around you begin to disappear.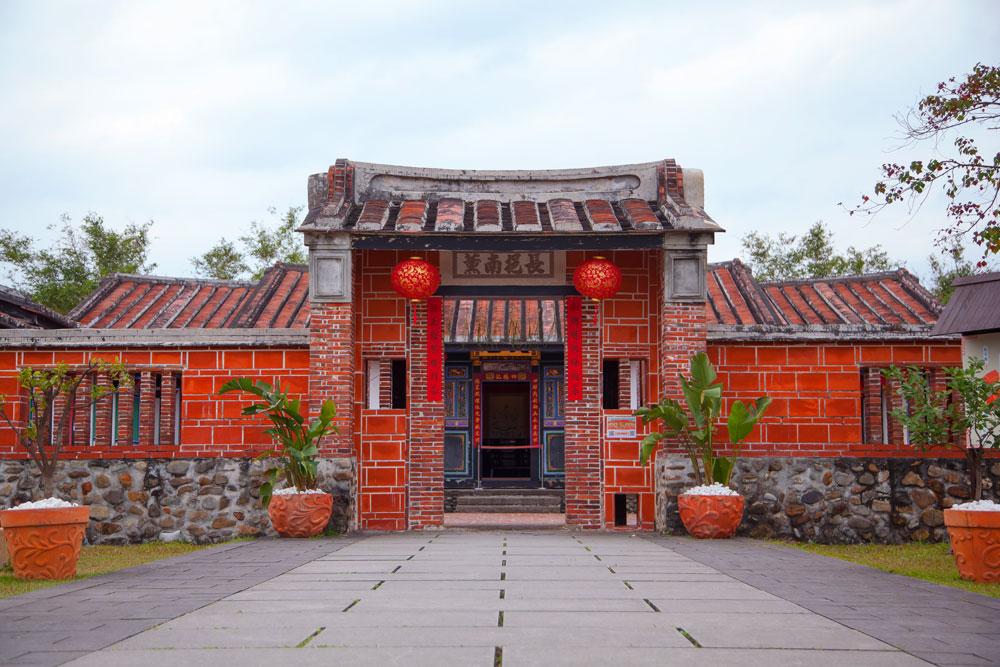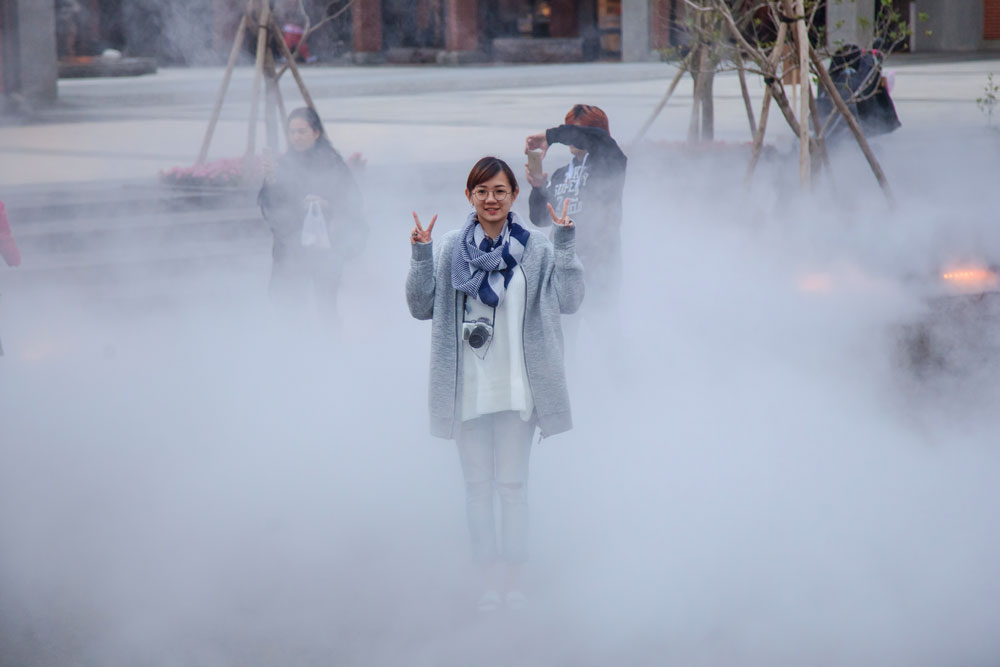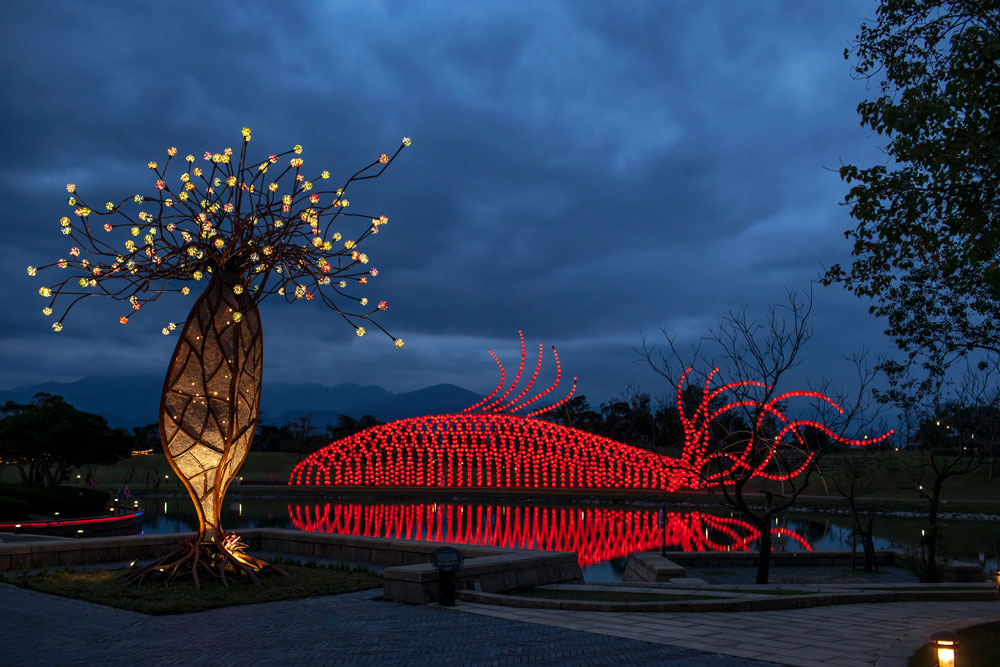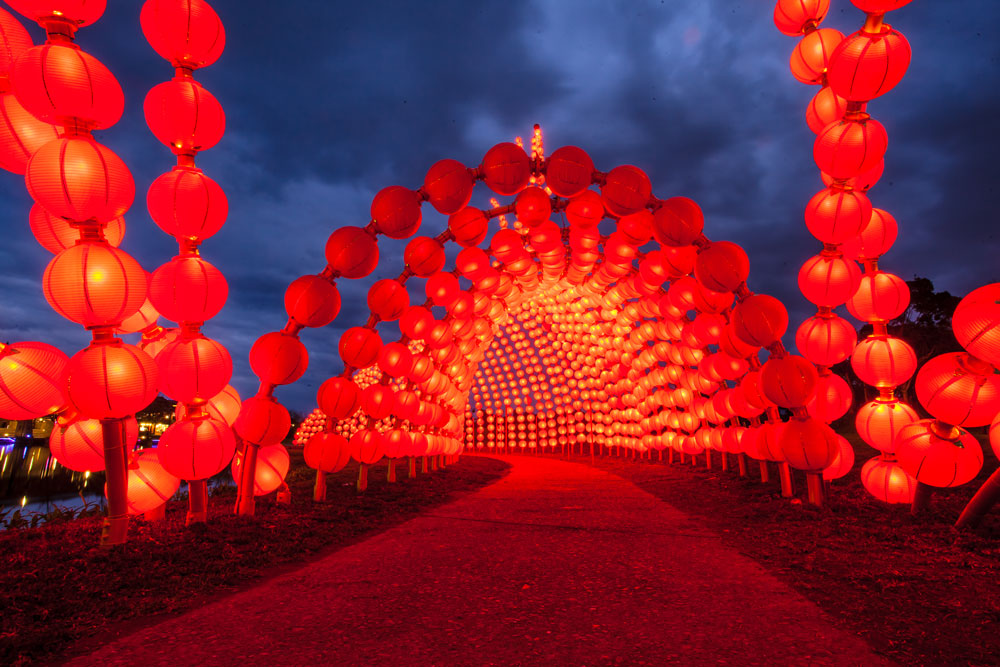 National Center for Traditional Arts (國立傳統藝術中心)
Add: No. 201, Wubin Rd., Sec. 2, Jixin Village, Wujie Township, Yilan County
(宜蘭縣五結鄉季新村五濱路二段201號)
Tel: (03) 970-5815
Website: www.ncfta.gov.tw
Hotel: The PLACE YILAN
Stay right at the National Center for Traditional Arts! The Place Yilan is an excellent choice: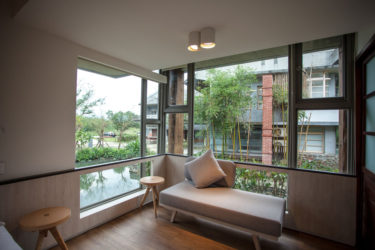 taiwaneverything.cc/2017/03/20/place-yilan/

KLOOK:
Travel the Unknown in Yilan
Dongshan River Tour
Kavalan Whisky Blending and Tasting
Hotels in Yilan City (booking.com)
Southern Yilan Harbor Life – Su'ao and Nanfang'ao
The ocean-port town of Su'ao is a short drive south from the NCFTA along Provincial Highway 2, the coastal highway. On the way you reach the mountains that come down to the sea and you'll pass through a highway tunnel that pierces a spur just before entering the town.
The spur juts right out into the Pacific. A bit further south is another arm extending off the coast; its tip, long ago a hilly island, is now connected to the mainland by a low-hill gravel-and-sand isthmus created by the strong coastal currents. Between these arms are deep waters, and three ports: Beigang'ao ("North Side Port"), Su'ao, and Nanfang'ao ("South Side Port").
Note: Readers will notice that many of this article's place names end in "ao/澳." This character means "deep waters – a place where seagoing vessels can moor," and is used for locations with natural deep-water harbors where ports have been developed.
The Qixingling Trail takes you up on top of the northern spur. Find the trailhead right beside the south entrance to Su'ao Cold Spring Park, a key local attraction. "Qixingling" means "Seven Stars Peak"; the trail is 4,750 meters long, with a maximum elevation of 270 meters. The highest and most photo-worthy harbor/ocean/mountain panorama awaits at lookout No. 6, reached from the trailhead in a steep, steady 25 minutes, beauteous butterflies entertaining you all the way. If time allows, continue at least ten minutes further and you are reward with eagle-vantage photo ops north over the Yilan Plain, central mountains, and iconic Guishan ("Turtle") Island in the far distance.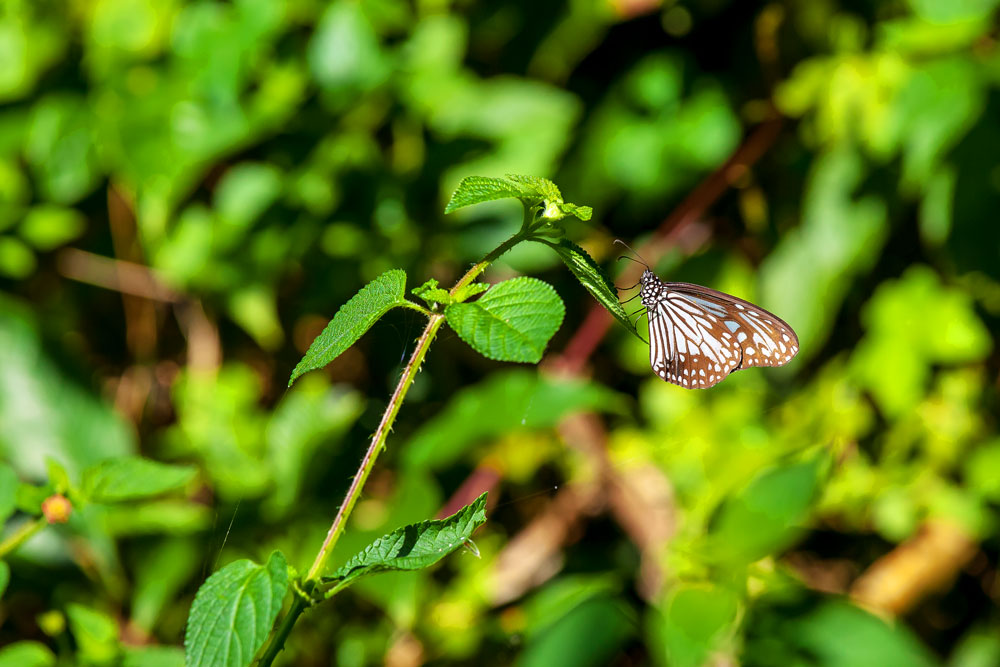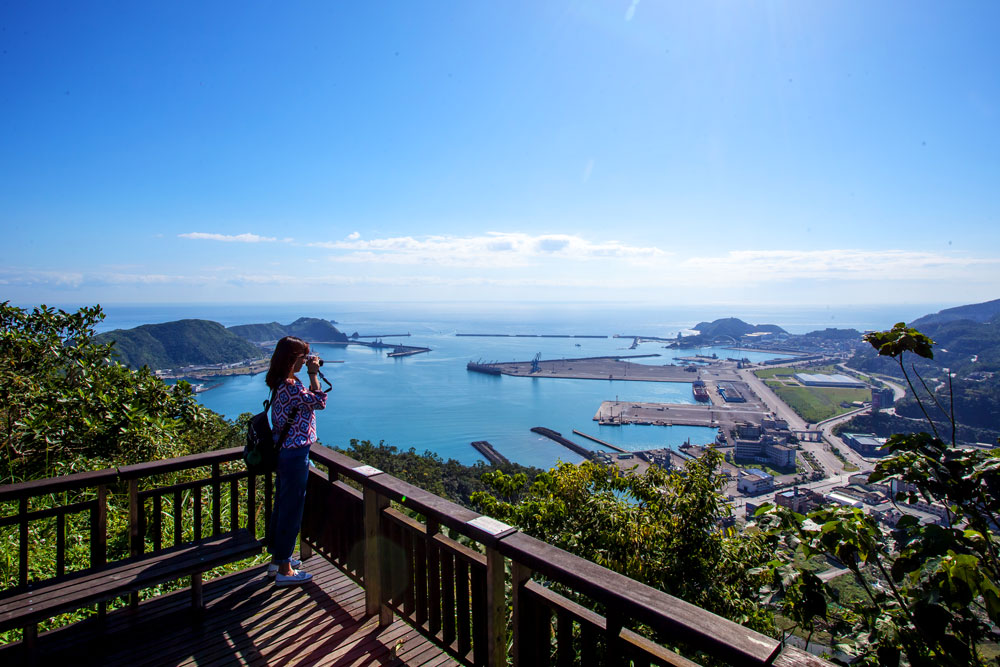 Nanfang'ao has three side-by-side narrow harbors, all dedicated to fishing craft. At the foot of the middle harbor is exuberantly ornate Nantian Temple, dedicated to Mazu, Goddess of the Sea. Construction was started in 1946 after, locals believed, the goddess saved them from disaster. On the south side of this harbor's mouth is the raucous Nanfang'ao fish market, where boats constantly pull up to unload catch for sale at a dense array of stands, creating more vivid photo opps.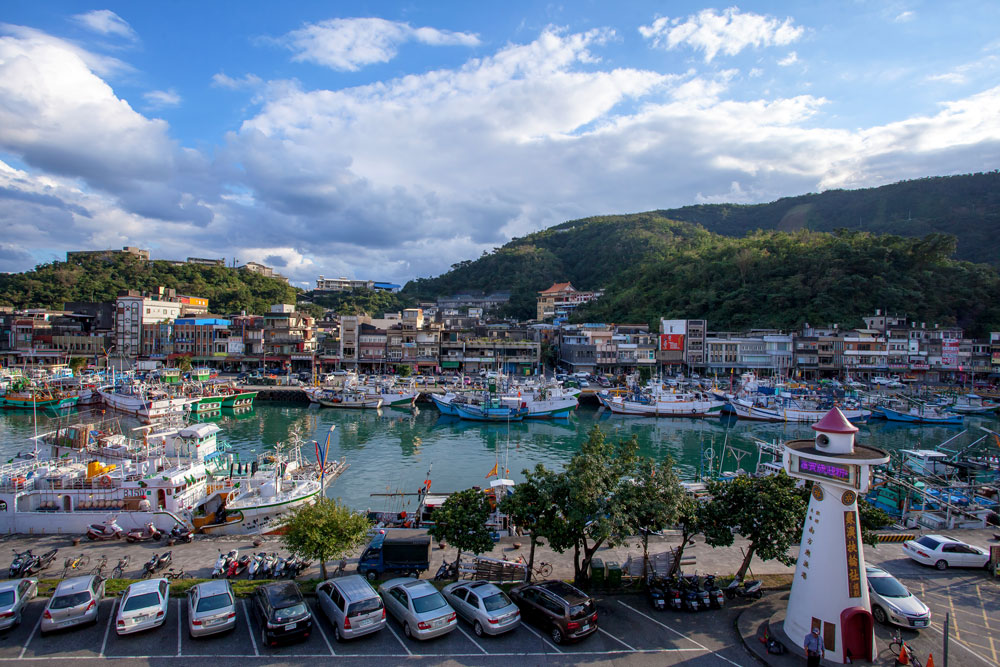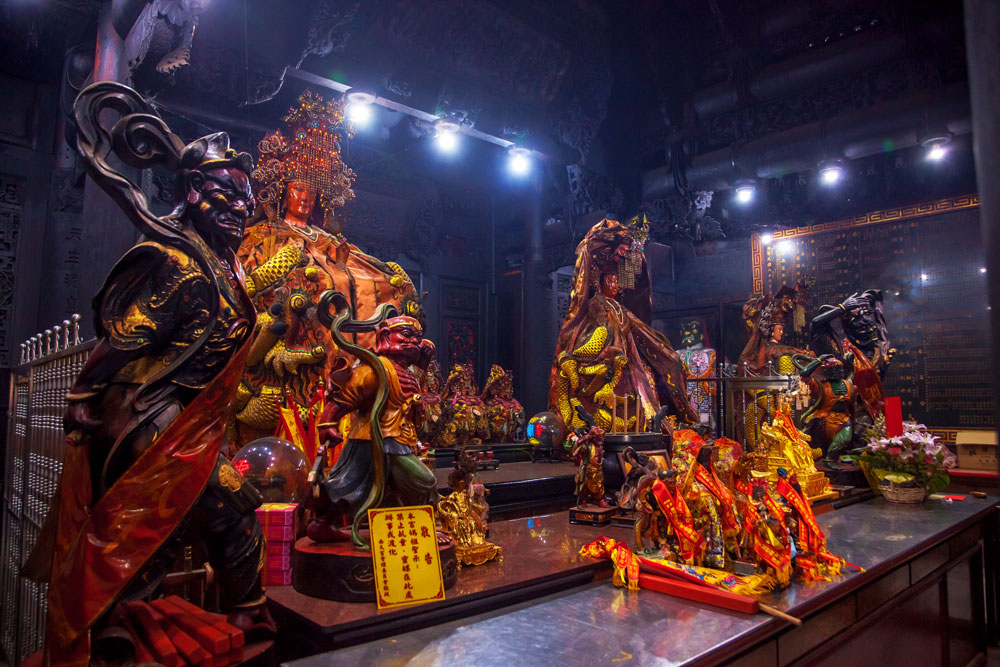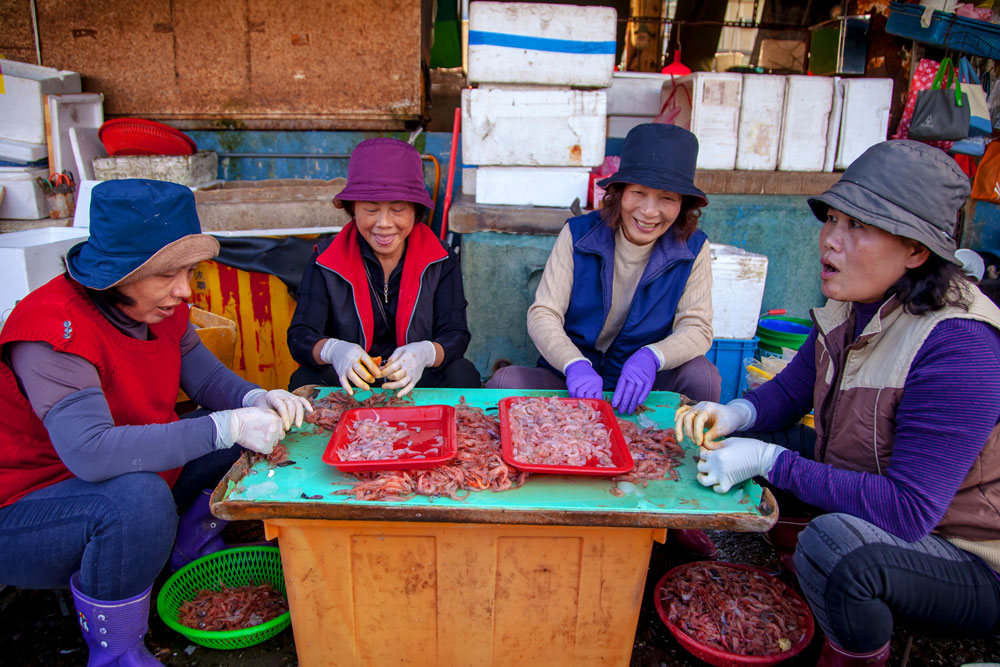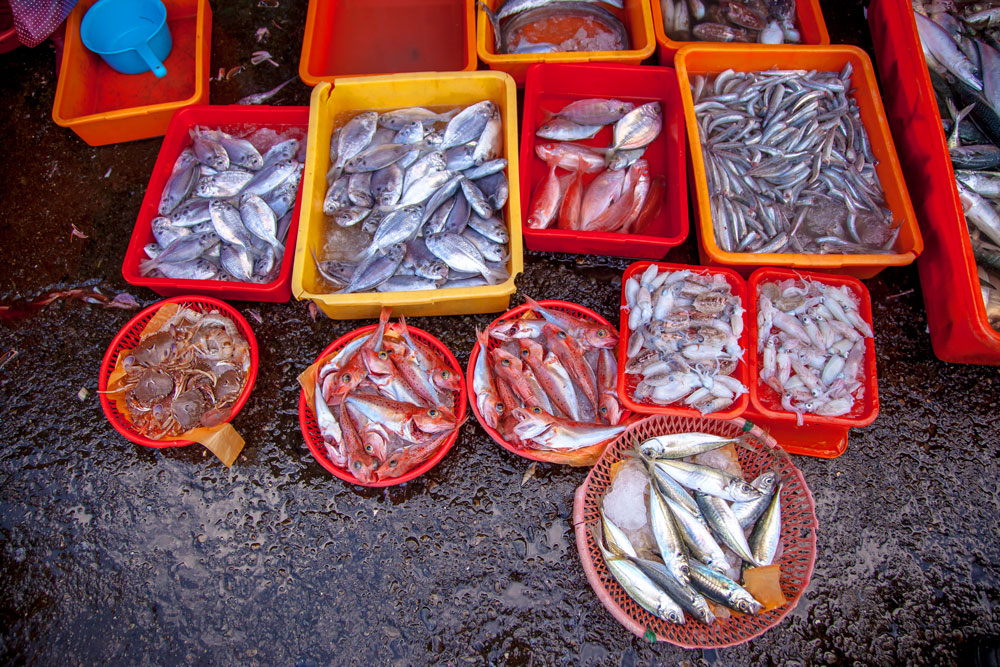 Halfway down the harbor's north side (No. 81, Yugang Rd.) is the Sangang Iron Factory Museum. The factory, set up here in 1962 and closed in 2004, was dedicated to fishing-boat repair and maintenance. The museum, stuffed to the gunwales with now-antique machinery, period photos, and other fishing industry-theme treasure, is run by the son of the key factory founder.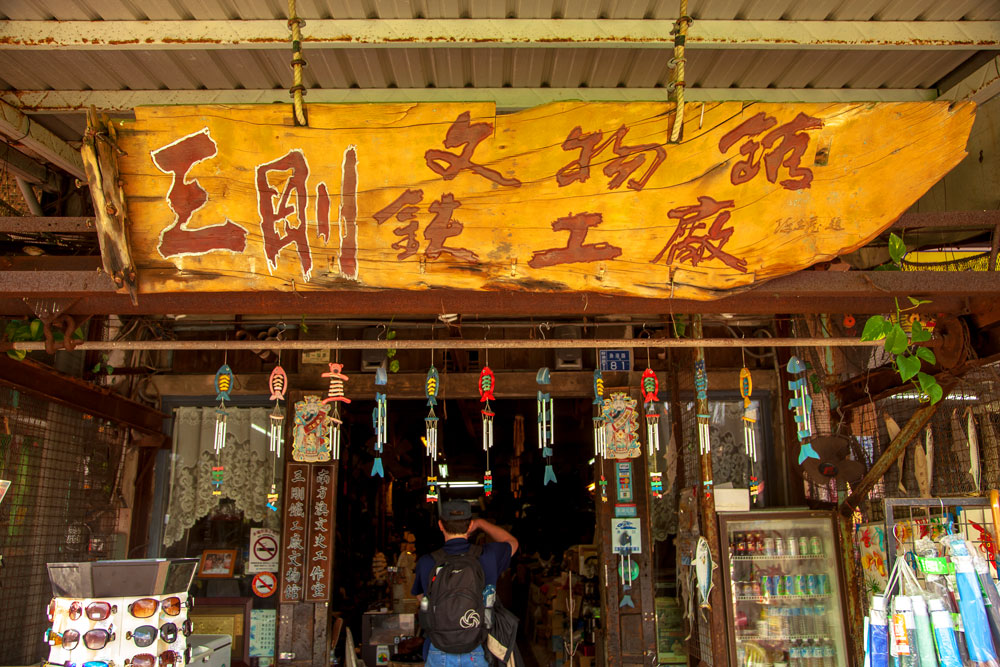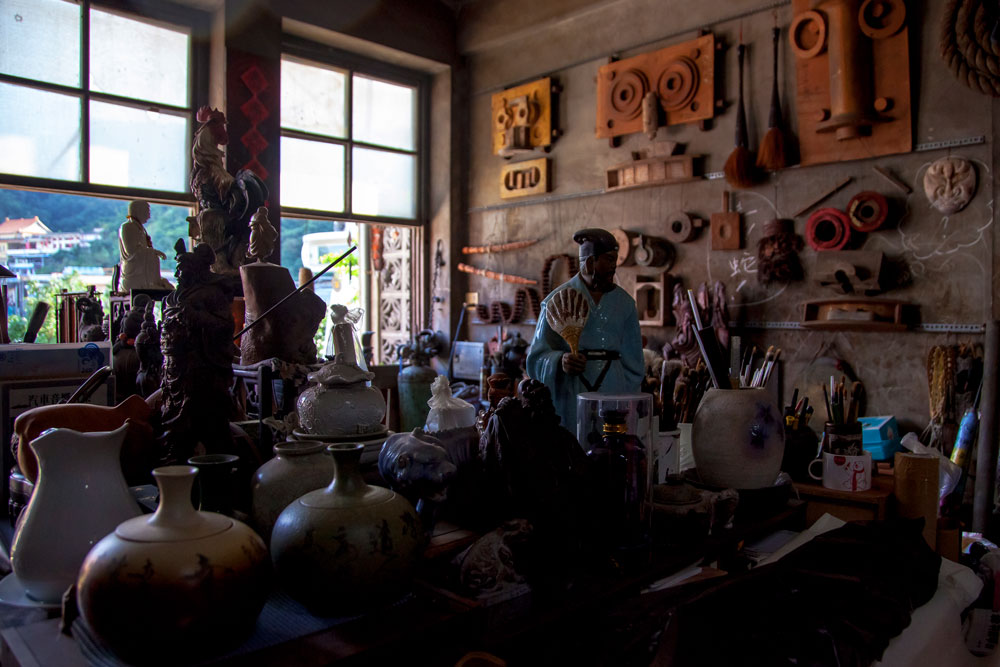 Other Nanfang'ao spots of interest include Neipi Beach, the pleasant long and arcing sand/gravel beach on the outside of the earlier-described isthmus (dotted with attractive cafés and eateries), Doufu Cape, a spot popular with snorkelers on the outside of the "former island" at the end of the isthmus, so named because its rock resembles soybean curd, and Zhu Dayu Culture Museum, established by the local fishermen's association to showcase Nanfang'ao seafood products (located by Nanfang'ao Bridge beside the northernmost harbor).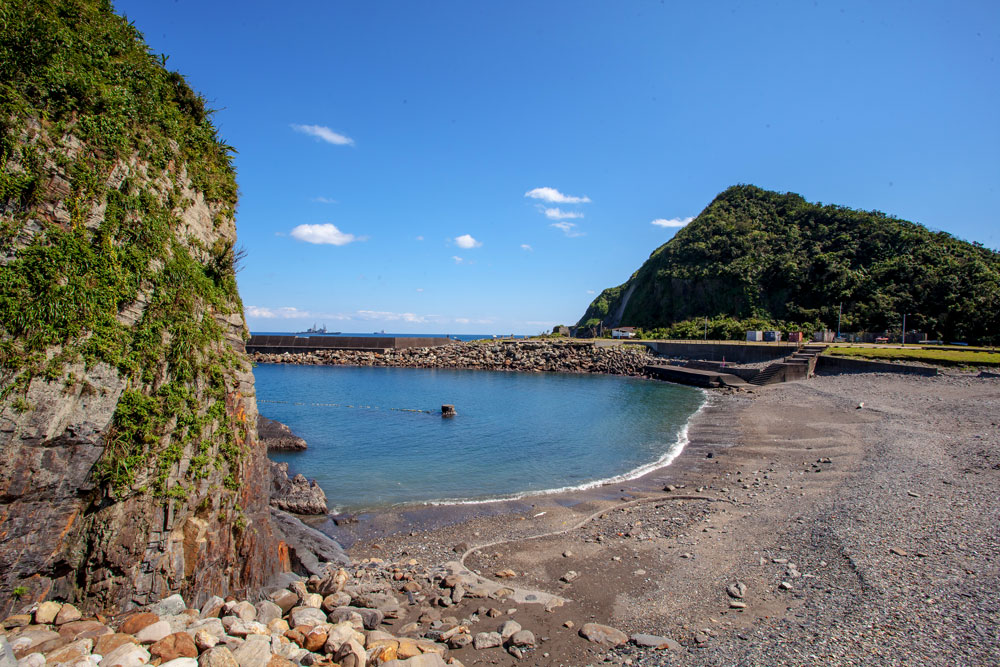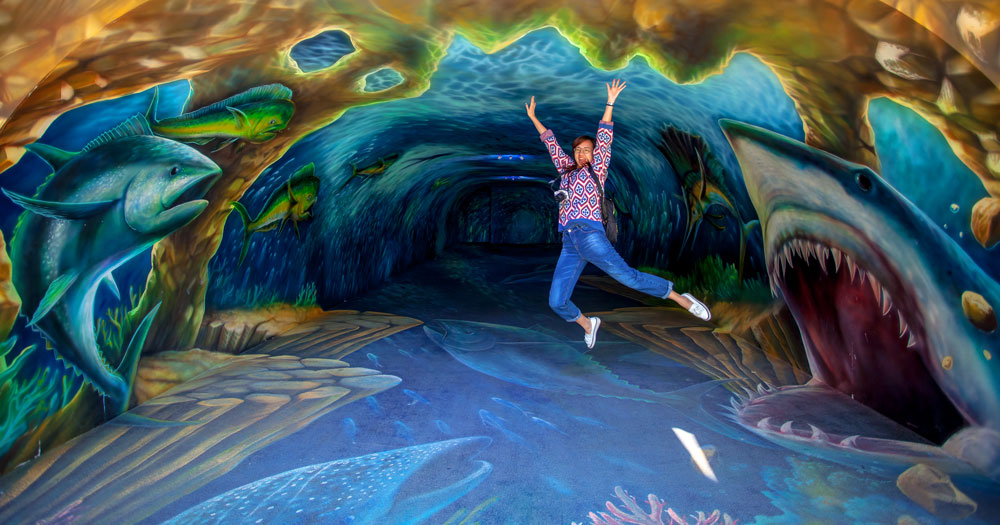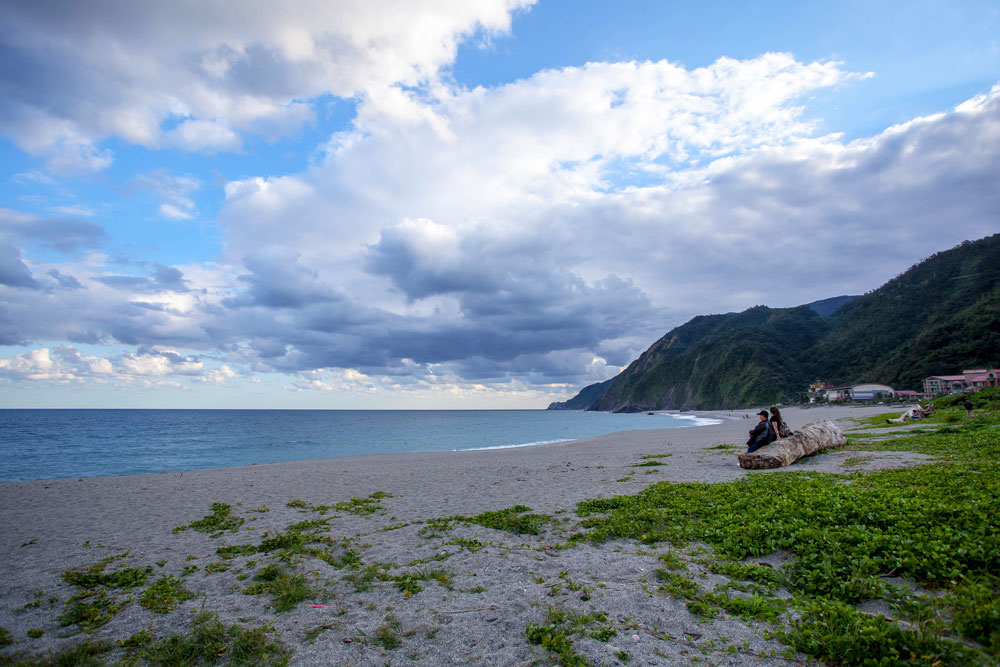 Nanfang'ao has many quality harborside restaurants specializing in seafood. If needing a change of pace, however, the Good Place restaurant is a great place. It's in a 1960s-built two-floor former family home in terrific shape; Taiwan coastal homes generally start showing wear and tear after just a few decades. The proprietor says this is because his clan worked in the large boat-building enterprise next door, and had access to premium materials. The restaurant is a nostalgia treasure-house, filled with antique family furnishings, old Taiwan record albums and photos, etc. On the extensive menu are set meals, hotpot options, and noodle dishes; especially good set-meal choices are the Kung Pao chicken, deep-fried spicy chicken, and braised niunan (beef brisket).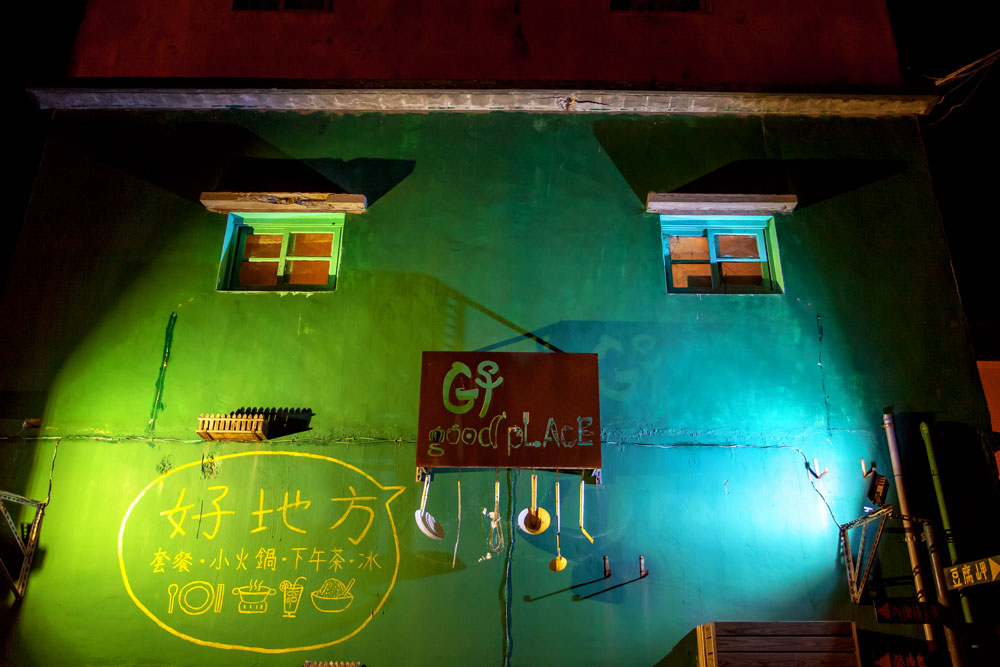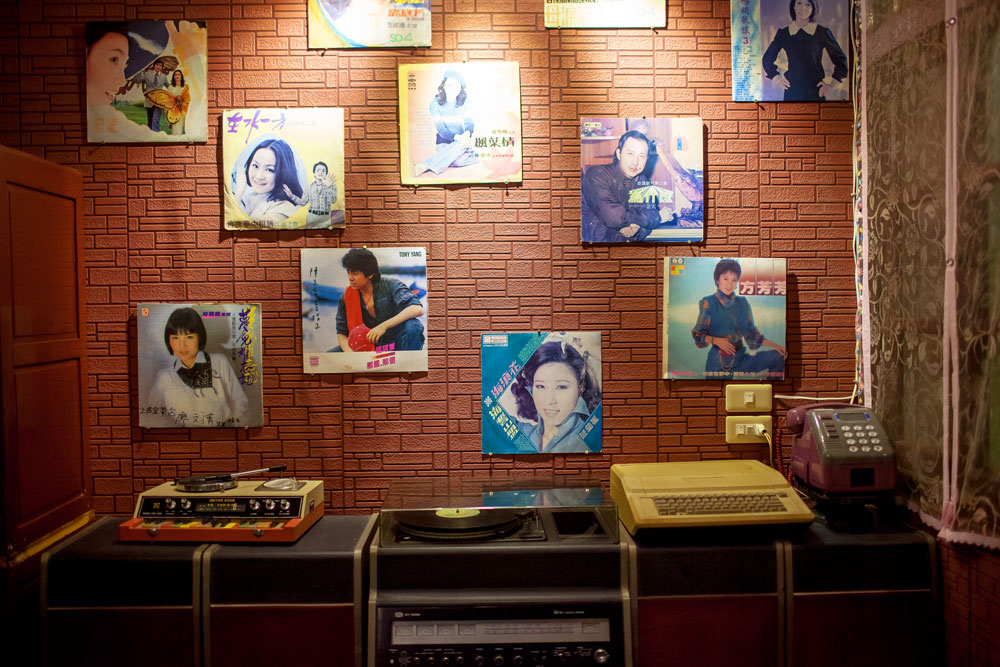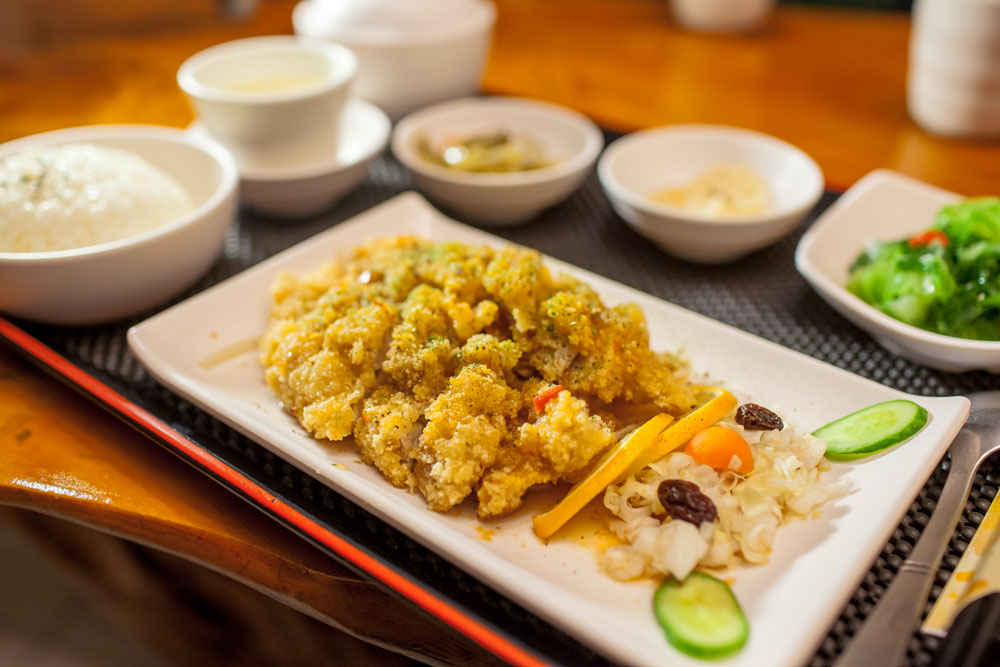 Photo Tip: This region's most popular photo-taking spot is almost surely the Nanfang'ao Observation Deck, perched cliffside at the 108km mark of Su-Hua Highway. Directly above the Nanfang'ao harbors, your sunrise shots are guaranteed terrific, as are your evening shots, when the harbor-area lights come on and dynamic-design Nanfang'ao Bridge is bathed in changing pastels.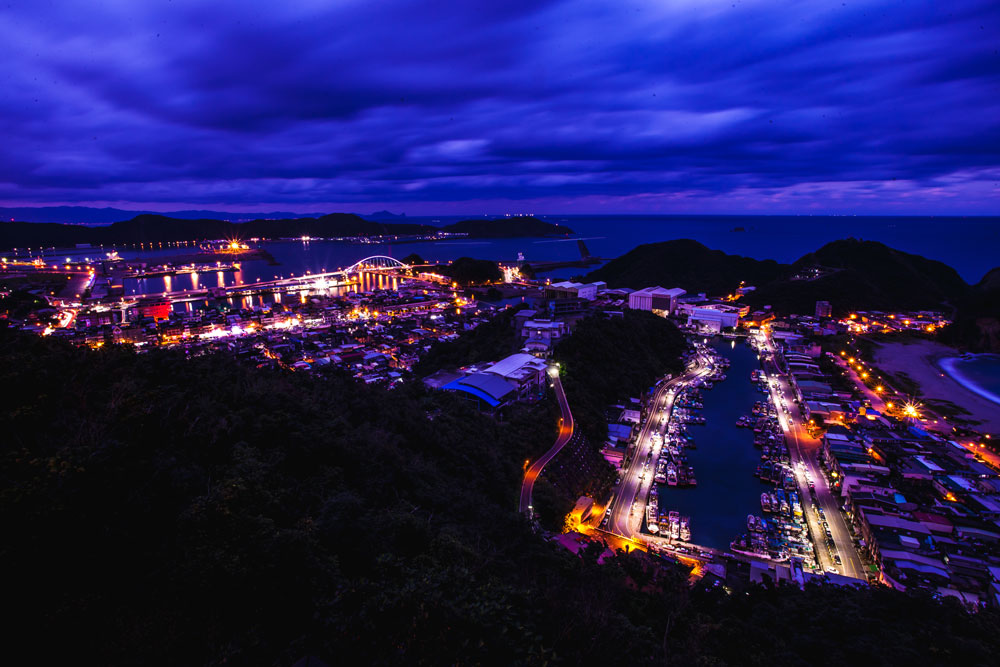 Hotel: Lakeshore Hotel Su-ao
We stayed one night at this quality hotel in Su'ao. Check it out: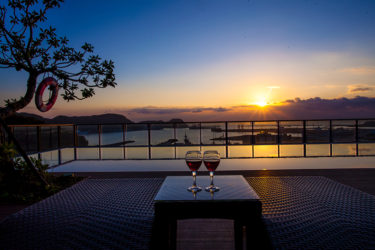 Su'ao Hotel
RSL Cold and Hot Springs Resort Suao
(宜蘭蘇澳瓏山林飯店)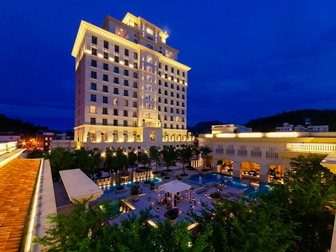 No. of Rooms: 153
Add: No. 301, Zhongyuan Rd., Su'ao Township, Yilan County (宜蘭縣蘇澳鎮中原路301號)

Tel: (03) 996-6666
Website: www.rslhotel.com
Southern Yilan Coastal Scenery – Dong'ao and Nan'ao
The inexpressibly impressive Su-Hua Highway twists and turns, often high above the sea and etched into the cliffs, 118km between Su'ao and the coastal city of Hualien. On this trip we venture south to the town of Nan'ao. The highway, a delivery vehicle to magisterial scenery in places, began as a mere footpath hacked from the coastal mountainsides by China's Qing Dynasty government between 1874 and 1876. From Nanfang'ao to Nan'ao, the terrain is defined by steep cliffs footed by wave-pounded rocky shores, indented periodically by bays, small fishing ports, and narrow arable alluvial flatlands.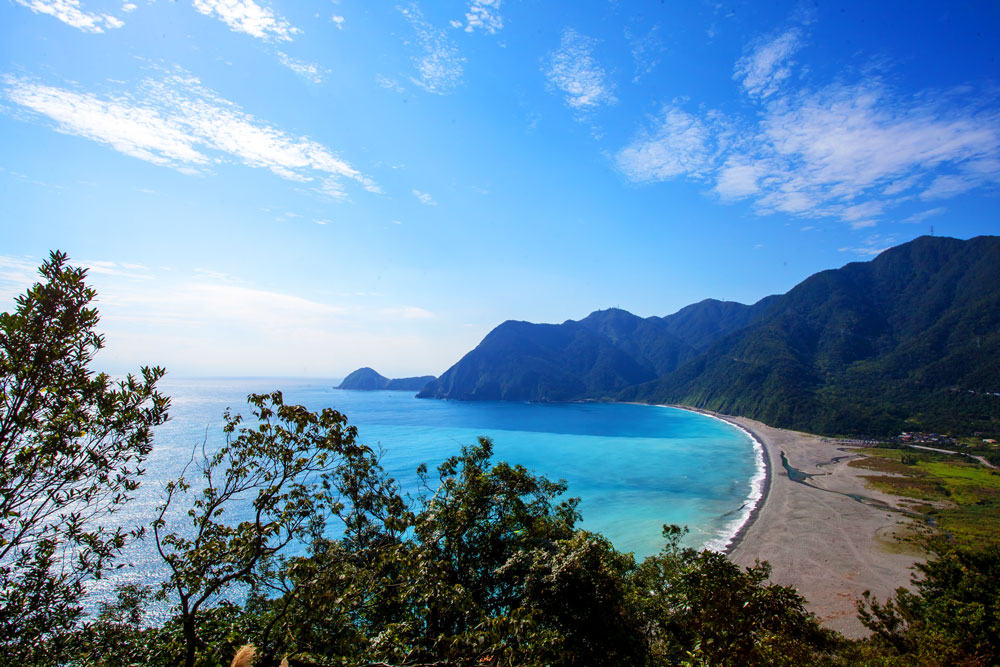 The Dong'ao port, small and tranquil Fenniaolin Fishing Harbor, is reached from the coastal highway via a long cliff-base road beside a broad turquoise-hue bay and gravel beach decorated with a fantastic kaleidoscope of stones each an artwork in itself, each a painter's canvas of marvel-inducing color variation in miniature. The coastal highway here, seen above, snakes along so high up that crested serpent eagles drift below rather than above it.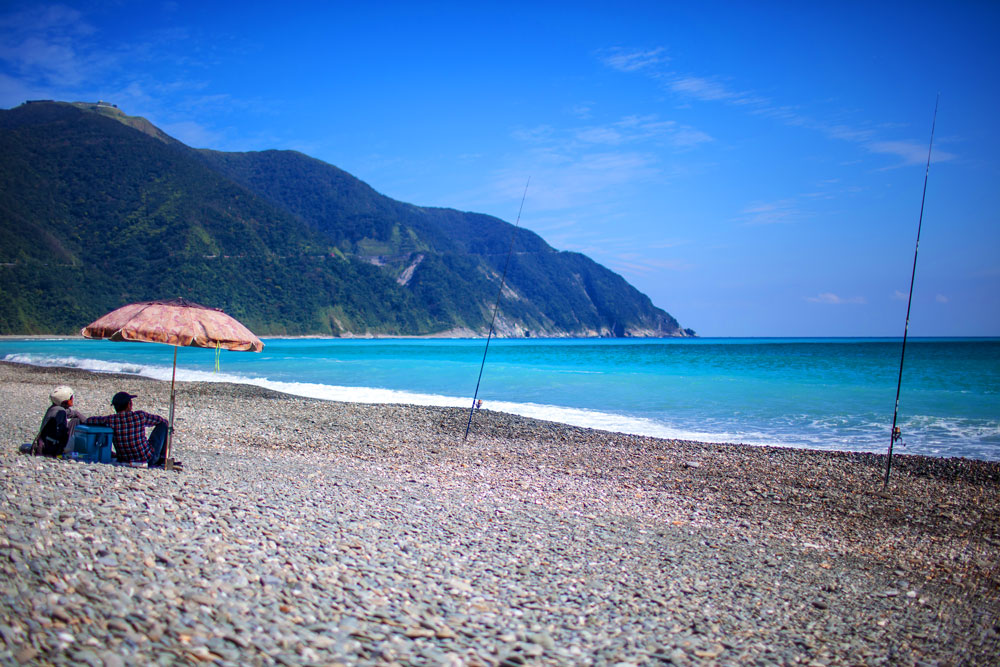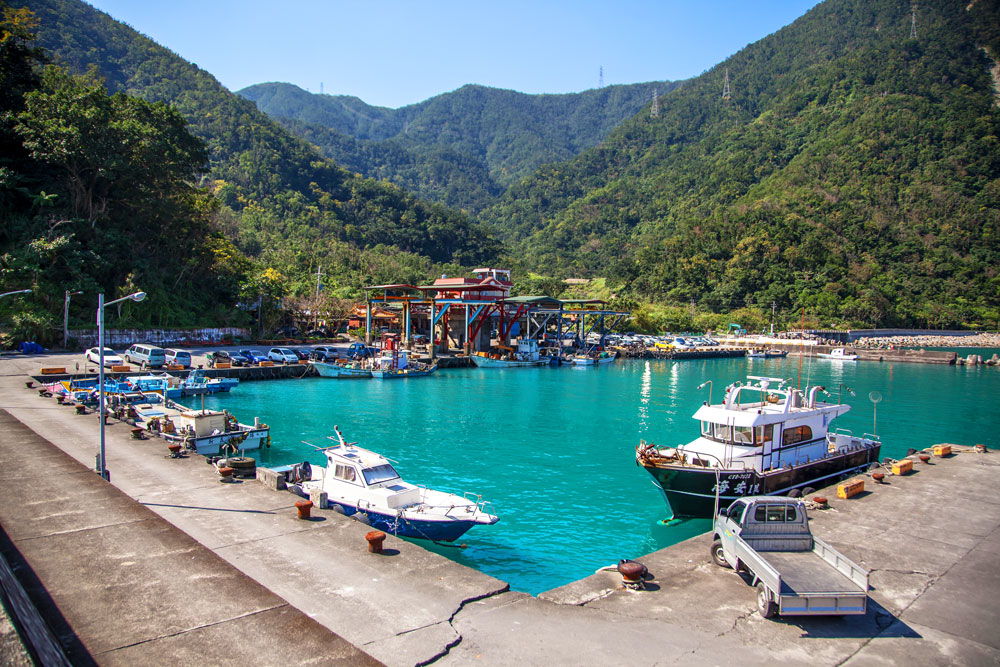 The harbor is on the north-side foot of nose-shaped Wushibi, the most prominent headland along the Su-Hua Highway, which projects far out into the sea. Clamber over the dike-wall on the harbor's ocean-facing side to enjoy the thrilling seascape of wave-washed reefs and water-surrounded rock formations at the hidden-away "Secret Rocky Shore."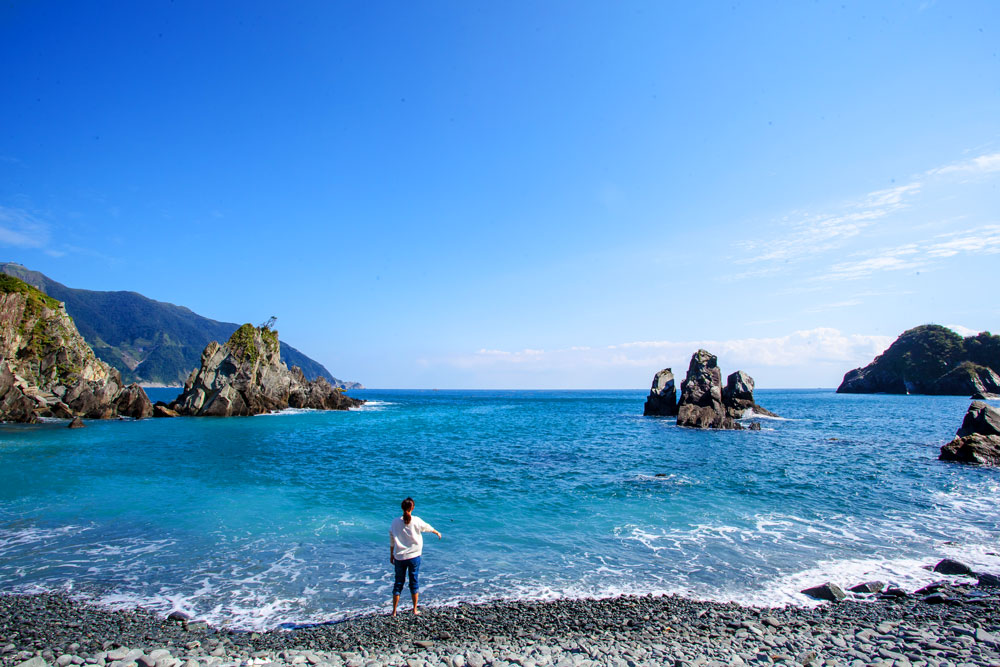 In Nan'ao, the Chaoyang Trail starts by the roadside just before Chaoyang Fishing Harbor. Stretching 2.2km, it runs up and over 181m-high Guishan ("Turtle Mountain"). The steep first section is conquered in 10~15 minutes, delivering hikers to a hilltop lookout with a commanding overview of harbor, sea, Wushibi on the north, and a narrow arm of the fertile, farm-dotted Nan'ao alluvial plain. Keep an eye out for tree frogs trailside, and eagles overhead.
If you happen to understand Chinese, and happen to search online for good places for a Nan'ao meal, you're sure to come across the effusive recommendations given the country-warmth Good Eats Café. On the main floor of a two-floor residence just off the coastal highway on the Chaoyang Harbor road, it's run by a Taipei refugee whose plan to move here to run a small organic farm morphed into running the café to showcase healthy local produce. Meals, based on what she has just harvested and purchased at Chaoyang Harbor, include such Taiwanese rural-style treats as chicken soup with mustard greens and yam, Hakka-style "tofu" made with peanut and rice powder (no soybean), and pumpkin cake.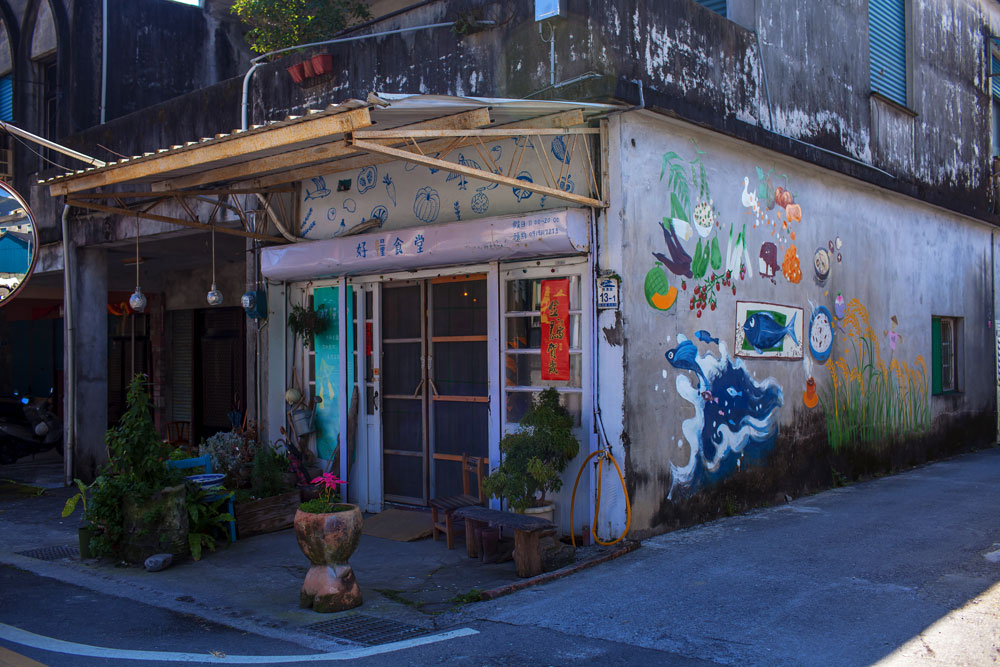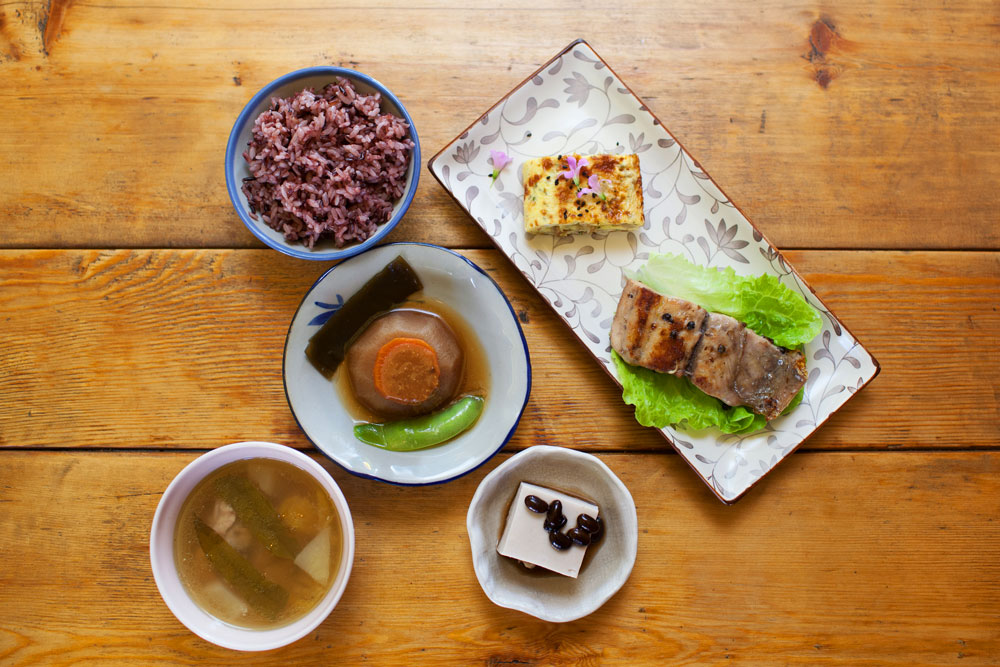 Good Eats Café (好糧食堂)
Tel: 0919-117-273
Add: No. 13-1, Nan'ao Rd., Su'ao Township, Yilan County
(宜蘭縣蘇澳鎮南澳路13-1號)
Website: okogreen.com.tw/blog/4326 (Chinese)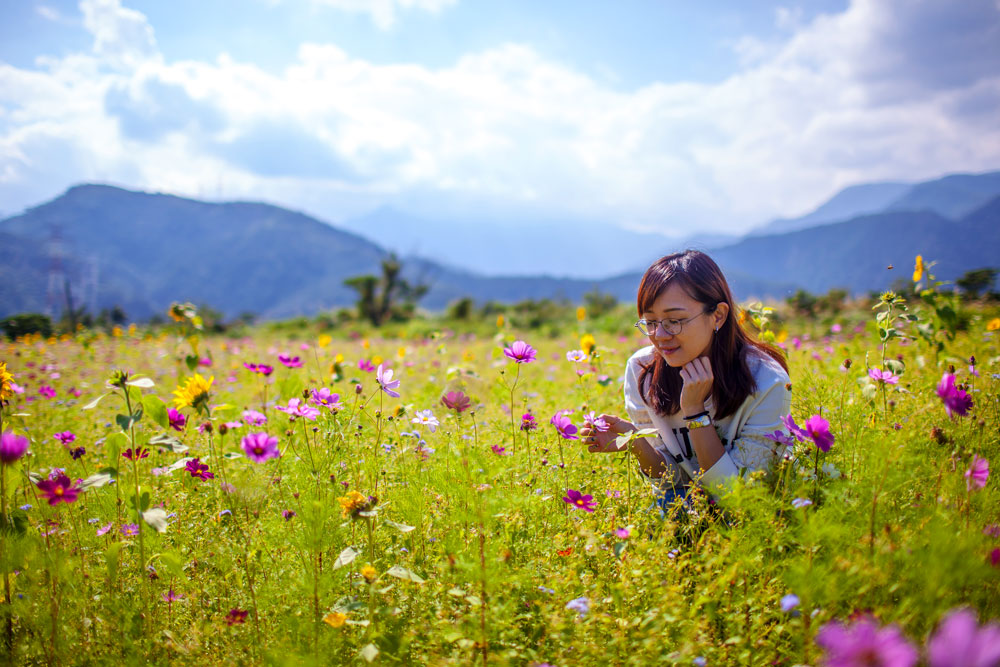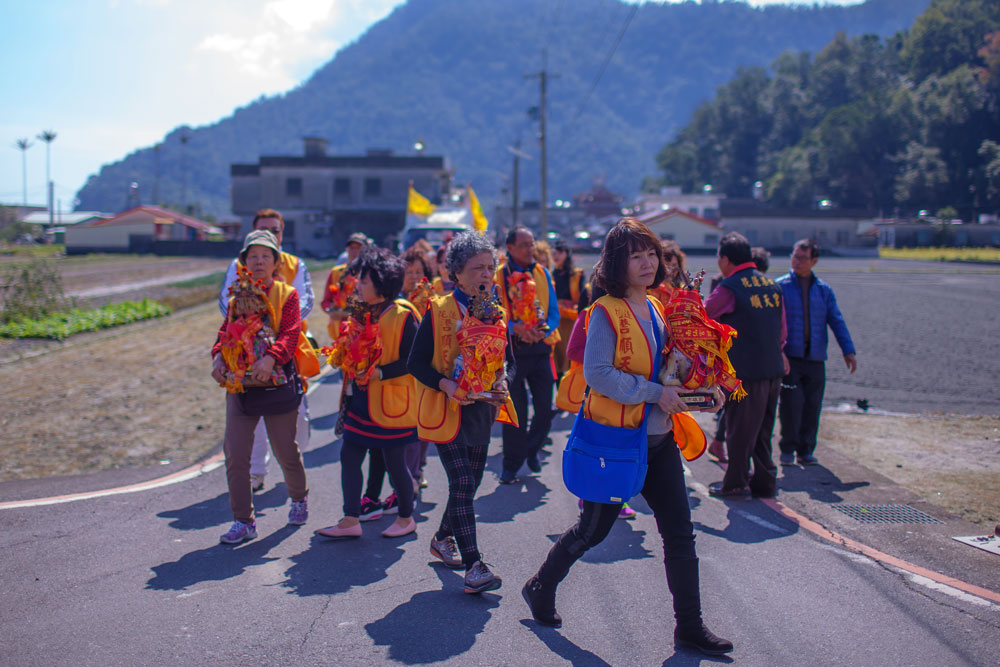 Chaoyang Fishing Harbor Auctions
This harbor, sleepy most of the day, is bracketed by high bluffs. Wushibi serves as the natural barrier on its north side. The waters beyond the harbor are the richest fishing grounds in Su'ao Township's south area. The rocky shores here are also a favorite with shore fishermen.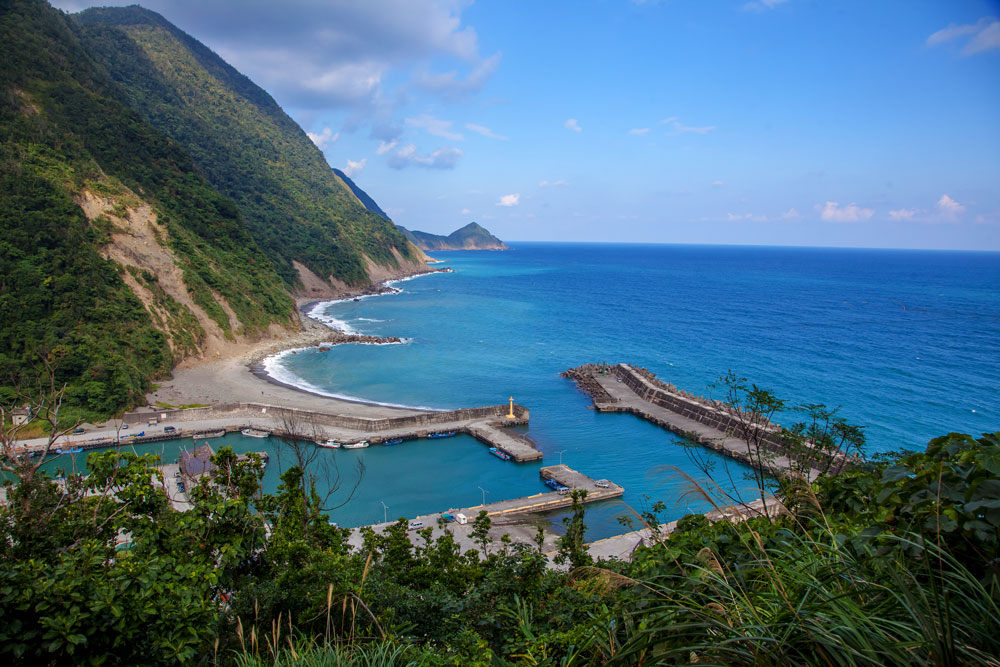 Local buyers and tourists flock here daily at around 7am and 4pm, when boats arrive laden with catch from the deep open sea and especially the rich Kuroshio Current that rushes north off the east coast. After boats dock impressively large and high-value migratory catch is tossed up, and camera-toting tourists are mightily impressed with the seemingly chaotic yet highly disciplined public buying process, carried out rapidly with surprising quiet.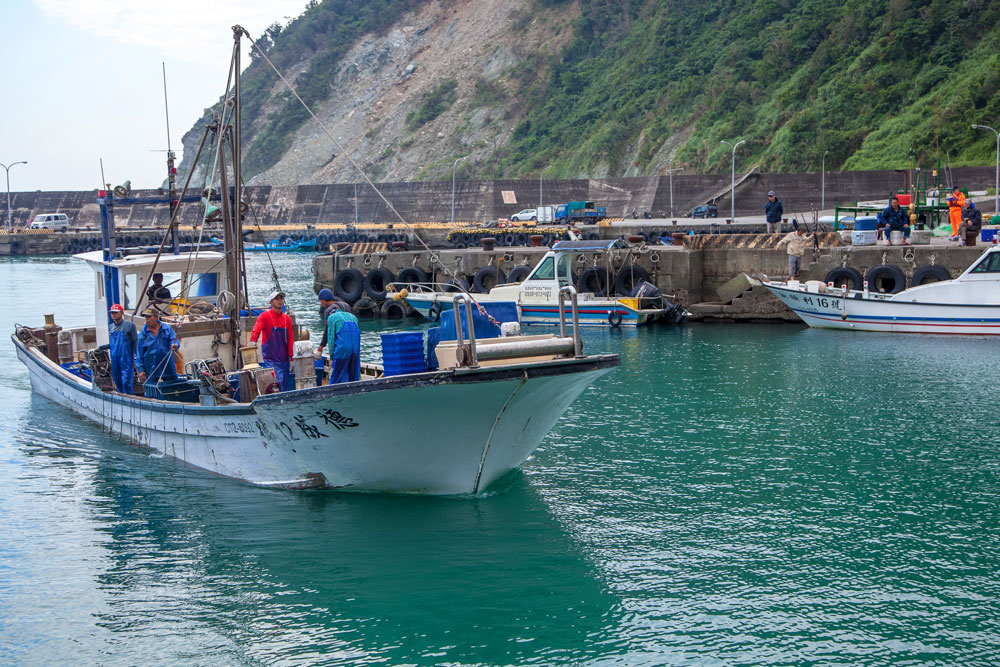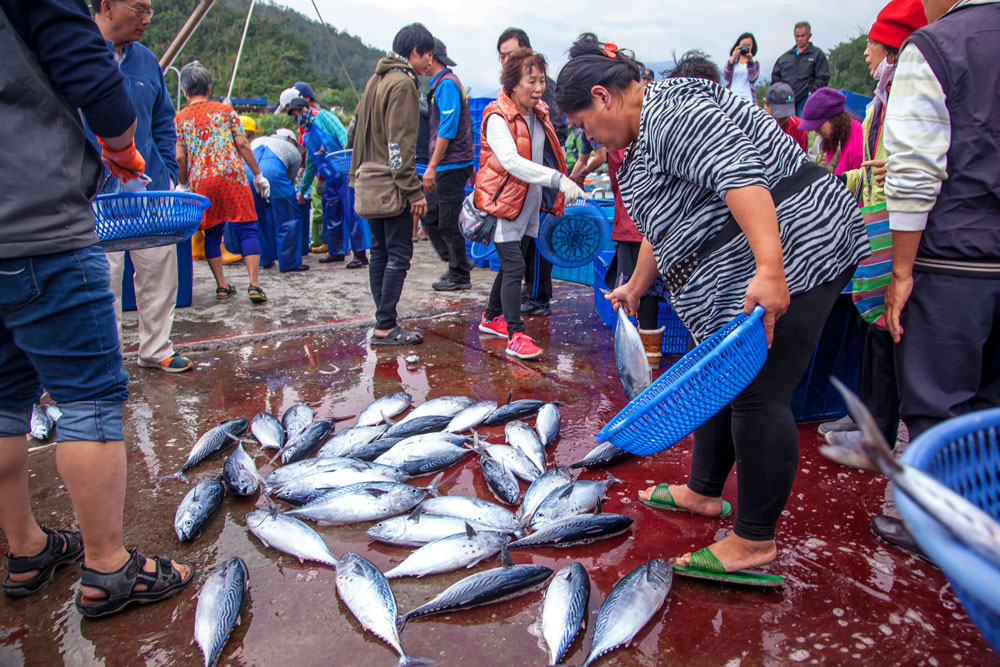 Finish your southeastern Yilan expedition with a windy walk along long, long Mystery Beach, just south of the Chaoyang harbor/trail area. Nature's power is on glorious display here. Artists delight at the prodigious pile-up of driftwood specimens driven high up the beach by Taiwan's typhoons, and the mighty coastal currents create tremendous roiling waters that bash the shore with thundering audio accompaniment.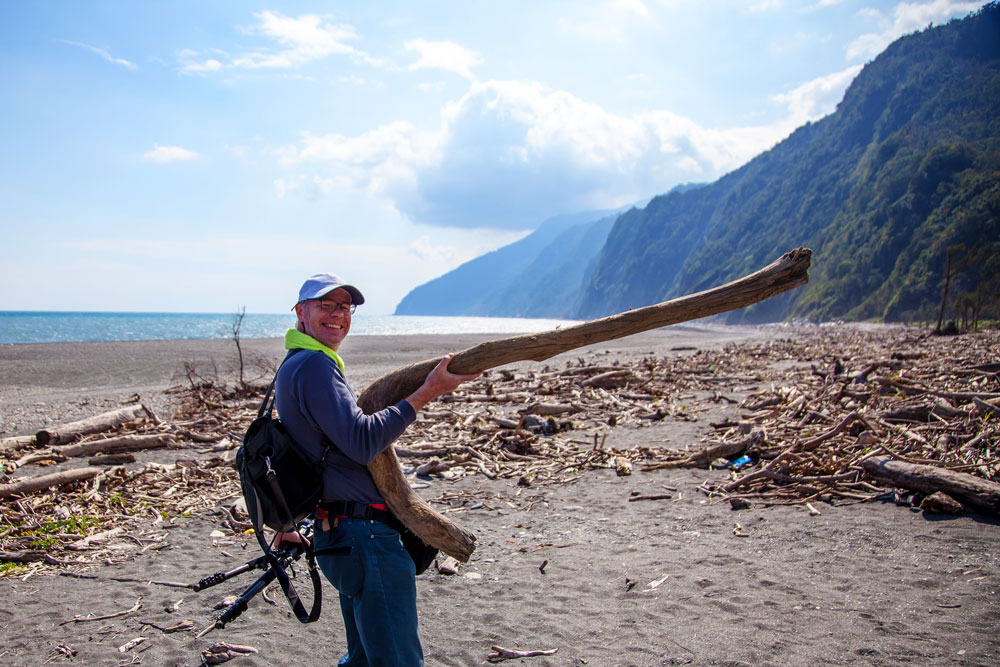 Also read:
The SUHUA HIGHWAY in YILAN
Getting There & Getting Around
There are regular buses and trains from Taipei to various locations in Yilan, including Su'ao. Because a more direct route is taken, via Freeway 5, bus service is markedly quicker. For more details, visit the Northeast and Yilan Coast National Scenic Area website.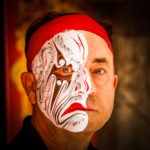 A Canadian, Rick has been resident in Taiwan almost continually since 1988. His book, article, and other writings, on Asian and North American destinations and subjects—encompassing travel, culture, history, business/economics—have been published widely overseas and in Taiwan. He has worked with National Geographic, Michelin, APA Insight Guides, and other Western groups internationally, and with many local publishers and central/city/county government bodies in Taiwan. Rick also handles a wide range of editorial and translation (from Mandarin Chinese) projects.