Lonely Planet Taiwan, Edition 11
POCKET TAIPEI, EDITION 2
The below part of this post was written two years ago to introduce the 10th edition of Lonely Planet Taiwan. We just received the 11th edition. While much of the content is unchanged from the previous edition, all information has been updated and new entries have been made to reflect the rapidly changing travel environment of Taiwan. On pages 20/21 is a summary of What's New in this guide book/in Taiwan, including Cacao Farms, Private Museums, Gourmet Dining (Michelin-starred restaurants), Craft Beer, places for the LGBTIQ+ community, and much more. To our delight Taiwan Everything is mentioned under Listen, Watch & Follow. Thanks, LP!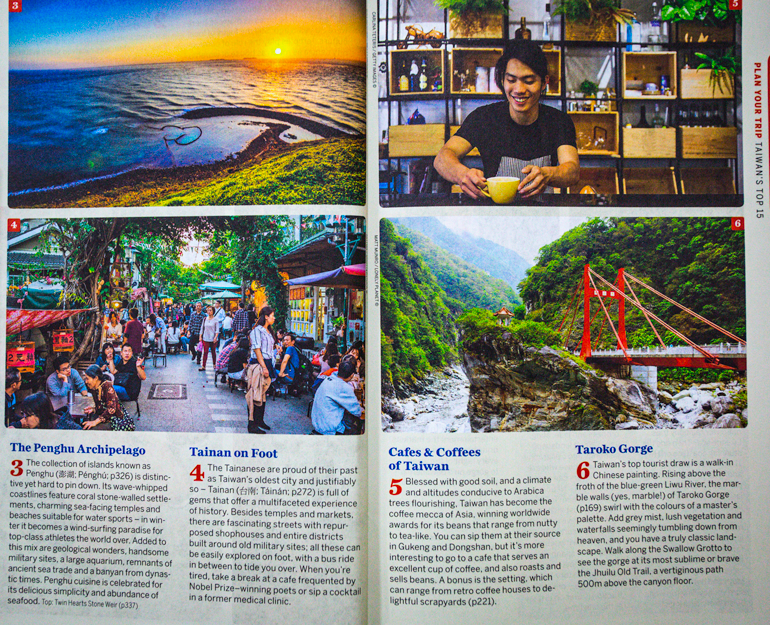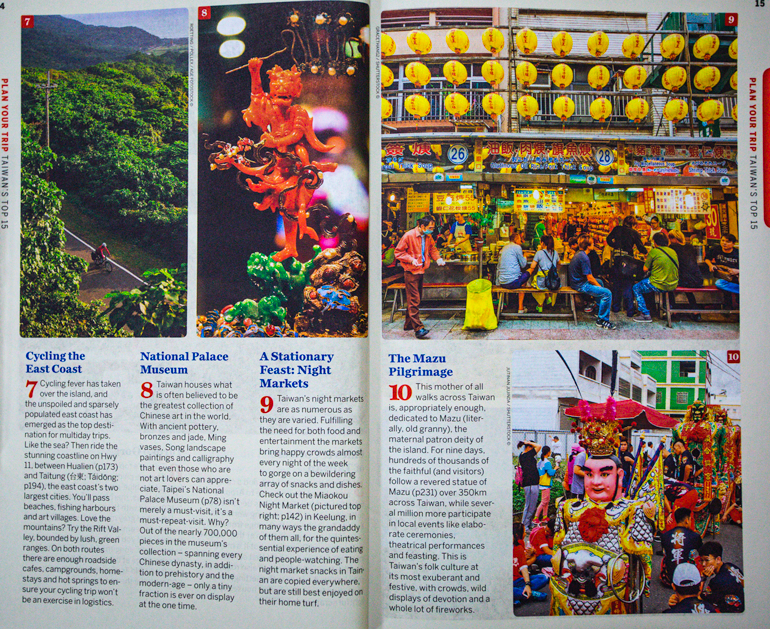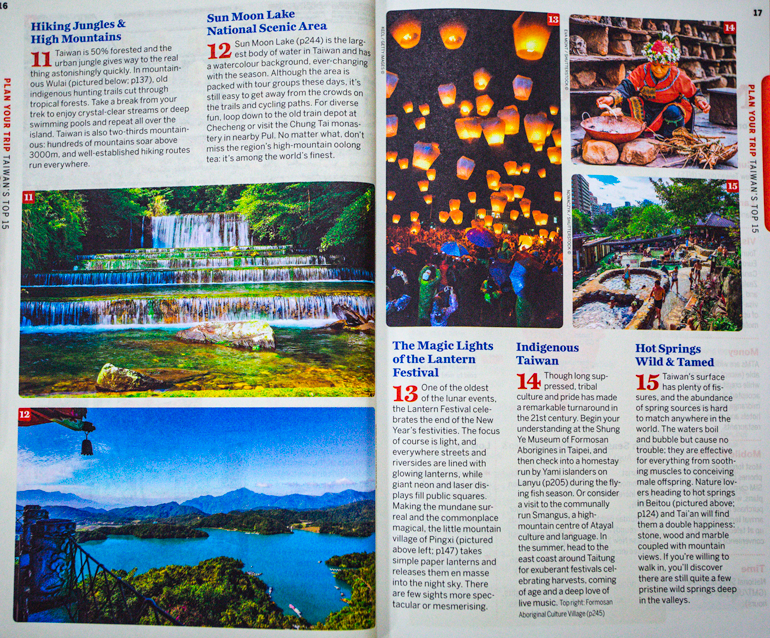 Pocket TAIPEI the handy small city guide book for Taipei, is now in its second edition. Like with LP Taiwan the content has been updated and helpful info has been added. Both guidebooks are must-haves if you plan to visit Taiwan and Taipei for the first time.
OLD PART (written in 2017)
Lonely Planet Taiwan, Edition 10
Just received a copy of the latest "Lonely Planet: Taipei" and its little sister "Pocket Taipei" also published by Lonely Planet.
Note: I don't get any money for this review, so I will point out the things I LIKE and DON'T LIKE.
It's been almost 30 years now that I first traveled around Taiwan, and thanks to the Lonely Planet guide book I bought after touching ground on this island for the first time in 1989 I found my way easily to such locations as the Wenshan Hot Springs in Taroko Gorge (I always remember how a fellow traveler got drunk, jumped into the hot-spring pool, and tried to cool off in the nearby stream; he floated down the ice-cold stream like a dead corpse for a 100 meters or so and was certainly almost sober once he managed to get back onto the rocky bank).
The latest LP Taiwan is the 10th edition of this must-have-guide for first timers to any foreign country (I guess they have one guide for almost every country by now), which was first published back in 1987 (I probably had the first edition). A lot has happened over the past three decades. Lonely Planet has grown into the largest travel guide book publisher in the world for example. What has not changed, however, is that I am still traveling in Taiwan, on a regular basis, without really requiring a guide book any longer, of course. However, it's always a good idea to check if there is anything new and interesting in a new publication like this.
So let's see what the latest LP has to offer.
The Cover
It looks like the cover image shows Kinmen's Shanhou Village, a great place to visit, like the whole of Kinmen. We went there two years ago and were pleasantly surprised.
The image shows a granny walking away from the camera carrying woven baskets hanging from a shoulder pole. The old houses look clean and in good shape, the blue sky suggests fine weather… this cover might indicate that in this edition of the guide book one focus is on traditional Taiwan, culture, history, that sort of stuff.
Not surprisingly a sticker announces "#1 Best-Selling Guide to Taiwan"; best-selling of course does not necessarily mean "best guide overall," but the guide probably is. Has been around for so long for a reason. 
Since I can't find my 9th edition of the guide, let's compare the new edition to the 8th edition, which happens to sit on the shelf right near my desk, part of a sizable collection of Taiwan travel guides. Interestingly, the new book is thicker, while the number of pages is the same (400); the reason for this is not the new Taipei pull-out map at the very end (a perforated line allows you to detach that map and use it separately from the book); the pages are just thicker; in the older version pages were so thin you could clearly make out photos on the backside of them.
Top Experiences
I love maps, so why not jump straight to the Taiwan maps of edition 8 and 10. Interestingly the suggested "Top Experiences" to be had while traveling in Taiwan have changed somewhat:
Keelung out – Jiufen in (Jiufen is overrun by tourists every single day nowadays, but I would agree, Keelung always strikes me as a bit too dirty and Jiufen has it's charms, you can easily get away from the tourists by wandering beyond the main Old Street area)
Wulai out – Beitou in (Wulai had a disastrous encounter with a typhoon not long ago and the mini trains are not running at present, but overall I would probably recommend Wulai more than Beitou; I just like the scenery better)
Holy Ridge/Walami Trail out – Yushan National Park in (high-mountain hiking in Taiwan is great either way; well if you only have the chance to hike up one mountain, why not make it Yushan, the highest of them all)
Dulan out – Lanyu in (Dulan has become quite popular with foreigners [thanks to recommendations in guide books like LP?], while Lanyu is still a rather remote, but increasingly tourist-targeted destination; it's definitely a top experience in Taiwan, cause it's so completely different from the rest)
Penghu and Alishan out – Kending and Tainan in (I personally prefer the first two, Penghu's smaller islands are fascinating, greater Alishan is very refreshing; but many people would prefer the historic sites in Tainan and the beach fun in Kending, which are a bit further down on my list of must-visits in Taiwan)
Info Bits
Let's move on. Like in the older guide, you have quite a lot of pages with general information and travel suggestions, such as "Taiwan's Top 15", "Need to Know", "If You Like…", "Month by Month" (festivals), "Itineraries", etc.
I'd probably skip those segments rather quickly and go to the place introductions straight away. If you buy a new camera, you don't go through the whole manual either, right?
Let's check "Taiwan Outdoors". Hiking and cycling definitely deserve high-priority mentions, cause Taiwan is excellent for doing these activities.
Oh, Richard Saunders is mentioned (Btw, Richard has a new website; check it out at www.taiwanoffthebeatentrack.com.) Great! Barking Deer? Are they are still in operation? I don't think so. Checking all websites, addresses, telephone numbers etc. for this type of guide is a massive undertaking, so certain info is bound to be out of date, especially in Taiwan, where changes happen quickly. We once wrote an article about a restaurant, just to find out that the restaurant had closed by the time our magazine was about to be printed (just three weeks or so after the interview!)
Detailed Introductions to Places
Now we come to the beef of the book. The introduction of places around Taiwan starts on page 51 beginning, of course, with Taipei, the most important city and likely the first place you will visit when coming for the first time. Then it's north Taiwan, east, west, south, and offshore islands. That's the logical way, though oftentimes in other guides east comes after south. The author/publisher probably didn't want to wait too long for the good stuff (east Taiwan).
Like in previous editions, there seems to be no consistent rule being applied when it comes to the Romanization of place names. While each entry does have the Chinese characters plus Hanyu Pinyin Romanization in brackets, the existing methods for writing place names with letters of the Latin alphabet are used according to… no idea. The preference of the locals/government/businesses in certain places? You would expect all names in Taipei City written in Hanyu Pinyin, but then there is Cisingshan (Seven Star Mountain), which does not make sense to me (maybe that's the spelling preferred by the Yangmingshan National Park administration? Not it's not, they use "Mt. Qixing"). My preferred method would always be one system for all instances (Hanyu Pinyin, cause that's the system most people around the world learning Chinese are familiar with) and only making exceptions when there is a very good reason, for example when dealing with well-established names like "Taipei" (which would be "Taibei" in Hanyu Pinyin). No need to confuse readers who have no or next-to-no knowledge of Chinese.
I won't go into the accuracy of single entries, what I like is that there is a lot of info contained in each entry. Type of place, price range, addresses and food names in Chinese, business hours. Places especially worth mentioning are highlighted in blue boxes with background info provided under "Local Knowledge" and lesser-known destinations under "Off the Beaten Track," etc. The amount of info crammed in on those 400 pages is probably the strongest selling point that would make me buy the LP Taiwan before my first visit.
If you look for good images of Taiwan, you'll only find them on the first 50 pages or so, after that it's all words (and maps), which can be good or bad, depending on what you prefer. Sometimes images are worth a thousand words…? But why are there no multi-colored maps beyond the Taipei chapter? I'd prefer if all maps were colorful. Easier to make out parks, major roads, etc.
Talking about maps. The Taipei folding map at the end of the guide is helpful and can be detached. There is an MRT map on the backside (Taoyuan Metro Line not yet included… I'd say that should be fixed ASAP; EVERYONE is going to take that metro line from the airport to the city from now on.) Unfortunately the area covered on the map is only central Taipei City and while MRT stations are marked, the lines are not shown, which is not ideal. I would also have included at least Xinyi District and Taipei 101. Every visitor wants to know where the big skyscraper is. Granted, it's difficult to get much on a map of that format. Also, if you have a map of Taipei City, Shilin and Beitou should certainly be on it too. Next time, further north, further east?
---
POCKET TAIPEI
Let's move to the offspring of LP Taiwan, Pocket Taipei. Smaller size, less pages (160), and glossy print. Looks like the content is a shorter version of the Taipei pages from the Lonely Planet Taiwan, written by the same author. The idea is great. Those who just want to visit the city on a 2-day trip for example, won't need to carry around all the 400 pages. Instead they can fit the smaller Taipei guide into their pant pockets. The cover shows Taipei 101 and a wooden walkway that is definitely not in Taipei (looks like the same place as the one depicted on page 21 of LP Taiwan, Alishan?) Looks great, love to go there, but it does not seem to be in Taipei… 
Now, my question is, are all the best spots in the city covered? Xinyi District is not on the map, but is introduced on the pages. Shilin is introduced, neighboring hot-spring mecca Beitou not, which is a shame. I think Beitou (and also Tamsui further north) should be introduced even in a small city guide, cause lot of tourists want to go there.
The publisher has chosen to focus on seven districts of Taipei. Not sure about that approach, because these districts are not clearly separated from each other. After living in this city for almost 30 years, I still don't know where Zhongzheng ends and Da'an begins for example. My suggestion would be, use the MRT lines, and show the best attractions along them. Most visitors will take the subway anyway and the lines have been planned to connect such places as Taipei 101 with Shilin, Raohe Night Market with Ximending, etc.
At least I would show the MRT lines prominently on the map. Makes planning trips much easier. Especially because lot of city attractions are close to MRT stations.
For example:
Tamsui-Xinyi Line – Taipei 101, Yongkang Street, CKS Memorial, Taipei Main Station, Zhongshan, Yuanshan, Shilin (bus connection to National Palace Museum), Beitou, Tamsui
Songshan-Xindian Line – Gongguan/National Taiwan University, CKS Memorial, Ximending, North Gate, Nanjing East Road, Raohe Street Night Market
Bannan Line – Xinyi District, Sun Yat-sen Memorial/Songshan Cultural and Creative Park, Zhongxiao Fuxing, Huashan 1914, Taipei Main Station, Ximending, Longshan Temple
I mean, almost ALL places that could be of interest to travelers are along those lines, so even if every other guide books follows that approach, I would do that rather than following meaningless district boundaries.
---
Final Words
As someone who used to travel with a printed guide book in hand instead of a smartphone, a good guide book containing valuable and detailed information about everything I might want and need to know about a foreign land, I would definitely consider buying the newest LP Taiwan as a first-time visitor to Taiwan. The amount of information provided (even if some of it can get outdated rather quickly) does help you find what you want in no time. In it's 10th edition, it's definitely a matured book that only here and there could be improved even further. Pocket Taipei, however, while helpful and practical, has much more room for improvement. First thing I would do is put those MRT lines on the map!
Lonely Planet Taipei (10th edition) was available for about US$25.19 on the LP site when I checked shop.lonelyplanet.com/taiwan/taiwan-travel-guide-10 (US$17.63 for the e-book version). Pocket Taipei was priced US$12.95 (shop.lonelyplanet.com/taiwan/pocket-taipei-travel-guide-1).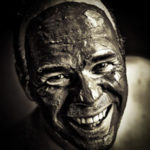 Long-time resident of Taiwan, Twelli likes to go on trips around Taiwan and make videos.