Whether you are a full-on vegan, meat lover, or somewhere in between, you'll find happiness in the vegetarian food of Taiwan, which is as varied as regular Taiwanese cuisine, offering everything from guilt-free renditions of hearty classics to dainty and artful gastronomic fare. While traditional vegetarian restaurants are tofu and faux-meat heavy, vegetables are the stars of the show in a new wave of cosmopolitan-themed meatless restaurants that is one of the latest trends on the Taipei dining scene.
Text: Nick Kembel; Photos: Maggie Song

Taipei is one of the easiest places in Asia to be vegetarian. I speak from personal experience, a vegetarian who has lived in and traveled around Asia for over a decade. With a little bit of research, and knowing what to look for, you will have no difficulty seeking out a few of Taiwan's numerous vegetarian restaurants and food stalls (many vegetarian restaurants display Buddhist imagery in their signage, including the Buddhist swastika, or prominently display the Mandarin character for vegetarian: 素).
Many vegetarians in Taiwan are elderly Buddhists, so don't be surprised to find yourself sharing a table with monks or nuns in one of the standard buffet-style, pay-by-weight eateries, where you can expect to pay about NT$100 for a fully loaded plate of pan-fried veggies and mock meats. Vegans will also be happy to note that most Buddhist or "pure" vegetarian food is actually vegan. If eggs or dairy products are present they will be made clearly visible.
Vegetarianism is now catching on among the younger generation, many members of which see eschewing meat, fully or just occasionally, as a means of keeping fit or detoxing from "meat overload." Due to these diners' more wide-ranging and demanding palates, in the last few years Taipei and other major urban centers have seen a rise in vegetarian restaurants serving up a range of international culinary adventures to a primarily younger clientele.
CUCINA PURA
In early 2016, Chef Chuck Yeh did the unthinkable in the eyes of many of his industry peers. After rising through the ranks to the position of head chef at two big-name hotels, and then heading a cooking school, he decided to cut meat almost entirely from his diet and opened a casual, budget-friendly meat-free diner.
Yeh has found great pleasure in working with some of his former students crafting one-of-a-kind dishes centered on modern Italian cuisine prepared with local Taiwanese ingredients. According to Yeh, the ingredients are 70% local and 30% foreign, because a few necessary items such as olive oil and Parmigiano-Reggiano cheese must be imported. However, the cooking style is 70% Italian and 30% Taiwanese, so come expecting fusion rather than true-to-form Italian cuisine.
Meat is meat, no matter what the season is, and meat-centered restaurants tend to offer predictable menus that change little. But when vegetables become the main attraction, due attention must be paid to which ingredients are best at what time of year. That's why Yeh redesigns his menu and introduces new dishes seasonally, in the same way that Taiwanese home-cooked meals vary according to what is freshest at any specific time of year.
Cucina Pura is nestled between a tattoo shop and an organic grocery store a few blocks south of Zhongxiao East Road in eastern Taipei. The area is famous for a high concentration of eateries along its alleyways catering to the after-work and pre-night-on-the-town crowds. The restaurant's glass front reveals a bright, inviting interior.
On a pleasant day not long ago, I pay the restaurant a visit with a couple of friends. We step into a modestly sized dining area with minimal decorations, wooden floors and tables, black and olive-green chairs, and an open kitchen at the back. The atmosphere is down-to-earth and relaxed, the kind of place where you can dine dressed up but nobody would look twice if you were sporting shorts and sandals.
Rather than plain water, a glass of black-bean water is poured for each of us as we are seated. Locally produced beans are roasted in the same manner as coffee to make them more fragrant, and then steeped like tea. The result is mildly sweet, and surprisingly refreshing.
Taiwan enjoys a great abundance of agricultural produce, and one of Yeh's key aims is to zone in on the pure flavor of individual raw ingredients – hence the name Cucina Pura, Italian for "pure cuisine." To this end, every meal here begins with a gratis amuse-bouche, a selection of hors-d'oeuvres showcasing raw fruits and veggies. The six bite-sized treats poke out from a section of a tree branch. According to Yeh, all branches used have fallen from trees naturally, and not been cut down.
Our amuse-bouche servings feature pineapple with chili powder, sugared raw mango, tomato with plum cake, pickled radish and carrot, baby corn with popcorn, and beetroot with nut shavings. As I pop each one into my mouth, it tastes, well, it tastes exactly like what it's supposed to, which of course is the whole philosophy here.
Each amuse-bouche comes with olive focaccia and two servings of flavored butter: one with garlic and fermented black soybean, the other with cranberry. The bread adds some substance to the vegetable bites and rounds off this unique welcome course, leaving me salivating for more.
Next up, the restaurant's second signature, and equally photogenic, dish: the salad (NT$380). Striving to make this everyday starter something special, one day Yeh got the idea, when walking through the cosmetics section of a department store, of offering a selection of vinaigrettes and creamy dressings in perfume spray bottles.
The beauty of this is that the salad can be shared, but each person can try a variety of dressings. I start with a champagne vinaigrette, and then move on to a creamy honey mustard creation. The salad is made up of too many ingredients to list, but I find pieces of starfruit, beetroot, sweet potato, macadamia nuts, and popcorn, just to name a few.
Our next appetizer is a medley of garlic–fried mushrooms: abalone, oyster, button, and shiitake, served in an iron skillet and topped with padano cheese and pine nuts (NT$220). The dish also comes with an onsen tamago, or hot-spring egg, which when broken open ignites a sizzling eruption in the hot skillet. Yeh recommends this and other umami-heavy dishes for those who normally prefer, or who are trying to shake their love for, meat.
Finally comes my main: handmade linguini with tomato-based amatriciana sauce (NT$300). This light pasta dish comes with more vegetables than you might be used to, with hunks of mushroom, broccoli, baby corn, and a heaping pile of raw arugula on top. After the meal I feel full but not stuffed, mentally satisfied and physically nourished, reminding me why I love vegetarian food.
The restaurant serves sugarcane-based sodas, and charges an NT$200 corkage fee for wine. The set meal for two is a popular choice that includes an appetizer, salad, two soups, two mains, and two desserts or drinks for NT$699 per person.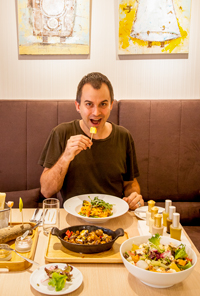 Cucina Pura (璞食)
Add: No. 15, Aly. 33, Ln. 216, Sec. 4, Zhongxiao E. Rd., Taipei City
(台北市忠孝東路4段216巷33弄15號)
Tel: (02) 8771-8198
Website: www.cucinapura.com.tw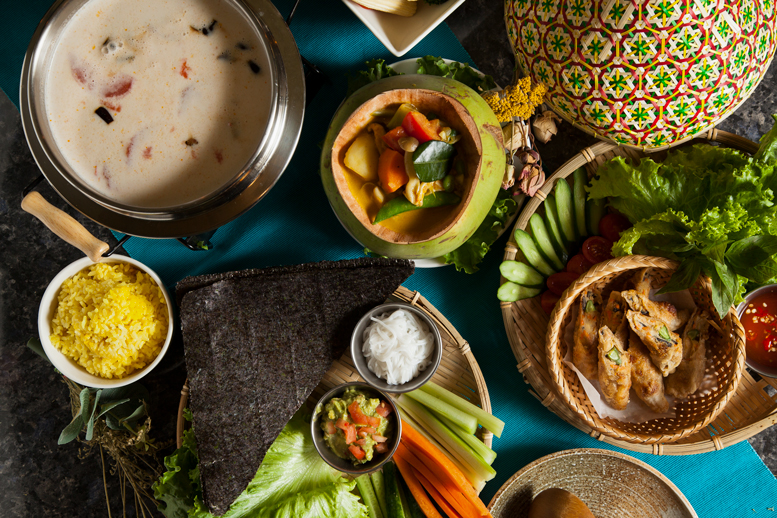 THE GREEN ROOM
While many Buddhist vegetarians prefer to avoid spicy foods and alcohol, if you're like me and have a fondness for these indulgences, check out The Green Room. The owner and her father are descendants of ethnic Chinese from mainland China's Yunnan province who fled to northern Thailand during WWII and then made their way to Taiwan. They cook up all-vegan Thai fare in a comfortable venue a few streets south of tree-lined Ren'ai Road.
There is a small selection of craft beers and wines suitable for pairing with the Thai flavors, and from 6pm to midnight the basement cocktail bar is open. I recommend the tempeh strips as an appetizer. The curries are loaded with veggies, just spicy enough, and come with turmeric rice. Come at lunch for discounted red, green, or yellow curry or pad thai.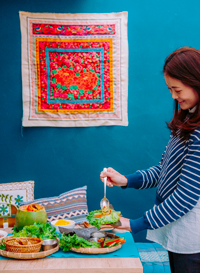 The Green Room
Add: No. 3, Aly. 25, Ln. 300, Sec. 4, Ren'ai Rd., Taipei City
(台北市仁愛路四段300巷25弄3號)
Tel: (02) 2704-5208
Website: thegreenroomtaipei.com

YANG SHIN VEGETARIAN RESTAURANT
Nothing is more thrilling for a vegetarian than finding out that a whole type of cuisine you've neglected because it is mostly meat-centered is available in all-vegetarian format. Yang Shin is the first and only meat-free Hong Kong-style dim sum house in Taipei. Located at Exit 8 of MRT Songjiang Nanjing Station, this modern, fashionable eatery features a long list of à la carte vegetarian versions of dim sum classics. Like any dim sum place, you'll want to come with at least a few people so you can try more dishes. Here a vegetarian can finally enjoy xiaolongbao (steamed dumplings), barbecued "pork" pastries, noodle rolls, and so on. Some creative innovations include taro patties with citrus sauce, pine nut and vegetable cheese rolls, and steamed pumpkin dumplings with porcini. Dim sum is NT$98-128 per plate, and mains are NT$220-380.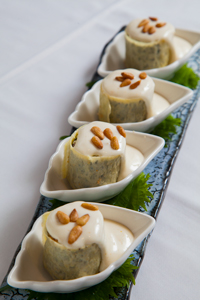 Yang Shin Vegetarian Restaurant (養心茶樓)
Add: 2F, No. 128, Songjiang Rd., Taipei City
(台北市松江路128號2樓)
Tel: (02) 2542-8828
Website: www.ysvege.com
Also read:
OH SO SWEET! Taipei Cakes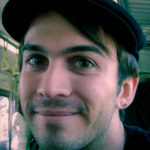 Kembel is passionate about tea, spending time with his kids, and all things travel. He has been to nearly 50 countries but called Taiwan home for the last decade. In 2011 he authored Taiwan in the Eyes of a Foreigner.